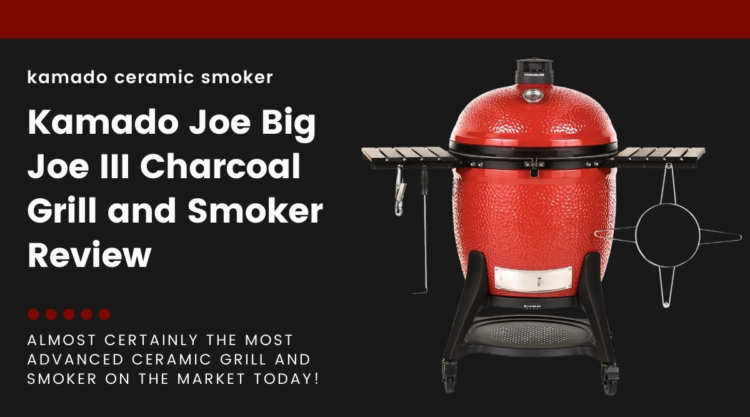 I've owned a Kamado Joe Classic for 6 or 7 years now, and for a long time, it was my favorite grill. Until I got my hands on a Kamado Joe Big Joe III, that is!
Some would say Kamado Joe (KJ) was already the King of ceramic BBQs, and that was before 2019 saw the release of the new Classic Joe III and the Big Joe III.
Already owning a Classic, I decided to buy the Big Joe III, and wow, am I glad I did! I loved the look of Kamado Joe's new lineup and was excited by the new features and advances in grill technology they had made. So I just had to buy one.
But, what makes a Big Joe III so different and had me so excited, I hear you ask?
Well, in this comprehensive Kamado Joe Big Joe III review, we are going to talk about all things Big Joe III. And trust me, he is BIG! But there is also a lot more to him than just his size, he is a great piece of kit that combines brains and brawn.
I have been using my Big Joe III at least once a week for over two years now. It's the grill and smoker I use more than any other. I've used it to cook full English breakfasts, slow smoke briskets and ribs overnight, cook entire roast dinners, and even baked pies. It's incredibly versatile.
So, let's jump in and discover what he's all about and what we make of him after two years of ownership, hands-on testing, and use.
General Overview and Summary of Features
Kamado Joe KJ15041021 Big Joe III 24-inch Charcoal Grill with Cart and Side Shelves
A premium, 24-inch ceramic kamado grill and smoker that can grill, smoke, sear, roast, and bake.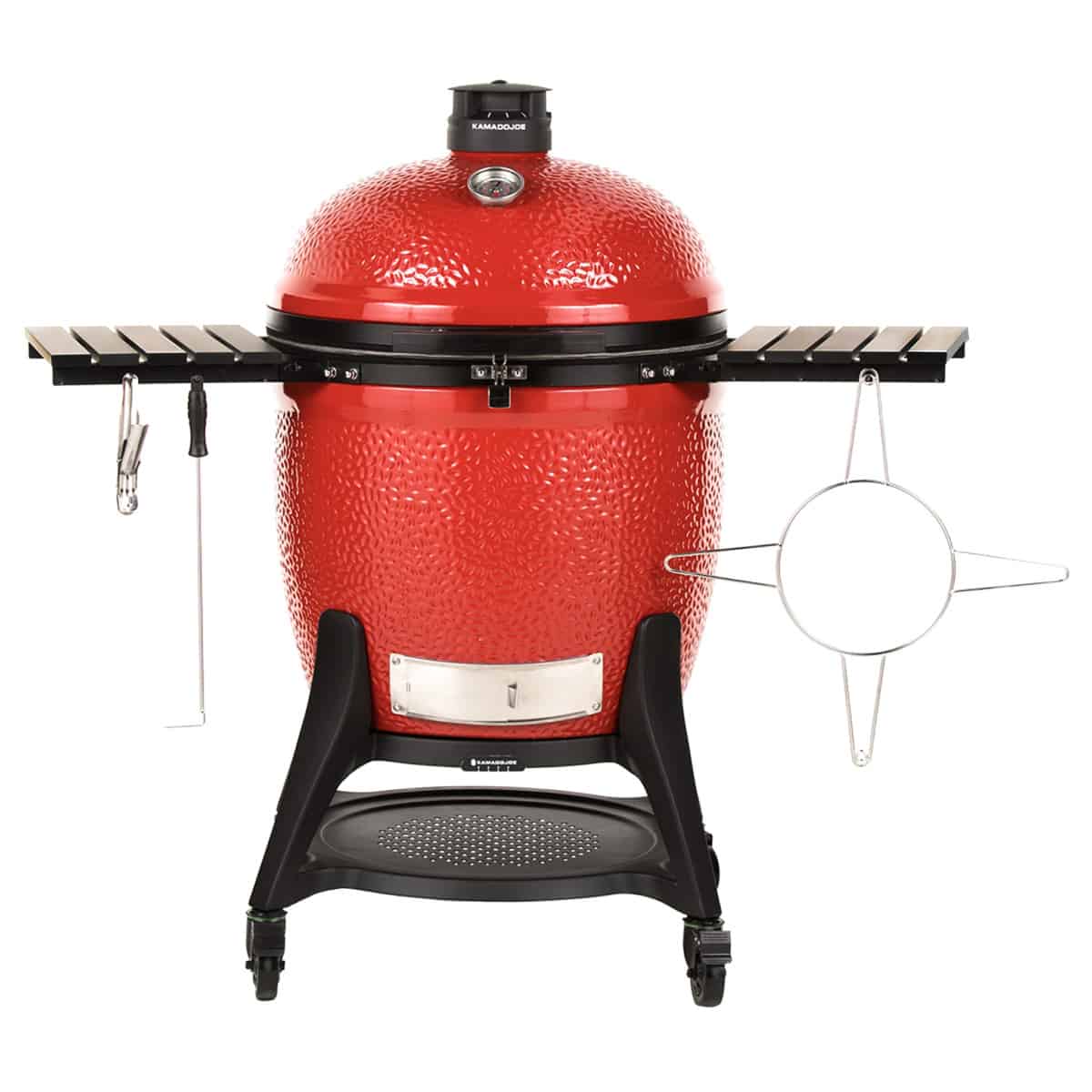 With Harvard-designed SloRoller Hyperbolic smoke chamber technology, air-lift hinge, Kontrol Tower top vent, 3-tier divide and conquer versatile cooking system, aluminum side shelves, and new design cart.
One of the most versatile outdoor cookers on the market!
In 2019, Kamado Joe released their version III grill range, including the Classic Joe and the Big Joe. They are essentially the same design with the same functionality, but Big Joe III has a much larger grilling capacity.
With innovative features, huge grilling space, the possibility of simultaneous direct and indirect cooking methods, and new smoking technology with the SloRoller under his ceramic belt, it is a superior grill for sure.
The Kamado Joe Big Joe III is a taller grill than the preceding version 1 and 2 models, which now accommodates a 3-tier cooking system rather than the older two-tier.
The Big Joe III is made from a thick, heat-resistant ceramic shell combined with a fiberglass gasket that makes a tightly sealed grill that locks in heat and moisture, creating an incredibly fuel-efficient smoker that produces moist and flavorful food.
With a quoted temperature range of between 225 °F and 750 °F, this grill can smoke, roast, grill, sear and bake. It's the Swiss army knife of outdoor cookers.
With the Big Joe III comes the revolutionary SloRoller Hyperbolic insert, that was developed by Harvard university engineers.
The SloRoller creates recirculating waves inside the gill, distributing heat and smoke evenly throughout the cooking chamber, kissing all foods equally with smoke, and eliminating any heat spots for a more even cook.
Other standout features that come standard with the Big Joe III include:
Divide and Conquer flexible grilling system – You can insert different cooking surfaces at different heights to cook foods at different temperatures.
An air-lift hinge for an easy-open dome that you can open and close with one finger, despite it weighing hundreds of pounds.
Kontrol Tower top vent for super-precise temperature control and a vent that does not move when you open and close the lid like in previous models.
Stainless steel charcoal basket that can be lifted out and shaken to separate ash and small pieces from unburnt charcoal can be used again and reduce cleaning time.
Slide ash out drawer for easy emptying of ashes without having to use a vacuum.
A premium, sturdy, powder-coated galvanized steel cart with four wheels, two lockable, so you can move the grill around and lock it in place.
New aluminum side shelves, an upgrade from the plastic ones on previous models.
A thick, multi-part firebox that does away with any worries of cracking or damage due to expansion and cooling during use.
I discuss each of these features more in-depth in my testing and use sections below and a few other things not yet mentioned.
Manufacturers Specifications
Dimensions with cart and shelves: 58.4" (W) x 53.7" (H) x 35.8" (D)
Weight: 487 lbs.
Material: Ceramic
Fuel Source: Charcoal
Heat Range: 225 °F – 750 °F (max of 500 °F when using SloRoller)
Cooking Surface: 24" diameter / 452 Sq. In.
Cooking Surface with 3-Tier Divide and Conquer: 864 square inches
Folding aluminum side shelves
What We Like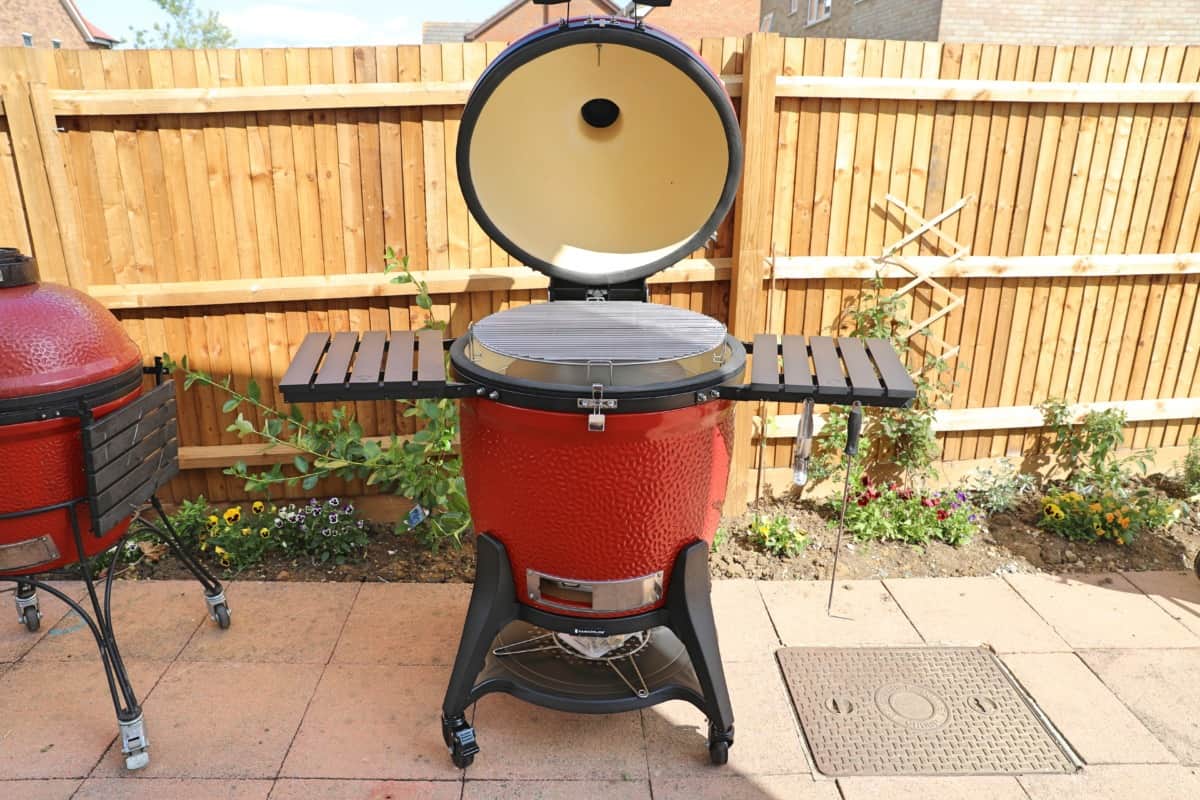 Most of all, I like the versatility. You can grill, smoke, sear, roast and bake on this beauty, and it does all of those things well.
I also love the innovative features, such as:
The Harvard Engineered SloRoller for even cooking and smoking of foods.
The 3-tier half-moon grate system for flexibility of different heat zones and exchangeable cooking surfaces.
The air-lift hinge takes all effort out of opening and closing the grill.
The slide-out ashtray for easy cleaning.
The infinitely adjustable top vent for precise and easy temperature control.
This thing is packed with helpful features!
Overall, I really like the design and looks. It's a distinctive red iconic grill that will impress in itself, draw looks and comments from friends. It's built to last, and every aspect of this grill is well thought out and effective.
The amount of grilling space is also impressive. The Big Joe III offers KJs biggest amount of space to date. You can potentially cook on over 850 square inches of space. You can feed a large crowd from that.
Finally, after registering your grill with Kamado Joe, you get a lifetime warranty on the ceramics and between 3 to 5 years on other parts. This takes away any worry about longevity.
What We Don't Like
After a few uses, the top vent Kontrol Tower's paint started to peel off, revealing the metal underneath. It also 'gunk's up' occasionally, making it hard to turn and adjust until the grill is heated, freeing it up once more.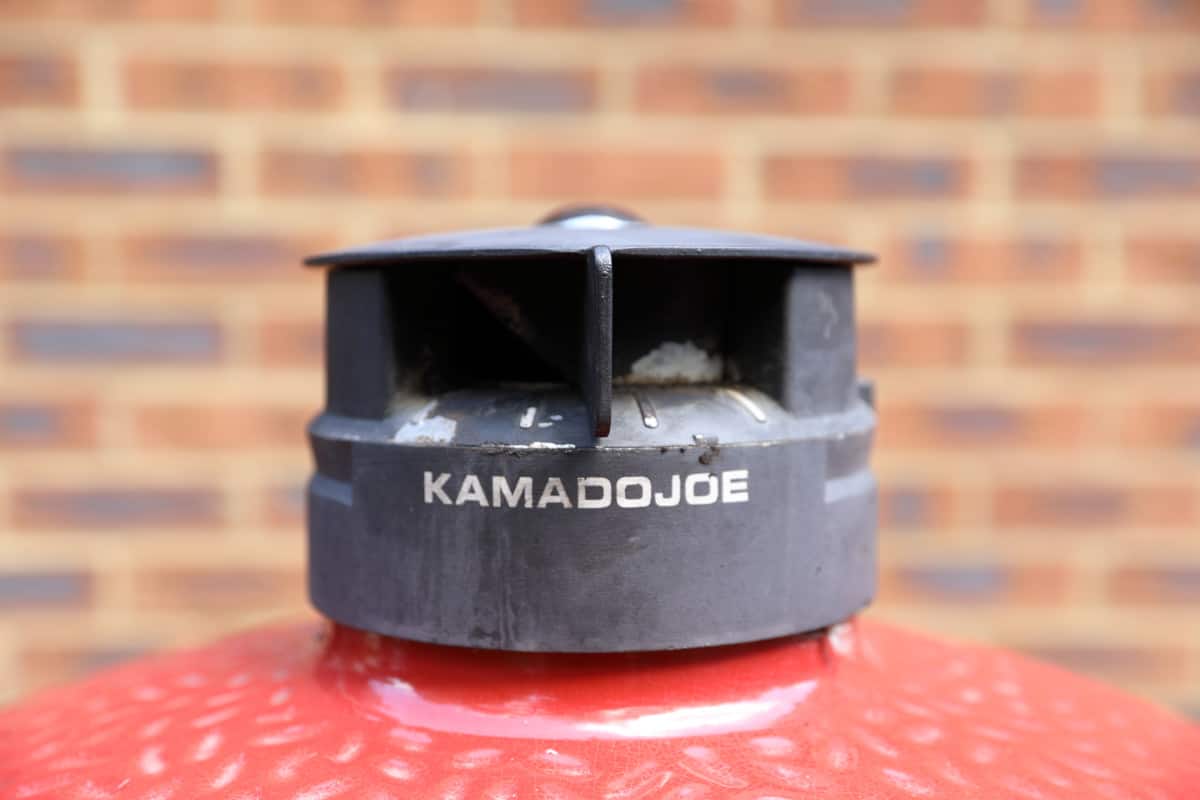 The Kontrol Tower is made of aluminum, so it will not corrode if exposed, but I would hope for better in such a high end grill. I have seen many people get warranty replacements, so hopefully by the time you read this it's been improved upon.
One of this grills' best features can also be a hindrance: The thick ceramic walls soak up heat and keep temperatures rock-solid stable. This is great for dependable, predictable cooking. However, if you overshoot a temperature, or cook on high heat before wanting to cook at a lower heat, it's hard to drop the temperature and can take a long time.
Finally, the price is high compared to many other ceramic kamado cookers. However, you get what you pay for, and this grill is high-end, oozing quality, and packed with features.
Who is This grill best Suited to?
It's ideally suited to outdoor cooks who want to be able to do everything on a single piece of equipment instead of having separate grills, smokers, and outdoor ovens. It's also our number one pick for best ceramic kamado grill and smoker, if this is the type of grill you're decided on.
It's also well suited to people who like to experiment with different heat zones, cooking surfaces, and cooking techniques because it comes with stainless steel grates, and you can add cast iron grates and griddles, soapstone, a rotisserie, DoJoe pizza oven insert, and more.
The Big Joe III is the better option than the Classic size, for those with large families or hosts with big crowds to entertain. You could get a whole suckling pig in here, or multiple briskets, or multiple pork butts.
Finally, it's a grill for those who want to make a stamen! A big…BIG…red grill that really will be a talked about backyard feature.
Kamado Joe KJ15041021 Big Joe III 24-inch Charcoal Grill with Cart and Side Shelves
A premium, 24-inch ceramic kamado grill and smoker that can grill, smoke, sear, roast, and bake.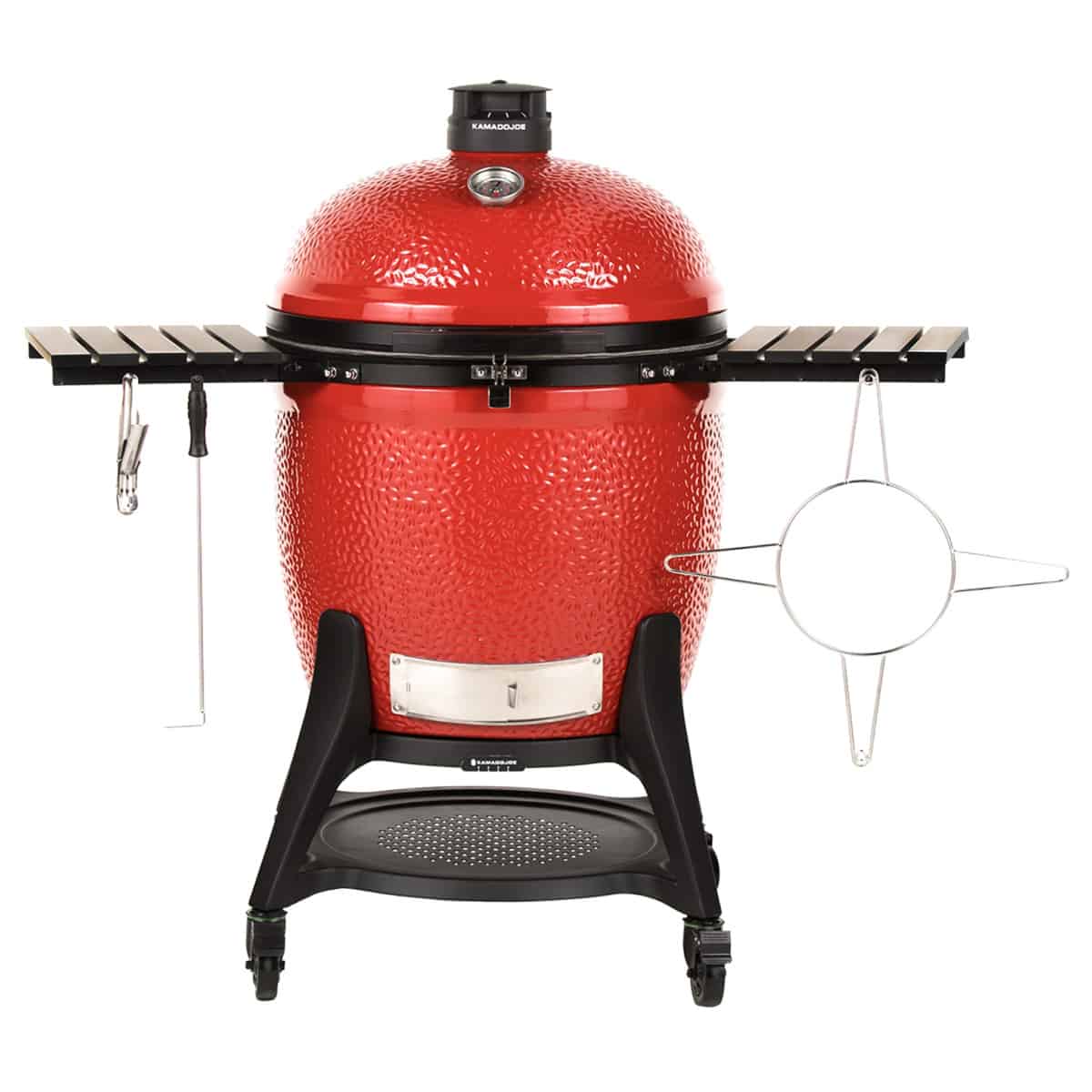 With Harvard-designed SloRoller Hyperbolic smoke chamber technology, air-lift hinge, Kontrol Tower top vent, 3-tier divide and conquer versatile cooking system, aluminum side shelves, and new design cart.
One of the most versatile outdoor cookers on the market!
Unboxing and Assembly
My Kamado Joe Big Joe III arrived in two boxes, though as you can see, I also added a grill expander, cast iron reversible griddle, cast iron grate, and a bag of Big Block charcoal to my order.
The main, larger of the two cardboard boxes contained:
The ceramic grill body, with the lid already attached.
Charcoal basket and divider.
Multi-piece firebox and fire ring.
Divide and conquer 3-tier rack system.
X-ring accessory.
Deflector plates.
Half-moon stainless steel grill grates.
Kontrol Tower top vent.
Ash collector and slide-out ash drawer.
Aluminum side shelves.
SloRoller.
Ash tool.
Grill gripper.
The second and smaller of the two boxes the grill arrives in contains the powder-coated steel cart components.
To assemble the cart, you simply screw in the wheels, making sure that the two lockable casters are placed at the front of the cart, where you see the Kamado Joe logo, so they are accessible when your grill is in the cart.
To assemble the grill and get everything ready for use, you first need to lift the Big Joe into the cart.
To do so, only lift the grill via the bottom vent and underneath the back hinge. Do not lift by the side handles that hold the shelves. They aren't strong enough to take the weight of the grill. Similarly, do not close the lid and then try to lift the grill by the front lid handle, the latch cannot take the weight of the whole grill.
The Big Joe is heavy! I managed to lift it into the cart with the help of one friend, but we are both regular gym-goers and strong. I would recommend enlisting the help of two friends. Then with the three of you to lift it into the cart, have one hold the grill via the bottom vent, and a person on each side of the hinge at the rear. This will make it easily manageable.
Next, place the ash collector and slide-out ash drawer in the base of the grill, followed by the bottom of the firebox, making sure the ash drawer is lined up with the bottom vent and can be freely slid in and out.
Next, place the firebox petals in the grill.
They are smaller at one end compared to the other, and curved. You want the small end at the bottom, and the curve to match the grill body, like so: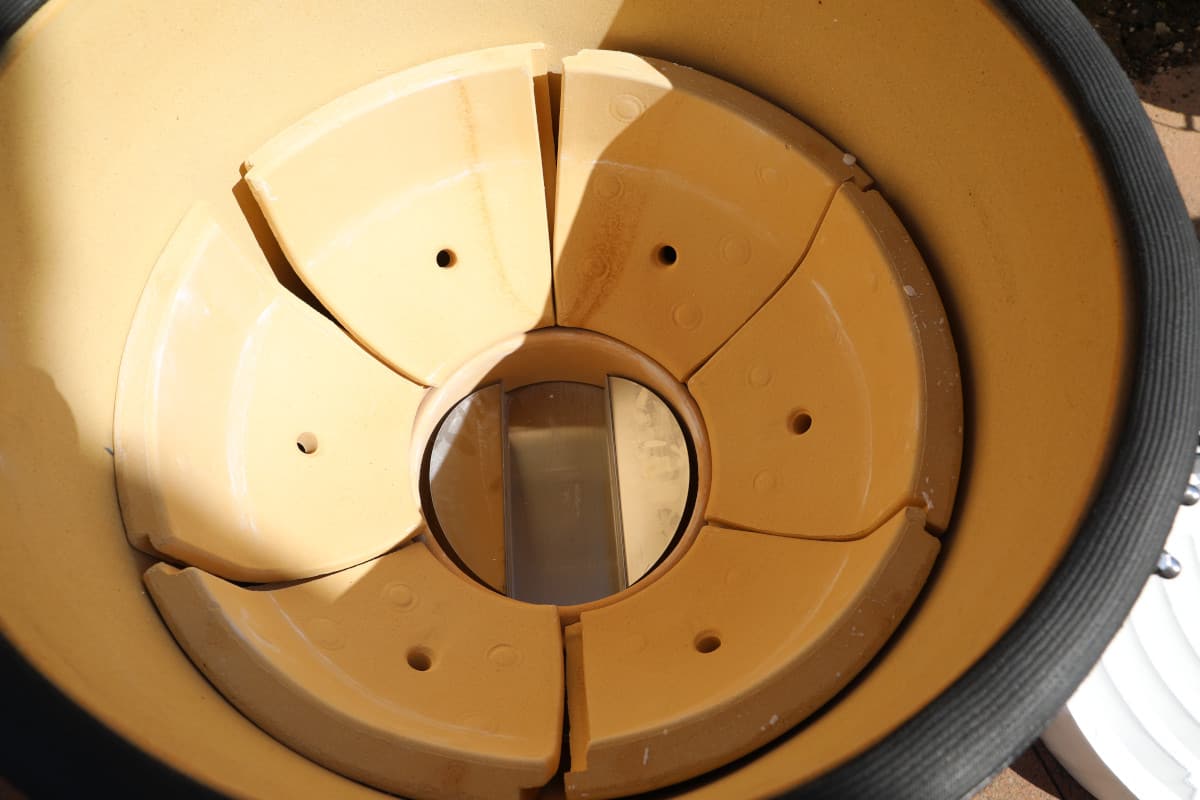 Once done, you now need to add the fire ring. And here is where frustration can set in! This is NOT an easy job and will make you wish you had six hands, as you get some petals in, while others fallout, repeatedly until you scream! But there's an easy solution…
You want to use the 'paper trick' for installing the firebox. This is where you roll up balls of toilet paper and place them behind each petal to raise each petal and hold them in place to add the metal fire ring more easily.
This is best explained in a video. Please skip to the 1:10 mark to see the trick in action:
Once you have it in place, simply leave the tissue where it is, and it will quickly burn away during the warm-up period of your next (or first) cook. No need to try to remove the tissue after.
Now, insert the charcoal basket and divider, followed by the divide and conquer rack system, making sure it slips into the hooks in the charcoal basket, so you can lift everything out as one complete unit when needed.
Place your x-ring in place, then the half-moon grates on top, followed by your cooking grates.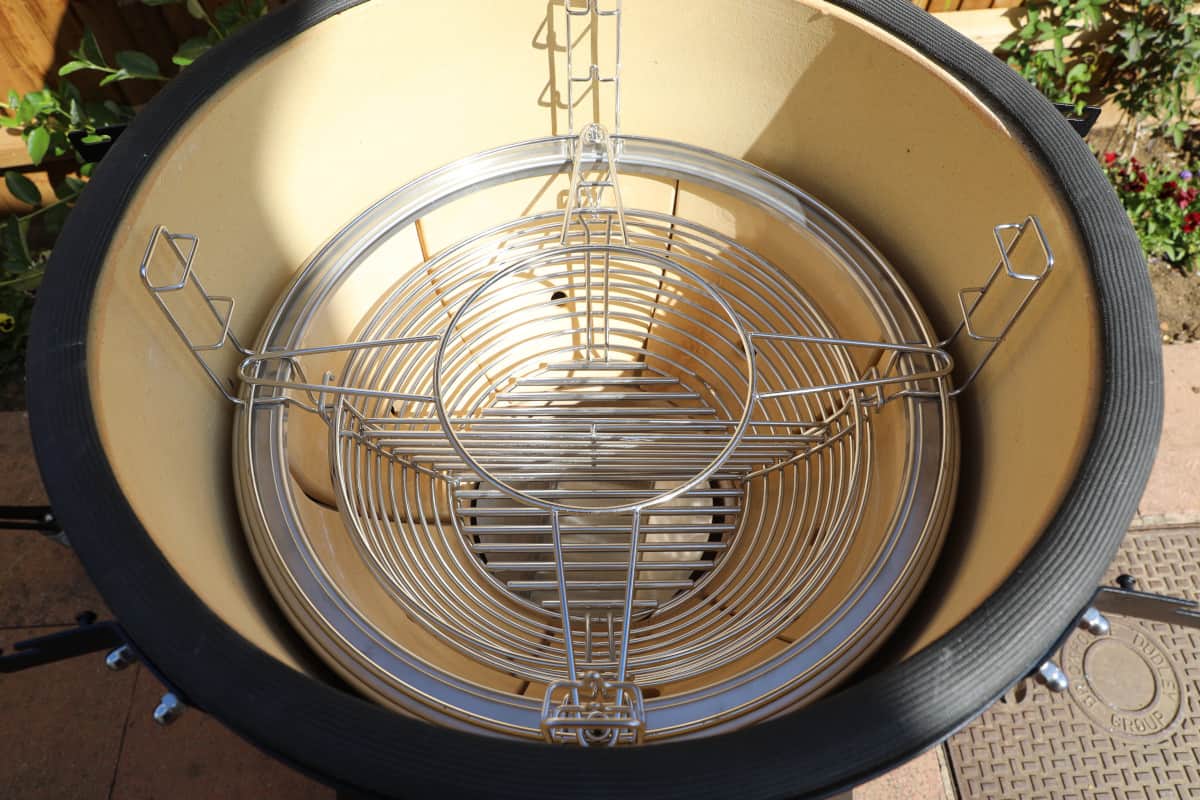 Finally, place your aluminum side shelves onto the brackets, and then place the Kontrol Tower top vent over the top of the chimney.
The SloRoller can sit underneath the grill, on the cart's bottom shelf, ready for when you to use it.
And that is it. You are done and ready to fire it up.
This whole process took no more than 30 minutes for me. It's very easy, as long as you have a couple of friends to help with the initial lifting.
Design and Build Quality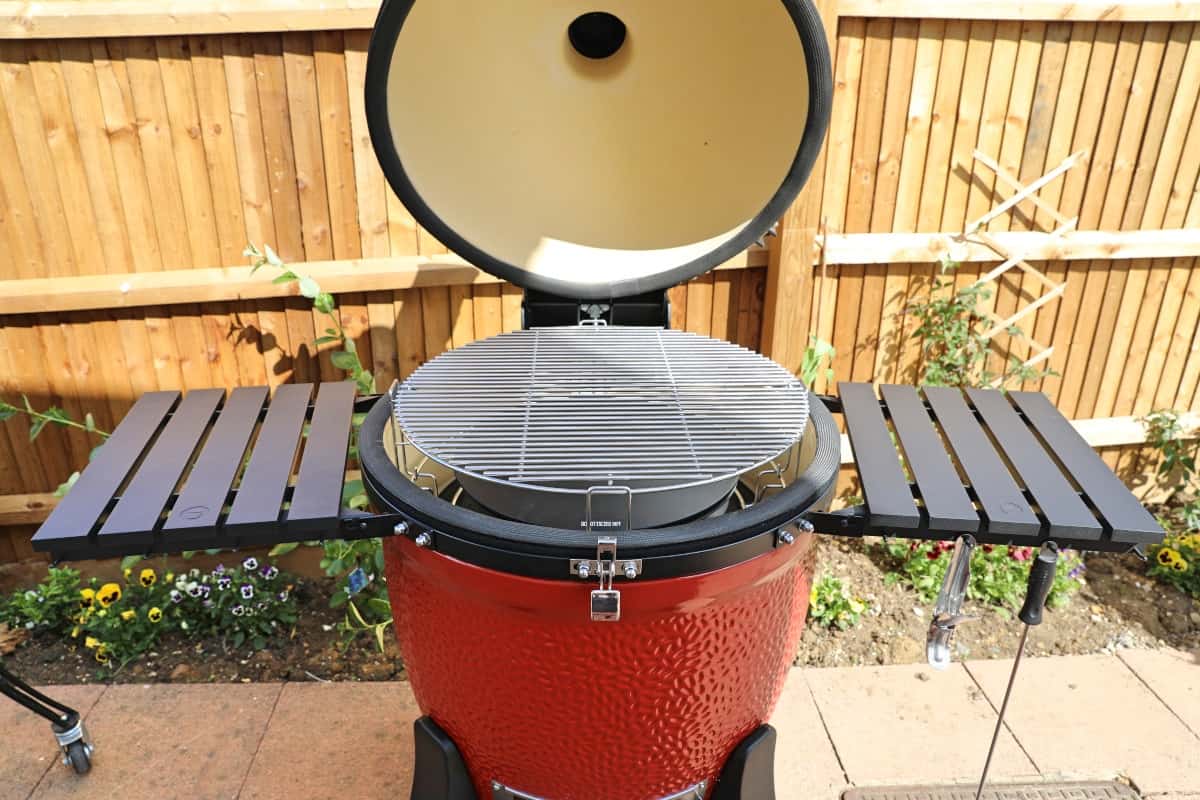 The design is close to the traditional Kamado Joe grill design, and anyone who sees its glorious red color and egg shape will instantly know you've got a KJ. Most people admire the classic and simple design, and we wouldn't have it any other way.
However, this grill also does look very different from previous models. It's a true category-leading grill with so many new design tweaks and features.
There is no escaping the fact that this guy is well-built…and heavy!
The build quality is a sight to behold as it is with all KJs, which is reflected in the warranty. There have been stories of the ceramic shell cracking, however, we have never had an issue with our own KJs, and this problem is few and far between, and the lifetime warranty covers it.
The firebox must be a good 1.5 inches thick, the deflector plates are also thick and durable, and the charcoal grate and cooking grates are made of think stainless steel and are guaranteed to last.
The ash collector and ashtray are made of somewhat thin steel, and I can see this burning and wearing through after a few years use…though time will tell.
The fiberglass gasket is thick and durable, and the side shelves are very well made too.
Overall, the grill looks solid, feels solid, looks to last a lifetime, and is aesthetically pleasing and a real feature for the garden too. I'm impressed.
Ease of Use
Like many all-singing and all-dancing grills, it takes a bit of practice to understand and master, especially if you've never had a kamado grill before.
The thick ceramic walls and incredible heat retention mean you need to master temperature control more than you do on other grill types because bringing the temp down is hard if you overshoot.
I've written a complete guide to using a kamado grill. Check it out to learn the ropes.
Ease of use is not difficult. It's just a case of knowing what to do before you start, then gaining a little experience. Once you have, it's quite easy to master. And once you do, you'll never look back!
Smoking and Grilling Performance
The performance of the Kamado Joe Big Joe III is phenomenal. I currently own more than 20 grills and smokers and have had way more than that in the past as I shuffle things around for reviews and to gain experience.
Of all grills and smokers I have ever owned, this one is my favorite of all time, and that is because of its performance, versatility, and the quality of food I can create with it.
The combination of wide temperature range, multiple ways to cook, charcoal and wood-smoked flavor, fuel efficiency, innovative features — that I will go into in more depth below — and just how incredibly moist and flavorful meat stays after cooking in this grill, is simply incredible.
The smoking and grilling capabilities of the Bog Joe III are superb. I cannot fault it. Here are a few things I have successfully cooked in the last couple of years:
Smoked Beef Ribs
Rubbed and then smoked straight through at 250 °F without wrapping, using the SloRoller:
The cooking was even, the moistness was incredible (despite how the photo might look!), and the smoke taste was pronounced yet balanced.
Pulled Pork
Two large pork butts, smoked right through without wrapping while using the SloRoller, but were regularly spritzed during the cook:
These were moist and delicious, and you can see in the third picture how much of a smoke ring the pork butts had at the end of the cook. This is NOT a sign of good bbq (as discussed in our article on the smoke ring) but it does go to show how much better smoking and smoke roasting is when using the SloRoller.
Steaks, Surf and Turf
Surf and turf is a favorite round mine, and the Big Joe shines when helping me create this dish. Below you will see Two variations on this classic:
T-bone steak, Razor Clams and Crostini's
Bavette and Crevettes
Roast Dinner
A roast dinner, consisting of smoke roasted pork, with all the sides, including roast potatoes, Yorkshire puddings, and veg:
Moroccan Style Pulled Lamb Shoulder
This was marinated in rose harissa and pomegranate molasses, before gently roasting until ready to pull:
Using a good quality lumpwood charcoal, and no smoking wood, ensured a moist, lightly smoked and not overpowered final result.
Baked Beef and Kidney Pies
This was a wonderful cook, involving using raw ingredients top make my own steak, ox tail, ox cheek, and kidney stuffing for the pies, as well as my own 'bone marrow dumpling pastry' pie cases.
Everything was smoked, braised, and eventually baked on the Big Joe III. I loved this cook!
Partridge Tarts with Bacon Wrapped Sprouts and Potatoes
It was heading towards Christmas and I wanted to do something a little different.
Ribs, Chicken Pieces, Rolled Lamb Leg, Even Cold Smoked Bacon
Finally, you can see I've cooked ribs, chicken pieces, a rolled lamb leg, and even used the KJ Big Joe III to cold smoke 5 large pork bellies after curing them for bacon.
I hope this little lot above — which is just a small portion of what I've cooked on this grill over the years — goes to show you how versatile and just how good this thing cooks!
Temperature Control and Consistency
Over my scores of cooks over two years or more, I have found temperature control and consistency is excellent. After just 4 or 5 cooks, I had already learned how to hit and hold the grill at any temperature I choose.
Temperature is controlled by the use of a lower vent sliding door and a Kontrol Tower turning top vent on a chimney.
Once you learn how to use the top and bottom vents properly, it becomes easy to dial in and hit any desired temperature between approximately 200 °F and 750 °F+.
And because the Kamado Joe Big Joe III has such thick ceramic walls, and is so well sealed, it stays at a stable temperature incredibly well, almost impervious to weather conditions.
Maintenance and Cleaning
The charcoal basket design makes it easy to clean your grill after use. Simply lift out the basket and shake to remove the ash and small coals, then brush the ash and debris into the slide-out ash drawer situated at the bottom of the grill. Then slide out the ash drawer and bin the contents. This couldn't be easier.
To clean the grates, treat them as you would any other grill grates by using a good strong grill brush to clean right after use, or before use once the grates are warmed through.
Another great feature of the Kamado Joes is you can do a 'high heat self-clean' like you can in some ovens. Place all your items inside the grill, light it, and maintain a temperature of 550 °F for a minimum of 30 minutes. Then everything inside will be burned to ashes. Once the grill has cooled, brush this away, and everything comes out very clean, almost like new.
Please note, however, that the SloRoller has a max temp of 500 °F. So do not have this in the grill for a high heat clean.
To clean the outside, you can simply wipe with a damp dishcloth, and use a little soap if you please, just make sure to rinse it afterward thoroughly.
Finally, just like you would with any other luxury item, we would advise getting a cover for your Big Joe to protect its ceramic skin from the sun and elements and keep it looking Ferrari fresh.
Key Features Reviewed — How do They Fare During Use?
What would our Kamado Joe Big joe III review be without a detailed deep dive into it's many innovative features during use?
So on that note, here are, in our humble opinion, the Big Joe III's best features, and how we found them while grilling and smoking.
Large Cooking Area
The Big Joe III is massive, and the grilling surface is a whopping 24 inches in diameter (452 square inches) which makes it much bigger than the Classic III.

To put that into perspective, with no additional grates, the Big Joe III can take two full packer briskets, 5 or 6 pork butts, or 4 full racks of low and slow ribs.
However, you can add up to 3 tiers of grates in this beast and more than double the stated figures! So you can cook huge amounts of food in this grill.
Flexible Cooking System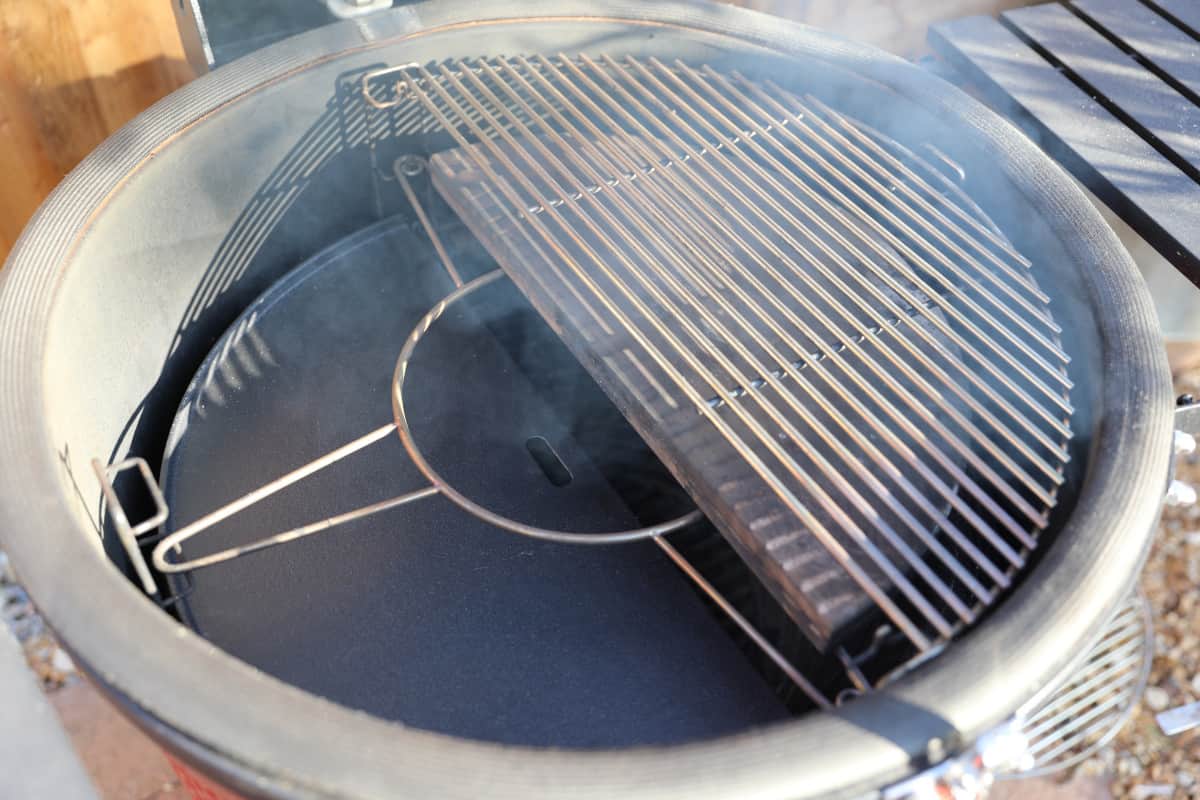 The new 3-Tier Divide and Conquer Flexible Cooking System, which allows different food products to be cooked in different styles and heat zones, is a joy to have during use.
Each tier is designed to accept half-racks for flexibility, so you can mix and match between stainless steel grates, cast iron grates, solid cast iron griddles, soapstones, and fish and vegetable grates.
You can place grates on any of three height levels, meaning closer or further away from the coals. This combined with using the ceramic heat deflectors, means you can create direct and indirect heat zones and different temperatures, all within the same grill, for high heat searing proteins, and slow indirect cooking vegetables at the same time.
Or by placing both heat deflectors in at the same time, you can bake, roast, or smoke, as they block any direct, radiant heat.
It's a great system, allowing you to cook different ways, and at different temperatures within the same grill. And during my use over two years, I have come to love the flexibility it offers. It's powerful and fun to use.
Fiberglass Gaskets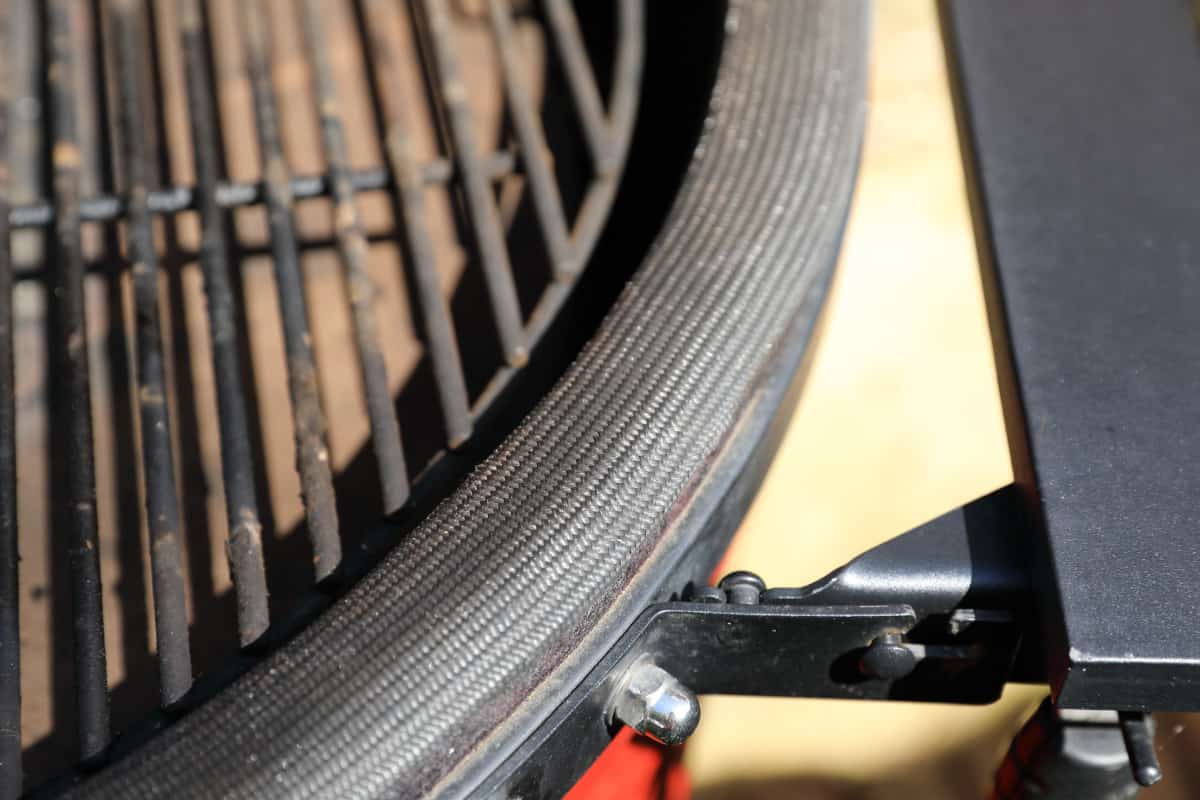 A common complaint with ceramic kamado grills, and this includes previous versions of Kamado Joes, is that the felt gaskets between the lid and base wear out quite quickly and need replacing. They get sauce on them and burn, or just become dry, flat and crumble off over time. I have replaced them on my KJ Classic V1 3 times in 6 or so years.
The new fiberglass gaskets on the version 3 grills are way better. They have a very robust design, work perfectly to seal off the grill during use (combined with the stainless steel latch), and will not need to be replaced anywhere near as often as felt gaskets, if they ever need replacing at all.
I found the tight seal created also means smoke and heat are trapped inside the grill, only escaping via the top vent. So fuel efficiency is incredible — saving money — and food produced is more evenly cooked, evenly smoked, and remains moister than from other grills.
Air-lift Hinge
I've mentioned the heft and weight of this grill a few times above, and the dome lid contributes a lot to this weight.
But thanks to the air-lift hinge KJ have reduced the weight you lift when opening the dome lid by 96%, so even grandpa could lift it…with a single finger!

It also means that the lid cannot slam shut and crack, but also that you can set the opening at whatever height you want, and the air-lift hinge holds it, so it stays there.
In my two years of use, this has worked very well. I did need to adjust it once at the start of last summer when it was juuuust about not holding itself open and falling gently shut. But a turn or two with a small spanner set it right again.
It's a great feature that works well.
SloRoller Hyperbolic Smoke Chamber
The Harvard-designed SloRoller Hyperbolic insert is advertised as working to ensure there are no hotspots, recirculating heat and smoke evenly throughout the cooking chamber, and creating even more smoky flavorful food than ever before.
Here is a video explaining what it's designed to do:
I have used the SloRoller more than 20 times since owning this grill. Overall, I have mixed views about it.
It definitely works to improve airflow and convection, recirculating heat and smoke to eliminate hotspots and cook more evenly.
I've found that my Big Joe has a hot spot toward the rear of the grill, near to the hinge. I think because I have it on a slight slope, making the back of the grill higher than the front, so heat travels more up the rear of the deflector plates (this is my theory, anyhow.) This does cause food — or the side of food — closer to the rear to cook slightly quicker.
When using the SloRoller, I've found my meat ends up more evenly cooked. For example, the smoke-roasted chicken you see below has crispier skin that's easily more even across the entire bird than when cooked without the SloRoller.
Also, the smoky flavor I got on these beef ribs with a chunk each of cherry and oak was fantastic. However, when it comes to the smoke profile, I'm not sure there is much of a difference in taste compared to my previous cooks. My friends and family feel the same.
The Kamado Joes are already fantastic smokers, so perhaps it's just that any benefit is minimal? After all, not much improvement can be made to what was (or is) a fantastic smoker.
Also, I'm sad to say there are a few other little annoyances when using the SloRoller, such as:
It has a maximum temp of 500 °F (260 °C). So you must constantly add and remove it as required. I'd be tempted to leave it in if it could withstand higher temperatures.
After the first use and a gentle clean, some paint came off the top plate. Paint has further come off on the other sections since. It's made from aluminum, so it will not rust. Therefore I'm not overly bothered, but I feel KJ should have used a better, longer-lasting paint.
The top plate is made of metal and doesn't do as good a job as the ceramic heat deflectors in eliminating direct, radiant heat if you go up past 450 °F. I feel the metal gets too hot, then radiates heat itself, and can cause the bottom of foods to burn. So you must flip foods if roasting that high. (Note: It's rare that you ever roast up past 430 °F anyway, so it's not too big a deal.)
It's hard to clean! You cannot clean it like the rest of the grill, using a 'high heat burn' as it will melt. And if you use any hard, abrasive cleaning brush or pad, you will take off the paint. I recommend using a drip tray to help with this.
Weighing up the pros and cons, I would say if you have a version 1 or 2 Kamado Joe grill, it's not worth buying and adding a SloRoller to your grill.
However, it comes with the version 3 grills as standard, and if you have it, you may as well use it.
I now only use my SloRoller for smoke roasting pork and chicken because it gives me better, more even crispier skin on these meats. Otherwise, I stick to the standard heat deflectors for all other meats.
New Design Firebox and Charcoal Basket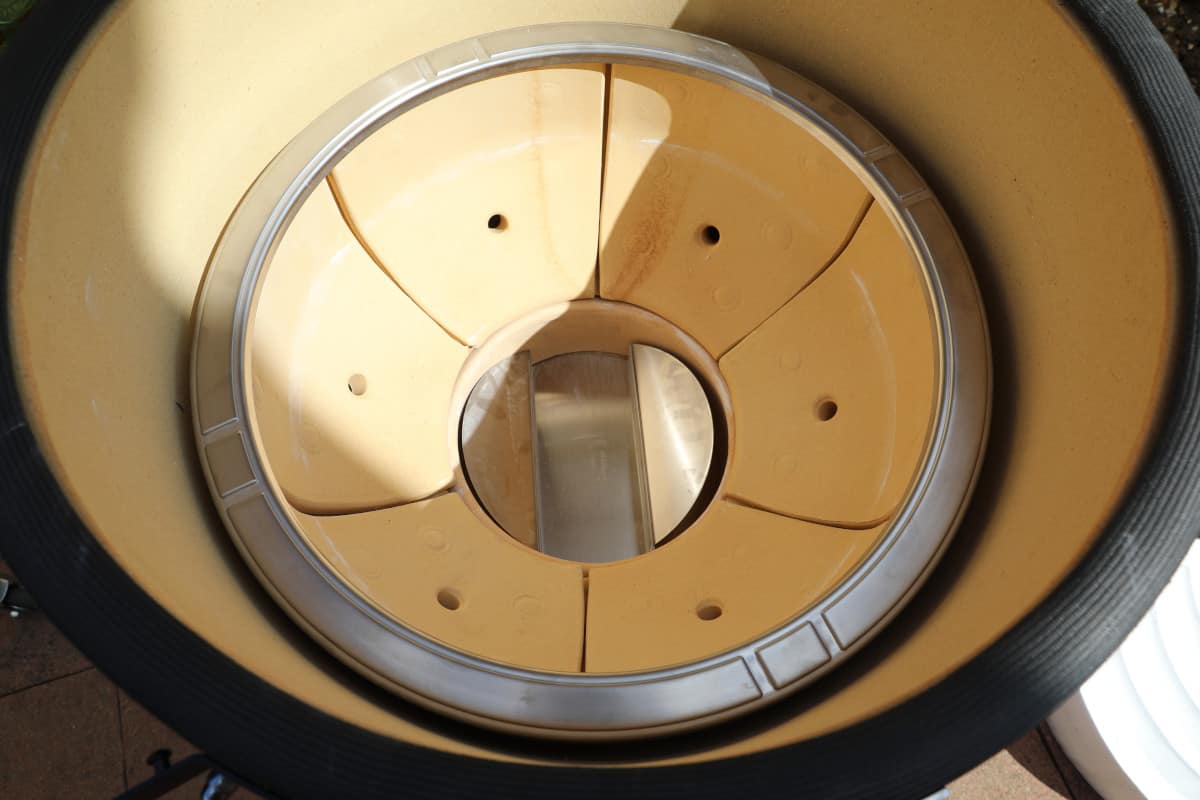 The new design, multi-piece firebox was created to fix the problem of the old, single-piece style cracking due to expansion and shrinking when heating and cooling. I'm pleased to say this works, as my experience — and those of countless other owners — is that it no longer cracks.
Removing it is easy, replacing it takes a little more work, but if you check the video above on using the 'paper tissue trick', it's not difficult.
The new design charcoal basket is made from thick, durable stainless steel, and is seriously built to last.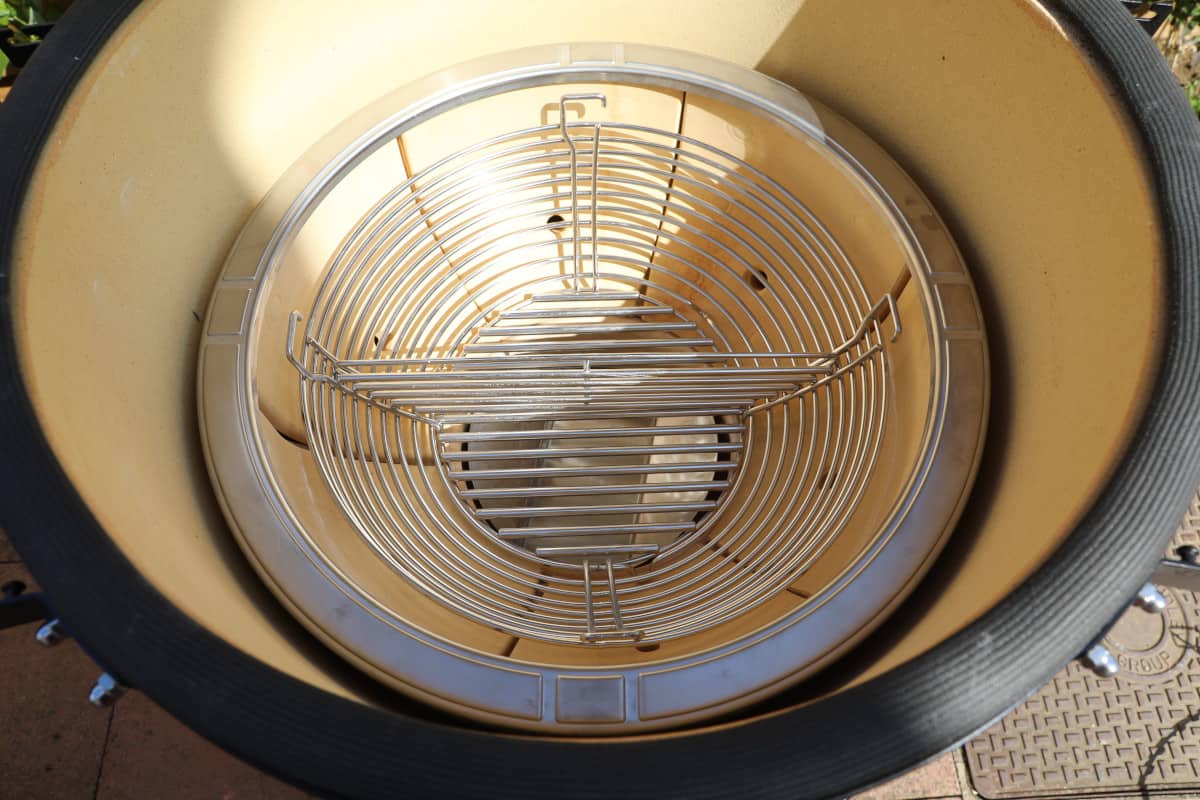 The design is much like the Kick Ash Basket, designed in such a way that after a cook (and cooling), you can lift the whole thing out and give it a shake to shake out all the ash and tiny pieces of charcoal, leaving you with only large unburned pieces of charcoal ready to reuse in your next cook. You can shake it where it is in the grill, and empty the ashes out with the ash drawer, or shake it over an ash bin. The choice is yours.
The charcoal basket also has a divider that effectively splits the basket in half. This is useful for getting a nice, deep bed of coal with only half the coal used for smaller cooks or for banking the coals up to one side, or the back of the grill, if you want to use the Joetisserie rotisserie attachment. You can also use it to have different heat zones, with only burning coals one side for a hot and cold zone, or different amounts of coal each side, for a low and medium to high heat.
Overall, I love the new basket and divider. It helps control heat during cooks and makes cleaning up and reusing charcoal much easier. Full marks for this design!
Removable Ash Tray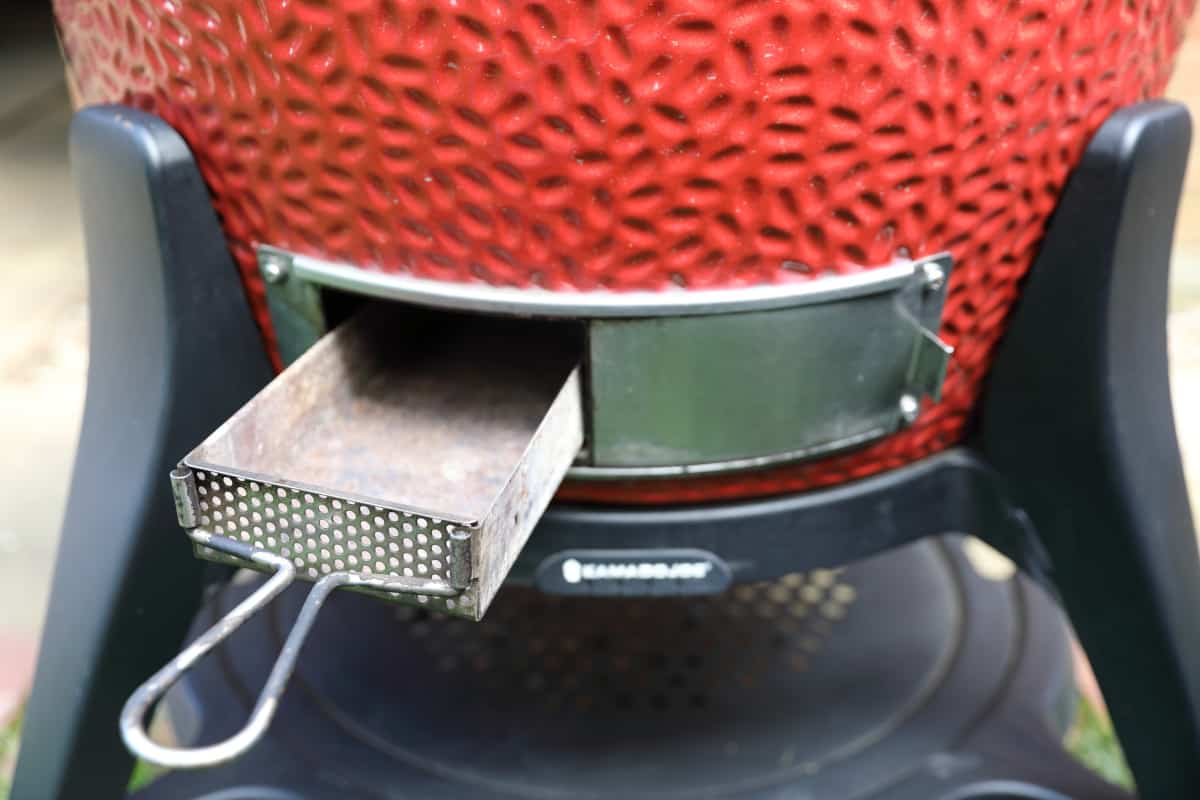 The removable ashtray that has been a part of the Kamado Joe design since day 1 and version 1, is present in the version III grills.
This little tray sits just inside the bottom vent and collects ash that falls down through the charcoal basket.
It's a great little feature because you never need to use an ash vacuum to clean out your grill. After cooks, simply shake the charcoal basket, slide out the ashtray, and empty the ashes into a bin.
I find this feature truly does make clean up so much easier. You will learn to love it!
Kontrol Tower Top Vent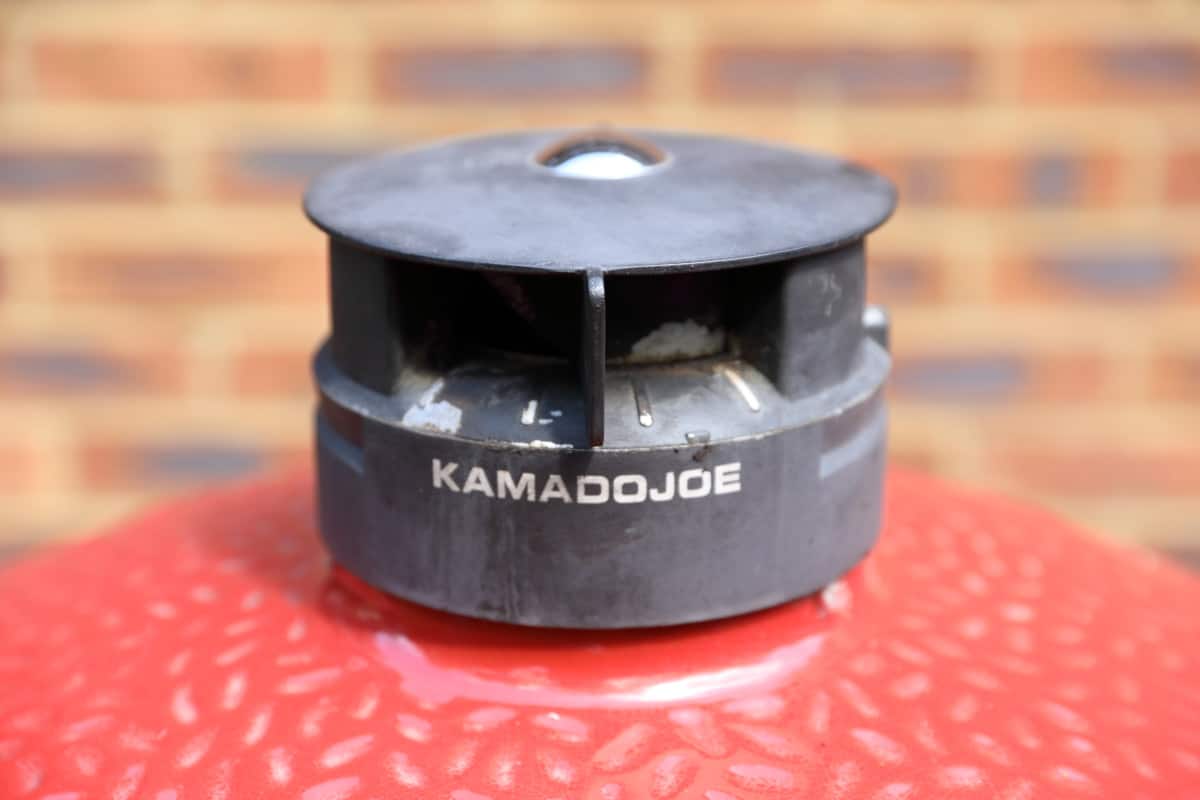 The control tower top vent is a double-edged sword. It solved some problems seen on many other kamado-style cooker vents, but has introduced a couple of issues of its own.
Compared to other style vents, it prevents water (rain) from getting inside the grill. And it solved the issue of older, wheel-style top vents moving position when you opened and closed the grill lid.
However, it does have a tendency to gunk up, clog, and become hard to move after a few cooks. So you need to keep on top of cleaning it. But then, sadly, after just a few cleans the paint peels and makes it look less attractive. Luckily, most flaking on the inside and happens through cleaning.
Overall, the design and idea behind it is great, and it works well. But I feel Kamado Joe needs to find a better, higher heat paint for it or provide a stainless steel version that doesn't need painting.
Aluminum Side Tables / Prep Areas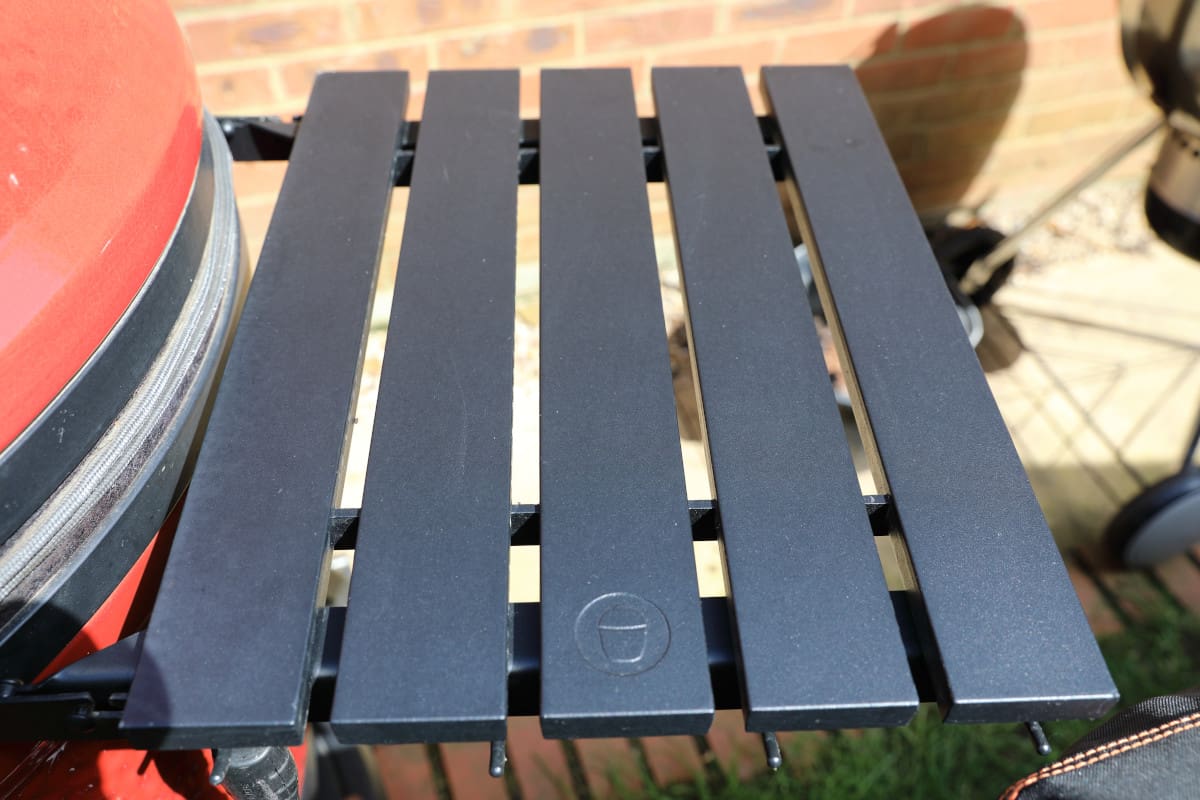 Like most of KJs products, the Big Joe III has folding shelves that provide you with prepping areas / beverage resters for when you've gotta flip some meat.

Compared to previous models, the shelves are made with aluminum rather than marine-grade plastic.
This is a good and needed upgrade because many people — including myself — would unintentionally melt the old ones by placing a hot pan or hot tools down on them.
So far, so good with the new design tables on my Big Joe III, there's not a melt in sight! So this upgrade is a definite win.
Improved Cart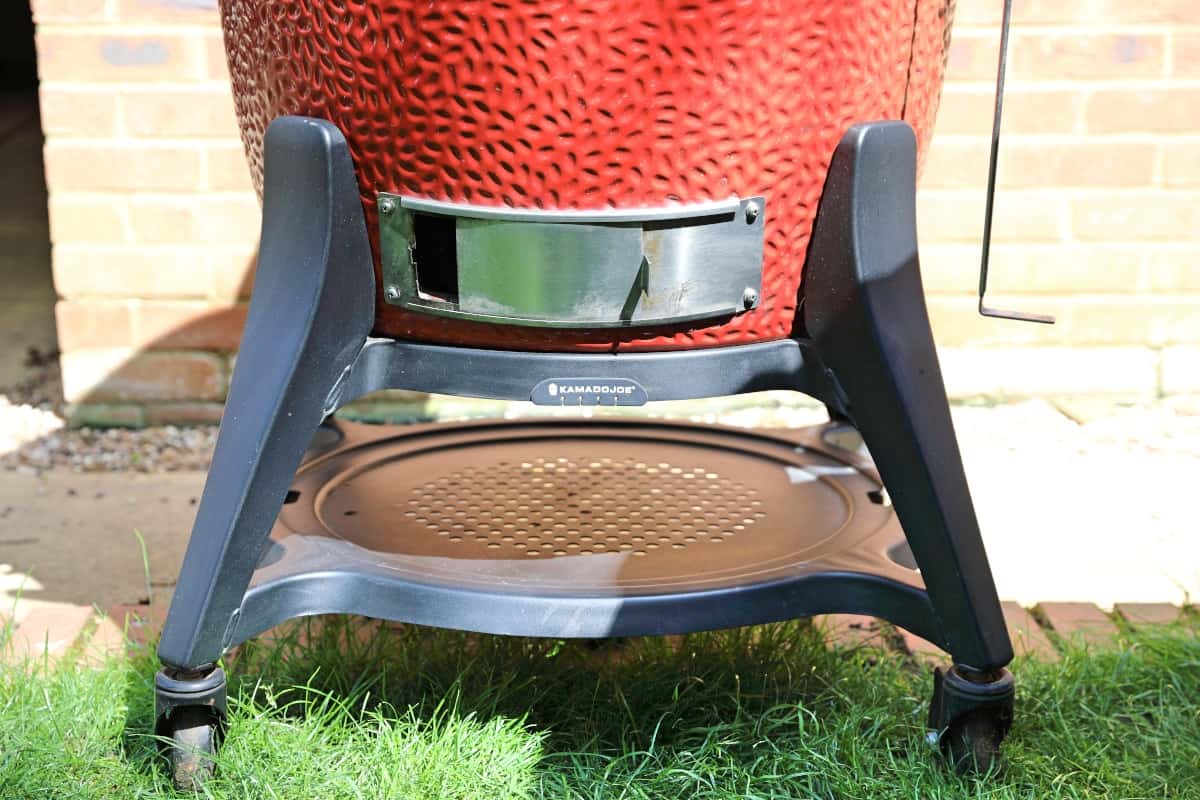 As you can see in the side by side of the version 1 classic and the version 3 Big Joe above, the new cart looks so much better.
The old cart was a simple steel frame. Functional to hold the grill, but it didn't look great.
The new cart just looks so much better and more befitting of such a premium product!
The addition of the lower shelf on the cart is also great, where you can store your SloRoller, or some half-moon grates when not in use.
The wheels are strong and sturdy and allow you to move the grill about, with two of them locking to keep it in place when cooking.
I like the new cart. In comparison to the old one, it's a giant leap forward. It's a thumbs up from me.
Lid Thermometer Gauge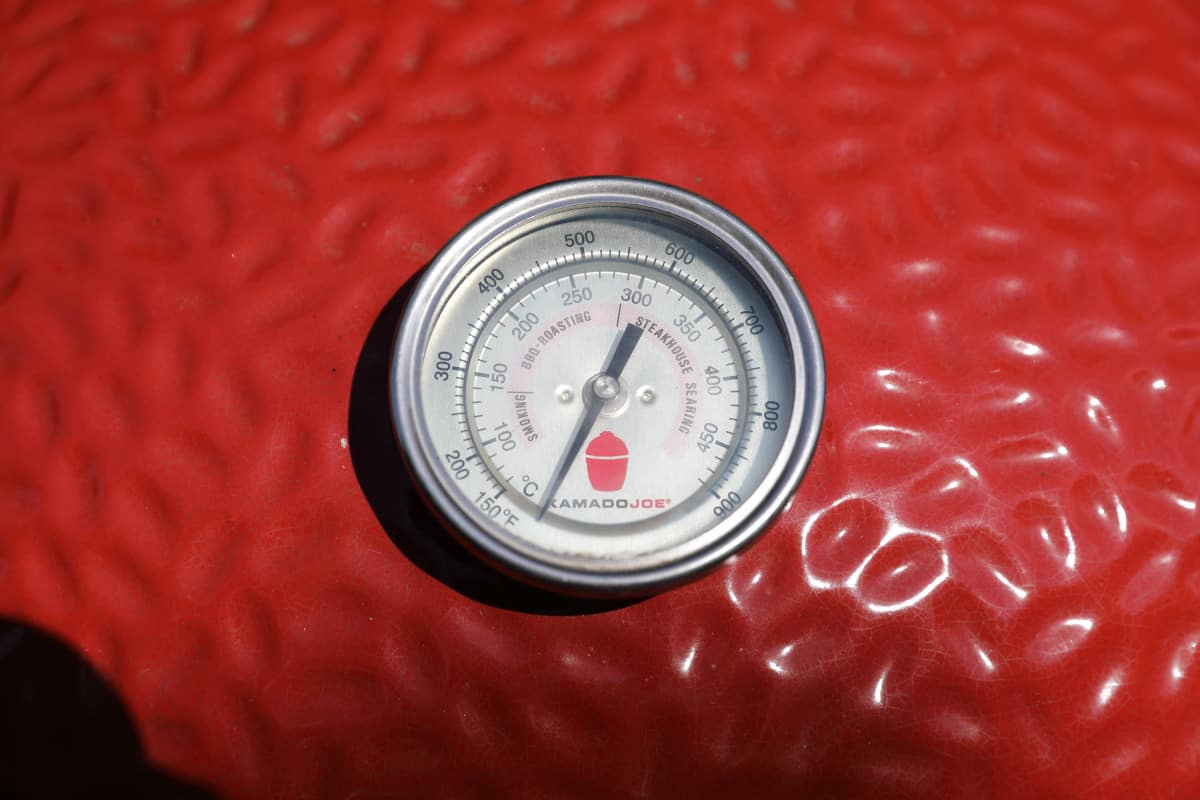 The thermometer in the domed lid hasn't changed from previous models.
It has a scale for Fahrenheit and Celsius, markings for smoking, bbq-roasting, and smokehouse searing, and measures from 150 °F to 900 °F
I highly recommend calibrating your thermometer when it first arrives, after which it is perfectly usable, accurate enough, and does what it's supposed to do.
However, because the thermometer sits up in the lid, it's always a fair few degrees out when compared to what's happening at grate level. So I recommend purchasing and using a good digital smoker thermometer instead.
I've no complaints about the KJ lid thermometer. I use it sometimes. Just overall, I'm not a huge fan of lid thermometers and prefer to gain better accuracy by using a 3rd party digital one.
Warranty and Support
KJ offers a lifetime warranty on the ceramic parts (just as long as you are the original owner), a 5-year warranty on the metal parts, a 3-year warranty on the heat deflectors and pizza stone and a 1-year warranty on the gasket and thermometer.
There are limitations to the warranty, but these are very fair and expected, and much better than most other warranties across the marketplace.
Available Accessories
The Big Joe III comes with everything you need to grill and smoke a wide range of foods, but they also sell a whole range of Big Joe accessories to extend the functionality further still.
Cast iron griddle — For full-face searing, smash burgers, bacon, or cooking liquids such as eggs and pancakes, the solid cast iron griddle is essential. I have one, and highly recommend it.
Joetisserie — An attachment that sits between the lid and body, turning the Bog Joe III into a full-on rotisserie. Perfect for poultry, pork, and large beef roasts. I don't actually own one, but have used a friend's one numerous times, and it's a fantastic bit of kit! (I've never bought one as I have two other rotisseries already!)
DoJoe — Another attachment that sits between the dome lid and body that turns the grill into a pizza oven.
You can also buy extra grates and a grill expander to expand the cooking surface area, filling up the 3-tier system if you regularly cook for large crowds.
A soapstone half-moon cooking surface is a somewhat popular cooking surface for high heat searing that you might also like to try out.
There's also a half-moon cast iron grate, a pizza stone, a deep-dish pizza stone, chicken stand, rib rack, and a few other items that you can check out at this link to Kamado Big Joe accessories.
Summary of Pros and Cons
Pros
Beautiful looks and design (though beauty is in the eye of the beholder.)
Incredibly versatile: You can grill, smoke, sear, roast and bake
Incredible efficiency and heat retention for consistent results and fuel economy
Infinitely adjustable temperature control from approx. 200 to 750 degrees Fahrenheit
Large capacity for feeding many people at once
Innovative SloRoller ensures even heat and smoke distribution for better cooks
Flexible cooking system provides different heat zones and exchangeable cooking surfaces for even more versatility
Air-lift hinge makes opening the heavy lid easy
Easy clean up due to the removable ash collection tray
Lifetime warranty on the ceramics
Cons
Kontrol tower top vent paint started to peel after a few uses
Kontrol tower top vent can clog with smoke and fat, making it hard to adjust until warmed through
Price is high compared to many other ceramic cookers
Is this a Recommended Product?
Kamado Joe KJ15041021 Big Joe III 24-inch Charcoal Grill with Cart and Side Shelves
A premium, 24-inch ceramic kamado grill and smoker that can grill, smoke, sear, roast, and bake.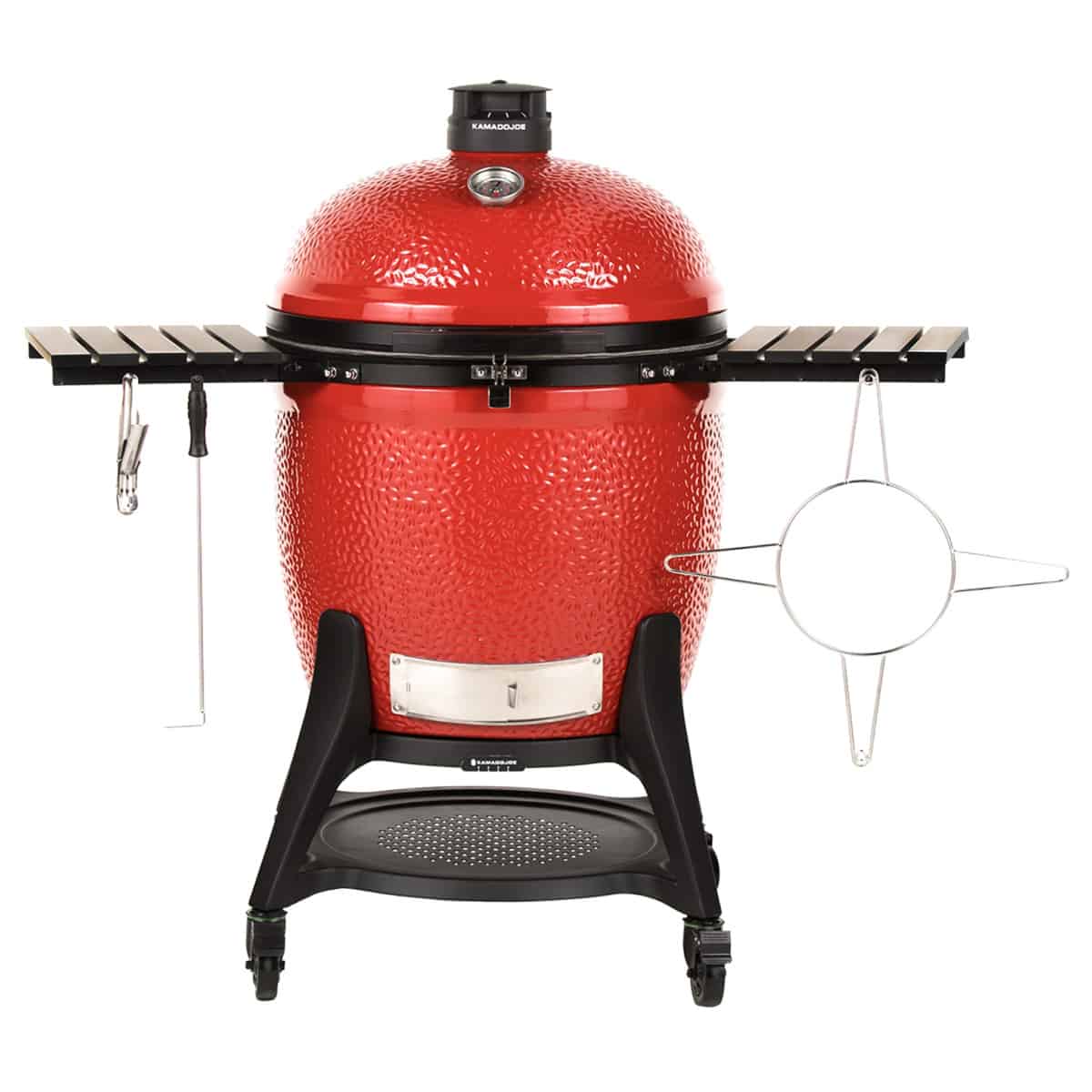 With Harvard-designed SloRoller Hyperbolic smoke chamber technology, air-lift hinge, Kontrol Tower top vent, 3-tier divide and conquer versatile cooking system, aluminum side shelves, and new design cart.
One of the most versatile outdoor cookers on the market!
While it is pricier than many other grills available on the market, you get a lot of bang for your buck with the Big Joe III, and this timeless classic is in it with you for the long-haul.
A lifetime warranty is not given lightly, so you can rest assured that this grill is the best quality that you can get, and over the years will show value for money.
Performance-wise, it's amazing. It grills, smokes, roasts, and bakes superbly. It has many innovative and user-friendly features, is easily controllable, holds a steady temperature incredibly well, is fuel-efficient, and easy to clean.
So if this guy is in your budget range, then we absolutely recommend it if you need the grilling space. You might never want for another grill with its versatility, and no matter how big your family gets, the Big Joe always has room at the Inn for hungry pilgrims.
If you like the sound of it, but you are questioning whether you need something so big, then you may prefer his smaller brother, who is essentially a mini-me of Big Joe, the Classic Joe III. Or perhaps even a Kamado Joe Jnr, the smallest of all three available sizes, if you're never likely to cook for more than 2 people?
Conclusion
A saying has never been truer than you get what you pay for here. KJ grills are outstanding evidence of this when it comes to performance, quality, ease of use, smooth customer service, and, ultimately, tasty food.
However, there are things that you need to consider, such as whether you have the room, or need, for such a big grill, but if you do, we definitely rate this product for sure.
Do you have a Big Joe III, or maybe you have some burning questions about it that we haven't entirely covered? Share your thoughts with your fellow readers and us in the comments below.