For a lot of grillers and smokers, charcoal is the only way to go. Even those of us who will sometimes click on the gas grill for convenience, (myself included) there's still a special place in our hearts for lumps and briquettes.
However, nobody loves messing around (and I mean that literally) with charcoal. It can be messy to set up and get started, and it's always messy during cleanup.
It can be particularly challenging if you're using a deep, kamado style barbecue like a Kamado Joe or a Big Green Egg. If you own one, you know what I'm talking about!
If you're sick of digging cold lumps out of the ash, we just might have the product that makes you fall in love with charcoal again, and all will be revealed in our kick ash basket review.
The kick ash basket promises easier cleanup, better fuel economy by re-using unburned fuel, and overall a more convenient and less dirty process of using charcoal in a kamado style cooker.
Will it live up to the claims? Keep reading to find out!
What is a Kick Ash Basket?
Kick Ash Basket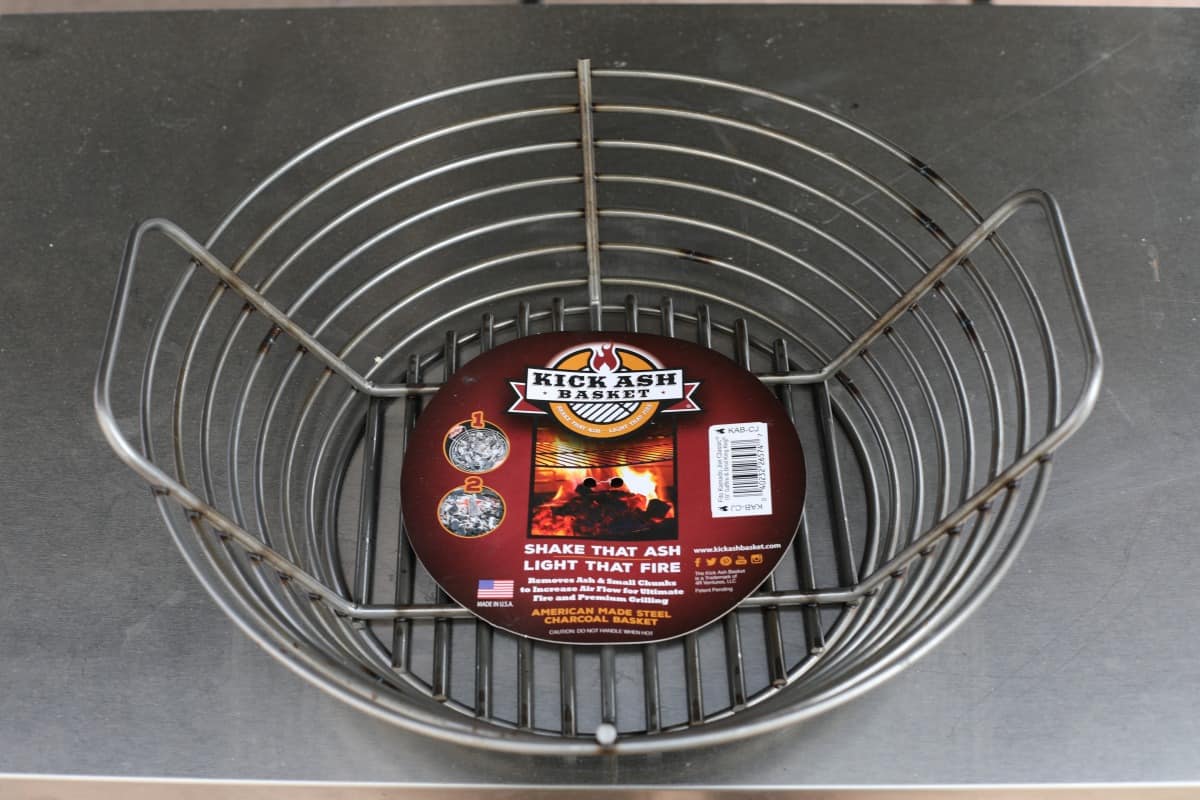 A charcoal basket insert that can save you time during cleaning, and save money, by allowing you to re-use unburned fuel after simple separation from ashes with just a little shake. A simple idea well executed, and a cracking little product.
Think of the KAB as a charcoal handling system and cleanup assistant in one package. It is, as you can see, a basket made from stainless steel. There's a handle on each side, and the entire thing is slatted.
Instead of placing your charcoal directly in your kamado, you instead insert the Kick Ash Basket first. Once in place, pour the charcoal as usual into the basket.
Once your cook session is over, give your charcoal some time to cool down completely. When you're ready, reach in and lift the KAB out, hold it over an ash bin, give it a shake, and all the ash and small bits drop out, leaving only unburned coal to use for your next cook.
I purchased one for my Kamado Joe Classic, and it's this model that you see in the photos in this review.
Summary of Pros and Cons
Pros
Ultimately, it helps you save time and money over the long term
Simple way to separate ash and unused charcoal, to save fuel for reuse later
Helps with airflow and hence more stable, and if needed higher temperatures
Saves time cleaning after cooking, due to being easy to lift out and shake over a bin
Cons
Can be hard to grasp the handles when inside my kamado, but I'm not sure it can be improved upon
Features and Manufacturer's Specifications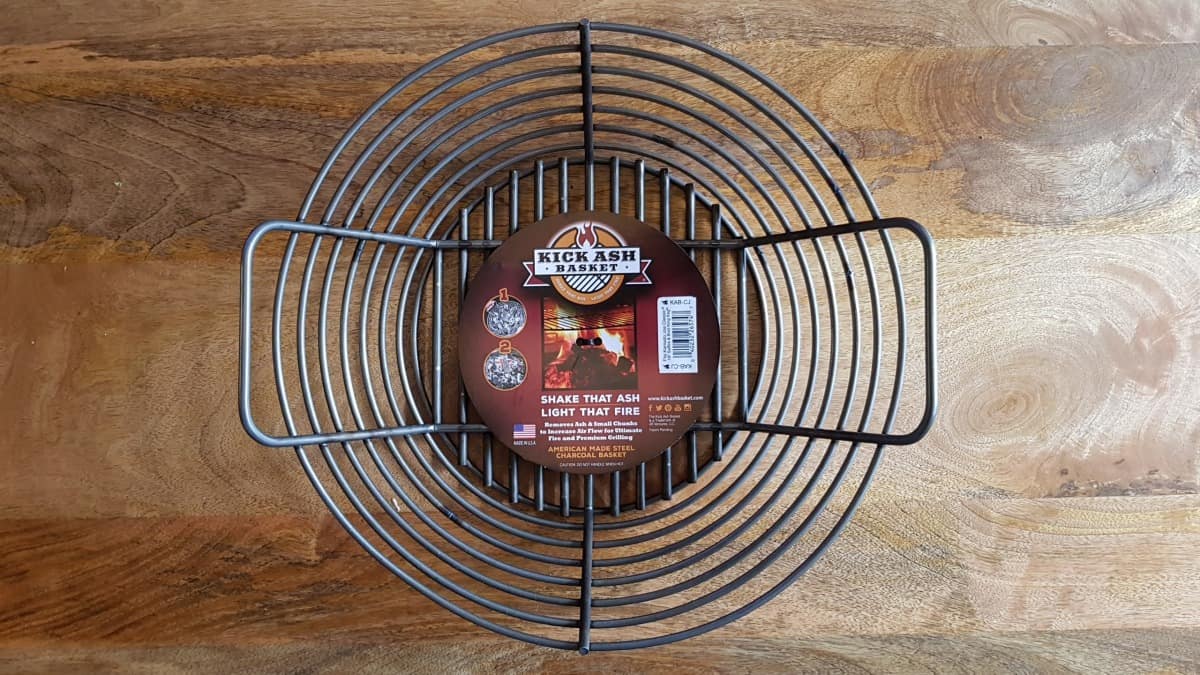 No matter which version of the Kick Ash Basket you purchase, the features are the same: welded stainless steel, and two handles. The dimensions vary, however, depending on which kamados your model is meant to fit.
By now, you've already seen the word "kamado" five times in this article. That's because the Kick Ash Basket is only for use in kamado grills. If you own a kettle grill or other type of smoker, we're sorry, but you're not invited to this party.
Specs
Heavy-duty stainless steel wire construction
Electro-polished stainless steel
Precision welding at wire intersections
Why Buy One? What are the Benefits?
At first glance, this doesn't seem like the kind of product that gives you an edge over other grillers. It's just too simple, right? The truth is, the KAB makes kamado grilling even better than it already was.
The most obvious benefit of using a Kick Ash Basket is the convenience of removing all of your charcoal from the bottom of your kamado at once. No more leaning way into your BGE XL! Plus, shaking the KAB releases all the ash, leaving you with nothing but unburned charcoal to reuse, while saving you time and money.
Although most people will wait for their kamado to cool down, if you're in a hurry, the KAB can help. Competition grillers and smokers sometimes have to pack up in a hurry. In that situation, allow the basket to cool down a little and then remove it wearing heatproof gloves. The empty kamado will cool off much faster.
All that is great, but there's an even better reason to use a Kick Ash Basket.
You probably know that a fire cannot burn without oxygen. The more oxygen it gets, the hotter it will burn. That's why kamados and other grills have air vents we can open and close — it's how we can control the temperature.
Unfortunately, within and around the sides of a pile of charcoal, air circulation isn't optimal, no matter what you do with the vents.
The KAB holds charcoal slightly away from the walls of your kamado, allowing increased airflow, and preventing air holes from clogging with ash. This allows for a more consistent burn and higher potential temperatures if needed.
Design and Build Quality
Kick Ash did not reinvent the wheel in terms of design — it's a basket, and it looks like almost every basket you've ever seen. The gaps between bars allow all the small stuff to drop through and the big stuff to stay in place without much waste, meaning very little of use is going to fall out prematurely.
Size-wise, the Kick Ash Basket is built to fit as many kamado style grills as possible. Some it will fit better than others, but it's as close to universal within its size category as it can be.
They've used heavy-duty stainless steel, so it will hold up to the intense temperatures sometimes generated inside a kamado. Each basket is precision welded every place metal meets metal; it may actually be over-engineered for the job of holding charcoal, but we aren't complaining.
How Do You Use One? Step-by-Step Instructions for a Kick Ash Basket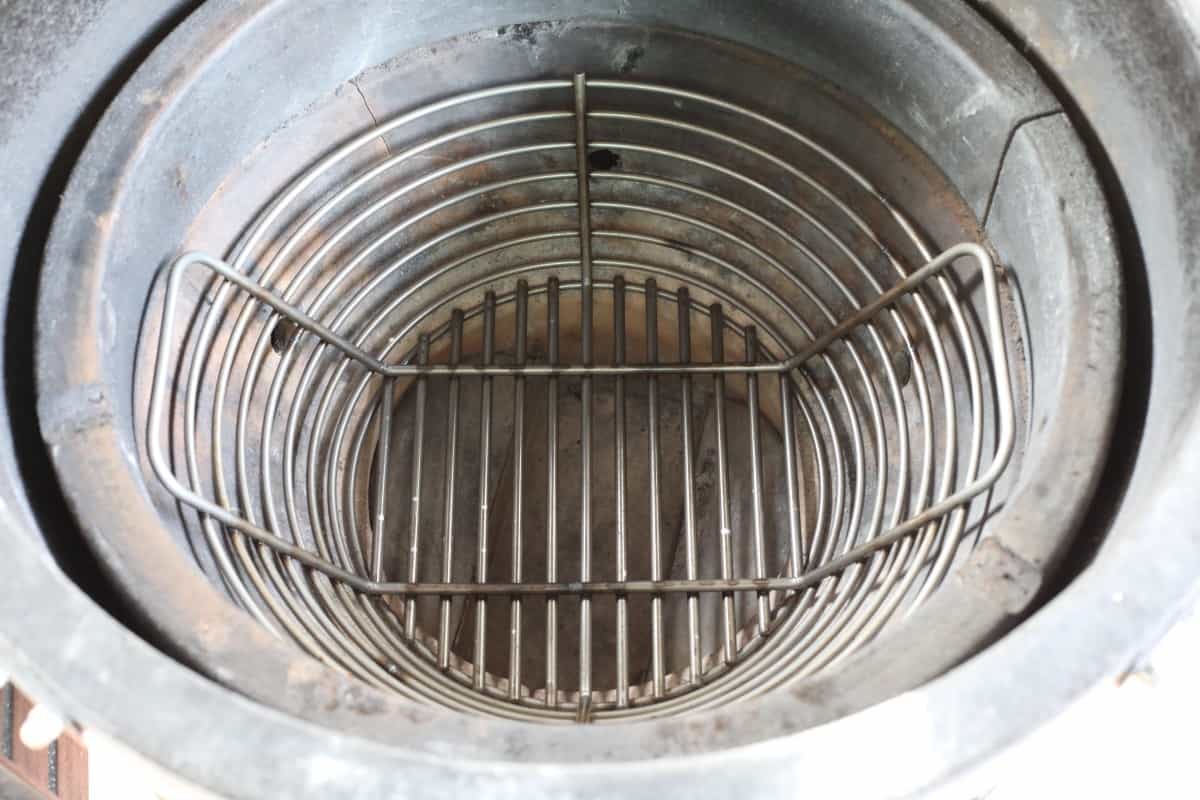 When you start cooking, follow these steps:
Clean out any ash already in your kamado
Remove charcoal grate (optional)
Place Kick Ash Basket inside kamado — it should rest flat at the bottom
If you use a charcoal chimney starter, light it as usual, then dump lit charcoal into the KAB. If you don't have one yet, check out our guide to the best charcoal chimney starters.
If you light your charcoal in the kamado, pour lumps directly into the KAB
Light your charcoal as usual
If you're using less than a full basket of charcoal, you could load the basket first and then place it inside the kamado.
When your cook is finished, follow these steps:
Allow kamado and charcoal to cool down
Lift the KAB by the handles and remove from kamado
Shake the KAB over a metal garbage can or ash can to remove ash and small pieces
Reuse any charcoal remaining in the KAB
What Smokers Can They Fit?
Here's a list of kamados we know Kick Ash makes a basket for.
Char-Griller Akorn Kamado Charcoal Grill
Big Green Egg: MiniMax, Small, Medium, Large and XL
Broil King Keg
Grilla Grill
Grill Dome: Large
Kamado Joe: Junior, Classic and Big Joe
Louisiana Kamado Model K24
Pit Boss
Primo Kamado All-In-One
Saffire Grill
Vision Grill
Weber Grill
There are many sizes of Kick Ash Basket, so check to see which one is right for your kamado. If you're not sure if it will fit, pull out the tape measure and check your interior dimensions.
Warranty & Support
Kick Ash provides a 3-year limited warranty, and you can register your KAB online. There's also a 90-day return policy, which is apparently a "no questions asked" deal. Confidence in your product is sexy, just sayin'.
If you need to contact Kick Ash, there's an online form you can fill out, an email address, and a phone number for the office in Wisconsin. For social users, you can connect on Facebook, Twitter, Pinterest, Instagram, and YouTube. Not getting enough email already, sign up for the Kick Ash email list.
Final Verdict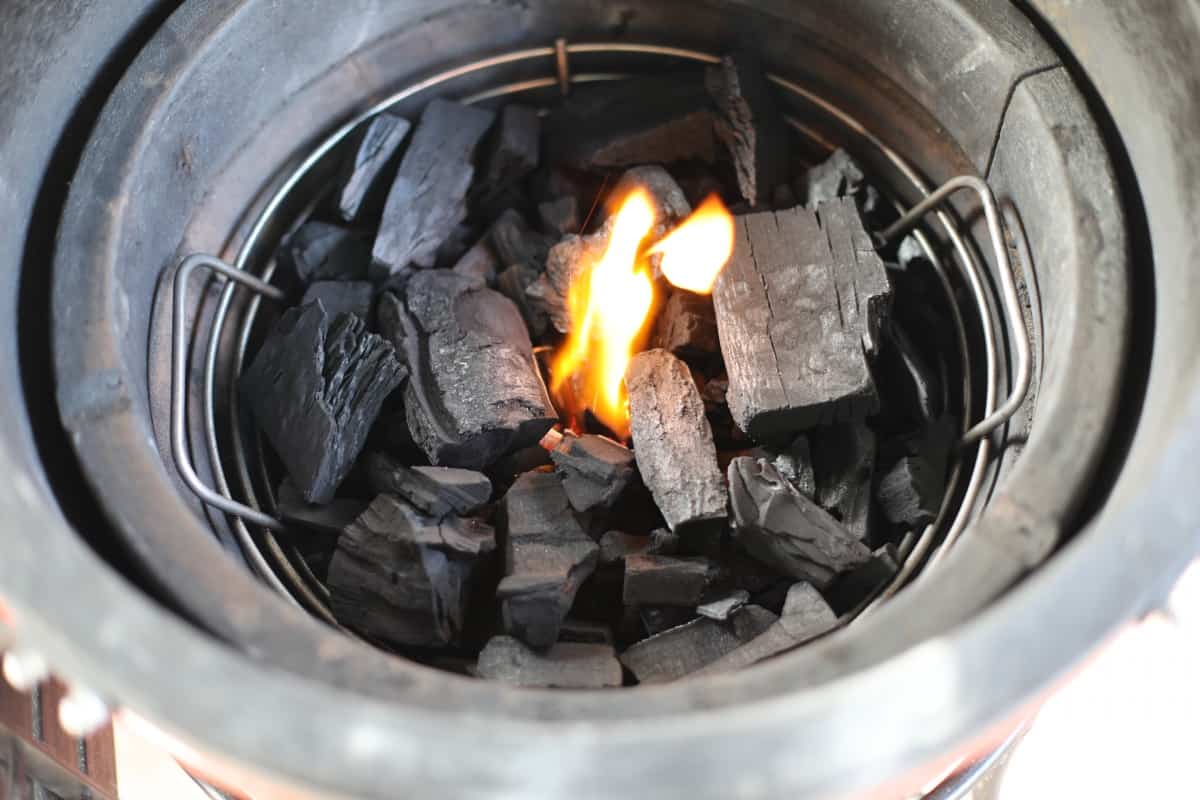 The objective part of this kick ash basket review is finished. Time to get subjective and let you know how I really feel!
What We Like
Anything that reduces your contact with charcoal, burnt wood, and ashes is a good thing! I don't mind getting a little messy sometimes, but it's cool to minimize it where you can.
Maintaining a consistent temperature is crucial for good grilling and smoking, and the Kick Ash Basket makes that a more manageable task thanks to the improved airflow around your charcoal pile.
I've had my kick ash basket for over a year now, and I like it.
I used to use my Kamado Joe 'ash tool' to stir up the coals in the bottom of my kamado, to get the ash and tiny pieces to fall through the fire grate. But the holes are so small, they would often block. So I'd have to pile up the old coal on the sides to leave airflow through the center, which is far from best for temperature control.
And for long, low n slow cooks, I would just sacrifice the unburned coals by emptying out my kamado and using a new load, as reliably constant temperature is a must over 15 hours or so of smoking. So I would sometimes throw away perfectly usable pieces of charcoal.
With the kick ash basket, I can simply pick up the old coal, shake off loose bits and put it back in the kamado, mixing in new fuel, then I'm ready to go.
I'm confident in saying it has paid for itself over the year+ of ownership, by way of far less fuel being thrown away, and time saved on top over manual emptying (picking up the pieces) is a huge bonus.
What Could Be Improved
The two handles extend out and up from the basket, following the same angle as the basket itself. Unfortunately, this means the handles sit very close to the walls of some kamados, making it slightly difficult to pick up, especially if you have thick gloves on.
Not sure if there's any way around this though to be honest?
Will I Get Value for My Money?
The simplicity of the Kick Ash Basket makes it easy to forget what a great idea it is. Honestly, it's one of those "why didn't I think of that… and get rich?" products.
It does a darn good job, and it enhances the kamado experience. If you've invested time, money, and even a bit of your soul into this kind of cooking, you'll definitely see the value in this product, same as I do. It is absolutely worth the investment.
So, is This a Recommended Product?
If you're feeling a little silly about wanting to buy a basket, get over it! I already loved kamado cooking before I bought my own Kick Ash Basket, but now I love it even more.
My cleanup time is faster, I waste less charcoal, and I have better control over the temperature. Basically, what the manufacturer promises, is absolutely true! It does precisely what they claim.
So, if kamado grilling and smoking is your thing, this is a must-have accessory.
Kick Ash Basket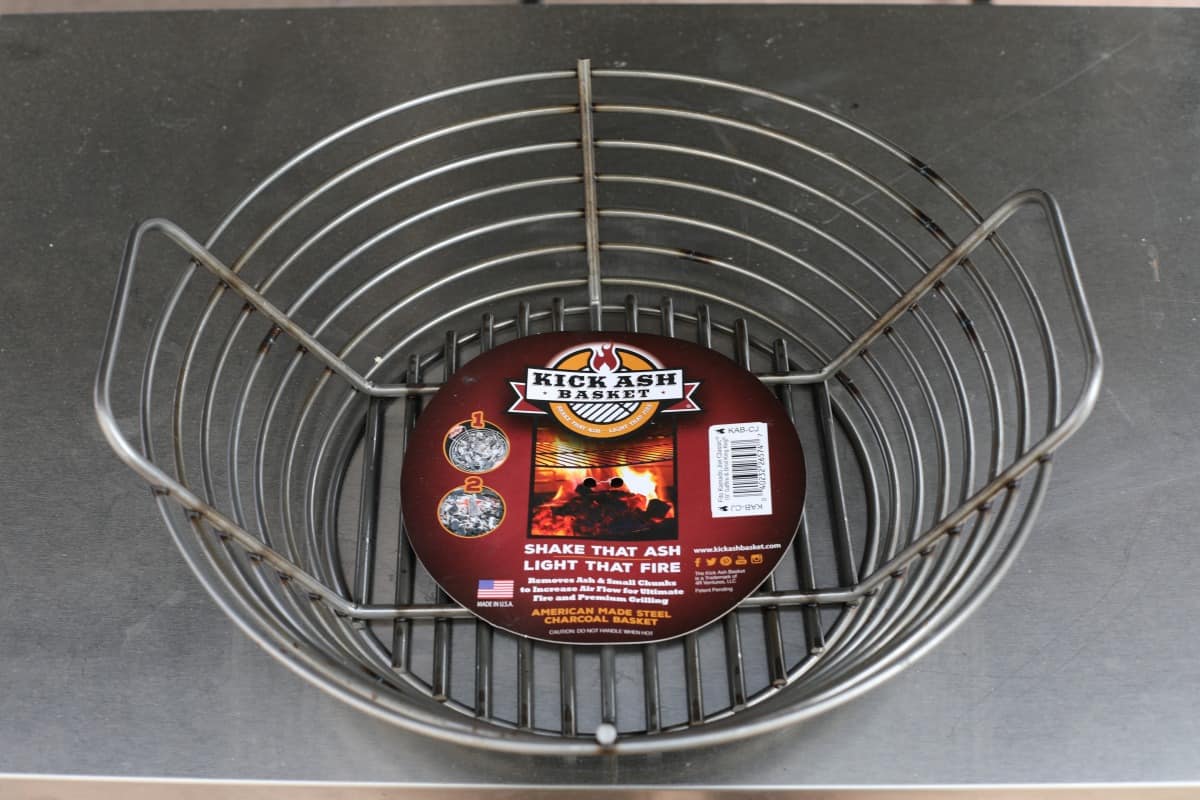 A charcoal basket insert that can save you time during cleaning, and save money, by allowing you to re-use unburned fuel after simple separation from ashes with just a little shake. A simple idea well executed, and a cracking little product.
Do you have any questions or comments on the kick ash basket? If so, please leave them below, I'd love to hear from you and will answer every one.
Happy grilling!