In this guide to the best kamado grills, we review the top models on the market, a handpicked selection of eight of the most popular, advanced and proven models for your consideration.
We'll also talk about the pros and cons of cooking on a Kamado, what you can expect from the experience, and of course what to look for in such a quality grill, so by the end of the article you'll know which is the best kamado grill for you.
No matter what your hobby or passion may be, there almost always comes a time when you want to take it to the next level.
The outdoorsy types get a longer trailer, photographers snag a bigger lens, model railroaders build a mountain. So what do grillers do?
Well, many head out to the store and pick up a big and shiny new outdoor kitchen. Others take up the fine art of making charcuterie. For some, however, the solution is to buy a Kamado grill.
If you're considering making the jump and going Kamado, we've put together the following comprehensive buyers guide that you'll definitely want to look over.
At a Glance: Our Top Picks for Best Kamado Grill
Note: Clicking the above links will take you to further information, current prices and customer reviews on Amazon, and other select retailers.
Recommended Kamado Grill Reviews
Now that we've taken care of the general overview let's get down and dirty with a few choice grills in our best kamado grill review section.
Unlike many action movie series, the Big Joe just keeps getting better with every new iteration. Big Joe III continues the Kamado Joe tradition of grilling and smoking excellence while adding some incredible new features, making this our top-rated Kamado grill.
If you've read about the Kamado Joe Classic III, then you already know most of what there is to know about the Big Joe III. The only significant difference is in size – Big Joe III's grate is 24" across, compared to Classic III's 18-inch cooking surface.
The reason I recommend the bigger Big Joe, is after owning both sizes myself for a number of years, I've found the Big Joe is way better for creating two heat zones when grilling. And when smoking, due to the larger volume you need a slightly hotter fire, which helps with a cleaner combustion of wood and hence more blue smoke and less white. This results in better smoked food, and is worth paying the extra for.
The most obvious difference between Big Joe II and Big Joe III is the shape of the cooker. Joe III is taller than Joe II, with an elongated barrel shape. The extra cubic inches allow for more versatility inside, including expanding the Divide & Conquer Cooking System from two tiers to three.
Divide & Conquer is a rack and shelving system using half-moon-shaped grates and heat deflectors you can arrange as needed for a variety of cooking styles. Want direct heat searing and indirect roasting at the same time? Can do! It's awesome for cooking a whole meal at once.
Another remarkable new feature on the Big Joe III is the SlōRoller Hyperbolic Smoke Chamber.
Looking a bit like a flying saucer, it's actually a smoke flow optimizer scientifically designed to maximize smoke contact with your food. The unusual shape causes smoke passing through it to swirl just above the cooking grate instead of rising straight up. Anyone who loves smoke flavor will love this added bonus.
Other upgrades include a far more robust cart, with a storage shelf that perfectly accommodates the SlōRoller: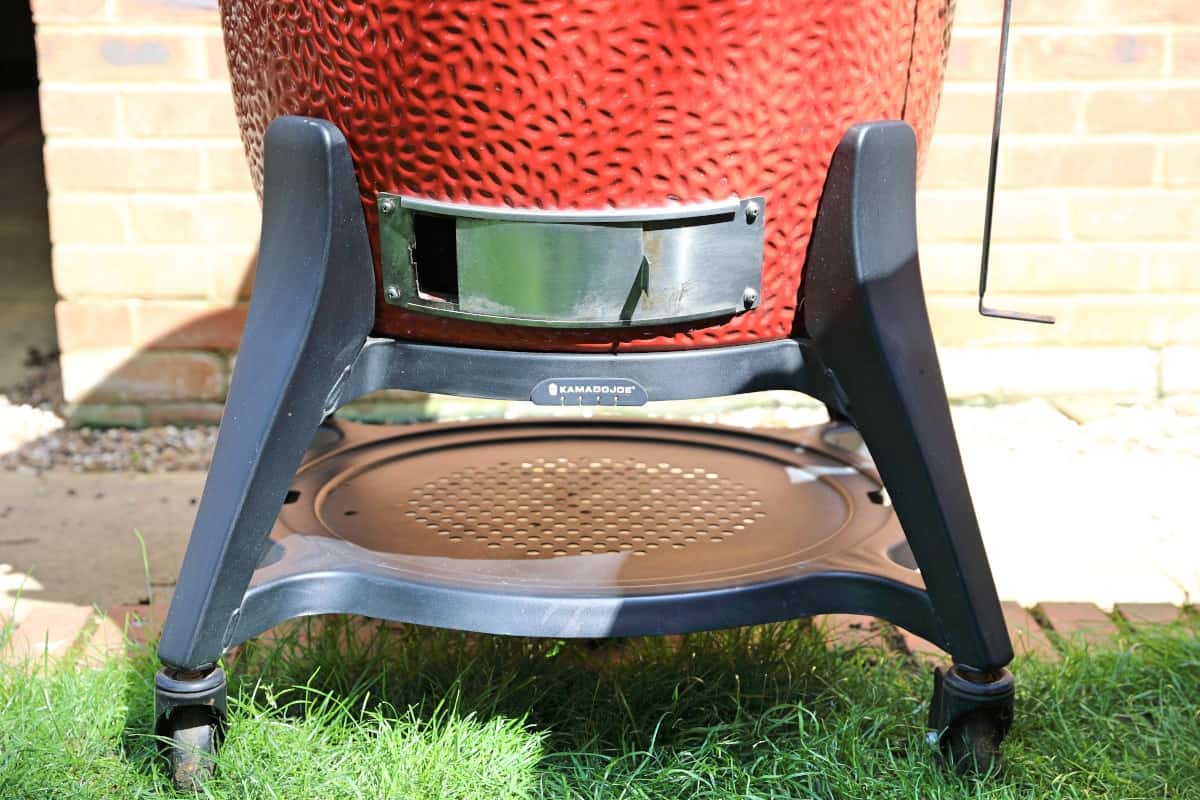 There's also a stainless steel charcoal basket. This basket is a major improvement over the previous cast iron charcoal grate; it comes standard with a divider for splitting your charcoal into two zones, and it's a breeze to lift out for easy clean-up and to reuse unspent charcoal.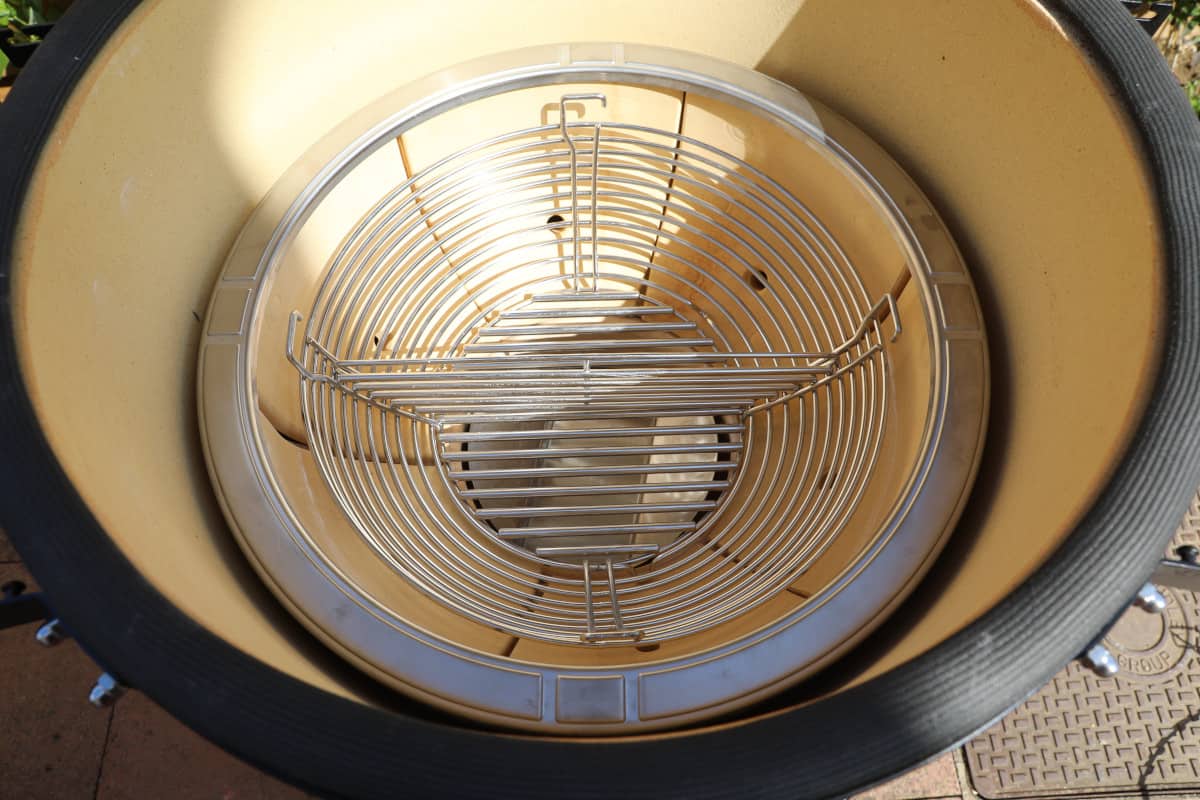 Returning features include the amazing Air Lift Hinge for one-finger opening and closing: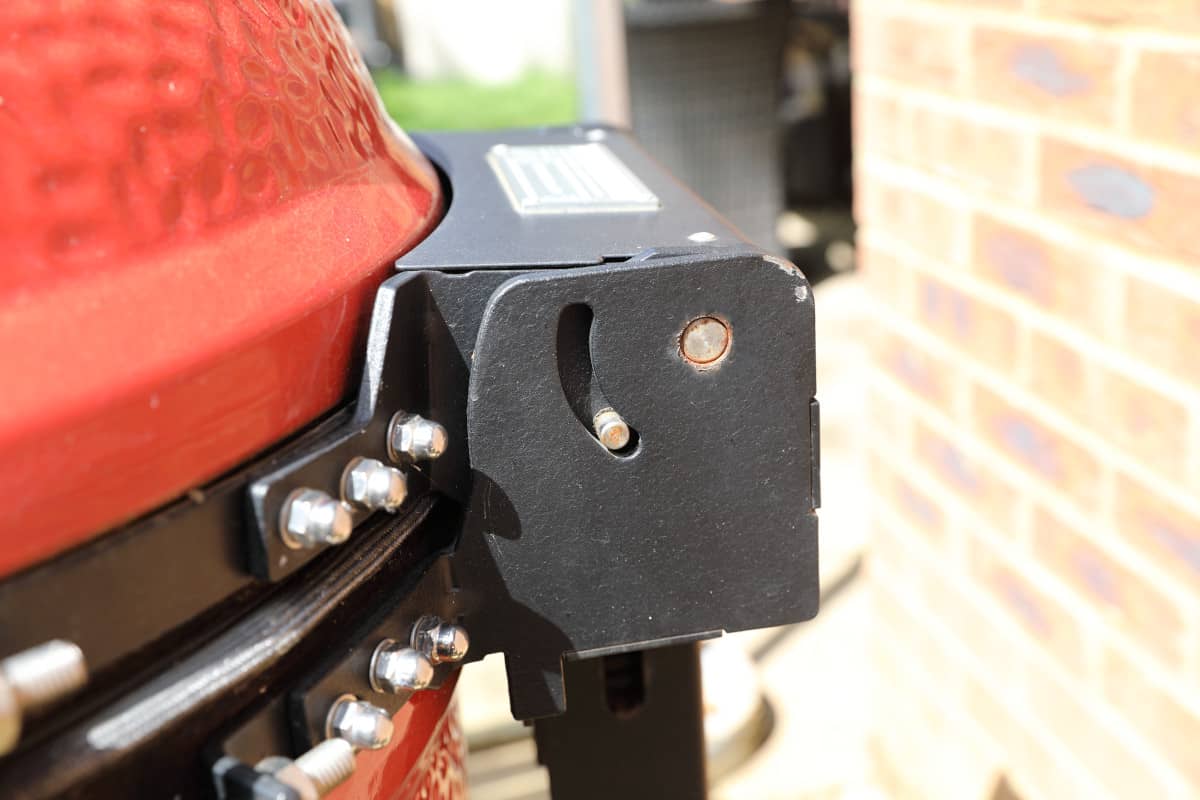 The multi-panel firebox, that prevents cracking due to expansion and contraction when expanding and cooling: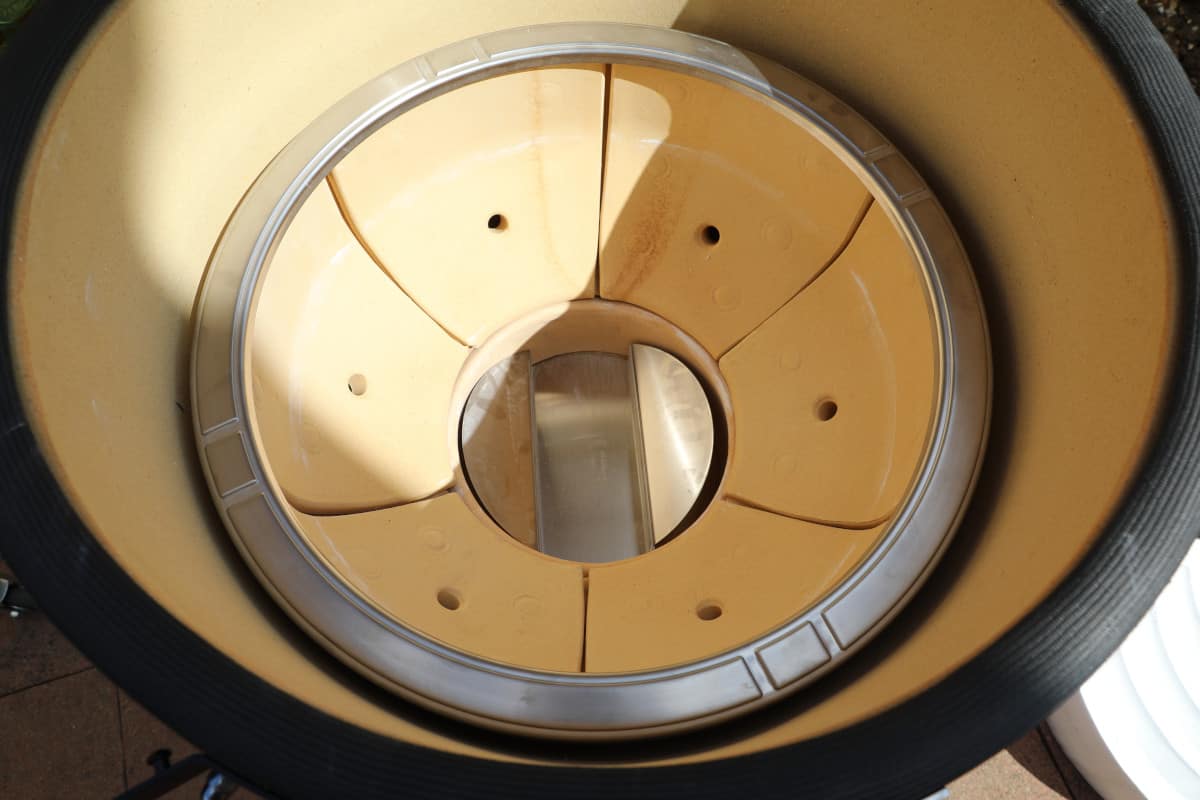 A sealing latch and long-life fiberglass gasket:
And finally a pair of folding aluminum side shelves, and the Kontrol Tower weather-resistant upper vent.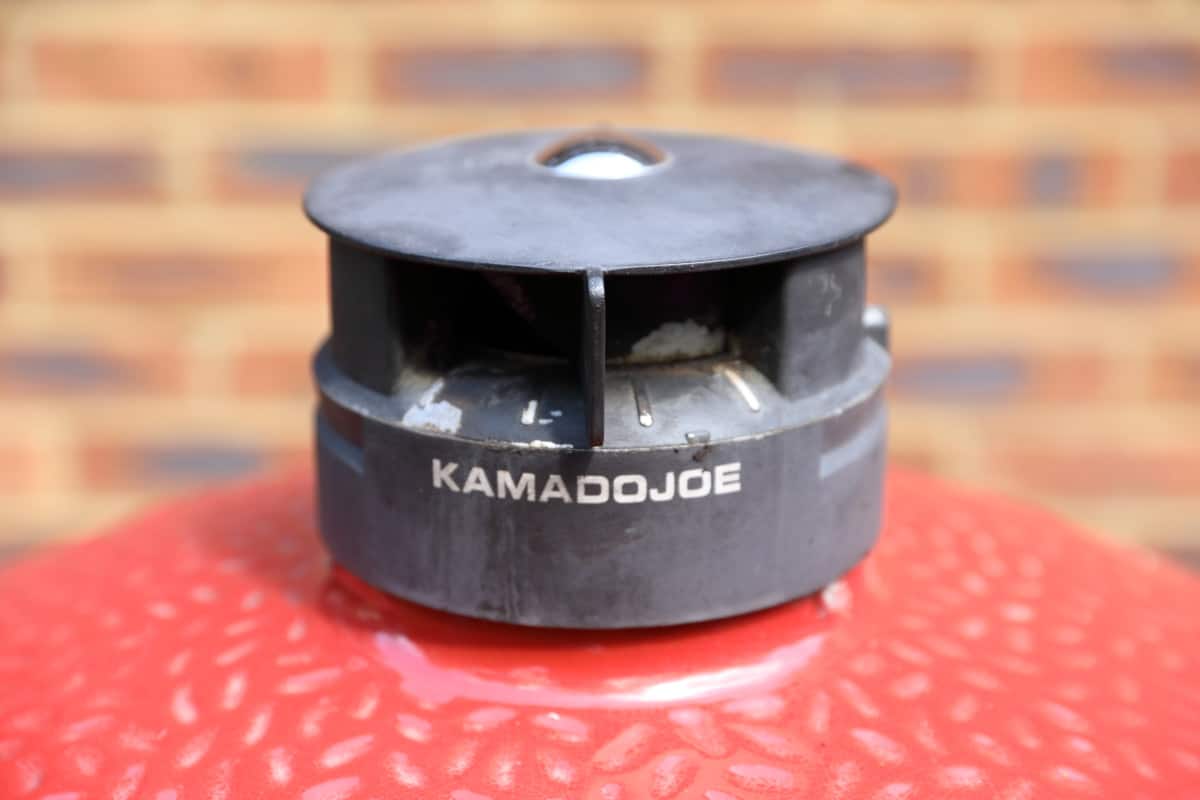 Looking at specs, the Big Joe III stands 53.47 inches tall on its cart, measures 58.4 inches across with the shelves out, and weighs a staggering 487 pounds.
The heat range runs from 225°F to 750°F but maxes out at 500°F with the SlōRoller in place, otherwise you can melt it. But you never smoke past this temperature anyway.
With the Divide & Conquer system in place, you have up to 864 square inches of cooking space available.
Pros
The most innovative and feature packed Kamado on the market
3-tier Divide & Conquer system provides even more space and options for cooking
The upgraded cart is far more robust and offers storage space missing from the previous version
Included SlōRoller enhances smoking results
Built like a tank for superb heat retention and performance
Epic size makes you look like a backyard grilling boss
Cons
Unbelievably heavy — you will not want to be moving this about often!
Hefty price tag is as eye-catching as the glossy red ceramic exterior
You really can't go wrong with any Kamado Joe grill. But, for the Big Joe III, KJ pulled together a seemingly unbeatable combination of classic and brand-new features.
While it's best suited to people serious about smoking, it's also ideal for those who want to go beyond basic barbecuing. Oh, and it's definitely for people who love to cook a LOT of food. And if you want to own the most impressive-looking grill in your circle of friends, the Kamado Joe Big Joe III is likely a winning choice.
For further details and to see many of the foods I have cooked on this beast, please see our Kamado Joe Big Joe III review.
Diving into unknown waters can be unnerving, whether we're talking about trying something new, or literally plunging into foreign H2O.
While I don't recommend the latter, new things can be great. But, when you really don't know the territory it can be hard to make a choice. Sometimes the best bet is to go with the most popular and well-known option; surely, if so many people are talking about it, it's gotta be half-decent, right?
You can't Google "Kamado grills" without seeing a bunch of hits for the Big Green Egg. It really is the progenitor of the modern Kamado in the Western world. It even has its own special adherents: "eggheads," the original fanboys of the Kamado niche.
Unlike many brands that are popular due to clever marketing, but that are actually inferior products, the Big Green Egg is a quality product.
The ceramic is top-of-the-line, and both the top and bottom vents are carefully crafted for precision control of temps. The stainless steel grid should stay fresh with minimal care, and the porcelain exterior will remain shiny and green for years.
Green Eggs come in quite a basic setup, but there is a whole slew of upgrades and 'eggcessories' you can purchase to bring it up to the standard of any rival product.
The BGE is available in seven different sizes: Mini, MiniMax, Small, Medium, Large, XLarge, and XXLarge.
Here is a quick run down of the dimensions:
Mini — 10" grid; 79 sq. In. Cooking area; 39 lbs.
MiniMax — 13" grid; 133 sq. In. Cooking area; 76 lbs.
Small — 13" grid; 133 sq. In. Cooking area; 80 lbs.
Medium — 15" grid; 177 sq. In. Cooking area; 114 lbs.
Large — 18.25" grid; 262 sq. In. Cooking area; 162 lbs.
XLarge — 24" grid; 452 sq. In. Cooking area; 219 lbs.
XXLarge — 29" grid; 672 sq. In. Cooking area; 424 lbs.
If you can't find a size to suit your needs, well, your needs are pretty darn unique!
The XXLarge is perfect for any human octopus that wants to cook 35-40 burgers at once. Actually, the commercial applications are obvious with this bad boy, which can purportedly handle 14-16 whole chickens, 18-20 steaks, 20 racks of ribs, or one entire suckling pig.
For most of us, however, the XLarge may be the best choice for the typical, have-the-fam-over cookout. Check out this promotional video from Big Green Egg themselves, that goes over the features and specs of their XLarge offering:
My biggest complaint about the Egg is that when you buy one, that's exactly what you get — one Big Green Egg. Carts, stacked grills, side tables, deflectors and other great accessories are all sold separately. That's disappointing, considering they are included with many other Kamados.
I have seen several reports around the forums of people experiencing gasket breakdown on their BGE, but it is the most consumable part of any Kamado. Replacing the gasket is not difficult, and proper care (as in buying a cover) should extend the life and good looks of the entire unit.
Pros
Best-known name in the industry
Very well-made
7 sizes to choose from
Lots of accessories available
Active community online
Cons
Comes with minimal accessories
Not much innovation over recent years
Anecdotally inferior fittings
Multi-zone cooking nearly impossible
Pushes the affordability envelope
The Big Green Egg may have brought Kamado to the mainstream by being the first practical unit to market, but it has stayed there because it's a quality product.
Komodo Kamado 23 Inch Ultimate Kamado Grill
3
Now, if money isn't an issue for you, if you just love grilling so much you're willing to drop top dollar on a show-stopping Kamado, if you'd love to own the most amazing looking and brilliantly engineered product on the market, then the Komodo Kamado is for you.
And it's incredible to look at! Who wouldn't want this piece of art in their yard?
So yes, it's likely the very best kamado grill in the world when it comes to engineering, build quality, functionality, good looks and wow factor.
The Komodo is the brainchild of Dennis Linkletter, grandson of TV personality Art Linkletter, who took over a small Kamado manufacturing company in Indonesia. His redesigned grills incorporate innovative function and breathtaking appearance.
The 23" Ultimate is the original Kamado, but it has been steadily improved since its debut 19-years ago, and they now have six different sizes, from a 16" table-top, all the way up to a 42" beast. The Ultimate is the size that should suit most people.
There are now also 40 color variations shown on the website, made possible by the tiles applied to the outside with space-grade adhesive.
Inside the 23" Ultimate, you'll find 375 sq. In. Of main grill, 274 sq. In. Of upper grill, and 329 sq. In. Of lower grill. That's nearly 1000 sq. In. Of cooking surface.
Lifting this beautiful monster is a team effort. By that, I mean an American football team because the total weight is 588 lbs.
All three supplied cooking grills are 3/8″ / 9 mm 304 stainless steel — and they can be used in 4 cooking positions! The charcoal basket is also 1/4″ / 6.35 mm 304 stainless, the heat shield/ash screen is 3 mm 304 stainless, and many of the fittings and fixtures are also 304 stainless. All this quality material adds to the weight considerably.
And the body itself is a multi-layered, incredibly insulated grill, with the lid alone weighing 120 lbs.!
Fortunately, Komodo kamado designed a 'self-opening' hinge for the lid, that once you flip the latch, simply opens all on its own. And it's easy to close. So don't be put off by the weight, it couldn't be easier to operate, regardless of your size and strength.
Every indication is that this is an incredibly well-engineered grill that uses only the best materials. And due to the quality of said materials and its extreme insulation, a 16 lb. Bag of charcoal will burn for 85 hours at 235F. So by way of the best in class fuel efficiency, you will save money every time you use this grill compared to other brands.
By the way, I have to mention that the 42" version called the Serious Big Bad weighs an estimated 1500 lbs. And costs over $9,000! Good thing there's a monthly payment plan, so it could still be yours — And if you do buy one, please send me a picture.
Pros
Incredible engineering, build quality and materials used
Comes standard with three cooking grates, charcoal basket, drip pan, heat deflector, and side accessory plates, all in very thick 304 stainless steel.
Rotisserie shaft system makes it rotisserie ready.
'Temp controller' (BBQ guru/Roks Stokker) ready, via the supplied face plate
Optional gas door assembly at the rear
Food grade silicone seals
Easy to open and close with a self-opening hinge and lid that takes the weight
An amazing array of colors to choose from
Will quite simply amaze your friends
Cons
Very expensive
Ridiculously heavy — which is actually a good thing, when you know why ?
Who is this grill good for?
Anyone with extra money to burn, or the desire to fulfill the dream of owning the ultimate grill, will love this truly unique Kamado.
They are available from online retailers, but I'd stick with the manufacturer's website if I were placing an order due to the special shipping requirements.
Char-Griller Akorn Kamado
4
It's a little odd that Char-Griller calls this the "Akorn" when it looks more like an egg than any of the Big Green Egg products. But, considering the remarkable value packed into it, we won't quibble over a name.
True to form, Char-Griller has created a kamado grill for those who can't or don't wish to shell out big bucks for one of the big names. In a nutshell (an Akorn shell, to be precise), they've taken all they know about charcoal grilling and smoking and applied it to a kamado.
At only 97 pounds, the Akorn is much lighter than most kamado grills. That's due to its construction – Char-Griller built it out of steel rather than ceramic to keep costs down. Though steel is not nearly as efficient at heat retention as ceramic, the triple 22-gauge walls go a long way toward bridging this gap. Expect to achieve temperatures between 200°F to 700°F.
The 20-inch diameter, 314-square-inch main cooking grate is made of heavy-duty cast iron for excellent durability and even heat distribution. A clever pop-out section in the middle allows you to drop in more wood or charcoal with minimal disturbance to your cooking session.
Add on the removal warming rack, a familiar feature for charcoal grill users, and you gain an extra 133 square inches of space. This is nice for smoking, toasting buns, or keeping cooked food warm.
Like many traditional grills, the Akorn features an integrated cart with wheels – two free-spinning and one locking caster. There's a storage shelf, too, which is handy for stashing accessories, a bag of charcoal, or wood chunks. You'll likely take full advantage of the twin side shelves, as well, with six accessory hooks total.
Clean-up is made easy, thanks to the Easy Dump Ash Pan. Rather than the usual slide-out tray we're used to seeing, the entire bottom of the Akorn comes off, so no ash gets left behind.
Out of the box, the Char-Griller Akorn lacks a heat deflector. You'll likely want to add one (they call it the Smokin' Stone) to your purchase since it's pretty much a necessity for smoking.
Pros
Triple steel walls keep weight down while boosting heat retention
Loaded with convenience features
Yard-friendly size
High-quality cast iron cooking grate
Affordably priced
Cons
Heat deflector for smoking is not included
Fixed-height cooking grate limits versatility and capacity
Anyone thinking about dipping their toes in the kamado waters but not looking to take a big financial plunge would do well to check this cooker out. It's a great bridge from regular charcoal grilling to kamado cooking, offering many of the benefits of both on a budget.
Primo Oval Ceramic Grill
5
Anyone who is accustomed to a wide grill, such as a gas BBQ, might be a little hesitant to start cooking in the round shape of typical Kamado grills.
Grill size may be limited, different heat zones difficult to achieve, and large cuts hard to accommodate. If these thoughts have been on your mind, the Primo Oval offers a solution.
As the name implies, this Kamado is oval shape rather than circular.
The extra width is great for accommodating a rack of ribs, and you can divvy up the charcoal in the firebox to create two distinct heat zones — high direct heat above the coals on one side, and indirect heat on the other — perfect for searing and then cooking indirect until done.
An American-made grill, the Primo Oval is a ceramic monster that weighs 250 pounds. However, you do get a cast-iron top vent and 300 square inches of cooking area included in that weight. Thinking 300 isn't enough? No problem! The grill can be expanded with a rack system to 495 sq. In.
If you want to go bigger, Primo also offers a 400 square inch Oval XL, available in two versions, including a Jack Daniel's special edition that would look great in the backyard. There's also a smaller 210 square incher, and a traditional 18.5" round ceramic grill.
The reversible grills should have a long life expectancy, and the spring-loaded hinge makes lifting the hefty lid a simpler chore than it might otherwise be. Their website offers some great tips on Kamado cooking for the neophytes, and if you really love the grill you can order Primo-branded gear to wear while you cook.
Although this has every appearance of being a high-quality Kamado, it unfortunately doesn't come standard with many of the cool accessories available for it. Actually, it doesn't come with anything, unless you buy the "All-in-One" package, which comes with a cart and cradle, fold-down side tables, an ash tool, and a grate lifter.
That expandable grill? Sold separately. Ditto the firebox divider. If you prefer to buy à la carte, then this won't be a big deal, but it's important to compare apples to apples if you are price shopping.
Pros
Heavy-duty ceramic
Oval grill provides extra room for cooking, plus true two zone cooking (hard to achieve in the more rounded Kamados.)
Dual-sided grills for increased life-span
Dividable firebox
Cons
Leans towards the expensive side
Really heavy
Basic accessories not included, except in upgrade package
The Primo Oval LG 300 is a very good grill that should meet the needs of most outdoor chefs. I'd especially recommend it to people who love to cook ribs, and other huge cuts of meat.
If flashy colors aren't your thing, then you'll also appreciate the subtle black enamel finish.
Slow 'N Sear Deluxe Kamado Charcoal Grill
6
It's always intriguing when a barbecue offers a different experience or provides cooking options beyond the norm. The unique design of the Slow 'N Sear Kamado does both, thanks to a nifty accessory that comes with it.
In fact, we've reviewed this accessory on its own as an add-on for kettle grills. By adding it to a kamado, the manufacturer, SNS Grills, has seriously ramped up the versatility of what might otherwise have been "just" another premium kamado grill.
For those unfamiliar with it, the Slow 'N Sear is a combination charcoal basket and water pan. It's semi-circular in shape, and the water pan is a wedge that stands vertically in the basket. The water not only creates a heat barrier but also evaporates as you cook, adding moisture to your food and helping smoke particles adhere better to your food.
By adding this feature to a kamado, SNS Grills has created dedicated multi-zone cooking – one direct and two indirect. The basket elevates the charcoal to a position just below one side of the main cooking surface, a 22-inch stainless steel grate that rotates 360 degrees for easy access to your food.
Directly over the charcoal, you can grill as you would on a traditional barbecue, using screaming-hot temperatures over 1000°F to sear your food. The other side of the grate is over empty space, allowing for indirect, radiant-heat cooking. Additionally, you can place food on a lower grate beside the basket/reservoir unit on the included Drip 'N Griddle Pan accessory.
For even more cooking space, you can stack a half-moon-shaped grate over either the direct or indirect heat side of the main grate. Want more? Move the griddle to the top rack for pancakes, eggs, bacon, and other non-grate-friendly foods.
SNS Grills claims their system, when used in a kamado, allows the fire to burn hotter and cleaner than in a traditional kamado. This creates more smoke, and it's cleaner and, therefore, better-tasting, too.
You also have the option to leave the Slow 'N Sear accessory out and pile charcoal in the bottom of the fire bowl over the top of a cast iron grate, just as you would in a typical kamado. Insert the included heat deflector plate, add the cooking grate, and get ready to smoke something delicious.
The SNS Grills Slow 'N Sear Deluxe Kamado stands 48 inches tall on its stainless steel rolling cart and weighs a substantial 231 pounds. A pair of folding side shelves provide ample prep space, and an ash tool is another thoughtful inclusion.
Pros
Choose from traditional kamado or Slow 'N Sear-style cooking for extra versatility
Dedicated multi-zone cooking with Slow 'N Sear insert
Heavy-duty ceramic and stainless steel construction
True direct heat searing, something not always possible on kamado grills
Numerous accessories included in the box
Cons
No storage on the cart
Hotter fire likely to use up charcoal more quickly
Thanks to a "don't fix it if ain't broken" approach to kamado design and a remarkable accessory insert, the SNS Slow 'N Sear covers all your smoking and grilling needs.
A lot of us regular guys and girls are not fortunate enough to be able to step out the back door and into an epic oasis of the type featured in barbecue advertisements.
Given the typical tight confines of a standard backyard, it may be necessary to scale back one's outdoor kitchen dreams. For example, many people just don't have room for a large smoker and grill.
Enter the Kamado Joe Junior.
Like the rest of the Kamado Joe range, the Joe Junior is made of thick, heat-resistant ceramic with an enamel coating. There is nothing unique about its construction or the way it cooks, by and large. It's simply a scaled-down version of its bigger brothers, the Classic and Big Joe.
Unlike its larger cousins, it does not have a multi-level grill system. Its size simply does not allow for this, so it's a single-level grate only. This keeps the cooking surface area down to just 13.5", diameter, 375.92 sq. Cm. / 58.3 sq. In.
This is enough to cook a full meal for two people or snacks such as hotdogs and burgers for 4 or 5 people.
The Joe Junior comes with a stainless steel grate, ceramic heat deflector, a fire ring, a firebox, cast-iron wire frame, top vent, and built-in lid thermometer as standard.
Its superior build quality, using the same materials as the larger Kamado Joes, separates the Kamado Joe Junior from the rest of the small grill pack.
It may be somewhat expensive considering its size, but it's a powerful and dependable cooker that can smoke, roast, bake, grill, and sear with aplomb.
Pros
A top-of-the-range portable smoker that's as capable as larger models.
Versatility to smoke, grill, sear, roast, and bake
Premium build-quality, so will last a long time
Well insulated, so will hold a steady temperature for consistent results
Fuel efficient for reduced running costs
Easy to clean by simply brushing ashes out of the lower vent
Cast-iron stand keeps it off the gorund for safe use, and two built-in handles makes it easy to carry between two people
There is a lifetime warranty on the ceramics
Cons
It's expensive considering its size, but you are paying for higher quality!
It's heavy for a small portable grill
There's no slide-out ash drawer included, something the larger models have
If you don't have room for a larger model or only wish to cook for 2 or 3 people regularly, then the joe Junior is a respectable entry into the Kamado world and will produce wonderful food for many years.
To learn more about this grill, and to see some foods I've cooked on mine, please see my Kamado Joe Junior testing and review article.
Weber Summit Kamado S6 Charcoal Grilling Center
8
The biggest deterrent for many grillers about charcoal is the somewhat laborious process of lighting the coals. Although a chimney starter is a great device for speeding up the process, there are still those resistant to giving up the push-button convenience of a gas barbecue.
Weber knows you love to grill, and they know you crave convenience, too. So, when they at long last entered the Kamado arena (just recently, in fact) they included a gas-fired igniter. A press of a button sparks the propane-powered igniter to life, and your charcoal should be roaring in minutes without fussing with an electric lighter, chimney, or starter cubes.
Interestingly, Weber prefer to see this as a multi-function charcoal grill and Kamado, and a natural evolution of their famous kettles. Indeed, it looks more like a traditional charcoal barbecue compared to other ceramic grills. But it iss feature packed!
With a 24" diameter grill, there is plenty of available surface area for cooking, 452 sq. In., to be precise. Due to the large capacity and high-end build quality, the Summit weighs in at 238 pounds, but this is including the cart and everything.
Anyhow, this isn't your traditional Kamado. It's made of porcelain-enameled steel, without a trace of ceramic, a finish that all but guarantees durability. In fact, the dual-wall kettle is air insulated, making it surprisingly lightweight for its size, and yet an efficient holder of heat. Other parts are made of either stainless steel or aluminum.
There are many commendable features to be found on the Summit.
The ash drawer is a nice, mess-resistant touch. The fuel grate can be raised and lowered put higher temperature searing, or for low heat smoking. There is a stainless steel diffuser plate insert, used to eleiminate hot spots, spread smoke evenly, and eliminate radiant heat to help maintain consistent low temperatures for smoking.
Finally for the main grill, there is your traditional one-touch cleaning system and lower vent as seen on Weber charcoal grills, as well as a single 'Rapidfire lid damper' at the top of the dome, which can be fully opened to quickly boost air flow and heat, or choked right down using a daisy wheel for low and slow.
Now a few words on the cart.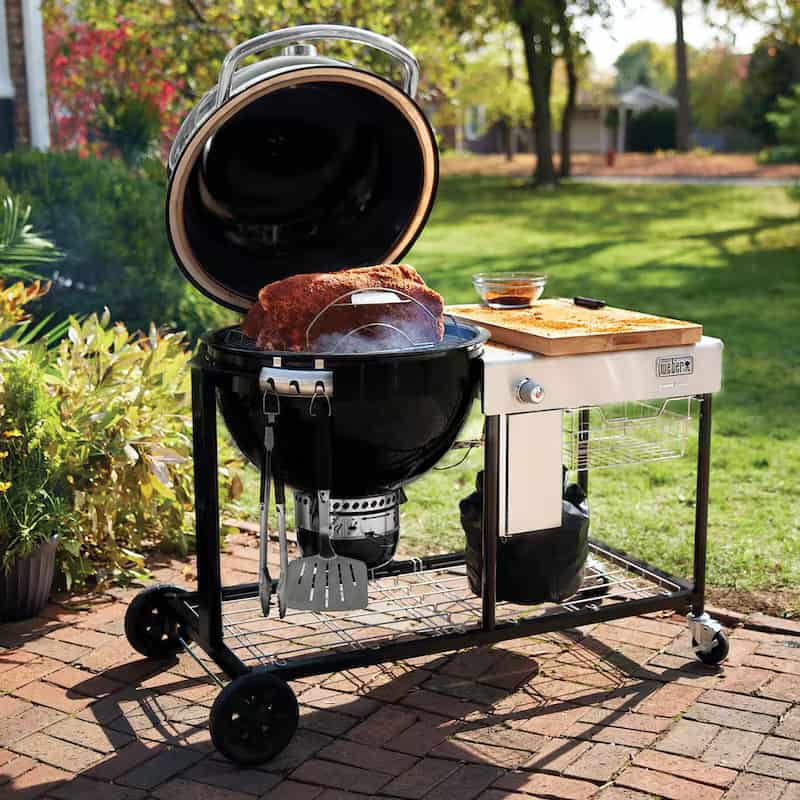 It has two large rolling wheels, and two locking casters, so is easy to move around but can be fixed in place.
It has a usable lower shelf where you can store charcoal for example. It has 3 tool hooks for hanging your BBQ tools, a side table to use for food prep, and a basket to hold rubs and sauces. It's a highly practical, useful workstation.
The cart is also home to the Snap-Jet gas ignition system, using a small disposable gas canister to initially light your charcoal and you have you ready to cook in as little as 15 minutes. This feature is not available on the Weber Kamado without cart.
Pros
Trusted name in charcoal grills
Lightweight
Easy to light
Large cooking area
Removable ash catcher
Diffuser plate
Heavy-duty hinge
Cons
Weber is new to Kamado style grills; quality is unproven
Current Kamado users may need an adjustment period to learn dampers
Moderately pricey
I can readily imagine purists taking issue with the appearance and construction of this unit, and especially the gas ignition. It even comes with a measuring cup for (gasp!) briquettes.
Still, this is a remarkably versatile grill backed by the expertise of Weber. It's priced similarly to a Big Green Egg, but may offer increased cooking options. A good choice for charcoal enthusiasts who want to step up, but keep familiar options.
Broil King Keg 5000 Barbecue Grill
9
Let's say, hypothetically, that I'm the kind of guy who really gets around a lot. By that I mean I like to go camping, or to the cottage, or tailgating, or all the above. A ceramic grill has one very obvious drawback for a griller on the go: like the eggs they resemble, they crack when not treated carefully.
Broil King has the solution: metal. The inside is coated with ceramic, but the exterior is all steel. And rather than looking like an egg, it really does look like a keg.
Since the only thing better than a keg is a keg you can take with you, you can get the Keg 5000 with a cart with two sturdy wheels, and it comes standard with the ability to hook on to your trailer hitch with an available adaptor. That's pure awesome.
The Keg is built very much like a standard oven, with insulation sandwiched between steel coated in enamel. Holding heat should be no bother for this grill. You'll get 280 sq. In. Of cooking space on the 19" cast iron grill. If that's not sufficient, there's also a secondary rack you can add on for more room for more meat. By the way, the whole thing is only 126 lbs.
Broil King is better known for their gas grills, offering just two Kamados. Still, a buyer can be confident in the manufacturer's dedication to good grilling, and there is solid evidence of progressive improvement of their product over the years.
One of these amazing innovations is the addition of built-in bottle openers on the front handle. No, it won't help the meat cook any better, but it does enhance the backyard grilling experience!
I have seen reports of cracked cast iron cooking grids, and that is an unfortunate drawback of cast iron. Knowing the material is inherently brittle, however, shouldn't stop you from using it, because it's a great surface for cooking. My advice? Don't drop it!
Pros
Suitable for moving around
Crack-resistant
Locking lid
Cast iron grid great for cooking
Lighter than similar Kamados
Leading name in barbecues
Bottle openers!!
Cons
Painted exterior may not weather as well as enamel
Resin handles, tables, look "cheap"
Cast iron grid can crack
The two best reasons to purchase this grill are for portability and for the price point. If you are absolutely going to travel with your Kamado, this is probably your best choice.
Vision Grills Professional S-Series Ceramic Kamado
10
You don't necessarily have to reinvent the wheel to make a better product. But you do have to address some of the most common flaws if you want anyone to take notice. A couple of clever features on the Vision Grills Professional S-Series Kamado certainly have us taking notice, and you should, too.
Cutting to the chase, this kamado's number one advantage over any other is the multi-function ProZone. It's easy to spot — it's the rectangular spot sticking out from the front of the grill. The ProZone has three separate purposes.
For starters, it's where you'll find a pair of air vents. Use the dials to fine-tune air intake, opening either one or both, depending on how much air you want. With positions numbered from 1 to 10, even a novice can easily understand how to increase or decrease airflow incrementally.
Additionally, the entire panel slides out, bringing with it the ash pan. It's easy to then dump out the cooled ashes and bits of charcoal into your ash can.
Lastly, but this might be the best feature of all, there's a panel here for inserting an electric charcoal lighter. Lift up the flap and slide in your starter; it should slot neatly into a gap between the cast iron bottom charcoal grate and a stainless steel guard there to keep charcoal close to but not actually touching the starter.
You don't have to use it, of course. But, I'd highly recommend taking advantage of it; it's the cleanest and easiest way to light your charcoal.
The two-tiered cooking grate system is another noteworthy innovation on the Vision Grills Professional S-Series Kamado. With a combined 604 square inches of space between the 18⅞" upper and 18⅛" lower grates, there's plenty of room for a mess of meat and other food. Both levels feature a hinged section that lifts up. This allows you access to the lower rack and to the fire bowl to add charcoal or wood without removing your food.
Even without these innovations, this is a premium-quality ceramic kamado. High-end features include a spring-assisted lid hinge, a piston stopper to prevent slamming the lid shut, a latch to close the lid tight, a cast iron lid vent, and dual fold-away side shelves with four tool hooks each. The four-wheeled cart is strong and sturdy and has four swivel casters, including two that lock in place.
Weighing in at 227 pounds and standing 47 inches tall, this is a very well-built kamado. You can even choose from five colors to suit your taste: black, white, orange, taupe or chili red.
Pros
ProZone allows for easy electric charcoal starter access
Premium-quality materials and construction
Versatile 2-tier cooking grates with hinged access panels
Easy clean-out with large ash drawer
Large side shelves with lots of hooks
Comes with cover
Cons
Does not come with heat deflector for smoking (sold separately)
No storage area on cart
We won't lie to you and say this is not an expensive grill. But, compared to many other premium ceramic kamados available, the Vision Grills Professional S-Series Kamado represents exceptional value. Highly recommended for versatility, performance, and bang for your buck.
Kamado Joe Classic Joe III 18-inch Charcoal Grill
11
If your primary concern about my top pick is the sheer size of the grill, please set your mind at ease with the Kamado Joe Classic III.
This used to be our top recommendation for best Kamado grill — only recently replaced by its larger cousin the Big Joe — because it has the best mix of innovative features, versatility, and effective cooking for a good price.
Kamado Joe has made a name for itself in a market that's been primarily dominated by the Big Green Egg. While it may not be the original, it's certainly innovative and has brought great vision to the market.
The Kamado Joe Classic III 18″ is the cornerstone of the company's lineup, which also includes the Big Joe III 24" and the Kamado Joe Jr.
One of the great things about this product is that they graciously include several handy extras:
Heavy-duty, rolling galvanized steel cart
Divide and conquer system (for creating different grilling and temperature zones)
Harvard University designed, patented Slo-Roller system for low n slow smoking
Ash tool and grate gripper tool for lifting out the hot cooking grate
Flip-up side tables.
You can forgo cart, however, if you want to go with a larger table on which to set up. In this case, you buy a 'standalone unit' and a table on which to sit the grill in.
This is a very well constructed unit, made of high-fired ceramic with a porcelain glaze. The Classic III is rather thick, so the outside should stay reasonably cool to the touch during cooking.
I said the Classic III was innovative, and I meant it. There's been a redesign since the version II, and a great grill is now even greater.
Kamado lids are pretty heavy, but the Air Lift Hinge is a thing of beauty. No more slamming the lid shut by accident and risking damage with this grill — let go of the handle, and the lid stays where you leave it.
At the bottom of the grill you'll find a pull-out ash drawer, making the job of cleaning out the grill a piece of cake. And, so as not to leave out the middle, you'll find a new self-activating stainless steel latch securing the lid, necessary to keep pressure on the fiberglass seals between the top and bottom halves of the ceramics.
The top vent isn't the typical daisy wheel you see on many competitors. The Kontrol Tower (as it's called) is a side venting chimney which provides even more control, as well as preventing rain from getting inside.
There are still plenty of V I and V II models available at the time of writing, and you shouldn't hesitate to pick one up, especially if you score a good deal. They were always excellent grills and still are, even before the new enhancements.
However, the specs and advancements on the V III really make it stand head and shoulders above.
It measures 46.5″ W × 50.5″ H × 30″ D and weighs a whopping 262.6 lbs. With the now 3-tier divide and conquer cooking system, you can purchase extra sets of grates and increase the cooking space 510 sq. In., while it has a cooking temperature range of between 225 and 750 degrees Fahrenheit.
The Slo-Roller aims to make the Kamado Joe the world's most optimal smoker. It creates re-circulating waves of heat and smoke that surround the food being cooked, so all of it is evenly subjected to smokey goodness and heat with no hot or cold spots, so it cooks most evenly and attains the best flavor.
This thing really is a thing a beauty (can you tell I'm a huge fan?)
Pros
Thick ceramic construction
Versatile grill makes up for moderate size
Many accessories included, making it easy-to-use
Innovative features, like the Slo-Roller and sliding ash tray
Redesigned, including new hinge and top vent
New design, metal side shelves
Eye-catching red porcelain
Cons
Pricey compared to other styles of grill.
No matter which size you go with, the Kamado Joe is an outstanding grill. This is certainly a recommended choice for those who want versatility when they grill, or anyone who just wants to impress the heck out of their friends.
Whether this is your first Kamado, or the next step-up on the path to pitmaster, you'd be hard-pressed to make a better choice.
This is the one this site owner, Mark, owns. And it is, in his opinion, the very best kamado grill on the market for the mix of features and price.
Note: We have a far more in depth, individual look at this model in our Kamado Joe Classic Review.
Buying Guide — Features to Look for in a Good Kamado Grill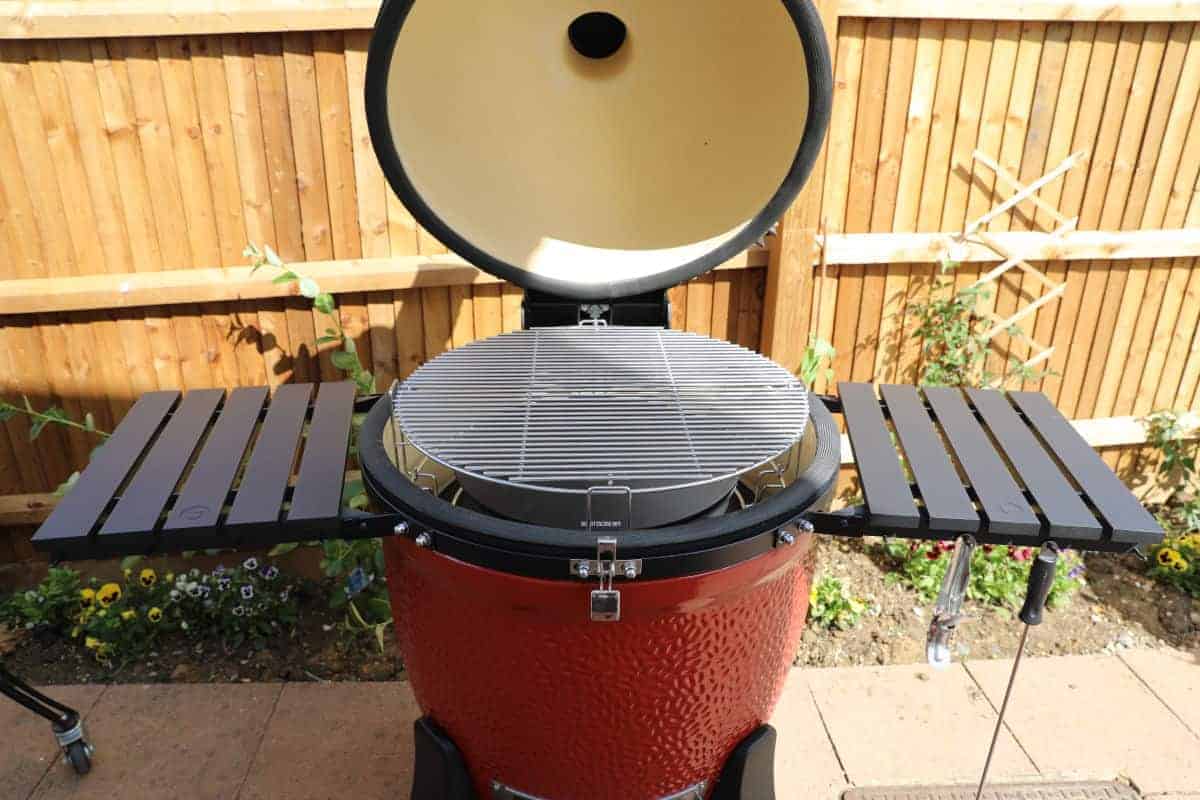 As with any investment (and a Kamado is an investment, not a purchase), you'll want to do your homework before you go out and plunk down your hard-earned cash.
All Kamados are not created equal. But what distinguishes the good from the mediocre?
Here are some things to look for, and features you may wish to have.
Build Quality
As with every popular consumer good, once a product catches on, low-cost options suddenly appear. I'm all for saving money, but not if that means seriously compromising the quality of the item.
Low-cost Kamados may have thinner walls that will struggle to hold a constant temperature. The whole point of a Kamado is heat retention, so why would you want to give that up? Fit and finish may also be an issue on a cheaper model. Watch for low-grade metal fittings that might rust, and thin gaskets that may not seal tightly.
A small price tag might be appealing, but a more expensive, better-built unit will pay off in the long run by lasting longer and providing a better cooking experience.
Work Space
Although not necessary, I couldn't imagine having a grill without somewhere to set my utensils, my sauces and seasonings, and, in the summer, my frosty beverage.
Personally, I'd be shopping for a model with attached work surfaces. The other option is to buy a table or large stand to place the Kamado on. Most manufacturers offer carts and tables custom-made to fit their grills.
Construction Material
Most Kamados are either made of ceramic, or stainless steel (usually coated in enamel). Oh, and there is one cast aluminum model on the market.
What material you choose is up to you, and they all have their pros and cons.
I lean towards the ceramic — the material seems to hold its heat a little better, and of course there's no chance of rust. However, if you think you might move yours around a lot, you may prefer a metal Kamado because they are far less likely to crack if dropped.
Size
Many sizes of Kamado are available from pint-size to grill almighty.
The average model has less square inches cooking surface than the average gas or charcoal barbecue. Make sure to choose a unit that has enough space for your needs.
If you want to cook big racks of ribs, or feed the extended family in one sitting, you'll need a big model. But if you're just looking to serve your wife and kids, or a few buddies, a smaller cooker may suffice.
Withstanding the Elements
Grills generally stay outside year-round, so look for rust-resistant fit and finish to prolong the life of your Kamado.
You should probably think about a cover, too, to keep water from getting in the top vent.
Accessories
Part of the fun of a Kamado is its versatility. You'll be amazed at the add-ons available for most models, from stacking grills, to skillets, pizza stones, rotisseries, and more. Beyond the cooking surface there's also ash baskets and rakes, carts, and more.
Some manufacturers include more of this stuff than others do. Before settling on one Kamado over another, check to see what extras come included, and which you'll need to purchase separately.
If the only difference between two grills is cost, you may find that difference is erased or even reversed by the time you pick out the bits and pieces you'll want and need.
Warranty and Customer Service
Anything can break, and ceramics are especially at risk for cracks and chips. There are also parts that can wear, like hinges and seals, and then there are all the bits and pieces inside.
Look for a warranty that provides good, comprehensive coverage; some companies offer a lifetime of coverage, and some offer little or none.
It's impossible to know precisely what a manufacturer's customer service is like until you have to put it to the test. What you can do is check to see what kind of responses people get when they post questions online.
Look for social media posts, or a feedback section on the manufacturer's website to gauge what dealing with them might be like.
Previous Buyer's Opinions
If you have friends with Kamados, chat with them to see what their experiences have been. Has it lived up to expectations? Would you buy it again?
Check around online, too. There are plenty of Kamado grill forums, and you can read reviews from owners. Company websites might give you some insight, too. Of course, you're already here, so the easiest thing to do is just to keep reading and find a lot of info all in one place, rather than combing the Internet all day.
Budget
Ah yes, the all-important budget.
It's good to have a dollar figure in mind that you're comfortable with and to try to stick with it. Be realistic, though; a good Kamado is not inexpensive, though prices range from around $300 for a lower quality product up to many thousands of dollars for the biggest and fanciest models.
Consider what you get for your money, and how long you hope to have the grill for. To my mind, it's always better to stretch the budget to get a quality product that will last a long time, if stretching will make the difference. Better to buy a high-quality grill once, than to replace a low-cost unit every couple of years.
What is a Kamado Grill? — The History of The Kamado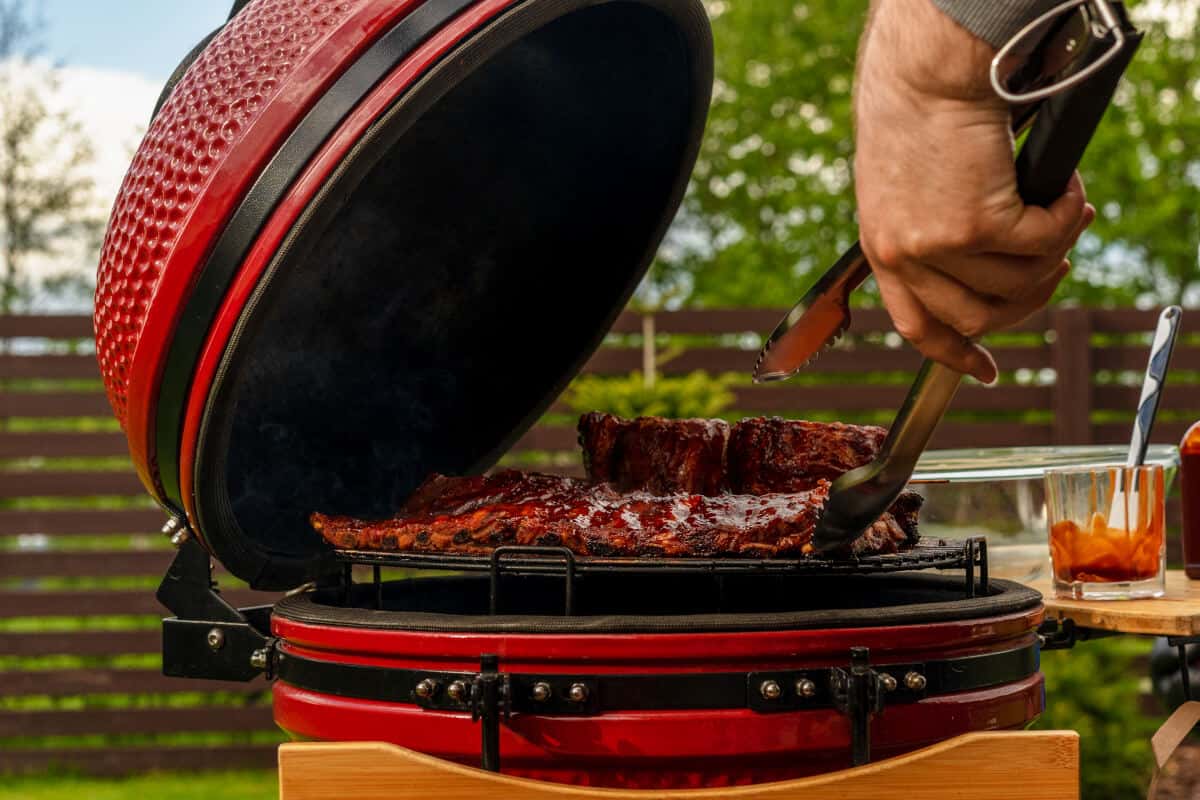 A Kamado grill, for the uninitiated, is both the latest revolution in barbequing and just about the oldest form of outdoor cooking other than sticking things right in the fire.
Wait, a what? A Kamado? Isn't that the huge lizard that eats hoofed mammals? Close, but that's a Komodo.
In fact, Kamado-like ovens have been around for several millennia. There is some disagreement as to the exact timeline, but here are the basics in a nutshell.
A type of clay cooking vessel developed in China made its way to Japan. Over time, the Japanese adapted it to become a first-rate rice cooker, and they called it "mushikamado." It's not unlike its cousin, the tandoori oven, and the two may have shared roots. It is also possible the Japanese deliberately incorporated tandoori technology in their cookers. By the way, "kamado" translates to "cooking range," or, "stove."
We'll skip ahead now to the 1940s. American soldiers stationed in Japan brought home souvenirs from their deployment, including hibachis and Kamados. The American contribution to the development of the Kamado was to adapt it to grilling rather than cooking rice. Some clever folks added the lid and hinges, plus the ability to control the airflow.
An Atlanta, Georgia importer began stocking Kamados in the early 1970s, and his personal improvements, including switching from clay to ceramic, led to the creation of the Big Green Egg. The Egg dominated the industry for years, but now many grill makers offer their own takes on the Kamado.
Whew! That turned out to be a pretty big nutshell!
How Does a Kamado Grill Work?
Kamados are distinctively egg-shaped and very easy to recognize. Typically, the cooking vessel sits on a stand, though more traditional-looking tables are available. Some may feature work surfaces attached to the outside of the grill.
The lower two-thirds of the Kamado is where the coals burn beneath the grill. The top section is a domed lid, usually with a thermometer built-in. Top and bottom vents are how you control the temperature.
A good Kamado seals tightly when the lid is closed, and the interior is designed and built to reflect the heat evenly around the interior. Ceramic is the most commonly used material, though metal models are also available.
Rather than using briquettes, they work best with lumpwood charcoal. (There are some who swear up and down that briquettes work just fine, however.)
For smoking, you can add big hunks of wood to your charcoal. The fire sits near the bottom of the cooker on a small grate above the firebox. Air flows in from the bottom, and ash falls into an ash catcher.
A fire ring sits above the smoldering coals, upon which the grill rests. Various accessories can also be placed on the fire ring, but we'll come back to those later.
As mentioned before, the grill is at the top of the lower section of the Kamado. The upper section is the hinged lid, and the adjustable-top vent caps the whole thing.
What's So Great About a Kamado?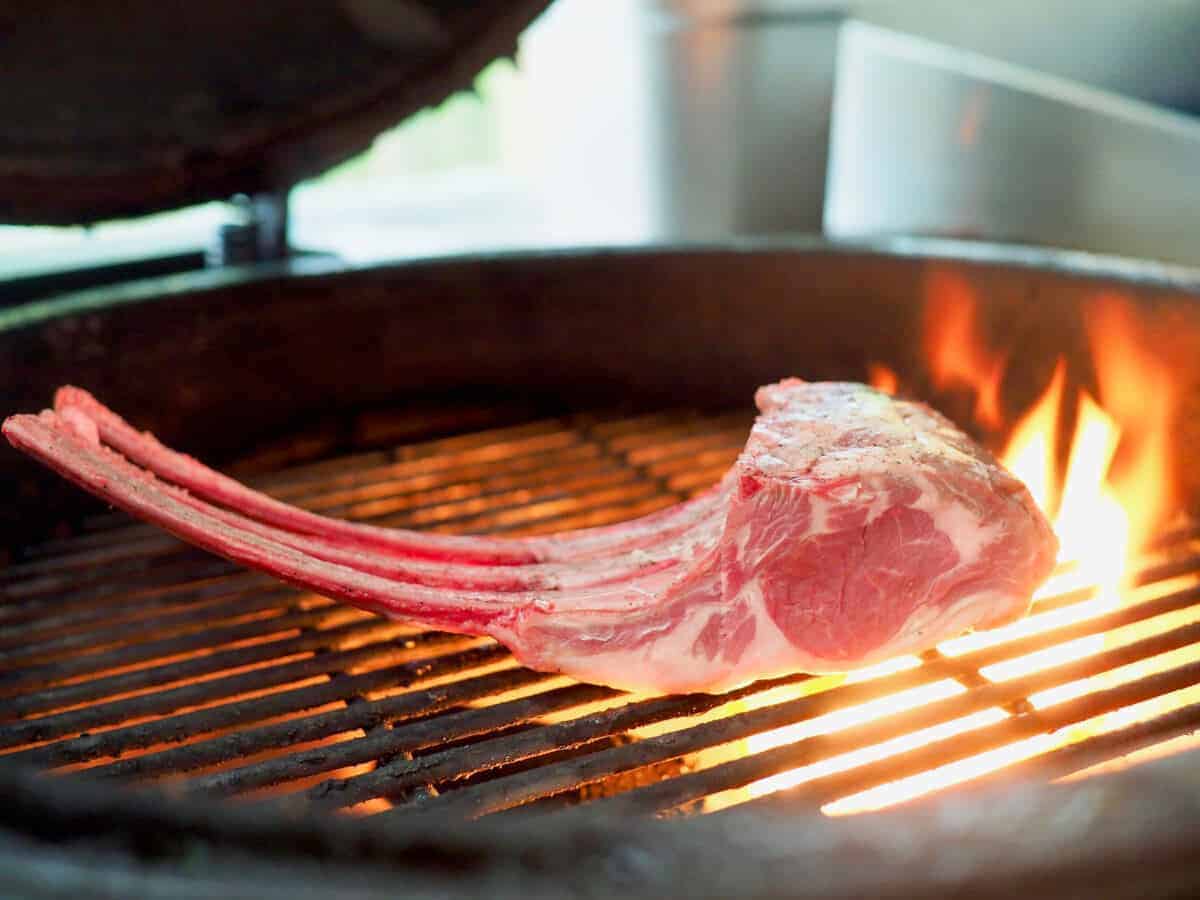 A cursory look at Kamados reveals a price range from about 150 bucks for a small, entry level cooker to $4500 for an XXL top of the range model. The bulk of the selection seems to fall roughly in the $750-$1300 range, however.
Regardless, that's a fair chunk of change considering you can pick up little charcoal grills for about the price of a case of beer, or an electric smoker for a couple of hundred bucks! So what makes a Kamado worth the splurge?
Firstly, as I said before, this is an investment. They are a finely crafted piece of cooking equipment, and it will last for years and years, so long as you keep up with the minimal maintenance required.
Secondly, the cooking experience is second to none. Most grillers, once they go Kamado, never go back. This is more than a hot surface for searing steaks and barbequing burgers. They provide versatility galore.
For example, because of the precise control you have over the airflow, with a little practice you'll learn how to hold a desired temperature for as long as you need. And not much practice is required, kamados are reasonably easy to learn and master, making them one of the best smokers for beginners.
"Low and slow" cooking of meats like brisket and ribs is a piece of cake on a Kamado. But, if you like your outdoor cooker to act more like a solar flare, you can open the vents wide and watch thermometer rise and rise and rise! High heat is perfect for searing steaks. You can also bake, roast and cook pizza on a kamado, as we discuss further in our guide to using a kamado grill.
Another significant advantage of a Kamado is its ability to cook evenly because of the reflected heat.
Ever tried to make pizza on a BBQ? It's challenging and requires constant attention, and you'll probably end up eating a lot of burnt pizza before you perfect your technique. The even heating of a Kamado makes it an ideal outdoor pizza oven, or you could try baking bread.
Are There Any Drawbacks?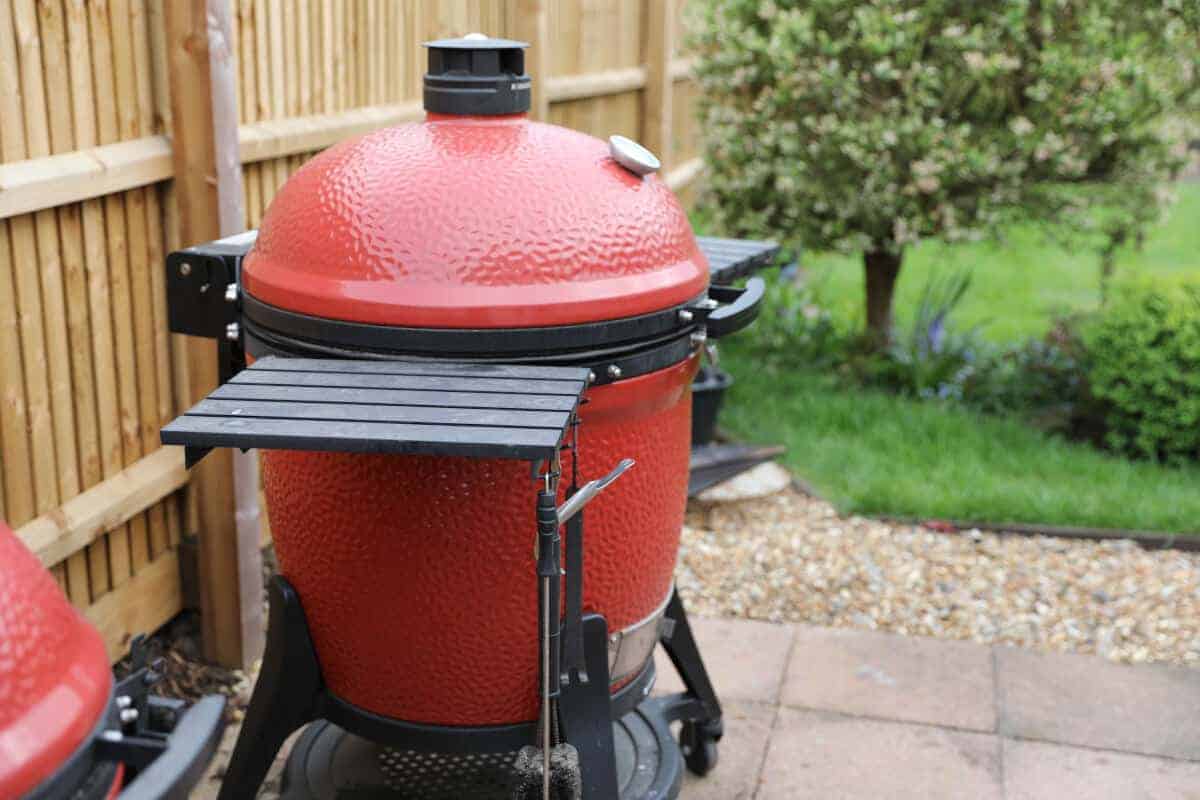 That's a great question, and I'm glad you asked! While a Kamado offers superior outdoor cooking in many ways, there are some limitations and a few downsides.
The Size
The most obvious issue with many Kamado grills is the size.
A lot of units offer relatively small cooking surfaces. You may find yourself cooking in rounds in order to get everyone fed.
If you plan on cooking for groups regularly, look for a larger grill. They come in many different sizes, from portable to massive. Be sure to pick the size that best suits your needs.
Lack of Different Heat Zones
Many people utilize multiple heat zones when barbequing. In most cases, you toss the meat onto direct heat to sear it and get those lovely grill marks, and then move it to an area of indirect heat to finish cooking.
Kamados are great for creating even heat all over, which means there is only one temperature zone. Fortunately, it's possible in many models to fit special inserts to create an indirect heat zone.
The Weight
Most Kamados are very heavy and difficult to carry around. A good size cooker is going to weigh 150 pounds or more.
Be sure to invest in a stand with sturdy casters if you plan on moving your grill around the yard. Also be aware that as they are ceramic, they will almost certainly crack if dropped.
The Learning Curve
A Kamado can work up to extremely high temps with ease. That's awesome for searing but useless for cooking anything thicker than half an inch, or so.
You'll need to spend time learning the vent system to master temperature control.
Some folks feel Kamados are only suited for smoking and slow cooking, but I do not agree. There's a bit of a learning curve, but the versatility more than makes up for the time it takes to master this unique style of cooker.
Flashback
Did you ever see the movie Backdraft? Of course not, nobody did. But, maybe you know it's about the way that fire can suddenly flare up when it's starved for oxygen, and a new source of O2 is introduced?
On the scale of a burning house, it's downright deadly. For a barbecue, it's more of a potentially dangerous nuisance.
A Kamado can keep its heat in part due to the tight seal between the lid and the main body. If you close all the vents, the burning charcoal will soon use up the supply of oxygen. Should you open the lid to have a peek before the coals are completely extinguished, you run the risk of a nasty flare up.
Don't believe me? Have a look at this video.
Conclusion
If you weren't sure a Kamado was right for you before you started this article, I hope you have found the answer. They are a unique and versatile style of outdoor cooker, and the right one will provide years of enjoyment and mouth-watering food.
You're only limited by your imagination, and if you like all kinds of food, you'll never get bored with your Kamado. Yes, they cost a bit more than the average barbecue, but I think they're worth the investment.
All the grills listed above will do the job and do it well, but, to my mind, there's a clear choice for the top recommendation.
The Kamado Joe ties up useful accessories, innovative features, quality workmanship, and a great community of support in one neat package. You really can't go wrong with this remarkable product, and I'm confident you'll love cooking on it.
Whichever model you choose, I hope you soon find yourself making the kinds of meals you thought could only be made by professionals.
Got a favorite Kamado meal, or a story to share? Drop a comment below and share with the world!
Happy grilling!