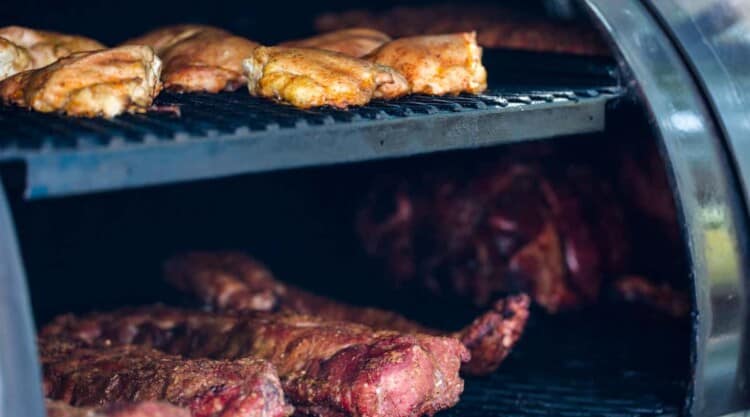 In this article, we review the best smokers for beginners and the budding pitmasters who are just starting out. We group them by fuel type for easy reference — charcoal, electric, gas, pellet, or a combination of two or more. So before you click "buy" or gallop out to a can't-miss sale, you should probably read this article.
Smoking meat, fish, and even cheese is a good, immensely rewarding and tasty thing to do.
But many beginners can get discouraged by the first results from their enthusiastic, but often unresearched initial efforts on their shiny new smoker, ultimately pushing it into a corner of the garage, never to be used again.
To avoid that false start, it helps to make an informed buying decision, making sure your first smoker is easy-to-use, and easy to get excellent results from, with the minimum of learning to go through.
After this guide, you will come away with an increased understanding of how smokers work, key features and functions, and be clear on what are the best beginner smokers, and the ones most suitable for your entry into smoker-land.
We want you to be a long-time smoker, the best way to get there is to enjoy your experience from the start, and a big part of this is having the right equipment.
At a Glance: The Best Smokers for Beginners Discussed in this Guide
Note: Clicking the above links will take you to further information, current prices and customer reviews on Amazon.
Best Charcoal Smokers for Beginners
The following 2 models are, in our opinion among the very best choices of charcoal smoker for the beginner just starting out. Easy to learn on, great value and produce amazing results.
A large black capsule on legs, the Weber Smokey Mountain would probably appear in a dictionary next to the word "smoker."
It is a charcoal smoker, briquettes being the most recommended fuel, with wood chunks or chips added to the coals to add smoke for flavor.
The coating of porcelain enamel over the steel inside and out makes it incredibly rust-resistant and long-lasting.
It accommodates layered smoking. Two plated steel grates each provide 18.5" cooking areas, large enough to handle a turkey and pork shoulder together in one session.
Airflow is controlled by two aluminum dampers on the bottom and a vent in the lid control. These vents allow you to precisely control the airflow and facilitate really dialing into any specific temperature you require.
The side fuel door is also made of aluminum and can be detached to give easy access to add more wood chips, chunks or charcoal, without having to disturb the food.
At the bottom inside rests a porcelain steel water basin that acts as mass to stabilize temperatures and keep the cooking area moist. Its 3-gallon capacity means little, if any, need for refills during the smoking session.
You may still want to use mitts, but the lid handle is made of heat-resistant glass-reinforced nylon which should spare many burned hands.
Although it has a temperature gauge on the lid, a silicone thermometer probe port built-into the side makes it easy for those who prefer to use automatic smoker temperature controllers or remote digital thermometers.
There's a slight learning curve needed to get to grips with starting and maintaining a slow burning fire and controlling temperatures with the use of the vents, but it's really not hard, is even quite fun, and once you've done a few cooks you'll have mastered it.
There's also many, many simple to follow YouTube videos where people show you how to fire it up and maintain a steady temp.
So all in all, a great first smoker, with lots of available support, with which ease of use is not a worry.
Pros
Easily maintained temperature for 8-12 hours on one fill of fuel
One of the easiest charcoal smokers to use available
HUGE support network and community for help due it's popularity.
Thermometer ports
Large cooking capacity
Cons
Pictogram assembly instructions
Long reach down into the pit to pull up the bottom rack means long oven mitts are a good idea.
The door can become easily bent, allowing unneeded venting for heat and smoke to leak out (aftermarket door upgrades are available and very popular.)
If you want the basics of great smoking, the Weber Smokey mountain cooker might be the smoker for you.
The simple design and easy functionality make it a no-brainer first-time buy, an excellent smoker for beginners, and should definitely be on your shortlist.
Pit Barrel Cooker Classic Package
2
The Pit Barrel Cooker is a shiny black barrel smoker with handles which looks like it should hold something industrial. It's a very 'manly' looking smoker, and will be sure to attract looks and comments when your friends come over for a cook.
The initial panic at wondering how to get food in and out of such a tall container melted away upon learning of the hook-and-hang method for large pieces, what the manufacturer describes as a type of vertical rotisserie.
Solid one-piece construction and a tight-fitting lid make this one of the easiest smokers to set up; even the handles are fixed onto the sides and provide a convenient hook for hanging the lid. It's as sturdy as it looks, and made of steel coated with porcelain enamel.
It's a charcoal-fueled smoker, with chunks and chips of wood added to produce smoke. Measuring 21 × 21 × 31.1 inches and weighing 57 pounds, it's a good medium-sized smoker than can simultaneously smoke 2 to 3 pork butts, or 4 racks of pork ribs, or two good-sized turkeys at once.
The coal basket holds enough for 6 to 8 hours of uninterrupted cooking; simply load, set it into the bottom of the barrel, and light.
As well as smoking, the grate does allow the grilling of meats and vegetables directly on it or on available planks or stones.
Half-width grates allow a combination of vertical (hanging large cuts of meat) and horizontal cooking (veg on grates) in one session; You can achieve a complete meal of produce and protein in one unit.
However, in our opinion, it's not the best for direct grilling, and other models are better if you want a grill and smoker combo. We would personally class this is a single-purpose, dedicated smoker ourselves. And for smoking, this is a seriously good bit of kit!
Ridiculously easy to set up and use, great for beginners but used by competition chefs too, there are no dials and dampers in need of adjustment, it's as easy-to-use as it gets.
Pros
Effortless setup, no assembly or seasoning required
Effortless use! Follow the instructions and there really is no learning curve or anything you can get wrong
Uncomplicated design, very little can break or go wrong.
Cons
Somewhat limited natural temperature range, though great for hot smoking, it's intended use.
Having to lift the entire cooker to dump ashes (but there is a basket available you can purchase separately for lifting out ashes instead.)
If you want the most straightforward, least fussy route to great smoked food, consider this model.
If the idea of hanging meats over fire is really appealing, and you also want an industrial looking, serious bit of kit, check out the PBC.
Best Electric Smoker for Beginners
If charcoal and fire management's not your thing, perhaps the relative ease of an electric would be more suitable? If so, we might have found the perfect model…
Masterbuilt 30-Inch Electric Digital Smoker
1
It can't be a safe because there's no combination lock on it. And of course, safes don't have little control boxes and a damper on top. Unfasten the lock on the side — it looks just like a refrigerator with a weird vegetable bin at the bottom.
Honestly though, the prominently displayed logo, well, even the name could be mistaken for a safe by those who are very, very new to the world of smokers and grills.
Getting past the mistaken identity, the Masterbuilt DES looks like a safe place to entrust your meats, poultry, and fish.
Being one of the standards in the smoker/grill industry, the Masterbuilt 20070910 looks as solid as a safe, and is likely the easiest smoker to use in this list. Despite being powered by electricity, this unit should never be used indoors, not even in the garage, since it generates carbon monoxide.
It's a very sturdy and weighty unit at 45.9 pounds, telling of its high build quality with top-notch materials. The four chrome-plated cooking grates provide a large 730 square inches of cooking space, and can hold up to 80 lbs of meat.
Digital controls on this electricity-run smoker make this push-button simple, and a great smoking experience for beginners and seasoned smokers (yes, pun intended) alike. Add wood chips through the loader on the side every hour for maximum smoke flavor.
100% insulated and the door is rubber-sealed for energy efficient smoking which keeps your cooking within predicted time frames and keeps the smoke flavor from blowing away in the wind.
The buttons and instructions on the control box are clearly marked. And the auto shutoff feature means you can take your time getting out to the smoker without fear of your food overcooking.
Time and temperature are easy to set with the digital temp controller, and the smoker shuts itself off once the desired cooking time is reached.
A removable drip pan also simplifies the cleaning process.
Pros
Incredibly easy-to-use. Load with wood chips, then use like you would a kitchen oven!
Durable — Should last a few seasons
Efficient — Well insulated and runs on electricity (with wood chips for smoke) so will be cheap to run long term.
Cons
Hard to read display
Lack of handles makes it awkward to carry
Small drain pan can fill up quickly
The control panel is not waterproof
This just might be the smoker for someone who likes no-frills functionality at a not-so-expensive price.
With no fire to start or manage, almost literally push button cooking, this must appear on any shortlist as the best electric smoker for beginners.
If electric smokers are (potentially) your thing, check out our guide to the best electric smokers for more options.
Best Pellet Smokers for Beginners
Looking for the ultimate in hands off, push button smoking that's as easy as using the oven in your kitchen? Then a pellet smoker just might be the one for you. Here are two of the best pellet smokers for beginners.
Traeger Grills Pro Series 575 Wood Pellet Grill and Smoker
1
It looks ready for competition. The Pro 575 is designed to be both grill and smoker…baker, roaster, and braiser too.
It looks like something a pro would use. It's a horizontal barrel looking, roll-top style with a shiny bucket attached to the side for grease collection and a large rectangular pellet hopper connected to the other side.
It looks impressive.
Measuring 53x41x27 in, it offers 575 square inches of cooking space, and weighs 124 pounds.
The 'sawhorse' chassis is made from a single skin of steel, with all-terrain wheels made of plastic. It feels OK but doesn't have the build quality of some other models on this page.
During use, a press of a button sets in motion the process of drawing pellets from the hopper into the fire pot. Pellets are then ignited by a hot rod, and oxygen flow is generated by an induction fan near the pellet hopper.
The needed heat and smoke to cook are generated in as little as 5 minutes.
It's easy-to-use, works well and should last a few seasons, but feels thin enough to lose heat and be temperamental on cold wintry days.
To eliminate a lot of hassle refilling, the pellet hopper can hold 18 pounds at a time, while a meat temperature probe makes monitoring your cook possible without having to buy extra thermometers or probes.
The 10-minute cool down program ensures all ignited pellets are entirely burned up, preventing the risk of flare-ups.
And everything is managed by a digital controller that is Wi-Fi enabled, so you can monitor and control your cook from anywhere with an internet connection, using an app on your smartphone. This indeed makes this a true 'set and forget' smoker, almost as easy to use as your kitchen oven!
Pros
Balcony and HOA-friendly
Set-and-forget, intelligent controller temperature control
Large hopper capacity of 18 lbs. means no refilling mid-cook
6-in-1 cooking styles
Wi-Fi enabled for remote control and monitoring via smartphone app
All-terrain wheels for portability
Incredibly easy to use
Cons
Materials could be thicker, or double skinned to help heat retention and fuel efficiency.
Wheels could be larger and made from sturdier materials.
This smokers medium size makes it a good fit for most small yards. Apartment and townhouse dwellers, and anyone living with a homeowners' association will rejoice at grilling without an open flame.
It's also good if you want to smoke or grill for a medium-sized crowd, from a small form factor grill.
Green Mountain Grill Davy Crockett Pellet Grill
2
The shiny lightweight appearance doesn't inspire confidence of its sturdiness right off the bat…but the build quality is good and cannot be faulted at the price, with the stainless lid being a nice touch for some people.
The metal legs must be stronger than they look to hold up and balance the pellet hopper off to the side of the smoker chamber. But it's stainless steel, so…
The grease trays tilt to the right, directing flow out the spout and right into the bucket hanging on the side, making this aspect of grilling…and clean up… Easy to manage. Above the hook for the bucket are brackets to hold platters and utensils too.
For those who enjoy remote monitoring of their grill, the Davy Crockett Wi-Fi antenna connects owners to the Green Mountain Grill network. From there, using the downloaded app, owners can turn the grill on and off, set smoking times and temperatures, and monitor the internal temperature of food. Create cooking profiles, set up alerts, and contact Support — all from within the app.
Although this might appear gimmicky at first, it actually works very well and is a nice touch, to be able to monitor and change the cook from the comfort of your armchair, or anywhere with an internet connection, if so desired.
It unfolds from the box, leaving only the attachment of the chimney and taking the handle from its travel-safe position inside the lid to the outside.
This is a true, pack-and-go grill; the Davy Crockett's legs fold up to be used as carry handles, and the smoker can be powered by the car outlet or even the battery. So it's perfect for tailgating.
Setting the temperature is as simple as turning a dial, and the temp can be set in 5 degree increments. It really is so simple to use.
Pros
Minimal setup
Stainless steel material
Variety of power cords come standard with the grill
Quick preheat cycle
Easy cleanup
Portability
Wi-Fi enabled for monitoring and control from your smartphone
Wealth of available support
Cons
It cannot be used in the rain because of the electrical parts (Ok, we had to put something here!)
If you don't want to stoop over your smoker (the Davy Crockett is quite small) and can do without remote management, consider the Daniel Boone which offers twice the cooking area of the Davy Crockett.
However, if you're looking for uncomplicated and portable, the compactness and portability of the Davy Crockett makes it possibly one of the best smokers for meat for you.
This is the best low budget pellet smoker available, and perfect for beginners in our opinion.
Also check out our guide to the best pellet grills if you'd like to see models that are a bit more advanced, but still plenty easy enough for a beginner to get their teeth into.
Best Beginner Gas Smoker
Following are our top two choices for the best beginner gas smokers on the market, carefully chosen to be easy-to-use yet high enough quality to last and give great results.
Masterbuilt Two Door 30-inch Propane Smoker
1
For some reason, this reminds me of a clunky robot in a 1930s B movie. Its sharp angles and bulk also give it a solid, dependable, nothin'-but-business appearance.
So on first looks? It's no frills, well-built and means business. All is impressively sturdy, feels built to last and not at all flimsy or cheap looking or feeling. And that's a good thing.
It feels OK, but not as high quality as some other models in their range. However, that is reflected in the comparatively affordable price.
The top door opens up on four chrome plated cooking grids, that can be used in a variety of heights to accommodate foods large and small, while the lower gives access to a water pan and wood chip pan, for adding smoky flavor and keeping the cooking environment moist, without having to open up the main cooking chamber and letting heat escape.
The generous 731 sq. in. cooking space can house four butts or 8 chickens at a time. Easy to light and up to temp quickly, it ignites with the press of a button and burns at 15,400 BTUs.
An integrated temperature gauge allows monitoring without having to open the door and create temperature fluctuations, which can throw the unit off of the ideal temperature for minutes on end.
The water bowl keeps you from running with refills; its generous capacity can hold enough water for up to 3 hours of smoking.
All in all, this smoker is easy to learn and master, there's really not much to it.
Pros
Generous cooking space
Adjustable shelves allow for smoking a variety of foods at one time
Generous wood box and water bowl delay refills by hours (3 and 8, respectively)
Fast and steady cook
If you prefer smaller scale smoking, charcoal, or glass doors; other models can be had from the same manufacturer that also offer electric smokers.
But if you're cooking for 100+, want to open a small restaurant, or simply want to do a lot of smoking for a large crowd in one go, and if you really believe propane is just as good as charcoal, this is probably the smoker for you.
Check out our guide to the best propane smokers for alternative gas driven options.
Best Beginner Combination Grill / Smoker
If you'd like to flip burgers — or do some more adventurous grilling — then a dedicated, sole-purpose smoker may not be your best choice.
You could buy a smoker AND a grill, 2 separate units. But as a beginner, it may make more sense — certainly financially — to get a combination grill and smoker, so you can do both jobs on one unit.
In this next section, we show you our picks for the 2 best combination grill and smoker on the market.
Kamado Joe Classic Joe III
1
Kamado style smokers are arguable some of the best looking smokers you can buy, and they are also the Swiss army knife of outdoor cooking, being able to not only smoke, but grill roast and bake too, so you get a lot more for your money.
The Kamado Joe Classic III takes the kamado concept to all-time highs of ease of use and cooking efficiency. This is why, as well as appearing here as the best smoker for beginners, it also scores high in our guide to the best smokers in any category.
A Kamado Joe Classic 3 is delivered complete with everything needed to smoke, grill or bake with competence and ease.
In the box you get the ceramic grill and smoker itself, a heavy-duty, galvanized steel cart with casters, divide and conquer flexible cooking system, a Harvard University designed, patented Slo-Roller system for even and efficient low n slow smoking, a grate gripper tool to handle hot grates, an ash tool for easier cleaning, and flip up the side tables for a workspace.
Build quality is excellent, with thick, heavy, long-lasting quality materials used. It measures 46.5″ W × 50.5″ H × 30″ D and weighs 250 pounds fully assembled.
For cooking space, it comes complete with a single set of thick stainless steel grates, but can be expanded to three sets if you'd like to increase the cooking surface available to in excess of 500 square inches.
The Kamado Joe is a highly efficient outdoor cooker. It has very thick ceramic walls and is almost perfectly sealed with the lid closed latched closed, is it holds heat very well and is super efficient with fuel.
This is great, because the initial purchase cost is quite high, but means you save money on fuel used every time you cook, making it quite economical and value for money as the many years it will last roll by.
Touched on above, new in the latest version 3 is the patented Slo-Roller system.
This is a Harvard University designed insert that creates re-circulating waves of heat and smoke that surround food in the cooking chamber, making sure every inch of the foods surface receives a good lick of taste imparting smoke, while removing any hot spots that with inferior cookers can lead to uneven cooking.
Also included is an air-lift hinge — responsible for meaning you can lift the bulky lid with a single finger! — A multi-piece firebox that will not crack under extreme heat, and a solid stainless steel latch on the front to keep the lid closed.
There is also a vast array of accessories available for the Kamado Joe line of grills, including a rotisserie attachment, pizza stone, vertical chicken holder, soap stone and cast iron cooking surfaces…and more. The possibilities are endless!
Pros
Class leading fuel efficiency
Versatile and easy-to-use.
Swoon-worthy ceramic red finish (OK, a bit biased here, haha)
Heavy-duty rolling cart with locking casters, that is more visually appealing than most carts.
Many available accessories that future-proof this smoker/grill combo
Cons
It's pricey compared to many on this list.
Only 18″ diameter cooking surface (Though can be expanded easily)
The kamado Joe Classic III is the smoker for you if you want easy-to-use, versatile, and also wish to make a statement by buying something is truly great and close to the best.
It can smoke grill, roast and bake, so opens up a whole world of outdoor cooking, while being fuel efficient and capable of producing amazing food.
The Kamado Joe III is one of the best, most well-thought-out, well-built and designed meat smokers for people who want to do it all in style.
Oklahoma Joe Combo Grill Smoker
2
Commercial cooking machine, that's what this beast looks like! The two-sectioned smoker chamber, large dials, and generous hopper could be intimidating for a beginner.
But the well-marked dials make it look straightforward and uncomplicated to operate. The sturdy legs and wagon-spoke wheels give it a sense of stability.
It's an OK build quality, better than most 'horizontal offset smoker' designs at this price point, but lacking in weight and thickness compared to high-end offset smokers.
However, the Oklahoma Joe offers the best of charcoal and gas cooking in a single unit, so has ease of use and simplicity with gas, with authentic via charcoal if you desire it.
This smoker has a solid heavy-gauge steel body and porcelain-coated cast iron grates that make it a durable grill if cared for properly
Three temperature gauges expand cooking ability without added time and cost of purchasing extra thermometers, and removing a lot of the guess work.
The grill enables direct and indirect heat cooking as the back can get very hot. The OK Joe is best assembled by more than one person because of the weight of the pieces.
Being a gas grill with side burner, it's very easy-to-use in some respects. But having an offset charcoal or wood burner does take some time to learn fire management and temperature control with live fire if you want an authentic charcoal cook.
Pros
Dual cooking areas allow preparing sides while the meat is cooking
Heavy tank-like solidity
Relatively easy clean up when properly seasoned and foil-lined
Cons
Wheels aren't as strong as they look
Unreliable built-in temperature gauge
Doors allow smoke to leak out
Doors don't hinge back far enough for easy reach of the back of the grill (very long handled tools will resolve the problem)
If you like the best of both worlds — propane and charcoal, this smoker is ideal.
It has ease of use on gas to begin, but you can move on into authentic charcoal and wood smoking when you're ready to level up your game.
What is Smoking as a Food Cooking Method?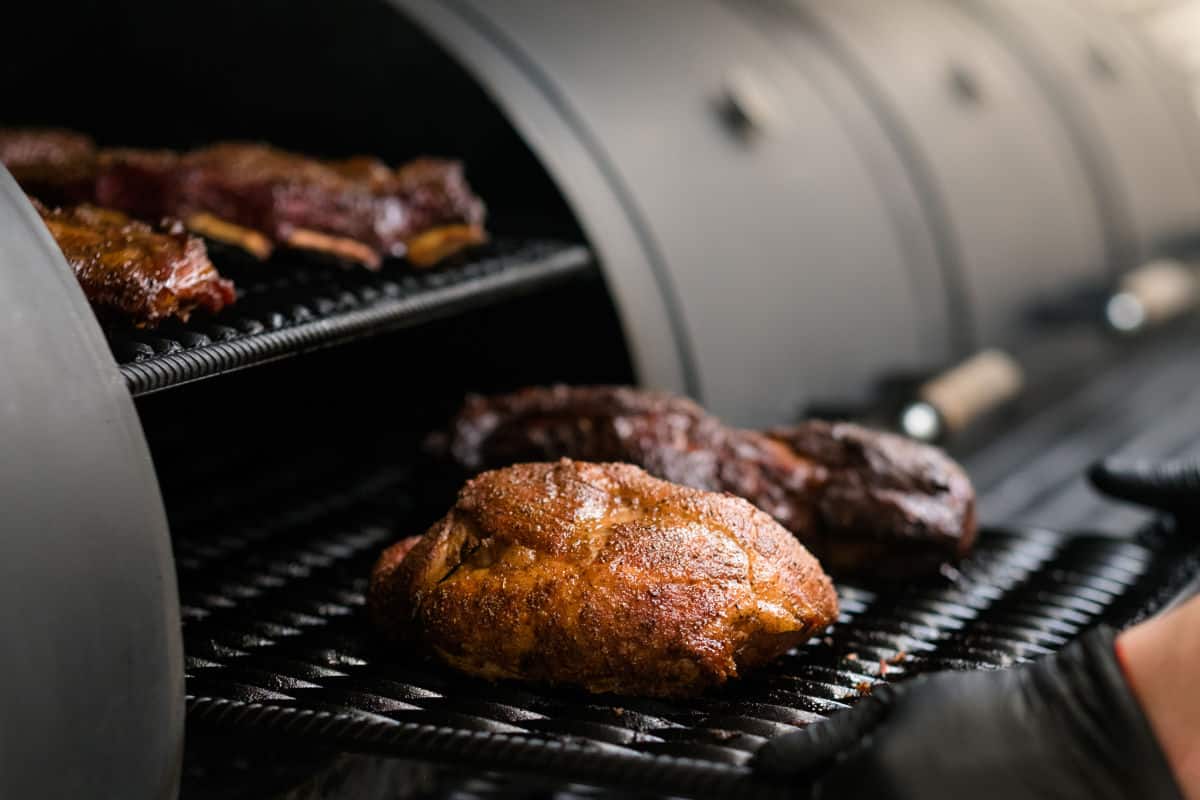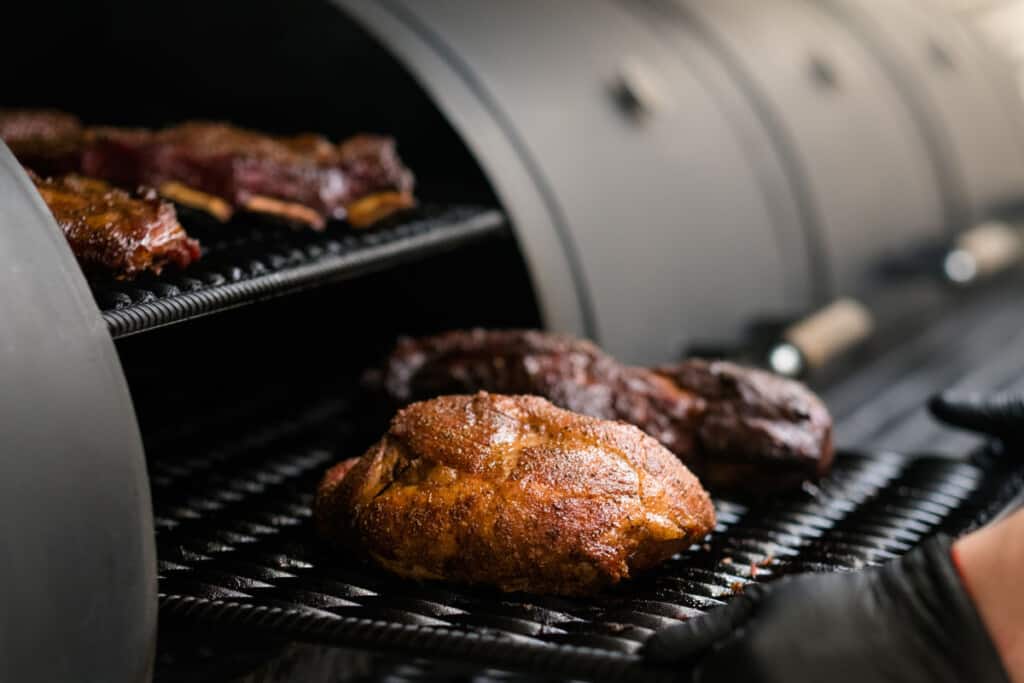 Smoking began as one of many ancient food preservation methods, usually starting with the process of salting foods to stop bacteria from growing.
After brining or marinating, food is placed over a low fire in an enclosed space for hours. The smoke and moisture coat the food with a crust, sealing out germs.
Traditionally used to preserve meats, poultry, or fish, modern smoking is done to flavor those foods as well as nuts, cheeses, and vegetables.
In modern times, hot smoking — or smoke roasting — is typically used to cook tough cuts of meat low n slow over many hours, imparting fantastic smoky flavors into the food, while breaking down the collagen and connective tissues over many hours of low-temperature cooking.
The method takes otherwise traditionally unwanted tough cuts of meat and transforms them into juicy, tender gastronomic delights.
The Difference Between a Smoker and a Standard Grill
A smoker is built so that the heat is either to the side of and away from the food, or well below the meat with a heat deflector so that no radiant heat can get to the food. This enables low and slow cooking, via indirect heat and convection.
On a grill, food is just a few inches away from and directly over the heat source.
A grill is typically used for high-heat, fast cooking, whereas smokers are for low temperature and slow cooking.
Joshua Bousel of SeriousEats.com draws a comparison between ribs cooked on a grill and in a smoker. His conclusion: if you want to keep temperature checks to a minimum, great smoke rings, and enjoy the perfection of meat that is moist and tender with just-right crunch, you'll want to get a smoker.
What type of Smokers are There?
The Australian Barbecue Association provides an excellent walk-through of different types of smokers in the following video which we recommend you watch for a good overview of options before we then discuss each in turn below.
OK, let's look at each in turn.
Charcoal Smokers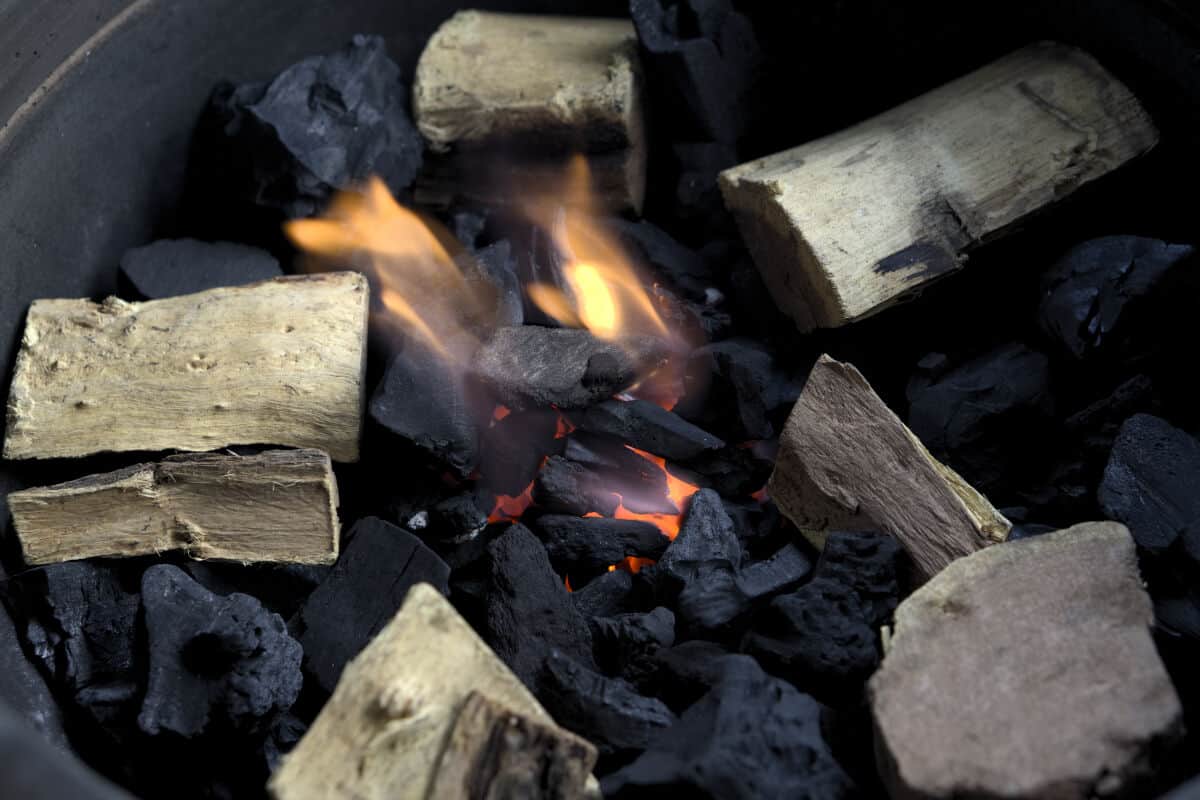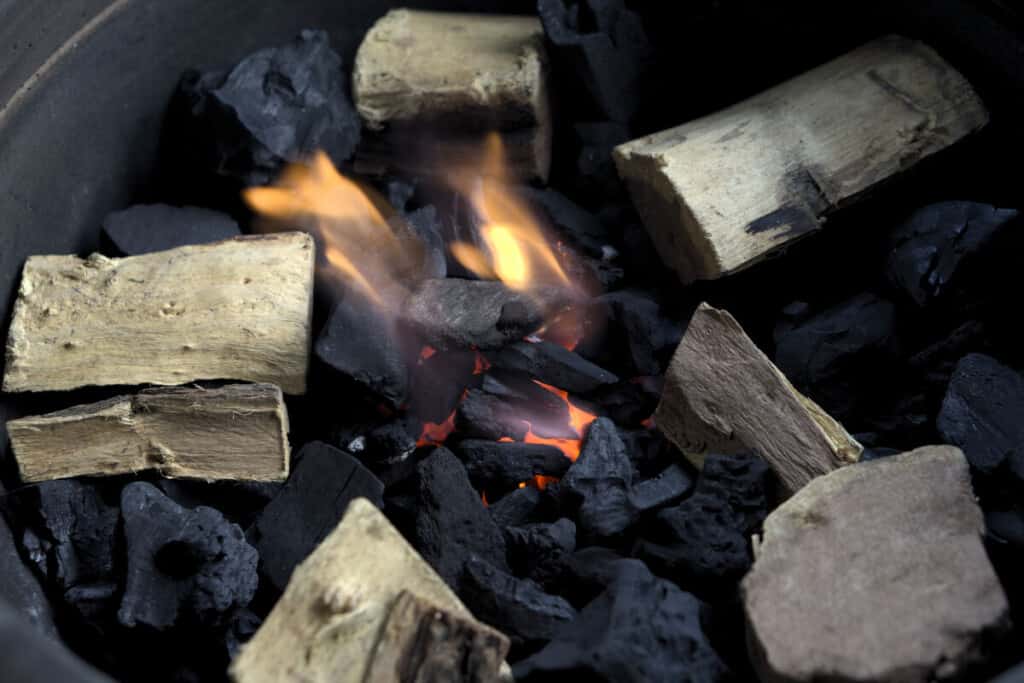 Charcoal smokers are considered THE best way to flavor smoked foods by many enthusiasts. It can be a challenge, mastering fire management techniques, airflow, wood choices, and timing. But we think you'll agree the results are worth the pains taken to master the challenge.
Pros
Made from wood, charcoal creates a lovely subtle smoke flavor all of its own
Some of the cheapest of smokers you can buy
One of the least expensive fuel sources
Cons
Learning curve can be relatively steep
Banned from apartments, within some city limits, and other regions or residential arrangements where there is a high risk of a fire breaking out
Messy and potentially dangerous (hot ashes) post-cooking clean-up
Gas Smokers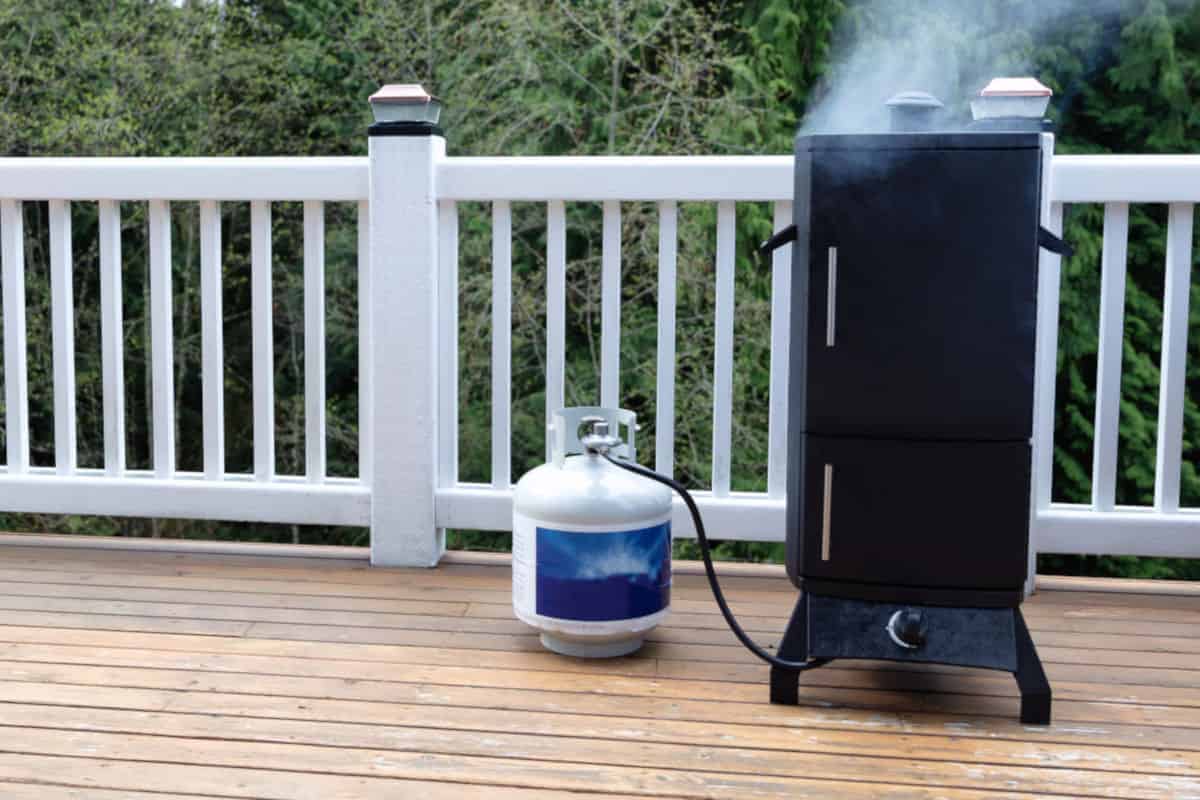 These run on clean-burning propane or natural gas which means no danger of unpleasant chemicals going up in smoke and marring the flavor of your food.
Propane, aka liquid petroleum gas, is a by-product of natural gas stored under pressure in tanks, explains the U.S. Department of Energy. Creating a gas-fed outdoor kitchen in a home heated by natural gas is relatively straightforward.
Most gas smokers look like a locker or a small thin refrigerator with racks above a tray for wood which sit above the fuel source. Gas smokers are one of the easiest ways to get smoking in a hurry, and a very good beginner smoker for their ease of use.
Pros
Relatively inexpensive
Minimal learning curve
Easy start, easy to clean
Smoker doesn't take up much space
Cons
Combustible liquid stored under pressure
Lacking the added charcoal flavor
Banned by city and county regulations from apartment balconies and porches, picnic shelters or tents
Large meats will have to be cut to fit into this typically smaller style smoker
Best suited to homes fuelled by natural gas. For those who want to smoke but don't want the hassle of charcoal, lighting fluid, matches and so on.
Pellet Smokers
Pellet smokers get their name from the fuel source used to create the heat and smoke.
Pellets are made from compacted sawdust and other materials, sometimes including added flavoring, but the best pellets for smoking are made from all natural hardwood.
The pellets are poured into a feeder attached to one side of the smoker and are then slowly fed into the smoker at a rate to generate the desired heat and smoke.
Max Good of SeriousEats reviews the origin of pellet smokers and notes that all modern smokers come equipped with digital temperature controllers which allow setting the unit to feed pellets at a steady rate, giving temperature control that is as easy as turning on a kitchen oven.
Pros
Ridiculously easy-to-use and can barbecue, smoke, roast, braise, bake, and sort of grill.
They typically have a wide temperature range, going from around 175° F to 500° F.
Cons
Cost can be prohibitive. The many mechanical and electrical parts can add considerable cost compared to other smoker types.
Runs on electricity, so an external source must be nearby.
Best suited to beginner smokers who don't mind paying for what they truly want, if what you want is versatility, and hands off almost automatic cooking similar to a kitchen oven. They are the simplest of smoker type to operate, the easiest to master.
Because the pellet feeder adds on to the space taken up by the smoker, those who have lots of storage and cooking space will probably enjoy pellet feeders more than those with minimal space.
Electric Smokers
These are the closest to fool-proof smoking with almost nothing to learn before producing epic BBQ. Load food, press a few buttons and walk away.
They genuinely do operate like a kitchen oven: Temperature is regulated and consistent throughout the cooking process.
Pros
Minimal setup
Useable wherever charcoal and gas is banned
Versatile
Cons
Runs on electricity (no tailgating here unless you pack along an inverter)
A challenge to produce a smoke ring
Best suited to a beginner smoker who wants to try smoking foods but isn't keen on getting their hands dirty with solid fuels and fire management.
Apartment dwellers will love being able to grill electrically where charcoal and fire aren't allowed.
Kamado Ceramic Smoker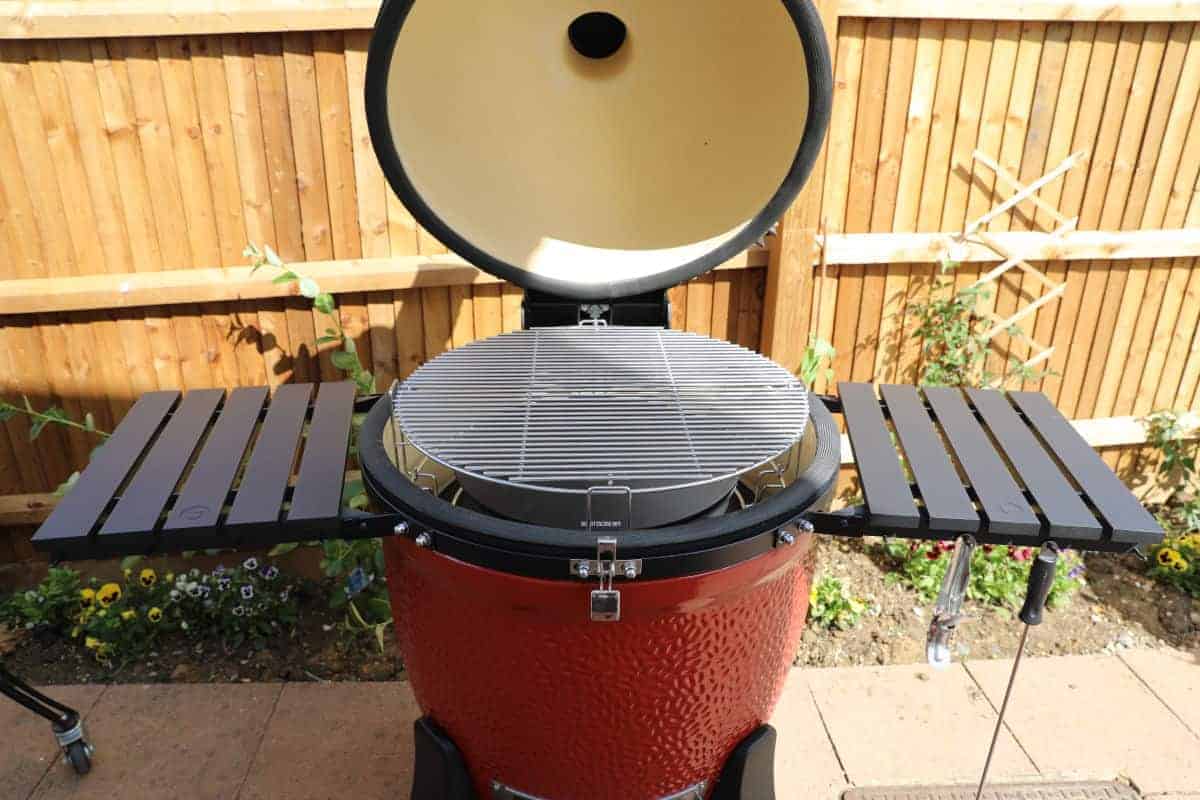 Kamados are a class unto themselves.
Incredibly versatile, a Kamado is a griller, roaster, baker, and smoker all in one, with a multitude of accessories available to aid in all these cooking methods. (Note: You can learn a lot more about kamados in our dedicated article on the best kamados available today.)
They are traditionally made of high-quality ceramic, though other refractory materials (cement, terracotta, lava rock, tile) and stainless steel are now also sometimes used.
There is a bit of a learning curve for using a kamado correctly, so it may test your commitment level with the learning curve compared to a gas or electric grill. But if you have your heart set on a charcoal fueled cooker, then a kamado is one of the best charcoal smoker for beginners.
And although they typically weigh a good 50KGs+, with smaller models available their weight doesn't prevent enthusiasts from packing them up for tailgating and other away-from-home adventures.
Because of its design, the kamado creates a low-oxygen, high-moisture, nicely sealed-in environment which makes for amazingly moist and tender meats, even after 12 or 16 hours of slow cooking.
One thing to be aware of — and I did mention a learning curve — is the potential threat of 'flashbacks.'
When the lid is lifted, the surge of oxygen into what was a hot and low-oxygen environment can cause the coals to fire intensely, creating a near-instant fireball. This is easily preventable by 'burping' the kamado when opening it though and so is easily nullified.
Burping is just opening the lid an inch or two and holding it there for 5 or so seconds, allowing some oxygen in slowly before opening fully. This prevents any flashback. Easy really.
Pros
Durable, high-quality ceramic that will last a lifetime
The most versatile of all smokers
Highly fuel efficient
Design consistently holds heat for hours without intervention
Cons
Cost of accessories
Weight
Ceramic could crack if care isn't taken with its use
takes a while to get up to smoking temperature
Comparatively steep learning curve compared to other styles of smoker
Best suited to those who want a 'do it all' smoker and grill, who wish to BBQ, grill, make pizza, roast and more all on the one unit. But also for people who like to invest in very high-quality equipment that will last a lifetime, and do not mind the price tag that goes with it.
What to Consider When Buying?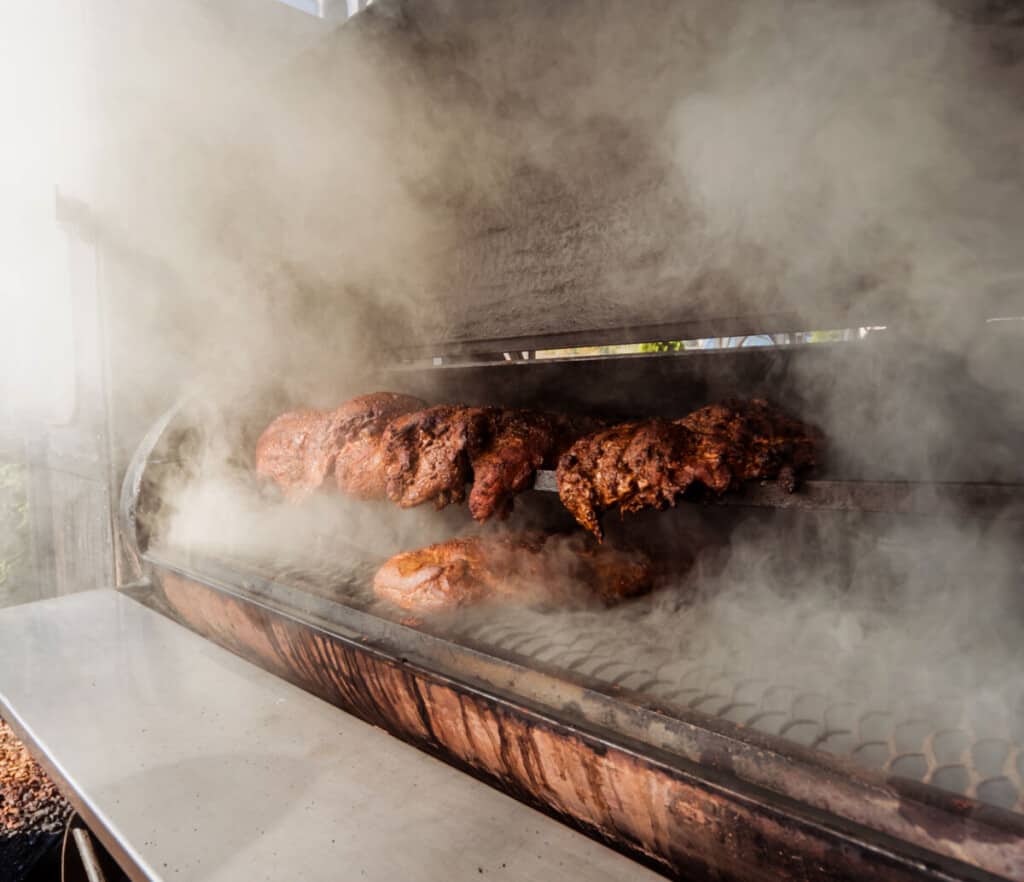 'Only fools rush in' — or so says Elvis. And he's right!
There's a lot you should consider before buying your first smoker, and following are the most important points of consideration before laying down any cold, hard cash for an investment in something you will be using for many years to come.
Smoker Type
There are many types of smokers available, and each has its pros and cons as discussed above.
Consider your living space, budget, patience for learning, availability of fuel or power supply, and ultimately how much food you want to cook (size) and what cooking you'd like to do?
Do you simply want to smoke food, or perhaps grill and make pizzas too?
These are all things you need to consider before deciding which type of smoker is right for you.
Fuel Type
Charcoal is so plentiful that even 7-11 carries it. Therefore, you'll never have fuel sourcing worries if you go for a charcoal fired smoker.
If your house runs on gas, connecting a smoker to the house line provides a constant fuel source without added costs or trips out to replenish your supplies.
The argument continues on whether — or how much — flavor is compromised when using fuel other than charcoal. Can you tell the difference between a roast smoked by gas versus one smoked by charcoal? (NOTE: I certainly can and much prefer the use of charcoal!)
Pellet smokers are the most expensive to run, with specialized wood pellets needed that aren't as plentiful or easy to source as charcoal, and get burnt through at quite a rate on a long, 16-hour brisket cook. Economical pellets are not!
Build Quality
Too often when it comes to smokers, "inexpensive" means a thin material which leaks waves of smoke, fails to keep the heat in and results in your smokers temperatures ebbing and flowing with the wind and weather.
So You'll want to find the balance between inexpensive but still well-built, and just plain cheap.
Too many episodes of getting a poorly smoked roast at the cost of smoking up your clothes, hair, and home can quickly turn your smoker into just another piece of clutter in the garage.
And any savings you make with the 'cheaper' smoker are soon eaten away by extra fuel costs needed to maintain the heat inside a poorly insulated, leaky smoker.
A well-built smoker, that's sealed and well insulated will save a ton of money when it comes to fuel over the life of a smoker.
Efficiency
Closely tied in with build quality: How well does it do what it should?
If leakage is a problem, you know the food isn't getting the proper, constant flow of heat and smoke needed. That translates into a lot of wasted charcoal, wood, or gas, and irregularly cooked food with hot spots and cold spots which sadly equals poor results.
Available Support
Good customer service is one of the best ways to achieve customer loyalty. Weber, Kamado Joe etc. Are known for their quality, responsive customer support.
Manufacturers also use Facebook and other social media to communicate with their customers and foster communication among owners.
Some manufacturers sponsor owner forums, where tips, troubleshooting, gripes, and praises are freely shared.
If the smoker you purchase has a community built around it, with owners helping each other and sharing cooking tips, this can dramatically increase the enjoyment you will get from your smoker.
Future Proof
Having mastered the basic smoker, what's the route to the next level?
Will you have to buy a new model or is there an upgrade path via modifications and upgrades of your current model?
Are there accessories and attachments — grates, tools, pizza stones — for when you want to 'up your game' and try out new cooking techniques and dishes?
Size/Capacity
Are you only going to cook for a small gathering of family and friends? Or regularly catering for larger groups?
How often will you use it?
Those are basic questions you should answer, to ensure you get the right size.
Features and Bonuses
Color choices include standard black and colorful red, green, silver or the terracotta/earthenware look
Function can range from a dedicated smoker to one that also cooks, bakes, and grills
Accessories may be needed for alternate cooking methods, and in general to make the smoking experience manageable.
Material choices include stainless or porcelain enameled steels, wood, ceramic, and tile. Glass doors and steel liners are possible.
Summary of How to Choose Your First Smoker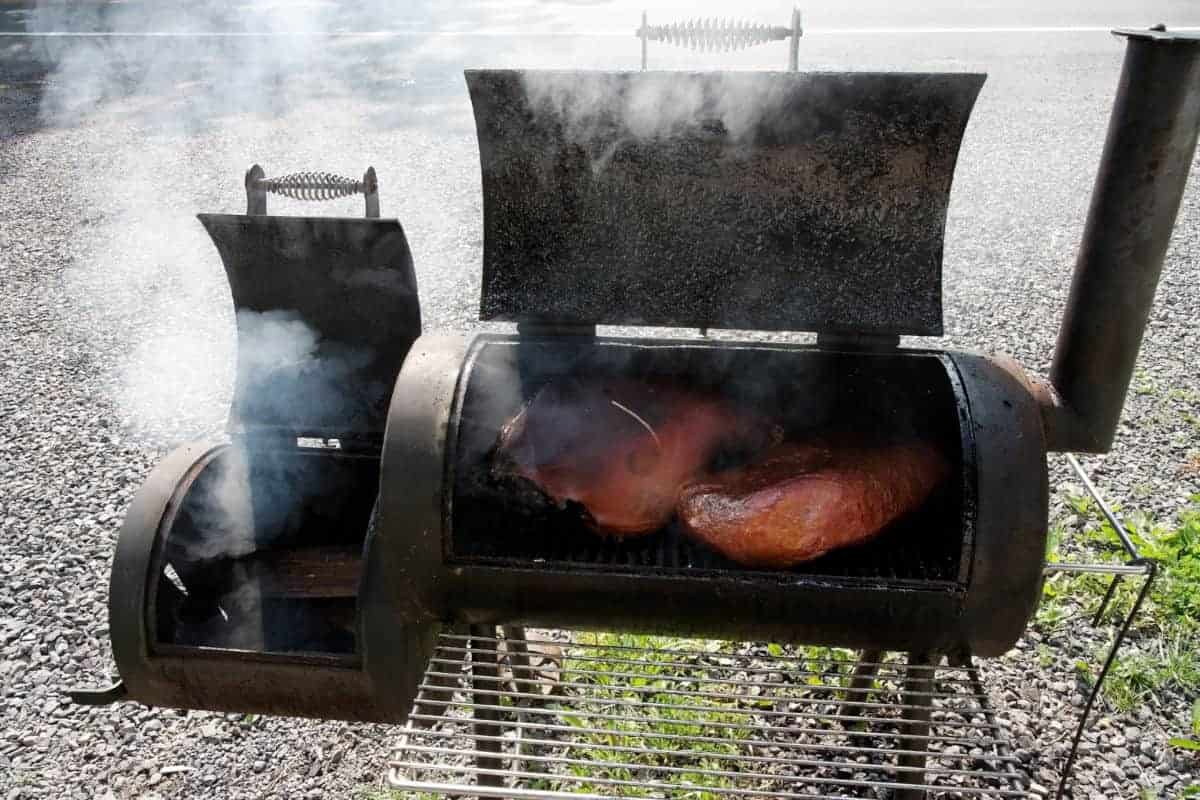 Determining your budget before you start can protect you from impulse buying you may regret. Especially if you decide smoking isn't for you, you don't want a big expensive yard ornament hogging space on your patio or back lawn. Consider which would serve you better: Either learning the ropes on an inexpensive model and upgrading later — OR — buy the pricier model you've determined will last decades (most economical, best value decision)
Deciding on fuel type based on the information provided above can substantially affect your purchase cost, ongoing costs, effort required while cooking and ultimately the results.
Deciding if you want a dedicated smoker or a combination smoker and grill will eliminate the need for expensive add-ons or a separate grill at a later date.
Determining the amount of food you'll be smoking — for a family of 3 or a crowd of 10 — will lead you to the correct size of smoker.
Conclusion
Our top choices among the products reviewed here are the Traeger Bronson 20 and the Kamado Joe.
The Traeger Bronson is a wood-fed fire offering generous cooking space, has one of the shortest preheat times, and is easy-to-use. That it offers a variety of cooking styles makes it one to grow with, it's reasonably priced too and hence deserves being in the fight for best smoker for beginners.
The Kamado Joe is quite simply our favorite cooker at any price, and we always recommend it, but you will have to reach deeper into those pockets compared to the Traeger.
What about you? Feeling better prepared to make that first purchase? We certainly hope so. There are so many options; marketers make everything sound attractive, putting this information to work for you can mean a smart first-buy that may see you through many happy years of smoked food adventures.
By taking consideration of the what and how of your expectations, and matching them to the fuel style and smoker types, we hope we've set you firmly on the path to becoming an old and satisfied smoking champion.