In this guide, we've rounded up the best smokers on the market in different categories, discuss why we love them, their pros and cons, and help you to decide which might be the right one for you.
Barbecue smokers can be very different from your typical traditional grill, and knowing which could be the right for you to get into smoking your own meat or fish at home can be difficult.
This guide will take away any such confusion.
Below, we look at the best smokers in different categories, discuss their diverse features and how they help during the cooking process.
We have also compiled a list of what are, in our opinion, the top-rated smokers in each category, taken from other detailed and targeted roundups you can find on our website.
At a Glance: The Best Smokers in Different Categories for 2022
Best Barbecue Smoker Reviews: Your Search Stops Here!
Ask any BBQ enthusiast in the Southern states why BBQ food tastes so darn good and the answer will nearly always be the smoke. For that fork-tender, fall off the bone meat, you can't beat a low and slow cook with plenty of smoke.
It's not just the Southern States where BBQ is popular though. According to the Hearth & Patio Barbecue Association, a 2017 'State of the Barbecue consumer study' found seven in every 10 US adults owned a BBQ or smoker.
In our list of the best smoker reviews below, we've chosen the smokers with the best mix of features, usability, quality, and price in each of a few different categories, so you can make delicious BBQ too.
They aren't necessarily the absolute best you can buy, because in each category there are models costing many thousands of dollars! But our choices represent amazingly good smokers while taking price into consideration.
Elsewhere on our website, you can find guides to more options in each category by clicking on the links provided. But, if it's the best mix of price and features you're after, these are the smokers for you.
1
Camp Chef 36 in. Wi-Fi Woodwind Pellet Grill & Smoker with Sidekick
♔ Best Pellet
The Camp Chef woodwind is a very capable, highly advanced and effective smoker with many features that make smoking meat both easy and a joy.
With a temperature range from 160 F for low n smoking, up to 650 F for high temp searing in the main cooking chamber, with an additional gas-fuelled side sear box that goes up to 900 F, this unit really can do everything from roasting and baking, to grilling and braising.
Perhaps the most standout feature of the Woodwind is the PID controller.
The controller has a constant feedback loop that enables this smoker to maintain a very stable temperature — essential for accurate cooking and professional results.
It also has a 'smoke setting' that allows you to set a preferred level of smokiness from 1 to 10, to suit different people's tastes.
Another impressive feature is the Wi-Fi connectivity.
After connecting the unit to your home Wi-Fi, you can monitor, control, and tweak your cook from anywhere in the world you have a connection to your smartphone, by using the Camp Chef connect app.
The app displays the temperature of the smoker, the internal temperature of the meats you're smoking, receives notifications and alarms you set for different stages of your cook, and allows you to change settings, all from your phone.
This frees you up to get on with your day without being tied to your smoker, but while still having complete control.
Another impressive feature is the addition of a side attachment sear box.
Pellet smokers notoriously have a hard time providing a true sear, and it's a constant debate in the smoking world. Not so with this unit.
Included is a 180 square inch, 16,000 BTU gas fuelled sear-box attachment that can provide direct flame searing up to 900 degrees Fahrenheit, overcoming perhaps the only drawback most people see in other pellet smokers.
Further great features include a 'slide and grill,' where you can uncover the fire pot for a final flame fuelled sear in the main grill; Easy ash cleanout with the simple pull of a knob that opens the firebox for ashes to fall into a cup; Four integrated meat probes, removing the need for an external 3rd party thermometer; A 22lb hopper capacity that can take an entire bag of pellets, so there's never any half bags lying around (most other smokers have a smaller capacity.)
We should also praise the full-sized upper and lower grates.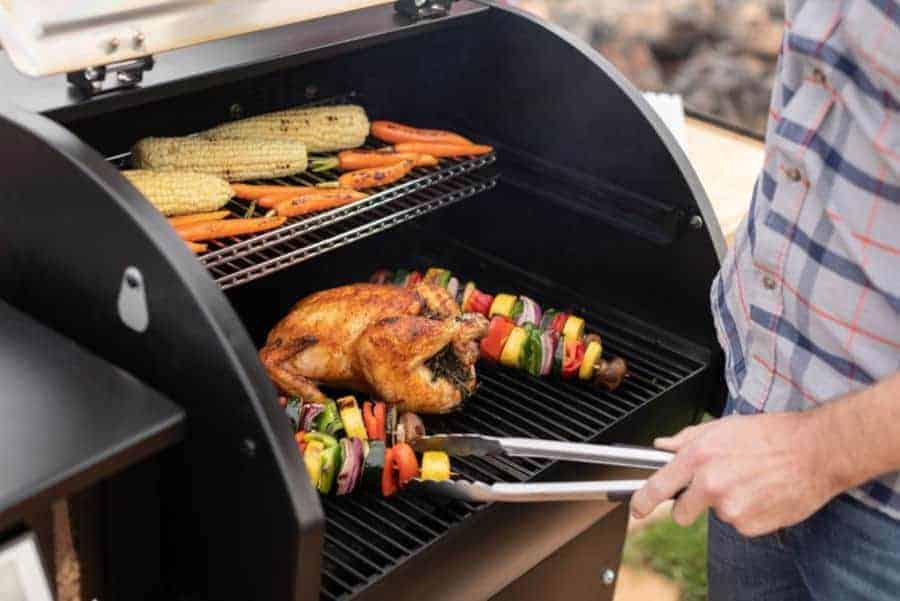 Most smokers have a single cooking grate and upper warming rack. Not so with the Woodwind that has full-sized upper and lower grates, offering a cooking capacity of over 800 square inches in only a medium-sized unit, and increasing the versatility of the unit immensely.
Pros
Wide temperature range of 160-500 degrees F, with 'smart smoke' variable smokiness setting.
Wi-Fi enabled offers monitoring and control from the palm of your hand, from anywhere in the world
True searing at 900 F for a perfect finish to steak and chops.
Excellent build quality, very durable and stable
Easy cleanup of ashes, and emptying of unused pellets
A Huge 800 sq. In. Cooking area
Highly versatile
3-year warranty
Cons
There's honestly nothing we can think of, except perhaps with so much new technology, its longevity is yet to be entirely proven.
The Camp Chef Woodwind pellet smoker with side sear box deserves a place on this list, as it's probably the most advanced and versatile pellet smoker to come to market at the time of writing of this guide.
It has excellent build quality, fantastic looks (if that's important to you), many attractive features, and all at a very reasonable price.
This is a fantastic smoker, and there's really not much at all I don't like about it.
2
Masterbuilt 20070910 30-Inch Black Electric Digital Smoker, Top Controller
♔ Best Electric
If you're after a simple looking, highly functional smoker that provides an easy introduction into the world of smoking, this just might be the unit for you.
Electric smokers are the product on which Masterbuilt built their brand. You cannot discuss electric smokers without mentioning Masterbuilt.
This 30-inch model is one of their best, available in three colors — black, silver, and stainless steel — A classic and an incredibly popular smoker for beginners.
It's a vertical smoker, offering a large capacity of 730 square inches of cooking space in a small footprint, that won't take up much space in your yard.
The 800-watt heating element powers this smoker to between 100 °F and 275 °F, a good range and perfect for both delicate cheese and fish at the low-end, to poultry, ribs and brisket at the high-end.
It has a blue-lit LED display on the top that you use to program in cooking temps and times at the push of a few buttons, as well as read the status of your cook, so it's push-button easy. There is almost no learning curve. It couldn't be easier.
Also, on top of the unit are vents that you use to increase or reduce airflow to set your desired smokiness of the food.
To add more wood chips during a smoke, you simply insert them through a side loader, which is highly convenient and easier than almost any other type of smoker you can find.
There is a double-duty water and drip pan that slides in and out of the base, adding moisture to the cook, and that collects drippings to make clean up easier, and is simple to wash down with dish soap.
If you've ever used a smoker or grill that does not have a drip pan, you'll be aware of just how grim things can get with grease collecting and burning sometimes. Not so with this smoker.
Pros
The simplest of smokers to operate. Program in a temperature, and away it goes.
A well-built unit, using durable materials, it should stand up to constant use and being permanently outdoors.
Well insulated for efficient heat retention and stable cooking temperatures.
Adjustable-top vents to allow adjustment of smoke flavor added to food.
Adjustable rack system allows flexible cooking options of foods of different heights.
Easy to clean
Cons
No meat thermometer unlike some of its rivals in the electric smoker world. But this helps keeps the cost down, and there are many wireless meat thermometers available at decent prices should you want one.
An 800W heating element isn't the most powerful we've seen, so it won't be the fastest to get up to cooking temperature (though will still be faster than charcoal smokers!)
We feel the warranty could be longer than 90 days.
This is a good medium-sized smoker, efficient and small enough to cater for a couple or small family, but who would also like the possibility of occasionally cooking for larger crowds and gatherings.
Simple to use, effective, frills-free, it does what it's supposed to do with ease and no fuss.
You can find better looking, more fully-featured electric smokers, but for the mix of build quality, effective smoking, and price point, you can't do much better than this Masterbuilt 30 -inch model.
Also See
For a look at more options in the electric smoker market, read our guide here to the best electric smokers
3
Weber 22-inch Smokey Mountain Cooker, Charcoal Smoker
Best Beginner
If you're a beginner looking for a quality backyard smoker, the Weber Smokey Mountain is a cult favorite.
Since its introduction, the WSM has been one of the most popular bullet style smokers, with many cookbooks, and a web forum, created especially for the WSM.
A 3-part porcelain enameled steel smoker bullet with two 22.5-inch nickel plated cooking grates included, this smoker measures 24 × 23 × 48.5 inches, weighs 68 pounds and provides a whopping 726 sq. In. Cooking surface area.
Although smaller sizes are available, spending the extra hundred bucks or so on the larger size can allow for much more smoking in a still relatively compact package.
You also get a porcelain-enameled water pan, premium Weber cover, an owner's guide, and an impressive 10-years limited Weber warranty.
Although this may be rated as one of the best beginner smokers, it does have a steep learning curve. This isn't just a "setup and go" smoker. You need to manage the vents and airflow for constant temperature control.
If you're looking for the simplest smoker to use, electric, gas, or even pellet smokers can be easier to master.
Pros
Sturdy construction with a 10-year warranty.
Water smoker design makes temperature control easier for beginners—with practice.
Compact with a smaller footprint than offset smokers.
A thermometer built-into the lid allows for monitoring of the internal temperature.
Integrated water pan keeps meat juicy and never dry or charred.
Two shelves provide a large cooking area—easily enough for two turkeys or two large pork butts.
Two vent system at the base and in the lid for better airflow and temperature control.
Plenty of online resources and user modifications available.
Cons
Stainless steel vents aren't heat-resistant and can be very hot to touch. Use tongs or heat-proof gloves.
The side access door can be quite flimsy—investing in new gaskets and a replacement door is advised.
The Weber Smokey Mountain is a quality cooker from one of the industry's most respected manufacturers. It's even backed up with an astounding 10-year warranty, so this smoker should last for years to come, especially if you use the included premium cover.
Although bullet smokers are ideal for beginners, it can take some practice for the best results. Luckily there is plenty of information available online and guides on setting up charcoal smokers, the vent control and general smoking times on the WSM.
4
Oklahoma Joe's Highland Reverse Flow Smoker
Best Offset
This is one of the manliest looking of smokers you could ever buy. Put this in your backyard and people know you mean business. And for larger cuts of meat, the reverse flow technology ensures even smoking throughout.
For the best smoke flow possible in an offset, you really do need a reverse flow smoker. The Oklahoma Joe's Highland reverse flow smoker is one of the best at an affordable price.
This heavy gauge all-steel construction arrives in parts which need assembling at home. It's quite easy to build, but the sheer weight of this unit — 180.8 pounds — means you may need somebody to help out.
Truly great offset smokers run into thousands of dollars, but as a compromise for decent quality and effectiveness, you can't go wrong with this model.
With 900 square inch cooking surface, it employs a series of four baffles, for guiding the smoke and heat through the main chamber, all around and over the food.
The great thing about reverse flow technology is it avoids the uneven cooking you normally associate with offset smokers. Although the firebox is still at one end of the chamber, the smoke traversing the cooking chamber twice while being forced over the meats provides an even and delicious result.
Pros
Heavy gauge steel used for construction is very durable.
Porcelain coating of the steel provides extra insulation.
Multiple dampers for easier heat and smoke control.
The firebox features a large stainless steel basket and side door for an easy clean out.
The baffles can be adjusted or even removed, for the smoke flow which suits your meat best.
Plenty of storage with a front and bottom shelf.
Cool-touch handles prevent burnt hands when opening.
Cons
Smoke can occasionally leak out the doors; easily fixed with customized gaskets.
Very heavy to move, even with the provided wheels.
If you've decided to go down the offset smoker route, you really should consider how it smokes rather than just how it looks. The reverse flow smoke technology of this model ensures you get evenly cooked and smoked meats every time.
5
Kamado Joe KJ15040921 Classic III 18 inch Charcoal Grill
Best Kamado
Although the Green Egg may be the best-known brand of Kamado smokers, this vibrant red egg from Kamado Joe is our pick of the best Kamado grills.
The charcoal-fuelled Classic II does everything right, with a number of innovative features taking it to the next level.
The large ceramic shelled egg of the Kamado Joe Classic III comes with a heavy-duty cast iron cart for rolling it around your backyard. The box also includes a heat deflector, a system of half racks for "divide and conquer" cooking, folding shelves, and a grate gripper tool.
It measures 46.5 × 48 × 28 inches, weighs 188 pounds, and offers a total of 256 square inch cooking surface, expandable with an optional grill expander accessory.
For those who love to grill as well as smoke meats, the divide and conquer cooking system, combined with a temperature range of 225 to 750 degrees Fahrenheit, gives a functionality other "egg" smokers can't match.
If you're not quite ready to give up that grilling of a burger or steak just yet, the two cook zones of the Kamado Joe Classic II are perfect.
Pros
A strong, sturdy shell that is guaranteed for life.
An air-lift hinge makes the heavy lid easy to open.
A double thickness wire mesh fiberglass gasket seals the Kamado Joe lid.
A unique vent design is weatherproof and won't rust.
Comes with a whole heap of accessories, like grill grates and cart, that you would normally pay extra for.
Expandable grate for more options of how you cook.
Built-in thermometer for monitoring the internal temperature.
A six-piece firebox is less likely to break from high heats.
A slide-out ash drawer makes clean up simple.
Cons
The 18-inch diameter can be too small for some cuts, like whole racks of ribs or larger pork butts.
Very heavy to lift or move about.
Kamado Joe seems to be beating the Green Egg company at their own game with this feature-packed Kamado grill. The newer technology used in the Kamado Joe makes it even easier to use than ever before for a quality smoke.
6
18-1/2 in. Classic Pit Barrel Cooker Package
Best Drum
When it comes to Ugly Drum smokers, you can always build your own if you're on a tight budget.
If you can't get your hands on an oil drum or don't have the DIY expertise or tools, the Pit Barrel cooker is an excellent alternative, with all the accessories you could ever need also included.
The 30-gallon porcelain coated steel drum comes with an 18.5-inch standard cooking grate and a charcoal basket. It has two steel hanging rods and eight stainless steel hooks.
Also included are a wooden hook remover and a 3-point barrel stand.
It measures 21 × 21 × 31.1 inches, weighs 57 pounds, is fuelled by charcoal briquettes and offers up a cooking surface area of 240 square inches…though that can be deceiving as you can hang ribs and foods vertically, allowing it to cook more than the grate surface area would indicate.
If you're looking for something which is easy-to-use for a beginner — but it still used by many BBQ competition chefs — and is easy to throw in the bed of your truck and set up when on the go, the Pit Barrel is ideal.
Easy to set up, this smoker is also ideal for beginners who may have struggled with a cheap offset model.
Pros
Surprisingly portable and lightweight. Can be set up just about anywhere.
The Pit Barrel cooker is ready assembled, just add coals, then you're ready to go.
Solid construction with porcelain enameled steel.
A hook system increases the cooking You can fit eight racks of ribs or two large pork butts.
A forgiving smoker once you've mastered the basics.
Airtight construction helps to achieve steady temperatures over a longer period of time.
Cons
The temperature control can be restricted. Always have a wireless thermometer on hand.
It can be difficult to add more fuel when using for longer smokes with a charcoal bowl at the base, below all the meats.
You'll need to invest in some long-handled tongs as it can be very deep to reach into.
For somebody just starting out with meat smoking, the Pit Barrel Cooker is an ideal choice and very affordable too.
It's durable, easy-to-use and portable enough to take on your next camping trip, or even a tailgate party. It may not offer the temperature control of other smokers, we definitely don't advise messing with vents too much.
7
Oklahoma Joe's Charcoal/LP Gas/Smoker Combo
Best Smoker Grill
This absolute monster of a cooker from Oklahoma Joe and Char-Broil does it all—smoke, grill, bake or roast.
It's one of the few, and one of the best hybrid grills available that features a gas grill, a charcoal grill, and a dedicated offset smoke box.
The Oklahoma Joe comes in a kit form. It's easy to assemble with just a few tools and all the nuts and bolts provided.
Six porcelain cooking grates are provided with this grill combo. You could be smoking a brisket on one side while still using the other chamber for flipping burgers. You can even use the surface of the firebox to keep food warm.
Weighing 205 pounds, and measuring 74 × 31.5 × 50.6 inches, it offers a total cooking surface area of 1,060 square inches, the largest in this list. This is made up of 750 sq. In primary cooking surface, and 310 sq. In. On the firebox cooking surface.
There are a total of four, 12,000 BTU burners providing great cooking power.
When you entertain for large outdoor parties on a regular basis, the Oklahoma Joe Smoker Combo grill is a perfect choice. It's a one-stop, do-it-all piece of cooking equipment for your backyard.
Pros
Thick carbon steel construction.
Plenty of preparation space with a front shelf.
The porcelain grates are easy to clean.
Large cooking area.
Cool-touch handles to prevent burning as you open the lids.
Three separate chambers allow for charcoal and gas cooking at the same time.
Lid-mounted temperature gauges for monitoring the temperature of individual chambers.
A firebox access door means you can stoke the fire without allowing smoke or heat to escape.
Cons
You may find the wheels unstable on this monster, making it harder to move.
Silicone seals on this type of smoker often need reinforcement.
It's heavy and large, difficult to put away after every use—invest in a cover.
For the ultimate outdoor kitchen, it's hard to beat a smoker combo grill. This model from Char-Broil even allows you to choose between the convenience of gas and taste of charcoal smokers for those purists looking for that unique BBQ taste.
It's also an excellent smoker with a capacity for larger amounts of meat. Whether you want to quickly grill a steak midweek, or smoke a piece of brisket over the weekend, a smoker combo grill is the way to go.
8
Camp Chef Smoke Vault 24″
Best Gas
For many people, a propane smoker will offer a better smoke taste than electric but still avoid the need for messy charcoal.
This extra-large gas smoker from Camp Chef measures 24 × 16 × 30 inches (without legs) and weighs 75 pounds. It arrives fully assembled and comes with two cooking grids and a jerky rack.
It features a wider temperature range than some more limited ones, of between 160 and 350 degrees Fahrenheit, so can even be used to bake pizza, pies or bread.
This is an excellent bit of kit for smoking larger amounts of meat when you don't have the space required for a larger charcoal smoker, the perfect smoker for small backyards, or even to take traveling where you can hook it up to a gas bottle wherever your fancy takes you.
Removable legs allow it to be counter mounted or freestanding for flexibility, and Camp Chef even includes a guidebook with tips, ideas, and recipes.
Pros
A solid stainless steel door won't rust.
Fully adjustable heat control dials, three damper valves and an indoor thermometer to help control the temperature.
Large capacity with three adjustable shelves.
Heavy gauge steel wood chip tray.
The removable porcelain base makes for easier cleanup.
A convenient snap ignition with no matches needed.
Cons
Thinner metals used in the cabinet won't insulate the heat too much.
The door has to be opened to top up wood chips, allowing smoke to escape.
No thermostat so temperature has to be manually controlled.
The build can allow smoke to leak out.
This Camp Chef offers all the quick start-up convenience of a gas-powered grill. With a snap ignition, it will quickly come up to a temperature which can be adjusted for the ultimate smoking of meats.
The maximum temperature of 350 degrees Fahrenheit means you could even use it as a pizza oven.
Also See
For more options in highly recommended gas smokers, check out our guide here to the best gas smokers.
9
Weber 18501001 Summit Charcoal Grilling Center
♔ Best Charcoal
Many outdoor cooking enthusiasts will swear by Weber products and buy nothing else. This high-end charcoal smoker and grill is perfect if you're looking for a quality, simple, no fuss smoker which doubles as a grill.
The Weber Summit charcoal is one of Weber's premium grills, using the familiar kettle design.
The all insulated double walled porcelain enameled lid and bowl give it a ceramic egg quality, but with more flexibility.
Looking more like a gas-powered grill, it features the same trolley-like design, but with the unbeatable taste of a charcoal smoker.
This Weber smoker comes in a ready to build kit, which consists of the large 24-inch kettle made from porcelain enameled steel with a hinged lid.
A trolley attachment with wheels, storage shelves, and a 24-inch stainless steel grate is also included.
It measures 62.2 × 56.6 × 35 inches, weighs 111 pounds, and offers452 square inch cooking surface.
Unique to this charcoal smoker is a gas ignition system! No having to mess with firelighters or struggling to light charcoal. Simply push a button, a small gas flame lights the charcoal and once going, you turn off the gas and cook over charcoal for an authentic barbecue taste.
Be aware, though, that although the easy gas lighting system and ash cleaning system used by Weber is very effective, it's still charcoal fuelled which will require more attention than electric or gas.
Pros
Weber products ooze quality. This is just as good a smoker as it is a grill.
Solid construction, backed with a 10-year warranty.
Easy ash removal and cleaning system.
Gas powered ignition system makes it easier to light.
A two-position fuel grate for grilling or smoking.
Includes a heat deflector shield for more even heat dispersion.
The spring-loaded lid is easy to open.
A removable center section of the grate can use Weber Gourmet BBQ system for greater versatility.
A sturdy stainless steel trolley provides preparation and storage space.
Cons
Very expensive for a charcoal BBQ.
A steeper learning curve than Kamado grills.
Large capacity may be more than most people need.
This grill/smoker is squarely aimed at those who take their grilling and smoking seriously and only want the best.
BBQ enthusiasts who already smoke on their kettle grills may question why you would spend over a thousand bucks on what is essentially a kettle BBQ. The innovation goes so much further, though.
The first major update to the kettle design in decades, it's more akin to a ceramic Kamado grill than the kettle — a kamettle or kettlelado, some may call it. For a more in depth look at this particular model, you can check out our Weber summit charcoal grill review.
What is a BBQ Smoker? What do They Do?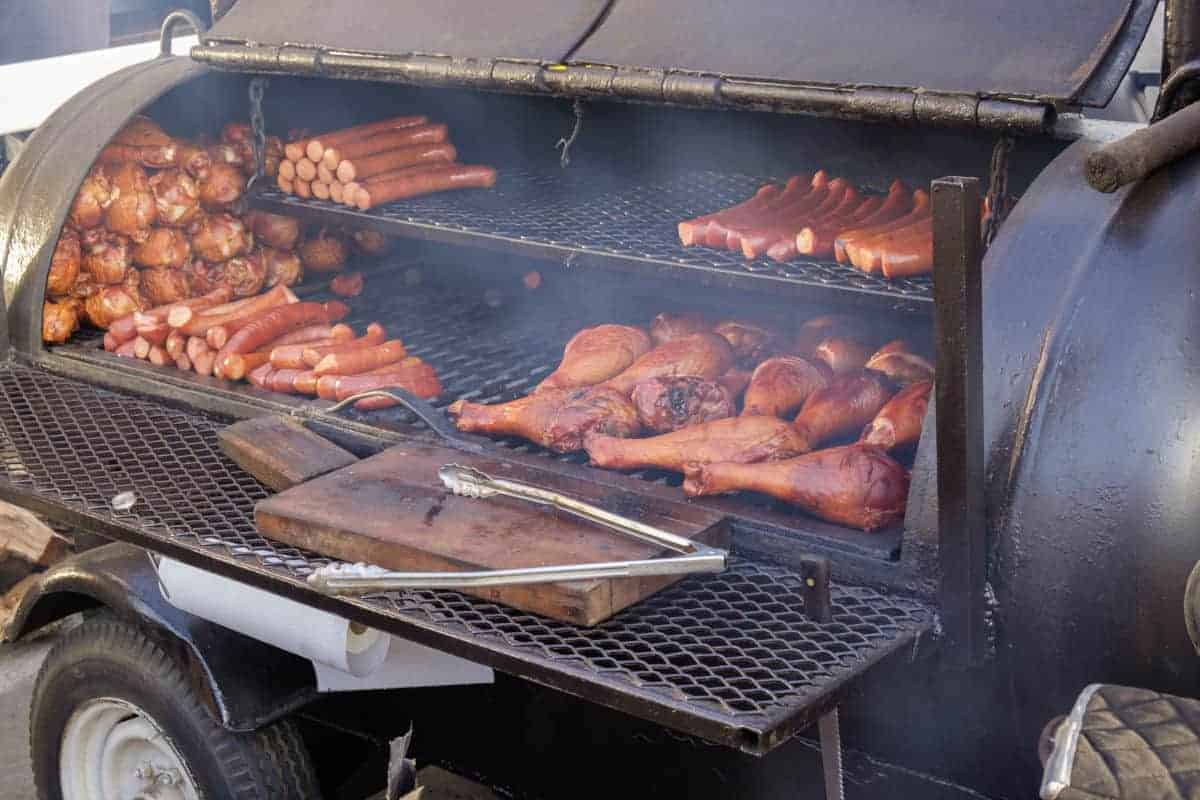 If the outdoor cooking bug has already bitten you, it's inevitable that one day you will want to try your hand at smoking your meats.
A smoker, put simply, is an outdoor appliance which cooks food at lower temperatures for extended periods while adding a wood-smoked flavor to food.
A closed chamber will be large enough to accommodate the required amount of food while smothering it with a gentle flow of smoke.
Smoke created by burning wood allows the meats to take on a unique smoky flavor which can't be matched by any other method.
A common misconception is that the smoke itself cooks the meat, but in reality, it's the heat of the fire or heating element which actually cooks the meat, while a thin smoke adds a layer of flavor.
What to Look for When Buying
Before you go and stock up on briskets and pork butts, you first need to choose the right smoker to match your requirements, and to do so you need to know what you should look for.
Here are a few tips, explaining what features you should consider when choosing the best smoker for you.
The Type of Smoker
Of the many types of smokers available to buy, which one is best for you?
Consider how much meat you intend to smoke and how often you expect to smoke. If you're planning regular large smoking sessions at home, it may be best to invest in a gas or electric smoker, as charcoal can get expensive in the long run.
Charcoal may be more expensive to replace constantly, but purists will argue you only get that authentic BBQ taste from charcoal.
Electric grills can be limited to their location by the availability of the nearest outlet, and propane tanks are heavy to move if you're looking for something portable.
Be sure to check out our article on the different types of smokers, so you know more about each type.
Build Quality, Materials, Insulation, and Durability
A smoker can be a considerable investment and will need to withstand significant wear and tear from being repeatedly heated and cooled, being outside in all weathers, being knocked, spilled on and more!
Ensure the one you choose has a sturdy construction that won't collapse mid-smoke. If the smoker is a heavy model, will it stand up to being dragged around your patio?
Thinner metals may be lighter, but won't offer that all important insulation for maintaining temperature. If you intend to leave the smoker outdoors, is the metal rustproof? A common sign of low-quality materials is rusting screws or joints.
It's not just about the materials used, but also the quality of the construction. Hoods or lids should be tight-fitting, with quality seals or gaskets. Wind can play havoc during a long smoke, and any smoker you buy should be airtight to avoid fluctuating temperatures.
Size
How much space do you have to spare in your backyard?
Some larger offset or combo smokers can dominate a smaller patio. Kamado style grills or vertical charcoal bullet smokers will have a much smaller footprint and can be easily tucked away.
If you're choosing an electric model, you'll need to consider where the nearest socket is. Electric smokers need high amperage extension leads, and the last thing you want is unsightly and dangerous cables lying all over your backyard or patio.
Capacity
Of course, the size of a smoker will also affect how much and what type of meat it can smoke.
If you intend to smoke for larger groups, you'll need the smoker with the most cooking area. Vertical smokers may have shelves which allow for more meat but can limit the size of larger joints to the dimensions of the chamber.
Horizontal style smokers, like offsets, combos or wood pellet grills, will typically feature larger grates that can accommodate several whole racks of ribs or larger pork butts and briskets.
So be mindful of how much you want to cook in one go, and buy a smoker that is able to deliver.
Temperature Range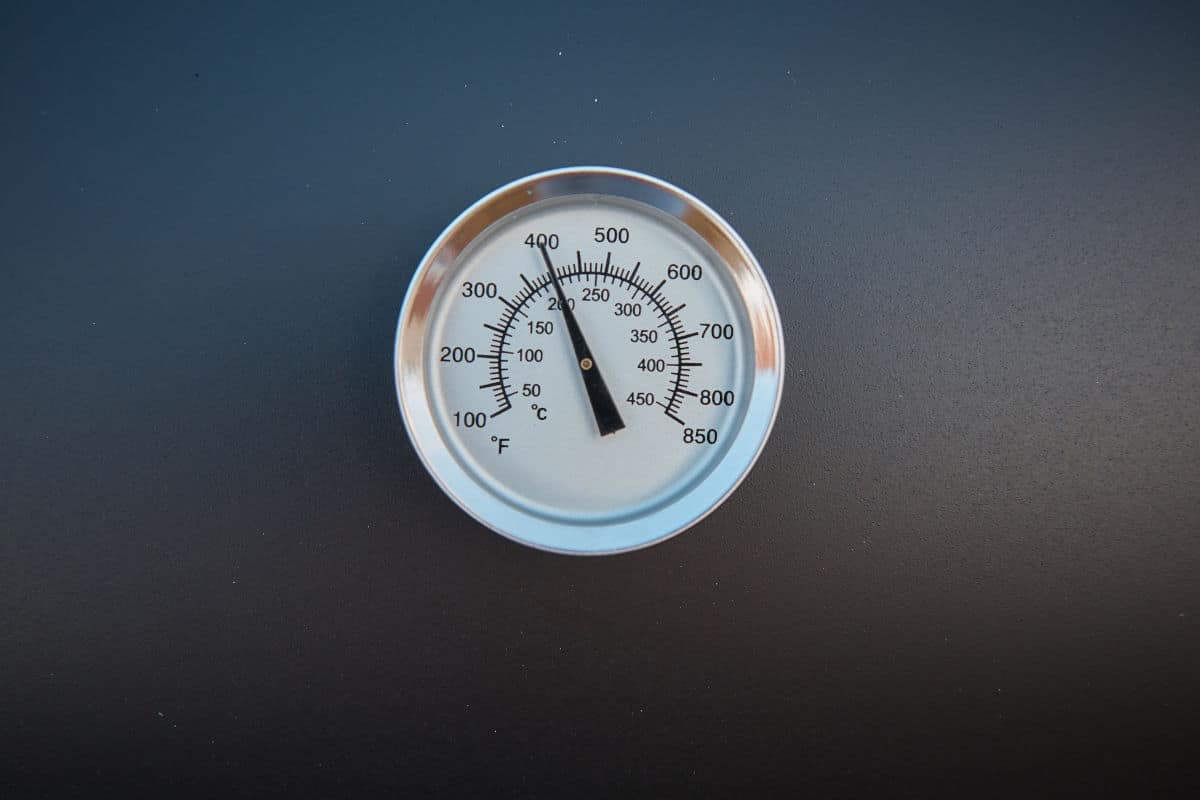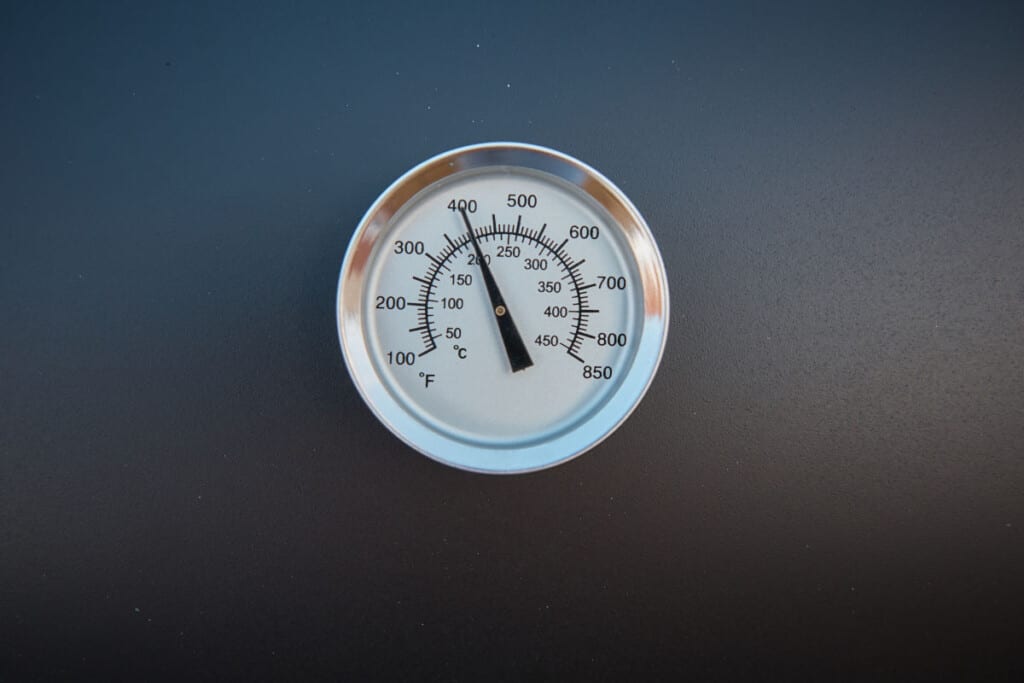 The temperature range of a smoker is even more important than that of an outdoor grill. To smoke meats well, you need better control of the temperature and for more extended periods.
Meat smoking is best when in the range of 225 to 275 °F, depending on what you're cooking. While for roasting, you will need temps of 400 °F+, and for searing as high as 500 °F or more.
Can the smoker reach the temperatures needed for a grill or the searing effect on a steak?
Sometimes you may even want to use your smoker as an oven, or for baking pizzas. You don't always need a combo for this, just check the manufacturer's specs for how low or high a particular models temperature can go.
However, if all you want to do is smoke low and slow, between 225 and 275 °F, then almost all smokers can achieve this.
Even Heat Distribution
An important part of cooking any meat, not just smoking it, is how even the heat is distributed. Many of the cuts you're going to smoke won't always be a uniform thickness, especially with cheaper cuts, like brisket or pork shoulder.
With a regular grill, you would just regularly move the meat to hotter or cooler parts of the grill for an even cook. Smoking meats, however, typically involves a longer cook and every time you open the lid, it allows smoke and heat to escape.
Offset smokers are notorious for uneven heat distribution, with the end of the smoking chamber, near the firebox, being much hotter than the end furthest from the fire.
Vertical and bullet smokers will often use a water pan to distribute heat more evenly with a steam effect. Grill/smoker combos will also use a heat source under the foods, for a more even cook.
Ease of Use and Maintenance
Digital smokers will nearly always be easier to manage, with many pellet grills just needing to be set up and pretty much left alone.
Thermostats and digital probes on a digital electric smoker can allow for the grill to automatically maintain the correct temperature without babysitting the smoke.
Kamado and bullets smokers allow for techniques which enable a longer burn, but it may require some practice to get the vents and airflow right.
Electric or gas smokers will, however, be easier to ignite, with a simple button, or piezo ignition system on gas smokers. Although these smokers are easier to clean, with none of the ash of a charcoal grill, there are more parts to go wrong.
Grills and smokers are all made with metal which should also be rustproof. Regular cleaning, oiling and some protection from the elements will extend their life.
Accessories
What accessories can you use with the smoker or are included? A deflector plate can allow for more even heat distribution, while a water pan will be a barrier between the heat source and the foods.
Extra shelves will allow you to increase the capacity and an additional warming shelf can be useful if you intend to grill on the smoker, too, or keep foods warm while you prepare others.
Some vertical, especially ugly drum smokers, may include hooks, which allow for hanging larger joints of meat or whole birds for smoking.
Mobility / Portability
Are you going to be mainly smoking at home, or do you intend to smoke meats when camping or tailgating?
At the very least, a smoker should feature some form of sturdy wheels, for easier moving around your patio. Wheels can also allow for moving it into the garage or shed when not being used, for protection from the elements.
If you're looking for the ultimate in portability, look for either a UDS or a smaller upright bullet smoker. They don't need any power outlet or heavy propane tanks, and many can be disassembled for easier storage or packing.
Just be warned, although kamado grills have a very small footprint, that ceramic casing is heavy!
Ease of Cleaning
When you're smoking and cooking meats, a fair amount of fat and meat juices will drop from the meat, with not all of it landing in the drip pan. As you're cooking your meats for longer periods, there will inevitably be a build up of leftover "goodies" on the inside parts.
When choosing the best smoker, check how much of the inside is removable. Grates, fireboxes, and water pans can all be removed for cleaning, and a good hosing of the unit will remove most debris.
With electric or gas smokers, hosing down the inside isn't always an option — it's all about how much time you're willing to spend cleaning your smoker.
Price
As with any purchase, budget is always a consideration — try to set your budget and stick to it, though do remember that you get what you pay for!
Smokers vary in price, from under a hundred dollars for a basic charcoal grill, to over two thousand dollars for more advanced pellet smokers.
Less expensive offset smokers can certainly look the part, but cheaper models may use thinner metals and feature a poor construction.
You would be surprised at many of the kamado smokers high prices, but you're getting a premium smoker which should last a lifetime.
Conclusion
We hope our look at the best smokers in different categories has helped you decide which is the right one for you. We've tried to feature a smoker of each type, and for every budget, in our quick roundup, but there are more options listed in our detailed guides elsewhere on this website.
If you have any stories to share about your smoking meat experiences, choosing a smoker or just have a general question, we are waiting to hear from you in the comments below.