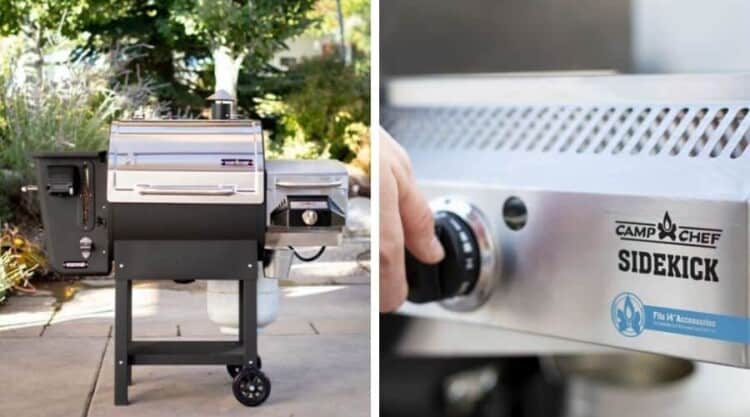 The new Camp Chef Woodwind Wi-Fi 24 is the ultimate remote-controlled setup that not only allows you to cook with ease, but also choose your level of smoke with ease.
It's a Wi-Fi equipped pellet grill that allows you to control it all from the palm of your hand.
Camp Chef has been involved in the outdoor cooking business for years and has, what some might call, a cult following due to their well-designed and intuitive cooking equipment.
For some the BBQ is a link to the past, hunter-gatherer style cooking, where man makes fire. For others, it's about creating the best food possible as simply as possible.
One thing both types will agree on is that the smoky taste is what sets the grill apart from the kitchen oven, and in this his Camp Chef Woodwind review, we have just the product for you!
So, let's get into it and see why this pellet grill is cooking up a storm.
General Overview
The Woodwind Wi-Fi 24 does exactly what it says on the tin, or box as it were. It's a 24-inch grill that creates smoke from wood pellets and can be controlled via Wi-Fi to adjust every little detail of your cook.
This traditional looking stainless-steel covered grill has a wood pellet hopper attached to it that is equipped with a full color proportional–integral–derivative (PID) WIFI enabled controller.
In short, it allows you to adjust the temperature, set cooking timers, and get notifications when your meat is at the temperature you have chosen and set. All via your smartphone or other device.
Being a pellet grill, the simple system feeds smoking wood pellets into the central firepot via the hopper (pellet container). This feeds the fire through an auger, which is like a rotating corkscrew, into the fire pot where they ignite.
The quicker it feeds them, the hotter the grill becomes, and the more smoke is created and added to the end flavor.
The heat diffuser pan above the firepot evenly distributes the heat and keeps it consistent, and the addition of a sear box means you also have a smaller second grill that can be heated to 900f to sear those steaks to perfection.
Key Features
The Woodwind Wi-Fi 24 is full of great features and tops the list of our favorite pellet grills, with the plentiful features also making it high on our list of smokers best suited to beginners. Check this dream list of features out:
Large Hopper Capacity
With a capacity of 22lbs., the hopper is perfectly sized to take a full 20lb. bag of pellets. Most other hoppers take less than a full bag, meaning you have to find a place to store those few extra pounds of pellets.
Plus, it has a quick empty pellet purge function. So, if you decide you've had enough of the cherry wood and want some oak smoke, you can empty and refill it in seconds, without the need to scoop out the pellets manually.
Customizable Heat Settings
With a temperature range of 160f through to 450f the Woodwind Wi-Fi 24 has a great range to cook with, not just low and slow.
But it doesn't stop there, this range can be remotely controlled and adjusted in five-degree increments allowing you to get it just right without having to go near a vent. Heaven.
Smoke Setting
As if the heat control wasn't enough, you can also choose a smoke setting between 1 and 8, which increases or decreases the strength of the smoke.
Just bear in mind that the higher the setting, the more pellets it cooks, and the temperature fluctuation will increase.
The Slide 'n' Grill
With the flick of a lever, you can move the heat diffuser that sits over the firepot to the offset position, which allows the flames to cook the meat directly.
It can reach temps of 650f, but it isn't instant, so be aware you will have to wait for it to reach temperature before you can use it for reverse searing.
This is an excellent feature that directly addresses the common complaint that you cannot truly sear on a pellet grill. Well, you can now!
Ash Kickin' Clean out System
Cooking with a pellet smoker results in the ashes from your burned pellets filling up the burn cup. Usually, you would have to dismantle the grill to scoop it out and brush out the interior, but not with this system.
A simple pull of the knob drops the ashes into a removable cup on the underside for you to throw away with ease.
Four Probe Temperature Inputs
The Woodwind Wi-Fi 24 also provides four meat temperature probe inputs and comes with four meat probes to use.
So now you can cook and monitor four different meats to different temperatures all at the same time.
Optional Propane Attachments
As well as the sear box option, Cap Chef also offers a propane powered "Sidekick" attachment, incorporating a propane gas grill burner and a removable griddle.
This is a great addition for those that like a flat top griddle for things such as pancakes, eggs, bacon, and anything else you want to chuck on the griddle.
As discussed in our best outdoor griddle guide, if you want to cook anything liquid, such as pancakes, scrambled eggs and more, then a solid griddle surface is a must.
The Full-Color Wi-Fi Controller
Saving the best until last, this will blow your mind and is what this system is ALL about.
Not only does the controller have a full color display, but it connects to your home Wi-Fi and can be monitored and controlled via the Camp Chef Connect app virtually anywhere in the world that you have a signal and a data connection on your smartphone.
So, if you must run an errand or want to set it and forget it while you watch the football at your local bar, you can keep tabs on what's going on at home with your pellet grill and adjust it accordingly.
It will also let you know when it's ready with an alert, so you don't even need to watch it!
Check out this video where Guy Fieri gets to grips with the Camp Chef Woodwinds many features:
Manufacturers Specifications
This is how Camp Chef Pellet Grills details their own product:
Main Pellet Grill Specifications
Upper Rack Area: 382 square inches
Lower Rack Area: 429 square inches
Total Rack Surface Area: 811 sq. in.
Chamber Capacity: 4,850 cubic in.
Hopper Capacity: 22 lbs. of pellets
Overall Height: 42 in.
Overall Weight: 150 lbs.
Cord Management System
Grease Management System
Stainless steel fire box
Heavy duty 50mm legs
Sear Box Specifications
Searing Area Dimensions: 11.5 in. x 16 in.
Total Surface Area: 184 sq. in.
Overall Weight: 34 lbs.
Overall Height: 11 in.
Total Output: 16,000 BTUs/Hr. Burner
Ease of Use
The Woodwind Wi-Fi 24 is a well-designed and easy to use pellet smoker. This is evidenced with features such as the easy light firepot system and automatic hopper feeder that make it easy to start and cook on.
Additionally, it also has other smaller features that make life a lot simpler, such as the cord management system and bottom utility shelf that make keeping it tidy a doddle.
It has upper and lower grates making the cooking of multiple pieces of food easier, and it has a protective cover on the controller to protect it from the elements.
Maintenance and Cleaning
The Camp Chef Woodwind Wi-Fi 24 is both easy and difficult to clean. Let me explain ….
On the one hand, the ash kickin system makes it very easy to clear ash, and on top of this you only need to hoover it out once a month to remove excess dust and ash that collects.
To remove any debris, remove the grates and hanging racks and brush off any large chunks, and then wash the drip pan with soapy water, which is all quite simple.
The difficulty comes with using the slide 'n' grill. When the deflector is in the offset position, fat and grease drips onto the drip pan and through the air holes in the area around the firepot.
This can make a real mess that requires more effort to disassemble and clean. If you aren't going to use it, a simple sheet of foil over the drip pan reduces the cleanup drastically.
You Might ALso Like
A collection of articles comparing pellet grill manufacturers and their products:
Design and Build Quality
The Camp Chef is a simple but expertly designed piece of cooking equipment.
It looks just like gas-powered grills should with its size and shape, but with its forged and molded top cover design and contrasting black and stainless-steel coloring, it looks that bit more special.
Coupled with its PID controller and sear box (or sidekick) attachment, it also looks technologically advanced and all-encompassing.
The heavy-duty 50mm steel legs and robust jockey wheels mean it feels solid and planted and will weather well, meaning it should serve you for many years to come.
Warranty and Support
The manufacturer's warranty is 3 years from the date of purchase for their pellet grills, and the process is described as hassle-free. During this time, Camp Chef will replace any defective part or product covered.
Their website has a 'contact us' page with a live chat option for any issues you have, as well as a support section that covers FAQs, product registration, replacement parts, as well as how-to guides on maintenance and a blog for recipes and tips and tricks.
Final Review Verdict
Well, as you can probably tell, we like this pellet smoker setup a lot, despite some small niggles. Here's why:
What We Like
All-encompassing Wi-Fi control
The versatility of the temperature and smoke settings
Ease of cleaning
Sturdy design
Pretty much everything else
What Could be Improved
The slide 'n' grill feature can get messy
No remote power on feature
Is heavy with attachment, full hopper and LPG bottle
Value for Money?
We think this product is very good value for money.
Feature-packed to the brim and easy to use, you get a lot of tech and no hassle for the money you pay.
Is this a Recommended Product?
We definitely recommend the Camp Chef Woodwind Wi-Fi 24 if you like hassle-free and easy grilling, versatile cooking options, and the idea of Wi-Fi control.
Conclusion
This really is one of the best pellet smokers available, if you're looking for a mix of great features at a great price. In fact, it is so feature-filled we believe it could turn the head of even the most ardent of coal advocates.
The mixture of smoky flavor and ease of use means you could be producing the most amazingly charred and smoked meats that your friends and family have ever had the pleasure of eating.
If you have any questions or feedback on our Camp Chef Woodwind pellet grill review, please do drop them in the comments below.