Camp Chef has been involved in the outdoor cooking business for years and has, what some might call, a cult following due to their well-designed and intuitive cooking equipment.
The new Camp Chef Woodwind Wi-Fi 36 is their latest offering and is perhaps the ultimate remote-controlled setup that allows you to smoke or grill with ease and choose your level of smoke with ease.
It's a Wi-Fi-equipped pellet grill that allows you to control it all from the palm of your hand, wherever you are in the world, so long as you have either a mobile or wireless internet connection.
In this Camp Chef Woodwind review, I will share my opinion on this grill after having owned, tested, and cooked on it numerous times over the previous few months.
I will cover its award-winning and innovative features in-depth, what it's like to grill on, smoke on, clean and maintain, whether I think it's value for money, and ultimately whether I'm happy to recommend it.
Spoiler alert: It's my favorite pellet smoker and grill at the moment, and the one I use over all others that I own.
So, let's get into it and see why this pellet grill is cooking up a storm.
Note: I purchased this grill myself for my own personal use. I was not sent it free or compensated for this review in any way. All views and opinions are genuine and my own.
First Impressions
All pellet grills follow a similar format, with a hopper to one side of the main cooking chamber. But the attached sidekick attachment on this grill makes it look even more substantial than such grills typically do.
In black with a large stainless steel lid, it's an impressive-looking grill and, in my eyes, rather attractive. Like most grills, it's not exactly beautiful, but there's absolutely nothing wrong with it either.
It's solid-looking, and you instantly feel it will last a long time. It also looks like it means business, with first impressions making you think it should tackle any cooking task thrown at it.
The color LCD looks instantly stunning, the wheels functional though not exactly heavy-duty looking. The shelf under the cooking chamber looks useful for the temporary storage of a few items, but the lack of a prep station or side table is instantly noticeable.
It does come with a side table initially, but you have to remove it when attaching the Sidekick. This leaves only the hopper lid for placing items on.
Seeing there is nowhere to hang any tools is a little disappointing also.
When you open the lid, the amount of cooking space is astounding, and you'll be able to fit a huge amount of food in here. And the porcelain-coated main grates look capable and easy to clean.
The sidekick attachment burner looks powerful, and the cast iron griddle I have placed on it is a good size, thick and durable.
All in all, it looks great, looks built to last. I love it, but I do miss having a shelf or table to work on and nowhere to hang tools.
Camp Chef 36 in. WiFi Woodwind Pellet Grill & Smoker with Sidekick
Packed with award-winning features, you can smoke, grill, roast, bake, sear, and use pots and pans with ease, with a temperature range between 160 °F and 650 °F in the main cooking chamber and up to 1,100 °F on the sidekick gas burner. Wi-Fi enabled, monitor and control all temps, smoke settings, and receive notifications on your smartphone from anywhere in the world.
General Overview and Manufacturer Specs
The Woodwind Wi-Fi 36 does exactly what it says on the tin, or box as it were. It's a 36-inch grill that creates smoke from wood pellets and can be controlled via Wi-Fi to adjust every little detail of your cook.
This traditional-looking stainless-steel covered grill has a wood pellet hopper attached to it that is equipped with a full color proportional–integral–derivative (PID) Wi-Fi enabled controller.
In short, it allows you to adjust the temperature, set cooking timers, and get notifications when your meat is at the temperature you have chosen and set, all via your smartphone or other devices.
Being a pellet grill, the simple system feeds smoking wood pellets into the central fire pot via the hopper (pellet container). This feeds the fire through an auger, which is like a rotating corkscrew, into the firepot where they ignite.
The quicker it feeds them, the hotter the grill becomes, and the more smoke is created and added to the end flavor.
The heat diffuser above the fire pot evenly distributes the heat and keeps it consistent, and the addition of a Sidekick attachment means you also have a smaller second grill that can be heated up to 1,100 °F to sear those steaks to perfection.
This is how Camp Chef Pellet Grills details their own product:
Main Pellet Grill Specifications
Upper Rack Area: 573 square inches
Lower Rack Area: 636 square inches
Total Rack Surface Area: 1236 sq. In.
Chamber Capacity: 7,000 cubic in.
Hopper Capacity: 22 lbs. Of pellets
Height: 42 in.
Weight: 177 lbs.
Cord Management System: Yes, designed to wrap around the handle on the hopper.
Grease Management System
Stainless steel fire box
Heavy-duty 50 mm legs
Sidekick Specifications
Cooking Area Dimensions: 14 in. x 16.5 in.
Total Surface Area: 231 sq. in.
Output: 28,000 BTUs/Hr. Burner
Height: 6 in.
Weight: 30 lbs.
Griddle Weight: 18 lbs.
Weight Capacity: 40 lbs.
Dimensions: 18 in. x 20.5 in. x 6 in.
Summary of Pros and Cons
Pros
Incredible value! You get a lot of quality and features for the price
Consistently great results due to the PID controller ensuring temperature stability
Easy to clean — The ash cleanout system removes the need to ever use a vacuum, which is a pain point for many other pellet grills
Adjustable smoke level with a super smoke setting allows fine tuning smoke levels to suit your taste
'Slide n Grill' feature provides true, direct flame searing. A direct answer to the complaint that pellet grills can't really grill!
Wi-Fi connectivity allows monitoring and control from anywhere you have an internet connection
Four food provides provided so you can monitor many foods at once (most provide only 2.)
Pellet hopper cleanout works well, and allows you to remove and store unused pellets, or change flavors with ease
Large, bright, colorful display is easy to read in any lighting conditions
The assortment of accessories expand the grills capabilities further, including the wonderful sidekick, sear box, and even a pizza oven
Cons
I have suffered the occasional connectivity issue while using the smartphone app
With the sidekick attached, you lose the side shelf, whcih almost compels you to have to buy the front shelf
Materials used could be thicker, for better heat retention, fuel efficiency, and durability (though for the price it's good, and thicker materials would significantly increase the price!)
Camp Chef 36 in. WiFi Woodwind Pellet Grill & Smoker with Sidekick
Packed with award-winning features, you can smoke, grill, roast, bake, sear, and use pots and pans with ease, with a temperature range between 160 °F and 650 °F in the main cooking chamber and up to 1,100 °F on the sidekick gas burner. Wi-Fi enabled, monitor and control all temps, smoke settings, and receive notifications on your smartphone from anywhere in the world.
Key Features
The Woodwind Wi-Fi 36 is full of great features and tops the list of our favorite pellet grills, with the plentiful features also making it high on our list of smokers best suited to beginners.
Check this dream list of features out:
Large Hopper Capacity – With Easy Empty Feature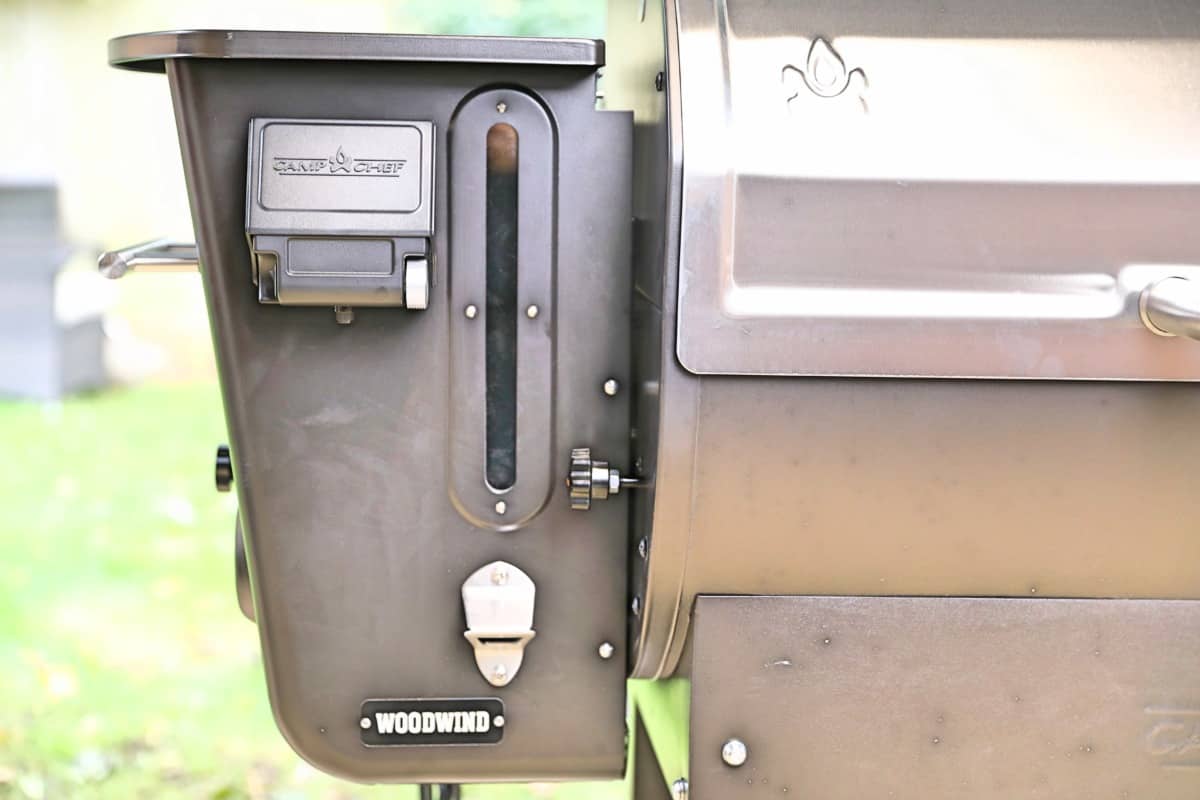 With a capacity of 22lbs., the hopper is perfectly sized to take a full 20lb. bag of pellets. Most other hoppers take less than a full bag, meaning you have to find a place to store those few extra pounds of pellets.
Plus, it has a quick empty pellet purge function, where you simply pull on a small knob, and pellets fall down a chute out of the hopper.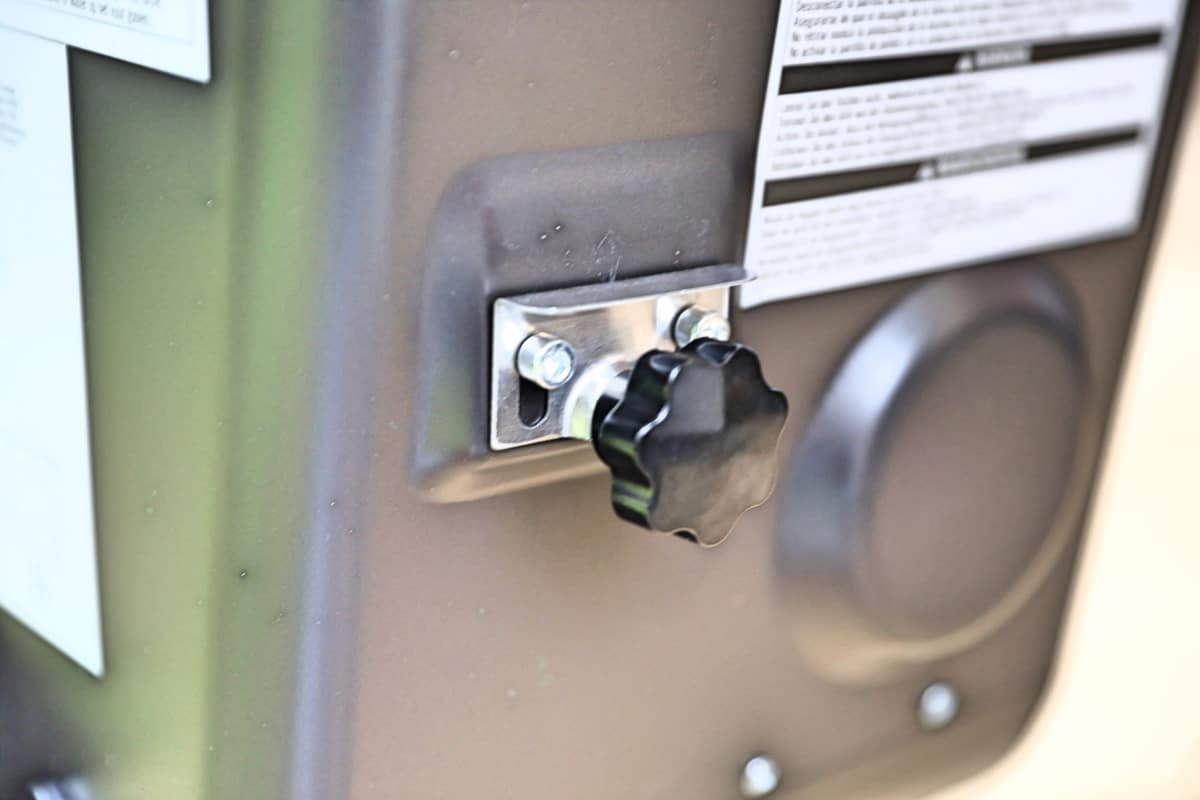 So, if you decide you've had enough of the cherry wood and want some oak smoke, you can empty and refill it in seconds without scooping out the pellets manually.
A hexagonal plate at the top of the hopper keeps your hands away from the auger, removing any possibility of accident or injury.
There is also a thin window on the front of the hopper that allows you to see how many pellets remain without lifting the lid, which is a nice feature.
Customizable Heat Settings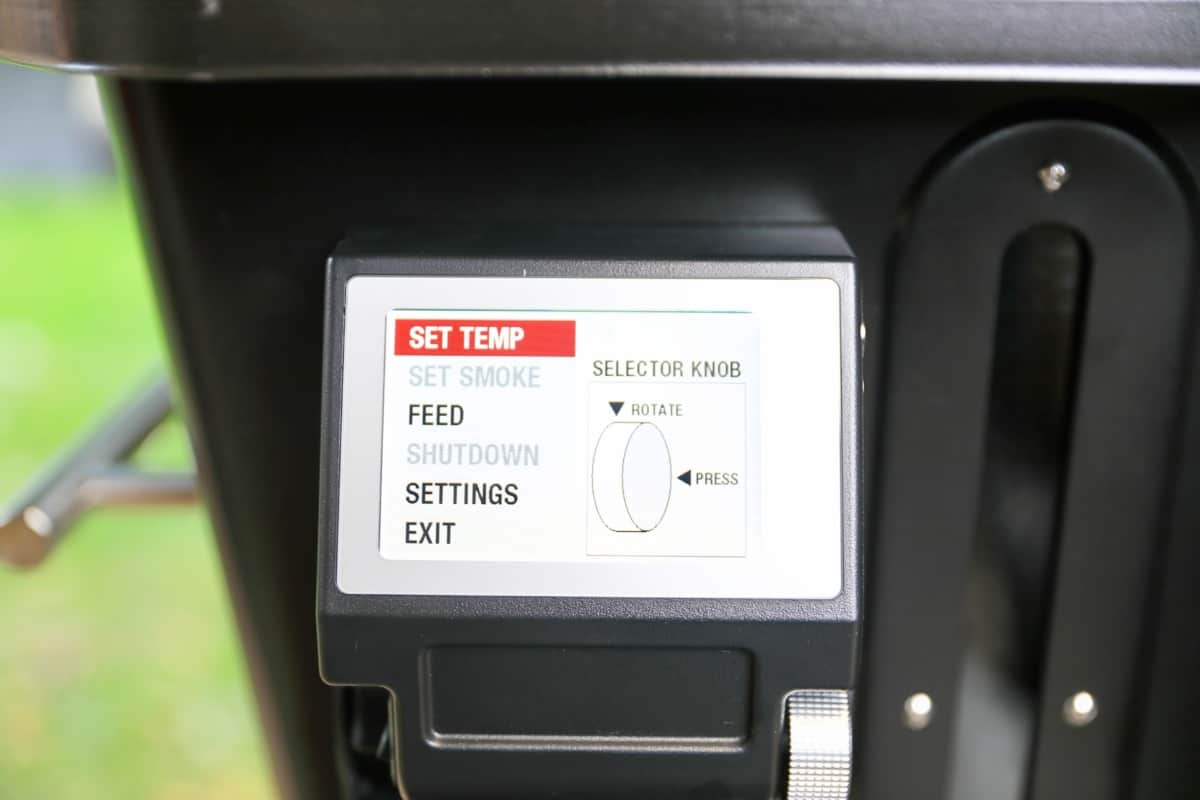 With a temperature range of 160 °F through to 500 °F the Woodwind Wi-Fi 36 has a great range to cook with, not just low and slow.
But it doesn't stop there. This range can be remotely controlled and adjusted in five-degree increments, allowing you to get it right without going near a vent. Heaven.
Smoke Settings
As if the heat control wasn't enough, you can also choose different amounts of smoke! You can choose from:
Low Smoke — For smoking foods at an average temperature of 160 °F while producing large amounts of smoke.
High Smoke — For smoking foods at an average temperature of 220 °F while producing large amounts of smoke.
Smoke Level 1 to 10 — Set a temp between 160 F and 350 F manually, then you can choose a smoke setting between 1 and 10, 1 being the lowest and 10 the highest.
With the smoke setting, 1 – 10, just bear in mind that the higher the setting, the more pellets it burns, and the temperature fluctuation will increase / temperature stability decreases.
The Slide 'N' Grill
With the flick of a lever, you can move the heat diffuser that sits over the fire pot to the offset position, which allows the flames to cook the meat directly.
Max temp with the slide and grill in place is 500 °F.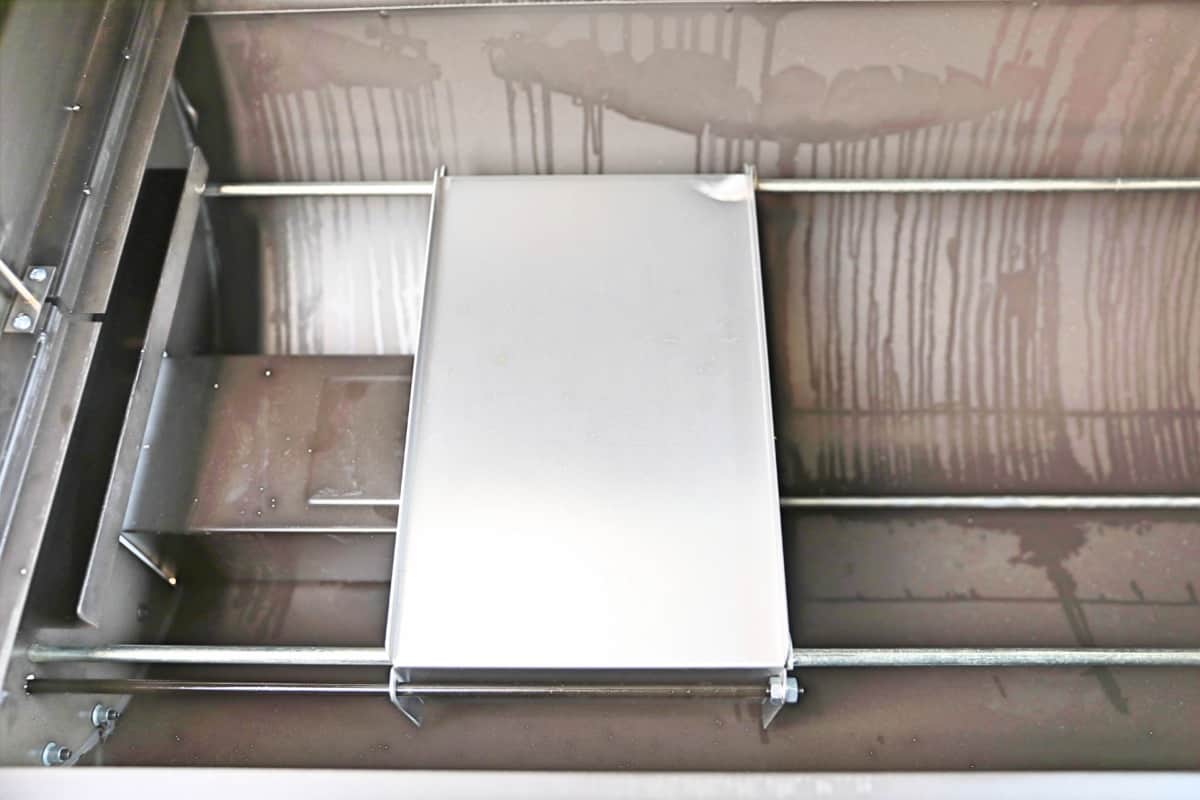 But with the slide and grill moved open, the flames from the firepot are exposed, and the grill can reach temps of 650 °F.
The temperature increase isn't instant, so be aware you will have to wait for it to reach temperature before you can use it for searing.
A cool design feature is Camp Chef made little slits in the drip pan and baffle so that the exposed flames can reach up into the grate area and spread the fire over a slightly larger area.
The combination of 'slide and grill' removing the heat diffuser, and the slits in the baffle, are an excellent collection of features that directly addresses the common complaint that you cannot truly sear on a pellet grill. You can now!
Ash Kickin' Clean Out System
Cooking with a pellet smoker results in the ashes from your burned pellets filling up the burn cup. Usually, you would have to dismantle the grill to scoop it out and brush out the interior, but not with this system.
A simple pull of the knob drops the ashes into a removable cup on the underside for you to throw away with ease.
Four Food Temperature Probe Inputs – Probes Included!
The Woodwind Wi-Fi 36 also provides four meat temperature probe inputs and includes four meat probes in the kit.
The probes look basic, with no color coding to help identify which is which, but they work well and are accurate. Plus, you can name them from the app, and there is a nice side entry port on the cooking chamber for the probe wires to go through, so you do not have to squeeze them up under the lid, creating an air gap and losing heat. This port closes when no probes are in use.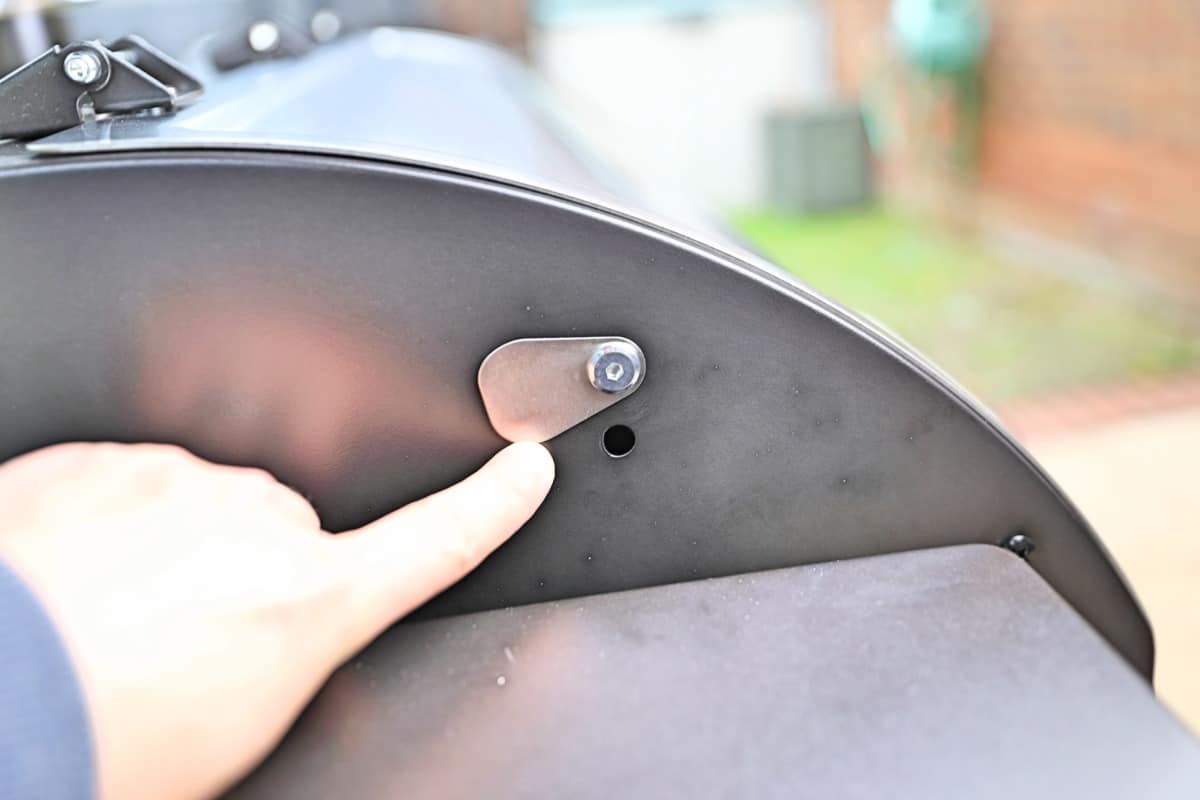 So now you can cook and monitor four different meats to different temperatures all at the same time.
Sidekick — And Other Optional Propane Attachments
Camp Chef offers the basic Woodwind Wi-Fi package, or you can purchase it with an optional Sear Box, or an optional propane powered "Sidekick" attachment, incorporating a propane gas grill burner and a removable griddle.
The Sear Box and Sidekick you need to fix to the grill after removing the side table. So you lose some prep space to gain more cooking versatility and options.
The Sidekick version is the one I bought because it's so versatile. You can add a griddle, a BBQ grill box, a pizza oven, and use frying pans or pots on top.
It comes with a pre-seasoned cast iron griddle as standard, including an integrated grease management system. This is a great addition for those who like a flat top griddle for pancakes, eggs, bacon, and anything else you want to chuck on a griddle.
As discussed in our best outdoor griddle guide, if you want to cook anything liquid, such as pancakes, scrambled eggs, and more, then a solid griddle surface is a must.
You can purchase the Woodwind Wi-Fi with a sear box instead of the Sidekick, with the sear box being just that: A box on which you can high heat sear. However, with the Sidekick and optional griddle to place on top, you get a full-on cast iron grill for all your high heat searing needs, up to 1,100 °F. Plus the versatility of boiling pans, using cast iron for frying, adding an oven, and more.
You CAN sear with the slide and grill feature in the main cooking chamber, it works well enough, but the Sidekick takes searing to a whole other level.
So I highly recommend the Sidekick over the sear box option. If you want to save money on the purchase because you already have searing options on another grill, buy the standard grill without any side attachment. Though, of course, the choice is yours.
The Full-Color Wi-Fi Controller
Saving the best until last, this will blow your mind and is what this system is ALL about.
Not only does the controller have a full-color display, but it connects to your home Wi-Fi and can be monitored and controlled via the Camp Chef Connect app virtually anywhere in the world that you have a signal and a data connection on your smartphone.
So, if you must run an errand or want to set it and forget it while you watch the football at your local bar, you can keep tabs on what's going on at home with your pellet grill and adjust it accordingly.
It will also let you know when it's ready with an alert, so you don't even need to watch it!
Grease Management System
No pellet smoker is complete without a grease management system!
In the Camp Chef Woodwind series, the main baffle and heat diffuser is sloped toward a grease channel at the right side of the grill, where there's a hole through which grease can flow down into a bucket hanging on the side.
Standard fare that's proven to work well.
Miscellaneous Features
Cable management system: Ok, ok, this one is a bit of a stretch, calling it a 'management system', but Camp Chef do promote that it has one, and it's basically you can wrap the power cord around the handle on the hopper. What can I say, it's better than nothing?
There is also a lower shelf for storage, two fixed wheels and two locking casters for moving around, and a bottle opener on the front of the hopper:
Finally, check out this video where Guy Fieri gets to grips with the Camp Chef Woodwinds' many features:
What We Like
Innovative, well thought out, and designed features not seen elsewhere.
Overall great build quality.
Ease of use.
Ease of cleaning. Ash cleanout system is simple and highly effective.
Spacious cooking chamber with versatile upper rack system.
You can smoke, and TRULY sear at high temperatures (rare for a pellet grill!)
Can sear in the main cooking chamber without needing to buy an additional accessory (Sidekick or Sear Box.).
Variable smoke settings to suit different foods.
Many available accessories add versatility to cook in pots, pans, a pizza oven, or a powerful gas grill.
Can connect and monitor 4 food probes, AND they are included with the grill, not an extra cost.
Smartphone app looks great, and is easy and intuitive to use.
Hopper holds a full bag of pellets, and is easy to empty with the pull of a knob.
What Could be Improved
Wi-Fi connectivity could be improved. I have used this grill approximately 20 times now, and twice my smartphone disconnected and would not reconnect without restarting the controller on the grill. (I hear Camp Chef is working on improving this.)
A storage cabinet with doors would be nice under the cooking chamber, in place of simply a storage shelf.
The grates could be a little thicker, to retain more heat and give better grill marks. But it's not a deal-breaker, they are still of great quality.
Who is the Camp Chef Woodwind Wi-Fi 36 Best Suited to?
You should choose the Camp Chef Woodwind Wi-Fi 36 if you value versatility and ease of use over all else.
There are cheaper grills on the market, but they do not have the versatility and ability to truly sear or have as many available accessories or features as this impressive grill.
There are better or higher quality pellet grills on the market, but not at this price range.
This grill nails the sweet spot of balance between build quality, features, and price.
Suppose you want a large, easy to use, easy to clean out grill, that you can control from anywhere with your mobile phone, that has the versatility to truly sear as well as grill and smoke, with attachments you can add for cooking in pots, pans, a pizza oven and more. In that case, you really should consider this grill.
I currently own four pellet grills, and this is the one I always come back to and use the most. So it definitely has my seal of approval!
Camp Chef 36 in. WiFi Woodwind Pellet Grill & Smoker with Sidekick
Packed with award-winning features, you can smoke, grill, roast, bake, sear, and use pots and pans with ease, with a temperature range between 160 °F and 650 °F in the main cooking chamber and up to 1,100 °F on the sidekick gas burner. Wi-Fi enabled, monitor and control all temps, smoke settings, and receive notifications on your smartphone from anywhere in the world.
Unboxing and Assembly
The grill arrives in 3 well-packed boxes (I also purchased the cover and was given a second flat top griddle free of charge as part of a deal when I purchased it.)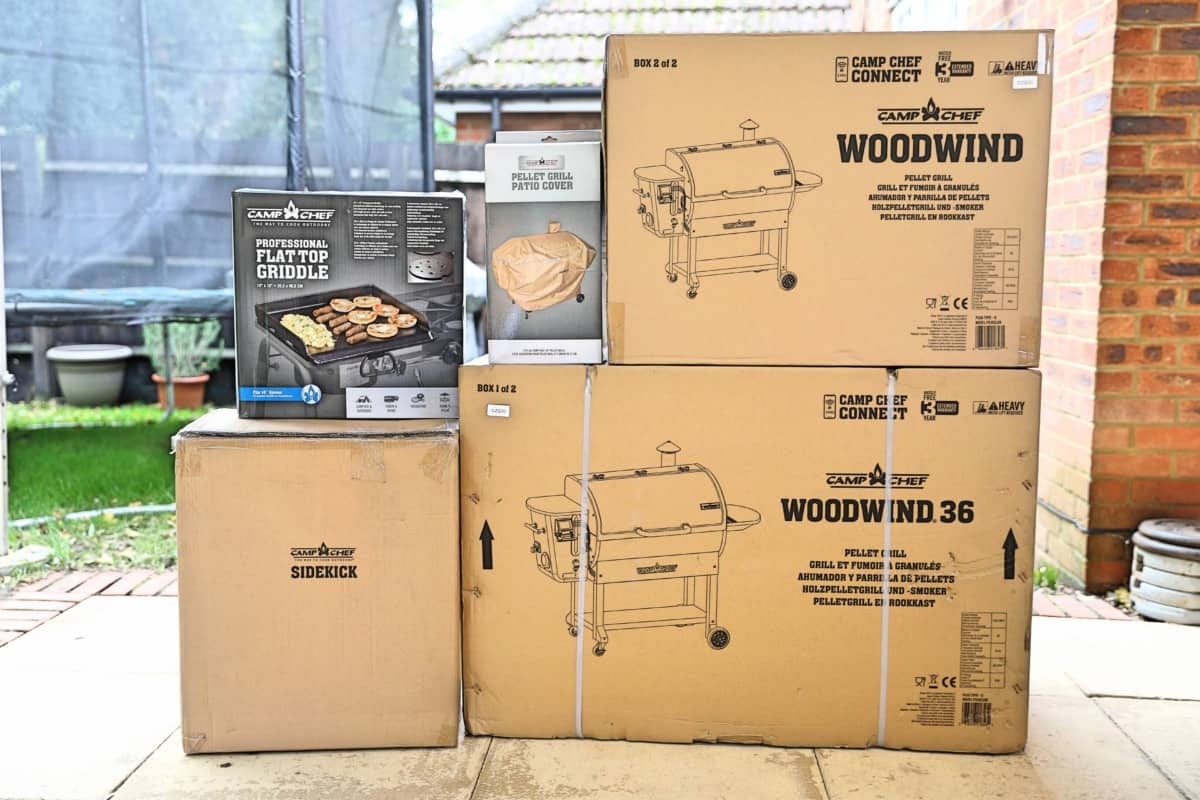 The three boxes are well packed, with lots of materials holding everything tightly and safely in place to prevent damage during transport.
What's in the Boxes
Too much to list! But everything you need to build the grill is included, and best shown in the below photos rather than described in an endless list:
Ease of Assembly
The grill comes with a paper manual, of which three pages are dedicated to assembly instructions.
Because there are so many parts, and it's so large, it isn't the easiest of grills to assemble. However, it's not difficult, and the instructions have plenty of diagrams to make it straightforward.
I've assembled many grills in my time (and lots of other items) so for me, following along was relatively painless. It took me less than an hour all in from start to finish, using a simple set of hand tools and an electric screwdriver. But all you really need are hand tools.
Overall Design and Build Quality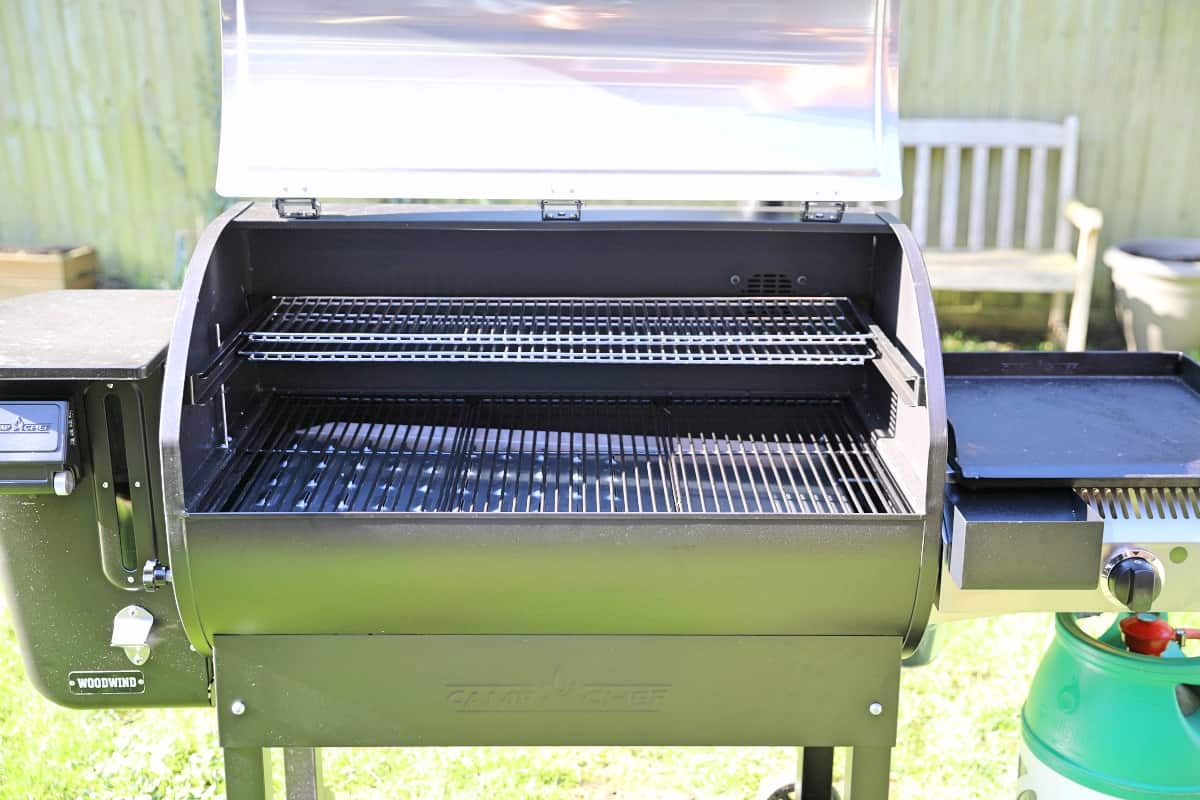 The Camp Chef is a simple but expertly designed piece of cooking equipment.
It looks just like gas-powered grills should with its size and shape, but with its forged and molded top cover design and contrasting black and stainless-steel coloring, it looks that bit more special.
Coupled with its PID controller and Sidekick attachment, it also looks technologically advanced and all-encompassing.
The majority of the grill is steel painted black. It's not the thickest on the market, but it's good and will last, I'm sure.
The heavy-duty 50 mm steel legs and robust jockey wheels mean it feels solid and planted and will weather well, meaning it should serve you for many years to come. I would have liked the wheels to be a little bigger, so it's easier to move, but they are sufficient.
Inside the grill, the heat diffuser above the firepot is made of thick steel, and so far hasn't warped. I'm confident it will stand the test of time.
The hopper and the hopper lid are made of quite thin black painted steel, but as they aren't subjected to any heat, that's good enough.
Upon inspecting all parts, I found none were damaged or bent, and all painted surfaces were well covered, with no scratches and marks.
All in all, the build quality is good, everything fit together well, and no parts were damaged in any way.
The Camp Chef Woodwind Wi-Fi 36 in Use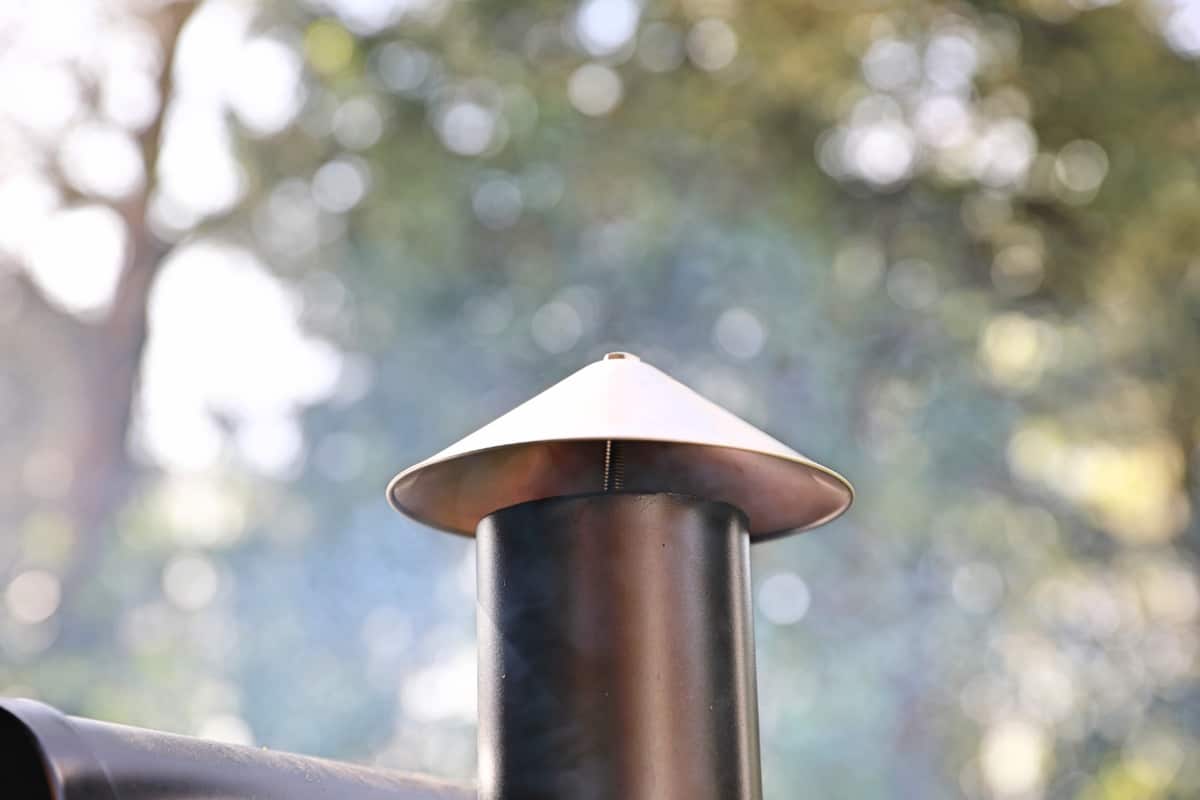 I've now owned the Woodwind Wi-Fi 36 for close to 5 months, and have cooked everything on it from pork butt to beef ribs, steak to pork chops, an entire Sunday roast dinner, and a few snacks.
I have used it as a smoker, a grill, and have seared using the main cooking chambers slide and grill and on the Sidekick griddle. And I have used the griddle to cook eggs and bacon, and used the Sidekick to fry onions in a pan, and boil vegetables.
So here are my thoughts on the different aspects and features of this grill during use.
Getting Started and Overall Ease of Use
The Woodwind Wi-Fi 36 is a well-designed and easy-to-use pellet smoker.
Pour some pellets into the hopper, then select the 'feed' setting on the controller to get started. This 'primes' the auger and pellet delivery system before lighting the burner in the fire pot, making sure there is something to burn before it turns on.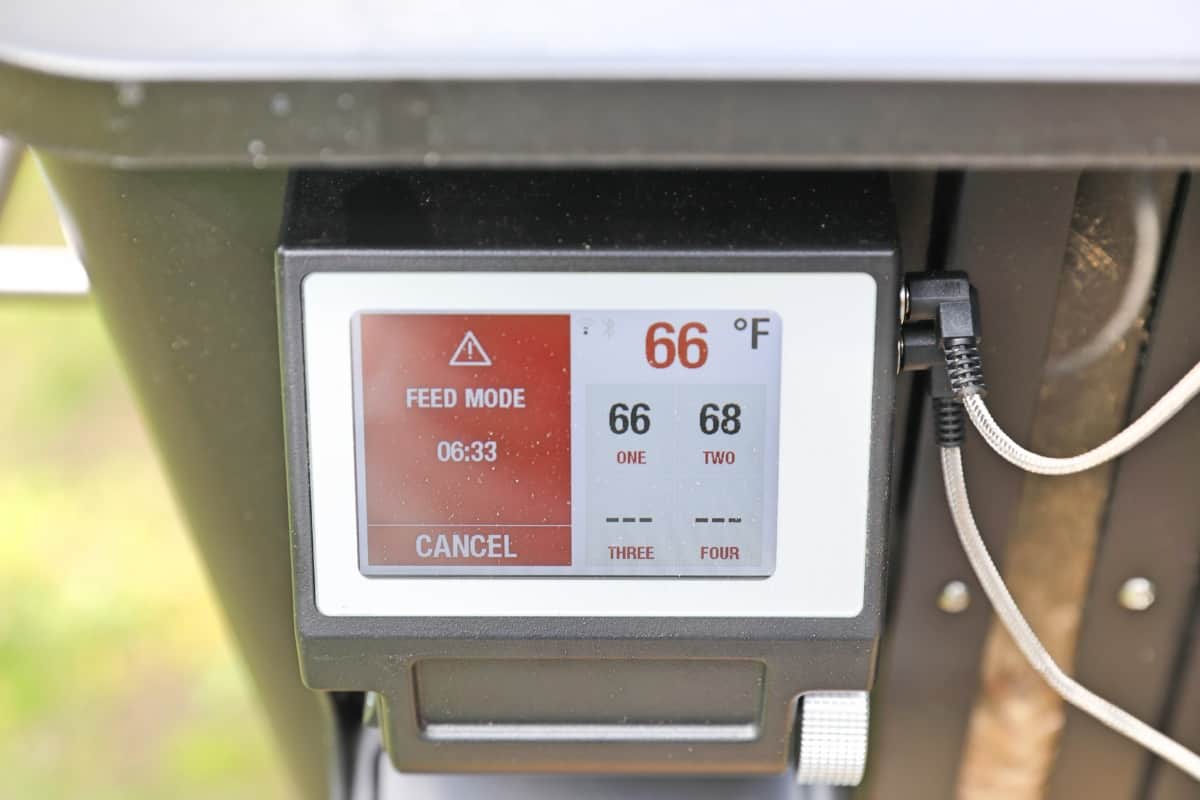 So you select 'feed,' and as soon as you hear pellets falling into the firepot, you are good to go.
Now you simply select your heat and smoke settings on the color LCD screen, confirm your settings, and then the grill goes into 'Startup mode.' The LCD shows 'Startup' as the grill goes through its startup process which lasts 6 minutes.
The LCD then displays the temperature display screen, and t's hands off from here with everything done for you.
Getting connected to Wi-Fi is easy, with the controller stepping you through the process. Installing the Camp Chef app and connecting your smartphone to the grill is also straightforward. Using the app to change settings, times, and temperatures is intuitive and easy.
So overall this grill is very easy to use, which is as you'd expect and one of the main points of buying a pellet grill.
Note: The only time you use the 'feed' setting is to prime the auger when your hopper runs out of pellets, or if you wish to empty it out before the grill goes into storage, before using 'feed' again on your next cook.
LCD Screen and Controls
The LCD screen is large, full color, very bright, easy to read, and easy to see in both the dark and direct sunlight. It really does look beautiful.
There is only one dual-function dial and button on the bottom right side of the LCD screen that is made of metal, large, and easy to use. You rotate it to move up and down menus, raise and lower times or temps, and press it in to 'enter' or confirm settings.
There are four temperature probes on the right side of the controller for connecting the included four probes that you use to monitor the internal temperatures of the food you're cooking. It's always nice not having to use an additional 3rd party thermometer.
There is also a durable protective plastic cover for the screen, to protect it from the elements and accidents when not in use. A great feature because anything glass could easily get broken out in the garden!
Wi-Fi and Bluetooth Connection, and Android / iOS App
The Woodwind Wi-Fi can be connected via Bluetooth and over Wi-Fi, then controlled using the Camp Chef app that is available for both Android and iOS devices.
The app is well designed, easy to connect, large and clear text is used so it is easy to read, and the settings are intuitive and straightforward.
You can monitor and control your grill anywhere you have an internet connection with your tablet or smartphone from the app. The features you can control from the app are:
Manage and control multiple Camp Chef devices.
Change the grill temperature of your grill.
Change the smoke level.
Rename the probes.
Set target temperatures for each probe and receive a notification alarm.
Shut down the grill.
See graphs of the history of your cook, so you can see how a cook has progressed, with line graphs showing all temperatures.
So Camp Chef seems to have put some decent time and effort into the remote connectivity, and it's a very useful feature. However, it's not without problems, sadly.
I have used my grill a little over 20 times, and I connect using the app every single time. I have had it disconnect and fail to reconnect twice in that time. I did some research, and it seems I'm not the only one to experience this.
Camp Chef performs regular software updates to the grill itself and the apps, so I'm sure they will sort it out soon enough. I will circle back and update here in the future.
Upper and Lower Grates
The lower porcelain-coated steel racks offer 636 square inches of cooking space, which on its own is enough room to smoke 4 briskets or 6 pork butts. It comprises 3 removable sections, making them easy to handle for cleaning and maintenance.
But there's also an adjustable, two-part stainless steel upper grate measuring 573 square inches, so you can fit on a further 3 briskets, or 5 pork butts.
This means you can cook 7 to 8 briskets, 9 to 10 pork butts, or 8 or so spatchcock chickens in this grill.
The upper grates two half racks can be configured side by side for the full 573 square inches, or one can be slid beneath the other to provide 286 square inches, or both can be entirely removed.
You would use a single upper grate or remove them both to provide extra height when using the lower grate or give yourself more room and easier access to the lower grate. Particularly useful for grilling with the slide and grill feature, for room to use tools, flip foods, etc.
The grates are durable, easy to clean, and of a decent thickness. However, if you like to see sear marks from when grilling, you would have liked grates a little thicker. I'm happy with them, though.
Temperature Range, Control, and Stability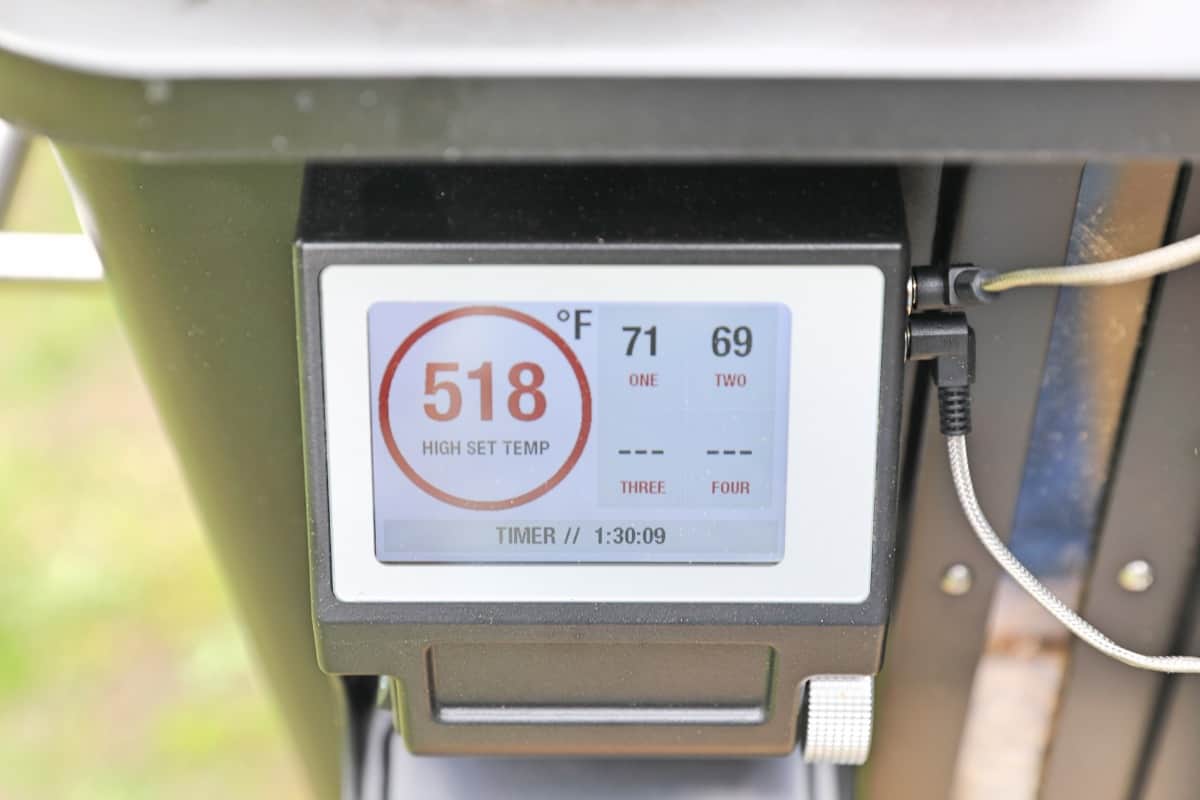 The Camp Chef Woodwind Wi-Fi has a temperature from 160 °F to 500 °F in the main cooking chamber with the slide and grill heat diffuser closed. This is a fantastic range for all sorts of cooking, from fish and dehydrating jerky at the low end to hot smoking large roasts at the top end.
With the slide and grill heat diffuser removed, you get up to 650 °F for searing in the main chamber. Great for finishing off meats with the reverse sear method or quickly grilling off some vegetables while your meat is resting.
Temperature control is easy by simply turning the dial on the controller or changing the setting on your Camp Chef smartphone app.
I found the grill takes approximately 10 minutes to reach 225 °F for smoking, and got to about 475 °F in around 20 minutes for grilling.
For stability, at temperatures below 350 °F, I found it highly stable, and only fluctuating by plus or minus 10 degrees or so, but typically very solid and stable at the target temp.
However, at temperatures above 350 °F, I had seen temperature fluctuate by up to 20 °F in some cases, and it is worse the higher in temp you go.
Camp Chef does warn temperature fluctuates more the higher the smoke setting, though, and I do like a higher setting. I tested stability at lowr smoke settings and yes, it is more stable.
But overall, the temperature is fairly stable and compares favorably with competing grills.
Smoking Performance
It works incredibly well as a smoker.
It has a wide temperature range that is fairly stable so that you can dehydrate foods at 160 °F, barbecue between 225 °F and 275 °F, or smoke roast up to 450 °F. I have done all three, and it works very well.
The smoke settings from 1 to 10 and 'low and high smoke' also offer a lot of flexibility for the flavor profile you can create.
I personally prefer charcoal grilling because the smoke profile I get is deeper, richer, more complex, and I find pellet smokers to be on the milder side flavor-wise. However, with the smoke settings for higher amounts of smoke, you can visibly see this grill creates more smoke, and you can certainly taste it on your food.
It's nice to have this control and flexibility and directly tackles the number one complaint of pellet grills having too mild a smoke profile. Well done, Camp Chef!
When you are in the higher smoke settings, the temperature does fluctuate a lot more though, and the burn rate of pellets is a lot higher. But this isn't a problem as you will only use the higher smoke settings for the earlier parts of a cook before dialing it down and settling at more stable temperatures.
Standard Grilling Performance
With the grill turned all the way up to 'high heat' (up to 500 °F) with the slide and grill heat diffuser in place, you can just about grill and sear, but performance is on par with a very hot oven…or indeed pretty much all other pellet grills on the market.
It's a great way to grill fish, corn, tender stem broccoli, or any foods that require high indirect heat, but for me, it's not good enough to sear a steak, chop, or indeed any meat. And as I said, this is true for pretty much all pellet grills.
However, things get interesting when removing the slide and sear heat diffuser…
Direct Flame Grilling Performance With 'Slide and Sear' Feature
With the pull of a knob, you can remove the heat diffuser over the fire pot and expose food in the main cooking chamber to a direct flame and temperatures up to 650 °F.
I tested this feature a couple of times and am happy with the results.
As you can see in the photos of the steak and corn above, it gets hot enough to create sear marks on the steak and 'char' the corn, so it's hot enough for true searing and to add flavor with the Maillard reaction.
This really does add true grilling ability to a pellet smoker, something that is lacking from the vast majority of pellet grills on the market.
So if you're looking for a pellet grill that you can smoke and smoke roast on, but also wish to use it as a grill for searing before smoking, reverse searing, or outright grilling some foods occasionally, this feature really does work.
Just keep in mind that the actual area over which you can grill in this manner is small because the high heat is only over the fire pot and the surrounding areas, in the center of the left half of the grill.
This means you get approximately half of the lower grate area for direct heat grilling, just 300 or so square inches. So you would have to grill things in batches or make sure to keep moving things around to make sure everything cooks equally.
Either way, if you want true searing and grilling ability, I cannot recommend the Sidekick attachment enough…
Sidekick Grilling Performance
The Sidekick is an optional attachment, but because it's essentially a very high heat gas grill burner, I knew I needed one for true high heat searing, so I bought it.
As standard, the Sidekick comes with a heavy-duty, pre-seasoned flat top griddle. And in my testing, I found it can reach temperatures over 1,000 °F!
This is insanely hot and has caused me to completely burn and ruin bacon once when I left the gas control knob on too high a setting. So make sure to use it at half to three-quarters heat!
As you can see in the images of my reverse seared steak below — that I first smoked at 225 °F until the steak reached 100 °F internal temp, before searing to bring up to temp — you can get an incredible sear and crust by using the Sidekick griddle. And this is my favorite way of searing on this grill.
The Sidekick griddle is also helpful for grilling any small, delicate, or liquid items that would otherwise fall through the grates in the main cooking chamber, such as eggs and bacon, as you can see below (one of my favorite breakfast sandwiches!):
You can also use the Sidekick to heat pots and pans for frying or boiling:
The Sidekick and griddle combo work very, very well. So well that I have no intentions of buying the sear box accessory.
Pellet and Hopper Management
As advertised, the hopper can hold more than an entire 20 lb bag of pellets, which easily covers an all day and night cook, plus, it's nice not to have half bags of pellets lying around.
The pellet purge functionality of the hopper, whereby you pull a small knob that then allows the pellets to pour down a chute and out of the hopper, works as it should. And the already discussed 'feed' setting on the controller can be used to remove all pellets from the auger, preventing them from swelling and blocking the auger during long periods of no use.
Overall, hopper and pellet management is excellent.
Ease of Cleaning
The Camp Chef Woodwind Wi-Fi 36 is easier than most pellet grills to clean.
I found that the ash kickin system makes it easy to clear ash from the firepot. Pull the knob and all ash drops into the little cup that you can detach and pour away.
On top of this, I only needed to hoover the grill out twice — after approximately every ten cooks — to remove excess dust and ash that collected.
Before purchase, I read many other reviews of this grill and found a few that state you do not need a vacuum because of the ash kickin system. This is simply not true!
You do not need a vacuum to clean the fire pot, but you still get lots of ash collected in the base of the grill, blown around by the fan during use. However, because you can empty the fire pot with the pull of a knob, you need to vacuum this grill waaay less frequently than other pellet grills.
The grates and heat diffusers are easy to remove and light enough to handle for brushing off any large chunks. And the drip bucket is simple to remove and wash with soapy water.
So it's all quite simple.
Warranty and Support
The manufacturer's warranty is 3 years from the date of purchase for their pellet grills, and the process is described as hassle-free. Camp Chef will replace any defective part or product covered during this time.
Their website has a 'contact us' page with a live chat option for any issues you have, a support section that covers FAQs, product registration, replacement parts, and how-to guides on maintenance, and a blog for recipes and tips and tricks.
Final Review Verdict
I absolutely love this pellet grill. I think it is fantastic value for money. Feature-packed to the brim and easy to use, you get a lot of tech and functionality for the money you pay.
I definitely recommend the Camp Chef Woodwind Wi-Fi 36 if you like hassle-free and easy grilling and smoking, versatile cooking options, the idea of remote control from your smartphone, and easy cleaning and maintenance.
The only niggles I have with the grill are the occasional temperature swing at higher temperatures and high smoke settings, and Wi-Fi connection instability. If these are important, make or break points for you, then another model may suit you better.
Otherwise, it's hard not to love the way this grill looks and performs, and I highly recommend it.
Camp Chef 36 in. WiFi Woodwind Pellet Grill & Smoker with Sidekick
Packed with award-winning features, you can smoke, grill, roast, bake, sear, and use pots and pans with ease, with a temperature range between 160 °F and 650 °F in the main cooking chamber and up to 1,100 °F on the sidekick gas burner. Wi-Fi enabled, monitor and control all temps, smoke settings, and receive notifications on your smartphone from anywhere in the world.
Conclusion
This really is one of the best pellet smokers available if you're looking for a mix of great features at a great price. It is so feature-filled we believe it could turn the head of even the most ardent of coal advocates.
The mixture of smoky flavor and ease of use means you could be producing the most amazingly charred and smoked meats that your friends and family have ever had the pleasure of eating.
If you have any questions or feedback on our Camp Chef Woodwind pellet grill review, please do drop them in the comments below.