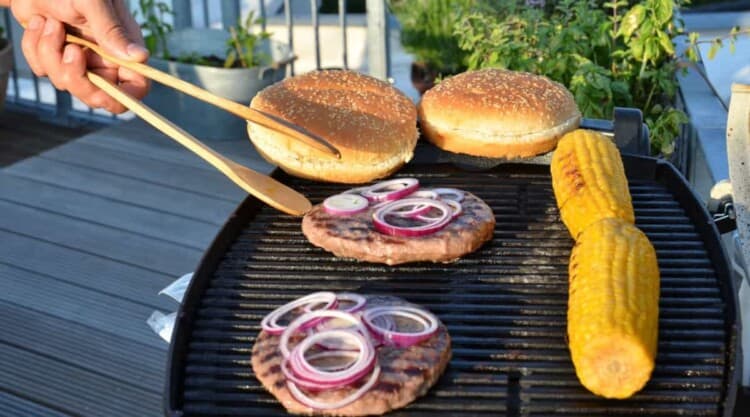 Below we help you determine what to look for in the best small grill for a small-space grilling solution.
We cover the features you want, and some you don't. We also touch on rules and regulations for barbecuing in small spaces, shared spaces, urban environments, and other highly restrictive environments.
We will narrow down the field of contenders to a few grills for small spaces that are among the best on the market for you to choose from. And we'll identify the pros and cons for each model, making recommendations for the best units for particular situations.
The end goal is to get you grilling as soon as possible in your small(er) space.
Barbecuing in a small yard, or on a diminutive patio or balcony can be a challenge. Still, there are ways to enjoy the taste of fresh barbecue in these spaces. Since we believe in the universal and inalienable right to grill, we're going to help you find your cooker today.
At a Glance, Our Top Picks for Best Small Grills
Ok, let's get into the meat of the article.
Small Grills Come in 3 Different Categories
I've grouped the mini grills we've selected here by fuel type, to make life easier for those of you who already know what you'll be using. There are also links for you to check them out in greater detail, or even jump right in and make a purchase.
If you are on an apartment balcony, you will almost certainly need to go electric.
If you want the very best possible flavor and are willing to learn fire management and control, go for a charcoal grill.
If you want convenience, ease of use and arguably better flavor than from an electric, but are happy to forgo the added flavor of charcoal cooking, go for a gas model.
Let's dive in, starting with a look at the top compact propane grills.
Small Gas Grill Reviews
If you want to avoid the mess of charcoal, or simply wish to enjoy the quick starting convenience of gas, here are three of the best small propane models on the market today.
Weber Spirit II E-210 2-Burner Liquid Propane Grill
1
The Spirit II E-210 is one of the the smallest models from Weber, but it has a lot in common with the larger grills. You get great features in a reasonably compact package, including porcelain-enameled cast iron grates, side tables with hooks, a warming rack, and even a fuel gauge.
Just like a full-size barbecue, the lid on this compact gas grill is hinged. This is a plus, but it also means you need enough clearance from the nearest barrier to open it up. The unit's main body is cast aluminum, and the handle, control panel, and work areas are stainless steel, so rust should not be an issue.
The stand sits on two large robust wheels, so moving the unit around should be a breeze. The left side table folds down, freeing up valuable space when in storage.
There's 360 square inches of main cooking space under the hood, plus a 90 square inch warming rack that tucks out of the way when not in use. The twin stainless steel gas burners put out 26,500 BTUs, and above them are the 'Flavorizer Bars,' wedges of metal that turn drippings into smoky flavor.
If you dig tech gadgets, you'll be glad to know the Spirit II E-210 is, "iGrill 3-ready." What's that? It's a digital thermometer you can attach to the 'cue (sold separately) that sends data to a proprietary app you install on your smartphone. Necessary? No. Very cool? Hell, yes!
So, it's a well-built, high-quality small gas grill, but will it fit in a small space? It stands 45" tall; it's 48" wide, and 27" deep (add 2" with the lid open). Total weight is 103 pounds. Well, it's not likely to fit on your balcony, but it would be suitable for small yards and terraces.
This is an excellent product for just about any barbecuer, but particularly for someone with spatial restrictions. What you don't want are budgetary restrictions, however, because it's not inexpensive. Still, you should expect this BBQ to last for a very long time and provide a quality grilling experience throughout.
Overall dimensions in inches (W × D × H): 48 x 27 x 44.5.
Pros
Weber build quality, tough and durable.
Two burners provide ability to set up different heat zones
Fold down side table, to keep things at hand while grilling
Built in lid thermometer
Reliable infinity ignition system
Fuel gauge included
iGrill 3 ready if you wish to add one and be able to monitor cooks from your phone
Cons
Can take a little more time to get up to cooking temps (though always faster than charcoal.)
Despite the claims, it's not really portable considering it's size and weight. But it's great for small spaces.
For all the specs, features, build quality and brand reputation, this easily wins 1st place for best small gas grill.
Char-Broil Classic 280 2-Burner Liquid Propane Gas Grill
2
Sometimes, the only requirement we have of a product is for it be good enough to do the job. We don't need bells and whistles, fancy features, or even superior workmanship. If that's how you feel about barbecuing, the Classic 280 is a good choice for a small backyard grill.
No doubt about it, this is a stripped-down, basic, budget-friendly product. It has two burners (20,000 BTU total), which means you can set up separate temperature zones and expand your grilling options.
Push-button ignition makes firing up the grill easy, and I love the over-sized lid handle that keeps your fingers away from the heat.
The lid and firebox are porcelain-coated steel, and the burners are stainless steel. Above the burners you'll find porcelain-coated wire grates, providing a total cooking space of 280 square inches of cooking space. That's plenty for a small family or group; expect to be able to cook a dozen small burgers at once, or several steaks.
There's even a shelf on either side of the cooking area for you to prep food and rest your spices and utensils. As an option, you can order this barbecue with a side-burner in place of the left shelf.
What you don't get is a thermometer, which is an unfortunate omission. There's also no warming rack. The stand, which does have wheels, seems rather flimsy, and I can readily imagine it flexing and twisting as you roll. Still, the whole thing weighs less than 43 pounds, so perhaps it's all that's required.
As I indicated at the beginning, this is a no-frills grill and isn't meant for a serious griller. The lack of lid depth and absence of a thermometer will keep you from doing anything but fairly basic grilling.
If that's ok with you –maybe you just want to do dogs and chops and wings and stuff— then this may not be a bad investment. It's a budget-friendly barbecue on an open flame from a brand name you know.
Overall dimensions in inches (W × D × H): 26 × 16.9 × 17.7
Pros
Great value for the price.
High heat output for quick and convenient grilling.
Easy to maintain and keep clean.
Ample cooking space for a couple or small family.
Side shelves are great for a work space and to hold tools / sauces / rubs.
Cons
No built-in thermometer, so will need to purchase one 3rd party.
Some users complained of complicated assembly
May only last a few seasons (you get what you pay for)
Maybe not the best looking grill, but it's compact, works well, and is a bargain at the price it sells for.
If your space is truly compact, but you're not willing to forgo either real flames or a grill large enough to cook for a family of four, the Fuego Element F21C may be the best small gas grill for you. If you value having a really cool looking grill, this is definitely the one for you!
I'm awarding huge style points to this futuristic looking grill from Fuego. A former Chief Designer for Apple designed this LPG-burning grill. That helps explain why it looks so different from standard propane barbecues. With its cylindrical design, the Element looks like it might blast off into space at any moment.
The cylinder cleverly hides the LPG tank and connection in the most space-friendly way possible. The whole thing, including the wheels, is no wider than the cooking surface itself; the whole thing is just 21" × 21". So, you get a decent size grill (346 square inches) with a compact footprint.
Thanks to the circular burners, and the design of the lid, this little 'cue can get to 500 °F in just 5 minutes. Remarkably, you can establish two temperature zones, enabling you to sear and then finish on lower heat just like on the big boys. The heavy-duty grate (15 pounds of cast iron) maintains even heat, and will hold up to frequent usage.
Since it's on wheels, it should be easy to move around. This is ideal if you don't have room to leave a barbecue in one spot all the time — just roll it out for grilling, then slide it back out of the way when you're done. With the tank neatly stowed underneath, you're not tethered to a natural gas line or electrical outlet, meaning you can grill wherever you have room.
Helpful features include a residue tray for catching grease run-off and a thermometer built-into the lid. The lid is not hinged, but it will sit neatly in or hang from either handle. It would have been nice to see a work surface attached, but I recognize that would detract from the design aesthetics plus add size.
Honestly, this Fuego looks so great, I'd say it's worth having even if you don't have a small outdoor living space. If oversized outdoor kitchens or smokers with trailer hookups aren't your thing, a Fuego could be the best small gas grill for a style-conscious, casual barbecuer.
Overall dimensions in inches (W × D × H): 21 × 21 × 46
Pros
Great-looking, eye-catching design.
Heats up quickly and cooks well in windy conditions.
Small footprint with decent grill space and capacity.
Good build quality, should last many years.
Easy to clean.
Cons
No storage, work surfaces or tool hooks, so will likely need a separate table to go with it.
Not exactly wallet friendly — but again, quality costs!
Best Small Charcoal Grills
Here are, in our opinion, the 2 best small charcoal grills, showcasing a fantastic mix of features, versatility and a small footprint.
Kamado Joe Jr Charcoal Grill
1
If you're not familiar with the kamado style of grill, I suggest popping over and reading our feature on the best kamado grills.
If you are familiar with them but know you haven't got room for one of the monsters, you could consider one of the smaller options available.
One of the leaders in the kamado grills segment is Kamado Joe.
There are three different sizes of Kamado Joe: The junior, the classic and the Big Joe. The Joe Junior is compact enough to fit on a patio or balcony, but can still cook a dinner for a couple or small family.
Grill space is limited to 148.5 square inches of cooking space (it's 13.5" in diameter), but that's still enough to cook four burgers, or 2 steaks at once.
You can even slow cook — because that's what a kamado grill is best at — A 12-pound turkey, or any chicken you can get your hands on.
While you might be tempted to step up to a medium-sized classic, think carefully about your space, and about moving it around. While the extra 108 square inches of cooking space would be great, it's also 188 pounds — that's 120 pounds heavier than the Junior.
Having a Kamado Joe Junior at your disposal really opens up your barbecue options. Not only can you quickly cook up direct heat staples like the aforementioned burgers and steaks, but you can also go low 'n' slow to smoke a rack of ribs or maybe a small brisket. And how many balcony-size grills can do a whole chicken or turkey at once?
For such a small cooker, a Joe Junior can set you back a fair penny — over $500 MSRP, but with a built-in temperature gauge, 304 stainless steel cooking grates, ceramic heat deflector, grill gripper and ash tools, you do get some extras.
It's also exceptionally well-made and will provide a lifetime of enjoyment, as well as being a truly portable grill suitable for camping or a tailgate party with its dual carrying side handles. Just be sure it suits your needs; if you're not into low 'n' slow, this maybe isn't the outdoor cooker for you.
Overall dimensions in inches (W × D × H): 16" × 22" × 20.75" (without stand)
Pros
One of the most versatile ways to cook available — You can grill, smoke, roast and bake.
Fantastic build quality and lifetime warranty on ceramics.
Cooks very evenly
Efficient heat retention and fuel usage (saves money in the long run!)
Easy to clean
Cons
Relatively expensive compared to grills of this size — But you get what you pay for!
Ceramic a bit fragile compared to steel grills.
Learn more in my dedicated review of the Kamado Joe Jr., written after weeks of ownership and use.
Weber Original Kettle 22-Inch Charcoal Grill
2
I have to tell you, the Weber website isn't the easiest to navigate. You're welcome for us doing the research for you.
Sometimes, there's nothing quite like getting back to the roots of a thing. For barbecuing, that means glowing embers of wood. Well, since you can't build a fire pit on a deck or terrace, charcoal is your best option. For many, the charcoal barbecue is the epitome of the backyard cookout.
The Weber Original Kettle is a classic charcoal grill, the kind many of us remember from our childhoods, and which plenty of grillers still love today. The design has changed little over the years, and with good reason — you don't fix it if it ain't broke! It still appears high in my list of great charcoal grills!
Weber makes all kinds of charcoal grills, but the Original Kettle is simple, effective, and compact. It's everything you're looking for in a small-space grill.
This model is a 22" unit with 363 square inch cooking surface. That's pretty hefty for a 'cue that takes up fairly little space! If you need a smaller kettle, there's an 18" version, but we think sticking to the 22" maximizes versatility.
There are plenty of features to love on this grill, including the ash catcher in the stand and the easy-to-open bottom chute. The triangular stand should offer good stability — that's something Weber prides itself on — and you can hang the lid on a side handle when you don't need it. There's even a heat shield below the lid handle to keep your hand safe.
All exterior parts are rust-resistant, but I always suggest buying a cover if you're going to store it in an exposed location.
By the way, as a writer, I do love the copy on the info doc provided on the site, especially the "durable, all-weather wheels." That's ad-speak for, "plastic."
Of course, there are some things to not like about this grill. For instance, there's no thermometer. I know this is a lower-cost unit, but would it detract that much from the profit margin to add a simple gauge like that?
There's no workspace, either, save for a small shelf down at the bottom of the stand. Though I think that's more for structural rigidity than for stashing your accessories.
All in all, this is an excellent option for those who want a basic charcoal grilling experience, and don't want to drop a lot of coin on a 'cue.
Overall dimensions in inches (W × D × H): 25 × 22.5 × 39.5
Pros
Classic, proven design.
Large cooking space in a smallish footprint.
Can be used to smoke and grill (admittedly after a learning curve…but it's all on this site :-))
Easy 'one touch' cleaning system.
Hinged grill grate to reload charcoal without having to remove the hot grates.
Good warranty
Cons
Thermometer on the opposite side to the lid vents can result in inaccurate readings.
3-leg design can be a bit unstable — keep children and pets away!
Best Small Electric Grills
If you're looking to go electric, perhaps due to regulations not allowing charcoal or gas in your apartment, then the following two grills are the pick of the bunch.
George Foreman GFO3320GM Indoor/Outdoor Electric Grill
1
Though the infomercials may have been laughable (I think that's the point of infomercials), I can tell you from personal experience that the George Foreman grill is actually a pretty good product!
I've "grilled" all kinds of small cuts of meat, burgers, wieners, and sausages on this little device, and I've always been pleased with the results. Part of the trick is to manage your expectations — this isn't a competition-grade smoker! But, when true grilling hasn't been an option, I still prefer the Foreman to a frying pan.
If your local regulations prevent you from using charcoal or gas, you can still enjoy a simulation of the barbecue experience by cooking outside with the GFO3320.
Really, this is just a standard George Foreman grill on a stand to make it an outdoor small grill. Conveniently, it readily detaches from the stand, so you can use it indoors, too, or take it on the road to use as a tabletop grill. Because it is essentially a ridged frying pan, it comes with those benefits, too; it has a non-stick ceramic coating, it heats evenly, and you can take the cooking surface off to clean it.
For such a low-profile piece of equipment, the cooking surface is fairly large at 240 square inches. You have very precise control over how hot it gets, and the built-in thermometer lets you know if you're at the right temperature.
Of course, everyone knows the George Foreman Grill diverts grease and drippings away from the meat, and this model is no exception. The grease flows to holes in the center of the grate and down to a drip tray. You don't get smoky flavoring from the drippings, but you're not frying in your own grease, either.
Is it really barbecuing? No, I won't pretend that it is. Is it better than no barbecue at all? I think so — at least you can cook outdoors and enjoy the weather and the social aspects of using a balcony grill. If you don't absolutely have to have an electric grill, don't get one. But the option is there if there's no other choice.
Overall dimensions in inches (W × D × H): 20 × 19.5 × 11 (without stand)
Pros
Large enough to cook for 15 people.
Suitable for indoor and outdoor use.
Unique sloped surface drains fat away from the food as it cooks.
Easy to clean non-stick surface
Detachable stand — Resulting in your typical George Foreman grill we all know and love.
Cons
Power hungry — not easy on your electric bill.
It tends to be easier to use when NOT on the stand.
Char-Broil TRU-Infrared Patio Bistro Electric Grill
2
If your outdoor space has you limited to buying an electric, but you really are a griller at heart, we have you covered. Here's an electric grill that looks like a "real" barbecue and provides surprising versatility.
Char-Broil is a well-established manufacturer in the gas and charcoal grill business. You may not realize that they also produce two electric grills. This one is the top-of-the-line.
There are some really nice features on this small outdoor grill, including a hinged lid, thermometer, and a top rack for indirect cooking and warming. There's also a convenient wire rack integrated into the stand, plus a storage shelf between the legs and wheels for standing some items.
The porcelain-coated, cast iron grate gives 240 square inches of cook surface, not counting the upper rack. Char-Broil guesses that's enough room for up to a dozen burgers, 8 chicken breasts, or 6 steaks. Maybe small ones, but still, not bad for a compact grill.
There's a single infrared heating element under the grate that should get to temperature rapidly and evenly. Underneath that, there's a large drip pan to catch your grease run-off. The single control knob is infinitely adjustable, and allows you to change cooking temperature easily.
Oh, and if you don't like the red one, you can go for black or graphite, instead.
I'm trying to find something to not like about this product, but I'm struggling. It has the look of a traditional 'cue and seems like a pretty decent substitute. Geez, it even has a cord wrap at the back.
This is a well-thought-out product. It's pricier than the George Foreman, but as long as you have no need to grill indoors, and have a higher budget, this seems to be the better choice in the electric category.
Overall dimensions in inches (W × D × H): 25.2 x 24.4 x 38.2.
Pros
No need for gas or charcoal.
Infrared technology disperses heat evenly for even cooking.
Easy clean-up after use.
Two storage shelves for placing grilling tools and paraphernalia
Wheels for portability.
Built in lid thermometer for temperature monitoring.
Great temperature range from low to high.
Cons
Slow to warm up to cooking temps.
Loses heat very quickly when the lid is open if the weather is cool.
Alternative Options
We've covered above the best small grills in a few different categories, and we strongly recommend you pick from this list. However, there are many hundreds (or more?) grills available across all the types discussed.
If you'd like to dig deeper into the world of small grills, we recommend you check out some of our other articles on the topic, so you can be absolutely sure you're making the right buying decision.
Maybe you will find the right grill for you in our tabletop grill reviews? Or, if you plan to grill while out at sporting events, something from our list of the best tailgating grills would be more suitable?
Perhaps you'd be better served looking for the best hibachi grill? And if charcoal grilling is your thing, we have in-depth reviews of two top models in our Weber Go Anywhere review and Weber Smokey Joe review.
To Grill, or Not to Grill: Am I Allowed to Have a BBQ In My Small Space?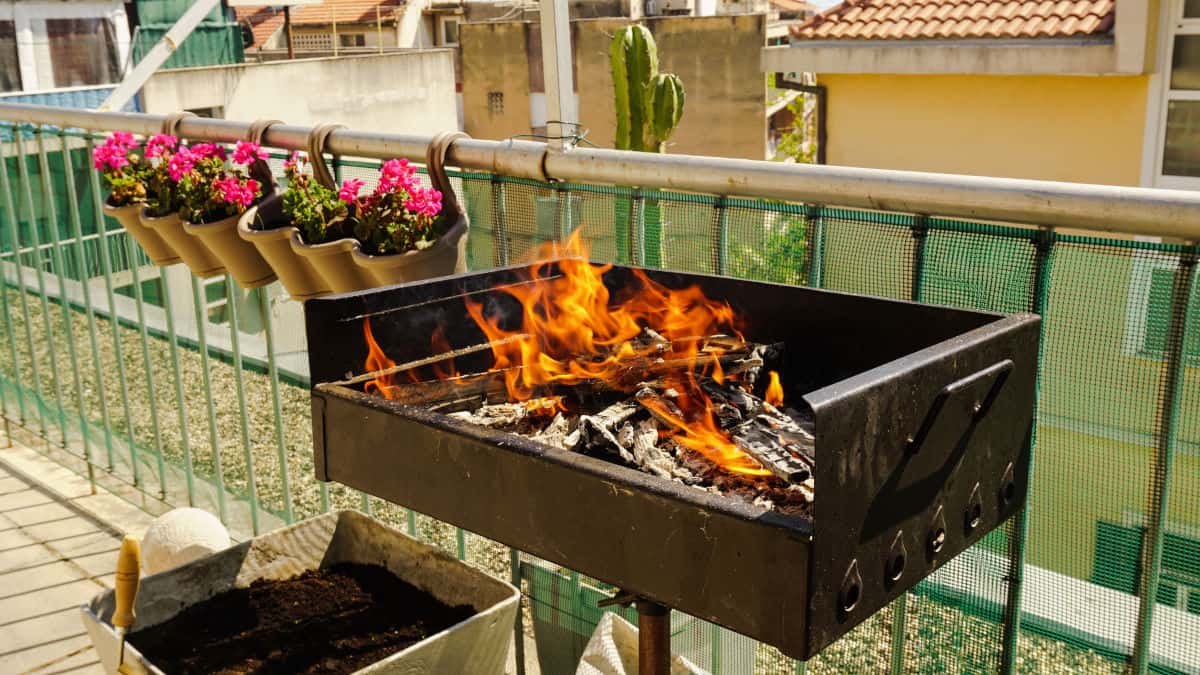 Before we get too far into desirable features, we need to stop and look at the legal reality of the situation. It's possible there may be bylaws or regulations in your area that you need to consider before you get a grill.
Some municipalities have strict regulations about where you may use a barbecue.
For example, many localities prohibit the use of barbecues on wooden decks. Others require you to maintain a safe distance from the nearest structure.
Even if there are no government mandates regarding grills, it may be if you rent a unit or own a condo, the landlord or condo owner might have his/her/its own set of regulations.
In London, U.K., the London Fire Brigade strongly recommends against barbecuing on any balcony, but there's no law saying you can't do it.
In New York City, it is prohibited to store a 20-pound LPG tank on a balcony or roof of a multi-family dwelling, but you can use a smaller tank for a short period. Charcoal BBQs are wholly forbidden on balconies and rooftops, and in a backyard or on a terrace, there must be 10 feet of clearance between the grill and any walls, plus ready access to a water supply or fire extinguisher.
Electric grills are good to go anywhere in NYC.
To be sure it's ok for you to own a grill, and what kind, consult the website for your municipality or give them a call. If you're renting, or you live in a condo or town home, speak with your landlord, the property owner, or get in touch with your condo association to find out what's allowed.
Safety is the number one issue with grilling in a small space, so take the rules and regulations seriously. Many entirely avoidable fires are caused each year by people barbecuing where they ought not to.
Buying Guide — What to Look for in The Best Small Grill
Let's start by going over some features and factors to consider before taking the plunge and dropping some coin.
Remember the old carpenter's motto, "measure twice, cut once"? The same applies here; do your homework and buy the right grill the first time.
Build Quality
Of course, you never want to buy anything you know is a piece of junk, unless you're entering into a demolition derby.
While a small-space grill may not see as much service or disagreeable weather as a full-size barbecue, you still want something that's going to last. Assess your needs before you buy:
How often will you be grilling?
What kind of weather/environmental conditions will the grill be exposed to?
Where will it be stored?
If you know your grill is going to get heavy usage, you want parts made of solid, durable materials that are well put-together. If it were going to be outside and uncovered most of the time, give some thought to rust resistance.
Fuel Type
Unlike grillers with conventional spaces, if you have a small yard or balcony to work with, you may not get to choose your fuel type based on personal preference.
It may be necessary to choose what is allowed by your municipality or property owner. Make sure to check this.
Charcoal
Charcoal is, understandably, forbidden in most apartment and condo buildings, or anywhere with a lot of wood.
Unextinguished coals are an apparent fire hazard. Although most purists prefer to cook over charcoal, make sure you do your research before you settle on this kind of grill.
Propane
Propane, or Liquid Propane Gas (LPG) allows you to have an open flame, but without the issue of needing to extinguish a solid fuel.
LPG tanks and propane grills are available in many sizes and can be very convenient — certainly they're a leading choice for campers and tailgaters. Tanks must be stored when not in use, and some regions have strict rules about LPG storage.
Natural Gas
A rare choice for small spaces, but certainly convenient when available. You won't see this on a balcony anywhere, but where allowed, it could be set up in the small backyard of, say, a town home.
Be sure to hire a gas fitter who has all the necessary certifications to work in your area, and be sure to check out our guide to the best natural gas grills available today.
Electricity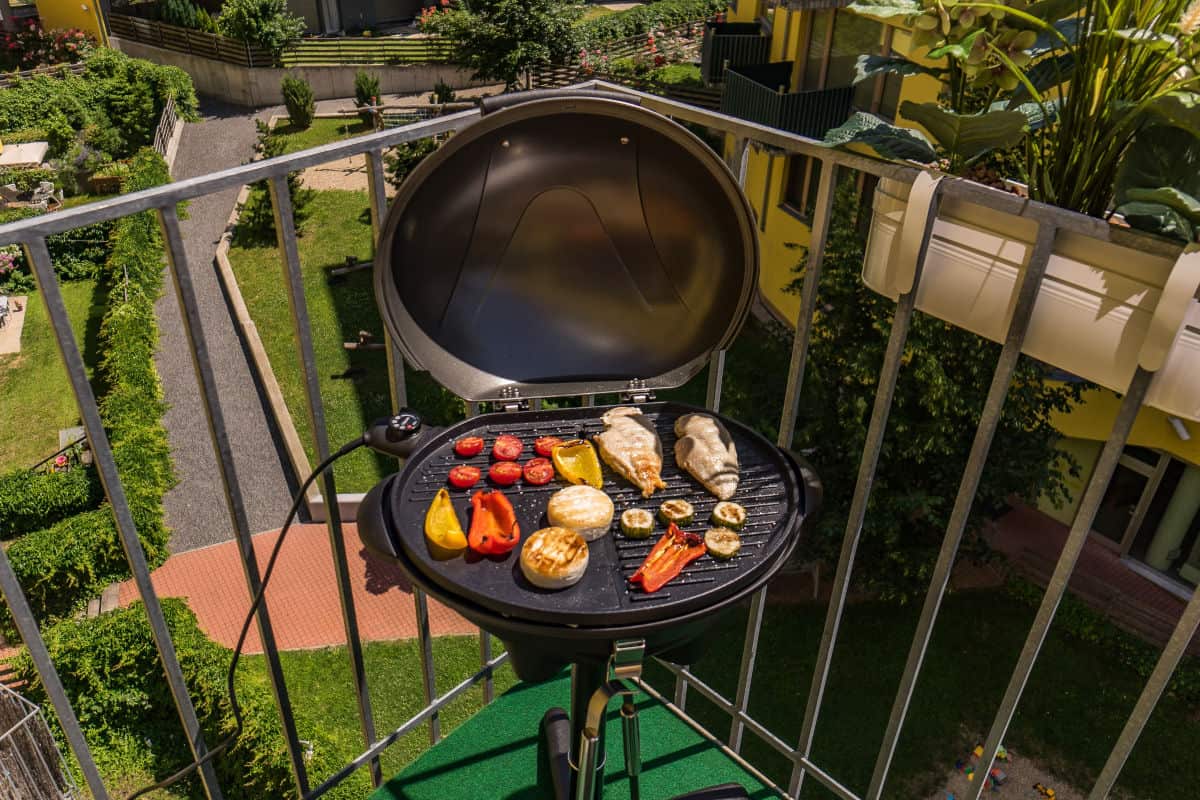 You might think of this as a last resort, but it's a viable alternative when no conventional options are allowed, or practical.
Although it's not the same as cooking over a fire, at least it's still cooking outside — you can even make grill marks!
Before rushing out to buy an electric grill for your balcony, though, ensure you have a suitably located outlet. You don't want the cord to be a tripping hazard — an electric grill can leave a burn mark on your skin just as readily as a gas or charcoal BBQ!
Work Space
Take a look at your space and think about where you're going to be able to set down your utensils, spices and sauces, and the food itself before it goes on the BBQ.
If there's nothing handy, and no place to put a table or shelf, think about whether you might need a grill that has some shelves or hooks.
Stand/Bracket
If you have somewhere in mind to place your new barbecue (make sure it's solid, steady, and not flammable), then you won't need to worry about a stand.
However, if you do need a self-supporting grill, look for one that's sturdy and not prone to tipping.
If you think you'll be moving it around much, wheels are a must — even a light barbecue starts to seem heavy after shifting it about a few times.
Size
Size is perhaps the most critical factor to consider. Trying to shoehorn an oversized cooker into a tiny space is impractical and possibly dangerous.
Measure your space and think about how people will move around the grill. You don't want to risk rubbing up against hot surfaces while trying to get to your chair.
You might try cutting out a piece of cardboard as a template to determine how large a footprint is practical/safe to work with.
Accessories
Small grills and accessories don't always go hand-in-hand. But, just because you're going with a more modest grill, that doesn't mean you necessarily have to go without any perks.
Give some thought as to how you will use your barbecue and what you'll be cooking. For example, if you're just flipping a few patties or rolling some sausages, you won't need a battery of hooks for hanging all your utensils. Try to find one with the features you actually need, but be prepared to compromise to get a grill that fits in your space.
User Reviews
There's no substitute for experience, so it's worth looking at what others have to say about a grill before you make your choice.
All the grills we've selected have been favorably reviewed overall, but nothing is ever perfect. It's good to read through comments and see what situations have given positive results, and what circumstances may have led to a negative review.
Reviewers Tip: Don't make a judgment based on star ratings alone! Often, people will leave a bad review just because there were shipping issues, and these are seldom a reflection of the quality of the barbecue itself.
Budget
Consider carefully before deciding how much to spend on a barbecue. Think about how often you plan to use it and what you're going to cook on it.
If you plan on making a few burgers a couple of times per season, there's no need to break the bank on a luxury barbecue. But, if you really want to get grilling some gourmet stuff on a regular basis, you might wish to loosen the purse strings just a bit.
Closing the Lid on these Mini Barbecue Grill Reviews
Well, what do you say? Feeling a little better about your personal space now? As you can see, there is a grilling option for just about any situation, no matter how tight it is, or how hopeless it may seem.
If none of these seem small enough, have a look at our articles on the best portable gas grills and the best charcoal grills to see the most compact grills out there.
Now that you have this information, we encourage you to think carefully. Do a little comparison-shopping, and go out and get yourself a small BBQ grill! They are a perfect accompaniment to a small-space, frugal lifestyle, and you shouldn't be without one.
If you liked this article, or if there's something you'd like to say about it (good or bad!), drop us a line in the comments below and let us know. Your feedback makes us better!
Thanks for reading — until next time, get out there and grab life by the grill!