Let's explore one of Weber's newest "smart grills" – the Spirit EPX-325S GBS, including unboxing, assembly, and a hands-on review.
It occurs to me that barbecue manufacturers are not so different from automakers or a particular electronics company named for the piece of fruit that caused Adam and Eve so much trouble.
A new model comes out every year, and there are always just enough "upgrades" to entice you into trading your "old" model for a shiny new one. Sometimes, the new features are only the slightest improvement over what came before, and sometimes they're "new" but not what you'd call "improved."
It's tough to tell what's worth your extra coin and what isn't, don't you find?
That's where we're at with Weber's new "smart grills," including the subject of today's review, the Spirit EPX-325S GBS.
So, let's help you sort out all the new features and understand what they really mean for you and your food. By the end, you'll know if this premium-priced gas grill is the upgrade you need or if you're better off taking a pass.
Please enjoy my hands-on, 100% honest review of the Spirit EPX-325S GBS, including the Gourmet BBQ System and Weber Connect.
First Impressions
Weber Spirit EPX-325S GBS Smart Barbecue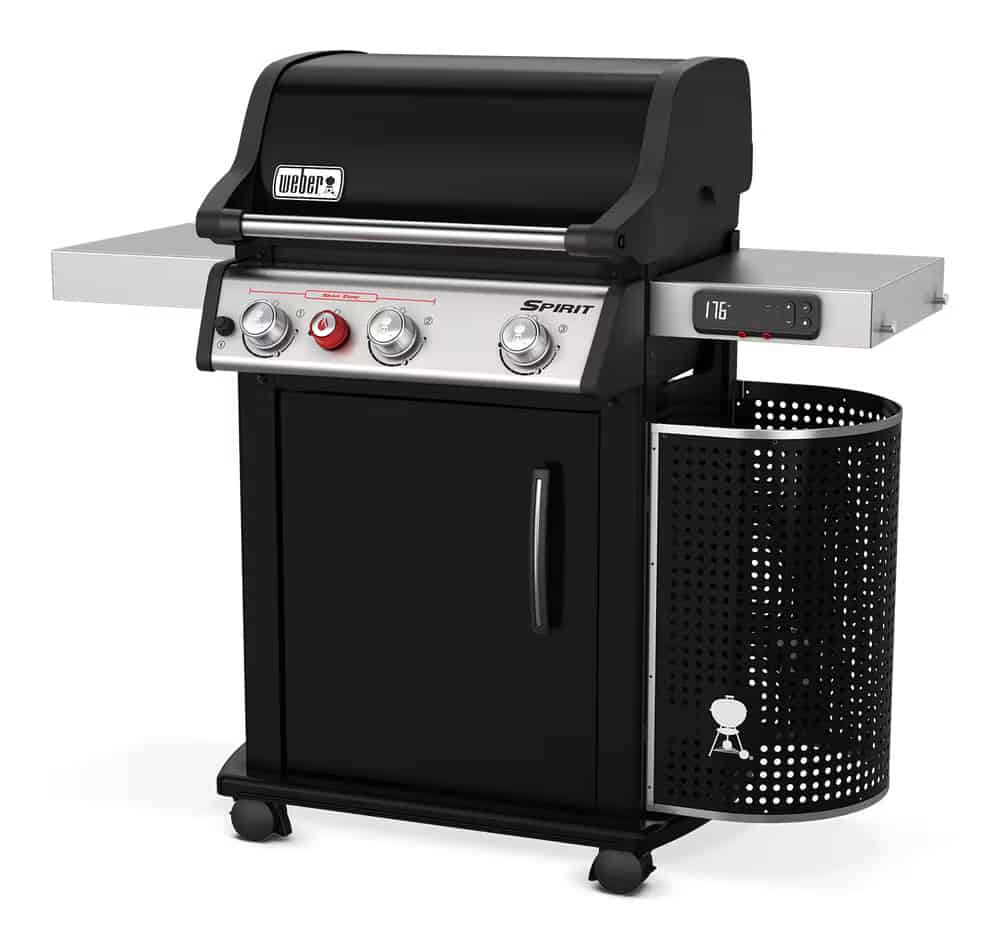 A 3-burner gas grill with a 4th dedicated searing burner and an upgraded smart tech package.
With a built-in smart thermometer, Wi-Fi connectivity, and Weber Connect smartphone app, you get real-time temperatures, timers, and alerts right on your phone.
Includes GBS Gourmet BBQ System, porcelain-enamelled cast-iron grates with a sear grate insert that can be removed to insert many accessories such as a wok, Dutch oven, or chicken roaster.
Note: At the time of writing, this grill is exclusively available only from Weber themselves, at the link below.
When I first looked at the Weber Spirit EPX-325S, my eyes immediately went to the enclosed cabinet — and then to the gas canister shield. That's right; all that space behind the door is available for storage because the propane tank hangs on the outside.
It's a sturdy, practical-looking grill, as we've come to expect from Weber; there's not much flash, but it exudes confidence like it's a serious but accessible grill.
Oh, but what's that bright red knob? It looks like the Spirit EPX has a trick or two up its sleeves!
Feeling good about this one so far. Now it's time to dig in and see if it's everything I hope it will be.
Overview and Core Features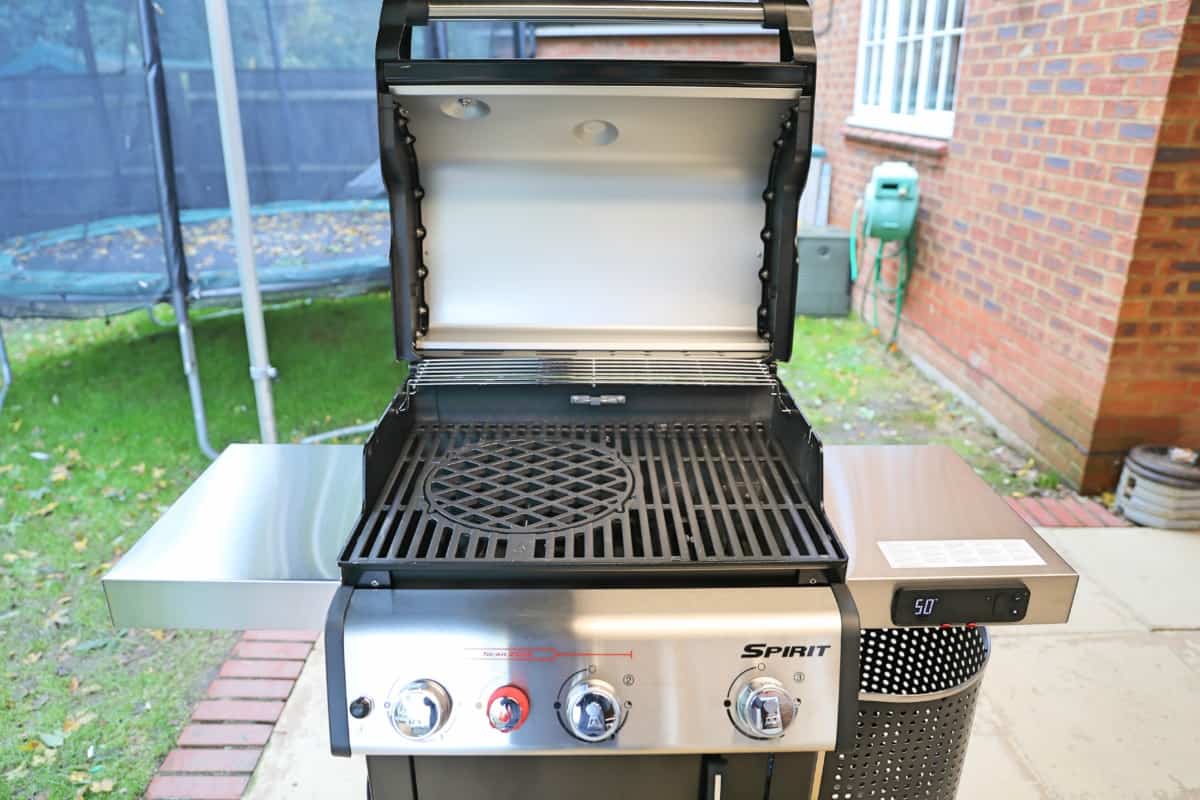 The Weber Spirit EPX-325S is a 4-burner gas grill, including 3 main burners and a separate burner for searing.
Some of the other grills we've seen with a dedicated sear burner have it installed in the side shelf. Placing it under the main grate ensures your shelves are always available and makes it easy to shift food to or from another part of the grill.
Another key component of this grill is the onboard Weber Connect Smart Grilling system.
In a nutshell, it's a built-in digital probe thermometer.
Since we always cook meat to temperature, this is an excellent feature and saves you the purchase price of a stand-alone unit if you don't already have one. Using the free Weber Connect app, it's simple to monitor your food as it cooks.
The thermometer supports two probes, and you get one meat probe included. A built-in sensor monitors the ambient temperature.
Not only does it connect to your smart device via Bluetooth or your existing WiFi network, but it also displays the current temperature reading on the built-in LCD screen. This alone makes it a better piece of gear than the iGrill 3.
Under the lid of the Spirit EPX-325S, you can't miss the circular sear zone in the nearly 410-square inch, 3-piece main cooking grate.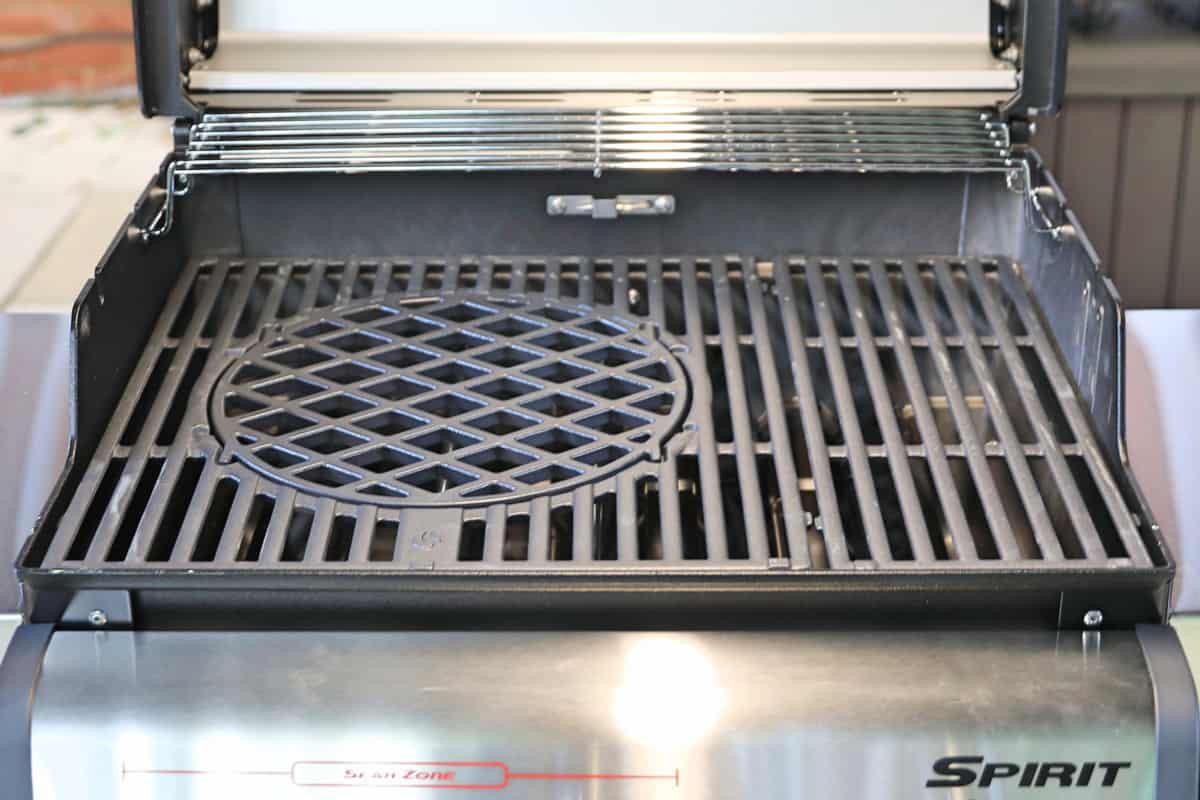 This is directly over the sear burner and has diamond-shaped bars to give you the perfect restaurant-style grill marks every time.
The sear grate is part of Weber's Gourmet BBQ System. This section lifts out, and you can replace it with one of several optional inserts (available separately), including a Dutch oven, a wok, or a poultry roaster. These inserts open up a ton of options for cooking, turning your gas grill into an outdoor kitchen.
Next we have the storage cabinet and gas canister holder:
The great thing about this is you have two options for where to store your gas canister, with each having pros and cons.
You can either place your gas canister inside the cabinet, behind closed doors and out of sight. But then you have the plastic cage on the side of your grill unused. Or you can place the canister strapped to the side of the grill, hidden behind the plastic cage, freeing up space inside your grill for storage of other items, but it doesn't look as 'neat and tidy.' The choice is yours.
What We Like
To say the Spirit EPX-325S is versatile is an understatement. Between the Gourmet BBQ System, the sear burner, and the built-in Weber Connect Smart Grilling System, there's not much you can't do with it, from grilling to smoking and everything in between.
Obviously, including a smart digital probe thermometer is a huge plus, particularly for someone who does not already own one. They're pretty much essential gear for anyone serious about barbecuing delicious meat.
The entire grill is extremely well set up and full of user-friendly features. You get enclosed storage space, a condiment rack, 2 stainless steel side shelves, 2 tool hooks, and four swivel casters — two locking — for easy maneuvering on a patio or deck.
What Could Be Improved
The Weber Connect thermometer runs on 6 (6!!) D-cell batteries. That is a lot of big, heavy batteries. You have the option to power it off a 5V micro-USB input, and I'd recommend that if you have access to a wall outlet.
I don't love the casters. They're fine on smooth surfaces but not great for negotiating heaved patio stones or cement, and don't even think about trying to roll around on gravel.
Who is this Grill Best Suited to?
I definitely consider this a "next level" gas grill.
Looking to replace an older gas grill that's seen better days? This could be it. If you're already familiar with grilling and know you'd like to step up your game, the Spirit EPX-325S might be suitable.
To get your money's worth from it, you'll want to use it frequently and take advantage of all the possibilities it offers. That could be anything from adding a smoker box to try smoking some meats on occasion to perfecting the reverse sear to adding one of the optional Gourmet BBQ System inserts, like the skillet for making a bacon & egg breakfast.
Cooking with gas is simple and forgiving, so even a complete novice will get the hang of this grill quickly; Weber makes terrific gas barbecues. So, don't worry if you've never barbecued before. Just be sure, if this will be your very first grill, that you're confident you'll want to explore all its possibilities.
A less expensive grill with fewer features may be better for you if you plan on keeping things simple.
Unboxing and Assembly
Time to pull back the tape, pop open the flaps, and peek inside the box. Then, we'll put together our brand new Weber Spirit EPX-325S.
What's Included
There's a lot packed into this big box.
Of course, you get all of the barbecue components, including everything to build the stand with storage and the grill itself, the 3-piece main grate (including the sear station insert), 5 Flavorizer Bars, the shelves, tank cover, a grease management system (including drip pan and foil liner), the Weber Connect system, one food probe, 6 D-cell batteries, and 1 AA battery for the ignition.
And there are physical copies of the assembly guide and owner's manual included.
Ease of Assembly
The Weber Spirit EPX-325S comes seriously knocked down, with many individual pieces to fix together.
I won't say it was any more challenging to assemble than a typical gas grill, but it was time-consuming; there are so many parts, including everything that goes into the Weber Connect probe thermometer.
I did find the tank shield fiddly to work with. You have to bend it to fit into the frame pieces that give it its shape and some rigidity.
Overall Build Quality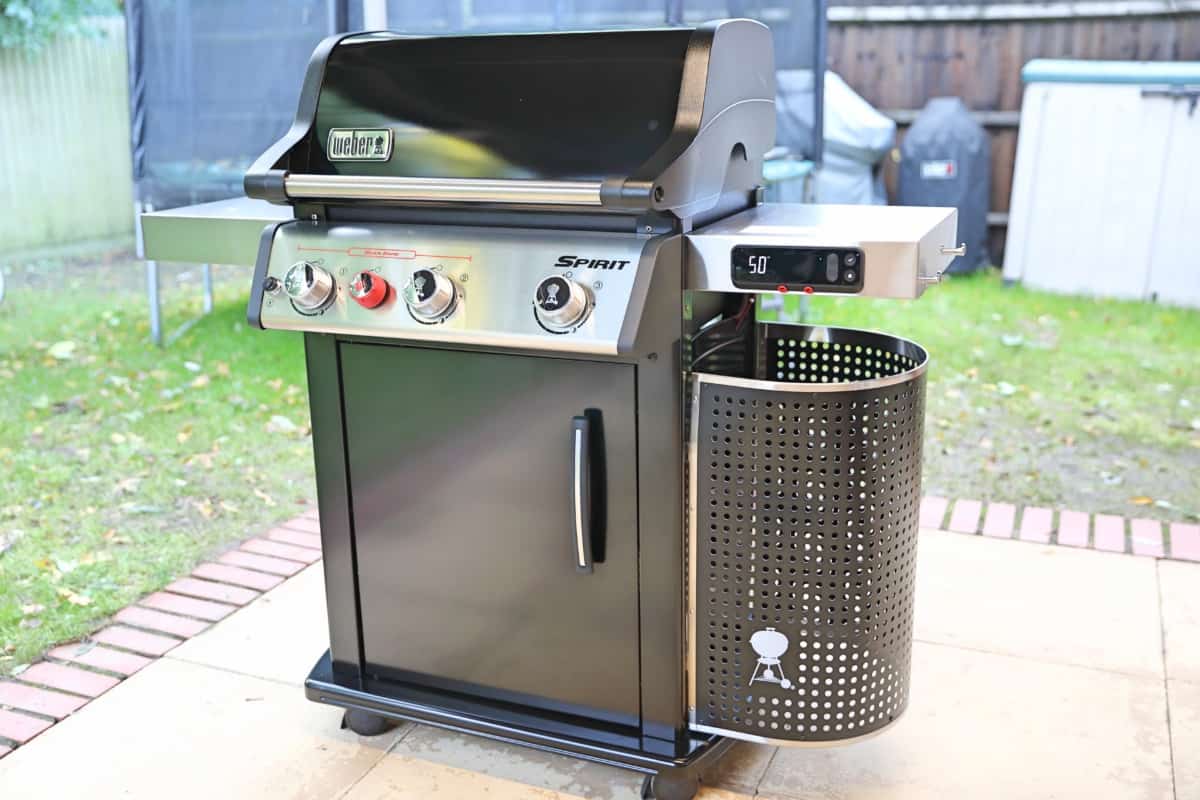 Weber has long established itself as a maker of quality grills. They typically use high-grade materials, and the workmanship is way above par. The Spirit EPX-325S is no exception.
The firebox and lid are made from cast aluminum, a durable yet reasonably light material. The lid is porcelain-enameled for aesthetics, durability, and ease of cleaning.
All the burner tubes are stainless steel, as are the twin side shelves. Weber burners have a well-deserved reputation for lasting a long time. Not only are they well made, but they're also protected by the Flavorizer Bars, the stainless steel "tents" that keep drippings from the grate from ending up on the burners. Instead, they'll mostly evaporate, turning into flavor-enhancing vapors and smoke.
The three main grate segments are all porcelain-enameled cast iron, and they're about as good as you'll find on any grill. They're heavy, durable, and distribute heat evenly. Even the upper grate, which grill makers often neglect, is porcelain-enameled steel.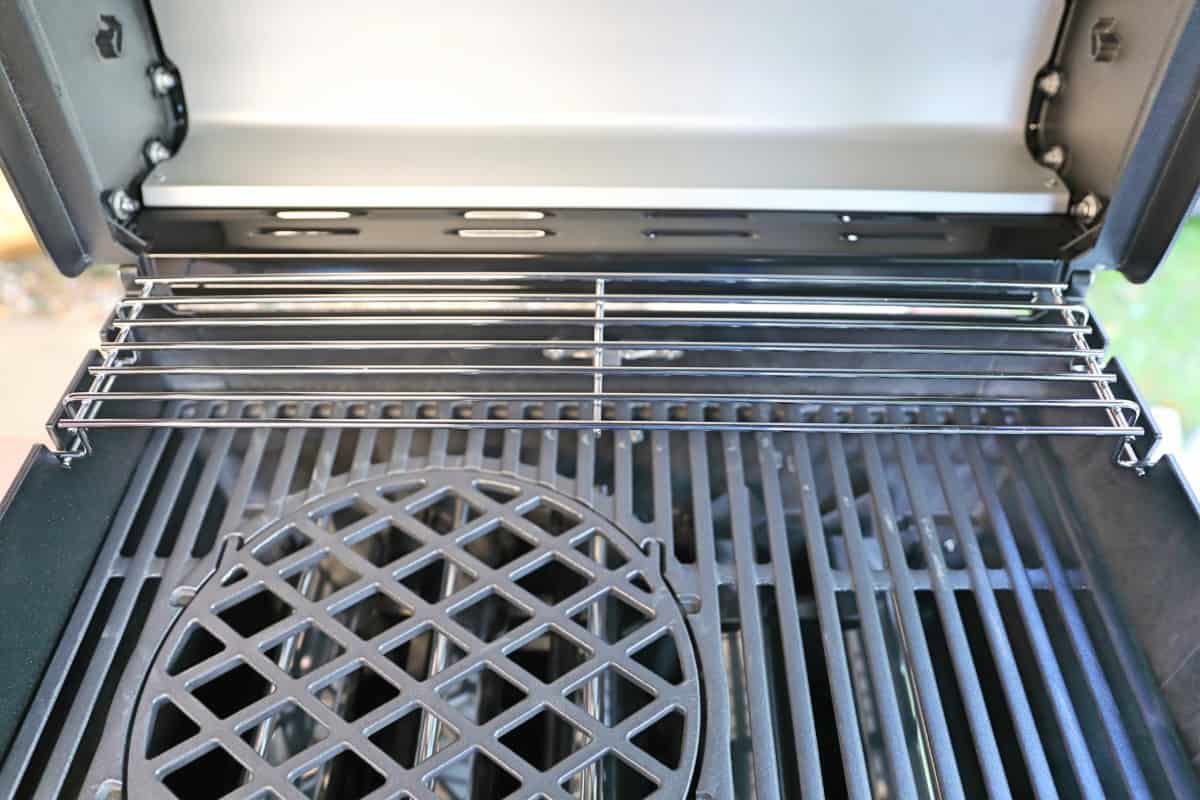 Admittedly, the upper grate is very thin. But it's main purpose is just as a warming rack, not for cooking foods on.
In conclusion, the build quality is great. It looks and feels high quality, and I'm sure will last for many, many years.
The Weber Spirit Epx-325s In Use
All sounds great on paper, doesn't it? It's time to put it to the test and see if this new grill from Weber is all it's cracked up to be.
Ease of Operation
I mean, it's a gas grill; how hard could it be to use? Yeah, it's not hard at all.
The push-button ignition works very well, and from there, well, it's just grilling, isn't it? Just be sure you light burner 1 before any others because hidden somewhere in the 29-page manual, it states you MUST light burner 1, and then the ignition system lights all other burners from there.
I initially was going to complain about how hard the grill was to light when trying to light only burner 3 for some indirect heat cooking. It just wouldn't light. But after knowing burner 1 MUST be lit first, then turn the others on, it lights every time. So please bear this in mind.
Anyway, moving on…
Grilling Performance
To test the grilling performance, I decided to reverse sear 4 beautiful ex-dairy cow sirloin steaks.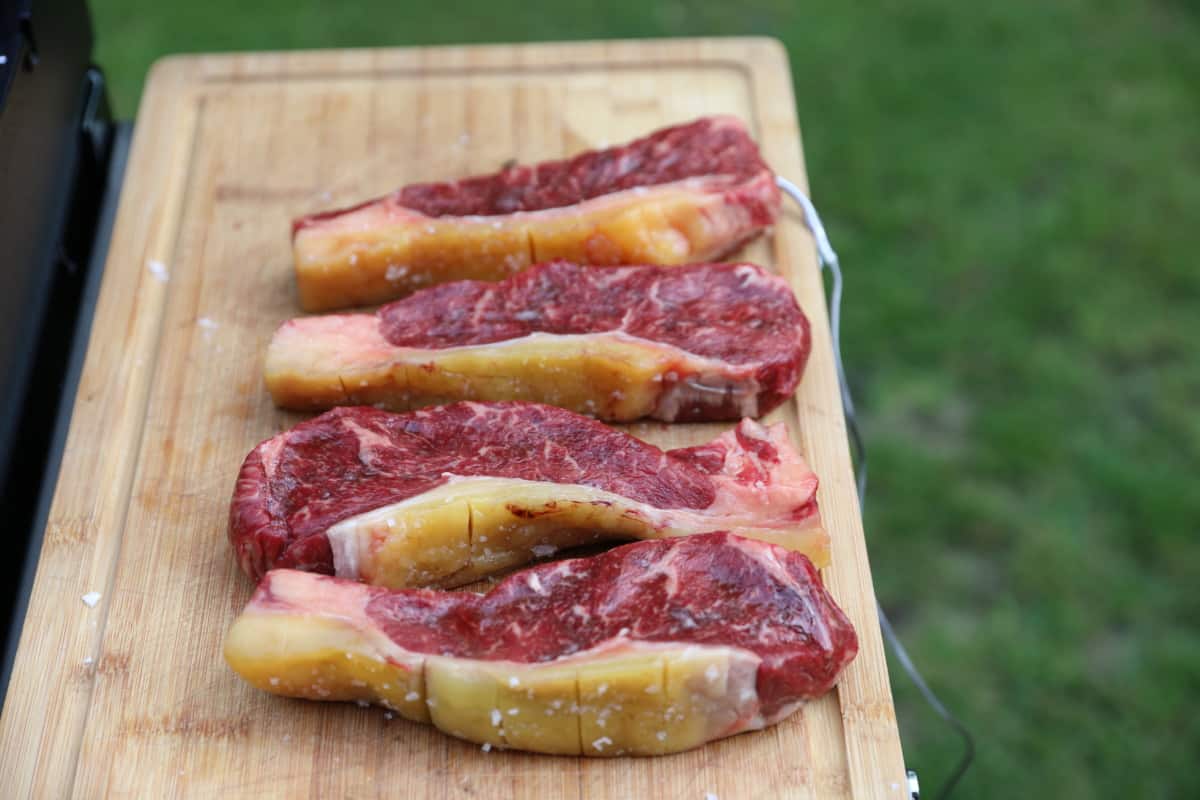 For the first stage of cooking, I turned on burner 1 high, burner 2 low, and placed the steaks way over on the right edge for some slow, indirect heat cooking.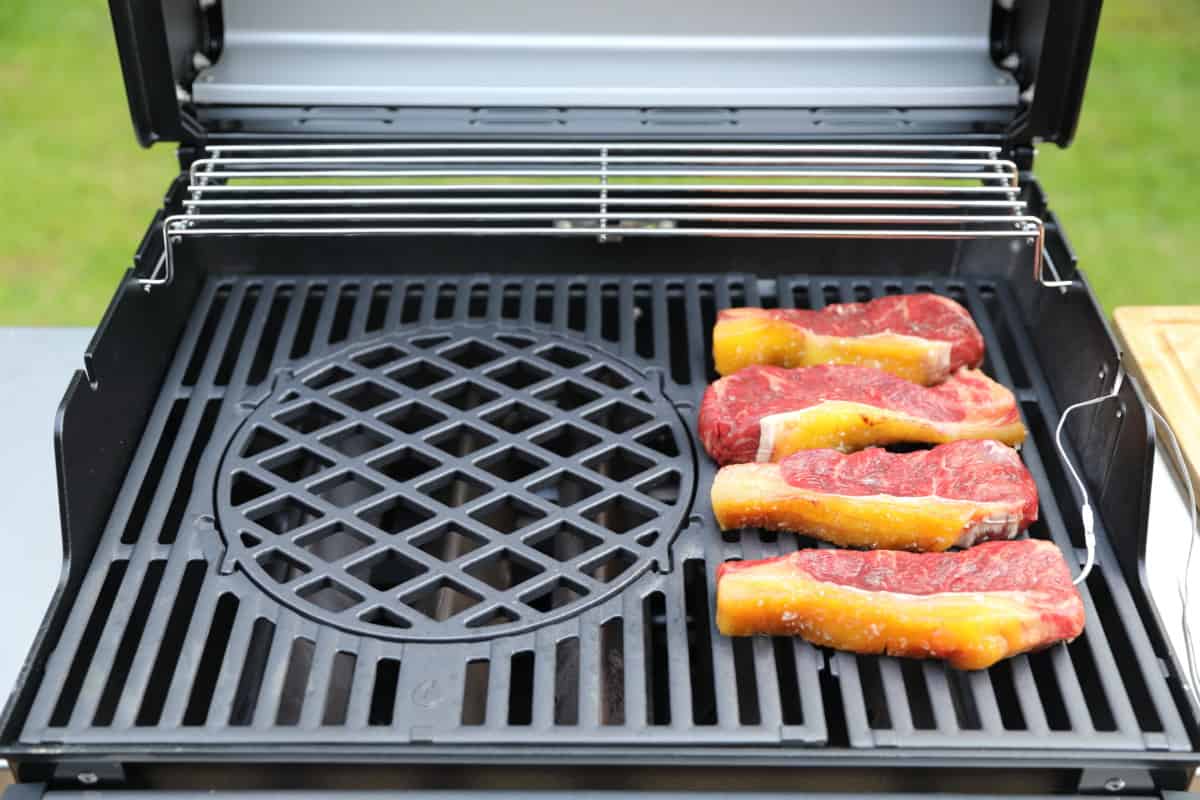 Looking at the thermometer display, and the Weber Connect smartphone app, I could see that the grill maintained a steady 240 °F throughout, only varying by 5 degrees either way. Perfect!
I also used the a probe connected to the built-in Weber Connect thermometer to measure the internal temp of one of the steaks, and pulled them off when the internal temperature of the meat reached 110 °F, ready for the searing stage.
I next turned on all 4 burners to high, to see just how high I could the grill. It got to an impressive 590 °F, as measured by the built in ambient pit probe, and seen in the following Weber Connect app screenshot:
Now remember, this is the ambient air temperature, a few inches above the grill grates. The grill grates themselves will be way hotter, particularly in the area right above the fourth searing burner and the center circle of the GBS grate! Just look at the diamond shaped grill marks this grill can create:
The flavorizer bars also work well to burn fat drippings, creating extra fire, smoke and flavor: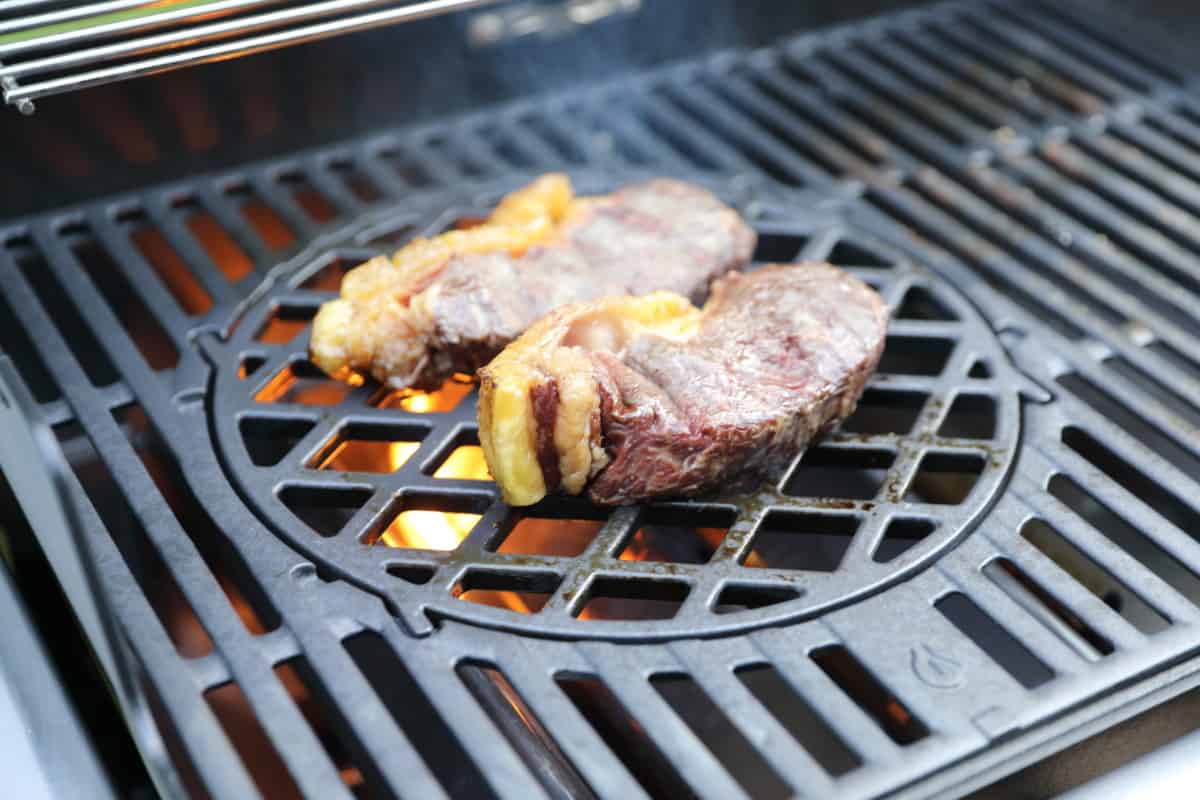 Overall, the searing capability of this grill is excellent! The additional 'searing burner' really does it's job well, helping to create a wonderful dark crust and adding tons of Maillard reaction flavor.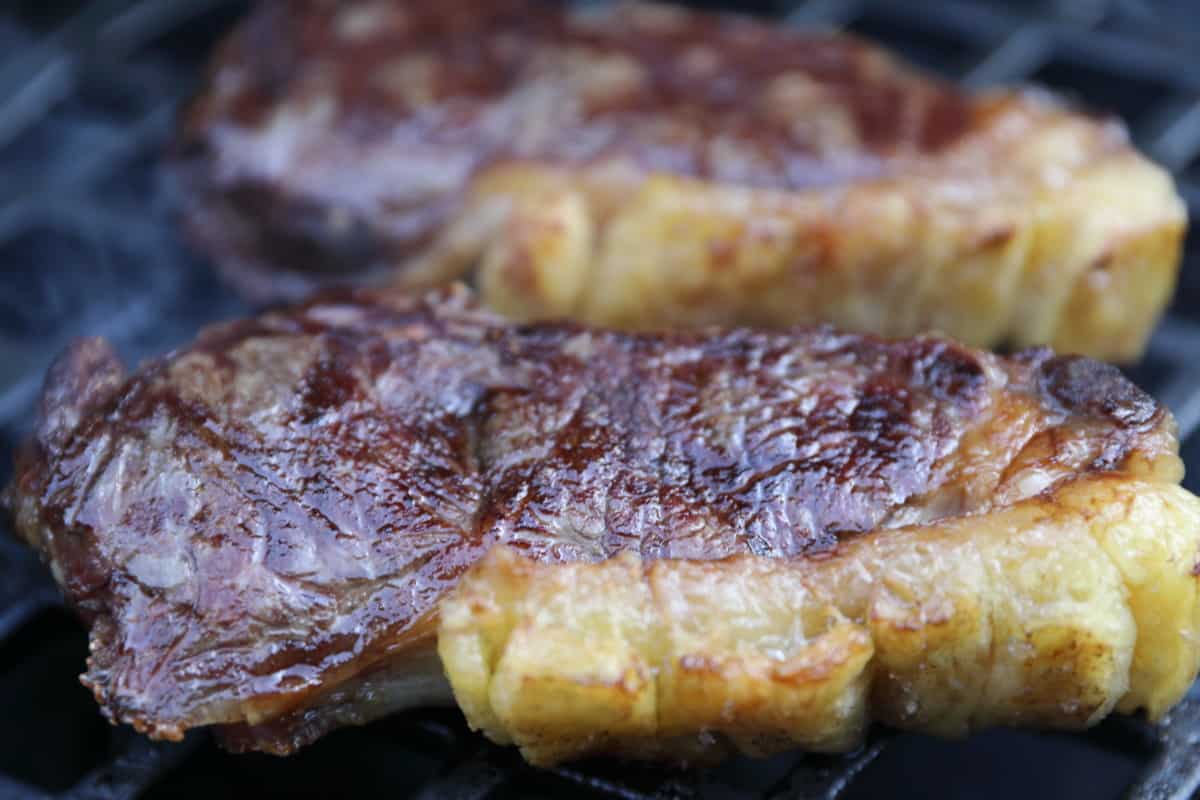 Weber Connect Thermometer and Smartphone App
With the Weber Spirit EPX-325S there comes the Weber Connect thermometer and smartphone app to contend with. After initial setup, it can be used as a simple grill and food monitoring tool, that you can view over Wi-Fi on your smartphone. For this is works well enough and looks fairly decent: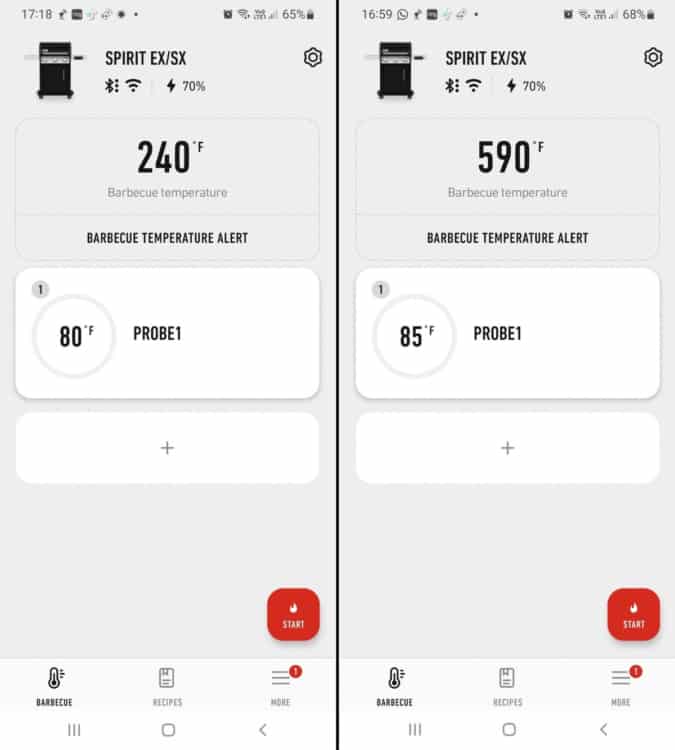 I own several digital probe thermometers, and I swear by their usefulness. So, while I didn't need another one, I do enjoy having one built-in for simple cooks.
The Weber Connect app is easy to set up and does its best to take all the guesswork out of barbecuing. To connect, simply turn on the grill thermometer, and enable Bluetooth on your phone. The app then guides you through the connection process:
After the initial connection, it then guides you through Wi-Fi setup:
After Wi-Fi setup, the app might guide you through a software update process if there is one available:
The system then goes beyond the usual presets and alarms by having a 'recipes' section in which you can choose from a large selection of recipes, for many different cuts of meat.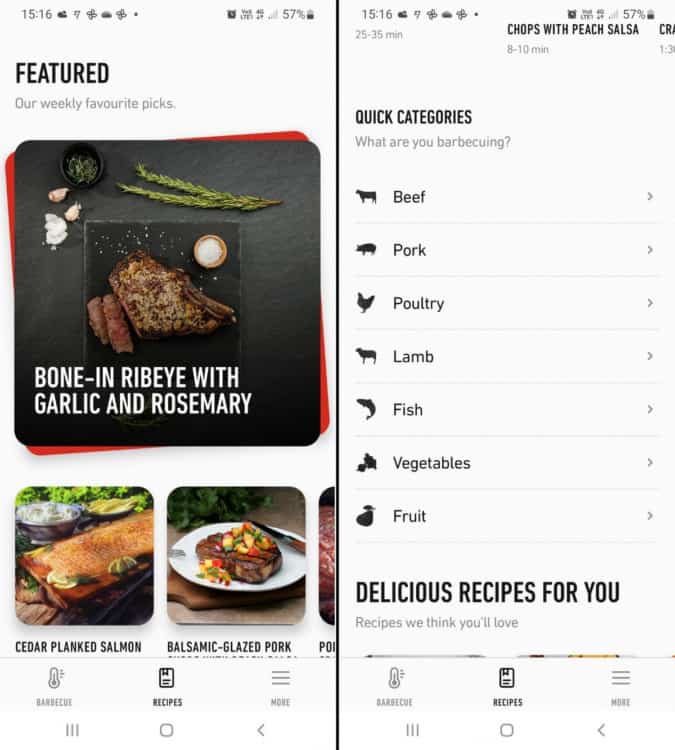 The app then tells you exactly how to cook the recipe, including how to set up your grill, when to flip your food (if applicable), and provides an estimated countdown timer to your target temperature, all while showing you your grills ambient temperature, and the temperature of your meat. And of course you can see this anywhere on your smartphone where you have an internet connection.
Having said all the above, as of the time of writing (5th July 2022), Weber Connect's connection stability is not as reliable as the Weber iGrill app. I repeatedly saw a 'can't communicate with' message pop up, both during setup and use, that shows the app disconnecting from the grill. An example of this you can see below: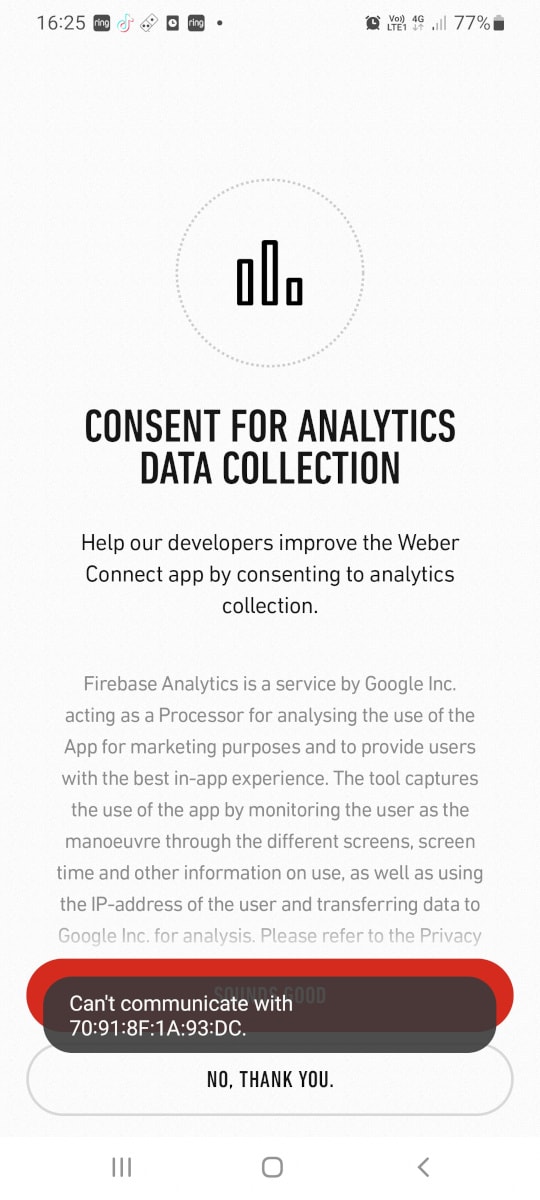 Although it seems to reconnect quickly, and it doesn't really affect the ability to monitor remotely, it's not ideal. Hopefully, they'll be able to fix its performance-limiting issues soon; iGrill once had similar troubles, but now it's an excellent bit of software.
Temperature Control and Accuracy
Once a burner is lit, you can use the infinite control knobs to adjust the grill temperature and your flame height as desired.
There are 3 burners, allowing you to setup different heat zones. And when you want to all out grill and sear, there is an additional 'searing burner' control knob that turn son a 4th burner to really ups the heat when required:
The accuracy of the ambient and food temperature probes is good, and measured within a couple of degrees Fahrenheit of my Thermoworks Signals digital thermometer, and Thermapen One instant read thermometer respectively.
I'm more than happy to rely on the accuracy of the probes and the temperatures they display.
Ease of Cleaning
The drip pan is easy to access inside the storage cabinet – much better than grills with rear-access pans. Not a lot of grease ends up here, thanks to the Flavorizer Bars, but it's still worth using the foil insert liners to make clean-up even easier.
Any stainless steel surface can be wiped off with a dry cloth, or try stainless steel wipes for major messes. The porcelain-enameled lid also wipes clean easily.
The only tricky part is cleaning the main grate. Because the sear station has a diamond pattern rather than parallel bars like the rest of the grate, you can't readily use one of those wooden paddle-style cleaners. Instead, you'll need a grill brush of some kind to do the job.
Warranty and Support
Weber provides one of the better warranties in the business. Here's how it breaks down (pardon the term) for the Weber Spirit EPX-325S:
Cookbox and lid: 10 years no rust- or burn-through / 2 years on paint (excluding fading or discoloration)
Burner tubes: 10 years no rust- or burn-through
Cast iron cooking grate: 5 years no rust- or burn-through
Steel cooking grate: 2 years no rust- or burn-through
Flavorizer bars: 2 years no rust- or burn-through
Electronics: 3 years
Everything else: 2 years
I've said this before, and I will say it again: for as much as I like Weber grills and Weber as a company, I detest their website. However, IF you have the patience to sift through it, you'll find some potentially helpful FAQs and access to an online support form. Just fill it out with your question and wait for a reply.
Generally speaking, Weber is reliable when it comes to working with customers to ensure their satisfaction.
Weber has an official presence on Facebook, Pinterest, Instagram, and YouTube, and some useful and interesting content can be found there. Plus, there are many unofficial owners groups on social media that you may find helpful should you run into trouble – you're almost certainly not the first, and you'll usually find a host of opinions on what you should do.
Summary of Pros and Cons
Pros
Weber build quality
Sear burner is excellent for true, high heat searing
Built in digital thermometer is a huge plus
Gourmet BBQ system adds to versatility
Enclosed storage space
Condiment rack
2 Stainless steel side shelves and tool hooks
Four swivelling casters, with two locking
Cons
Takes 6 D-cell batteries — That is a lot of batteries!
Casters are somewhat small, and stick easily on small stones when wheeling it about
Do We Recommend the Weber Spirit EPX-325S?
Weber Spirit EPX-325S GBS Smart Barbecue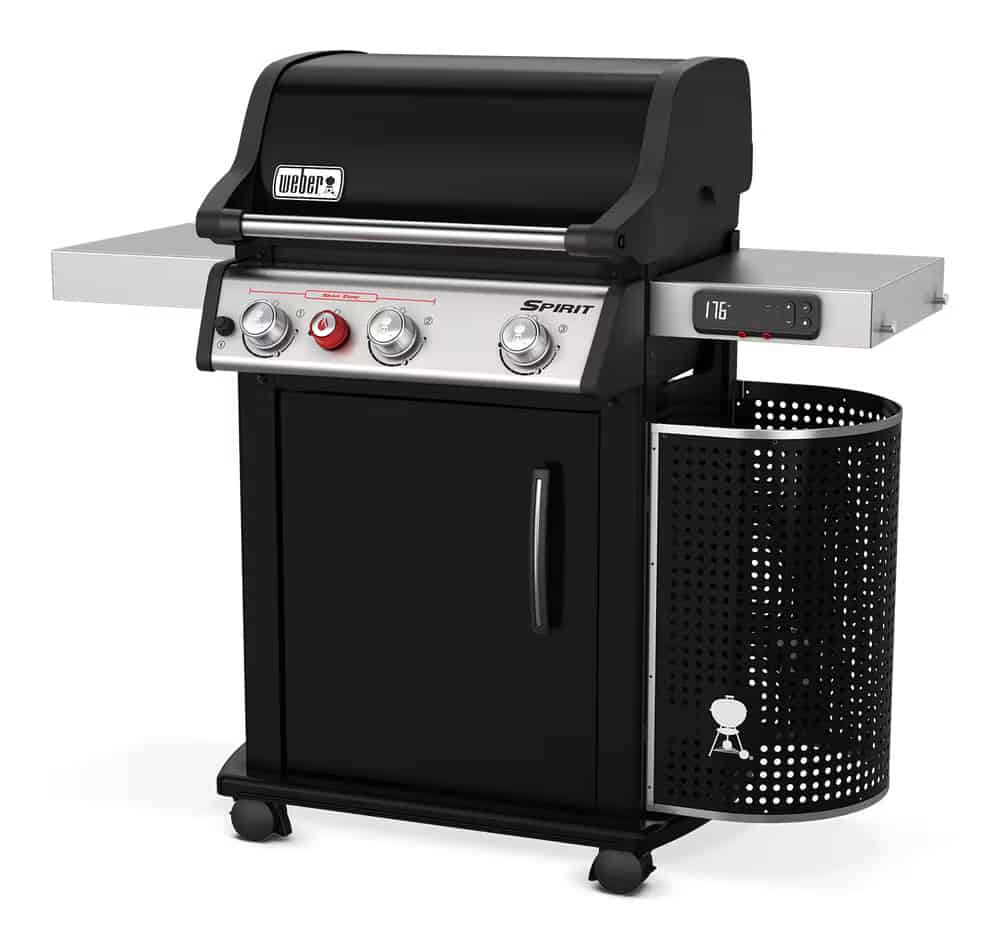 A 3-burner gas grill with a 4th dedicated searing burner and an upgraded smart tech package.
With a built-in smart thermometer, Wi-Fi connectivity, and Weber Connect smartphone app, you get real-time temperatures, timers, and alerts right on your phone.
Includes GBS Gourmet BBQ System, porcelain-enamelled cast-iron grates with a sear grate insert that can be removed to insert many accessories such as a wok, Dutch oven, or chicken roaster.
Note: At the time of writing, this grill is exclusively available only from Weber themselves, at the link below.
Yes, we do. But, this recommendation depends very much on whether you're the right fit for this grill.
It's an excellent barbecue, and I enjoy cooking on it. As is the case with all Weber grills, it's well-built, user-friendly, and highly reliable.
But it's also relatively expensive.
If you already own a good Bluetooth/WiFi digital probe thermometer, there's no good reason to pay the difference between this grill and another excellent gas grill – the Weber Spirit E-315 GBS, for example.
This is because I don't consider the sear station a compelling accessory; there's no reason you can't sear perfectly well over a "normal" burner.
The Gourmet BBQ System is a worthy upgrade, though, if you're inclined to cook anything and everything on your grill.
What does this all boil down to?
As I described earlier, if you're a novice griller who wants to replace a basic barbecue with a major upgrade in terms of versatility, you should be all over this thing. But, if you've already got a bunch of grilling gear, the Weber Spirit EPX-325S is probably not the best buy for your money.
Final Thoughts
Ultimately, the Weber Spirit EPX-325S is a niche grill; to those for whom it makes sense, it makes a LOT of sense, and I know you'll love it. It's an investment, but one that will pay rich and delicious dividends if you take advantage of all it can do.
Still searching for your new grill? Despair not — we are chock full of honest and exhaustive reviews to help you out. Scroll to the top, find the Equipment tab, and click on Grills. Or, try the search function for more specific inquiries.
Whatever grill you pick up, leave us a comment and let us know what you think!