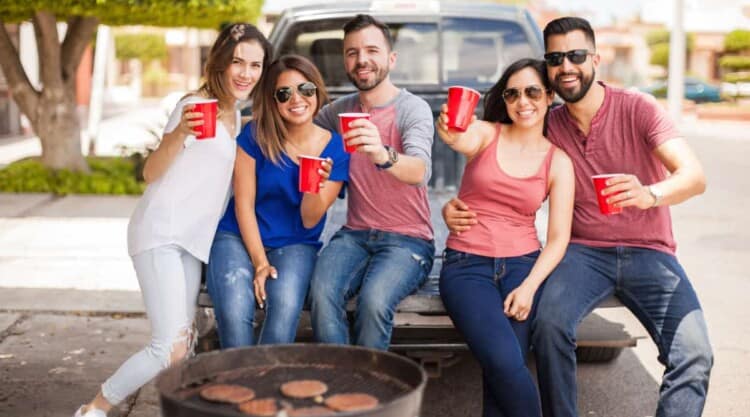 This guide reviews the best tailgating grills, before going on to teach you about all the factors you should keep in mind when looking for the best tailgate grill, so you know how to pick out the right one for you.
Tailgate grilling is something anyone with a vehicle can enjoy, and in our opinion, should!
Hosting a mini social event, serving up grilled food right from the back of your parked vehicle either before, after or during a sporting event really puts the icing on the cake of a great day.
Having said that, it's important to choose the right grill, or there's a danger of your food offerings taking the shine off the day instead!
So whether you're new to tailgate grilling or want to replace your old model, you're in the right place.
You won't have to scour online for the highest-quality products because we've listed ten of the top models available on the market today, with a mini-review and our opinion on each.
At a Glance: The Best Tailgate Grills Discussed in our Guide
Note: Clicking the above links will take you to further information, current prices and customer reviews on Amazon, and other select retailers.
A Detailed Look at Our Top Recommendations
By now you'll have a good idea of what you want in a tailgate grill. You also know what features are necessities and which are negotiable.
For the rest of this article, we take a look at what are, in our opinion, the best tailgate grills available today. There should be one here to suit everybody's needs.
Blackstone Grills Tailgater
1
The Black Stone Grills Tailgater functions as much more than just a grill. It also functions as a griddle, enabling you to serve up more than just grilled meat at your tailgating parties.
How about pancakes? Fried eggs and bacon?
One of the most attractive aspects is its versatility. You can fire up the charcoal grill box or the propane griddle. That's right—you don't have to choose between gas or charcoal. You can use both at the same time if you like.
Measuring 52 inches by 24 inches by 38.5 inches, it provides a total of 512 square inches of cooking area. There are two burners on the gas side, one is an H-tube burner made of stainless steel, the other is cast iron. You can regulate the temperature of each independently of one another.
Best of all, you'll find two standard burners. If you want to boil up a pot of delicious stew or even whip up some pancakes, you can. Anything that you cook on your stove at home can be made with this grill.
No matter where you're tailgating, this product will hold up. The four legs can be adjusted to a height that's comfortable for you, and the feet are built to keep it motionless, even on rough surfaces.
On the charcoal side, you'll be grilling on cast-iron grates. The griddle is cold-rolled steel. This grill puts out a lot of grilling power. If you close the lid and the vent, it will retain an immense amount of heat.
You may be wondering how much work you'll have to do to assemble it. You'll be relieved to hear that putting it together is an uncomplicated affair. Blackstone provides a detailed user manual that covers assembly in explicit detail.
The user manual will also help you get familiar with the many features. It also provides instructions for maintenance and care to keep your Tailgater in good shape.
Pros
Adjustable height.
Legs are stable on any surface.
Versatile cooking surfaces.
Burners can be operated
Standard burners for cooking with pots or pans.
User manual included.
Cons
Legs are hard to detach.
Quite large for transporting.
Lid handle gets scalding hot.
Dumping ash is messy (true for ANY charcoal grill.)
If you want to bring something extra to your tailgate parties, consider this Blackstone Tailgater. It's a quality product, incredibly versatile and a sure winner.
You can boil pots, fry eggs, grill steaks, cook with gas or charcoal, and so much more.
Napoleon TravelQ Pro 285
2
For a portable, this grill is quite big and could actually double as a small at-home grill for permanent use due to the 285 square inches of cooking space under a large domed lid.
You can get a good amount of food under that lid, for sure 6 good steaks, or a decent number of sausages or burgers to feed a family or small crowd.
For a portable, it is a little on the heavy side at 36 pounds. But this is due to the excellent build quality, the cast aluminum lid and bowl, and the porcelain-enameled cast iron grates.
This weight from the quality materials translates to better heat retention and distribution, which is great if you appreciate good performance from your tailgate grill. It is far better than the thin materials and stainless steel grates you typically get from portable grills.
We love the fact that The Napoleon Pro 285 has two burners for added versatility. You can set up two different heat zones, a searing zone and a warming zone, or a two-zone indirect and direct zone for roasting small items. Two burners are rare on portable gas grills.
And there's enough room under that lid to roast a small bird or a cut of beef, plus room between the grate and burner for a small smoke tube should you wish to add some smoky flavor. So having the option of two-zone cooking really opens up more options.
Pros
Two burners for separate heat zones and better temperature control
Enough height under the lid for a small roast or chicken
Room under the grate for a smoker tube
Solidly built; cast aluminum body, cast iron grates
Cons
Heavy for a portable grill
More expensive than most grills in this category
This grill cooks great whether at home or away.
With superb build quality, versatility, and dependable performance, it's larger than many portable gas grills, so it can be used to pump out a decent volume of food while tailgating and will last for many years.
Check out our hands on review and testing of the Napoleon Pro Travel Q 285 for further details.
Weber Go-Anywhere Charcoal Grill
3
Weber makes a first appearance on this list with the Go-Anywhere charcoal grill (it also tops our best portable charcoal grill roundup). This trim-built product is suitable for tailgating anywhere, from parking lots to open fields.
Right out of the box, it assembles without any hassle. Screw in the handle to the lid, and you're ready to tailgate.
The slim, rounded aluminum feet offer more height and support than you might think. You can stand this little unit on grass, it will be stable and high enough to not worry about starting a fire. The same goes for truck-beds or folding tables.
At just under 15 pounds and measuring 12.2 inches by 21 inches by 14.5 inches, you can carry it around like a briefcase.
The lid latches to the body securely, meaning it won't bounce around in your vehicle. Although lightweight, the body is substantial rather than flimsy.
Don't think that compactness equals a low cooking capacity. You can still set up to six burgers on the grill at once on its 160 square inches cooking area If you favor steak over burgers, you can comfortably fit four mid-sized steaks at a time.
Once you shut the lid, you can expect high heat retention. Whether you want to slow-cook ribs or grill a steak up fast, this Weber does the job.
There are a total of 4 vents on this grill. It has two vents on the lid and 2 low down on the sides of the body. Since temperature control can be finicky with a charcoal grill, more vents are useful.
When you need to take the lid off, you can hook it on the built-in lid holder. The lid can also serve the dual-purpose of a windshield.
The porcelain-enameled body is easy to wipe down when needed. Once the coals go out, the grill cools down quickly. You can remove the grates and easily scrub it down after use.
Pros
Easy to transport.
Heat-safe on any surface.
Convenient lid holder enables lid to be used as a windshield.
Numerous vents for temperature control.
Low charcoal consumption.
High heat retention.
Simple to clean.
Cools down fast.
Cons
Lid handle can become hot the touch.
Low height when the lid is on.
Ash must be scooped out from grill bottom.
If you want a petite charcoal grill that's easy to transport and use, the Weber Go-Anywhere might be the best tailgate grill for you.
Check out our Weber Go-Anywhere charcoal grill review for further details.
Weber Jumbo Joe Charcoal Grill 18-Inch
4
The Jumbo Joe runs on charcoal. It has an 18-inch diameter cooking surface and a porcelain-enameled body. The top lid is removable with a four-hole smoke vent. There are also centered vents on the bottom.
It's perfect for charcoal enthusiasts who want to tailgate in big groups. The 18 inches of cooking space allow you to grill for four or more people at once. Although it can't be folded away, it's compact enough to fit in any vehicle comfortably.
Weber makes assembly a straightforward process. A wrench is included in the box to help you put it together. The only other tool you'll need is a standard screwdriver, and you're ready to go.
Four aluminum feet sit on a wide base at a fair distance from the grill itself, for a convenient, safe grilling experience. This means that you can set your Jumbo Joe on a table without fear of burning the surface. If your favorite tailgating location has picnic tables, you'll appreciate this. Plus, you can rest assured that your cooker won't wobble or sway.
Don't be fooled by the size or name of this BBQ, which somewhat contradict each other. It's a decently sized but still compact grill, with the 'Jumbo' moniker referring to it being larger than the even smaller 'Smokey Joe' from the same Weber range.
This grill retains heat and distributes it evenly, and thanks to the sizable and adjustable-top and bottom vents, you have control over temperatures and your cooking.
It's also equipped with a lid holder, which you can hang your lid on when preparing to cook or are ready to serve your food. Without it, you could be struggling to find a place to set your hot lid down, but it can also act as a windshield if you aren't grilling with the lid on.
And note that hanging the lid on the grill won't compromise its stability, with the legs being wide enough to keep the center of gravity well within its stable base.
The ash-catcher underneath makes clean-up a breeze. It can be removed once your grill has cooled down, for the ash to be dumped and everything wiped down.
The user manual is helpful for inexperienced grillers. You can try out Weber's cooking tips for everything from fish and meat to vegetables.
Pros
Even heat distribution and retention.
Sleek, traditional design.
Dampers for temperature control.
Stable build.
All required assembly tools included.
Good ventilation.
Comprehensive user manual.
Cons
Lid is too shallow for grilling whole chickens, etc.
Ash catcher isn't sheltered, so ash may blow around after emptying the ash out.
Carrying bag must be bought
If you want a discreet charcoal grill that can still feed a good-sized crowd, the Weber Jumbo Joe is a perfect choice and our top pick out of all the best grills for tailgating.
This grill has a unique feature that I've never seen before: You can double your grilling space whenever required!
With the PK Grills PKGO you can remove the lid, turn it upside down, rest it on the Flipkit stand, place a second charcoal grate into the bottom of the lid, insert a second cast iron cooking surface, and hey presto, You now have a second grill!
Yes, they are now both – lid and base — Hibachis tyle open grills with no lid, so there's no indirect grilling or roasting in this configuration, but when you want to be able to crank out lots of burgers and sausages, this feature is amazing.
The PKGO is made from highly durable cast aluminum, so it will last a very long time and ensure you get your money's worth. The materials are thick, so it weighs a hefty 39.5 pounds, a lot for a portable, but still acceptable and easy enough to move about.
The cooking grate is cast iron, so expect durability and excellent heat distribution. At 12 x 17 inches, it's not rectangular and offers 200 square inches of space, which of course, you can double up with the Flipkit feature described above.
With four vents, two at the top and two on the bottom, you can set up for true two-zone cooking and have complete control over your cooking temperatures and the flow of air and heat through the grill.
Set your charcoal to one side, and use the vents to force airflow in from beneath the burning charcoal, up over and across your food before leaving an open vent on the opposite side of the lid. This will give you excellent indirect heat and smoke exposure for true convection-style indirect cooking. You can also add a water pan for true tailgating low and slow smoking.
PK Grills have even included an access door for feeding through a leave-in meat probe to accurately monitor the cook (thermometer must be purchased separately.)
When traveling, you can use the dual lid latches to lock the lid closed and securely hold everything inside in place.
Pros
Comes with everything needed to convert the lid to a second grill for extra cooking space
Durable cast aluminum construction will last many years
Impressive 20-year warranty on lid and bowl
Four vents for more versatility, including two-zone grilling and smoking
PK Grills donate to No Kid Hungry, helping feed children across the US
Cons
Lid is too shallow for grilling whole chickens, etc.
Ash catcher isn't sheltered, so ash may blow around after emptying the ash out.
This is an exceptional grill for grilling, smoking, and more while tailgating. Truly versatile and incredibly well-built in such a way that it's guaranteed to last. And the option to double up your cooking space when needed is such a cool, well though out feature.
The PKGO may be relatively expensive, but it's worth every penny for us.
Solaire SOL-IR17BWR Anywhere Portable Infrared Gas Grill
6
The Solaire Anywhere portable, propane powered infrared grill lives up to its name. It weighs in at only 20 pounds, and with a width of 21 inches and a height of 12 inches, fitting it into your vehicle can be done with ease, regardless of trunk space.
This rectangular grill comes almost fully assembled. All you'll have to trouble yourself with is screwing the handle onto the lid. The lid itself latches securely to the body to be carried safely.
If your least favorite part of grilling while tailgating is the waiting, consider this product. Don't be misled by size—the infrared burners pack a punch.
You may get less cooking capacity than with other grills, but this won't be an issue. Because of the incredible heat produced by the infrared burners, you can knock out food swiftly enough to prepare more food for more people, in considerably less time.
After you switch it on, it will heat to high temperatures in three minutes or less. You'll be grilling before your fellow tailgaters have a chance to complain about hunger. You won't even have to bring out your lighter—it has spark ignition.
For fuel, it runs off one-pound propane cylinders. A carrying case is included, so you can pack three cylinders along for your tailgating sessions.
This rapid-heating feature works well, regardless of the climate outdoors. Whether you like to tailgate in summer or prefer an autumn chill, you can rely on this grill to heat up fast.
Inexperienced and expert chefs out there can also benefit from this grill. The infrared burners are designed to provide intense heat with consistent distribution. No matter where you set food on the grates, it will get even heat. You won't have to spend time worrying about exact placement to avoid cold spots or burning.
If you're intrigued but intimidated by the infrared burners, you shouldn't be. You are supplied with a detailed instruction manual to get you familiar with the product and the process required.
Pros
Heats up rapidly.
Light and compact.
Push-button ignition.
Even and intense heat distribution.
Comes with a warranty.
Detailed user manual.
Cons
Small cooking area.
Can get very smoky while cooking fatty foods.
If you're tired of impatient friends or family demanding food, the Solaire Anywhere portable infrared grill will solve your problem. Tailgaters who enjoy searing at high heats will like this model too.
What's the worst part about a portable barbecue? For my money, it's lugging the thing around. Even with handles, it's awkward at best. Weber has made that a thing of the past with this engineering marvel.
At first glance, the Weber Traveller looks like any small grill on a stand. Then you realize the stand is not just an accessory; it's part of the complete package.
In the folded configuration, it's a breeze to tow the grill behind you on its large, rugged wheels with one hand. You won't even think about the fact it weighs over 60 pounds.
When you're ready to set up, rest the handle on the ground, place a foot on it, grasp under the shelf, and lift. The scissor-style stand easily unfolds until it locks into place. To reverse the process, place your foot on the same spot on the handle, release the latch under the lid, and let it go. It's actually very, very cool to watch.
Aside from the stand, this is a competent grill that's worthy of the Weber name. While we'd prefer dual burners to a single, at least it pumps out 13,000 BTUs, ample power to sear your steaks or the catch of the day.
The cookbox is porcelain-enameled steel, which is adequate for a portable grill, and the burner is stainless steel. Weber has kindly provided a porcelain-enameled cast iron cooking grate, just like you get on their full-size BBQs. The superior heat distribution makes it a pleasure to cook on.
Pros
Big 320 sq. in. grate
Amazing folding stand; one-handed set up is possible
Side shelf and tool hooks
Convenient grease management system
Cons
Not enough clearance under the lid for anything taller than a thick steak
Only a single burner
If you love to travel and grill, this should be at or near the top of your list for contenders. There are better choices for a small at-home grill, but it's tough to beat for portability when you're walking into your campsite, setting up for tailgating, or you're on a picnic.
Head on over to our hands-on review and testing of our Weber Traveler for a more detailed look at this grill.
Coleman Roadtrip LXE Portable Gas Grill
8
The Coleman RoadTrip LXE is a foldable propane grill, measuring 33.8 inches by 13.5 inches by 19.1 inches, delivering up to 20,000 BTUs of heat.
And this modern-looking product is packed with features to make grilling a pleasure.
It's compatible with small propane cylinders. You can expect to get an hour or more of cooking time out of a 16.4-ounce cylinder.
It stands out as convenient and versatile. The wheeled base and side tables can be drawn completely into the grill body. This is practical for tailgaters with limited space in their vehicles.
Getting it out of your car or truck and ready to cook is painless. Unfold the base, wheel it to wherever you like, and hook it up to your propane tank. The wheels have treads to roll smoothly over most surfaces if you need to get from your car to a different area for grilling.
There are no separate pieces or parts to panic over once you've assembled the grill. All you have to do is lift the base and lock it into place.
You won't have to bother with matches or a lighter. At the touch of a button, the burners ignite. The cast iron grates are set over two burners.
Each burner can be controlled independently of the other, so you can have 2 heat zones, or even cook indirect.
If you're grilling foods that need different temperatures, this cuts out the waiting time. For meat-lovers, cook medium-rare and well-done steaks or burgers at the same time.
With this product, you get two side tables that extend from either side. You can keep your cooking utensils (or drink) close at hand while you grill.
And as it's built from cast iron, is porcelain enameled, and the grease tray is removable, cleaning and a thorough scrub-down is easy.
Pros
Large wheels can roll over most surfaces.
Base and side tables are foldable.
Little assembly required.
Burners can operate on separate settings.
Ignition is automatic.
Grease tray is removable for cleaning.
Cons
Heating can be uneven at higher temperatures.
Burners aren't covered, meaning grease can drip onto them.
If you want to spend more time enjoying the party rather than grill-related duties, the Coleman RoadTrip LXE is for you.
Broil King Keg 5000 Kamado Grill
9
This Broil King 'Keg' is built for tailgating, with an attachment to hook it up to your truck's hitch. It is a charcoal-fueled keg-shaped grill that measures 41 inches by 27.5 inches by 47 inches, and has 480 square inches of cooking area.
If your tailgate sessions tend to be lengthy and large, this product is up to the job.
One of the major benefits of the Broil King is low charcoal consumption. Due to its incredible insulating properties, it needs much less charcoal than you think, even if you're grilling for hours.
You can make use of two cooking surfaces. The primary one is a cast-iron grate, the secondary is a chrome surface. A thermometer on the lid will show you what's going on with the internal temperature.
The heavy build of this tailgating grill makes for excellent heat retention. When you close the lid and vents, it makes for a tight seal and being a kamado style cooker, can be used for low n slow smoking.
Yes, if you like slow-cooking over charcoal, the Broil King is ideal, able to hold a steady low temp for many hours, with little intervention needed once you learn to control the vents.
And, despite its ability to retain and hold a steady heat, the body itself won't heat up too much or pose a safety hazard, the outside mostly staying just warm to the touch.
And you don't have to hitch the grill to your truck, it includes a base with two wheels to roll it wherever you like. The stand can be leveled, which works to keep it steady and stable. This is important with a tailgate grill of this weight and size.
Two extendable side tables open on either side for drinks or plates. Each table has a row of three hooks for your cooking utensils, with less risk of you knocking your tools and utensils to the ground.
Pros
Detachable side tables include hooks.
Choice of cast iron or chrome cooking surfaces.
Hitch-adaptable, specifically for tailgating.
Removable ash tray for easy dumping.
Retains heat well.
Can cook whole chickens and turkeys.
Wheels for portability.
Cons
Very heavy.
Temperature is slow to adjust after changes.
If you take tailgating seriously, and would like to smoke low n slow on the road, the Broil King Keg 5000 just might be the best tailgate grill for you.
Weber Q1200 Liquid Propane Grill
10
Also appearing in our guide to the best camping grills, The Q1200 is a small LP grill with power. It performs like a bigger model but doesn't burn through fuel as fast.
There's nothing worse than a fuel hungry cooker when you're tailgating. You either have to carry more fuel, or worse — leave the fun to go out and buy more mid-gathering.
The Weber Q1200 measures 24.6 inches by 20.5 inches by 40.9 inches, provides 189 square inches of cooking space, and weighs 26 pounds.
It runs on small propane tanks of 14.1 or 16.4 ounces. One 16.4-ounce tank can get you up to five hours of grilling time, depending on the temperature.
Once you light it up with the automatic ignition, it heats up rapidly. You can get grilling without waiting an age for it all to preheat.
A great feature of this grill is the built-in thermometer. Combined with the temperature dial, you'll have optimal control over the heat. If you're the type of cook who likes to have as much control as possible, you'll enjoy this feature.
It doesn't come with a stand, but it's still appropriate for tailgating. You can place it on the bed of your truck or a fold-out table without worrying about burns.
A side table on either side can be extended to hold drinks, utensils, or plates. These tables are at a good distance from the cooking area itself, so anything placed on them will not be too close to the heat.
This little grill is also excellent for tailgaters who dread clean-up. Nearly every aspect of the design helps make cleaning up simple.
It has a special grease management system and disposable grease pan. All the grease from your meat is channeled straight into the grease pan. All you have to do is toss the pan out when you're finished grilling and replace it.
The cast-iron cooking grate is porcelain-enameled. You can reap the grilling benefits of cast iron without the tedious maintenance due to the easy clean and rust-resistant nature of the coating.
Even the burner tubes aren't hard to scrub down as they are stainless steel. Since the tubes are encased in one piece of steel, there's also less risk of rusting.
Pros
Large handle for secure carrying.
Can be placed on wood or plastic without damaging it.
Doesn't burn propane fast.
Thermometer included.
Clean-up is painless.
Evenly spaced burners for steady heat distribution.
Cons
Stand and other useful accessories must be purchased
Attaching small propane cylinders can be tricky.
Small cooking capacity compared to some others in this list.
This energy-conservative tailgate grill is a big cooker in a portable body.
What to Look for in the Best Tailgate Grill for You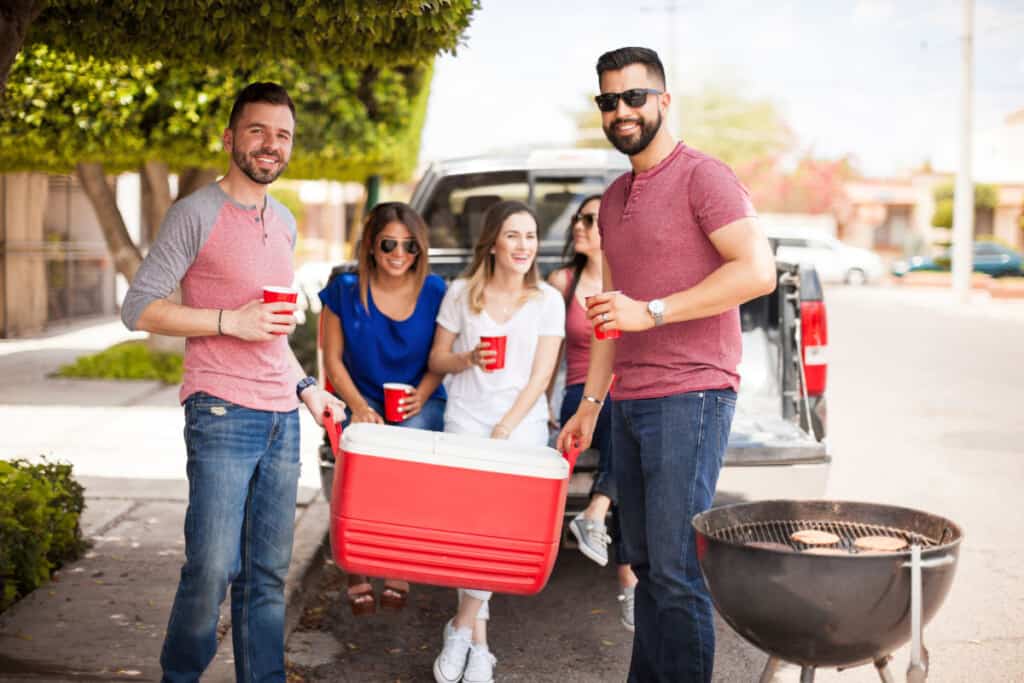 In a previous article, we already underwent a search for the best portable gas grill, any of which would be good tailgating, but not necessarily the best, as the tailgating environment calls for particular deign and features that not all small grills have.
And the best tailgate grill can vary from person to person. Not everyone has the same preferences when it comes to features and specifications.
At the same time, there are some essential requirements—like portability and quality—that every tailgate grill should have.
Let's look at the factors you should consider when looking for the right model for you.
Choice of Fuel to Use
Fuel choice can be a strong personal preference. If you're a charcoal person, it's going to be hard to convince you to go with gas.
If you're new to tailgating, or grilling in general, you may be wondering why you should be thinking about fuel at all?
Basically, you have two choices. But which is better — gas or charcoal? Each have their own advantages and disadvantages. Whether the pros outweigh the cons or not depends on you.
Charcoal is the choice of those seeing themselves as real grill aficionados. Charcoal imparts a subtle smoky flavor to food that you don't get with gas, and is somewhat the hallmark of a good grill out, and the reason many people choose to grill in the first place.
However, the majority of Americans favor propane over charcoal for their grills. Propane lights instantly and heats up quickly, meaning less time waiting around to start grilling. It's also easier to cook for longer on gas versus charcoal, as with charcoal topping up on fuel can be a long, drawn out process.
With LP (Liquid Propane) tailgate grills, you also get the added element of near instant control. All you have to do is twist a dial to turn to the temperature up or down. With charcoal, you have to either starve the fire of oxygen, or oxygenate it more to change the temperature, and the change can take 10 to 15 minutes to kick in.
When the fun is over, you'll find clean-up is usually easier with gas grills. Propane is a cleaner-burning fuel, so you won't have to scrape out ash or residue when finished cooking. It's also odorless and colorless, so all you'll smell is the food you're grilling.
On the other hand, charcoal produces carbon monoxide when burned. And you'll have to take care when disposing of your still hot charcoal briquettes after a tailgating session, to ensure you don't start any fires. The same goes for putting out your grill and allowing the ashes to cool before packing up and heading home.
In the end, it's up to you what fuel appeals to you most.
If you want to learn more about propane versus charcoal, check out our guide: Charcoal Vs Gas — Which is Better?
Compactness and Ease of Packing
When you're picking out a tailgate grill, portability should be a priority. You want it to be light, easy to move and use, so you can use it whenever the opportunity arises. Struggling to move it in and out of your vehicle isn't much fun.
You don't want to end up injuring yourself heaving a huge, heavy grill out of your car or truck. So the best models will be transport-friendly, and easy to set up and pack away after use.
Regardless of the size of your vehicle, a compact grill is practical. You'll want to save space for passengers and tailgating supplies, like drinks and food.
Cooking Capacity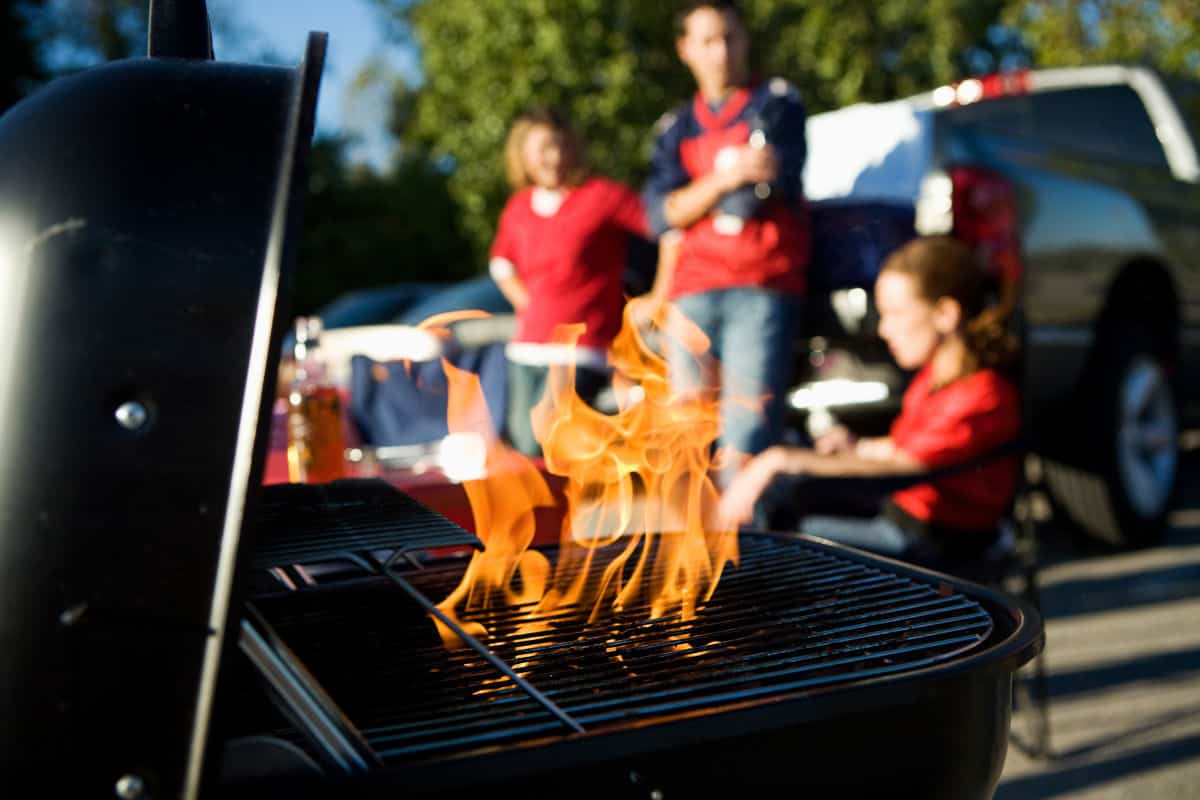 Tailgate parties are like any social event—the more, the merrier. If you have a big family or group of friends, your tailgate grill must have a decent cooking capacity.
This may sound like it contradicts what we just discussed compactness. The larger the grill, the less likely it is to be compact. Still, a smaller model doesn't have to mean less cooking capacity.
Some tailgate grills are built to cook for just a few people. Others are designed to maximize cooking space, so you can prepare food for many people at once.
Even if you're planning to tailgate with just one or two others, give cooking capacity some thought. You never know if you'll encounter other tailgaters, or make friends while you're out and about, that you'll want to invite over for a shared meal and a beer.
Temperature Control
Grilling can be a delicate business, especially concerning meat. If your meat or chicken isn't cooked to the right temperature, you could end up with food poisoning. Burnt, overcooked food isn't a pleasant scenario either.
The best grill for any tailgater should have good temperature control. If you pick a gas model, check out the dial. The more options you have for temperature settings, the better. It should be smooth to turn and conveniently located.
Charcoal fueled models won't come with dials, but they do have vents. These vents will regulate airflow, in turn influencing burn rate and heat.
More vents mean you have a greater degree of control over the temperature. Favor charcoal grills with multiple vents, and possibly with adjustable height grates.
Design and Features
The best tailgate grills will have an all-inclusive quality design. As many aspects as possible should be designed with portability, performance and user-friendliness in mind.
A well-built grill must have a sturdy foundation. The feet should keep the heat well away from the ground or tabletop the cooker is placed on. A badly designed base can result in scorching or, worse, fires.
It also has to be stable on all surfaces, from concrete to grass. You can't have everything wobbling every time you flip a burger.
Those that have wheels make for hassle-free transport and movement. Just be sure that the wheels include a locking mechanism to prevent movement when you start the actual grilling.
Certain models come with lids, so they're capable of roasting as well as grilling. For these models, the lid should close snugly for optimal cooking. Others are built with extendable side tables to set your food and cooking utensils on.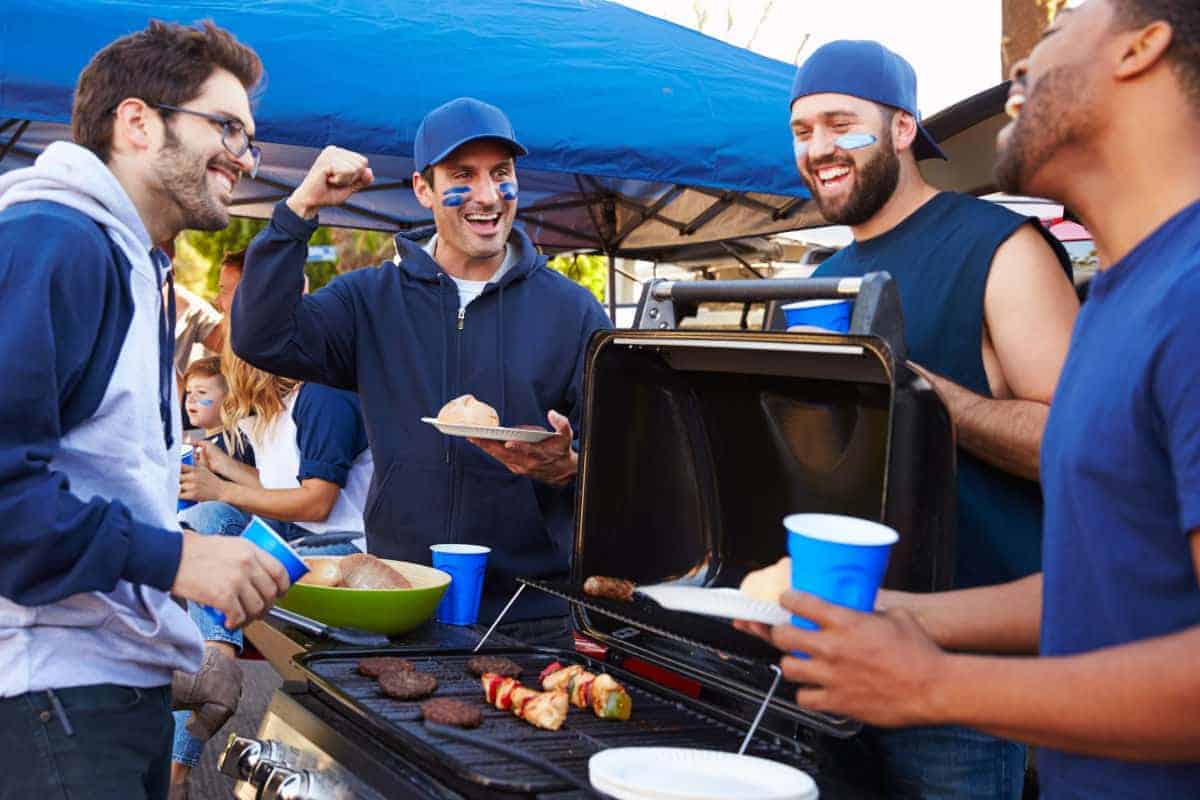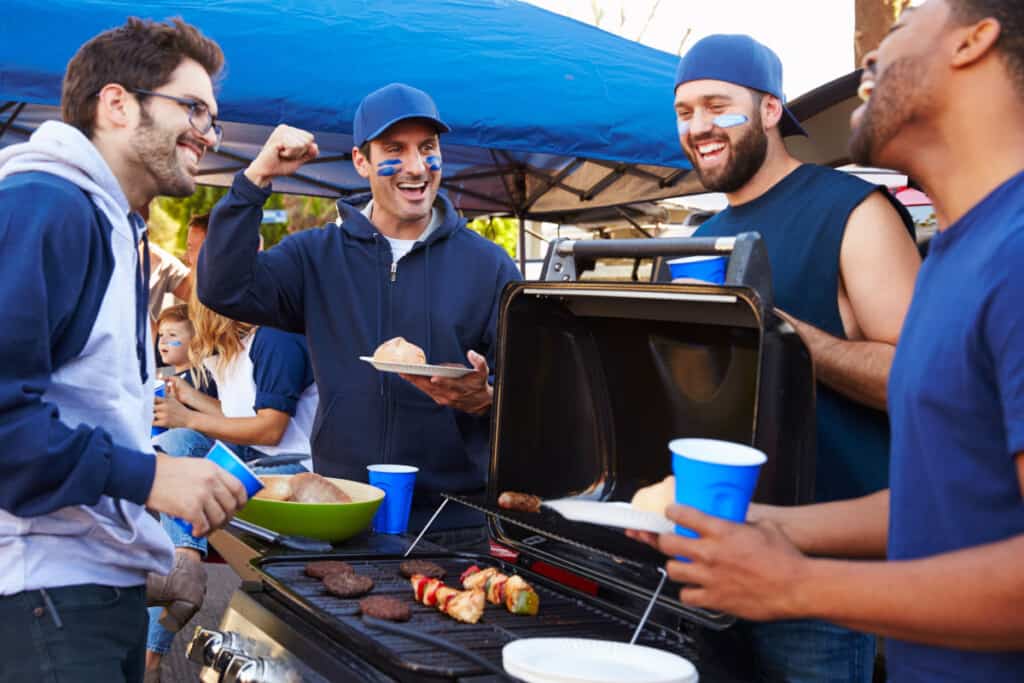 If you're going with a gasser, see how many BTUs it's rated for. BTU stands for British thermal unit. Basically, the BTU rating is a measurement of how much heat it can produce, the higher, the better for out-and-out high heat grilling.
Additional safety features are always a bonus. For example, those with bodies that stay cool to the touch. This way, no one will get scalded if they accidentally touch or brush against it while it's hot.
The materials it's built from can make all the difference. Stainless steel makes for easy clean-up and tends to be more durable too. So do porcelain-enameled parts.
Finally, you can include aesthetics in your final decision. Some grills have a classic, traditional look about them, whereas others are modernized.
Bear in mind that function should always trump appearance. Don't jump into buying a product just because it looks nice.
Quality of Construction and Design
Your tailgate grill should last for longer than a single season. Aside from cleaning-related matters, construction materials play a role in longevity.
A grill can be portable without being flimsy. Stainless steel, enameled porcelain, iron: all are built to withstand the wear and tear of tailgating.
You also don't want it to rust or get dented after just a few trips. Damage of this nature has the ability to affect the way it works, or folds away.
No matter how skilled you are at grilling, you can't compensate for a shoddy build. Tailgate grills that are thinly made rather than solid won't regulate heat well, and this affects the consistency and results of your cooks.
Accessories or Bonuses
No matter what you're buying, additional accessories are always welcome.
Does your chosen model come with cleaning brushes? Maybe a protective cover to keep it safe during transport? How about a handy carry bag to keep your grill and tools in one place?
This shouldn't be your main focus, but if you're stuck deciding between two products, it could be the decider in a tiebreak.
Conclusion
As you can see, the best tailgate grill can vary based on your preferences and habits. We hope that one or more of the products discussed above appeal to you, because really, they are some of the very best you're going to find.
Each of the tailgate grills in our list has its own unique advantages. Nevertheless, we've picked the Weber Jumbo Joe 18-Inch portable grill as our overall winner.
This little charcoal number will have you serving up your favorite foods fast. You get a great level of cooking control thanks to the extra vents, plus, the assembly is painless and cleaning it after use is effortless too.
If you have any questions or feedback for us, please write in the comments. We'll make sure to answer every single one!