Here's our comprehensive review of the Weber Traveler Gas Barbecue, their all-new portable grill, including unboxing, assembly, build quality, and performance analysis.
Traveling, particularly camping and RVing is an exercise in compromise. You get to leave the stress of your job and responsibilities behind, and that's fantastic.
But, traditionally, you also leave behind lots of good stuff, like Wi-Fi, TV, decent bathrooms, and comfortable beds. Oh, and proper food. (Of course, none of that applies to those people with RVs that cost more than my house, or "cottages" that look like luxury resorts.)
I can accept some of those concessions in the name of "roughing it" for some old-fashioned fun. But not the food.
Because I expect quality grub wherever I go, I'm forever on the hunt for the best travel cooking gear. To that end, I've tried plenty of portable grills. And I'm particularly excited about my latest purchase.
Weber knows how to make a very nice grill, and they've put out some top-notch portables. But, the brand-new Traveler Series gas barbecue has the potential to be their very best.
So, with great expectations, I've assembled my new 'cue and tested it out, so you don't have to. Read on to learn my honest opinions, the pros and the cons, about this intriguing new grill.
First Impressions
There's no mistaking this is a travel grill, even with a casual glance. The folding stand, the aluminum construction, the low-profile cooker all scream out "on-the-go" to me. Oh, and it says "Traveler" right on it.
It's easy to see the Weber Traveler was designed with convenience in mind, with rugged-looking wheels, a grease tray that's easy to get at, and even tool hooks on the front. Don't even get me started about the side shelf; that's a feature too many full-size grills lack, so I'm excited to see it on this portable unit.
The Weber Traveler is a good-looking grill to me, too, with the aluminum frame in light grey, the shelf in charcoal, and the grill itself in glossy enameled black. I can well imagine other grill fans stopping by my campsite to check it out and ask a bunch of questions.
Ok, ready to get into the details? Let's do this.
Weber Traveler Portable Gas Grill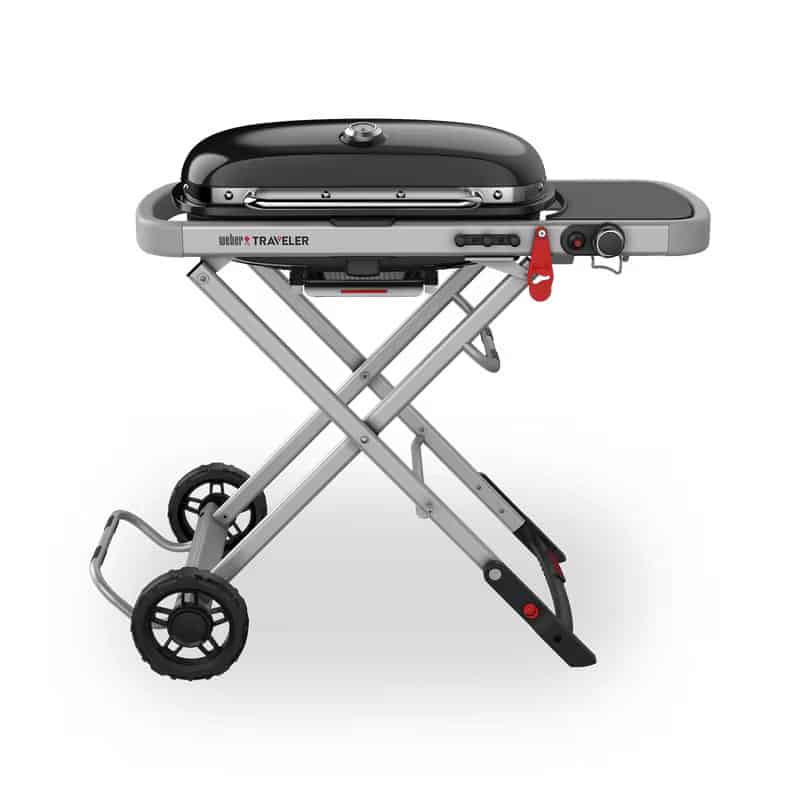 A compact grill, yet with a large grilling area, that can fold to fit inside the trunk of your car and be wheeled around on its own foldable scissor stand. Easy to set up and fold, with a heavy-duty frame and wheels and premium materials, this grill is also easy to use and built to last.
Overview and Core Features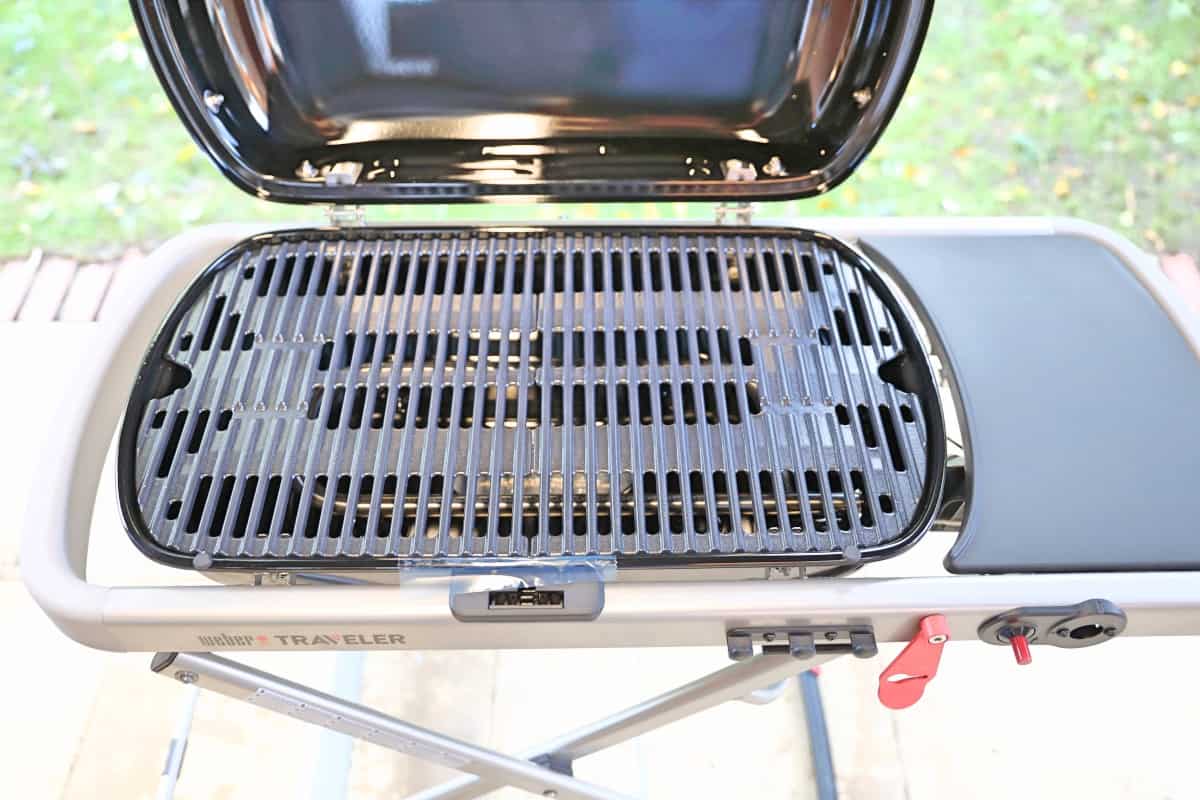 The Weber Traveler is a propane barbecue built with the outdoor enthusiast in mind. Because it's a portable grill, it's made to run on those smaller, disposable 1 lb. gas canisters, but you can pick up an adaptor for 20-pound tanks.
If we look at this as just another travel grill, it's a simple but effective one. The single burner outputs 13,000 BTU per hour, so there's plenty of power to grill even a thick steak, and it will handle all your camping and RVing cooking needs with ease. There isn't enough room under the lid for a whole chicken. But, with 320 square inches of grill space, chicken pieces, chops, burgers, sausages, veggies, fish, and breakfast food are all doable.
The burner ignites with a push of the ignition button, and you can control your heat with the infinitely adjustable knob. They're set nicely away from the lid, so there's no chance of accidentally burning yourself.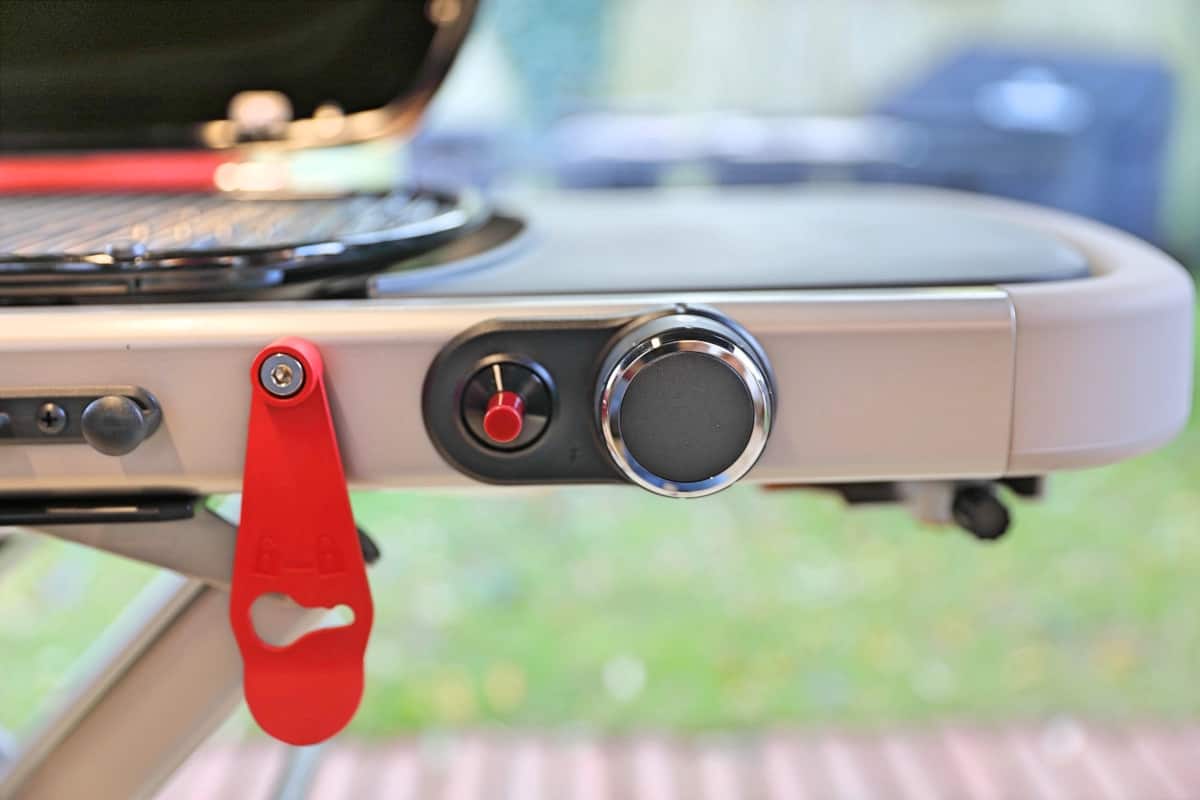 There's a sizable side shelf (say that five times fast) for prepping, serving, and resting your condiments and spices. Up front, a trio of hooks awaits your spatula, fork, and tongs, and a built-in lid thermometer lets you know what's happening inside.
Of course, the real selling point of the Weber Traveler gas barbecue is the excellent cart and stand. The whole unit is engineered to fold flat and open up incredibly easily. I've seen one demo video with the host effortlessly setting up and packing away the grill while wearing high heels and a dress.
In the traveling position, the stand folds flat, and you can roll the grill around on its large plastic wheels as you hold onto the handle. It's a bit like hauling around a golf bag on wheels or one of those suitcases with wheels I'm constantly tripping over in airports.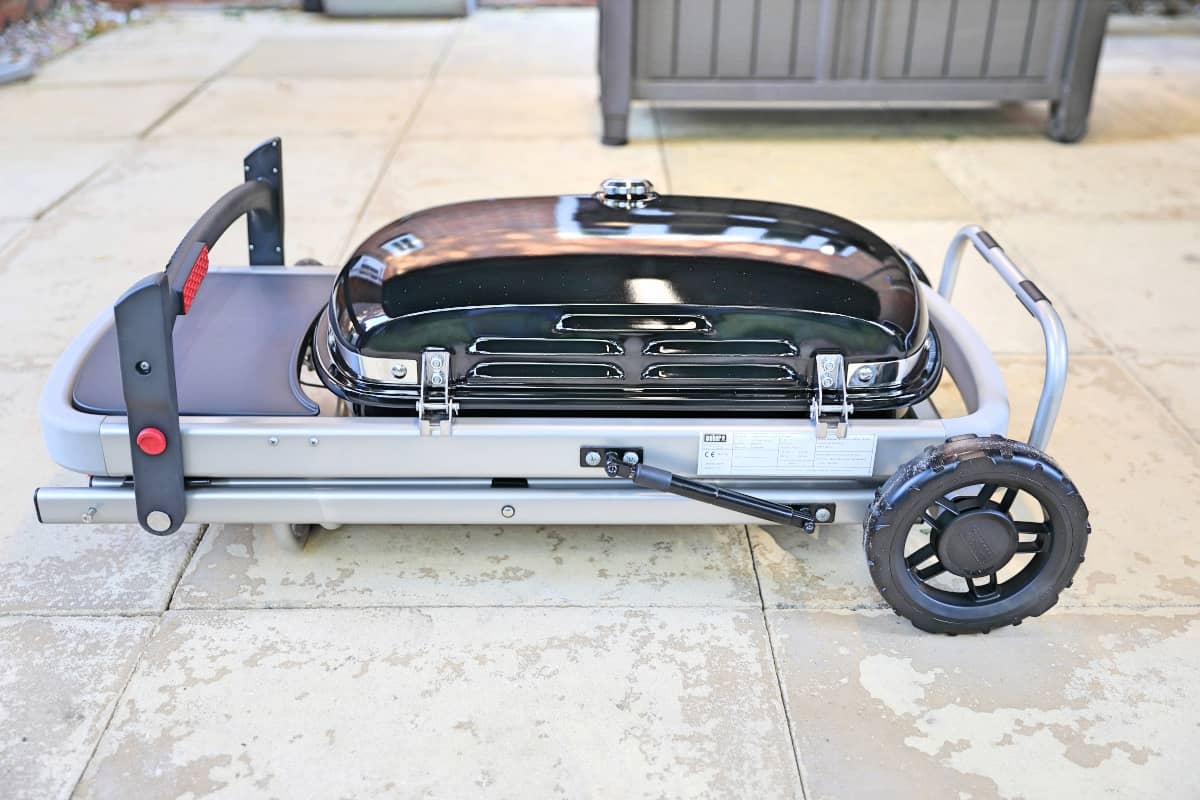 When you're ready to set up, lay the grill on the ground and disengage the red locking clip on the front. Put one foot on the red rectangle on the handle, reach under the shelf, and use it to lift up. Keep lifting until the stand is fully open and it clicks into place. It's remarkably simple and does not require a lot of strength or coordination, mercifully.
To fold it back down, first, remove the gas canister — as a safety feature, the Weber Traveler will not fold down with a canister in place. You should also empty your drip tray to prevent making a mess in your vehicle.
Put your foot back on the red rectangle and find the red handle under the side shelf. Pull up and out on the handle, and then let go! The stand has a gas piston, allowing it to fold down under its own weight slowly. The red locking tab snaps back into place, and the grill lid automatically locks shut. Grab the handle and roll it away!
Manufacturer Specs
Main Burners: 3.8 KW
Dimensions — Lid Closed: 94.5 CM H x 110.8 CM W x 58.4 CM D
Total Cooking Area: 2065 CM2
Weight: 28.141 KG
Stain less Steel Burners: 1
Fuel Type: Liquid Petroleum Gas
Durable All-Weather Wheels: 2
Tool Hooks: 3
What We Like
The folding stand is a marvel of engineering. The weight of the grill becomes virtually irrelevant (it weighs over 60 pounds) because it's so easy to set up and tear down, and you never have to worry about finding a table or other spot to set your grill. It also automatically locks the lid as the stand folds, and unlocks it as it opens.
I can't say enough good things about having a workspace beside the grill and the tool hooks. Little touches like that make grilling on the go much more pleasurable.
There's plenty of searing power, and the grates are high quality. That means you can cook food you actually want to eat, not just what's doable on a portable grill. So pack those extra-thick steaks and lemon slices and herbs for when you reel in the big one. This grill does them justice.
What Could Be Improved
Having a single burner is a bit limiting since you can't set up an indirect cooking zone. There's enough space here, so it would have been nice to get dual burners for more flexibility.
There's no way to remove the grill from the stand. I'm sure 99% of the time, that's not a problem. But, it would be cool to have the option to detach it for true tailgating, motorcycle trips, or to plonk down on a picnic table without bringing the cart along.
On cold days, the Weber's own brand 1 lb. tanks of mixed butane and propane result in an impeded flow of gas that seriously affects the maximum temperature you can achieve and has even stopped the grill from working. So on cold days, you need to splash out on pure propane canisters that cost more than double Weber's own brand gas canisters. This makes the adaptor kit to hook up to larger propane tanks a necessity if you live in or use the grill in a cold region.
Weber Traveler Portable Gas Grill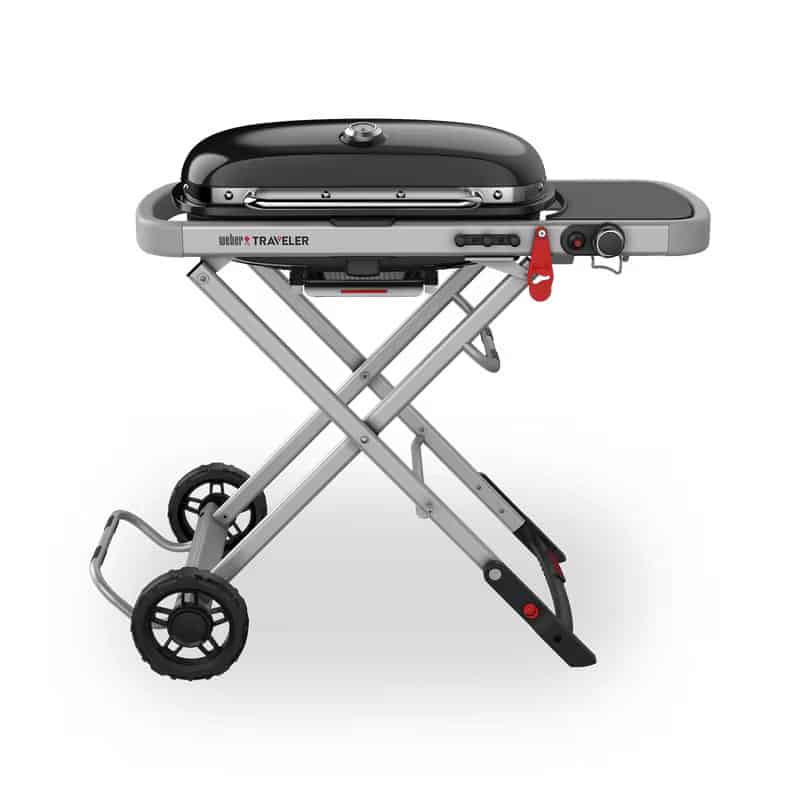 A compact grill, yet with a large grilling area, that can fold to fit inside the trunk of your car and be wheeled around on its own foldable scissor stand. Easy to set up and fold, with a heavy-duty frame and wheels and premium materials, this grill is also easy to use and built to last.
Unboxing and Assembly
Honestly, the anticipation of opening a new grill is almost as exciting as actually using it. Almost. Let's get it open and see what we've got.
What's Included
Inside the colorful Weber box, your Traveler grill is already nestled into the folding stand, and comes with the wheel assembly, drip pan with a liner, dual grill grates, and an instruction manual.
Ease of Assembly
The Weber Traveler comes almost assembled right out of the box. You simply have to attach the wheels, insert the grates, and slide the grease collection tray into it's holder.
Weber also have the instructions on Biltapp, an android and iOS app with animated 3d instructions, 360 degree photos, parts lists and more, so you can simply follow along. Here's a few example screenshots:
Basically, assembly is simple and foolproof.
Overall Build Quality
When you buy a Weber grill, you expect a quality product. The Weber Traveler portable gas grill lives up to that expectation. Maybe not the absolute top of the line, but still, a darn good grill that's well-built and thoughtfully designed.
As I've already covered, the stand is incredibly well thought out. Thanks to the hydraulic-assisted hinge, I love the fact that you can open it with one hand (and one foot), and there's no chance of it crashing down and pinching a finger.
Both the cookbox and the lid are made of porcelain-enameled steel. Durability should be perfectly adequate, and it's easy to clean, too. Speaking of cleaning, I like how easy it is to access the drip pan — just slide it out from the front and either wipe it out or replace the foil liner. (You can buy them from Weber for not much, or just line the pan with foil.)
The single burner tube is made from stainless steel and looks as good as any Weber tube I've seen. They didn't cut any corners on this grill just because it's small.
Which brings me to the cooking grate. I'm so pleased to see Weber went with porcelain-enameled cast iron. That combo delivers the best in durability and cooking performance. Unfortunately, some portables cheap out on the grate, and that's a shame. Why should I compromise just because I'm not at home? Weber says I shouldn't. Good on you, Weber!
The Weber Traveler in Use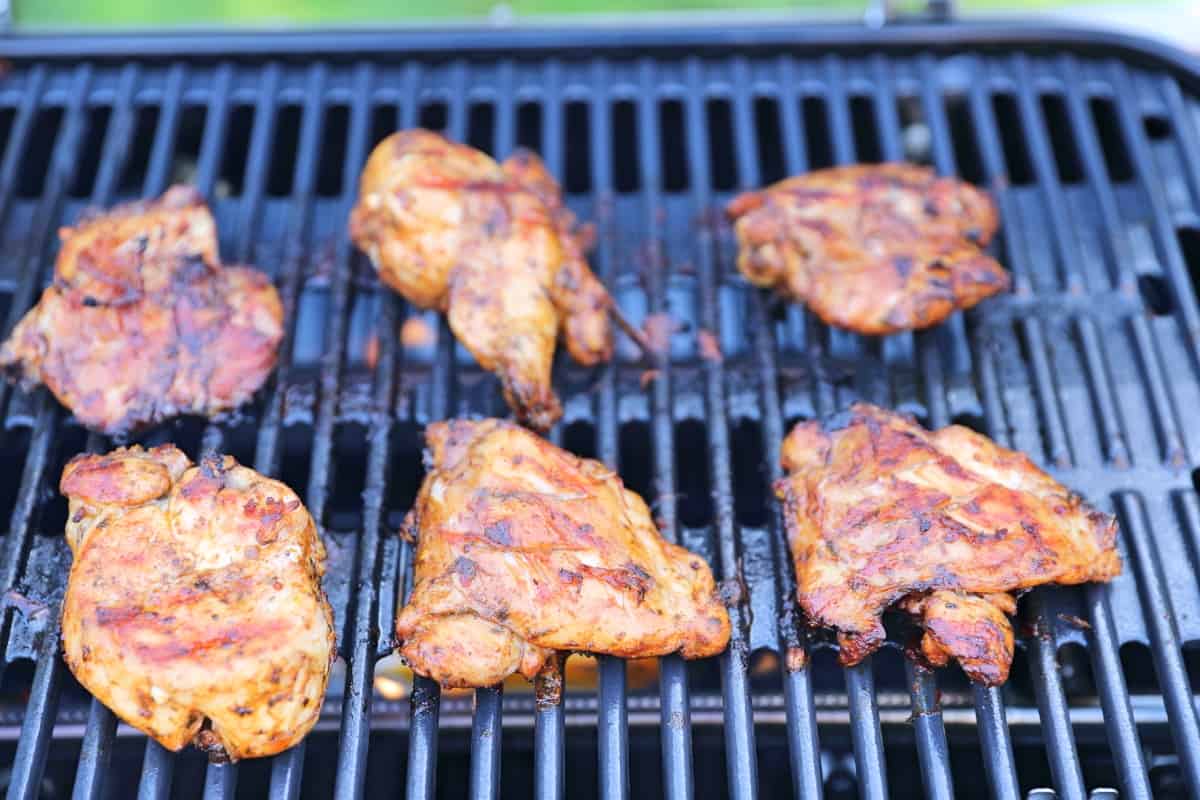 So what's our assessment of the Weber Traveler in use?
After a fair few cooks and a couple of camping trips over the past few months, here are our feelings on different aspects of its use.
Portability
When it comes to portability, there are essentially two types of grill:
Those that pack up small, and must be placed on the floor, a bench, or some sort of table.
Those that come with their own cart with wheels, to be wheeled around from A to B that in use have their own table.
The Weber Traveler is obviously the second type and, by design, will be far larger than type 1 as they include a table or stand on wheels.
So if you are looking for the kind of portability that means a very small, compact unit you can pack into a tiny trunk space to take up minimal room, this is not the grill for you.
But if you are looking for the kind of portability, meaning a grill that packs down reasonably flat, comes with its own stand, prep table, and can easily be wheeled around on its own wheels, then this grill ticks those boxes.
It's a portable grill for RVers, campers, and those with a good space with which to transport a grill around. I think Weber has hit the right notes with the portability of this unit.
Raising and Lowering / Folding up and Down
First of all, raising and lowering down the scissor cart could not be any easier, and it's actually quite satisfying to see and do.
I think it's best shown in the official Weber video:
As you can see, it is incredibly easy, a well-engineered, and well thought out solution to a folding cart and table. I love it.
Ease of Operation
We've already discussed the ease with which you can raise the grill from folded, getting it ready for action.
Next, connecting the gas bottle is a cinch. Once you have the grill raised, you simply screw your disposable gas bottle onto the regulator on the underside of the grill.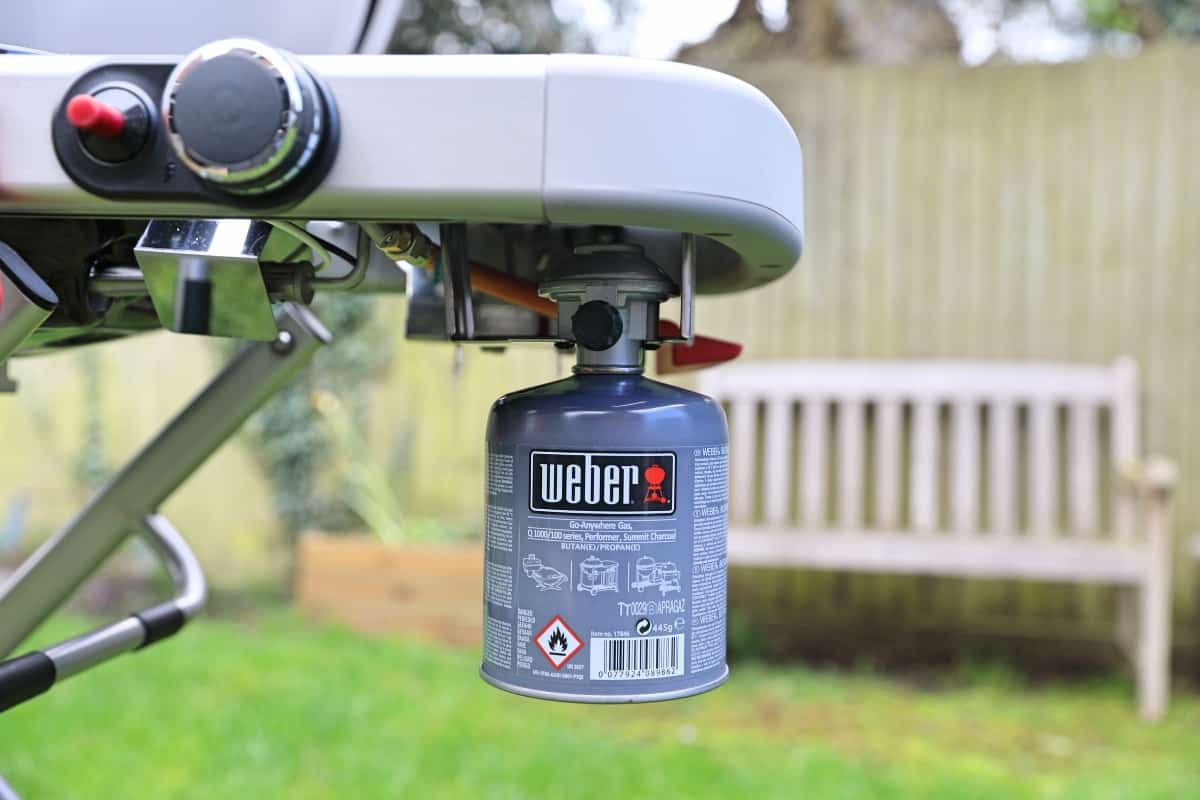 To light the grill, you simply turn on the gas at the regulator, turn on the burner control knob, and press the built-in igniter. It always lights with just one or two clicks.
Temperature Control and Accuracy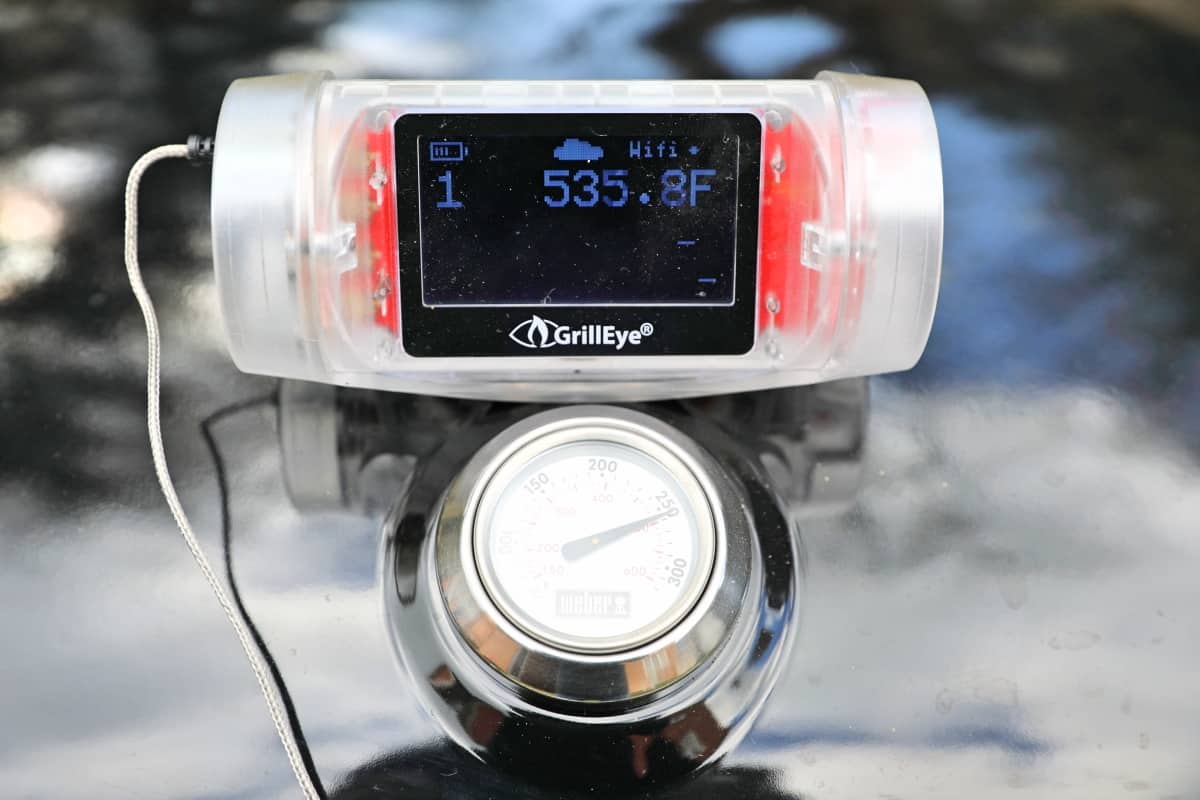 Temperature control couldn't be easier, with a single gas knob and a built in lid thermometer.
Simply light the grill and allow it to come up to a stable temperature. From lighting, in 74 °F / 23 °C ambient air temp, the grill took just 9 minutes to reach a 500 °F grilling temperature. In 50 °F / 10 °C ambient air temp, it took just 12 minutes.
When you want to bring the temp down, or wish to cook at less than maximum, simply dial the gas control knob down and wait for the displayed temperature on the lid thermometer to stabilize, which typically takes just 5 to 7 minutes.
The lid thermometer seems reasonably accurate. It read 500 °F when a meat thermometer probe read 535 °F at grate level. Lid thermometers are generally always higher in a gas grill, because the heat rises and gets caught in the lid, so it's reasonably accurate.
Grilling Performance
The Weber Traveler comes up to grilling temperatures quickly, and the porcelain-enameled cast-iron grates hold heat well. When I cooked burgers, chicken, pork chops, and steaks, I was able to get decent grill marks and a nice Maillard crust.
I did find the outer edges on the left and right were slightly cooler than the middle section of the grill, but it's not a big issue as the grill is so spacious. You could even say this is handy so you can move things around a bit to speed up or slow cooking.
So, in conclusion, it loses some points for having cold spots on the edges but otherwise performs really, very well.
Smoking Performance
It's not a great grill for smoking on for two reasons.
Firstly, because it only has a single burner, you cannot create an indirect heat zone. So you can only really grill things with direct heat, you cannot slow roast on it.
But like any gas grill, you can add a smoke tube or foil packet of wood chips to add a hint of smoke to anything you are grilling.
Sadly, I couldn't get a smoker box to work. I tried placing it directly on the burner tubes, but it didn't ignite because it smothers the tube below, killing the flame. It also doesn't get hot enough when sitting on the grate to ignite the wood chips either.
But I have used a smoke tube, and a foil packet, with success, by placing them directly on the burner, as can be seen in my jerk chicken cook above.
Secondly, it only has 5 or 6 inches of space between the grate and the grill lid. So you are unable to get anything large in the grill anyway.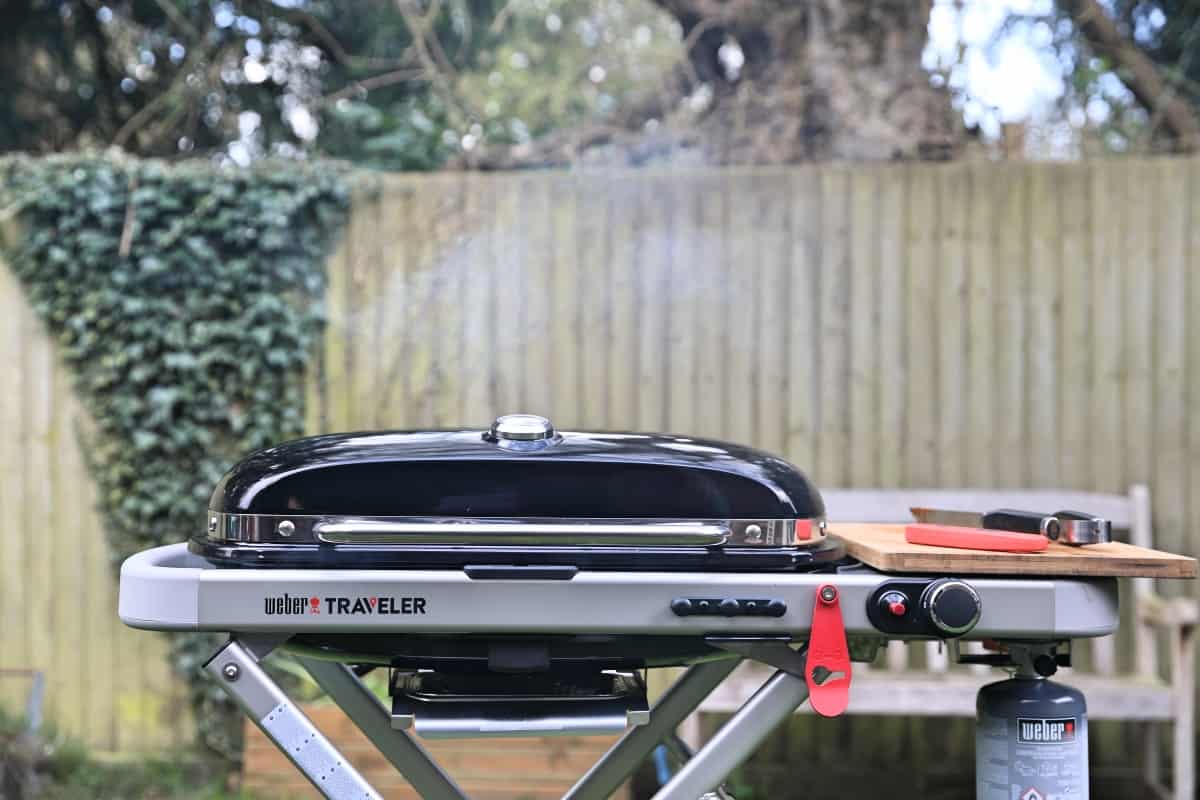 So yes, it's not got out and out smoking as a capability, such as to smoke ribs, or large roasting joints. But you can add a lick of smoke to anything you're grilling if you desire.
Ease of Cleaning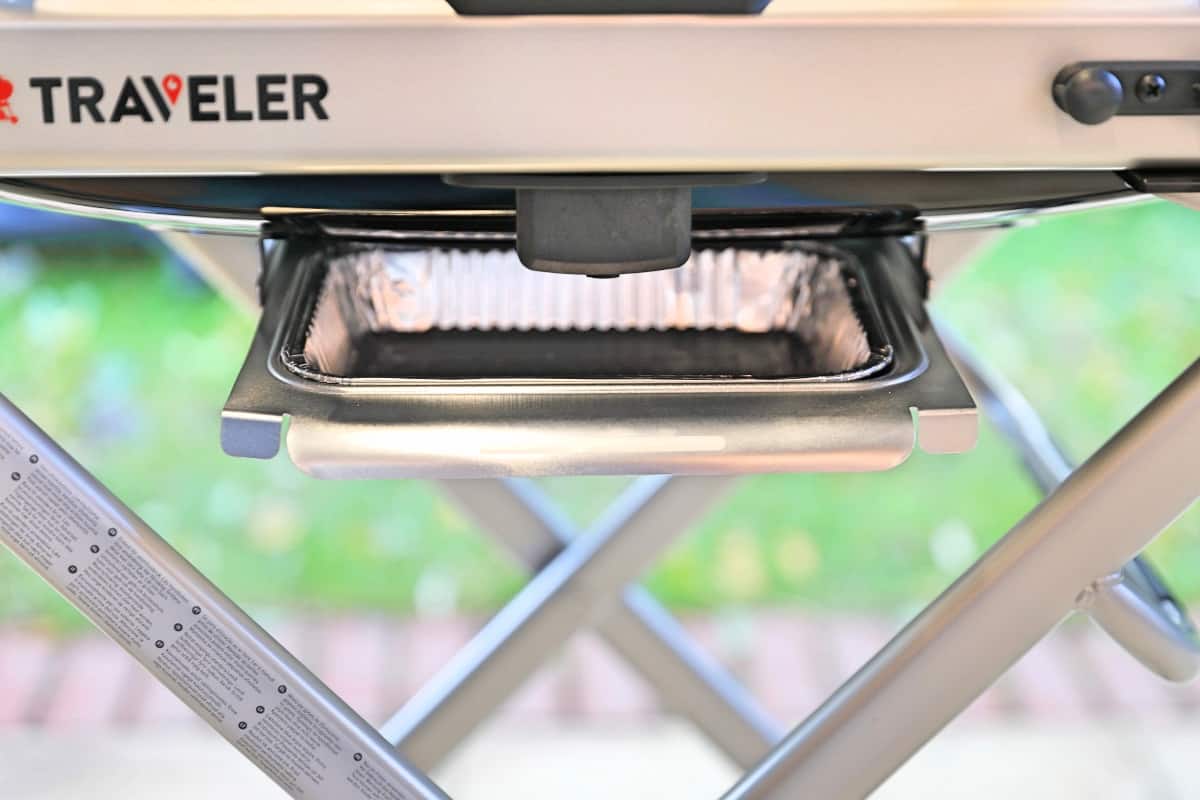 There is an integrated drip tray at the unit's base for grease collection. It's easily accessible, simple to remove and replace, and can be washed with soapy water.
So to clean the Weber Traveler, all you need to do is allow it to cool slightly, then use a good grill brush on the grates before removing the grates and setting them aside. Then use the grill brush and some kitchen paper to scrape and wipe down anything on the inside down into the grease collection tray. Finally, empty out and then wash the drip tray.
Honestly, cleaning couldn't be any easier.
Cold Weather Warning!
I used this grill once on a sunny but cold day, when the ambient air temperature was just 37 °F / 3 °C. It stopped working, and after some digging and thinking, I think I know why!
Weber's own brand of 1 lb gas canisters — that they sell as compatible with this grill — is a mix of butane and propane.
Butane has a boiling point of -2 °C, while propane has a boiling point of -42 °C.
Now, with the grill running at a high temp, the gas flows fast, and as liquid gas expands and leaves the canister, the canister cools. After a short amount of time, the canister began to freeze, taking it below -2 °C, and then the gas stopped flowing!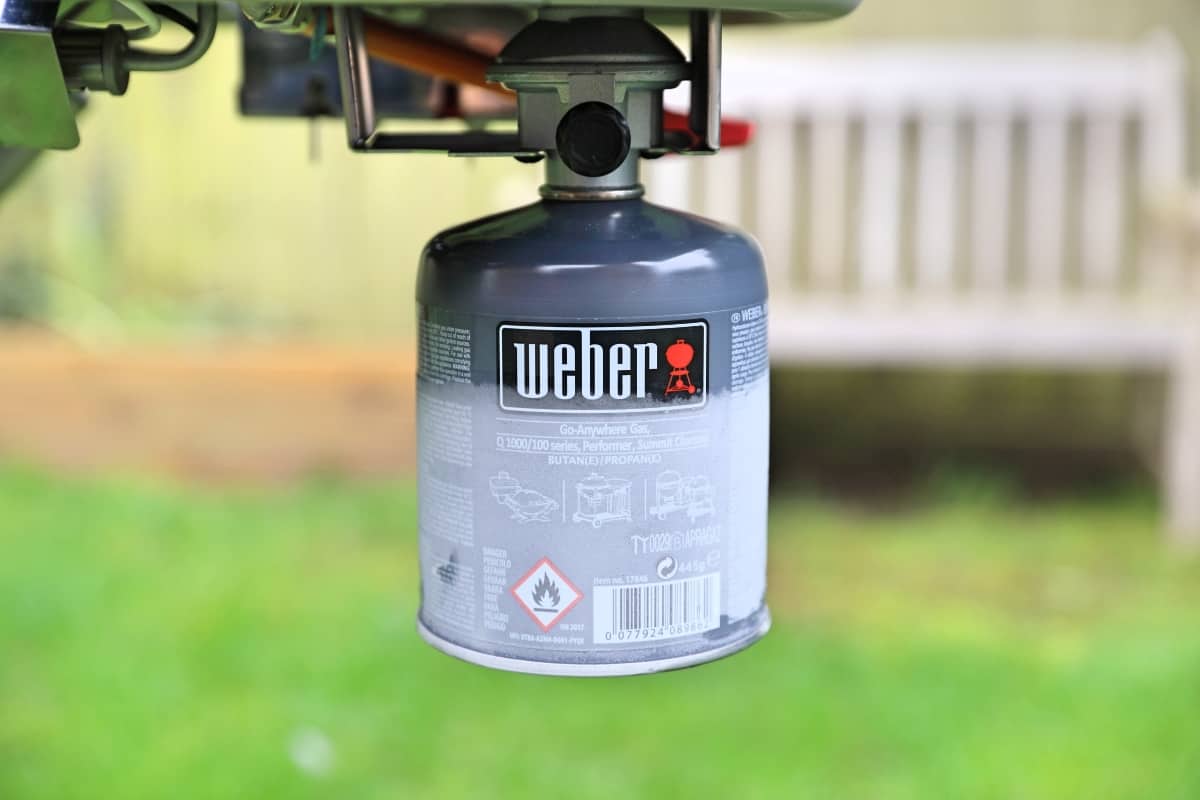 I had to switch two or three times between different gas canisters to finish my cook…which was a right pain in the a**!
So if you live in a cold climate, or will be using this grill where it's cold, you will have to either buy pure propane gas canisters that can be used in waaaay colder temperatures than butane or propane and butane mix canisters, or you will need to buy the Weber Adaptor to use the gill with a full-size gas bottle.
I find this mildly annoying because there's no mention of this in the Weber Traveler manual, and in fact, on page 8 of the manual, Weber themselves say:
"Use disposable LP cylinders with a capacity of 16.4 oz./465g (1.02 lbs) equipped with a CGA #600 connection and marked 'propane' only."
So Weber recommends 'propane only' in the manual, yet on their website sells a butane and propane mix to use with the Traveler and have no option for a pure propane canister.
So be warned! This grill will stop working in the cold if you use Weber's recommended gas canisters. I had no such issues when the ambient air temperature was 60 °F / 15 °C or higher.
Weber Company Overview, Support, And Warranty
Starting as a small company making kettle grills in Chicago since 1952, Weber has grown into a multinational company, becoming perhaps the most recognizable name in home barbecue. Their current line-up includes gas, charcoal, wood pellet, and electric grills in various sizes, from tiny portables to massive outdoor ranges.
You can engage an AI chatbot at the Weber site or fill in a form describing the problem if you need support. You will have the option to include files or photos to supplement your form.
Weber provides a solid warranty on the Traveler: 5 years on the cookbox and lid, 3 years on the burner tube and cooking grates, 2 years on any plastic pieces, and 2 years on everything else. Over the years, Weber has proven to be reliable for good customer service and responding to issues.
They also maintain an extensive FAQ section and a library of how-to videos to help you along. Plus, there are many unofficial Weber Facebook groups you could join, where there's always someone (or many someone's) with words of wisdom to share.
Who is the Weber Traveler Best Suited to?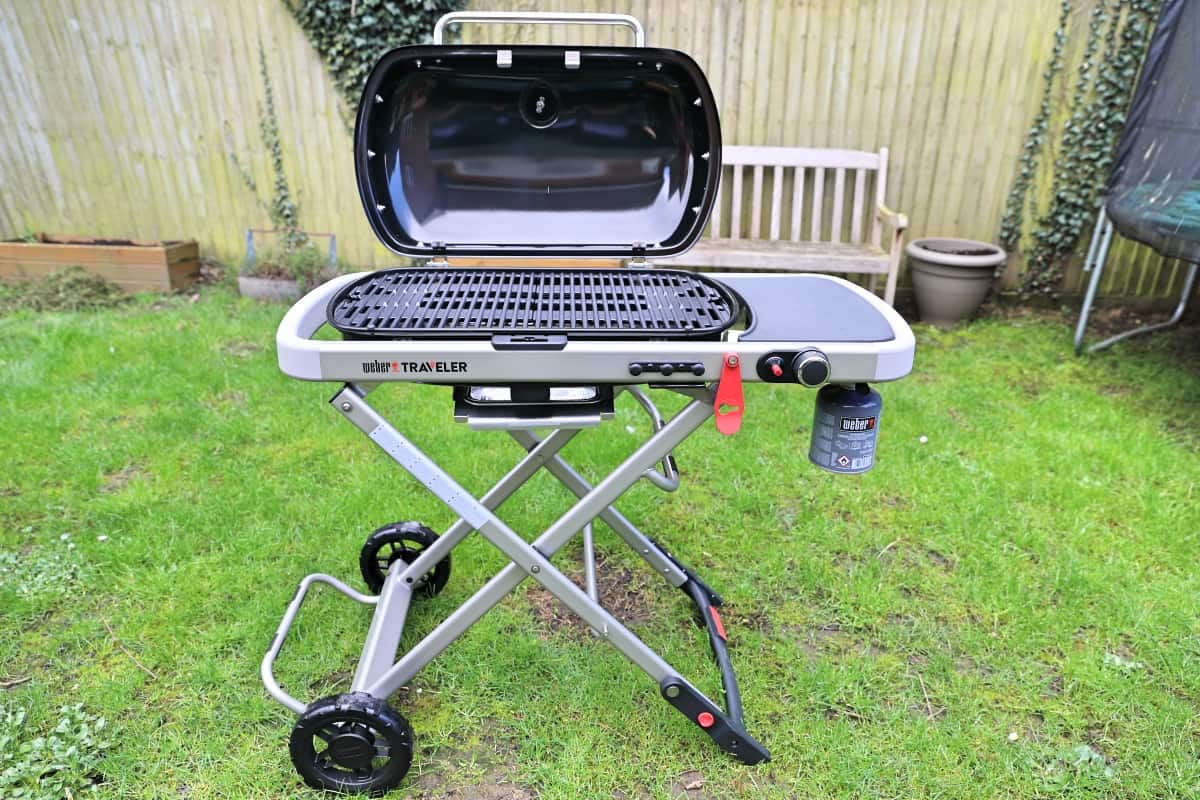 It's a good overall grill, but it's no substitute for a full-size backyard barbecue. As the name implies, the Weber Traveler is meant for life on the road.
If you're a frequent camper, RVer, or cottager, you'll appreciate the mix of portability and power. It folds down flat enough to fit in most vehicles and trailers, you don't have to figure out where to put it when you get where you're going, and it provides a good quality barbecue experience.
You might also consider the Weber Traveler if you have minimal outdoor space, such as a condo patio or balcony, or if you live on a boat maybe. It has a small footprint, and you can clear it away when it's not in use. Just be sure you're allowed to cook with an open flame where you live before you pick one up.
I must say, though, this grill is only suitable for out and out grilling of small, quick items. Think sausages, burgers, chicken pieces, steaks, chops, and vegetables. It cannot be used for roasting or smoke roasting because it only has a single burner, meaning no indirect heat zone can be achieved.
So if you only wish to grill small items quickly, the Weber Traveler is great. But if you want to roast whole chickens, ribs, or large joints of beef while on the road, this isn't the grill for you.
Summary of Pros and Cons
Pros
Excellent build quality
Well engineered, elegant, and impressive cart design that effortlessly opens and closes, wile locking the lid automatically
Large wheels make it easy to wheel around
Easy to open and fold closed
Workspace table and tool hooks
Plenty of searing power
High quality cast iron grates
Generously large cooking surface area
Cons
Single burner is limiting as you cannot create different heat zones
Cannot remove the grill from the cart, which you might sometimes wish to do
I suffered Webers own brand gas bottles freezing up and stop providing gas on cold days
Low lid height doesn't allow cooking large, tall foods
Do We Recommend the Weber Traveler?
We sure do! Weber has given us another fantastic portable grill in the Traveler, one that addresses many of the issues that plague other travel grills.
It's ideally suited to making small meals and cooking, well, flat things. What it won't do is let you roast anything or handle large cuts because the single burner doesn't allow for indirect heat grilling.
The stand is awesome, and yeah, it folds down flat to fit in your trunk or trailer. But, it still takes up way more room than most other portable grills. Before you grab one, be sure you've got somewhere to pack it when you're on the road.
Weber Traveler Portable Gas Grill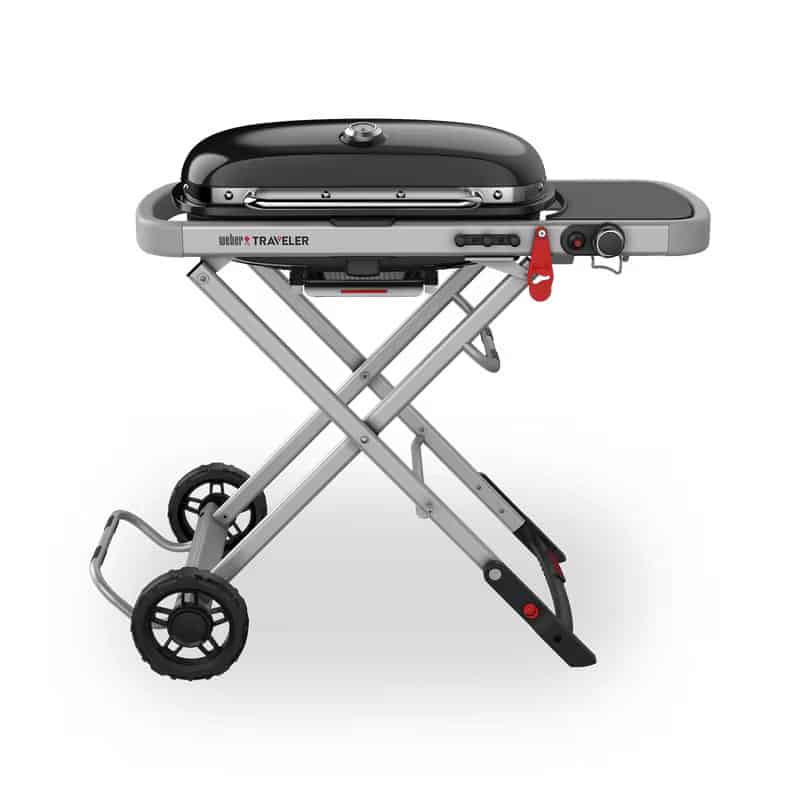 A compact grill, yet with a large grilling area, that can fold to fit inside the trunk of your car and be wheeled around on its own foldable scissor stand. Easy to set up and fold, with a heavy-duty frame and wheels and premium materials, this grill is also easy to use and built to last.
Alternatives to Consider
The most standout feature of the Weber Traveler is the scissor stand. And there are a couple of similar options from alternative brands you should consider before dropping your money.
For something a little less pricy, not quite as well engineered but still a very good grill that also has two burners so can do indirect heat cooking, check out the Coleman Roadtrip X-Cursion Propane Grill:
For a more premium, professional grilling and smoking experience on a portable grill, check out the Napoleon PRO285X-BK TravelQ Portable Gas Grill.
I have the version without a scissor stand, and can tell you that I absolutely love this grill. Click here to chekc out my review of the Napoleon TravelQ Pro285. Alternatively check prices and more details below:
Final Thoughts
There's no question that not a single portable grill on the market can compare to the "wow factor" of the Weber Traveler folding itself down and locking in place for travel.
It's more than just a gimmick, though — I think it revolutionizes portable grilling in terms of convenience, if not the actual cooking itself. It isn't cheap, but it's a fantastic investment for weekend warriors.
What do you think? Is the Weber Traveler for you? If you're still not sure, check out our other reviews of gas and charcoal portable grills to make some comparisons. The perfect travel barbecue for you is out there!
Thanks, as always, for reading and choosing us to help you pick your next grill.