Introducing the Napoleon TravelQ Pro 285, a portable gas grill for cooking on the go. Read on to learn the key specs and features, plus an in-depth review of assembly and usage.
I honestly was about to write, "If you don't find me at home, you'll probably find me somewhere else." It was so bloody absurd, I decided to include it anyway so we could all have a good laugh.
My point was to be that when I'm at home, I love to grill. And I love to grill on a quality barbecue. When I'm not at home, I still love to grill. Picnics, beach days, camping — they all go better with some tasty food hot off the 'cue. But, what's often missing is that nice grill; I've cooked up lunch and supper on some god-awful "barbecues."
Napoleon thinks that shouldn't be the case. So, I decided I needed to check out what their fine engineers had come up with.
If you're in the market for a small, portable gas grill, join me as I discover what the Napoleon TravelQ Pro 285 brings to the picnic table. We'll go through the unboxing and assembly process, review core features and specs, then put it through its paces. By the end of this review, you'll know if it's right for you, and I'll know if I've wasted my money.
First, let's get superficially judgmental.
Napoleon TRAVELQ PRO285 Portable Gas Grill
A portable grill with 285 square inches of cooking space, with a high topped lid and dual burners, will allow you to cook up to 20 burgers at once, roast a chicken, turkey, or even prime rib. All in a professional package with quality components and high build quality.
First Impressions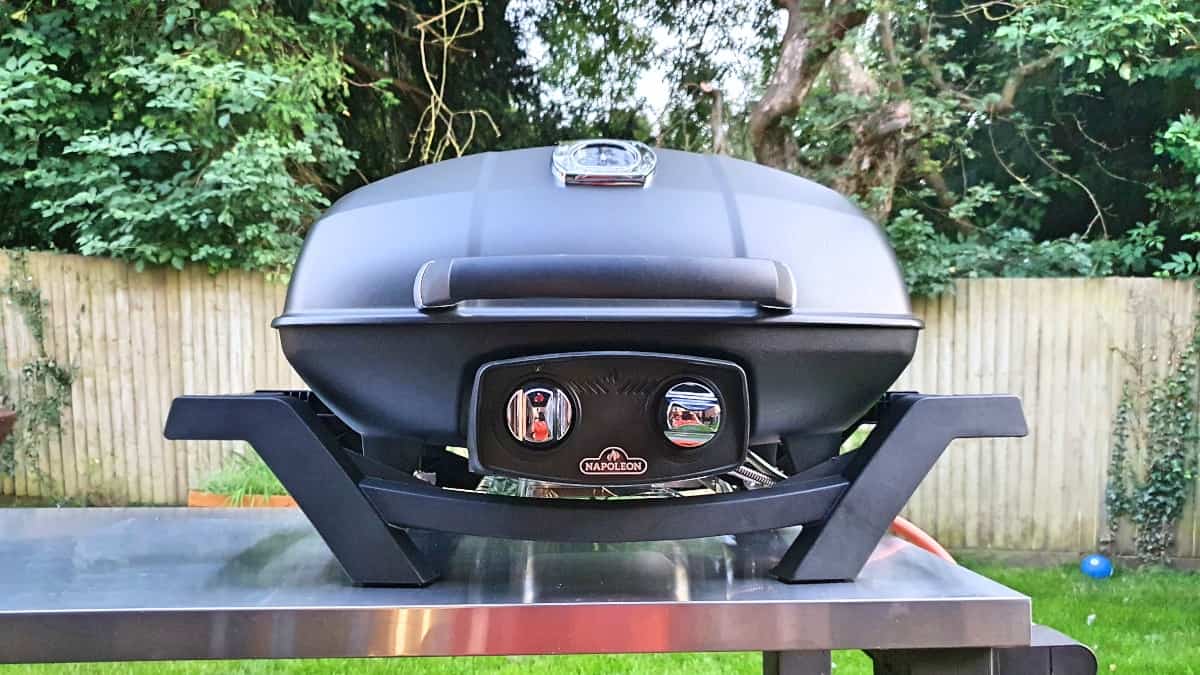 Well, it has that basic black thing down and looks like a barbecue, not an accessory color-coordinated with your cooler. It reminds me in appearance of the Weber Q series portable grills. But I suppose there are only so many ways to configure one of these things. It doesn't wow me with its looks, but there's nothing wrong with it, either.
I'm pleased to see two knobs on the front. Two burners should equate to two-zone cooking and more versatility than you often get on a stow-and-go BBQ. We tested this and can report it's successful and versatile in this manner.
It's a solid-looking and feeling grill with a cast aluminum body and lid, and I instantly got the feeling it'll hold up to a lot of travel and the inadvertent abuse that goes along with that. I also notice that the lid seems pretty tall, tall enough to accommodate a small ham or a chicken. I always love having options beyond the obvious.
The stainless steel burner tubes look excellent quality, will not rust, and are built to last. And the cast-iron cooking grates are substantial, will hold heat and sear beautifully, and will last for many years if basic cast-iron upkeep protocols are followed.
Overview and Core Features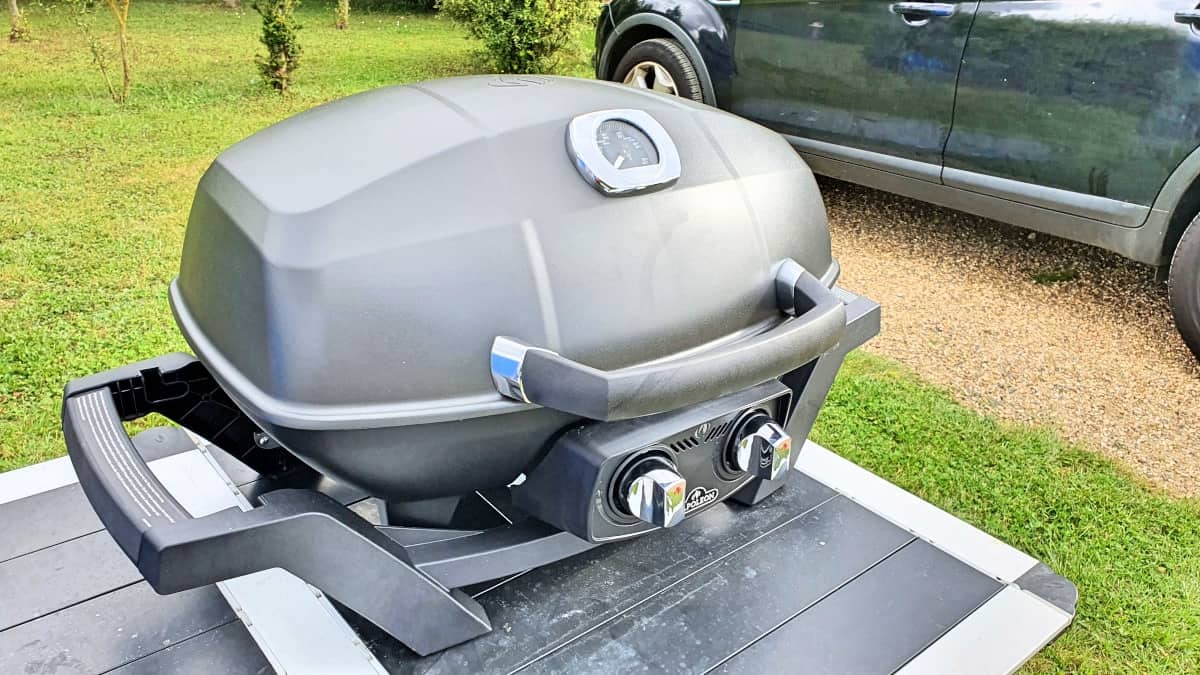 How does the Napoleon Pro 285 spec out, and what are the pros and cons? Got that all right here.
Cooking area: 285 square inches
Burners: 2 stainless steel tubes
BTUs: 12,000 (2 x 6000)
Dimensions (W, D, H): 29" x 18.5" x 14.75"
Weight: 29 pounds
Material: Cast aluminum
Grill grate material: Porcelain-coated cast iron
Warranty: 10 years on lid and base; 5 years on burner tubes and grates; 2 years on everything else
Portable grilling often means making compromises versus what you're used to at home. Typically, you give up on space, versatility, and cooking quality to enjoy some basic barbecue. I won't say the Napoleon TravelQ Pro285 completely does away with compromise, but it is a lot closer to a home grill experience than most portable gas grills allow.
The dual burners are perhaps the primary differentiator between this grill and many other portables. If you know about two-zone cooking already, you know how much variety this instantly adds to what you can cook. For example, with one burner up high and one down low, you can sear a steak on the hot side and finish it on the cooler side. Or, you can leave one burner off and cook meat using indirect heat grilling.
Fortunately, the tall lid provides enough height to cook something large enough to warrant the indirect heat method. There's enough room for a small chicken or game bird or a small roast.
Thanks to its squat build, the Napoleon TravelQ Pro 285 is sturdy and very difficult to knock over. Thick, plastic handles stick out from each side, making it easy to carry — but not while it's hot; that's an express route to burnt fingertips.
The dual cooking grates feature Napoleon's signature wave pattern, making grilling small items like asparagus much more manageable — they won't fall between the bars! I also love how this pattern prevents wieners and sausages from sitting in the grooves, a particular pet peeve of mine.
I suppose since you'll typically use this grill on a tabletop or tailgate, we can excuse the lack of side shelves. Still, I'd prefer to have them there, so I have the option, at least.
What We Like
Dual burners mean more variety, including cooking over indirect heat, searing on one side and finishing on the other, or having a "keep warm" zone.
The cast aluminum construction is durable and traps heat efficiently, allowing for roasting under the dome-like lid.
The grates are often the weak point of a portable grill. But, these cast-iron grates are every bit as good as those found on full-size Napoleon barbecues.
The fact this grill hooks up to large propane tanks and not 1 lb. disposables can be seen as a bonus due to the extra running time, longer time needed between changing bottles, and the resulting savings in cost to run the grill due to cheaper fuel.
What Could Be Improved
Cast aluminum is lighter than cast iron, but it's still a heavy grill for a portable unit. Don't plan on hiking too far with it unless you have help and carry it between two people.
Unless you buy the version with the folding stand, there are no side shelves for a workspace.
The connector hose running from the burners to your propane tank is a bit short, so it may require some strategic thinking to hook up.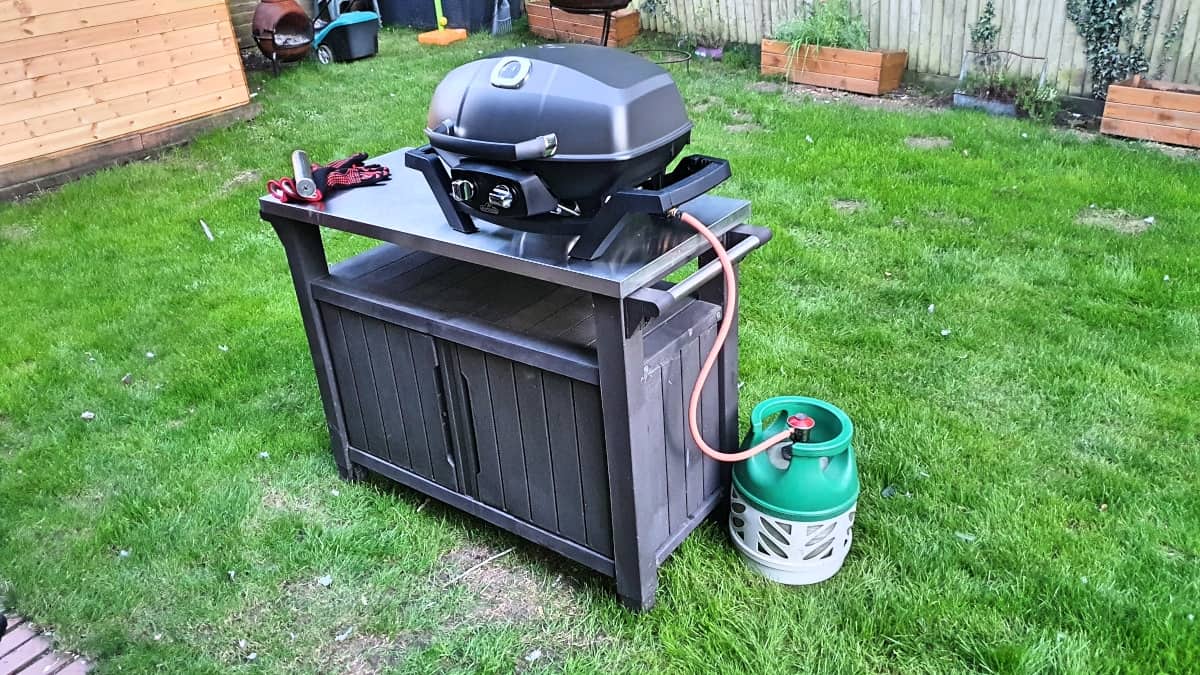 Did we say the fact it hooks up to bulk tanks is a feature we like? Well, it's a double-edged sword. You cannot use disposable 1 lb. bottles at all, you can only use large tanks.
This fact takes away from this grill's portability as you need to transport a large gas bottle along with the grill, which may limit its appeal. There is also no way to convert the grill to use 1 lb. bottles as there simply isn't room under the grill to connect a bottle with the correct orientation safely. You are stuck with large gas bottles only on the end of a hose.
Who is the Napoleon TravelQ Pro 285 Best Suited to?
The primary purpose of this grill is to give you something to cook on when you're away from home. As such, it's best for people who like to camp, especially drive-in camping and RVing, since it's on the heavy side for backpacking. It would also be great at a cottage or cabin, on a boat, or as a tailgating grill.
You might also consider it as a secondary grill for home. For example, if your main barbecue is tied up with a roast or turkey or anything that requires an extended cook time, you could use the Pro 285 to cook a few burgers or hot dogs at the same time, or maybe some veg for a side dish.
Anyone cooking solo or for two or with limited outdoor space might also love this grill, given the small footprint and relative versatility.
Napoleon TRAVELQ PRO285 Portable Gas Grill
A portable grill with 285 square inches of cooking space, with a high topped lid and dual burners, will allow you to cook up to 20 burgers at once, roast a chicken, turkey, or even prime rib. All in a professional package with quality components and high build quality.
Unboxing and Assembly
Just so you know what you're in for, here's a preview of what to expect when your own Napoleon TravelQ Pro 285 arrives, and you're ready to put it together.
What's Included
Inside the well-packed box is your grill (pretty much fully assembled) and an owner's manual and setup guide. Seriously, that's it, other than the cardboard inserts that keep it from moving around in transit.
Ease of Assembly
Unless you count removing the plastic covers from the grates and then putting them in place, there is no assembly required for the Napoleon TravelQ Pro 285. Gotta love that.
However, You should follow a seasoning process with the cast-iron grates before use, to help create a non-stick layer and protect the grates from rust. So plan on a good 90 minutes or so to get this done. But it's a one-off process and should be followed with anything cast-iron that you ever buy and cook on.
Overall Build Quality
Like all Napoleon grills, the Travel Q Pro 285 is a premium barbecue that's expertly built from high-quality materials.
The cast aluminum body and lid strike an almost perfect balance between durability and weight reduction. It's still moderately heavy at 36 pounds, but it's not unmanageable. Plus, the trade-off is better impact resistance, and it holds in heat more efficiently for more consistent cooking than you'll experience on cheaper models.
The quality of the cooking grates is exceptional, especially compared to other portables. You expect to get steel wire grates in a compact grill. But, Napoleon raised the bar on the Pro 285, going with porcelain-coated cast iron for superior heat distribution — and sexy grill marks! Honestly, I've owned full-sized home grills with significantly worse grates.
Beneath the grates are twin stainless steel burner tubes, each one looping back in itself to form a rough square. Not only are they made of quality material, but they also deliver even heating with a minimum of hot spots. In addition, the JETFIRE ignition is responsive and usually lights on the first try.
The Napoleon Pro 285 in Use
I've now owned the Napoleon Pro 285 for a few months and have used it multiple times at home and twice while camping.
Here's how I found the grill in actual use, cooking meals for my family friends.
Portability
I would summarize this grill as being the biggest you can get away with while still being able to call it portable. Any bigger, and you would have to say it's not meant for travel.
It's a fairly large grill, and because of its shape doesn't pack too well. It can also only be run from large gas bottles connected to a hose, not your typical 1 lb. camping bottles. Considering all this, it's not the most portable of grills by any means.
But it does fit easily into most car's trunks and is light enough to be carried by a single person, although taking an end each by two people is better.
All in all, it's a great grill for small backyards, and perfectly suited for those with RVs or campers who have a lot of space in which to transport a grill.
There is also an optional scissor stand with wheels, that folds down and converts the grill into essentially a loaded sack truck for easy wheeling about. This stand also provides side tables for a workspace. This setup might be preferable to some with an RV or campervan.
Napoleon TravelQ Pro 285X Portable Gas Grill on Scissor Stand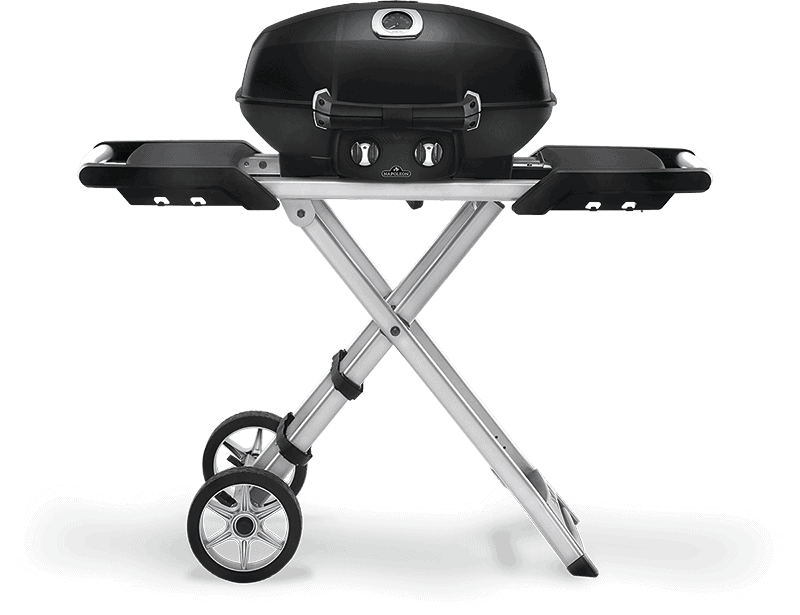 A portable grill with 285 square inches of cooking space, with a high topped lid and dual burners, will allow you to cook up to 20 burgers at once, roast a chicken, turkey, or even prime rib. All in a professional package, with quality components and high build quality, with collapsible scissor stand included.
Ease of Operation
Using the grill could not be simpler.
To get things going, it has a built-in JETFIRE ignition system, that ignites a flame thrower like flame when you turn the gas knob and push it in, igniting the two burners. No batteries are required.
This JETFIRE feature has worked for me first time, every time, since I've owned the grill.
The gas knobs are large and user-friendly, and the lid thermometer is fairly accurate in my testing.
So this grill is easy to light, easy to control temperature on, and overall ease of use is simple. But let's dive deeper into different aspects of its use.
Temperature Control and Accuracy
The Napoleon Pro 285 grill has two independent burners, one for each half of the grill. This allows you to create two separate heat zones for grilling at different temps or roasting and smoking by using only one burner and leaving the second one off.
The gas dials have approximately 135 degrees of rotation to take the burner strength from 100% down to a small dull flame, so there's plenty of room and rotation for adjustment.
The dials aren't marked for temperature, but that's perfectly normal as it varies so much, considering one burner or two, ambient air temperature, wind, and more. But being a gas grill, the effect of adjustments is quick, and you only need to wait a few minutes to see where the new temperature settles, as reported on the built-in lid thermometer.
And the built-in 'Accu-Probe' lid thermometer is reasonably accurate and reliable. Generally speaking, built-in grill thermometers are highly unreliable, but it's reasonably close and easily good enough after comparing the Napoleon Pro 285 lid thermometer with my digital probes.
So for temperature control and accuracy, this grill passes the test.
Grilling and Smoking Performance
I've cooked numerous things on this grill now, and I'm pleased to say it grills excellently and performs almost as well as a full-sized grill, which from the size and quality on display, you can see was Napoleon's intention.
From startup with both burners, it takes just over 10 minutes to get up over 550 °F which is quick, and plenty hot enough for some serious searing capability. And the wavy cast iron grates heat up and hold heat well, that in combination with the large D-shaped burners, ensure an even heat with no extreme hot or cold spots.
In cooking the steak in the following picture:
I was able to get the grill up to temp in about 10 minutes, sear the steak for 4 or 5 minutes per side, moving it around the open grate occasionally to keep it on hot grates. I then turned off one burner (under the solid grate) while reducing the lit burner to about 3/4 power, before placing the steak over the unlit burner to finally come up to temp. Easy, intuitive, and works very well.
I have taken this grill camping a couple of times, and as you can see in the following picture, if you purchase the solid cast iron griddle accessory, it's competent at grilling bacon, eggs, and warming a roll:
You could easily grill pancakes, smash burgers, onions, prawns, or anything small or liquid as long as you purchase the solid griddle accessory, which is something I highly recommend.
The solid griddle plates are porcelain-enameled, thick and heavy — showing they are of high quality — and give you a level of versatility to be able to cook almost anything on this grill.
I purchased two solid griddle plates to use simultaneously because my tent tends to be the place for egg and bacon sandwiches in the morning whenever myself and multiple friends are on a campsite. And it also gives me versatility by being able to have either two traditional grates, two solid grates, or one of each.
Finally, how is the roasting and smoking performance? I'd say it's not the best, but the spacious domed lid, generous cooking space, and temperature control are pleasantly good enough for such a small grill.
As you can see in the following images, I successfully smoked a whole chicken:
I used the smoke tube accessory from Napoleon, filling it with wood chips and placing it under the grate. I then smoked a whole chicken by placing it on the cold side of the grill (over the burner turned off), controlling the smoking temp with just a single burner lit. I was able to adjust the heat to anything between 160 °F and 300 °F with just a single burner, which easily encompasses preferred smoking temps of between 225 °F and 275 °F.
I will say that the smoke flavor generated is mild, but that's true of smoking on any gas grill. I was happy with the results, but yes this is not an out and smoker. It is a grill you can smoke on if you have the desire and skill, much the same as any gas grill.
And though you can use a foil packet, I recommend purchasing Napoleon's smoke tube, as it sits nicely under the grates on top of the burners, so doesn't take up grate space. Though you could use any smoke box that's small enough to fit under the grates — or simply place on the grates — as you can see in the images below:
One thing with this grill is it can be affected by wind. I've never had the blowers go out, but the temperature can swing a bit when it's cold and windy. However, you have to expect this with any small gas grills, and you need to counteract this with a windbreak somehow.
All in all, this grill grills very well and can be used for roasting and smoke roasting successfully.
Ease of Cleaning
After a fair bit of use, and cleaning and maintenance, I can say that this grill cleans out easily and quickly.
Once you finish cooking, clean the grates with a good grill brush while still in the grill. Any debris will fall into the grill body and into the grease catcher.
Once clean, simply remove the grates and brush the inside of the grill body with a good grill brush and then some kitchen paper, pushing any debris down into the grease catcher.
Next, remove the grease catcher, empty it into a bin, and wash it out with soapy water, followed by a good rinse.
Now lightly coat the grates with vegetable oil to help prevent corrosion between use.
I did have a fair bit of grease drip onto the burner tubes once. I simply fired up the grill to mostly burn this off, followed by a good rub by my grill brush. They unblocked and were perfectly fine after.
Napoleon Company Overview, Support and Warranty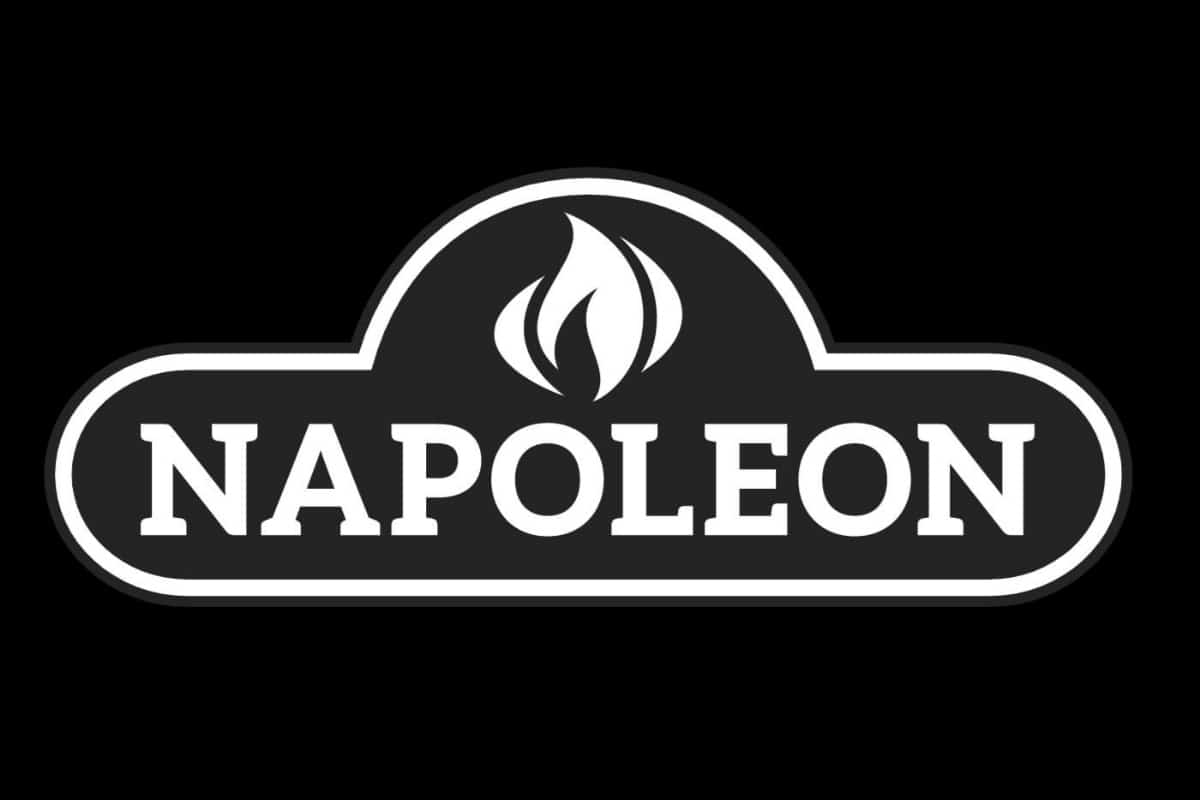 Napoleon makes a range of products, including gas, electric, and charcoal grills, complete outdoor kitchens, fire tables, fireplaces, and even furnaces. If there's a fire involved, chances are they make it.
The roots of Napoleon stretch back to 1976 when it was a steel fabricator in Ontario, Canada. Barbecues came into the product line in 1995. They've been recognized as one of Canada's Best Managed Companies and have won numerous awards. Today, they have production facilities in North America, Asia, and Europe.
They have a reputation for building quality products and providing a solid warranty and customer support.
The Travel Q Pro 285 comes with a 10-year warranty on the main body and lid, 5-year coverage for the stainless steel burner tubes, and 2 years on everything else.
If you need support, you can fill out the online form or give them a toll-free call Mon-Fri from 8:30a to 5p, Eastern Time. Note that they aren't answering phones in North America on Canadian holidays. If you're an American, don't worry — they have the same Christmas and New Year's Day you do, and there's the added advantage of being OPEN when you're celebrating Thanksgiving or Independence Day.
Napoleon also offers a decent library of videos on their website and YouTube, and they're on all the big social media channels. There's one good-size Facebook owners group for North Americans, and that type of group is usually good for tips and troubleshooting.
Do We Recommend the Napoleon Pro 285?
Napoleon TRAVELQ PRO285 Portable Gas Grill
A portable grill with 285 square inches of cooking space, with a high topped lid and dual burners, will allow you to cook up to 20 burgers at once, roast a chicken, turkey, or even prime rib. All in a professional package with quality components and high build quality.
Without hesitation, I recommend this grill for all your getaway grilling, including camping and RVing, as long as you have ample room to transport it along with a large gas bottle.
I also recommend it as a secondary home grill or a small primary grill for couples, singles, and people with small outdoor spaces.
The mix of superior materials and quality in this well-built grill, with surprising versatility backed by a reliable name, makes this an excellent buy. It's not inexpensive, but it's worth it.
However, if you're looking for a small portable grill that packs easily into a trunk, and must be considerate of the space your travel grill consumes, then it's too large for some people. So think carefully on the dimensions of this grill — plus an essential gas bottle — and be sure you have room in your vehicle to transport it before buying.
Summary of Pros and Cons
Pros
Build quality is excellent
Dual burner for versatility, being able to create dual heat zones
Dome like lid allows for roasting and smoking, so can do more than just outright grill
The cast iron grates are as good as those found on full sized grills
Hooks up to large propane tanks for extra runt ime and more time between changing bottles
Made from cast aluminum, so is highly corrosion resistant and will last a long time
Cons
Aluminum is light, but this is till a heavy grill for a portable
No side shelves or work space included (unless you buy the version with stand)
Short hose between grill and propane tank. I would have liked to have seen a longer one
No lockable lid to keep it shut during travel
Final Thoughts
I'm looking forward to more days away with my new grill; food is a big part of the experience of vacations and day trips for me.
I'm confident you'll also enjoy moving beyond the good ol' combo of an open fire and hot dogs or fighting with a low-grade "portable" grill instead of having fun with your family and friends.
If you pick one up, send a few words about your experience. I'm always curious to know what others think about the gear I like. You can send an email, use the form below, or follow FoodFireFriends on Facebook and Instagram and join the conversations there.
Cheers, friends! Thanks for reading, and enjoy some great grilling wherever the road takes you.