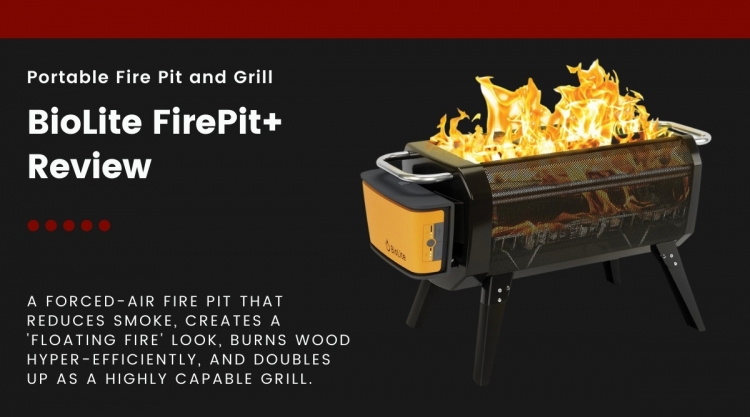 Here's our hands-on look at the BioLite FirePit+, including unboxing and assembly and a complete performance review.
There's a case to be made that the ability to harness fire is the single most important technological breakthrough in human history. We wouldn't have cave paintings, steam engines, or smoked brisket without it. I don't know about you, but I wouldn't want to live in a world without those things. Especially the last one.
But, how do you improve on fire? You make it easier to make, control, and enjoy. And that's exactly what BioLite claims to deliver with the FirePit+.
I love cool outdoor gadgets, so I was ecstatic when BioLite reached out saying they'd like to send me a FirePit+ to review, especially when I saw those magic words: "New" and "Upgraded." Oh, and we can't forget the "Bluetooth App."
So, let's take my new toy for a test drive and see what makes it tick. I'll unbox it and assemble it for you, go over the features and benefits, uncover some honest pros and cons, and then show you how well it works. In the end, I'll give you my final verdict and tell you whether it's worth the money and if you need one in your life.
Stick with me, friends. Pit's about to get real.
Disclosure: BioLite sent me the Firepit+, grill lid, prep and grill toolkit, and griddle free of charge in return for my honest review. I purchased the FirePoker, FireMat, and carry bag accessories myself.
What is the Biolite Firepit+?
If you strip it down to the essentials, it's not much more than a box for making a fire in. But, of course, in actuality, it's a whole lot more than that. I guess that's why it's a FirePit "plus." So, how do you "plus" a fire pit? Like this:
You add a whole bunch of 21st-century tech for a more efficient burn and the smartphone control we expect from basically everything nowadays.
You end up with an advanced fire pit system that burns wood or charcoal with extreme efficiency thanks to a forced-air system. You can use the BioLite FirePit+ for a purely decorative fire, for warmth on a chilly night (outdoors only!), and for cooking small quantities of food.
How Does it Work?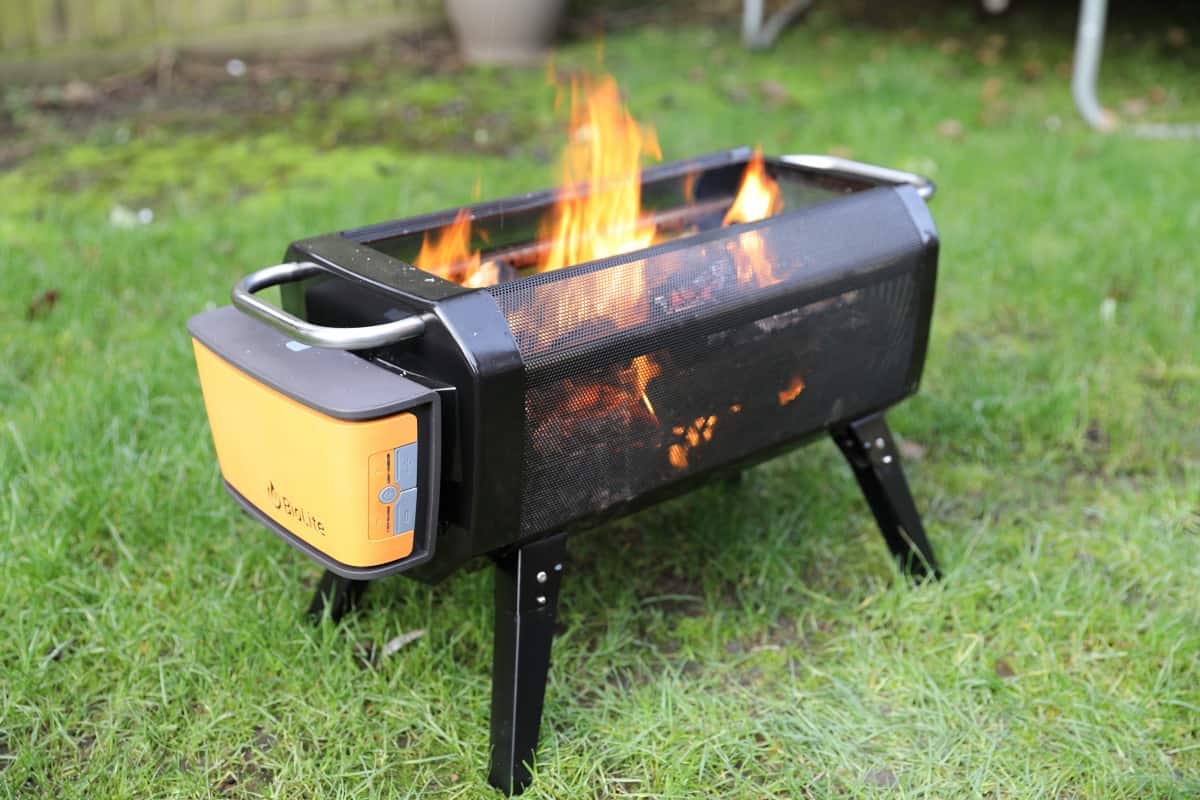 It seems odd to have to explain how a fire pit works. But, this is not your everyday firepit! Let's explore the two "modes" of the BioLite FirePit+ and see how they function.
How to Use as a Firepit
I'd consider this the "default" configuration for the FirePit+ and its primary purpose.
With the fuel rack set at the bottom of the burn chamber, build your fire just like you would any campfire: start with small pieces of wood and kindling, plus something to get it lit, like starter cubes. Use a long match or butane lighter to ignite the starters or kindling.
Turn on the powerpack at the end of the burn chamber and set it to one of the two lowest fan speeds. This starts the air flowing through the 51 holes positioned around the burn chamber and fueling your fire.
When the fire is burning strong, you can start adding larger logs. The BioLite FirePit+ holds up to four pieces of cordwood, but you have to be sure not to block the air holes and always leave space around the wood for air to circulate.
After adding large logs, you may want to turn the fan up to full power to help them catch fire more quickly before reducing the fan speed and kicking back with a beautiful blaze.
How to Grill With it
Cooking on the BioLite FirePit+ is like grilling on a hibachi grill. You have two choices: cook over a wood fire or charcoal.
For woodfire cooking, build a fire as I described in the previous section. You may want to keep the fire a bit smaller, though, to minimize the risk of burning.
To grill over charcoal, raise the fuel rack to the upper position. Fill the rack with briquettes and add your starter cubes. Light the cubes with a match or butane lighter and switch on the fan to full power.
The forced air won't take long to set all the charcoal ablaze. Once that's happening, reduce the fan speed to allow the briquettes to settle down into a warm glow.
Install the included grill grate using the slots built into the burn box. And that's it — you're ready to cook!
First Impressions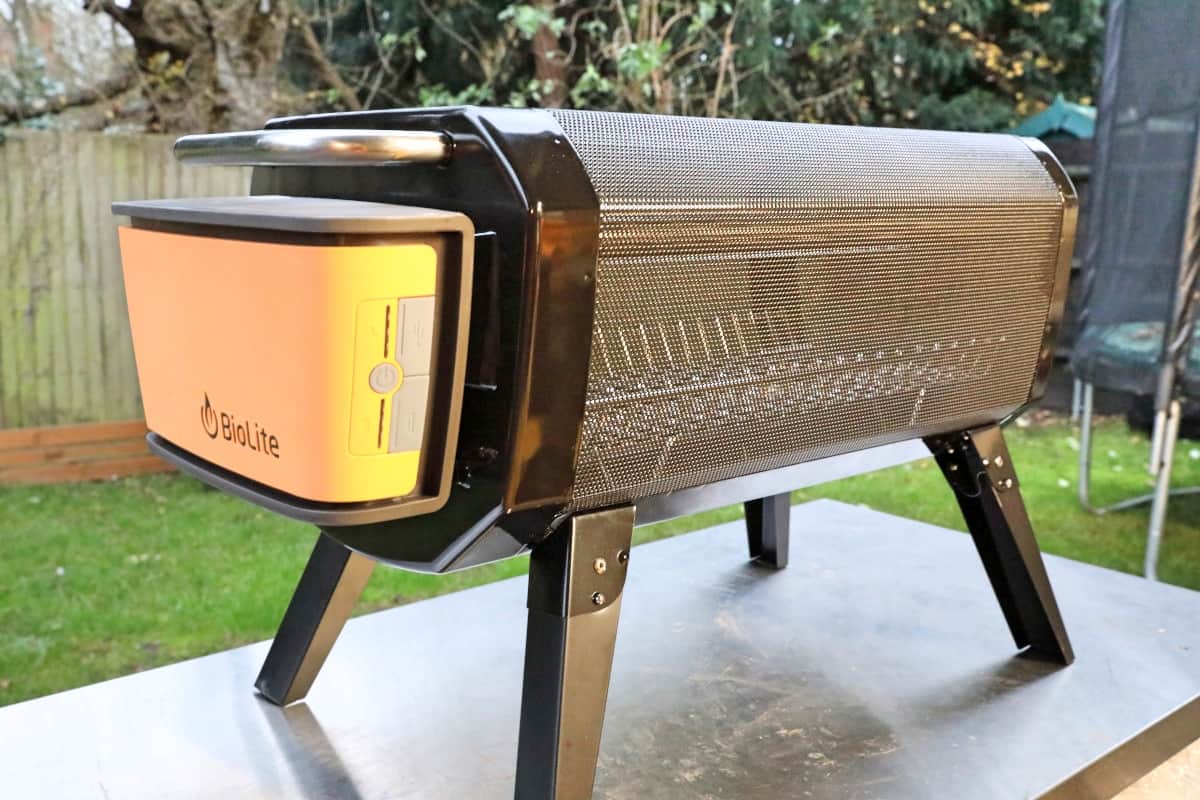 There's nothing especially noteworthy about the BioLite FirePit+ when it's not in use. I suppose the bright yellow powerpack stands out against the matte black metal.
It's a bit larger in person than it looked in the pictures and videos but is still easily small and light enough to be considered portable.
I like the folding legs' look; they're simple but very sturdy — you won't knock this firepit over by accident!
The power pack is larger than I expected, too. This is good because it affords a long run time of up to 30 hours.
Even in the daylight, it's easy to see right through the mesh sides of the burn chamber. I'm expecting a great show when I get some wood burning, especially after the sun goes down.
Manufacturer Specs
Here's the BioLite FirePit+ by the numbers.
Dimensions: 27" x 13" x 15.8" (legs unfolded); 27" x 13" x 10.5" (legs folded)
Weight: 19.8 pounds
Fuel: Charcoal or firewood
Power: 12,800 mAh rechargeable battery pack
Power Input / Output: Micro USB / USB A
Burn Time: 7 to 30 hours, depending on fuel and fan speed
What We Like
Part of the campfire experience is watching the mesmerizing flames. Everyone gets a great view of the whole fire with the mesh sides, not just the bits of flame shooting out the top. And you get to feel the heat in all directions, regardless of where you are sitting.
Campfires are fun, but they aren't efficient, and you usually end up with some charred logs to dispose of. Using forced air for a more complete burn reduces waste and makes the fire last longer.
Being able to throw some food on the fire satisfies that primal urge we all get; most firepits tease you and leave you restricted to what you can hold over the flames on a stick. The integrated cooking grate and the option to burn charcoal make the FirePit+ a bonafide combo fire pit and grill.
Of course, a big selling feature is the ability to control the blower fan with your smart device. But, I'm just as happy that BioLite added controls to the blower unit so you can adjust the fan speed without needing to find your phone.
Finally — and this is the major feature and primary selling point of the firepit — the 'smoke less' feature is good. It's not entirely smokeless — this would be impossible, and BioLite do not claim this — but it certainly smokes way less than a standard fire and is an impressive feature. More on this later.
What Could Be Improved
The fan is pretty noisy and not so conducive to campfire vibes and singalongs at full power. But, you won't leave it on full power much — it's mainly used to get the fire roaring at first before stepping down to low for a long, slow burn.
In most situations, running on battery power is optimal. However, it would be nice to have the choice to plug in and switch to AC if you've forgotten to charge up before your fire.
The original FirePit came with a waterproof cover in the box. This is now absent in favor of an enamel coating. While I appreciate the enhanced durability the coating provides, the cover was a nice touch for days when you don't want to bring your FirePit+ indoors for storage or when you're camping and there's nowhere practical to store it.
The BioLite FirePit+
A Portable, Combination Fire pit and Grill With Forced Air Feature and Bluetooth Control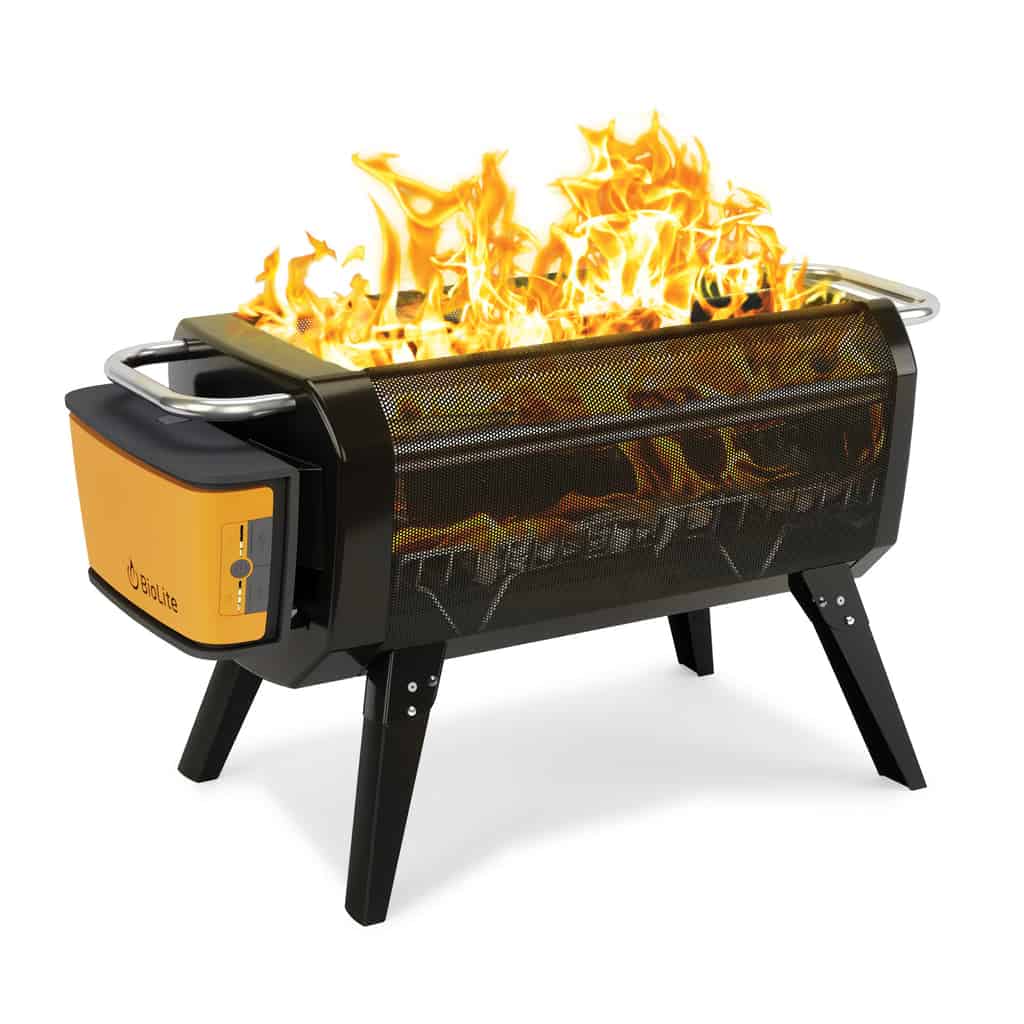 This dual fuel, wood or charcoal-burning fire pit and grill has a forced-air system used to get fires going quickly and burning so efficiently that it generates way less smoke than any traditional fire. X-ray mesh not only makes this fire pit visually stunning, but it radiates heat further than any enclosed style firepit.
Overview and Core Features of the Biolite Firepit+
Two primary selling points of the FirePit+ are the blower fan and the innovative burn chamber.
Let's take a look at both, how they work together, and some of the other related features that make this such an exciting bit of outdoor living gear.
Blower Fan & Airjets
If you're into grilling, the idea of using a powered fan to help fuel your fire is nothing new. We've seen them in pellet grills, in automatic barbecue temperature controllers, and even in charcoal starters like the Looflighter.
But I can't say I've ever seen it applied to a fire pit before. Which begs the question: why not?
I mean, who among us hasn't tried to fan a fire with a Frisbee or a plate or a flattened box? The built-in blower does the job far more efficiently, without tiring your arms or blowing ash everywhere.
Not only will the blower get your fire roaring in a hurry, it also helps it burn more completely. There are 51 airjets positioned around the burn chamber to force oxygen into the fire.
A fire requires oxygen to burn, so putting it where it might otherwise not reach means less time stoking and moving your firewood to expose embers to air. You'll also burn more of your wood down to ash and leave fewer hunks of charred lumber behind.
And, it burns so efficiently most of the fine particulate that constitutes smoke are burned off, too, making it a nearly smokeless fire. No more playing musical camp chairs trying to stay out of the smoke!
The fan has four power levels to choose from. Select a high setting to hasten ignition of a fresh fire or to stoke up embers. Pick a lower setting to maintain your fire or keep charcoal glowing.
Rechargeable Power Pack
Powering the fan, and allowing for complete portability, is the integrated 12,800 mAh battery pack.
After fully charging the battery off your home AC with the provided USB cable (or maybe a solar panel if you're off-grid?), simply hang it in place at the closed end of the burn chamber on the three brackets. It locks in place securely with the combination of notched hangers and a button-activated hook.
On the side of the power pack, you'll find a multi-function power button. Use this button to turn the fan on and off manually, and to cycle through the fan speeds.
Also, there are LED indicators for battery level and fan speed. BioLite claims up to 30 hours of operation on a single charge.
Handily, there's a standard USB port available for charging your other devices, such as a smartphone or tablet. Simply plug in your device's charging cord and use some of the available power to give yourself a boost. I love this feature for staying connected or keeping the tunes going when your phone is running low.
Remember, of course, this will suck power away from the FirePit+ battery and shorten how long you go before the next recharge.
Bluetooth Control With the Biolite App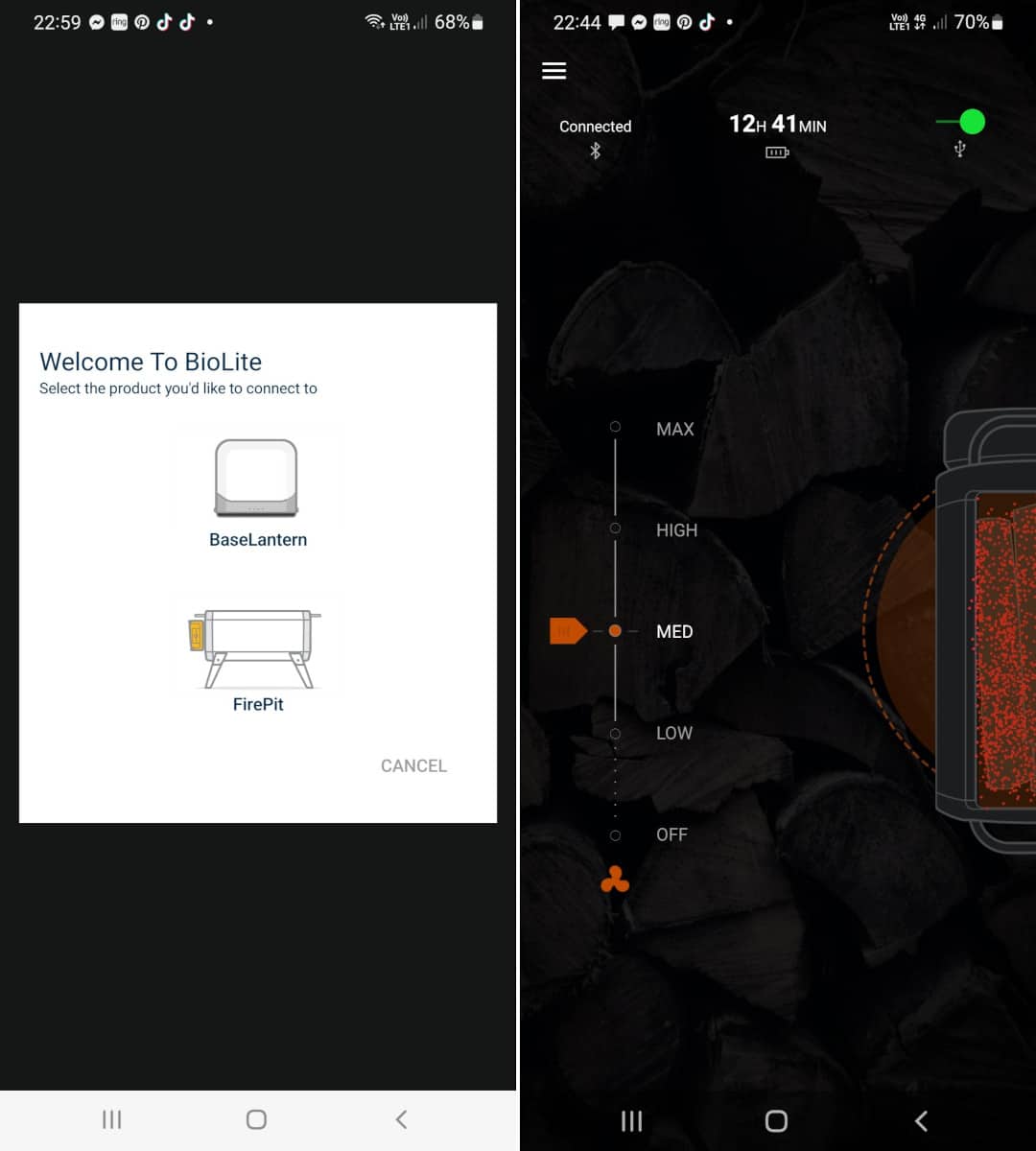 The next step in humankind's ongoing mission to make an app for everything is the BioLite Energy app.
There's not much to it other than the ability to step the fan power up or down, and to see an estimation for remaining battery time. That's it. But, what else could there be, really? And hey, why get up to do what you can do from the comfort of your chair?
Owners of the BioLite BaseLantern can also control this device with the same app.
Burn Chamber & X-Ray Mesh
Building a campfire sometimes seems like it requires an engineering degree. Typical strategies involve constructing some kind of pyramid or tent-shape with wood to allow air in and flames to rise. Not with the BioLite FirePit+.
Thanks to the airjets, you can lay your logs in horizontally and still get a nearly perfect burn. Accordingly, the burn chamber has a rectangular footprint, measuring 27 inches long by 13 inches across. It's large enough to hold up to 4 good-size logs of cordwood, which is plenty for a lovely fire.
But, what good is a beautiful fire if no one can see it? BioLite has that covered with its new & improved X-Ray Mesh.
Both long sides and one end of the burn chamber are primarily composed of folded sheets of perforated metal. BioLite first introduced this feature on the original FirePit. For the FirePit+, they've increased the size of the holes, allowing for more heat to escape (lovely on a chilly day), and for a better view of the fire from almost any angle.
In fact, when it's dark outside and the fire is glowing, the mesh virtually disappears, creating what BioLite calls a "floating fire." It really is a great feature!
Multi-Fuel Capability and Grilling
Part of what makes the BioLite FirePit+ so appealing is the option to burn either firewood or charcoal.
You effectively convert your firepit into a hibachi by raising the fuel grate to the upper setting and loading it with briquettes. And this is no mere afterthought — BioLite includes a cooking grate with the FirePit+ that slots neatly over the opening. You can even cantilever it past the end of the burn chamber for indirect heat, perfect for warming buns or making toast.
There's more than enough heat and space to grill several burgers at once, a mess of hot dogs, or even a couple of steaks. With the raised edges for support, you can easily cook skewers, too.
A great tip from BioLite is to lower the fuel grate to the bottom position after you're done grilling but while the charcoal is still glowing. Add firewood, power up the fan, and you'll have a campfire going in no time.
Portability Features
The idea of the FirePit+ is to be a campfire and grilling solution anywhere, anytime. As such, it's built to be portable.
You'll find a handle at each end of the unit (actually, you'll install them yourself), making it reasonably easy to carry, even at just under 20 pounds. I advise you to carry it without the powerpack installed to keep the weight down and give your hand extra clearance on the one end.
Underneath the FirePit+ are four folding legs. The legs flare outwards for extra stability, and they lock into place. There is almost zero chance you'll knock this over, and it sure as heck won't collapse.
Upgrades and Accessories
What kind of a company would they be if BioLite didn't offer a few add-on accessories? Let's look at what they offer and why you might want them to enhance your experience.
Grill Lid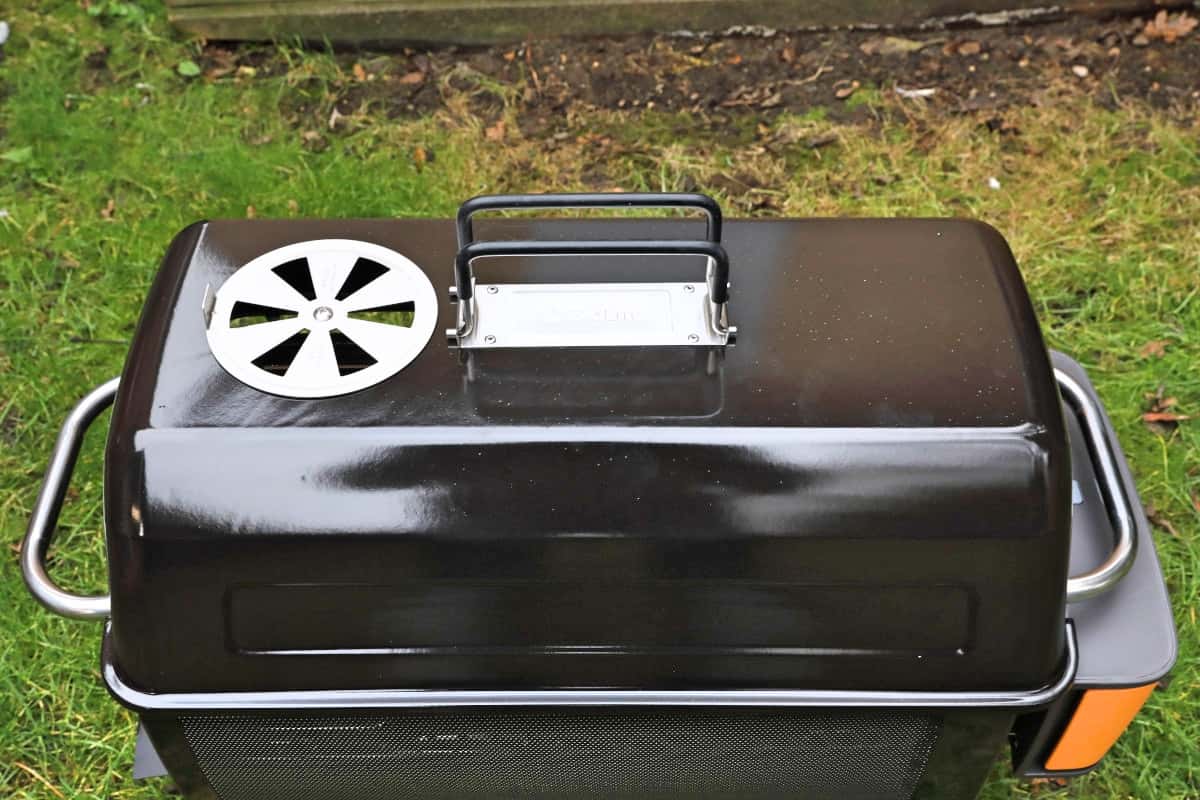 A nearly 4-pound metal lid makes the FirePit+ look and function more like a typical small charcoal grill. It's shaped to cover the upper portion of the x-ray mesh and fit around the two handles.
With the lid in place, you trap smoke and heat (there's a pinwheel-style vent in the top to further control airflow) in the cooking zone, allowing you to go beyond hot dogs, hamburgers, and kabobs and experiment with fish, small roasts, and fowl, and more.
Griddle
Breakfast is a breeze with the 130 square-inch cast iron griddle in place atop your FirePit+!
It fits snugly in place, and the raised edges prevent spills and runaway sausages. At almost 9 pounds, this is a serious griddle.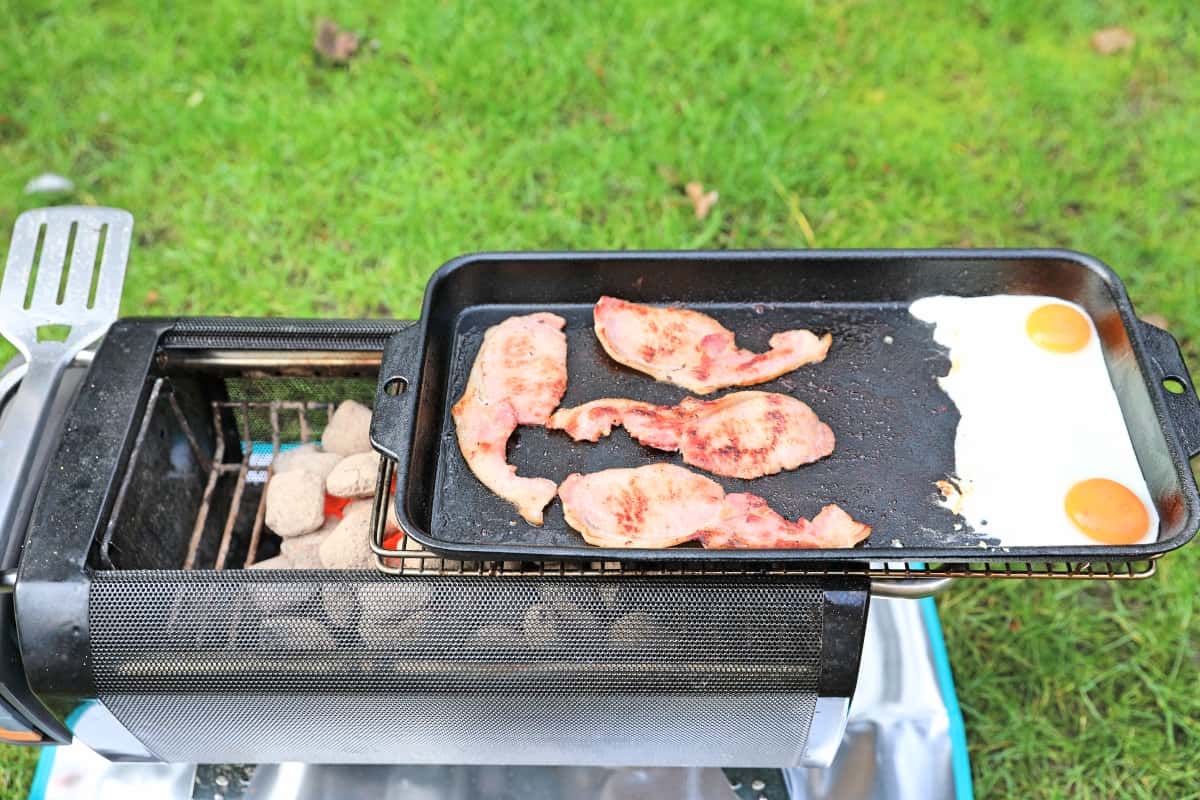 You can see in the photo above that the griddle attachment is great for cooking liquids such as pancakes or eggs. You can even slide the griddle part way off the firepit for a lower heat zone, to prevent burning of the bottom of the eggs, while still searing the bacon properly directly over the heat of the charcoal.
FireMat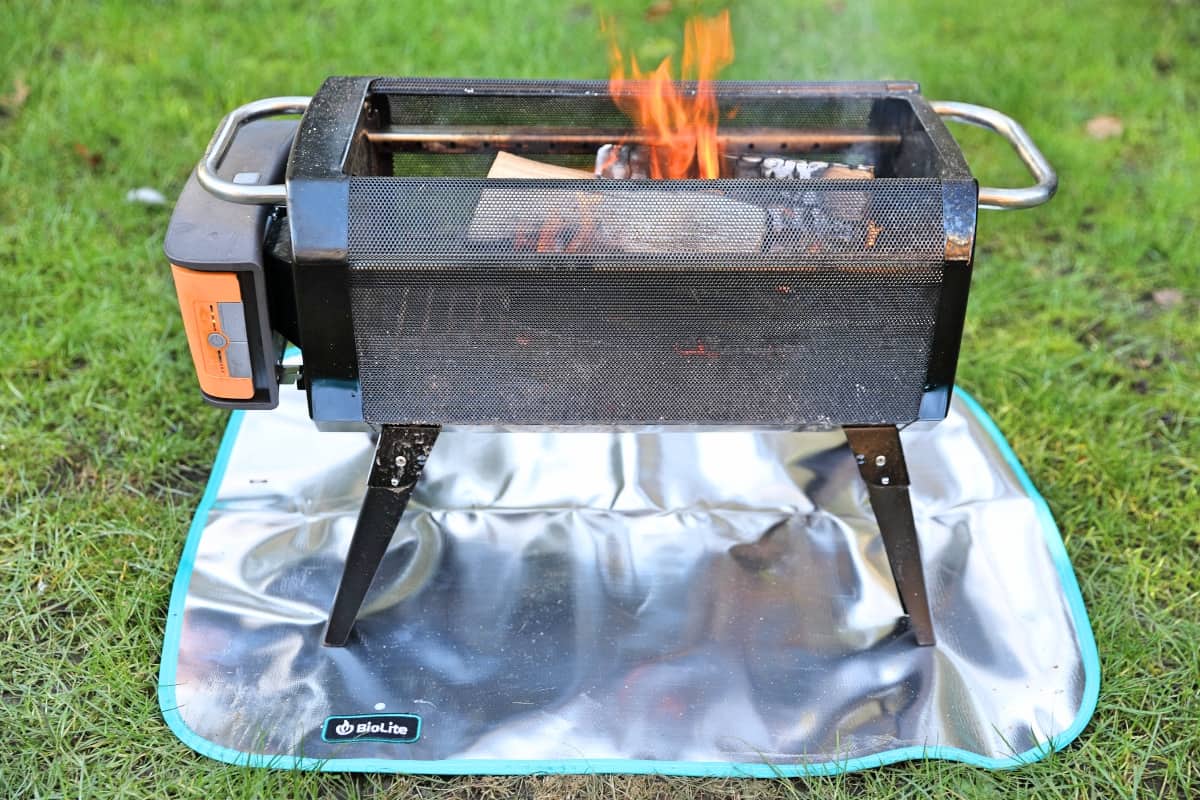 Measuring 32" x 24", this lightweight, aluminum-coated fiberglass plastic mat is perfect for protecting surfaces from heat, spark, or spill damage.
This is a must-have accessory if you plan to use yours on grass or a wooden deck.
Prep & Grill Toolkit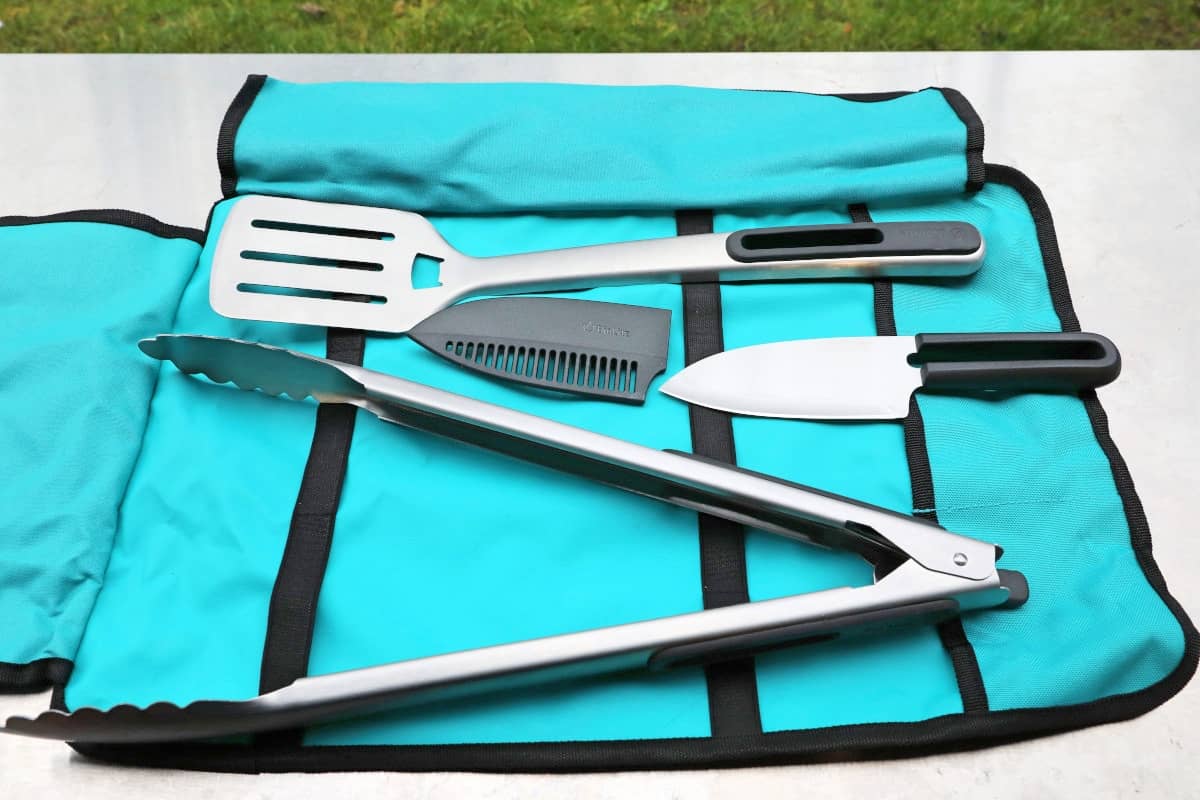 If you plan to cook on your FirPit+, grab this handy stainless steel utensil kit for the road. You get a pair of locking tongs, a slotted spatula with a built-in bottle opener, and a small but versatile Santuko knife.
It all comes with a roll-up organizer to keep them protected in transit, and this fits neatly inside the firepit for travel.
Carry Bag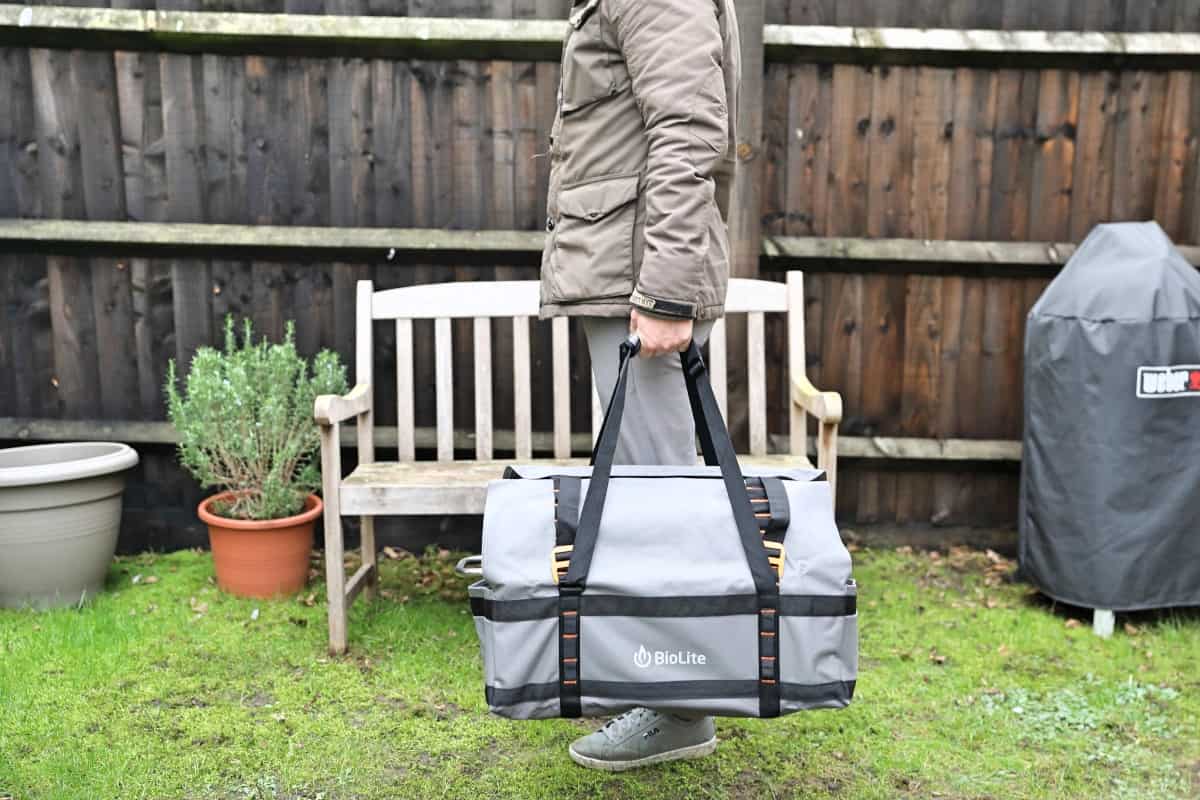 Yes, the FirePit+ has handles. But, this water-resistant canvas bag is a LOT easier to tote about, and it protects your vehicle from ash and other debris.
The interior is coated for easy clean-up, and there are external pockets for carrying small accessories such as matches or a lighter.
Poker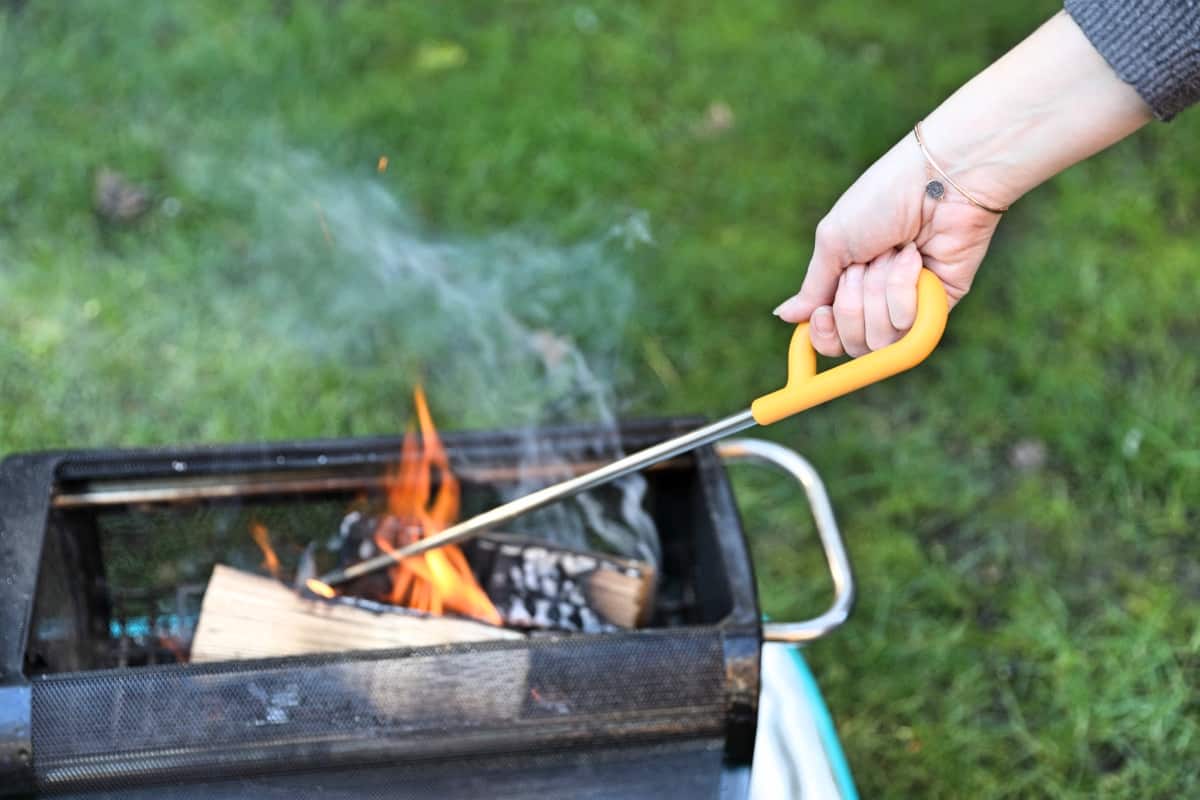 Sure, the "traditional" campfire poker is usually a long stick you found on the ground. However, this stainless steel poker is purpose-built for use with the FirePit+.
It is nearly 2' in length and keeps your hands well clear of the fire. And, you'll have a cool and firm grip thanks to the silicone-dipped handle.
Not only can you move your wood around, but you can also use the hooked edge to raise or lower the fuel racks, and push ash out the trap door during clean-up after your fire.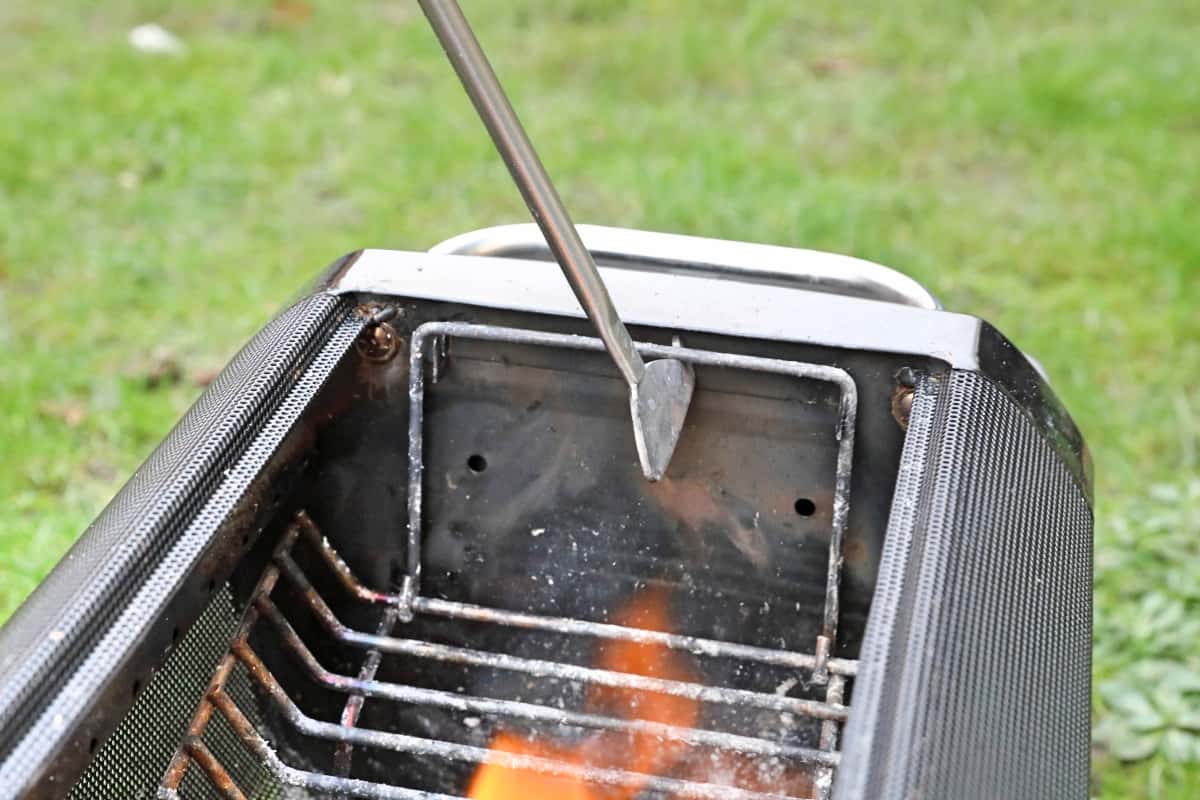 Who is this Firepit and Grill Suited to?
Honestly, anyone who enjoys a campfire will love the BioLite FirePit+.
If local regulations allow for backyard fires in your area, I think this is a superior choice versus other wood-burning fire pits and even gas models. It lacks a bit in overall aesthetics when it's unlit, but the x-ray mesh and the floating fire effect are beautiful, functional, will be a talking point among guests, and makes this firepit highly recommended..
Obviously, it's also excellent for avid picnickers and campers, being both portable and easy to use. Plus, you can't beat the 2-in-1 convenience of a firepit and grill rolled into a single unit. If public grills leave you grossed out, you can't miss with the FirePit+.
Unboxing and Assembly
What can you expect when your new BioLite FirePit+ arrives at your door? Let's check it out.
What's in the Box?
Included inside are the cooking grate, the fuel grate, a pair of handles, the burn chamber, the blower unit / powerpack, a USB charging cable, and an instruction manual.
Ease of Assembly
There's minimal assembly involved with the FirePit+. You'll have to attach the handles, one at each end, with two screws into each. It was a little awkward working inside the burn chamber, but not a big deal.
Other than that, it's just a matter of inserting the fuel grate and cooking grate and attaching the powerpack. But, since you'll do that basically every time you use the FirePit+, I wouldn't necessarily call it "assembly."
Overall Build Quality
The BioLite FirePit+ is a well-designed, well-built unit. The fit and finish are excellent, and the upgrades from the original FirePit to the FirePit+ (bigger battery, larger mesh holes, high-temperature enamel coating) make it a much better device.
As you'd expect, the mesh is fairly thin, so you'll want to be careful not to dent it accidentally. Overall, the solid metal pieces are on the thin side, but that's ok — it keeps the unit light, and we don't need to trap heat inside; it's not a smoker, after all.
There's a rubber grommet where the powerpack / blower connects to the burn chamber. This provides a tight seal, channeling 100% of the air into the airjet tubes.
Want to do some grilling? The 304 stainless steel cooking grate slots neatly into place and is reasonably durable and easy to clean with standard grill cleaning gear.
The tubes with the airjets are decently made. They feel durable, are quite large, and the holes in them are reasonably large too. I think they are built to last, and due to their size I cannot see them getting damaged or blocked.
The Biolite Firepit+ in Use
Here's where I get down to brass tacks and see what this baby can do.
Overall Ease of Use
It's incredibly easy to use and far easier to get a good fire going when compared to firepits without a forced-air system.
Simply place in some firelighters, smaller pieces of wood or kindling, and light it. Turn on the fan to a low setting, and the forced air gets everything flaming in mere minutes.
Once it's going, add some larger wood pieces, turn the fan up to a higher setting, and the larger logs catch fire very easily.
It really is very easy to use, and this firepit makes getting a good fire going almost foolproof.
Firepit Performance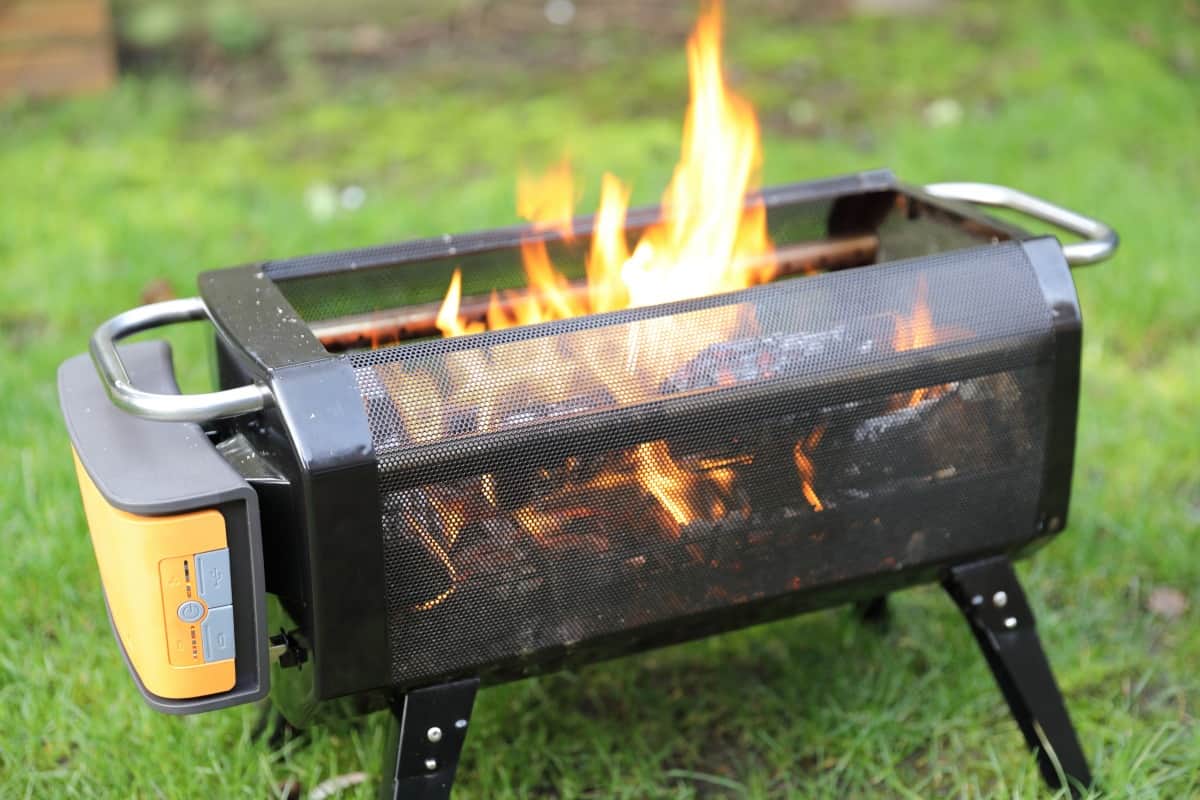 As a firepit, it functions incredibly well. The 'x-ray mesh' allows you to see the fire and feel the heat from almost every and any direction, which isn't the case for firepits with enclosed sides.
The forced air system continuously fans the flames, allowing you to keep smaller fires lit that might otherwise go out and create larger flames from a smaller amount of fuel, generating more heat from a smaller amount of fuel.
The forced air system also allows you to burn slightly damp wood that might otherwise not burn well, if at all. Obviously, we do not recommend burning wet or damp wood, but sometimes we just have no choice, right?
So personally, I think the FirePit+ performs better than any other firepit of comparable size, because no other firepit (that I know of?) has a forced-air system and airjets continually fanning the flames.
Grilling Performance
I really like the grilling function of this firepit.
The forced air can get a bed of charcoal lit very quickly in approximately half the time compared to simply lighting fire starters and waiting.
The fire grate can be set to two different levels, allowing you to move the charcoal closer to, or further away from the food, providing a nice level of heat control.
The supplied cooking grate with raised edges keeps everything on the grill, preventing anything from rolling off. And the ability to slide the grate out over the end of the firepit allows you to move foods out of the way in case of a flare-up or keep some food items warm away from direct heat, while still using some of the grate to cook other items.
I have cooked lamb cutlets, steaks, pork chops, kebabs, and more on the grill, and all were tasty.
Another great feature when grilling small and thin items is the ability to turn the fan onto a medium or high setting to generate a very high heat.
When grilling, you want to create a deep, dark crust through the Maillard reaction, which adds incredible flavor and is part of the joy of grilling. This is very hard to achieve with thin steaks and cuts without overcooking the center. But with the FirePit+ fan on high, the charcoal is fanned, forcing it to burn at a much higher rate, generating very high heat, which means you can sear VERY quickly, getting a good Maillard crust without overcooking the center. This is a fantastic benefit!
The grill lid is good, and allows you to add a hit of smoke to your food if you so desire and lets you 'slow roast' pieces of chicken or larger pieces of meat, rather than having to all-out grill stuff hot and fast. Being so open though — the mesh sides — you do not have easy heat control such as you would on a sealed grill with top and bottom vents, but you can control heat by adding more or less fuel, so roasting is possible.
I do have one word of warning when grilling, though: I recommend grilling over only firewood or charcoal briquettes. I advise to stay away from using lumpwood charcoal, as it's just too hard to control in such an open firepit.
Lump wood charcoal is my absolute favorite cooking fuel of choice, but because of the x-ray mesh in the FirePit+, the charcoal is in such an oxygen-rich environment with access to air from below, above, and from all sides, that it simply burns way too hot and fast.
Lump wood charcoal left to burn unimpeded (in contrast to in a closed grill or smoker) can reach up to 1200 °F, and is incredibly difficult to control without burning your food. This is what happens in the FirePit+. I'm not saying you cannot grill with lumpwood, just that I do not recommend it.
But for grilling over firewood or briquettes, it's a great little unit.
Low Smoke Feature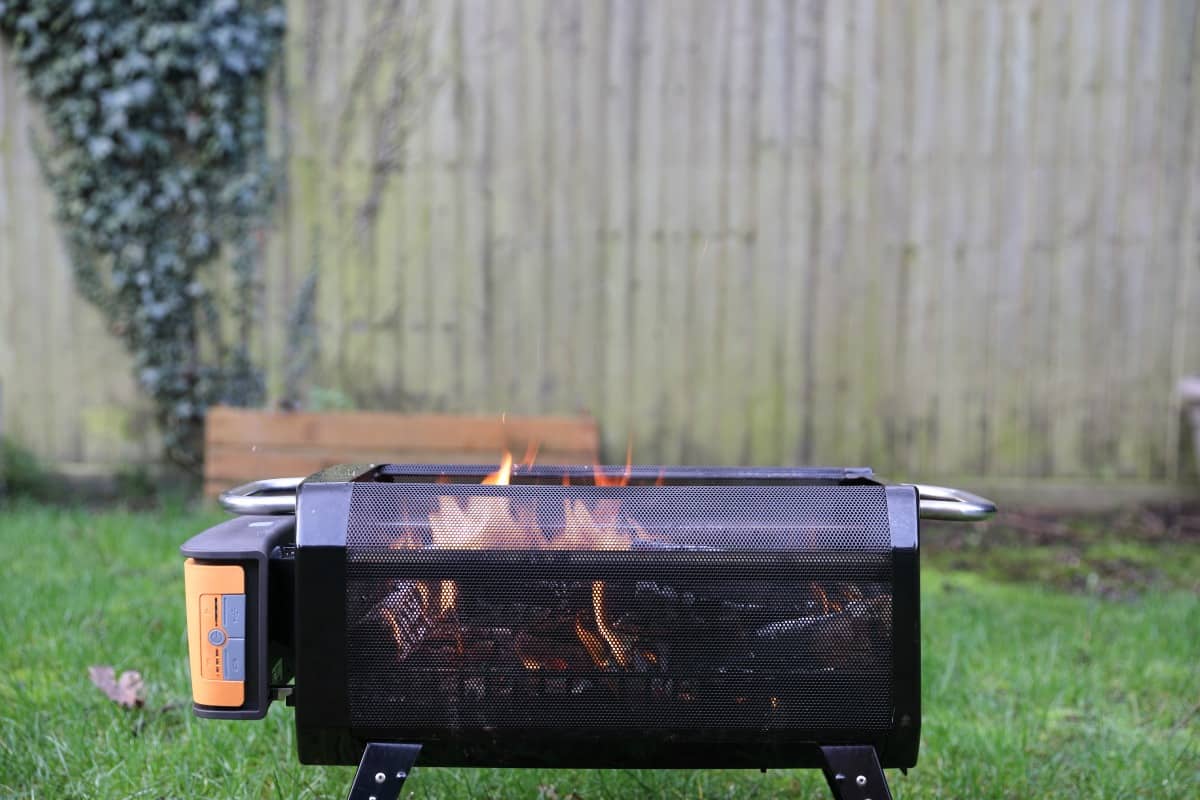 BioLite state you can "get an efficient burn with way less smoke than a conventional fire pit." I can verify this works and that once you have a decent fire established, it's almost smoke-free.
There's a bit of a learning curve to nailing this. It's all about using the right wood (dry), making sure to keep all wood below the level of the airjets, and using the right fan setting (low to medium).
Once you've got it, though, it really does work.
Just understand that you'll need to spend a bit of time learning how to do it, and that when you're building your fire, there will be some smoke at first, until there's a high heat that efficiently burns the particulates that would ordinarily escape as smoke.
By the way, I do not recommend using newspaper to start your fire as we are sometimes used to doing. Yes, it ignites instantly. However, the airjets blast bits of sooty paper right out of the burn chamber and make an unpleasant mess. (Yes, I did this, haha!)
Ease of Cleaning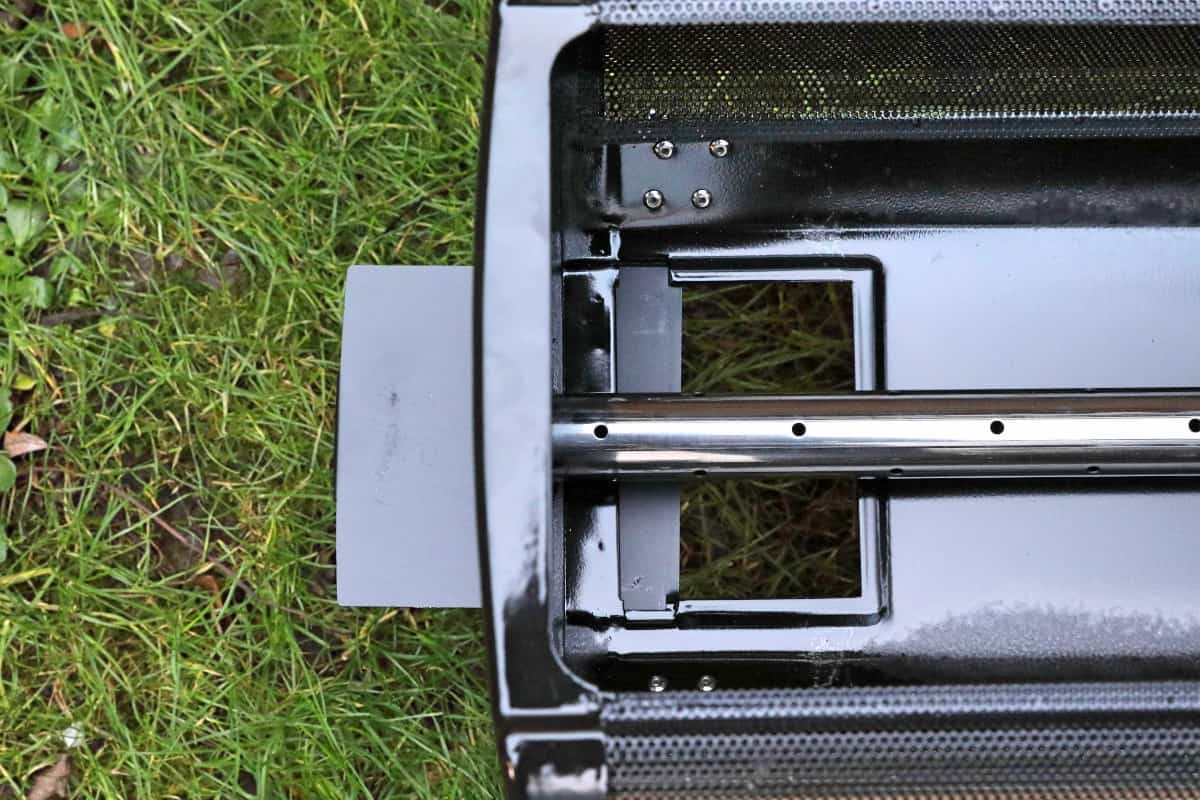 With the enamel coating on the exterior of the FirePit+, it's a simple matter to wipe it down with a damp cloth. Just be sure to dry it off to reduce the chance of rust developing.
The trap door in the bottom for ash isn't perfect, but it does the job a heck of a lot better than shoveling it out or dumping it upside down. Open it up over an ashcan or foil tray and push the ash with your poker out the hole and into your receptacle of choice.
Portability
Twenty pounds isn't nothing, but it's not bad, either. Using the two handles, it's no bother to carry the FirePit+ to wherever you care to use it, and you can also carry it between two people if desired.
The legs fold down easily, taking over 5 inches off the height, so it tucks away neatly in the trunk.
However, carrying around a "naked" firepit is just asking for a mess of soot and ash on your clothes and in your vehicle, no matter how carefully you clean it out after use.
I recommend the Carry Bag, if you plan to take it beyond the backyard on a regular basis. It's much easier to tote by the straps than the handles, and you get extra space for your lighter and other accessories. (Yes, I'm that guy who tries to carry everything in one trip.) Plus, it keeps the soot and debris contained.
Warranty and Support
BioLite provides a 1-year limited warranty against defects on the FirePit+. It's a good idea to register your new FirePit+ online as soon as you get it. This will streamline the process should you ever need to file a warranty claim.
At the BioLite website, you'll find a surprisingly helpful tutorial video, more than a dozen articles with tips and troubleshooting guidance specific to the FirePit and FirePit+, and a downloadable PDF of the manual, should you misplace yours or need it when you're not at home. There's also a contact form you can fill out if you can't find an answer to your question anywhere.
I found one unofficial Facebook group for BioLite FirePit owners. It's not large (about 1300 members), but even in a small group you'll often come across someone who's already navigated whatever situation it is you're dealing with.
Summary of Pros and Cons
Pros
Mesh sides provide an all around view of the fire from every angle
Heat can be felt in all directions
The forced air system results in an efficient burn, reducing waste and unburned wood
The 'smoke less' feature is great. It's not entirely 'smokeless', but it certainly smokes less than traditional fires and is an impressive feature.
The cooking grate, ability to burn charcoal, different grate levels, and variable forced air make it a decent grill with variable temperature that can produce good food.
Being able to turn the fire up or down from a smartphone app works well, and brings firepits into the 21st century.
The addition of a USB charging port for your smart devices is a nice touch.
Cons
The fan is quite noisy at full power, though to be fair you typically run it lower anyway once the fire is really going.
Battery powered only. It would be nice to plug into AC if you forgot to charge the battery.
Final Verdict
So, do I recommend the BioLite FirePit+? Yes, I do!
Aside from being slightly underwhelmed by the app (it's just a bit…unnecessary), I really enjoyed my experience with this 2-in-1 grill and firepit.
It's not hard to use, and while I mostly see the value in using it for campfires — and it's very good at that — I had fun cooking a few snacks on it, as well. It's handy for those times when I don't want to bring (or have no room for) a firepit AND a grill.
If you love a campfire, but not all the time and effort that goes into readying a firepit for safety and building the fire itself, you'll find a lot of value in the BioLite FirePit+.
The BioLite FirePit+
A Portable, Combination Fire pit and Grill With Forced Air Feature and Bluetooth Control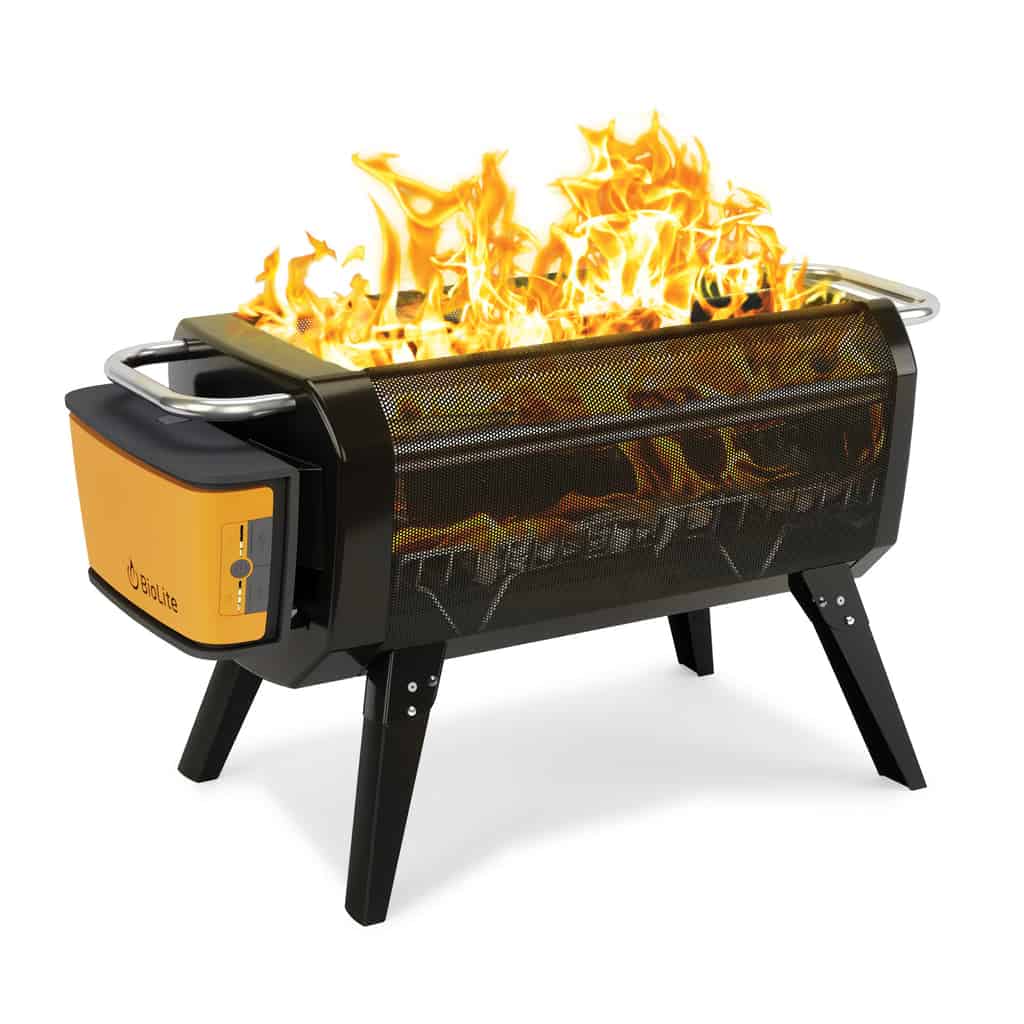 This dual fuel, wood or charcoal-burning fire pit and grill has a forced-air system used to get fires going quickly and burning so efficiently that it generates way less smoke than any traditional fire. X-ray mesh not only makes this fire pit visually stunning, but it radiates heat further than any enclosed style firepit.
Conclusion
Now that someone has reinvented fire, can the wheel be far behind? Seriously, though, the BioLite FirePit+ is a testament to human ingenuity. Or, at least proof that there's always room for improvement.
Speaking of which, if your grilling skills or gear could use improvement, check out the rest of our site for the best reviews and guides on the 'net for everything barbecue. (How's that for a segue?) Browse the tabs or use the search function to discover what we've got cooking here at Food Fire Friends.
Cheers — and be sure to tune up that guitar and chill the beverages before your next campfire!