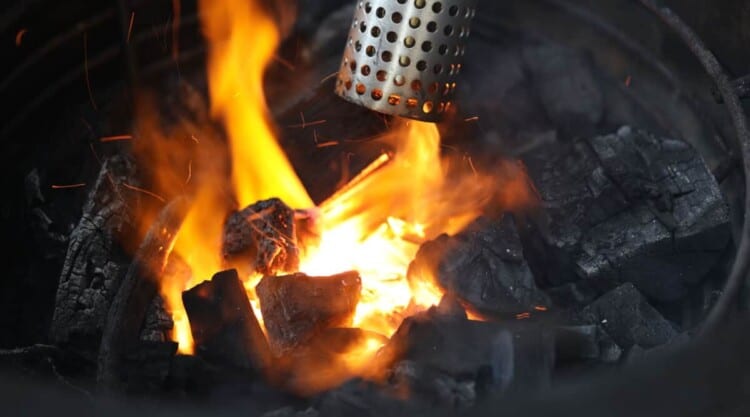 If you've ever grilled over charcoal, then you already know that one of the biggest headaches is getting the charcoal lit.
I have zero evidence to back this up, but I strongly suspect that the number one reason people buy gas grills is they're easier to light.
There are, of course, all kinds of solutions to the problem — someone is always ready to monetize society's pain points.
Perhaps you've tried many of the methods in our guide to lighting charcoal? Starter cubes, lighter fluids, chimneys, and traditional electric charcoal starters, which are basically stove top elements with a handle.
Here's one you probably haven't tried and what we'll discuss in this Looftlighter review.
Mr. Looft, a Swedish native, tells us his Looftlighter (the name makes sense now, doesn't it?) is the:
"Most quick, safe and environmentally friendly method of lighting your grill."
Is he telling the truth, or just blowing a lot of hot air? That's what I'm here to tell you.
Overview of the Looftlighter — What is This Thing, Anyway?
Looft Lighter Electric Charcoal Starter
A quick, safe, clean way to light your charcoal or wood fires. It uses electricity to create a stream of super-heated hot air that you blow onto your charcoal or wood, setting it alight in 60 seconds or less, with no need for lighter fluids or firestarters.
Looft, the company, makes exactly two products: the Looftlighter and a hat that says "Looftlighter, The Perfect Match, Est. 2004" on the front. Well, they won't sell many hats unless the Looftlighter is pretty darn good.
Essentially, the Looftlighter is the world's most intense hair dryer. The cylindrical unit blows a concentrated stream of super-heated air. Point it at lump charcoal, briquettes, or wood, and very soon you'll have a fire going.
Bear in mind, it's an electrical device, so you'll need access to an outlet.
The prototype was Mr. Looft's toaster, and a vacuum cleaner rejigged to blow instead of suck. (Stop giggling.)
He put charcoal in the toaster, turned it on, and created a powerful airflow to speed up the ignition process. Really, it's not so different from using a bellows to stoke up coals.
Summary of Pros and Cons
Pros
Super fast lighting of charcoal, it can light within 60 seconds!
Can be used to light charcoal, wood, or pellets, in a BBQ, smoker, or firepit
Can be used to fan flames, to go from a small to large hot fire in record time
Is effective at lighting partially used charcoal, something that is hard to do with traditional firelighters
Replaces the need for firestarters, lighter fluid, and a lighter or matches
Hook for hanging also doubles as a bottle opener, (You can never have too many bottle openers)
Cons
Needs to be plugged in, so must have an available power outlet
Power cord is only 10 feet in length, so will likely need to run an extension lead out to your charcoal grill or smoker
What's in the Box?
Not a lot! There's just:
Looftlighter
Owner's manual
But then, what more do you need?
Features and Manufacturer's Specifications
The Looftlighter uses electric heat and air to ignite fuel. There's no flame, and not even gas to put nasty flavors on your food.
It's also a zero-emission product, and since you use it over and over, you're not throwing out packaging like you do every time you finish a package of starter cubes or a can of lighter fluid — not that we ever condone the use of lighter fluid!
To turn on the Looftlighter, press down the button and hold it. It's a dead man's switch, meaning when you let go, it turns off. Definitely a necessary safety feature!
Down at the business end, an aluminum heat shield protects the heating element from getting knocked around. It won't, however, protect you from a nasty burn, so don't touch it. You shouldn't need to wear gloves, though, because the handle is far enough away from the hot spot.
On the underside of the Looftlighter, you'll find a multipurpose attachment protruding from the handle. Its most obvious use is as a stand for when the Looftlighter is not in use.
Resting it on the stand will protect the heat shield from damage, and protect the surface it's resting on from the heat. You can also use it for hanging the Looftlighter off the side of your grill or from a hook.
The third and coolest, use of this attachment is as a bottle opener. Yup, you can crack a cold one with your barbecue lighter. That's a fun little add-on!
Specs
Power: 1500W US; 1800W EU
Temperature: 1100 °F (600 °C)
Aluminum heat shield
Dimensions: 17.8" L × 2.6" W
8' cord
1.94 lbs.
Ease of Use
The operation of the Looftlighter couldn't be more straightforward. Press the button. Point it at something flammable.
Now, actually getting the hang of lighting charcoal does require a bit of patience and learning. You must follow the instructions provided.
You start with the lighter touching the charcoal and turn it on. Once you see that spot begin to glow, pull back a few inches, but stay focused on that same spot. Soon, you'll have a pocket of glowing coals, and that will spread through your pile.
It's important to understand that the Looftlighter is a faster, fuel-free way to start a charcoal fire. You won't be ready to cook in 60 seconds — you still have to wait for enough charcoal to ignite for you to cook over.
To speed up the process, just move to another section of your charcoal pile. You'll probably be totally ready to cook in about 5 minutes, depending on how much charcoal you're using.
I've now used mine scores of times, to light my charcoal grills and a log fire in my living room. It's very quick, easy and great to use.
Here's a quick video demonstration of how fast and well this thing works:
Maintenance and Cleaning
The Looftlighter is essentially a zero-maintenance device. The only call-out from the manufacturer is to keep the holes in the heat shield clear.
It's hard to imagine what could possibly gum them up, but just keep an eye on that. If it gets sooty, wipe it down with a damp cloth after the Looftlighter has thoroughly cooled.
It's also essential to remember to pull the Looftlighter away from the hot coals once they are lit. Continuing to hold the lighter against hot coals or inside flames will melt the heat shield, and that damage is not covered by the manufacturer's warranty.
It also seems to be the number 1 owner complaint, which probably annoys the people at Looft since it's easy to avoid.
Design and Build Quality
The Looftlighter feels good in the hand. It's larger than you might think, but it's not that heavy, and it's well-balanced. To be honest, it reminds me of holding a lightsaber, and that's not a bad thing. All in all, it feels solidly put together.
Part of what makes it stand out from imitators on the market (there's one that comes with free fire starters — that's a red flag!!), is how far from the charcoal your hand is.
As I said earlier, there's no need to wear protective gloves. Ok, maybe if you're reaching way down into a big kamado, you may feel better with a pair.
Warranty and Support
As of 2018, Looft has increased the length of the warranty from 2 to 3 years, so long as you register your purchase at their website. The warranty covers manufacturer's defects, and it's a straight replacement guarantee — no repairs. To make a claim, just fill out the online form.
There's a limited FAQ section on the website to help you out, and you can email them with your questions.
Looft also has a small YouTube channel (you could watch all the videos in about 10 minutes), plus Facebook and Instagram accounts. You can also phone or fax them in either the United States or Sweden.
Final Verdict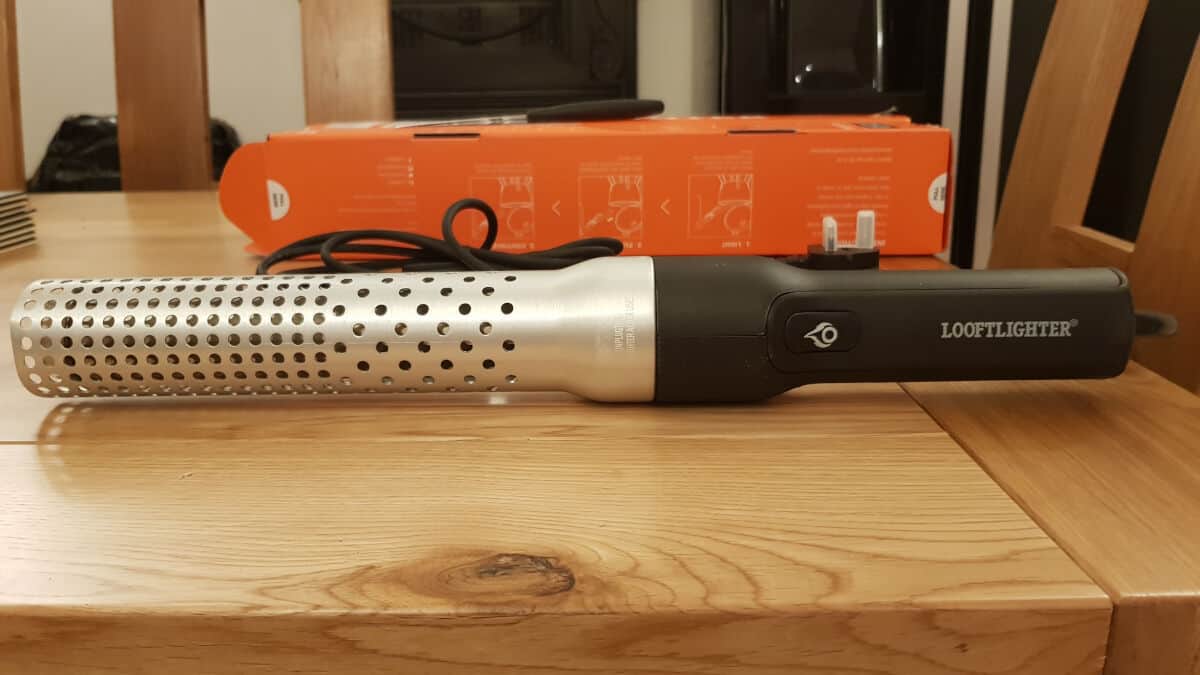 That's all the facts — but what do they boil down to? Should you light it up or let it go?
What We Like
First off, we like what it does; the ability to light charcoal quickly is a gift from the grilling gods. Even better, you can light it already in place — build your charcoal snake or set up your 2-zone pile off to one side of the firebox and then turn up the heat.
With a charcoal chimney starter, you light it first and then place it where you need it, and that can be a messy, spark-filled job.
The length of the Looftlighter allows you to light charcoal (or wood) without gloves on. With some imitators, or with a standard heat gun, your hand may be dangerously close to the fire or coals.
And, we can't forget about the hook/stand/opener! It's practical and fun at the same time, and it helps remind us of one of the main reasons why we barbecue in the first place — because it's sociable!
What Could Be Improved
It would be great if there were a cordless version of the Looftlighter, but I suppose the battery would need to be tremendous to generate that kind of heat. Fortunately, the nearly 10' cord gives us a fair bit of freedom.
The only other slight quibble I have is the inability to run the fan without heat. This would be useful for getting coals going, or even blowing a bit of ash off the grate. Mind you, Looft estimates the cost of running the Looftlighter is about $0.004 per minute, so it's not like a fan-only mode would save you money.
Will I Get Value for My Money?
Low-cost imitations of the Looftlighter are available, but they simply aren't as well-made or designed as the original. We believe your money is better spent on the one that started it all. If it weren't good, no one would copy it, would they?
This isn't one of those gadgets that are so cool you have to own them even if they're not especially useful. The Looftlighter is not only cool, but it also works like a charm.
My belief is that it's worth every penny if you grill with charcoal. And it's really worth it if you also enjoy bonfires, fire pits, and fireplaces.
The initial purchase price of a Looftlighter might seem steep, but if you grill 2 or 3 days a week, you will probably be break even compared to the cost of firelighters at the end of one year. Year 2 and beyond then becomes a time when the Looftlighter saves you money.
BUT, the most significant saving is time. Other ways to light charcoal simply aren't anywhere near as fast, so the benefits go far beyond just saving some dollars.
Conclusion: Is This a Recommended Product?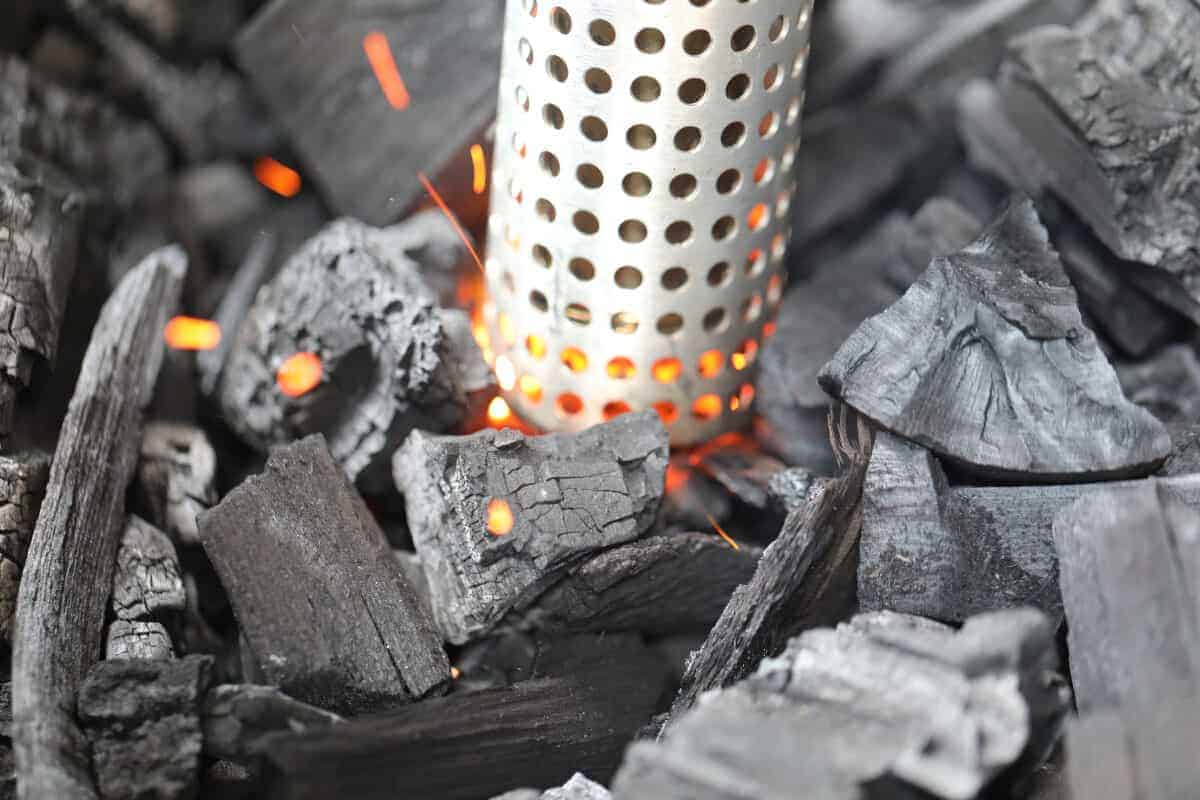 Anyone who grills with charcoal needs some sort of helper or starter to get the coals going. The Looftlighter is one of my favorites because it's easy-to-use, and it gets me from unlit charcoal to cooking temperature FAST.
And we are here to eat, am I right?
So in my opinion, get one — you'll love it.
Looft Lighter Electric Charcoal Starter
A quick, safe, clean way to light your charcoal or wood fires. It uses electricity to create a stream of super-heated hot air that you blow onto your charcoal or wood, setting it alight in 60 seconds or less, with no need for lighter fluids or firestarters.
Thank you for taking the time to read my Looftlighter review.
Do you have any questions or comments regarding the Looftlighter? If so, please do leave them in the comment section below, and I will surely get back to you.