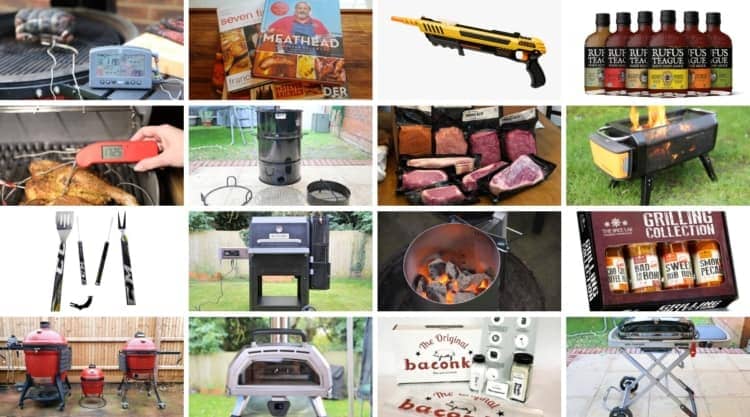 Buying a gift for someone with a hobby (or obsession, depending on your point of view) seems like it should be easy..
But then you see how much stuff there is available within that particular hobby, and start questioning what they might need, what they've already got, and what might be fun and impressive to them.
Pretty soon you're stuck in total option-lock, and you end up getting a gift card. Lame.
To help you avoid a similar conundrum with the griller in your life, we've put together a list of some of the coolest, craziest and best grilling gifts in 2023.
And if you're buying for yourself, you might come across some must-have BBQ gift ideas you never knew you needed until you see them below!
In this guide, we cover cool tools, gadgets, electronics and equipment that make great gifts for any BBQ lover.
We also have another guide chock-full of great sauces, rubs, marinades, and other 'consumables' if that's more what you're looking for? You can check that out here: The Best BBQ Gift Basket Ideas
You might also be interested in the best outdoor cooking cookbooks, or the best grilling accessories, further handpicked lists of items that make great gifts for the BBQ lover in your life.
Anyway, for this gift list, I have split things up into a few different categories, so you can more easily get to what you think your giftee may like. Check out the table of contents below where you can click to jump straight to any section of interest.
OK, enough small talk. Let's get shopping!
The Best Grilling Gifts and Barbecue Gifts for the Pitmaster in Your Life
Here are multiple lists of the things that I would love to be gifted…and chances are if I like it, then other BBQ obsessed people will too!
Here are 50 BBQ gift ideas, there's bound to be something for everyone.
Inexpensive To Medium Priced Gifts
We start this gift-buying guide with a selection of items that should be within most people's budgets but are sure to be well received by any BBQ nut you're buying for.
I'm BBQ obsessed and would be happy to receive any of the items below!
Luxury Gifts
These following few items do not come cheap but are hand-picked for their quality and usefulness, and are worth every penny of their higher price tags.
I personally own many of the next few items and use them daily, week to week, so I know they are quality and would be well received as a gift for the outdoor cook in your life.
Thermometers
Cook to temperature, not time!
Anybody who has been near a BBQ book, forum, or Facebook group or has been around BBQ in any way will have heard this mantra again and again.
So why not give them what they want and need by gifting one of the thermometers below?
The Gift of Meat
Anybody obsessed with BBQ is pretty much guaranteed to be meat obsessed too. It's a big part of the game!
But meat does not come cheap, and top-tier quality meat is a real treat and typically rare!
Splurge on some of the meat below, and see your giftee salivate soon after opening the box.
Books
All aspects of life are a never-ending journey of learning, and BBQ is no different!
So give the gift of learning with one of the excellent, award-winning books below.
Make Someone Feel Gifted
If you thought the only good grilling gifts out there were beer cozies and mildly offensive aprons, we sincerely hope we've helped you to see the light. There are scads of amazing products on the market, running the gamut from novel to indispensable.
For more in-depth articles about grilling, smoking, meat, and accessories, take some time and browse around. There's more content here than you can shake a stick at.
Did we miss anything you think should be on the list? Do you have an experience with some of this gear you'd like to share? Please drop us a line in the comments below to let us know!
Likewise, we welcome all your questions, comments, concerns, and even topic suggestions. Your input can only make us better.
Thanks for reading, and have fun shopping!