As a griller, the slightest bit of sunshine has me firing up my grill to char some meat. With time and patience, and the right kit of course, I have gone from basic BBQs to insta-worthy feasts.
The best piece of kit any griller can invest in is a good-quality wireless thermometer to aid in cooking everything to perfection. Because you can't argue with temperature when it comes to achieving the best cook.
But being able to do it from a distance while chatting and drinking a beverage (or three!) is a luxury we all deserve!
There are many, many, Bluetooth digital thermometers out there to choose from, and it's hard to know where to start.
But the first place you should start is here with this Weber iGrill 2 review. It allows you to schmooze your guests while monitoring everything from your smartphone.
In this review, I'll break down the iGrill 2 in detail and show you what it is, what it does, why it is a recommended product, and… why this wireless thermometer might just be your ticket to grilling success!
Overview
Weber iGrill 2 Thermometer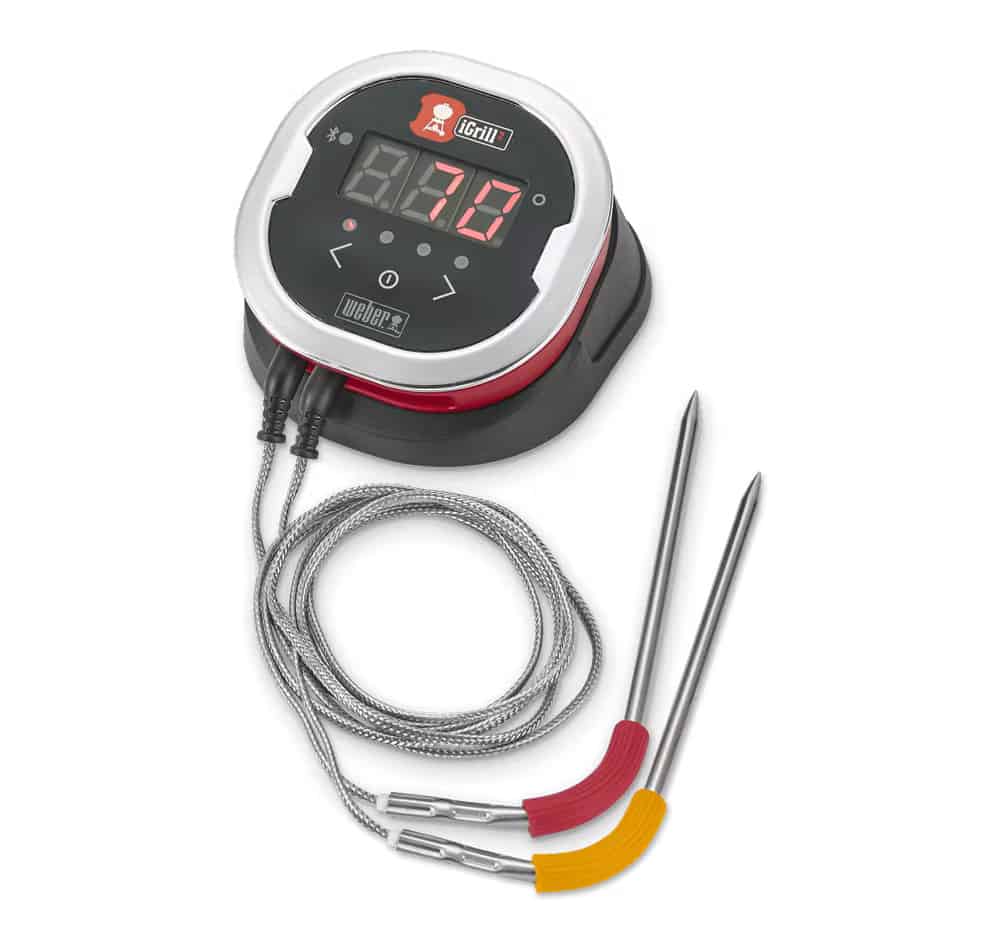 A four-probe, digital Bluetooth grill thermometer from the world-renowned brand, Weber.
With an operating range of -22°F to 572°F, probes that can withstand up to 716˚F, a smartphone app that makes operation both familiar and dead simple, a 200-hour battery life, preset temperatures, and many other features to help while grilling, this might just be the thermometer for you.
The iGrill 2 is a Bluetooth-enabled smart thermometer. Instead of using radio style wireless technology to beam the temps to a physical receiver, it uses Bluetooth to connect to your smartphone or tablet. It allows you to monitor up to four separate probes, either meat specific or ambient, simultaneously. Meaning you can see the temp of your smoker or grill and the meat you're cooking from the comfort of the sofa.
It also allows you to choose preset temperature guides or set it yourself, use it wirelessly or as a dedicated temperature monitor at the grill. The iGrill 2 meat thermometer is a quality piece of kit from Weber who has a big reputation in the grill game
It is super easy to use. Download the app, connect your device, plug in your probes, throw your meat slab of choice onto the grill, stick the probe in and walk away.
To get a good idea of this thermometers features and use, here's a general overview video from Weber themselves:
What's in the Box?
iGrill 2 Bluetooth transmitter
2 x 48″ meat probes
2 x probe wraps
2 x colored probe indicators (yellow and red)
2 x AA batteries
Quick start guide
Magnetic disc (sticky, to place somewhere for magnetically hanging your thermometer.)
Key Features
For a simple thermometer, the iGrill 2 has a lot to shout about. Here are the key features that we like, and how we found them in use:
The IGrill App
The app from Weber is one of the best around and is continuously updated to fix bugs, upgrade the abilities, and create a fab all-round easy to use app.
The iGrill app is available for both iOS and Android. It has some really good features like being able to nickname each probe, multiple presets, a timer, and recipes to inspire you along the way!
For the buffs out there, it also has the added ability to view a graph of time vs. temperature.
This graph can be exported as a CSV file for future cookout deliberation. This needs to be done during the cook because data is lost when connection is switched off.
Grilling Presets
The iGrill app has temperature presets for just about everything you can think about cooking. It covers multiple cuts of beef, lamb, and pork, several classes of poultry, some game, and fowl and six types of fish.
On the steak front you can also choose from rare, medium-rare, medium, medium well-done, and well-done and it will set the target temp and monitor for the perfect result.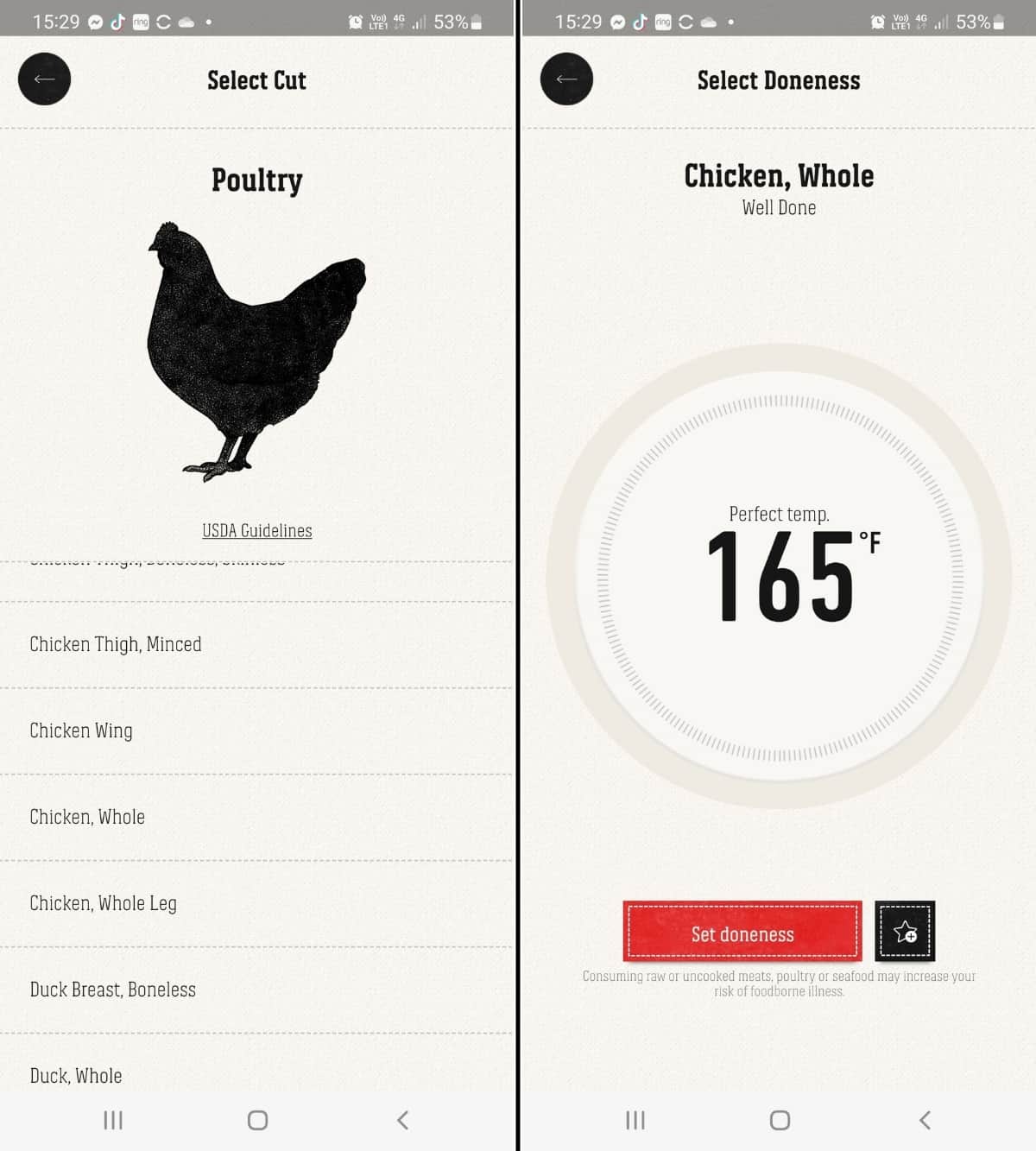 For chicken, there's one target temp for safe cooking practices, meaning pink chicken is a thing of the past.
Plus, you can also create custom presets and set up multiple timers for each probe.
And if that wasn't foolproof enough you also have colored sleeves to help distinguish each probe and make sure you don't get them muddled up.
Alarms And Notifications
There is a basic timer setting on the app that you can customize, but I can't see why you would use it when you have access to temperature and so many presets.
When you set custom alarms for each probe the app sends notifications to let you know your food has hit its perfect temperature. Plus, there are numerous alarm settings within the presets to notify you of key points in your cooking, such as if the temperature drops so that you know if things are also going wrong.
Manufacturer Specs
Probe dimensions: 5″ (H) x 0.5″ (W) x 2.6″ (D)
Unit dimensions: 2.2″ (H) x 3.2″ (W) x 2.2″ (D)
Four probe capacity (two meat probes included)
Heat resistant meat probes (up to 716 ̊f)
200-hour battery life (batteries included)
Measures temperature of -22°f (-30°c) to 572°f (300°c)
Range
The iGrill 2 wireless range is up to 150 feet, dependent on obstructions between you and the transmitter, including the walls of your house.
150 feet is more than enough for most of us to wander inside to watch a bit of TV or have a chat with our guests while the grill does its thing. Pairing the Bluetooth device takes less than a minute with the in-app prompts, and in my testing it worked every time.
I have read other reviews and user experiences where people have stated issues initially connecting, but there is a troubleshooting guide right in the app that helps you get going.
A Look at the Probes
The probes are the quality we have come to love and expect from Weber – durable, braided stainless and 1.2 meters in length.
They can measure from between -22 °F (-30 °C) to 572 °F (300 °C) and are built to stand up to a heavy all-day grilling session. They also come with a cable tidy so that you can keep them neat and tangle free. The cable tidies also stack by clicking together, which is helpful for keeping everything neat and together.
The probes also have color-coded sleeves to help with easy identification.
The Weber iGrill2 comes with two probes, and both are for monitoring the temperatures of your food. If you'd like a 'pit probe' for monitoring your BBQ temperature, then you have to purchase a Weber iGrill ambient temperature probe separately.
Personally, I just used a clip I had from another thermometer to use a food probe to measure the pit temp. However, I would not recommend this as I'm sure it will severely reduce it's longevity. Do buy the correct probe for the job!
Probe Issues
We thought it would be prudent to address some of the issues that a minority of reviewers have had with these probes. It is common sense to note that although they are built to withstand high temps, meat probes can be damaged if not used correctly.
Avoid inserting them into the food when you are searing your meat 'high and dry', as direct cooking over extremely high temps will likely take them to their limit. Instead, take the steak away from the direct heat and insert the probe. They are best used for indirect or convection cooking.
Avoid pinching the wires of the probes under lids and other heavy items because over time it can cause breakages in the wire on the inside. As long as you look after your probes they will look after your love of grilling for many years to come! I have now used an iGrill 2 and an iGrill 3 — that have the same probes — for over a year now, and my original probes are still going strong.
Cleaning and Maintenance
As with all electronic equipment there is a right-way and a wrong-way to clean them. A mistake that many grillers make is not cleaning their meat probes, but they harbor bacteria so do not skip this part!
Weber instructs to clean them with a lint-free cloth and non-abrasive cleaner, and to never fully submerge them in fluid as they are not waterproof. Submerging them in water can kill them, and this will void the warranty.
Ease of Use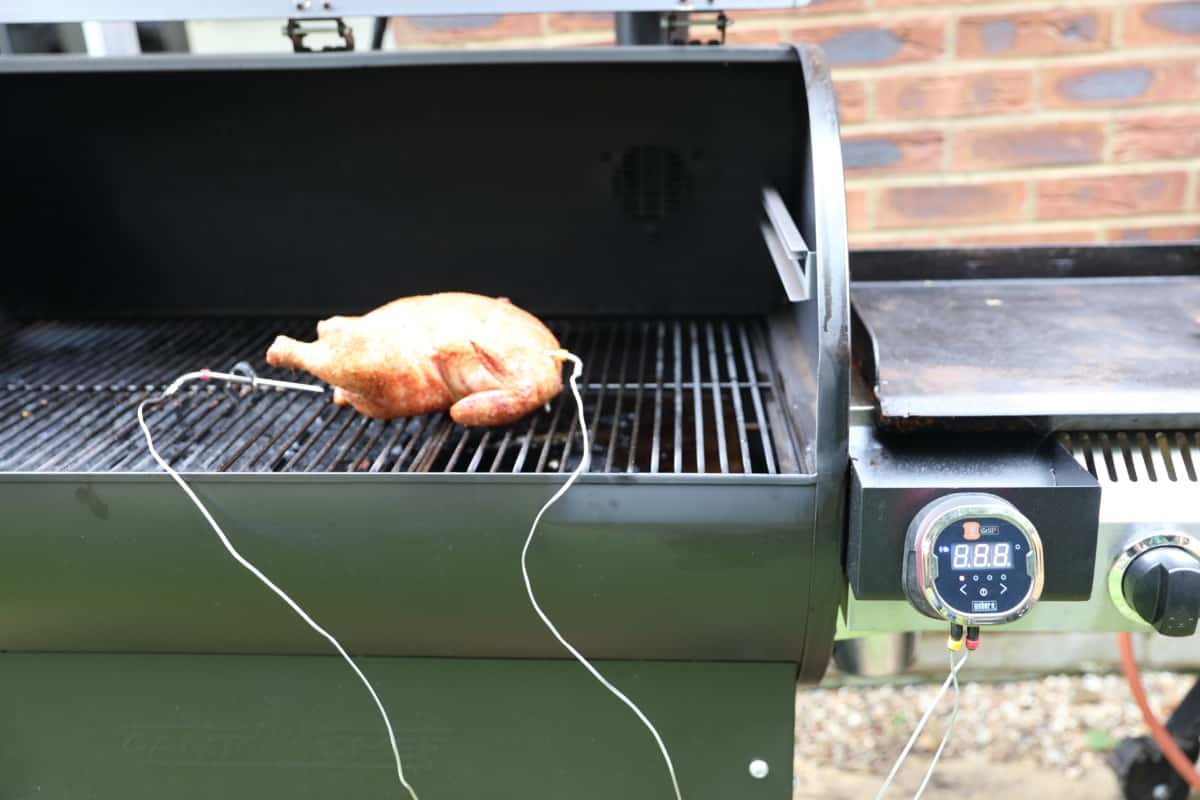 The iGrill app makes the thermometer a doddle to use. An easy-on-the-eye interface and clear instructions mean that it is simple to connect to and the presets are already laid out for you to choose from.
The smartphone app walks you through every little step of setup, literally making it fool proof. I got up and running without consulting any manual, and I'm sure you will too.
This thermometer and app combo should have you grilling in minutes without any real fuss. If you can navigate an app, you can navigate this thermometer.
Speed and Accuracy
The iGrill 2's wide range of -22 °F to 572 °F means it does more than just grilling your favorite piece of meat. And with its snappy refresh-response time of around three seconds it is a joy to use.
Although not an instant read thermometer, it does find a level temperature fairly quickly when transitioning from air temp to meat temp. This is typically around 5 to 7 seconds which is much quicker than some of its rivals.
Weber claims it is accurate to within one-degree fahrenheit and many other reviewers have also said that they find this claim to be accurate. Let's put this to the test.
Ice Water Test
Water freezes at 32 °F, so any probe inserted into a jug of iced water should read very close to this temperature.
As can be seen in the images above, the Weber iGrill 2 measured 31 °F and 32 °F on its two probes. This is accurate, within the advertised tolerance, and more than good enough to satisfy any grillers needs.
Boiling Water Test
Water boils at 212 °F at sea level, and lower the higher in altitude above sea level you go. I live close to sea level, so would expect to see very close to 212 °F in a boiling water test.
The Weber iGrill 2 probes measured 208 °F and 210 °F. This is out by 4 and 2 degrees respectively.
You can argue that because I used tap water, it will have a slightly different boiling point due to impurities. However, I also measured the boiling water temperature with two different instant read thermometers, which showed 211.8 °F and 212.2 °F. So I'm afraid to say the Weber probes were slightly out, and not as accurate as I would like to see.
Design and Build Quality
The iGrill 2 is a smart and compact piece of kit that looks well made.
The unit is made from molded hard plastic in a red and chrome finish to make it stand out and look good. It has a large LED display that shows temperature, and it tells you when you have switched it on or off.
I do find the segmented LED display hard to read in direct sunlight, having to hold my hand to shade the display in order to see it. But with the info being displayed on my smartphone, it's not too big an issue.
However, instead of a multi-segment LED display, it would have been nice to have a display that you can see in the sun, as BBQ for most people takes place on hot and sunny days!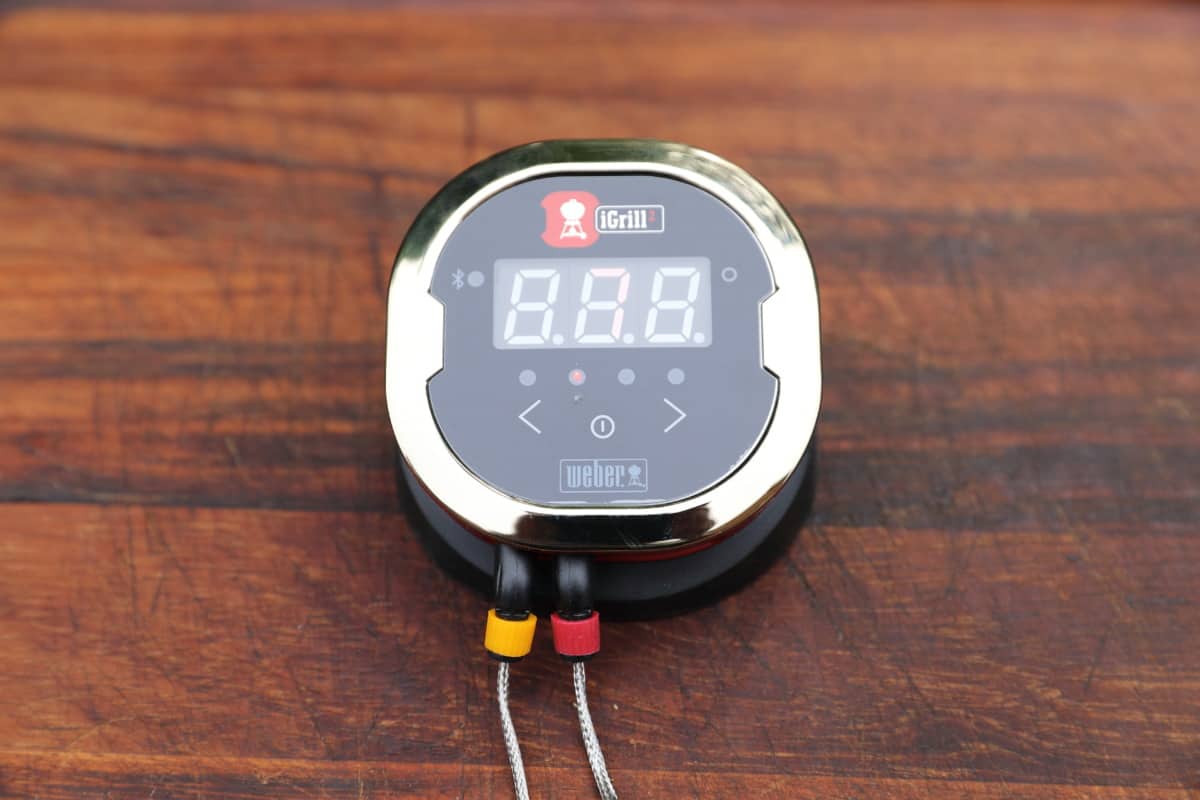 The 4 probe ports are a tight fit and provide a good connection to the probes, so no wobbly connections.
Warranty and Support
The iGrill 2 accessories come with a two-year warranty, which is typically double what is offered by similar thermometers.
Weber's support options are vast with the choice of telephone, email or sending them a question via their website. There are product FAQs and downloadable manuals available, as well as recipes and other great information on how to care for and prolong the life of anything Weber related.
Final Verdict
Weber iGrill 2 Thermometer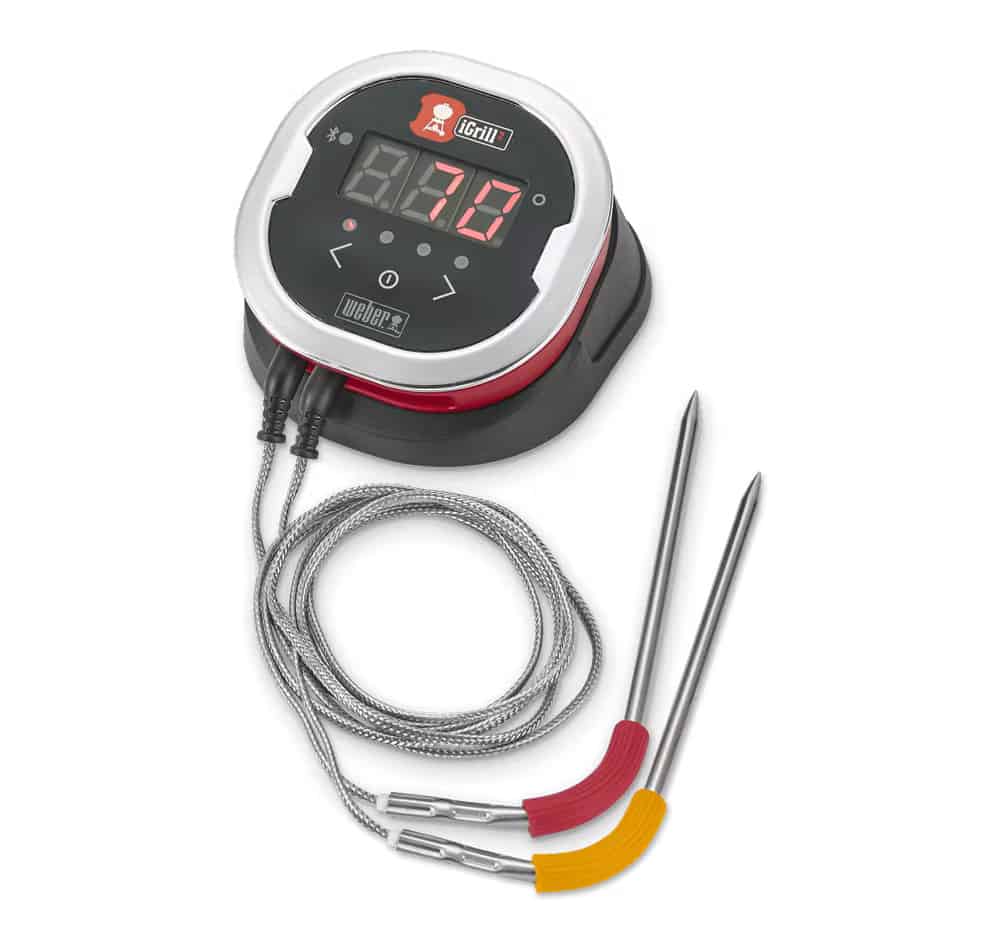 A four-probe, digital Bluetooth grill thermometer from the world-renowned brand, Weber.
With an operating range of -22°F to 572°F, probes that can withstand up to 716˚F, a smartphone app that makes operation both familiar and dead simple, a 200-hour battery life, preset temperatures, and many other features to help while grilling, this might just be the thermometer for you.
Well done, you've made it this far in my iGrill 2 review, and you now have the knowledge to decide if this gadget is for you.
Let's recap, and decide whether we recommend the iGrill 2.
Pros
Hands-free grilling
Easy to set up and connect
User friendly app
Extensive range of presets
2-year guarantee and fantastic support from Weber
Cons
Probe is not dual use – if you want it to do ambient, you must buy a specified probe
During the boiling water test, the two probes were 4 °F and 2 °F out from true, which is quite a way off and I would expect to see better.
The display is very hard to see on a sunny day. You need to shade it to read it (but the info is on your smartphone for easy reading.)
There is no way to save your cooks in the app for future reference, and current data can be lost if connection drops
Will I Get Value for My Money?
I would say so, yes.
The amount of food that will be saved from disastrous cooking is value enough. But add to that the time saved fussing over the grill and the time gained gassing with friends, means value for money in anyone's book.
However, I do feel there are more accurate thermometers at this price point that perform slightly better.
If I'm in the Weber ecosystem, owning and loving their products and want to stay with that brand, it's certainly a decent thermometer. But if not, you might want to consider other options for Bluetooth grilling and BBQ thermometers instead.
Is this a Recommended Product?
It is, but with the caveats I've discussed above.
The Weber iGrill 2 is a good digital thermometer that works with any grill setup and can vastly improve your cookout experience. With acceptable accuracy, an awesome app and multiple probe options, this gadget offers you great convenience and results that many wouldn't get without it.
Thank you for reading our Weber iGrill 2 review. If you have any questions on it, please do add them in the comment section below, and we'll help where we can.
Happy grilling!