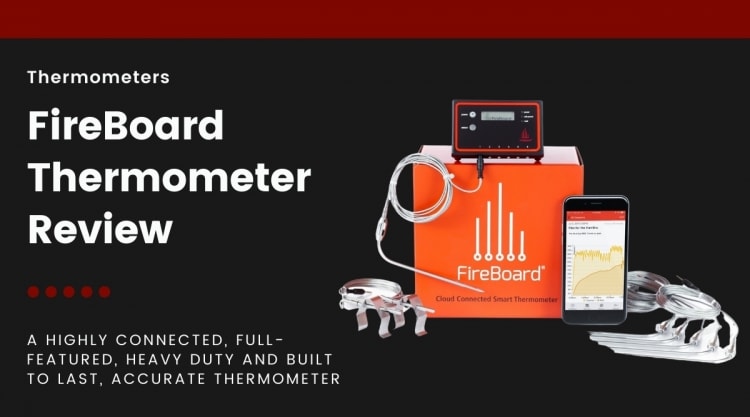 In this Fireboard thermometer review, we're going to show you what it is, how it works, how it offers further accessories and versatility as well how its app-based technology will literally change the way you cook.
If you haven't heard of the Fireboard brand yet, then be prepared to be impressed. The company is still relatively new, initially launching on Kickstarter back in 2016.
But their well-engineered Fireboard FBX-11 thermometer with its excellent build quality, accuracy, and app-based Cloud connectivity soon grabbed people's attention and raised their profile.
So, what's so great about this gadget I hear you say, thermometers are ten a penny? Well, Fireboard is a new standard of food thermometer with some very clever design features.
This gadget is likely to please novice and pro alike, so let's get into it!
General Overview
The Fireboard is a Cloud-connected Bluetooth and Wi-Fi thermometer and controller.
With six channels available, four meat probes, a rechargeable battery, and two waterproof probes provided, you have all you need for next-level cooking.
Plus, it has an 8-pin auxiliary port to support the Fireboard snap-on blower 20 CFM that can be used to automate temperature control.
The real-time information from the probes and fan are displayed on the companion app or via the website login for you to monitor and adjust as you see fit. You can even receive real-time texts or alerts when temps are hit or deviated from.
It really is all-encompassing.
And if that doesn't impress enough, it also logs the data from your device and backs it up on Fireboard's servers. So never again will you forget how you got that last brisket so perfect!
Here's the original Kickstarter video for an excellent overview and look at this great bit of kit:
Key Features
Here are the most standout features of the Fireboard, that we like so much it leads to us including it in our buying guide to the best smoker and grill thermometers:
Hands-off Control
The Fireboard is designed to be hands-off. The main unit has a display that will allow you to tab through each probe and temp, but that is it.
Once it's set up, all your controls are at your fingertips via the app. That way you can watch your cook from wherever you want. Living room, pub, man cave, it's up to you.
So, whether you use it as a thermometer only or a temperature controller with the added snap-on blower, you can see current temperatures of the meat, the pit, and the ambient cooking temperature, and adjust them with a few taps of your smartphone screen.
So, you'll be in the know when estimating how long it will be until the family can devour your perfect pork butt.
The connection is either Bluetooth 4.0 (BLE) with a 100-foot range, or Wi-Fi depending on which is available.
Fireboard has now added voice-activated control with Alexa, so if you've got your hands full of something else, then you can just ask Alexa to sort it out!
Cloud Connected
A Cloud connection is a game changer — it takes away any distance restriction you have via Bluetooth or Wi-Fi connection. Once the unit is connected via your home Wi-Fi, you can check in on it from anywhere in the world.
This means you don't even need your phone to hand if you have access to a web browser. You just log in via Fireboard's website and check in on your prime ribs as they smoke autonomously while you beaver away at work.
Then the data from your cook is saved and backed up to the Fireboard Cloud for you to create a cooking history. Letting you revisit the details of those beer can burgers you smashed last week.
The Fireboard even synchronizes your data with the Cloud after a loss of power or Bluetooth connection.
Compact
The Fireboard's small size almost makes you underestimate what it can do.
At just 5 oz., a touch smaller than the average iPhone (except slightly thicker), it does a lot. It is smaller and lighter than the Thermoworks Smoke with more features.
While the Smoke has two ports for two probes, the Fireboard has six ports for six probes, another port for a USB connector for charging, and an 8-pin mini-DIN auxiliary input port for accessories that supports both the snap on blower and generic branded blowers. With the rumored ability to add further accessories in the future…
High-Quality Probes
The Fireboard probes are made with RTD PT-100 thermistors that have a reputation for accuracy and have temp range of -58 to 716 °F (-50 to 380 °C).
Each probe has a 6" long braided stainless-steel cable with a 5-inch 90-degree prong. They look great and appear built to last and are confirmed waterproof by the manufacturer.
Fireboard also have a probe organizer available, which will answer the prayers of any pitmaster who has struggled with tangled and knotted wires (like me. Every. Single. Day.)
Fireboard App
The app is well-designed and extremely functional.
Customizable names for each probe mean they can display what they're attached to. So, if you have three different pieces of meat cooking, you won't have to remember which number correlates to which probe.
You can also name your cooking sessions, so you know which cooking result is which, good or bad. Plus, you can add notes/thoughts while they are fresh in your memory and set alerts for the app to send a text or email, so you don't miss it.
Accessories
As mentioned before, the Fireboard supports accessories.
The first one is the snap-on blower 20 CFM. A universal blower to control airflow and temperature within your grill or smoker.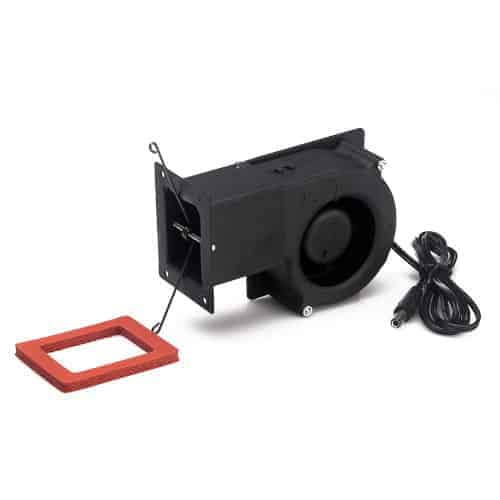 It has a spring-loaded clamp that slides into the bottom air vent of most grills and springs back to pull itself tight against its own gasket, making a tight seal.
It requires the Fireboard Drive Fan Control Cable, but once you have this, you can actually run any fan that has a 2.5 mm barrel plug.
Manufacturers Specifications
Fireboard FBX-11
Dimensions: 3.9" W × 2.4" H × 1.1" D (98 × 62 × 29 mm)
Power: Input 5VDC 200mAh (min)
Power Connector: Micro USB
Measurement Accuracy: ±0.7 °F (±0.4 °C), ±0.1% of reading
Measurement Range: -94 to 752 °F (-70 to 400 °C)
Measurement Resolution: 0.1°
Wireless Wi-Fi: 802.11 a/b/g/n & Bluetooth 4.0
Weight: 5 oz (142 g)
Battery Type: Runtime Li-Ion 4000mAh / approx. 25 hrs runtime
LCD: 128 × 32 black and white, backlit
Probe Inputs: 2.5 mm phone jack (6x)
Aux Port Input: 8-pin Mini DIN
Compatible with Alexa
Fireboard Snap-on Blower
Power source: 12 VDC, 0.68A, 8W (not included)
Cable length: 4.5 ft (1.4 m)
Electric power connector: 5.5 mm OD, 2.5 mm ID
Blower maximum flow rating: 20 CFM
Blower opening: 1.2 × 1.6″ (30 × 40 mm)
Maximum venting hole size for snap-on mounting: 1.85″ (48 mm)
Flange outer dimension: 2.0 × 2.5″ (49 × 62 mm)
Flange mounting hole distance: 34 × 53 mm, hole size, 3 mm in diameter
Ease of Use
The consensus is 'pretty darn simple.' Between the online tutorials, the instruction manual, and the reviews, it's a 3-step process: Unbox, plug it in, register on the app.
Most of the 'setup' time is the online account registration. It works independently of the grill controls and as such, uses well-designed sturdy thermometers to register temps that can be used with charcoal, gas or propane grills.
In other words, if it creates heat, the Fireboard will work.
The app is clear, concise, and user-intuitive, so if you can download and navigate your way around a new app, then you won't have any issues with this one. The interface is bright and self-explanatory.
Maintenance and Cleaning
The Fireboard unit itself does not get involved with the cooking, so it just needs a wipe if you manage to spatter it with anything you're cooking. But truth be told it doesn't need to get close to the grill with the 6-foot cables on the probes.
The probes themselves are waterproof so that they can be wiped off with a damp cloth or washed in soapy water. Just don't submerge them for any prolonged period as per manufacturer recommendations.
Unit maintenance is simple, too, all dealt with via app updates that will happen automatically while your device is connected to Wi-Fi.
Warranty and Support
The Fireboard warranty details can be found here, but in a nutshell, you get 12 months for the Fireboard itself and six months for the probes. Conditions apply, but it covers defects and poor workmanship.
They also give you a 30-day money-back guarantee should you decide you aren't happy with it for whatever reason.
But with the extensive support and extra help on their website, we're pretty sure any issues will be resolved, and you will love the Fireboard.
Final Verdict
You need this in your life. It really is that simple. Here's why:
What We Like
App functionality — easy-to-use and super detailed
Cloud connectivity — increased range and automatic data saver
Heavy-duty, accurate probes — run up to six at once
User-friendly support for generic blowers — fan cable supports many 12V blowers
Easy install and setup
Compatible with Alexa
What Could be Improved
Does not come with a case or holding kit (if we're being picky)
Value for Money?
Absolutely!
Fireboard offers two kits.
The first is the unit meter, charger, and three probes, two meat and one ambient with clip for attaching to the grill grates.
The second offers all this plus an extra ambient probe and a total of six meat probes.
Both kits offer considerable value for money compared to other kits in the marketplace.
Is this a Recommended Product?
Not just recommended, applauded! We say get one on order now.
Conclusion
To summarize our Fireboard thermometer review, we love it. And we are confident you will too.
Considering it can offer the ability to monitor up to 6 temperatures simultaneously and regulate the temperature of the cook via the snap-on fan, all while you sit and do whatever the hell you like — what is there to complain about? Not a lot in our eyes!
It's evident that this unit has been well-conceived and executed by Fireboard in their design and manufacture process, but the proof is in the pudding. So when you get your hands on one, let us know what you think in the comments below!
Product images courtesy of Fireboard.com