This article covers the FireBoard 2 Drive digital barbecue thermometer, including unboxing, pros and cons, and my hands-on review.
I'm not one of those tech-obsessed guys who has to have the latest and greatest. Well, not all the time. I mean, when a new version of my cell phone comes out, I'm not lining up to get my mitts on that extra camera or a trendy new color.
But, when I found out there was a replacement for one of my favorite barbecue thermometers, I knew I would give in and buy it eventually, even though the old one was (and is) working just fine.
Going into this review of the FireBoard 2 Drive, my expectations were high. Its predecessor, the FBX11, is one of my top-rated thermometers, and I dove in head-first — I own not only the FireBoard 2 Drive but also a full complement of six probes and the Drive Blower fan.
So, here we go with my totally honest review in words and pictures. Did I make the right choice, replacing one of my most beloved thermometers with the shiny new version? Let's find out together.
General Overview
FireBoard 2 Drive Cloud Connected Smart Thermometer and Temperature Controller
Wi-Fi & Bluetooth connected, 6 Channel, Weather Resistant, Alerts & Notifications, 30+ Hour USB Rechargeable Battery
Professional quality, easy set up grill and smoker thermometer that, with the addition of a 'Drive Bower', can also automatically control the cooking temperature inside your smoker.
Bluetooth and Wi-Fi enabled, monitor and control anywhere you have an internet connection.
The FireBoard 2 Drive is a six-channel digital probe thermometer made especially for smoking, roasting, and other long cook sessions.
This versatile thermometer can display data from up to six probes, including ambient and food temperatures, on a built-in LCD screen and via a proprietary app on your smart device or computer.
Connection to your device is through Bluetooth or your home WiFi network, and you can save session data in the cloud for later review.
With the addition of the 'Drive Blower,' you can also set up this device to control the temperature of your BBQ by way of a forced-air fan. So you can set a temperature, walk away, and the FireBoard 2 Drive will maintain a consistent cooking temperature in your BBQ automatically.
A fun bonus is the ability to partially control and monitor the unit via your Google or Amazon smart speaker.
FireBoard is a Kansas City-based company that first hit the digital thermometer scene with the FBX11 back in 2016, a thermometer I considered at the time to be one of the best ever made. Spoiler: This one is even better!
What We Like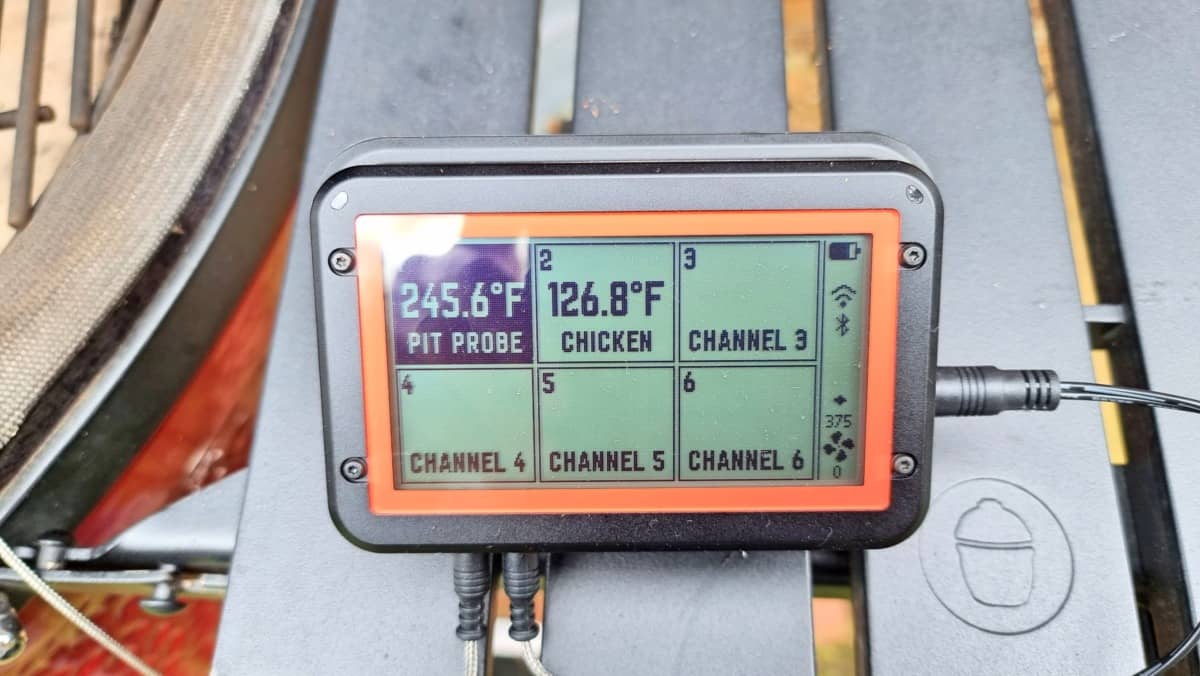 The option to use WiFi or Bluetooth is a welcome one, and I wish more companies offered it. Over-reliance on your WiFi network is a shortcut to frustration, as is the limited range of Bluetooth! It's great to have the best of both worlds.
Six probes seems like a sweet spot to me; I can load up my smoker or grill — or even multiple cookers — with a variety of meat and keep tabs on it all simultaneously.
I love that the display automatically flips depending on how I have the base unit oriented. Why is this not standard for all thermometers, both leave-in, and instant-read?
I also love how easy to read the large backlit display is, along with the four modes of display possible (more on this later), you have all the info you need right at the controller, as well as on your smartphone.
Rarely for a BBQ thermometer, I have not yet once had the smartphone disconnect. Most apps have connection issues. So far, so good with this one (over multiple cooks over many months.)
I also love that it has a rechargeable battery that lasts up to 30 hours. This allows me to charge the unit from one of many USB phone chargers I already own — or with the USB charger supplied — and then I am free to use the thermometer without being tethered to a power supply. And I don't have to keep a supply of batteries.
Lastly, I really do like the design, look, and feel of this thermometer. It's good in the hand, pleasing to the eye, easy to read, and a joy to use.
What Could Be Improved
I've found it really difficult to find any areas needing improvement on the FireBoard 2. It's a well-thought-out, highly functional device that plain works, and works very well.
I suppose the trade-off for the streamlined exterior is the unlabeled, multifunction buttons. I found myself closing out of modes I wanted and opening ones I didn't before I got the hang of the system. I'm not sure what the solution is, but there's for sure a learning curve to get over during your first few uses. (And yes, the smartphone app negates the need to use the buttons, I know, I know!)
Other than this, FireBoard has just nailed it with this device.
FireBoard 2 — Three Different Models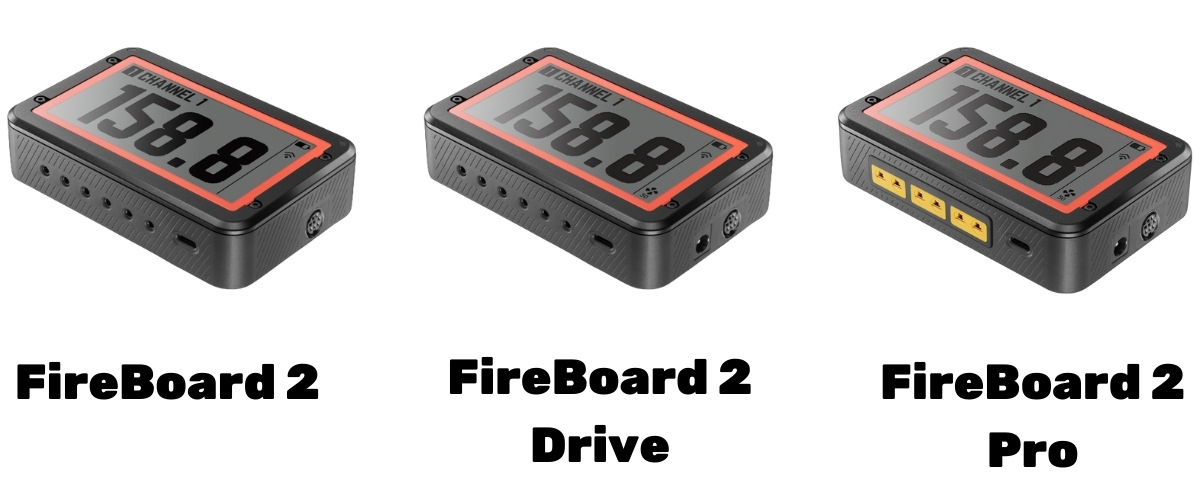 The FireBoard 2 comes in three configurations: the base FBX2, the FBX2D Drive, and FBX2K Pro.
Looking at the screen, you won't see any differences between the three models. A side view, however, reveals the points of distinction.
Both the Drive and Pro models support the FireBoard Blower out of the box without the need for an additional cable. The Pro version is unique in that it's the only version that supports three Type K Thermocouple probes instead of six standard probes.
Here's all that at-a-glance for you:
| | FireBoard 2 | FireBoard 2 Drive | FireBoard 2 Pro |
| --- | --- | --- | --- |
| Channels | 6 | 6 | 3 |
| Probe Type | RTD & 100K Thermistor | RTD & 100K Thermistor | Type K Thermocouple |
| Probe Range |  -58 to 716 °F (-50 to 380 °C) / 0 to 572 °F (-18 to 300 °C)         |  -58 to 716 °F (-50 to 380 °C) / 0 to 572 °F (-18 to 300 °C) | -148 to 1202 ˚F (-100 to 650 ˚C) |
| Drive Compatibility | Drive Cable required | Built-in | Built-in |
I went with the Drive model seeing more value in the option for up to six probes (and yup, I bought enough to fill every port!) than in the expanded range of the Thermocouple probes.
Note that both the base and Drive models come with the 100K Thermistor-type probes. You can opt to purchase RTD (resistance temperature detectors) probes separately. If you use any RTD probes, you'll have to manually configure the base unit through the app to recognize them; the base does not automatically detect which type is plugged in.
Which is the better choice? That's a matter of opinion. I prefer the rapid response time of thermistor probes over the wider range of RTDs, but there are pros and cons for both. You can learn more about the differences here: FireBoard's two different available probe types.
FireBoard 2 Drive: Key Features and Manufacturer Specs
Dimensions: 4.4"W x 2.8"H x 1.1"D (112mm x 72mm x 29 mm)
Weight: 8 oz (226.8g)
Power Input: 5VDC-12VDC, USB-C Power Delivery
Battery Type: Li-Ion 4000 mAh
Battery Life and Charge Time: Around 30 hours on a full charge; 4–6 hours from drained
Power Connector: USB-C
LCD Display: 256 x 128 black and white, backlit
Operating Temperature: -13 to 140 °F (-25 to 60 °C)
Temp Range and Accuracy: -94 to 752 °F (-70 to 400 °C); ±0.7°F (±0.4 °C), ±0.1% of reading
Number of Probes: Supports up to 6 probes; includes 2 thermistor food probes and 1 thermistor ambient probe
Probe Inputs: 2.5mm phone jack
LED Status Lights: Multi-color RGB LEDs
Aux Port Input: 8pin Mini DIN
Drive Port: 2.5mm barrel
Antenna: Internal
Bluetooth: Bluetooth 4.0, range up to 100 feet;
Wireless: 802.11 a/b/g/n, WEP, WPA, WPA2 encryption; internal antenna
What's in the Box?
I purchased a range of products from FireBoard, including the FireBoard 2 Drive thermometer, the Blower, the magnetic stand, cable tidies, and extra probes to make a total of 6 each ambient temperature and food probes.
Obviously this is a bit overkill for almost anybody's needs. But I intend to use this thermometer to the max when testing new grills and smokers in future, to get temperature readings across the grates, from front to rear, and left to right, placing 6 probes at once for readings.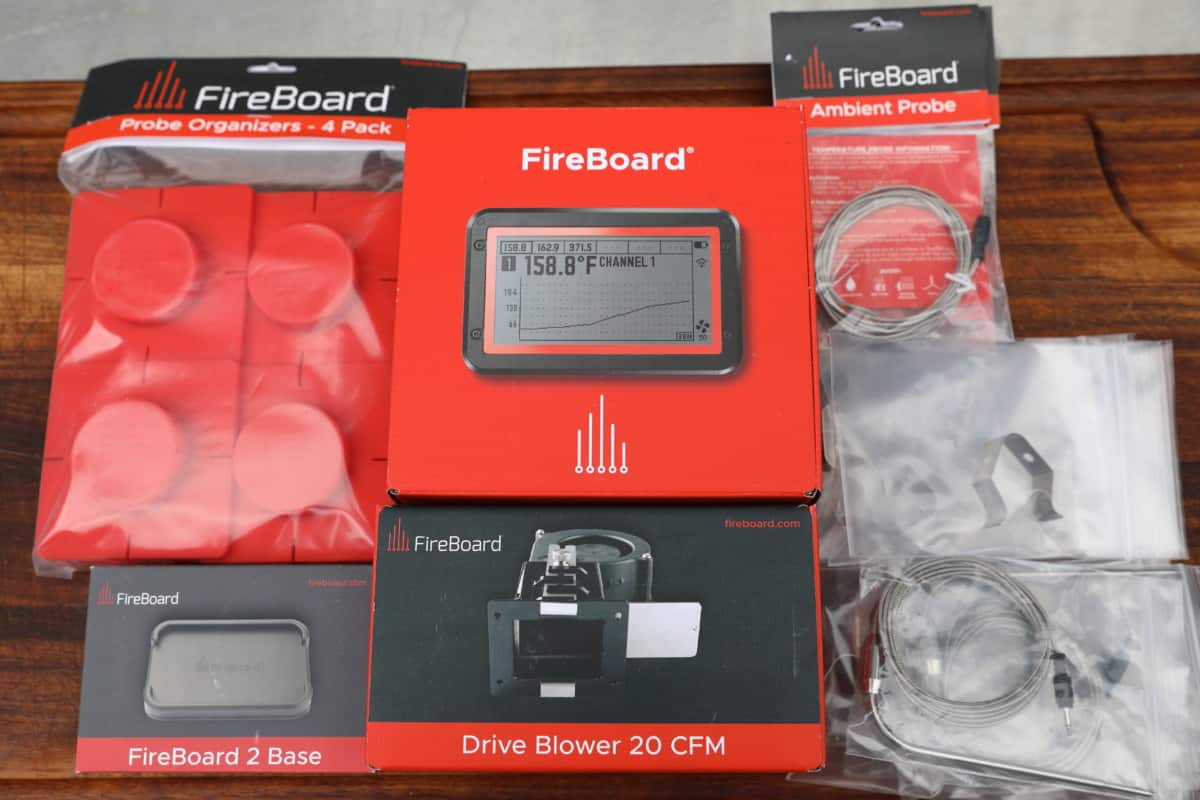 Anyway, enough rambling. Let's look at what comes in the three boxes separately.
Fireboard Drive 2
Cracking open the signature orange box (don't @ me about my color perception) reveals a user guide, a card on weather resistance, another card about the probes, a third covering wireless connection info, a fourth about the warranty, two food probes, one ambient probe, a grill clip, your charging cable and block, and the base unit.
Don't worry if it looks like the unit arrived turned on; it's just a screen protector that mimics what you'll see on the display.
Unusually, FireBoard include instructions on how to test the probes for accuracy! This shows some confidence in their product.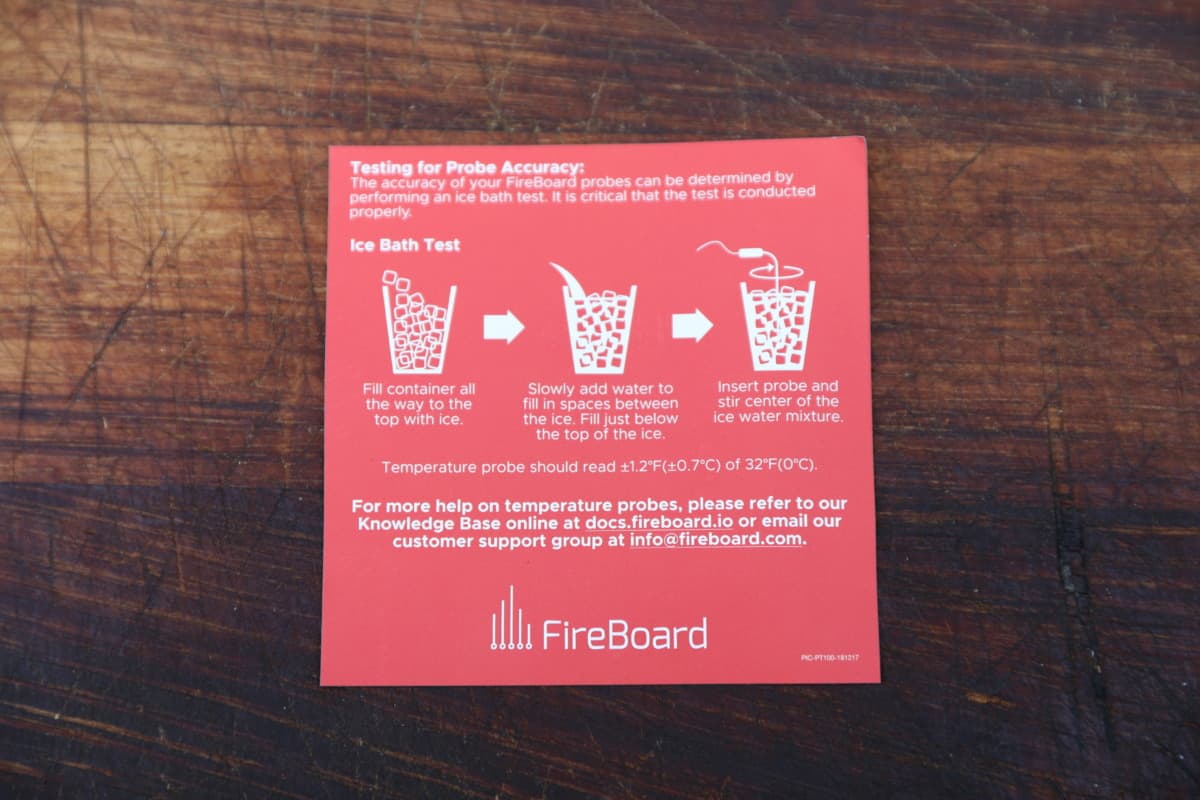 You may wish to keep the box, by the way. The FireBoard 2 Drive fits nicely inside, so it's pretty handy for storage — and it's free!
Blower
The FireBoard 2 Drive Blower comes in a box with the same colors and style as the main unit.
All you get in the box are the blower itself and two little adaptor plates used for fixing the blower to different smokers.
The lack of instructions included struck me as odd, and I feel they should have been included. I had to search out a video, which I will discuss more in a section on the blower below.
Magnetic Base and Stand
The optional magnetic base comes in a box with the same look and feel as the main unit. All you find in the box is the base itself, with no other packaging, items, or literature. But then, you don't need anything else! It's a simple object and self-explanatory to use.
First Impressions
When I first got my hands on the FireBoard 2, I immediately sensed this is a durable, well-built thermometer. At 4.4" x 2.8" x 1.1", it fits nicely in my palm and feels substantial without being bulky.
It looks professional, with the two-tone combo of the dark grey housing and burnt orange bezel around the screen. I like the look of four hex-key screws breaking up the otherwise smooth top face; I don't expect to take it apart ever, but it somehow makes the unit appear rugged.
Plugging and unplugging cables is simple, what with the unit being a rectangular box. And the three buttons are neatly located on one side.
The screen takes up most of the top panel, and, based on the protective sticker, it should be easy to read.
Design and Build Quality
Grills, thermometers, dates: I've been duped by pretty packaging before! We know the FireBoard 2 Drive looks the part, but, how does it perform?
Durability
The rubberized plastic housing is solid, and the unit has decent heft considering its size. FireBoard does not specifically call out drop resistance, but I'd wager it'll take a few knocks and dings.
The curved corners and lack of anything sticking out (like an antenna or stand) make it far less breakable than some other thermometers I've tried.
I also purchased the 'FireBoard Magnetic Base' for my unit.
This fits the controller nicely, holding it in place with friction alone. It has a non-slip base, so you can confidently place it on any surface. And as the title suggests, it has magnets allowing you to stick it to a metal surface.
It also holds the thermometer up at an easier-to-read angle for better viewing and usability.
It's not an essential item to have, but I like it.
Screen
Like me, if any of you are learning what it means to be middle-aged, you'll appreciate the large LCD screen — it's a breeze to read. There are four possible views to choose from, including:
A live temp/time graph for the channel of your choice
Basically the same graph, but with all six channel readings displayed across the top
A 6-way split displaying info from all six channels (with the option to show a mini graph)
A MEGA font temperature display for the channel of your choice
The black-on-grey display provides plenty of contrast to make it easy to read, and it's backlit for night sessions.
Rotating the base unit 180 degrees causes the display to do the same, so no matter which of the long sides you have faced up (probe ports on top or at the bottom), you can read the data without standing on your head.
Probes
Out of the box, you'll start with three of FireBoard's basic thermistor probes, two for food and one for ambient readings.
As already discussed, I purchased extras to make a total of 6 food probes, 6 ambient temperature probes, and 6 clips to sit the ambient probes between grill grates.
The 5-inch food probes feature a 90-degree bend near the base, making them easy to insert and remove. Cables are a generous 6 feet long, so it's no trouble finding a convenient spot for the base unit to sit away from the heat.
The ambient probe measures 2.25" long and also features a 6-foot cable. I like the shorter length; some units use identical probes for ambient and food readings, leaving you looking for a spot where a 5- to 6-inch probe isn't in the way.
Probe Organizers (Optional Purchase)
Fireboard sells optional probe organizers, which, if you have just 2 or 3 probes, probably aren't necessary. But with the sheer amount of probes I've purchased, I feel they are essential to avoid the inevitable tangled and knotted mess.
The probe organizers hold two probes each, are a decent size, made of bright red rubber, have holes to insert the probe and plugs into before you coil the wire around them, and are stackable for easy storage.
I've not a lot to say about these really. They serve the purpose they are made for.
On one side of the FireBoard 2, you'll find three buttons. Each button has multiple functions, so they aren't labeled. Generally, you'll use them for changing your display screen format, as detailed in the Screen section above.
The buttons are integrated into the housing neatly, with no gaps to let in grease or moisture. They're no trouble to press and should be easy to operate even if you have sausage fingers.
To be honest, I found working with the buttons not at all intuitive at first, thanks to the lack of labels and how they change function (except the middle button) when you flip the unit over.
Before long, though, my brain accepted that top is always top, and bottom is always bottom. Once I got over that mental hurdle, I was good to go.
Stand
There's no stand, per se, with the FireBoard 2. In most situations, though, you won't need one. I found that either standing it on the long side opposite the probe ports or on the back worked fine.
For added stability, FireBoard sells a base that snugly holds the base unit on an upward-facing angle with both a non-slip bottom and magnets. As discussed above, I bought this and do use it. I like the way it presents the screen at a better angle for reading.
So although I like mine and recommend it, it isn't an essential purchase, just nice to have. The choice is yours.
Power and Battery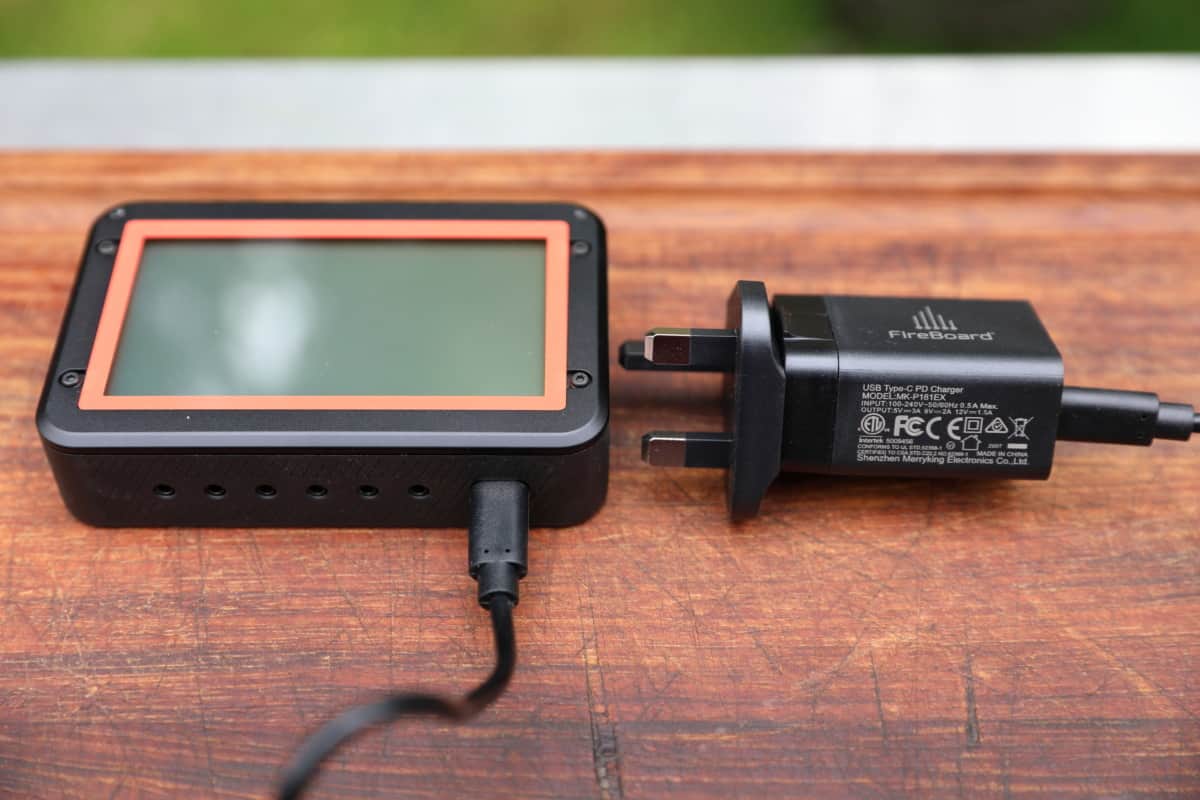 FireBoard 2 has an internal battery that can last up to 30 hours. It is rechargeable via USB-C, and FireBoard supplies the unit with a power supply and a USB-C cable.
I've not tested the battery thoroughly, to see if it does indeed last the 30 hours stated. But I have had numerous 12-hour+ cooks, and the battery still showed 50% or so charge. So I'm willing to believe the 30-hour claims, and certainly, I've never had it run out during a cook.
I like that power is supplied via USB-C, as I can then charge this unit with any of the numerous chargers I already have around my home that came with phones and tablets.
It's also good to have the option of running the FireBoard either plugged in or standalone from its internal battery.
Weatherproofing
The FireBoard 2 isn't completely waterproof, so don't submerge it. It is highly water-resistant, though, so a little bit of rain shouldn't be an issue.
It's also built to withstand ambient temperatures from -13 to 140°F (-25 to 60°C), allowing you to use your FireBoard 2 year-round in any climate.
Setup and Connectivity
As is the case with many digital thermometers these days, you'll need (or at least want) a smart device to operate the FireBoard 2.
A free app is available for Android and iOS devices that you can download from the Google Play store, or the iOS app store.
You can connect to your FireBoard via Bluetooth 4.0 or your existing home WiFi network. (I haven't tried it, but you can retrieve basic info, set alerts, and manage the Blower through your Amazon Alexa or Google Assistant smart speaker.)
Set up was very easy, with the app automatically scanning for any nearby FireBoard devices with Bluetooth. Next, it finds your device's serial number, and you select it on the app. From there, it's a simple matter to connect the FireBoard 2 Drive to your WiFi.
The dual connectivity is excellent, with each method complimenting the other. For example, I can use WiFi to monitor my cook from anywhere I've got an internet connection, like my living room. Or the local bar. If I'm home and the WiFi craps out, I can rely on Bluetooth to keep me up to date, albeit at a shorter range.
FireBoard provides Cloud connectivity for its users, automatically saving data from each cook session. You can easily use the app or log in through a website to bring up past cooks and review what went right and what didn't.
This is a great feature, especially for those still learning to master the art of low and slow cooking.
Accuracy
Like most of us, I have been guilty of confidently delivering information that turned out to be dead wrong. It's slightly embarrassing but usually good for a laugh. An inaccurate thermometer, however, is no laughing matter.
FireBoard claims an accuracy of ±0.7 °F. Let's see if the FireBoard 2 Drive is as good as the manufacturer claims.
Boiling Water Test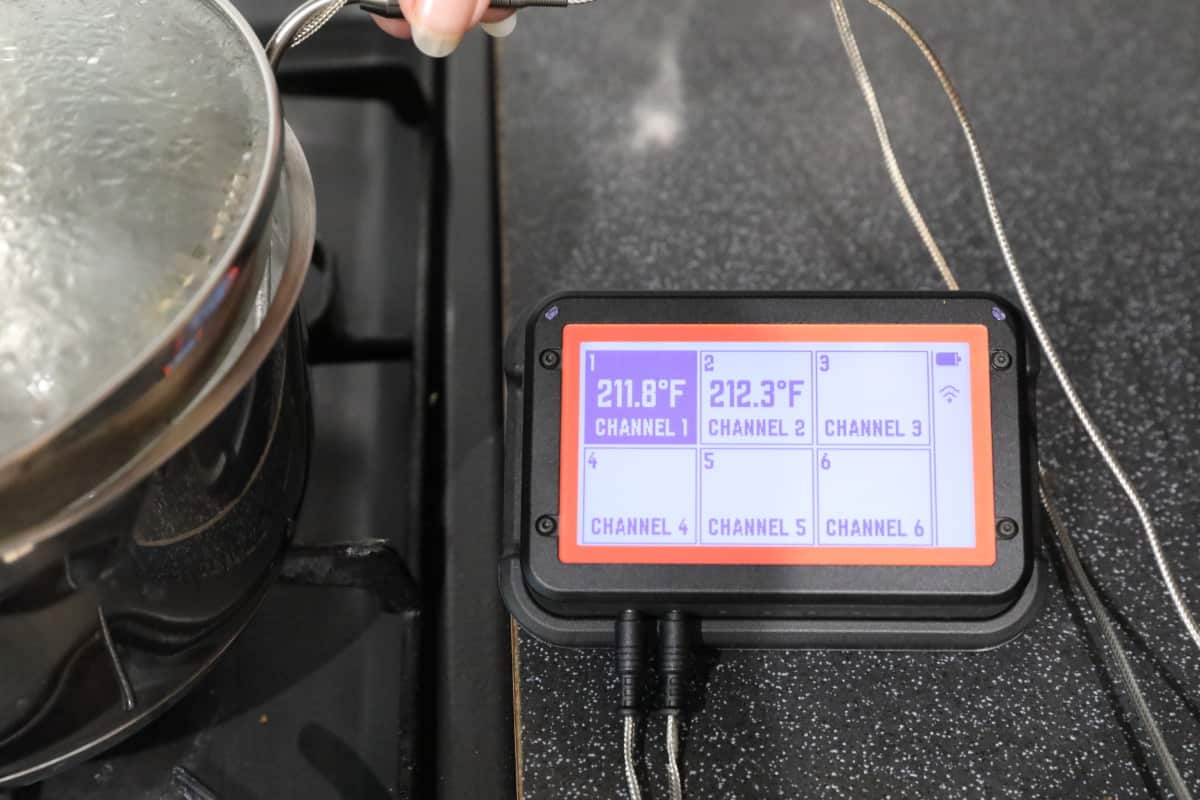 Water boils at 212 °F at sea level. I live at just a couple of hundred feet above sea level, so I can safely use this figure.
As can be seen in the photo above, the FireBoard 2 Drive measured boiling water at 211.8 °F using the ambient temperature probe and 212.3 °F with a food probe.
This is well within their stated ±0.7 °F, shows a high level of accuracy, and is an easy pass.
Ice Water Test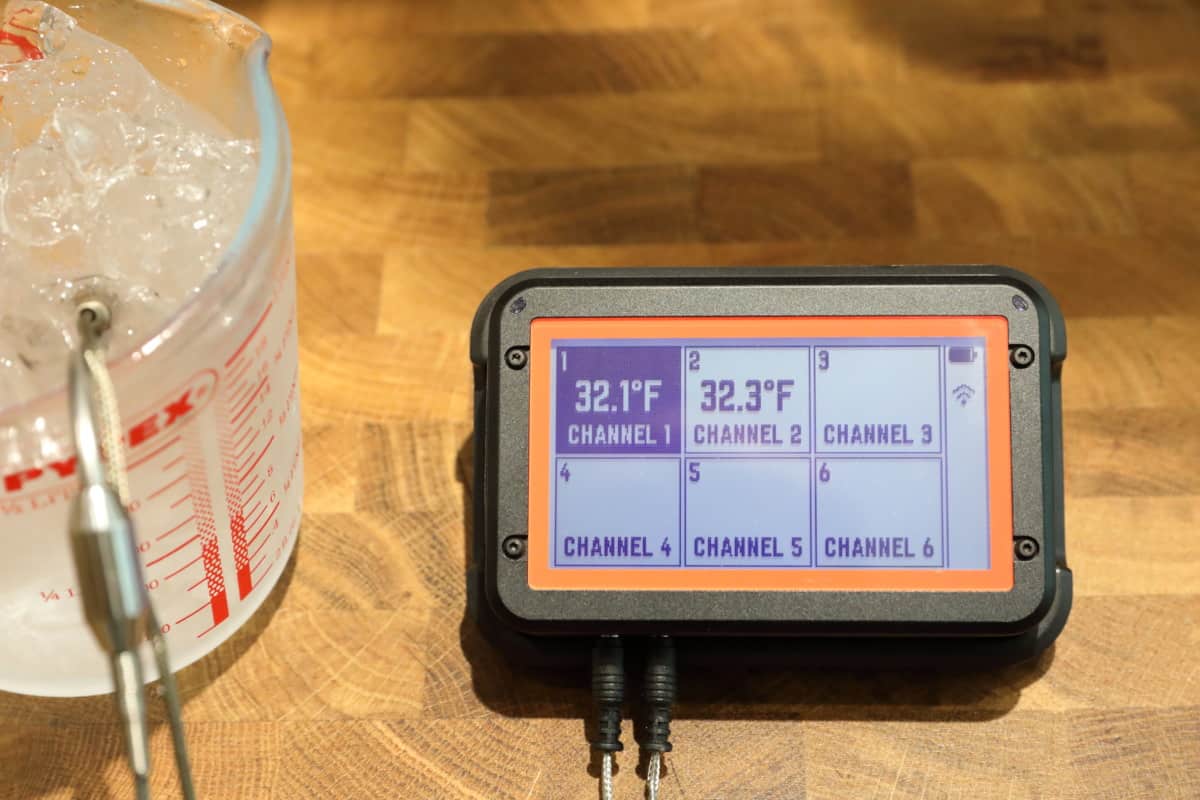 Water freezes at 32 °F, so ice water should show very close to this figure.
As can be seen in the image above, the FireBoard 2 Drive measured iced water at 32.1 °F for the ambient temperature probe and 32.3 °F for a single food probe.
Again, this is well within FireBoard's advertised figures, shows a high level of accuracy, and gives me the confidence to rely on this thermometer. It's another easily passed test.
The FireBoard 2 in Use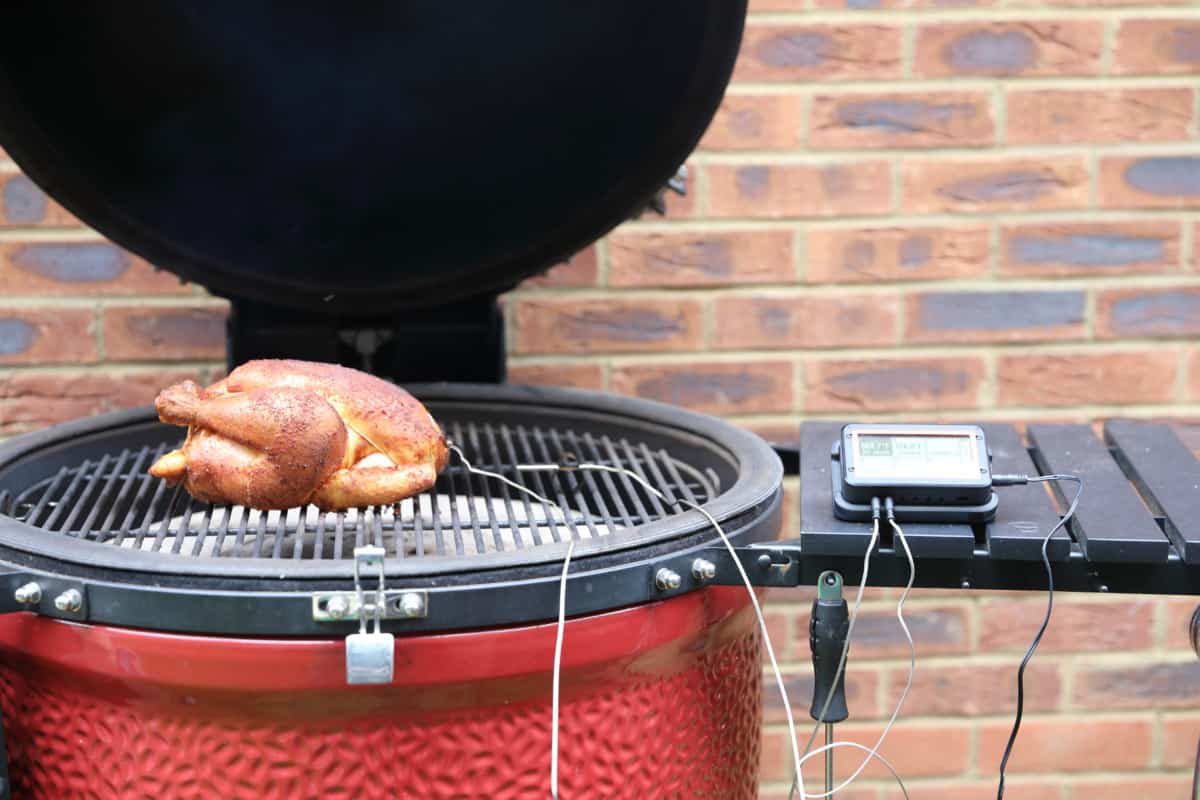 OK, we've gone over what this unit looks like, how it's built, specs and features, and tested it for accuracy. But how have I actually found it during use?
Probes
I found the food probes easy to insert. Though certainly no easier than most other probes! Removal was also easy, with the bend making them easier to grip and get purchase on for removal.
The ambient pit temperature probe is easy to slide into the clip provided, and that in turn is easy to squeeze in between the cooking grates to sit an inch above grate level.
Overall, the probes are fairly typical. There's not a lot you can say here, but zero complaints.
Base Unit
So, it's not the most functional base I've used, but it's not the least, either. Mostly, it's a receptacle for your plug-in probes, though if you own the Blower fan accessory, it's the brains behind that, too.
The display is very easy to read, and I liked toggling back and forth between the data options. I especially enjoy seeing the real-time graph of temperature and time, though my default seems to be the vision-challenged setting featuring a single channel displayed in large digits.
I also like that the display auto-rotates, so you can have the cables at the bottom or the top, and the display is always the right way up.
It stands up well enough on its own, though I'm seriously glad I picked up the magnetic base. It's just a little too easy to knock over without the base if you're not paying attention or you happen to get snarled up in the slack probe cables.
Three buttons on the side of the base allow limited interactions with the unit, and I'll go into those in-depth in the next section.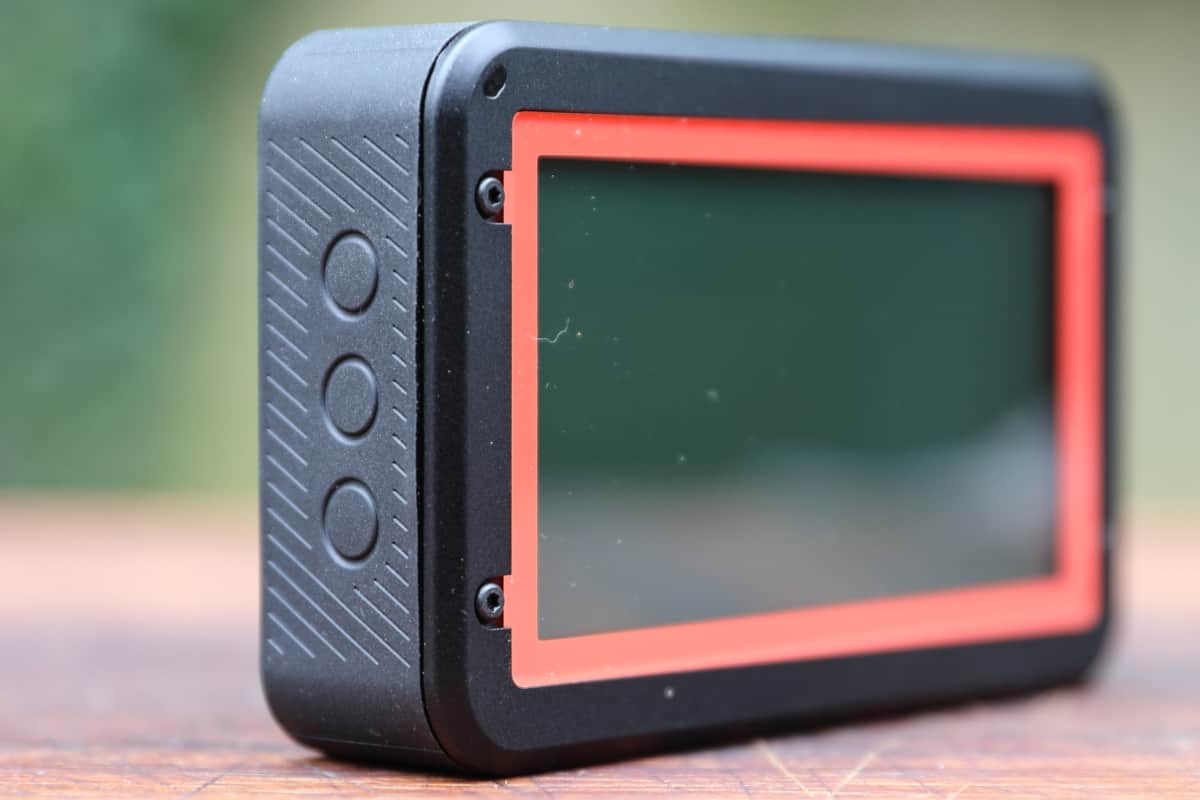 The idea behind the unmarked, multifunction buttons is to standardize function no matter which side of the unit faces up — the same functionality is always assigned to whichever button is closest to the sky and likewise for the button that is closest to the ground. The logic is sound, but it takes a bit to adjust to.
Pressing any button turns the FireBoard 2 Drive on. That's idiot-proof enough; so far, so good.
Pressing and holding any button brings up three options, one for each button: Power Off, Settings, and Drive.
Power Off — is self-explanatory.
Settings — allows you to view info about your FireBoard 2, including battery level, connectivity details, and firmware version. In Settings, you can also choose to perform a factory reset.
Drive — gives you access to fan controls if you have one connected, including manual power levels and auto settings for hitting and holding a target temperature.
Now, on to the features specific to each button — I'll refer to them as Top, Middle, and Bottom:
Top Button
The primary function of the top button is toggling through the four screen views I described earlier.
Typically, you'll start with the full-screen view of the temperature reading on Channel 1. For that reason, you'll likely want your ambient probe connected here.
Middle Button
You'll use this button to scroll through the six channels in each mode.
For example, if you're in the graph view, press the middle button to switch between graphs for each probe.
Bottom Button
This button has a different function for each screen view. Let's go through all four:
Single-channel temperature mode — brings up Drive information if you have a Blower fan attached
Single-channel graph mode — adjusts the time interval displayed (1 minute, 30 minutes, 1 hour, 12 hours)
Multi-channel graph mode — same as above
Multi-channel temperature mode — toggles mini-graphs for each channel on and off
So, while you can't change any alarm or temperature setting on the base unit, you can display a lot of information.
Smartphone App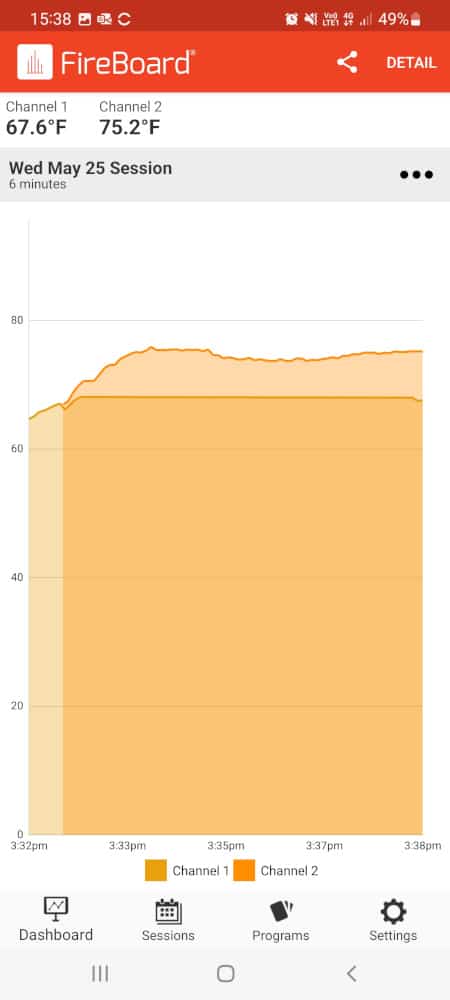 My experience with the FireBoard app with my older FBX11 model was excellent. Fortunately, that hasn't changed.
As I've already touched on, connecting to the app is very easy. From there, it's a simple matter to control your cook session from this clean, clearly labeled, and intuitive app. If you're already comfortable with smart device apps, you'll find it easy to work with.
The main options are Chart view and Detail view.
In Chart view, you'll see a real-time temperature readout and a time and temperature data graph. You can tap or "pinch" the graph to zoom in for greater detail, and you can drag left or right to scroll through all the data collected so far.
Switching to Detail view shows even more info, like the alarms you've set and how long it's been since the last update.
From the app, you can add to your session data for review at another time, including photos (taken through the app), and notes.
If you think sharing is caring, you can upload a URL to social media or an email to allow your friends and family to see everything from live temperature data to what your Blower is doing. This may push the boundaries of oversharing, but it's still pretty cool.
It's a powerful app, but you'll get the hang of it in no time. Those of you with tablets may appreciate the larger screen size and leaving your phone free for scrolling Tik-Tok, texting, and maybe even making calls.
Alarms and Notifications
There's not much worse for a griller than discovering you've overcooked your food. All that time, effort, and money wasted! Well, this is why we have devices like the FireBoard 2 Drive.
From the app, it's easy to set minimum and maximum temperature alerts for each channel. All you have to do is tap on the channel for which you want to set an alert to access the Manage Channel screen.
From here, you can assign a custom label to the channel (so you know which probe is plugged into which meat at a glance) and set Max Temp and Min Temp notifications. Then, so there's no chance of missing an alert, you can opt for any combination of messages from the app, to your email, or texted to a phone number.
You can fine-tune notifications to broadcast at a specified frequency with the Minutes Repeat feature (like every 5 minutes once the Max or Min alert is triggered) and even turn them off for a specified period. You might do this if you're going to sleep and don't want to be woken by an alarm.
I really like the Minutes Buffer setting. With this, I can set how many minutes a set condition has to be met before it triggers an alarm. Why would I do this? Well, exceeding the Max Temp setting on an ambient probe for a minute or two isn't going to ruin my cook session, so there's no need for an alert. But, if it stays high for a while, I probably need to make some adjustments.
It's important to note that the base unit does not have an audible alarm, so you will have to have your phone or smart device handy to get those notifications.
Drive Blower Automatic Temperature Controller
We set alarms on our thermometers for two reasons: so we know when the food is ready, and so we know what temperature it is inside the cooker. It is vital to maintain steady temperatures, especially during a low and slow or roasting session. That means making minute adjustments to airflow to raise or lower the temperature.
Fiddling with vents is easily the most frustrating part of smoking and roasting meat, and it's probably the number one barrier to enjoyment, especially for those who are new to the game.
I'm not new to the game, and I still don't love the detailed work of managing temperatures. And that's exactly why I added the Drive Blower to my FireBoard 2 Drive set-up.
In a nutshell, the Drive Blower is a variable speed fan that connects directly to your cooker. You install it over your bottom air vent, and it blows air over your charcoal as needed to fire up the coals and increase the temperature.
Power for the fan comes from a connection to a port on the side of the FireBoard 2 Drive (or Pro). This same connection allows the base unit to trigger the fan when it's needed. Additionally, you can manually control fan operation from the base or app or set it to run autonomously. It's as close to set-it-and-forget-it cooking as you can get with charcoal.
The blower is supplied with two adaptor plates, that can be used to attach the blower to different smokers lower vents. (More on this later.)
The blower feels well made, has some weight and heft compared to competing blowers, and feels like it will stand the test of time.
A unique feature of the FireBoard 2 blower is a small plate you can raise or lower inside the blower, to restrict or even completely close off the blower, so no air can flow through it.
This feature is useful for when you have it attached to a smoker where even the free-flowing draw allows too much air to enter the smoker, causing the temperature to run away. Most blowers attached to the lower vent still allow a fairly large amount of air to flow, with no way to restrict it and keep temps down. FireBoard has addressed this, and it works well.
You can also use it to shut down your smoker by closing off the air intake without having to remove the blower and adapter plate, if you prefer to leave the blower always attached.
Drive Blower Installation
Installation of the drive blower will depend on the particular style of smoker you are using the FireBoard with. I use mine with Kamado Joe grills and will use that to illustrate installation. I will provide details on how to connect the blower to other types of smokers.
Sadly, there are no instructions included with the blower telling you how to install it, so I sought out and watched the following video on the topic first.
After watching the video, I found installation very simple indeed, requiring no tools and taking all of 2 minutes.
I simply had to loosen two thumb screws, move the sliders forward, place the large adaptor plate onto the front of the blower, then push both sliders in firmly, before tightening the two thumb screws.
After this, it's a simple case of placing the adaptor plate into the lower vent of my Kamado, before sliding the lower vent slider over the adaptor plate to keep the blower in place. It couldn't have been simpler or easier, and it feels nice and tight and secure.
If you have a different smoker to a Kamado, you may need to purchase an additional adaptor to fit the FireBoard Blower.
For kettle-style and Weber Smoky Mountain style grills and smokers, you need the Drive Blower nozzle adapter: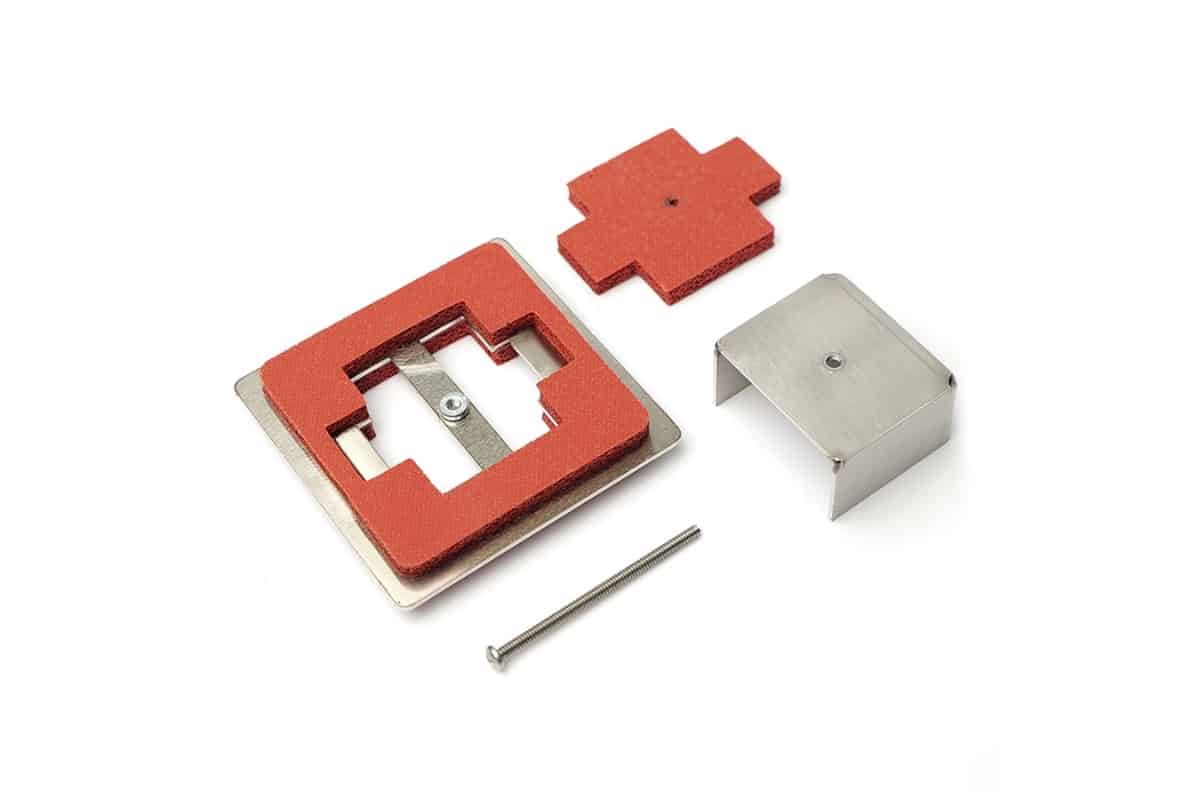 The following video instructs how to fit this style of adaptor:
For many drum smokers and cabinet smokers, you may need the Drive Blower ball valve adapter:
The following video instructs how to fit the ball valve adaptor:
Drive Blower in Use
In use, I found the FireBoard 2 Drive and Blower flawless. I have used the setup on two differently sized kamados, though sadly not in my Weber Smoky Mountain as I forgot to buy the appropriate adaptor plates! With my Kamados, it hit and maintained a steady temperature every time.
You can see in the screenshots above, I used the blower to hit a temperature of 430 °F, and also to hit and maintain automatically a temperature of 375 °F when smoking a chicken.
Setting a temperature for the Blower to maintain via the app is dead easy. As soon as the Blower is plugged into the main controller, the app then shows the Drive settings, otherwise they aren't even available. This is a good thing, hiding settings that you cannot even use.
Once you have the Drive Blower settings available, you simply assign Drive to a plugged in probe, and then select either manual or automatic mode. Manual allows you to set a constant fan speed, whereas Auto allows you to set a target temperature that the device will automatically maintain for you.
Setting an alarm is also dead simple. Simply set a high and low temperature, and then if the temperature drifts too high or low you will receive an alarm on your smart device. This is useful to alert you if you one day leave a vent too open causing the temp. to run away, or if you run out of fuel.
In the Drive settings, there are also 'Lid Detection Settings.'
This is a setting where you set a time in minutes that the blower will stop after it detects you have lifted the lid.
The temperature will drop sharply when you open the lid as the heat escapes. The FireBoard detects this and can turn off the fan for your set time. This prevents the Drive Blower from fanning the coals while the lid is open, which would result in a huge temperature spike.
The default setting is 7 minutes. I changed mine to 2 minutes, and it works well for me.
Improvements Over the Previous Model: FireBoard FBX11
The FireBoard 2 replaces the FBX11 model. I had previously rated the FBX11 as a Premium Pick, ranking it as perhaps the very best smoker thermometer available. Incredibly, the FireBoard 2 is even better.
Much of what made the FBX11 so outstanding carried over to the FireBoard 2, including support for up to six probes and the terrific app.
Part of what I prefer about the FireBoard 2 Drive, specifically, is native support for the Drive Blower without an additional cable and the weather-resistant housing.
The real game-changer, however, is the massive LCD screen. The FBX11 came with a small display, leaving you almost entirely reliant on the app. The FireBoard 2 clearly displays a boatload of information that I can absorb at a glance without needing to find my phone.
Even if you already own an FBX11, you may want to think about upgrading — at least you can use the same probes!
Summary of Pros and Cons
Pros
Category leading – The best BBQ thermometer I've ever used!
Professional quality, beautifully designed piece of kit
Large, easy to read display in all lighting conditions
Display auto-rotates to suit orientation
Up to six probes can be attached for large, multi-food cooks
Bluetooth and Wi-Fi enabled for connectivity options
Smartphone is reliable — Rare with BBQ products in my experience
Drive blower can be added for automatic BBQ temperature control
Can partially control via Google or Amazon Smart Speakers
Rechargeable battery lasts up to 30 hours
Cons
Pricey — But you get what you pay for!
Unlabeled buttons require use from memory
No stand included — can be purchased separately, but included would have been nice
No alarm on the base — The base is highly capable, but alarms would have rounded it off nicely
Who is this Thermometer for?
You can tap out here as casual grillers who don't go in much for smoking or aren't really concerned about achieving incredible results every time.
The FireBoard 2 Drive comes with a higher price tag than many similar devices on the market. The value is absolutely there, though, for those who take the art of smoking and grilling seriously enough to find it.
If you smoke or roast regularly, love to push yourself to try new things, perfect your craft, and expect the best out of your gear, the FireBoard 2 Drive is built for you.
Final Verdict: Should You Buy the FireBoard 2 Drive?
FireBoard 2 Drive Cloud Connected Smart Thermometer and Temperature Controller
Wi-Fi & Bluetooth connected, 6 Channel, Weather Resistant, Alerts & Notifications, 30+ Hour USB Rechargeable Battery
Professional quality, easy set up grill and smoker thermometer that, with the addition of a 'Drive Bower', can also automatically control the cooking temperature inside your smoker.
Bluetooth and Wi-Fi enabled, monitor and control anywhere you have an internet connection.
Assuming you identify with the description in the previous section, then yes — I highly recommend the FireBoard 2 Drive.
I have almost no complaints about how it works, and I firmly believe it can help you get to the next level of backyard cooking. Consider it an investment in your future, get to know all it can do for you, and I promise you'll love it.
Thanks for checking out my FireBoard 2 Drive review. I hope I've answered all your questions and you now know whether or not this is the right product for you. If you pick one up, please share your thoughts; I'd love to know if you enjoy using it as much as I do.
Cheers all, and happy smoking!