This is a complete, hands-on review of the FireBoard Spark thermometer, including specs, pros and cons, performance evaluation, and value assessment.
FireBoard is known for its exceptional multiprobe leave-in thermometer system. (You can read our review of the FireBoard 2 here.) The Spark is their first foray into the instant-read thermometer market, and I was so impressed with their previous work that I was quite happy when FireBoard sent me this unit to review.
Now, probably the last thing I need is another instant-read thermometer. And quite likely, the market doesn't need another one, either. So, why should you care about this one? I'm glad you asked.
The FireBoard Spark attempts to break the mold and be more than just another competitor for the Thermapen. Like a Transformer, there's more to the Spark than meets the eye.
I don't want to give too much away upfront. But trust me, you want to stick with me through this in-depth, hands-on, fully honest Fireboard Spark review.
I'll share all the features of the FireBoard Spark, both the expected and the totally unexpected. And I'll put them all to the test so you know whether it's an interesting collection of gimmicks or an indispensable addition to your outdoor cooking arsenal.
Let's start with a quick explanation of what makes this such a unique product.
General Overview — What is the Fireboard Spark?
Fireboard Spark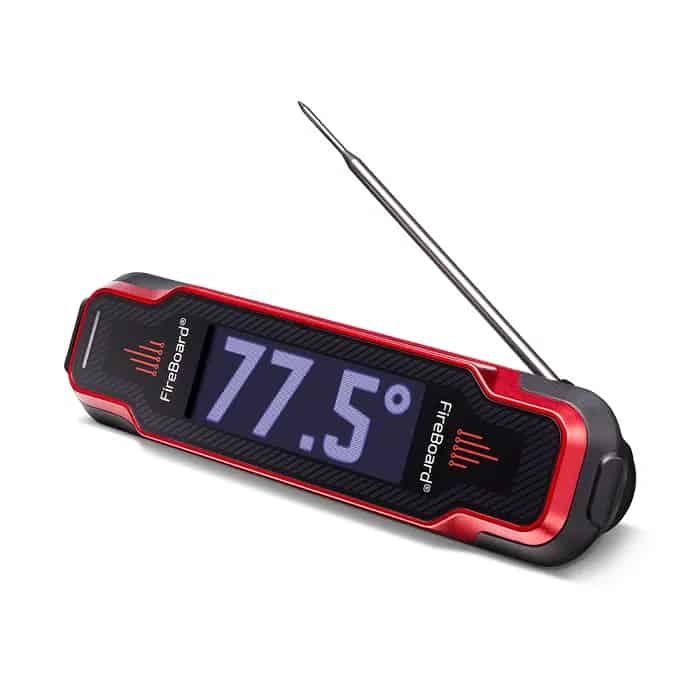 A feature-rich, versatile dual-purpose thermometer that is instant-read, with a port for an optional leave-in probe for long-term ongoing temperature monitoring.
Wi-Fi enabled, you can store temperature data in the Fireboard Cloud for later review or to read and monitor temperatures from an app on your smartphone.
You can find a host of other features discussed in this review or by following the link below.
The FireBoard Spark is an instant-read probe thermometer featuring a folding probe and a rechargeable battery.
Additionally, an external probe port allows it to function as a leave-in thermometer base station, and the Spark can monitor other FireBoard systems via Wi-Fi.
First Impressions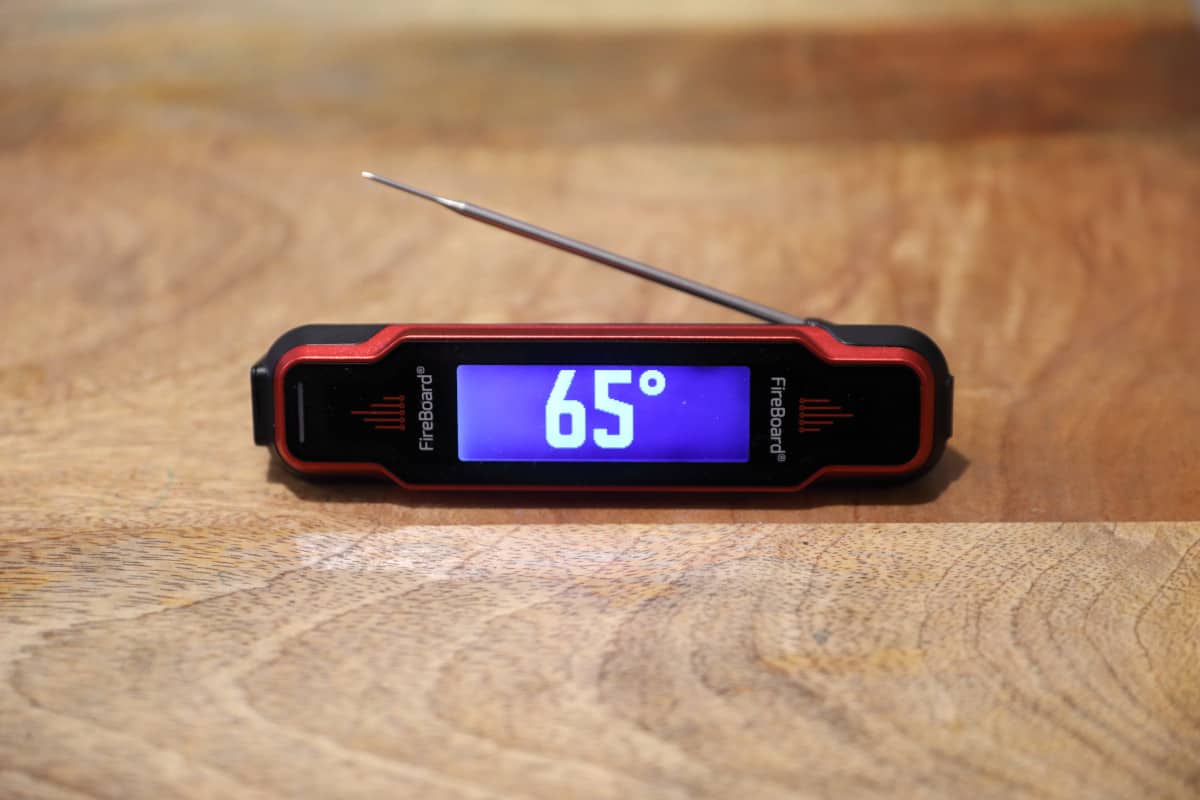 Although everything about the Fireboard Spark seems slightly oversized compared to other thermometers, it's the huge LCD screen that first caught my eye. Even without turning the unit on, it seems pretty clear it will display more than just the temperature.
It looks sleek and professional, with FireBoard's signature charcoal and ember color scheme (I have no idea what to call these colors, but that sounds appropriate), symmetrical design, and the logo featured at both ends of the LCD.
Hmmm, could this be a clue? Does the Spark feature an ambidextrous display?
Manufacturers Specs
Temperature Range: -58 to 572F (-50 to 300C)
Accuracy: ±0.7°F (±0.4°C) from -4 to 392°F (-20 to 200°C); ±1.8°F (±1.0°C) full range
Resolution: 1.0° or 0.1°, user selectable
Sensor Speed: 1 second (0.6s time constants + 0.4s display refresh speed)
External Probe Port: 1x100K Thermistor FireBoard Probes (probe not included)
Battery: 2600mAh Li-Ion rechargeable
Display: backlit 192×64 LCD
Wireless: WiFi 2.4Ghz; Bluetooth Low Energy (BLE); Near Field Communication (NFC)
Waterproofing: IP66
Dimensions: 6.25″ x 1.4″ x 1.1″ (159mm x 37mm x 27mm)
Weight: 5oz (145 grams)
Features and Functionality
There's a lot to cover here! Like the Swiss Army knife it resembles, the FireBoard Spark has a lot of functions.
Auto-Rotating Display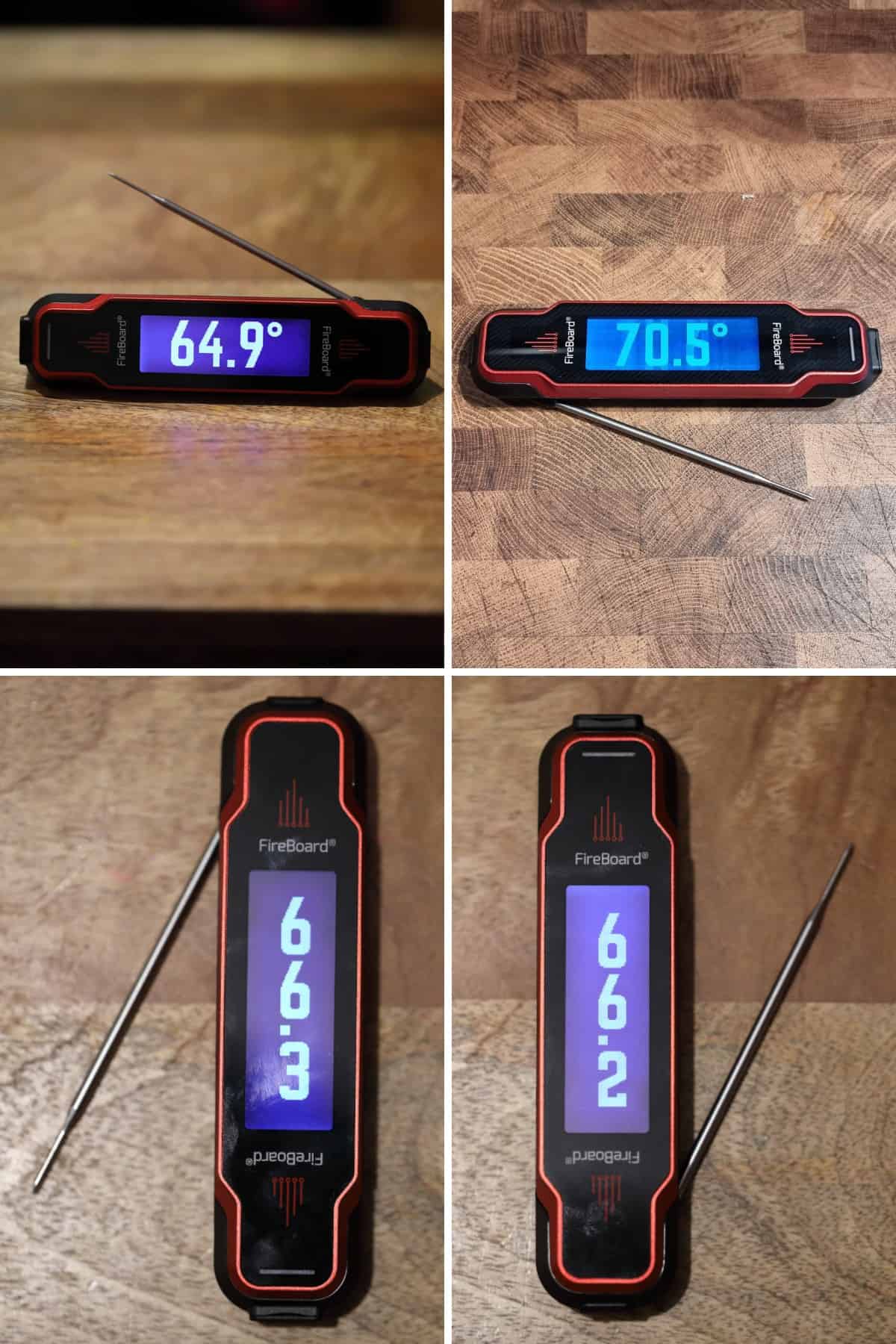 Of course, the primary function is that of an instant-read thermometer. Unfold the probe from the body, and the LCD comes on automatically. You can pivot the probe out 180 degrees, and no matter what orientation you hold the Spark at, the display adjusts to being right-side up, even on the long axis, making this pretty much an ambidextrous thermometer.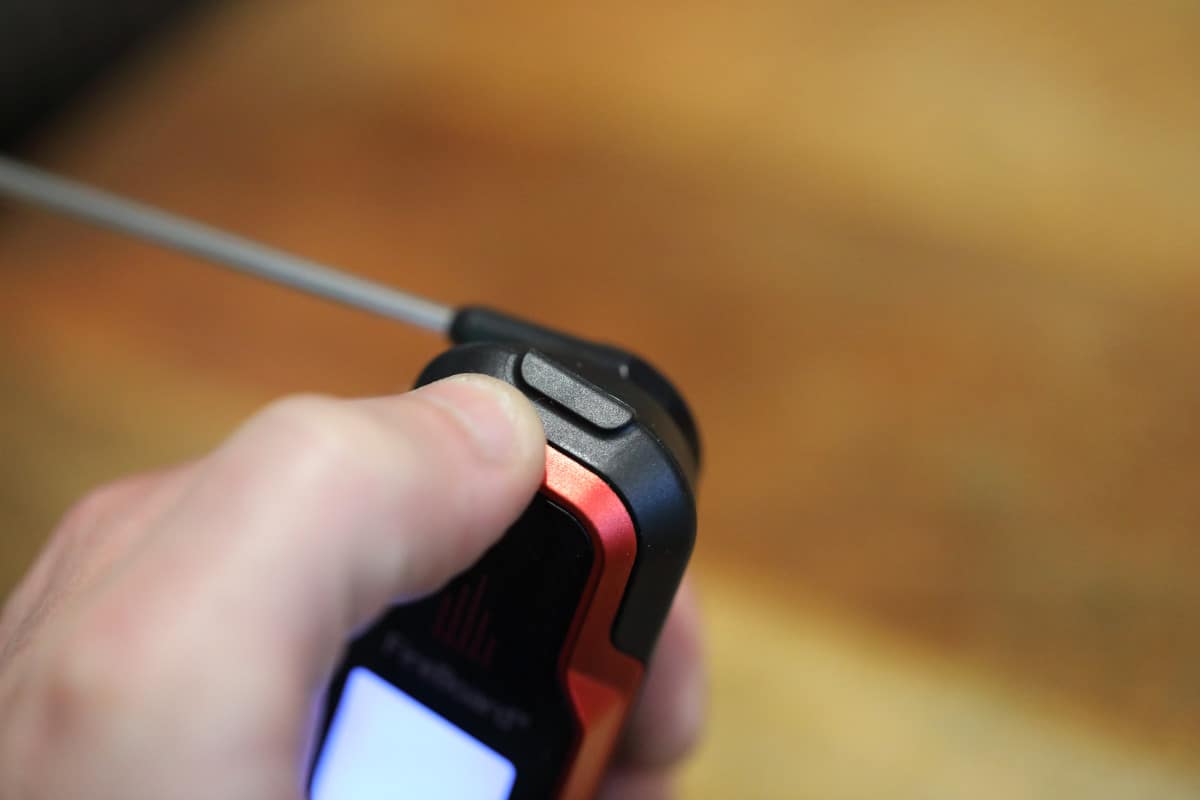 On one end of the Fireboard Spark is a single button that when pressed for more than 3 seconds, brings up an on screen menu.
When you have the menu up, you can change any settings by use of this single button like so:
Pressing the button and instantly releasing it, scrolls the menu down to the next menu item below.
Pressing and holding the button for 3 seconds selects a menu item, or changes the setting.
Not pressing the button for 3 seconds cancels the menu, and returns the Spark back to the standard temperature display.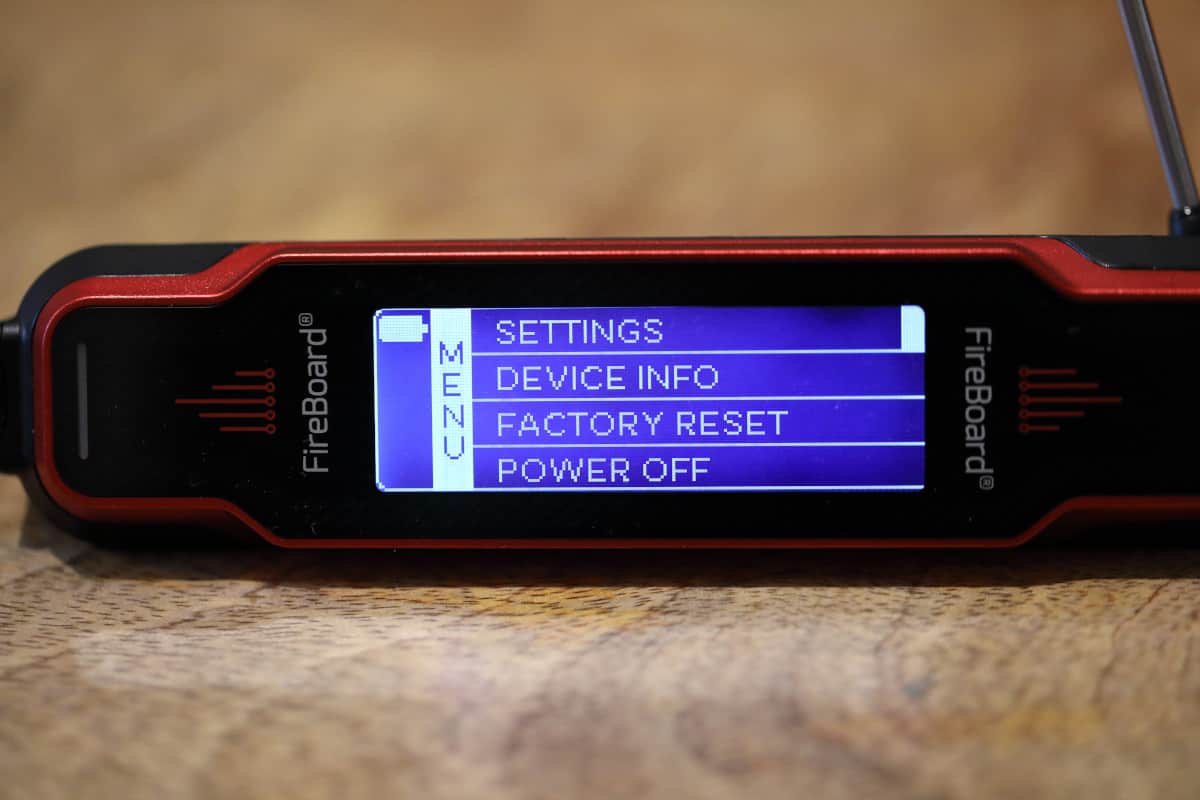 There is also a large menu you can scroll through on the Spark, something I've never seen on a thermometer of this size. The screen is large enough that I found it easy to read and navigate, even with just a single button.
Display Settings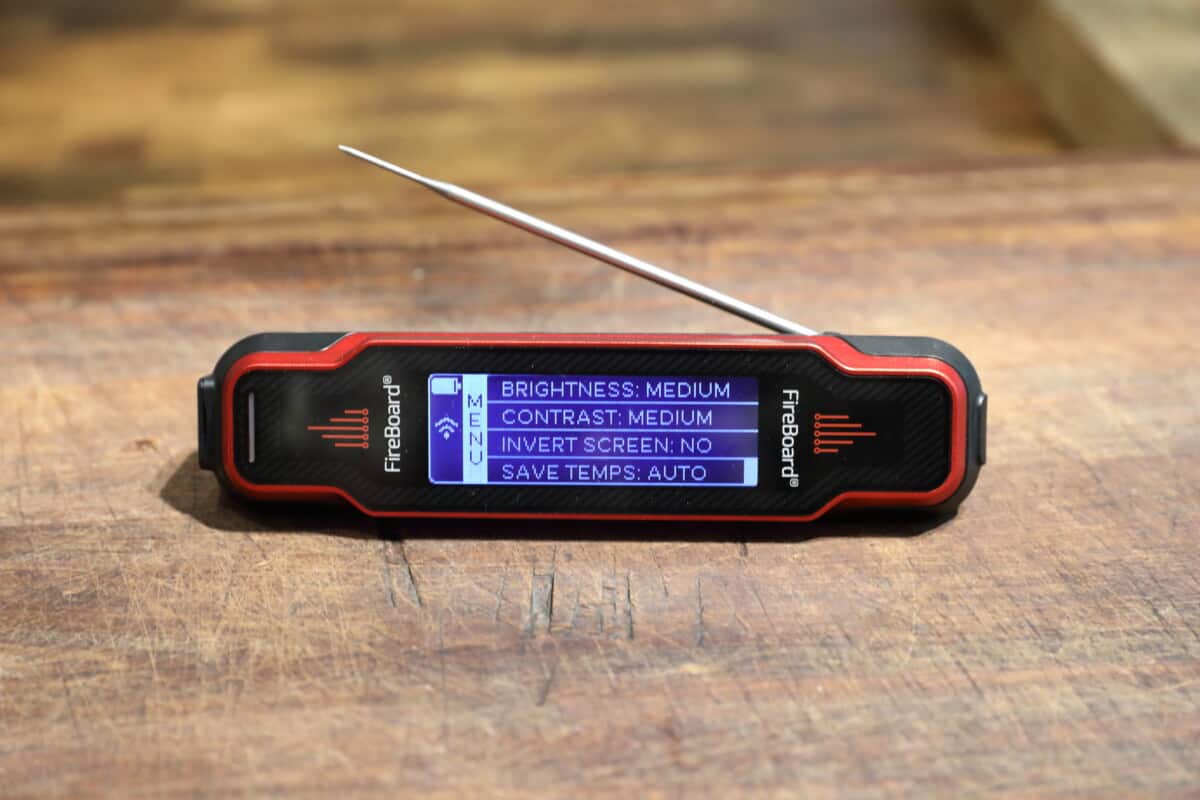 Incidentally, you have a lot of control over the LCD, including adjusting the brightness and contrast. You can even invert the default white-on-black display and show black text on a white background if you prefer.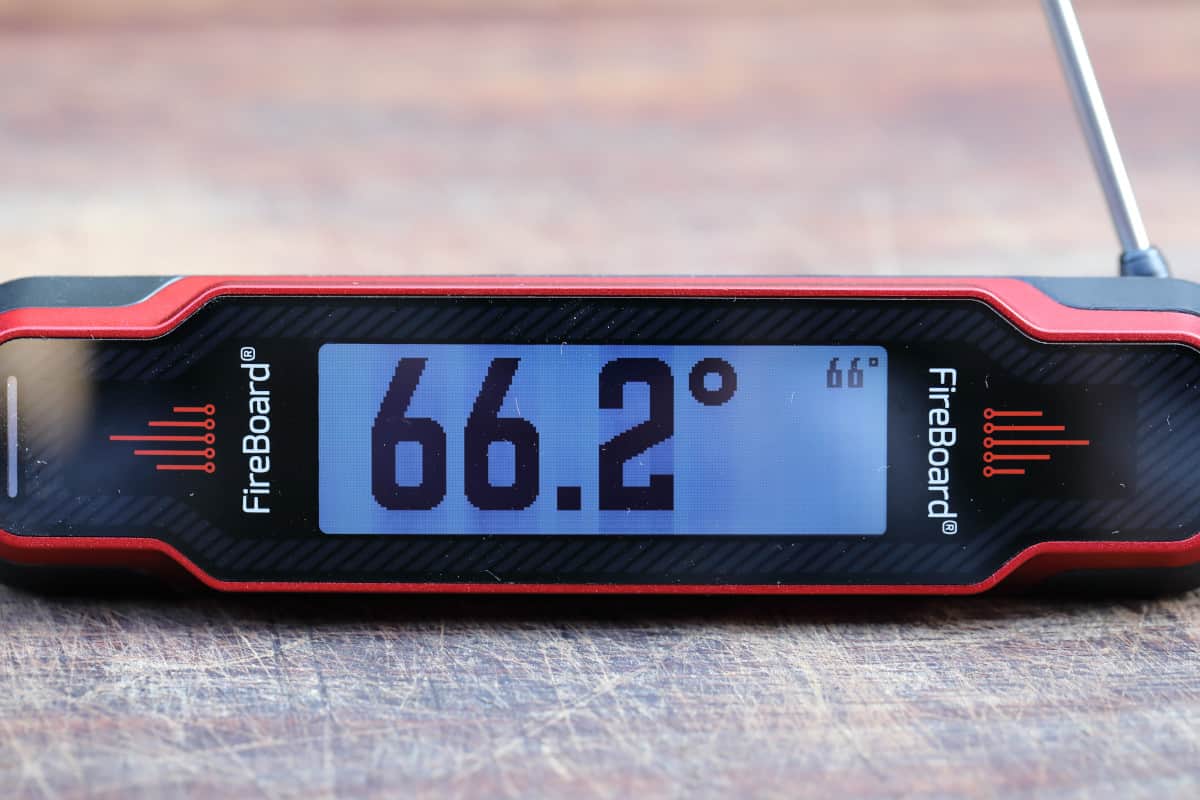 Fast and Accurate
As you'd expect, the temperature reading is fast and accurate — it's advertised as taking about 1 second to get a reading, and FireBoard claims accuracy to ±0.7°F. That's right on par with the best available instant-read thermometers. I put this to the test and report my findings later in this review.
Wi-Fi Connectivity
Now, here's something that's not found on ANY instant-reads that I'm aware of: Wi-Fi connectivity.
Yes, the FireBoard Spark will connect to your home wireless network to push data to the Cloud, which you can access through the FireBoard app on your smartphone.
You can choose "Auto Hold" mode, which sends a single temperature reading to your account or switch it off to log the temperature every five seconds.
We'll come back to the connectivity features in a bit. First, though, here's ANOTHER feature you aren't going to find anywhere else.
Leave in Thermometer for Constant Monitoring
There's a leave-in probe port on the end of the FireBoard Spark. That's right! You can connect any FireBoard probe and monitor your cook session, with the temperature displayed on the LCD and with all the data pushed to the app. It's like having an instant-read and a leave-in all in one. Actually, that's exactly what it is.
Ready to have your mind blown even further? You can do both things at once.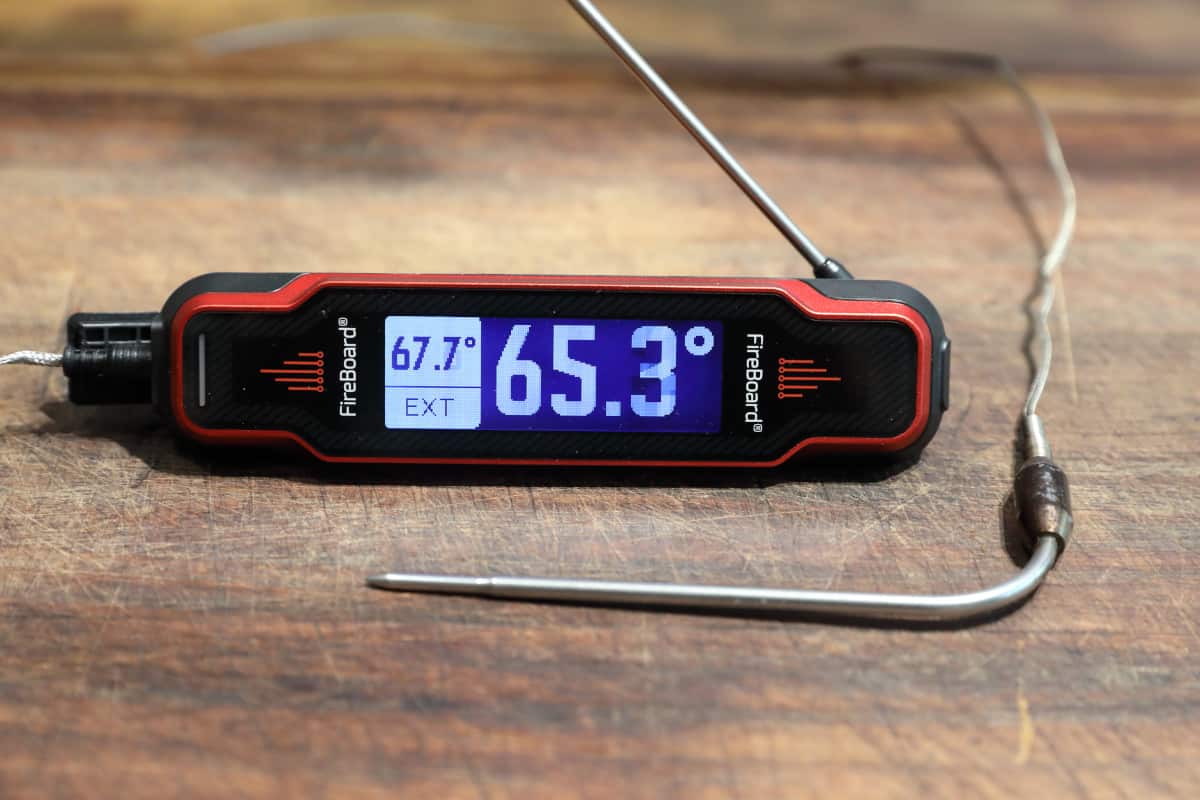 Have the leave-in probe monitoring a chicken, and you need to check on a sausage quickly? Unfold the probe, and now the LCD shows the temperature from both probes.
Graphing Feature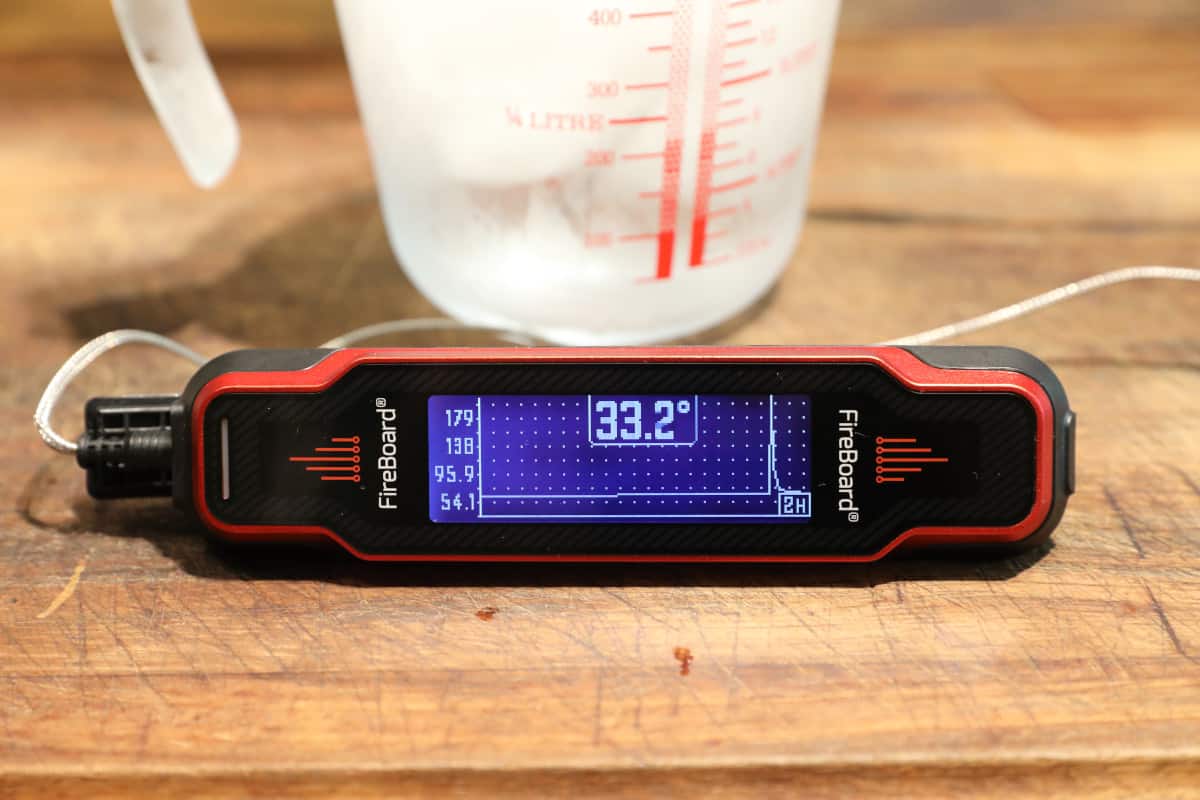 The Fireboard Cloud collects temperature information from your Spark, and can show you a graph of temperature over time.
Cleverly, you can also access this from the Spark itself by simply clicking the button once.
Sync Mode
Now, back to connectivity. Do you own a FireBoard 2, FireBoard's multi-probe thermometer? If so, here's a cool feature: SyncMode.
Activate this mode from the onboard menu or from the app, and it will scan the app for operational FireBoard devices on your account. If it finds one, it will display the temperature readings from that device, scrolling through each active probe.
This could be handy for monitoring a cook if you're using your phone for something else.
NFC Scanner
The FireBoard Spark also includes a built-in NFC scanner. It's a bit hard to figure out what purpose this serves; I watched a video in which the founder of FireBoard tried to explain it, and frankly, I don't think even he quite knows what it's for.
It seems to be of some use in a commercial setting for quickly uploading and compiling data for food safety records. I'll keep an eye on this and see if I can ever put it to use at home.
Timer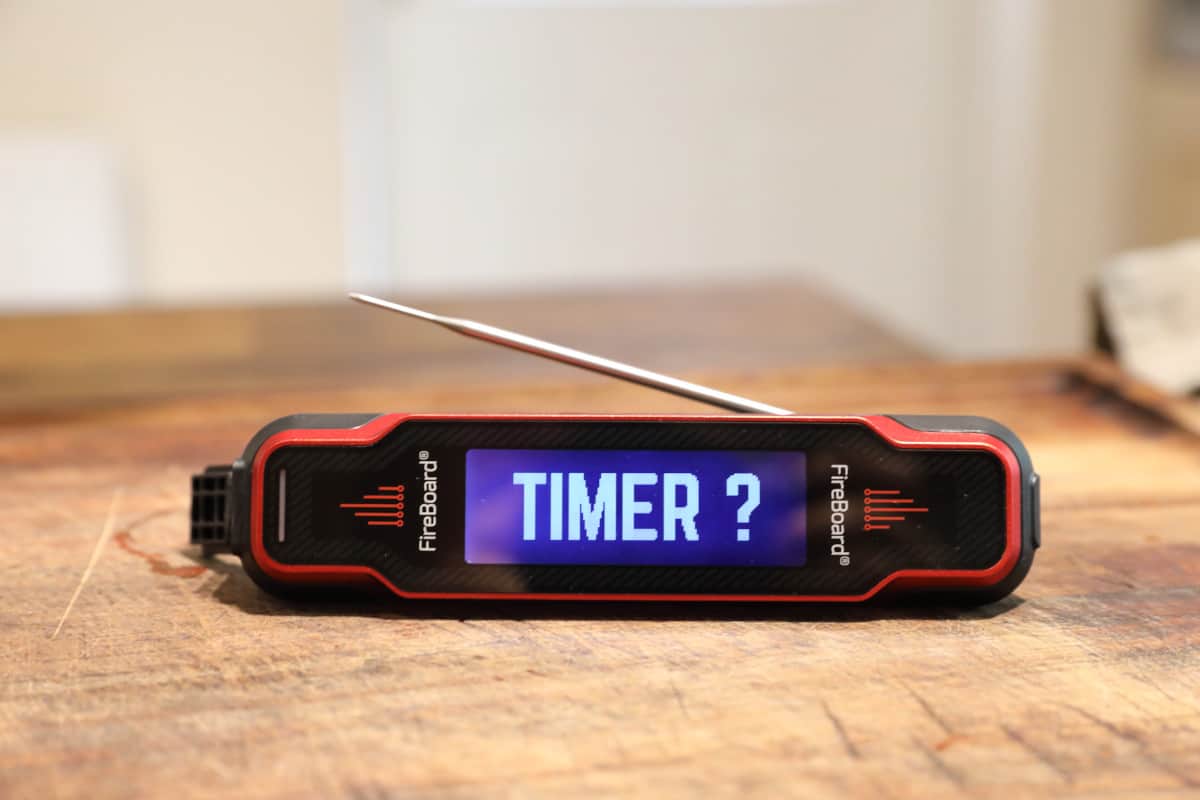 There's timer functionality for 1, 3, 5 ,10, 15, 30, 45, or 60 minutes. The timer can be accessed in two different ways:
The first option in the display menu.
Shake the thermometer and it asks if you wish to set a timer (as seen in the image above.)
When you enter the timer menu, or shake the thermometer, subsequent presses of the single button cycle through the different times you are able to set, with a 'cancel' option at the end.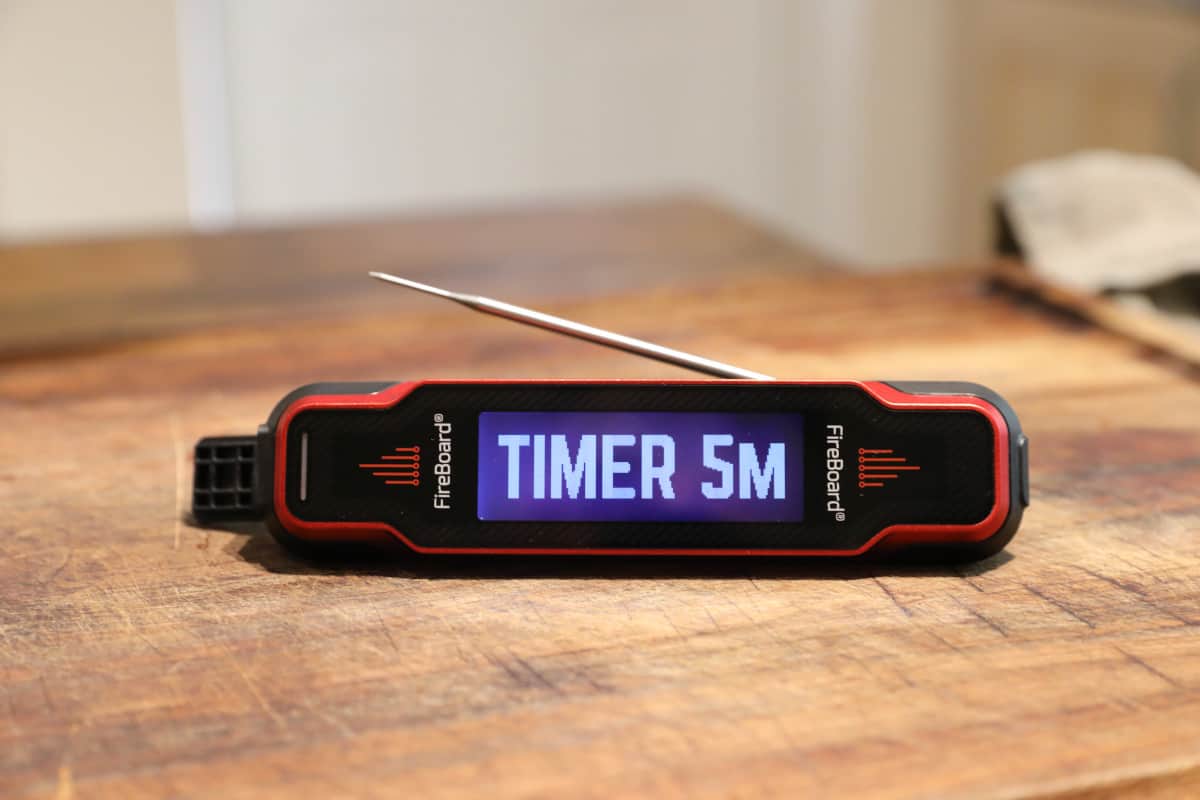 If you then close the instant read probe, the display shows the timer counting down.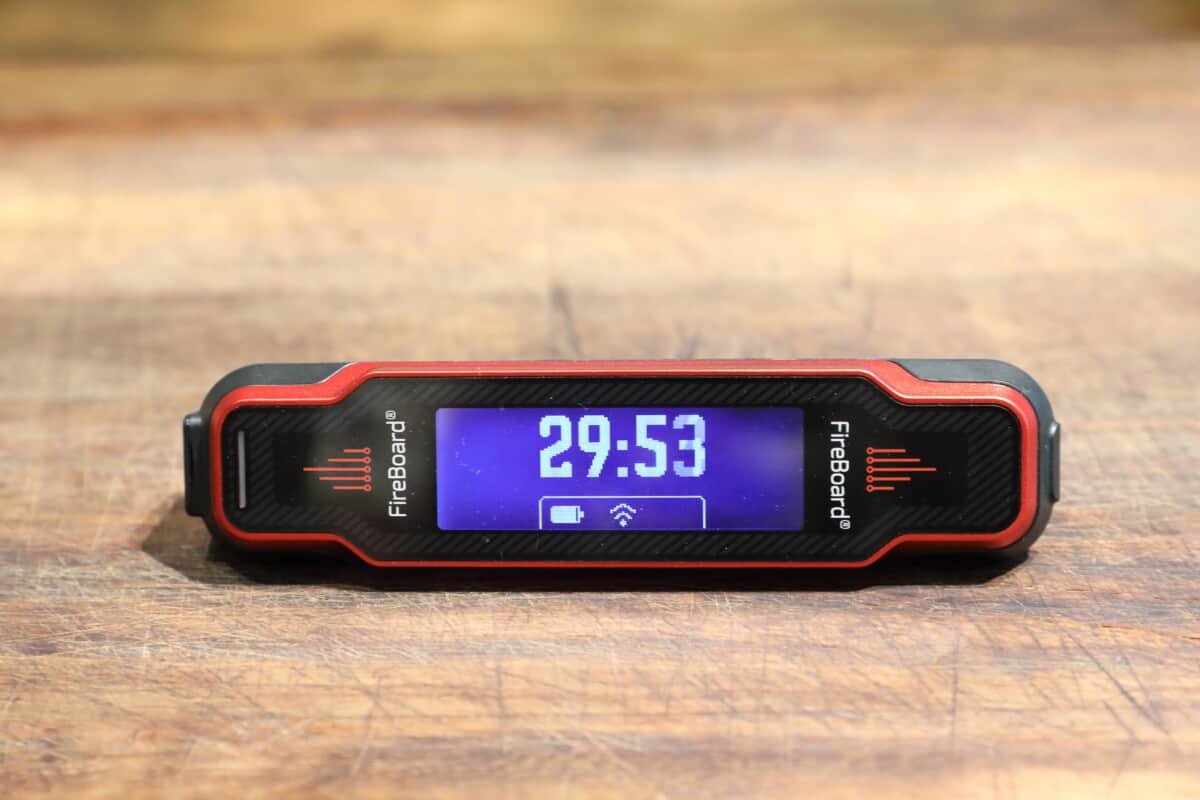 When the timer finishes, the thermometer vibrates violently, and if you have your smartphone connected, it will also vibrate and make an audible beeping sound.
Temperature Snapshots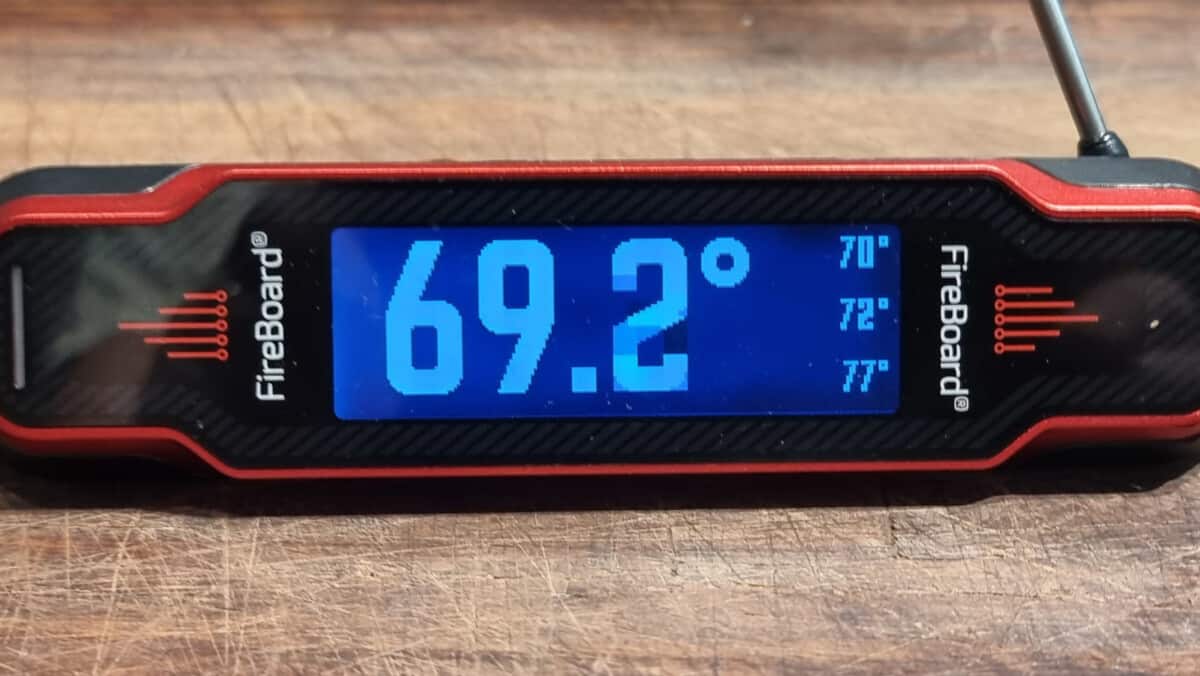 When using the instant read thermometer, if you press the single button once and instantly release it, the current temperature readings will be held on the right side of the screen. You can do this up to three times, with all three being displayed, as seen on the right side of the screen in the image above.
When you do this, the info can also be pushed to and stored in the Fireboard cloud for later review.
Magnet for Mounting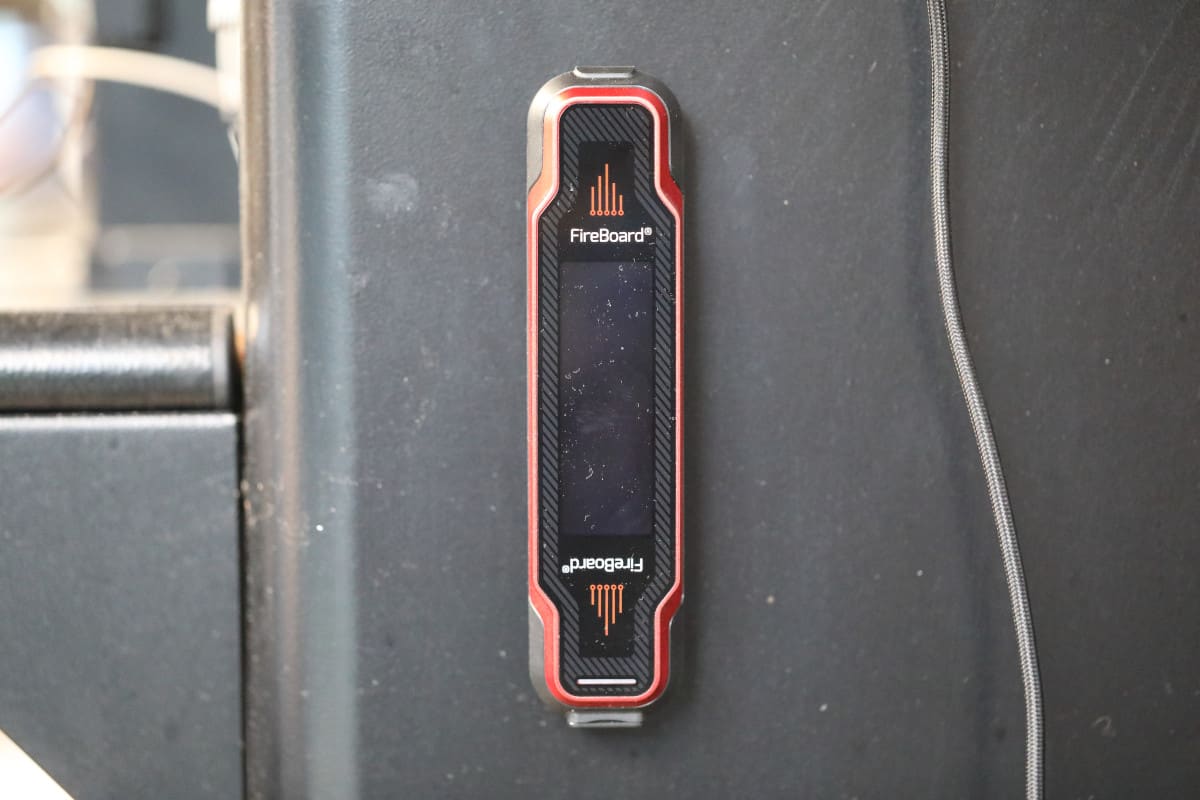 There are built in magnets in the Spark that allow you to stick it to any metal surface when not in use. Handy for keeping it near to where you want it, ready for use.
Obviously, do not stick it to your hot grill or smoker as it can and will melt! (I know of people who have done this with various thermometers over years. Not me though, honest! lol.)
Monitor From Your Smart Watch — In My Case, From the Golf Course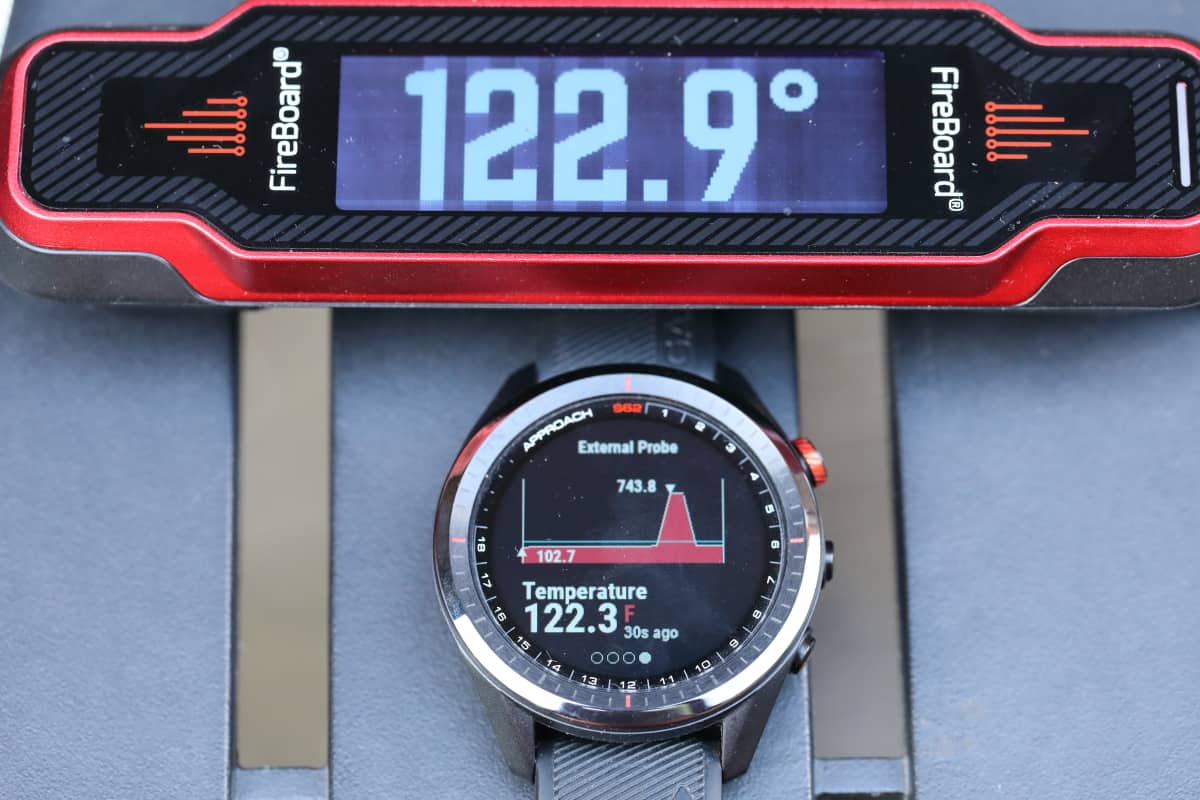 I somewhat accidentally discovered while researching about the Fireboard Spark, that there is a Fireboard App on the Garmin 'Connect IQ' app. The APP is not an official one from Fireboard, but is instead built and maintained by a user that felt the urge.
Installing the app allows you to monitor any Wi-Fi connected Fireboard thermometer, including the Fireboard 2 and the Spark, both of which I own.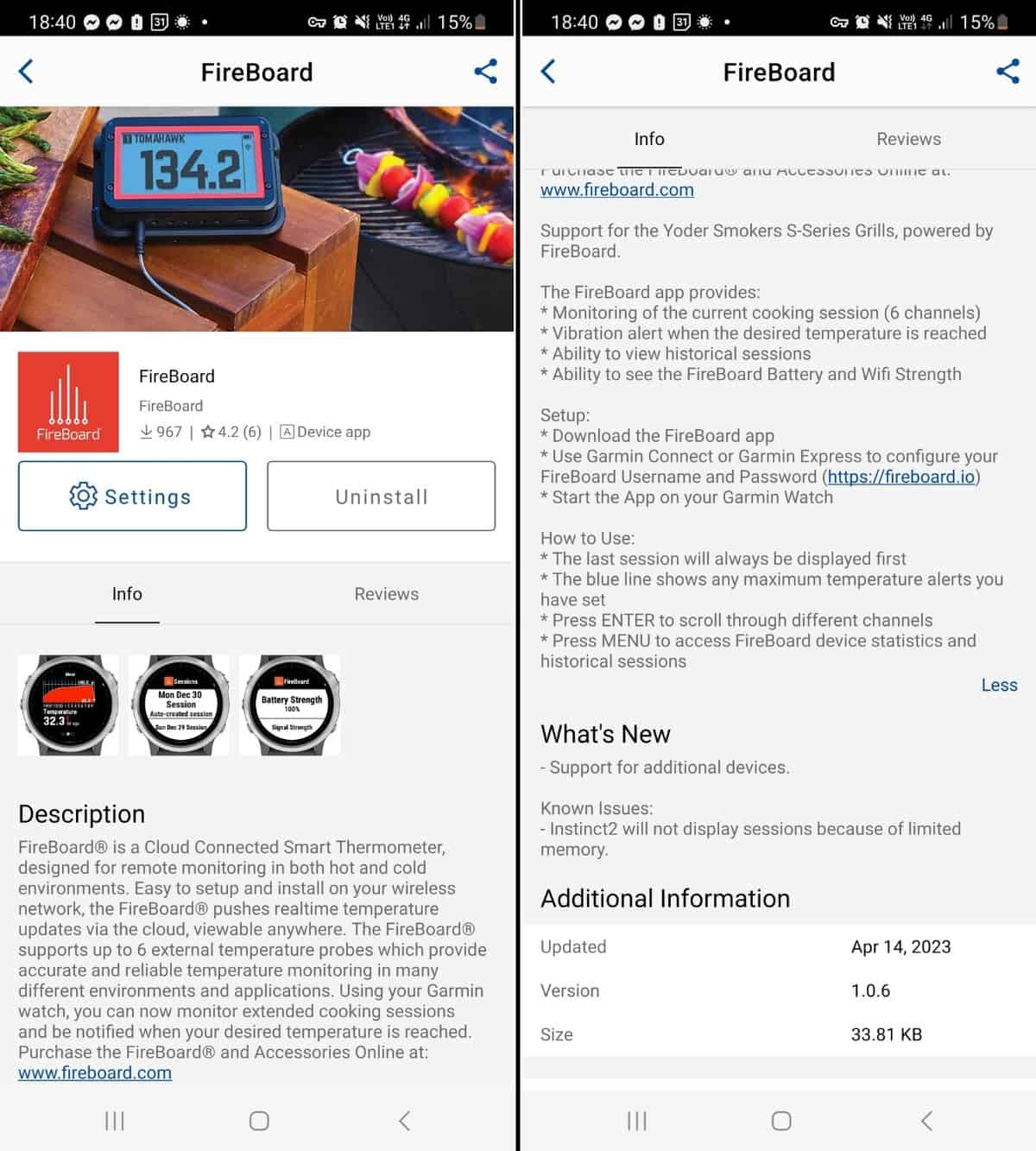 It's simple, with not many features, but it does the job and does work well. I have a Garmin golf watch, so installed the app and have in fact used it a couple of times. Yes, I always have my phone with me anyway, but when playing golf I also always have my watch on my wrist, so it's nice to check on things without having to get my phone out of my golf bag.
Additional Features
Additional nice-to-have features include a waterproof housing — just don't submerge it!
FireBoard claims the robust Li-Ion battery will last a year or more on a single charge, assuming infrequent use as an instant-read thermometer or 12+ consecutive hours of monitoring.
What We Like
Fireboard Spark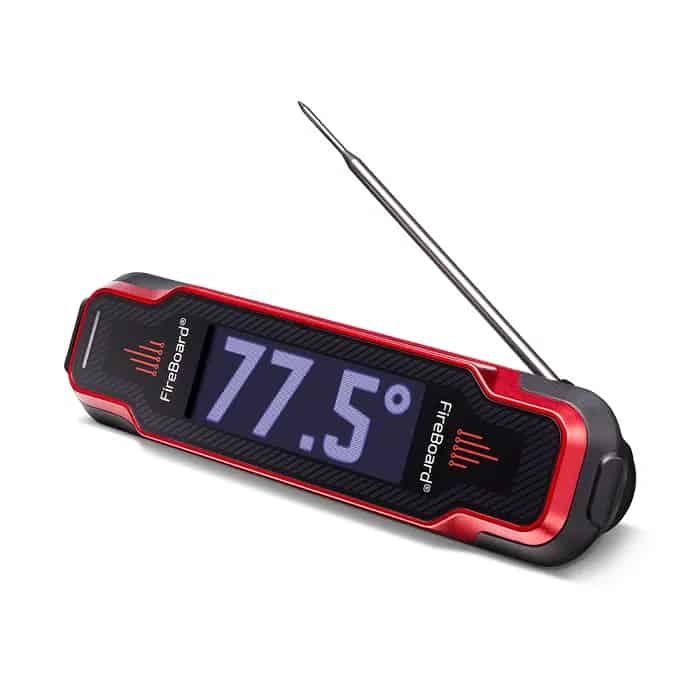 A feature-rich, versatile dual-purpose thermometer that is instant-read, with a port for an optional leave-in probe for long-term ongoing temperature monitoring.
Wi-Fi enabled, you can store temperature data in the Fireboard Cloud for later review or to read and monitor temperatures from an app on your smartphone.
You can find a host of other features discussed in this review or by following the link below.
This is a very capable instant-read thermometer, and it also does double-duty as a leave-in thermometer. Triple-duty if you count remotely monitoring another FireBoard device.
Even if you don't own a FireBoard 2, the ability to use a leave-in and an instant-read probe simultaneously on the same device is phenomenal.
It seems fast and accurate, both qualities you expect in a high-quality thermometer.
Clearly, it was designed by people who've studied what makes a good instant-read thermometer. It addresses key pain points with a rotating display, IP66 housing, an LCD adjustable for varying light conditions, and auto-shut-off and motion-sensitive wake-up.
Being able to connect to the FireBoard app opens up so many possibilities for you as an outdoor cook. You can monitor remotely, record your data for later review of what worked and what didn't, and access the device menu more easily than you can working with the single button and onboard display.
What Could Be Improved
It's disappointing that the Spark does not come with a leave-in probe, especially considering the price points; the Spark is pricey, and the probe is not.
Although the 4-way LCD is a nice touch, I can't understand why the probe rotates only 180 degrees and doesn't rotate 270 degrees. If it did, it would be a perfectly ambidextrous thermometer. It's perfect for right-handers, but left-handers are limited to using it with the probe right out at 180 degrees only.
Finally, when I used the on screen menu via the single button, I constantly found myself being 'timed out' until I got used to it. When you bring up the menu, you have 3 seconds to press another button before it times out and goes back to the default temperature display. This should be longer (or maybe even configurable?)
Who is the Fireboard Spark Best Suited to?
Everyone who cooks meat outdoors (or indoors) should have an instant-read thermometer.
Having said that, given the dual functionality, the FireBoard Spark is best suited to anyone who cooks a variety of meats in various styles — hot and fast, low and slow, and everything in-between — to take advantage of the instant-read and leave-in capabilities.
Unboxing and Assembly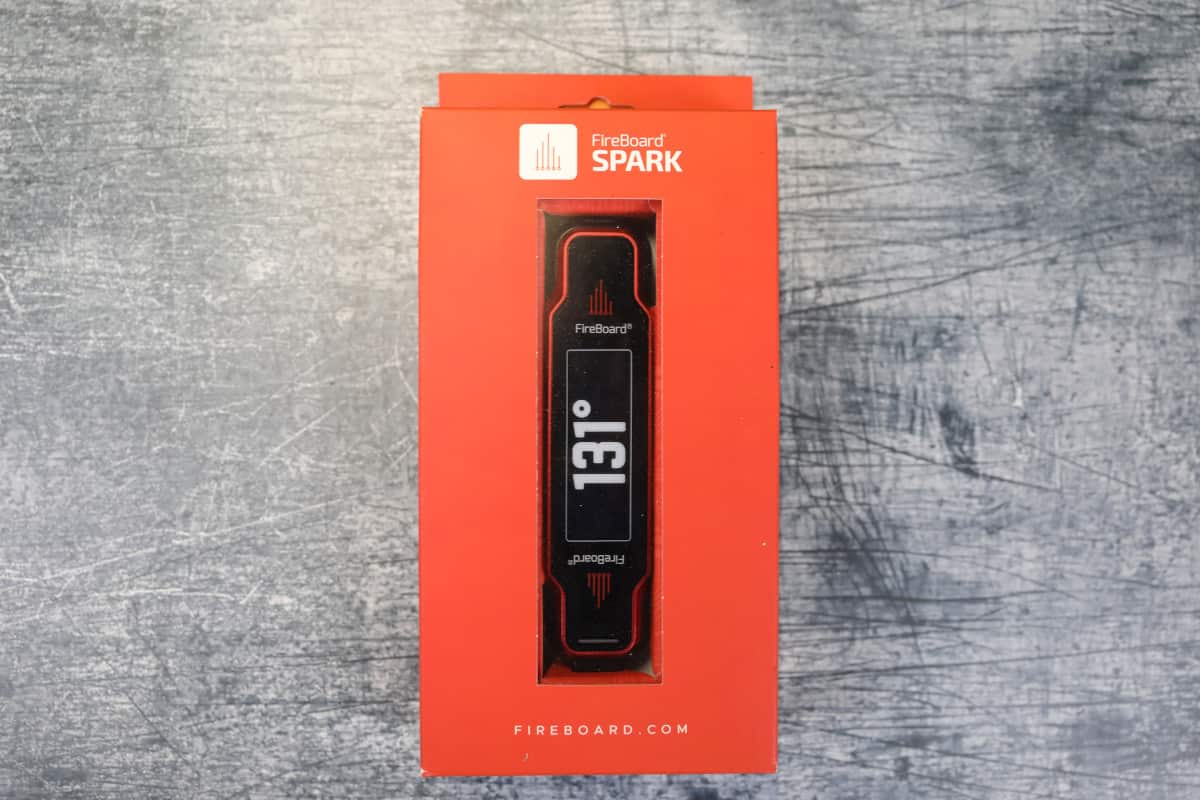 I expect this part of the review will go pretty smoothly.
Were there any surprises in the box? Well, there was one…
What's in the Box?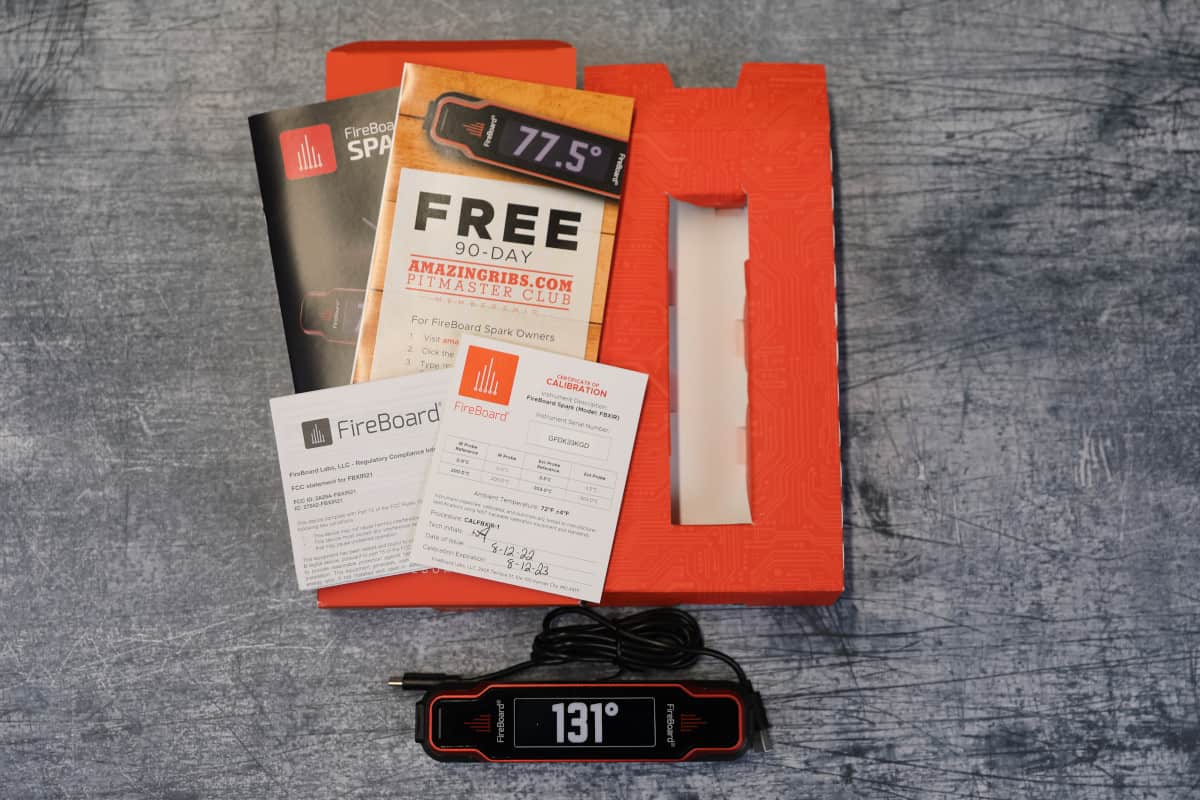 Along with the FireBoard Spark itself, you'll also find a USB-C charging cable, a Quick Start Guide, a certificate of calibration, and an unexpected Temperature Guide (and surprise special offer) from Amazing Ribs.
Ease of Assembly
The rechargeable battery comes pre-installed, so there is, in fact, no assembly. Unless you count peeling off the protective cover?
Overall Build Quality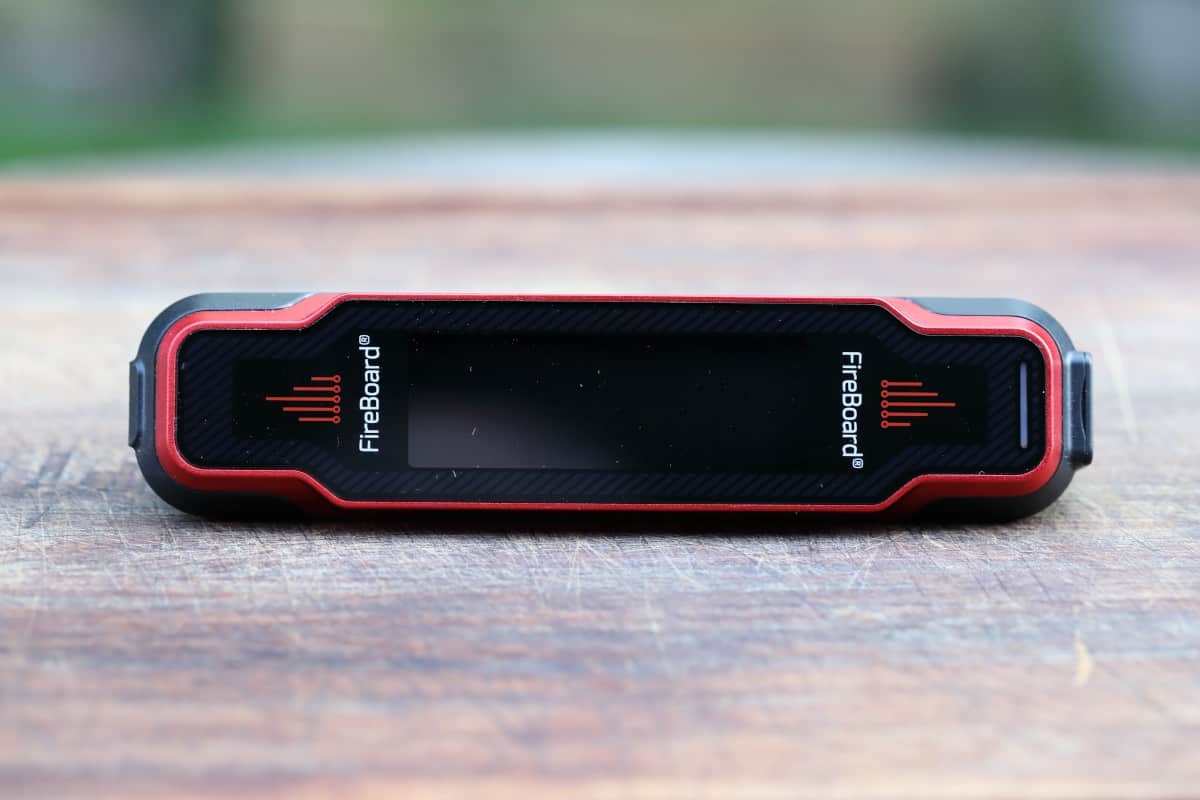 I've come to expect good things from FireBoard, and the Spark did not disappoint.
It's heftier than most other instant-read thermometers I've encountered, which speaks to increased functionality and quality workmanship. It feels like a serious piece of equipment and not a cheap toy.
The integrated probe rotates smoothly and snaps neatly into place when not in use.
On one end, you find a cover that when lifted shows two ports: A USB-C for charging the device, and a port for an external probe. Both of these port connections are solid.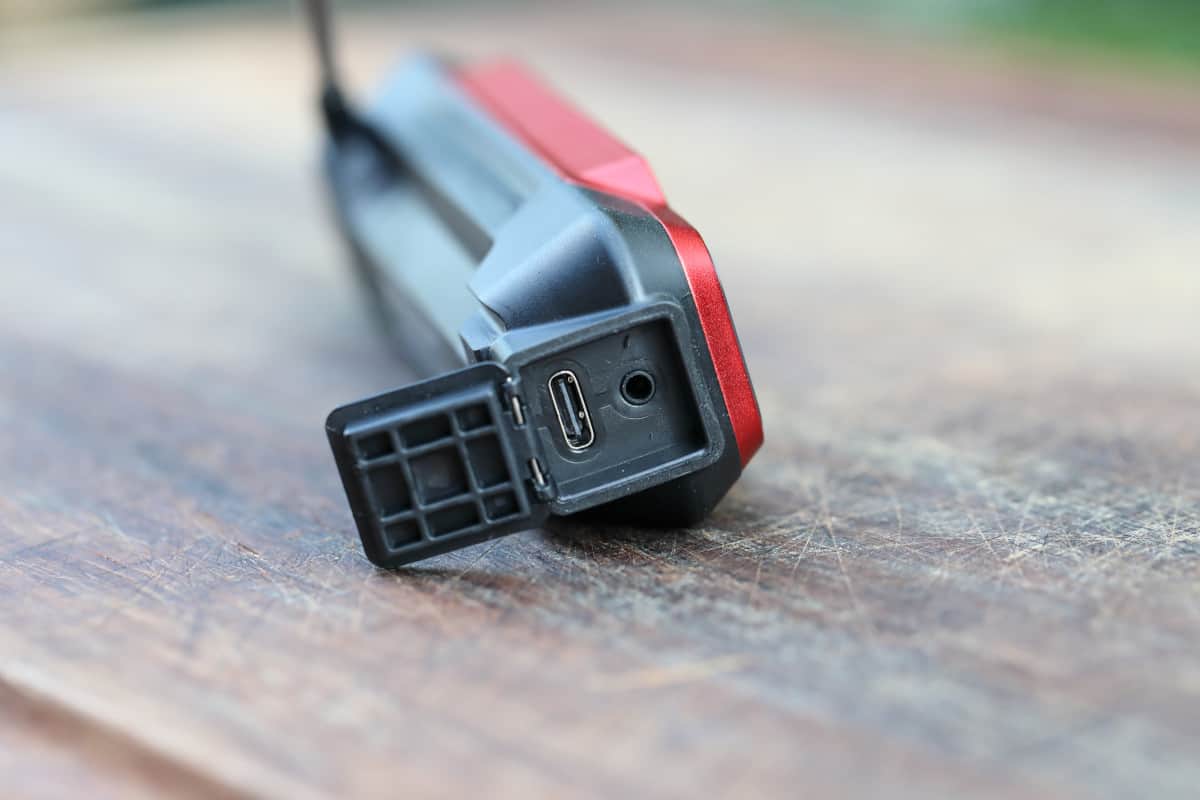 All in all, this is an extremely well-constructed thermometer.
The Fireboard Spark in Use
Now it's time to put the FireBoard Spark to the test and see if it performs as well as I expect it will.
As an Instant Read Thermometer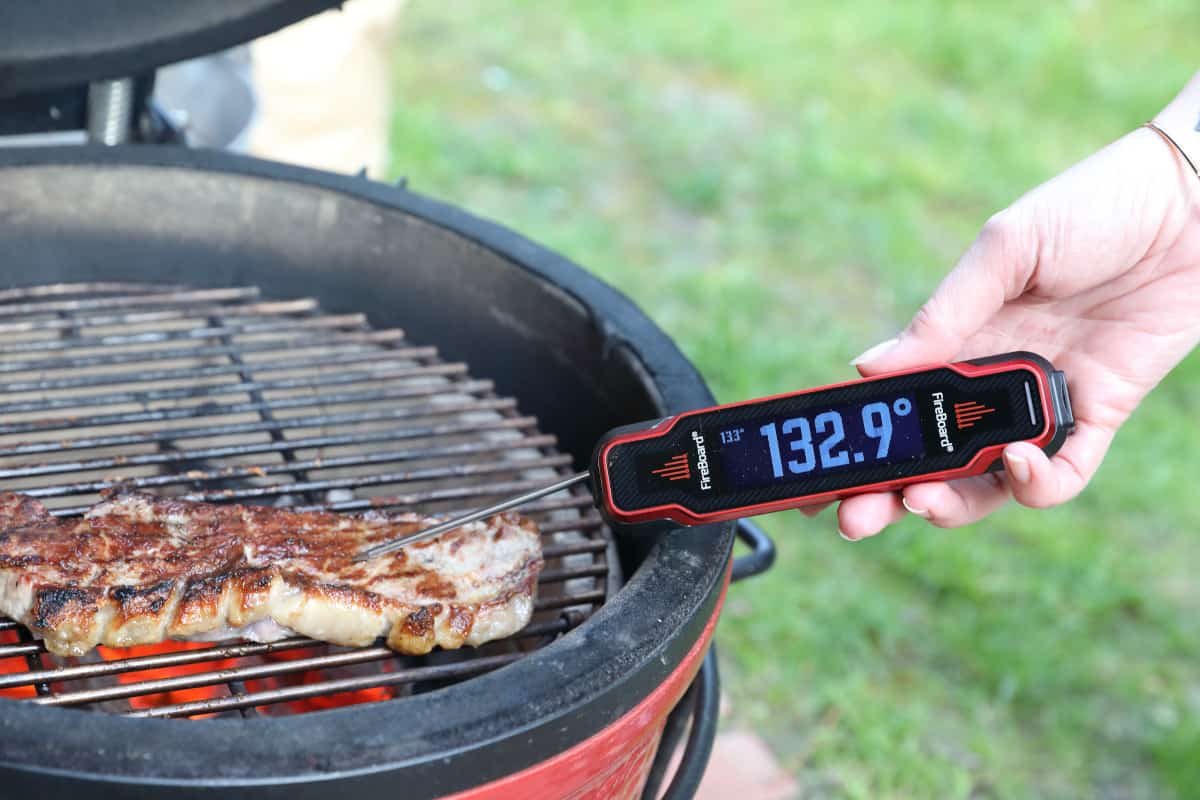 When I use the Fireboard Spark as an instant read thermometer, I find it very comfortable and a joy to use. It's fast, accurate, feels good in the hand, and does what it does well.
Now, the FireBoard Spark claims to be almost as fast and accurate as the Thermoworks ThermaPen One and on par with the ChefsTemp FinalTouch X10.
These two are pretty much the gold standard for speed and accuracy, so I'm curious to know if it's true.
Boiling Water Test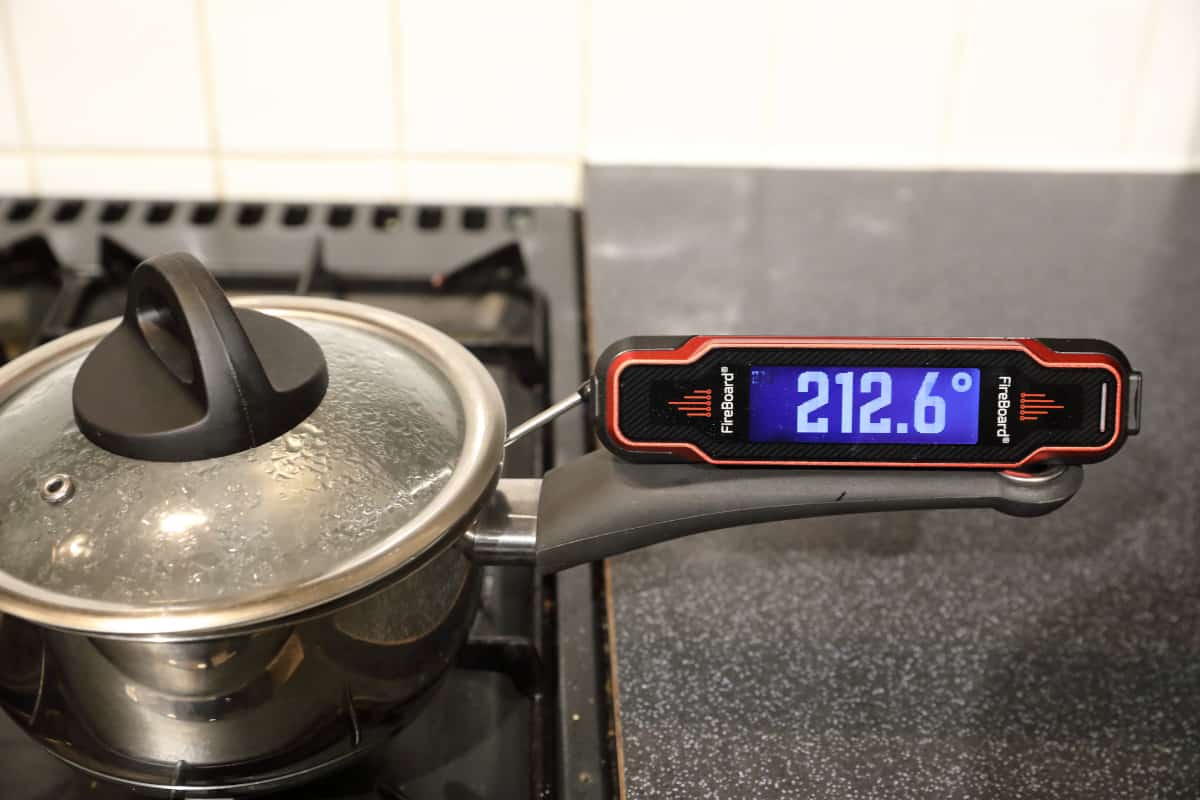 As you may know, the temperature at which water boils changes minutely depending on your elevation. At sea level, it boils at 212 °F (100 °C). That number decreases by 1°F for every 500 feet you climb. Since I'm below 500 feet above sea level, water boils as close to 212 °F as makes no difference.
Dipping the instant read probe into boiling water gave a reading of between 211.5 and 213.6, settling mostly around 212.6 °F, as you can see in the picture. That's excellent accuracy and right up there with the top dogs.
In terms of speed, I got my reading in a second or two; I lack the scientific tools to judge speed with atomic clock-level precision. But I can say that if the Spark was slower than either of my benchmark thermometers, it wasn't enough to quibble over.
Plus, it gives you a little vibration and an LED on the end flashes to let you know when it's done taking a reading, which is a fun feature.
Iced Water Test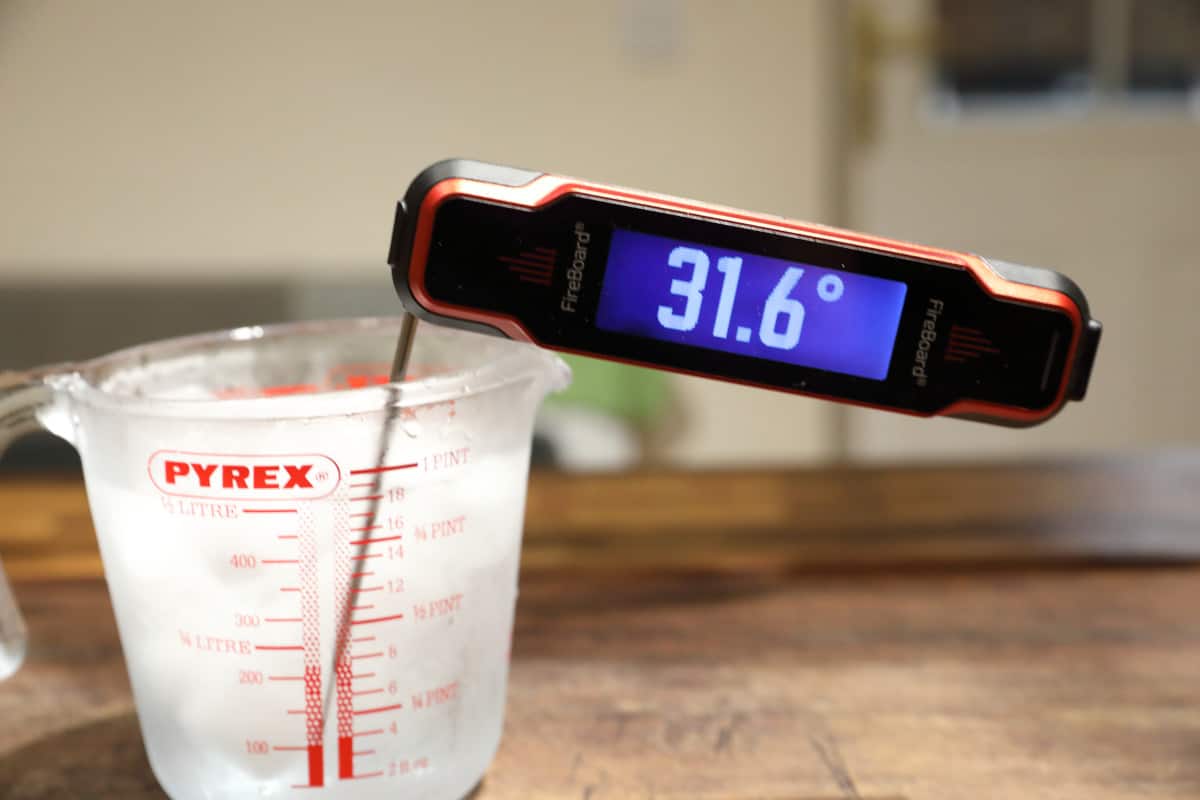 Turning from hot to cold, I dunked the fold-out probe into a jug of ice water. The expected read-out is 32 °F (0 °C).
In the end, the FireBoard Spark returned a result of 31.6 °F, a scant 0.4 °F away from perfect. That is a fantastic result and WELL within tolerance for any non-laboratory purposes.
The results came quickly, too. Again, too fast for me to measure, but I didn't feel like it lagged one bit behind either the Thermoworks or ChefsTemp offerings.
As a Leave-in Probe Thermometer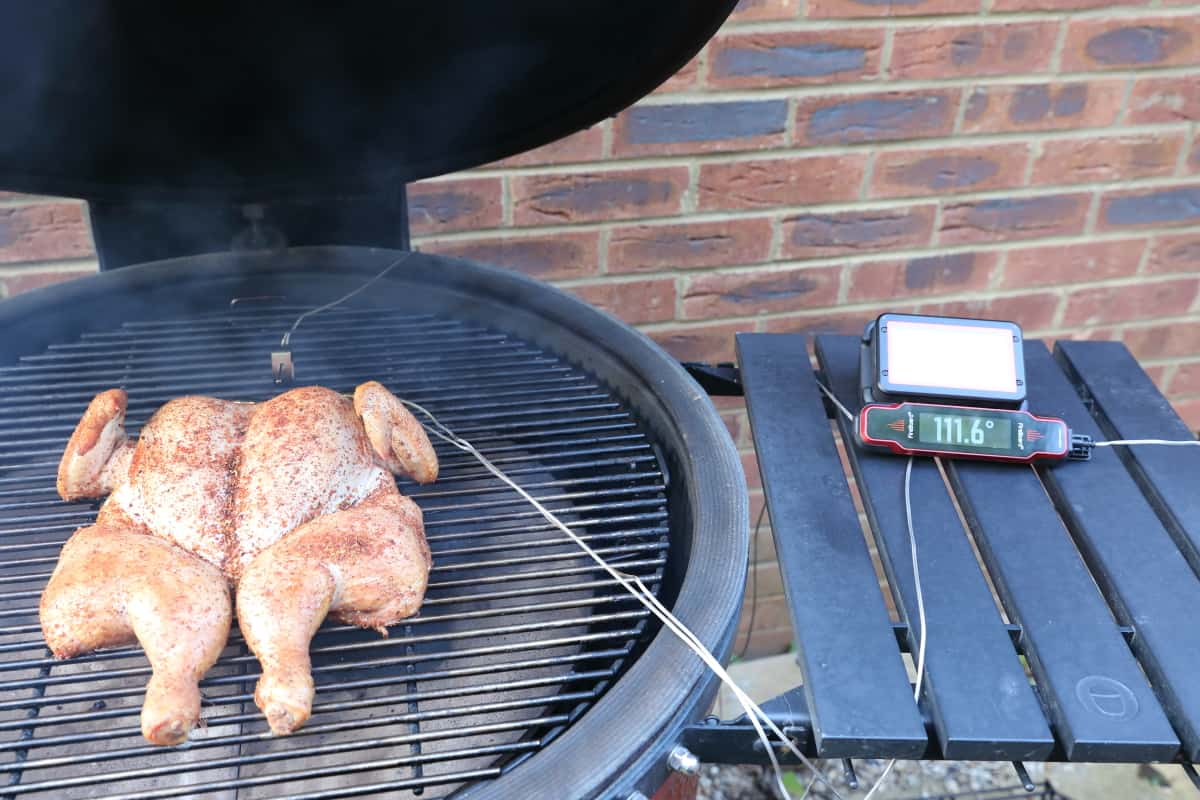 To take advantage of the leave-in probe capabilities, you'll have to buy a probe separately unless you already have one.
I have six that I bought with my Fireboard 2 Drive, so I was able to put it to the test.
Basically, it works very well. I set up my Fireboard 2 Drive and used that alongside the Spark as a leave-in thermometer, so I could compare them side by side. They showed the same results, which proves to me it is accurate and can be relied on.
However, as always, I put it through the boiling water and iced water tests to make sure.
Boiling Water Test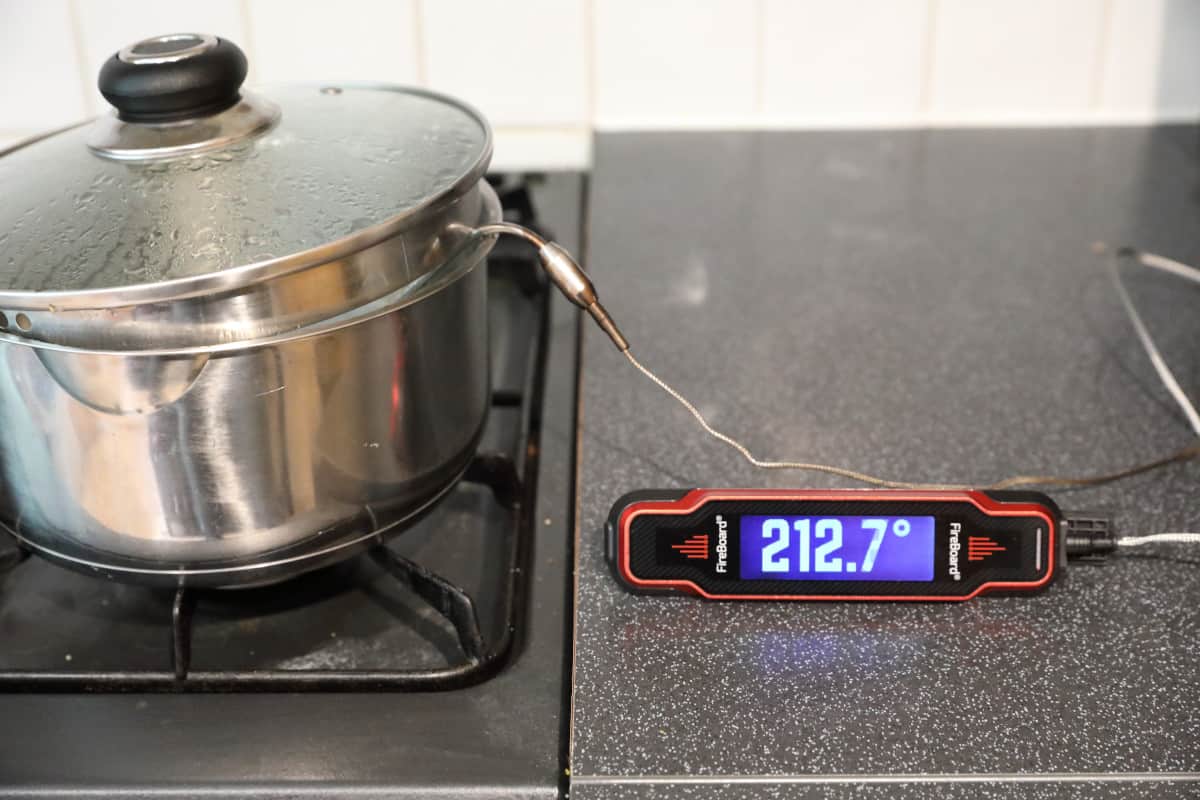 Since I've previously tested my FireBoard 2 Drive for both boiling and frozen water, I had a pretty good idea of what to expect.
Sure enough, as shown here, the leave-in probe recorded a temperature of 212.7 °F. That's easily within their stated parameters and proves that this is an excellent unit with high accuracy.
Iced Water Test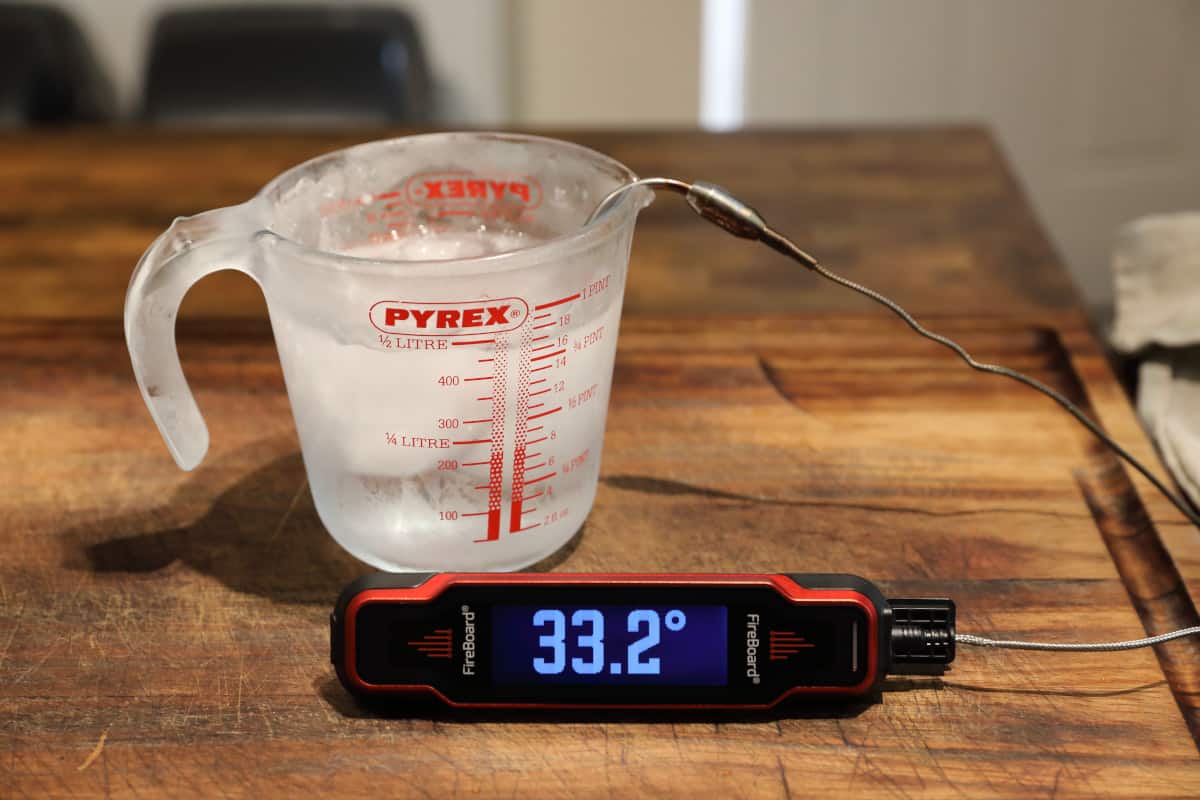 Time to take the polar plunge, leave-in probe! How did we make out? See for yourself!
33.2 °F. For comparison, my Thermapen One showed 33.1 °F Yup, I'll take that accuracy every time. Another pass with flying colors for the FireBoard Spark.
Thinking about speed for the leave-in probe, of course, that's not something you generally worry about during a multi-hour cook. Still, I found that for both boiling and freezing water, I had a result within a couple of seconds, give or take a few tenths of a second, which is more than adequate.
Wi-Fi Connectivity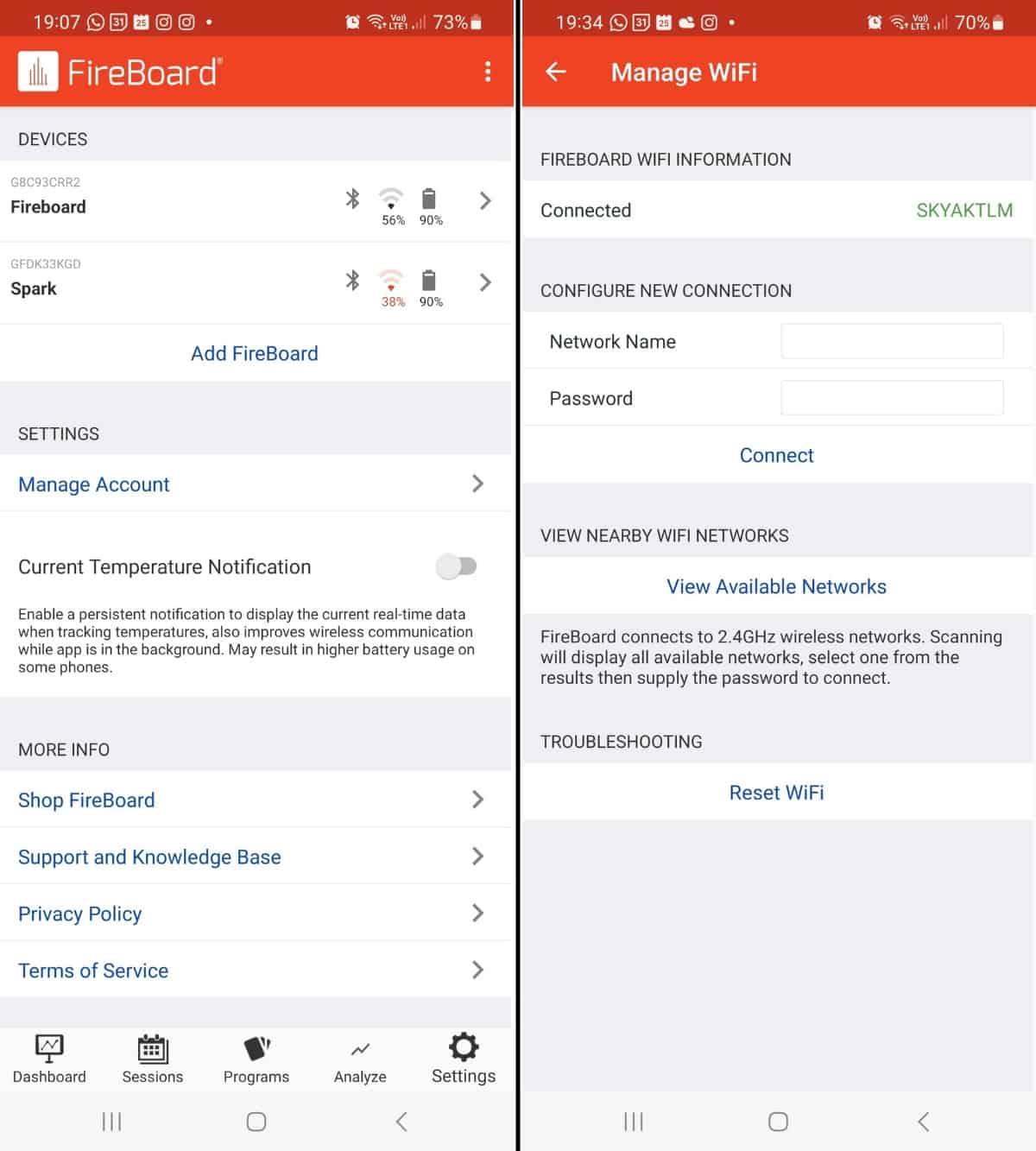 As I said earlier, if any feature truly separates the Spark from other instant-read thermometers, it's the wireless functions. Even if you have no intention of using the app, this is a beneficial feature. Why?
Two words: firmware updates.
Keeping your FireBoard Spark connected to the internet enables automatic over-the-air (OTA) firmware updates. At the time of writing, this included recent updates to improve the battery charge level indicator and power-saving enhancements.
But, the main reason to connect your Spark is to take advantage of the FireBoard Cloud.
Fireboard Cloud
Start by downloading the FireBoard app for either Android or iOS. Without getting into a huge discussion of how the app works, suffice it to say that this is where you can track, store, and analyze data, which the Spark automatically shares to the Cloud while connected to Wi-Fi.
For example, you can simply monitor what's going on with your Spark at the moment. Naturally, at least 99% of the times you'll use this will be while monitoring a cook session using the leave-in probe, which you can also view in a graph format.
As the app collects data, you can append useful information to it. For example, you could add a note for yourself, like how much sauce you brushed on and when. Or, you could add a photo you just snapped with your phone of the phenomenal bark forming on your ribs.
All that data and add-on info resides in the Cloud, and you can access it through your free account. That way, you can review it next time to repeat successes and avoid previous mistakes.
Fireboard Analyze
Also available through the app is FireBoard Analyze. This tool has two purposes:
To predict cook times based on the current temperature.
Show the progress of your cook and compare data between your active cook session and a previous one stored in the FireBoard Cloud.
The predictive timer, which constantly updates throughout the cook, is far more useful than an actual timer, which may end up way off the mark. Comparing cooks can help you achieve consistent results and troubleshoot issues based on past experience.
Syncmode to Use as a Fireboard Monitor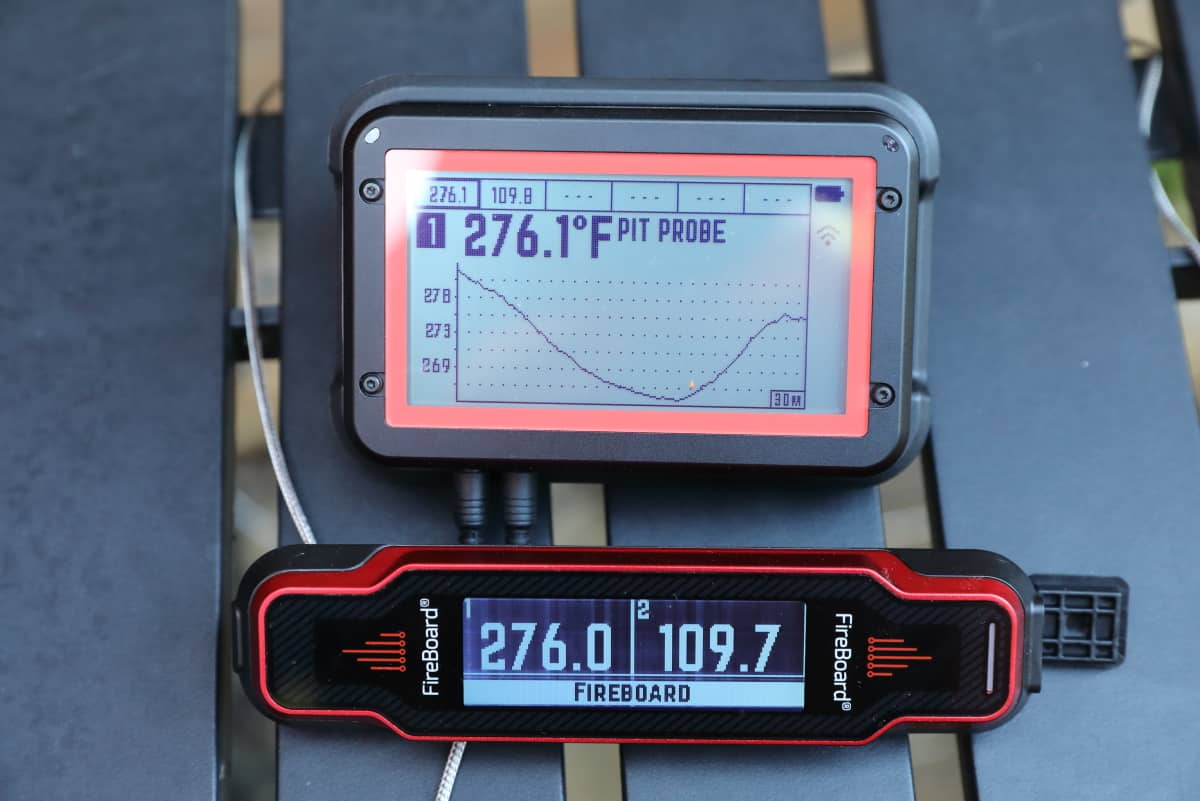 This function is only of use to those who also own a FireBoard 2, FireBoard 2 Drive, or FireBoard 2 Pro.
As I mentioned earlier, by activating SyncMode while on WI-Fi, the Spark becomes a stand-alone monitor for any FireBoard devices currently running and connected to your account. The LCD starts to display the temperature readings from any active probes, scrolling through the various temperature readings.
This could be a handy feature for an extended cook, during which you may be quite busy with your phone and unable to keep tabs on the app. Simply set up the Spark wherever you are (it sits nicely on any level surface), and you'll have the most vital information — the current temperature of your meat — on display at all times.
Warranty and Support
The FireBoard Spark comes with a one-year warranty against manufacturer's defects. (Until July 2020, FireBoard's warranty was just 6 months.) Repairs or replacements will be done free of charge. Assuming the unit is either unused or in "like new" condition, you have 30 days from the day of delivery to return your Spark for a full refund.
Although the FireBoard website features a Support section with a few FAQs, nothing is specifically about the Spark. There is some useful information here about the external probes and the app.
A far more useful source of information is the very well-hidden web address docs.fireboard.io. You'll find an extensive operation guide, specs, and useful troubleshooting information here.
If you have questions, there is a form on the website, a general email address, and a phone number in Kansas City, Missouri.
Summary of Pros and Cons
I'm about to reveal my decision on whether the FireBoard Spark is a must-have or a dust-gatherer waiting to happen that you should avoid. First, here's a refresher on some of the points in favor and against.
Pros
Does double duty as a leave-in and instant-read thermometer.
The large LCD display rotates 360 degrees so that you can read it from any position.
Very fast and very accurate; highly comparable to some of the best on the market.
Solid build, stylish, easy to operate, AND IP66 waterproofing.
Connects to the robust and powerful FireBoard Cloud app for full functionality as a leave-in thermometer.
Acts as a remote monitor for any other FireBoard devices you own.
Rechargeable battery can last up to a year (or more) with light usage.
Cons
The built-in probe doesn't rotate past 180 degrees, despite the 360-degree display.
External probe not included.
SyncMode isn't useful without owning another FireBoard device.
Final Verdict
Fireboard Spark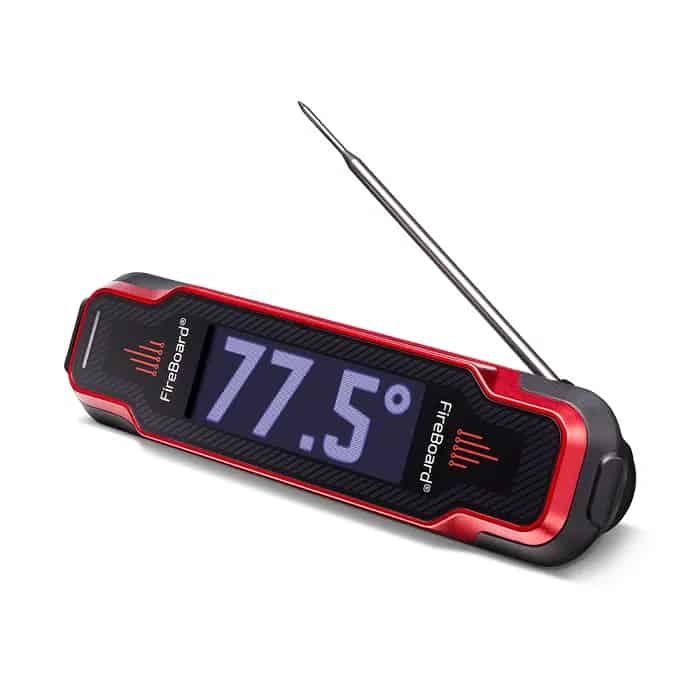 A feature-rich, versatile dual-purpose thermometer that is instant-read, with a port for an optional leave-in probe for long-term ongoing temperature monitoring.
Wi-Fi enabled, you can store temperature data in the Fireboard Cloud for later review or to read and monitor temperatures from an app on your smartphone.
You can find a host of other features discussed in this review or by following the link below.
I want to thank FireBoard for sending me the Spark to test and review. It's very good at everything it does and comes packed with features you won't find anywhere else. I've enjoyed using it, and I will continue to do so.
Now, I'm not going to come out and say you need a FireBoard Spark or even that it should be given serious consideration if you're in the market for an instant-read thermometer. To be honest, other units that perform this function just as well and even marginally better are available. And they all cost less money.
Having said that, I won't tell you not to buy something just because of the price. It's entirely up to you what you're comfortable spending on a thermometer, and if you buy the FireBoard Spark just as an instant-read, you will not be let down by the performance.
But, if you already own a FireBoard 2 or are planning to buy one (it's a great leave-in thermometer system), adding the Spark to your inventory is pretty much a no-brainer. You'll love the combined functionality. And, you might just leave the more cumbersome FireBoard 2 in the box if you're doing a single piece of meat and not using the blower (if you own one), in favor of the compact Spark.
I also highly recommend this product for anyone looking to step up their barbecue game. If you're just venturing into low and slow smoking, a single leave-in probe may suffice, and the instant-read feature is a bonus. Down the road, if you get really into this style of cooking, adding a FireBoard 2 would make total sense.
In a nutshell, the FireBoard Spark is a high-quality, innovative thermometer that would be an excellent purchase for a specific group of outdoor cooks.
Conclusion
Well, what do you think? Is the FireBoard Spark right for you? If you're still on the fence, hop over to our thermometer review page to see some of the many other options out there. Trust me; it's WAY better than scrolling through Google and Amazon. There are no 1-star reviews from people who are mad about something unrelated to the product, and zero purely subjective fanboy adulation, either.
If there's anything else you'd like to know about this product or any comments you want to share, leave them below. Always happy to interact with our supporters! Without you, we're nothing but some folks who can't stop talking about barbecue.
Thanks for reading!