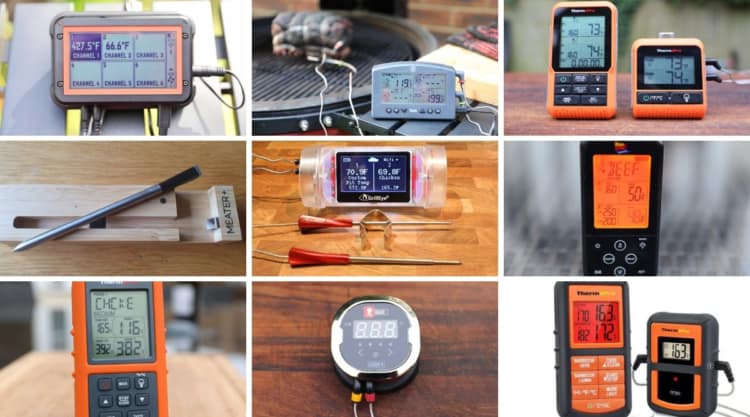 In this guide, we take a look at the best wireless meat thermometers for grilling and smoking.
If you struggle with being a confident grill master because you never really know when your meat is cooked correctly, or the temperature of the grill or smoker you're cooking on, then one of the products below is for you.
There are tricks and old wives' tales for determining temperature, but none of them are at all accurate.
Or maybe you don't BBQ as much as you'd like because you hate having to sit by and continuously monitor your pit all day, to make sure all is going smoothly?
You don't have to live like this.
An accurate wireless meat thermometer makes dialing in those temperatures simple and means you can monitor things from afar while doing other tasks — Like watching the game with your feet up.
For consistent results without having to sit beside your pit for hours, we highly recommend you get at least some type of smoker thermometer with remote monitoring.
Before I dive into the wireless meat thermometer reviews and buying advice, here's an overview of the products that feature in this guide.
At a Glance: Our Top Picks for Best Wireless Meat Thermometer
At a Glance: Our Top Picks for Best Wireless Meat Thermometer
Note: Clicking the above links will take you to further information, current prices and customer reviews on Amazon, or various other vendors.
You don't have to spend a lot of money to take your grilling confidence up a level while freeing yourself from being a slave to the grill during long smokes.
This guide starts with a list of wireless meat thermometer reviews, then goes on to discuss why you need a grill thermometer, before we break down some basic features and how they can benefit you.
By the end of this guide, you will be comfortably able to choose which might be best for you.
Product Roundup and Mini Reviews
From this point forward, you'll find a list of contenders for the best wireless meat thermometer, as decided by us after weeks of research and hands on experience using a few of the products 'in the field' so to speak.
We start with our winner and top choice:
Fireboard 2 — With Optional Drive Blower
1
"The successor to my previous top pick, this highly advanced thermometer is versatile, expandable, connected, very well built, and may induce envy among your friends."
When I reviewed the predecessor to the FireBoard 2 – the FireBoard FBX11 – to say I was impressed is an understatement. I had virtually zero complaints and certainly none about its performance. Naturally, my expectations for the FireBoard 2 were very high.
I was not disappointed.
I chose the FireBoard 2 Drive from the three models available (the others are the basic FireBoard 2 and the Pro versions) because the basic model does not natively support the Drive Blower fan, and I knew I wanted it.
The FireBoard 2 Drive supports up to six temperature probes, either RTD or thermistor, and ships with two thermistor food probes and one thermistor ambient probe. (I opted to top up and purchased three additional probes.)
It's a bit of an investment, being among the most expensive multi-channel digital probe thermometers out there. But, if you're serious about smoking and roasting to perfection, the FireBoard 2 should at least be on your short-list.
Time for the data! Here are the need-to-know specifications:
Manufacturer's Specs
Number of Probes: Supports up to 6; includes 2 food probes, 1 ambient probe
Accuracy: ±0.7°F (±0.4°C)
Temperature Range: -94°F to 752°F (-70° to 400°C)
Max Temperature Use: 572°F (300°C) with included probes; up to 716°F (380°C) with optional RTD probes
Food Probe Length: 5"
Ambient Probe Length: 25"
Cable Length: 6 feet
Power: 4000 mAH Li-Ion battery with USB-C PD Charger
Battery Life and Charge Time: 30 hours; 4–6 hours
Bluetooth Range: 100 feet
Display Size: 256 x 128 pixels; 3.3" x 1.75"
Warranty: 1 year
Not everyone needs six probes running at the same time. Most of the time, even grill nuts like me don't need them either. But, I love having that expandability as an option. I can monitor several cuts of meat simultaneously, even in different cookers.
And monitor them you will, from the large LCD screen on the base and from the excellent app on your smartphone, tablet, or even your computer. The screen alone justifies the upgrade from the earlier FBX11 model, with the option to display single or multiple channel data and real-time graphs of temperature and time.
Another nice upgrade is the weather-resistant housing. For the previous model, this required the purchase of an optional case. While it may not survive a dunk in the sink or pool, it's nice to know a little rain or a splash of beer isn't going to turn your thermometer into an expensive paperweight.
The robust FireBoard app allows for complete customization of channel names and multiple alarms for each. Opt for notifications sent via email, text, or through the app with tailored parameters, like how long a target temperature must be exceeded before you get a message. In addition, it's easy to set multiple alarms for each channel, giving you a god-like overview of your cooking session.
Pros
In my opinion, the best BBQ thermometer I've ever used!
A beautifully designed, professional build quality device
A large and easy to read display in all lighting conditions
The display auto-rotates to suit any orientation
You can attach up to six probes to monitor multiple foods at once
Bluetooth and Wi-Fi enabled for connectivity options
The smartphone app is good and reliable
Optional 'Drive Blower' can be purchased for automatic BBQ temperature control
Google or Amazon Smart Speakers can be used for voice activated control
The built-in rechargeable battery lasts up to 30 hours
Cons
Pricey — But worth every penny for me!
Unlabeled buttons require memorizing their functionality
No stand included. Not essential as the controller sits up nicely, but would have been good to have.
No alarm on the base — The base is highly capable, but alarms would have rounded it off nicely
Whenever someone decides to tinker with a favorite (like New Coke or the 2012 Total Recall remake), I get nervous. Fortunately, the FireBoard 2 preserves everything great about the original FBX11 while simultaneously upgrading the experience.
If you absolutely love to smoke, roast, and bake a LOT of food outdoors and want to up your game, the FireBoard 2 is a must-have. And if charcoal is your fuel of choice, absolutely pick up the Drive version and a Drive Blower fan for total control. This awesome device sets the bar for digital barbecue and smoker thermometers.
Take a deeper look in our write up of our hands-on testing and assessment after months of use in our Fireboard 2 Review.
Thermoworks Signals — With Optional Billows
2
If you've shopped around for a digital thermometer, odds are you've come across the Thermapen. This excellent instant-read thermometer is an industry leader, and that's what I've come to expect from ThermoWorks — reliable, professional-grade equipment that's also suited to the amateur with lofty ambitions.
The Signals builds upon ThermoWorks earlier entry into leave-in BBQ alarm thermometers, the Smoke. In a nutshell, it does everything the Smoke does and more, and does all those things better.
ThermoWorks says this about the Signals: "BBQ professionals look to Signals as the operational hub of their BBQ." So, is a thermometer built for competition chefs and commercial smokehouses overkill in your backyard?
Not necessarily.
I won't lie; it's a bit pricey, and it's probably more than the typical weekend warrior requires for the average cookout.
But, if you like to take on bigger projects in your smoker, like smoking multiple cuts simultaneously, it might be just what you need.
Let's review the specs — I'll catch you on the other side for a quick review and a few thoughts on the ThermoWorks Signals.
Manufacturer's Specs
Number of Probes: 4, including 3 food probes and 1 pit probe
Accuracy:

±1.8 °F (±1.0 °C) from -4 to 248 °F (-20 to 120 °C)
±3.6 °F (±2.0 °C) from -58 to -4 °F / 248 to 392 °F (-50 to -20 °C / 120 to 200 °C)
±5.4 °F (±3.0 °C) from 392 to 572 °F (200 to 300 °C)

Temperature Range: -58F – 572 °F (-50 °C – 300 °C)
Max Temperature Use: 700 °F (370 °C)
Food Probe length: 6 inches
Cable Length: 47 inches
Power: built-in rechargeable battery (USB to USB-C cord and 12V AC adaptor plug included)
Battery Life and Charge Time: about 16 hours; fully charged from depleted in about 12 hours
Bluetooth range: 95 feet line-of-sight
Display size:88" x 3.97"
Warranty: 2 years
Aside from the jump from two to four probes (which I fully appreciate), the big difference between the Signals and the Smoke is the onboard wireless connectivity. Right out of the box, you can connect to your home Wi-Fi network or directly to your smartphone via BlueTooth.
Having the freedom to tend to other things while the Signals keeps track of your smoker is a major plus. I love that I can go to the kitchen to prep more food, check in on the game, or get back to my guests and family worry-free. ThermoWorks has hugely improved its proprietary app in recent years, so you should have no difficulty running the whole show from your phone.
The base station has a large LCD screen displaying readings from all four probes simultaneously, plus individual high and low temperature alarms for each. You can even custom name each channel, so you're never confused about which info goes with which meat.
Ruggedly built, the base is robust and solid, built in a wedge shape for enhanced stability. It has a waterproof rating of IP66, too, so it's more than ready for an accidental splash or an unexpected fall of rain.
Pros
Between the splash-proof housing, rugged plastic, and commercial-grade probes, you'll get years of hassle-free enjoyment.
Impressive ease of use and accuracy
Three meat probes and a pit probe make it versatile for large cooks
Bluetooth and Wi-fi connectivity provide options and failover
Easy to set alarms and cooking programs
9 different color options allow you to coordinate it with your grill or smoker
A nice range of accessories make it usable with almost any smoker or grill
Cons
Price — The value is there, for sure. But, it's one of the priciest units on this list.
Glitchy smartphone app occasionally disconnects
A competition-grade digital thermometer may not be for everyone. But, if you want to step up your smoking game, you can't afford to allow your accessories to let you down.
Anyone looking to go beyond the usual and explore the larger world of smoking meat will get their money's worth out of this investment.
Learn more in our detailed review after months of use and testing in our Thermoworks Signals review.
ThermoPro TP826 Wireless Digital Meat Thermometer
3
This entry from ThermoPro (who always make quality stuff) is not so different from the TP20 and the TP08. Like its cousins, it supports up to two probes, each capable of taking ambient or food temperatures. And, it features an easy-to-read black-on-orange LCD on the receiver, large buttons, and rugged construction.
From there, though, things start to deviate.
For example, the TP826's transmitter has a black-on-orange LCD on the transmitter, too; the other models use standard black-on-grey and are less easy to see. The improved LCD is also larger and shows the temperature from both probes simultaneously, rather than automatically switching back and forth.
The receiver screen is also larger, displaying three distinct zones: Probe 1, Probe 2, and a timer. Each probe zone shows the target temperature or range, the actual temperature, and an icon showing what kind of meat it's set for (and doneness level, where applicable). It's a lot of data at a glance, and we love it.
Timers are not the right way to determine if food is ready to eat; however, they do have their place. Having a dedicated timer zone is a great addition, and you can set either a countdown or a count-up timer.
Preset alarms include FDA-guided temperature settings for chicken, fish, pork, and lamb, plus rare, medium, and rare beef. Additionally, you can set HI and LO temperature alarms using either the default setting (225 to 250˚F) or customized parameters from a low of 32˚F to a high of 572˚F. All alarms are both audible and visible.
The TP826 comes with a pair of ThermoPro's standard NTC sensor probes, each one 8 inches long with a 49-inch wire ending in a 3.5mm plug. The probes are tapered to help them slide in more easily and feature a two-inch-long section of grooved stainless steel at the wire connection for a better grip.
Speaking of grip, the receiver and transmitter each have grip-enhancing edges molded into the grey band that connects the back to the front. Each is powered by two AAA batteries, and they both come with folding stands and hanging holes, and are rated IPX4 (splash proof) for waterproofing.
The ThermoPro TP826 is fast, giving readings within 5 seconds and refreshing every 4 seconds thereafter, and accurate. The manufacturer claims accuracy of ±1.8˚F (±1.0˚C), and our tests showed that it's at least that good if not better in most cases.
Pros
Large, bright screen easy to read in all lighting conditions
Wireless radio has hundreds of feet range
Simple to use interface and buttons
RF wireless signal is strong and reliable
Probes are both suitable for food or ambient temperature
Splash proof housing on both units
Variety of mounting/standing options
Numerous preset alarms for meat, including doneness options
Temperature range alarm makes it suitable for smokers
Cons
Receiver won't fit in your pocket like a cell phone will
2 probes may not be enough for some people
The ThermoPro TP826 hits a sweet spot of ease-of-use, functionality, extra features, and an easy-to-swallow price tag. Beginners and experienced cooks, especially those interested in smoking and roasting, will appreciate the value of this excellent thermometer.
For more info, read our detailed hands on review of the TP826.
Meater Plus Truly Wireless Thermometer
4
The Meater probe was originally quite limited in range to approx. 30 feet on open grills or ceramics, and just 10 feet if in a metal grill with the lid closed. However, with the introduction of the Meater+, that range has been extended to up to 165 feet!
I own both an original Meater and a + version. I started by buying two originals a year back, but upgraded one to the Meater+ a few months ago as I really wanted the added range.
I use them often and am a huge fan.
Functionality
The Meater+ is the only genuinely wireless probe I know of. And I do mean not a wire in sight!
The probe has two thermometers, one at each end, so a single probe is used to monitor both the internal temperature of your meat and the temperature of your grill or smoker.
It is a wireless probe that transmits via Bluetooth to an app on your smartphone, with no wires to be seen.
The biggest benefit of this is it makes it possible to use a leave-in, remote monitoring thermometer during your rotisserie cooking now! How cool is that?
Of course, it also means no trail of wires to catch and snag on tools while you're cooking, no cables to bend, fray, break and eventually fail. True wireless is win-win.
How it works, is the Meater probe connects to the Meater+ probe charging block, which is also a Bluetooth repeater extending up to 50M. So the probe connects to the block, and the block can connect to your phone 50 m away. There's also the ability to connect to the cloud, so you monitor and view your cooks anywhere in the world you have an internet connection.
The accompanying app is highly intuitive and feature-packed. It has settings for you to choose the type of meat (pork, beef, lamb, etc.) and then the exact cut (steak, rib, roast, etc.), and then to set your desired internal temp / doneness level.
The app takes into account 'carryover cooking' and will alert you to remove the meat in time for carryover cooking to take the meat the final few degrees up to target temp.
There's more functionality besides, and for all the details, you can check out my Meater+ review.
Pros
Genuine wireless functionality. No wire in use or during charging.
The only thermometer you can use with rotisserie cooking.
Intelligent, easy-to-use, and good-looking app.
Uses your smartphone as a receiver, which cuts costs compared to a dedicated receiver.
Guide you through all cooks for most common meat types and cuts, even taking into account carryover cooking.
Very styling and classy looking.
Cons
A little more costly than others on this list (but worth it, in my opinion.)
Requires an android or IOS device to work (some say that's a bonus, some say that's a negative.)
The probe battery cannot be replaced but is expected to work for 1000+ cycles
Overall, it's a highly functional, good-looking, intuitive bit of kit that works well. Highly recommended.
GrillEye Max Wireless Digital Barbecue Thermometer
5
The GrillEye Max is like no other digital probe thermometer on the market, both in appearance and its volume of probes.
Looking like a small bomb and with enough probe ports to keep Dr. Octopus happy in the backyard, this is one unique thermometer.
GrillEye is still making a name for itself in North America, but it's a better-known brand in Europe, from whence it hails. (HQ is in Greece, and trust me, they know how to barbecue over there.)
Right now, they have just three products, and the Max is their most advanced. Let's see how it specs out.
Manufacturer's Specs
Number of Probes: 2 included, supports up to 8; interchangeable for meat or ambient temperature readings
Accuracy: ±0.18 °F (±0.1 °C)
Temperature Range: -40 to 572 °F (-40 to 300 °C)
Max Temperature Use: 572 °F
Food Probe Length:7"
Cable Length:24"
Power: 2500 mAh Li-Ion (USB to USB-C cord and 12V AC adaptor plug included)
Battery Life: Up to 48 hours (with screen-saving mode engaged)
Wireless Connectivity: Wi-Fi enabled (802.11b/g/n — 2.4GHz)
Display size: 2.44″ × 31.3″
Warranty: 1-year
Functionally, what sets the GrillEye Max apart from the competition is the ability to connect up to 8 probes, all of which can be used for food or ambient monitoring.
What does that mean for you? Well, imagine you're smoking ribs, chicken, and brisket simultaneously. They all cook to different internal temperatures, and the timing will be wildly varied. With the GrillEye Max by your side, you can set separate target temps, alarms, and timers for each item.
Or, and let's think big here, what if you had THREE cookers going at once?? No problem — designate three ports for ambient temperature, and you still have up to five remaining for your food.
Now, you only get two probes in the box, so you'll want to order a handful of extras right away to get the full benefit of the GrillEye Max. You may even want to pick up some wire extenders to add 39.67 inches to be sure you can reach everywhere you want to probe from a central location.
The other standout feature is the 360-degree rotating body. Stick the GrillEye Max to any magnetic surface (away from the heat!), and you can rotate the screen until it's positioned where you can see it. That's a great convenience feature which, for many, will be far preferable to the usual kickstand apparatus found on the back of most thermometer base units.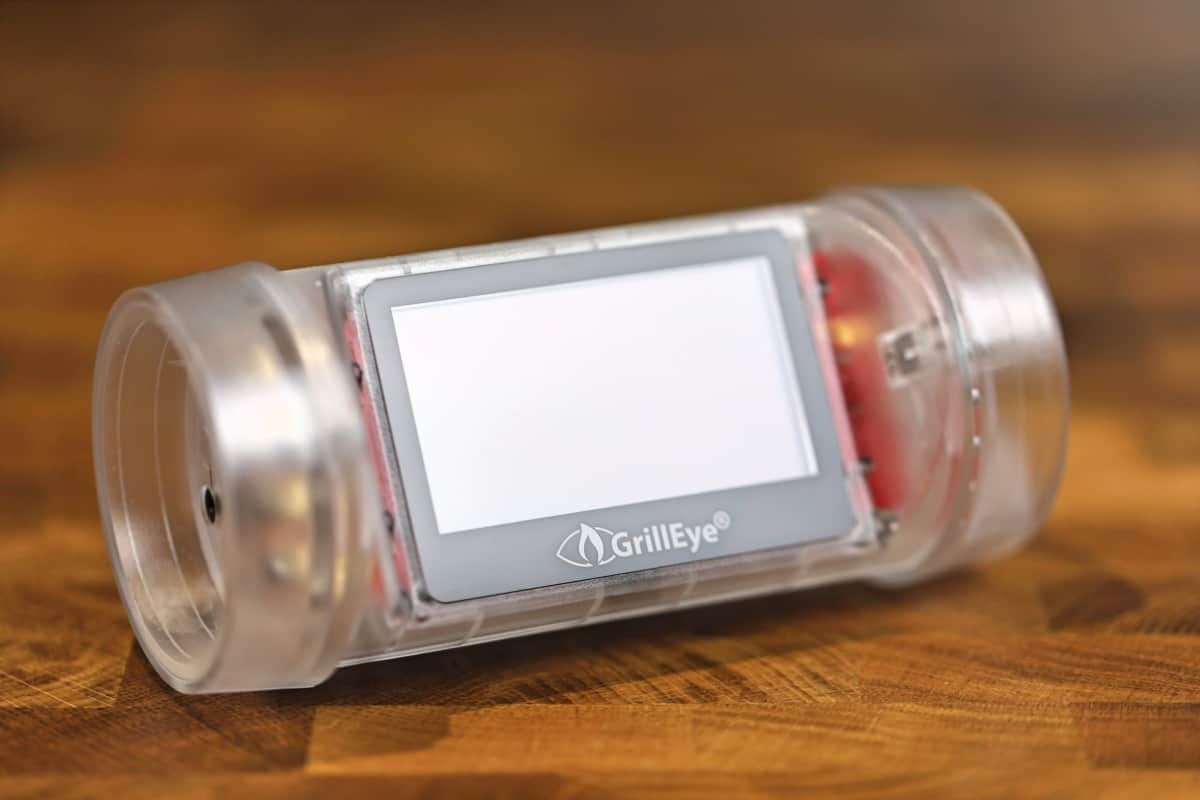 There are two important things to bear in mind before you pick one up:
The first is the base unit displays temperature information but is not interactive — you MUST use the free app on your smart device to program the GrillEye Max. (Don't worry; it's a good one!)
Secondly, the housing is drop-resistant, but there is no waterproofing; do not leave it out in the rain if the weather takes a turn during a smoking session.
Pros
Massive Probe Support — If you're keeping tabs on several different cuts at once, the option to connect up to eight probes could be a life-saver.
Always the Perfect Viewing Angle — A magnetic mount is nothing new; rotating the body up or down for optimal optics is.
High-quality App — It's uncluttered, intuitive, and allows for tons of customization on top of the handy presets.
Cons
Zero Functionality on the Base — Sure, the app is great. But, I shouldn't have to pull out my phone to make adjustments when I'm in front of the base unit.
Eight Probes is Overkill for Most — I love the potential here, and I might even use all eight someday. But this is too much functionality for your average backyard chef.
Hefty Price Tag — The GrillEye Max is really up there in price. Adding six new probes to max out on its capabilities then doubles this price.
Despite the cons noted above, I firmly believe this is an excellent piece of grilling gear. Is it for everyone? Nope, it sure isn't. But that's ok; rather than try to be all things to everyone (any Slade fans in the house?), the GrillEye Max carves out a unique niche for itself in the digital probe thermometer market.
For competition pitmasters or meat-lovers who cannot decide what to cook and end up making everything at once, the GrillEye Max can make your life a lot easier.
Check out our more in-depth, hands-on analysis where we dig deep into this thermometer's functionality and how it performs during use in our Grilleye Max review.
ThermoPro TP20 Dual Probe Wireless Meat Thermometer
6
The Thermopro TP20 is an extremely popular thermometer, and you usually can't go too far wrong by following the crowd.
It's a very rugged, sturdy feeling thermometer. The look and feel inspire confidence that this is a serious bit of kit built with longevity and reliability in mind.
It's dual probe, allowing you to monitor both the temp of your cooker, and the internal temp of the meat you are cooking.
It has presets for up to 9 types of meat and all their doneness levels pre-programmed, so you only need to select what you're cooking and how well done you would like it, then receive alerts as your cook finishes.
With this particular thermometer, the probes are rated for 716 °F, higher than most other thermometers.
Design
It's orange and black, which is quite striking and a nice look in my opinion. The modules themselves are made of a decently rugged black plastic, and they are encased in an orange rubberized shell, much like the cases you may get for a smartphone. You instantly get the feeling that this thermometer can take a fall in its stride and come out unscathed.
It has a light gray screen, with black writing, and a backlight button to illuminate the display for reading in the dark that makes it incredibly easy-to-read.
In the box comes a transmitter, a receiver, 2x thermometer probes, 4x AAA batteries and a manual. Everything you need to get going right away is included.
Functionality
The ThermoPro TP20 has 2 ports. You can use either port and probe to measure the temperature of your pit or some food.
This means you can monitor either two pit temps, or 2 bits of meat, or more usually one used as a pit probe to monitor the ambient temp of your grill, and one for monitoring the internal temp of a single piece of meat.
You set the desired temperature of your grill, and the desired internal temperature of your meat, insert a probe into your meat and use the provided clip to fix the second probe onto your grill to measure ambient temperature, and then you're done.
The manufacturer claims 300 feet working distance. I can't say I have tested this distance, but I personally use this thermometer and can say that it reaches from my grill area to my living room, which is perhaps 50 foot and through 3 walls which is impressive!
There's no syncing required, the transmitter and receiver automatically find each other, and this makes use one step simpler than most.
Pros
Very simple set up
Good range and works well through walls (in my situation, mileage may vary)
Many presets for different meats and doneness — removes the need to search and setup times and temps.
Very robust, looks and feels like it's going to last. Important as they can go through the wars in frequent use.
Cons
Compared to many in this list, I guess the lack of a supporting mobile phone app is a downside? But seriously, I don't miss it, the receiver is plenty good enough.
Please see our Thermopro TP20 review for more details and hands on testing.
When I started my search for grill thermometers, I knew I wanted something easy-to-use. Many thermometers come with a lot of bells and whistles. However, I wanted something streamlined.
I appreciate the fact that the iGrill 2 has an app that connects to your smartphone. You don't have to keep track of multiple parts when you're using the device.
Just store the temperature display and the probes somewhere. When you're ready to grill, pull them out and plug them into the meat.
You probably keep your phone close to you most of the time anyway. That's all you need to read thermometer from a distance.
The Weber iGrill 2 is easy-to-use and doesn't have complicated features. Two probes give you an accurate reading of your meat temperature, plus one for your ambient grill temperature, so you know what temp your meat is cooking at.
This model has four ports, so you can purchase extra probes separately, and attach them to read the temperature of four cuts of meat at once.
Then, you can walk away. The temperature syncs with an app on your smartphone or tablet.
The manufacturer claims you can read it from a distance of 150 feet. Many have found the Bluetooth range to be much shorter than that. If there are a few walls between the grill and your smartphone, you can only move perhaps 10s of feet away from the grill.
Luckily, an alarm will alert you when the meat reaches the desired temperature. This makes it possible for you to get more distance without worrying about going out of range, so long as you are within hearing distance of your phone.
When you're cooking for a crowd, you can buy two iGrill thermometers and read them on the app at the same time. If you are walking by the grill, there is an illuminated, easy-to-read display on the transmitter unit.
Pros
Because it sends readings to your smartphone or tablet, no need to fuss with separate wireless receiver.
Inputs for four probes let you cook different meats to different temperatures at the same time.
Comes with two meat probes.
The ambient grill temp probe that can be purchased separately has a clip for ideal placement.
Cons
The range is limited when you're out of the line of sight with the grill or indoors.
The transmitter is not waterproof.
This thermometer can be used in a grill, smoker or oven. It's streamlined and easy-to-use in a wide variety of settings.
For further details, please check our full hands on review of the Weber iGrill 2.
Sometimes I want a little more freedom when I'm grilling. I'll head across the street to the neighbor's garage for a game of darts, or I'll mow the lawn while I'm lighting up the grill. The Maverick ET733 has one of the longest ranges of any thermometers on the market.
It's not as streamlined as a Bluetooth-enabled thermometer. You do have to clip a bulky, red monitor to your belt, but you can walk approximately 300 feet away from the grill. And the bulk makes it feel more robust and durable anyway, important for what is essentially an outdoor bit of kit.
The monitor alerts you if you've gone out of range, so you know exactly where you can wander. When you go indoors, the range does become more limited than if you're in a direct line of sight from the grill, which is of course to be expected. But in my house, it works through a total of 3 walls from my BBQ area to my living room!
If you're not sure of the ideal temperature for a particular cut of meat, use the predetermined options. The thermometer includes preset USDA temperatures for the following types of meat: Beef, chicken, turkey, fish, pork, veal, duck, lamb, deer, elk, moose, buffalo, rabbit, boar, game birds.
You can also customize your settings for your own preferences.
Knowing the temperature of the grill is important, especially when you're following a recipe. If you're slow-cooking a piece of meat in a smoker, it's easy to overcook it if the temperature is too high. The hybrid probes can measure the ambient temperature of the grill or be inserted into the meat.
I would say it could use more contrast for reading the display during the day in bright sunlight, but this is a small gripe, and it's still perfectly readable. It also has a built-in backlight that turns off after five seconds for easy viewing at night.
Pros
Comes with 2 hybrid probes for measuring the ambient grill or meat temperature.
Batteries last long even when smoking meat for 24+ hours.
Long range gives you more freedom while grilling.
Temperature alerts mean that you don't have to check the receiver frequently.
Transmitter is rain-proof.
FREE bear claws included for pulling pork
Cons
Can't measure more than two pieces of meat at once.
Receiver is bulky and prominent for carrying around with you.
This long-range thermometer is great for setting and forgetting your food. And with its 'meat type pre-settings,' It's also excellent as a reference resource when you're not sure what the perfect internal temperature is for different meats.
For a more in depth look, please see my hands-on Maverick ET733 review.
One of the problems with thermometers I've already reviewed is that the probes can start to malfunction. The area where the probe connects to the cable isn't waterproof. I've gotten a little too careless while washing the probes before, making them stop working.
The ThermoPro TP08 comes with a lifetime warranty on the probes. The manufacturer will replace the probes for free even if they've been damaged from improper use. That makes me confident that I'll get a little more life out of this thermometer.
The transmitter has a hook that lets you connect it to the door of your oven. If you're using it on a grill, I would recommend setting the transmitter on a shelf or table next to the grill though, so it doesn't melt. Fortunately, it has an incorporated stand if you're setting it next to the barbecue.
One thing that makes this unit inconvenient is that the buttons and inputs aren't intuitive. One button can have multiple functions, and I had to refer back to the owner's manual to remember how to use it. This shouldn't be a problem after a couple uses, once you get used to the settings.
The inputs for the different probes aren't labeled, either. I had to check the product image every time I used thermometer before I decided to label them myself.
Pros
Comes with one probe for measuring ambient temperature and another for inserting into the meat.
Timer counts down or up to help you keep track of your cooking.
Meat probe is adequately long.
Alerts you when you've gone out of range.
Cons
Can't measure temperature of two cuts of meat at once.
Neither the transmitter nor the wireless receiver is waterproof.
Power button is extremely sensitive, making it easy to turn the unit off by mistake.
This thermometer is durable in sunny weather. It's not waterproof, but it is wrapped in a rubber case to protect it from falls and bumps.
For many more details you can check out our full Thermopro TP08 review.
Why Are Meat Thermometers Important?
If you are a confident griller, you might be a little offended by our suggestion that you use a thermometer. However, a genuinely self-assured chef understands that food safety is just as important as the way it tastes.
The Centers for Disease Control and Prevention report that 1 in 6 Americans get sick from foodborne illnesses. The CDC claims that there are four simple steps to food safety:
Clean your hands and surfaces.
Keep raw meats away from other foods.
Use a thermometer to achieve the desired temperature.
Refrigerate food properly.
In addition to allowing you to cook your meats to a safe temperature, meat thermometers take away the guesswork. You can spend more time preparing the rest of the meal or hanging out with friends and family when you don't have to check up on the food sitting on the grill constantly.
Thermometers designed for the grill can be inserted into the meat to tell you the temperature of its interior. Most models also have a second probe for use in telling you the temperature inside your grill.
When you're using your oven, you simply set it to a specific temperature. It even beeps at you when it's preheated. Your grill doesn't do this. You can only guess at a grill's temperature if you don't have a thermometer.
Knowing the temperature inside the grill can be vital for fine-tuning your barbecue skills and achieving consistency in your cooks. As you gain experience, you'll figure out how to set up your grill or how much charcoal to use to cook food efficiently.
Using a thermometer will help predict your cooking times instead of just throwing a slab of meat on the grill and hoping for the best.
Watch this video to learn more about safety when cooking meat, and why you should use a meat thermometer and how.
Why Shouldn't You Use The Dial Thermometer On Your Grill?
Some grills come with a dial thermometer on the lid. These analog thermometers have been found to be inaccurate. They can be off by up to 50 degrees in the absolute extremes but are usually out from somewhere between 10 and 30 degrees Fahrenheit.
Furthermore, the dial on the grill is usually not placed on the grilling surface. The lid of your grill may register 300 degrees, but the grate is almost always a different temperature. A digital thermometer will give you a more accurate reading of your grill's internal temperature right at the grate, where your cooking meat is actually sitting.
Have you ever used an old dial thermometer to check the meat's internal temperature? You stay in suspense as the needle slowly begins to move and picks up speed. Eventually, it settles on the final reading. This can take almost a full minute.
A digital product usually delivers a reading in fewer than 6 seconds. It's more accurate than an analog one too. It's definitely more precise than the dial on the lid of your grill.
Where Should You Place A Grill Thermometer?
If you're gauging the temperature inside your grill, place the probe near to and at the same as height as your meat. But not too close! Food develops a bubble of cool air around it, so you want to place the probe at least two inches away from its surface. You should also keep the probe at least one inch above the hot grates.
Some thermometers include a clip that allows you to position the probe in the ideal location, about an inch above the grate. If your model doesn't have a clip, you can encase the center of the probe in a ball of aluminum foil and set it directly on the grate. Foil should not cover the end of the probe.
If you're inserting a probe into a piece of meat, take a reading from a few different locations, making sure to poke thermometer into the thickest part of the meat. Push it past the center. As you slowly pull it out, record the lowest reading.
Keeping an eye on the coolest reading will ensure that your meat is cooked thoroughly. Don't rely on a temperature that results from thermometer touching the bone. The bone will show a different temperature than the meat.
The USDA Food Safety and Inspection Service provide more guidelines about how to use different types of thermometers.
What Features Should You Consider When Buying?
Dual Probe vs. Single Probe
Single probe thermometers can only take one measurement at a time. You can't measure the ambient temperature of the grill at the same time as the temperature of the meat.
A thermometer with more than one probe lets you take the temperature of multiple areas at once.
Most people will use a dual probe model to measure with one probe in the meat for internal temp and one on the cooking grate to measure the temp of the grill.
You could also check more than one piece of meat simultaneously with a dual probe. This is convenient if you're having a dinner party and your guests prefer different degrees of doneness.
But some 'second' probes are made just for checking the grill's ambient temperature and cannot be used for checking the meat, so make sure you know which probes you are getting.
Analog vs. Digital
Digital thermometers are typically more accurate than basic analog ones. And although they do cost more, they're still relatively affordable.
You might as well put your money into something that's going to save you from wasting it on a ruined meal.
Where Is The Display?
Some digital thermometers have a display that's permanently attached to the end of the probe. If you buy a simple model like this, you have to open the grill every time you check the temperature. This allows heat to escape and can make for an inconsistent cooking environment.
My favorite digital thermometers have wires that connect the display to the probe. The display sits outside the grill, while the probes register the heat inside. You can leave the probes in the meat and leave the lid closed while you monitor the cooking.
Wireless
I don't like to be chained to my grill, especially if I'm entertaining, or it's a hot day. Wireless thermometers let you read the display from a distance, using a receiver that picks up a radio frequency from the transmitter or an app that reads thermometer via Bluetooth.
Radio frequency has a longer range than Bluetooth. Although it might be more inconvenient to carry around a separate monitor, you can mow the lawn or hang out in the basement while you wait for your food to finish cooking, all the time being able to keep an eye on the temps.
Conclusion
If you spend tens of dollars on a cut of meat that gets overcooked because you didn't have a thermometer, you might kick yourself. If you do it twice, you'll be really upset.
For the same price as a few good steaks, you can buy yourself a thermometer and avoid this problem altogether.
Our most highly recommended thermometer is the iGrill 2. The versatility of taking the temperature of several cuts of meat at once is valuable. I also like the fact it works with an app on a device that I already own. I don't have to store or keep track of multiple devices or accessories.
Is it the best wireless meat thermometer for you? Possibly, though if you're looking for more economical solutions, our tied for second favorites are the Maverick ET732 and ThermoPro TP20. They are fantastic options; accurate, long range, work extremely well and are built to last.
Happy Grilling!