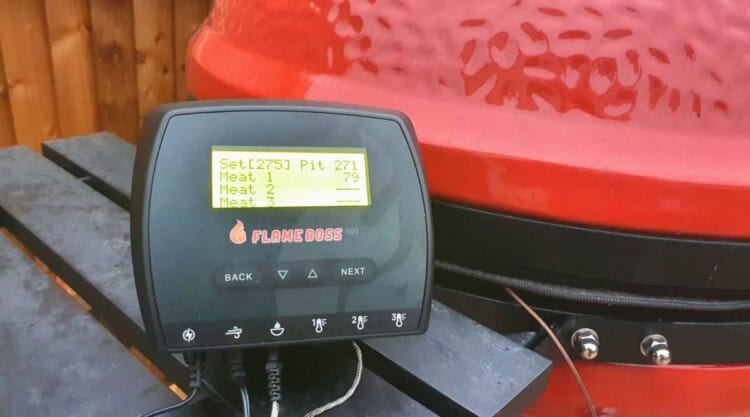 Before I get into my Flame Boss 500 review, let me start by saying I'm obviously a huge fan of smoking meat.
It's a relaxing way to spend a few hours to a whole afternoon (and maybe evening!), relaxing, beer in hand, just tending to the smoker and monitoring the succulent meat that is the ultimate payoff for all my efforts.
But, for as much as I enjoy the whole process, I'm certainly not against automating where I can. After all, the goal is delicious meat, not to expend as much effort as humanly possible to achieve it.
Therefore, it has become my mission to assemble a collection of devices intended to make the smoking experience more precise, more fun, and more rewarding. I'm addicted to collecting BBQ and smoker accessories!
So, imagine having an assistant to keep an eye on nearly every aspect of your smoking session while you relax? Well, I've got one. Want to meet him? You can in this flame boss 500 review.
In this article, I'm going to take a detailed look at the Flame boss 500, Wi-Fi smoker controller.
I shall look at the specs, what's in the box, what it does, how it does it, build quality, functionality, accuracy and more, while ending the review with my personal opinion on the product, whether I'm happy or not to recommend it.
But before we get into the review, let's start with an overview of the product and how it can benefit you.
Overview of the Flame Boss 500-Wi-Fi Smoker Controller
Flame Boss 500 Wi-Fi Automatic Smoker Controller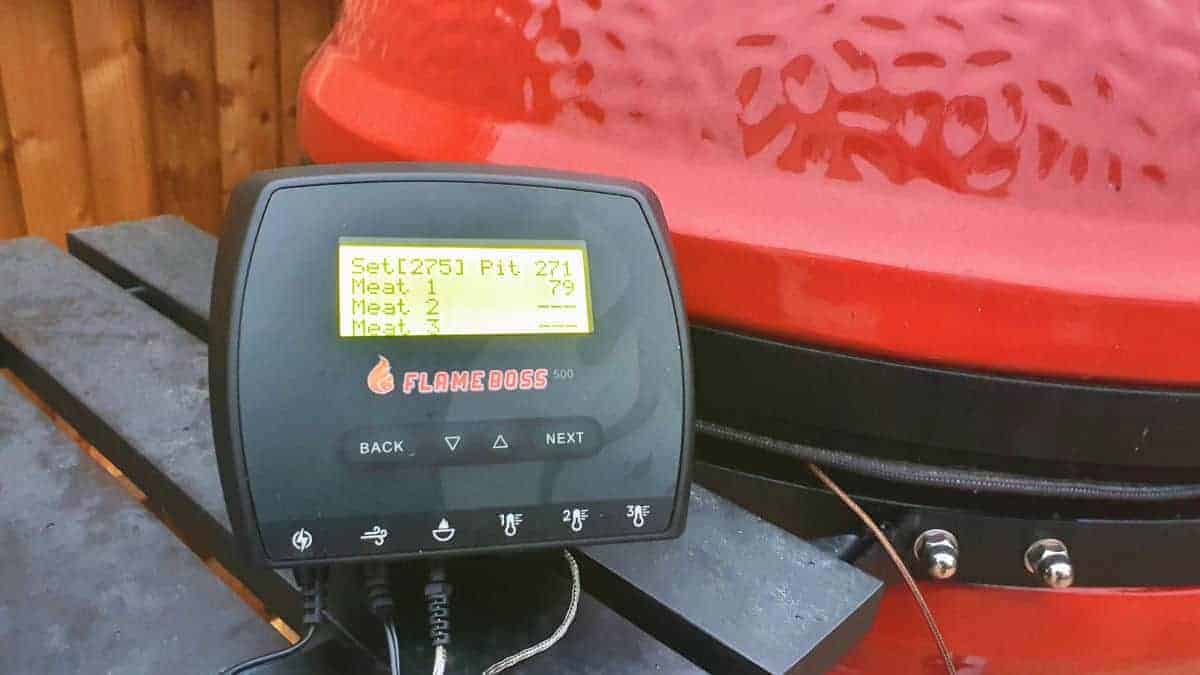 An easy-to-use, accurate, and highly effective automatic BBQ temperature controller that is compatible with Google Home and Amazon Alexa voice commands, records and can show you historical graphs of your cooks, can monitor up to three meat probes at once, and fits just about any BBQ or smoker on the market.
The manufacturer describes the product as "cruise control for your smoker," and I can't think of a better way to describe it.
More than just a temperature monitor (which it does do), you can actually use the Flame Boss 500-Wi-Fi to either hold the temperature inside your smoker rock-solid steady or adjust the temperature up and down as you wish.
How is this possible, you ask?
On top of the base unit for temperature display, you also get a variable-speed blower that mounts over your smoker's lower vent. By adjusting the airflow up and down, it either fans the coals or starves them of oxygen, to either increase or decrease the rate of charcoal burning. This allows you to control the temperature.
Simplifying what happens, the general gist of the process is this:
If you set the smoker to 225f, and the temp is measured as having gone over to 226f, then the controller will stop blowing air into the smoker, the coals are starved of oxygen, they cannot burn and hence the temperature drops.
Once the temp drops to 224f, it is below your target 225f, and so the controller uses the fan to blow air into your smoker, therefore supplying oxygen to the burning coals, which begin to burn hotter and the temperature rises.
So best of all, what the Flame Boss 500 does is maintain the temperature you set automatically, by continually altering the airflow inside your smoker to keep the temp rock steady at whatever setting you choose.
Although it doesn't come with a manufacturer supplied remote monitor as some systems do, that's ok — you probably already have one. How's that?
The Flame Boss 500 connects to your existing Wi-Fi network, enabling you to monitor your smoke session from your Android or iOS smartphone, computer, or tablet.
You can even control it from your Google Home or Amazon Alexa device. (Admit it — you talk to your smoker anyway!)
This is an amazing bit of kit, tops our list of the best BBQ temperature controllers available at time of writing, and is surely one of the best thermometers for smoking with added automatic temperature control.
Summary of Pros and Cons
Pros
Allows me to set up a long smoke, then head out of the house knowing my cook is under control.
Accurate and reliable
Supports up to three meat probes and one pit probe
Smartphone app is reliable, easy to use, and notifys you if target temps are reached, or if the pit gets too hot or cold
Easy to use, well lit display can be read in all light conditions
Saving data from cooks allows you to see graphs and data, to learn from previous sessions
Cons
Splash proof or water-resistant would have been nice
Cloud services stopped 3 times in 4 years at thanksgiving now!
What's in the Box?
Exactly what comes in the box can vary depending on the two models available, either the 'Universal' or the 'Kamado' kits.
Both kits include:
Owner's manual
Wi-Fi controller
Blower
Blower manifold and fasteners
1 high-temperature meat probe
1 high-temperature pit probe
2 probe cord organizers
Mounting bracket/base
12V DC Power supply
The Universal also contains attachments for bullet smokers, water smokers and UDS style smokers, while the kamado kit contains plates that go into the lower vent to hold the blower.
For the record, I bought the 'Universal' kit as it has a more powerful blower suited to a wider range of smokers, then I added the kamado fittings, so I can use my controller with either my Weber Smokey Mountain or my Kamado Joes.
If you have many smokers, I suggest you buy the same as I did.
The blower in the kamado kit is not as powerful as the blower in the universal kit. This is because kamados are so well insulated and hold heat so well, they will never need as strong a blower, even in the coldest of winter days, as thinner metal grills, so it helps keep cost down for those with a kamado.
Features and Manufacturers Specifications
Designed specifically for the needs of people who smoke meat, the Flame Boss 500 combines both automated temperature control for nearly every style of smoker, with temperature monitoring.
Combined, these two primary features all but ensure a perfect smoke every time.
Timer
A variable countdown timer is available, and you can set it for any amount of time you choose from 0 up to 24 hours, in 15-second intervals.
Of course, a timer isn't the most important feature since we cook to temperature, but it has its uses.
Alarms
There are a total of 4 different alarms on the Flame Boss 500, one each for all three possible meat probes and temperatures, and one for the temperature of the pit.
You can set alarms for each of the 3 meat probes individually, and you have two options for the meat alarms: On, and On + Keep Warm.
'On' mode simply triggers an alarm when you've hit your target temperature.
'On + Keep Warm' mode lets you know when your food hits the target and then automatically adjusts the pit temperature to impede further cooking, but keep your meat warm.
The pit alarm will alert you if the ambient temperature in your smoker strays too far above or below your target temperature by the number of degrees in you decide upon and set. If you hear this alarm, it's probably a good idea to check on things.
Presets
While each alarm has a default value, you can configure them to any temperature you want, within parameters appropriate to low 'n' slow smoking.
Specs
Product Dimensions: 7.9 × 4.7 × 114.2 inches
Item Weight: 2.15 pounds
4 line backlit LCD
Magnetic base
Supports up to 4 probes (1 for pit temp and 3 meat probes.)
6' cables
Compatible with Google Home and Alexa devices
Supports G, N, and 802.11B Wi-Fi protocols
iOS and Android compatible
A Look at the Main Unit
In terms of looks, many would say the Flame Boss 500 doesn't have much going for it, though personally I think it looks the part. It looks professional, functional, without trying to be fashionable and 'overly designed.'
It's plain, featureless black plastic with the only bit of color provided by the logo just under the display. If you look carefully, you'll also notice an enlarged version of the flame emblem in gray.
Size-wise, it's larger than it looks in pictures. I'd compare it to either a label-maker or a stand-alone GPS unit.
The mounting bracket is magnetic, so you can stick it wherever it's most convenient for you. However, there are holes in the bracket for permanent installation, and you can pop the monitor on and off as needed.
Looking at the bottom of the Flame Boss 500, we find six plug-in spots. There's one for power, one to connect to the variable-speed blower, one for the smoker probe, and three for meat probes. Each one is clearly labeled on the front of the unit.
Display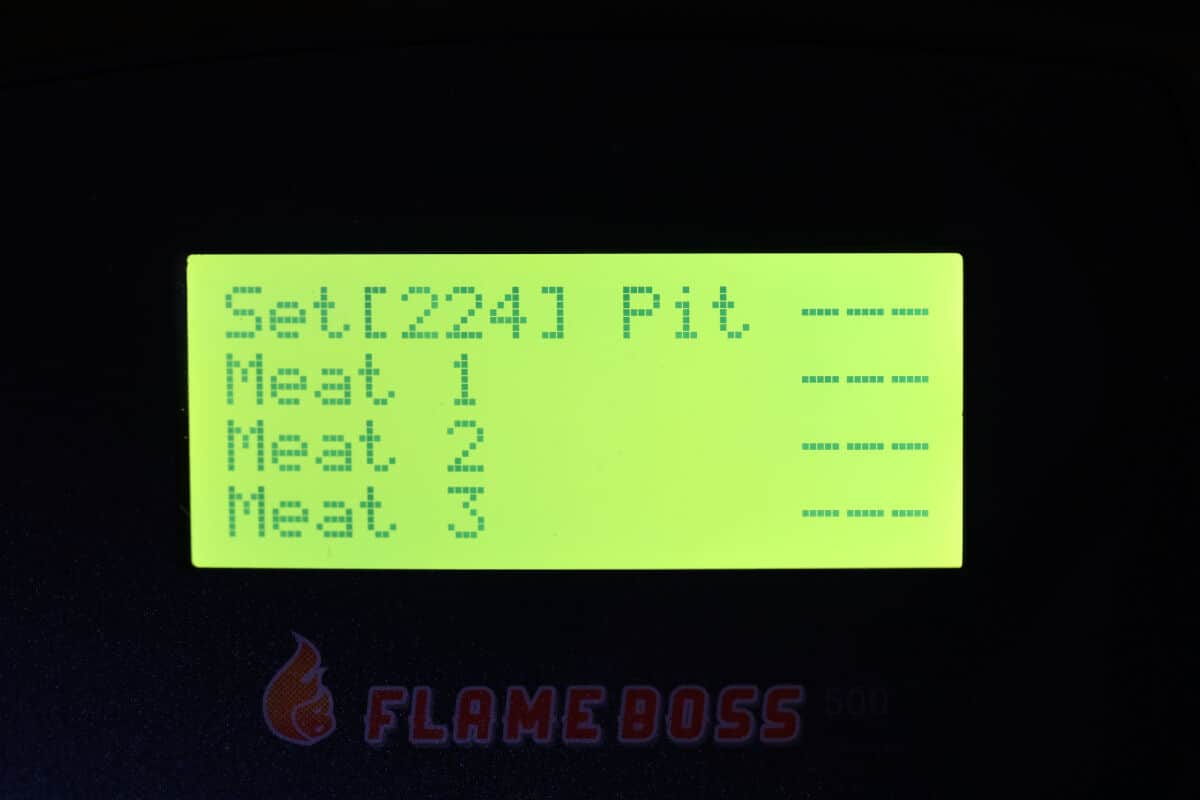 The green, backlit LCD monitor is about as simple as it gets. There are 4 lines of display, and you'll only see numbers, letters, and the occasional bit of punctuation.
But, it's all you'll need to set and monitor your smoker and connect to your Wi-Fi enabled router.
The LCD screen isn't particularly large, measuring precisely 1" x 2.5", but it's easy-to-read with a large enough font to make text easily legible.
Even in the pitch black, it lights up bright enough to read with ease. That's ideal for giving it a quick check during an overnight smoke. (Mind you, you'd probably just check your phone from the comfort of your bed.)
Again, I think the display is perfectly functional and fit for purpose, without being over-spec'd or over-engineered for the job it's meant for, which helps to keep the price down.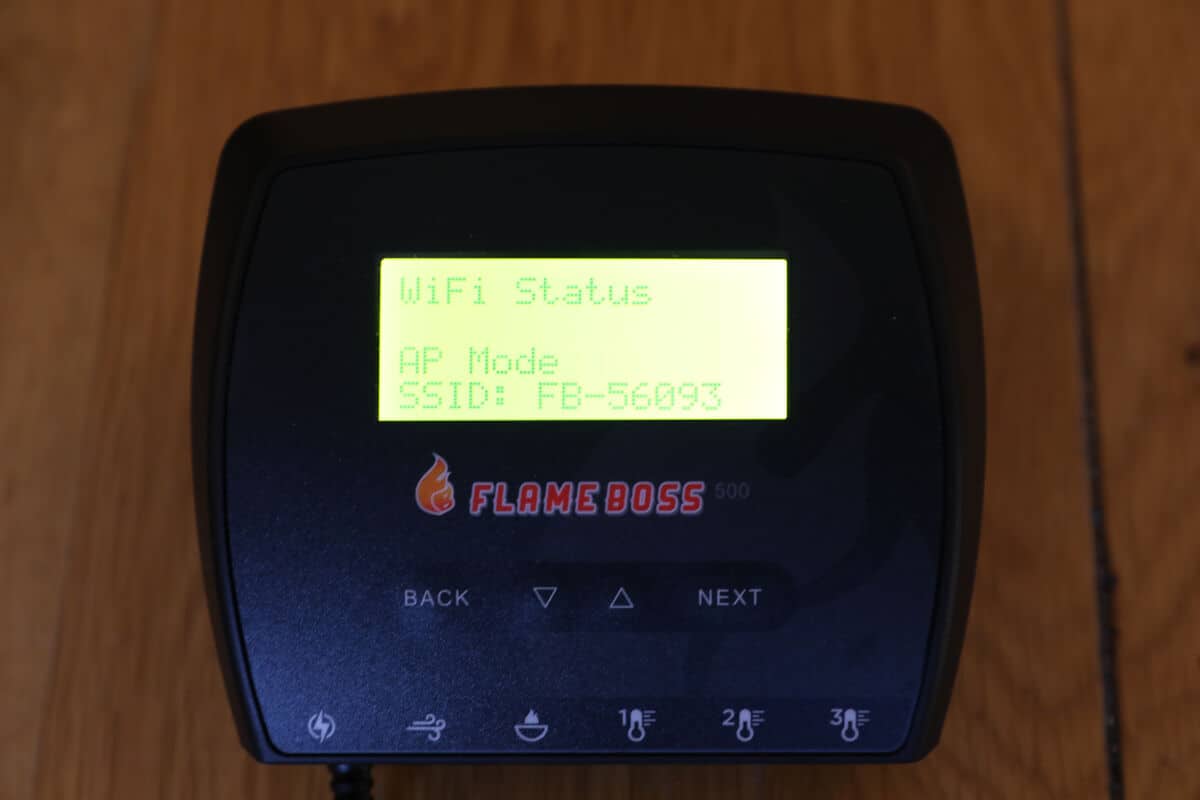 There are only 4 buttons on the front face of the Flame Boss 500: BACK, NEXT, up, and down.
With these few buttons, you'll control all the settings and switch from line to line.
The default screen, while it's in use, displays your target temperature (Set), the actual temperature in the smoker (Pit), and the current reading from up to 3 probes.
A recent firmware update (one of the advantages of a Wi-Fi enabled device is it can be kept current longer than one with static memory) allows for custom labeling of each input instead of being forced to choose from Meat 1, Meat 2, and Meat 3 and then have to remember readout was for which item.
Once you've accessed the home screen, pressing NEXT brings you to the main menu. From here, you'll be able to set the time, meat alarms, configure the Wi-Fi, and open up advanced Wi-Fi settings if you're tech-inclined and into stuff like MAC addresses and Network Gateway.
You can also change the sound from between off, to chirps and alarms; screen contrast; switch the temp scale between Celsius and Fahrenheit; and finally set the 'pit open' duration — which stops the fan when it detects the lid is open, set to 2 minutes default.
A Look at the Probes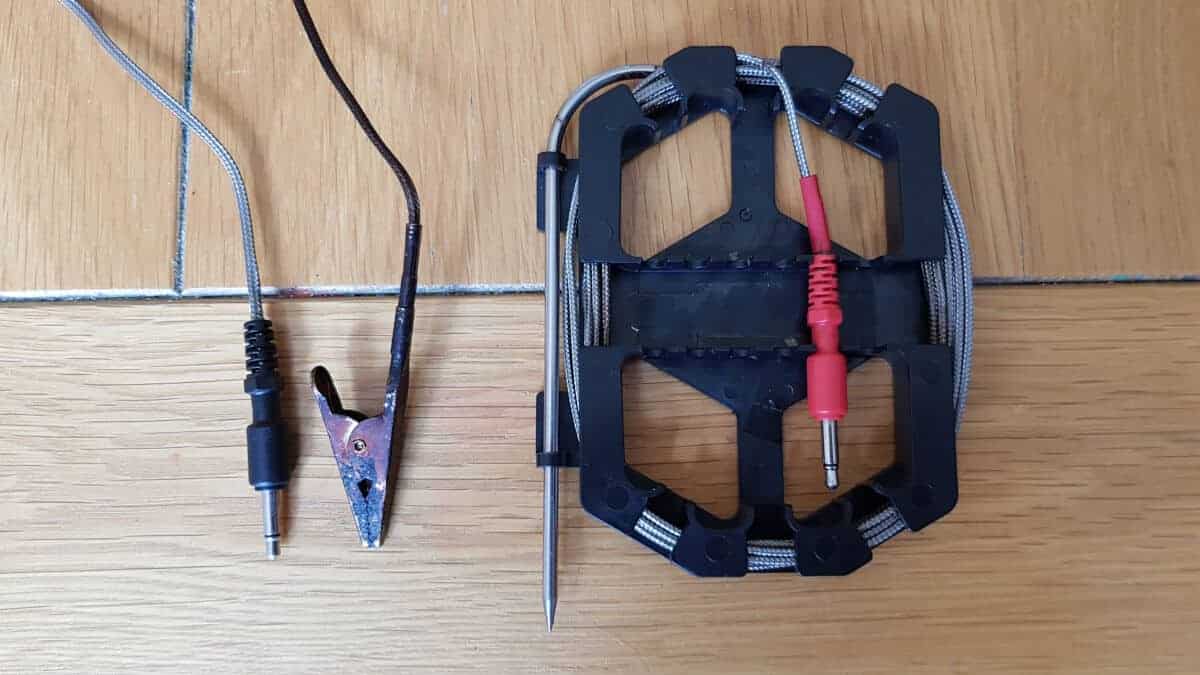 As mentioned earlier, you get two probes in the box — one for the pit temperature and one for meat. You'll need to buy two more probes separately to take advantage of the additional meat probe ports.
Each probe has a 6-foot wire and plugs into the base of the controller via 1/8" headphone-style jack.
Both probes are made of stainless steel, with stainless steel mesh covering the cables.
The meat thermometer is a slim probe with a slight hook where it joins the cable, while the pit probe ends in a small alligator clip for easy attachment to the cooking grate — which is where you want to measure the ambient temperature.
Speed and Accuracy
When it comes to speed of reading temps…it appears to update/refresh temperatures at 1-second intervals. This is easily sufficient for measuring temps in a smoker, or the internal temp of meat.
When it comes to accuracy, I decided to run 2 quick tests and compare the results to the reading from one of my instant-read thermometers, the Thermapen MK3.
The two tests are the 'iced water' and the 'boiling water' tests.
Iced Water Temperature Test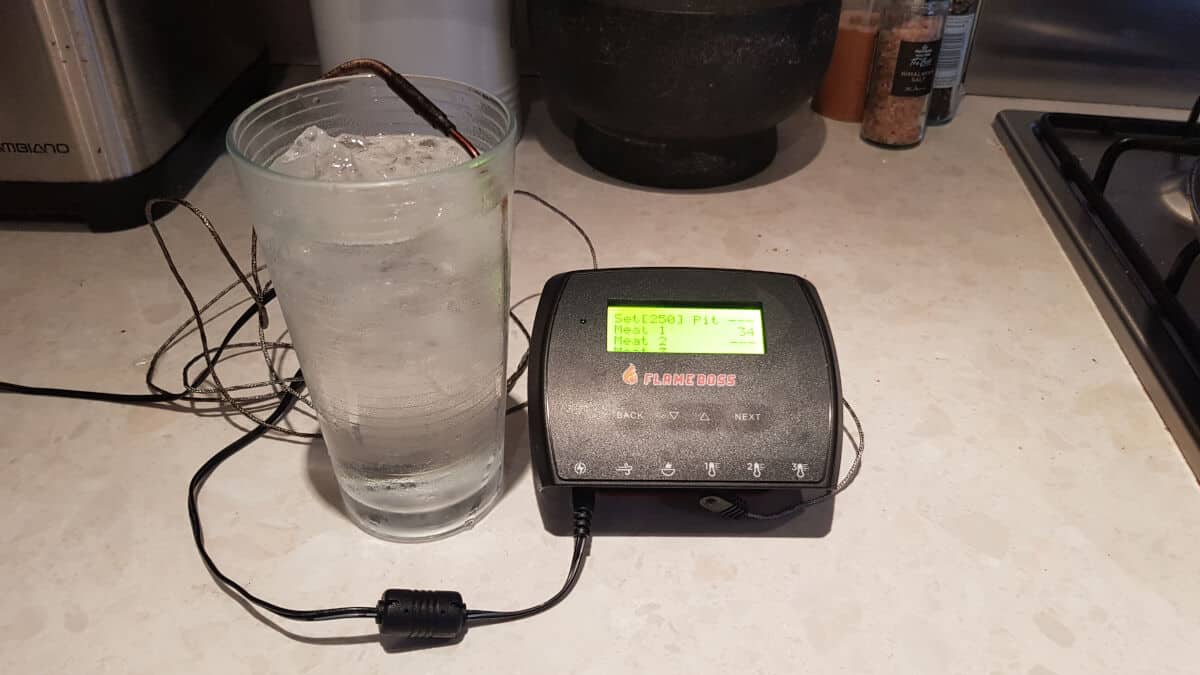 In this test, the idea is that at sea level, the temperature of ice is 32F. So with a probe inserted a glass of water packed with ice, the reading should be very close to 32 degrees Fahrenheit.
As you can see in the following 2 images, the flame boss measured 33F, while my instant read thermometer read 33.1F.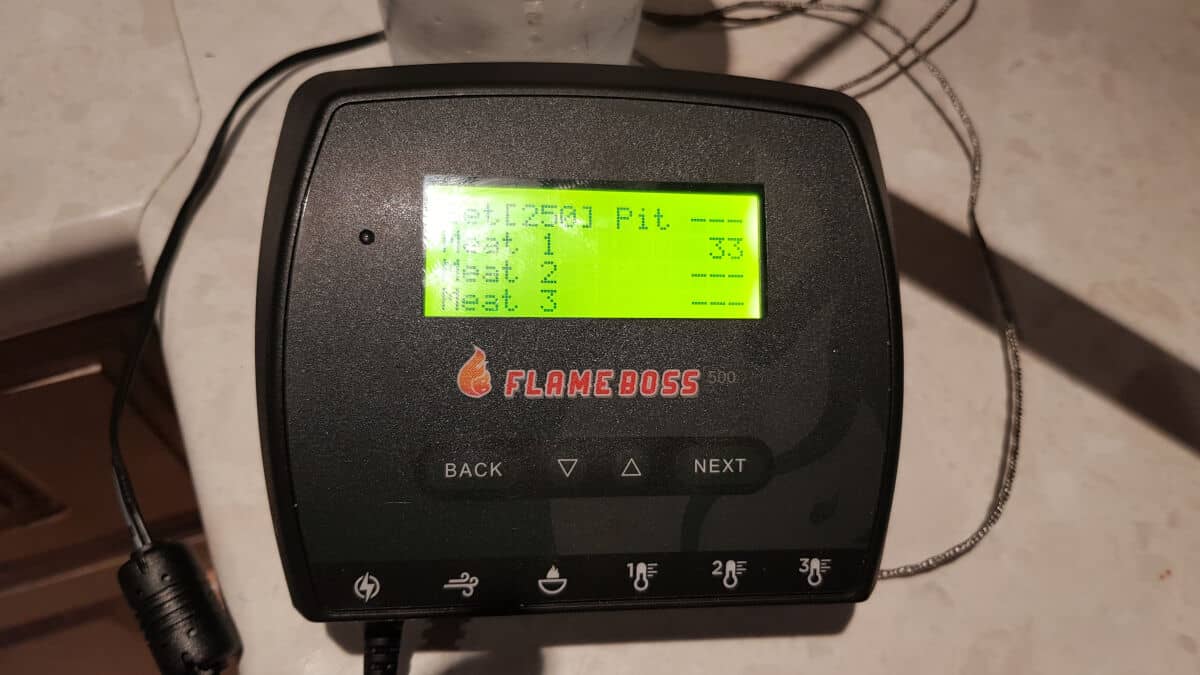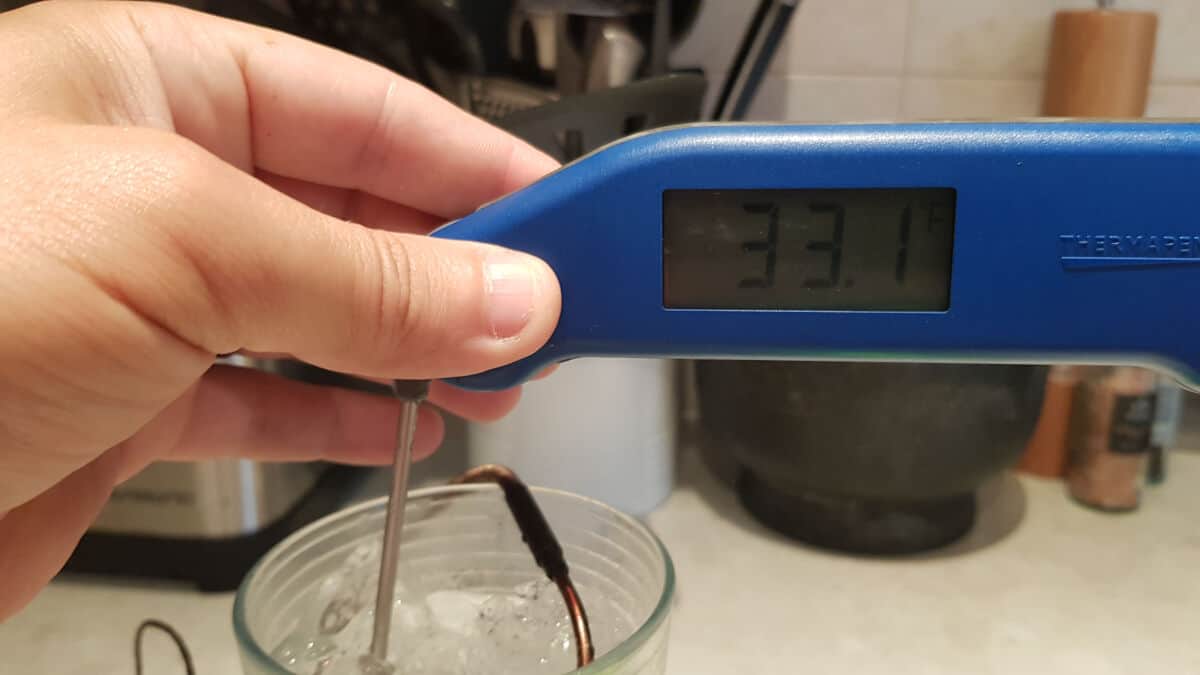 So the temperatures measured are ever so slightly above 32F, but remember we are measuring the temp of iced water, not actual ice, so it will be ever so slightly higher.
The important thing is, both thermometers showed the same temp, so in my mind the flame boss showed it is accurate.
Boiling Water Temperature Test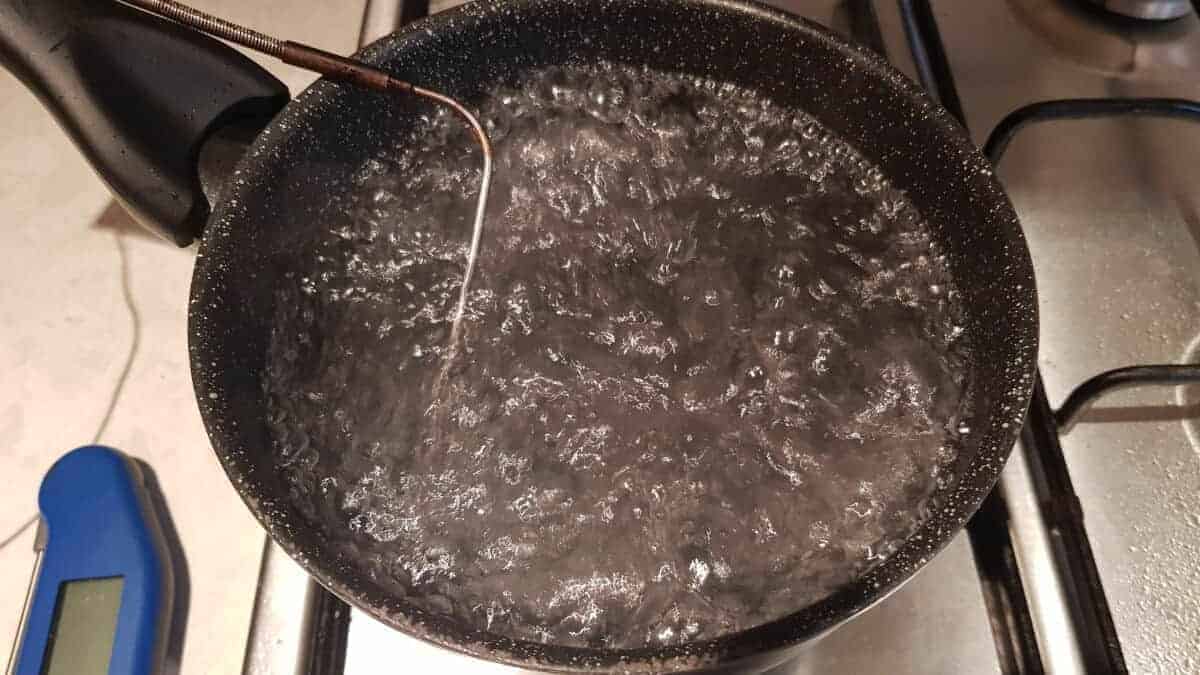 In this test, the idea is that at sea level water boils at exactly 212F. So with the probe of a thermometer inserted into rolling boiling water (while making sure to keep the end away the bottom of the pan and the heat source) it should measure very close to 212F.
As you can see in the following 2 images, the flame boss measured exactly 212F, while my instant read thermometer read 211.9F.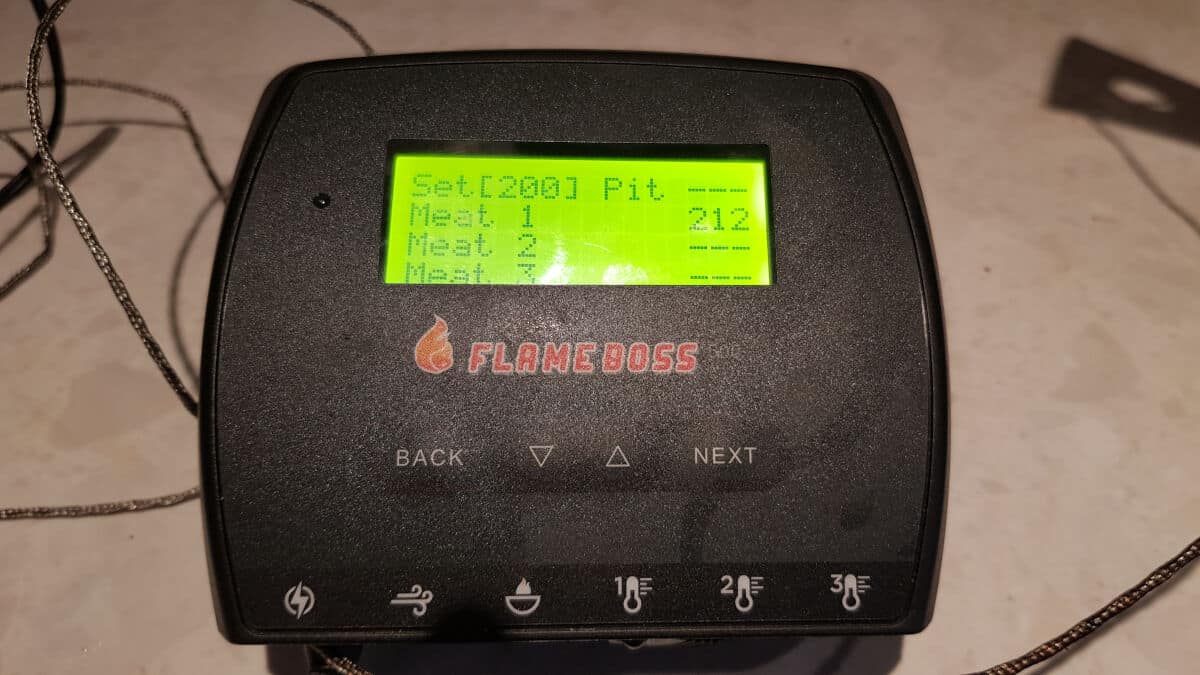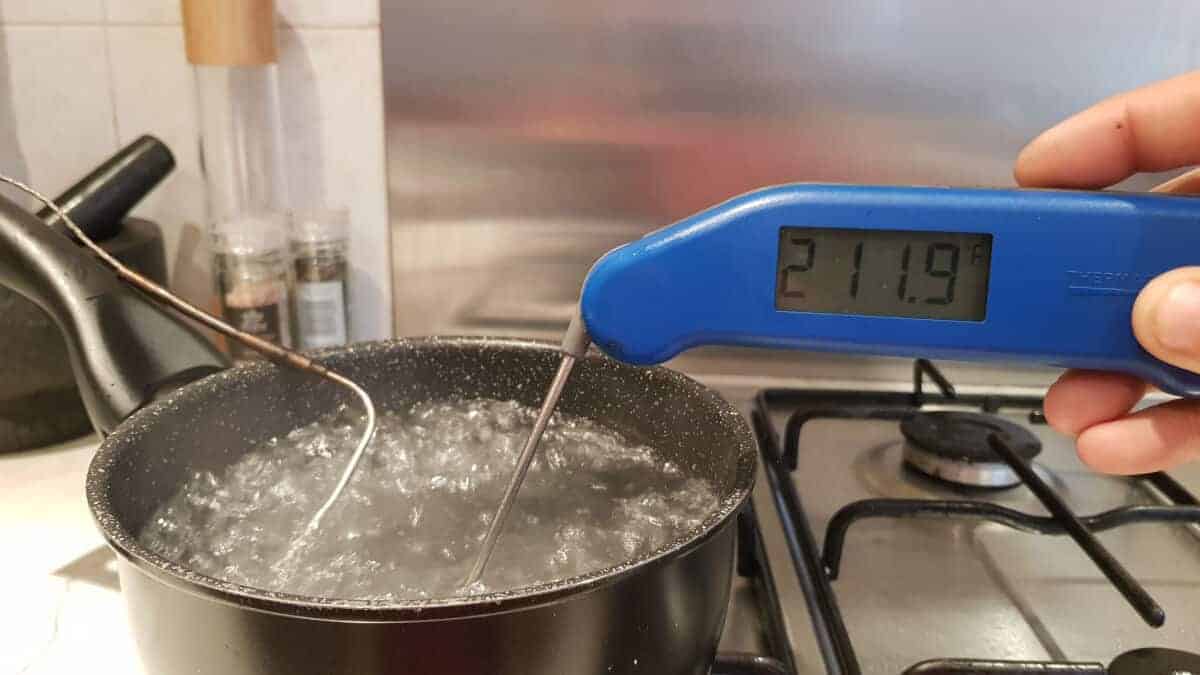 So as you can see from the above 2 tests, the flame boss did very well, is highly accurate in temperature measurement during my 'not exactly the most scientific' tests, and gives me the confidence to rely on its readings while cooking.
I have also compared the readings during cooks while the probes are in my smoker. I compared the readings to a Meater probe, and a Thermopro TP20.
All thermometers agreed on the same temp to within a degree Fahrenheit or two, so I am more than happy with the accuracy.
A Look at the Blower
The blower appears to be the sort of fan you would find used for cooling in a high-end PC. I may be wrong in that, but it has that sort of look and feel.
It seems decently made, is a good weight, feels high quality, has a protective metal casing and an extended air outlet that attaches to your kamado as can be seen in the image above.
Its dimensions are approximately 13 cm × 8 cm × 3.5 cm, which is quite hefty at first appearance. But this gives the impression it's made to last and won't crap out on you after 20 uses: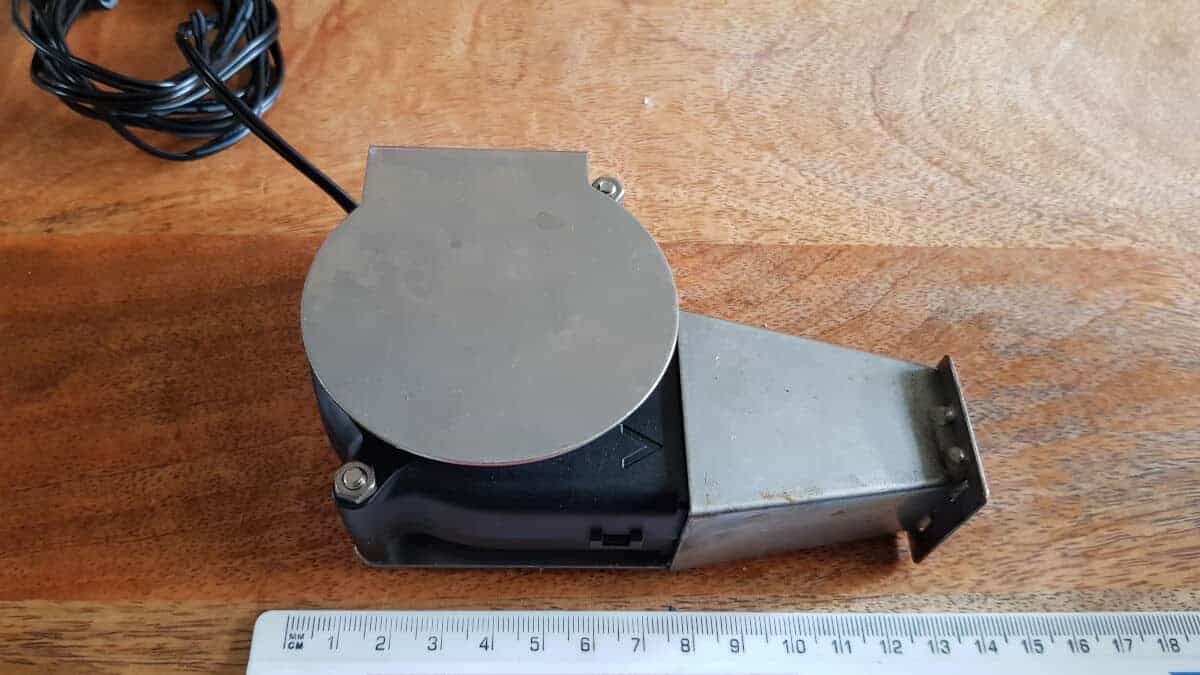 The fan certainly feels powerful during use, it really can shift some air and has the sound to accompany it when blowing at a full — or near to — 100% of it's power!
However, it's not particularly noisy once your smoker is up temp. The blower is variable speed, from 0 to 100%, and rarely ever has to blow at full speed. In operation, it's not silent, but it's not distracting or troublingly loud either. In operation, I honestly never know it's there.
Range
Whatever the limits are for your wireless network, that's how far you can stray from the base unit and still monitor and control your cook from your phone, tablet, or computer.
This means you'll need to position your smoker close enough to your house to tap into your Wi-Fi or set up a wireless repeater to extend the signal further out into your yard.
You could also switch to the Direct Connect mode (more on that later) and bypass your Wi-Fi system entirely which would work nicely if you're smoking away from home, or you're too far from your network to get a signal.
On the other hand, if you use the Cloud Connect method (again, we'll discuss it further down), you could monitor your smoker from anywhere in the world you've got internet access.
Design and Build Quality
There's nothing flashy about the look of Flame Boss 500, but why would there be? It functions just fine, does what it says on the tin, and I quite like its looks compared to some of the more 'industrial-looking' controllers on the market.
The 6 ports are easily accessed, and the magnetic base keeps it secure. The plastic housing seems sturdy enough, though I think a drop from a height to the patio stones could potentially result in a crack or chip … I hope not to find out!
Modes of Operation
There are 3 different ways to use your Flame Boss 500 wirelessly, and they are as follows:
Cloud Connect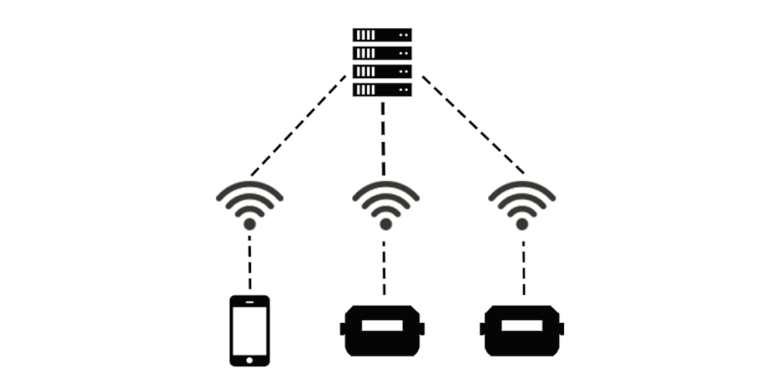 This is the mode Flame Boss most recommends.
Rather than connecting locally through your router, your phone (or tablet or computer) connects via the internet to the Flame Boss server.
Using this mode, you'll be able to log and access your cook histories and any notes you've made through the app, that will be stored on the Flame Boss server for you to access at any time.
These features are not available through any other method.
Local Connect (Wi-Fi)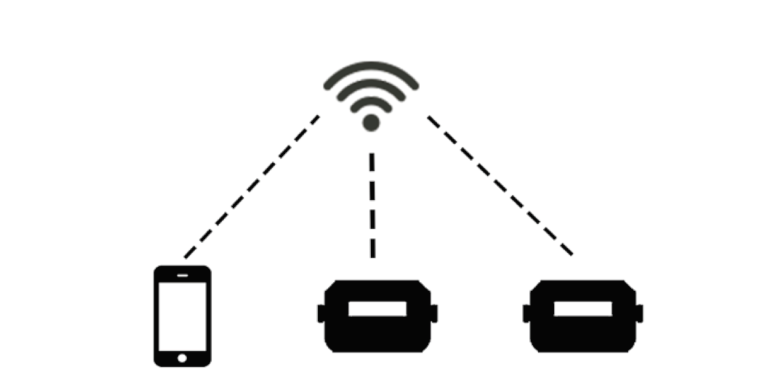 Connect to your Wi-Fi network and monitor your progress from any smartphone, iOS device, or computer connected to the same network.
You won't have access to histories or notes, but other than it's the same as Cloud Connect.
If for some bizarre reason, you have a router but no internet access, you can use this method. It's also suitable for anyone with privacy or data collection concerns.
Direct Connect
No Wi-Fi? No problem! Set your Flame Boss 500 to Access Point mode, and you can connect directly to your phone (let's stop pretending you're doing this from a desktop or carrying around your iPad, shall we?).
Again, you'll be missing the history and notes features, and your range may be limited, but it's nice to know Flame Boss hasn't excluded the no Wi-Fi crowd.
Of course, the base unit displays all the information you need to know, so you could do without a remote monitor entirely. But, why would you?
Main Unit Ease of Use
General operation of the base unit is relatively simple. Labels are clear, the buttons are easy to manipulate, and there are only 4 to contend with.
Setting up for Wi-Fi is a little fiddly with just UP and DOWN buttons, so you may have to spend time scrolling through the entire alphabet — in upper and lower case — and then the numbers, before you get to any special characters used in your password. But you'll likely only have to do this as part of the initial setup.
I like the fact that I can do everything I need to do with the base unit alone, and don't have to check my phone if I don't want to, or if I don't have it handy.
Mobile App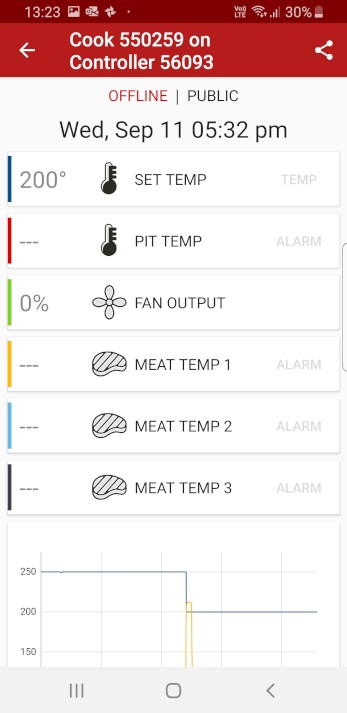 One of the great features of the Flame Boss 500 is the ability to monitor and control your smoke session from the mobile app.
This allows you to monitor your cook, change any controller settings and more, all from your smartphone and from anywhere in the world.
Let's play around with it and see what we think.
General Overview
You can grab the Flame Boss app for free from either the Google Play Store or the App Store for iOS devices, or use a web-based version at myflameboss.com.
The first thing to do is set up an account because there is no ad hoc mode. Next, you'll want to add a new device and choose how you want to connect.
Once that's all set up, you're ready to roll!
Features
From the app, you can set up text notifications, access online manuals, support, social media, and more.
You can also set timers and switch off alarms, see notifications, change from Fahrenheit to Celsius, and switch over to the web-based app, which is where you can leave notes for yourself to refer back to during future smoke sessions.
Of course, the primary purpose is to monitor and control your cook.
The app shows a large, easy-to-read display of the current temperature inside the meat and the smoker, your target temperature, and the fan output level.
You'll also see a graph tracking temperature fluctuations over time.
Finally, you can change settings, such as the pit temperature, or the target temp of the meat probes. This means you can not only monitor a cook from anywhere in the world, you can also control it!
For example, if your meat is nearing finished temp, you can drop the temp of your smoker right down low to slow things to a halt, preventing overcooking and giving you a chance to get back home.
Mobile App Ease of Use
For a free app, it's well put together and simple to navigate. Set up and registration is quick, though you'll probably have to go to your spam folder to find your confirmation email.
Using the app makes it much easier to configure the Wi-Fi connection to the unit.
Using Voice Commands With Alexa and Google Home (Aka Assistant)
If you spent any part of your life watching Star Trek: The Next Generation, you probably love the rise of voice-activated tech in the home.
Alexa and Google Home owners will be thrilled to learn that they can operate the Flame Boss 500 with their AI device of choice.
Here is a list of commands available for each:
Alexa
Alexa, open Flame Boss.
Alexa, tell Flame Boss to change the set temperature to ____ degrees.
Alexa, ask Flame Boss for the temperatures.
Alexa, ask Flame Boss for the Meat (1,2,3) temperature.
Alexa, ask Flame Boss to tell me the set temperature.
Alexa, tell Flame Boss to forget my info.
Alexa, tell Flame Boss my controller ID is _____.
Alexa, tell Flame Boss my controller PIN is _____.
Alexa, tell Flame Boss to change the set temperature.
Alexa, tell Flame Boss to switch to Celsius/Fahrenheit.
Google
OK Google, open Flame Boss.
Hey Google, ask Flame Boss to change the set temperature to ____ degrees.
OK Google, ask Flame Boss for the temperatures.
OK Google, ask Flame Boss for the Meat (1,2,3) temperature.
Hey Google, ask Flame Boss for the set temperature.
Hey Google, ask Flame Boss to forget my info.
OK Google, ask Flame Boss to set my controller ID to _____.
OK Google, ask Flame Boss to set my controller PIN to _____.
OK Google, ask Flame Boss to change the set temperature.
Hey Google, ask Flame Boss to switch to Celsius/Fahrenheit.
Warranty and Support
The standard warranty on Flame Boss products is one year against defects. In case of an issue, you'll have to mail it to them at your own cost for inspection. If they decide it's a manufacturing issue, they'll either repair or replace it and ship it back to you. (If you live outside the US, you'll want to check with the seller about your warranty.)
If for some reason, you don't like your Flame Boss 500, they offer a 30-day money-back guarantee, no questions asked. Not a bad deal!
Need help? You have plenty of options. Start by visiting the Flame Boss website where you'll find updated User Manuals and a searchable list of FAQs. There's also a log of firmware releases, so you'll know if you have the latest version loaded.
Through the website, you can also contact the company by submitting a ticket via an online form. Additionally, they have a toll-free number, or you can email support directly. If you're more into letters and stamps, their address is in Orlando, FL.
If social media is your thing, you can join their online communities on Facebook, Twitter, Google+, YouTube, Pinterest, and Instagram.
I'm a member of their Facebook group and have seen Flame boss be VERY responsive to customers and quick to act on any issues. I love this fact, and it gives me confidence in the product as they stand by it, and dedicate resources to helping users get the most from their products.
Have I Encountered Any Issues During Use?
There has been one issue when using it with my Kamado Big Joe Version III, though Strangely not with my Kamado Joe Classic, or my Weber Smoky Mountain:
Target Temperature Overshoot on Warm Up
If I connect the Flame Boss 500 to the Kamado Big Joe right from the beginning when I initially light the coals, and allow the flame boss to bring it up to temp, then it tends to overshoot a set temp of 225 °F by a good 20 °F to 25 °F. If I use it with the KJ Classic or WSM, it seems to bring it up to temp, hits it and stays there accurately.
However, I'm not overly concerned about this and I think I know why it happens.
The controller has a memory, it learns your smoker and becomes more accurate at controlling temps as you use it over time. The problem is, I use it with three different smokers, and mostly I use my Kamado Joe Classic more than the others (for fuel efficiency reasons.)
So I think what happens is, the flame boss has mostly learned how to bring the temp up correctly for an 18″ Kamado. I also think that perhaps the WSM acts similarly…they are a similar size and volume.
So when I then connect it to the 24″ Big Joe Kamado, the controller is a little confused. It's learned how temp rises and how to hit a set temp on an 18″ kamado, but then I throw it off by connecting it to a much, much larger 24″ Kamado.
A Simple Workaround
What I do to overcome this issue, is set the target pit temp to 25f below what I actually want to cook at. I then let the Flame Boss bring it up to that temp. When it gets there, I let it settle a bit, and then go and set the target temp higher to what I actually want.
I have also on occasion lit the kamado and let it come up close to temp manually, as if I never had a controller. When it gets close, I then connect it, and it doesn't overshoot.
Overall, it really is a non-issue, and I do think it's my fault for swapping the controller between different smokers, so it cannot learn to do its job accurately.
Final Verdict
Of course, specs and "what's in the box" don't tell the whole story. Here are my thoughts on the pros, the could-be-betters, and the ultimate value of this product based on my own experience.
What We Like
The Flame Boss 500 goes beyond telling you what the temperature is inside your smoker — it actually keeps it there!
It is "set-it-and-forget-it" tech for a smoker that takes a lot of the effort out of smoking, almost turning your smoker into a 'hands-off, outdoor oven.' It's up to you whether that's a good thing or not.
Personally, I do love to manage and be hands-on with my cooks, it's part of the fun. But on the flip side I'm a busy father of two, with a day job and sometimes even have a social life, visiting friends, playing golf, hitting a local bar to watch sport, the usual.
The Flame Boss 500 allows me to program a cook, light my smoker, add the meat…and then leave the house knowing with confidence that my cook is managed without me, and I can monitor and control it from my phone.
This also works equally well for overnight pork butts or briskets, so you can get some sleep while this little electronic helper takes care of managing and monitoring your cook!
Also, unlike many thermometers out there, this one supports up to three meat probes plus a pit probe. That equates to more accurate smokes since the doneness of everything doesn't have to be assumed based on the doneness of the one item you actually have a probe in.
Most importantly — The controller works perfectly!
I have used it many times with 3x different smokers — A WSM and 2x different sized kamados — and it works perfectly. It brings the pit up to the target temp, and once settled absolutely sticks it there.
I have done a 16-hour brisket, 10 hour pork butts, ribs for between 4.5 and 7 hours numerous times, and in all cooks the only temperature fluctuations have been when I've left the lid open too long (hey, we all sometimes forget!) but then the Flame boss soon brings it right back down to target temp.
What Could Be Improved
It might be nice to get a full complement of 3 meat probes in the box instead of just one.
However, in Flame boss's defense, if you only ever want one probe, it means you aren't stuck paying for three, so this keeps the cost down for many users.
In the box, you have everything you need to cook a piece of meat. If you want to monitor 2 or 3, only those users that need to do so must pay more for the privilege. This makes perfect sense for the consumer, and hence perfect sense to me too.
Also, if the Flame Boss 500 isn't your first foray into their product line, it's backward compatible with any Flame Boss probes you may already own, so that's a plus.
Given the harsh environment it operates in, I'd have appreciated some kind of splash proof or impact-resistant case. You'll just have to be careful with it, instead.
I have heard tales of people having issues with the app, particularly after a firmware update in the base unit. In my experience, this hasn't been a problem at all, so long as I keep the app updated, it always works perfectly for me.
Will I Get Value for My Money?
Don't balk at the price tag — you get a lot for your dollars (or Pounds, Pesos, or Euros) with the Flame Boss 500.
The amazing combination of features — the ability to monitor multiple pieces of meat, remote monitoring, automatic temperature control, ad ability to control and adjust your cook remotely from anywhere — makes this is an invaluable partner for anyone who loves smoking meat.
When you think about how much money you spend on meat, it's worth the investment to increase the odds of a successful smoke session, or rather reduce the chances of messing it up!
Think of it as meat insurance.
Is this a Recommended Product?
Flame Boss 500 Wi-Fi Automatic Smoker Controller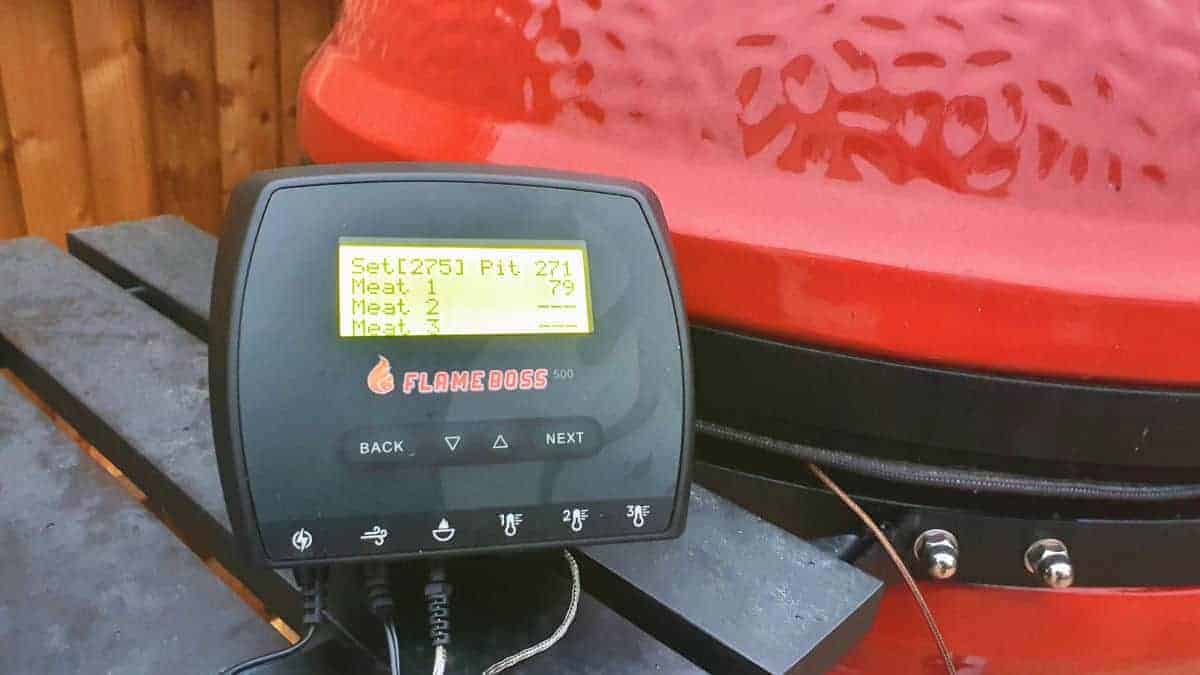 An easy-to-use, accurate, and highly effective automatic BBQ temperature controller that is compatible with Google Home and Amazon Alexa voice commands, records and can show you historical graphs of your cooks, can monitor up to three meat probes at once, and fits just about any BBQ or smoker on the market.
Thank you for making it to the end of my Flame Boss 500 review. How to sum it up?
I have a lot of grilling and smoking accessories, and this is one I always come back to.
While there are times I enjoy getting hands-on with my smoker, sometimes I'd rather let someone or something else take control while I supervise, or better yet head on out of the house and get on with other things in life.
The Flame Boss 500 Wi-Fi puts me in the driver's seat, but then switches to auto-pilot, freeing me up to socialize, or tend to my other grills. It's not the only temperature controller on the block, but it's surely up there with the best.
So the ultimate conclusion of my Flame boss 500 review? I highly recommend this product for both beginner and experienced smokers.
Do you have any questions or comments you'd like to add for this product? Tips for use, or your experiences with it so far? I'd love to hear from you in the comments below and will always answer every comment.
Happy grilling!