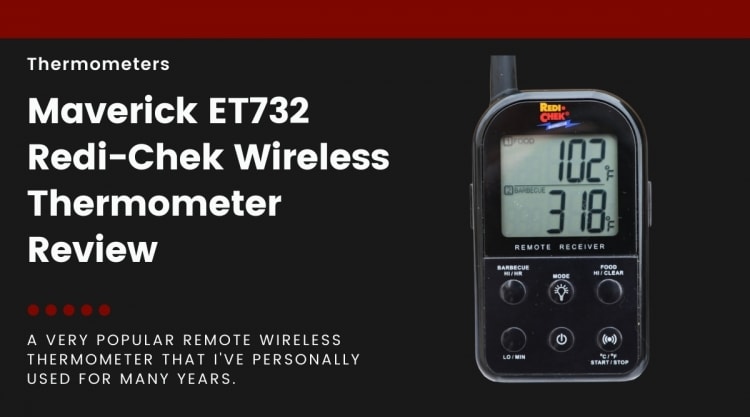 In this Maverick ET732 review, I'll be taking an in-depth look at a wireless barbecue thermometer set from one of the better-recognized names on the market, Maverick.
Sorry, but if you name your company "Maverick", you have to expect a Top Gun reference somewhere in a review (I will deliver this somewhere below!) You'd also better make a seriously cool product, or risk a lifetime of mockery.
A good wireless thermometer is a must-have for anyone who takes grilling and smoking even slightly seriously. I can't say often enough that cooking delicious meat has everything to do with hitting the right temperature.
So let's find out if this thermometer is headed to Miramar, or if it belongs on a cargo plane full of rubber dog… you-know-what.
Overview of the Maverick Redi-Check ET-732 Wireless Thermometer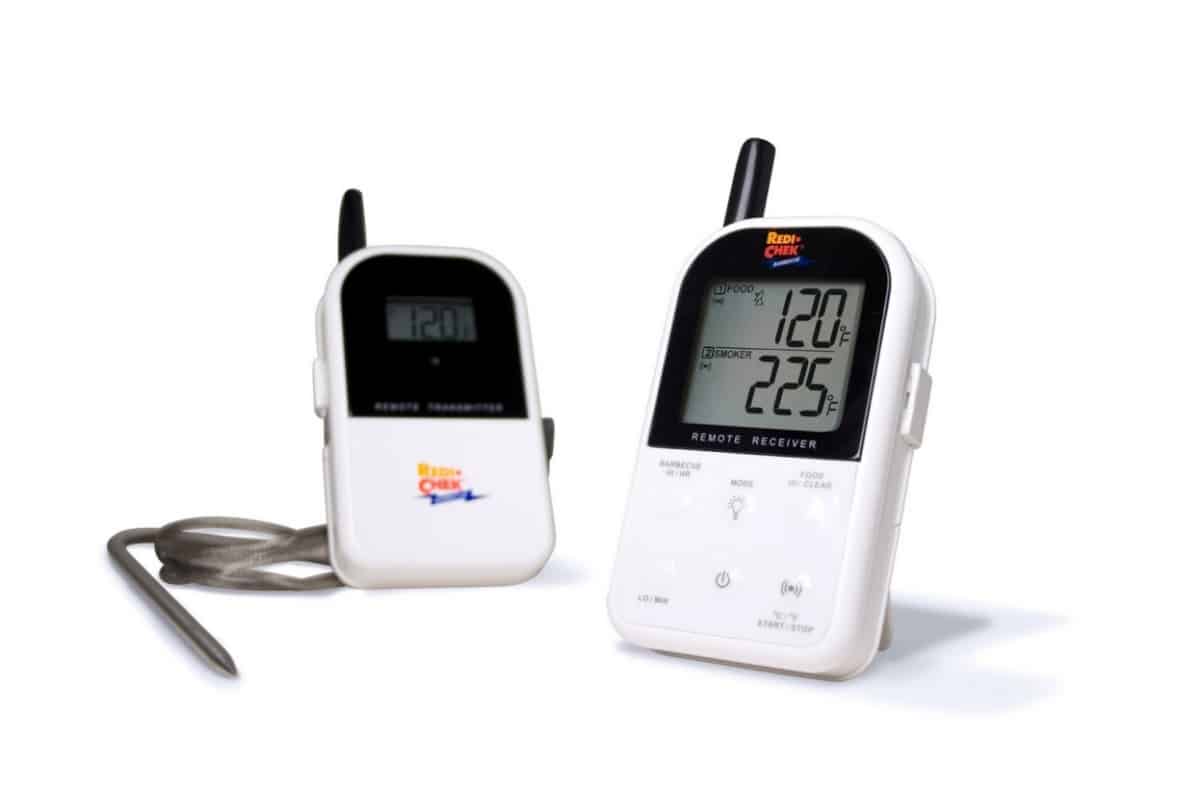 The purpose of any wireless thermometer is to provide real-time data from grills and smokers. The things you most need to know are the temperature inside the meat and the temperature inside the cooker.
What sets a wireless setup like the ET-732 apart from other thermometers is that it frees you up to leave the barbecue — all the data is sent to a remote unit you carry with you.
There are four key pieces to this package: the transmitter, the receiver, and two temperature-sensing probes, one for meat and one for the cooker.
This basic system allows you to simultaneously monitor those two vital bits of information. The sensor probes send the temperature back to the transmitter, which in turn broadcasts it via RF to the receiver unit.
In addition, to keep tabs on the temps, you can also set target temperatures for your meat, so it's done the way you like it, and for the interior of your 'cue or smoker. (Or oven, if you're so inclined, but this is a barbecue site, so…) Plus, you can set countdown and count up timers if you feel the need.
Summary of Pros and Cons
Pros
Accurate to within +/- 3 degrees F
Compact receiver that fits nicely in the hand
Large, bright LCD screen that is easy to read in all conditions
Programmable temperatures and alarms that are saved for future use
A highly capable thermometer for a very good price
Cons
Buttons on the receiver are a little on the small side
Screw in battery cover has had me searching for a tiny screwdriver more than once
What's in the Box?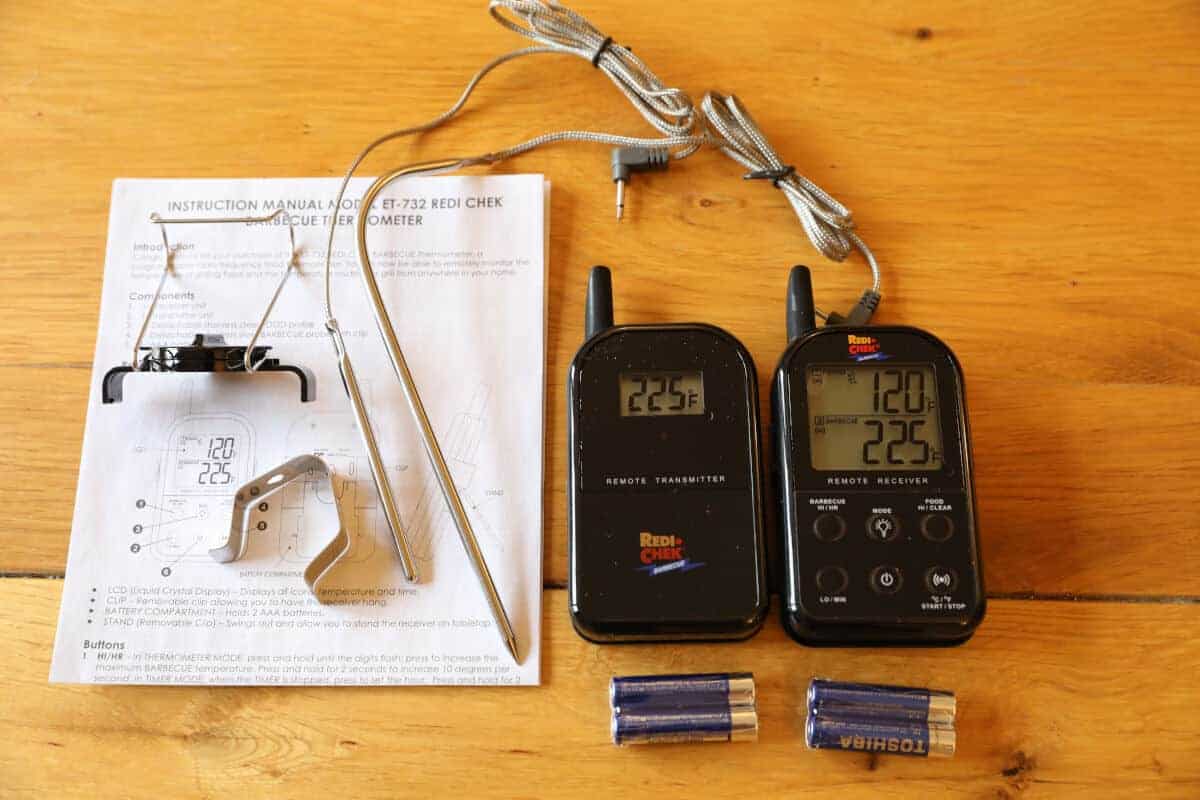 Owner's manual
1 receiver unit
1 transmitter unit
1 meat probe
1 pit probe
1 grate clip
4 AAA batteries
Features and Manufacturer's Specifications
Whether you prefer grilling or smoking, or you dabble in both, the ET-732 is equipped to help monitor your cook. As well as reviewing it here, I like it that much that I've included it in my roundup of the best wireless meat thermometer for smokers and BBQs.
Use the FOOD button and the HI and LO buttons to set your target food temperature. You'll need to know the right temperature for the food you're cooking and/or the level of doneness you want, because unlike the Maverick ET733, this model does not have presets.
You can set the maximum and minimum barbecue temperatures you want to stay between during your cook, and an alarm will sound if they are exceeded. This is perfect for helping maintain an ideal smoking or roasting temperature.
The LCD screen on the receiver displays both the current food temperature and current cooker temperature simultaneously. With a push of a button, you can review the temperatures you've set for your cook.
There is also the option to set a timer, either a countdown or a count up. Timers aren't always useful for smoking or roasting, since only temperature matters for doneness, but there are some occasions when they can be useful. (Like timing how late your guests are.)
Alarms
There are a variety of alarms built-into this unit to let you know when particular timing or temperature milestones are hit. That's great because it means you can take your eyes off the LCD without worrying about missing anything.
Alarms will sound when your food reaches the target temperature, your cooker exceeds the maximum set temperature or falls below the minimum, and when a timer has expired.
Additionally, there's an alarm to let you know the transmitter and receiver are no longer communicating, so you can be sure you are connected and will not miss any critical alerts.
Presets
There are no presets programmed into the ET-732, but you can set just about any temperature or time that you require for your smoking or grilling session.
It's not exactly a preset, but the unit will remember your last programmed times and temperatures, even after the power is turned off. This allows you to repeat your previous cook exactly without having to re-enter all your parameters.
Specs
36" probe cable
24" pit sensor cable
Probes read up to 572F (300C)
Backlit LCD screens on both units
300' range (RF signal)
Countdown timer — min. 60 seconds; max. 24 hrs.
Count up timer — max. 9 hrs. 59 min.
A Look at the Transmitter and Receiver
Why are wireless systems so great? Because you get not one, but TWO shiny gadgets! Here's a look at each major component individually.
Transmitter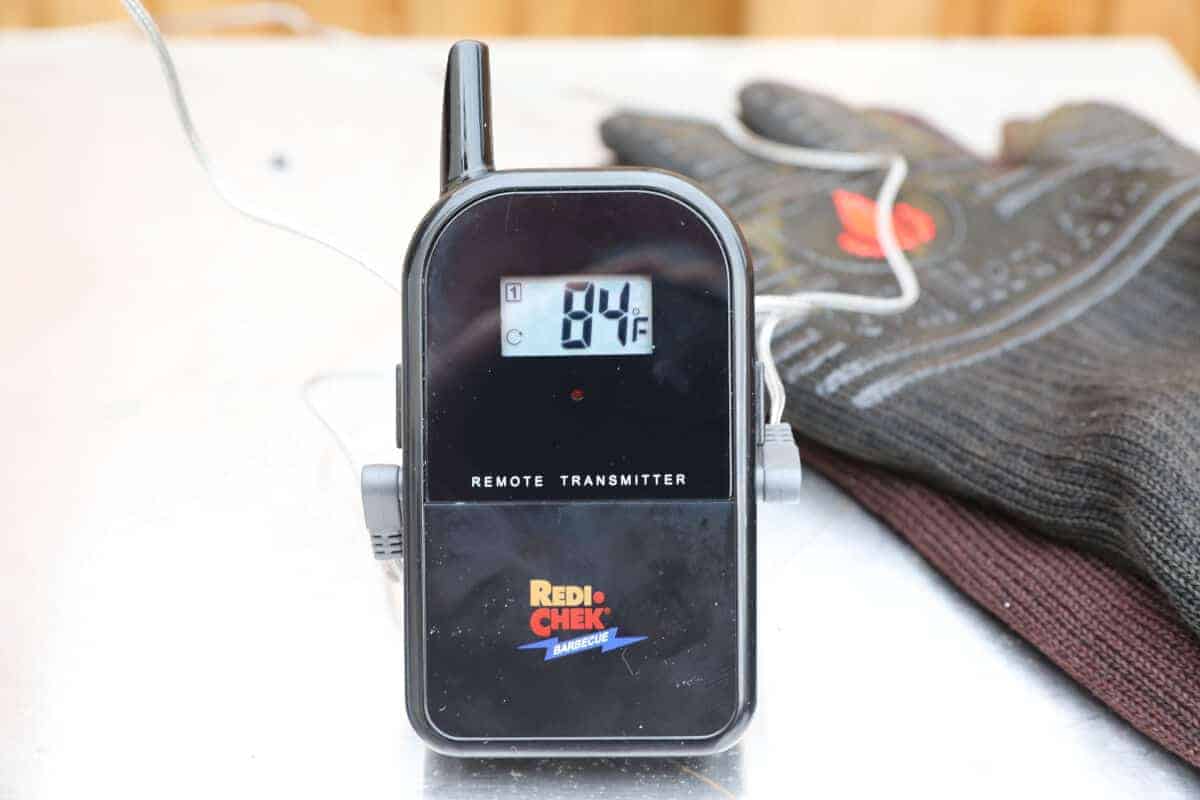 Unlike with many units I've reviewed, the transmitter and receiver in this set are the same size. It's still obvious at a glance which is which, however, the transmitter has just a small LCD screen on the front face.
This screen alternates back and forth between the current food and cooker temperatures. Also, there are precisely zero buttons on the front of the transmitter, just the decidedly cheesy-looking Redi-Chek logo.
On each side of the transmitter, you'll find a plug-in socket for a probe. Don't get them mixed up! The longer food probe connects on the right (if you're looking at the front of the unit), and the pit probe connects on the left.
Turning it over to look at the back, we find two buttons, one for power and one to re-sync the connection and switch between Fahrenheit and Celsius.
Here, too, is the battery compartment lid. You'll have to remove two tiny screws before you can insert a pair of AAAs — try not to lose them!
The final feature to note is the combination stand and hanger. It clips on to the unit, and it allows you to prop up the transmitter on any flat surface, making it easy to see the LCD. By rotating the stand halfway around, you can use the hooked end to hang the unit from any convenient handle or hook.
Receiver
The part of this set you'll appreciate most is the receiver. This is the wonderful device that you carry about with you, freeing you up from your close vigil on the grill or smoker.
Looking at the front, the most prominent feature is the LCD screen. Here's where you'll find all the information funneling in from the transmitter. The top section of the display shows you the current food temperature as its default, and the lower section tells you the temperature inside the cooker.
Pressing the FOOD/HI/CLEAR button displays the maximum food temperature you've set for 5 seconds. Use BARBECUE/HI/HR and LO/MIN to do the same for either the maximum or minimum cooker temperature.
There is a total of 6 buttons on the front of the receiver, including the 3 listed above, LIGHT/MODE, ALERT/C/F/START/STOP, and the power button.
On the reverse side are the battery cover (install another pair of AAAs here) and the foldout stand for tabletop use. There's also a slot for hanging the receiver on a hook or screw. You can also opt to remove the clip-on stand entirely and just stick the unit in your pocket; it's definitely small enough.
Range
The claimed maximum range is 300 feet. I'm sure if this is achievable if you are in a wide-open space with no obstacles; unless you're barbecuing at home plate on a baseball diamond and decide you want to go hang out at the left-field fence — you should be fine.
In the real world, your range will be limited by fences, trees, walls, floors, ceilings, and so on. Nevertheless, you should have no issue wandering around your yard, or taking the receiver inside to refresh your beverage or yourself.
I've used this thermometer between my grills and my living room, over 50 foot apart and going through walls, and the connection and display of info has held solid.
You Might Also be Interested in
A Look at the Probes
Don't worry about confusing the two probes included with the ET-732; the pit probe is shorter, straighter, and blunter than the meat probe.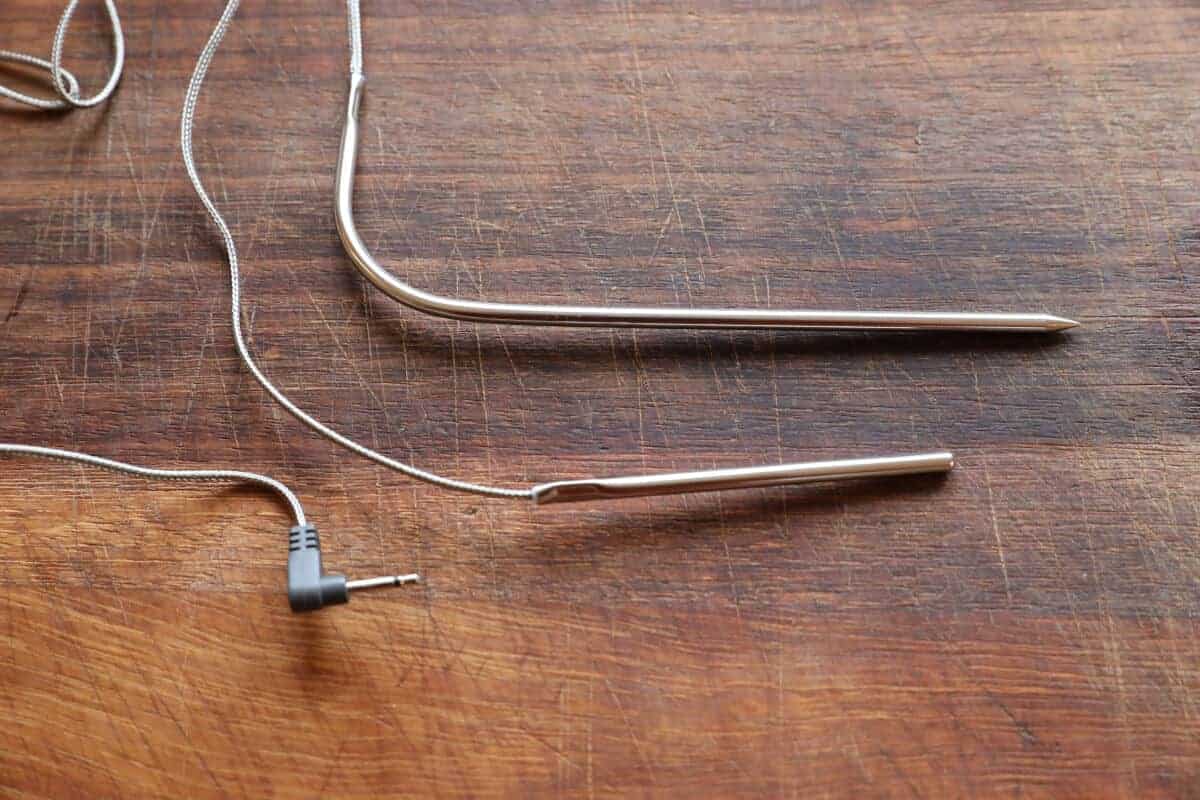 The food probe is 6-inches long, has a very pointy end, and is curved into a hook-shape near where it connects with the cable. This curved end makes it very easy to insert and remove from even a huge cut of meat. It's also crimped for a solid connection.
The 3-inch pit probe is made of stainless steel, and the braided cable sheath is as well. There's a slight crimp in the probe where it joins the cable to create a tight connection that will hold up to repeated use.
Included for use with this probe is a small metal clip to attach it to the grate, as that's where you need to measure the ambient temperature.
How it's used may not be immediately apparent, but it's quite simple: thread the probe through the two holes, squeeze the free ends together, insert the ends between two bars of the grate, and release. It should now have a good grip on the grate with the probe parallel to the cooking surface.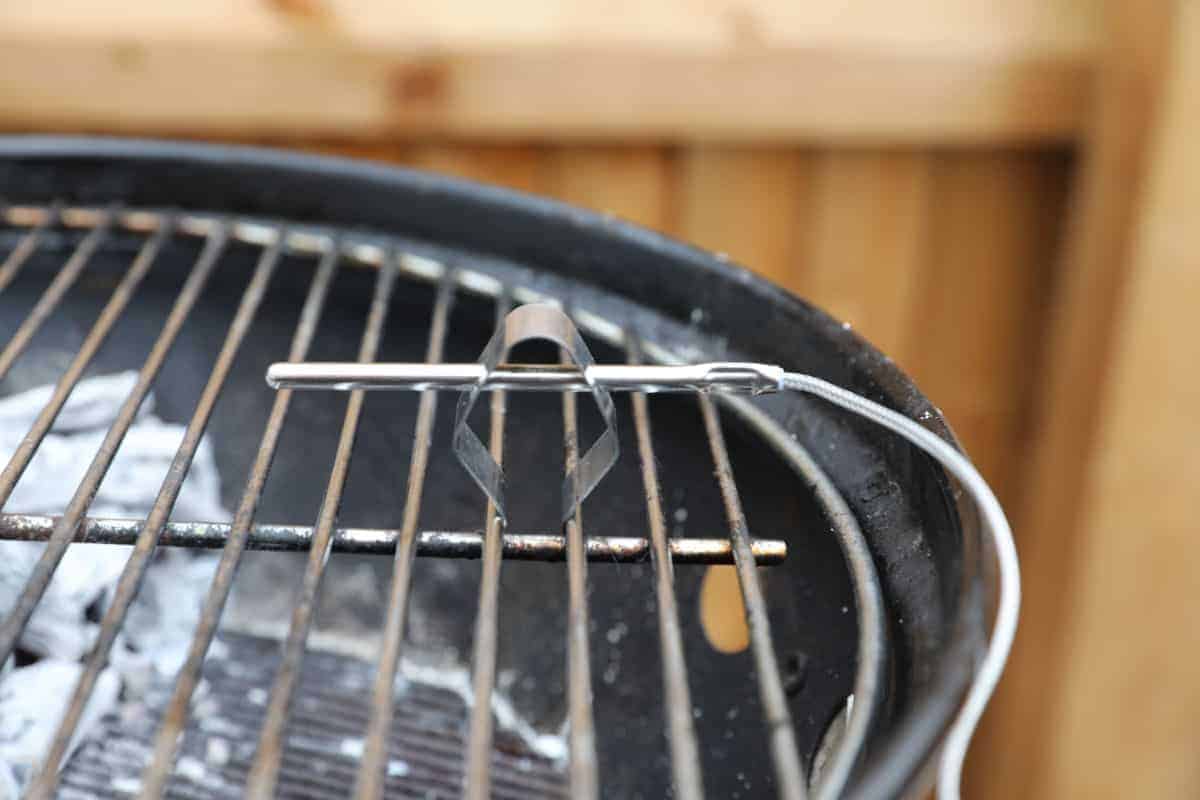 Each probe will register temperatures between 32F (0C) and 572F (300C). They're heat-resistant to 716F (380C), but that's just for emergencies; prolonged exposure to extremely high temperatures will ruin them.
Ease of Use
We have a saying around here: RTFM, or 'read the f'ing manual.' Perhaps you've heard it?
With so many multifunction buttons, some users have complained that the ET-732 is confusing to use, but I've never had any trouble.
Seriously, read the manual, and you won't either. Once you do, it's actually quite intuitive and well within the scope of anyone to master quickly.
Speed and Accuracy
If you feel the need — the need for speed… then you're looking for an instant-read thermometer. This is not a tremendously fast unit, but that's ok because that's not its purpose. As a leave-in thermometer, its speed is perfectly sufficient.
In terms of accuracy, like most barbecue thermometers, it's at its best when it's in the normal temperature range for grilling and smoking.
According to the manufacturer, expect accuracy within +/- 3F while you're cooking. I did the ice water and boiling water temperature test and compared with a Thermapen MK3 and a Lavatools Javelin instant read thermometer. The 2 instant-read thermometers were very precise, the Maverick was 1 degree out in the ice, and 2 degrees out in the boiling water.
This is perfectly OK for normal use, and inline with many other thermometers I've tested. Therefore, I am more than happy with this performance.
Design and Build Quality
Both units are quite simple in appearance, and not exactly eye-catching. Still, you can get them in black, white, or copper if you have a color preference. The compact size and ergonomically curved corners make them easy-to-use and carry about in your hand.
They're also both made entirely of plastic, so you don't want to drop them onto the patio if you can avoid it. Fortunately, being plastic, the transmitter is moisture resistant. That doesn't mean you can leave out in a rainstorm, but it will hold up to a slight drizzle without much worry.
I'm not wild about the decision to put both buttons on the transmitter on the back; you'd think at least the power button ought to be on the front. It's not a huge deal, but it does mean you have to flip it over to be sure you're pressing the right one. (This seems to be a common theme with Maverick wireless thermometers.)
I will say a big thank you for providing a clip-on stand for each unit. The convertible stand/hook on the transmitter is an especially convenient feature.
Warranty and Support
The Maverick Redi-Check ET-732 comes with a limited 90-day warranty. If you're having problems, call the toll-free number and see if they can't troubleshoot the issue. If you don't have any luck, you'll be asked to ship the unit to them in New Jersey, so they can take a look.
While the warranty may seem short, the return policy isn't. If you aren't happy with the ET-732, Maverick offers a 60-day return window for a full refund or an exchange for another unit. You have to admire their confidence, and it always feels better knowing you can't be stuck with a disappointment.
There are many ways to get support or learn more about your new Maverick thermometer. Naturally, you can email the company, browse through a selection of prefab answers to common issues in the online FAQ section, join the discussion in their online community (though there isn't a lot going on here), describe your problem or submit an inquiry via an online form, or pick up the phone.
Additionally, all manuals are available as downloadable PDFs from the Maverick website. Plus, you can get social on Facebook, Instagram, Twitter, and LinkedIn and watch videos on YouTube and Vimeo.
Final Verdict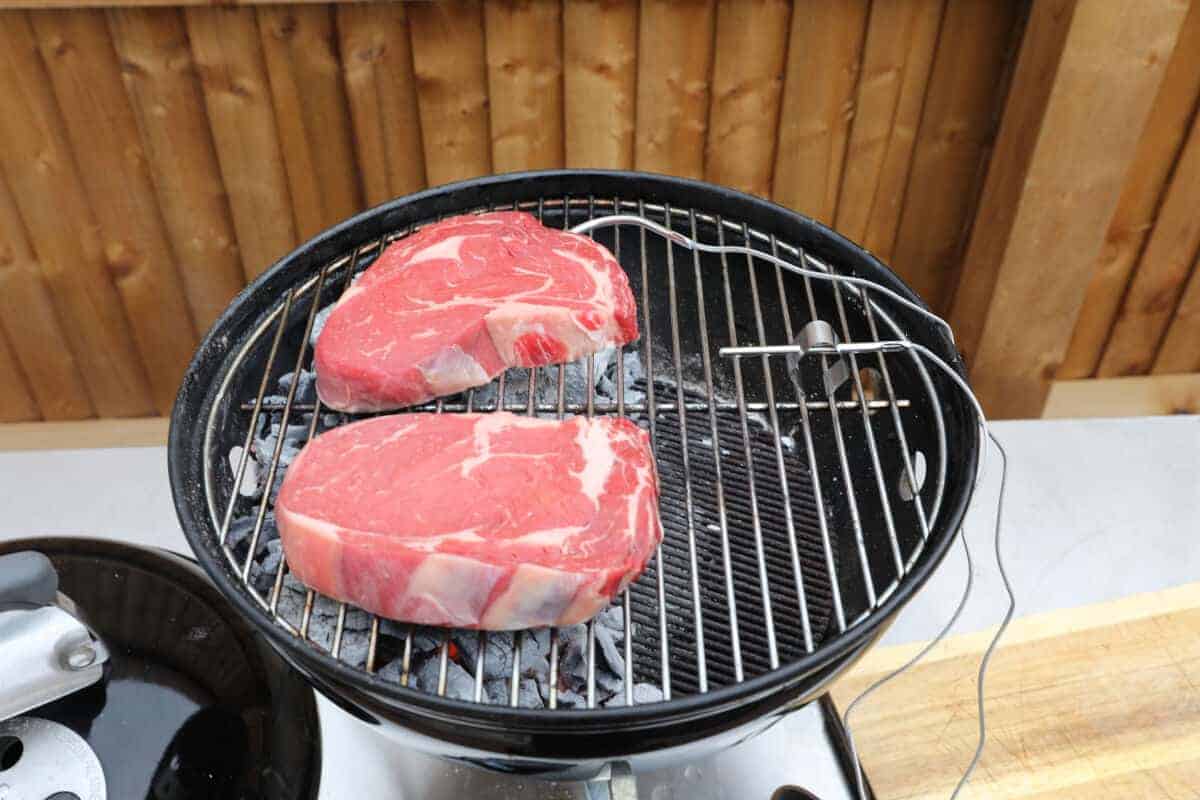 So, did the ET-732 go ballistic or crash and burn? Let's find out…
What We Like
The compactness of the receiver unit is a big plus. It fits nicely in your hand and in your pocket. Despite the minimal size, however, the LCD screen is clear and easy-to-read.
Anything you program into the system, including your temperature settings for both the meat and the cooker and your timer settings, are saved internally. That means if you want your next cook to be the same as your last, you won't have to reprogram all that stuff.
What Could Be Improved
I'm not crazy about the screw-on battery compartment cover. Maybe this adds to the water-resistance, but it's still annoying hunting for a precision screwdriver when the batteries go kaput.
The buttons on the receiver unit are a bit on the small side, so if you've got chunky fingers, you'll need to take care. Still, they're well separated, so you're unlikely to hit the wrong one by mistake.
Will I Get Value for My Money?
The ET-732 is not an expensive wireless digital thermometer.
With the bargain price, you will give up some extra features found on more high-end units, such as presets for meat type and doneness.
But, if you don't mind setting your own temperatures, you can save a few bucks and get just as good functionality. This is money well spent.
Is this a Recommended Product?
I have quite a few wireless digital thermometers at home, a combination of wanting to test everything and enjoying buying new gadgets! But not all them get used repeatedly.
The Maverick Redi-Check ET-732 Wireless Thermometer has proven its value many times over, which is why it hasn't been relegated to the junk drawer.
I am very happy with mine, and I absolutely recommend it for casual to serious grillers.
Thank you for reading to the end of my Maverick ET732 review.
If you have any questions, comments or anything to add that may help others, please do let me know in the comment section below, I will reply to every comment.
Happy grilling!