If you haven't figured it out by now, I love grilling. Serving up a delicious barbecued meal to my friends is one of my great pleasures in life, and I'd be lying if I said I didn't take some pride in my grill skills.
Still, I don't mind having a little help, especially when it comes to cooking to temperature, the key to great grilling and smoking.
For all the nifty tricks for determining doneness (the one with the thumb and fingers is my favorite), there is no substitute for a good digital thermometer.
Below, I take a look at one such thermometer in my ThermoPro TP-08s review.
The ThermoPro TP-08S, one of many thermometers I have in my arsenal of gadgets, and one I use repeatedly. It is a good and reliable little unit, also appearing high in our list of the best wireless meat thermometers on this site.
Could this be the missing piece from your BBQ puzzle? Let's find out.
Overview of the Thermopro TP-08S Digital Wireless Meat Thermometer
This unit is an all-purpose digital thermometer for use with your barbecue, smoker, or oven. It is a smaller brother to the more fully featured Thermopro TP20, for the more budget conscious or those who like fewer bells and whistles.
It comes equipped with two probes, one for reading the temperature of the meat you're cooking, and one to keep tabs on the ambient temperature at the grate. This is the ideal configuration for the most accurate grilling or smoking sessions since we always cook to temperature, not to time.
Information gathered by the two probes is sent along stainless steel wires to a transmitter unit. Much of that data can be read there on an LCD screen. However, you'll spend most of your time looking at the wireless receiver and the larger, complete display of all you need to know.
Additionally, you can adjust all your cook settings, such as target temperature and timers, on the receiver unit.
Summary of Pros and Cons
Pros
Big, clear LCD
Easy to read in all lighting conditions
All helpful information readily at hand
Dual probe for food and pit temperatures
Long cables for versatile transmitter placement
Durable rubber casing
Cons
Lack of presets for meat doneness alarms
Single meat probe limits you to monitoring one food item
Note: At the time of writing, I've been only been able to find the TP08S available for sale on Amazon. I will update links when other vendors take on the product.
What's in the Box?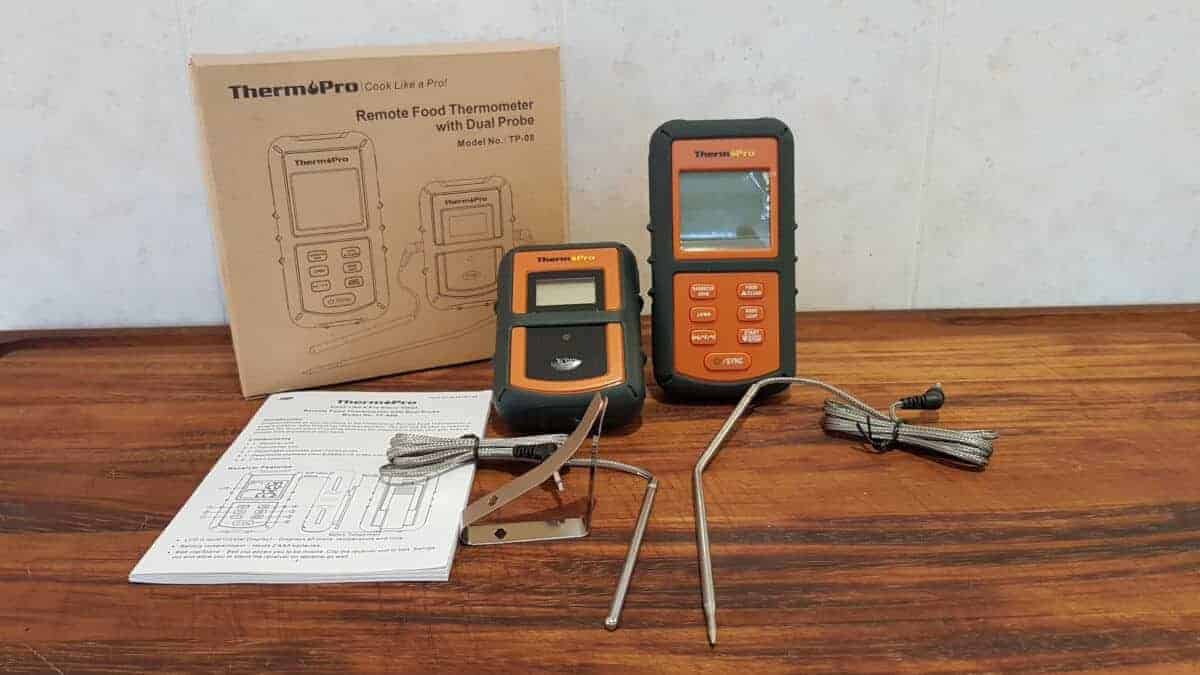 Owner's manual
1 wireless receiver
1 transmitter
1 rubber sleeve for the receiver
1 wired food temperature probe
1 wired BBQ/Oven temperature probe
1 probe clip
4 AAA batteries
Features and Manufacturers Specifications
The ThermoPro TP-08S is a well-featured digital thermometer. Its sole job is to keep track of what's going on inside your grill or smoker, so you don't have to keep lifting the lid. Remember: if you're looking, you ain't cooking. (Clichéd, but true!)
Not only will both units tell you the current temperature inside the meat and inside the cooker, but you can also set a target temperature to which you want your meat to cook. For example, if you're roasting a whole chicken, your target should be 165 °F (74 °C), the minimum safe temperature for cooking poultry. By using the TP-08S, there's no guesswork — just take the bird off the grill when you reach 165.
You can also set a target temperature for the grill or smoker. If your recipe calls for cooking at 325 °F, set that as your maximum temperature (HI BBQ mode) and cast your eyes on the LCD now and then to be sure you hit it and hold it.
Similarly, you can set a minimum cooker temperature (LO BBQ mode) that you don't want to fall below. That's especially helpful for smoking since staying low isn't easy to do. It's also great on cold days when it's easy to lose heat.
You could also use this as a kind of instant-read thermometer; it's nearly as fast as the purpose-built ones. However, it's a bit clunky in comparison, so it's still a good idea to own one of those, too.
Alarms
There are several alarm functions built-into the TP-08S. Both countdown and count up timers end with an alarm signal, and you'll hear one when your target, or maximum, food temperature is reached.
You'll also be notified if the grill, smoker, or oven exceeds the maximum temperature or falls below the minimum temperature you've specified.
There's also a lost link alert to let you know if the connection between the receiver and transmitter has failed for more than 4 minutes. If you hear this one, get back to your grill on the double because you're running blind!
Presets
While the default setting for both maximum food and cooker temperature is 176 °F, and the minimum is 50 °F, neither of these is a true preset. The timers just have to start at something.
There are no presets for any of the alarms on the TP-08S. If you desire presets for different meat types, doneness, and so on, you should check out the TP-08S big brother in our ThermoPro TP20 review.
Specs
Temperature range: 32 °F to 572 °F
Accuracy: +/- 1.8 °F
Probes and wires are heat-resistant to 716 °F
Countdown timer maximum 24hrs; minimum 1 min.
Count up timer maximum 9hrs, 59 min.
Backlit LCD monitors
300' range
Fahrenheit or Celsius readout
A Look at the Transmitter and Receiver
The heart of the TP-08S is the transmitter and receiver duo. Let's look closely at each unit to learn more.
Transmitter
The smaller of the two units, the transmitter broadcasts an RF signal. Aesthetically, it's a study in gray and orange and looks a lot better than some models I've seen. Those good looks are protected by a splash proof rubber sleeve, which also reduces the risk of damage if the unit gets bashed around.
There's a small LCD screen on the receiver that alternates between displaying the food temperature and the cooker temperature. It sports a single button on the front for turning the unit on and off, and switching between Fahrenheit and Celsius.
Based on looking at it from the front, the food probe plugs into the socket on the right-hand side, and the cooker probe plugs in on the left.
Flipping it over to peek at the back, you'll find access to the battery compartment (2 AAAs), and the stand/hanger.
The stand is a nice feature, allowing you to rest the transmitter on a side shelf or other flat surface. If you haven't got anywhere convenient to put it down, rotate the stand 180 degrees, and you can use it to hang the transmitter on a handle or hook.
Receiver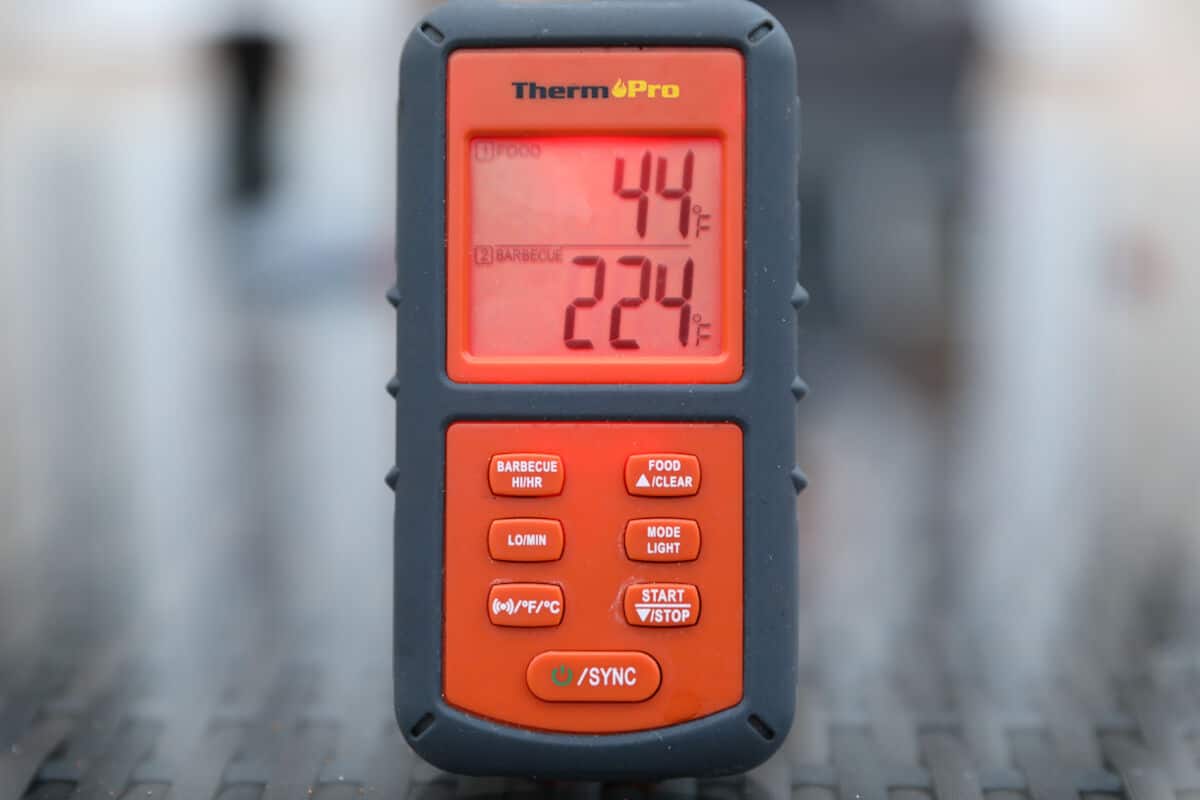 Featuring a matching gray and orange color scheme, the receiver is the much larger counterpart.
The first thing you'll notice is the large, backlit LCD screen. It lights up orange, which is both attractive and comfortable to look at in the dark — unlike when your phone lights up in the middle of the night.
The screen is divided in two, with the current food temperature showing at the top and the cooker temperature below. The display is large and easy to see.
Below the LCD are 7 buttons, each one with multiple functions, depending on what mode you're in.
Here you can switch the display for a reminder of the temperature parameters you've set, and make adjustments. You can also set, start, and stop timers and switch to the timer display, change your temperature scale, and power the unit on and off.
On the reverse side are the battery compartment lid and a handy belt clip (that I'm sure nobody ever uses?). If you miss rockin' the Blackberry, you'll enjoy carrying this around.
Range
The maximum range for the TP-08S is 300 feet. Realistically, you're unlikely to achieve that unless you live on a flat prairie with no buildings or obstacles anywhere between you and the transmitter.
That's ok, though; it should be way more than enough for most people, even if you decide to go inside to grab a tasty beverage, answer the door, or answer the call of nature.
I use my thermometers with a good 50 feet distance between my outdoor cookers and my living room, where the signal of this unit holds strong over that distance, with walls / windows between.
Also See
Maverick thermometers have long been considered the alternatives to Thermopro. Here's our look at two of their most popular models:
A Look at the Probes
Each of the probes is made of stainless steel, and so are the mesh shrouds protecting the 40" cables. At the opposite end of the cable from the probe, you'll find an angled plug that looks like it belongs with headphones. This plugs into the appropriate jack on the transmitter unit.
The BBQ/smoker/oven probe is easily distinguished from the food probe, being the shorter of the two.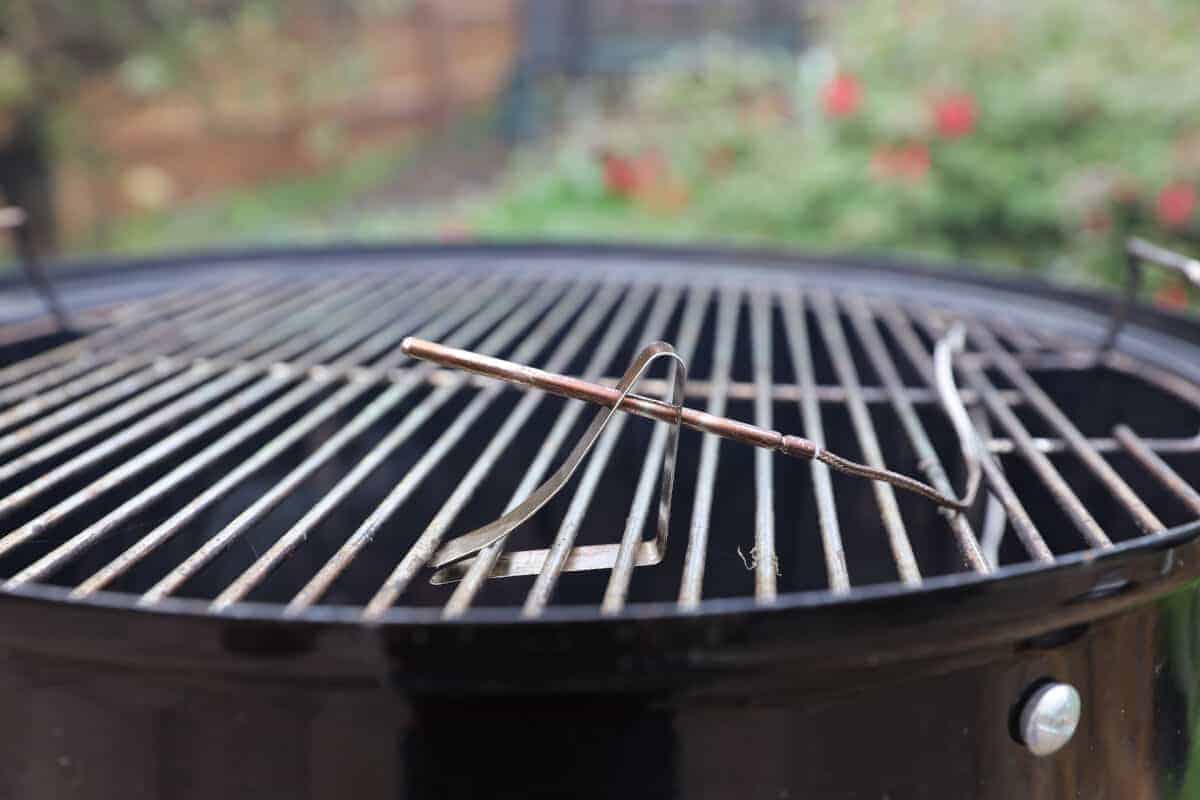 It measures 3" long, and it comes with its own clip. The clip is just an oddly folded bit of metal, and it's a bit fiddly until you get the hang of it. Once you've got it, though, it does the job just fine.
The food probe is a whopping 6.5" of food-grade stainless steel, so it will reach the center of any meat you care to toss on the grill. It's slightly angled a few inches back, making it much easier to put in or take out than a straight probe.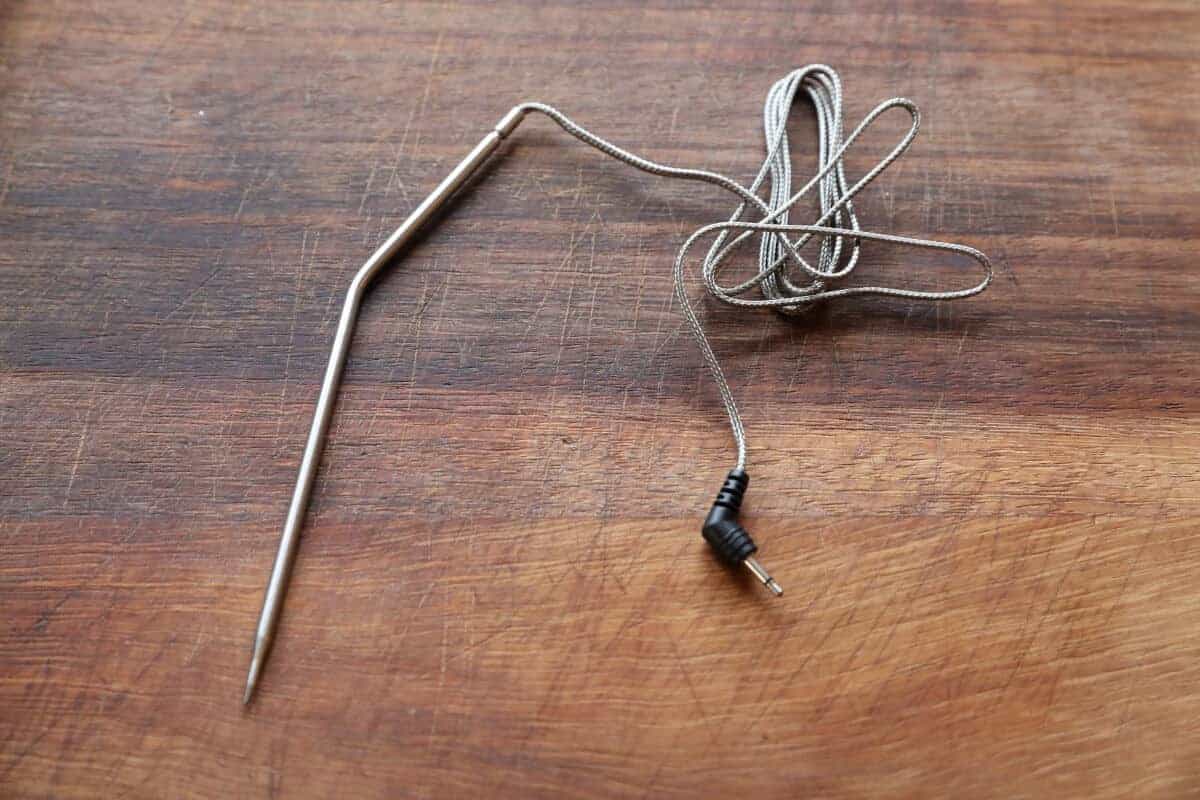 Ease of Use
For all its features, this is a simple device to use.
The large, easy-to-read LCD and finger-sized buttons make it a piece of cake to set alarms and temperature parameters. The lack of presets for meat types and doneness means you'll have to know what temperature you want to hit, but for experienced grillers and smokers, this won't be a problem. If you're not experienced, just check the handy chart in the manual.
The transmitter and receiver come pre-paired from the factory, meaning it should be a simple matter of installing the batteries and powering up before you're ready to cook. If they do unpair, it's an easy 2— or 3-second process to reconnect by holding down the Power/Sync button on the receiver.
Speed and Accuracy
You should have a reading within 5 or 6 seconds after inserting your probe, which is plenty fast.
The manufacturer's specs say the probes are accurate to + or – 1.8F, and that is on par with the best digital thermometers on the market.
I've compared the temperature readings from the TP-08 with the readings from my Lavatools Javelin pro duo and my Thermapen MK3 instant-read thermometers: They have always been within a degree of showing the same reading, so I'm confident in the stated accuracy.
Design and Build Quality
Like all ThermoPro products I've tried, the TP-08S feels solidly built and durable. The rubber sleeve is sufficiently thick, and I can assure you it will survive a short fall or a splash of beer. Predictably, I've exposed it to both!
The rubber casing also gives excellent grip and the added bonus of making it easy to hang on to.
The layout of buttons is efficient, and everything is clearly labeled for smooth operation. Clearly, experienced grillers were involved in the design of this product.
Warranty and Support
The ThermoPro TP-08S comes with a 1-year warranty — your standard protection against manufacturer's defects. If you care to register your unit with them online, you can extend that protection to 3 years.
Unlike with some companies, you won't have to send your unit out and wait for an assessment and repair. If they can't troubleshoot the problem, they simply send out a replacement for the defective item.
According to their website, they won't even ask you to send back whatever it is that's not working. I admire that level of confidence and customer service!
If you find you're not happy with your ThermoPro device, you've got 30 days to send it back for a full refund. Not likely to happen, but solid coverage.
Before you resort to requesting a new unit, though, check out the website. There you'll find FAQs, tips and tutorials, instructional videos, downloadable manuals, and a live chat box.
Alternately, you can submit an online form or phone them from anywhere in North America, the UK, France, Germany, Italy, and Spain.
Final Verdict
Here's where we move from facts to opinions and determine whether the ThermoPro TP-08S is worth your money.
What We Like
There's a lot to like about this unit, but I'll start with the big LCD. Having all the information available so clear and easy to see without squinting is a huge plus. The orange backlight is also a major win when your smoking session runs late.
Having two probes, one for the cooker and one for the meat, is excellent because those are both need-to-know factors during a cook. And, the length of the probe cables makes it easy to find a home for the transmitter that isn't in the way of the chef.
Plus, I really like the slight hook on the meat probe — it makes insertion and removal a breeze.
Lastly, I'm pleased ThermoPro decided to make the rubber sleeves part of the basic package and not an add-on for an extra cost. It's a thoughtful touch and a practical one, too, that helps protect the unit from inevitable falls.
What Could Be Improved
The lack of presets for meat type and doneness is a minor disappointment, but really, that's only out of laziness. Most serious grillers already know the temperatures for safely cooked chicken or medium-rare steak, and beginners can consult the manual until they learn them, too.
My only other tiny gripe is the fact you're limited to just a single meat probe. There are no additional ports, so you can't buy another probe to monitor a second cut. Again, not a huge deal, but sometimes I've got more than one bit of food under the lid I want to keep an eye on, and I wish I had the option.
Will I Get Value for My Money?
The bottom line is, you MUST own a good digital thermometer if you take your grilling and/or smoking seriously. But you DON'T have to spend a fortune to get one.
Yes, this isn't the absolute best grill thermometer in existence, there are absolutely fancier and more feature-laden digital thermometers out there, but you won't find many that are more durable, accurate, and easy-to-use.
For the price you'll pay, the return on investment is fantastic.
This is absolutely a great value — and the proof will be in that first mouth-watering brisket or tender, cooked-to-perfection chicken.
Is this a Recommended Product?
Not every grilling gadget I've ever bought has turned out to be a must-have; some were total flops, in fact. The ThermoPro TP-08S wasn't one of those.
This is an excellent wireless digital thermometer that I personally recommend based on my experience of using one at home.
This ThermoPro TP-08 review has reached perfect temp, it's time to take it off the grill and end the cook!
I hope you've found the info here useful? If you have any questions, comments or anything to add to the discussion, please do drop me a line in the comments below, I will make sure to answer every one.
Here's to your next perfectly measured cook!