In this Thermopro TP20 review, I'm going to look at all the features, pros and cons, what I love and what can be improved with this unit.
Because let's cut to the chase: there is no way to overstate the value of a good digital thermometer.
For all the tips and tricks out there that purport to tell you whether your meat is done cooking, and how done it is, the only way to know for sure is to take its temperature.
For perfectly grilled or smoked meat every time, a probe-style digital thermometer is a must. There are scores of them on the market, and it can be hard to know which one to choose.
To help narrow the search, we're taking a look at one of the most popular models by reviewing the ThermoPro TP20.
I have this thermometer in my personal grilling arsenal and use it fairly frequently. Keep reading to find out if you need it in yours.
Overview of the Thermopro TP20 Wireless Grilling Thermometer
The TP20 is a bigger, more fully featured brother of the Thermopro TP08 thermometer.
Like all the best BBQ thermometers, the TP20 monitors the internal temperature of your meat. We do this because temperature is the only accurate gauge of doneness and whether your food is ready and/or safe to eat.
This is a leave-in style thermometer, that is to say, you insert the probe, leave it in and let it take continuous readings, rather than stick it in periodically to see what's up on the grill.
The TP20 comes with two probes, allowing you to monitor two pieces of meat at the same time, or one piece and the ambient temperature of the grill.
The probes are a decent length, which is essential for you to be able to get the tip right down into the center of large cuts you are cooking.
The wired probes connect to a base station that displays the temperature readings on a small LCD screen. This station also broadcasts all the information to a wireless remote you can carry around with you.
So with the TP20, you can monitor a long roasting or smoking session from a distance, unchaining you, as it were, from your barbecue or smoker.
Summary of Pros and Cons
Pros
Dual probe, to monitor food and pit temperatures simultaneously
Presets and alarms for different meat types and doneness levels
Rugged build quality, and encased in rubber for drop protection
Long cables make probe and transmitter placement easy
Great value for money
Cons
Cannot see both probes temperatures at the same time on the receiver
Dual probe only can be limiting if cooking many foods
Note: At the time of writing, I've been only been able to find the Thermopro TP20 available for sale on Amazon. I will update links when other vendors take on the product.
What's in the Box?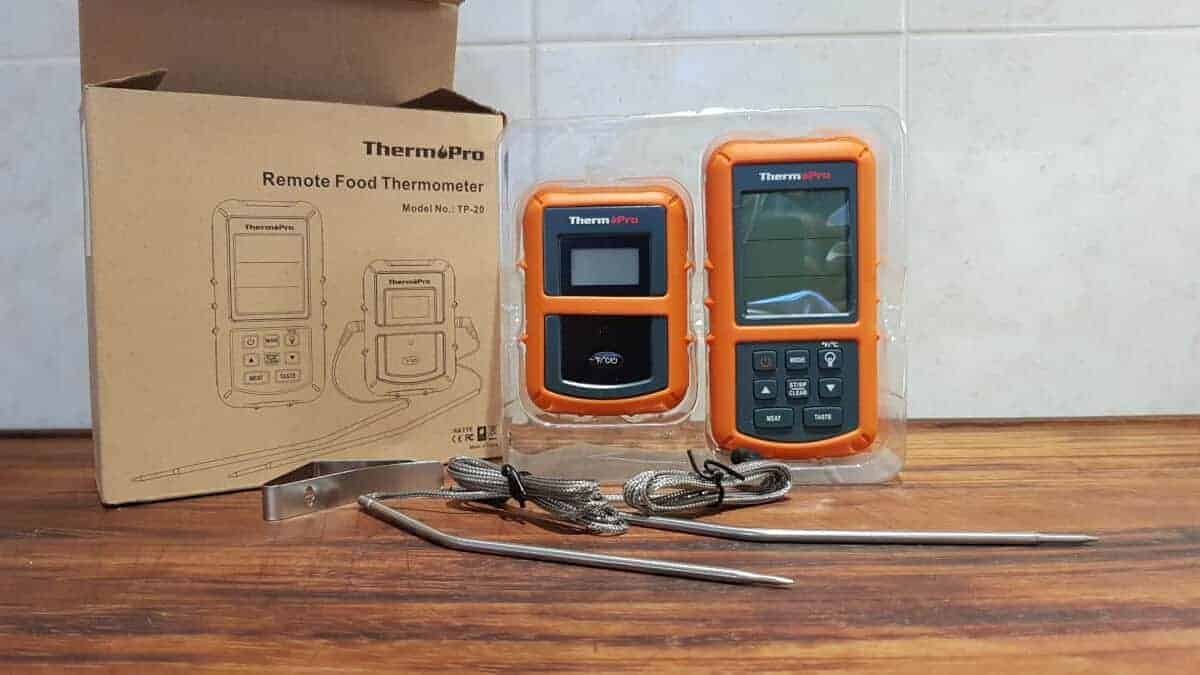 Owner's manual
1 wireless receiver
1 transmitter
1 rubber sleeve for the receiver
1 wired food temperature probe
1 wired BBQ/Oven temperature probe
1 probe clip
4 AAA batteries
Features and Manufacturers Specifications
The ThermoPro TP20 is a full-featured wireless thermometer you can use on the grill, smoker, or even with your kitchen oven. It's a favorite of mine, appears highly in my roundup of top recommended wireless meat thermometers, and is a bit of kit I use regularly.
Some key features include presets for various meat types and doneness, countdown, and count up timers. An external feature that's universally approved is the splash proof housing for the remote monitor. You know, just on the off chance you have a frosty beverage in the vicinity.
Although its primary purpose is to monitor your meat continually as it cooks, the TP20 will function as an instant-read thermometer, giving a temperature reading in about 5-7 seconds.
While the TP20 excels at the grill, it's equally adept around a smoker. For grilling, the most important temperature to know, aside from the interior of the meat, is the temperature at the grate. Mostly, you worry about getting too hot and burning or overcooking your food. Set your maximum temperature (HI BBQ) where you want it for easy monitoring.
If you're smoking, you're going to be just as interested in the minimum temperature setting. The "LO BBQ" setting has a 32 °F–554 °F range, with a default of 225 °F, a typical smoking temperature. Use this in combination with your HI BBQ setting to set your parameters and keep a tight rein on your smoker.
You Might Also be Interested in
Maverick have been long time competitors of ThermoPro smoker thermometers, so you might want to check out the competition:
Alarms
The TP20 allows you to program both a count-down and a count-up timer, each ending with an alarm. You can set your count-down alarm for any length of time up to 99 hours, 59 minutes. That's also the maximum time for the count up alarm.
At the end of the countdown, an alarm will sound, and the LCD screen lights up. Don't worry about missing it, because it goes off for 60 seconds. Also, the counter starts counting up to let you know how long it's been since the timer finished.
Additionally, if you use either a preset or custom target temperature setting, an alarm will sound (and the screen will flash) when your target temperature is reached, or if the interior has dropped below the minimum temperature setting. This alarm being perfect for letting you know when meat is cooked to temp.
There are also warning alarms to let you know if there's been a loss of signal for four minutes or more. If you've moved out of range or your batteries have died, this can be a lifesaver!
Conveniently, you can replace the batteries in the remote monitor without needing to re-synch with the base unit.
Presets
What sets the TP20 apart from many of its competitors is the array of presets.
Making beef and want it medium-rare? Select the beef setting and choose "medium-rare," and an alarm will sound when you've reached the correct temperature. Other presets for meat type are:
Ground beef
Ground poultry
Veal
Chicken
Pork
Poultry
Lamb
Fish
There's also an "Oven" mode for use in a conventional kitchen oven.
Press the "TASTE" button to choose from rare, medium-rare, medium, medium-well, and well done. All temperatures for doneness are based on the USDA recommendations.
Specs
Temperature range: 32 °F to 572 °F
Accuracy: +/- 1.8 °F
Probes and wires are heat-resistant to 716 °F
Countdown/count-up timers maximum 99hrs. 59 min., or 99min. 59sec.
Backlit LCD monitors
300' range
Fahrenheit or Celsius readout
A Look at the Transmitter and Receiver
The ThermoPro TP20 is a monitoring system composed of two parts, a transmitter, and a receiver.
Here, I'll look closely at each piece individually.
Transmitter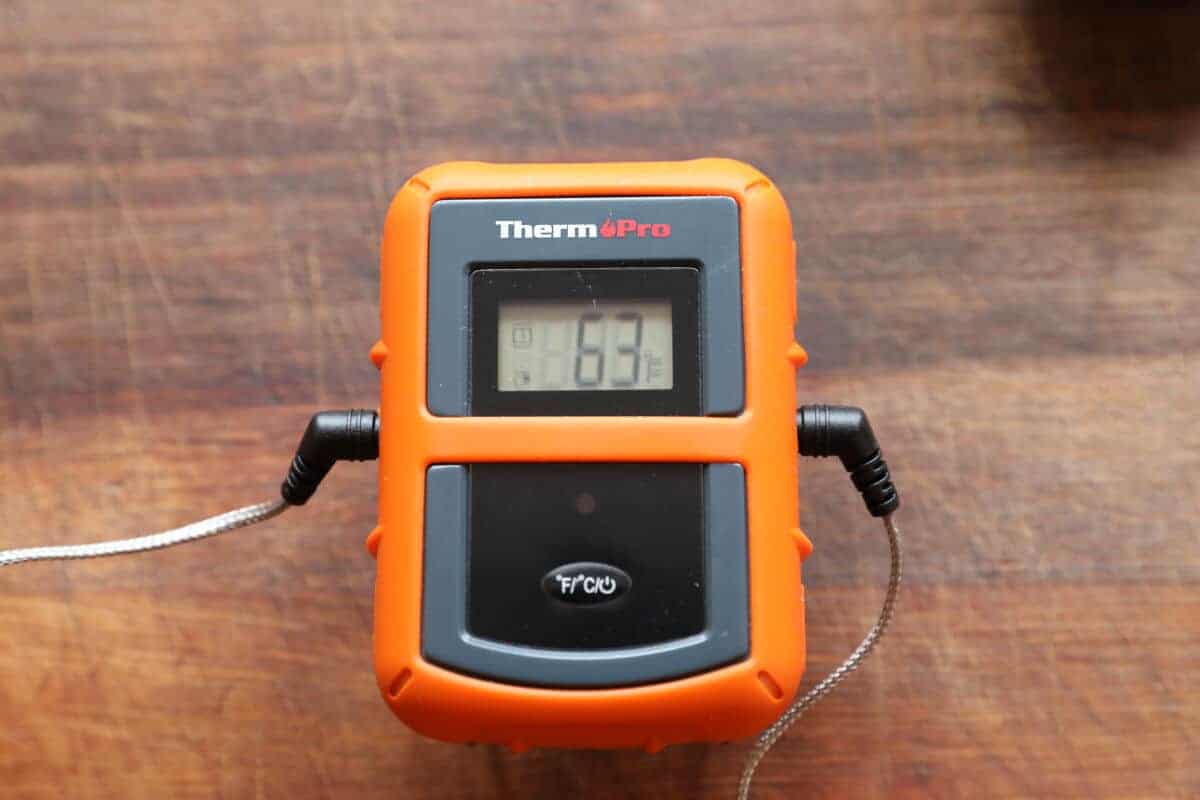 Think of this as a tiny little radio station, broadcasting to an audience of one — you.
There's no missing the bright orange, spill proof rubber housing, even in the dim light of a backyard on a summer evening. Actually, with the dark gray inner section and the black bezel around the display, it's a pretty sharp looking number.
There isn't much to this half of the system; there's a single button for on/off and switching between Fahrenheit to Celsius, and two ports for plugging in the probes.
The ports are actually identical to the headphone jack on your phone — unless you have a new iPhone, in which case it's the same as the one on your headphone adaptor. Don't plug in anything other than the probes, though. Never know what might happen, but it's unlikely to be good 😉
A small LCD monitor displays the current temperature readout from one probe at a time. That may seem like a nuisance, but really, you'll rarely check the transmitter for information.
On the back, you'll find the cover for the battery compartment (it takes 2 AAAs) and a handy hook/stand.
In stand mode, the transmitter is self-supporting and will rest nicely on the counter or side shelf.
If you'd rather, just turn the stand 180 degrees and use the hook to hang the unit on the side of a shelf or handle.
Receiver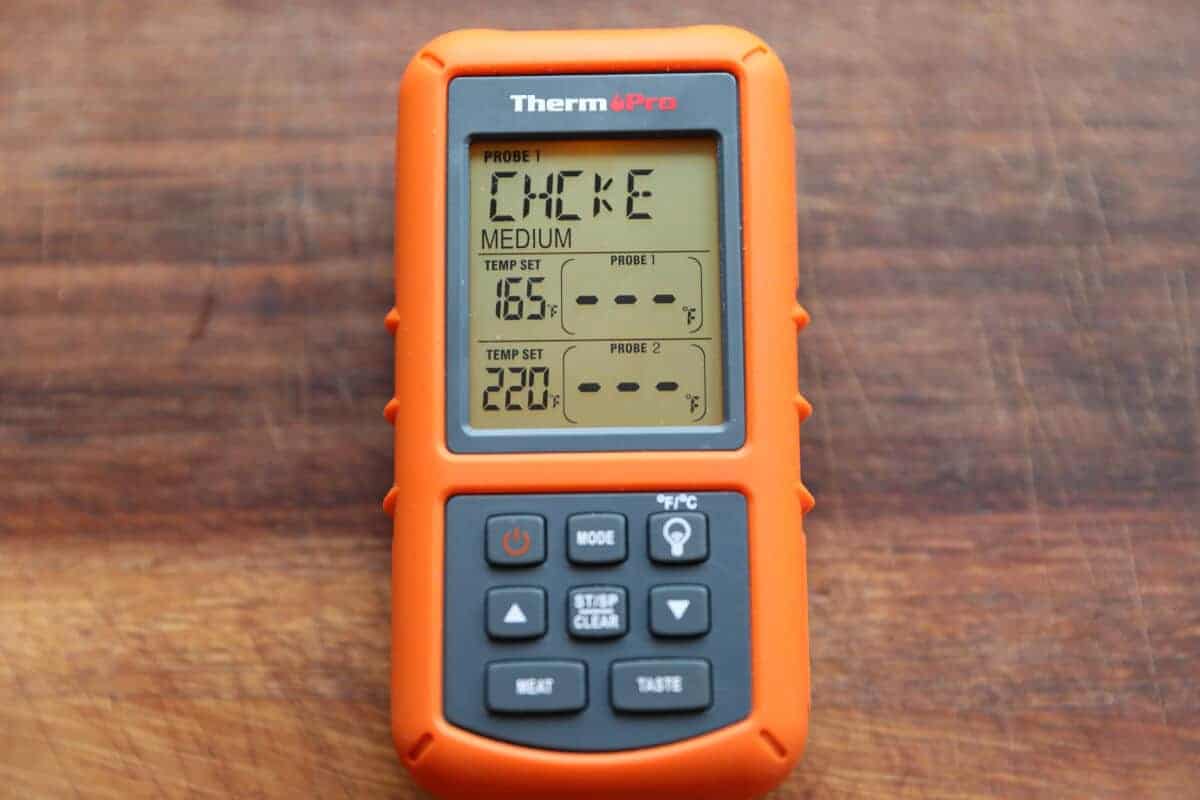 The heart of the operation is the handy-dandy receiver unit. It's decked out in the same splash proof orange and gray as its partner but lacks the black.
What it's not lacking are buttons: there are 8 in total — Power, Mode, Scale select/backlight, Up, Down, Start/Stop/Clear, Meat, and Taste.
Don't worry, though, because the TP20 is intuitive and easy-to-use.
Most of the front face of the receiver is taken up with a large LCD monitor. Here you'll find the name of the preset(s) you're using, and the target and actual temperature readings from both probes. The current temperature is in bold type, so it's easily read at a glance.
Below the display, you'll find the button array. White text on a dark gray background makes them simple to read, and they're large enough to be finger-friendly even for those blessed with oversized digits. From here you can select your presets for meat type and doneness, or set your own custom timer and target temperature.
If we flip the receiver over and look at the back, we'll find the battery compartment (2 more AAAs go here), a stand, and a belt clip.
I have to be honest, I don't typically wear my receiver, but I frequently use the stand for easy monitoring while I'm busy acting the good host, or checking the score of whatever game I've got on the TV.
Range
Got a big backyard? Then you'll be happy to know the TP20 boasts a range of 300 feet.
Of course, that's under ideal conditions with no barriers, and your actual range will vary from location to location.
Still, that should cover any reasonable separation between you and the grill, such as a trip to the fridge, the TV, or the facilities.
My grills are currently a good 50 foot+ away from where I sit in my living room, and the receiver stays connected without issue over that distance, through the walls or windows of my house.
A Look at the Probes
Of course, none of that other stuff is of any use without the sensor probes.
Basically, they're two thermometers that send information back to the receiver. You get two probes in the box, and either one can be used either in your food or to measure the ambient temperature of your grill or smoker.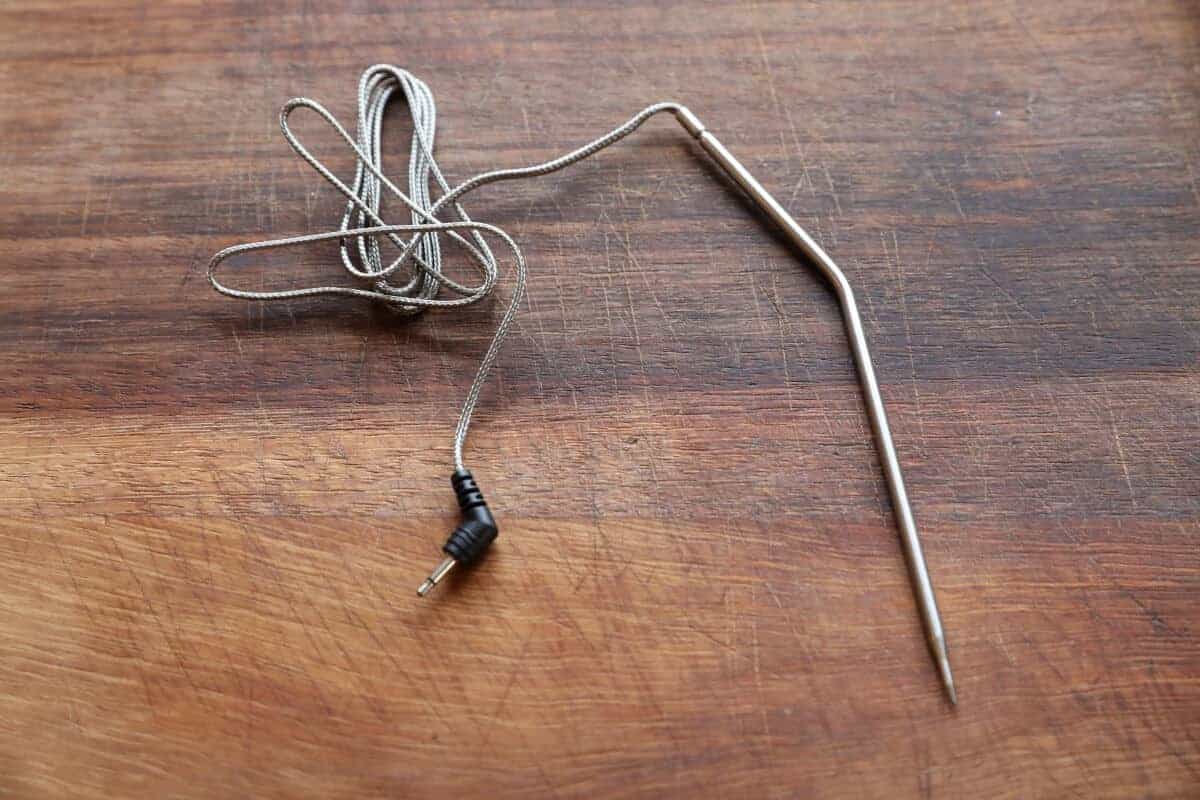 The probes are made from stainless steel, and the approx. 40" wires are sheathed with even more stainless steel. They're rust-resistant and easy to clean, both attributes of which I'm in favor. However, they are NOT waterproof where the wire meets the probe, so do not completely submerge this area in water else they may fail
There's a little of a nobbly bit where the cable meets the probe to make it easier to grip, which is helpful when it comes to inserting or removing them.
You also get a handy clip that, once you figure out how it works, allows you to easily set up one probe clipped to your grill grates to monitor the temperature at the cooking surface.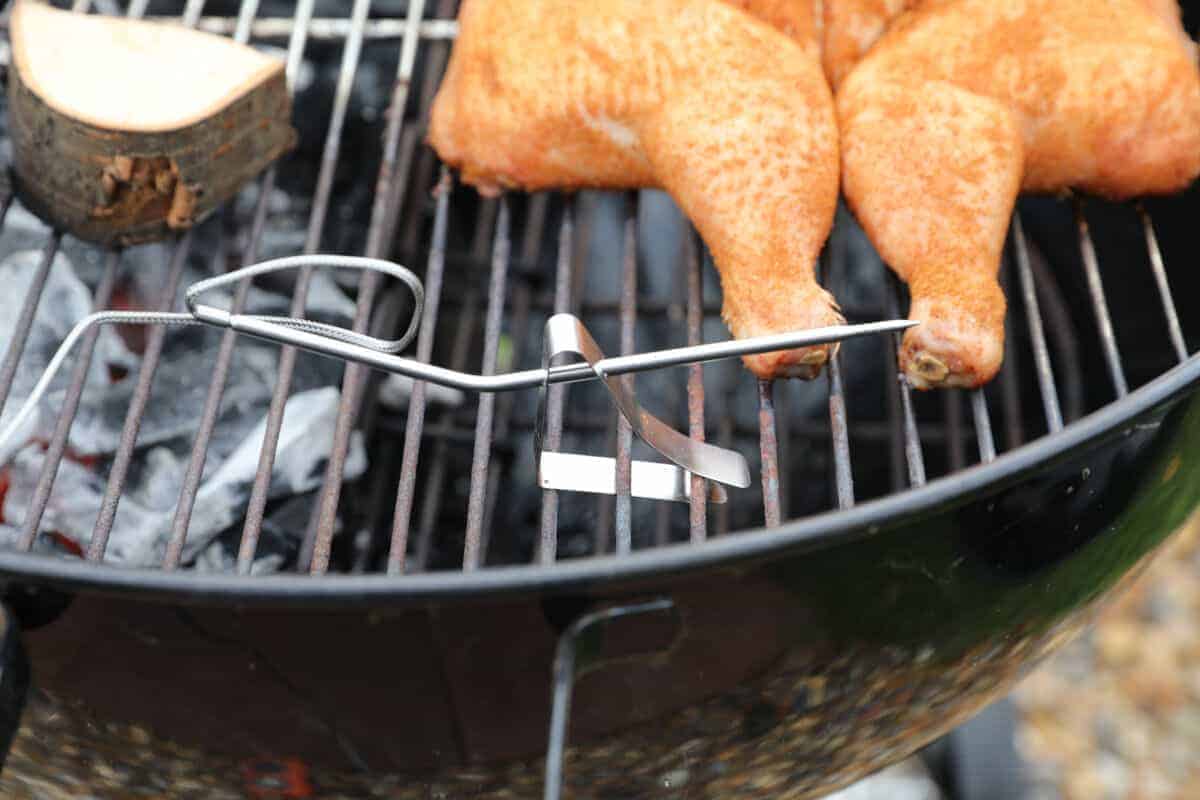 Ease of Use
Everything about the TP20 is designed to be user-friendly.
For example, the range of presets takes all the guesswork out of grilling and smoking and saves you from having to refer to our smoking times and temperatures chart all the time.
Plus, all buttons are clearly labeled, so you'll never have to guess which one to press.
Set up is very easy, as the transmitter and receiver come pre-paired from the factory. That means you just install the batteries and turn on both units. (In the unlikely event they unpair, it's a simple matter to reconnect.)
Speed and Accuracy
Although not technically an "instant read" thermometer, as we noted earlier, the TP20's response time is excellent. Expect a reading in about 5 seconds.
As to accuracy, ThermoPro claims the probes are accurate to +/- 1.8 °F, which is quite acceptable; many units fail to reach this level of precision.
I have performed the 'boiling water and iced water tests' with this thermometer, and compared it to 2 instant-read thermometers while doing so. I found the temperatures read to be almost exact for boiling water, and to be under by less than a single degree Fahrenheit for boiling water.
This is easily within acceptable limits for a smoker thermometer, and comparable to many other thermometers I've tested, so I'm perfectly happy with its performance.
Design and Build Quality
It seems pretty clear this unit was designed and built by people who actually get barbecuing. It's simple to use, easy-to-read, and not bad to look at, either.
In terms of build, both units have decent heft to them; they don't feel cheaply made, but you also shouldn't have to worry about losing your pants if you do opt to use the belt clip.
Oh, and again, thank you for the spill proof case — no doubt many receivers have been spared a soggy death because of it.
Both the transmitter and receiver are housed in a bright orange rubber case that will help to shockproof the units in case of being dropped, a nice touch adding to their durability.
Warranty and Support
Out of the box, the ThermoPro TP20 wireless grilling thermometer comes with a "standard" 1-year warranty. However, if you register the unit with them, they'll extend the warranty to 3 years.
Rather than do repairs, all you have to do is contact ThermoPro, explain the problem, and they'll ship out a replacement. Evidently, you don't even have to send back the defective unit. That's a pretty solid guarantee.
Additionally, they offer a 30-day money-back return if you're not happy for some reason. This seems unlikely, but it's reassuring when a company stands behind its product, especially if you've ordered it online.
At their website, ThermoPro has provided an FAQ, a collection of tips and how-tos, set-up videos for all their products, PDF versions of manuals, and a live chat option.
Additionally, you can use the online submission for an inquiry, and they have phone numbers listed for North America, the UK, France, Germany, Italy, and Spain.
Are you feeling sociable? Connect via newsletter, Facebook, Instagram, and YouTube.
So, unlike some companies I've come across, it is very easy to reach these guys.
Final Verdict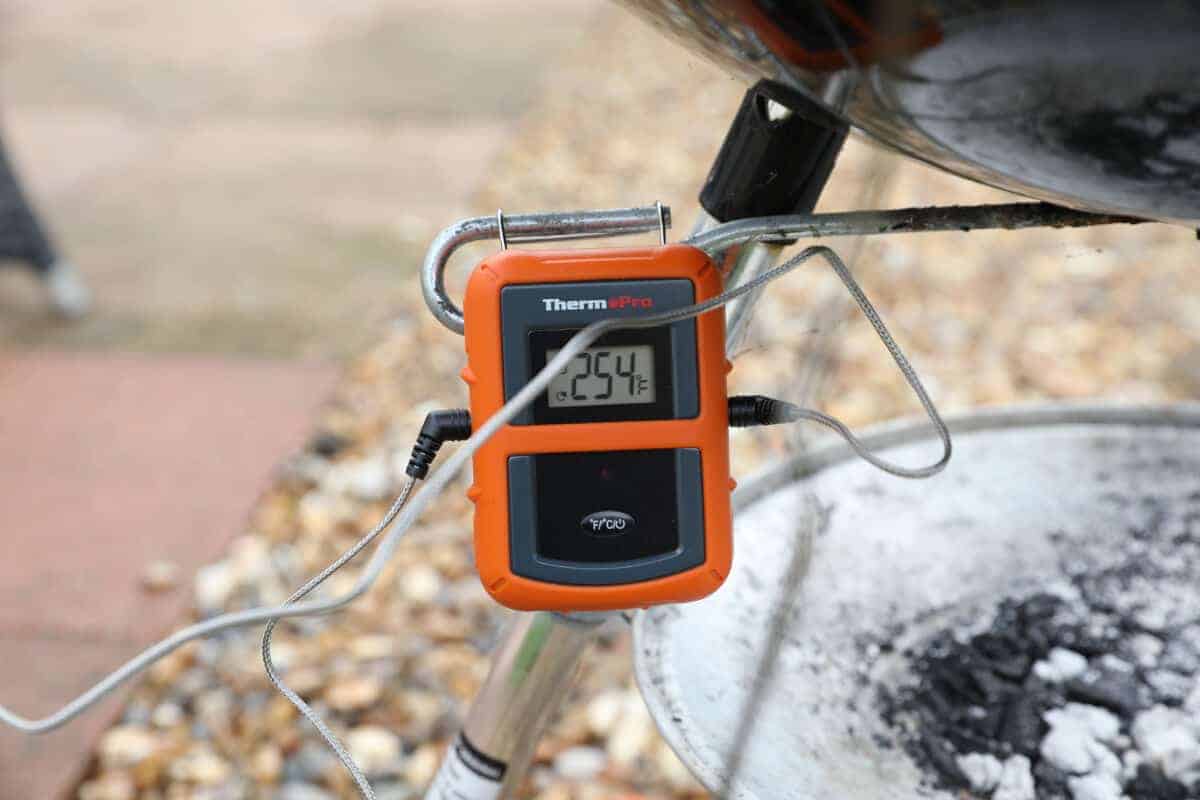 Let's take a moment to synthesize all that information, and I'll tell you how I really feel about the ThermoPro TP20 and whether it's a good buy or a goodbye.
What We Like
I always appreciate products that give me bang for my buck, and this is one of those.
I can use it with any of my smokers or grills, and even my oven, and with two probes, I don't need to use another thermometer.
With the presets for different meat types and doneness levels, you don't have to be a barbecue expert to get your timing and temperature right. Plus, it's ruggedly built, encased in rubber to boot, and the receiver is splash-proof, so I know the whole unit will survive just about any backyard mishaps.
The cables are long enough that I can find a handy spot to put the transmitter safely around any of my grills or smokers, and the probes are plenty accurate — if I overcook something, that's on me!
What Could Be Improved
It's a small thing, but it would be nice if the transmitter screen displayed both temperatures simultaneously.
I also find there are the odd occasions when I wish I had the option to connect a third probe. (But then, it is a DUAL probe thermometer, so that complaint has no merit, I guess!)
Will I Get Value for My Money?
You'd be hard-pressed to do better for your money than you will with the TP20.
Considering the range of features, the accuracy, and the quality of the build and the warranty, the purchase price represents tremendous value, especially if you grill frequently.
Is this a Recommended Product?
Absolutely it is!
Anyone who grills or smokes needs a digital probe thermometer. I've owned and still own many, and this is one of my favorites.
Because of its range of functions and user-friendly interface, I recommend the ThermoPro TP20 wireless grilling thermometer for everyone from beginners to pitmasters.
Thank you for making it to the end of my ThermoPro TP20 review, I hope you've found it useful.
If you have any questions or comments, please do leave them in the comment section below, I will try my damned hardest to be as helpful as I can.
Happy grilling!