In this Maverick ET 733 review, I'll give you a detailed look at a popular model that I actually own and use very often. We'll explore all of this thermometers features together, and I'll share my opinions based on my personal experience. So…
Have you ever cut into a piece of meat you're cooking to check if it's done yet?
You probably knew it wasn't the right thing to do — you foul up the whole cooking from the outside to inside process and waste precious juices.
On the other hand, you also don't want to get sick or die because you under cooked your meat.
The solution, of course, is to use a digital thermometer. Perhaps this very Maverick thermometer?
There are tons of wireless grill thermometers to choose from, and it's hard to know which is right for you. This guide should help to clarify if you've found the right one.
By the way, this unit has a few surprises up its sleeve, so do read on!
Overview of the Maverick ET-733 Redi-Chek Long Range Wireless Thermometer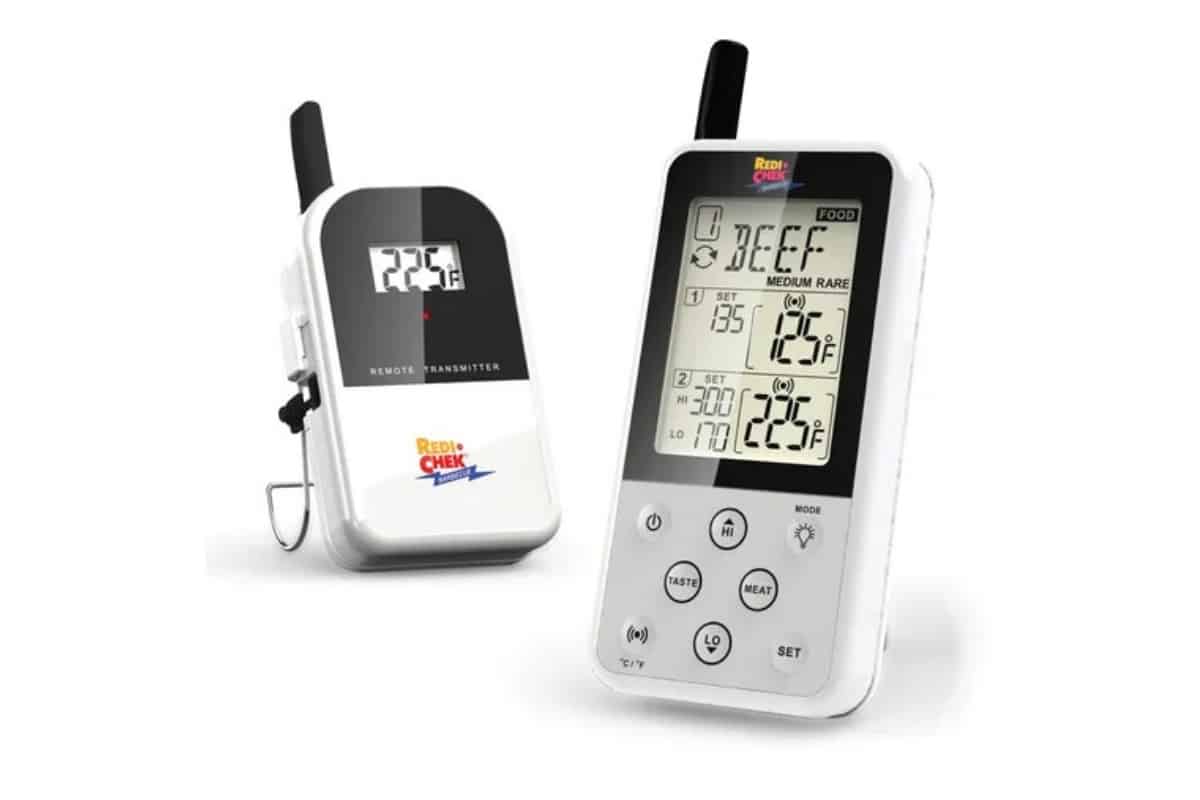 This easy-to-use wireless dual probe thermometer, the more fully featured big brother of the Maverick ET732, is a 4-piece combo: one transmitter, one receiver, and two probes.
Its purpose is to continually monitor the internal temperature of whatever meat you're grilling or smoking, so you'll know when it's done the way you want it.
This is important because meat must be cooked to a specific temperature before it's ready.
It can also simultaneously monitor the temperature inside the cooker at grate level. This information helps you maintain the best temperature for the type of cooking you're doing.
The probes feed the data to the transmitter, which then broadcasts it wirelessly via RF to a receiver you carry about with you. Now you'll know exactly what's going on with your cook without having to keep checking for yourself.
Interestingly, the ET-733 allows you to do something many dual-probe thermometers do not. Instead of having one dedicated meat probe and one cooker probe, either probe can perform either job. That means you could monitor two pieces of meat at the same time if you wanted. Or, you could monitor two cookers, but I can't think of a reason to do that. (Let me know if you can.)
Summary of Pros and Cons
Pros
Cheaper than many competing products
Long, 300 foot range between transmitter and receiver
15 preconfigured temperatures and alarms for a wide of range of meats
Loud and clear temperature alarms
Large, bright, easy to read backlit display can be seen in all lighting conditions
Dual probe, with each being able to be used for either meat or a BBQ
Many different color options
Cons
Backlit screen turns off too quickly for my liking
Only 90 day warranty is rather short
The need for a miniature screwdriver to access the battery compartment
What's in the Box?
1 user's manual
1 wireless receiver unit
1 wireless transmitter unit
Transmitter stand/hook
2 stainless steel temperature probes
2 probe clips
4 AAA batteries
Features and Manufacturers Specifications
The ET-733 is a full-featured wireless thermometer that works with both smokers and grills.
Unlike many models — even some other maverick thermometers — this one has pre-programmed settings for different levels of doneness and meat types. It also goes beyond your usual meat varieties and includes fish and many kinds of game meat.
Two of the most useful features of this unit are the programmable maximum and minimum temperature settings. It's like telling thermometer what your "safe zone" is; I don't want to go over such-and-such a temperature, or below this other temperature.
For example, if you're smoking, you could set a HI of 250F and a LO of 225F to be sure you're staying in the optimal smoking range, and receive an alarm if temperature drifts outside that range.
What you won't find on the Maverick ET-733 are any timers. That may seem like a serious omission, but it isn't really.
Think about it — what do I always say throughout this site? We cook to temperature, not to time.
If you're smoking a brisket, for example, you can't set a timer for 13 hours, come back and expect it to be perfect. You have to smoke it for as long as it takes to hit about 203F, which may be 11 hours or 16.
So, while timers might sound good on a spec sheet, they really aren't that useful in the grand scheme of things.
Alarms
There are numerous alarms built-in to let you know when something is ready or when something has gone wrong.
Any time a preset or programmed temperature is reached, the alarm sounds, and there are also alarms for exceeding the maximum temperature and falling below the minimum temperature.
Additionally, the ET-733 will beep if the signal between the transmitter and receiver is lost for more than four minutes. This could save the day if you've walked out of range without realizing it!
Presets
I alluded to them before, but here are all the details; the ET-733 comes preset with safe cooking temperatures for every significant category of meat and a few you might not expect.
Just select the type of meat you're cooking, and voilà — an alarm will sound once it reaches the pre-programmed temperature. No more touching, slicing, guessing, and hoping.
For beef, you can also set the doneness level from rare to well done, and lamb and veal can be set from medium rare to well done. Pork can be either medium or well done, and deer, buffalo, and fish can be rare or medium-rare.
Here are all the preset types of meat: Beef, Veal, Lamb, Pork, Chicken, Turkey, Deer, Elk, Moose, Buffalo, Rabbit, Boar, Duck, Bird, Fish.
Manufacturer Specs
Temperature range: 32F to 572F
Probes and wires are heat-resistant to 716F
Transmitter dimensions: 6.4 × 2.5 × 12.1 cm
LCD monitors
300' range
Fahrenheit or Celsius readout
A Look at the Transmitter and Receiver
Now that we know what this Maverick meat thermometer does as a whole, let's examine each of the two major components individually.
Wireless Transmitter
You'll know which unit is the transmitter — it's the smaller of the two, with only a tiny LCD screen on the front.
Here's a photo of my transmitter, and if it looks a little ugly, that's because I partially melted it by pulling it into hot coals once, and it took me many seconds to get my gloves on to be able to pick it out.
But hey, that's a testament to its durability I feel? My ET733 is more than 3 years old now, has been dropped into a charcoal fire, and still works flawlessly!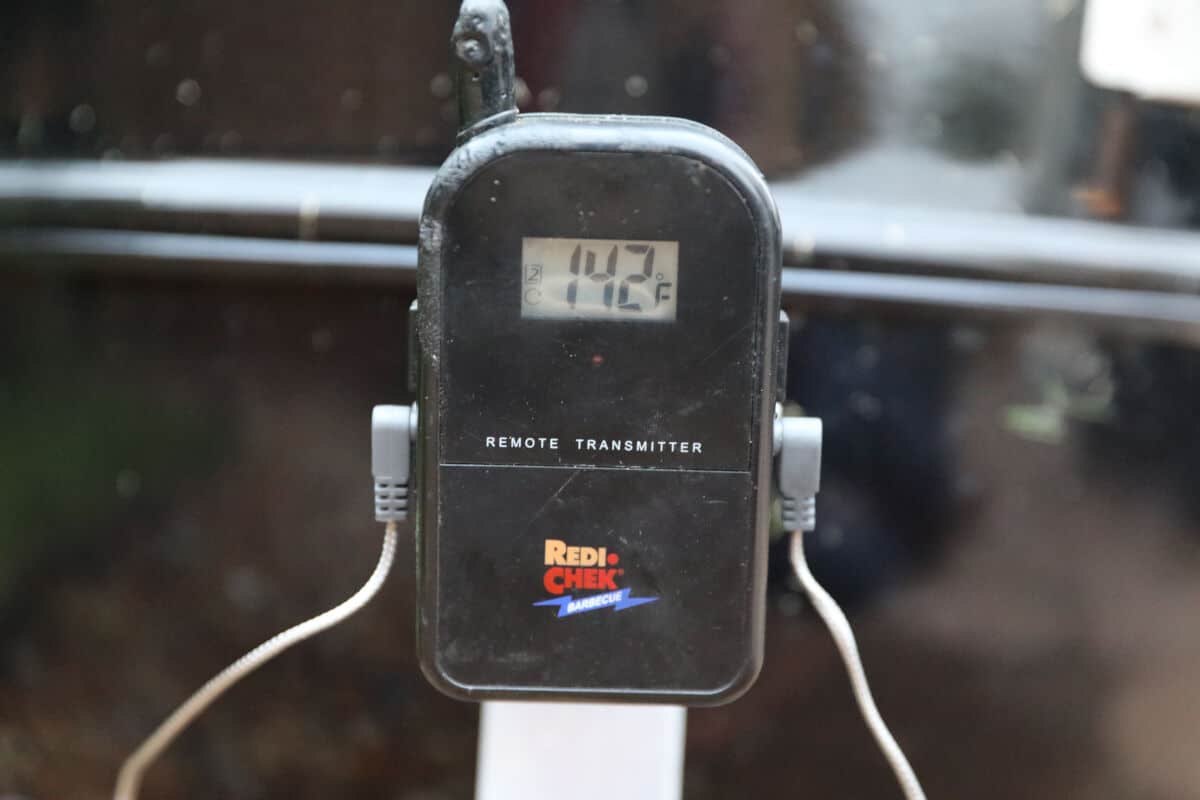 This small display flips back and forth between the readings from the two probes. It's not backlit, so you'll need to shine a light on it at night. (But, more likely you just check the transmitter, anyway.)
What you won't find on the front face are any buttons, unlike most other units I've seen. If we turn the transmitter over, however, we'll find two of them: ON/OFF and Re-sync. The latter allows you to reconnect the transmitter to the receiver if they happen to unpair. You can also hold it in for a couple of seconds to switch from Fahrenheit to Celsius.
Also, on the back is the battery compartment access (2 AAAs), which is held in place by two small screws. Personally, I feel I shouldn't have to go looking for a precision screwdriver every time I need to change the batteries, but it's not a deal-breaker in any way.
On the sides of the transmitter are the two probe sockets. Since either probe can be for meat or cooker temperature, it doesn't matter which socket is which. That's a nice feature that'll save you from needing to remember which probe goes where.
The last feature of the transmitter to take note of is the wire stand. It's a simple curved bit of wire that props up the unit on a shelf or table. If you prefer, or if you have no flat surface handy, rotate the stand halfway and use the curved part as a hook to hang it up.
Wireless Receiver
The larger unit is where all the action is.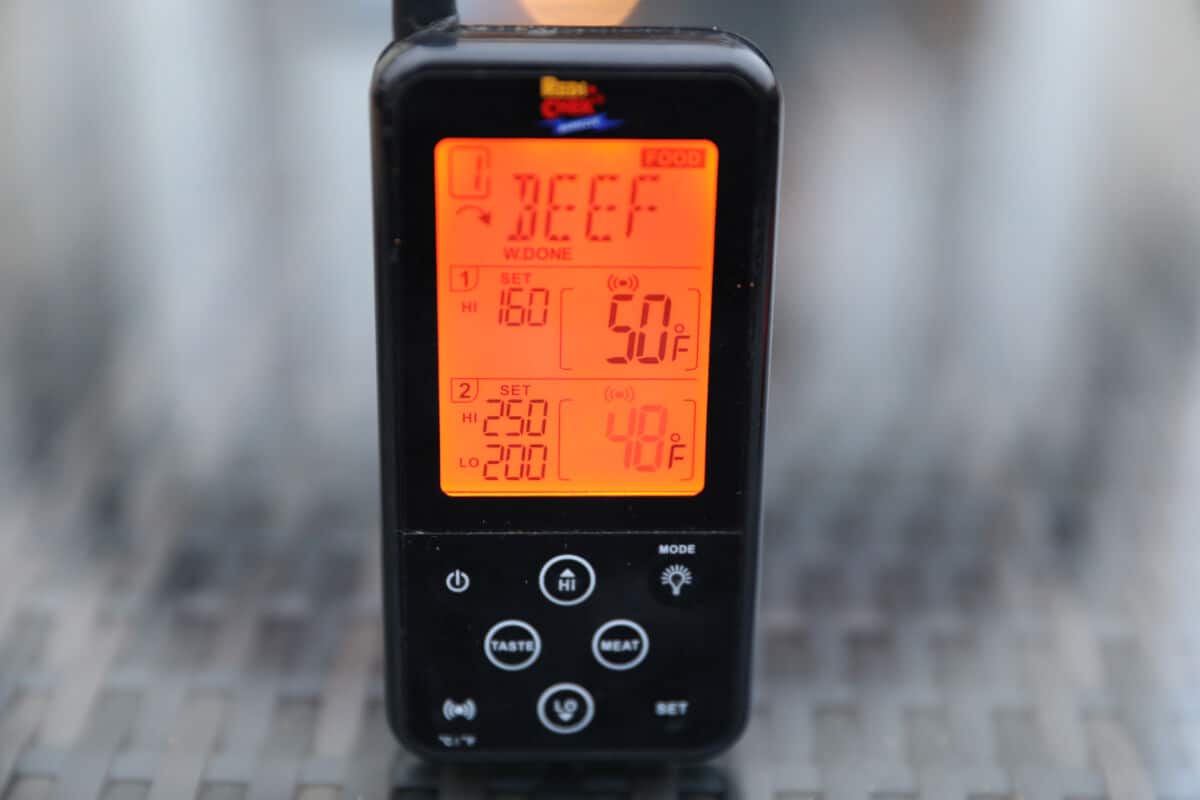 The large LCD (it takes up more than 50% of the height of the transmitter) is divided into 3 sections: the top section displays the meat-type and doneness presets, battery level, and current mode setting; the middle section shows the set and actual temperatures for probe 1; and, the bottom section shows the same info for probe 2.
If either probe is monitoring the cooker temperature, the corresponding zone on the LCD will display the HI and LO set temperatures as well as the actual temperature.
There are 8 buttons on the front of the wireless receiver: Power, Alert/C/F, Light/Mode, Set, HI, LO, Taste, and Meat.
HI and LO also double as up and down for adjusting timers and temperature settings.
The Meat button is where you cycle through all the presets for different kinds of meat, and Taste is for choosing your doneness preset.
The backlight is activated with a quick press of the Light/Mode button. It's a pleasant orange hue, and it's very comfortable to look at when it's dark out. That's excellent for late-night or winter evening cookouts.
On the flip side, there's not much going on aside from the access to the battery compartment (2 more AAAs and 0 screws) and the flip-out stand. You'll also find a notch for hanging up the receiver on a hook or screw if you prefer to wall-mount it.
Range
Maverick reports a maximum range of 300 feet with the RF signal.
As always, I caution that you'll only achieve that distance under optimal conditions; in a crowded environment with fences, walls, houses, etc., your practical limit will be less.
Still, you shouldn't have any problem taking a seat on the patio, or heading inside to prep condiments, pour a drink, or what have you. It's rare you'll go out of range.
I take my receiver a good 50 feet+ away from my grills and smokers to my living room, and connectivity is strong and stable over that distance, through walls and windows.
A Look at the Probes
The ET-733 comes with two hybrid probes.
If you missed it earlier, that means either one can be used for meat, or for cooker temperature. That's excellent, and it really ramps up the versatility.
How so? Well, in a smoker, it's essential to know the cooker temperature and the meat temperature. For grilling, however, knowing the cooker temperature is less critical, and it may be more useful to monitor two pieces of meat, instead.
Each of the hybrid probes is straight and long, making them easy to insert deep into the center of the meat. There's a small knob at the end where the cable meets the probe, and you can grip that to make it easier to get the probe out of the meat.
The cables themselves are 3 feet long, and everything is made of stainless steel.
Obviously, you don't want them to come in contact with open flame, but they're heat-resistant to 716F (380C).
The maximum temperature each will read and display is 572F (300C), and that's more than enough for normal use. When you're cooking that hot, you're searing and then taking it off the heat.
Ease of Use
It's not a difficult piece of equipment to use, though I have read comments from other owners saying they found it confusing at first.
The buttons are a bit small, and not always easy-to-read, especially in low light. And knowing which features you wish to use — and what buttons to press to get them — does have a learning curve to it.
But that's because there are a lot of features! But honestly, it won't take long to get to know your new thermometer, and you will master it in just 2 or 4 uses.
Speed and Accuracy
Maverick doesn't make any claims about accuracy, but I haven't had any complaints. The word on the street is the ET-733 is accurate to within about +/- 3F.
For the sake of knowing first hand, I did the 'iced water and boiling water tests' to see what figures the Maverick showed. For iced water it was showing 34 degrees Fahrenheit. My instant-read thermometers (I have a Javelin Pro and Thermapen MK3) were showing it at 32.6 degrees. The discrepancy with 32F will be due to water impurities, and the fact it's iced water, not frozen, so is expected to be above freezing.
In the boiling water test, the maverick was showing 102 degrees Fahrenheit.
Basically, this is 'close enough.' It's more than accurate enough to monitor cooks on a barbecue smoker, and is comparable with the accuracy of other smoker thermometers I have used, so I have no complaints with the accuracy performance here whatsoever.
When it comes to speed, this is not a fast thermometer by any means, but that's ok because we have an instant-read thermometer for that, right?
For a monitoring thermometer, speed is not an important criterion because the temperature of BBQs and the inside large cuts of meat change over minutes, so speed is not of the essence when it comes to monitoring needs.
Design and Build Quality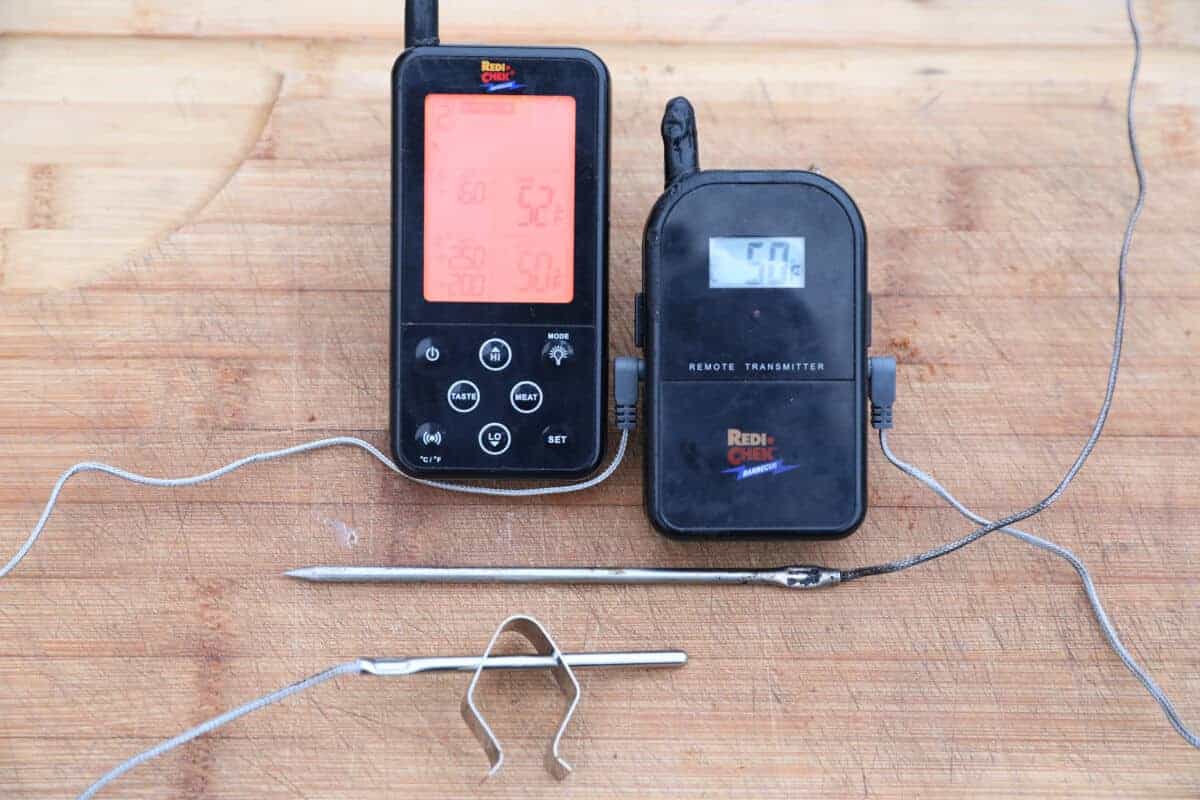 There's nothing wrong with the look of the Maverick Redi-Chek ET-733, but it's not flashy either. You can choose from four colors (black, white, copper, silver), which is kinda cool if you maybe have a theme going with your grilling gear.
There's a lot of plastic going on here, and it would have been nice if there'd been some kind of protective housing.
On the plus side, both units are rain resistant, though not 100% waterproof. So, don't drop it in the pool, but also don't let a bit of drizzle send you running for something to cover it up. (PRO TIP: If you're really worried about moisture damage, stick the two units inside resealable plastic bags.)
I find having the two buttons on the back of the transmitter a bit frustrating since I have to turn it over to be sure I'm pushing the right one. The receiver has them on the front, but they're a bit on the small side compared to some other models.
Having a stand on each unit is a nice plus, especially the stand/hanger on the transmitter. There's no belt clip on the receiver unlike on some competing models, but frankly, does anybody ever use one anyway? I sure don't.
Warranty and Support
Maverick offers a limited 90-day warranty on the ET-733. Should anything go wrong, give them a call at the toll-free number for troubleshooting assistance. If that doesn't help, they'll let you know how to ship the unit back to them in New Jersey for assessment.
Not digging your new thermometer? Then take advantage of the generous 60-day return policy for a refund or exchange. That's a pretty sweet deal if you're not 100% convinced this is the one for you.
For support, you can email Maverick, consult the online FAQ section, participate in the online community (accessed through their website), fill out an online form, or give them a call. You can also download manuals for all Maverick products.
On social media, you've got a lot of options. Choose from: Facebook, Instagram, Twitter, YouTube, Vimeo, and LinkedIn.
Maverick ET 733 Review — Final Verdict
If you've skipped to the end, welcome! If you've read all the way through, this is the part where I tell you what I really think. Is the Maverick Redi-Chek ET-733 a keeper?
What We Like
Having presets for meat types and doneness levels are absolutely this unit's best features. It's especially excellent if you're a hunter or just have a taste for game meat; very few others on the market have settings for elk and buffalo!
Another great feature that sets it apart from the competition is the ability to use either probe for meat or cooker temperature. That alone makes it a true combo grilling AND smoking wireless thermometer.
Finally, the large, clear LCDs all the relevant data at once, taking advantage of all that real estate. Why can't every thermometer tell me everything I need to know all at once?
What Could Be Improved
Having screws on the receiver battery compartment is a headache, for sure. Not migraine-level, but mildly annoying.
There's no auto-shutoff on the ET-733, so you have to remember to turn it off manually, or you'll find yourself going through AAAs rapidly.
Oh, and I wish the backlight stayed on longer — but I suppose that helps preserve battery life. (Useful for when I forget to turn it off.)
Will I Get Value for My Money?
Anytime you buy a genuine 2-in-1 product, you're coming out ahead.
Not only is the ET-733 a good wireless digital thermometer, but it will work well with all different grills and smokers with equal ability.
Coupled with the features you get, for the price you pay, this is an excellent purchase.
Is this a Recommended Product?
I personally own the Maverick Redi-Chek ET-733, and I use it often for grilling, and especially for smoking.
I am happy to recommend this if you're looking for a solid 2-in-1 unit — and especially if you enjoy hunting or eating the kind of meat you don't get at the corner grocery.
Buy with confidence!
That's a wrap on my Maverick ET733 review. Do you have any questions or anything to add I may have missed? Please do drop it in the comment section below, and I will answer every one.
Happy grilling!