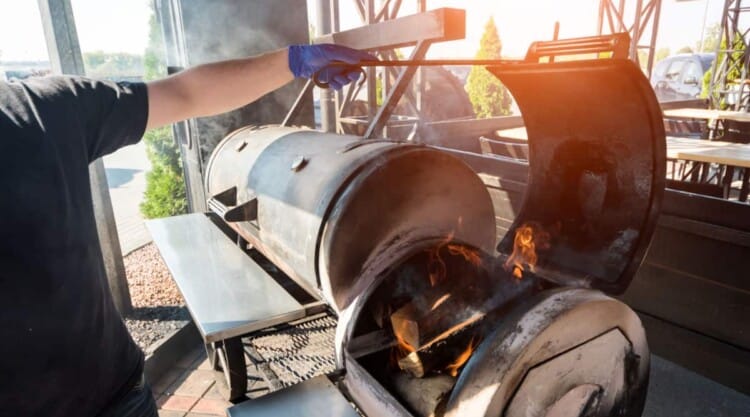 In this post, I've put together a detailed guide to the many different types of smokers available on the market today.
My aim is to educate you on the different kinds of smokers, how they work, their features, attributes, pros, and cons, so you'll be better informed to choose exactly the right type for you.
Because I get it. You've binge-watched all the BBQ Pitmasters on Netflix, you've tasted the ribs that came from your neighbors Big Green Egg, and you've just read an article on NY Times about Franklin Barbecue in Austin Texas.
Now you want to buy a smoker to make delicious barbecue of your own.
While that's great, it would be wise to do some research into the different types of BBQ smokers beforehand.
To help, this article will show you the main points to consider when choosing between different smoker types, and guide you in buying the right kind to suit your needs and cooking aspirations.
Note: We have a companion guide to the different types of grills that you might be interested in also.
Video Walkthrough of the Different Types of Smokers
In the above video the original Hardcore Carnivore, Jess Pryles, does a great job of explaining many of the different types of smokers that are out there.
We'll go into a lot more detail below, and see just how they stack up against one another and try to marry their features to your requirements, so you can gauge which might be best for you.
Overview and Pros and Cons of all Smoker Types
For the rest of this article we list and discuss 14 different types of smokers, covering all shapes and sizes, fuel types and capabilities.
We describe how they look, what fuel they use, and the pros and cons of each type compared to others that are available, all in the hope of helping you decide which type might be for you.
Vertical Water or Bullet Smokers
One of the most prolifically owned charcoal smokers because many beginners start out with a bullet smoker, typically the Weber Smokey Mountain.
They are nice and compact, have a small footprint so can fit onto the smallest of patios, have no mechanical or electrical parts and are relatively easy-to-use. They get their name due to their bullet-like shape.
Sometimes also known as 'vertical water smokers', these are fueled by charcoal and wood chunks in the bottom, a water pan sits above the charcoal to create an even distribution of heat, catch the dripping fat, and help create a moist cooking environment.
The meat would go on racks above the water pans and a lid would go on top. Vents on both top and bottom can be open and closed to regulate air flow and temperature.
While many different manufacturers make different size bullet smokers, they're all relatively small and would best be used to feed family and friends.
A smoker this size would comfortably fit 2 – 4 10-pound pork shoulders or 8 – 10 racks of baby back ribs (with rib racks).
Pros
Compact, will not take up much space on patio
One of the most inexpensive types of smokers on this list
Easy to learn how to use
Can be found in your local hardware or big box store or online
Can easily be transported in a truck, or even broken down (with ashes removed) and transported in the trunk of your car
Cons
Small cooking capacity
Water pan can get greasy and will have to be cleaned after every cook
Primarily a dedicated smoker
You can learn more about this type in our weber smokey mountain review.
Kamado Grills / Ceramic Smokers
I feel it's important to point out that Kamado grills come in all shapes and sizes, and that they aren't always equal.
A quality Kamado is well-built, comes with a good warranty, and quite frankly — is expensive. The cheap knock-offs you find in many big box stores are simply imitations that will not work as well, and will not last as long.
A Kamado grill is typically made of ceramic, a material that is highly insulating and once 'heat soaked' (brought up to temperature) will allow you to maintain steady low temps for a very long period of time.
They can also get to searing hot temperatures well over 700F, and at these temps, you can easily make pizzas, or give your meat a steakhouse quality sear.
When you want to smoke in your Kamado, you will load your firebox with a quality lump charcoal and wood chunks, and then use a lighter cube or electric fire starter to light your charcoal.
There is a removable 'heat deflector' that sits between the fire box and the grill grate, this way you're easily able to set up a kamado as a complete, indirect low n slow cooker, with no flames on your food and no fat falling onto the fire.
When desired, you can remove the heat deflectors for direct heat cooking, much like an ordinary grill.
Dampers/vents on the top and bottom allow you to regulate air flow through the kamado, which means you can really dial into and hold steady any temperature you need.

Editor's Note
My favorite Kamado, the one I own and use more than any other cooker is the Kamado Joe classic. It tops our list of 'best charcoal smokers' and is a great all-rounder for grilling, smoking, roasting, baking and more. Admittedly, other models dedicated to a single task such as ONLY grilling, or ONLY smoking, may well do their sole purpose better, but as a Swiss army knife of outdoor cooking that can do everything, is fuel efficient, easy-to-use and turns out fantastic food, you cannot go wrong with a Kamado Joe. You can read our full review here if interested.
— Mark Jenner
There are several manufacturers of Kamado grills, and there are also several different sizes. An 18″ diameter Kamado is large enough to cook 2 – 3 10-pound pork shoulders, but obviously a larger Kamado could cook more, and a smaller would cook less.
I actually now own all 3 sizes of Kamado Joe, the Junior, Classic and Big Joe. I recommend the medium-sized Classic 18″ the most, because the Juniors small size makes it lose a lot of versatility, whereas the Bog Joe is so big, is not as fuel efficient as the Classic, and just a bit overkill for most needs.
Pros
Can be set up to smoke, grill, sear, roast, bake or make pizzas, so it's a true 'all in one' multi-purpose cooker
Extremely well-built and durable. Will last many years if looked after
Can easily hold temperature for long periods of time with little work
Compact, will not take up much space on patio
Cons
Not cheap, one of the more expensive options on this list
While durable enough to withstand mother nature on your patio, ceramic will still break if the grill falls or is knocked over on the patio
If preheating the Kamado and you overshoot your desired temp, it can take a long time to get the temp back down to your desired temperature. So there's a learning curve to go through.
Click here to browse our roundup and reviews of some of the best kamado grills on the market.
Horizontal Offset Smokers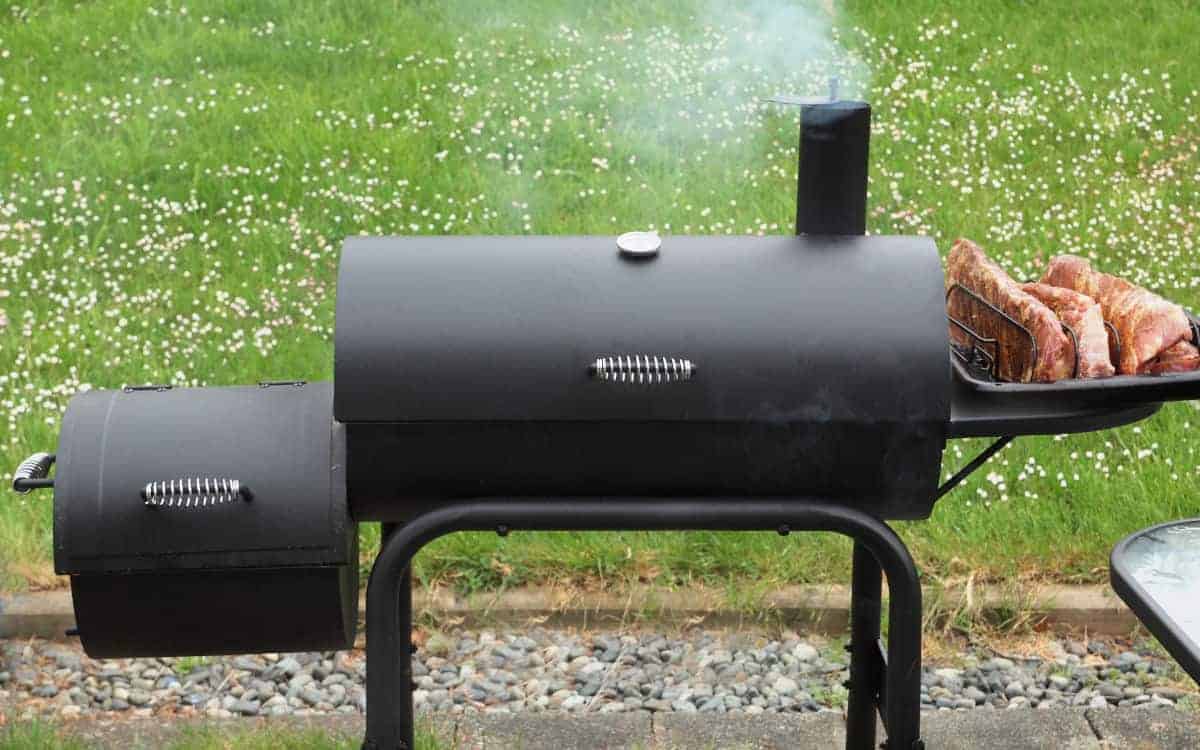 This type of smoker has been made popular by shows like BBQ Pitmaster's and are what world-renowned James Beard Award-winning Pitmaster Aaron Franklin uses to cook much of the food he serves at his restaurant. But be forewarned — not all offset smokers are created equal!
Offset smokers were traditionally homemade using retired propane tanks and scrap metal. The tank is turned on its side and fit into a stand. Pieces are cut out to make doors and re-installed with hinges and handles, cooking grates are fitted in the tank, a smokestack is installed, and a firebox is welded onto the side.
The fire is fueled by whole logs of wood and heats the propane tank while the smoke from the fire adds flavor to the meat.
There are many manufacturers out there who design this type of smoker. As New York Times Bestselling Author Meathead of AmazingRibs.com explains, they can be broken down into two categories:
Expensive Offset Smokers ($800 and up)
Cheap Offset Smokers ($800 and under).
The Cheapo Offset Smokers can commonly be found at your local hardware or big box store for around $100 to $300, and while they may look manly and cool they can be a big disappointment.
Their metal is thin and does not retain heat. The doors do not seal well and heat and smoke escapes, as well making them VERY fuel hungry and inefficient, and highly affected by the wind and rain. The legs rust out quickly, and after 12 months outdoors, the whole works could end up in the garbage.
An Expensive Offset Smoker, on the other hand, is none of these things.
It's made of thick metal that absorbs and carries the heat throughout the cooking chamber. The doors and dampers fit tight and give a good seal, so that heat and smoke doesn't escape.
They are well-made, big and heavy, built to last and after mastering fire management can be used to reach and maintain steady temperatures with ease, in all sorts of weather.
Pros
Offset smokers come in all shapes and sizes, but even the smallest models will still be able to easily cook 6 – 8 10-pound pork shoulders
An expensive offset will last many years if well looked after
Again, an expensive model will be able to hold heat easily with its thick metal building materials
The 'manliness factor' is cranked up to 11
Cons
Considered one of the harder smokers to master. You need to learn very good fire control.
While they can fit a lot of food, you may have to rotate the food the furthest away from the firebox to achieve even cooking
Cheap offset smokers aren't well-built and will not last, are a pain to use and can put people off smoking. (Doesn't apply to high-quality versions!)
Require a lot of babysitting and monitoring. May have to add fuel every hour. Overnight smoke is going to be out of the question unless you don't mind not sleeping
Cheap offsets sold by big box stores will likely come with a less than stellar warranty. Unlikely the big box store will handle any claims or stock spare parts
You can check out our buying advice and roundup for the best offset smokers here.
Ugly Drum Smokers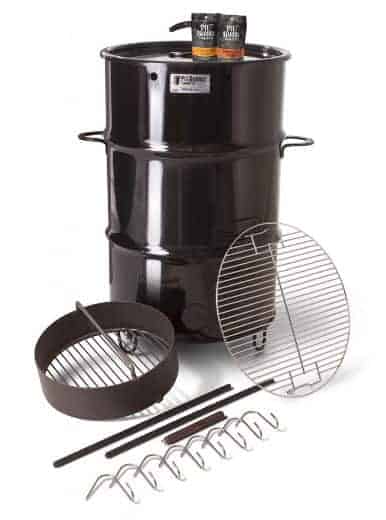 Also known as the UDS, this category of smoker is about as simple as it gets.
A basket is placed at the bottom of the drum and loaded with charcoal and wood chunks. A grill grate sits about a foot higher above the charcoal basket, and the lid goes back on top of the barrel. Vents are placed down by the charcoal basket and on the lid to control the temperature.
Because of their simple design and few parts, many people build ugly drum smokers themselves. For a complete "how-to," check out these great instructions from John Thomas, the creator, and blogger behind Grilling 24×7.
There are other, more polished looking ugly drum smokers that can be purchased already made.
In addition to its simple design, an ugly drum smoker is easy-to-use too.
Load up the charcoal basket, add some lit charcoal and wood chunks, add your meat, and dial in the desired cooking temp with the vents.
Since it has such a compact design, there is very little airflow and little oxygen inside the drum. Many people claim to be able to use their UDS for up to 12 hours without having to add charcoal.
As far as capacity, a UDS can easily cook 4x 10-pound pork shoulders at one time.
Pros
Compact, will not take up much space on patio
Can be easily built at home with short parts list, quite possibly the cheapest smoker there is to own
Can easily hold temperature for long periods of time with little work
Easy to learn how to use
Can be used as a grill. Instead of adding some lit charcoal to a basket of unlit charcoal, simply light a full chimney of charcoal to cook with
Cons
They're called ugly drum smokers for a reason! Homemade smokers may not have the same fit and polish of a shiny new smoker
Limited cooking capacity
Pellet Grills and Smokers
These tend to look very similar to the offset smokers discussed earlier. The major difference is that these smokers are a lot more high tech!
Pellet smokers are true "set it and forget it" cookers. Let's look at how a pellet grill works.
They run on electricity and have a thermometer with temperature controller inside the cooking chamber. You set your temperature, and the electronics hold it steady to that temp, so it operates similarly to an oven.
A hopper replaces the firebox you would find on an offset smoker. You fill the hopper with food-grade smoking pellets made from compressed sawdust. You can think of the pellets like mini-logs. These pellets are fed by an auger from the hopper to a small firebox inside the smoker, and a metal rod inside the firebox heats up and ignites the pellets.
From here, the electronically controlled thermostat regulates the speed the auger feeds the fire box, controlling the cooking temperature in the grill. And of course, smoke from the burning pellets flavors the food beautifully.
Pros
Come in various sizes, can get large models with optional shelves that can fit 10+ pork shoulders, and you can get smaller models that are great for small families
Very easy-to-use: fill the hopper, turn on, set temp, and walk away
Cons
One of the more expensive options on this list
Are basically designed to only smoke meat
Wood pellets can get soggy if left in the hopper and humidity/moisture creeps in
Lots of moving parts that could potentially fail
Click here if you'd like to take a look at some of the best pellet smokers and grills available on the market.
Electric Smokers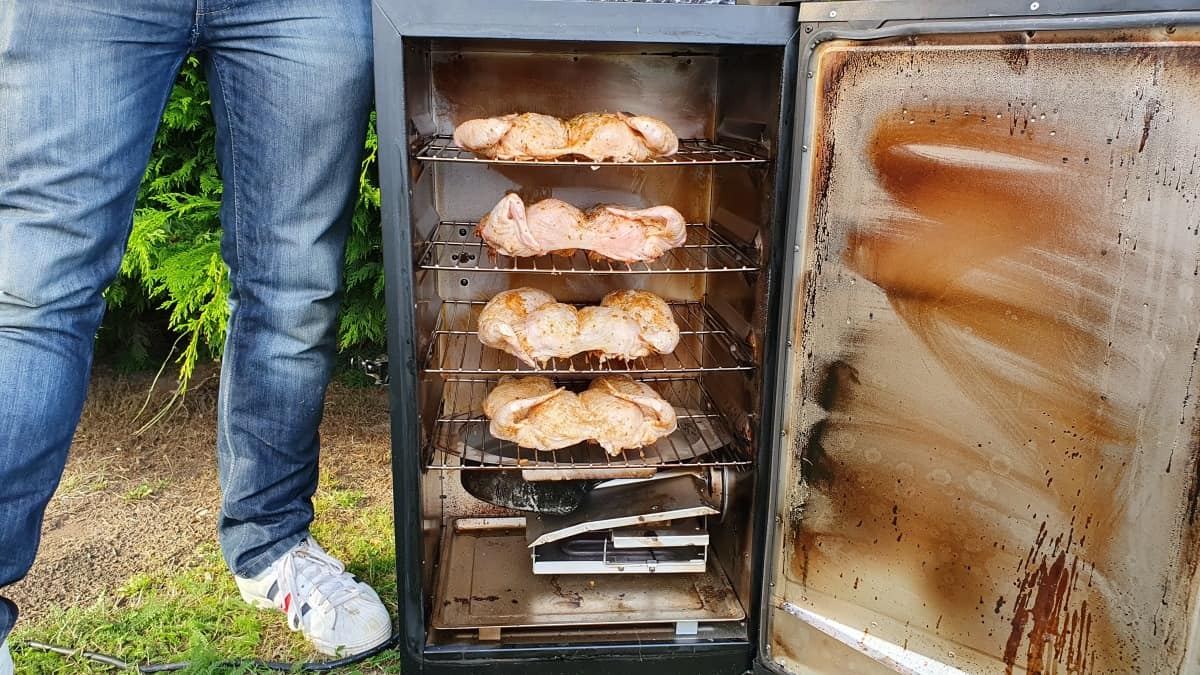 These types of smokers are the epitome of set it and forget it technology. No charcoal to light, no need to monitor the amount of propane in the tank or charcoal left in the smoker, no ash to clean after it's all said and done.
The operation is straightforward and effortless. Typically, you have an electric heating element with a plate above to place wood chunks or wood chips. The element heats up and does two things: heats the smoker to the correct temp, and causes the wood to smolder and create smoke.
Like many smokers, there are high-end electric smokers, and there are low-end electric smokers.
The higher end units have a thermostat inside that regulates the desired temp, while lower-end units simply have a dial. The higher up on the dial, the hotter it is going to be inside, but there's no actual temp markings, just low to high, and it can vary depending on weather and other factors.
Pros
Come in different sizes; smaller units are perfect for cooking for the family and larger units that can feed a crowd
Even the smaller models can usually hold a lot of food. At least 2 – 3 10-pound pork shoulders
Small footprint means it takes up less space on your patio
Very simple to use, place wood on plate, plug in, and turn the dial
Cons
While the high-end units can be well constructed, the cheaper units found in your hardware store may not be as well-made. Cheaper units don't hold heat well, leak smoke, making them hard to get consistent results.
Since this unit is electric, you will want to ensure it's either stored inside or under a waterproof cover
They're only meant to be used as a smoker
By clicking here, you can see our roundup hand-picked list of reviews of the best electric smokers available at the time of writing.
Propane / Gas Smokers
This type of smoker is very similar in both style and functionality as the electric smoker mentioned above. Instead of an electric element generating heat and causing the wood to smolder, a gas burner does this work.
There is no thermostat found in these smokers. You may have a bimetal thermometer on the door of the smoker you can use to gauge temp. You may need to play with your smoker for a little while to dial in the desired cooking temp, but it's no more difficult than turning the gas knob.
This type of grill is commonly found in your local hardware or big box store.
Pros
Like their electric counterparts, these smokers come in different sizes
Small footprint means it takes up less space on your patio
Very simple to use, just turn the gas up or down to raise or lower your temp
One of the cheaper options on this list
Cons
Cheaper units are typically not very well-made
Fuel is propane, so you're going to want to have a spare tank ready to go for long smokes
Is only meant to be used as a smoker
Interested in a gas smoker? Check our guide to some of the best gas smokers available on the market today.
Cabinet Smoker / Vertical Smokers / Box Smokers
This model of smoker works very similarly to the bullet smokers mentioned in this article. They come in many different shapes and sizes but are very simply constructed and do not have a lot of parts. They get their name because the smoke travels through them vertically, and they somewhat resemble a filing cabinet.
Charcoal and wood chunks fuel these smokers. There is usually a pull-out chamber on the bottom of the smoker with a buffer in between. This buffer may or may not have a water pan like the water smoker. Above the charcoal is the cooking chamber with shelves to place the meat. Vents on top and bottom regulate the temperature.
There are doors on the front of the smoker, a door for the cooking chamber and a second door for the charcoal chamber. This way you can add more charcoal or smoking wood when needed without risking lowering the temp in the smoker.
Given their size, these smokers are common for barbecue contest folks because they can cook all their meats at once.
Pros
Very sturdy design, will last years if well looked after
Few parts to break/lose
While they range in different sizes, they typically take up a small footprint on your patio
Can cook enough food to feed a large crowd
Cons
One of the more expensive options on this list
Given the size of the cooking chamber, can take a long time to come up to temp
Typically can only be purchased at specialty stores and online
Is only meant to be used as a smoker
Gravity Feed Smokers
While these smokers may look similar to the cabinet smokers described above, they are in fact very different.
Rather than the charcoal and firebox being beneath the cooking chamber, there is a coal chute on the side that's filled with charcoal to provide a constant, steady supply of fuel. These smokers are almost always very well constructed with a lot of insulation in both the coal chute and cooking chamber.
Designed to be a set it and forget it style of smoker, they are insulated well and are sealed tight with the only way for oxygen to get into the smoker by vents at the bottom of the coal chute. They also have exhaust at the top of the cooking chamber.
The charcoal can burn in a low-oxygen environment and not ignite the entire chute. The exhaust stack then draws the smoke through into the cooking chamber, over and around the food and then out of the cooker.
Pros
Very good construction
Many different sizes, can be small backyard unit to cook for friends and family, and can be large unit to be used by caterers
Even the smallest units are enough to fit large cuts of meat like brisket or even a turkey on
Due to the low oxygen being able to get into the fire, and the thick insulation, this unit is a set it and forget it type of smoker, holding temps for up to 12 hours easily
Cons
Even the smallest units are very large and heavy. Only meant for the die-hard backyard BBQers
Charcoal can get stuck in the chute and not drop down as needed, causing the temp to go down or the fire to go out. While the grill is very simple, it still needs to be tended to
Wood Fired Ovens (WFOs)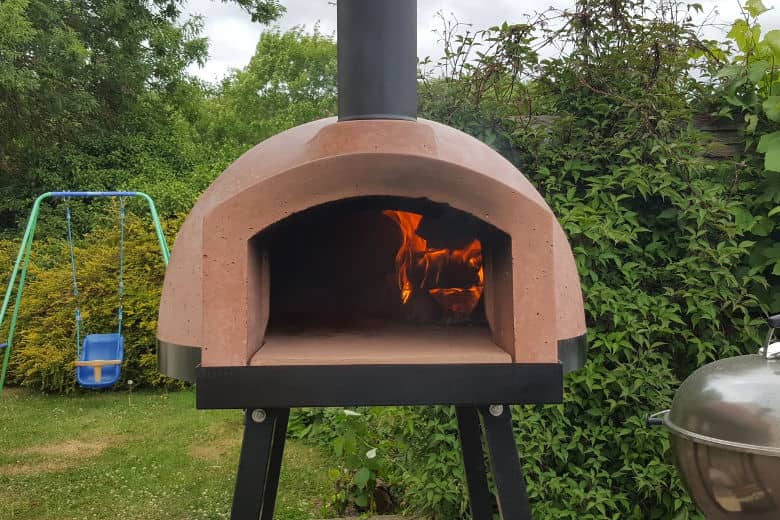 Wood Fired Ovens are usually kept for making traditional Neapolitan style pizzas, but they can also be used to smoke meat.
Additionally, you can do your Sunday roasts, bake all sorts of bread, desserts and more. Anything you can cook in a traditional kitchen oven can be cooked in a WFO, but given a beautiful wood-fired flavor boost.
The good folks at Texas Oven Co break down their method:
Light a fire in your WFO using a small amount of dry wood.
Let the wood burn down to coals then push the coals to the back of the oven.
Place the meat on a tray or pan and place in the oven and close both the door to the oven and choke the exhaust to keep a low and slow temperature.
Add small amounts of wood as necessary and choke the door/vent if the temperature gets too high, or open if it goes too low.
Pros
If you already own a wood-fired oven, it can double as a smoker
Can cook pizza at screaming hot temperatures, cook low n slow meat as the oven cools over hours (a WFO holds heat for a VERY long time), and can then bake bread and stuff as the oven cools even further.
"Coolness" factor on this one is pretty high
Cons
Wood fired ovens are very expensive, would not recommend purchasing for the sole purpose of smoking meat
Will require a lot of babysitting to monitor temps and make sure the fire doesn't get too high or too low
Will need to have access to a steady supply of kiln-dried wood logs
Pig Cooker/Smoker
A pig cooker is precisely what it sounds like: a rectangular smoker specially designed for cooking whole hog. Just because this smoker is meant for whole hog doesn't mean it can't be used to smoke other meats as well though.
Pig cookers can be fueled by either charcoal or propane. Typically, the charcoal or propane burner would go on the bottom of the smoker, then there would be a heat diffuser between the fuel source and the cooking grates to shield radiant heat so that we can cook indirectly.
There are many different sizes to accommodate different sizes of pigs. A smaller unit (used for cooking suckling pigs) would be large enough for the average backyard barbecue; while a large, trailer mounted unit can be used to cater a wedding.
In addition to being used as a smoker, some models can either lower the cooking grates to be closer to the charcoal or can raise the charcoal to be closer to the cooking grate. Either way, this allows the smoker also to be used as a large grill for steaks, burgers, and chops.
Pros
Solid construction will last for generations
Can also be utilized as a grill
Even small smokers can cook large quantities of food
Are large enough to cook whole hogs
Very little moving parts
Cons
Are not cheap
Are very heavy and can be difficult to move
The cooking grate and food would have to be removed to add additional fire
Stove-Top Smokers
If you live in an apartment or do not have the ability to smoke on a traditional grill or smoker, a stove-top smoker may be just the thing for you.
Most are compact units where the food sits on top of a rack above wood chips or sawdust in a pan. The pan goes inside the smoker, and the smoker sits on the burner on your stove. As the element heats up, the wood chips or sawdust smolders. After all the wood has burned up inside the smoker, the unit can be placed inside the oven to finish cooking.
Pros
Relatively inexpensive
Great for people who otherwise would not be able to smoke food in their home for one reason or another
Cons
No matter what you do, this will create smoke in your kitchen. You need a great ventilation hood system, or be prepared to have your kitchen filled with smoke. Be aware that the smoke detector may go off
Flavor and texture will be different to what you're used to. Moisture cannot escape the unit, so any food cooked will be very moist. Not good if you like your barbecue to have some bark
Most stove-top smokers are very small. Will not be able to cook large quantities
Handheld Smokers
Much like the stove-top smoker, the handheld smoker is good for people without access to patios or a traditional smoker.
Unlike traditional smokers, a handheld smoker is only used to impart a hint of smoky flavor into your food, it does not in any way help to cook it.
Typically battery powered, the smoker has a small opening for wood chips and a long tube that the smoke blows through. Place the tube into any covered dish with food in it, light the chips, and turn on the fan in the smoker to blow smoke into the food.
Since a handheld smoker does not get hot, it can be used to add smoky flavors to foods that you could never cook in a traditional smoker. Foods like salsa, cocktails, and pasta.
Pros
Easy to use
Can be used in your kitchen
Able to add smoke flavor to foods you otherwise could not cook on a smoker, including drinks and liquids.
Cons
No matter what you do, this will create smoke in your kitchen. Be prepared and have your kitchen well ventilated. Be aware that the smoke detector may go off
Imparts smoke flavor only, will not cook your food
Charcoal Grill
A plane Jane kettle charcoal grill can easily be used to smoke food because indirect two-zone cooking is easy to achieve with this type of grill.
Simply pile your charcoal to one side, add some lit charcoal and wood chips or chunks on top, tweak your top and bottom vents for temperature control, and you can be cooking for hours.
The snake method of charcoal fire management is perfect for this kind of setup, and you can easily cook pulled pork, or whole brisket in a Weber kettle grill with this technique.
You may want to place a disposable pan next to the charcoal and add a water pan, but it's not required.
Pros
Kettle can also be used as a grill
Likely the cheapest smokers on the market and in this list
Cons
Charcoal grills cannot usually fit very much food on them
Learning curve involved with figuring out how to open and close/set up vents to smoke low and slow for long periods of time.
For a look at the very best models available today, check out our guide to the best charcoal grills, or my hands on review of the Weber original kettle.
Gas Grill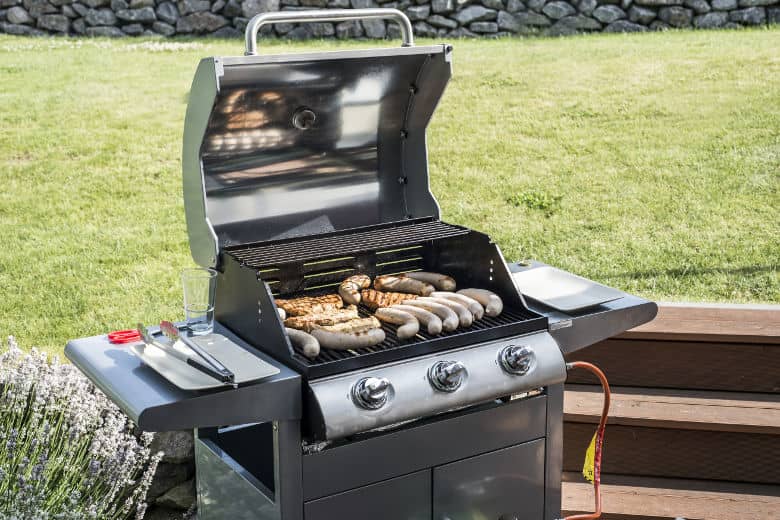 Even a gas grill can be used to smoke meat! Depending on the size of your grill, you may be able to cook a lot or a little food this way.
The key to smoking meat is to use an indirect cooking method with the heat on one side and food on the other. A gas grill can provide this set up beautifully!
Turn on one or two burners on your grill, and cook your food on the opposite side over the unlit burners. If you want to increase temperature, just turn up the knob, if you want to decrease, just turn down the knob. Simple!
For smoke, add about half a cup of wood chips to a pouch made out of tinfoil, and place it directly on the burner. It will smolder for up to an hour while your food cooks, and you can replenish with new foil packets as needed.
Since the gas burner can be far away from your food, you may want to place a disposable pan filled with hot water under your food, on top of the unlit burner. This way, the water heats up and transfers the heat from the "hot" side of the grill to the cooler side where the food is.
Pros
If you have a gas grill, you also have a smoker!
Easy to set up and use
No expense (if you already have a gas grill) besides tinfoil, disposable pans, and wood chips
Cons
Limited to the size of the grill you own
Can only use indirect side of grill
Fuel source is propane, so have a second tank ready for those long cooks
To see some of the very best models available in this category, check out our guide to the best gas grills.
What is a Smoker, And What Does It Do?
According to longtime About.com writer and cookbook author, Derrick Riches, a smoker is a piece of cooking equipment that's designed to cook at a low temperature and uses wood smoke to impart flavor onto the food it is cooking.
There are a lot of different types of smokers, ranging from small electric units that you would use on your condo balcony, to large trailer mounted behemoths that can cook enough food to feed an army. Likewise, there are all kinds of fuels you can use on different smokers.
And while some are great smokers for beginners, others are best reserved for those with some experience.
So, how do you fight your way through the many different options to find the right one for you?
Things To Consider Before Purchasing
Before we go into the different categories of smokers, it's important to ask yourself several questions. The answers to these questions will help you narrow down the right smoker for you.
How Many People Will You be Cooking For?
It's essential to consider how much food you plan to cook at one time.
Will you only ever just be cooking for your family of four, or will you sometimes have family and friends over to cook for 10 to 12 people or more?
Do you like to host large gatherings of 20+ people? Will you be cooking just one pork shoulder on your smoker, or will you be cooking a feast of chicken wings, pulled pork, brisket, and ribs all at once?
Once you know just how many people you think you'll be cooking for on a regular basis, or just how much food you plan to regularly cook at one time, you can better decide on the cooking capacity you'll need in your smoker.
What Type of Fuel Will You Use?
Smokers come in all shapes and sizes; likewise, there are many different fuel sources you can use to cook with:
Charcoal briquettes
Wood logs/chunks/chips
Electricity
Gas (propane and natural).
While these are all excellent fuel sources, you have to keep in mind a few things that may rule out you opting for one over the other.
Does your apartment/condo building allow for charcoal fires?
Can you easily get an electrical power source out to where you intend to keep and use your smoker?
Do you have easy access to a supply of wood logs? Or natural gas/propane tanks?
Would you prefer the ease and convenience of almost instantly being able to cook on electricity or gas at a moments notice? Or would you prefer and do you have the patience to slowly build and continuously manage either a wood-fueled or charcoal fire?
Do you want to go through the learning curve and the intricacies of temperature control with wood or charcoal? Or would you prefer the accuracy and ease of merely 'twiddling a dial' for temp control on a gas or electric smoker?
While not necessary to nail down your desired fuel choice right away, it will help you rule out some different styles of smokers.
Ease of Use
Some smokers are easier to use than others.
Some utilize "set it and forget it" technology, others have a learning curve that will take you a few cooks to master, and others will have a learning curve that even after you've mastered them will require you to babysit constantly no matter how many cooks you get under your belt.
If you're the type of person that doesn't want to have to keep an eye on your grill, or wants to be able to put your food on in the evening and get a night's sleep while it's cooking at a set temp, you'll want to consider a type of smoker that doesn't require babysitting.
If you think you'll enjoy the hands-on fun of having to control a fire, and to tweak and manage temperatures manually, then look for a charcoal or wood burning option.
If you want 'set and forget' hands off accuracy, where you can start a cook, set a temperature and then walk away for hours at a time, then go for an electric or pellet smoker.
If you want something in between, then you might want to opt for gas.
Do You Want to be Able to do Other Things Besides Smoke?
Some of the choices listed below can do things besides smoking.
Many can sear with high heat for cooking steaks, chicken, and chops. Others can even bake bread and cook pizzeria quality pizza.
If you already own a grill, you may just want a standalone smoker.
Make sure you know precisely what types of cooking you'll want your smoker to do before looking at options. Do you want a single job smoker, or a multi-purpose grill, smoker, and outdoor oven?
Do You Want it to be Portable?
If you're like me, you may sometimes be invited to friends' homes and cabins and want to be able to take your smoker with you. Or you might want to take it camping or on vacation.
To do this, you're going to want a smoker that can easily be transported in the bed of a pickup, or in the trunk of a car.
Knowing up front if you're going to want to travel with your smoker, and knowing your limits on how you can transport it, may make this decision a little easier.
What is Your Budget?
Smokers can be purchased for as cheap as $100, and the expense can easily go up into the $1000's.
Like anything we buy, typically the more we spend, the better the quality will be. Knowing what your budget is will help wipe out some of the more expensive items before you even begin to look and make the final decision easier.
Be realistic. Set a budget, and stick to it, and don't be swayed by higher priced models that you really cannot afford. You can create fantastic food on models costing just a couple of hundred dollars, so don't feel pressured to overspend.
However, personally, I believe that the more frugal spender buys quality once, rather than budget versions again and again. Paying for quality at the start can save money in the long run by avoiding maintenance or 'replacement' costs when poorer quality models begin to fail in a few short months or years.
Who Will Service it?
Many people often overlook this consideration.
Smokers vary from simple tools with only a half a dozen parts, to very complex pieces of electrical equipment that contain 100's of components and moving parts.
It's important to be able to get reliable support if something goes wrong.
While online retailers and big box stores may entice you with a low price, you need to ensure that if something goes wrong, either the company who sold you the smoker or the manufacturer themselves will be able to help you.
Conclusion
We hope this deep dive look into all the many different types of smokers has made things a little easier for you to decide which kind is right for you.
What did you think? Did we miss anything? Make sure to leave us a comment down below with your thoughts.
Happy smoking!