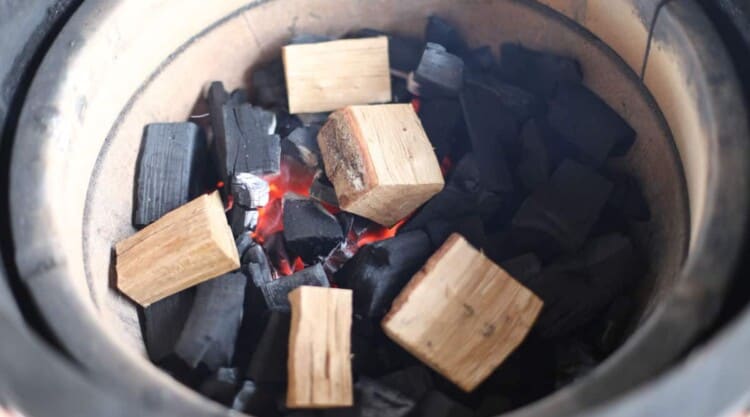 In this guide we look at some of the best charcoal smokers on the market today.
We discuss the many types available, compare and contrast the options, with a discussion on the pros and cons of each, before going on a search to find the best charcoal smoker available today, while making some recommendations along the way.
So, are you ready to start turning out smoked ribs and brisket like a pro, infused with that unmistakable and authentic charcoal cooked taste?
By the end of this article, you will know if a charcoal smoker is right for you, and if so, which model you should likely plump for.
Let's get to it!
At a Glance: Our Top Picks for Best Charcoal Smoker
Note: Clicking the above links will take you to further information, current prices and customer reviews on Amazon.
Reviews of Our Charcoal Smoker Recommendations
Now we've discussed what the different types of charcoal smoker are, and the things you should consider pointing yourself toward one style over another, let's take a look at some top models.
Following are our recommendations for the top five models, one from each category above, that you should consider when looking for the best charcoal smoker for you.
You can tell a Kamado Joe a mile away with its glossy bright red ceramic finish. Kamado style smokers are excellent choices for two reasons:
First, they are the best-looking smokers money can buy (in our opinion). Secondly, they can grill or smoke, roast or bake, so you get more bang for your buck.
The Kamado Joe Big Joe III takes the kamado style charcoal smoker to a new level of ease and efficiency. This is why, as well as appearing here as the best charcoal smoker, it also comes high in our article focused on the search for the overall best smokers in any category.
Your Kamado Joe will arrive complete with everything you need to grill, smoke or bake. You get:
The ceramic grill and smoker itself
A heavy-duty, galvanized steel cart with large wheels
Divide and conquer cooking system for different cooking techniques and temperature zones.
Harvard University designed, patented Slo-Roller system for efficient and even low n slow smoking
An ash tool for easy cleaning, and grate gripper tool for lifting out hot grates
Flip-up side tables.
There is also a 'standalone' version, should wish to not use a cart and place the kamado on or inside a table instead.
Just bear in mind that assembly is not a single person job. You'll need some help lifting it into its final position because this baby measures 58.4" (W) x 53.7" (H) x 35.8" (D), and weighs in at a hefty 487 lbs. fully assembled.
It comes with a default 450 sq. in. cooking space with the single set of thick stainless steel grates supplied, but can be expanded to 3 sets of grates increasing the total cooking surface threefold if you desire.
Kamado grills are the most efficient burning grill/smoker combinations you can buy. With very thick ceramic walls that insulate the cooking chamber, and being almost perfectly sealed, they hold heat incredibly well. This translates to stable and accurate cooking temperatures, as well as being economical with fuel.
Air for the fire comes in through one vent at the bottom and out another vent at the top.
The lid and bottom half have long-life fiberglass seals built-in to prevent leaks, and the thick ceramic firebox and walls provide the best insulation in any climate.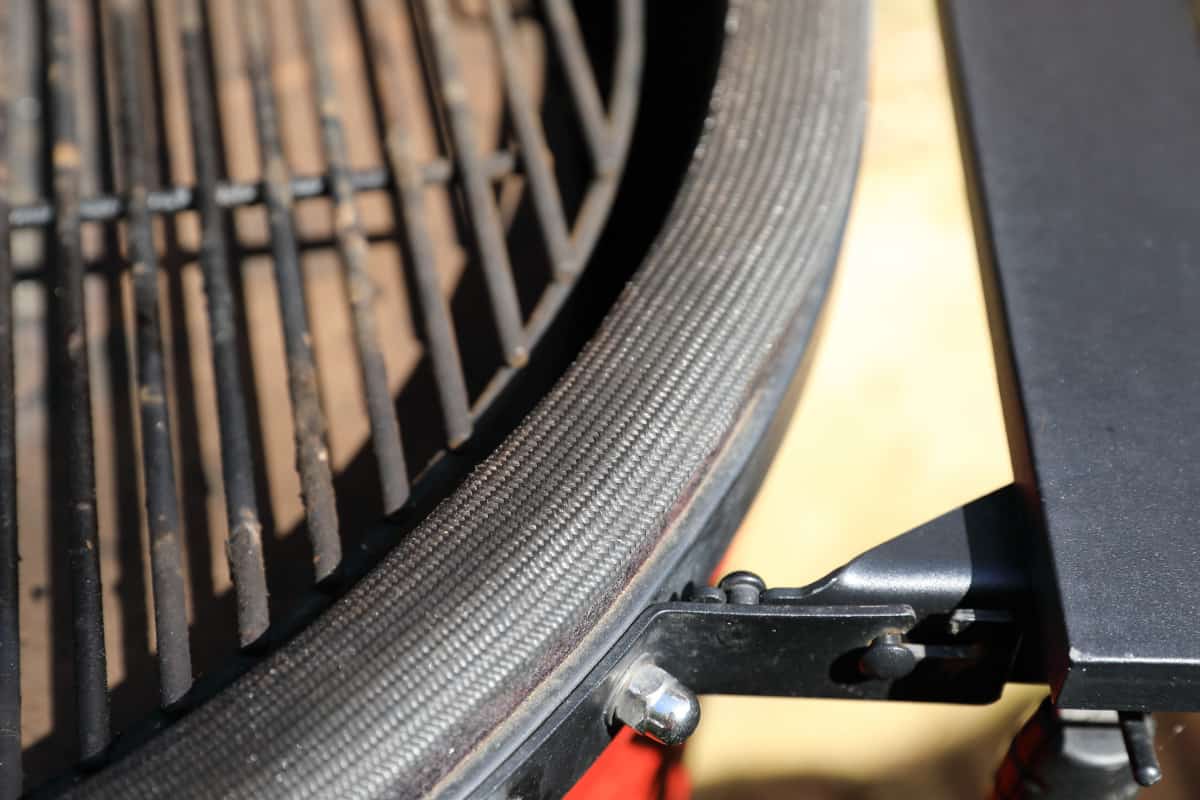 New in version 3 is the patented Slo-Roller system. This is a Harvard University designed insert that creates re-circulating waves of heat and smoke, surrounding the food being cooked, preventing any hot spots and even smoke throughout the entire cooking chamber. This results in meat that is evenly cooked and attains the best flavor.
Further innovations over their earlier models are an air-lift hinge that enables you to open the heavy lid with just a single finger, and a solid stainless steel latch on the front of the smoker, as well as a multi-piece firebox that prevents cracking, a complaint many other models of kamado suffer with as they utilize a single piece firebox that swells and contracts with the heat.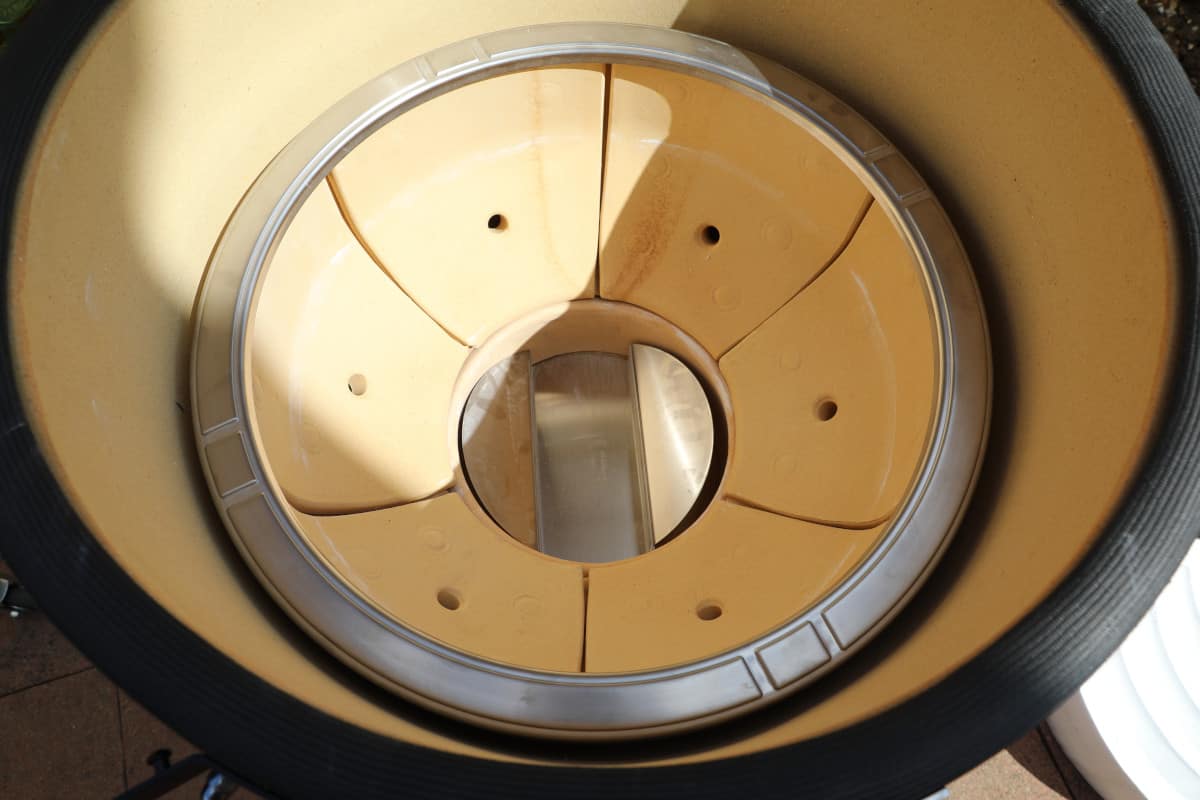 Kamado Joe also has a full line of accessories to enable you to cook any dish, grilled, baked or smoked.
They also sell a 'Joetisserie' rotisserie, pizza stone, and cutter, soapstone, cast iron griddle, ceramic beer can chicken holder, rib rack, grill-expander (to increase capacity), wok and more. The possibilities are endless!
You can see all the available accessories here: Kamado Joe accessories.
Pros
Excellent fuel efficiency
Ease of use
Versatility
The ceramic red finish
The innovations that have improved the kamado concept immensely
The heavy-duty, much better looking than previous models, rolling cart with locking casters
The many available accessories that future-proof this smoker/grill combination
Cons
It's relatively expensive
Only 22" diameter of cooking surface unless you buy extra grates
Absolutely nothing else. We love it!
This charcoal smoker is for you if you really do want the best, and if you want to make a statement. It looks expensive, high-quality, and fashionable, but performs brilliantly too.
The advantage is you can grill, smoke, bake, roast, do it all, saving you from having to buy two or multiple units for different tasks.
The Kamado Joe III is the only kamado smoker/grill you'll ever need. It is a well-thought, well-built design for people who want to do it all in style.
Please check out our detailed Kamado Joe Big Joe III Review, written after 2 years of ownership and use.
When it comes to vertical bullet smokers, the Weber Smokey Mountain bullet style cooker is probably the best known. They work in many competition cooks around the country.
The largest model is the 22" WSM. It only weighs 68 pounds and is 48 inches tall by 22 inches in diameter.
The WSM comes with two nickel-plated 18-inch cooking grates for a total of 481 square inches of cooking space. This means you can smoke 2x 13 lb. Whole briskets or 4x 8 lb. pork butts. That's a lot of meat!
The WSM comes complete in one box, within which you get:
3-sections of the smoker
Fire ring
Water pan
Bottom charcoal grate
Two cooking grates
Legs, handles and mounting hardware
Manual
Cover
One issue with this model is that for cooking ribs, it's a bit too narrow, so you'll need to roll, skewer, and / or smoke them upright on a rib rack.
A second issue with this model is that the door is a bit flimsy. Many people add a gasket to stop the leaking around the door, and although it has legs, it's low to the ground, and you should use a grill mat if you cook on a wooden deck.
That said, with the negatives out of the way, it is an excellent charcoal smoker!
It's very easy-to-use, produces top-notch food, is loved by competition cooks the world over, and has a HUGE community of users on forums and social media, all swapping tips and tricks for getting the best food out of it.
For beginners, this is a real bonus as not only is this cooker easy-to-use, there is a wealth of support and help one internet away.
For low cooks of around 225⁰f (107⁰C), you can get 10 to 14 hours with a full basket of charcoal, starting by lighting only a few on top.
One available accessory worth noting is the electric rotisserie. You can turn your WSM into a chicken roaster that keeps your bird turning throughout the cook.
Weber also carries a full line of everything you need for grilling and smoking from oven mitts to aprons. Too much to list here! Just assume if there's a smoking and grilling accessory, Weber has it, but that the WSM is for smoking only, not grilling.
Pros
The small size fits anywhere, and it's portable
Two racks for extra smoking capacity
Lightweight and easy-to-use
Cons
The door leaks, and you may need to modify it
The built-in thermometer is not very reliable
This could be the model for you if you'd like a simple-to-use, lightweight smoker, from the world's most recognizable grill brand, backed up by a great warranty and with tens of thousands of fellow users to bounce ideas off via forums and social media.
You can take it with you to competitions or picnics. It breaks down for easy cleaning and storage. This is a good smoker for beginners and pros alike. It doesn't take much room and stores almost anywhere.
Weber Original Kettle 22-Inch Charcoal Grill With the Slow n Sear 2.0
3
Another winner, also from Weber, is their classic 22-inch Kettle Charcoal Grill. Perhaps the most iconic and popular charcoal barbecue in history.
Sometimes, the most straightforward designs are the best, and it's been around since they started the company in 1952.
The 22-inch version gives you the best versatility. You can use it as a grill or a smoker by building a 2-zone fire with a Slow 'N Sear insert.
This device is a custom designed piece, made with 5 lbs. Of 16-gauge 304 stainless steel, that converts any Weber 22-inch grill into the perfect smoker.
With the weber grill, you get in a compact box:
Top and bottom sections
Handles & hardware
Legs, wheels and lower wire shelf/brace
Cooking grates
Ash catcher
The Slow n' Sear is a separate purchase.
The slow n sear ring fits in the bottom of the grill and holds a chimney full (80-90) of briquettes. The V-shaped chamber that acts as a divider holds up to 1-quart of liquid, regulating the temperature and adding moisture while shielding the food being smoked from direct heat.
The 22-inch Weber original kettle plus the Adrenaline BBQ Slow 'N Sear combination is an excellent way to smoke.
However, smoking on a kettle grill is not efficient. You'll need to add a bit more charcoal or briquettes every few hours, because the capacity is small(ish) and the lid very leaky.
But for cost-efficiency, and turning a regular grill into a bona fide smoker, this set up is excellent and produces great food.
Pros
The 22-inch grill means we can lay out ribs flat
The Slow N' Sear 2.0 maximizes the cooking area, and you can sear on the hot side
It holds 1-quart of your favorite cooking liquid
We can modify our existing Weber Kettle without having to buy another smoker
Cons
It is a modified grill, so you can't use all the cooking surface for smoking
The Slow 'N Sear may seem costly to some for what it is.
This combination of products is fantastic if you plan on grilling more than smoking. If this is the case, the Weber Kettle just may be the right grill for you, with the Slow n Sear 2 used to add smoking capability when you need it.
Also, if you already own a Weber Kettle, the Slow 'N Sear is the perfect addition if you plan on smoking. It also works well for roasting and crisping up chicken without using direct heat. This simple combo is suitable for beginners and novices.
So, you can smoke on a kettle grill if that's all you have. But, if you want lots of smoked meat and will do so often, we recommend you get a dedicated smoker.
Masterbuilt Gravity Fed Series
4
The Masterbuilt Gravity series combination grill and smokers are as easy to use as pellet grills but run on more flavorful charcoal.
This smoker combines a charcoal hopper with smart technology on which you simply set your chosen cooking temperature, light a firelighter in the charcoal grate, and close up all doors, then the grill handles temperature control automatically, with no further input required from you.
The way it works is, the hopper is completely sealed and airtight, so the charcoal cannot burn upwards through the hopper. Instead, a fan blows air up through the base of the charcoal column and then out into the main cooking chamber.
The speed of the fan controls the charcoal burn rate. If the temperature starts to fall below the target temp, it blows harder fanning the flames. It goes too high, the fan slows, starving the fire of oxygen, and the temperature drops.
As coals burn, they turn to ash and drop through the charcoal grate into an ash bin, and gravity causes new charcoal to drop down, ready for burning to produce cooking heat. Hence the term 'gravity fed.'
The digital controller allows you to set cooking temperatures as low as 225 °F for low and slow smoking, right up to an impressive 700 °F for high heat searing.
Setting your cooking temperature is as simple as turning a dial. You do not need to learn any fire management.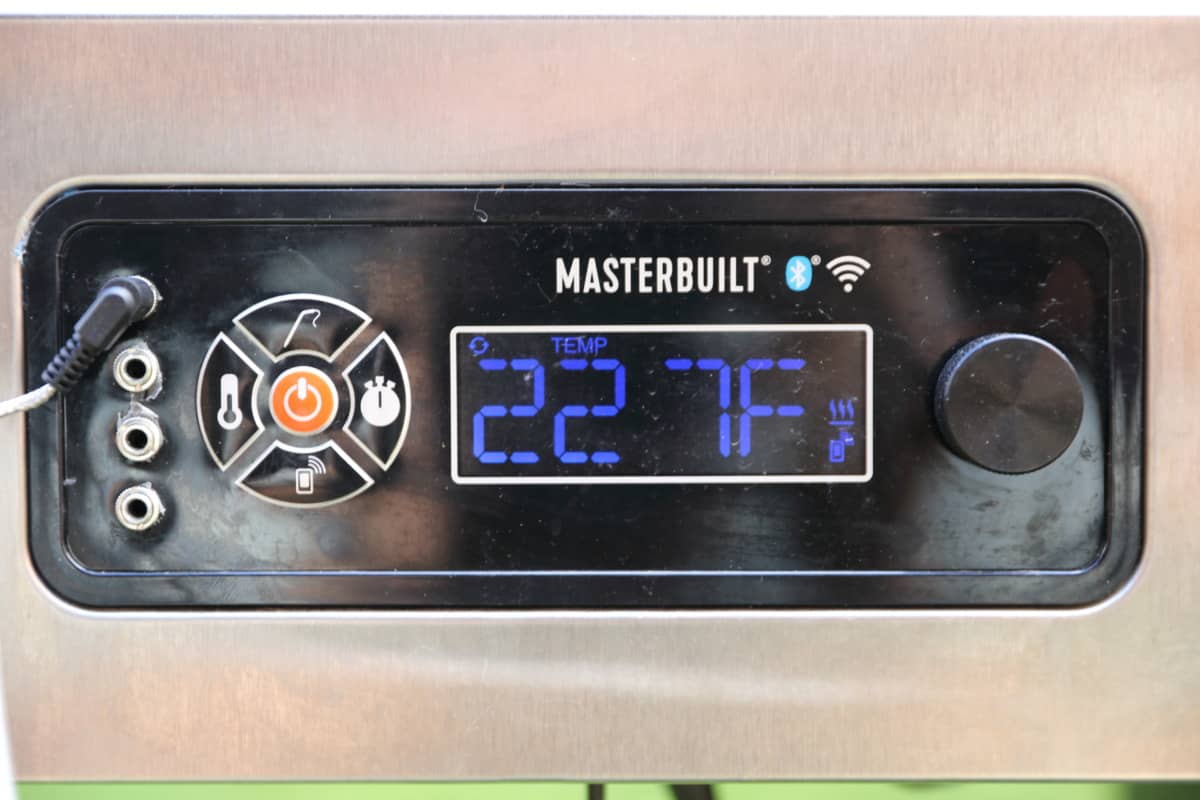 This smoker is Wi-Fi enabled, so you can connect it to your home network and then monitor and control your cook from an app on your smartphone, anywhere in the world you have an internet connection. So you can enjoy time with guests rather than being glued to your smoker.
There's also a thermometer probe built in to measure the cooking chamber temperature, and meat thermometer probes are supplied, too, so you do not need to buy a 3rd party thermometer.
I own a 1050 model, which measures 24.65 × 54.13 × 51.97 inches and weighs 147 lbs. The build materials aren't the best and could be said to be thin, but it is decently built for the price and should stand the test of time.
For moving it around, it has two rotating and lockable castors and two larger fixed wheels.
The hopper capacity is 16 lb. of briquettes or 10 lb. of lump charcoal. This gives me 12 to 16 hours of continuous smoking without having to refill. If using it as a grill, it will, of course, consume way more fuel than this due to the higher temperatures involved.
Clean up after use is easy because there is a removable ash bin that slides out for dumping and a slide-out grease pan that is easy to remove and clean.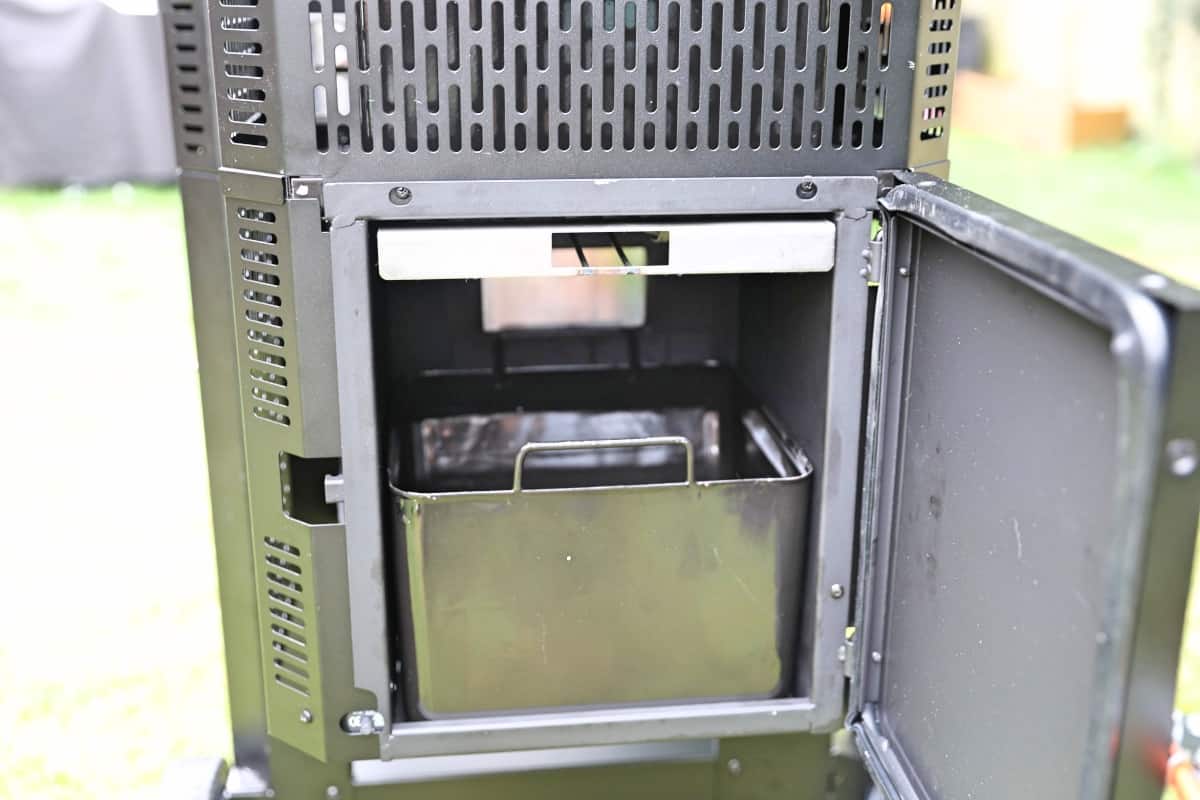 All the photos you can see above are from my 1050 model, but there are in fact, three versions available, with a comparison of them seen below.
Although I bought the 1050 version — because I sometimes cook for a large number of people — I think this model is too big and overkill for most people, and I would recommend the 800 model as better value.
With the 800 you get a free flat-top griddle insert, and it will be far more economical with charcoal due to the smaller space to heat.
So seriously, look at the 800 model if you are going to buy.
Pros
True dual-purpose smoking and grilling (225 F to 700F), all from the same unit, with no compromise.
Authentic charcoal and wood smoked flavor.
Very easy-to-use.
Easy clean up of ash and grease, with removable pans easy to take out and dump.
Remote control and monitoring from a smartphone app is a nice addition.
Great price and value for money.
Cons
Fuel efficiency not the best due to heat loss through somewhat thin sheet metal parts, so ongoing cost to run is higher than some alternatives
1-year warranty a bit on the short side compared to most.
All in all, this is a versatile combination grill and smoker that is great value for the money.
See our detailed Masterbuilt Gravity Fed Series review for more details and results of hands-on testing of this excellent bit of kit.
Pit Barrel Cooker Classic Package
5
When it comes to function over form, the UDS has it. If you don't want to go out and make one out of an old oil drum, the Pit Barrel Cooker Company makes a complete kit with minimal assembly required.
They use a 30-gallon barrel to make it just the right size for a small patio or apartment balcony. It has a porcelain enamel finish which means it's durable, and you don't have to season it. You can use it right out of the box.
It is VERY easy-to-use. You tweak the vents to the positions they tell you in the manual, start a charcoal as instructed…then walk away. There is nothing else to be done, and it couldn't be simpler.
At 36″ tall and 25″ wide, it fits a standard 18″ cooking grate inside for 255 square inches of cooking space…if indeed you even opt to use a grate!
In the pit barrel cooker, you get a kit for hanging meats from a rod with hooks, which means you get to cook way more than the diameter would suggest! You can hang up to 8 racks of ribs, or 2 to 3 pork butts or briskets.
The heavy-duty lid uses a real horseshoe for a handle. It's the only assembly that requires a screwdriver for the two screws. Everything else just fits into place.
It comes with a metal stand, heavy steel charcoal basket, and cooking grates, eight hooks and two metal rods on which to hang them. They provide two packages of seasoning rub, all-purpose rub and beef and game rub. Lastly, they give you a tool to help you lift out the hanging rods when they're full of meat.
Other accessories you can purchase for this excellent smoker include:
An optional ash pan that lifts out, so you don't have to 'pour out' the ash after use each time.
A hinged grate that folds back halfway, so you can tend the fire without having to remove the entire grate.
A cover with an elastic bottom to keep the weather out.
A high-carbon steel replacement basket
Mountable bottle opener
Turkey Hangers. Unique "T" shaped hooks that hold whole poultry
Stamped metal Logo plate for any military branch, fire, or police department
With a full basket of briquettes cooking at around 300 ⁰F (149 ⁰C) you can get 6 to 8 hours cooking time.
It is susceptible to extreme outside temperatures because it's a single layer of steel, but it is only affected by EXTREME weather conditions, and you can tweak vents to compensate.
Pros
They are on the low-end of the price range, whether you buy a kit or do it yourself
Simple and efficient cookers. Charcoal lasts a long time
You can hang meat because of the height
You can order a stamped-metal, custom police, fire or military emblem to attach on the front of your cooker.
Cons
They're not the prettiest to some.
You'll need to modify it to add a temperature gauge.
Hard to clean out. You need to tip it over to dump out the ash or use a shop vac
If you want a low cost, simple to operate smoker that is great for beginners but is used by many professional BBQ teams, as well as want a unit with good capacity, then this may be the model for you.
Like an old-style smokehouse, drum smokers offer added height for hanging meat instead of laying it flat. And this model is one of the best.
It's comparable in price to bullet smokers and charcoal grills. Not much to look at, but it is an excellent cooker.
Oklahoma Joe's Longhorn Reverse Flow Smoker
6
At 275 lbs., the Oklahoma Joe Longhorn Reverse Flow Smoker is a heavyweight contender. Thankfully, they put steel wheels on one end so that you can move it around.
It has a big footprint with dimensions of 35.5 x 64.25 x 55.5 inches. You'll be able to smoke meat for a crowd and grill a few steaks at the same time.
They also made the top of the firebox flat, so you can heat up a pot of beans while you're waiting for the ribs to cook.
The box is incredibly heavy, so get some help moving it. There are a lot of parts, pieces, and fasteners to put it together. Most parts are individually wrapped and placed inside the main smoking chamber.
Tip — The manual can hide under the Styrofoam packaging so look for it. And you can download the manual here.
Oklahoma Joe uses four baffles that direct the heat and smoke to the opposite end of the cooking chamber for more even heat distribution, and more even results when cooking. They are easy to remove and clean.
You can customize where you want to place the smokestack, left or right.
And one further the advantage of this smoker is you can stoke the fire without disturbing the cooking chamber, keeping the heat in.
There is a metal shelf between the legs for tool storage. And they've included a large stainless-steel fuel basket plus a firebox clean-out door for easy ash removal. The unit comes with a 2-year warranty.
Now, although the Oklahoma Joe Longhorn is a capable smoker, it does benefit from modifications to prevent leaks.
You'll want to buy gasket material for the doors and seal any remaining holes or gaps with high-temperature sealant if you want to maximize fuel efficiency and lower possible temperature fluctuations on cold, windy days.
But the Oklahoma Joe Longhorn comes complete with everything you need to start smoking. You can get a cover for your smoker and a new basket if yours burns through. The rest of their accessories, like wood chips, you can buy anywhere.
Pros
The four baffle plates double as a grease catcher and easily removable for cleaning
Large cooking areas and warming shelf above the firebox
You can smoke a lot of food for a hungry crowd
Holds the temperature well
Cons
The paint has been known to peel quickly on the fire box
Needs sealant and door latches to stop the leaks
This BBQ can smoke lots of meat, so if you regularly feed a crowd and want an authentic looking offset for a bargain price, this might be for you.
This smoker does needs a few modifications before it's perfect. And for these reasons, it's maybe best suited for people with a little experience of DIY, but who need the extra capacity.
But it's a big, gnarly, desirable looking smoker that produces a lot of smoked meat.
What is a Charcoal Smoker?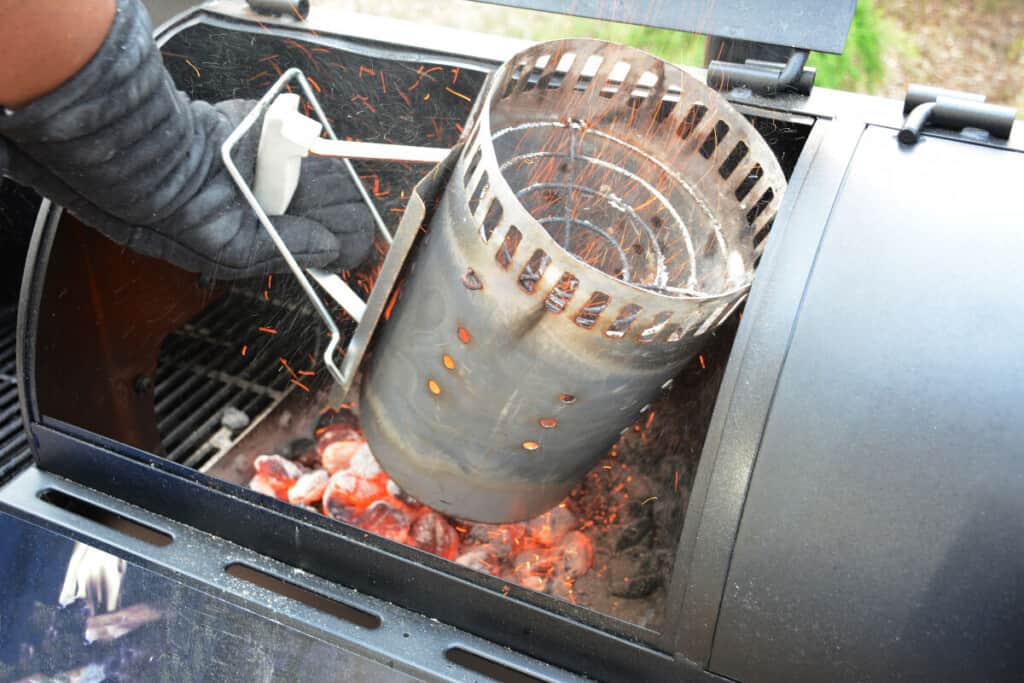 A charcoal smoker is cooking equipment used to smoke food at a low temperature for a long time, with charcoal as the primary fuel source, and wood added to produce smoke.
The cooking temperature is usually around 225 to 275⁰F (93 to 121⁰C). Cooking this way adds a smoky flavor and aroma to the meat. The lower temperature and long cooking time slowly break down tough connective tissues in cheaper cuts of meat, to make your meat juicy and tender.
Smokers can use electricity, propane, natural gas, wood charcoal, or wood pellets. But for most pitmasters, chefs, and backyard gourmets, charcoal is the preferred method because of the authentic smoked meat flavor and uniform heat. We'll concentrate only on charcoal smokers here.
Do you know that you can build a smoker from almost anything that you can close? In this video is an example of a refrigerator converted to a meat smoker.
However, it's a lot simpler, and the quality of food is more consistent if you use a commercial, shop bought model. And your spouse might have something to say if you drag home an old fridge and set it up on the back deck.
Before going further, ever wonder what separates a smoker from a regular grill?
The Difference Between a Smoker and a Standard Grill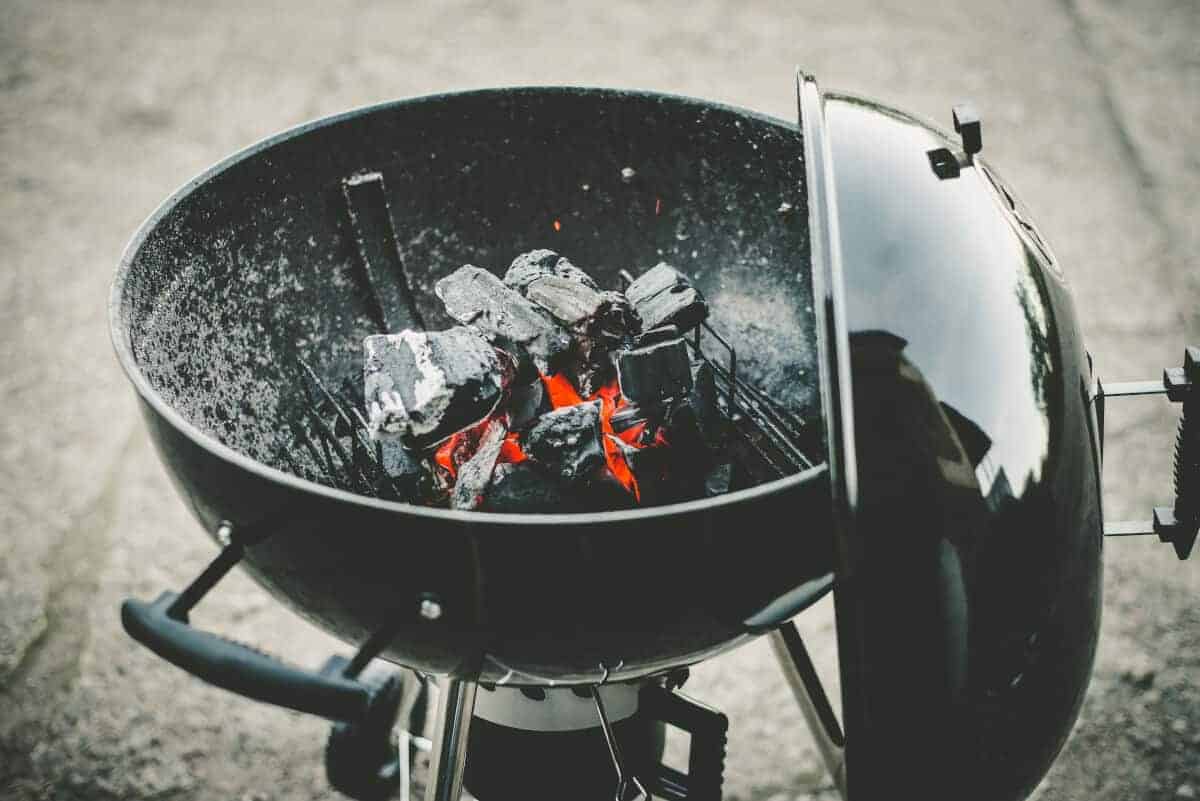 The one main difference compared to a grill is that a smoker separates the meat from the direct heat. A grill will have the fire right below the meat with only a few inches of separation. A smoker completely separates the fire so that only heated air and smoke circulate the cooking meat, or in some cases even enter a second chamber holding the meat.
Another difference between smokers and grills is the cooking temperature. When you grill a steak or burgers, you need high heat and fast cooking. To make a good fire for a steak, you want blazing coals at 500⁰F (260⁰C) or higher. Your medium-rare steak will be ready in less than 10 minutes.
Smoking, however, takes time and patience. Some pork butts and beef briskets can take 12 hours or longer.
The fire is offset, or the food shielded from the flames by a deflector, and the air vents are damped down, so the temperature stays around 225 to 250⁰F (93 to 107⁰C).
For cold smoking salmon or cheeses, you'll need even lower temperatures down to around 160⁰F (71⁰C).
You can turn a grill into a smoker by building a fire on one side and putting the meat on the other. It's called the two-zone fire. However, it's critical to monitor the temperature because you do not want the food to cook too fast.
Smokers typically have the fire box separated from the main cooking chamber. The heat and smoke vent into the cooking chamber which is usually above or beside the fire box.
Manufacturers have different methods of separating the fire from the meat, and it's why we have a variety of types and models on the market.
Let's look at the different types of smokers available today. They combine centuries of smoking technique with modern materials and engineering.
Types of Charcoal Smokers
Although there are many dozens — or more — slightly different looking charcoal smokers, there are only really five basic designs that you'll see when shopping. They are:
Water or Bullet
Kamado
Kettle Grill
Horizontal offset
Vertical Cabinet.
Let's take a look at each.
Water / Bullet Smokers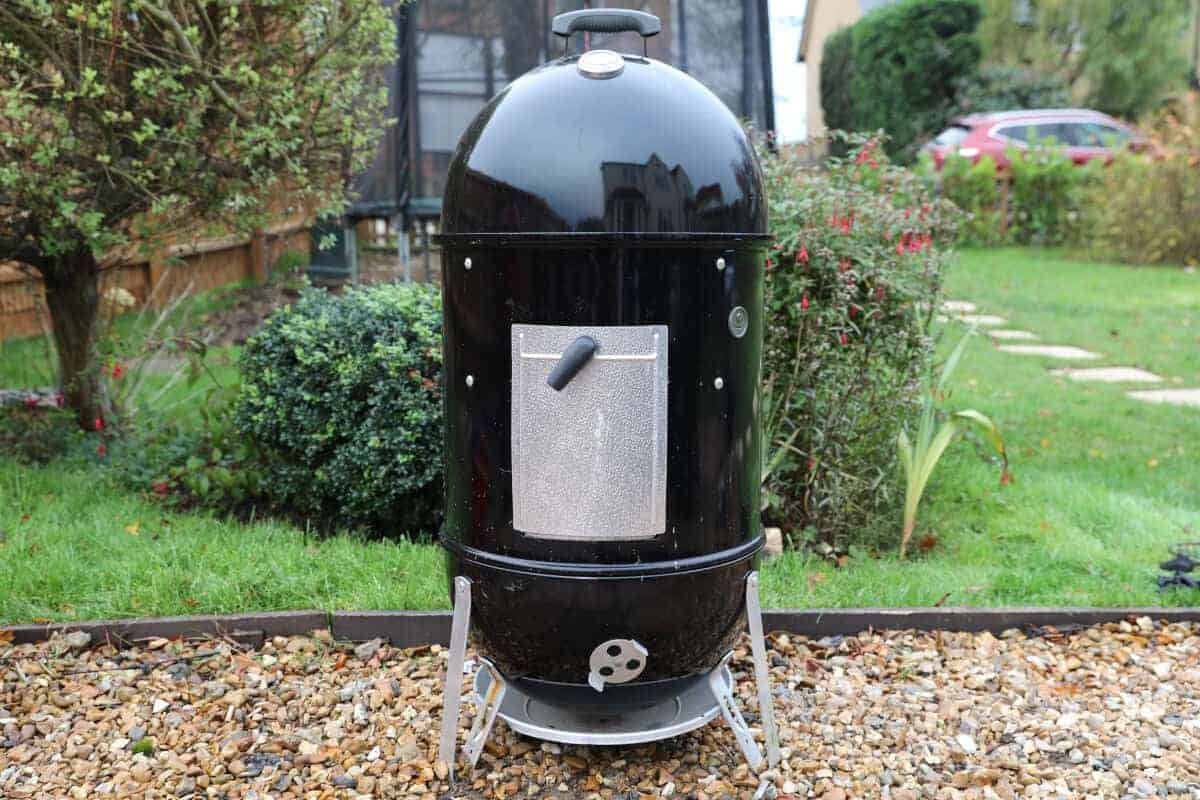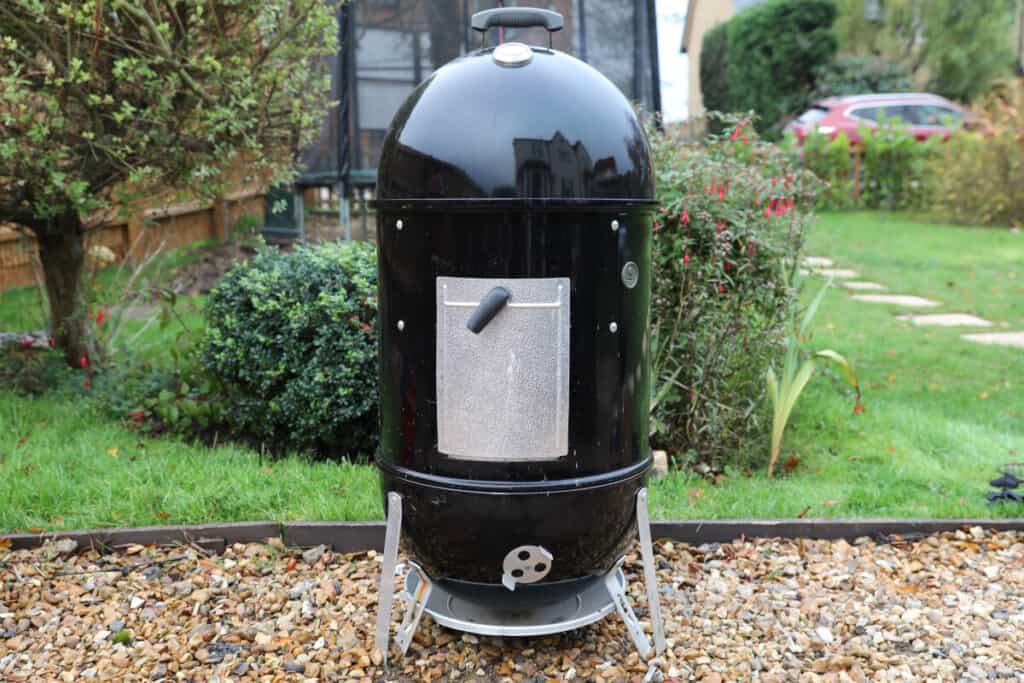 No, a water smoker is not a Turkish Hookah.
They're also called "bullet" smokers because of their shape resembling a bullet.
They have three removable sections, made of sheet metal, and when you top it off with a domed lid it looks like a big bullet.
How Water Smokers Work
The bottom section contains the firebox where a perforated metal ring holds the charcoal in the center of the grate and away from the side walls. The bottom section also has vents, and there may be an access door to feed the fire.
Suspended above the fire box is a water pan section where most of the heat energy transfers into the water. The pan is narrower than the chamber allowing the excess hot air and smoke to circulate the sides and into the cooking chamber above.
In the cooking chamber above the pan, you'll find one or more grates to hold the meat.
What makes water smokers unique is the pan of water supported just above the coals. The water regulates the temperature, making it easier to maintain 225⁰F to 250⁰F (93⁰C to 107⁰C). The steam also adds moisture to the cooking chamber preventing the meat from drying out.
Bullet smokers are easy to handle and are portable. You'll find them at many barbecue competitions around the country.
Water Smokers Are Best For
Bullet smokers are the best choice for first-timers and people on a budget. We know they work because pros use them for competition smoking. The pit-masters in the following video traded in barrel smokers for water smokers and, "haven't looked back since."
Water smokers are easy to break down, clean, and transport, and they take up a small footprint easily fitting on small patios and balconies.
The Bullet Smoker's Big Ugly Cousin — The UDS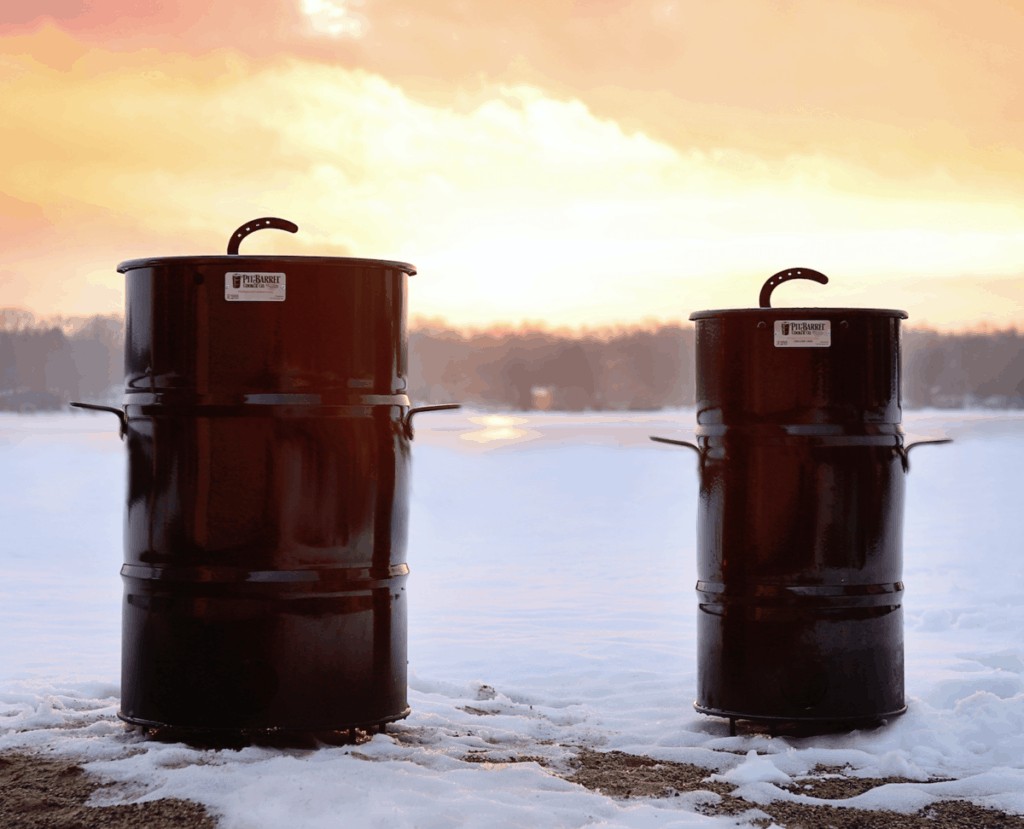 Known as the Ugly (or Upright) Drum Smoker or UDS, this is a bullet smoker built from a 55-gallon steel drum. It's the perfect project for the DIYer who has metal working skills.
How Drum Smokers Work
It works the same as a bullet smoker, except it's cannon-sized instead of bullet-sized. The main difference, the body is a solid 30 or 50-gallon steel drum and does not come apart. You build your fire in the steel box and lower it in using a chain.
They burn very efficiently, getting 20-hours of cooking time out of a 12-pound bag of charcoal at 250⁰F (107⁰C). However, they aren't insulated, so weather can affect your cook.
In the following video, Malcolm Reed gives you the lowdown on a UDS. You'll find plenty of how-to-build videos and kits available online if you wish to make your own.
UDS are Good Because
They're inexpensive, easy-to-use, and economical. They're perfect for beginners and DIYers.
Kamado Smokers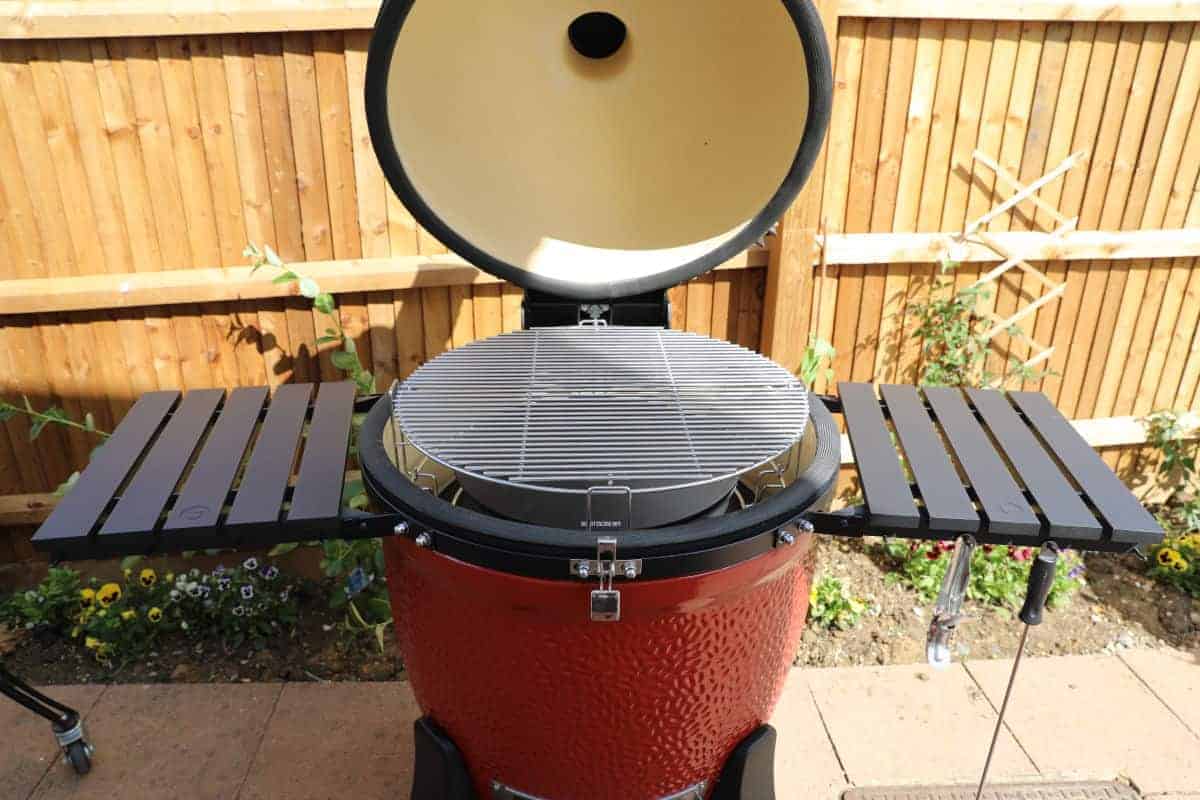 The kamado style of smoker is another example of a vertical smoker. It's similar to the bullet except it's more egg-shaped, tapered at the bottom, broader at the top and constructed of far more substantial materials.
The original design comes from Japan, although there is evidence that this type of cooker was in use as far back as 3,000 years ago in China. The word "Kamado" in Japanese means "stove" or "cooking range."
The shape and characteristics are that of a tandoori oven found in Indian restaurants. The thick insulating walls create a high internal temperature to allow for fast cooking.
With the new kamado grills, they use ceramic materials for the walls instead of heavy-duty sheet metal. The added insulation makes the fire very efficient for both high and low temperatures.
The heavy top is hinged and sealed with felt or oven gasket, to prevent heat from escaping when it's closed. These cookers are so efficient that there are only two air vents, one at the bottom and one on top.
A fantastic benefit and selling point of the kamado style cookers is you can smoke low n slow, sear screaming hot, grill, roast and even bake pizzas, all in the same unit, and they are very good at all those jobs.
How Kamado-Style Smokers Work
The two most significant differences between a kamado and a bullet are the wall materials and use of a deflector plate instead of a water pan.
Where the water helps to absorb and regulate the heat in a bullet smoker, the thick ceramic walls and a ceramic deflector plate do the job in a kamado. The deflector plates look like a pizza stone. It sets in a frame below the grill grates, deflecting the heat and smoke around the sides and up, shielding the food from the direct heat and flames.
These airtight grills don't leak, which helps the meat retain up to 10% more moisture. It's another reason you don't need a water pan, although you can add one on top of the deflector plate to catch dripping fat and juices to aid in cleanup.
Kamados are sensitive to airflow, so you should see a difference in small adjustments of the air vents that you don't see with leaky smokers.
Now, all you do is add your meat, check time, and temperatures. And, you can use a wireless meat thermometer to monitor your food.
One of the advantages of kamados are they're incredibly airtight. You can cut off the air at the end of your cook and preserve some of the unburned charcoal.
The most well-known brands of kamado cookers are The Big Green Egg and Kamado Joe. If you're considering purchasing one or the other, here is a video that compares the two, side by side, right down to a blind cooking test.
Kamado Smokers Are Best For
Anyone who wants a top-of-the-line combination grill, smoker and oven, a true all in one solution, and a shiny ceramic showpiece for their deck or patio.
They're more expensive and much heavier than their steel cousins. But, the quality means it will last a lifetime.
They have a limited total cooking surface for high-heat grilling, so if you need to cook 30 hamburgers, this may not work for you.
But for smoking, grilling, baking pizza or slow roasting for small groups of people, you can fit up to 7 pork butts in the largest models with two tiers of grills and the high domed lid.
At FoodFireFriends, we happily recommend the Kamado Joe as the best charcoal smoker for beginners and the experienced alike.
The Kettle Grill as a Smoker
The most popular kettle grill comes from Weber. It's the classic dad-doin' burgers in the backyard grill. But, you can also use them for smoking too and honestly, they are one of the very best charcoal grills you can buy.
You won't get competition quality meat every single time, because the temperature is hard to control consistently. However, you can make some delicious home-style barbecue.
A kettle grill looks like the black 8-ball on a pool table. There is a handle on top and a rotating air vent. Inside is a small circular grate at the bottom that supports the charcoal and an 18 to 22-inch grill grate that fits the circumference of the grill for the food. There are one or more air vents at the bottom.
How Kettle Grills Work for Smoking
Most people use a kettle grill by building a blazing base of coals and grilling up a bunch of burgers and dozens of dogs over high heat.
For low and slow cooking, you'll set your fire up differently. You'll end up using the same or more charcoal as you would a big grilling fire. The difference is you'll set up a 2-zone fire, lighting only a small portion of the charcoal and let it burn slowly to the other pieces, releasing heat over time instead of all at once.
See these articles for more details about different fire building methods like the Minion Method or the snake charcoal method.
You'll place a disposable aluminum pan in the bottom of the grill and pour your charcoal on the other side. You can pour water or other flavored liquid like cider or beer in the pan if you wish.
The purpose is to add moisture and a bit of aroma to the meat. It also acts to regulate the temperature by absorbing some of the heat.
Once your coals are hot, and the grill is up to temperature, add some of your favorite wood chunks on top and place the meat on the cold side over the water pan.
Cover the grill and just keep an eye on the temperature until the meat cooks to perfection.
Kettle Grills Are Suitable For
Turning a kettle grill into a smoker is perfect for anyone who has one of these grills and isn't ready to invest further money into another dedicated piece of equipment. They work well for training you on how to smoke, from building and managing a 2-zone fire, and monitoring and using the vents to control the temperatures.
Because the kettle grill is not as airtight as a smoker, you'll need to monitor your temperatures more often and be ready to tweak the vents to either flame or starve the fire, or help yourself by having a remote thermometer with the temperature range set, perhaps one from our guide to Bluetooth grill and smoker thermometers.
If you can master smoking meat in a kettle grill, you will then be able to master almost any smoker.
Here is a video from national champion pit-master Malcolm Reed setting up a kettle grill for smoking.
A kettle grill is perhaps the best charcoal smoker for those on a tight budget, being in our opinion the most economical way to get your foot in the door of proper smoking and grilling, from the same unit, that is well-supported and has huge communities online to help you get the most out of using it.
Kettle smokers and kamados can double as high heat grills. Let's take a look at a single-purpose smoker that just smokes meat.
Offset Smokers — Small Smokehouses on Wheels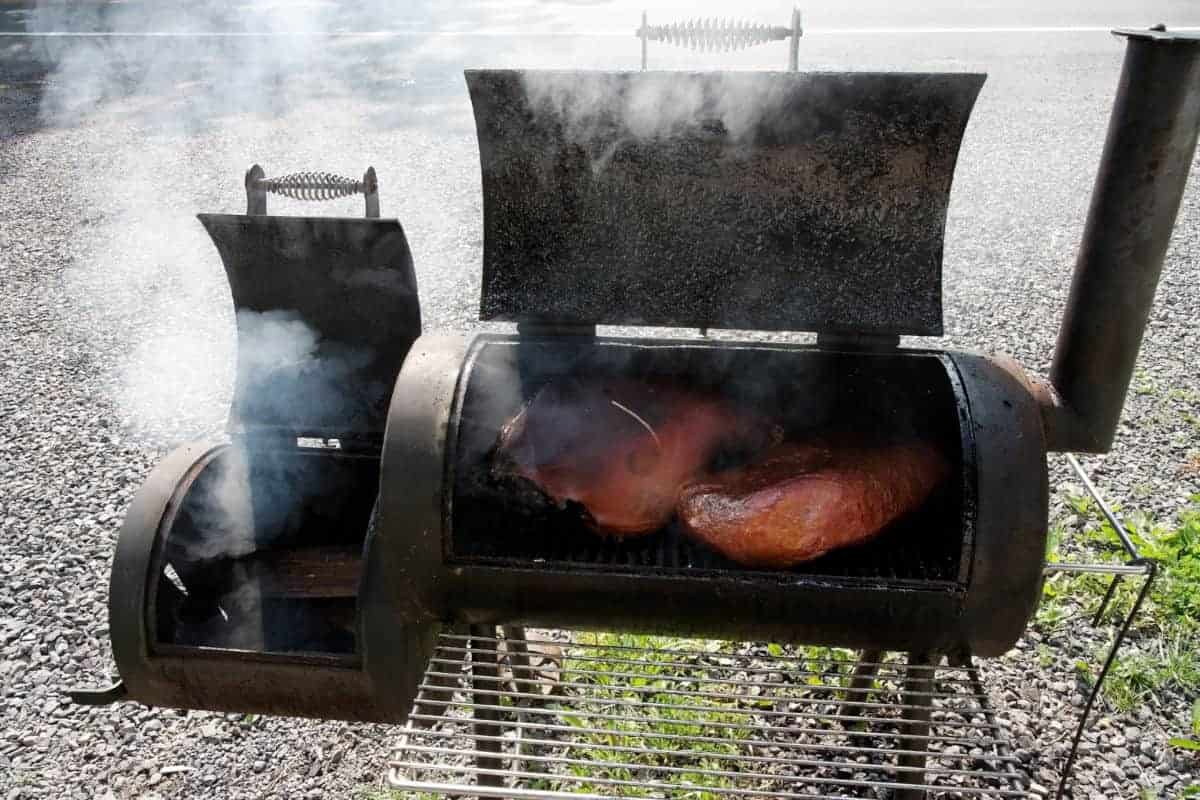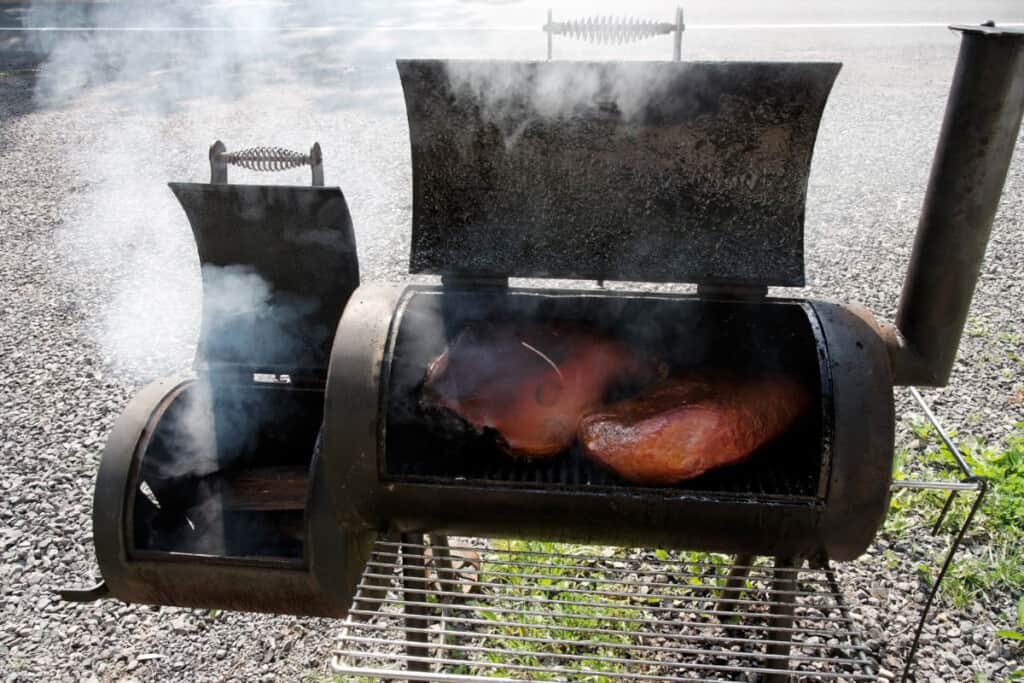 As you know, smoking is a way of preserving meat. Most old farms had a building dedicated just to hang and smoke meat. There was no cooking involved because the meat, typically pork, was salted and sugar-cured and would then hang from the beams to dry slowly.
A small fire provided smoke that drove away insects and added a delicious aroma and flavor to the meat that we love today.
Offset smokers took the smokehouse concept and made it portable. If you look at an offset, you'll notice it consists of two boxes or barrels, one small, one large and a smokestack sticking out of the big one.
Rumor has it that these "barrel smokers" originated from the oil fields of Texas where some hungry oil workers cut barrels in half, put hinges on them and started smoking.
How Do Offset Smokers Work?
The small box is the fire box. The heat and the smoke enter the big box containing the meat and then exits out the smokestack. You can cut down the heat and cold smoke around 160⁰F (71⁰C) for fish and cheese too.
There is a broad range of quality in offset grills. The better quality smokers have tighter seals and thicker materials. Top of the line models use 1/4-inch steel, oven gaskets and weigh hundreds of pounds. Also, the better models use reverse flow baffles.
One of the disadvantages of an offset smoker is that they don't cook evenly. The end towards the fire box receives the lion's share of the heat and smoke.
To remedy this, they have come up with a way to channel the heat and smoke into the chamber using a baffle. It's a piece of perforated sheet metal that forces the heat and smoke under the meat towards the far end of the cooker before allowing it to rise.
With an offset smoker, you'll need to rotate your meat from one end to the other for even cooking and best results. It's a design that works. You'll find offsets in backyard-sized grills to trailer mounted versions. They just require a little more management than other models.
Offset Smokers are a Good Fit For
People with some experience under their belt.
Due to the uneven temperatures that can occur, especially if the smoker doesn't have a reverse flow baffle, you'll need to monitor temperatures more carefully, manage the fire skillfully, and rotate the meat every hour or so.
You can learn more here in our article dedicated to offset smokers.
You Might Also be Interested in…
Vertical Cabinet Charcoal Smokers — Effective and Good for Saving Space
The vertical cabinet smoker looks like a small, ugly black steel refrigerator. It takes the bullet concept to the next level of size and ease of use. Vertical smokers are designed for one purpose, to smoke meat, and they do it well.
The advantage over bullet type models is the box-like design. You can add multiple shelves for higher capacity. The front door opens, like a refrigerator for easy access to the meat. You don't unstack the grill to access your food.
How They Work
They work the same way as a bullet smoker with the fire on the bottom and meat on racks above. The shelf height may or may not be adjustable, depending on the quality.
You may have a fire box only, or with an ash catching tray below it. Of course, you'll maintain temperature with the vents like any smoker.
Some have one door, and others have two.
Vertical Smokers Are Best For
Novices to experts. Some less expensive models may need modifications such as upgraded thermometers, fire pans, and seals. That's something that a beginner shouldn't have to deal with.
If you tend to go through a lot of smoked meat, a vertical smoker is an excellent choice for you.
What to Consider When Buying a Charcoal Smoker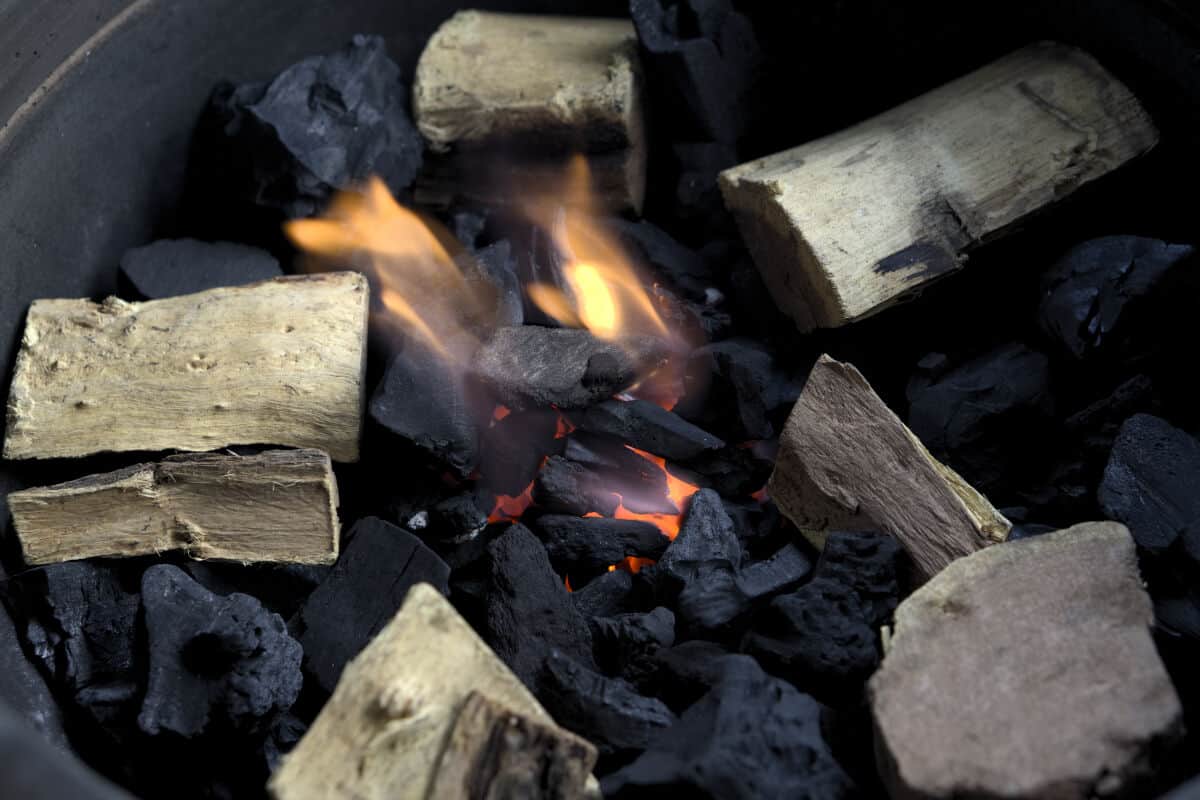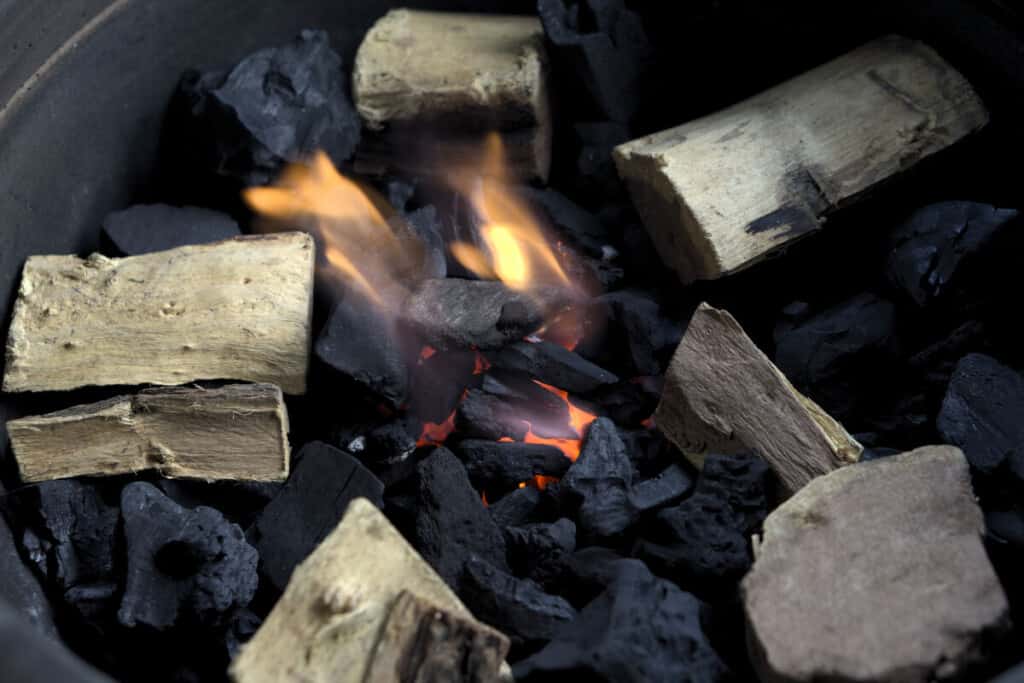 Before you settle on any one type of charcoal smoker, there are five things you need to consider. They are:
Smoker Type
Build quality
Efficiency
Customer Support
Future-Proofing with Upgrades and Accessories
Let's explore these criteria in a little more detail, so you will be more informed and confident you're buying the right type of smoker for you.
Smoker Type
There are two ways to build a smoker, vertically or horizontally. With vertical models, the heat and smoke go almost in a straight line from the bottom and out the top like a big chimney. They include water/bullet, Kamado-style, and vertical cabinet smokers.
Horizontal smokers usually have the fire off to one side allowing the heat and smoke to circulate throughout the chamber before heading out the smokestack. They have one or more doors to access the fire and meat. For our purposes, we consider a kettle grill to be horizontal because the fire is off to one side when smoking.
A significant advantage of vertical smokers is the footprint. They take up relatively little room on your deck or patio.
The advantage of horizontal models is the cooking area. You can lay out multiple racks of ribs without having to roll them or hang them, so they're great for cooking large quantities.
Build Quality
As with any product, there are differences in quality for every type of smoker. The lower quality models will have thinner materials, usually sheet metal without insulation. The seams and doors leak, making it harder to maintain a consistent temperature.
Higher end smokers like the Kamado grills have thick walls, tight seams, and vents.
On any smoker look for sturdy door handles, locks and gaskets for a better smoking experience.
The thicker the steel, the more it costs, the lower the heat will fluctuate during cooking due to wind and weather, and the longer it lasts.
With higher quality models you won't have to mess around drilling holes for an upgraded or replacement temperature gauge, or make other modifications to make them work right either.
Efficiency
Build quality and efficiency go hand in hand. The more a smoker leaks, the more fuel you'll burn.
Kamado style grills are among the most efficient. Typically, there is one vent at the bottom and one at the top. The lid has a gasket to seal it tight making it efficient and long burning.
The more seams, screw holes and openings a smoker has, the more it can potentially leak, losing efficiency. Cheap offset smokers are the worse culprits here (though the more expensive models solve these issues with better engineering.)
However, you can modify less costly grills by adding gasket materials, sealing seams and holes.
You can improve the efficiency of most grills with minimal cost. If you cook in cold temperatures, look for insulation or buy an insulated blanket made for grills or a welding blanket.
Customer Support
Before you buy any grill, check out the available support, both customer support and a community built around the products.
Do they have a toll-free number you can call or an email address to contact the manufacturer?
Look at forums and social media to see if there are communities where you can swap tips, tricks, recipes and generally how to get the best results from your cooker. In our experience, they exist for pretty much any smoker you would consider buying.
There is no reason to buy from a company with poor customer service, and it can help significantly if there are like-minded people sharing tips and techniques too.
Future-Proofing
What we mean by future-proofing is making sure your smoker won't become obsolete after one season.
Anticipate how often you plan on smoking, how much meat at one time and if you need your smoker to double as a grill.
If you like cooking a variety of items from ribs to cheese to pizza, make sure your chosen model has the capacity, the racks, and probe ports to accommodate your needs.
Will you smoke meat on Friday and sear steaks on Saturday? A kamado or kettle grill is the right choice.
For cold smoking lots of cheese and fish, you're better off with an offset. Anticipating your needs will avoid having to buy multiple smokers or grills.
Capacity is another consideration for future proofing. Do you and your wife like some smoked meat now and then, or are you gearing up for large groups or competition?
For moderate to low use, your best bets are learning to use your kettle grill or to purchase a bullet-type smoker. If you have the budget, a kamado grill provides both smoking and grilling capabilities. Plus, it looks the most elegant on any patio or deck.
If you're looking for higher capacity, then an offset or vertical type come in any size you need.
If you plan to do rotisserie cooking, bake pizzas, sear on soapstone, or gently fry fish in baskets, make sure to check what accessories are available for the models you are considering.
How to Choose Your Smoker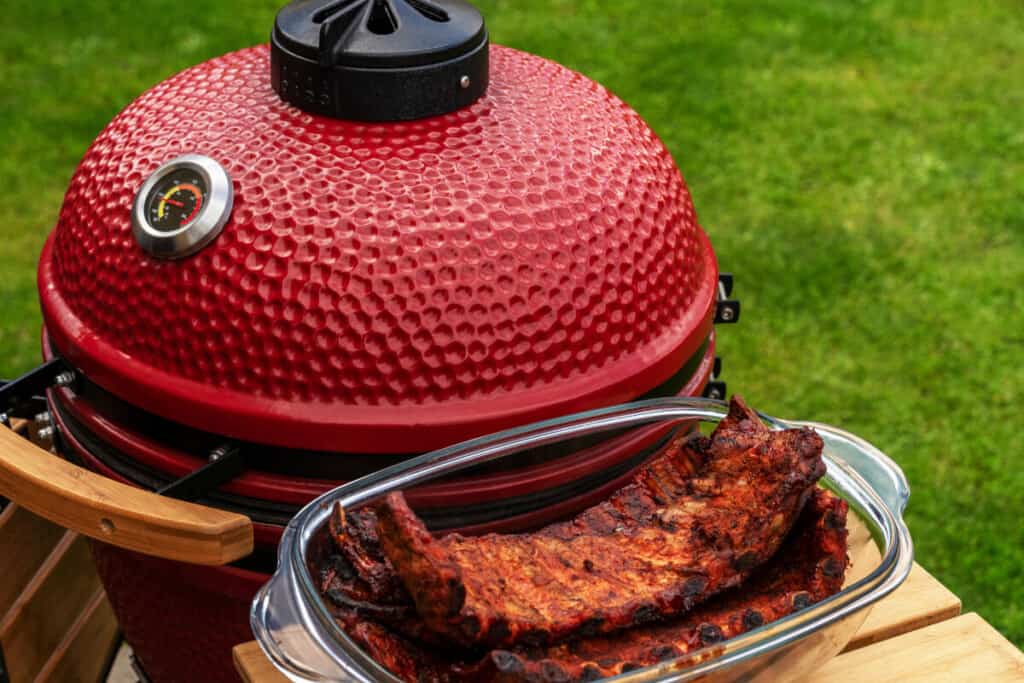 Let's determine which is the best smoker for you.
What is your Budget?
There are two ways to go here. You can buy an inexpensive model and use it to learn how to smoke, then upgrade to another in a year or two. Or, buy the best smoker you can afford and have it last for years.
The second option is the most sensible, buy the best smoker you can afford. With an entry-level model, you'll need to make modifications for it to give you consistent results. You may end up frustrated and give up on smoking altogether, and that would be tragic.
Do You Want a Smoker Only or a Combination Grill and Smoker?
There's no wrong answer, only the right solution for you.
If you like grilling as much as smoking, a combination smoker will save you from having to buy another grill.
If all you want is a smoker — perhaps you already have a grill? — then you can omit the kettle grill and possibly the Kamado grill from your list.
How Much Food Will You Cook?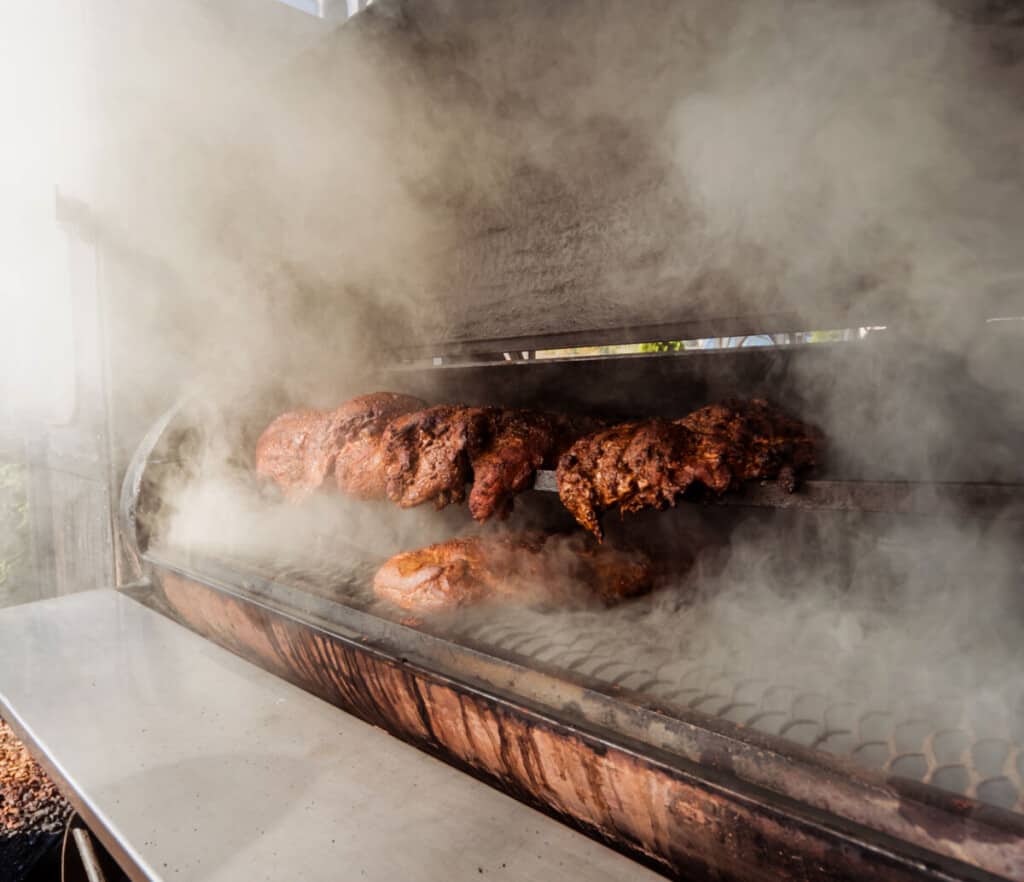 Consider your needs. Are you party central on the weekends at your cabin or is it just the two of you?
We mentioned capacity earlier, and it's an important consideration. Although bullet grills are small, portable and used in barbecue competitions, they don't have a large capacity.
If you need large capacity, consider getting an offset or larger cabinet smoker to handle the crowds.
Decide On The Type You Want
Once you've answered the questions above, it should point you to only one or two choices.
Do you need something small and portable? Or can you live with a big black box outside the back door?
Your budget, capacity, and space are the most significant considerations.
We Can't Recommend Just One!
Typically, we can suggest the "best" model, but not this time. That's because there are different types of people with different needs.
First timers are better off with the Weber Bullet because it's compact and user-friendly.
If you plan to smoke lots of meat, you'll want the Dyna-Glo DGX780BDC-D 36″ Vertical Charcoal Smoker or the Oklahoma Joe's Highland offset, provided you have plenty of room.
If you don't care what your smoker looks like, and you're on a budget, buy or build an Ugly Drum Smoker. However, if you do care what it looks like and have the budget, then the Kamado Joe is the best choice.
With so many variables, you'll need to come up with a list of features that are important to you and then match the right smoker to your list.
We hope this article helps you narrow your choice.
Buying a commercial charcoal smoker is a good investment in tasty eating. No matter which one you choose, you should be able to have a successful cook on your first attempt.