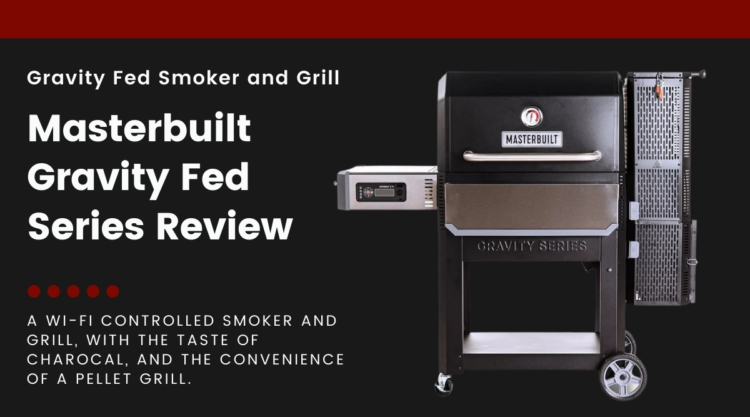 This review is a hands-on look at the Masterbuilt Gravity Series from unboxing to assembly and first use, and my assessment of who it's best for and if it's worth owning.
For this review, I will focus on the 1050 model, the one I personally purchased and have used extensively over the last seven months. There are smaller 560 and 800 models available, but pretty much everything applies to all models.
Now, I don't remember much from science class. But, I do know that one of the fundamental rules of physics is "what goes up must come down."
Now, we can add "what goes in must come down" to the rulebook!
Suckered in by that irresistible combination of "shiny" and "new," I bought myself a gravity-fed charcoal smoker. The concept is that you put charcoal into a tall hopper, and it burns at the bottom. As the charcoal turns to ash, it drops into a collection bin, and new charcoal takes its place.
Naturally, I wouldn't take on a new cooker without documenting the whole unboxing process, construction, set-up, and testing it out on some choice cuts of meat.
Join me from the first slice of the box cutter to the final clean-up and, hopefully, a forkful of delicious food as I put the Masterbuilt Gravity Series 1050 Charcoal Smoker and Grill through its paces. Let's see if it rises to the occasion or sinks like a stone.
Note: I purchased this grill myself for my own personal use. I was not sent it free or compensated for this review in any way. All views and opinions are genuine and my own.
First Impressions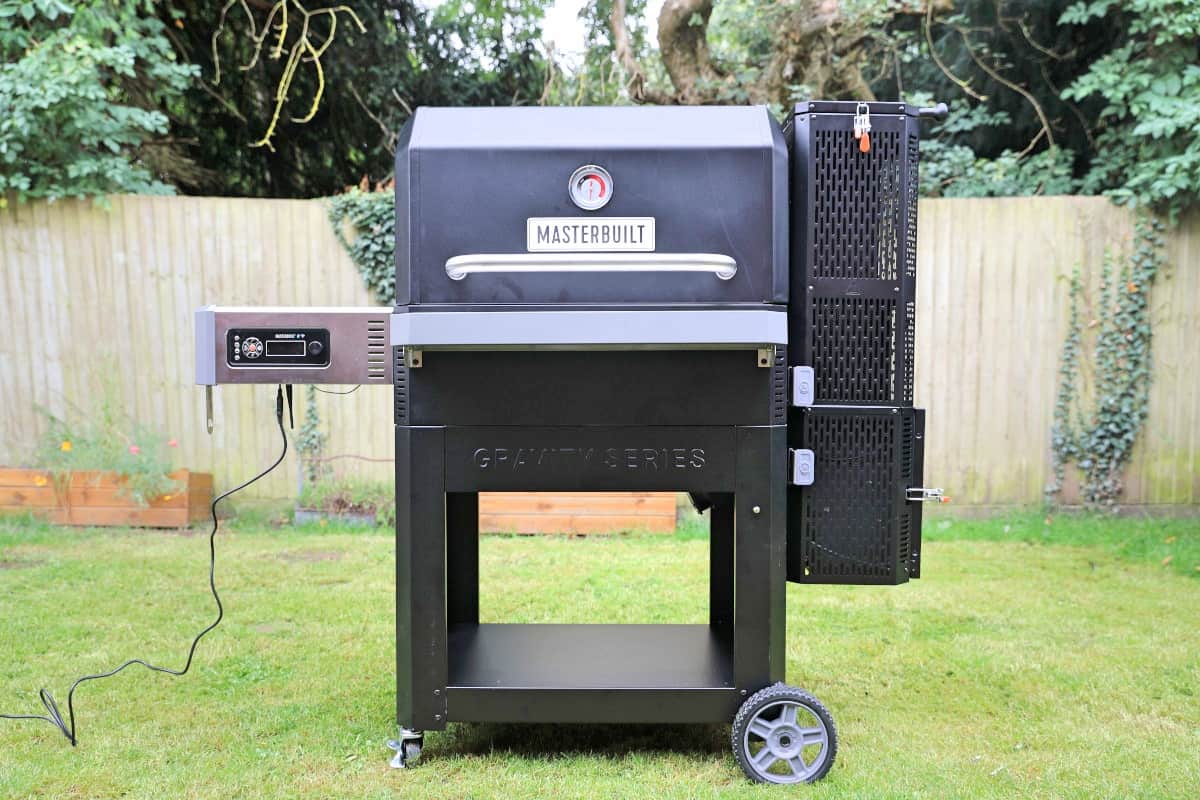 Before I opened the box, my first impression of the Masterbuilt Gravity Series 1050 was, "Geez, that looks a lot like a pellet smoker." After I unboxed it, that changed to, "Geez, that's gonna take a bit to put together."
Once assembled, though (and a little later, I'll let you know how that went), I went back to my earlier comparison of a pellet smoker. The big hopper and the PID electronic controller are signatures of pellet smokers like Traeger and Recteq.
It's a sturdy-looking cooker, without much in the way of what you'd call "flourishes" — it looks like it means business! It's chunky, with few if any curves, thick legs, and a bottom shelf for enhanced stability.
I like the look of the heat shielded enclosure for the charcoal hopper. It makes me think of something out of Star Wars. It's pretty tall, though, and some shorter folks might have trouble pouring charcoal in straight from the bag.
Masterbuilt MB20041220 Gravity Series 1050 Digital Charcoal Grill and Smoker Combo
A gravity fed, charcoal grill and smoker, on which you can smoke, grill, sear, bake, roast and more. Incredibly versatile, it's the swiss army knife of outdoor cookers that can do it all, and can even be controlled from your smartphone with it's Bluetooth and Wi-Fi connectivity.
Overview and Core Features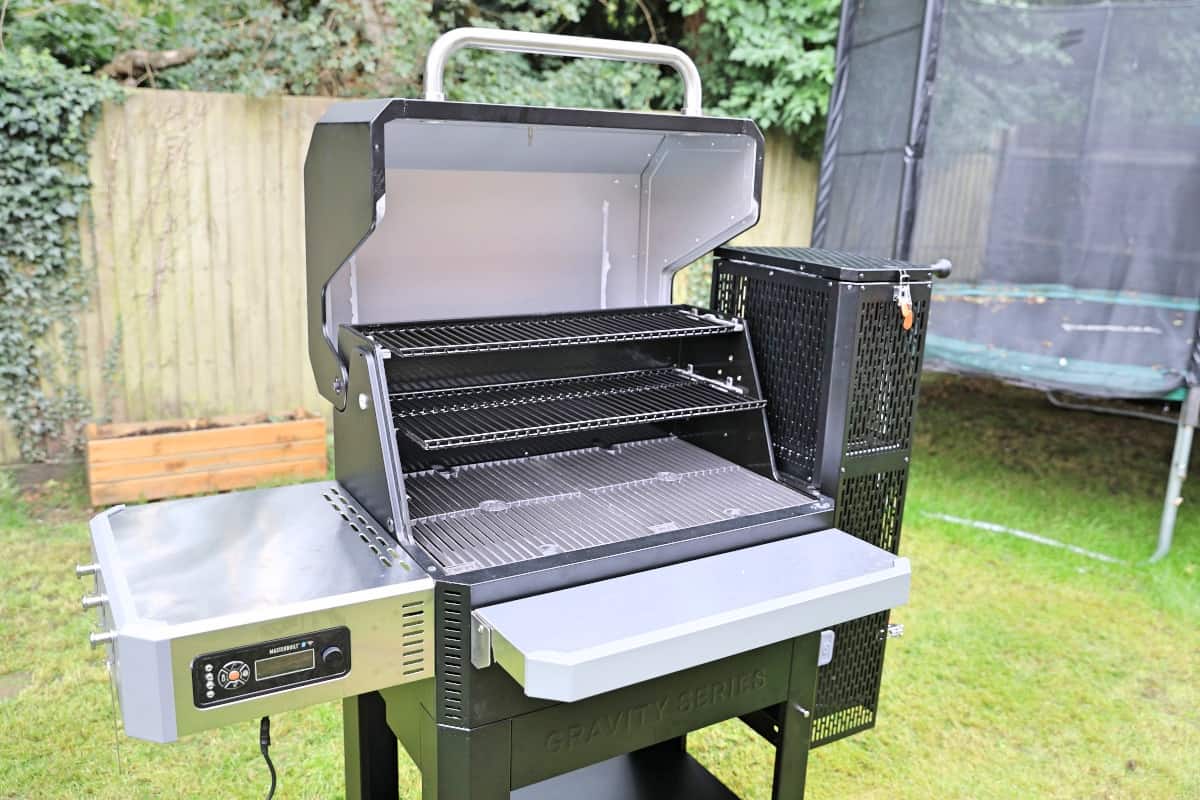 The promise from Masterbuilt is that you'll experience "All the flavor of charcoal, but none of the work." Sounds great to me!
Instead of arranging your charcoal in one of the classic styles, like the charcoal snake or the "minion method," Masterbuilt goes with the dump method — just dump it into the hopper and let gravity do the work. A full load (it holds about 10 pounds of lump charcoal or 16 pounds of briquettes) can last up to 8 hours.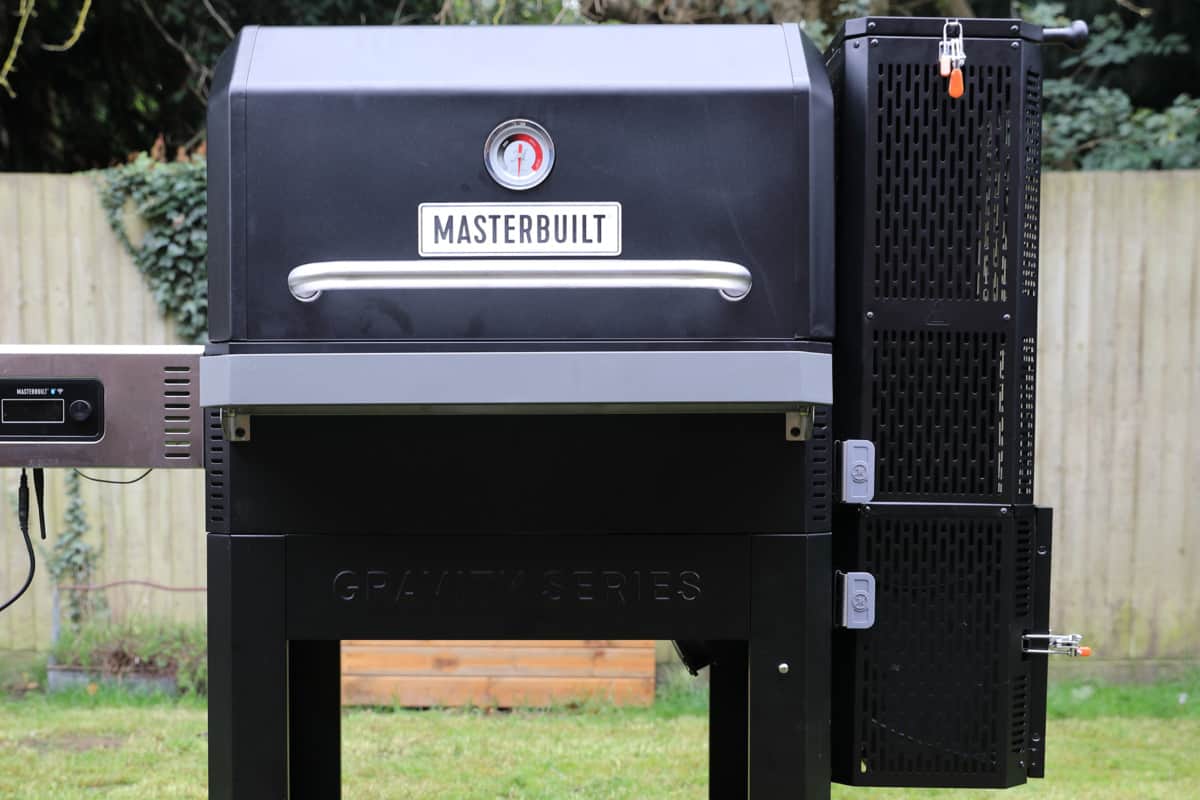 Through an access hatch near the bottom of the hopper, you light up the charcoal with some form of fire starter. Masterbuilt sells just such a thing, and it's designed to fit neatly into the slot provided. Sadly, I found my go-to 'wood wool and wax' lighters are a little too large to squeeze into the slot. They go, but it can be an effort.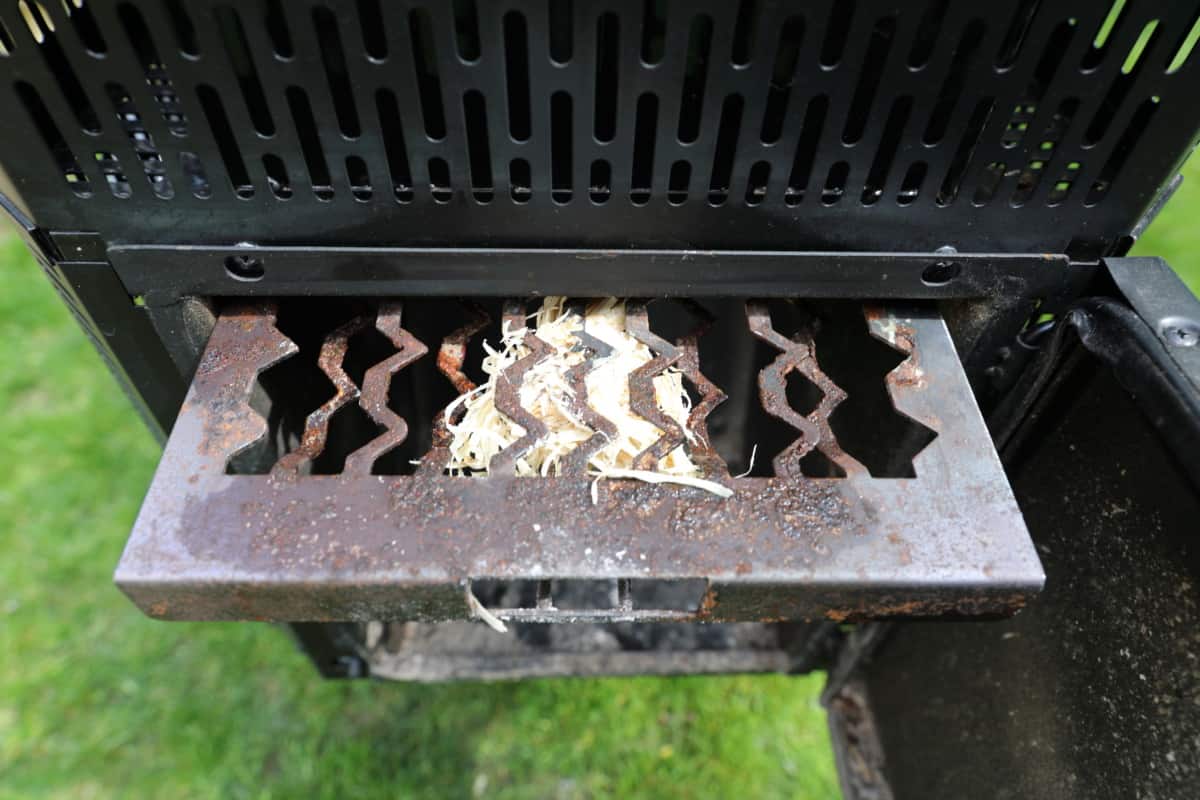 Once lit, you can power on the PID controller and set your temperature. Just like on a pellet smoker, a fan directs air at the burning charcoal until you get to your programmed temperature, coming on as needed to maintain it.
Heat and smoke waft into the cooking chamber through a side vent, and it's channeled through a metal box with outlet holes punched into both sides along its length. (Masterbuilt calls it a "heat manifold assembly.") It's a bit like an offset smoker in this aspect.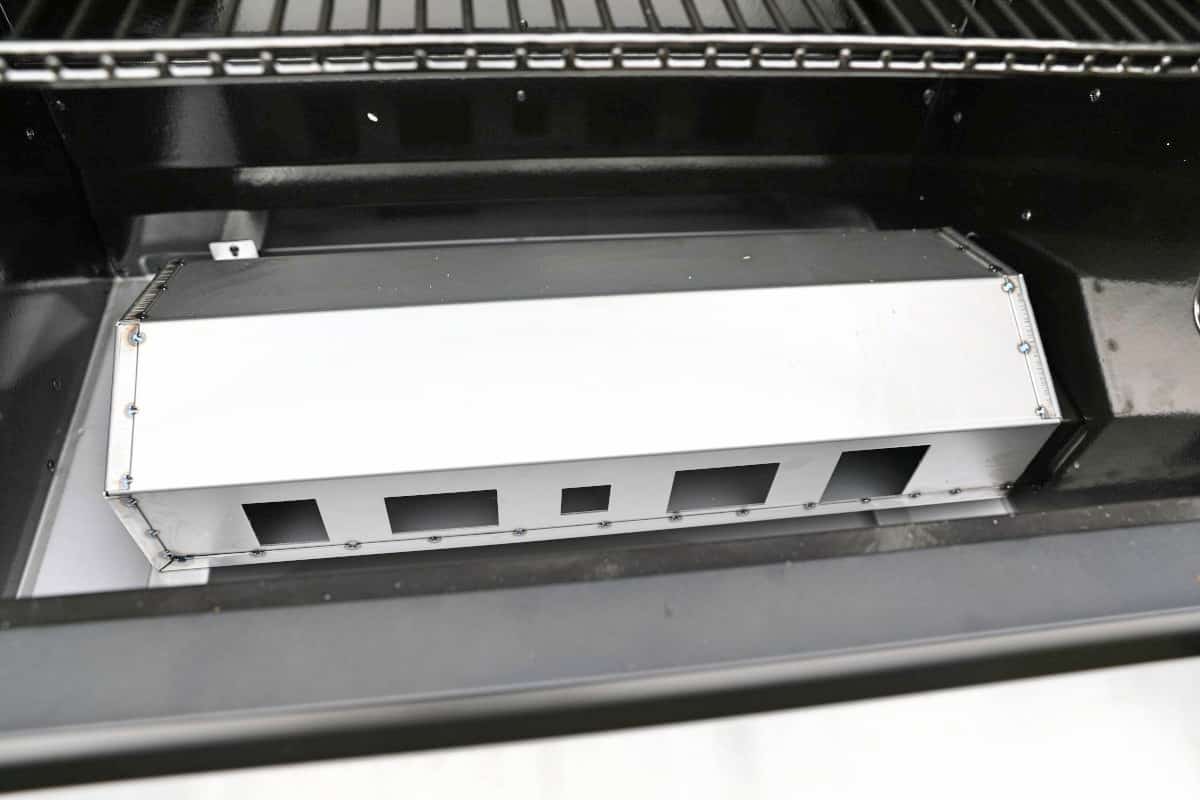 If you want to add some hardwood smoke for extra flavor (and why wouldn't you?), simply mix a few chunks into the ash bin at the bottom of the hopper chute, or mix chunks in with your charcoal in the hopper.
You can do more than smoke with the Masterbuilt 1050, though. It'll hit 700F in just 15 minutes. That's plenty hot enough to cook your burgers, steaks, sausages, and more in no time.
Under the lid, there's a ton of rack space; 560, 800, or 1050 square inches total, depending on the model you buy.
On the 1050 model I bought, the cooking surface is split between three racks. This is potentially room to cook 17 chickens at the same time.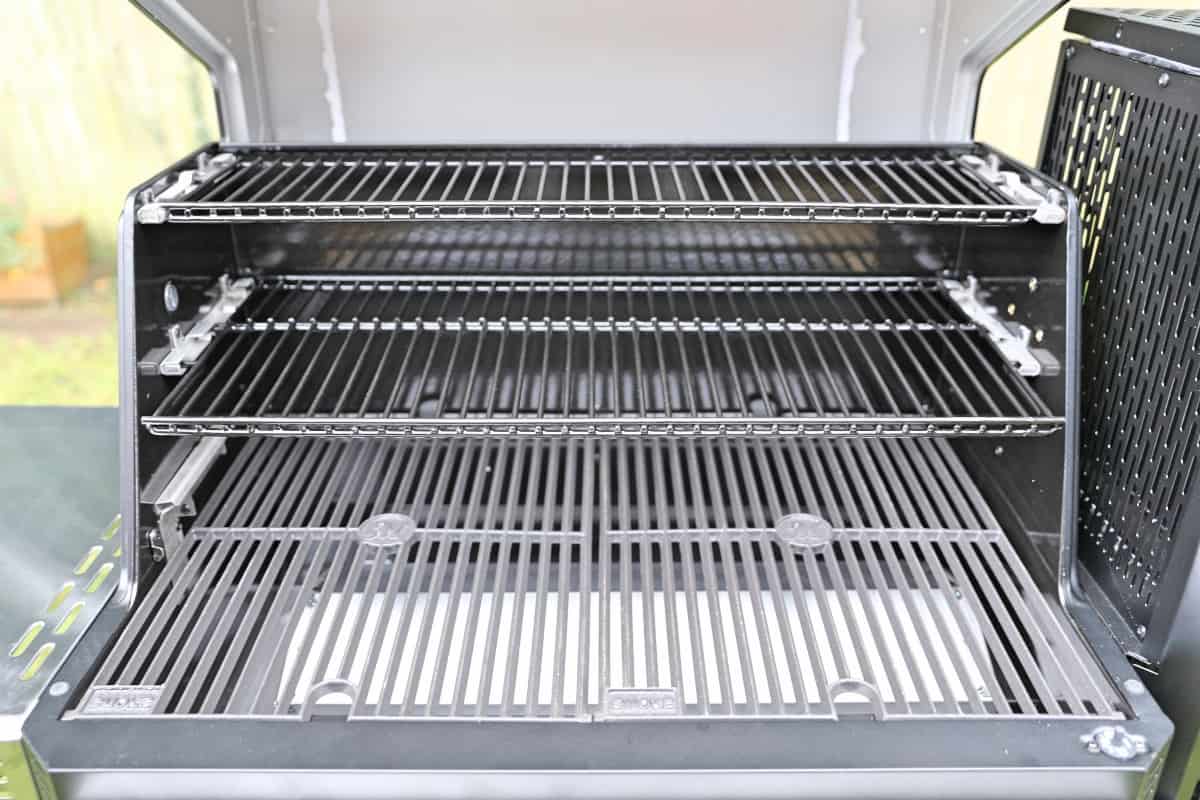 A clever system of channeled supports allows you to fold back one or both upper racks for additional clearance on the bottom grate. This frees up air space for turkeys or tall roasts. What's extra awesome is the upper racks can stay in the cooker, tucked neatly out of the way.
The brains of the operations belong to the DigitalFan Control. ("DigitalFan" is trademarked — apparently, deleting a space is all you need to do to claim ownership of a word; they've also laid claim to "Foldaway.")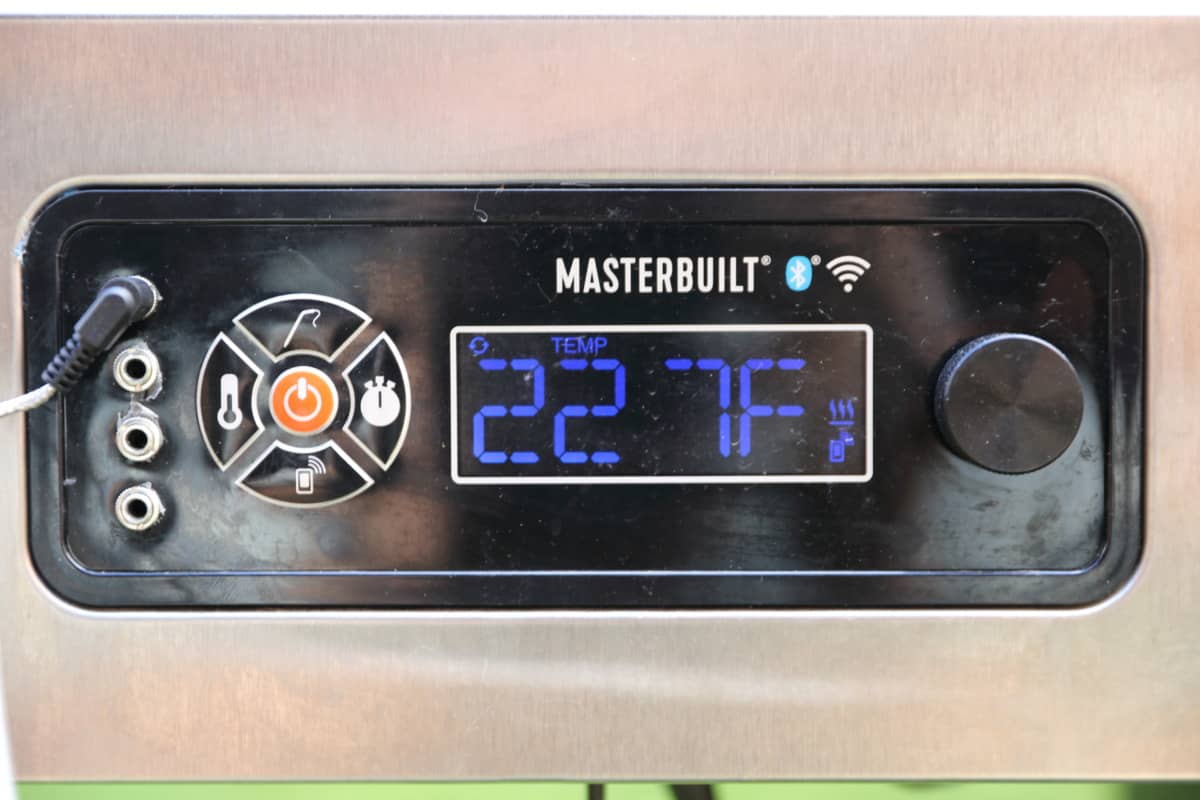 You can set your target ambient temperature and countdown or count up timers from the onboard panel. The controller supports up to four meat probes (1 included, further probes purchased separately), and you can set individual target temperatures for each. Using the knob, you can dial through readings for the grill temperature, timers, and meat probes one at a time for display. An audible alarm will sound when a target is reached.
As we've come to expect in modern times, the controller offers both Bluetooth and Wi-Fi connectivity for pairing with your smartphone. A proprietary app allows you to monitor and control your cook session. There's a lot of stuff in the app I don't care for, like recipes and shopping lists, but the controls for the cooker are simple enough to navigate.
Here's a useful video overview from Masterbuilt themselves on how the gravity-fed series works:
Comparison of Each Models Features
As touched on before, there are three models in the gravity-fed series: The 560, the 800, and 1050. They share the same build quality, main way of working, electronics, and more, but there are some differences.
Here is a graphic from Masterbuilt themselves that compares each of the three models:
The main differences to note between the three models are:
Most importantly, the size and capacity, how much food you can cook on each.
The 560 does not come with a front folding shelf.
Only the 800 comes with a flat top griddle insert as standard.
The bigger the model you choose, the more fuel it will use per cook. So the smaller the model, the more economical to run.
I would honestly recommend people go for the 800 model out of the three. It has the best balance of features, size, fuel economy, and an included flat top griddle for added versatility.
I bought the 1050 because, at the time, there was a lack of availability due to popularity and supply issues, and I really wanted to get my hands on one. If I had the choice, I would have got the 800. I have numerous griddling options at home, though, so it wasn't overly important to me.
What We Like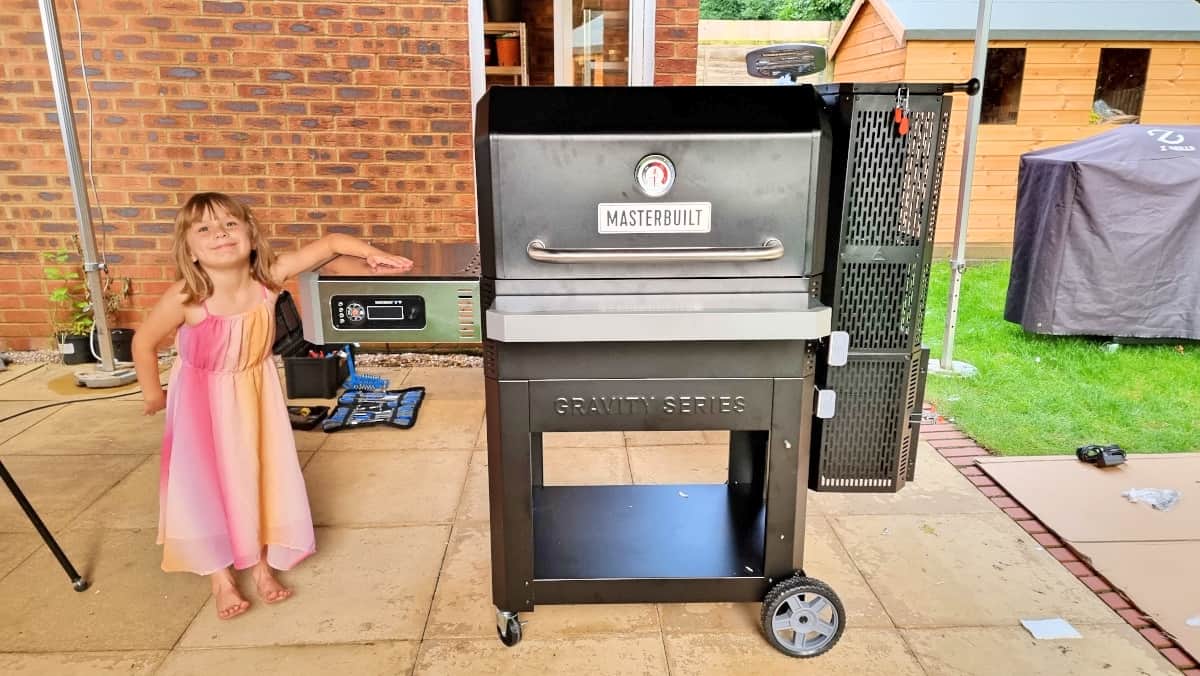 Unlike with many conventional charcoal smokers or charcoal grills, adding more charcoal in the middle of a cook is easy if you're running low. Just open the hopper and pour some in.
Built-in digital control with an automatic fan and wireless monitoring through an app is something new for charcoal cooking. Without this system, you have to purchase a barbecue temperature controller and install a fan.
There are thoughtful touches all over this cooker, including a storage hatch on the back of the side shelf and tool hooks and pegs on the side, the fold-down front shelf, a peg for hanging the sliding hatch panels for the hopper, and four wheels, including two locking casters.
The reversible main grates are cool; there's a searing side with flat bars for increased contact, and on the smoking side, the bars taper to points to allow more exposure to smoke.
And we like how simple it is to operate; there's no need to neatly pile charcoal and arrange wood chunks or fiddle with a charcoal chimney starter. It's charcoal smoking with all the advantages of pellet, gas, and electric smokers.
What Could Be Improved
There's basically no space left on the front shelf with the lid closed to do much of anything; the stay-cool handle blocks almost the entire shelf.
Unlike with a charcoal grill or kamado, there's no TRUE access to direct heat cooking. If you see pictures or video with flames poking up through the grates, that's only partially from the heat diffuser manifold. Most of it's because grease and debris on the grates or the smoke channeler are on fire. I suppose that's open-flame grilling in a sense, but it's not reliable.
There's a removable drip pan under the cooker, but the access is from the side, below the side shelf. It's not easy to get to without doing squats, and I can't help but wonder why it's not accessible from the rear.
Lastly, I'd sure love to see an automatic ignition system added. With all this impressive engineering and high-tech gadgetry, you'd think there would be a way to light the charcoal without manually igniting with a lighter and starter material. Maybe in the next generation?
Masterbuilt MB20041220 Gravity Series 1050 Digital Charcoal Grill and Smoker Combo
A gravity fed, charcoal grill and smoker, on which you can smoke, grill, sear, bake, roast and more. Incredibly versatile, it's the swiss army knife of outdoor cookers that can do it all, and can even be controlled from your smartphone with it's Bluetooth and Wi-Fi connectivity.
Unboxing and Assembly
Christmas comes early and often for people like me who can't help buying new gear all year long!
Let me walk you through my experience of unpacking and knocking together this unique cooker.
What's In the Box?
Inside the box, you'll find the smoker itself in many, many pieces, including the legs, hopper, shelf, wheels, etc. Keep your eyes peeled for the power cord and a single pit probe.
It's all neatly and tightly packed, nothing shakes about in the packaging, so they should survive transport well, and indeed mine arrived without any damage (or missing pieces) whatsoever.
The sheer number of parts is daunting. Mercifully, though, there's an instruction manual and assembly guide in there, too.
Ease of Assembly
Did I say 'ease of assembly?' Hmmm. A bit of a misnomer.
Although not 'difficult ', I can honestly say that this grill is the one that took the most time to assemble out of any outdoor cooker I have ever owned, and I have had in excess of 50 now over the years and lifetime of this website.
All in all, putting the Masterbuilt 1050 together took me about 2.5 hours! Admittedly, I was alone, and perhaps some help would have sped this up, but also, not all went swimmingly.
After almost finishing the build, I found that the guides for the air intake slides were out of alignment or that the slides would simply not go in. To fix this, I had to slightly disassemble things, do some minor filing, and re-assemble. A pain, to be sure!
Because of this, I decided to look into it, read a lot of other reviews, went deep into the respective Facebook groups for the grill, and found it's not a common occurrence, so I think I just got unlucky.
However, I also found out that occasionally the wires to the hopper kill switch sometimes sit too close to the inner hopper body and can burn a little, sometimes all the way through. In light of this, I decided to use a little cable tidy to tie the wire to the outside of the hopper. This will keep the cable from pressing directly onto the hot hopper and prevent burning, just as a precaution.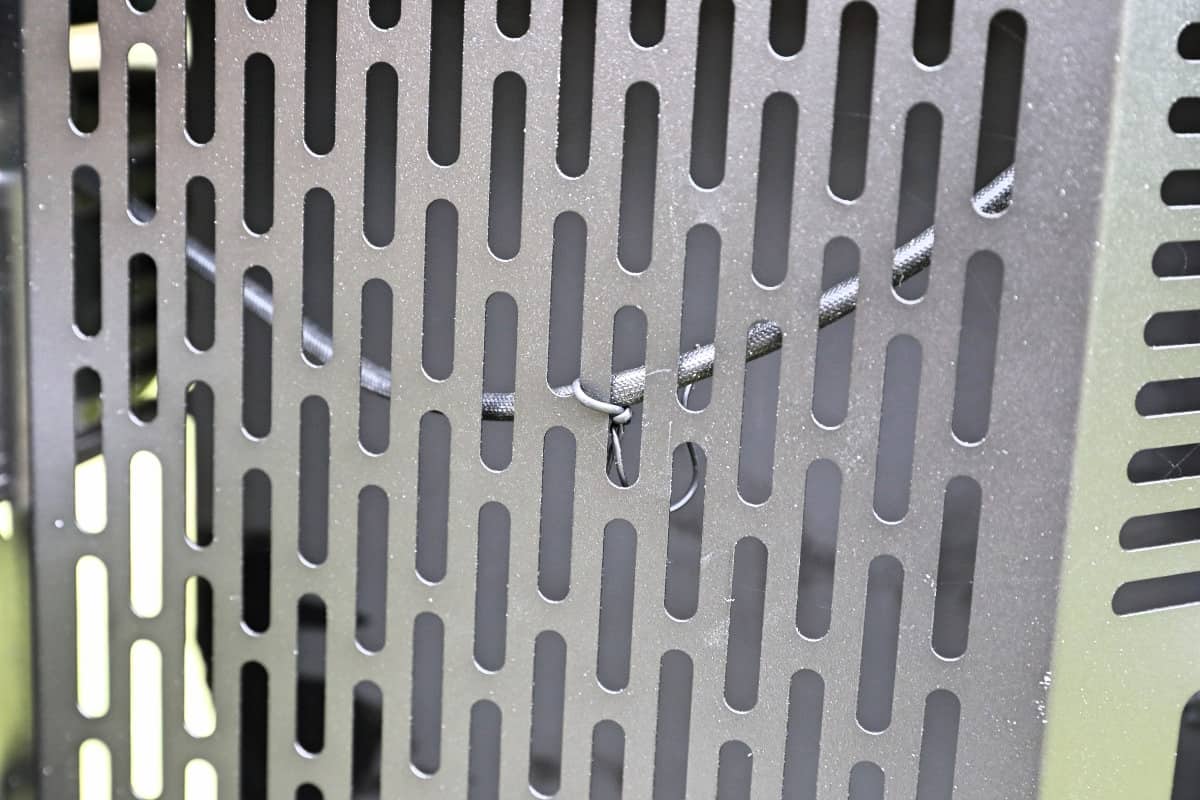 This is a step you might also want to take?
Overall Design and Build Quality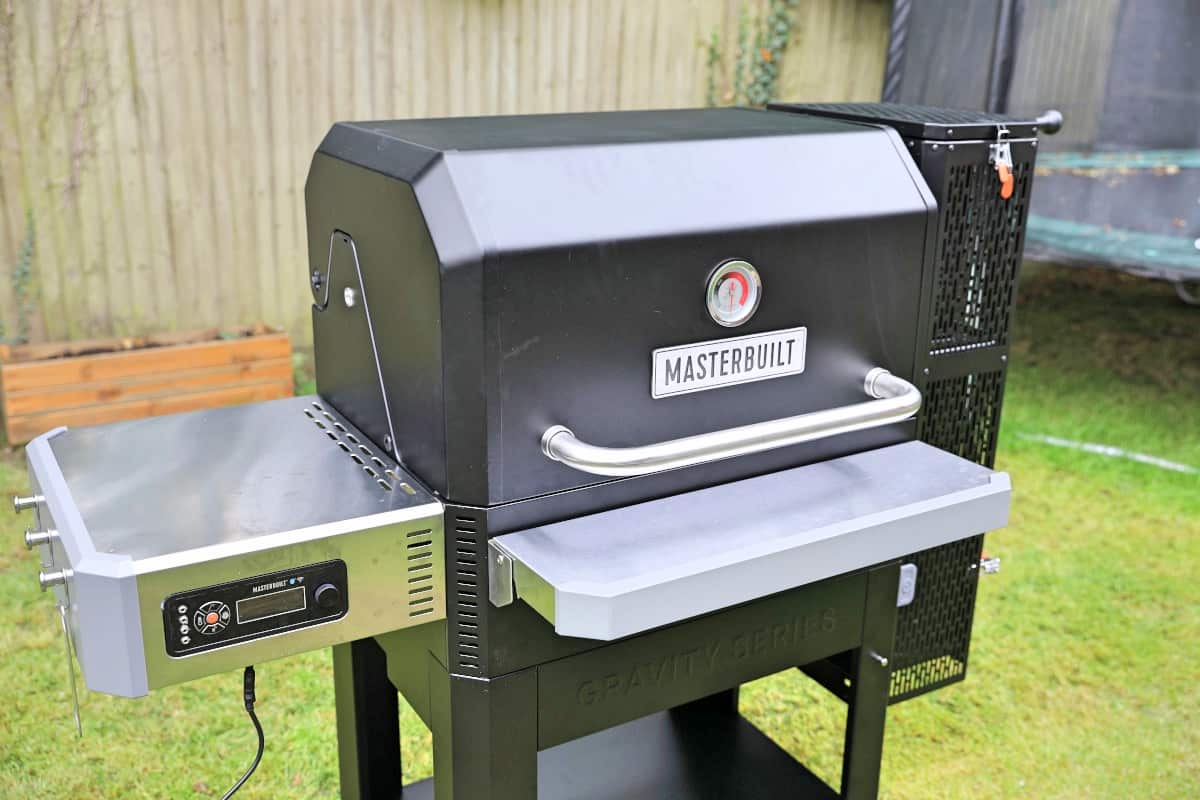 The Masterbuilt 1050 displays thoughtful design and skillful execution. It's well built, and clearly, the people who designed it know their way around a smoker.
This shows in small details like the latches at the top and bottom access doors on the hopper. They lock in place, so there's no chance of accidentally opening them.
The hopper doors also have a gasket that seals the opening tight so you don't lose any smoke — or gain any unwanted moisture.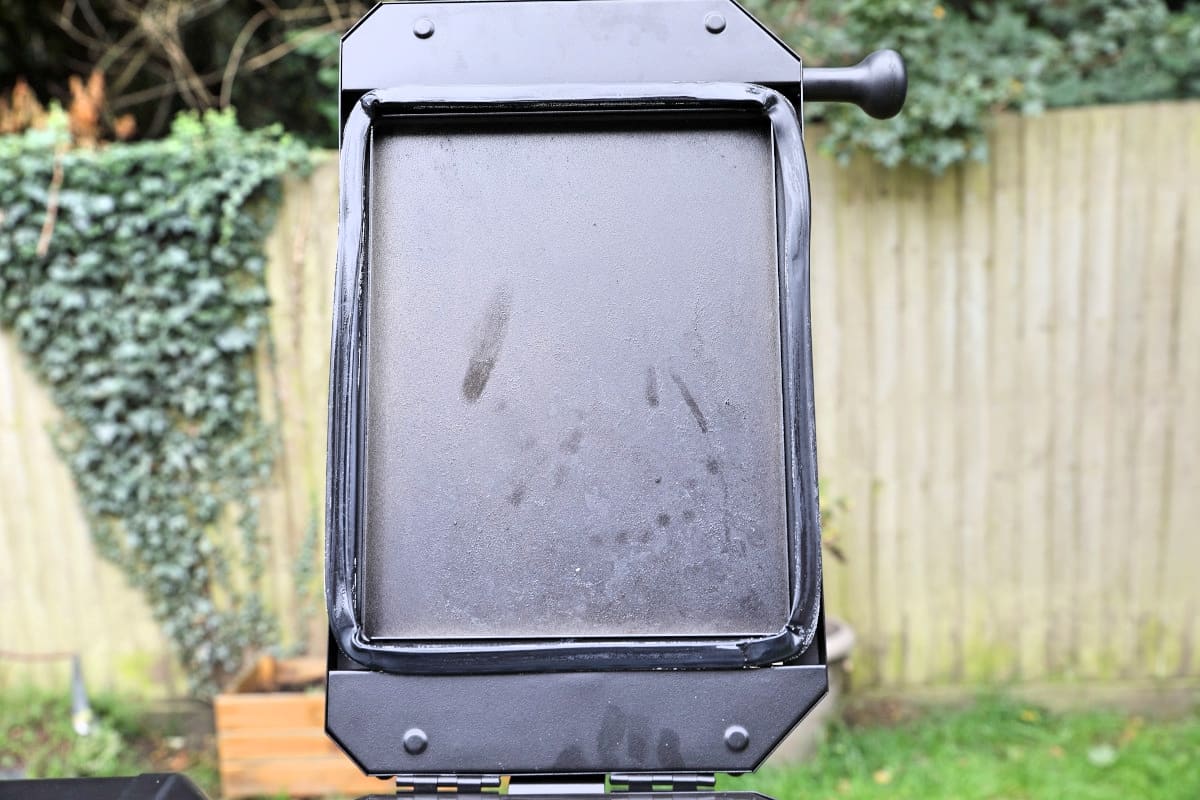 There are also automatic kill switches to stop the fan from operating when either the hopper lid, lower ash bin access door, or main cooking chamber lid are open. These handy features will save charcoal and prevent temperature spikes that could potentially ruin your food when any of these three doors are open.
Once assembled, the cart feels rock solid. With the shelf at the bottom of the legs, there's minimal flex or sway when using the lid or moving food around. I can roll the Masterbuilt 1050 around on its four wheels reasonably easily, too. An enclosed lower cabinet would have been nice for weather-resistant storage, but I'm not too bothered about it.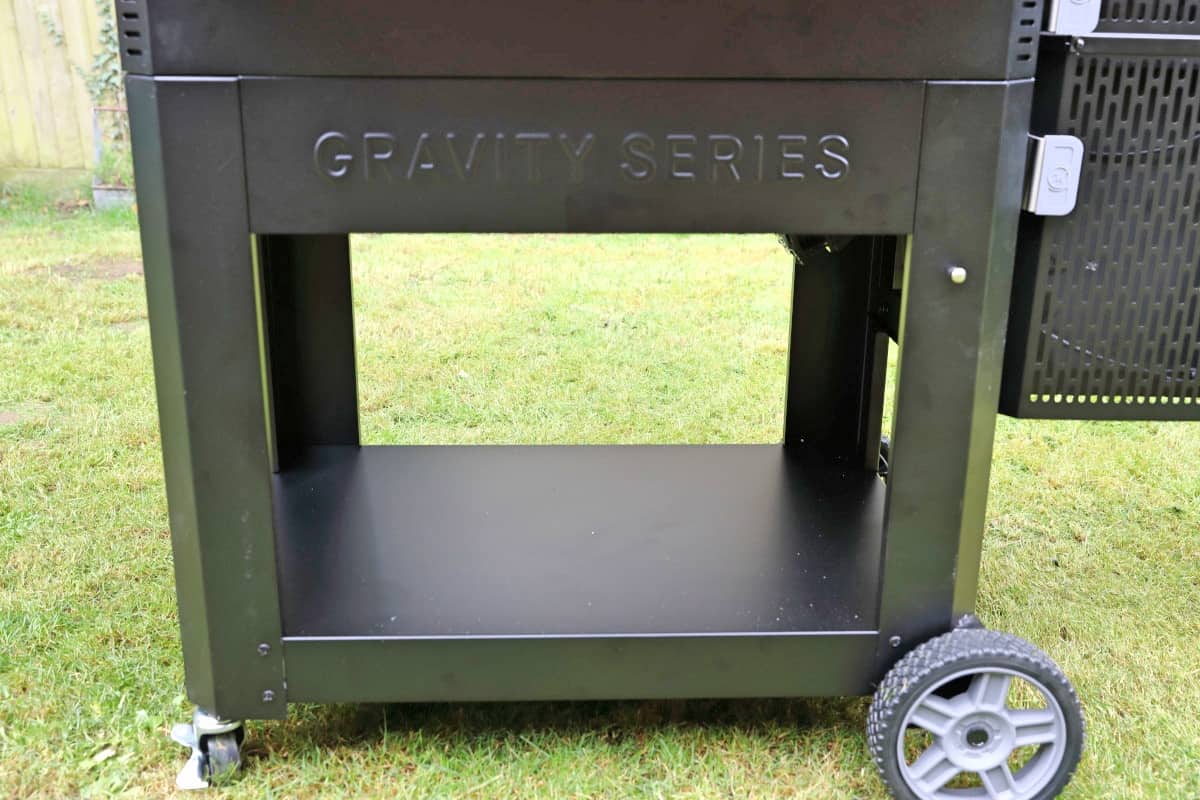 The main grate (which is reversible, if you missed it earlier, with a searing side and a smoking side) is made of cast iron, which I love for cooking. Yeah, it takes some extra care for cleaning, but I think the cooking performance is much better than stainless steel.
Having said that, the upper racks are made of stainless steel. But that's OK, because you'll typically only use them for smoking or warming. Cast iron's superior heat distribution and transference qualities aren't necessary for those purposes. Plus, they're porcelain-coated, and that will increase their life expectancy.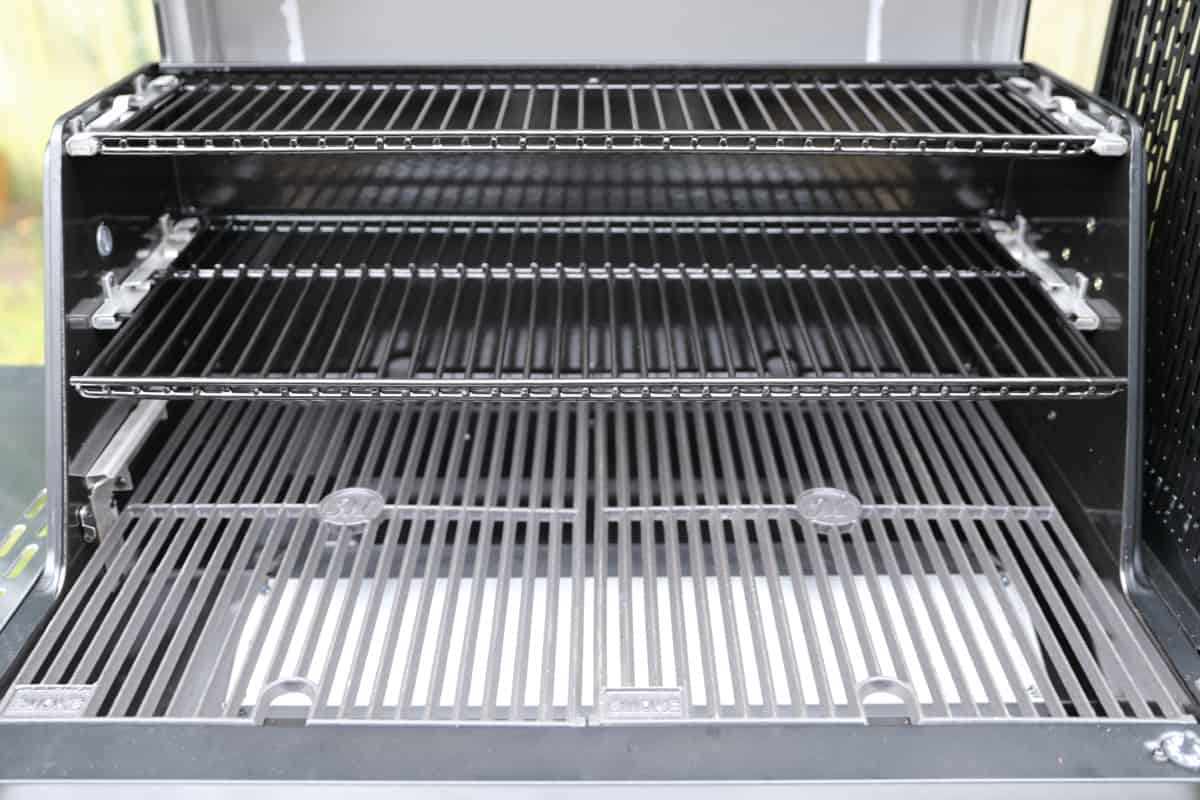 The side and front shelves are stainless steel, so they're easy to wipe down and very durable.
Sadly, much of the front shelf is obscured by the large lid handle when the lid is closed.
The rest of the Masterbuilt 1050 is painted steel, though, and it is relatively thin. And that's a bit of a disappointment. I would have loved to have seen thicker materials used, but then at the price point of this grill, it's to be expected.
The materials used for the body are cost-effective, but it makes me slightly concerned about how long this grill will stay looking nice and how long before corrosion takes over. Unless you store it indoors between uses, I'd recommend buying the fitted cover.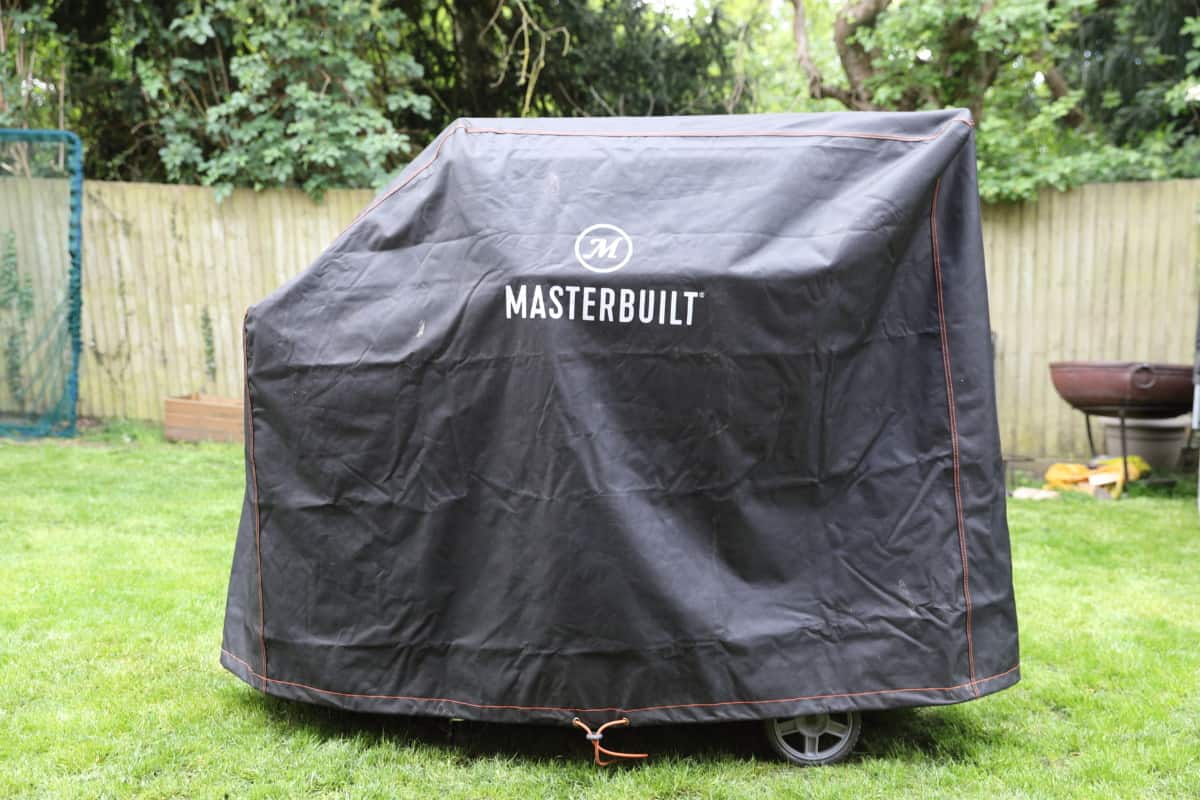 Of course, I generally recommend a cover for any grill or smoker, and I indeed purchased one myself.
Finally, Masterbuilt included a handy little drawer in the rear of the side shelf, which is a great place to keep your thermometer probes when not in use.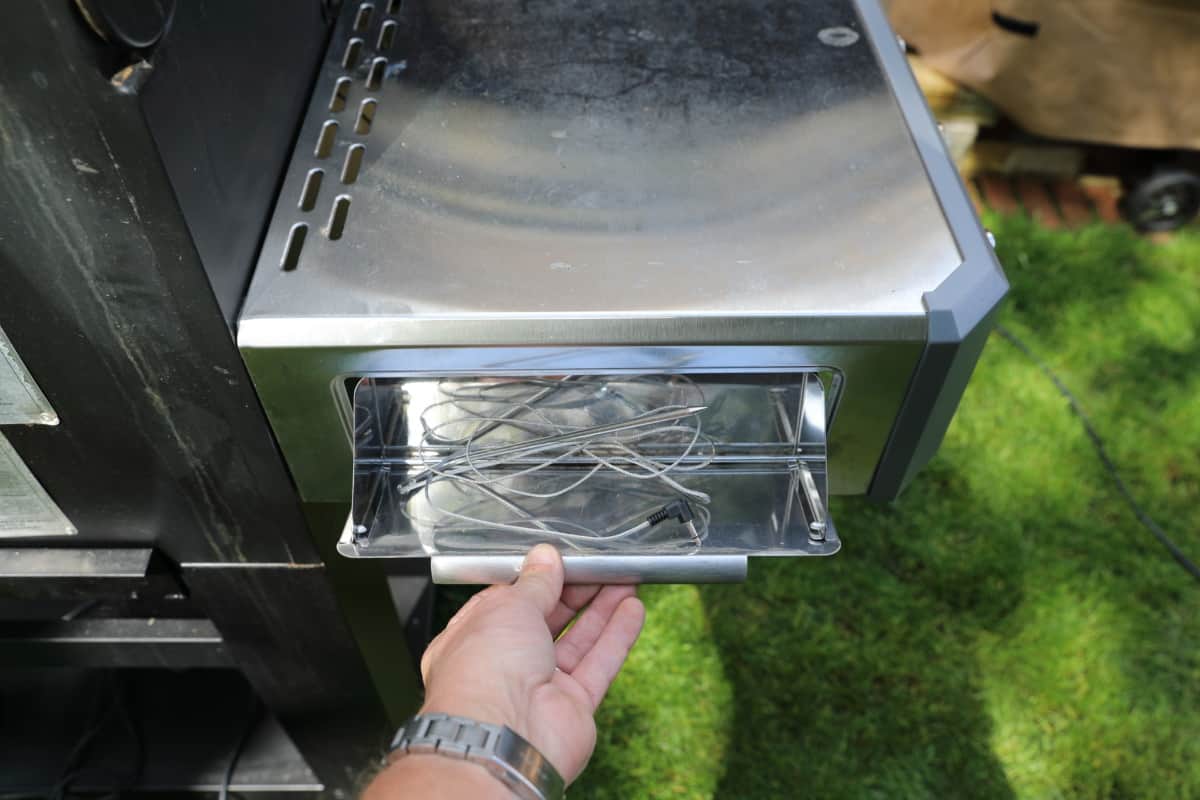 The Masterbuilt Gravity Series 1050 in Use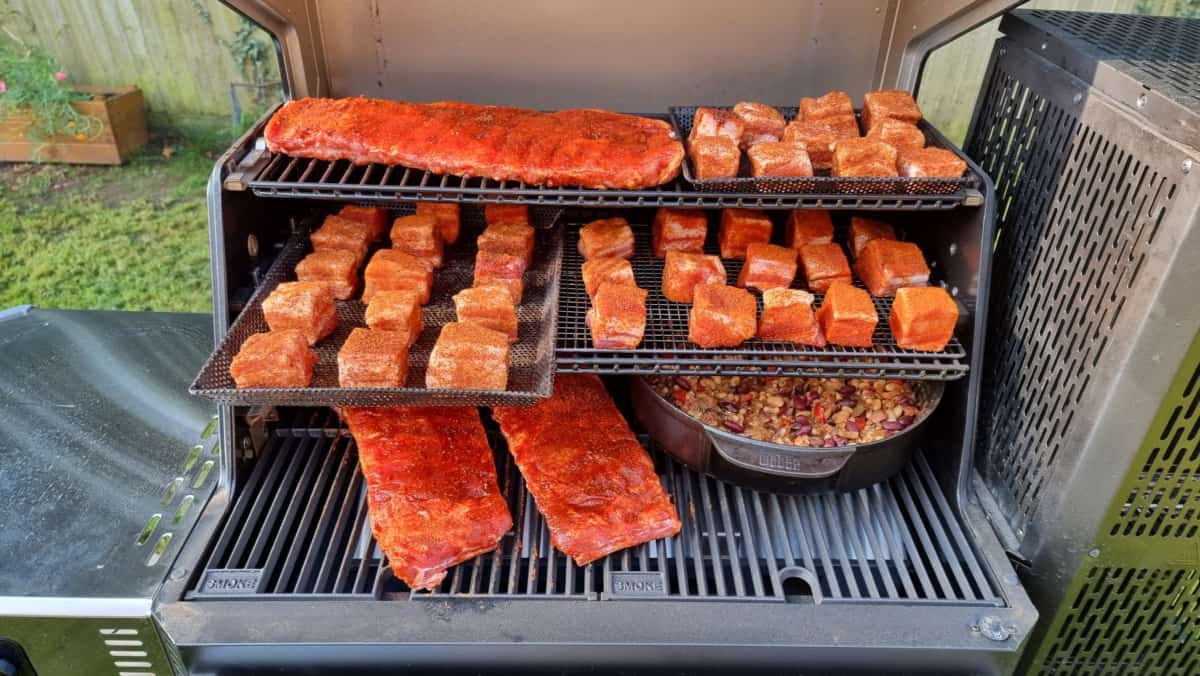 I've now owned the Masterbuilt 1050 Gravity fed smoker and grill for about seven months, and have grilled and smoked numerous foods on it. I'm now very experienced with it and familiar with all its functionality, its good and bad points.
So here are my overall thoughts on its use.
Overall Ease of Operation
Ease of use is where this charcoal grill truly shines!
Start-up is simple. Closing it down is easier still. Maintaining a temperature is as simple as turning a temperature dial.
Let's dig into the details.
Lighting
One of the biggest bugbears of charcoal grills and smokers, in general, is that you must learn fire control. You typically need to know how to light a good charcoal fire, what size to make it, and how to control airflow via vents to hit and then stay at a stable cooking temperature. Not so with this unit.
To get the Masterbuilt Gravity series lit, you simply follow this process:
Open the hopper lid and the door to the ash basket.
Fill the hopper with your choice of charcoal, either natural lump wood charcoal or charcoal briquettes. If you wish to add wood smoke to your cook, add a single chunk of wood every 2 or 3 inches of charcoal.
Give the charcoal grate a little shake to release any very small pieces of charcoal that have settled on it, restricting airflow and making lighting harder.
IMPORTANT! Remove the two air intake slides (and store them on the handy hanger added for this very purpose!) After reading tons of threads on forums and Facebook groups, this is the biggest mistake people make when they cannot light the grill. Hey, even I've done it! Lol.
Place one or two firelighters in the purpose-made slot in the charcoal grate above the ash bin and light it.
Let the firelighter burn for 1 to 2 minutes to ensure it's fully lit.
After 2 minutes, turn on the controller and set your desired temperature.
Now close all doors — The ash door, hopper lid, and cooking chamber lid (so that all 'kill switches' are closed) — and the controller will use the fan to bring your grill up to your chosen temperature quickly.
You do not have to choose a fire size, control any vents, or do anything but the above, which boils down to getting it lit and setting a temperature. That is all it takes.
During lighting, you might encounter an E4 error, which basically means Charcoal 'failed to ignite.'
If this happens, it's a straightforward process to get going:
Make sure the air intake slides have been removed (as previously discussed, this is the number one mistake people make!)
Make sure the ash bin door and hopper lid are closed and latched. They have kill switches on them, so if opened, the fan stops. This is a safety feature and helps prevent temperatures from running away.
Make sure there is enough charcoal in the hopper to actually catch and make a fire.
Give the charcoal grate a shake to cause ash and small charcoal pieces to fall into the ash bin. These small pieces can prevent airflow when initially starting the fire.
Now restart the grill (turn the controller off and on again, and make sure the temp you desire is still set.)
In my experience, this has sorted it out every time.
Shutting it Down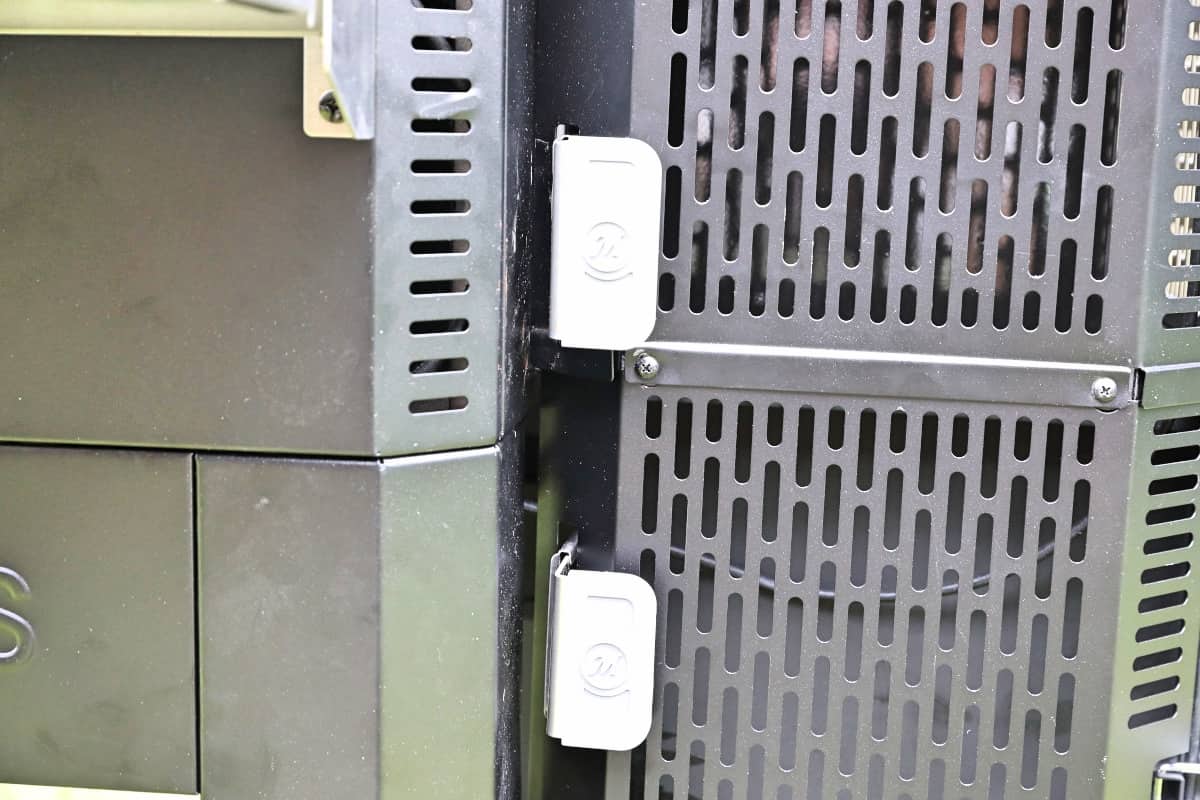 The shut down process for this unit is a very simple process indeed.
When you have finished cooking, simply turn off the controller, and insert the two air intake slides, which effectively seals off the hopper, starving it of air and oxygen.
In this state, the charcoal cannot burn, the fire goes out, saving your unused charcoal in the hopper, ready for use on your next cook. Way better (financially) than just letting all the charcoal burn out, as you have to do on some charcoal grills and smokers.
NOTE: You MUST insert the two air intake slides when shutting down, and failure to do so will mean the fire continues to burn, and without the controller and fan running may lead to damaging the grill. So never forget this step.
Temperature Control and Accuracy
Once your fire is lit, temperature control is dead simple, as simple as turning a dial in fact!
Literally, turn a dial to set a temp, and the grill does the rest.
For coming up to a cooking temperature, I timed two scenarios:
From light up to hitting 225 °F for low and slow smoking took 8 minutes on my 1050 model.
From light up to hitting 700 °F for high heat searing took 16 minutes on my 1050 model.
I'm sure the smaller 800 and 560 models would take less time than this, as they have smaller cooking chambers to heat up.
This is impressive and faster than almost any other grills I've seen.
When it comes to accuracy, I have measured grate temps using an external, digital smoker thermometer. I found that the higher temp goes, the more swings are seen. But it's perfectly acceptable.
At low temps of 225 °F or so, as measured in the center of the cooking grate, the grill stayed within 10 °F either way. Up at 700 °F, I saw swings of up to 40 °F.
This is perfectly acceptable, and you cannot expect any better with a live charcoal fire. This will not negatively affect your cook and is certainly above average stability for a charcoal smoker and grill.
In my measurements, I found that the cooking grates are hotter in the middle compared to the edges. So when using this grill, place thicker parts of the meat towards the middle / thinner edges toward the outside. Or, for uniformly sized pieces of meat, rotate partway through the cook to keep the cooking even.
Wi-Fi and Bluetooth Connectivity, And the Smartphone App
The Masterbuilt Gravity series is Wi-Fi and Bluetooth enabled and can be monitored and controlled via a smartphone app.
Installing, setting up the app, and connecting to the grill is simple enough, with on-screen prompts and easy-to-follow instructions from the manual. No complaints here at all.
The Bluetooth range seems limited to perhaps 35 feet or so, and I lose connection when in an upstairs room on the opposite side of my house to where the grill sits in the garden. However, if you set up Wi-Fi, you can control the grill anywhere you have a Wi-Fi connection.
The app is somewhat limited, with not a lot of functionality. You can monitor pit and food temperatures, set temperatures and timers and receive notifications when either has been reached. You can also follow along with 'guided recipes' that you can find on the app.
Sadly, I did find a couple of issues with the app usage:
First of all, it would occasionally disconnect, forcing me to close the app completely, then reconnect. I've found this same issue with a few manufacturers' smartphone apps, though, so it's not uncommon. (I wonder why this is?)
Secondly, when a temperature was reached, I found it impossible to change that set temperature a second time from the app, so I was continually alerted. This again required completely closing the app, restarting, and making new settings.
Masterbuilt is continually releasing updates, so hopefully, these are things they will look at?
Overall, though, it works well and enables me to monitor cooks while sitting in front of the TV or socializing with guests instead of being chained to the grill.
Smoking Performance
I find the Masterbuilt gravity series to be an excellent smoker. It is spacious, easy to get going, holds a steady temperature, and you can control how much smoke is created by how much wood you add. You can also add wood in two different ways:
You can space your wood chunks evenly throughout the charcoal hopper, placing a single chunk every 2 or 3 inches.
Or, you can place wood chunks down in the ash bin, so as the charcoal ashes fall into the ash bin, they land on the wood, causing it to smolder.
I prefer method one, placing wood in the hopper, finding that it created more smoke, a deeper flavor and that I have more control of it. If you prefer a lighter smoke flavor, then a chunk in the ash bin is the way to go.
Grilling Performance
With a maximum configurable temperature of 700 °F, the Masterbuilt Gravity series is a bona fide grill and not just a smoker.
The optimal searing temperatures for burgers, steaks, chops, and the like, are between 450 °F to 500 °F, so this grill has performance to spare.
And look at the sear and grill marks you can achieve!
Unfortunately, there is no true 'direct flame grilling' possible. For example, you cannot get right over the coals to sear as you can on a kettle grill. You do get some flames occasionally poking out through the heat diffuser manifold's sides, but you mostly need to rely on indirect heat. But it gets plenty hot enough to achieve the desired results.
This smoker and grill combo is very capable at grilling and is certainly better than average compared to most dual-purpose, combination smokers and grills.
Smoking then Searing – A Feature I Love!
A favorite way to cook some meats is the now-famous reverse searing method.
Best suited to very thick steaks, large beef roasts, duck, turkey, and chicken, the method involves cooking low and slow first to bring the meat up to just below your desired finished temperature, before resting and then searing at a screaming hot temperature to finish and get a good sear.
The beauty of the Masterbuilt Gravity series is that you can do both stages on this single piece of equipment in record time.
After low and slow smoking at 225 °F, then cranking the controller up to 700 °F, I found the grill took just 8 minutes to reach this temperature. That is quick!
So you can slowly smoke roast your meat, take it off to rest for 10 for 15 minutes, and the grill will be at a screaming hot temp just waiting for you to finish your beautiful sear.
Fuel Consumption
OK, this is where I have to start getting a little negative.
For low and slow smoking, fuel consumption is 'not bad.' With a hopper full of medium to large chunks of lumpwood charcoal (perhaps 10 lbs?) I achieve about 9 hours of smoking. This is way under what can be achieved with a Weber Smoky Mountain, or a Kamado Joe Big Joe. It also means refilling the hopper partway through long cooks of butts or briskets.
For out and out hot and fast grilling? I've not really taken a time measurement, but I can tell you that this thing eats through charcoal! So much so that I only tend to smoke on my 1050, or reverse sear (smoke then sear at the end.) I choose not to fire it up for solely a grilling session, preferring to use a Weber Kettle or Kamado instead, simply for fuel efficiency's sake.
I have to remember that I have the 1050 model, though, the largest one available and that the 800 and 560 models are simply bound to be far more fuel-efficient due to their smaller size.
Sometimes, size isn't everything!
Cleaning and Maintenance
Cleaning is comparatively easy and painless compared to most charcoal smokers and grills.
First of all, the charcoal burns above a grate and ashes fall down into a bin. Simply opening a door and emptying the ash bin is all you need to do to clean out the ashes.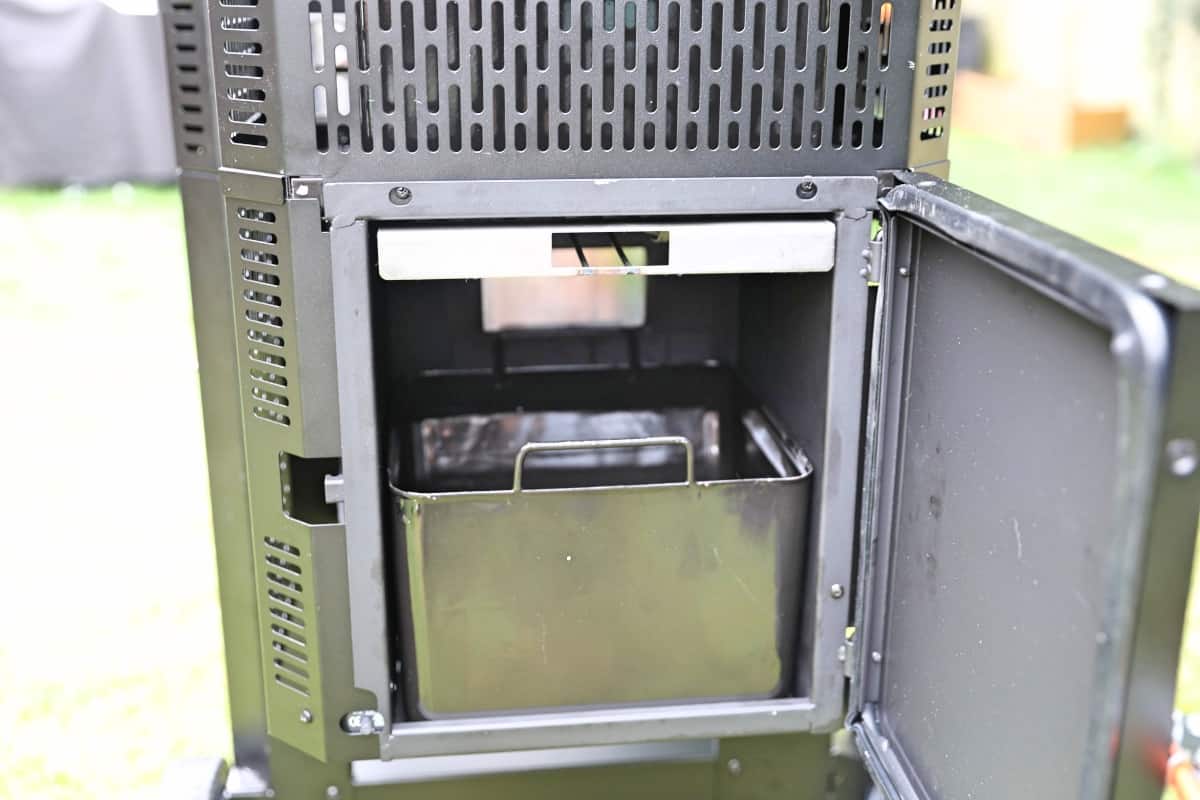 There is a grease management system whereby fats and drippings fall first down onto the heat diffuser manifold, then down to the bottom of the grill onto a large tray. It then drips down from here into a smaller but still adequately large grease collection tray.
The smaller of these trays pull out from the side, from underneath the side table where the controller is. It does require getting down on your knees, but it isn't difficult. The larger one can be pulled out from the rear (only after the smaller one is removed) for cleaning if necessary.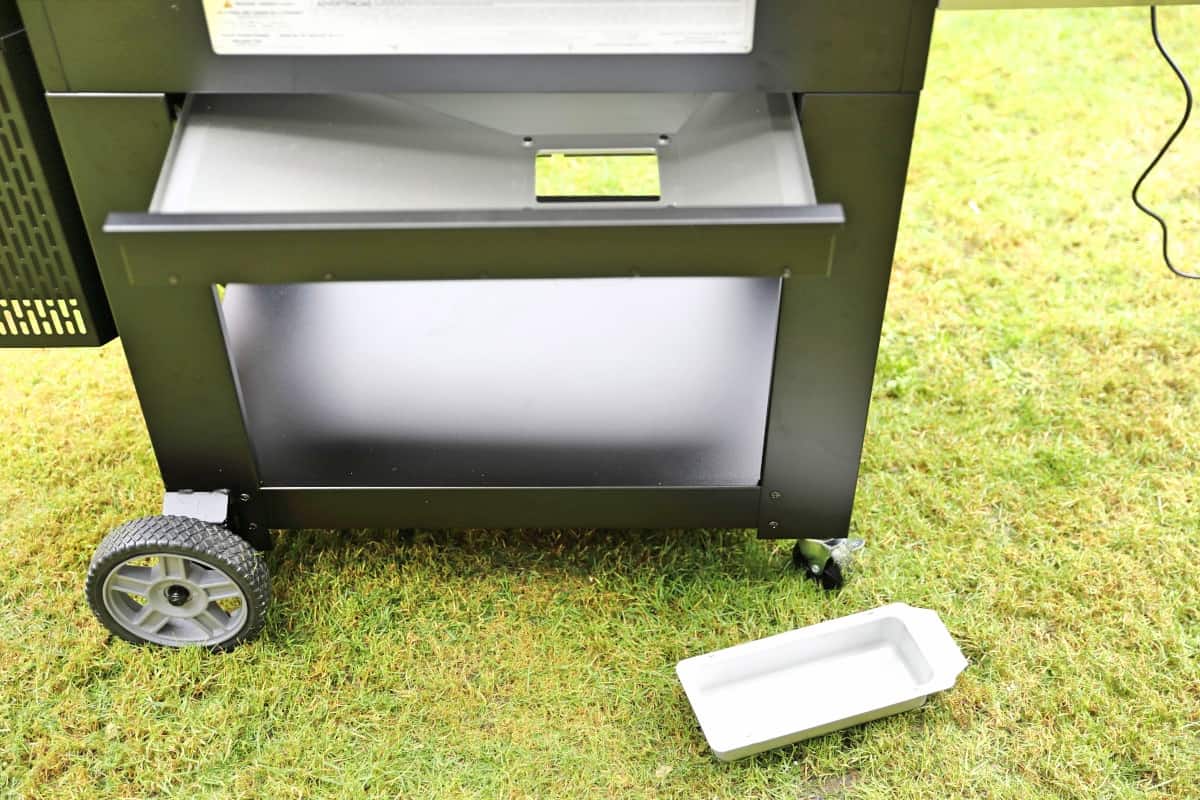 The grates you clean with a good grill brush and scraper, same as you would any grill grates.
The outside, you can simply wipe down with a dishcloth.
One issue that owners commonly discuss is that fats and drippings can collect on the heat diffuser manifold and in the base of the grill when cooking low and slow, which can then ignite and cause a bit of a grill fire when you then choose to grill at very high heat. As you can see below, I have had this happen!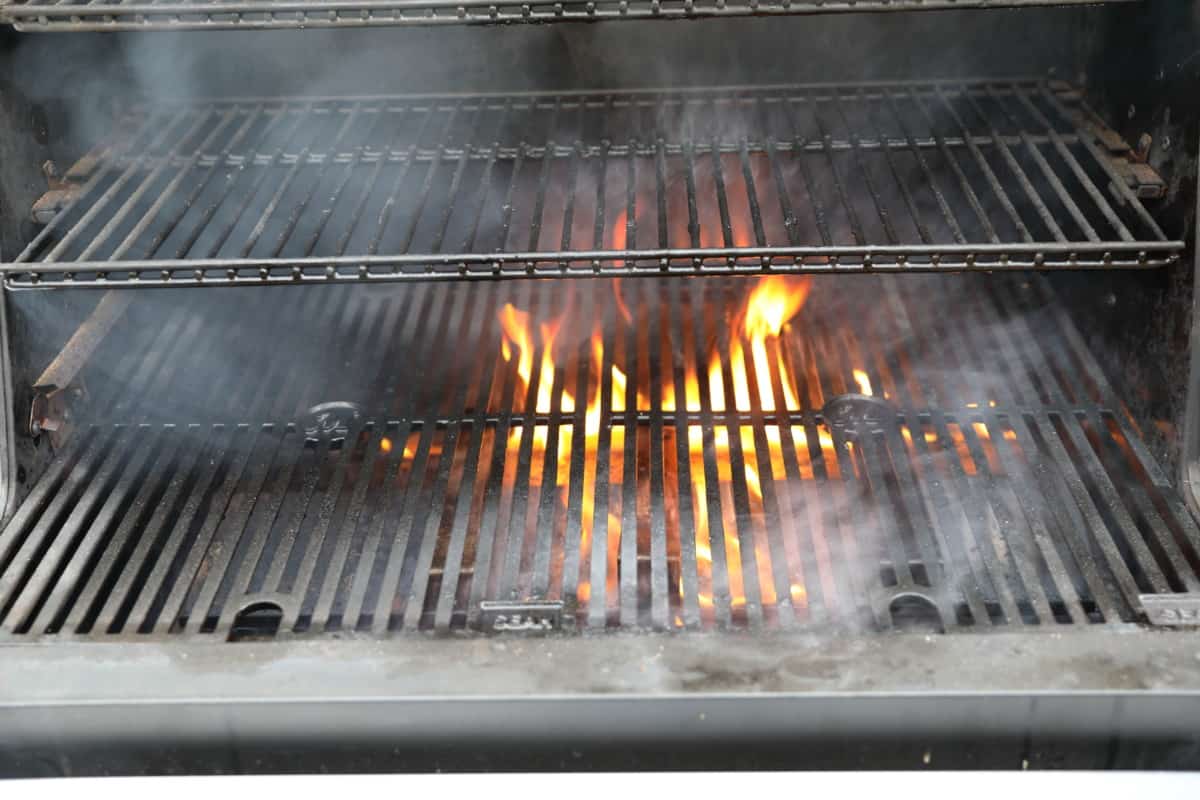 To prevent this, you should do the occasional 'high heat burn off' of all fats and oils at over 550 °F instead of letting it build up. Or scrape out the bottom of the grill and the larger grease tray regularly.
I've never encountered this issue because, during my research, I discovered and then purchased a clever mod of a manifold cover that prevents flare-ups. Let's look at that now.
Available and Recommended Mods
Modding your grill or smoker is a popular pastime for many BBQ enthusiasts. It's a way to get even more value out of your investment and make up for some of the shortcomings many cookers have. Plus, you can tailor your cooker for your unique needs and environment.
There is no shortage of mods for the Masterbuilt 1050. A quick search at LSS Mods, an after-market manufacturer of add-ons for Masterbuilt Gravity Series cookers, turns up 17 stainless steel parts and kits you can choose from to enhance your new 1050 smoker.
The options range from larger upper cooking racks to sausage hangers to multi-piece mod kits for really tricking out your Masterbuilt 1050. (What, no LED underglow strips??)
The one mod I would recommend from the lot is the Manifold Cover with Anti-Flare Lip. It's a simple piece of folded 20 gauge 304 stainless steel, made to fit over the manifold — that's the smoke tunnel in the bottom of the cookbox with all the square holes for letting out the smoke and heat.
As I said before, if you see flames in the 1050, it's likely from grease burning off the top of the manifold. On top of flare-ups, grease build-up on the top of the manifold gets messy in a hurry, and it's no fun to clean up. Sure, it comes out, but it's a bit finicky to slot the bolts into the holes and slide it into place.
More grease is channeled away and down into the grease trap with the manifold cover. As a result, you'll see considerably fewer flare-ups, and it's easier to remove and clean, too.
For the ultimate in grease management, consider the Drip Pan Brackets as an add-on to the Manifold Cover. It's like a mod for a mod. The brackets attach to the cover and support two aluminum drip pans above the manifold but below the main grate. That should catch just about everything and virtually eliminate flare-ups and make clean-up as easy as it's going to get.
Masterbuilt Company Overview, Support, And Warranty
Masterbuilt is a family company that began with a trade between acquaintances: a lawnmower for a custom-made fish cooker. Apparently, the fish cooker worked like a charm. In 1974, founder Dawson McLemore made the easy decision to switch from making metal fern stands (the plant that defined the 1970s) to making fish cookers.
From there, they branched out into other kinds of cookers, and today they sell a wide range of charcoal smokers and grills, and electric and gas smokers and fryers.
Masterbuilt is now owned by a US investment firm, along with Kamado Joe and Smoke Hollow. Their products continue to be made in the United States. We absolutely consider Masterbuilt to be a reputable and reliable manufacturer.
A one-year warranty accompanies your Masterbuilt Gravity Series 1050, but it does not cover the paint or rust. It's a shorter warranty than I'd like to see from a reputable builder, but I wouldn't exclude it from your consideration because of it.
You can access a decently large FAQ section from the website that may help you in a pinch. They have a lot of videos, too, but most of them are either promotional or recipes and cooking tutorials.
There's an online support form you can use, including uploading images, if you run into any trouble. Be sure to register your new grill right away, or you won't get any love from the support team. There's no phone number or email address for Masterbuilt on their site.
Who is the Masterbuilt Gravity Series 1050 Best Suited to?
First and foremost, this cooker is meant for people who love to smoke (or plan to smoke) large quantities of meat and love the more complex taste of charcoal and wood smoke, as opposed to the cleaner and milder taste of smoking with wood pellet, gas or electric smokers.
Yes, you can grill on the Masterbuilt gravity-fed series. But, you can grill just as easily on a much smaller, much simpler, more fuel-efficient, and much less expensive charcoal barbecue. BUT, it's good to have a dual-purpose bit of kit that can primarily smoke, and grill on occasion when needed.
If you already cook with charcoal and would like to ramp up the smoking side of your barbecue game, this unit probably makes more sense for you than a pellet grill since you've got the charcoal handy.
It's pretty forgiving for anyone new to smoking, too; you don't have to be a pitmaster going into this because the learning curve isn't steep. In fact, it's straightforward.
Do We Recommend the Masterbuilt Gravity Series Grill and Smoker?
Yes, after trying it out and putting it through its paces, I definitely give the Masterbuilt Gravity Series my seal of approval.
It's not without its downsides, and I expect more improvements will come in the future. But, it's a brilliant idea, gravity-fed charcoal, and it makes charcoal smoking more accessible and easier than it's ever been before.
It's also relatively cheap if you compare it to other combination charcoal smokers and grills, particularly Kamado-style cookers.
Summary of Pros and Cons
Pros
Can smoke, grill, and sear all on this one unit
Can use natural lump charcoal or briquettes
Charcoal grilling that's as easy as using a wood pellet or gas grill or smoker
Fan controlled temperature makes it dead simple to use! Simply set your temperature and it stays stable
Built-in wireless monitoring and control is somewhat unique for a charcoal grill and smoker
Reversible grates for more effective smoking or grilling
Very easy to add more charcoal mid-cook if needed
Food probe included as standard (can support up to 4)
Easy to clean, with removable ash catcher in the hopper
Multiple switches on every door and lid to prevent runaway burning of charcoal
Storage hatch, hanging pegs for tools, folding front shelf and 4 wheels are nice, well though out features
Cons
Not much usable room on the front shelf with the lid closed as the handle gets in the way
No true direct flame searing (though does get plenty hot enough to sear!)
Removable drip pan could be easier to access
I've had occasional connectivity issues with the smartphone app
Build materials could be thicker (though this would add considerable cost)
Masterbuilt MB20041220 Gravity Series 1050 Digital Charcoal Grill and Smoker Combo
A gravity fed, charcoal grill and smoker, on which you can smoke, grill, sear, bake, roast and more. Incredibly versatile, it's the swiss army knife of outdoor cookers that can do it all, and can even be controlled from your smartphone with it's Bluetooth and Wi-Fi connectivity.
Final Thoughts
One of the things I love about barbecuing is that even though cooking over a fire predates human civilization, people passionate about it still find ways to bring us something new.
I can envision a future in which gravity-fed, set-it-and-forget-it smokers and grills are the norm rather than the exception. And anything that makes barbecue easier and more accessible without compromising on the end result is OK by me.
I hope you enjoyed my Masterbuilt Gravity Series review. It was a lot of fun to cook with, and I expect to get plenty of use out of it.
If you're in the market for a new smoker and are considering a Traeger or a kamado-style grill, definitely take a long hard look at this unit first. I say it qualifies as a game-changer in the smoking category.
Thanks for reading, and happy smoker shopping!