This article takes a deep dive look at the best BBQ temperature controllers, with a buying guide and look at the top models on the market today.
When it comes to smoking, there are more variables than you can shake a tomahawk steak at. The more of them we can control, the more likely it is we'll be eating delicious food at the end of the session.
Probably the two most important variables are time and temperature. In this article, you'll learn how to control the latter with an automatic temperature controller.
Things kick off with a review of the eight best barbecue temperature controllers on the market. You'll learn the specs, pros and cons, and more for each model covered. Plus, there's a section on what they do and why you might want one, and what features to look for when buying.
Here's where you take control of your smoking destiny by choosing to keep reading.
At a Glance: The Best Barbecue Automatic Temperature Controllers Discussed in this Guide
Note: Clicking the above links will take you to further information, current prices, and customer reviews on Amazon and other select retailers.
Automatic BBQ Temperature Controller Reviews
Enough small talk, let's get into the reviews…
FireBoard 2 Drive with Blower
1
How to control your smoker with confidence: start with one of the best remote digital smoker thermometers on the market and add a small-but-mighty variable-speed blower.
Yes, the Fireboard 2 Drive isn't a dedicated BBQ controller, but is a combination thermometer and controller that is absolutely excellent at both tasks.
Download the deep yet easy to understand app, and keep tabs on your smoker from your smartphone (are there dumbphones?) via Bluetooth or the cloud through Wi-Fi.
The Fireboard 2 Drive supports up to 6 probes and comes supplied with one pit probe and two probes for monitoring food. Six probes may seem like a lot, but having the option to upgrade to this number adds a lot of versatility.
The Fireboard 2 has the option for two different probe types: Standard thermistor type, which have a faster response time and are best for BBQ (and are the ones it ships with and the ones I use), or RTD type that have a wider temperature range for extreme environments and can measure temperatures between -58 °F and 715 °F.
The fireboard 2 controller is more than capable of monitoring a wide enough temperature range to cover all scenarios in BBQ, from -94 °F to 752 °F (-70 °C to 400 °C), which is more than the probes can withstand and more than we will ever experience when smoking.
Fireboard advertises an accuracy of ±0.7 °F (±0.4 °C). I put this to the test by measuring boiling water and iced water.
Boiling water should read 212 °F. As can be seen below, the Fireboard 2 measured 211.8 °F and 212.3 °F for a food probe and meat probe.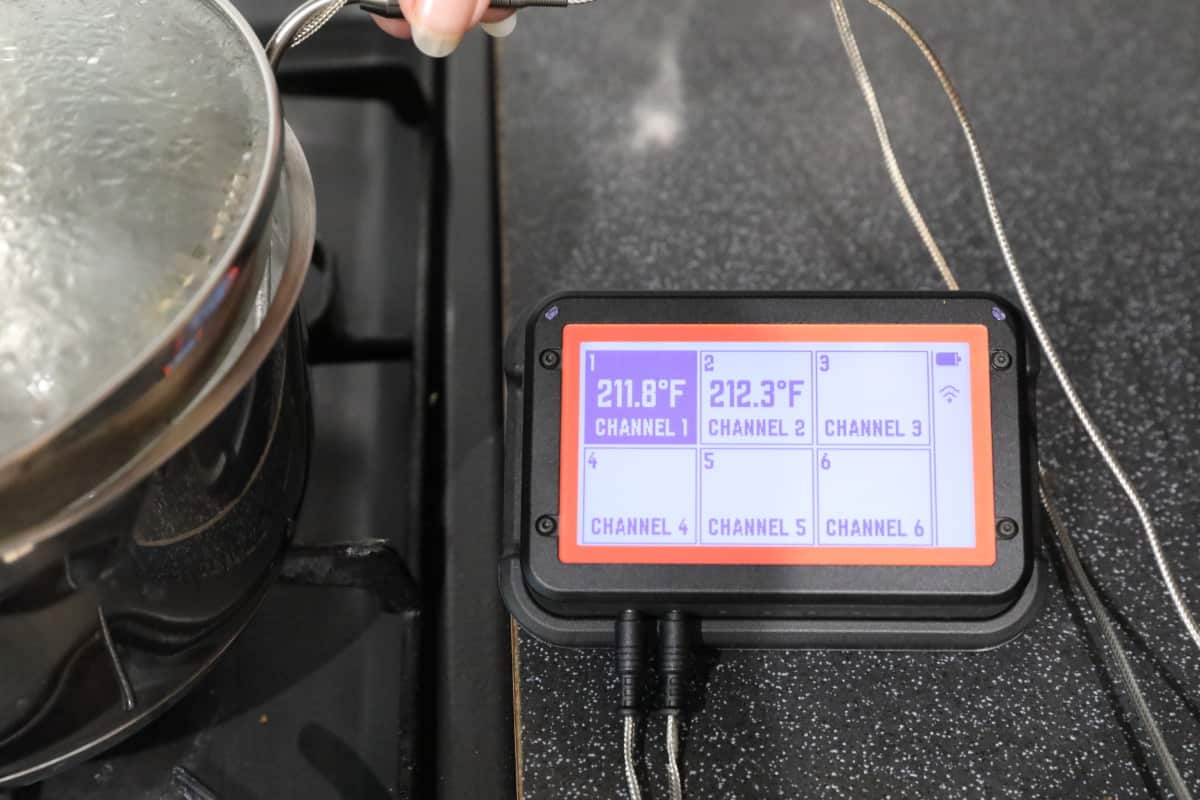 Iced water should read 32 °F, the Fireboard measured 32.1 °F to 32.3 °F.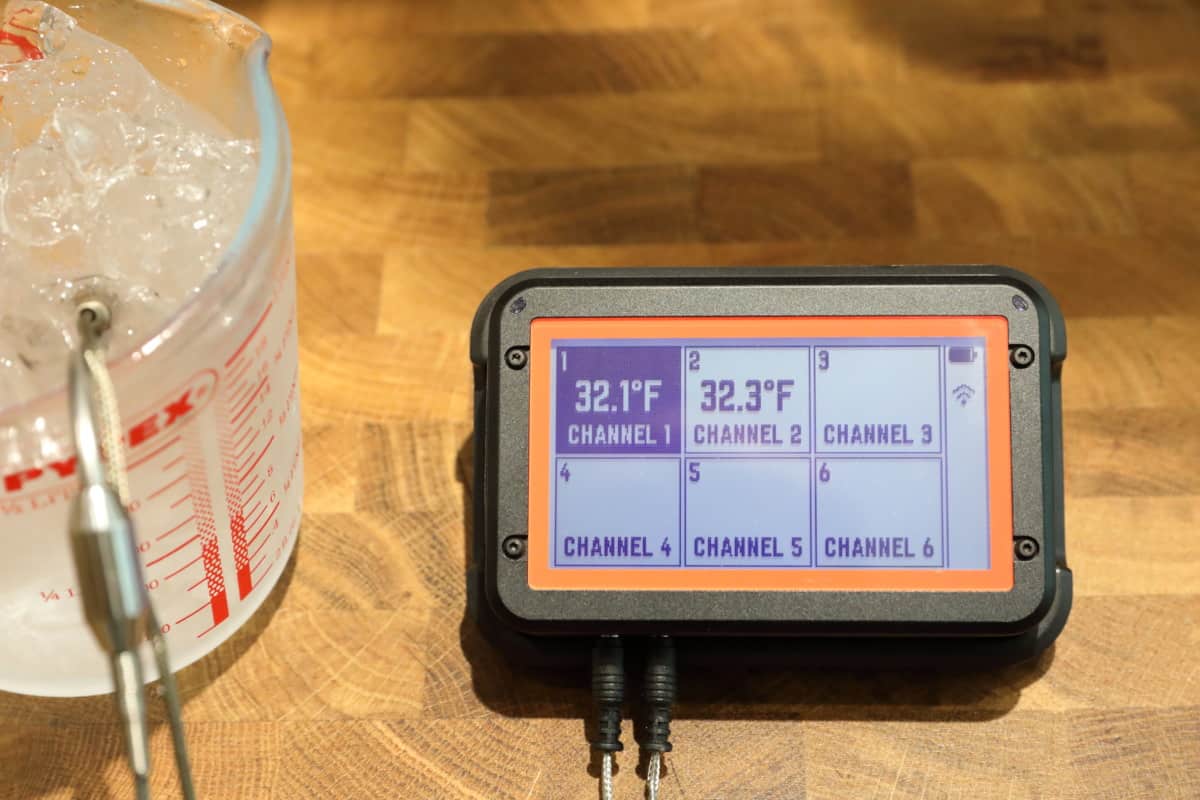 This is data you can truly rely on during your cooks.
The controller is well-made, durable, and weather-resistant, so it will stand up to the rigors of being used outside.
It's powered by a rechargeable battery that can run up to 30 hours on a single charge, but can be used while plugged in.
The screen is 3.3 x 1.75 inches, bright, high-contrast, and easy to read in all lighting conditions.
The blower for the Fireboard 2 is well made, feels good in the hand, has fittings to fit to your smoker that are well thought out and reliable, and the whole thing feels sturdier than many blowers we have owned and used over the years.
Unlike any other blower, it also has a sliding door toward its end that you can close to kill off your fire and extinguish your charcoal, without having to remove the blower.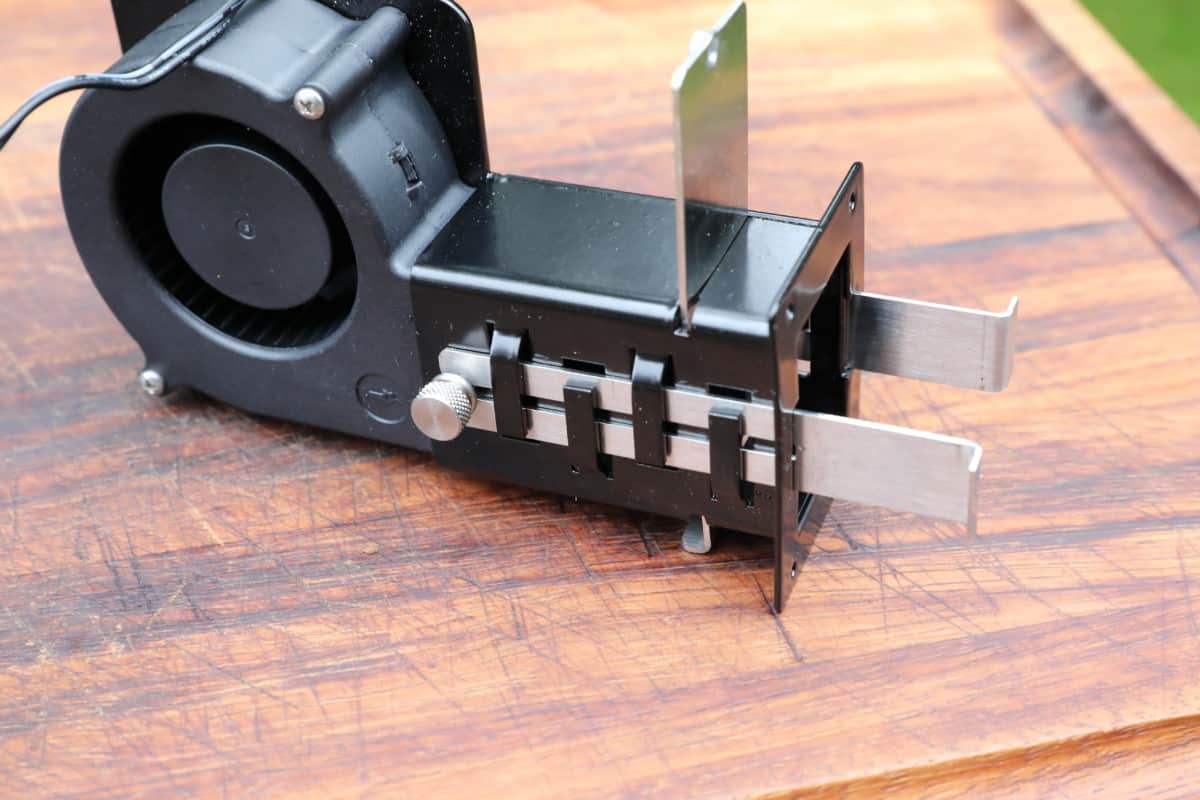 In our tests — and over now more than a year of use now — the Fireboard 2 held our Kamado smokers and Weber Smokey Mountain rock solid at our chosen target cooking temp, deviating by just 10 °F either way. It works extremely well and is reliable.
The fireboard 2 is Bluetooth enabled for monitoring up to 100 feet away and Wi-Fi enabled for monitoring your cook anywhere you have an internet connection.
The smartphone app is one of the best we've seen, well thought out, intuitive to use, and has a very stable connection to the controller.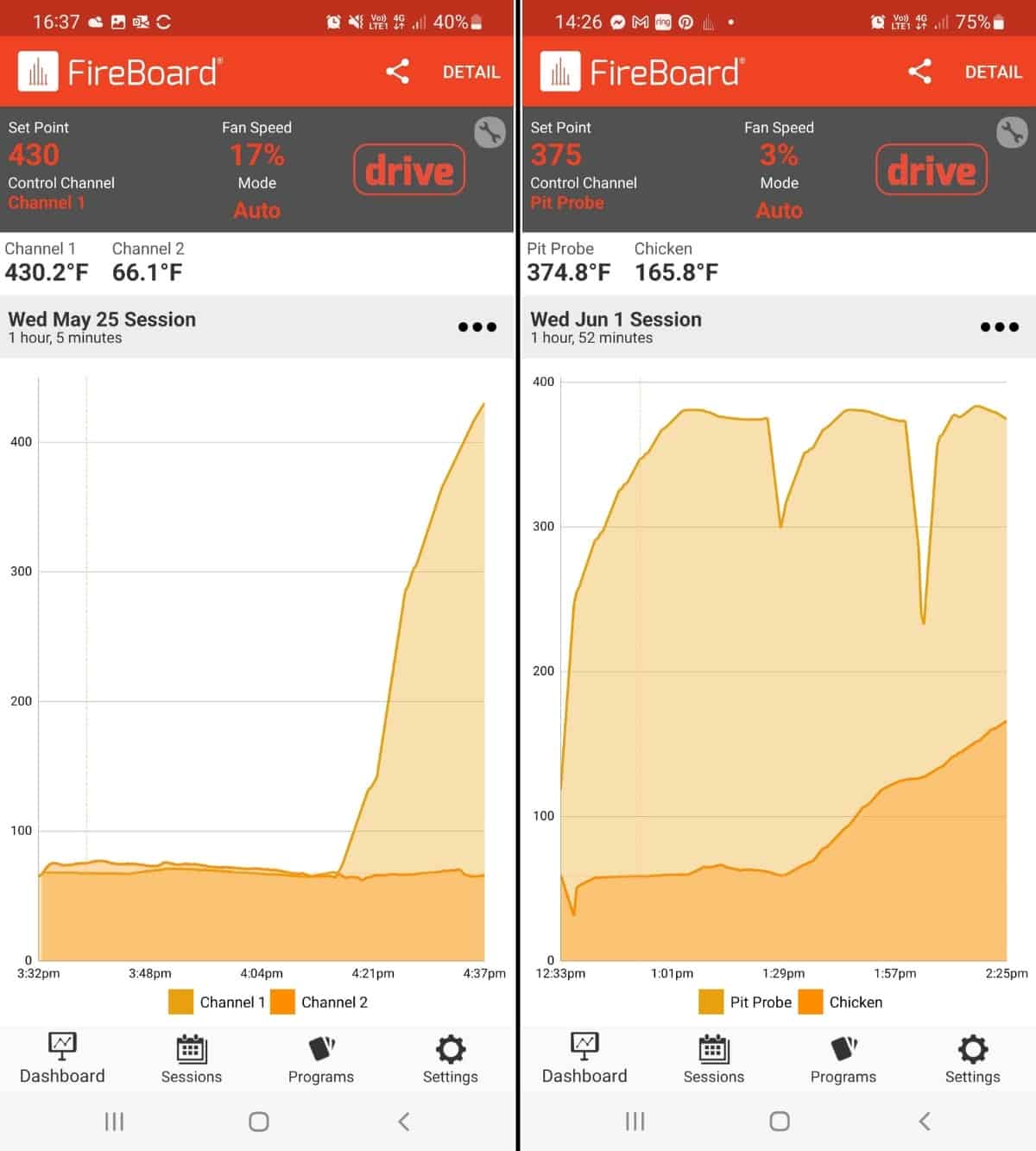 You can even use the Fireboard app to record and save data generated during your smoke session to refer to later. This is perfect for beginners, so you never have to rack your brain trying to remember what worked and what didn't.
The app can receive notifications about important events in your cook, such as the temperature of your pit dropping too low or too high, or food reaching your chosen finished temp. You can also set channel names, see graphs of your cook, and more.
Although the Wireless capability is excellent and the smartphone app is great, you do not have to use it. The controller itself shows all the data from your cook you will ever need, and can be used standalone with ease.
There's just so much good stuff to say about this thermometer and controller, I cannot pack it all in. Please check out our full Fireboard 2 Drive with Blower Review to see everything it's capable of and more on how I find it during use.
Is This the Controller for You?
This is a good choice if You want one of the very best thermometers on the market that is also one of the best temperature controllers by design and not just as an afterthought.
It's also a good choice if you have a large smoker and want to monitor many food items simultaneously, as it's the only temperature controller I know of that can connect up to 6 probes!
Another model might suit you better if you don't smoke often enough to open your wallet quite so wide, because there are cheaper options out there.
Pros
Stable and reliable, hands-off temperature control of your smoker
One of the very best performing BBQ thermometers available today.
A well-designed, professional bit of kit.
Support for up to 6 thermometer probes.
Incredibly accurate, fast response time, and wide temperature range.
Easy to read, high contrast display that can be seen day or night.
Auto-rotating display to suit the devices orientation.
Bluetooth and Wi-Fi enabled, for connectivity options.
One of the best smartphone apps on the market, with reliable connectivity.
Up to 30 hours run time on the internal rechargeable internal battery.
Some control is achievable from smart speakers by Google and Amazon.
Cons
No audible alarms on the controller.
Controller buttons are unlabeled, so some memory is required (though to be fair, I always use the app!)
If you are serious about your BBQ and want the best regarding accurate and reliable kit, then you should consider the Fireboard 2 Drive with Blower.
Thermoworks Signals with Billows
2
I have owned and used a handful of thermometers from Thermoworks over the years, and they have always been excellent. The Thermoworks Signals continues that tradition.
Like the Fireboard 2 Drive above, the Thermoworks Signals is a top-tier, professional smoker and grill thermometer first, but with the addition of a Billows blower, it becomes an excellent temperature controller too.
It's very hard to separate the Fireboard 2 Drive and the Thermoworks Signals to find a winner or top pick. I personally prefer the Fireboard design and app, but others have different opinions. The Thermoworks is generally accepted to be the more commercial and most suited to commercial use or BBQ teams.
Either way, they are very close in terms of accuracy, reliability, and quality.
The Signals supports up to 4 probes, one to monitor your pit and 3 for food. And it is shipped with a full complement of four probes to match.
The controller can measure from 58 °F – 572 °F (-50 °C – 300 °C), and the advertised accuracy of the probes is:
±1.8 °F (±1.0 °C) from -4 to 248 °F (-20 to 120 °C)
±3.6 °F (±2.0 °C) from -58 to -4 °F / 248 to 392°F (-50 to -20 °C / 120 to 200 °C)
±5.4 °F (±3.0 °C) from 392 to 572 °F (200 to 300 °C)
As usual, I put this to the test.
Boiling water should measure close to 212 °F. As can be seen in the following image, the Signals measured between 211.8 °F to 212.2 °F.
Iced water should measure 32 °F. As can be seen in the following image, the Signals measured between 31.9 °F to 32.0 °F.
This proves that the Signals provides reliable data and that you can depend on it.
The controller is rugged, robust, and solid, has molded seals for a waterproof rating of IP66, and is wedge-shaped so it sits nicely and stable on any flat surface, with no additional stand required.
The display is large at 1.88 x 3.97 inches, easy to read, and displays all important info for all probes simultaneously, including current temperatures, high and low alarm settings, and alarms set. Plus any name you may have set to each probe.
Power is provided by an internal rechargeable battery that can last up to 16 hours. However, when using it as a temperature controller with the Billows attached, you must have it plugged into a power supply.
This unit is both Wi-Fi and Bluetooth enabled, so you have connectivity options and can monitor and control your cook from anywhere with an internet connection.
The latest smartphone app is good, and since recent updates is far better than their original offering. All info is easy to see, including historical data and graphs of your cook.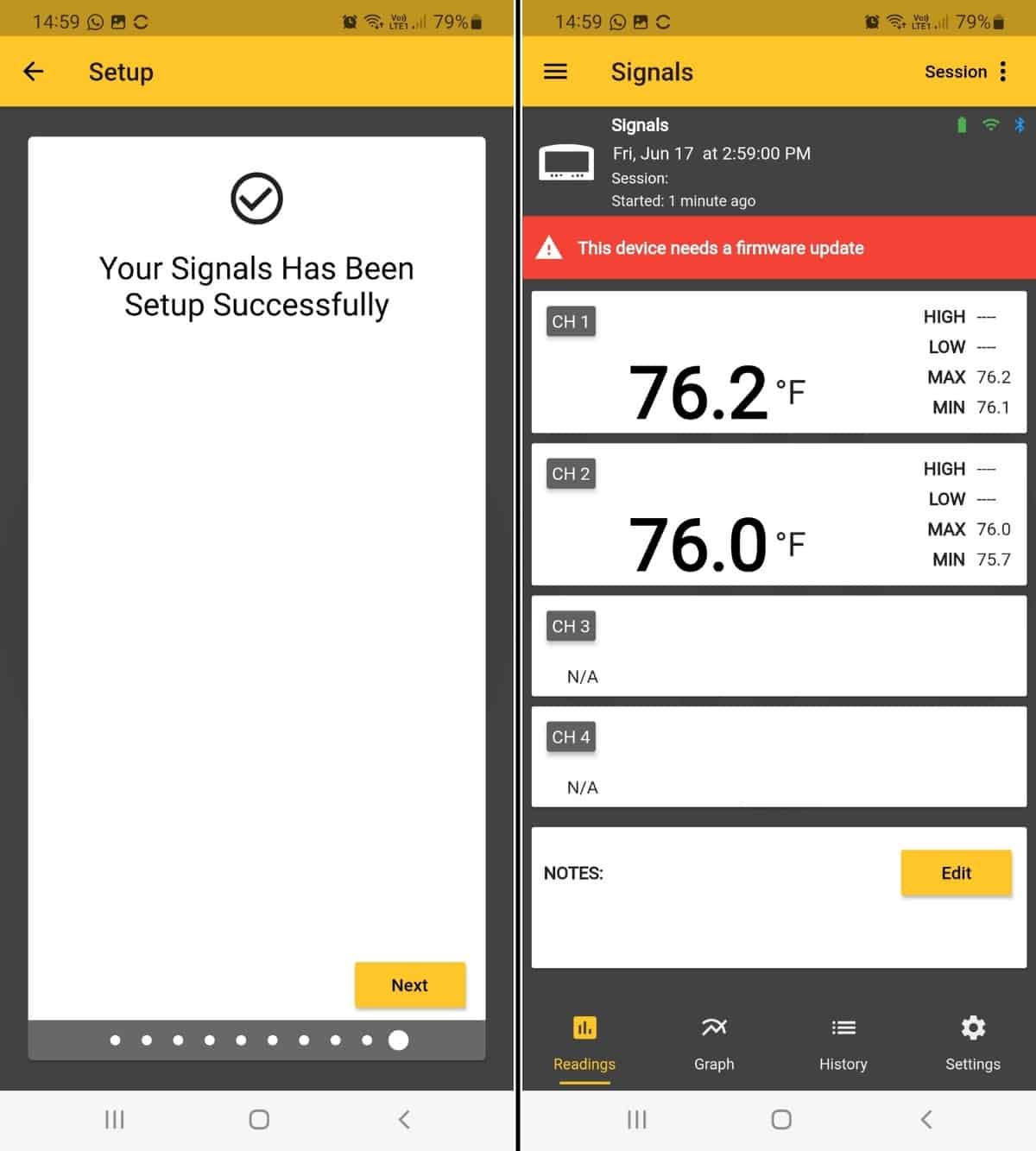 But with this unit, you don't have to use the smartphone app. The main controller has clearly labeled buttons, and all settings and data can be read from the display.
The Billows blower for automatic temperature control is large, well made, and easy to connect to your smoker with a faceplate and spring-loaded clip.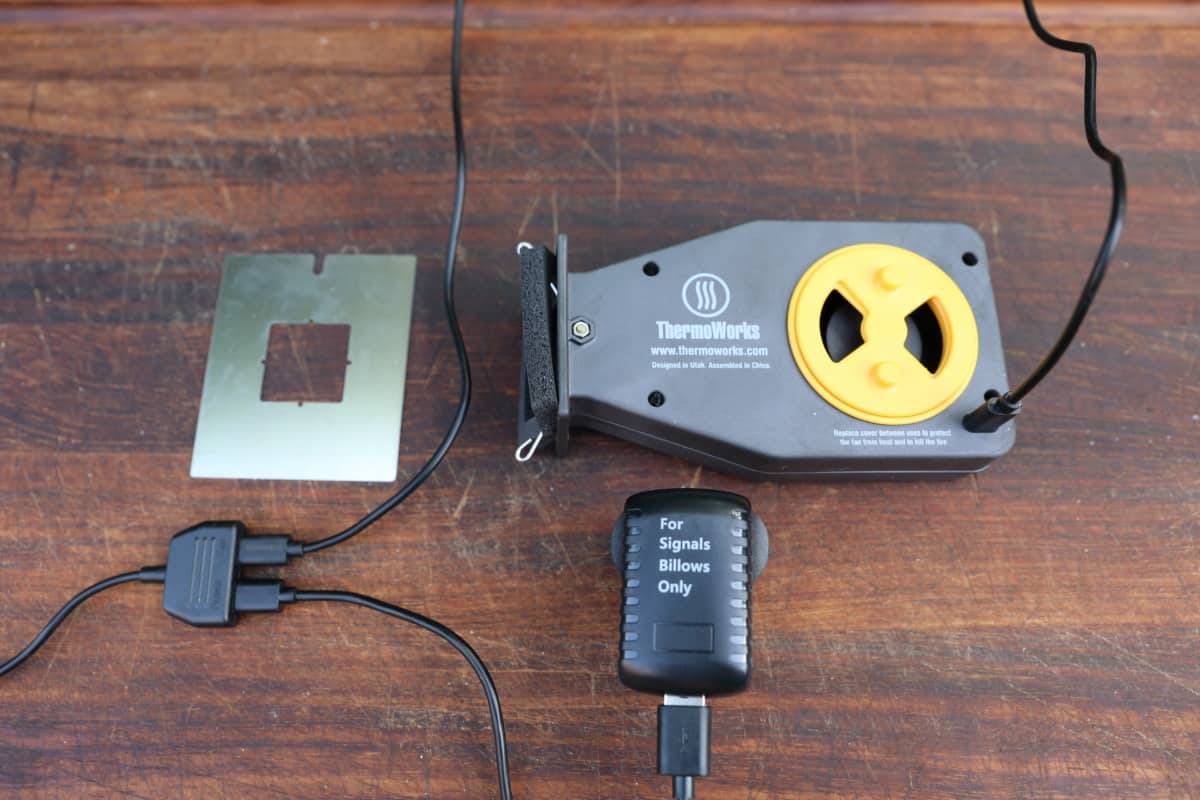 Different accessories are available for connecting the blower to different smokers, so make sure you purchase the correct one! And plenty of instructional videos are available for you to follow along step-by-step on how to get set up, connect and get going.
In my tests, the blower works incredibly well.
I have used this temperature controller set up on 2 different-sized Kamados (the Kamado Joe Classic and Big Joe) and a Weber Smokey Mountain. It held my smokers to within plus or minus 10 °F of my target 225 °F temperature for the duration of multiple cooks.
I have used this controller multiple times since my purchase and confidently rely on it entirely. It's not once let me down.
Pros
Most importantly, it's accurate and reliable
Debatably the most professional temperature controller and thermometer combo available, including water-resistant and commercial-grade probes.
Very easy to get set up and use
3 meat and 1 pit probe supplied as standard.
Both Wi-Fi and Bluetooth enabled so you can monitor and control from your smartphone via an app.
A fully functional base shows all important data, and has clearly marked buttons to change settings, so you don't have to use the smartphone app.
Alarms and cooking programs are easy to set and use, with clear notifications.
Choose from 9 different colors for a hint of personalization.
Cons
The smartphone app is a bit cluttered compared to some others.
Nothing else, it is that good.
In summary, the Thermoworks Signals with Blower is an excellent thermometer and temperature controller. Easy to use, reliable, a well thought out, useful design and features, and built to last.
Check out our full Thermoworks Signals with Blower review for further details. It's definitely one to consider.
Owning a Flame Boss 500 is kinda like owning a Minion, without the giant goggles.
It's a small, useful personal assistant that takes care of menial tasks, so I don't have to, freeing me up to chat with guests and generally be the pitmaster I want to be.
Flame Boss calls this cool gadget "cruise control for your smoker." Nailed it.
About all it doesn't do is prep the meat or slice it and serve it. (Hopefully, they're working on that as we speak.)
The main unit is simple to use, featuring four clearly labeled buttons and a bright, easy-to-read screen. The LCD can display the current temperature readings of all four probes at once, allowing you to take everything in at a glance.
The pint-sized blower packs all the power needed to feed oxygen, fire's true fuel, to the coals in your smoker.
It looks like a miniature hairdryer, but I don't recommend it for that job. It measures about 5″ x 3″ x 1.5″ — it's noticeable but never obtrusive. It's a variable-speed unit, so it only blows as hard or as soft as necessary.
Important Specs and Features
Wi-Fi Controller unit
Variable-speed blower
Mounting adaptors
1 6-foot meat temperature probe, 1 6-foot pit temperature probe
2 cable organizers
4-line backlit LCD
Monitor from any smartphone, computer, or tablet via app or website
Magnetic base
Amazon Alexa and Google Home compatible
iOS and Android compatible
Supports up to 3 meat thermometer probes plus the ambient probe
Four alarms — one for each probe
Accuracy
Boiling water is 212 °F. The Flame boss 500 measured 212 °F.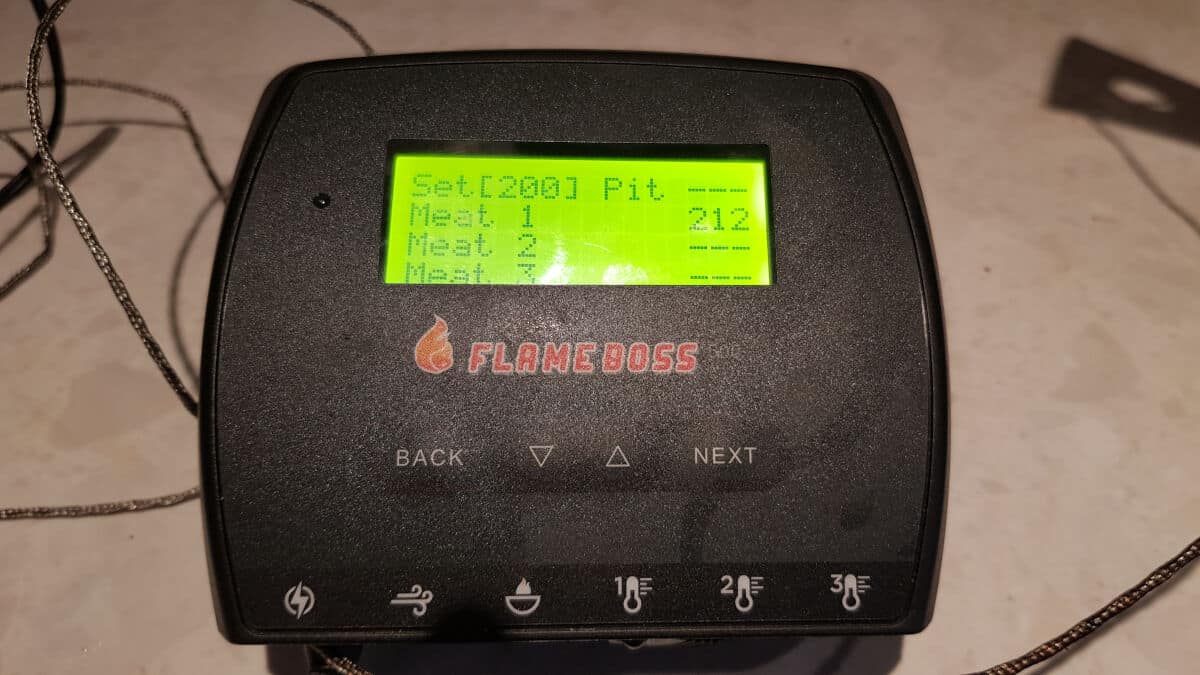 Iced water is 32 °F. The flame boss 500 measured 33 °F.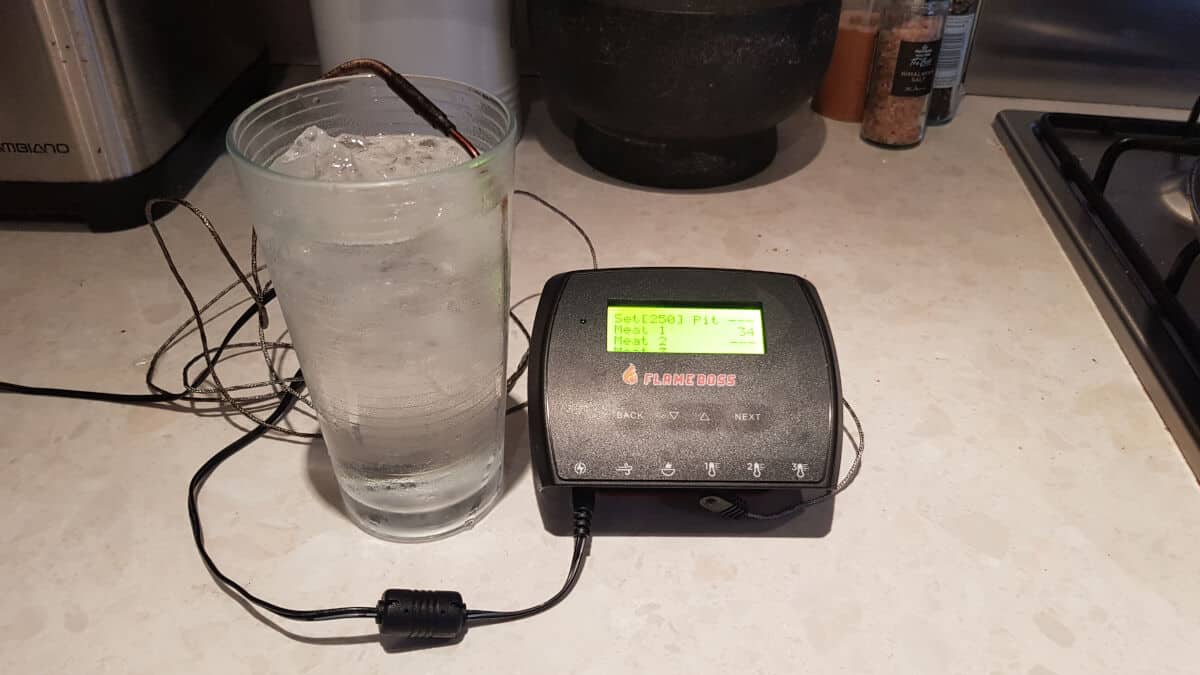 This is highly accurate, and shows that it's data on which you can rely on.
Is This the Controller for You?
If you own almost any drum, cabinet, bullet, offset smoker, or kamado style smoker — including a Kamado Joe or a Big Green Egg — the flame boss 500 is compatible and will work flawlessly. Just make sure you buy the right version, as there are two with different fixings.
Also, if you have long smoking sessions regularly or barbecue when the weather isn't conducive to staying outside for long, then this will be a nice addition to your BBQ tool kit.
It's also for you if you love to track your smoking sessions for future reference, as all details of your cooks will be saved on Flame Boss servers for future reference.
Another model might better suit you if you only smoke for long sessions on occasion and can't justify the cost (though true gadget-lovers can justify almost any purchase!)
Also, a different temperature controller might suit you better if you don't have Wi-Fi available at your smoker. There is a direct connection mode for wireless hook-up directly to your smart device, but you won't get the benefits of connecting through the Flame Boss server.
Pros
Very easy to set up, and intuitive to use
Highly accurate — vital for success when smoking
Remote monitoring and alerts is fantastic — I love getting alerts on my phone.
Intuitive mobile app also easy-to-use, and can save cook details for later reference.
Open lid detection prevents the blower over-fanning the flames, avoiding temperature spikes.
Cons
It would be nice if it came with three meat probes in the box instead of one. But, if you only ever smoke one item at a time, you might resent the extra cost for unneeded gear.
There's no protective case included or available, so be careful with your base unit.
The Flame Boss 500 takes our top spot as choice for the best dedicated BBQ temperature controller.
I've been using this BBQ temperature controller on multiple smokers for quite some time now, and I love it. It's simple but fully-featured, reliable, and accurate.
If you enjoy smoking, and you do it frequently, it's well worth the investment. It pays for itself in the time freed up not micro-managing your smoker temperature, and the meat that isn't accidentally ruined.
You can see more of my thoughts in my dedicated Flame Boss 500 review.
My first impressions of the BBQGuru UltraQ, are that it looks original, feels well-designed and good in the hand, and has the most modern look of all when compared with other controllers while still looking professional.
The size and colors of the display also make it easy to read day and night in any lighting conditions.
Up to 4 probes are supported (two are supplied, one pit probe and one food probe), and only one temperature can be shown on the controller display at a time. But there is a scrolling function where it will cycle through all four. The thermometer probes are also clearly labeled so you can see what goes where.
The UltraQ can monitor temperatures from 32 °F up to 475 °F. And BBQGuru states an accuracy of +/-2 °F.
The probes are stainless steel, safety rated up to 500 °F, and are dishwasher safe! Something I've not seen with any other probes.
The UltraQ is Bluetooth enabled for local operation up to approximately 100 feet and is Wi-Fi enabled for control and monitoring from anywhere in the world with an internet connection. And you can also partially control it or hear info from your cook by asking Amazon Alexa.
BBQGuru updated their original smartphone app after much customer feedback, and I am happy to say it's much improved.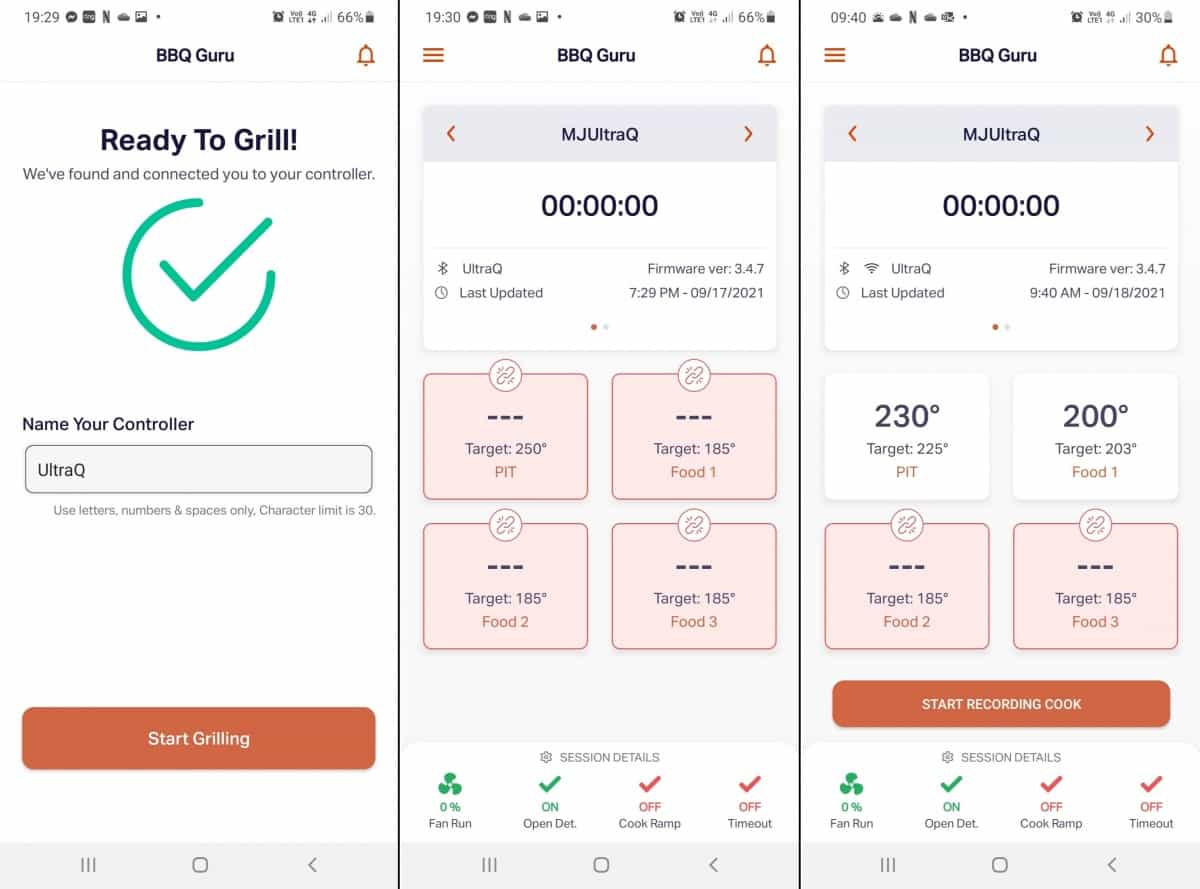 During my use, I have not suffered any connection issues. The app is uncluttered and easy to navigate, easy to use and to see all important data from your cook, making it easy to get the most from your device.
One great feature of the UltraQ is that it learns the smoker it is connected to over time. The more you use it with the same smoker, the more temperature stability and accuracy of its performance increases over time.
Another standout feature of the UltraQ is the light up ring that forms the outside of the front of the unit, plue the 'tail' of the bottom of the letter Q.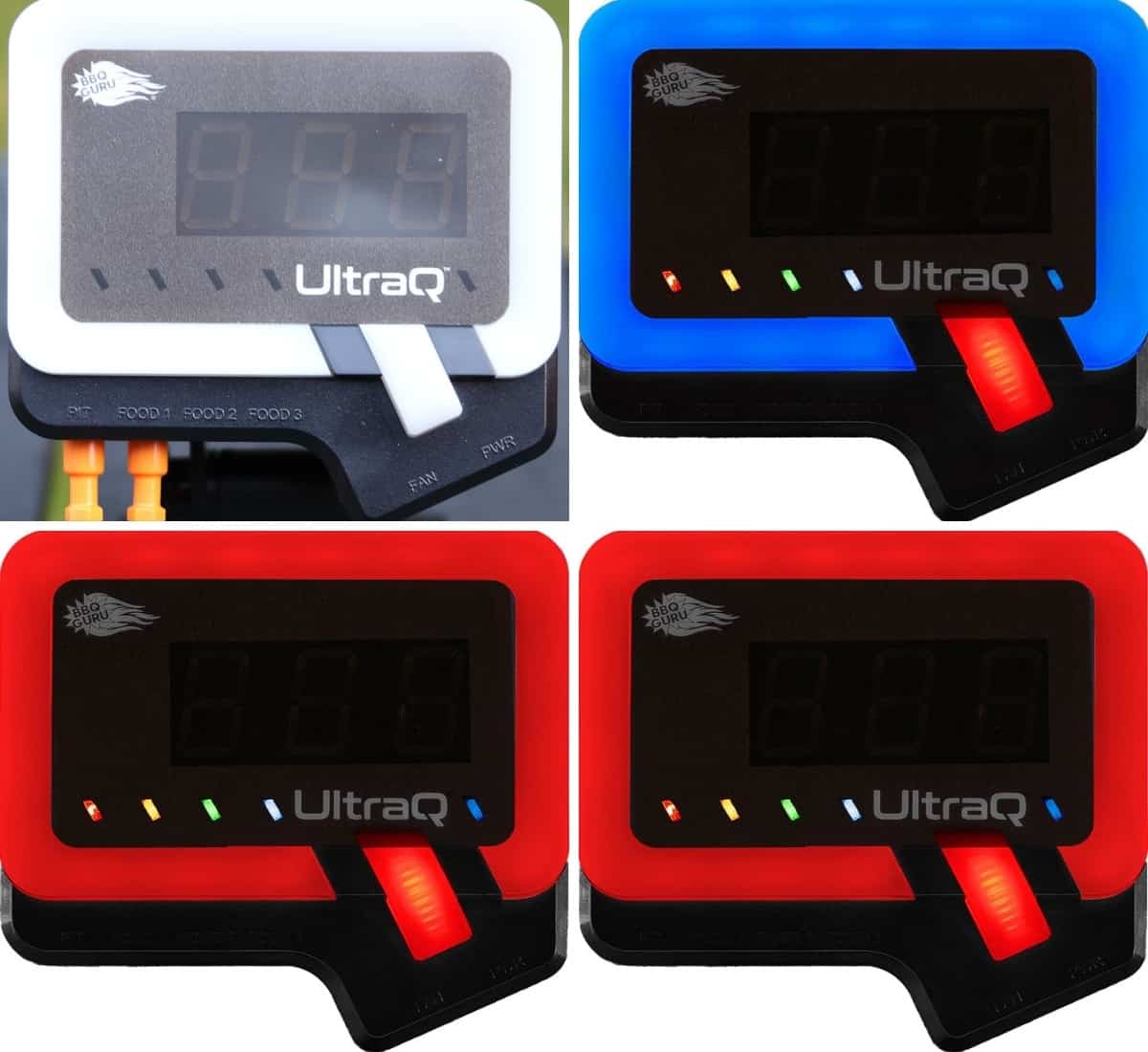 This ring and tail light up different colors, or flash, to show what is happening without needing words or numbers.
There's a lot to cover with this light-up ring, so it's best you read my full BBQGuru UltraQ review for further details. But suffice to say, it is a unique feature, will take some learning to know what colors and flashing mean what, but I can see it being useful for an 'at-a-distance overview' of what's happening with your cook.
The stand is also well thought out and is about as versatile as they come.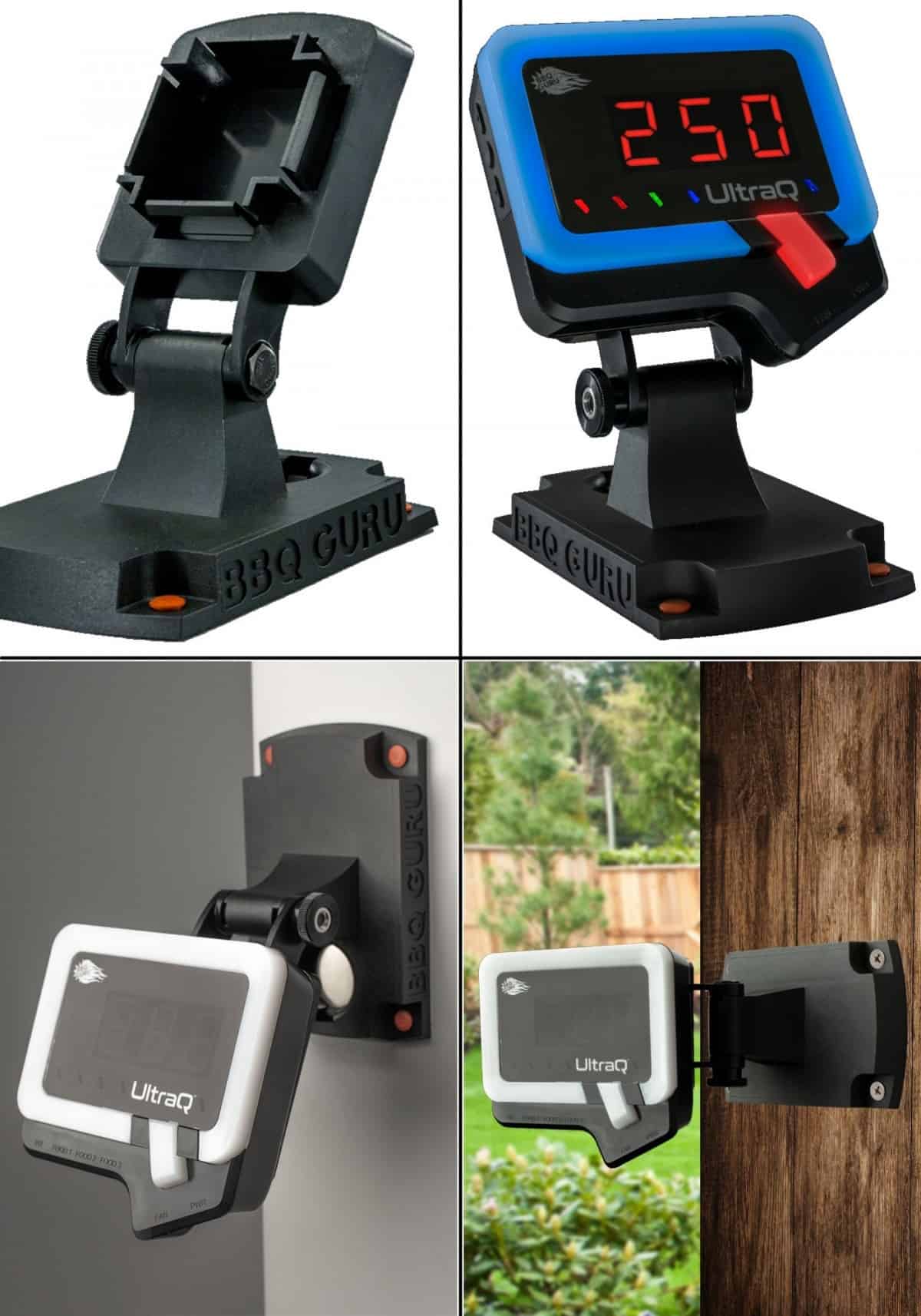 The base is magnetic for sticking to metal surfaces, or you can simply use it to stand the device on a flat surface. It also has screw holes for mounting and rubber feet to ensure no marking.
The hinged upper section allows you to change orientation to your desired viewing angle too.
Finally, how does the UltraQ actually perform as a temperature controller?
I have owned this device for quite some time now and used it on many cooks. It performs brilliantly and reliably and can be depended upon.
I have not seen temperature swings more than plus or minus 10 °F either way for set temps between 225 °F and 325 °F, and the lid detection system works well to stop temps running away.
Audible alarms at both the controller and on my smartphone have made sure I never missed any important events.
Pros
Hands-free, automatic temperature control that is accurate and can be relied upon.
Good build quality, well-made and durable. I've owned it a while, and it's withstood the rigors of working outdoors
A large, bright, easy to read display in all lighting conditions.
The smartphone app is recently updated, far less buggy and connectivity is good.
The transmitter is fully functional, so you don't necessarily have to use a smartphone
The LED light ring is innovative, and it's nice to see something unique in a product
The stand allows multiple options for mounting, including magnetic, or screw-mounted
Multiple available adapters mean it can be used with any BBQ or smoker
Can support up to 4 probes (2 supplied.)
Dishwasher safe probes are the first I've heard of!
Water-resistant control unit
Cons
It must always be plugged in as there is no battery option
The display is easy to read, but you must cycle through temps, not see all at once
What can I say to sum up this mini-review? It is a great bit of kit that looks good and has proven it can be relied upon. I am happy to recommend it.
Flame Boss 400 Wi-Fi Smoker Controller
5
If your life is on your phone, have I got the barbecue temperature controller for you!
This unit features no onboard display or buttons. Zero. Nada. And why should it? If you're using your phone to keep an eye on your 'cue, what do you need redundant features for? Now there is literally no reason to stay anywhere near your cooker.
This is a huge departure from the Flame Boss 500 and its fully-featured base control unit. Your pit probe and meat probe plug directly into the fan unit, and all the data they collect is sent to the app, which you can download for free for Android or iOS.
As you'd expect, the app features a variety of alarms, text notifications, and progress graphs. By the way, you're not limited to your phone — it works equally well on a computer or tablet.
One remarkable bonus of the Flame Boss 400 is that it's so easy to set up and connect to your Wi-Fi through the app, it can actually be done without sight. Now THAT is user-friendly!
For proof, check out this unboxing and configuration video featuring Chris Peltz, the host of Blind Grilling. (In another video, he even installs it on his BGE.)
Oh, and if you're really into gadgets, you'll appreciate the ability to control the Flame Boss 400 with your voice through a Google Home or Amazon Alexa device.
For a more in-depth look at this device, you can check out our Flame Boss 400 review, or keep reading for a summary of what you get, and its pros and cons.
Important Specs and Features
Wi-Fi controller with integrated blower
1 food temperature probe
1 pit temperature probe with alligator clip
Variable-speed 12 CFM blower
Wi-Fi enabled; supports 802.11B, G, and N Wi-Fi protocols
Cloud-based or direct connection to your device
Text alerts
Google Home and Amazon Alexa compatible
Is This the Controller for You?
This controller is for you if you love to use your phone for everything, and you want an easy set-up and installation.
It's also a good choice if you don't have a convenient spot, like a side table, for a base unit
Another controller would suit you better if you don't always carry a phone, or if your Wi-Fi is spotty or non-existent.
Pros
It makes total sense to eliminate the onboard display and controls for most users.
Installation is very simple; for a kamado, you won't even need tools.
Having just one unit keeps all your workspace clear, and you won't have dangling cords or tubes in your way.
Cons
Based on Flame Boss's own pictures, installation may be snug on some units.
Putting the probe and power ports on the bottom makes them tricky to get at when the unit is installed.
An option for more than one meat probe would be appreciated.
The simplicity of this single-unit controller makes it very appealing. While some may lament the lack of controls and display, those who are totally used to interacting with the world via their phones will love it. It's another terrific product from an impressive company.
Flame Boss makes versions for kamados and for steel smokers and grills. Choose the one that's right for your cooker.
Pitmaster IQ120 BBQ Temperature Regulator Kit
6
This automatic BBQ temperature controller takes an all-in-one approach to the problem of regulating temperatures.
How so? Well, the controller box has the fan built right in. You can even adjust the airflow manually by opening or closing the onboard daisy wheel. This makes swapping between different sized cookers much easier; open wide for a large unit, and close it down for a small one.
Notably absent are any buttons for programming temperatures and timers. Instead, you've got one small knob which you rotate back and forth until you've got it where you want it. Just push in on the knob to lock in your selection. Incredibly easy to set!
It's not a bad looking unit, either, with the orange and yellow flame-like graphic. The plastic housing is quite durable, so don't be afraid to take it on the road. In fact, with the optional 12V power cord for your vehicle, you could use it anywhere you go, including cottaging, RVing, or tailgating.
By the way, if you're trying to think of an advantage to having the blower up at the controller and not near the base of the barbecue or on the ground, here it is: there's little to no chance it's going to pick up dirt and blow it into your food.
Consider that advantage on a windy day when leaves and dust are swirling about your yard — or a parking lot.
Important Specs and Features
Base controller unit with integrated blower
1 food temperature probe
1 pit temperature probe with alligator clip
Flexible EPDM blower tube
Variable-speed blower (5-15 CFM)
Temperature regulation range: 150 °F to 400 °F
Adjustable brightness LED display
Damage, heat, and UV resistant polycarbonate housing
4-stage adjustable air intake
Push-button/dial temperature adjustment
8 alarm notifications
Fully programmable, including food and pit temperatures and timers
Is This the Controller for You?
This controller is for you if You want a simple interface that's easy-to-use, you don't have Wi-Fi or don't want a wireless connection, or if you're barbecuing in a dirty location.
Another controller would suit you better if you'd prefer to monitor from your smartphone, if there's nowhere logical to hang your controller, or you want to monitor more than one food item at a time.
Pros
The dial makes setting the temperature easier than on perhaps any other unit I've seen.
The ability to effectively throttle the blower power with the damper gives you total control.
Having the "cheat sheet" affixed to the back of the main unit saves you from constantly referring to the manual.
Cons
The lack of any connectivity to a smart device will keep you closer to your smoker than you might always like.
Having a single-line display makes it a bit less user-friendly than some other BBQ temperature controllers.
Having a rope to hang it with and not a stand is a bit weird, especially since it can't hang closer than 2 inches from the smoker. Keep the plastic air hose away from heat, or you'll melt it.
This is a well-thought-out controller with many practical features. There are a couple of minor issues that could have been addressed, but they are made up for by all the pluses.
The biggest plus of all has to be that dial — what an obvious but amazing innovation! If you have no need of or desire for Wi-Fi connectivity, give the Pitmaster IQ120 some serious thought.
There are two different versions available — choose the one that fits your smoker.
SMOBOT WiFi Kamado Grill and Smoker Temperature Controller
7
Here's one just for you kamado owners out there, particularly owners of the big green egg and those with daisy wheel top vents on their ceramic smoker.
While some BBQ temperature controllers are definitely modifications, the Smobot is more of an enhancement.
Unlike many other systems, there is no blower unit with the Smobot. Instead, you replace the top vent mechanism on the lid of your kamado with the one included in the kit. The base unit tells the damper how much to open or close and when to control the airflow and hence the temperature inside.
Try and ignore the silly-looking logo on the main unit and concentrate on the easy-to-use functionality.
There are five buttons on the front to help you set your target temperature and timers. Once that's done, Smobot takes over.
It has built-in Wi-Fi functionality, so you can monitor and adjust your cook through your local network via cloud-based service ("mySmobot"), or natively in your phone via an Android or iOS app.
Born as a Kickstarter project, Smobot is a full-fledged company now and garnering rave reviews for its innovative product.
Interestingly, they solicit input from users for future improvements.
For instance, in 2018, they added two alerts (grill and food temperature), and they're working on more. They've asked for suggestions from Smobot owners, and anything they go with will be added via firmware update over the web.
Highest Fuel-Efficiency
The highly respected goes over at the NakedWhiz.com did a test on charcoal burn time between forced air and natural draft blowers. Forced air blowers have a fan (like most on this list), whereas natural draft have no fan, such as the Smobot.
Surprisingly, the Smobot showed over a 30% increased burn time when compared to forced air blowers!
If you smoke and use a controller often, this could be a considerable saving over time on running costs.
Important Specs and Features
Base controller unit
Robotic damper
Damper installation spacer
2 × 4.9′ food temperature probes
1 × 4.9′ pit temperature probe
Micro-USB power plug with 6-foot cable
Probe range: -58 °F to 750 °F
Waterproof damper
iOS and Android app
Cloud-based monitoring
Wireless protocol: 802.11 b/g/n
Is This the Controller for You?
If You own a kamado style smoker with a top daisy-wheel vent, then this is a good fit. Literally.
This also may be the controller for you if You like to support small business and 'the little guy.'
This is also a good choice if you still to take control sometimes because Smobot can function as just a digital thermometer without controlling the temperature.
Another controller would suit you better if You don't own a kamado because this is all it works with (though support for Weber Summit and Smokey Mountain smokers is apparently coming soon.)
This also isn't a product for you if You don't have access to Wi-Fi or a smartphone.
Pros
This is a "natural" solution for BBQ temperature control. All it's doing is what you'd do yourself, namely, adjust the damper to control the flow of air (no fan or blower!)
Installation is very easy; there's no crouching and no fiddling with adaptors and seals.
Power consumption is minimal, and you could actually hook this up to a small battery pack for unplugged operation anywhere.
Cons
The length of the two probes for grill and food are about a foot shorter than most others on the market (4.9 feet).
An option for more than 2 food probes would be nice, but 2 is better than 1.
The Smobot smoker temperature control system showcases some truly innovative thinking. It really is like having a robotic assistant.
Temperature graphs show smooth curves thanks to the gentle nature of the device; not having a sudden gust of air from a blower makes this system more like "normal" smoking, working with natural draw rather than forced air from a fan.
Talk about power in the palm of your hand! The first thing I thought of when I saw the BBQ guru DigiQ DX3 was an old MP3 player — it's that small. Don't try plugging in your headphones, though.
What you can plug in are the power supply, fan, pit probe, and food probe. All four ports are at the bottom of the unit.
Across the front are four buttons in two pairs. Between the lot of them, you can control everything you need, including setting temperatures and times and monitoring the pit and food temps.
It's not a bad looking unit, and you can choose between a black and a green front on an all-black housing.
It's lightweight and won't take up much room in your workspace.
One of the DigiQ's best features is the optional Ramp Mode, something it shares with the CyberQ.
This is how it works: on a low' n' slow cook, when the food is 30F below the target temperature, the unit automatically starts ramping down the pit temperature. Doing so extends the cooking time, but it also greatly reduces the odds of shooting past your target doneness temperature because you weren't paying attention.
What you do not get with this unit is any form of connectivity. There's no Wi-Fi or Bluetooth, so put that phone away — you won't need it. You do, however, get a foldable stainless steel bracket for propping up your base unit.
Important Specs and Features
Base controller unit with 1-line LED display
1 pit temperature probe with alligator clip
1 food temperature probe
2 fan options for large or small smokers
Temperature range: 32 °F to 475 °F
Accuracy: +/- 2 °F
Adjustable volume audio alerts
Open lid detection
Ramp mode to reduce risk of overcooking
Smart Cook settings for peak performance on different cookers
Storage bag
Mounting bracket
Is This the Controller for You?
This BBQ guru temperature controller is for you if you have limited workspace, if you don't always notice the first alarm and sometimes overcook your food, and if you do a lot of long, slow cooks.
It's also a good choice if you own several different types of smoker as it can be used with each.
It's also a good choice if you don't own a smartphone.
Another controller would suit you better if you prefer all your info at a glance, or if you want to monitor/control your cook remotely.
Pros
The ramp mode is a great idea, especially for busy and/or inattentive people.
Audible alerts from the base unit will let you know what's up, even if you're not paying close attention.
Smart Cook settings change the operation of the fan based on the insulating properties of your cooker: There's a setting for ceramic cookers and cabinets, one for insulated pits, and one for uninsulated and offset cookers.
Cons
If you're not going to offer smart connectivity, you should at least provide a multi-line display.
The "universal bracket" is very strange — A simple kickstand attachment would do the same job much more easily.
If Wi-Fi and high-tech gadgets are not your thing, this might be the automatic barbecue temperature controller for you.
There's definitely a place in the world for what is, in fact, a digital thermometer that not only reports the temperature, it adjusts it for you.
Considering the compact size, this micro-wonder does a full-size job.
What is a BBQ Temperature Controller?
If you own a smoker, or if you've been researching the topic because you think you might like to try it, you know that controlling the temperature is paramount to a successful smoke session.
You also know that can mean a lot of hands-on time with your smoker, checking temperatures and adjusting vents and dampers.
For some, that's part of the fun. For others, it's a barrier to the enjoyment of tasty food.
A smoker temperature control system monitors the temperature inside your smoker (and usually inside your meat, too) at all-times. If the temperature strays above or below the target you've set, the device can adjust the temperature up or down without any effort from you.
How Do Barbecue Temperature Controllers Work?
A fire needs oxygen to burn. This is why you can put out one of those jar candles by putting on the lid; as soon as the remaining oxygen burns up, the flame dies.
It's the same inside your smoker — shut all the vents, and nothing will burn. Open them wide, and the fire will blaze up.
When the temperature probes sense that the temperature is too low (based on the target you've programmed into the controller), the unit fires up a blower to force oxygen into the fire pit. Once the target is achieved, the blower either switches off or steps down to a lower flow rate to maintain the current temperature.
Benefits of Using an Automatic Temperature Controller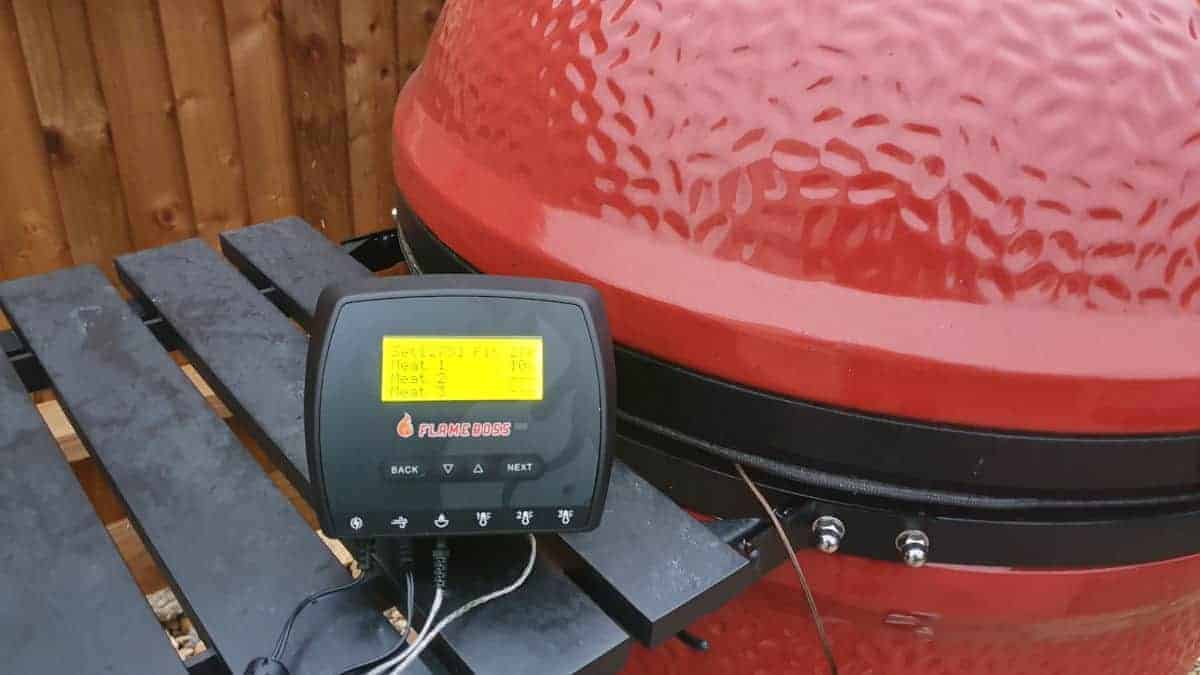 Using one of these devices can take a lot of the stress out of smoking, especially for a long session.
While a wireless digital thermometer will tell you if you need to make some adjustments to your smoker, an automatic controller will make the adjustments for you.
This frees you up to cook other food, entertain guests, run out to the store, go to work, or even go to sleep. In short, you can live your life while your food virtually cooks itself.
What to Consider When Choosing the Best Barbecue Automatic Temperature Controller
If you're shopping for an automatic temperature controller, here are some of the factors you need to take into account.
Compatibility
Not every product works for every smoker! Some models only work on kamados, for example, while others may be brand-specific.
Be sure your smoker is on the compatibility list before you click that 'purchase' button.
Many models offer different versions to cover a variety of smokers. The device is the same, but the connection is switched out. Double-check you're getting the right kit.
Materials & Build Quality
Life by the smoker can be harsh. There's a lot of heat, exposure to the elements, and the potential for drops and spills.
Look for high-temperature probes, spill-resistant housing materials, and other features meant to extend the life of your product.
A good rule of thumb is if it looks cheap and the price is cheap, it's probably cheaply made.
Number of Temperature Probes
At a minimum, an automatic temperature controller will come with a pit temperature probe. The reading from this probe lets the unit know whether to turn on the fan or leave it off.
You may also wish to have one or more food temperature probes to measure the doneness of your meat.
If you like to smoke a variety of meats at the same time, you might want the option of multiple food probes to monitor everything at once. Of course, if you already own a good wireless thermometer, this perhaps isn't a key factor.
The Fan
If the controller unit is the brains of the operation, the fan is the muscle. It's a moving part, and moving parts tend to cause the most problems. Look for one that isn't made of flimsy materials to get the best performance.
You'll also need to choose between variable speed fans and fans that are either on or off.
A fan that blows at either full power or nothing at all may over-fuel your charcoal, leading to bigger temperature swings.
Opt for variable speed for smoother curves on your temperature graph and power that adapts to the size of your smoker.
Open Lid Detection
It happens to the best of us — you wander away from the smoker after making some adjustments, and you leave the lid open. (Guys, you know you also do this with cupboards, refrigerators, and toilets.)
Of course, an open lid can spell disaster for a smoke session if it's left undetected for too long.
Some models will recognize the situation based on temperature change and send an alert. There isn't a model — yet — that will close the lid for you, but at least with this feature, you can go rectify the problem before it's too late.
Alarms
Taking the most accurate, detailed measurements in the world aren't much use if no one reports them to you. Yes, it's an automatic BBQ temperature controller, but you still want to know what's going on, don't you?
Most controllers have a variety of built-in alarms, some automatic, and some programmable. For example, you might want an alarm or alert when your meat or the fire pit hits the target temperature. Emergency alarms can include lid open notifications, and over-temperature or under-temperature alerts.
Alarms keep you apprised of how close to done your cook is, or if there are any problems you need to attend to personally.
If you plan on using the base as your main source of information, you'll want audible alarms. For your phone and computer users, email and text message alerts are the way to go.
Mounting Options
It's a simple fact of life and physics: everything has to go somewhere. How it goes there is yet another variable to think on before you buy.
There are models that require you to remove and replace the vent damper mechanism, which means you'll need some basic tools. Others are self-securing with spring-loaded clamps.
You may be limited by the available models for your smoker, but try and choose a system that matches your handy-person comfort level.
Consider, too, where your smoker sits and how much clear space you have. Is there room for a blower unit attached directly to the side? Or would you be better off with a flexible hose running from a free-standing blower?
Wi-Fi Functionality
It seems like everything these days has Wi-Fi or Bluetooth built-in. Not to be left out of the connected revolution, many automatic barbecue temperature controllers offer this feature.
In theory, you could set your smoker going, head to the airport, and fly to another country, all the while keeping tabs on your brisket.
In reality, you'll be able to untether yourself from your smoker to go inside and watch the game or head out to the store to stock up on wood chips and beer, without leaving your smoker unattended.
This is a great option for extended smoking sessions that last many hours.
Display Options
An automatic barbecue temperature controller collects a lot of information. There are the temperature readings taken from the probe or probes, the target temperatures and timers you've set, and error data that might indicate a problem.
How would you like all this info communicated to you?
We've seen everything from units that present a lot of numbers on multiple lines simultaneously to models that have no onboard display at all. So which is the best choice?
If you expect to use a smartphone or other device as your primary interface with the controller, it may not matter to you so much the amount and the clarity of data displayed on the base unit.
On the other hand, if you plan on being more of a helicopter parent to your smoker (or you don't own any appropriate electronics for remote monitoring), choose a display that's easy-to-read and understand.
Standalone or Must be Wi-Fi Connected?
The decisions you make in this category will be based entirely on your preferences and needs.
Some automatic barbecue temperature controllers require Wi-Fi to function. Some require a phone or other device to connect to (and from there, likely access to the internet). Some function entirely as a standalone and offer no connectivity options at all. And, lastly, some offer a combination of options.
What you choose depends on whether you feel the need to monitor your smoker from a distance greater than a few feet. It will also depend on whether you own a smartphone or tablet, and what the Wi-Fi strength is where your smoker is, if there's any at all.
The best choice may be for a device that offers options. If you can get some or all the information and control you need from the base, that's great to have, even if you can also do it all from your phone. Redundancy is never a bad thing. And, even if you don't have the ability to connect right now, you may wish to future-proof yourself should that ever change.
Consider this one carefully. You don't want to be stuck wishing you had more. On the other hand, you don't want to pay for something you'll never use.
Final Thoughts
If you love to smoke meat, you're probably wondering how you ever survived without a controller to control the controllable.
Daft as that sentence sounds, the best BBQ temperature controllers are a godsend for those who aren't interested in messing with vents all day and babysitting a smoker.
Which one is the one for you?
With any luck, you'll soon find yourself enjoying long smokes more than ever, and cooking meat with extra confidence.
If there's more you'd like to know, or if you have comments or suggestions, jot them down and send them via the comment section below a good old email.
Be sure to share the link with your smoking buds, too, and connect with FoodFireFriends on social — where you just might meet more like-minded grilling nuts.
Thanks for reading!