Because the key to cooking delicious barbecue (one of them, at least) is hitting the correct temperature inside your meat, let's review the ThermoWorks Signals four-channel digital thermometer.
Is there such a thing as too much information? Yeah, probably. If you bring up your bathroom habits in conversation or share details about your body best reserved for your doctor, I'd consider that too much information.
When it comes to barbecuing, though, whether grilling or smoking, knowing precisely what's going on is essential if you want the very best results every time.
Vital data for cooking food to exactly the correct doneness includes the ambient temperature in your cooker and the internal temperature of your meat. To get that data, it's best to rely on a good digital thermometer.
I'm always on the hunt for the best of the best, and that brings us to today's topic: the ThermoWorks Signals BBQ Alarm Thermometer, with the Billows automatic temperature controller add-on..
I went hands-on with this intriguing bit of gear, and I'll share my honest opinions on everything from looks to functionality.
We'll unbox it, review the specs, and test it for quality and accuracy.
Let the review begin!
General Overview
Thermoworks Signals BBQ Alarm Thermometer with Wi-Fi and Bluetooth Wireless Technology
A professional-level, high-quality, accurate thermometer with an intelligent and durable design that wirelessly pushes temperatures and alarms to your smart device via Bluetooth and Wi-Fi for monitoring and analysis.
Optional Billows temperature control fan can be used to dial in and maintain a steady cooking temperature for BBQ control anywhere you have an internet connection.
Please note: The lowest price for the Signals is ALWAYS at the Thermoworks website itself. Many sellers are unauthorized, and products may even be counterfeit. Details at this link.
The ThermoWorks Signals is a 4-channel digital thermometer with alarms; that means you can monitor up to four separate probes simultaneously, with the ability to add alarms for individual high and low temperatures for each probe.
Wireless connectivity is available through Wi-Fi (802.11b/g/n – 2.4GHz) on your existing network or Bluetooth on your compatible device. Remote monitoring and settings adjustments can be made through the free proprietary Thermoworks app.
The base unit is fully functional, enabling you to monitor and adjust everything as a stand-alone, with a 4-way split LCD screen, full data display for each probe, and an array of buttons to change settings.
What We Like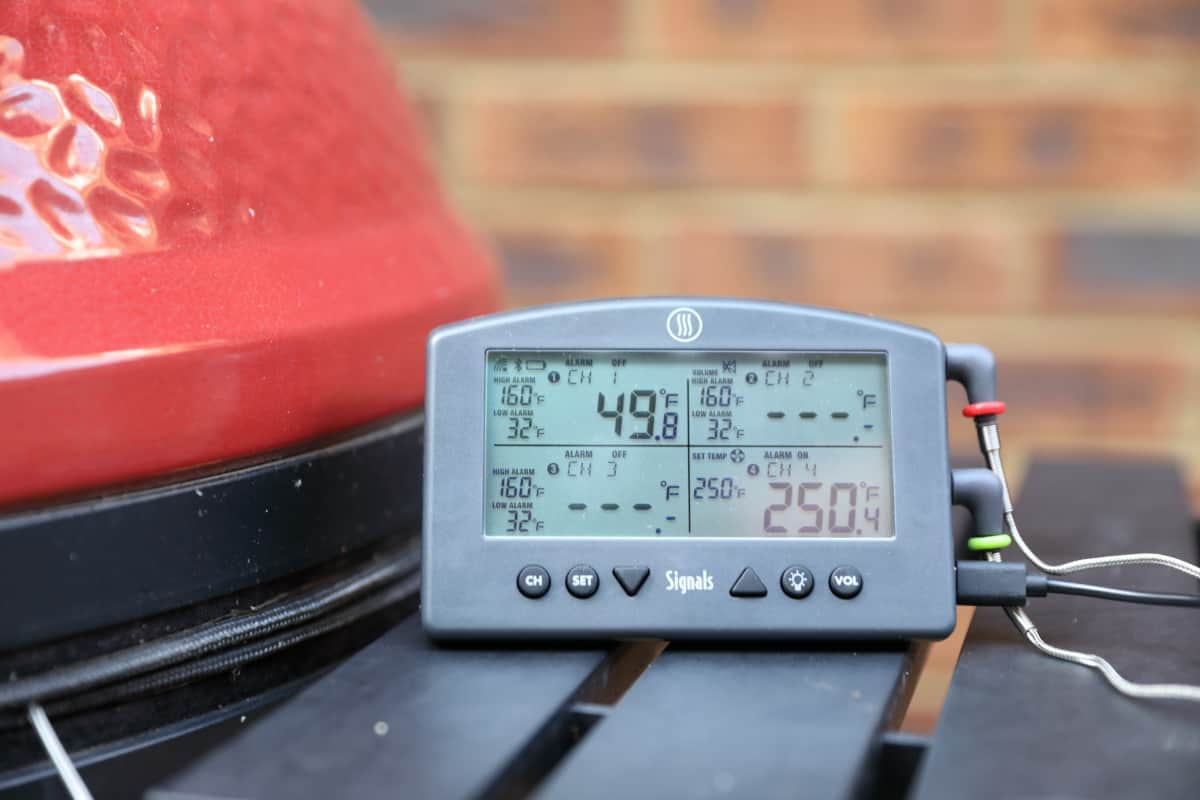 First of all, the build quality, ease of use, and accuracy are second to none. This really is a professional grade product that plain works, and works well.
I love, love, love the ability to monitor three different cuts of meat at the same time. This takes all the guesswork or probe-swapping out of cooking sessions where you've got more than one kind of meat in at the same time, or you've got similar items of different sizes on the go.
Plus, I can swap out the pit probe for a fourth meat probe. OR, I can divide and conquer and add a second pit probe to monitor two cookers at once. Bliss!
I'm also keen on the rugged, sturdy, stable design and highly water-resistant housing. I know this thermometer is going to last, so I feel confident handing my money over.
And, out-of-the-box wireless connectivity is a major plus — I love barbecue, but I also love hanging out with my family and friends, so I'm looking forward to NOT being tethered to the cooker all day.
Although an optional, additional item, the Billows is an excellent temperature controller. It's straightforward to install, very easy to use, works incredibly well, and you can tell a lot of effort has gone into making this work brilliantly. It's not just been added as an afterthought. It allows me to set a temperature and walk away without worrying about temperature swings, making long smoking sessions almost push-button easy.
What Could Be Improved
Frankly, there's not much to complain about!
I suppose I'd be happy if it was a bit less expensive — similar devices can be had for half the price — but, because the quality is there, I won't sweat the price tag for long.
Other than that, I might ask for a more reliable smartphone app. It's certainly better than their previous version but can still be a bit glitchy, especially when it comes to connecting to a network and staying connected.
Still, I've found that the app is usually the weak spot for any wireless BBQ device, sadly.
Key Features and Manufacturer Specs
Here's a by-the-numbers look at the ThermoWorks Signals, with the manufacturers specs and key features.
Number of Probes — 4, including 3 food probes and one pit probe
Probe Range — -58 to 572 °F (-50 to 300 °C)
Cable Max Temp — Max 700 °F (370 °C)
Temp Range — -58 to 572 °F (-50 to 300 °C)
Accuracy — ±1.8 °F (±1.0 °C) from -4 to 248 °F (-20 to 120 °C)
±3.6 °F (±2.0 °C) from -58 to -4 °F / 248 to 392 °F (-50 to -20 °C / 120 to 200 °C)
±5.4 °F (±3.0 °C) from 392 to 572 °F (200 to 300 °C)
Resolution — 0.1 °F (°C)
Units — °C/°F switchable
Max Sound Volume — 90dB
Wireless — Wi-Fi Radio – 802.11b/g/n (2.4 Ghz)
Wi-Fi Range — dependent on router
Bluetooth Version — 4.2
Bluetooth Range — About 95 feet line-of-sight (device dependent)
Approvals — US (FCC), Canada (IC), EU (CE – Complies with all relevant directives for Europe), AU/NZ (RCM)
Water Resistance — IP66 Splash-Proof
Operating Range — 32 to 122 °F (0 to 50 °C)
Backlight — 20 seconds
Sensor — Thermistor
Battery Life — Rechargeable, about 16 hours
Charging Time — About 12 hours
Charger/AC Power — USB-C cable and 12V US adapter (included)
Display — 1.88 H x 3.97 W inches (48 H x 101 W mm)
Product Size — 3.26 H x 5.19 W x 1.92 D inches (83 H x 132 W x 49 D mm)
What's in the Box?
First of all, I bought a few accessories. My total order was for a Signals, Billows fan, billows damper, and attachments to use the blower in Kamado style grills, for a complete operational hub to monitor and control my Kamado grills from my smartphone.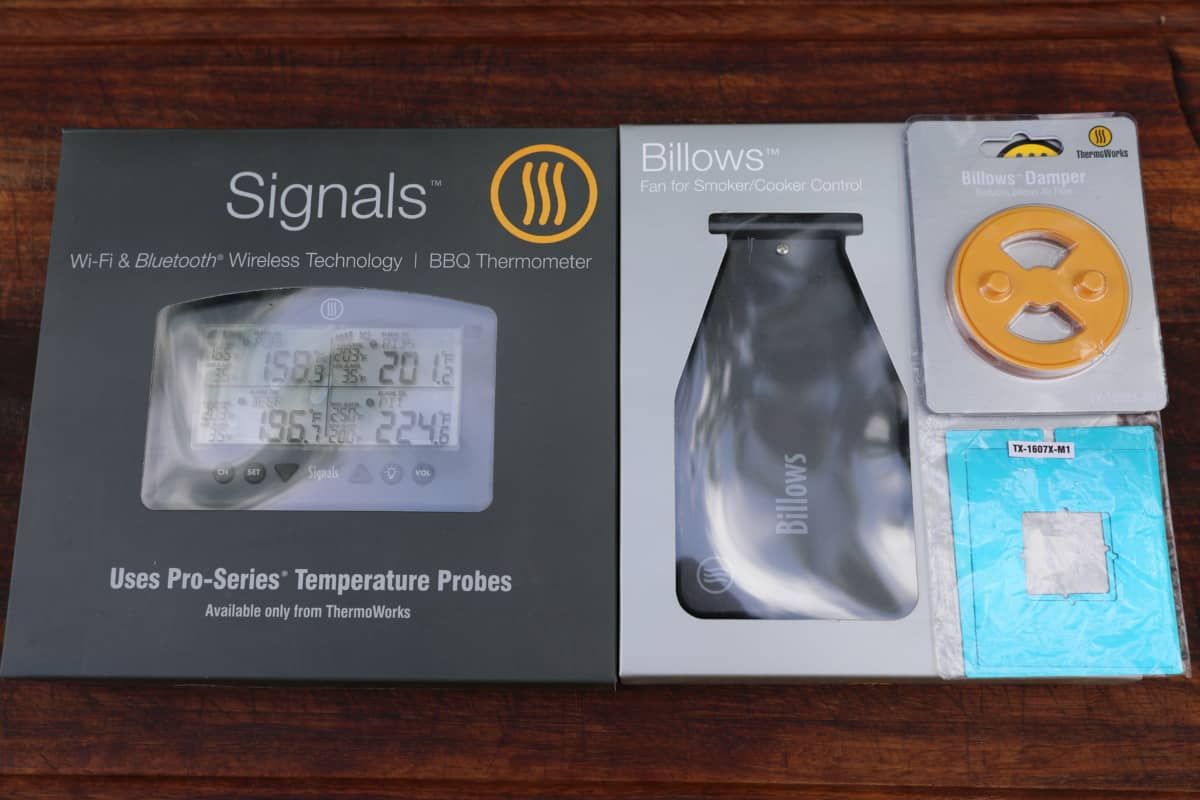 Let's take a look at what you get in each of these boxes.
Thermoworks Signals Unboxing
Opening the outer shipping box from ThermoWorks reveals a food safety brochure and then the Signals packed in its own plastic tray.
Inside that tray, you'll find operating instructions, three Pro-Series High Temp food probes and one Pro-Series High Temp ambient temperature probe, a grate clip, a USB-to-USB-C charging cord/power cord, a 12V AC power adaptor, colored rings to keep track of which probe is in which meat, and the base unit itself.
The packaging looks modern and professional, everything is held tightly in place inside, and so it should easily survive the rigors of transport and delivery.
Thermoworks Billows Unboxing
The Billows blower come sin a lighter shade of gray box compared to the Signals unit itself.
Once you open the box, you find a plastic tray insert that contains the box contents: A fan, fan plug, fan adapter, USB-C to USB-C cable, and some silver flue tape (used for blocking up remaining lower vents once the billows is attached.)
All in all the packaging again looks modern and professional, is functional, will protect the unit in travel, so it's all good.
First Impressions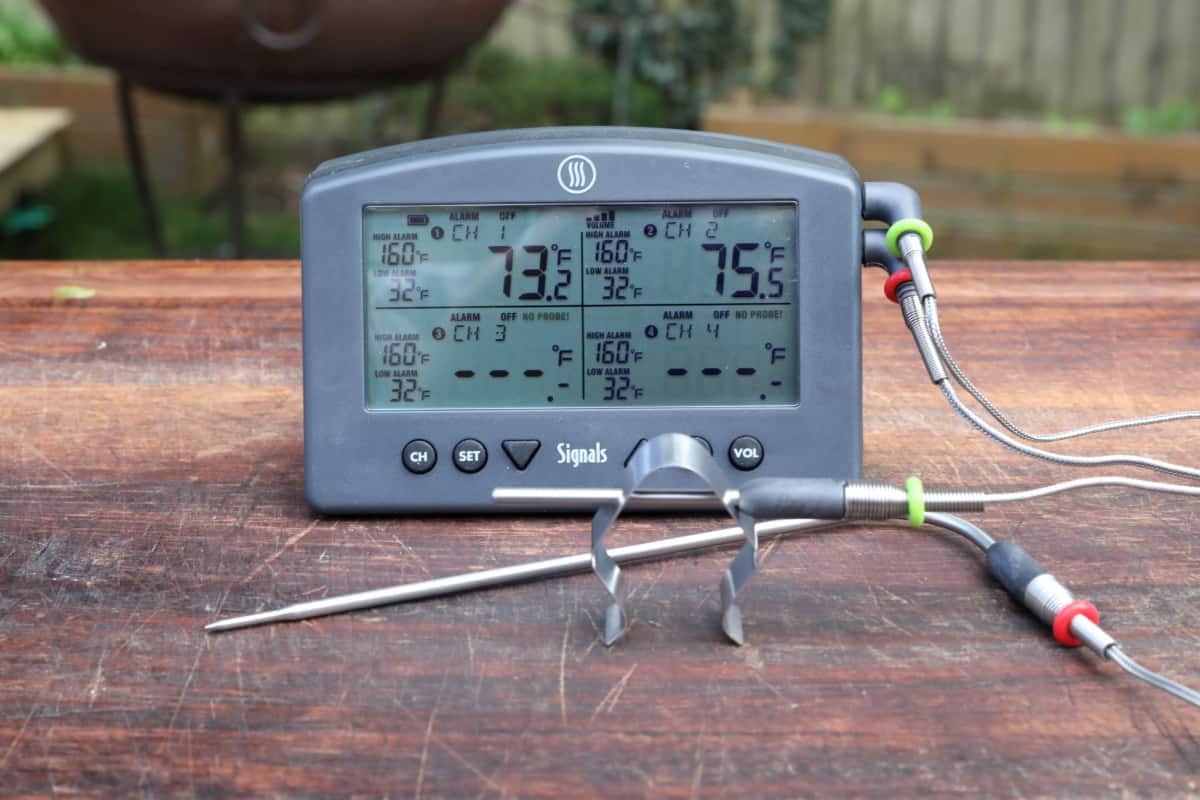 The Signals is basically the spiritual successor to ThermoWorks excellent Smoke remote thermometer. The base is similar in appearance to the Smoke, but the Signals look even more robust (why isn't "robuster" a word?). No flip-out stand here; the wedge-shaped base looks sturdy and unshakeable.
At a glance, the built-in screen and interface seem easy to read and operate. The LCD display measures 1.88 inches high by 3.97 inches wide, and the six front-facing buttons are clearly labeled. (Other than the up and down buttons, which have no labels, but their triangular shape and orientation leave no doubt as to their function.)
I chose the charcoal grey model; I find it looks professional and matches just about anything. If you prefer more color in your life, there are eight other options.
Design and Build Quality
Now that we've covered the surface-level analysis, let's start in with the nitty-gritty.
Durability
This really is built for life in a commercial kitchen or on the competition circuit; the housing is rugged and durable and should hold up to normal wear-and-tear and then some. The weatherproofing is a nice touch too, so I can use it in all weathers, and it will stand up to any splashing or spills that sometimes happen when cooking.
It's more than ready to take whatever you can throw at it in your backyard.
Screen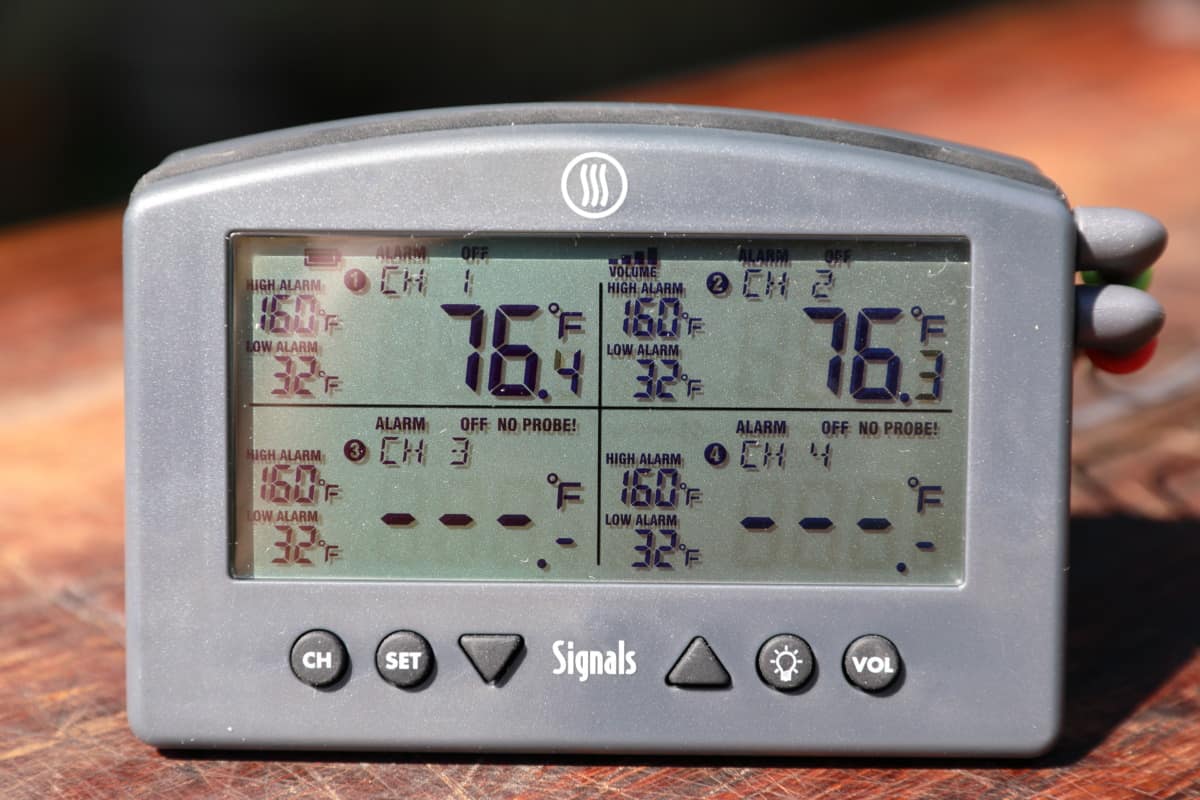 The large screen (nearly 7.5 square inches) clearly displays readings for all four probes, including high and low alarm settings, the current temperature, and a preset name (like PORK, BEEF, PIT, etc.).
In addition, you can easily adjust the brightness of the high-contrast display, and there's a 20-second backlight to help you out during night cooks.
I like the screen. It's large size combined with contrast and backlight make it easy to read in any and all lighting conditions. And it shows all essential info at all times.
There are six rubberized buttons on the front of the base unit and a power button on the back. They're slightly on the small side, but they're spaced far enough apart to make it all but impossible to accidentally hit the wrong one.
The buttons sit proud of the controllers face, making them easy to press. They have a good amount of resistance so you will not accidentally press them, and they have a good amount of travel so you have a good feeling to press and use.
Overall, the buttons are very good.
Plugs and Sockets
The Thermoworks Signals has five sockets: A single USB-C for charging and four probe sockets.
It's nice to see a USB-C socket for power and charging because the older micro-USB would sometimes snap. And we all have numerous USB-C chargers and cables lying around from our other smart devices and can use those.
The probe ports are your typical 1/8" inch jacks. Pretty much the industry standard.
So the ports and sockets are all good.
Probes
Four stainless steel probes come with the Signals; 3 for food and one for ambient readings. You could add a fourth food probe if you wanted and sacrifice the internal ambient cooking temperature reading.
Right-angled plugs slot easily into the ⅛" jacks on the side, taking up the least amount of space possible and reducing strain on the wires during unplugging.
The food probes are curved into a 90-degree turn, making them super easy to insert and remove from your food.
Most probes from most manufacturers are a similar design. It's a proven shape and style, so there's not much to say here. The probes feel decent, and work well.
Stand
There is no stand attached to the Signals; thanks to the wedge-shaped design, it's free-standing with no way to tip it over without seriously working at it.
On the back, you'll find strong magnets, allowing you to stick it in place onto something metal if you're really concerned about knocking it around.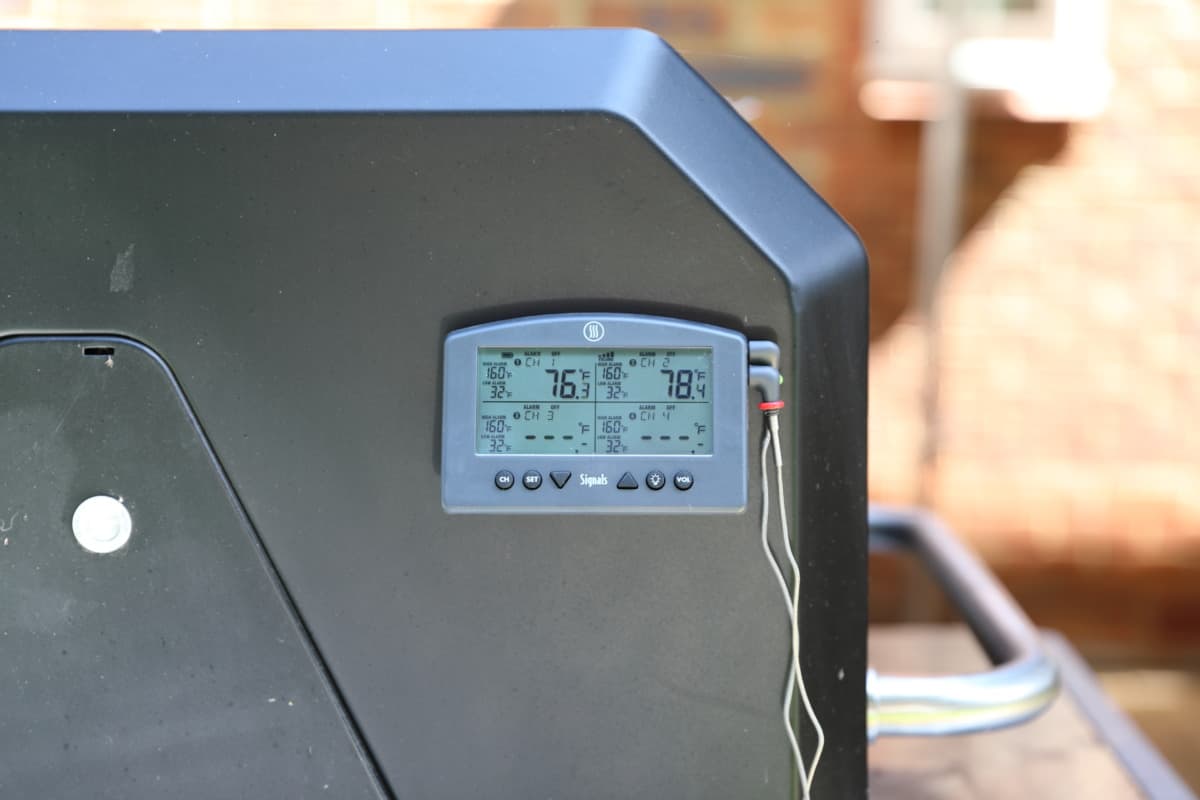 Make sure to not stick it to a hot surface of your grill or smoker though! I've seen the occasional person make this mistake, it does not end well! Most thermometers can and will melt.
Weatherproofing
The housing is sealed to be splash-proof, which is great if you accidentally spill a drink or a bit of rain comes down. The enclosure is rated IP66, meaning it will withstand a powerful blast of water; officially, that means at least 3 minutes of exposure to 100 liters of water per minute.
The port-holes do not have covers, however, so the unit is not waterproof.
ThermoWorks sets the operating temperature range between 32 to 122°F (0 to 50°C) — which those of you in the Northern latitudes might find a bit limiting in the dead of winter.
Power Supply
There is a power supply that comes standard with the ThermoWorks thermometer. It's a USB-A to USB-C charger, and says on it 'For Signals Billows Only.' I'm not sure why, as it's standard USB-C, so can be used with other items as far as I know?
Anyway, it looks like a standard USB charger, I'm happy to see it's USB-C and not the older micro-USB. Other than that, not a lot to say here really.
Billows Blower
The Billows blower feels decently made. It's lightweight, but then there's nothing to it being simply a fan in a housing.
The housing is two parts made from thick molded plastic, held together with four screws. It feels well made, strong, and should stand up to the rigors of backyard use. It certainly feels more durable than some other temperature controller fans I've held that are little more than PC cooling fans.
It states on the side: "Replace cover between uses to protect the fan from heat and to kill the fire." Therefore, I decided to buy the Billows Damper.
The Billows Damper is simply a vent that you insert into the fan's intake area that you can turn to open and close. It's a permanent fixture once inserted, and it means I don't have to keep removing and inserting the original yellow seal that comes with the billows.
It's a simple device that does what it says on the tin.
Setup and Connectivity
Your new ThermoWorks Signals will come charged enough to switch on and use right away. And really, that's about all there is to the initial setup — insert the probes and hold in the power switch. Boom.
Of course, you'll want to set up for wireless connectivity. I mean, it works great as a stand-alone, but why would you pass up the option to monitor your smoke session remotely?
The Signals is ready for both Wi-Fi and Bluetooth connections right out of the box. You need to first download and install the free Thermoworks app from either the Google play store, or the apple store.
Then, the base unit will attempt to connect with any compatible Bluetooth device in the vicinity, and you can connect to your 2.4 GHz router for remote control via your home network. (This is my preferred method because of the increased range.)
When you open the Thermoworks app, you first need to sign up and log in. You then select 'Signals' fromt he devices on offer, and the app walks you through turning on Bluetooth, powering up your device, adding a Wi-Fi network, and that's it! You will then be presented with an overview of your device, and readings from any attached probes.
However, the first time you power up the device, it's highly likely you will be asked to update its firmware. It happened with me.
It's a simple process, you simply follow the on screen prompts, make sure your Signals is plugged into AC power, have your smartphone and thermometer nearby one another, and let it do its thing. It takes just a few minutes.
Overall, setup is very easy. Thermoworks have done a great job with the process, of screen prompts to follow, and make the whole process straightforward and foolproof.
Accuracy
An inaccurate digital thermometer is as useless as [insert your favorite "____ as ____ on a ____" euphemism here].
How does the Thermoworks Signals measure up? I ran the two essential tests to find out.
Boiling Water Test
Water boils at 212 °F at sea level. I live only a few hundred feet above sea level, so expect to see measurements very close to this figure.
Thermoworks claims an accuracy of ±1.8 °F at this temperature. As can be seen in the image above, the Thermoworks Signals measured boiling water to be 211.8 °F with the ambient pit probe, and 212.2 °F with the food probe. This far surpasses their stated accuracy claims, and gives me huge confidence to rely on the device.
This was an easy pass.
Ice Water Test
Water freezes at 32 °F. Ice water should be very close to this figure.#
Again, Thermoworks claims an accuracy of ±1.8 °F at this temperature. As can be seen in the image above, the Thermoworks measured ice water to be 31.9 °F with the ambient pit probe, and 32.0 °F with the food probe. Incredibly accurate, and well within Thermoworks stated claims.
This was an easy pass.
So overall, the Thermoworks is incredibly accurate and reliable.
Thermoworks Signals BBQ Alarm Thermometer with Wi-Fi and Bluetooth Wireless Technology
A professional-level, high-quality, accurate thermometer with an intelligent and durable design that wirelessly pushes temperatures and alarms to your smart device via Bluetooth and Wi-Fi for monitoring and analysis.
Optional Billows temperature control fan can be used to dial in and maintain a steady cooking temperature for BBQ control anywhere you have an internet connection.
Please note: The lowest price for the Signals is ALWAYS at the Thermoworks website itself. Many sellers are unauthorized, and products may even be counterfeit. Details at this link.
Thermoworks Signals in Use
As promised, I put the Signals through its paces, the first cook using it with my Big Joe 3 to reverse sear a large beef rump roast.
Here's how it performed.
Base Unit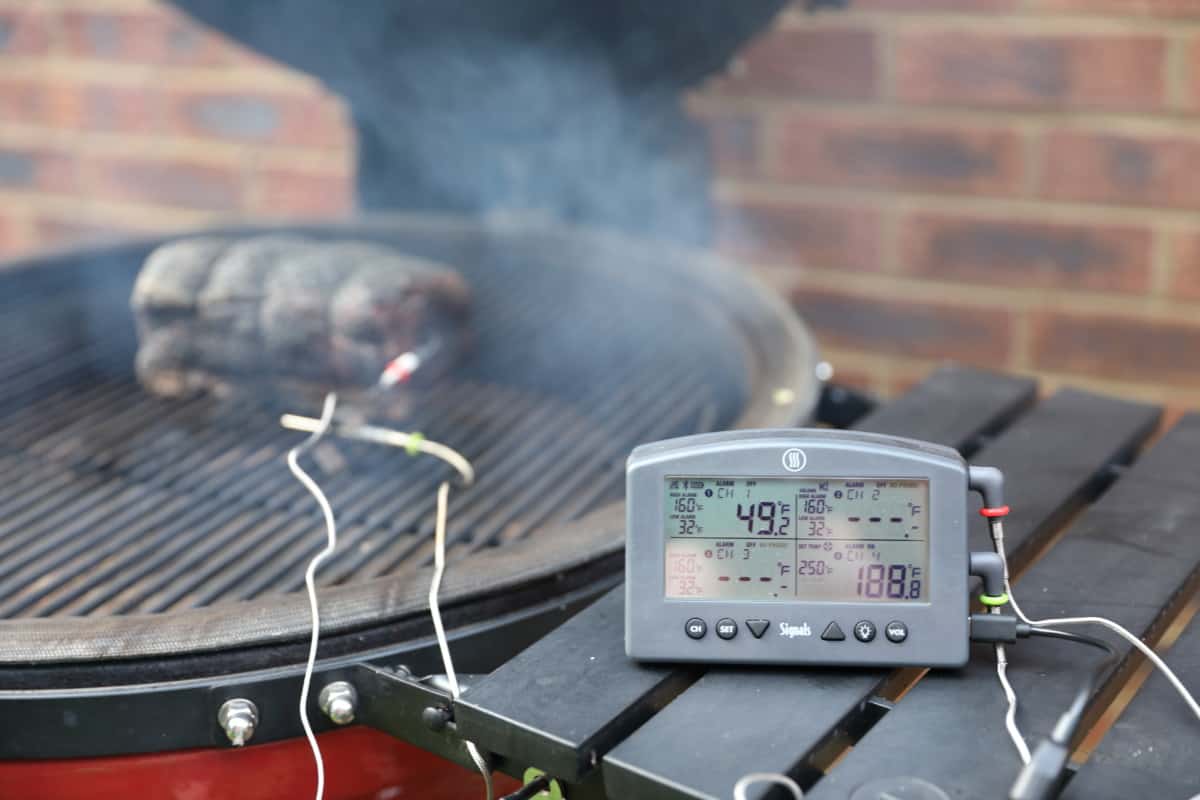 Let's say you don't have or don't want to use your smartphone or internet to monitor your cook session. How easy is it to just use the base unit?
It's actually a piece of cake! I found the 4-way split screen easy to read even with so much info in my face all at once. I'm a firm believer that the more you know what's going on, the better your cook will be. It was ideal having all the data I needed at a glance without having to cycle through various readings to get to the one I wanted.
The buttons are easy to read and press and I found them very responsive — no Street Fighter-style button mashing required. Plus, because it's designed to stand up on its own, I wasn't worried about knocking it over while my greasy fingers worked the buttons.
Thermoworks Smartphone App
A previous iteration of the ThermoWorks App was a nasty piece of work. This latest version is far easier to work with and I didn't find it at all painful to set up. I created my account and I was up and running in no time.
I can't say I really need the ability to connect right to the ThermoWorks shop from the app, but I can imagine quick access to the Help Center being useful for less experienced users. I guess what I'm saying is they could strip this app back to the basics for just running the Signals thermometer and have a more streamlined user experience overall.
In the app you have a 'readings' screen, that shows an overview of the four possible probes temperatures.
In the 'Graph' section, you can see an historical time vs temperature graph of your current cook. (See an example a few paragraphs later in this article.)
The 'History' section, has a listing of your previous cooking sessions, and a listing of events, such as high and low temperature alarms.
Finally, there's a 'Settings' section, where you can change your devices name, change between °C and °F, change the refresh rate of the info displayed, and more.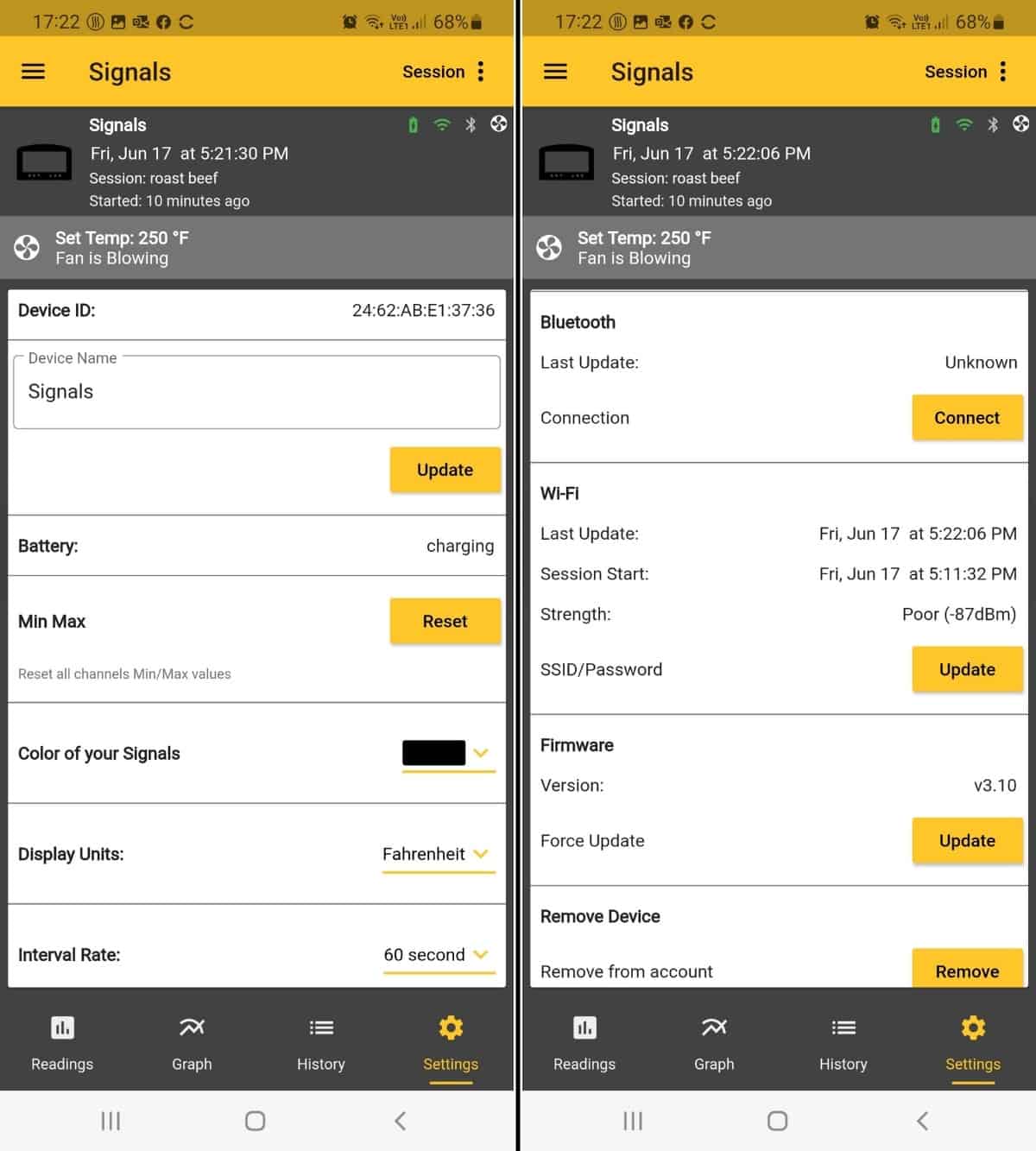 Thermoworks Cloud
This is kind of a bonus feature for anyone who connects the ThermoWorks Signals to the internet. If you set up a Cloud account through the app, it will automatically record and store data from your last ten cooking sessions.
At any time, you can access a full rundown of the cook session of your choice, including minimum/maximum temperature readings, any alerts that popped up, and a graph of temperature and time.
I guess that's kinda cool; maybe you smoked a killer brisket one time, and you'd like to know what you did right or something like that. For me, I can't imagine digging through the archives all that much. But, if you're either just learning or you're super hardcore (aka competition-level pitmaster), you might get more use out of this than I.
Alarms and Notifications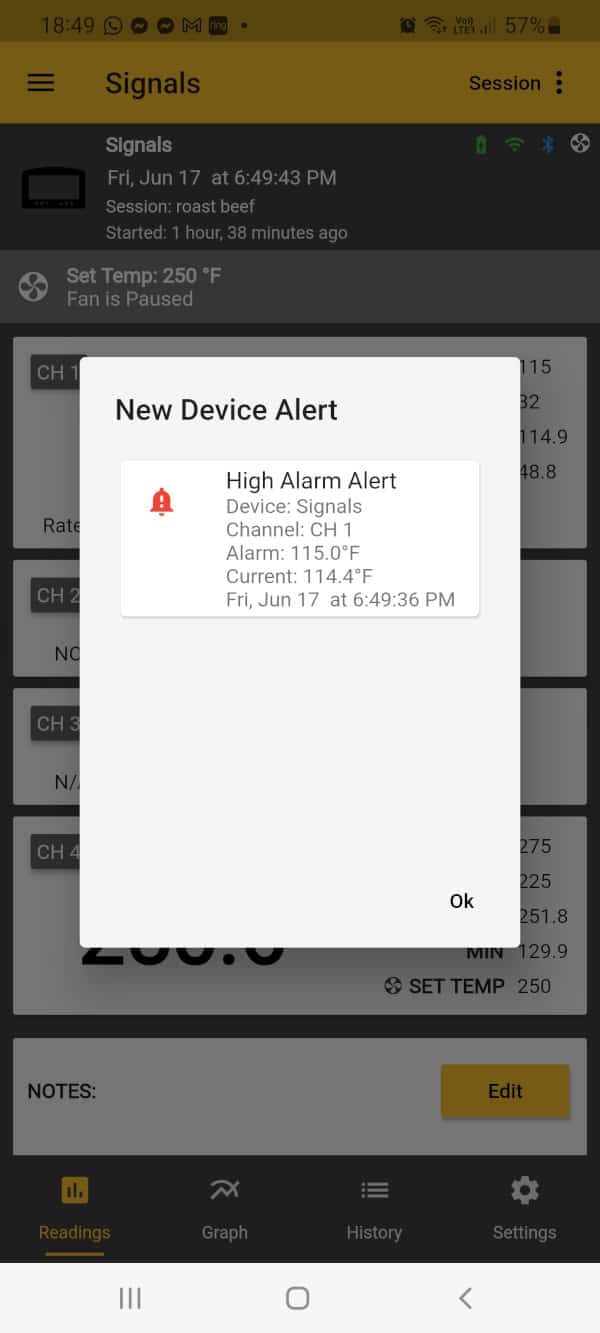 One of the most important things a good thermometer does for you is let you know when you've hit your target temperature. I found it was super easy to set the HIGH alarm and the electronic beep was easily heard. Even with the sound off, it still flashes on the base unit to get your attention. And, of course, you get a notification on the smartphone app, if you're connected.
Likewise, you can set an individual LOW temperature alarm for all four channels. This is most useful on the pit or ambient probe so you know if things are cooling off and it's time to up the airflow, or add more fuel.
Probe Rings are a Nice Touch
With potentially four channels to monitor at the same time, it's easy to get confused with which probe goes where, even with custom-labeled channels on the base and app. ThermoWorks provides a simple solution: colored silicone rings to slip over the probes.
Let's say I've got three chickens in my smoker. I choose three matching pairs of colored rings and slide two on each probe. One rolls all the way up to the jack and one stays closer to the base of the probe.
So, if I think of my chickens as left, right, and center, I can plug, for example, the probe with the red ring into the left chicken and thread the wires. When I connect to the base I see the red ring and go, "Aha! That's the left chicken." Easy! Do this for all three chickens and now if one seems to be lagging behind the rest, I know which part of the cooker I have to tend to.
Thermoworks Billows Automatic Temperature Controller
Why use one gadget when you can use two! I added the Billows Automatic Temperature Controller to all but remove myself from the equation.
In a nutshell, the Billows is an automated fan that maintains a (relatively) constant temperature inside your charcoal cooker by blowing air to fan the flames when needed. How does it know? Easy — it connects via a cable to a probe port on the Signals base unit.
Between the two devices, this is about as close to "set it and forget it" as it comes with charcoal cooking and smoking.
Is it necessary? Nope. Is it nice to have? Oh, heck yes!
Billows Installation
How you install your billows will depend on what type of smoker you have. I use mine with a Kamado Joe, so I will use that as an example.
First, you have a connector into which you run the USB power supply and then a USB-C cable to the Billows blower. You MUST have the AC power connected in this manner, as it powers the fan.
Next, you insert the faceplate into the lower vent of the kamado. Then you pinch the spring clip at the Billows' end and insert it into the faceplate.
Initially, I thought this spring clip connection was a bit flimsy and an odd way of attaching the fan, quite unlike any other temperature controller I have used. But it's proven effective, works well, is strong, and holds the fan firmly in place. The rectangular spongy seal is a nice touch, too, ensuring all air is forced into the vent and not out of the sides.
When using the billows, you must insert the ambient pit probe into port 4. And then, as soon as the Billows is plugged into the control unit, it automatically detects the blower and adds a fan icon to the display of port 4 to show it has been recognized and that you can set up your desired temp.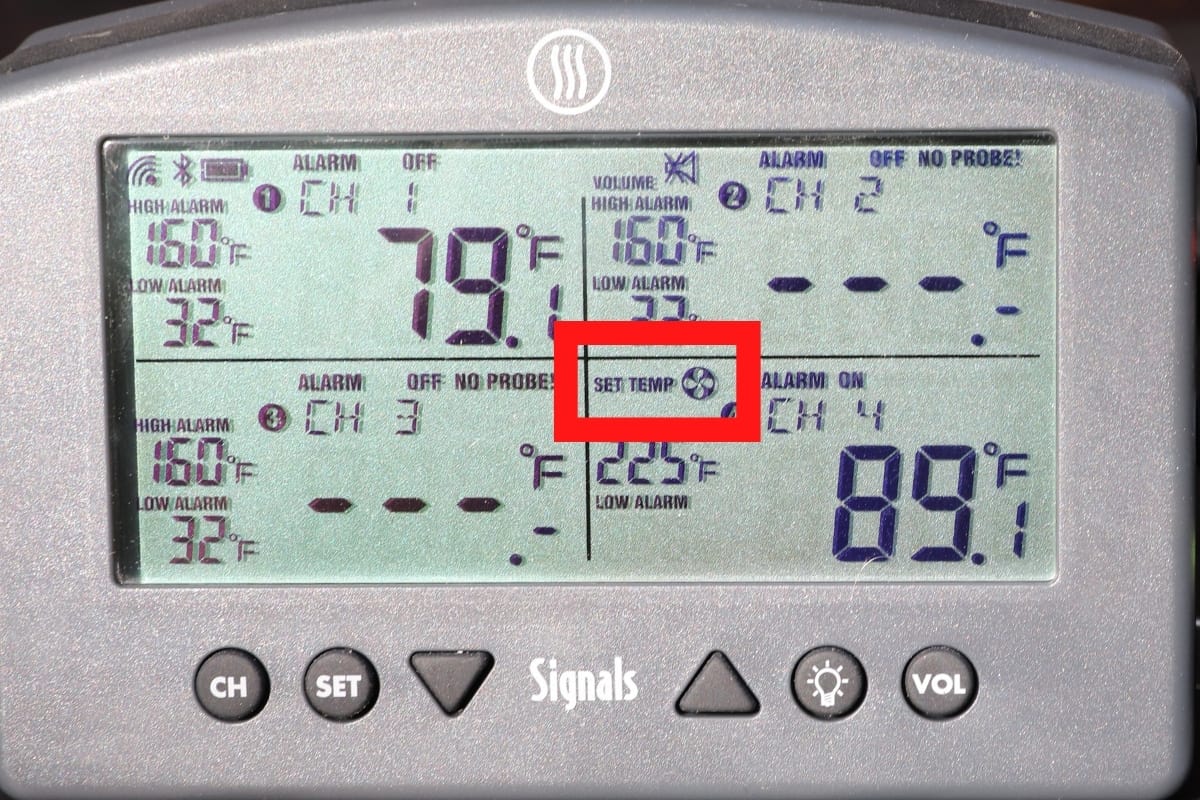 You can then set your desired pit temp either via the control unit and buttons, or via the Thermoworks app, as seen below.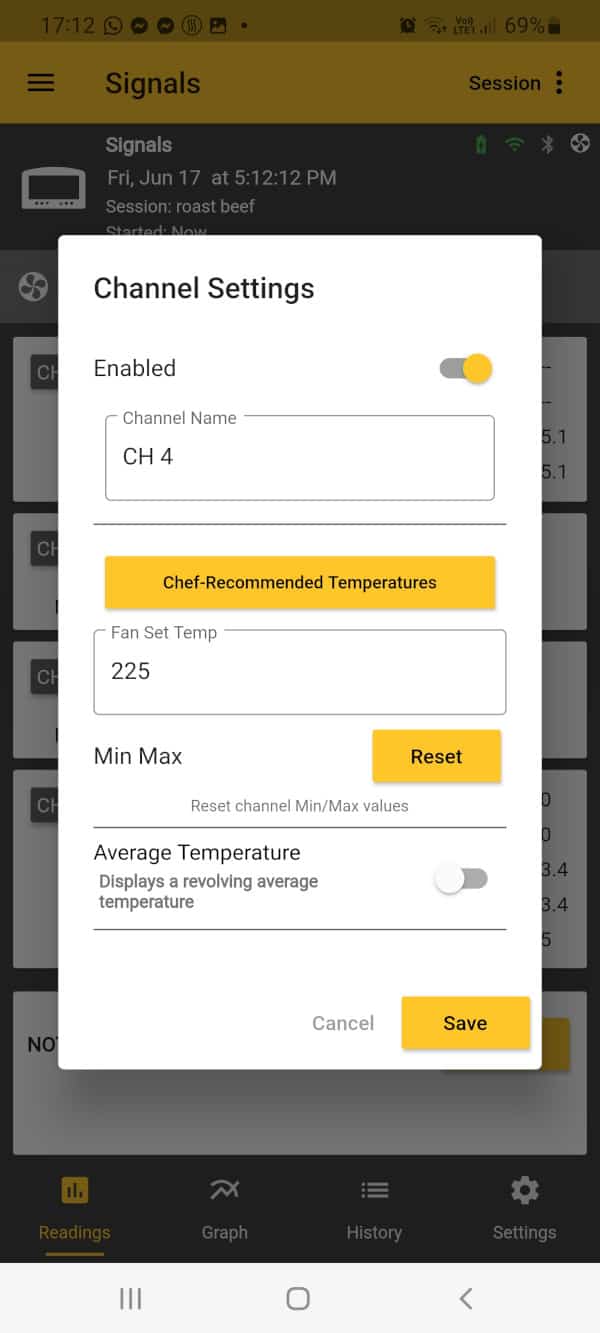 When you set a temperature, there is a fixed 'high' and 'low' alarm notification of 25 °F either side of your set temp. It would be nice to be able to change this to a desired value, but it is fixed. It's a good number though, and works well.
Billows In Use
I've used the Billows many times now, and I find it to be highly reliable and that I can trust it to control my cooks, leaving me able to go off and do other things. Mainly because I can also monitor it from my smartphone if I leave the house.
As can be seen in the following graph of my cook of the beef rump roast, the Billows took approximately half an hour to take my kamado from 130 °F to my desired cooking temp of 250 °F, then held it there rock steady for my cook. I have had the same experience with multiple cooks now.
Overall, in my tests, I have found Billows is easy to install, easy to set up, and plain works.
Improvements Over the Previous Model, the Thermoworks Smoke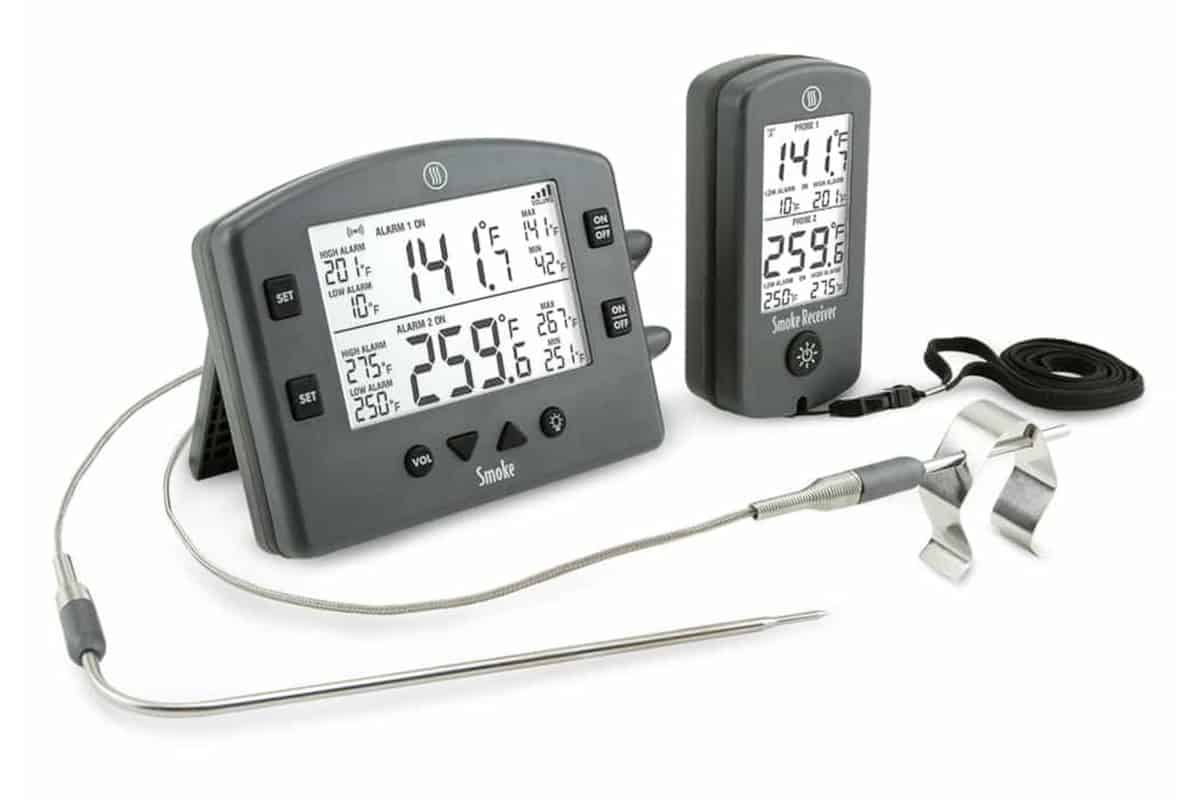 The forerunner to the Signals is the ThermoWorks Smoke. The Smoke is a 2-channel remote BBQ alarm thermometer that shares many functionalities with the Signals. However, the Signals boasts many vital improvements that may make it a better choice for you.
For starters, the Signals has twice as many probe ports, making it far more versatile. Additionally, the Smoke has a folding stand on the back, whereas the Signals is designed to stand on its own; to me, that's a major plus.
Further, the Signals has a more rugged housing than the Smoke, with enhanced waterproofing.
Where the Signals really stands head and shoulders above the Smoke is in the connectivity department. The Smoke comes with a remote RF fob for keeping tabs on your meat if you want to walk away. However, it has no native wireless connectivity; an optional Wi-Fi bridge is available so you can use the app.
The Signals, as I've already covered, is Wi-Fi and Bluetooth-ready right out of the box. Considering the cost of buying a Smoke and the Bridge separately adds up to only about $40 less than buying a Signals (at the time of writing), I can't imagine why you'd bother with it. Go with the Signals instead.
Summary of Pros and Cons
Pros
Sturdy design, water-resistant, and rugged build quality
Category leading ease of use and accuracy
Three meat probes and a pit probe make it highly versatile
Bluetooth and Wifi provide options for connectivity
Easy to set alarms and cooking programs
A nice range of accessories make it usable with any smoker or grill
Cons
Price is high compared to competing products
Glitchy smartphone app repeatedly disconnects during use
Who is this Thermometer for?
ThermoWorks bills the Signals as being designed and built for professional chefs and competitive pitmasters on the circuit or in commercial smokehouses. I'm not really any of those things, but I do strive to cook like them.
If you take your barbecuing and smoking seriously and want to up your game, the ThermoWorks Signals has the features and accuracy you need to dial it up a notch. Maybe two notches. I honestly believe it can help make you a better backyard cook.
Now, if you're more casual about your cooking — you smoke on occasion, and usually not more than one cut at a time — this may be more thermometer than you need. There are plenty of good quality digital smoker thermometers out there that cover the basics for a lot less money which may be better suited to your needs.
Final Verdict: Should You Buy the Thermoworks Signals?
Thermoworks Signals BBQ Alarm Thermometer with Wi-Fi and Bluetooth Wireless Technology
A professional-level, high-quality, accurate thermometer with an intelligent and durable design that wirelessly pushes temperatures and alarms to your smart device via Bluetooth and Wi-Fi for monitoring and analysis.
Optional Billows temperature control fan can be used to dial in and maintain a steady cooking temperature for BBQ control anywhere you have an internet connection.
Please note: The lowest price for the Signals is ALWAYS at the Thermoworks website itself. Many sellers are unauthorized, and products may even be counterfeit. Details at this link.
If you read the previous section and identify with the first group of people, then yes — the ThermoWorks Signals is an exceptional, professional-grade thermometer that's well worth owning.
If you haven't figured it out already, I love to barbecue. I have several cookers, I use them regularly, and I enjoy pushing myself forward, learning new things and trying new challenges. For me, then, the ThermoWorks Signals isn't just a pricey new toy to play with — it's a vital part of what can be a complex set-up.
The ThermoWorks Signals works like a charm, and I especially love using it in conjunction with the Billows to maintain a solid cooking temperature without me having to play with and adjust vents.
I know this company puts out superior products, but I'm still very impressed with how well the Signals works. I expect to get a ton of use out of this bad boy for years to come.
Bottom line: if you want to take your grilling menu way beyond the usual backyard fare, you need a thermometer that'll keep pace with you. I highly recommend adding the ThermoWorks to your arsenal of BBQ tools.
Thanks for joining me for this deep dive into the ThermoWorks Signals. I hope I gave you all the information you need to decide if it's right for you. If you do pick one up, send me a message to let me know what you think! And if it's not the one, check out more digital barbecue thermometer reviews here: https://www.foodfirefriends.com/equipment/thermometer-reviews/.
Cheers, friends! Happy grilling!