Under the microscope today is the ThermoPro TP826, a leave-in wireless digital meat thermometer. This review is hands-on and includes all the specs and honest opinions on quality and performance.
They say, "a watched pot never boils." But, this is not true, as famously proven by Lieutenant Commander Data in episode 25, season 6 of Star Trek: TNG.
What is true is that watching a pot boil is never interesting. The same goes for barbecuing meat; the results are great (hopefully), and grilling can be fun. But, standing there waiting for food to cook is not as interesting as mingling with guests or watching the game on TV.
And that is why there are so many thermometers out there that do the job of "watching" your food for you.
Today's contender for your money is the ThermoPro TP826, a wireless digital meat thermometer that wants nothing more than to let you enjoy a beer without fretting over your grill.
I bought my own TP826, and now I'm going to give it a complete review and test to see how it stacks up. Keep reading for a rundown of specifications, features & benefits, and an honest assessment of the pros and cons.
Stick with me till the end of this ThermoPro TP826 review, and find out if it has earned a place in your BBQ gadget cupboard or drawer.
Overview
ThermoPro TP826 500FT Wireless Meat Thermometer
A dual probe digital thermometer with a 500 ft wireless range, allowing you to monitor your cooks all over your home and yard.
Features include presets for different meats, count up and down timers, temperature alarms, and backlit displays that are easy to read in any lighting conditions.
Note: At the time of writing, I've been only been able to find the TP826 available for sale on Amazon. I will update links when other vendors take on the product.
The ThermoPro TP826 is a wireless digital thermometer suitable for many cooking applications, including inside your kitchen oven and in your barbecue or smoker.
Featuring a wireless RF transmitter and receiver combination with two leave-in food probes, the TP826 allows you to monitor up to two separate food items at once continually, or one food item and the ambient temperature inside your pit.
You can set various parameters for your cook session using the receiver, including target temperatures and countdown or count-up timers.
The advantage of this type of thermometer is that you get real-time data from your cook broadcast to the receiver unit, freeing you to leave the barbecue area and mingle or tend to other things.
The wireless range is up to 500 feet, far beyond Bluetooth, and is entirely standalone, working between the transmitter and receiver, not relying on any Wi-Fi connection.
Pros
Receiver shows all information instantly, at-a-glance
Large, bright screen easy to read in all lighting conditions
Wireless radio has hundreds of feet range
Simple to use interface and buttons
Presets and alarms for different meats and doneness levels is handy
Either probe can be used for food or pit temp
BBQ Temperature alarm is a nice addition over earlier models
Cons
Receiver is large and not exactly 'pocket friendly'
Cable tidies, though a nice addition, aren't the best
What's in the Box?
Receiver unit
Transmitter unit
Customer support card
User manual
2 stainless steel temperature probes
2 cable winders
Probe clip
4 AAA batteries
Design and Build Quality
I find both the transmitter and the receiver are good-looking pieces of gear and easy to handle. They fit nicely in most adult hands, and the slip-resistant grips are handy when things get a little greasy.
The displays are clear, the plastic housing is solid, and I like that I don't have to worry about them getting caught out in a bit of rain. Plus, ThermoPro has provided several options for standing or hanging both units.
I prefer probes with curved ends as they provide extra leverage and keep your fingers further away from the heat. But, the textured ends on the ThermoPro probes make them easier to work with than standard straight probes.
I cannot speak to the durability or longevity of this device just yet as it is quite new to me, I have not dropped it or abused it in any way, but I feel it will last. I have had thermometers with worse feeling build quality than this last me for years.
Features and Manufacturers Specifications
The number one feature of the TP826 is the wireless communication between the two units. For quick cooks, like a medium-rare steak, you probably only need the transmitter for the few minutes required; it displays the probe readings nice and clear right there on the built-in LCD.
But, for anything longer (think anything you cook with the lid closed), the ability to keep tabs on your food and your cooker from, likely, anywhere in the house or yard is incredibly convenient.
During use, I was able to receive a signal over the entirety of my back and front gardens and every room of my house, front and back.
If you're more familiar with using a smartphone app for grill monitoring, just think of it this way: the receiver subs in for your phone. What's brilliant about that is the RF signal is highly reliable and suffers only minimally from interference. It also doesn't care if your Wi-Fi is down or the power is out. As long as you have four functional AAA batteries, you're in business.
The receiver is programmable for any cook session, from extended smoking to a sirloin cooked rare. Included presets for meat temperatures are convenient and save you from looking them up if you don't have them memorized. Pros and novices alike will get full value from this feature.
Two stainless steel temperature probes come with the TP826 to provide fast, accurate readings from either your food or the cook chamber, or both.
Keep reading to learn about some of the key features in more detail and how they perform during use, in the following sections.
Presets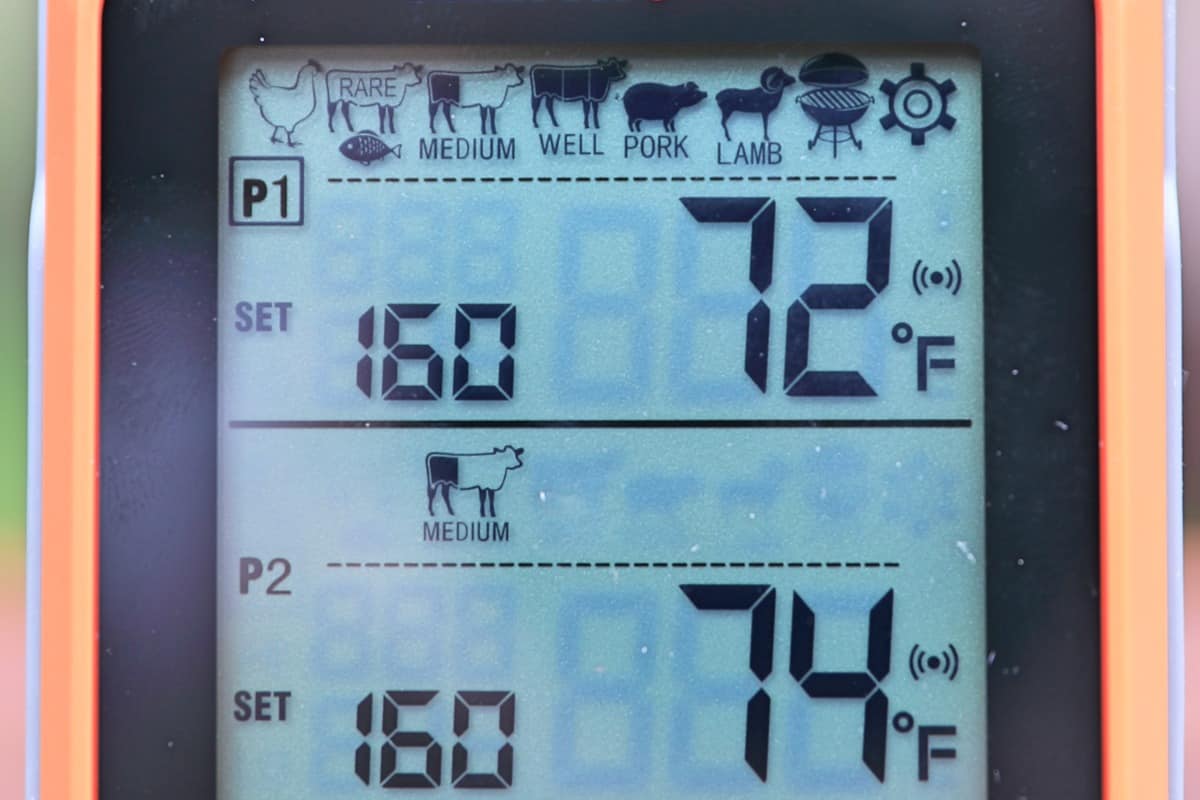 Eight preset alarms are available on the ThermoPro TP826, including seven for different meats and one for a temperature range such as you might want for low 'n' slow cooking.
The meat presets are:
Chicken – 165 ˚F
Fish – 145 ˚F
Rare beef – 145
Medium beef – 160 ˚F
Well beef – 170
Pork – 170 ˚F
Lamb – 170
I find some of these debatable, but they are what they are.
The eighth preset is labeled BBQ and displays an icon of a kettle grill. The default range is 225 to 250 ˚F, but, as we covered in the previous section, you can adjust them as needed.
I like this feature because many grills have temperature swings, and I'm always happy to let it swing a few degrees either way, but I need to know if it goes outside my acceptable range. For example, low and slow between 225 ˚F and 275 ˚F, or roasting between 355 ˚F and 430 ˚F.
The ninth and final 'preset' is for you to set whatever value you wish for the current cook and has a symbol of a cog.
Alarms
You want alarms? The TP826 has alarms galore! Choose from seven meat temperature alarms (covered in more detail in the next section), a barbecue temperature range alarm, and a countdown timer alarm.
The BBQ temperature range alarm is fully customizable to your needs for a particular cook session. Using the up and down arrow keys, you can set HI and LO temperatures to establish your range. The HI range is 140 to 572˚F, and the LO range is 32 to 554˚F. An alarm will sound should the ambient probe register a temperature outside the range.
It's worth noting that all audible alarms are accompanied by a visual alarm, either a flashing backlight or flashing display characters. This could be a dinner-saver if you're hard of hearing or there's a lot of background noise.
Timers
There is a single timer on the receiver, but it can count up or down. It is a 24-hour timer in both directions.
In count down mode, it triggers an audible and visual alarm. In count up, it merely acts like a sort of stopwatch, letting you know how much time has elapsed, with no alarm ever being triggered.
This is, of course, highly useful if cooking to time, such as with a 3-2-1 ribs cook, for example.
Manufacturer Specs
Temperature range: 14 to 572˚F (-10 to 300˚C)
Accuracy: ±1.8˚F (±1.0˚C) from 14 to 212°F (-10 to 100°C)
Receiver dimensions: 2.9" x 5.0" x 1.0"
Transmitter dimensions: 3.0" x 3.4" x 1.1"
Probe dimensions: 8.0" probe; 49" wire
Sensor type: NTC
Refresh rate: 4 seconds
Waterproofing: IPX4 (splashproof, but not submersible)
ThermoPro TP826 500FT Wireless Meat Thermometer
A dual probe digital thermometer with a 500 ft wireless range, allowing you to monitor your cooks all over your home and yard.
Features include presets for different meats, count up and down timers, temperature alarms, and backlit displays that are easy to read in any lighting conditions.
Note: At the time of writing, I've been only been able to find the TP826 available for sale on Amazon. I will update links when other vendors take on the product.
A Look at the Transmitter and Receiver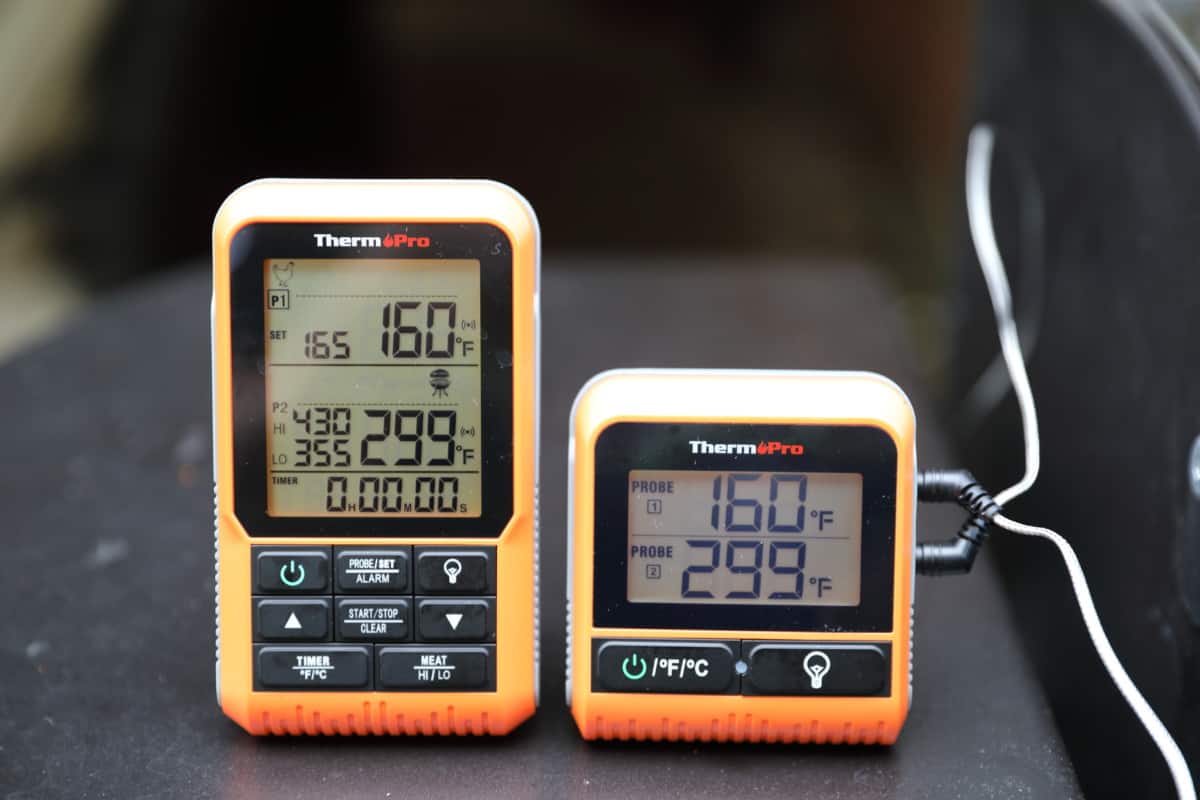 The core of the TP826 is the transmitter and receiver combination. Let's inspect each component separately to see how they work.
Transmitter
The compact transmitter is not only the primary control center for the combo; it's also the little radio station broadcasting data into the air. That's more than just an analogy; the transmitter sends out a 915MHz UHF signal (in Europe, it's 868MHz) that the receiver picks up.
Decked out in a vivid orange housing with black and gray accents, not only does it look sharp and professional, it's really easy to see. Even the 2.1" x 1.2" LCD features black characters on an orange background.
The LCD is highly visible under most lighting conditions. For night cooks, just press the backlight button; it automatically shuts off after 10 seconds if there are no further inputs. The only other button on the transmitter is a multifunction button to turn it on and off and switch between Fahrenheit and Celsius.
At all times, the display shows the temperature readings from the two probes, which plug into the right side of the transmitter. The two zones of the LCD are clearly labeled as "PROBE 1" and "PROBE 2," so there's never any confusion. Additional icons indicate if the signal is broadcasting and the battery level.
Flipping to the back of the transmitter, we find two excellent convenience features. The first is a small flip-out stand, perfect for resting it on a side shelf attached to your grill or any nearby surface.
The second is a handy hanging hole that slides in and out of the transmitter as needed. Anyone who doesn't have a side shelf (like kettle grill owners) will appreciate this bonus feature.
You'll also find the battery compartment on the back, with the cover held in place with a simple integrated clip; no need to remove any tiny screws to replace the pair of AAA batteries inside.
The plastic housing is solid and feels durable. In addition, ThermoPro added ridges on the gray band that connects the back to the front of the housing to make it easier to grip.
However, I have to say I'm more a fan of the covers used on ThermoPros other thermometers such as the TP-20 and TP-08. These come encased in a splash-proof, durable rubber sleeve that will be way more protective in case of being dropped.
Receiver
The receiver is a hefty unit featuring a 1.9" x 2.25" LCD screen with black characters on an orange background. Style-wise, it's a match to the transmitter, with the same orange/black/gray color scheme and a grip enhancer on the side.
Below the LCD is a panel with eight buttons. This is where you'll set all your target temperatures, timers, and alarms. The buttons are large, easy to press, and clearly labeled with high-contrast white on black letters and symbols.
The LCD is divided into three sections: one for each probe and a third dedicated to a timer. Each probe section will display the target temperature, the actual temperature, and the type of meat you're cooking if selected. If you choose to set a temperature range alarm, the HI and LO temperatures will display instead of the single target temperature.
On the back of the receiver, you'll find a flip-out stand for resting it on a table, a magnet so you can mount it to anything metal, and an integrated hanging hook. The battery compartment is also here, and again, no screws are required.
Range
The potential range for the wireless signal is 500 feet.
Various factors can reduce the range, such as physical obstructions like walls, or electromagnetic interference, including other wireless devices.
Generally speaking, though, the range is much, much better than with the many Bluetooth thermometers I own.
A Look at the Probes
The ThermoPro TP826 comes with two stainless steel temperature probes. You can use either probe for food or ambient temperature.
For ambient readings, slide on the metal clip to hold the probe in place just under an inch above the grate.
Each probe measures 8 inches long and comes attached to a 49-inch wire. Connection to the transmitter is via a 3.5mm plug, much like you find on a standard set of earbuds.
Where the wire meets the probe, there's a wider, two-inch-long section of grooved stainless steel for gripping as you insert and remove the probe from your food. That leaves about 6 inches of actual probe for insertion.
The final half-inch of each probe tapers to a point to make it easier to insert into your meat.
Ease of Use
You'll find the TP826 very simple and intuitive to use. The paper instructions aren't the clearest, but there's an excellent set-up video by ThermoPro available on YouTube that you can see below:
One thing you won't need to set up at all is the wireless pairing. Your transmitter and receiver were paired at the factory; pop in the batteries, and you're ready to roll. However, should they ever unpair, it's a simple matter to reconnect them.
All the buttons are clearly labeled and easy to press. There are a few with multiple uses — not always my preferred set-up — but I didn't find myself ever triggering the wrong function.
The LCD screens are large and easy to read, even from a distance. If you're not getting any younger, you'll appreciate this feature. And the backlight works extremely well also, making it easy to read in the dark.
And, with the options to hang, stand or, in the case of the receiver, magnetically attach, you won't have any issues finding somewhere to put either unit while in use.
Speed and Accuracy
The response time for the TP826 is very good; figure about 5 seconds to get a reading. That would be slow for an instant-read thermometer, but it's very good for this thermometer style.
My experiences with ThermoPro thermometers have been consistent: they always meet or exceed the provided specs for accuracy. The manufacturer claims ±1.8 ˚F (±1.0 ˚C) accuracy, so let's put that to the test.
Ice Water Test
Iced water should read 32 ˚F. And as can be seen in the photograph, using a Thermapen One (an incredibly accurate instant-read thermometer) it measured 31.9 ˚F.
So I was surprised to see the Thermopro TP826 measuring 35 ˚F on both probes during this test. This is 3 ˚F out, and more than their stated accuracy.
To be fair, at this low end of the range, it's not so important because, in reality, you never need to measure this low when you're grilling or smoking. So it's not a deal-breaker but is a little disappointing nonetheless.
Boiling Water Test
Water boils at 212 ˚F at sea level and boils at lower temps the higher in altitude you go. I live close to sea level, so water boils at very close to 212 ˚F in my house.
As can be seen in the photo, both probes measured exactly 212 ˚F. This is great to see, very accurate, and means I can rely on it during my cooking.
Warranty and Support
ThermoPro provides a 1-year warranty on all its products. However, if you register your purchase at their website, they'll extend the coverage to 3 years.
To make a warranty claim, simply contact ThermoPro, and if the issue meets the warranty criteria, they'll send out a replacement. You don't even have to send the defective unit back!
You can contact ThermoPro by phone or text (North America only) or use the online form to describe your issue.
Final Verdict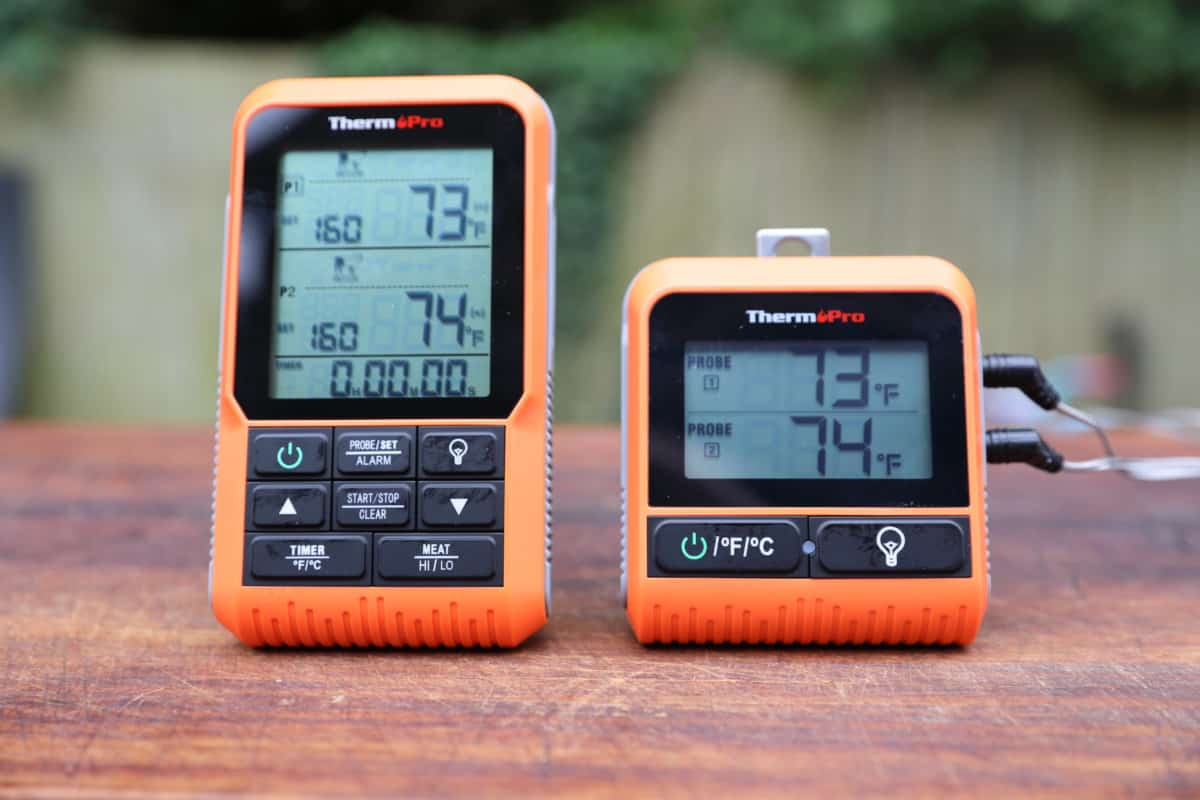 Now that we have the facts let's move on to the opinions. What does the TP826 do well, what could it do better, and is it worth your time and money?
What We Like
The large, black-on-orange LCD screens are incredibly easy to read and show all the necessary information at a glance.
While wireless thermometers that use Bluetooth or Wi-Fi to send info to your phone do eliminate the need for an extra piece of equipment, the range of the RF signal is excellent, and it's very reliable. Plus, the interface is simple and easy to use, something that can't be said for some smartphone apps.
Preset temperatures for every major category of meats and the standard low 'n' slow range take most of the guesswork out of cooking to perfection. Just be sure ThermoPro's idea of rare and medium match your own and adjust accordingly.
Some manufacturers use different probes for ambient and food temperature. Allowing both probes to do either job provides increased flexibility.
Adding the BBQ temperature range alarm makes it far more suitable for smoking than, say, the TP20.
What Could Be Improved
The receiver is pretty big and not jeans pocket friendly. I also own the TP20, and it has a belt clip on the back, which I love. I sometimes find myself wishing they'd added one to the TP826.
While I like having the cord winders for compact storage, I don't seem to ever get them wound up quite as well as how they arrived from the factory. (User error, though, eh?)
Value for Money?
Considering what it does and how well it does it all, what ThermoPro is asking for the TP826 is very reasonable.
I'd say not only is it good value for your money, but it may also be the best overall value from the entire ThermoPro wireless meat thermometer line-up.
Do We Recommend the Thermopro TP826?
ThermoPro TP826 500FT Wireless Meat Thermometer
A dual probe digital thermometer with a 500 ft wireless range, allowing you to monitor your cooks all over your home and yard.
Features include presets for different meats, count up and down timers, temperature alarms, and backlit displays that are easy to read in any lighting conditions.
Note: At the time of writing, I've been only been able to find the TP826 available for sale on Amazon. I will update links when other vendors take on the product.
Wholeheartedly! This is a terrific wireless thermometer set loaded with convenience features, built to last, and easy to use. You'll find it equally suitable for home use or grilling on the go, where there may not be Wi-Fi to tap into.
I'm going to have to default back to the classic 'you get what you pay for' here. There are better thermometers out there, with more features, better build quality, etc. But for the price ThermoPro charges for this, you will struggle to find better.
So the only reasons you might want to look at other models would be if you feel you'd prefer the option to connect more than two probes, you want a more premium, professional unit and are willing to pay the premium for it, or if you don't smoke food and therefore wouldn't fully benefit from the temperature range alarm.
In Conclusion
Though I know some people favor wireless thermometers with apps, the simplicity and versatility of a transmitter/receiver combo make them very appealing. They free up your phone and aren't reliant on temperamental technologies like Bluetooth and Wi-Fi networks.
For my money (and yours), the ThermoPro TP826 is an excellent choice at an attractive price.
As always, you have my thanks for reading this ThermoPro TP826 review, and I hope I was able to help you make a decision. Please drop a line via our contact form below for any questions this review may have raised.
Want to see more thermometers? We've got 'em! Click here to see all our reviews on every type of BBQ-ready thermometer.