We take a look at the best Bluetooth meat thermometers for BBQ and grilling in this list of reviews and buying guide
These remote wireless thermometers connect to your smartphone via Bluetooth for you to monitor your cook via an app on your phone.
They tell you when your grill or smoker temperature drops or falls below your target, and when your meat needs attention due to internal temperature, not by time, so you'll never under or overcook your food again.
But most importantly, they allow you to monitor your cook from a distance. You can check your pit temp and the internal temperature of your food on your smartphone, not having to sit by or even be close to your grill or smoker.
No more abandoning guests 'just to check', or missing a crucial play from your favorite team just to make sure all is well with your ribs or brisket. Simply eyeball the app on your phone. Priceless! Bluetooth models are some of the best smoker thermometers you can find.
Before we get into the meat of the article, here's a brief overview of the Bluetooth meat thermometers reviewed in this guide:
At a Glance: The Bluetooth BBQ Thermometers Discussed in this Guide
Note: Clicking the above links will take you to further information, current prices and customer reviews on Amazon.
Now, we first take a detailed look at eight top-rated Bluetooth thermometers, looking at their specs and features, their pros and cons, and our overall view on the products.
Following this, we look at the benefits of Bluetooth technology applied to thermometers, how they work, how they compare to other types of BBQ thermometers, how you can get the most out of your purchase, and more.
Let's dig into the reviews…
Bluetooth Meat Thermometer Reviews
Here are eight of the most useful and practical Bluetooth thermometers you can buy, so you can stay ensconced in your comfy chair, worry-free while your smoker works its magic.
Fireboard 2 With Optional Drive Blower
1
Of the many tens of different thermometers I have owned, used, tested, and reviewed, the original Fireboard thermometer used to be my favorite. That was until they released this version 2!
I have owned and used this thermometer since late 2021, and I can honestly say I have no complaints about it whatsoever. I love everything about it, including its functionality, performance, and build quality.
Fireboard has created three different versions of this thermometer:
The basic Fireboard 2 — A cloud-connected thermometer
The Fireboard Pro — 3 Type K Thermocouple ports for wider temperature range monitoring.
The Fireboard Drive — With integrated tech to control a 12V fan for automatic temperature control.
I purchased the Fireboard 2 Drive because I have a wide range of charcoal grills and smokers with which I can use and benefit from an automatic, intelligently controlled fan for temperature control.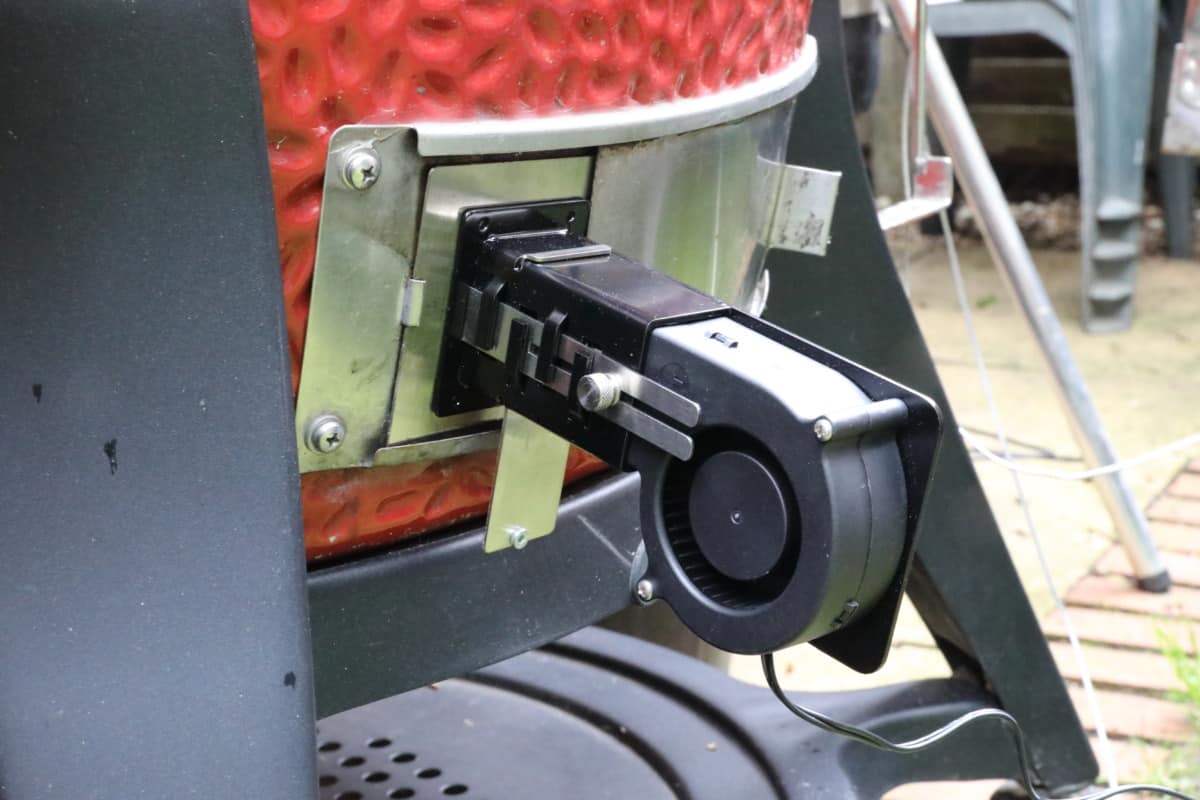 Now, the Fireboard 2 is not cheap! But if you are serious about your BBQ, you should consider adding this excellent bit of kit.
Let's take a look at the features and specifications of the Fireboard 2.
It supports up to 6 probes and comes supplied with an ambient pit probe and two food monitoring probes. Six probes may seem like a lot, but I often cook large meals for a crowd, and I love the fact I can accurately monitor up to 6 foods when I need to, or the cooking temperature of multiple grills or smokers if I desire.
The Fireboard 2 supports two types of probes: RTD probes for measuring extreme temperatures between -58 °F and 715 °F, or the more typical, faster response time thermistor type that is best for BBQ. And it's the thermistor type that it ships with.
The control unit is able to measure temperatures from -94 °F to 752 °F (-70 °C to 400 °C), which more than covers the upper and lower temperatures that the probes can work to.
Fireboard advertises an accuracy of an impressive ±0.7 °F (±0.4 °C). I decided to put this to the test.
Boiling water should read close to 212 °F at sea level. As you can see in the below image, the Fireboard showed 211.8 °F and 212.3 °F for two connected probes.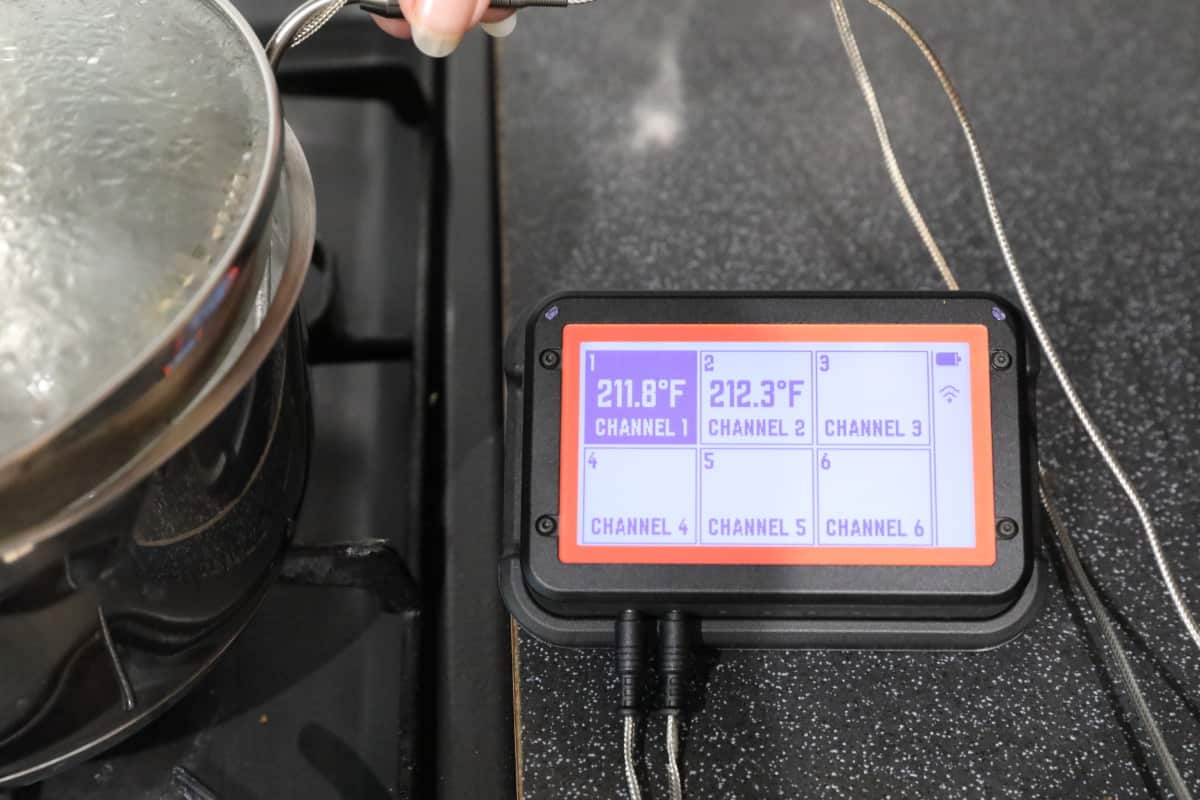 Iced water should read very close to 32 °F, and the Fireboard showed 32.1 °F to 32.3 °F for two connected probes.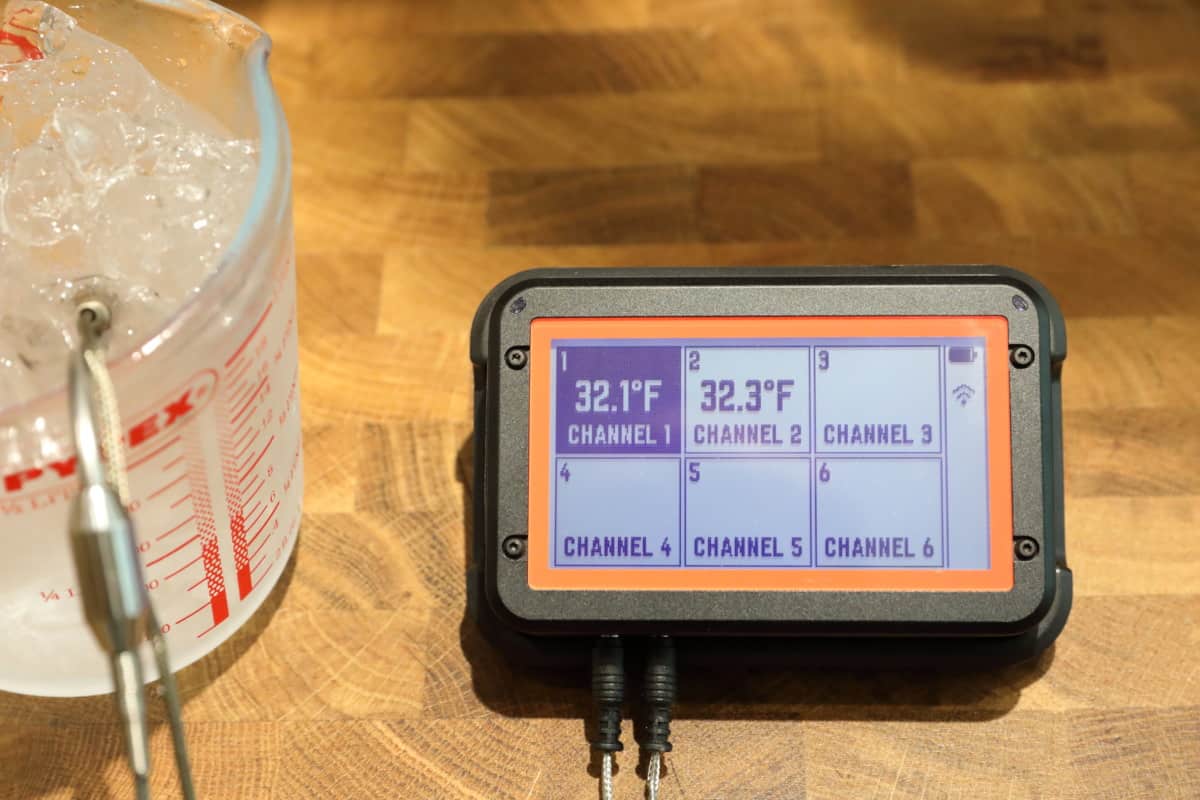 This shows an accuracy even better than Fireboard themselves advertise and is undoubtedly data you can trust and rely on in your cooking.
The controller contains a rechargeable battery that can run for up to 30 hours on a single charge, and the unit can also be used while plugged in.
The screen on the controller is 3.3 x 1.75 inches and 256 x 128 pixels. It is bright, high contrast, and easy to read with large numbers and lettering. It shows you all the data you could possibly want or need right on the controller, including temperature over time graphs.
The controller is weather-resistant, too, so a little splash of sauce, beer, or rain won't lead to damage.
The fireboard 2 is Bluetooth enabled for monitoring up to 100 feet away, and Wi-Fi enabled for monitoring anywhere you have an internet connection.
The smartphone app is well designed, well thought out, easy and intuitive to use, and in my experience so far, has a stable connection, unlike many offerings in the BBQ world that tend to suffer occasional disconnection.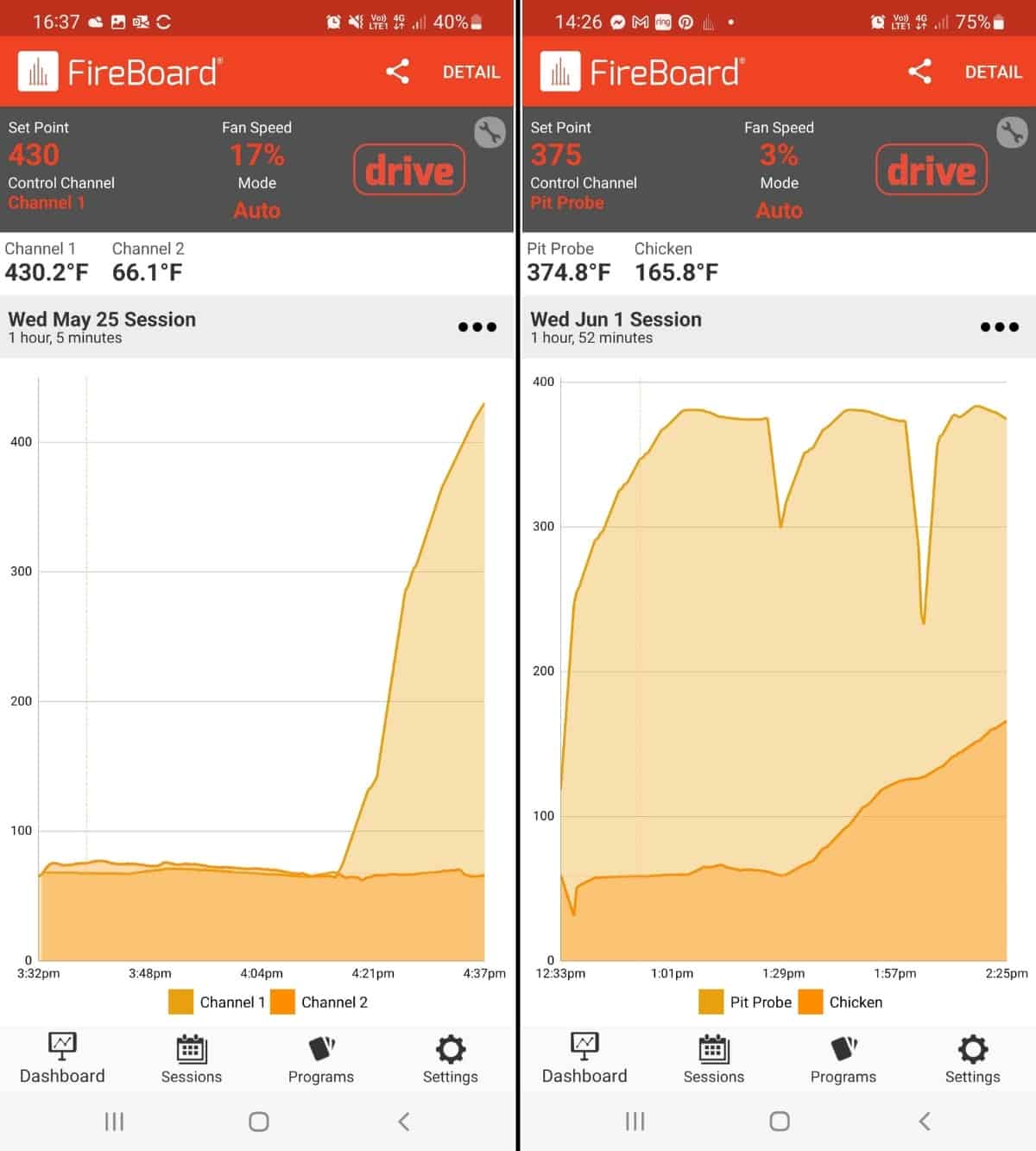 You can use the app to receive alarm notifications via text, email or in the app. You can set high and low temperature alarms, how long a temperature should be exceeded before an alarm sounds, set channel names, view graphs, and more.
The app is rich with data, while also being easy to use and offers a simple interface of important temperatures if that is all you want.
Fireboard provides a 1 year manufacturer's warranty, and their customer service is also quick to respond and reactive.
Pros
One of the very best Bluetooth thermometers available today.
A professional-looking, well-designed bit of kit.
Can support up to 6 thermometer probes.
Incredibly accurate, has a fast response time, and works over a wide temperature range.
The display is large, high contrast, and easy to read in light and darkness.
The display auto-rotates to suit the orientation of the device.
Bluetooth AND Wi-Fi enabled, for connectivity options.
The smartphone app is intelligently designed, well thought out, and reliable.
An automatic temperature controller fan can be added to Drive and Pro models.
A rechargeable battery and 30 hours run time on a single charge.
Some control is achievable from smart speakers by Google and Amazon.
Cons
One of the most expensive BBQ thermometers on the market.
No audible alarms on the controller.
The three buttons have no labels, so you have to remember their functions.
No stand included. One is available separately, though to be fair, it's not really needed.
If you want a top-of-the-line Bluetooth-enabled grill and smoker thermometer, you really should consider the Fireboard 2.
And if you use charcoal grills and smokers, you should look into the Drive version, for it's excellent to be able to set a temp and leave the device to manage the fire for you, keeping it at a set cooking temperature with no further input from you.
See our Fireboard 2 hands-on testing and review for further details.
Thermoworks Signals With Optional Billows Blower
2
Thermoworks are known throughout the BBQ world for their high quality, professional products that are nothing short of excellent, and the Signals certainly lives up to this!
The ThermoWorks signals is a professional-grade thermometer that is as accurate and reliable as you will ever find. It is equally good for amateur pitmasters and the experts among you.
This thermometer could easily have been my number one pick — and it is for a handful of other review sites — but the Fireboard design and superior smartphone app suit my tastes a little better. It was a very close call, though!
The ThermoWorks signals is often mentioned as being for commercial, professional cooks. But it is expensive and probably a little too much for the average occasional BBQ cook, but you do get what you pay for. Read on, and you'll see why.
The signals comes complete with a total of four probes, three for your food and one to monitor the temperature inside your pit. Each probe has colored rings at each end to more easily identify which probe is measuring what.
The ThermoWorks Signals can measure from 58 °F – 572 °F (-50 °C – 300 °C). The accuracy changes depending on what temperatures are being measured. ThermoWorks advertise the accuracy as:
±1.8 °F (±1.0 °C) from -4 to 248 °F (-20 to 120 °C)
±3.6 °F (±2.0 °C) from -58 to -4 °F / 248 to 392 °F (-50 to -20 °C / 120 to 200 °C)
±5.4 °F (±3.0 °C) from 392 to 572 °F (200 to 300 °C)
I did the boiling water and iced water tests to see for myself how accurate the Signals is.
Boiling water should measure close to 212 °F at sea level. As can be seen in the image below, the Signals measured 221.8 and 212.2 °F for a pit probe and food probe, respectively.
Iced water should measure at close to 32 °F. The image below shows that the Signals measured 31.9 and 32.0 °F for a pit probe and a food probe, respectively.
This shows the Signals is incredibly accurate, better than advertised, can be trusted, and is data you can rely on.
The controller itself is a durable, ruggedly built wedge-shaped unit that is IP66 waterproof. The shape lends itself to standing stable, so no further stand or base is needed.
The display on the unit is large at 1.88 x 3.97 inches. It is easy to read and shows the temperature of all four possible probes simultaneously, their high and low temperature settings, as well as any alarms you may have set. Each channel can be given a name if desired, perhaps of the cut of meat you are cooking.
Power comes from a built-in rechargeable battery that lasts up to 16 hours on a single charge, and charging is done via a USB-C cable and adapter that is supplied. It can be run while plugged in for longer cooking sessions.
The Bluetooth range is advertised as up to 95 feet line-of-sight, and there is also Wi-Fi connectivity for you to monitor your cook anywhere that you have an internet connection on your smartphone.
Recently released is a newer smartphone app that is hugely improved over the first app from ThermoWorks. Once installed, I was asked to set up an account, and then a firmware update was pushed, and I was up and running.
The app contains all necessary info, including all temperatures, high and low settings, set alarms, and historical data and graphs of cooks.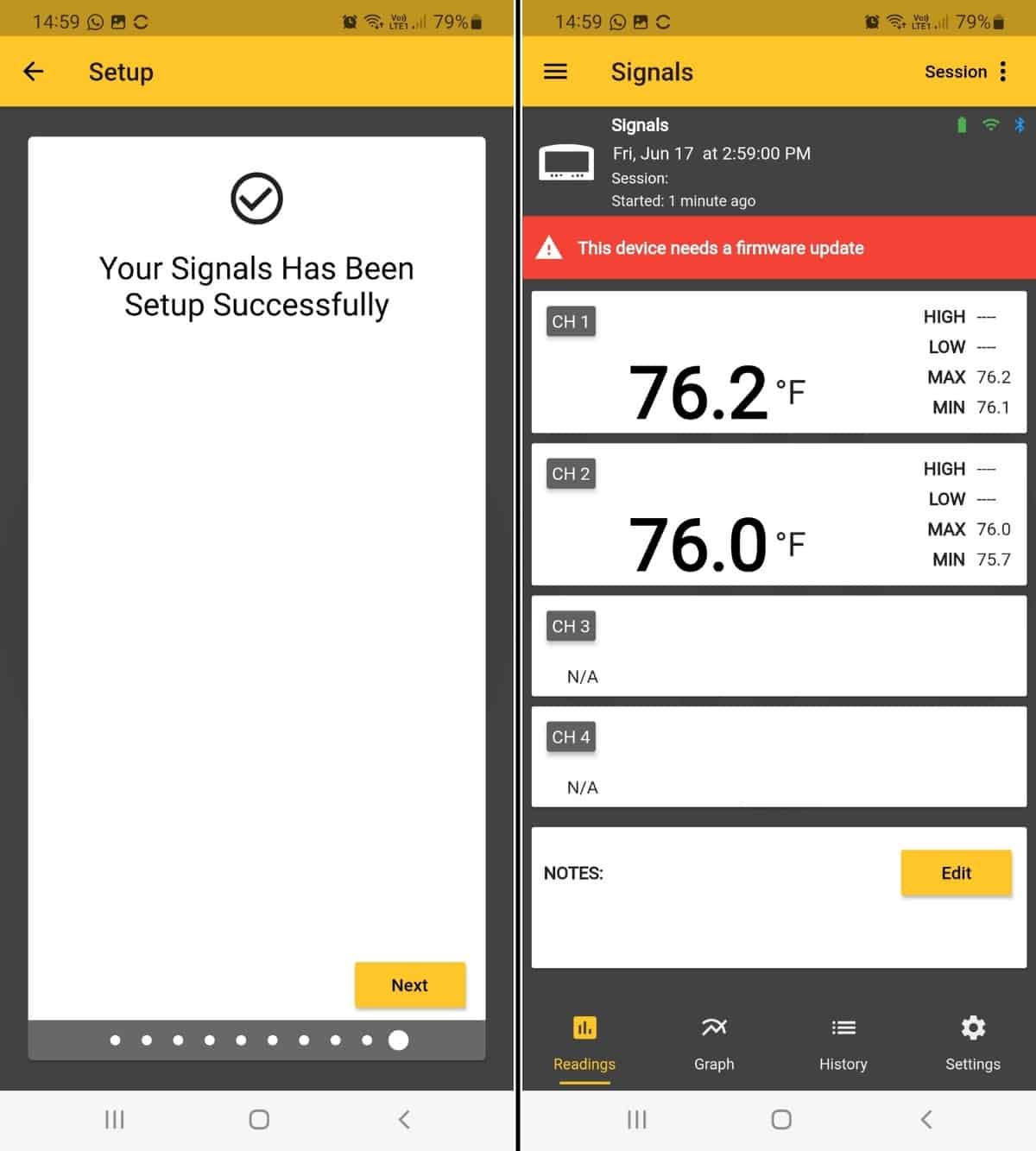 Alarms can be seen at both the main controller unit and on the smartphone app, so you should never miss an important event with your cooks.
As with the Fireboard 2 above, the Signals can be more than just a temperature monitor, it can also be a temperature controller if you add the optional Billows fan. With this, after setup, you can set a temperature for your charcoal smoker, and the Signals will hold it there rock solid, removing your need to learn any fire management and vent control.
The billows is not essential, but it is nice to have. I own it, have tested and used it thoroughly, and it's highly effective for some hands off long smoking sessions.
Pros
Possibly the most rugged, commercial, professionally built thermometer on the market, with IP66 waterproofing, and commercial quality probes.
Very easy to use.
Accurate and reliable.
Supplied with four probes as standard (3 for meat, 1 for pit monitoring.)
Bluetooth enabled with a smartphone app, and Wi-Fi enabled too for monitoring anywhere in the world.
A fully functional base, so the smartphone app isn't essential for use.
Clearly labeled buttons.
Settings are intuitive, and the controller sends clear notifications.
The Billows blower can be added to make the Signals a competent temperature controller for your pit.
9 colors are available for personalization.
Cons
Pricy, (But you are paying for extreme high quality!)
Smartphone app is a bit cluttered with links to Thermoworks store, help center, support, blog, and featured recipes.
All in all, this a real gem of a thermometer. It provides accuracy and reliability, in a rugged base unti, with a large and clear display, that has easy-to-use labeled buttons.
Bluetooth connectivity is strong and reliable, and the smartphone app shows you all essential info bright and clear, with hard-to-miss notifications. It is also Wi-Fi enabled for remote monitoring anywhere in the world.
Yes, it's pricy. But it really is worth every cent and should be a top consideration for any budding pitmaster.
Learn more in our hands-on testing and review of the ThermoWorks Signals.
Meater Plus 165ft Bluetooth Truly Wireless Thermometer
3
I've owned two Meater thermometers since they were first released, and you can check out my full Meater review for an in-depth guide on it.
The Meater is the first TRULY wireless thermometer, relying on Bluetooth alone to transmit temperature information from the probe to a smartphone, with not a single wire in sight.
Why I jumped on the chance to buy is because I occasionally use a rotisserie. Of course, wire on a spinning spit is never going to work, so I loved the idea of a genuinely wireless thermometer.
And my verdict is: I love it! It's accurate, with a highly intuitive, easy-to-use, and intelligent app that will help you cook meat to perfection every time with its multitude of settings and alarms.
If you want actual wireless, this is not only the best wireless Bluetooth thermometer, it is in fact the only genuine one on the market.
Other 'wireless' thermometers are only wireless from the transmitter to the receiver so that you can monitor remotely. There is still a wire from the probe to the transmitter.
What's more, the single probe has two thermometers, one at each end of the Meater, one for monitoring the internal temperature of your meat, and the other end to measure and report the temp of your grill.
For the average pitmaster, this means no threading probes and wires through eyelets and holes, not having to use two probes, no frayed, bent, and eventually broken wires. It's good!
But where this really shines is if you rotisserie too. Wired probes cannot be used with a rotisserie, whereas the Meater can.
The Meater is also a good-looking bit of kit! It looks like a high-end pen in silver and black, with the charging block carved from wood. It really does look stylish.
The app is easy-to-use, and semi-automates cooks for you. You select the type of meat, how 'done' you'd like it, and it automatically tells you how long it will take and when to take the meat off the grill, so carryover cooking takes it to the target temp. It also saves information from previous cooks, so you can compare and use this to improve.
Manufacturer's Specs
Number of probes: 1 (monitors grate and food temp. simultaneously)
Temperature range: up to 527F (275C) ambient / up to 212F (100C) internal
Cable length: N/A
Power: 1 AAA battery in the block/charger
Remote range: 165 feet (Bluetooth), Wi-Fi range will vary
Display size: How big is your phone?
Dimensions: 7.4" x 2.9" x 1.5"
Weight: 6.4 oz.
Warranty: 1-year
Pros
Truly wireless, not a wire in sight.
Accurate, intuitive and easy-to-use
Information is displayed on your phone, an item you always carry with you anyhow
Can use a rechargeable battery, making it environmentally friendly — just remember to recharge!
Walks you through the cook with presets for different meat types, and alarms to tell you when to take food off.
Accounts for carryover cooking! Alarms to take food off before target temp, so it rises to target during the rest.
Cons
Only keeps tabs on one cut at a time
Requires a smartphone, tablet, Alexa, or computer for connectivity
Smaller range than others on this list, but still plenty far
Battery cannot be replaced in probe, but is rated for 1000+ cycles
It really is an impressive bit of kit, worth the price tag, and one that I am happy to recommend.
My only recommendation would be to make sure you buy the Meater+, and not the standard Meater. The standard one does lack a bit in range (sometimes as little as 10 foot), whereas the Meater+ has a range of over 150 feet.
Spend a little extra to enjoy the added range, and less occasional frustration, it's definitely worth it.
The Inkbird IBT-4XS is a very popular thermometer and a great one for the relatively little it costs compared to most others on this list.
The main appeal of this thermometer for most owners seems to be a mic of the price, reliability, and longevity. People have owned this thermometer for years, use it regularly, and it keeps going on strong. I have had mine since mid-2021, it still works perfectly, but I have only used it a handful of times.
The Inkbird IBT-4XS is a 4-channel, Bluetooth-enabled wireless remote monitoring thermometer with an accompanying smartphone app. It ships with anything from 2 to 4 probes, depending on which bundle option you choose.
Each probe is dual-purpose, meaning it can be used to monitor the temperature of your grill or smoker, or be inserted into food to monitor the cook.
Let's take a quick look at the manufacturer's specifications.
Manufacturer Specs
Temperature range: 0~300 °C /32~572 °F
Temperature accuracy: ±1 °C / ±2 °F
Wireless range: 50 meters / 150ft
Alarms: Over-temperature alarm; range alarm; time count-down alarm
Display: LED screen & app
Probe capacity: Up to 4 probes
Battery: Rechargeable 1000mAh lithium battery
Dimension body: 83 × 83 × 28 mm (3.3 × 3.3 × 1.0 inch)
Sensor length: 150 cm / 4.9ft
Net weight: 380 g
Accuracy
Inkbird advertises an accuracy of ±2 °F. I ran my standard boiling water and iced water tests to check.
Boiling water should be close to 212 °F at sea level. As can be seen in the image below, the Inkbird measured 214 °F in my testing.
Iced water should measure close to 32 °F. As can be seen in the image below, the Inkbird measured 34 °F.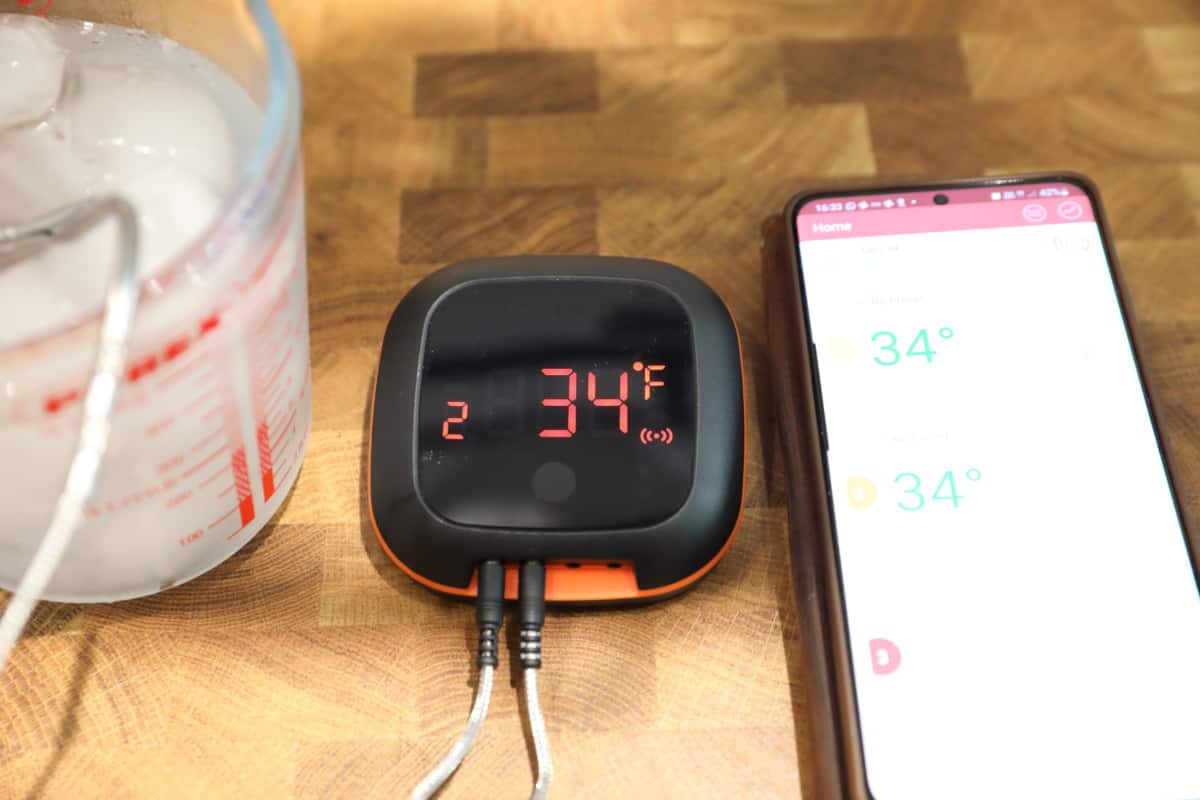 So, although by far not the most accurate thermometer on this list, it does perform within the manufacturer's advertised range of accuracy and is good enough for most purposes.
The control unit is a flat, square design with soft edges that will help it to withstand any knocks or falls. It feels good in the hand and is built to last.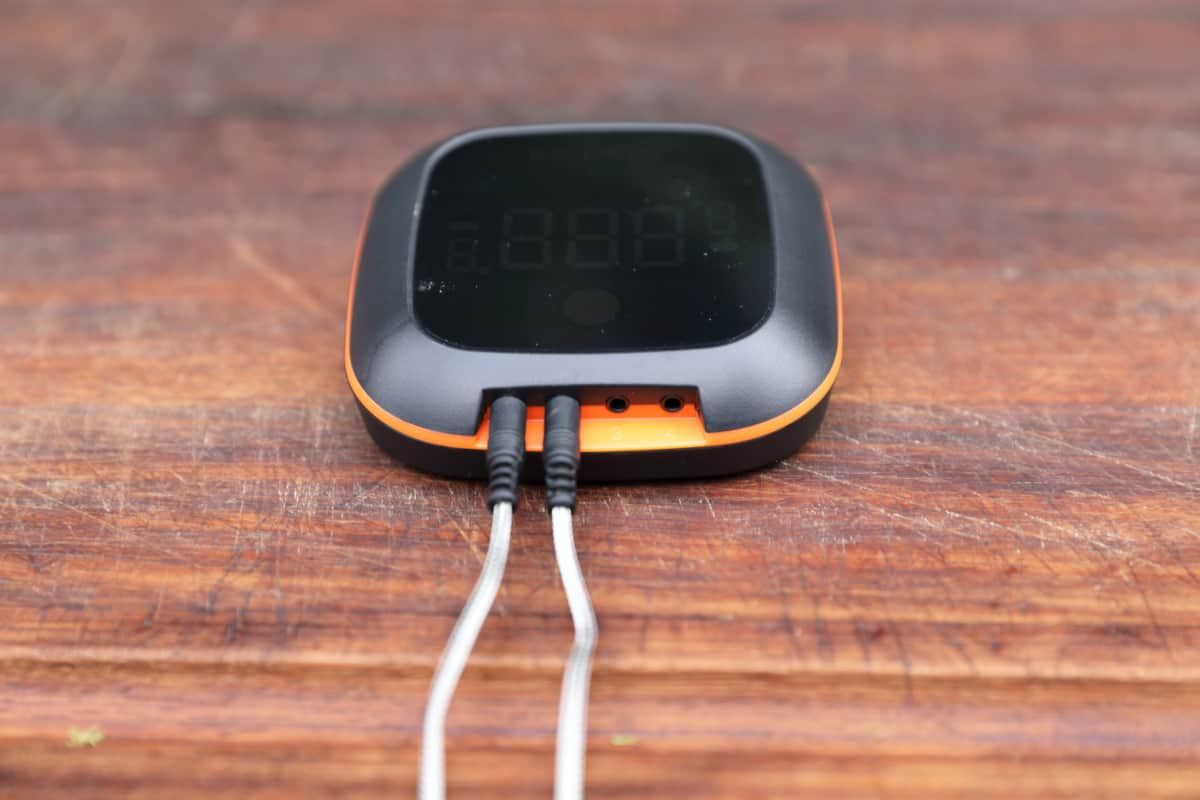 The control unit has a large display with easy-to-read, high-contrast red numbers on black. The controller is also magnetic, so you can stick it to a metal surface. Just be sure not to stick it to a hot metal surface, as it can and will melt!
Power is supplied via an internal, rechargeable battery that can be charged in 2 hours to provide up to 60 hours of continuous use.
The Smartphone app is familiar looking, and may be a rebadged version from another manufacturer? I have certainly seen this layout before, I just cannot remember where: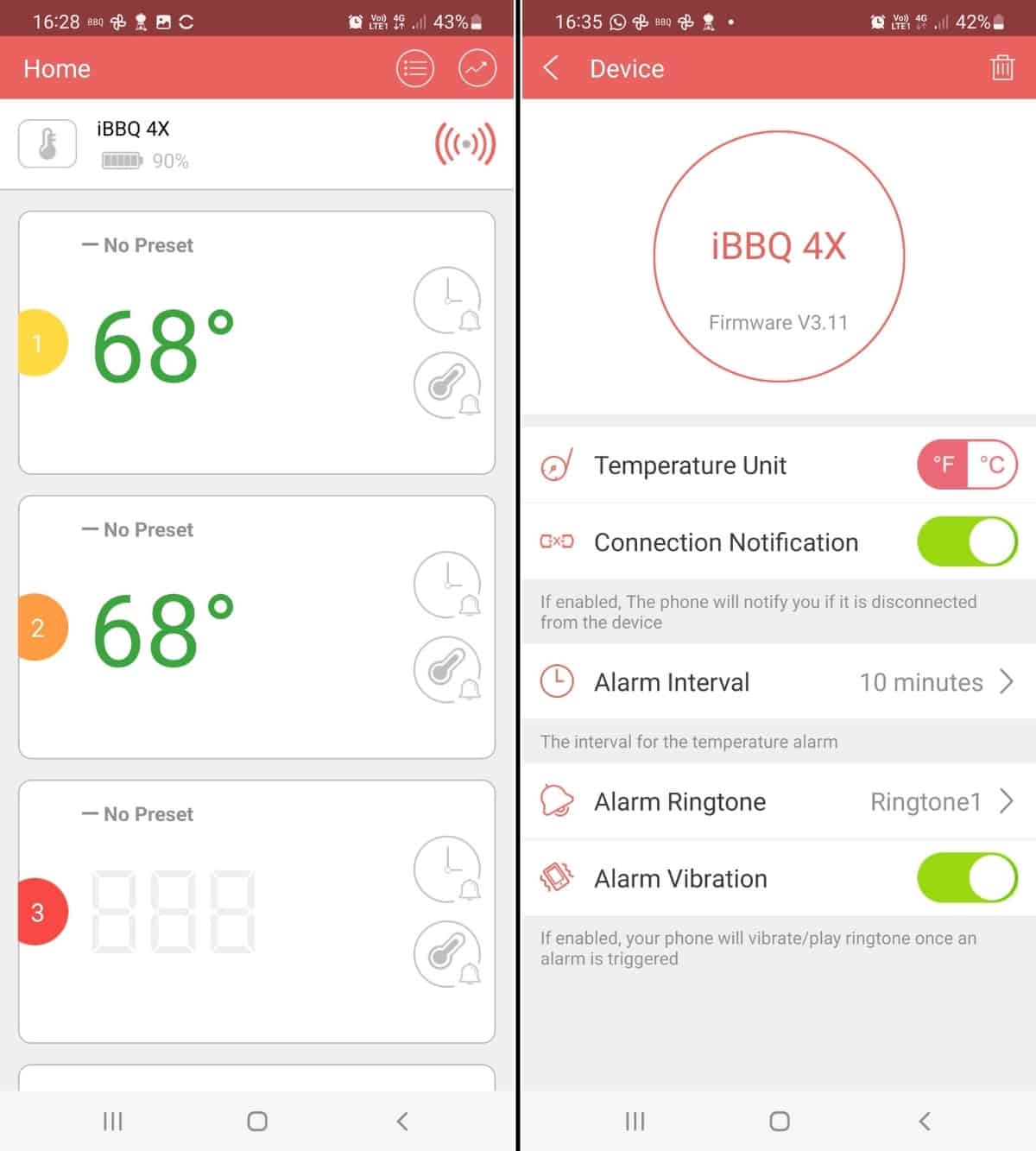 However, it's a well-thought-out, good-looking app that shows you the data clearly, with settings that are easy to find and intuitive to use.
You can configure the probes, graphs, alarms, and more from the app. And there are a total of 11 presets for different meat types and doneness levels that can all trigger alarms on your phone that are impossible to miss.
Pros
Easy to setup and use
USB charging to full in 2 hours, and super long battery life of 60 hours
4 probe capacity makes it versatile and capable
Accurate temperature reading and wide range
Durable and long-lasting.
In summary, the Inkbird IBT-4XS is good value for money, feels well built, anecdotally lasts a long term, and is reliable. It's not the most accurate thermometer, but it's good enough for its intended purpose.
For further details, please check out our Inkbird IBT-4XS in-depth, hands-on review.
iDevices created the iGrill mini, but the company sold its thermometer division to Weber in 2016. Now it's called the Weber iGrill Mini and is a compact version of the Weber iGrill 2 Bluetooth meat thermometer.
The main difference is that it only has one probe and does not have a display. You'll need to monitor everything through your phone.
Design
This compact Bluetooth meat thermometer measures only 2″ H × 1.8″ W × 1.5″ D. The power source is one CR2032 coin cell battery which they include. Weber says you should get about 150 hours of use from one battery.
Instead of a temperature readout, they use a ring that slowly changes color from green, yellow, orange and red as the meat reaches the set temperature. However, to get any useful information, you'll need to use the app on your phone.
There is a magnet in the base allowing you to attach it to any metal surface.
App
The app comes with a variety of meat and temperature presets. An interesting feature is the temperature chart that displays the temperature over time. Once the probe senses the desired temperature, it sends a "chirping" alarm and a text telling you the meat is done.
You set the temperature alarm by tapping "Set Up Cook." The app pops up a list with dozens of preset temperature options. If you can't find the preset you want, create your own. You'll find almost any meat, fish or poultry plus options for hot smoke, cold smoke, and barbecue.
Functionality and Features
Once you set the desired temperature, insert the probe into the center of the meat and begin grilling. You can monitor the temperature graph on your phone, but the app will notify you when the food is ready.
Because the readout on the unit is small, they give you color-coded visual cues. The ring around the display window changes color as the temperature of your meat gets closer to the set temperature:
Start — (Green) Open the Weber iGrill App and start grilling.
Getting Close — (Yellow) 15 °F away from your meat's target temperature
Almost Done — (Orange) 5 °F away from your meat's target temperature
Done — (Red) The food has reached its target temperature.
Pros
The graphics display on the app are large and it's easy to read temperatures
The compact size and magnet mean you can place this out of your way
Cons
Only one probe
No display on the control unit, just the color changing ring. You must use Bluetooth and a smartphone
This thermometer is an excellent choice for beginners and someone who cooks just one type of meat at a time, particularly if you are really into the Weber brand.
The Weber iGrill 2 Bluetooth thermometer has four probe ports, one for ambient grill temperature and three for meat. The thermometer handles temperatures between -22 °F (-30 °C) to 572 °F (300 °C), which is the typical range for meat thermometers.
This kit includes just 2 probes, and to use the maximum 4 probe capacity you need to purchase extra probes separately. This helps keep the cost down for those who only wish to have 2 probes, rather than shipping 4 with every unit.
The iGrill looks like an oversized wristwatch with a polished steel face, a red metal case on a black magnetic base. They also provide two AA batteries.
It has three digital number readouts, like a small scoreboard, LED indicators for Bluetooth connection and indicators for which probe that it's currently showing.
Design
It's almost a cube with the dimensions of 2.2″ H × 3.2″ W × 2.2″ D. The illuminated numbers are easy-to-read because they contrast with the black face. The master kit provides the three meat probes and one ambient probe. You don't have to order separately.
It has an angled rubber base with a built-in magnet. You can turn thermometer 180⁰ to enable the viewing better depending on where you mount it.
It uses two AA batteries which are included, and Weber claims 200 hours of battery life.
App
Here are the devices that work with the app. Weber listed devices that don't work, and we've included those as well.
Apple: iOS 9 or higher required:
iPhone 4S or later
iPad 3rd generation or later
iPad Mini
iPod touch 6th generation or later
Android devices: Most phones running Android 4.4 or higher and Bluetooth 4.0 or higher.
NOTE: The iGrill is not compatible with these devices: iPhone 4, iPad 1st or 2nd generation, Huawei phones.
This app has a temperature chart. It tracks each probe's temperature and displays them as a chart. Unfortunately, it only gives you three-minute increments, so you don't see the whole picture.
You can customize each probe with a unique name and different color in the app to help you keep track. To see how it works, watch this video.
You can preset minimum and maximum temperatures for each probe or use the handy presets. You'll get an alerted if the temperature goes outside that range.
Functionality and Features
The iGrill2 has four ports, but one is for a probe that measures only the ambient temperature of the grill. This probe comes with a clip, and the point is rounded, not pointed. So, you can still monitor three separate items, and for most people, this is enough.
A nice feature is the color-coded probes that help you keep organized.
If open flames touch the probe wires that can affect the readings dramatically, so keep an eye on flare-ups.
You can go to Weber's customer support page for more details, problem-solving or to download the manual.
Pros
The magnetic base keeps this unit from blowing around like other lightweight thermometers.
The master kit comes complete with all the probes.
Generous 48" probe cords.
Two AA batteries included.
One year limited manufacturer's warranty
Cons
Short-range Bluetooth connectivity
The graph view could have been a winner if it showed more than three minutes at a time.
There is no mention of rain-proofing, although users have not reported a problem.
Check out our hands on testing and review of the Weber iGrill 2 for more details.
Maverick ET-735 Bluetooth 4.0 Wireless Digital Barbecue Thermometer
7
This Bluetooth wireless meat thermometer is user-friendly and accurate, has a compact case that's weather-resistant, available in black or white. The Maverick ET-735 has a backlit display that is large and easy-to-read black on white. It runs on two AAA batteries, not included.
Design
The unit is small at only 0.8 × 2.5 × 4 inches. It comes with two waterproof probes that are 36 inches long and heat-resistant to 572 degrees Fahrenheit (300 ⁰C).
The wire stand doubles as a hanger, so you can attach it anywhere.
App
The Redi-Chek app converts any Bluetooth LE 4.0-capable device into a remote data receiver that monitors your grill or smoker.
The app lets you set cooking temps, timers and monitor up to four different probes remotely. The app will send you alerts for various stages of cooking.
Download the app from Google Play or the Apple App Store. It works with Android compatible devices including:
Samsung Galaxy S4, S4 Mini, and Galaxy S5 or newer
Samsung Note 2, 3, and newer
Motorola Moto G
Sony Xperia Z1
LG Nexus 5
LG G3
HTC One M8
iPhone — 4S, 5, 5S
Functionality and Features
The app has six preset temperatures for all types of meats plus nine presets for game meats like moose, elk, and buffalo. You can customize the temperatures for anything you cook and set four different timers. The unit is rainproof so that you can use indoors or outdoors.
You can see how the Maverick and the app work in this video.
Pros
Preset temperatures for eight favorite types of game
Handles up to 4 probes.
Choose ⁰F or ⁰C
Alerts you if your BBQ temp goes over/under the user-set range.
Cons
The display on the unit continuously scrolls through the four probe temperatures, one-at-a-time, regardless if you have a probe inserted or not.
The Bluetooth connectivity is a bit weak, depending upon placement. Reception can be a problem.
The Maverick is an excellent choice if you want to monitor up to 4 different items on your grill while enjoying your adult beverage poolside.
The app alerts you when the meat's ready, and you can custom program other alerts. It's user-friendly, and highly regarded in the grilling community.
GrillEye Smart Bluetooth Grilling and Smoking Thermometer
8
The bright red GrillEye is the octopus of grilling thermometers enabling you to plug in six probes to monitor different meats cooking in the same smoker or grill. The temperatures display in a dark, round window on the front and there are three probe ports on each side.
It comes with two AA batteries, two probes, and clips. You must buy the additional four probes separately if you want to take advantage of all six ports.
Design
The dimensions are 3.75 wide x 1 deep x 5 inches tall. It has an aluminum frame with a bracket that swings back as a stand.
They call their aluminum "Space Grade" whatever that is, haha.
Each probe comes with a removable clip, and the wire end has an easy to grip red bulb where the wire attaches. It runs on 2 AA batteries which are included.
If you would like to see the manual, download it here.
App
You can download the GrillEye app from either the App Store or the Google Play Store.
Once you download the app, it's compatible with these models or newer:
The iPad Mini
iPad 3
iPhone 4s
iPod touch 5th gen.
It also works with Android™ phones equipped with Bluetooth 4.0 and running 4.3 or later.
The app has many built-in presets for grilling meat, poultry, and fish. For example, you select "BEEF" from the preset on your phone. You'll get a drop-down list of rare, medium-rare, etc. Just choose the doneness you want and hit save.
The app will inform you when it's time to take the steaks off the grill.
You can customize it by adding High/Low temps on any meat or specific probes you use for grilling.
Functionality and Features
The best feature of the GrillEye is the six-probe capability. Watch world-famous pit master Malcom Reed give it a try in this video.
One issue with this is there is no unique identification for each probe, so you'll have to use silicon sleeves, nail polish or some other means to identify each probe.
They claim to have a range of 100 meters (328 feet) "measured in a space without obstacles."
We don't know many people who barbecue without obstacles like walls from the back deck to the inside the house. You can expect a range of about 30 feet.
Pros
Use up to 6 probes to monitor your grill and up to 5 pieces of meat
Connects to the app right away
Many presets provide quick, easy-to-use temperature options.
1-year limited warranty
Cons
A bit lightweight, so it tends to move or blow over easily.
Could have used a mounting magnet.
Probes hard to differentiate from one another because there is no color coding.
You can't soak the probes in water to clean them, or they will stop working.
The GrillEye works well monitoring up to 6 different types of meat or side dishes at once.
The case is too lightweight for a quality product, and the display is a bit hard to read because it is red digits under a dark screen. Black font on a white background would be a significant improvement.
They also say that the "probes are the 1st worldwide to receive FDA approval." It makes you wonder how the millions of instant-read thermometers and probes got by without FDA approval.
However, if you simultaneously cook multiple meats or other dishes on your grill, this system will work well for you. The Grilleye has the most ports of any meat thermometer we looked at, has great functions, is stylish, and works well.
What is a Bluetooth BBQ Thermometer?
Let's start by understanding "Bluetooth" the technology. The Bluetooth website defines their invention as "a low-power wireless connectivity technology used to stream audio, transfer data and broadcast information between devices."
Bluetooth technology allows us to cut the cord and go wireless on almost any device nowadays. For our discussion, we're interested in the transfer of the temperature data from our smoked brisket to our cell phone as we watch the game.
(A side note: Click here if you're interested in the Origin of the Bluetooth Name and logo.)
How Does a Bluetooth Thermometer Work?
There are three physical components to a Bluetooth thermometer: The probe, cable, and the transmitter.
The probe attaches inside the grill or inserts into the meat. It sends the temperature information through the cable into the transmitter, which sends a signal to a receiver, usually your cell phone.
Typically, there is a readout display on the unit, so you can see the temperature if you're next to it.
Some applications allow two-way communication so that you can change settings to thermometer remotely. Isn't that the dream of any lazy pit-master? Now, if you only had someone to go outside and bring in the meat, you would never have to leave your chair.
The Good and Not-So-Good About Bluetooth Thermometers
These thermometers take advantage of existing technology. You just buy thermometer, download the app to your phone, and you're ready to start grilling.
The downside of Bluetooth is it tends to be "line of sight." That means walls, trees, and even other devices can interfere with the signal.
Just because it says you can read it "150 feet away" doesn't mean it will work that far unless you live in a field. Even the very best Bluetooth thermometer will not reach it's stated distance through multiple thick walls of your home.
You Might Also be Interested in…
Bluetooth vs. Radio Frequency
When we talk about Wi-Fi, it stands for wireless fidelity. Radio Frequency or RF has a wide range of frequencies from 3 kHz – 300 GHz while Wi-Fi's signal is typically only 2.4 GHz.
RF or Wi-Fi thermometers will have better range and less interference than Bluetooth. That doesn't mean you need to give up on Bluetooth. It depends on how far you need to reach from your smoker to your comfy chair.
Another issue is the age and compatibility of the "receiver," A.K.A. your cell phone.
A brand-new phone will work better than models that are 3 or 4-years old. Some of the poor reviews that you see online come from people with older, incompatible phones.
Radio/Wi-Fi thermometers use both the transmitter and receiver built by the same manufacturer, removing these variables of compatibility.
You can learn more about the best wireless Wi-Fi thermometers available in our roundup.
Wi-Fi vs. Bluetooth BBQ Thermometers
Essentially, Wi-Fi and Bluetooth work in the same frequency of 2.4 GHz. The difference is the purpose of each and the range.
Bluetooth connects wireless devices over short distances, while Wi-Fi connects devices to the internet, and has a far greater wireless range.
Also, Wi-Fi thermometers can connect to the same network as your computer and smartphone, making it (potentially) viewable all over the house and beyond using your phone.
Maximizing Your Bluetooth Thermometer's Performance
For best performance, try to reduce the number of obstacles between the grill and the phone.
You may have to place the phone closer to the grill, such as a hallway to avoid an extra wall, but close enough to where you can hear any alarms.
If you have other Bluetooth devices working nearby, turn them off to avoid interference.
As with any meat thermometer, keep the probe clean. Dirt or food build up can give false readings leading to overcooked food.
Be sure to check the accuracy of your thermometer by using the ice water or boiling water methods. Probes and cables have a way of wearing out, and you need to test before you start cooking.
Don't burn up the probes by exceeding the maximum temperature, or thermometer won't be the only thing that's burned.
Never Worry About What's Happening on Your Grill Again
Bluetooth enabled thermometers are the way to go if you're serious about grilling or smoking meat and getting it right the first time.
They take the guesswork out of timing and alert you when the meat's ready going by internal temperature, which is the best measurement, not time. You don't have to babysit the grill anymore.
Our choice for the best genuinely wireless Bluetooth thermometer is the Meater+. All other models have wires, so it was a non-contest really.
However, our choice for the most versatile Bluetooth thermometer is the Maverick ET-735 and gets our vote for runner-up best Bluetooth thermometer.
You can have up to four probes, enough for most backyard grillers and competition smokers too.
The probes are water-proof, and the unit is rain-proof, making it durable for most applications. The Redi-Chek app has temperature presets for wild game, which is a big plus for hunters who smoke meat.
If you have any opinions about grilling thermometers, please do comment below as we'd love to hear your thoughts.