We've all heard it, 'real grillers cook by intuition, not technology,' which might make your next-door neighbor Dave an alpha male, but it also means his rump steak could resole a boot.
Those of us that know a bit about grilling understand that a serious griller uses technology to advance themselves and their cooks.
The BBQ tech sector has seen a boom in gadget and accessory sales recently, most of which can make you better at grilling in an instant.
One of these gadgets is the Bluetooth enabled thermometer that allows you to enjoy the freedom to roam while your grill does its thing.
In this Inkbird IBT-4XS review, we will look to see if this Bluetooth thermometer is worthy or a waste of time.
By taking you through what it does, how it does it, what makes it suitable for you and whether you should buy it, we're pretty confident we will leave you with no doubt that you should.
Pay attention grillers, we think that you're going to enjoy this one.
Overview
Inkbird Bluetooth Grill Thermometer IBT-4XS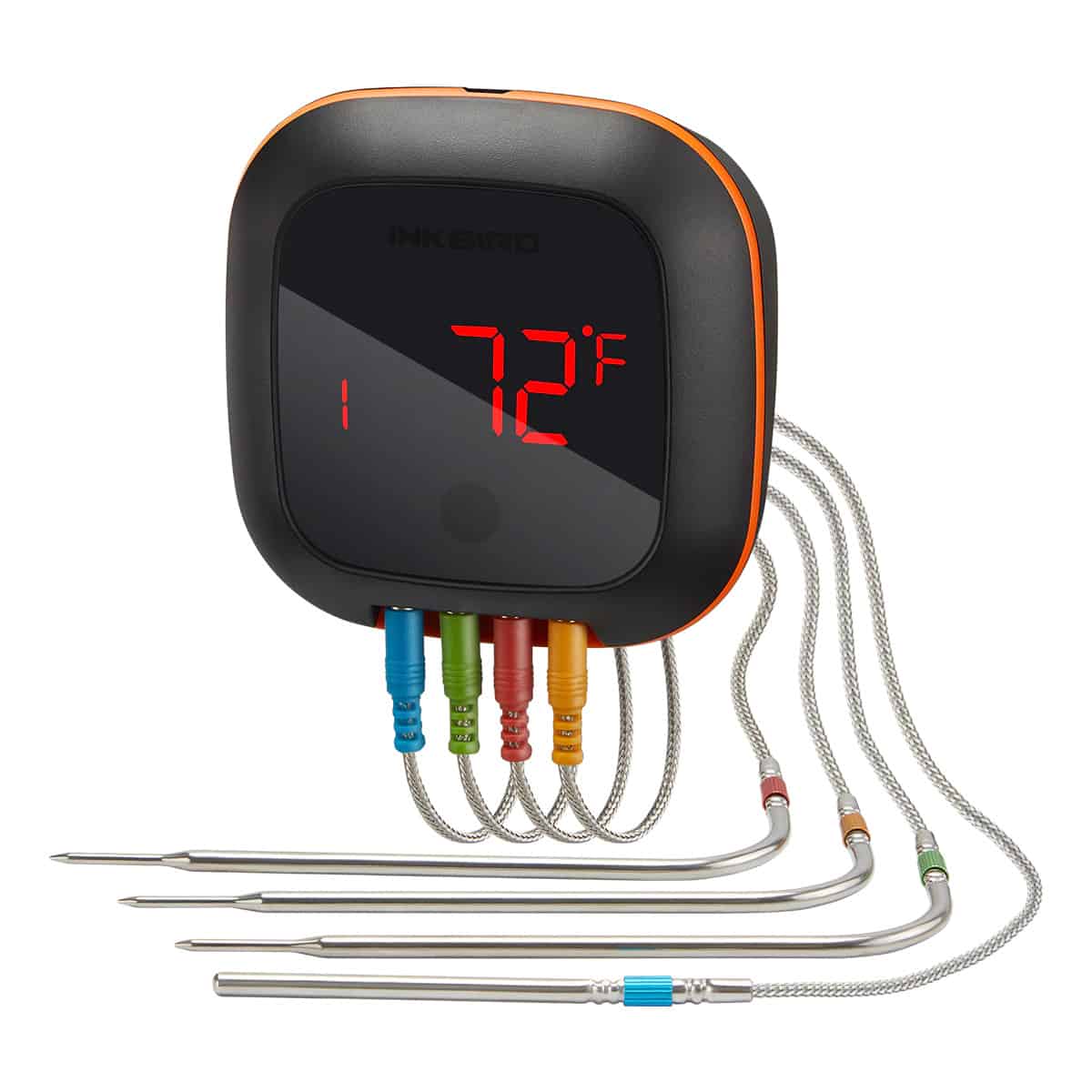 A four-probe Bluetooth thermometer you can monitor and control with an app on your smartphone.
Features include high accuracy, wide temperature range, temperature alarms, rotatable display, rechargeable battery, and more.
The Inkbird is a four-channel, Bluetooth enabled thermometer that wirelessly connects to your smartphone via an app to monitor your meat and grill temperature. It is the bigger brother to the IBT-2X that we feature in our roundup of the best Bluetooth grill and smoker thermometers.
The unit is rechargeable via USB and has a free app download pre-programmed with presets for food groups. It also has time and temperature alarms to help you achieve your perfect cook.
Thankfully, it also looks sleek and stylish, so you don't have to be embarrassed whipping it out in front of your guests.
It comes in 3 bundle options:
Unit with 2 probes
Unit with 4 probes
Unit with 4 probes and a protective case
The probes can be used for both meat and ambient temperatures, and each bundle has two grate clips.
What's in the Box?
Inkbird thermometer unit
2 or 4 probes with grate clips
USB charging cable
User manual
Optional case
Design and Build Quality
The main unit is of simplistic design, a square soft-edged unit made of durable plastic.
While not looking quite as robust as some other thermometers, it doesn't look cheap either. The large LCD screen is easy-to-read with red numbers on a black background.
With the capacity for four probes giving you plenty of cooking potential, this unit is built to work, and the simple but intuitive app means using it is a doddle.
The unit is lightweight with a magnetic backing strip that allows it to stick to the side of the grill for ease of mounting. Just bear in mind it has a max heat limit of around 180f, so be careful not to attach it to a hot surface and melt it. It also isn't certified waterproof, so keep it covered.
Key Features
For a well-priced thermometer, the Inkbird is impressive. Here are the key features we enjoyed the most:
USB Charging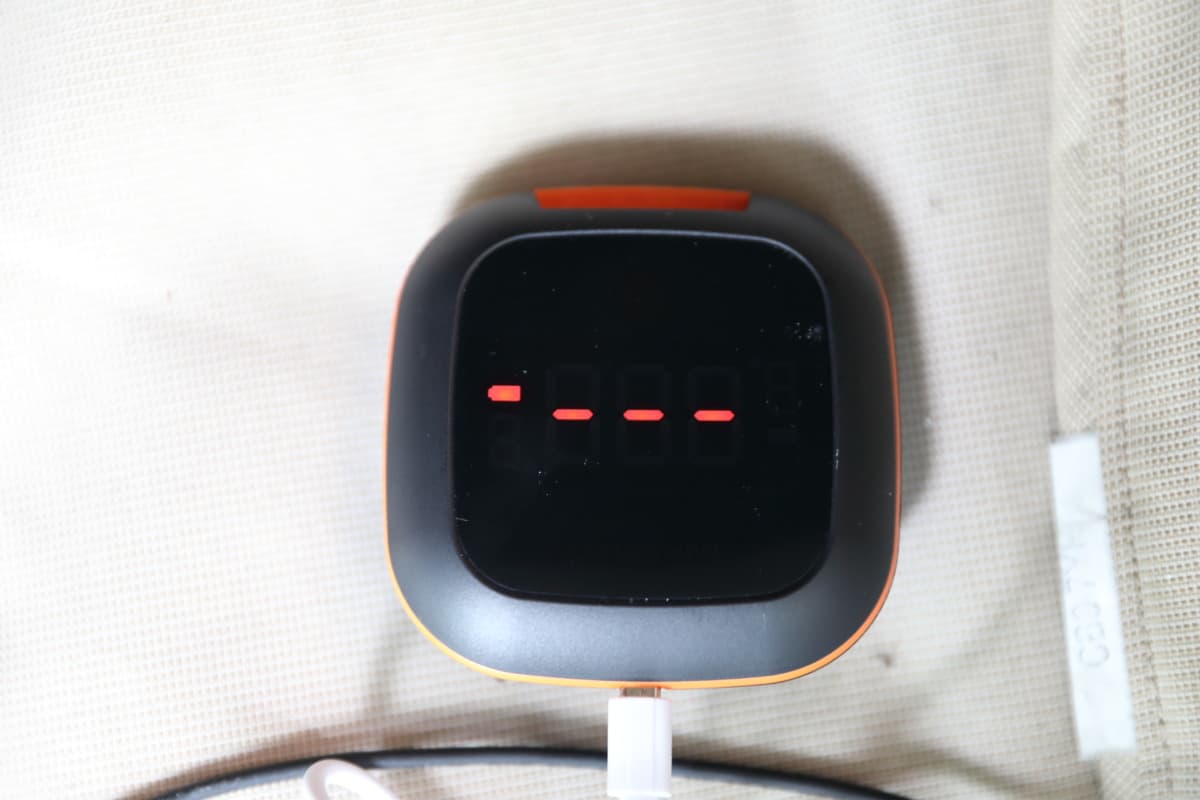 You might think this is an odd feature to start with! But if like me, you have a habit of leaving thermometers on and are constantly having to replace batteries, you probably know that battery-powered gadgets can be a pain in the proverbial.
The unit comes with a 1000mAh lithium battery that charges from dead to full in just 2 hours. Meaning a quick charge of 30 minutes or so should give you a good few hours of use if you need it for an impromptu BBQ.
When fully charged, you will get 60 hours of use, and the in-app display will show you the battery life percentage, so you know when it's low.
The manual states that it cannot be used when on charge, so keep this in mind.
BBQ GO Mobile App
The Inkbird app is the same app that a few other Bluetooth thermometers use, so you might have already used it.
It's a well-thought-out app that is clear and simple to use. Just open it, scan for devices, and connect.
In the app, you will see sections such as probe configuration, graphs, alarms, and settings.
In the probe section, you can choose a preset or design your own and name the probes.
The presets cover 11 meat types and cooks, all with a set temperature. The beef preset also has rare, medium, and well-done options for you to choose from.
The graph feature generates a temp-over-time graph showing heat spikes, or where the temperature is dropping off.
The alarms tab shows when and why the alarms went off for you to monitor and adjust next time you do the same cook.
The settings give you both °F and °C, the choice to switch vibrate off if you want to, and even change the language.
One criticism we have is the lack of data export capability. You cannot transfer or download data like some other apps, so if you want to keep a history, you will need to take screenshots or make old-school notes.
Rotatable Display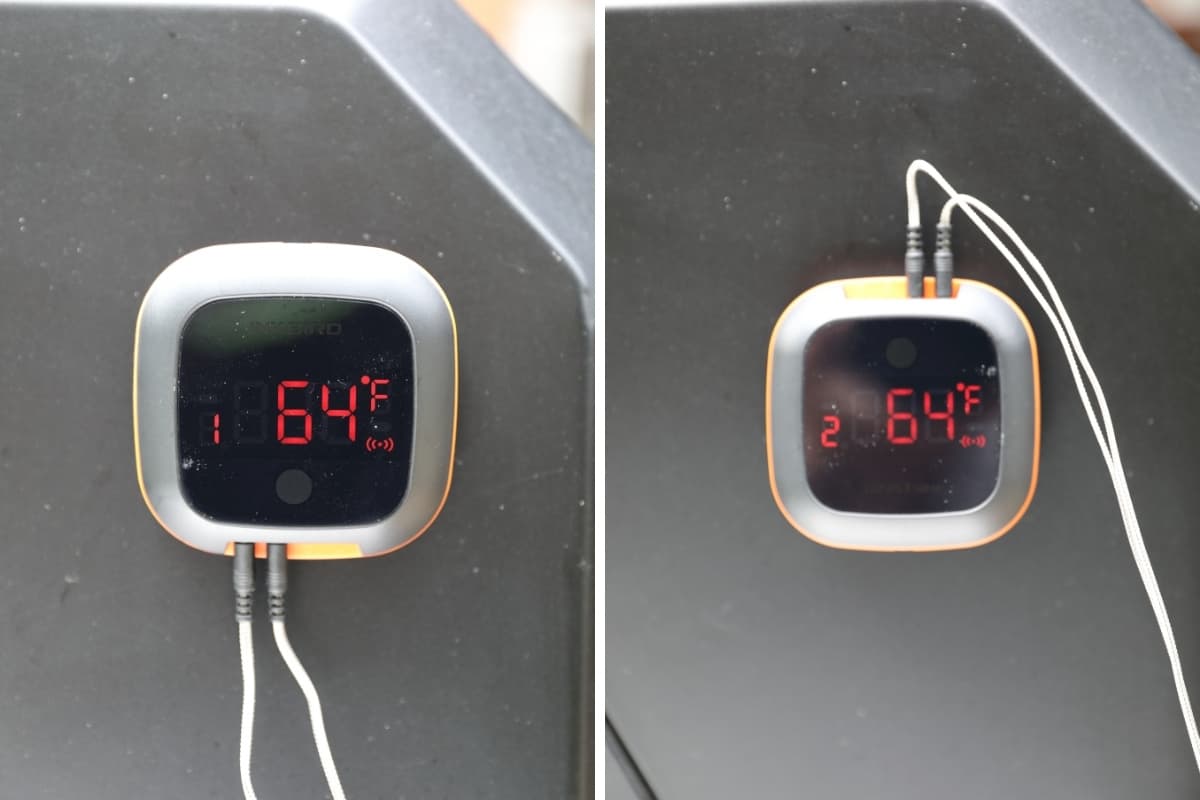 A nifty little feature not seen on many competing thermometers is the ability to rotate the base unit display.
An easy double-tap of the one button it has means you can choose whether the probes are at the bottom or the top of the unit, giving you an extra inch or two on the probe wire length or to stop the wires dangling where they shouldn't.
Presets and Alarms
The app has eight meat presets and three smoke presets that are all adjustable, allowing you to choose your preferred level of doneness.
When the tracking and target temps are reached, the app will sound an alarm that you can't miss, meaning you know exactly what's going on without lifting the lid on your prime ribs.
Manufacturer Specs
Temperature range: 0~300 °C /32~572 °F
Temperature accuracy: ±1 °C / ±2 °F
Wireless range: 50 meters / 150ft
Alarm: over-temperature alarm; range alarm; time countdown alarm
Display: LED screen & app
Probe capacity: up to 4 probes
Battery: rechargeable 1000mAh lithium battery
Dimension body: 83 × 83 × 28 mm (3.3 × 3.3 × 1.0 inch)
Sensor length: approx. 150 cm / 4.9ft
Net weight: 380 g​
Gross weight: 410 g​
Range
The Inkbird claims to have a 150-foot, unobstructed line of sight range.
For most people, that will be more than enough to allow them to go indoors and prepare any sides and desserts they have planned while their prize pork-butt slow cooks to perfection.
Do bear in mind that thick walls can reduce the range, but if you don't live in Fort Knox with thick steel walls, you should be ok.
If you do have a particularly obstructed line of sight from the house to the grill, you might be better off with a wireless Wi-Fi thermometer that allows global connection without range limitations.
A Look at the Probes
The probes on this budget Inkbird are impressive, double-crimped at the cable connection means they are more protected than some other more expensive thermometers. So it will stand up to a firm tug when removing from a meat joint.
The probe cables are stainless-steel mesh with Teflon-coated interior wires, heat-resistant to 716f with a right-angle bend in them that makes them easier to grip and remove.
Probe Issues
Probes can become problematic and damaged if not handled correctly. So, whether you have these probes or some from another product, use these simple steps to keep them in tip-top condition and extend their lives.
First, don't insert into food over direct heat, you risk maxing their capacity and causing damage to the internals.
Second, make sure you don't bend or kink the wires when you put them away.
Third, do not submerge them in water.
With these steps, you shouldn't have any issues, and we cannot see any issues with these probes.
Cleaning and Maintenance
As with all probes, the cleaning process is straightforward. So stick to it, and you shouldn't have any issues with your probes.
After use, wipe with a clean lint-free cloth and a squirt of non-abrasive cleanser.
Do not submerge in water to clean them as they are not certified waterproof, and it will void your warranty.
Ease of Use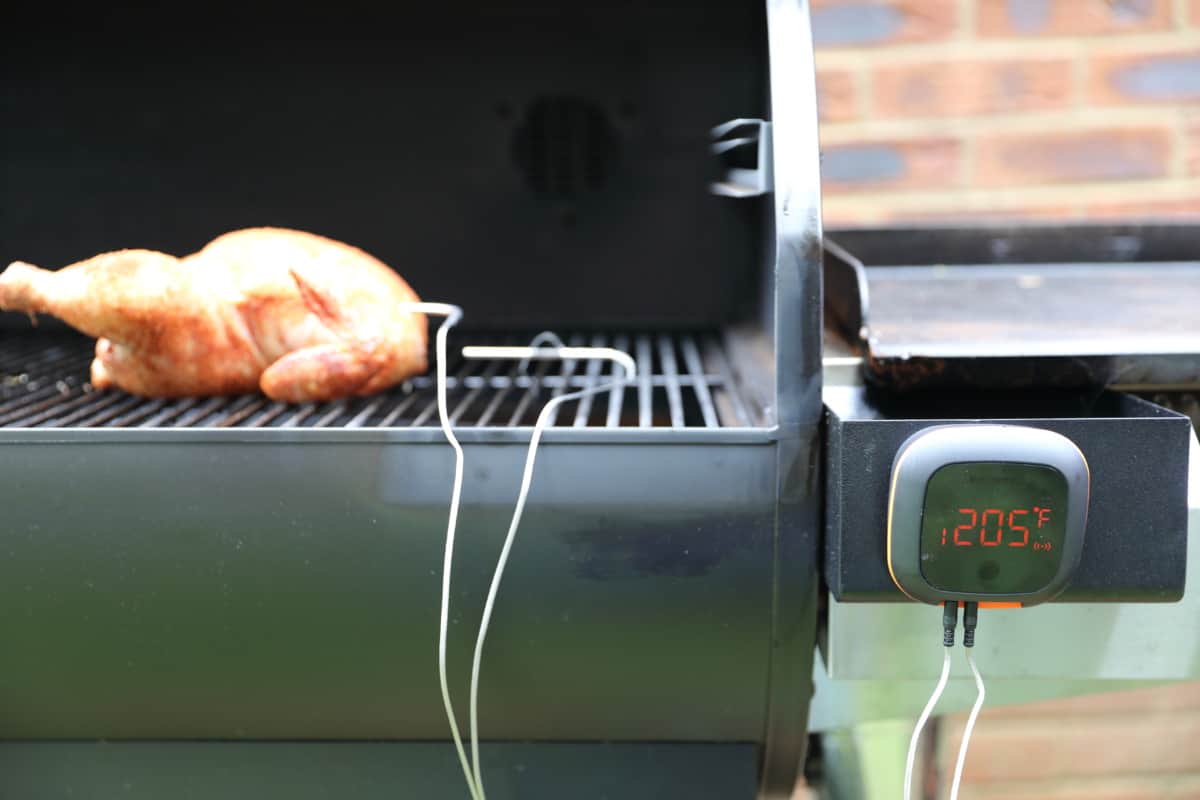 The Inkbird unit has just an on-off switch and a single button. That coupled with the BBQ Go app make this thermometer super user-friendly, the whole thing is a cinch to set up.
Simply turn the unit on, connect to the app, plug in your probes, and you're ready to grill.
It takes minutes from getting it out the box to ready to grill.
Speed and Accuracy
Inkbird states the probes are accurate to ±1 °C / ±2 °F, which is good in anyone's books.
The unit in action appears to read / update its display every second, and when inserted into food goes from air temperature to meat temperature in around 15 seconds.
Ambient temperature in a grill takes anywhere between 15 and 20 seconds to register and level out.
Boiling Water Test
Boiling water sits at around 212 °F at sea level, and I'm only a couple of hundred feet above.
As can be seen in the images above, both food and pit probe measured 212 °F exactly, so at this end of the scale it couldn't be better.
Ice Water Test
Water freezes at 32 °F. Ice water will be ever so slightly above this, because it's not frozen yet, but should be very close.
As you can see in the images above, both food and pit probe on the Inkbird IBT-4XS measured 34 °F. This is close, and within the 2 °F accuracy that Inkbird claims.
Warranty and Support
The Inkbird comes with a one-year warranty, which is standard for most accessories of this kind.
The support options available are phone, email, and online contact form for any issues you have with the device.
There is also a section for downloadable manuals.
Final Verdict
Well, what can we say, Inkbird have arrived without fanfare and in truly understated fashion, but have done good.
Pros
Easy setup
USB charging and long battery life
4 probe capacity
Accurate temperature reading and wide range
Cons
Cannot export cooking data
Battery is not replaceable
No waterproofing
Will I Get Value for My Money?
We are convinced you will.
This unit comes in at a lower price point than most, and with the option of four probes and a stunningly easy-to-use app it will make you grill more and improve your skills no end.
Summing up our Inkbird IBT-4XS Review
Inkbird Bluetooth Grill Thermometer IBT-4XS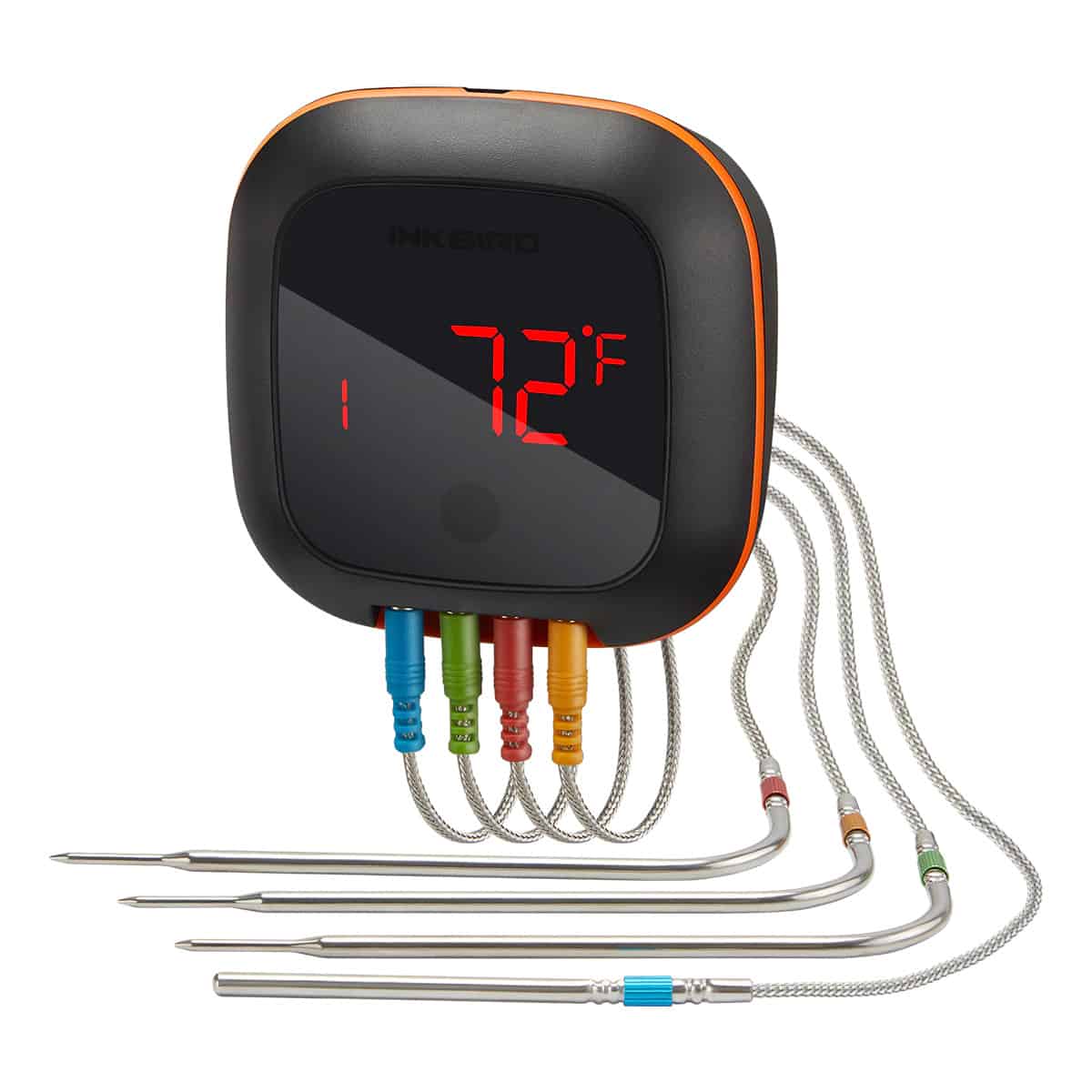 A four-probe Bluetooth thermometer you can monitor and control with an app on your smartphone.
Features include high accuracy, wide temperature range, temperature alarms, rotatable display, rechargeable battery, and more.
We recommend this for anyone that doesn't already have a wireless thermometer.
It's great value for money, does what it is supposed to easily, and without fanfare.
Sure, there are more expensive, more technologically advanced wireless thermometers out there, but if you want one that is accurate and doesn't break the bank, you will do well with this one.
Do you have one? What is your opinion of it? Good or bad, we promise to engage and chew the fat with our readers, that's what we're here for.