They say that good things come in small packages, and as it's currently just about Christmastime, I'm hoping that's true given what I normally see under the tree.
There are plenty of people, however, who feel that "go big or go home" is a better motto, but that's not always the case, and is something we will prove in this Weber Smokey Mountain Review.
For example, if you really want to smoke some meat, but you've got a small yard, or you want the freedom to smoke away from home, a giant offset smoker, big and heavy kamado, or a smoking vault isn't going to work for you.
The question is: can you get a good smoke from a smaller unit?
We'll answer that question right here. Let's get into my review and see why I love it…
What is the Weber Smokey Mountain?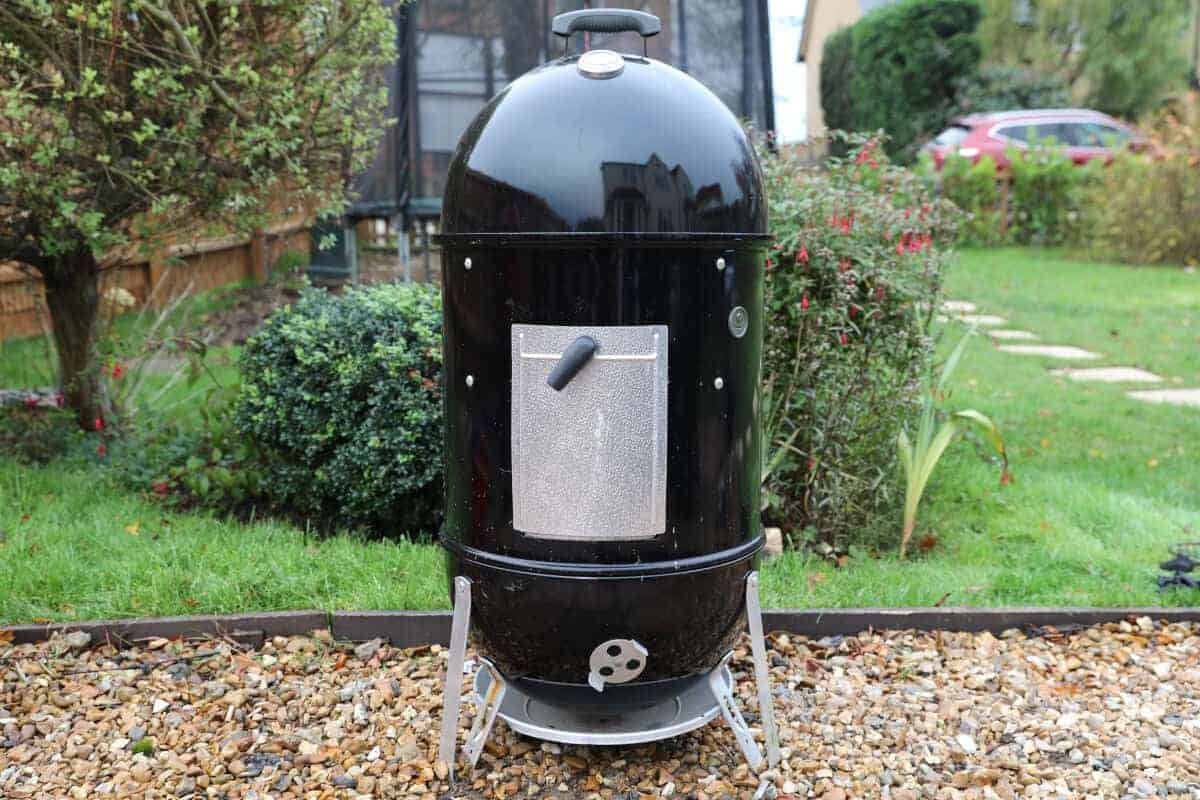 This diminutive grill is a compact charcoal smoker that's well suited for backyard smoking, and for smoking at the cottage or campground due to its light weight making it easy to move about. This is why it's used so commonly used by BBQ competition competitors. It's widely considered one of the best charcoal smokers you can buy.
It's a pretty simple unit without much in the way of automation, but it's nicely designed and user-friendly.
Just remember: this is a smoker, and you won't be speed-grilling burgers and dogs at a tailgate party. Although you can grill on it, it's really designed for low n slow smoking.
For the record: The Weber Smokey Mountain 18" just happens to be the second smoker I ever owned in my life — after a disastrously bad, very cheap offset smoker being my first.
I love this little thing, have had it for many years now, and frequently recommend it as one of the best beginner smokers, and a good unit for the first steps someone takes into low n slow BBQ.
I'll focus on the 18" model for the rest of this review, but it applies equally well to the 22" model too. It's the same, just a bit bigger.
First, a Few Words About Weber
Weber is certainly one of the best-recognized names in the barbecue game, especially among casual grillers.
They make everything from simple charcoal grills, to electric grills, to massive gas-powered outdoor grills. And, of course, they have on offer a number of smokers, too.
Interestingly, the first Weber kettle barbecue was fashioned by an employee out of a marine buoy, one of their products at the time, back in 1952.
That man, George Stephen, would go on to own the company. Needless to say, they shifted the focus from water safety to barbecuing, and now Weber is a powerhouse in the BBQ business.
Weber Smokey Mountain: What Comes Inside the Box?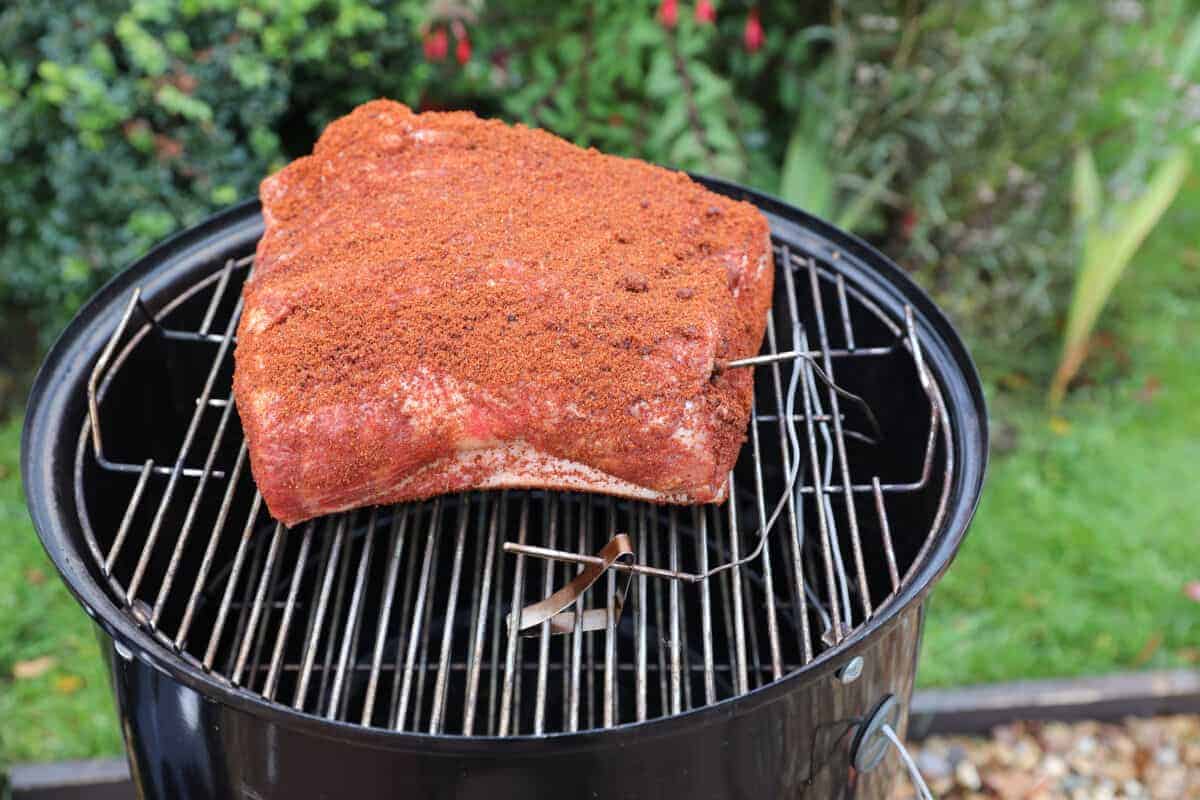 Unfortunately, as my model is so old now, I don't have a photo of what comes in the box. Sigh. So a description is all you get!
Inside the new box, you get:
Porcelain-enameled base, middle cooking section and lid
A steel 'charcoal grate'
A charcoal chamber / charcoal ring
An access door
A box containing legs, lid handle, owner's manual, nuts, bolts and washers.
A cover.
I love the fact they kindly include a cover for protecting your smoker between uses, or while you're transporting it somewhere, because with every single other smoker and grill I've bought since, I've had to buy the cover separately at added expense!
First Impressions
The Smokey Mountain is almost underwhelming on first sight. There's really not much to it! But, there's beauty in simplicity — and it's really easy to put together.
The black porcelain-enamel finish is shiny and lovely, and my model is proof it stands the test of time concerning durability, mine being many years old now.
The grommet they place in the side as a through hole for remote thermometer temperature probe wires is also a very nice touch.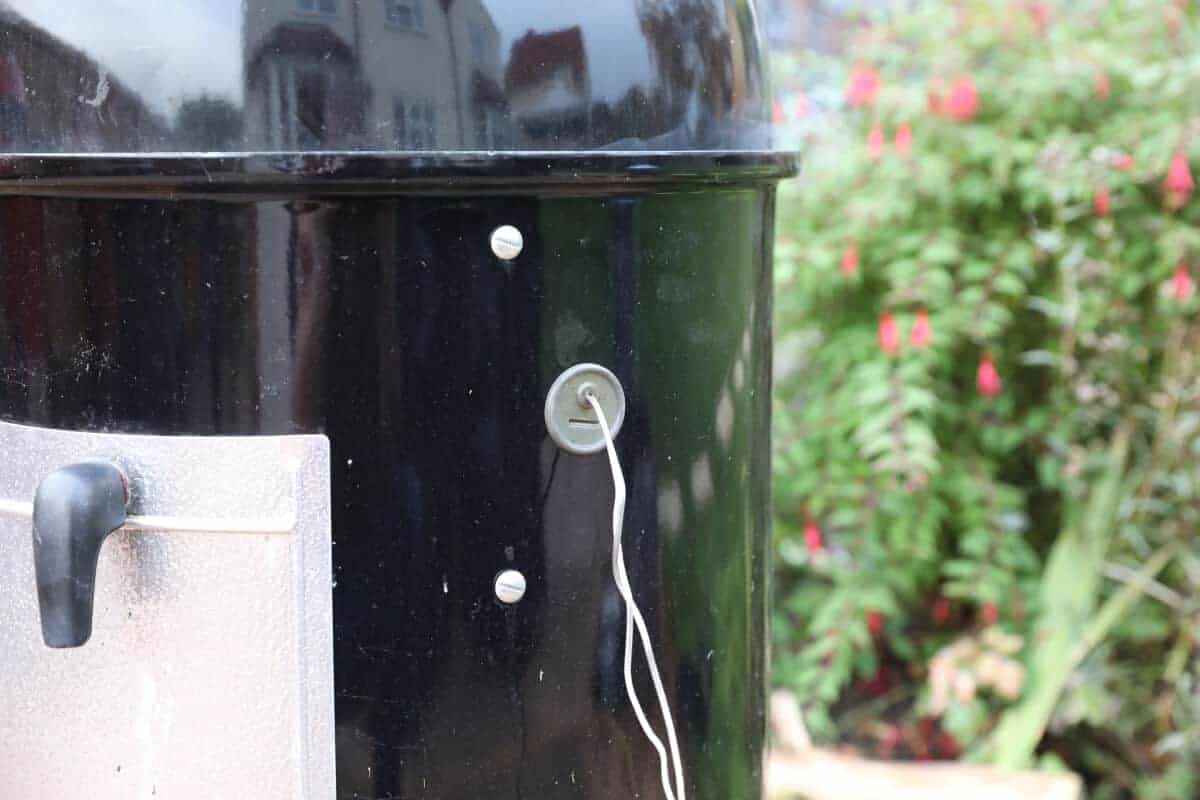 Putting it together, it doesn't seem to be the most solid and stable on first impressions. However, it stays together well, and performs brilliantly, something I have learned through experience. So sometimes, first impressions can be wrong.
There's no question that this is a short smoker, even with the legs on. I can imagine some dudes might appreciate a height boost, but it's a small gripe. And hey — it's supposed to be lightweight and portable, right?
Having two cooking grates, one that sits halfway down the central chamber, and one that sits on top is great, giving twice the cooking surface compared to if there were only one.
And right away, even before first firing it up, you can see the huge benefit the large access side door provides.
This door grants you access to the water pan and charcoal box, to refill with water, charcoal or smoking wood, very simply through the wide door. No having to take the smoker apart or even remove the lid for access if you need to add fuel, wood or water.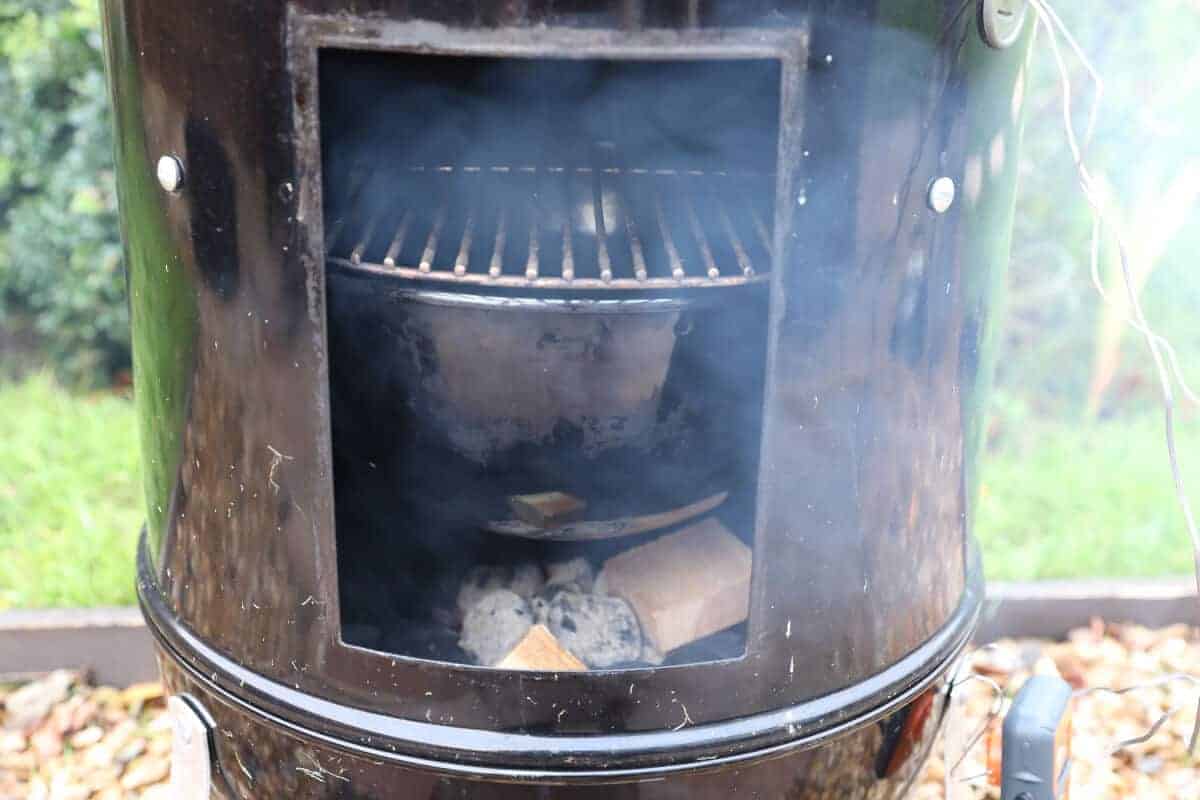 Why do People Choose the Smokey Mountain?
As with all Weber products, part of the appeal is the name. A familiar name instills trust, even if the grills are now made in China instead of Chicago. (From American steel, mind you!)
The main reasons people buy this little smoker are its manageable size, and its portability. It's nice to find a good smoker for a fairly reasonable price.
A further reason they buy it, is that it's a charcoal smoker, which lends a more 'authentic taste' compared to gas or even the top electric smokers.
Smokey Mountain 18" Specs
Exterior Dimensions: 41" H × 19" W × 21" D
Weight: 39 lbs.
Material: Porcelain-enameled steel
Fuel Source: Charcoal
Total Cooking Area: 481 sq. In. (split between two grills)
Key Features of the Smokey Mountain 18" Smoker
Easy access fuel door — As you might imagine, it would be darn near impossible to get at the charcoal ring from the top during a 2-layer smoke. Weber recognized the problem and addressed it with the "fuel Door," a rust-resistant aluminum hatch on the side of the smoker. Just open the door for easy access to the ring, toss in more charcoal or wood, and then close it up, all without disturbing your beautiful meat.
Four aluminum dampers — Good smoking and low 'n' slow cooking is all about controlling the airflow. Weber installed 4 rust-resistant aluminum dampers on this cooker — one at the top, and three around the bottom. This is great for allowing you to fine tune airflow for hitting and holding your temperature. It also lets you compensate for a cross-breeze with ease.
Two-level smoking — Sure, it has a small footprint, but by using two cooking grates you can take advantage of the vertical space to smoke more meat at once. 481 sq. In. Of cooking space in only an 18" diameter smoker is impressive
Important Details
So as not to overlook anything important, let's go over some details of the smokey mountain that aren't as quantifiable.
Ease of Use
This is a bit of a subjective category, and how easy any charcoal smoker is to use partly depends on your familiarity with charcoal and smoking. There will be a bit of a learning curve.
This is a fairly small unit, though, so it shouldn't take too long to get the hang of it, and you likely won't have to deal with cool or hot spots like you do on many larger smokers, especially offsets.
Also, because of the water pan, temperature stability is relatively easy.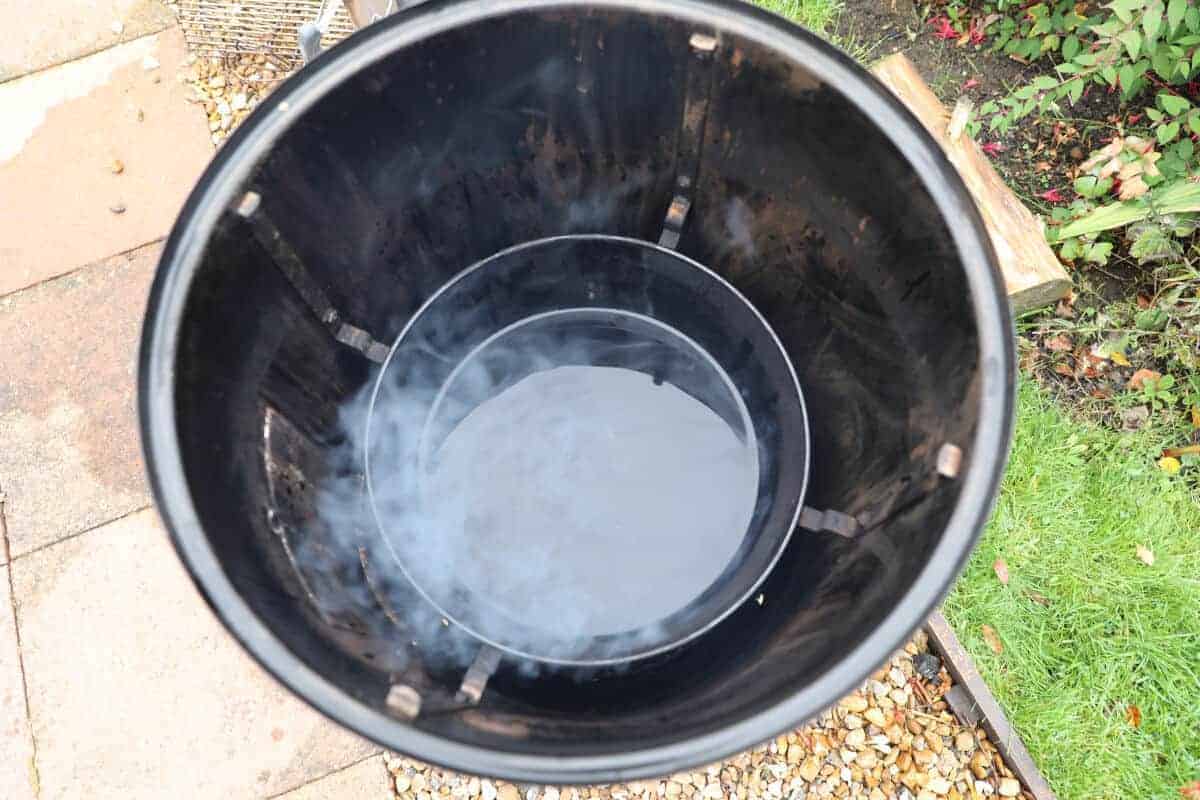 First, the water acts as a heat sink, absorbing heat and acting to increase thermal mass inside the smoker, causing temperatures to be more stable.
Secondly, because water boils at 212f, as the temperature rises much over this the water starts to boil off and the effect is a lowering of the temperature. It's actually quite hard to get much over 275f with a full water pan in there in my experience, and as we want to smoke between 225f and 275f, the water pan is a good safety net.
Lastly, the water pan creates an incredibly moist environment inside the smoker, which helps to keep food moist and prevent drying out, but also aids in smoke sticking to the meats surface, increasing the smoked flavor we aim for.
To master this smoker you just need to read up on and learn about charcoal briquettes (best charcoal briquettes for smoking), purchase a charcoal chimney for lighting your coals, (best charcoal chimney), and learn the minion method for smoking. Well within the capabilities of anybody in our opinion.
Cleaning and Maintenance
There's no ash cleanout system on the Smokey Mountain, but it disassembles easily, allowing you to dump out whatever has accumulated in the bottom section.
You can wipe down the outside with warm, soapy water and a sponge to keep it looking shiny. Other than wiping down your grates, there's not much more to it.
Available Support
There is just one good size Facebook group for Smokey Mountain owners, with about 23,000 members. If you want to check them out, here's the link to follow:
Weber hosts social channels on Facebook, Twitter, YouTube, Pinterest, and Instagram.
Customer support is available toll-free in the States seven days a week from 7ma-9pm Central Time. You can also fill out an online form, or you can email them directly.
Customer service reviews run the gamut, with negative reviews slightly outnumbering positive reviews. I've always thought that more people take the time to complain than to report a good experience, so if the negatives only outnumber the positives by a small margin, I think there are likely many unreported positives.
From the numerous grilling groups I'm personally in on Facebook though, I see many people incredibly happy with the support though, sometimes having many years old lids or bases replaced after sending in a photo of any rust spots appearing or manufacturer defects!
My conclusion, based on this supposition and actual seeing support first hand, is that Weber provides reliable and helpful customer service
Available Upgrades, Accessories and Attachments
Rib rack
iGrill remote thermometer system
Warranty Details
10-year limited warranty on defects, rust through and burn through for the bowl, lid, and center ring
5-year limited warranty on defects for plastic parts, excluding fading & discoloration
2-year limited warranty on defects for all remaining parts
Summary of Pros and Cons
Pros
Twin grates double the capacity of the smoker
Easy access to the charcoal ring during smoking
Small and light enough to take camping, or to the cottage
Side access 'grommet' for remote monitoring temperature probe wires
Comes with a cover
Cons
Very low to the ground (but, again, it is supposed to be low-profile)
The access door is somewhat flimsy and easy to bend, causing a not too tight fit and allowing heat and smoke to escape. There are 3rd party solutions available, but seriously, just tweak it / bend it flat, insert it, it's OK. Not airtight, but perfectly acceptable.
Should You Buy the Smokey Mountain 18" Smoker?
For slow cooking and smoking on a small scale, this is terrific choice. It really is an impressive cooker, especially considering how simple it is.
For beginner smokers, those who have never used a charcoal smoker before, this is a fantastic first step into that world.
The price will not break the bank compared to other types of smokers, it will force you to learn fire management and heat control using vents, it's easy-to-use, easy to clean, and creates wonderful results.
Although the aspirational lifestyle photos on the Weber site are a little cheesy, it does make the idea of smoking your fresh-caught fish right by the lake seem appealing too.
If you plan to take advantage of the portability, or you are a beginner smoker, this is the ideal smoker for you.
Other Models Might Suit You if
You don't plan on taking it away somewhere
You want to smoke larger amounts of meat
You want to grill and smoke but only have room for a single cooker
You're not feeling up to a lot of bending and stooping
Quick Tips to Get the Most Out of Your Smokey Mountain 18" Smoker
Don't peek under the lid unless you have to, or you'll lose smoke and temperature
Great user hack: Use just the bottom section of the smoker plus a cooking grate to set up a quickie kettle grill! So you CAN grill, as well as smoke 😉
During 2-layer cooking, make sure whatever is on the bottom isn't so large it's preventing heat and smoke from encircling the top rack effectively
Line your water pan with foil before use for easy clean up, as fats from meat will drip into it.
Smokey Mountain 18" Smoker Not for You? Here are Some Great Alternatives
If, after giving it some thought, you've realized this smoker doesn't meet your criteria, perhaps you should consider a kamado ceramic grill? Or perhaps one of the following cookers will tick all the boxes?
Weber Smokey Mountain 22" Charcoal Smoker
If your chief issue with the 18" is the lack of capacity, step-up to the 22" model. Between the two grates you'll have 726 sq. In. Of cook space. It's still no smoking monster, however, at only about 24" in diameter.
Enjoy all the same features and convenience of the 18" on a bigger scale.
Give it a once-over by clicking here:
Weber Summit Charcoal Grill
Can't choose between grilling and smoking, but you also don't want two units? The Weber Summit gives you both, and keeps you with the name you know.
This excellent combo unit lets you enjoy real charcoal and wood smoking, and you can grill up your standard barbecue fare, too. All that, plus the convenience of a propane igniter to get the charcoal burning in no time.
If you'd like a brief look, then you'll want this link:
Smoke Hollow 44241g2 Gas Smoker
Smoking is great fun, but maybe you don't want to bother with it while you're away? In that case, you might appreciate a larger vertical smoker that's easier to access.
This smoker has 5 assorted racks and can handle just about any smoking job. It's pretty tall, too, so you'll have no trouble accessing the racks, no matter your range of mobility. The LPG burners make ignition easy, too.
If you think this is worth a look check it out via this link:
Wrapping it Up
Some of its fans call it "the pill," and others prefer, "the bullet." Whatever you call it, this is a terrific little smoker that can easily keep up with the big boys in terms of quality smoking.
Yes, you give up a bit in space, but you'll forget all about that the first time you bite into some tasty meat, either at home or away.
If, after finishing our Weber Smokey Mountain 18" Charcoal Smoker review, you believe you've found your new BFF (Barbecue Friend Forever), then you might want to click this link and place your order, or at least look at a few more pictures.
There are plenty more reviews where this came from, by the way. We invite you to read our other grill and smoker reviews — you never know what might catch your eye.
We totally don't mind if you want to share this article with your friends and relations — it's not like you had to pay to get it! In fact, we encourage sharing and invites. We're here to help out as many grillers as we can, and we appreciate your help. Oh, and we appreciate your feedback, too! Good or bad, we want to know, so please take the time to drop a line.
As always, many thanks for dedicating a chunk of your day to us — may all your cookouts be sunny.