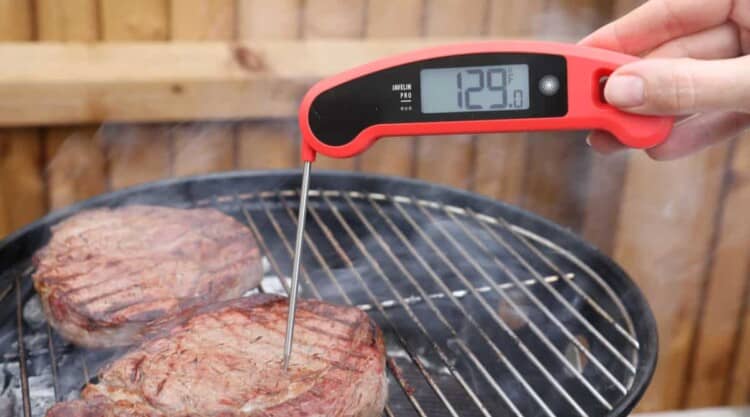 In this Lavatools Javelin Pro Duo review, we look at why I love and recommend this thermometer so much. I personally own and use this almost daily.
Not only is it accurate with a fast response time, and easy-to-use…it's ambidextrous too! That's rare for instant-read thermometers.
The fact remains that the Earth favors the right-hander, even at the barbecue when it comes to thermometers.
But maybe things are starting to change, as shall be discussed in my Lavatools Javelin Pro Duo review, an ambidextrous, professional-level instant-read thermometer.
Read on as I explore, explain, and expound my opinions on this thermometer that doesn't play favorites, being made for righties and lefties alike.
Learn all about its features, speed and accuracy, what I like, what might be improved, and why it's a recommended product.
Overview of the Lavatools Javelin PRO Duo Thermometer
Lavatools Javelin PRO Duo Instant Read Thermometer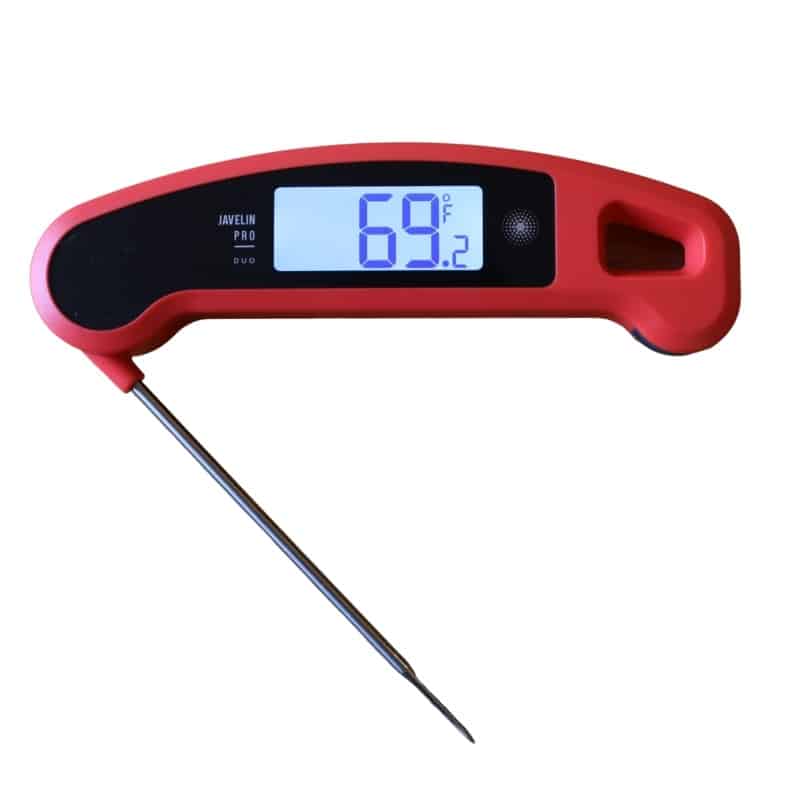 A fast and accurate instant-read thermometer with many features only found on more expensive competing products. 2 to 3-second read time, hold function, auto-rotating display for right and left-handed users, an integrated magnet for hanging, a 3-year warranty, and more besides.
The Javelin PRO Duo is a digital thermometer from the instant read category. That means you insert the probe into any food you want to know the internal temperature of, wait a few seconds for a reading, and then take it out again.
It's my favorite of the 3 instant-read thermometers I own, and tops my recommendation list of the best instant-read thermometers.
It's not meant to be left in for the duration of a cook, but instead used occasionally for a sample reading only. Check this guide if you're after a leave in, remote thermometer for barbecues and grills.
The internal temperature of food, especially meat, is crucial to know as it is the only way to ascertain doneness (in meat like steak or fish) or whether it's safe to eat (such as with pork or chicken).
To turn the PRO Duo on, just unfold the probe from the handle, and it automatically gets to work. There's an auto shut-off feature to conserve your battery, but a little wiggle wakes it back up again.
Once on, you can use this thermometer for grilling and smoking (just remember not to leave it in), baking, making candy, or for taking liquid temperatures.
Summary of Pros and Cons
Pros
Has the features of thermometers that cost way more
Accurate readings of ±0.9 °F
2 to 3 second read time — Not the fastest, but plenty fast enough
Backlit display that's easy to read in any lighting conditions
Auto-rotating, ambidextrous display
Up to 4,000 hours of battery life
Auto shut off and motion wake to help prolong battery life
Splash proof and water resistant
Cons
Plastic build quality doesn't feel as durable as other instant read thermometers I own
Not waterproof, only water resistant
What's in the Box?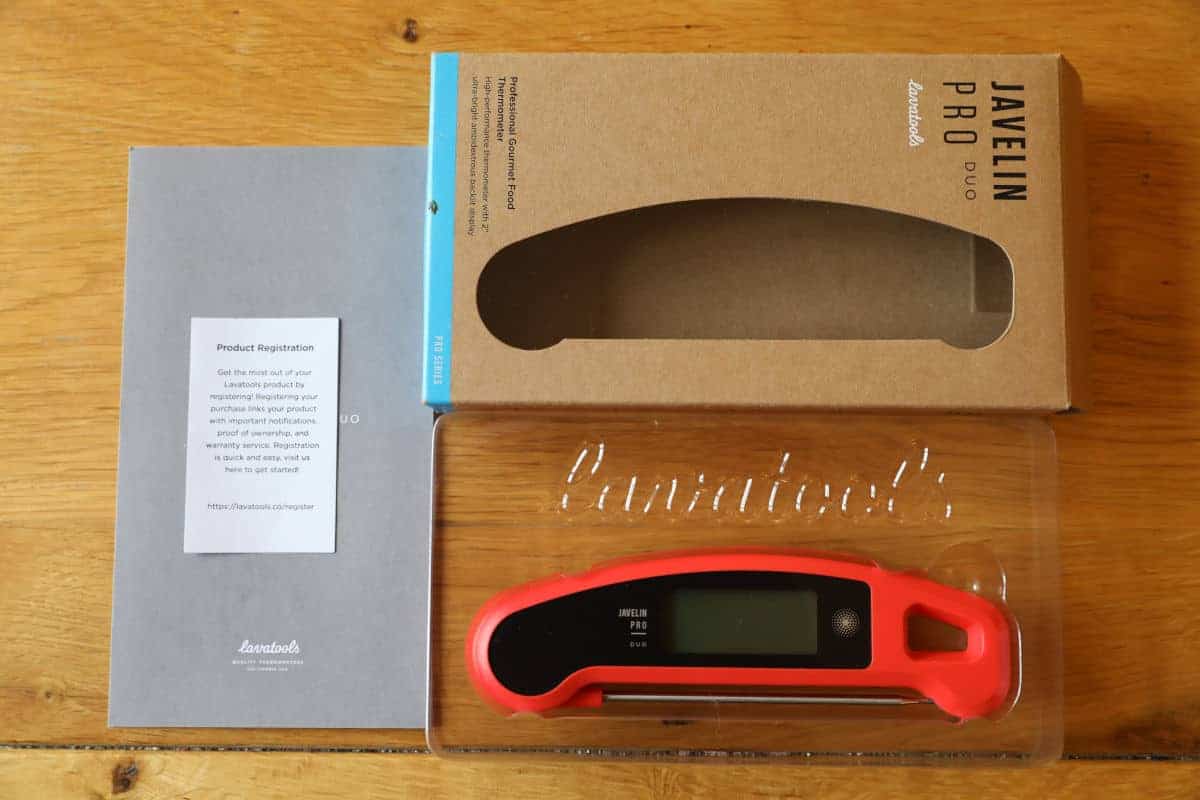 Javelin PRO Duo thermometer
Owner's manual
1 CR2032 button cell battery (pre-installed)
Features and Manufacturer's Specifications
The PRO Duo boasts more features than your average instant-read thermometer. The one you'll probably notice first is what Javelin calls the "ambidextrous display."
What that means is the display will reorient depending on which way thermometer is turned.
Let's say you're right-handed (which you probably are) — you insert the probe with your right hand, and the display is right-side up. With most thermometers, if you insert it left-handed, either the display is facing away from you, or it's upside-down. With the PRO Duo, the figures on the display invert, so you can still view them properly.
On top of that, the display is viewable from almost any angle, plus moving thermometer activates the backlit display. You can also turn on the backlight with a tap of the sensor beside the LCD.
Additionally, a double-tap of the sensor will display the highest temperature reached since thermometer was turned on. A second double-tap shows the lowest temperature reading. And you can clear those values by holding the sensor while in the MAX/MIN mode.
The final use for the sensor is the HOLD feature. Just keep your finger on the sensor and wait for the word HOLD to appear on the display. You'll soon hear a beep, and then the current temperature will show. As long as you hold the sensor, that figure will stay in place. Let go, and the PRO Duo goes back to the current temperature.
Inside the battery compartment, you'll find four toggle switches. These allow you to switch between Fahrenheit and Celsius, turn the auto sleep function on and off, turn the stabilization alert on and off, and choose whether you want readings to a tenth of a degree or not.
Specs
Probe length: 4.5"
Handle length: 6.25"
Total length: 10.75"
Width: 1.8"
2" anti-fog backlit LCD screen
Temperature range: -40F to 482F (-40C to 250C)
4000+ hour battery life
Ease of Use
Even for a beginner, this is an easy device to master.
The single sensor makes switching between display modes a breeze, and using toggle switches to change personal preferences keeps the exterior from feeling cluttered or overwhelming.
The probe unfolds a full 180 degrees, making it truly ambidextrous, especially when combined with the rotating display. And, because the auto-wake and backlight features are motion-sensitive, you can operate the PRO Duo even if you're wearing gloves and can't activate the sensor.
Speed and Accuracy
The Javelin PRO Duo boasts a response time of 2-3 seconds to within 1F of the final temperature. That is very fast, which is fantastic because it means your lid is up for as little time as possible.
So, it's fast, but is it accurate? Yes. Yes, it is.
Since cooking to temperature is everything, you'll be glad to know the PRO duo is accurate to +/- 0.9F between -4 and 302F (-20 to 150C).
In my tests of placing it into iced water and boiling water, it showed within a single degree Fahrenheit of 32 for freezing water, and 212 for boiling water.
So for me, it's highly accurate, and I'm willing to put my trust in it. In fact, I do, because I use it all the time, both for outdoor cooking and in my kitchen.
Design and Build Quality
Let's get the most obvious design aspect of the Javelin PRO Duo — side on, it looks like a lightcycle from TRON.
If that's not reason enough to love it, it's also robust and ergonomically shaped, fitting nicely into your hand for easy use. And, you can choose from eight different colors to match your décor.
A couple of other notable design features include the "lanyard hole" that no one will use with a lanyard, but many will use to hang it from a hook or nail, and the integrated magnet. I especially like the magnet because I can just stick the whole thing to anything metal nearby.
The housing is IP65 plastic. What does that mean? It means it's sealed up tight as a bank safe; it's dust-proof and splash resistant, too, though it's not suitable for total immersion. As for the probe, it's made from 18/8 stainless steel for enhanced resistance to corrosion.
Something else it's resistant to is microbes. We're seeing more and more products advertised as having an 'antimicrobial' coating of some description.
Lavatools has used a silver-based additive that's right in the plastic to help reduce the risk of your thermometer becoming a hotel for nasty little food-borne bugs. Apparently, it's better than 99% effective, too. (I still recommend wiping it off with a damp cloth after use.)
One final bit of design ingenuity — when folded up, the lanyard-hole end of the plastic body neatly protects the tip of the temperature probe. That's excellent, because you really don't want to damage the probe by dropping it or when it's tossed in a drawer.
Warranty and Support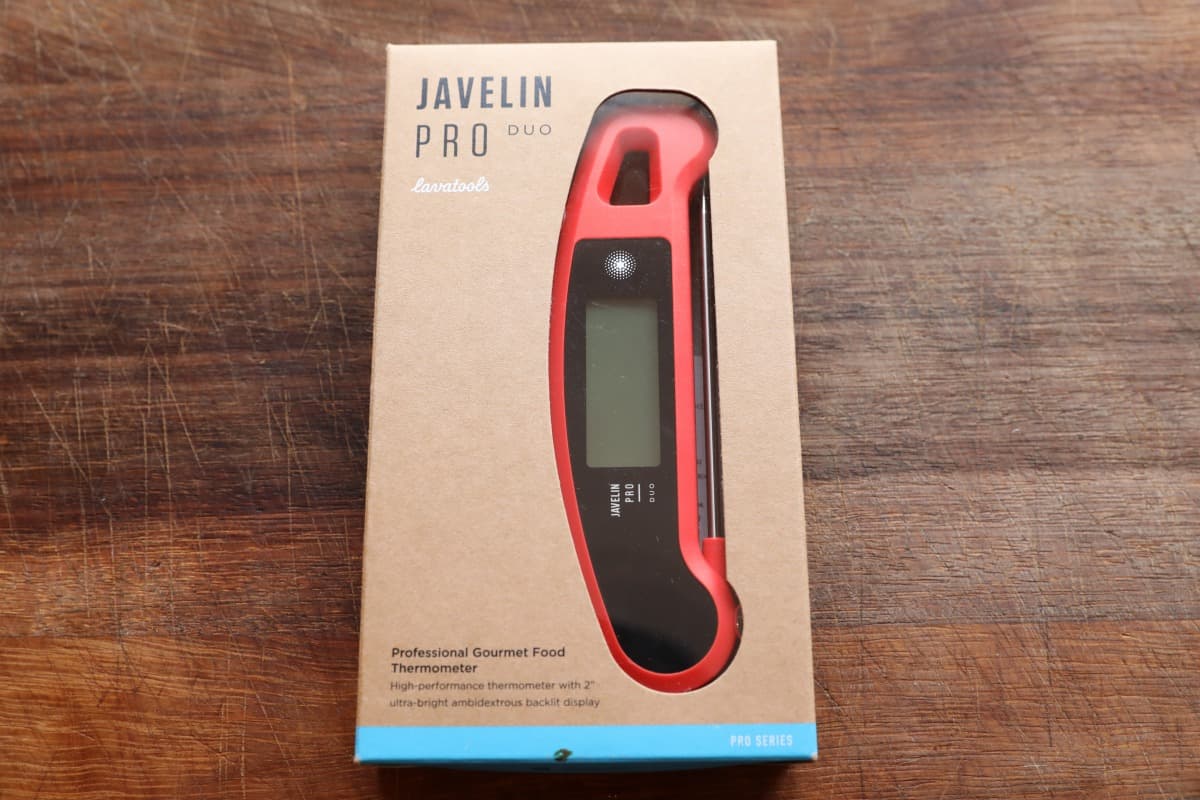 You get a 3-year limited warranty against manufacturer's defects on this thermometer.
To file a claim, just fill out the form on their website, and they'll let you know where to ship it for repair or replacement. If there's nothing wrong with your Javelin PRO Duo, but you simply don't like it, you've got 30 days to return it for a refund.
If you want to stay connected with Lavatools, you can sign up for email alerts, but don't expect to get "social" with them. They have Instagram and Facebook accounts, but both are virtually empty. That seems unusual in this day and age, but maybe there's just not a lot to be said about a thermometer?
Lavatools Javelin Pro Duo review — Final Verdict
So, just like the 0.06" tapered tip on the probe, it's time to get to the point — is the Javelin PRO Duo ambidextrous thermometer "right" for you, or should it be "left" alone?
What We Like
The main selling feature of this thermometer, in my mind, is the LCD screen that rotates the display to suit its orientation. Not only is it great for lefties, but it also means anyone can read it no matter how it's inserted.
Thanks to the inclusion of toggle switches inside the battery bay, you can't accidentally switch scales or mess up a variety of other options by pushing the wrong button.
Lots of thermometers are small and insubstantial. Not this one; it's solidly built, though lightweight, and feels like a tool, not a toy in your hand.
What Could Be Improved
Left-handers might wish the probe could unfold 270 degrees to allow for true left-handed top-down readings. I'd hardly call that a deal-breaker, though!
Will I Get Value for My Money?
If your idea of "value" is spending the least amount of money possible, then this is not your thermometer.
The Lavatools Javelin PRO Duo is an upgrade from cheap, short-lived instant reads. You get better performance, better workmanship and materials, and enhanced features. For all that, I still think the price is reasonable.
Bottom line: it's well worth the money.
Is this a Recommended Product?
Lavatools Javelin PRO Duo Instant Read Thermometer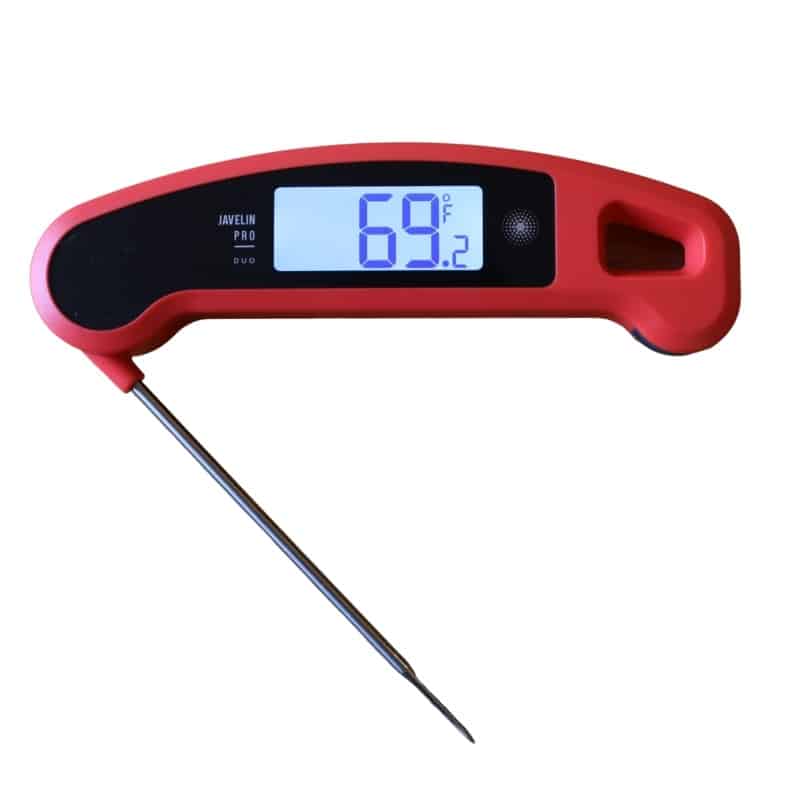 A fast and accurate instant-read thermometer with many features only found on more expensive competing products. 2 to 3-second read time, hold function, auto-rotating display for right and left-handed users, an integrated magnet for hanging, a 3-year warranty, and more besides.
A high-quality instant-read thermometer should be a must-have for any serious griller or even casual users who simply want better, more consistent results.
There are a lot of options, but only a few good ones. The Javelin PRO Duo is one of the best. It gets a thumbs up from me, and I know you'll love it.
That about wraps up my Lavatools Javelin Pro Duo review. Do you have any questions, comments or anything to add? If so, please feel free to drop them in the comment section below, I will make sure to answer all.
Here's to more 'measured' grilling!