This is a hands-on review of the ChefsTemp FinalTouch X10 digital instant-read meat thermometer, including pros and cons, full specs, and my personal assessment.
Knowing the temperature inside your meat is essential for the best results on the grill. Not only the best but also the safest! We cannot say it often enough; cook your meat to temperature, not time. This is why we also tell you, over and over, to own at least one good digital instant-read thermometer.
Now, I own MANY instant-read thermometers. A search for "instant-read thermometer" on Amazon yields over 1000 results. I won't claim to have them all, but I certainly have more than my fair share.
So, when the nice people at ChefsTemp sent me their redesigned FinalTouch X10, I was excited to try it out and see if it could earn a place in my select group of go-to thermometers.
To be clear, this is not a paid review; they sent me the unit free of charge for my honest opinion, and that's exactly what you're going to get here.
I'll give it a thorough going-over with regard to looks, design, and functionality. I'll cover the many features and their benefits to you and provide an unbiased assessment of its pros and cons. Plus, I'll put it to the test and see how well it performs and provide you with a bunch of pics as we go.
To wrap it up, I'll give my final verdict: is the ChefsTemp FinalTouch X10 a thermometer worth owning, and does it deliver value for your money?
Stick around, folks — this one is definitely worth the read.
Disclosure: ChefsTemp sent me the X10 free of charge so I could test it and write up an honest review. However, this does not affect any opinions expressed, which are entirely honest and solely my own.
Overview of the ChefsTemp FinalTouch X10
ChefsTemp Finaltouch X10 Instant Read Meat Thermometer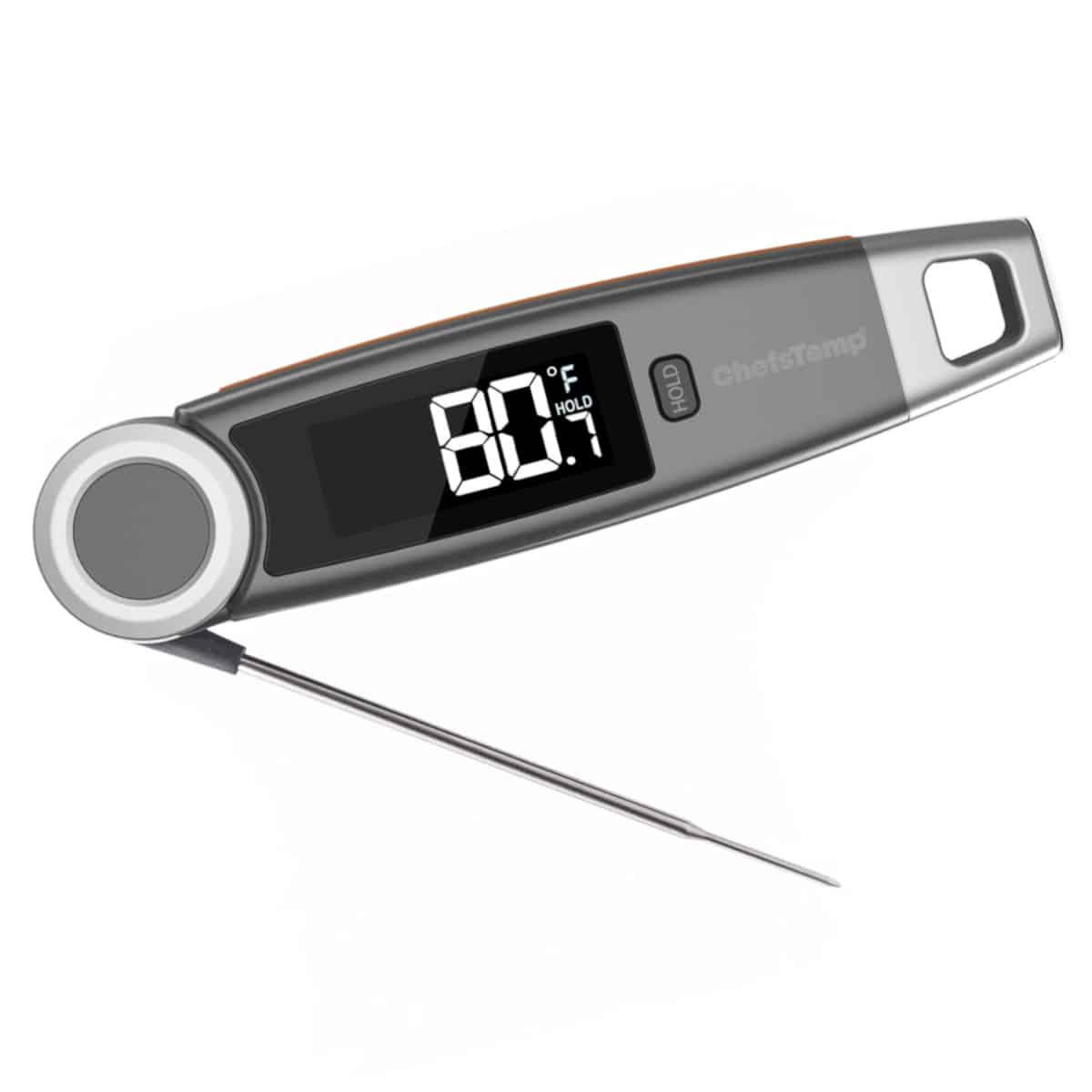 A very fast, accurate thermometer with a 270° rotating probe, a big, sharp, auto-rotating display, motion-activated wake-up mode, IP67 waterproof, and impressive build quality. Also a winner of the red dot designs award 2022, this is an impressive, easy-to-use, highly functional product.
Note: At the time of writing, this thermometer is only available from ChefsTemp themselves, at the link below.
The FinalTouch X10 is a probe-style instant-read thermometer design for "get in and get out" temperature readings.
While we're focussed on its prowess with grilled meat, it's also useful for bakers, candy makers, and more.
To operate the X10, extract the four-inch stainless steel probe from its slot in the main body, rotate it to the most convenient orientation, and insert the tapered end into your food. The temperature displays on the large LCD on the front of the unit, letting you know if it's time to eat or if your food needs more time on the grill.
The FinalTouch X10 is one of several thermometers on the market with an auto-rotating screen; the display "flips" according to the unit's orientation, so the numbers are never upside-down.
ChefsTemp claims a 1 second reading time on their website, although the packaging claims a 2 to 3 second reading time. I test this and report my findings in a section below.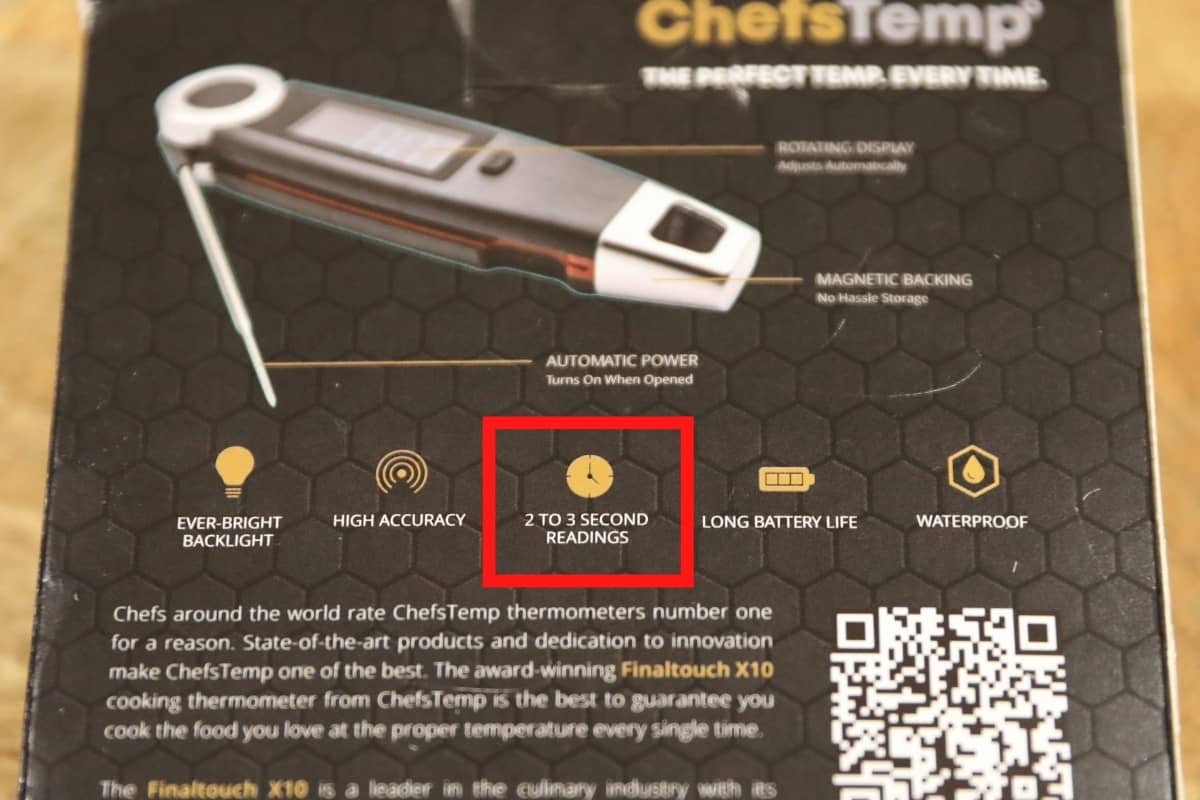 Both sources claim an accuracy of ±0.7 °F in a temperature range of -22 to 392 °F. We also put these claims to the test and reveal our findings further down.
What We Like
I found during use that the large, high-contrast LCD screen is easy to read, day or night, from virtually any angle or orientation. Even those of us whose eyesight isn't quite what it once was will have no trouble seeing the big numbers.
While several competitors have auto-rotating screens, very few pair that with 270° probe rotation. You'd have to go out of your way to find an awkward angle the FinalTouch X10 can't make practical.
The clean lines of the X10 don't just look good, but they also make it easy to use. There's just one button on the exterior, and it's honestly the only one you need regular access to, anyway. A 'Hold' button, for fixing the display on the current temperature measurement.
I always say you want ±1 °F accuracy in an instant-read thermometer because 2 degrees or more difference in steak doneness can be important. The FinalTouch X10 beats this, hands down.
I also like the fact reading times are fast! When your hand is hovering over a hot grill taking a temperature reading, you want to be in and out quickly to avoid burning your hand, and the FinalTouch X10 is plenty quick enough.
What Could Be Improved
I thought long and hard on this one and came up empty-handed. There are simply no serious flaws in form or function to report.
I had thought about saying a rechargeable battery would be nice. But, if I get anywhere near the 3000 hours promised out of the pair of AAAs inside, I can't complain they aren't being efficient in this area.
To put that in context, 3000 hours is 125 days of non-stop use. Replacing batteries on the regular is NOT going to be an issue with the ChefsTemp FinalTouch X10.
So yes, I can see nothing to improve upon.
Benefits and Features
Among the many features of the X10, two really stand out: the 270-degree probe rotation and the auto-rotating display. Let's look at these first.
Most thermometers with a flip-out probe allow for rotation to 180 degrees. In other words, the probe and the thermometer's body form a straight line at maximum rotation. The X10 rotates to 270 degrees, which is three-quarters of a complete circle.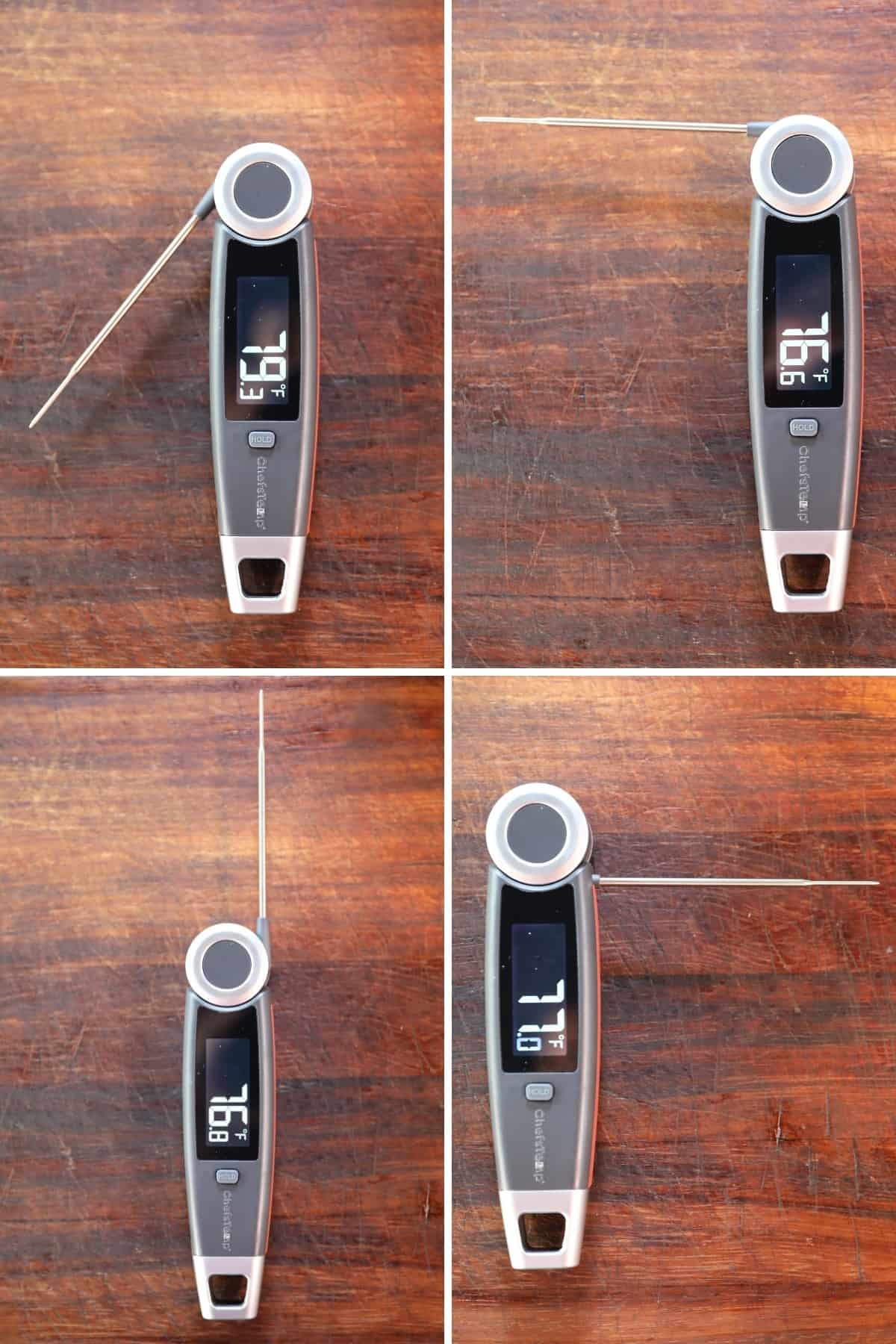 In practical terms, that means if you're a lefty, you can hold the X10 in your left hand and use the probe at a 90-degree angle relative to your position and still look at the front of the unit. Such a wide range of motion provides maximum versatility for approaching your food from virtually any angle.
Coupled with that, you have the auto-rotating LCD. To save you from craning your neck, the display flips its orientation so that it's always right-side up (based on the long axis), no matter which way you're holding the thermometer. It's a genuinely ambidextrous thermometer that saves you from wasting time figuring out how to probe your meat.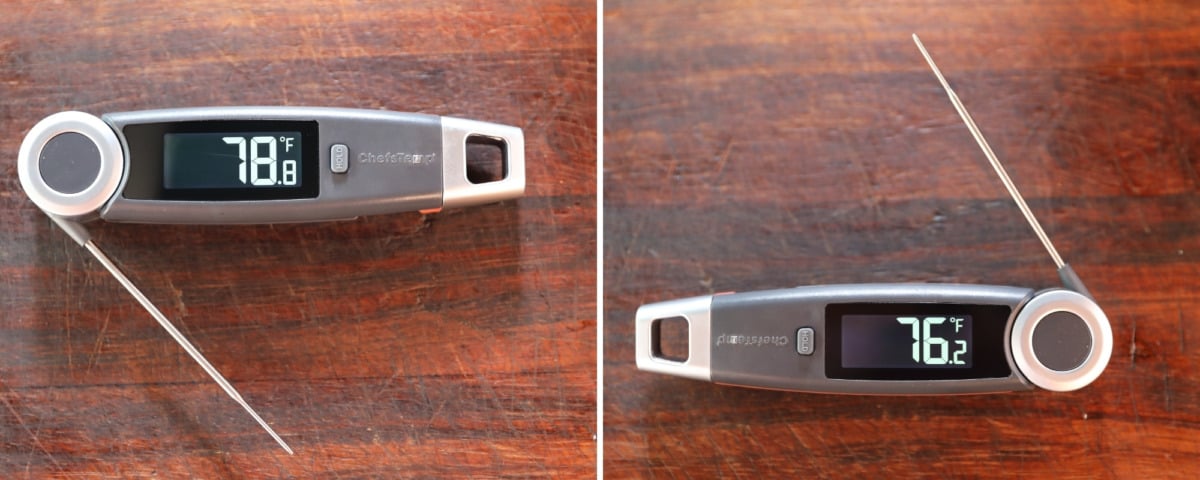 Sticking with the LCD, it's also large and easy to read, with a high-contrast white-on-black display. Thanks to the intelligent backlight, you'll have no trouble seeing the readout under any lighting conditions, including pitch-black; it comes on automatically when you move the unit.
Like most thermometers in this category, the X10 powers up when unfolding the probe. Folding it back in again shuts it off. But, if you leave it unfolded, it will go into sleep mode after 3 minutes to conserve the battery. Moving the unit again wakes it up.
Keeping the X10 clean will be easy, thanks to the waterproof housing. It's rated IP67, which means you can submerge it completely to a depth of about a yard (or 1 meter) for up to 40 minutes. Not that you should do that, but at least you know you can give it a thorough wash — and it won't die a soggy death if you accidentally leave it out in the rain for a bit.
We'll talk more about speed later, but suffice to say, the FinalTouch X10 lives up to the moniker "instant-read." With accurate readings in about 1 second, not only do you know exactly how close to done your meat is, but you can also get in and out without worrying about burning your hand.
Though it comes pre-calibrated from the factory, you can recalibrate it yourself, should you feel the need. Unscrew the battery compartment lid, and you'll find a calibration button (and another button to flip back and forth from C to F).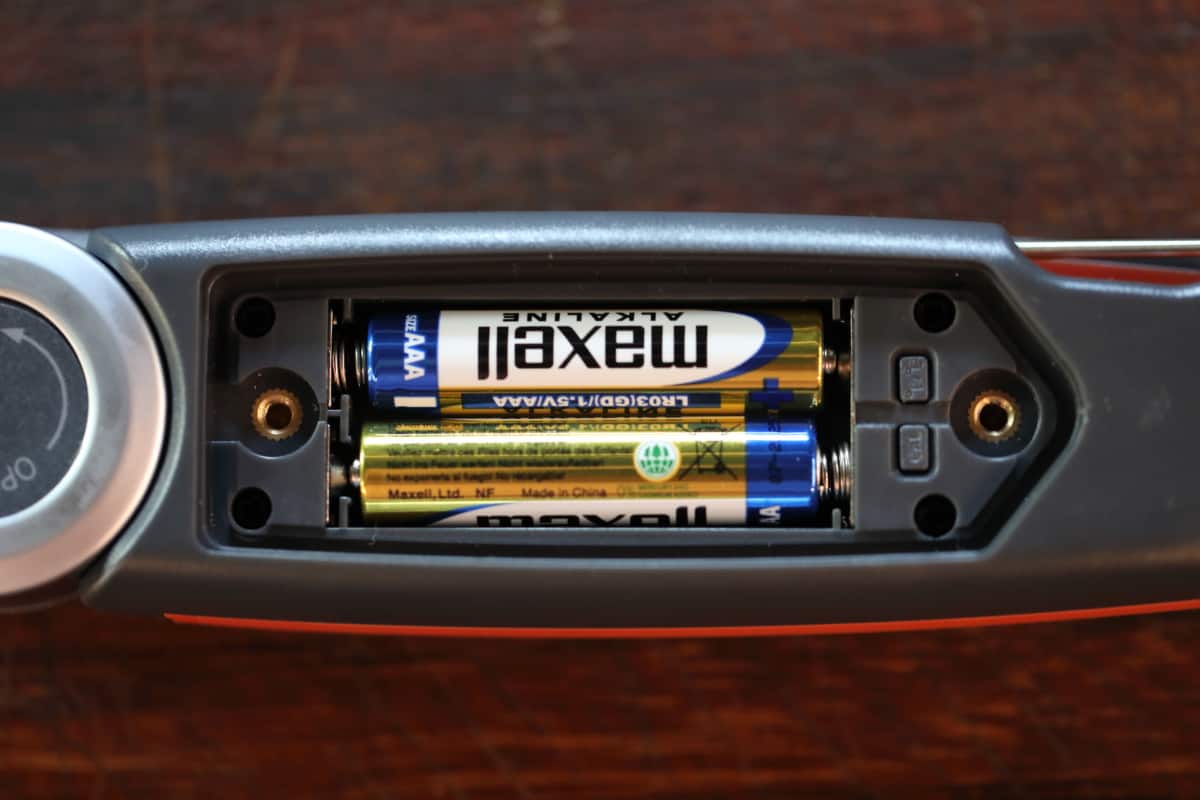 Simply stir some ice water with the probe and use the button to set the freezing point (32 °F or 0 °C). Though you may never need to use this feature, it's good to know it's there. If you happen to live at a very high altitude, this could improve the accuracy of your readings.
Note: As I removed the battery compartment a tiny little see-through rubber washer fell off one of the screws. Be mindful of this, as I'm sure it helps to seal the battery compartment and plays a part in the IP67 waterproof rating. The thermometer may have suffered water ingress in future had I not noticed and lost it!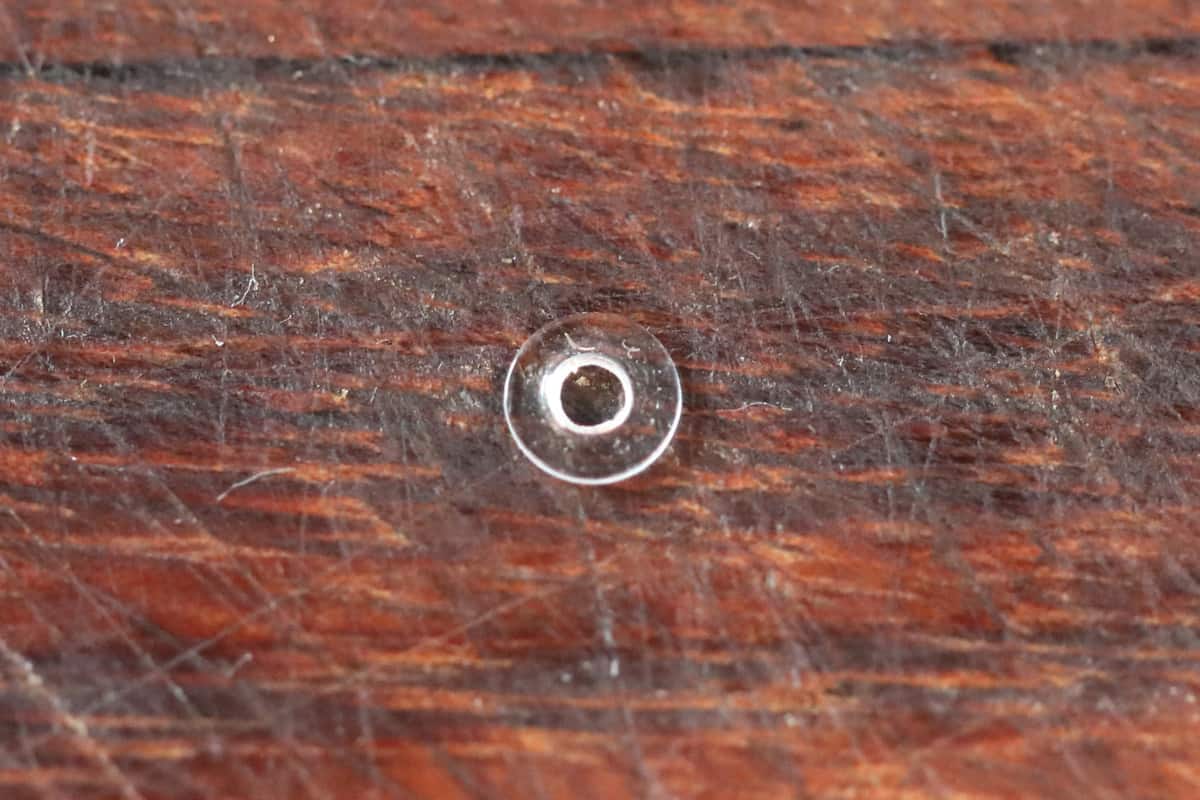 Convenience features on the X10 include a built-in magnet on the back to stick it to the fridge, the gazebo pole, or the stainless steel side shelf (assuming you have any of those things) and a hole for hanging it on a tool hook.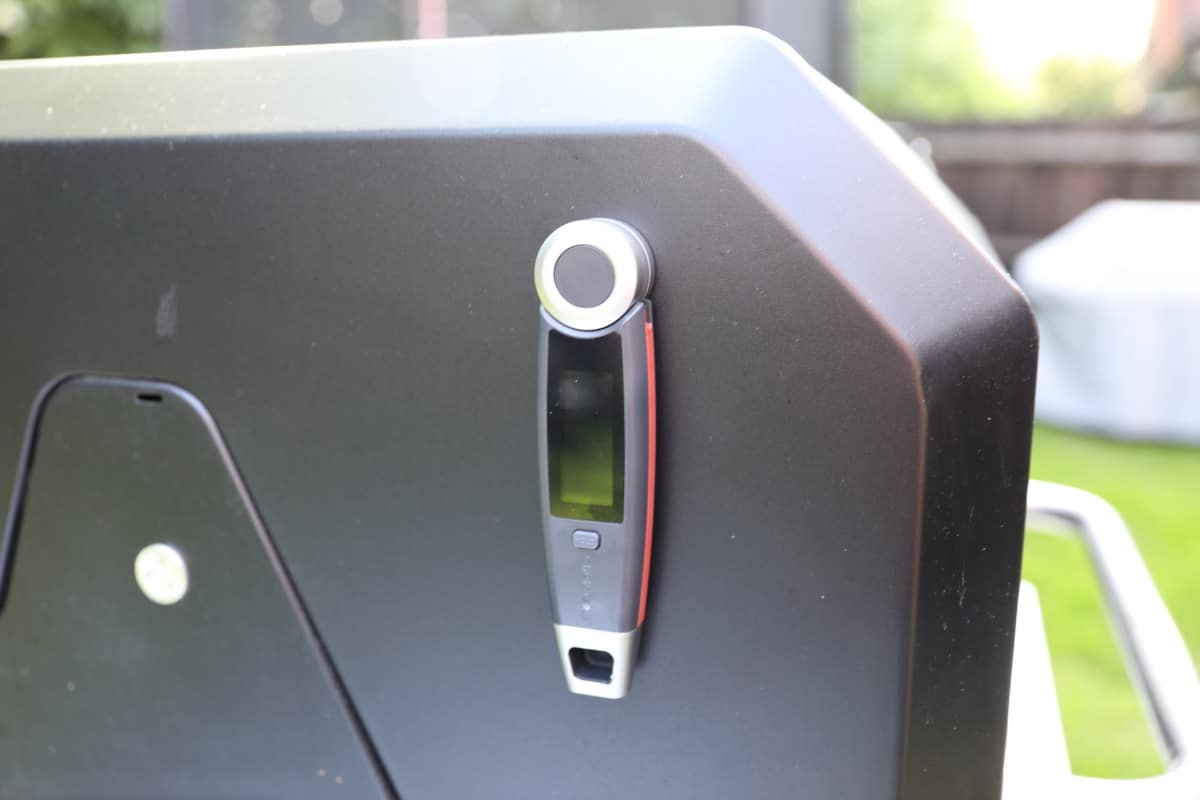 With this combo of storage options, your thermometer should always be right where you need it WHEN you need it, which is vital when you're cooking the perfect steak and every second — and degree — counts.
Manufacturers Specs
We love numbers at FoodFireFriends! Here's how the FinalTouch X10 specs out.
Range: -22 – 572 °F (-30.0 – 300.0 °C)
Operating range: -4 – 122°F (-20 – 50 °C)
Accuracy: ±0.7 °F (±0.4 °C) from -22 – 392 °F (-30.0 to 199.9 °C); otherwise ±1.8 °F (±1.0 °C)
Response time: 1.0 second
Probe length: 4.0"
LCD size: 1.86" x 0.77"
Battery: AAA batteries x2
Battery life: up to 3000 hours
Dimensions: 6.69" x 1.57" x 0.9"
Weight: 4.3 oz
Waterproof: IP67
ChefsTemp Finaltouch X10 Instant Read Meat Thermometer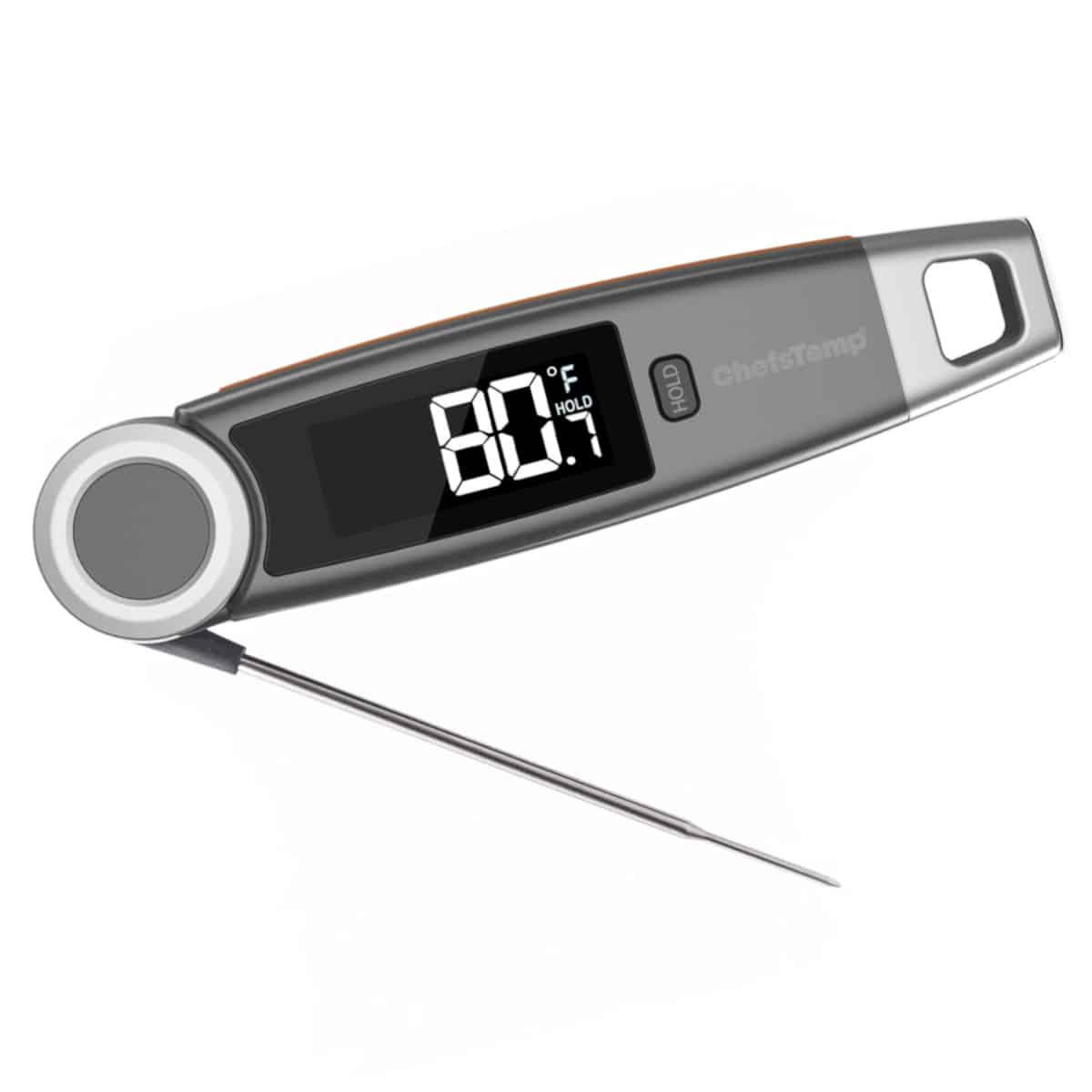 A very fast, accurate thermometer with a 270° rotating probe, a big, sharp, auto-rotating display, motion-activated wake-up mode, IP67 waterproof, and impressive build quality. Also a winner of the red dot designs award 2022, this is an impressive, easy-to-use, highly functional product.
Note: At the time of writing, this thermometer is only available from ChefsTemp themselves, at the link below.
What's in the Box?
The FinalTouch X10 comes nicely packaged inside a black plastic tray that is then packed inside a fine-looking box, not a blister pack like some instant-read thermometers.
On the box is printed a QR code you can scan to download a free recipe book, a social media handle, their address, and website URL.
Inside the tray in the box is the thermometer itself, with two AAA batteries already installed.
You also get a small but comprehensive instruction manual covering all the functions and how to use them. Additionally, inside there are troubleshooting instructions, temperature charts for meat, water, candy, sugar, and other foods, and a QR code to help you connect with the ChefsTemp community and access free e-cookbooks.
First Impressions
This is a substantial-looking piece of equipment that fits solidly in the palm of your hand. It has some heft, too; the FinalTouch X10 weighs about as much as a "quarter pounder" patty (or a "Royale with Cheese"). It is, as the kids say, a "chonky boi."
The sleek lines suggest a quality product, and the two-tone gray finish has a professional look about it. There's a line of orange where the back and front meet; perhaps that makes it easier to spot in the dark?
Speaking of "easy to spot," there's no missing that oversize, white-on-black LCD! Kudos to the design team for understanding we don't all have perfect vision.
So, I'd say my first impressions are entirely favorable. Now, it's time to go beneath the surface.
Design and Build Quality
This thermometer style is limited when it comes to design styles; they all look essentially the same. Having said that, the ChefsTemp FinalTouch X10 is robust yet sleek and ergonomic, looking professional, reliable, and user-friendly all at once. It has all the design features you'd expect in this category and from a unit that's among the priciest options.
The thermometer comes with a silver-based antimicrobial embedded in durable plastic housing. According to ChefsTemp, it's 99% effective at repelling bacteria growth, which is reassuring considering it's basically always going to be around undercooked meat. And, since it's waterproof, you'll have no trouble keeping it clean and safe.
All in all, I'm pleased with the build quality. I haven't had it long, but I expect it to be around for many years to come.
Ease of Use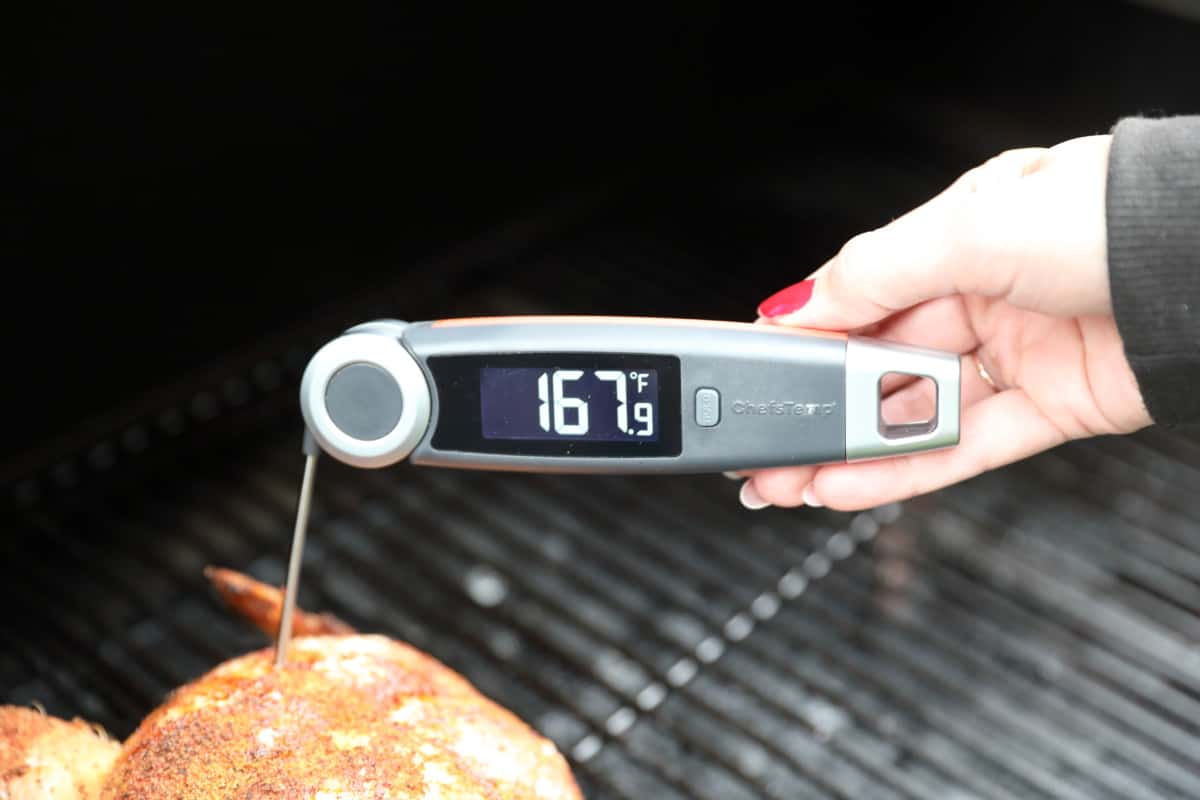 It would be tough for this product to be any easier to use.
There's no power button; the FinalTouch X10 powers up automatically as soon as you flip out the probe.
The tip is so sensitive that you can take a reading with only 0.2" of the probe inserted into your food, which is fantastic for very thin cuts of meat.
It's fast, it's accurate, the screen flips orientation automatically, and there is no "wrong" angle thanks to the 270-degree rotation of the probe.
The performance is professional-grade, but even someone grilling for the first time can confidently use this thermometer.
Speed and Accuracy
As covered in the specs section, ChefsTemp claims accuracy of ±0.7 °F between -22 and 392 °F. That more than covers the range we need for grilling.
Response time is given as 1.0 second flat on the website but 2 to 3 seconds on the product packaging.
Looking at accuracy, I did the usual cold water and boiling water tests to see how the ChefsTemp FinalTouch X10 performed.
Ice Water Test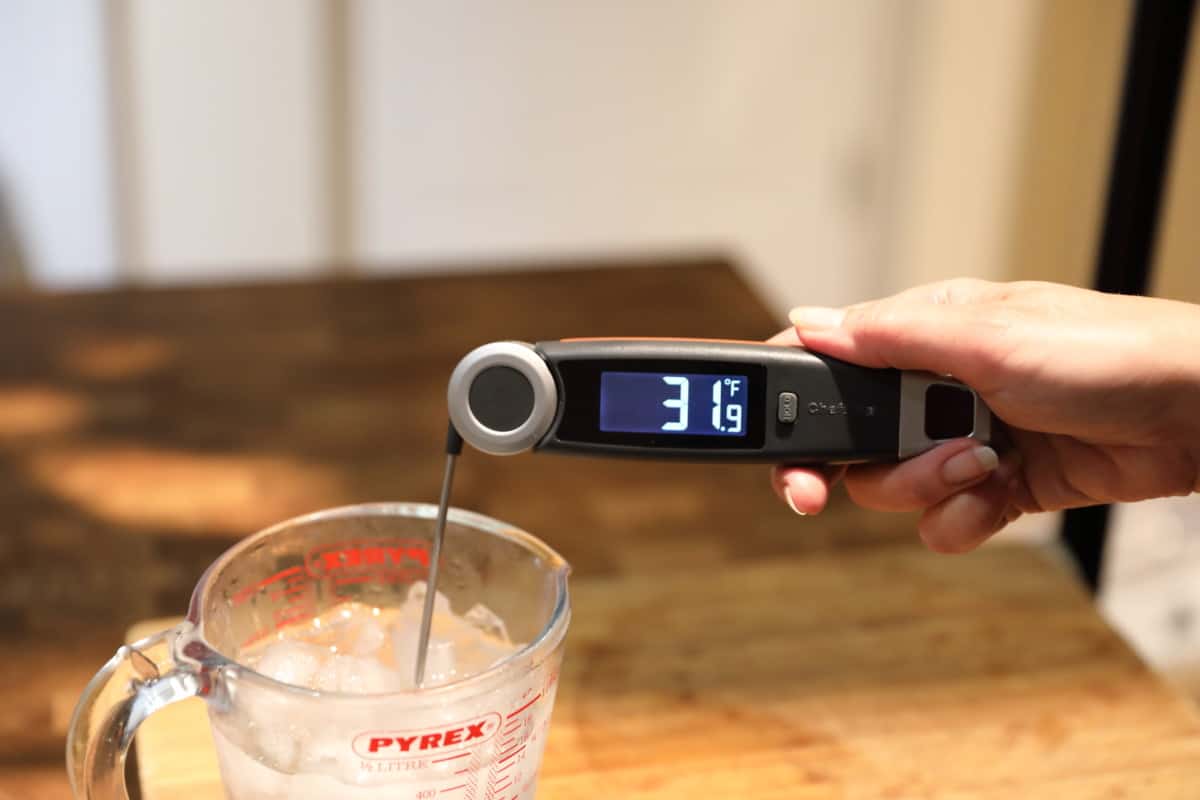 I placed a handful of ice cubes into cold water, and then placed the jug into the freezer for 10 minutes to bring the water to as close to freezing as possible.
Water freezes at 32 °F. And although the tap water I use may be a little lower due to impurities, it will still be very close to 32 °F.
The FinalTouch X10 measured between 31.8 °F and 32.1 °F in this ice water test. This is incredibly close, even closer than the ±0.7 °F tolerance advertised by ChefsTemp themselves. So this is an easy pass.
Boiling Water Test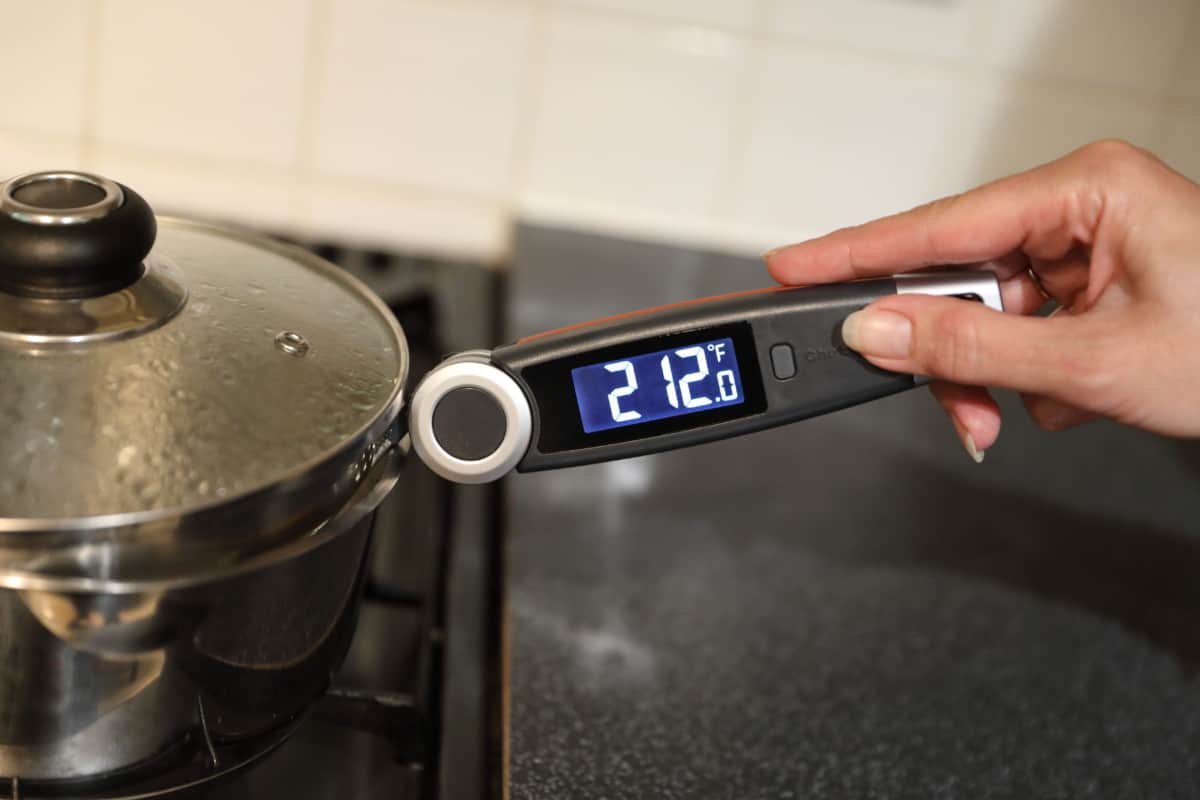 Water boils at 212 °F at sea level and gets lower the higher you are above sea level. I live very close to sea level, so I do not need to factor this into things.
The FinalTouch X10 measured between 211.5 °F and 212.2 °F in this boiling water test. This proves it is accurate and again proved more accurate than even the advertised ±0.7 °F. So again, this is an easy pass.
Speed of Reading
ChefsTemp says it's the "fastest thermometer in the world." But as discussed above, there's some confusion as to what the speed of reading is supposed to be. Is it 1 second or less per the ChefsTemp website, or 2 to 3 seconds per the thermometers packaging?
In my testing, I found it takes anything between 1 and 3 seconds, depending on how far from room temperature the reading is that you are taking.
So I am unable to verify the 1 second read time claim. Perhaps maybe they mean reading refresh rate? That the display of temperature is updated once per second?
I'm not sure, but what I can say is it's a blazingly fast thermometer, at least as fast or faster than any other instant-read thermometer I own apart from the Thermoworks Thermapen One that I recently tested. I have no complaints in this area, and I'm certain that neither can anyone else. It's incredibly quick!
Warranty and Support
ChefsTemp provides a 3-year limited warranty against defects on the FinalTouch X10.
What's great is that if your warranty claim is approved, they will simply ship you a new unit — no waiting on a repair and no need to waste time shipping them your defective product.
If you have an issue with your thermometer, ChefsTemp encourages you to reach them by phone (323 area code; Los Angeles area) or email. They also maintain official Facebook and Instagram accounts where you may find additional support.
Final Verdict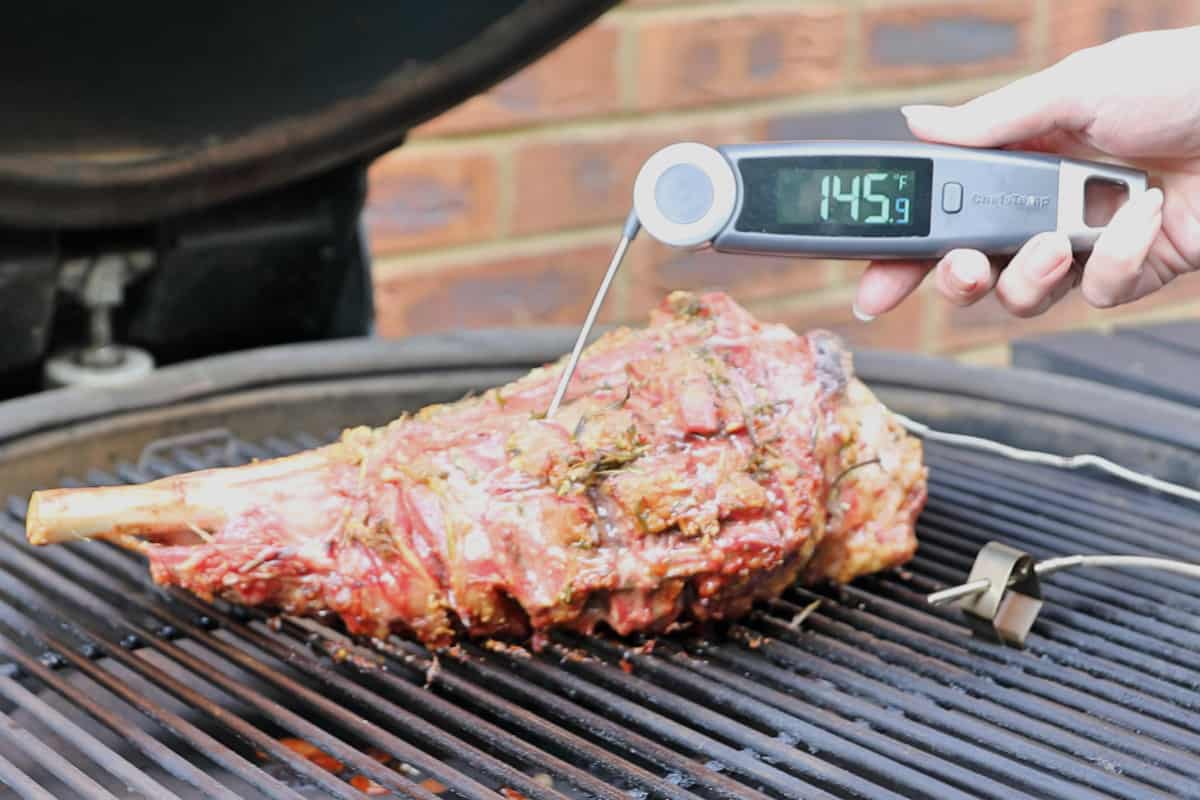 Ok, time to sum up all my thoughts and feelings about the ChefsTemp FinalTouch X10.
Will it take its place alongside my most trusted kit? Or is it destined to live out its days in a junk drawer (or be regifted to an unwitting mate)?
Summary of Pros and Cons
Pros
An accuracy of ±1 °F is excellent and class leading
Super fast read time of between 1 and 2 seconds makes it one of the fastest on the market.
Excellent build quality, feeling highly durable with a good weight and feel in the hand
The large, backlit, high-contrast, auto-rotating display is easy to read in all lighting conditions and from any angle
270 degrees of probe rotation is better than most that tend to be only 180. Particularly good for left handed users
Nice looking design, with clean lines and looks
Up to 3,000 hour use on one battery is outstanding
Cons
I honestly see nothing that can be improved upon
Is it Value for Money?
This is not an inexpensive item. However, it does its job virtually flawlessly, it's well-built, and it's versatile.
If you barbecue a lot (and if you make candy and syrups, that's a bonus) and expect the best out of your gear, you'll appreciate the value in the ChefsTemp FinalTouch X10.
For the casual griller, this may be overkill, and your money may be better spent elsewhere. But, for those passionate about outdoor cooking and who strive for perfection every time, it's well worth the investment — the ChefsTemp FinalTouch X10 will never let you down.
Recommended Product?
Absolutely! I can't find anything negative to say about this fantastic thermometer.
Anyone who doesn't care to mess around with slower, less reliable thermometers should have this stuck to their fridge door, in their apron pocket, or swinging from the BBQ tool hook.
ChefsTemp Finaltouch X10 Instant Read Meat Thermometer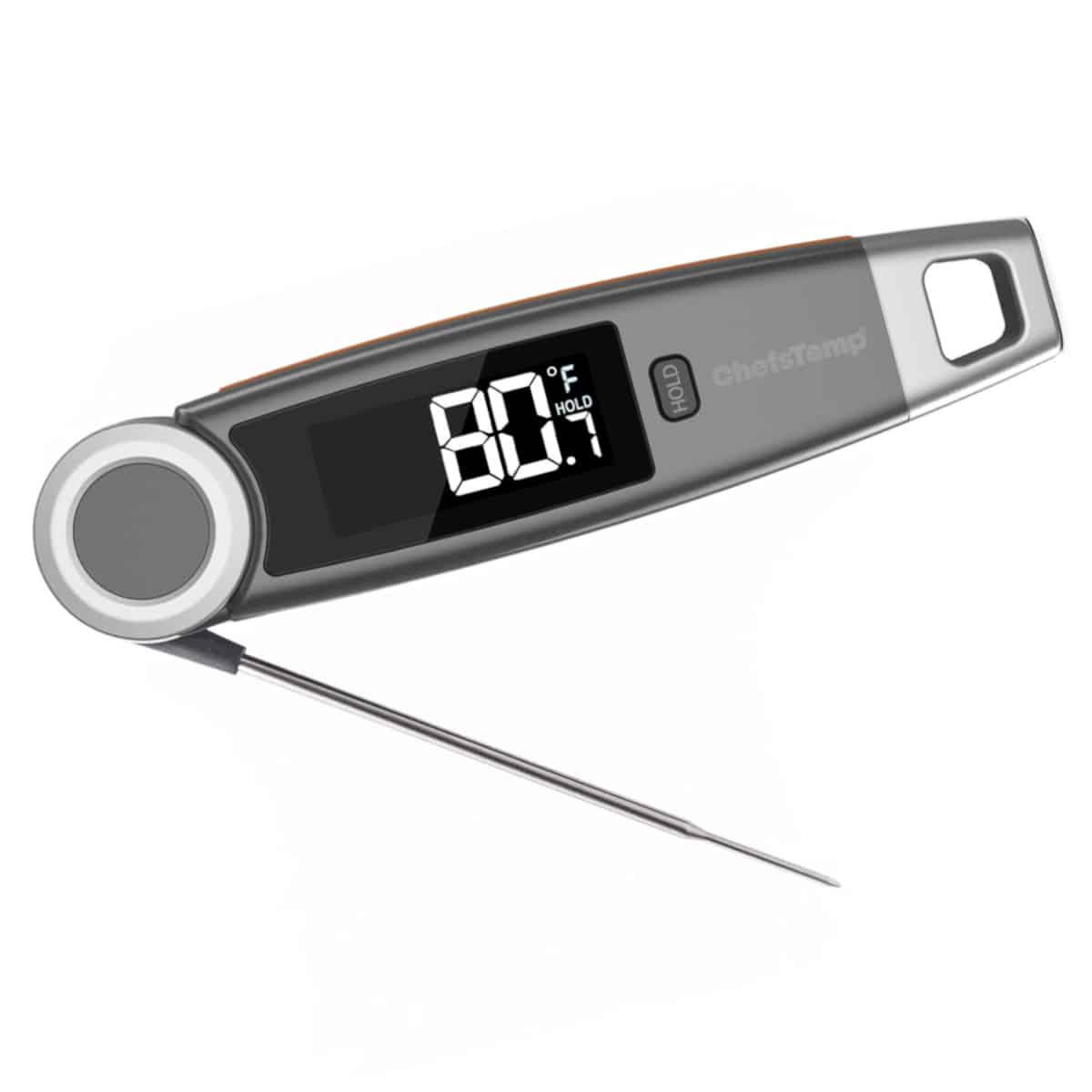 A very fast, accurate thermometer with a 270° rotating probe, a big, sharp, auto-rotating display, motion-activated wake-up mode, IP67 waterproof, and impressive build quality. Also a winner of the red dot designs award 2022, this is an impressive, easy-to-use, highly functional product.
Note: At the time of writing, this thermometer is only available from ChefsTemp themselves, at the link below.
Final Thoughts
Many thanks to the fine folks at ChefsTemp for sending me the FinalTouch X10. They clearly have a lot of confidence in their product, and I can verify that it is well placed. This is an excellent digital instant-read thermometer.
Pricey? Yes. But it does what it does SO well that it's absolutely worth it for any serious griller.
If you want to kick a few more tires before making a purchase, read up on similar products in our Thermometer reviews section. I can all but guarantee you'll find something to suit.
Thanks for reading, and may all your temperature takings be accurate, fast, and singed arm hair-free.