I'm not trying to stir up controversy here (I only like stirring up sauces and marinades); I'm just stating facts. If we've learned anything over the past couple of years, it's that it's not always easy to understand someone else's point of view. So, isn't it nice when there's something to talk about that accommodates multiple points of view?
Is this starting to sound like a newspaper op-ed? Well, it's actually just an awkward segue to discussing a pretty sweet feature on a digital thermometer.
Maverick, makers of quality thermometers since 1981, wants to be the thermometer for everyone — yes, even for you left-handers!
For this Maverick PT-75 review, we're taking a hands-on look at this instant-read digital thermometer, a folding-probe type unit made with grillers in mind. I will put it through its paces to see if it's fast enough and accurate enough to ensure you never miss the perfect doneness level.
Plus, I'll explain some of the features that make it stand out from others in this category, including a novel LCD screen you'll flip for — and that flips for you.
Stick with me right to the end, and let's see if we can agree on whether or not this thermometer deserves a spot at your barbecue.
Overview of the Maverick PT-75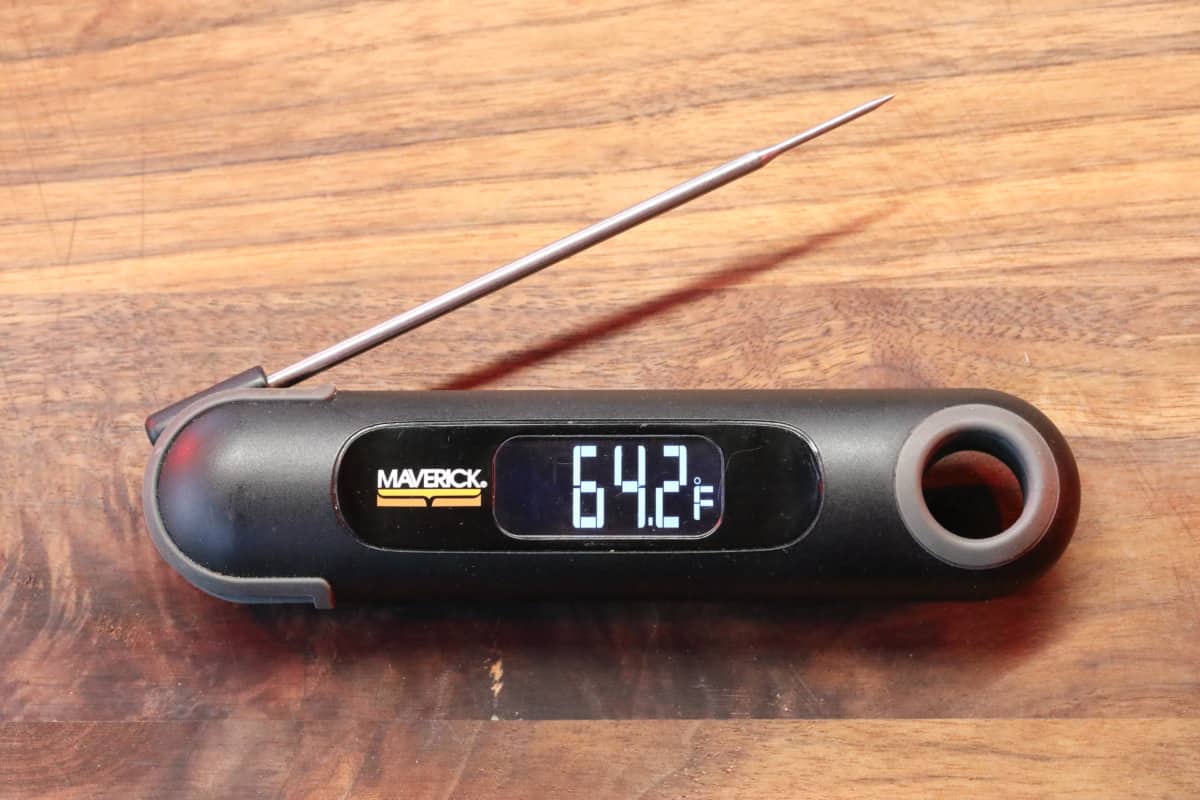 The Maverick PT-75 is a battery-powered instant-read digital thermometer. Like others in this category, the handheld unit consists of two key sections: the base unit, including an LCD readout, and the food-grade stainless steel probe.
The probe measures the temperature of whatever it's in contact with, even if that's just the air. For our purposes, we're most interested in checking the temperature of cooked meat to determine doneness.
To operate, simply swing the folding probe out of the protective slot in the base. The probe has a 180-degree range of motion, and, once inserted into your food, it delivers a reading to the LCD in a matter of seconds.
In addition, you can opt to have the temperature displayed in either Fahrenheit or Celsius.
A unique feature of the Maverick PT-75, which we'll look at further in a bit, is the count-up timer. No, that's not a typo — count up timer. Folding the probe back into the base triggers a count-up timer that runs to a maximum of 99 minutes.
What We Like
The automatic count-up timer is a unique feature we haven't seen anywhere else. It's likely to be one of the key reasons to buy this thermometer.
For the price, it's a fast thermometer and an accurate one, as well.
It's a small thing, but the doneness chart for your major categories of meat stuck to the battery compartment lid is a nice touch. Novice and infrequent grillers will especially appreciate this thoughtful touch.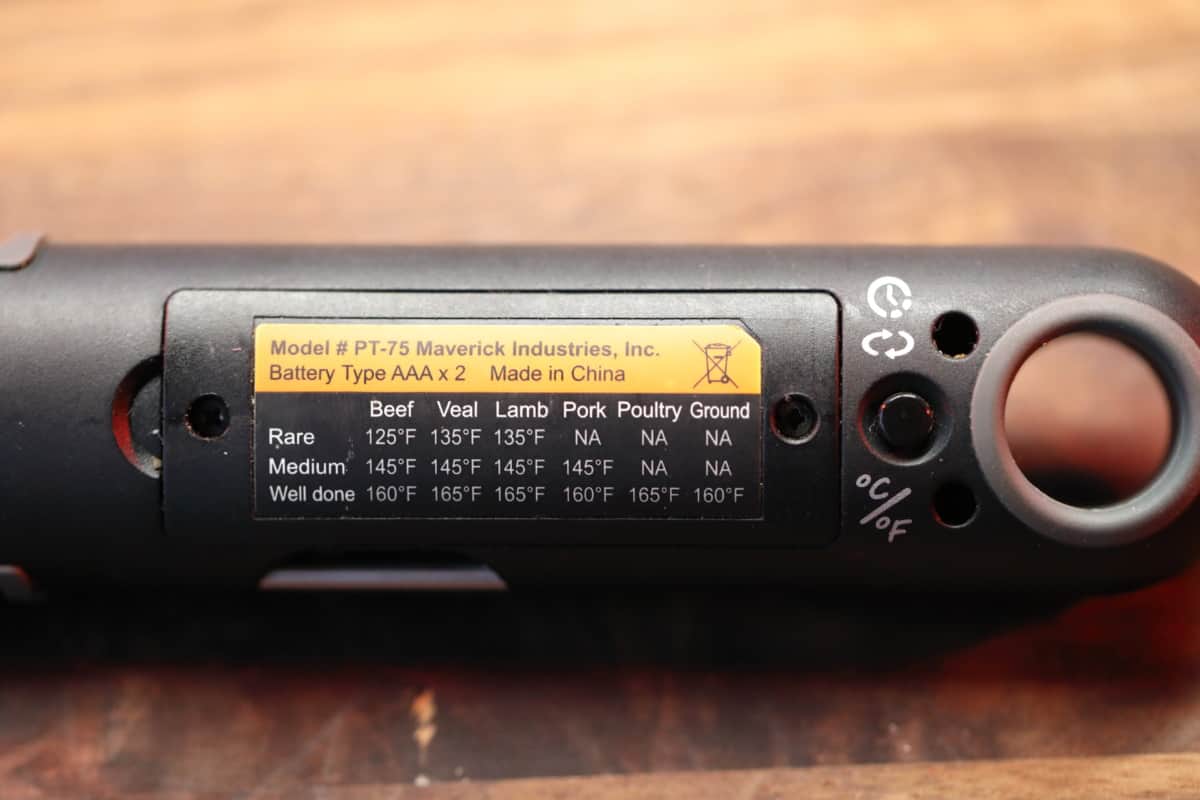 Does it rain where you live? Here, too. Which is why it's nice that the Maverick PT-75 is water-resistant, including a rubber seal inside the battery compartment.
What Could Be Improved
While the 180-degree rotation of the display is handy, what's not so handy is having to use the multi-function button to make it happen. We've reviewed other thermometers with this function that flip the display automatically.
Staying with the multi-function button, you have to hold the C/F button as you open the probe to switch between measurement types. While it prevents accidental switches (I'm trying to find a good reason for it), a single press of the button with the probe open seems more straightforward and logical.
Maverick 2-in-1 Temp and Time Digital Instant Read Meat Thermometer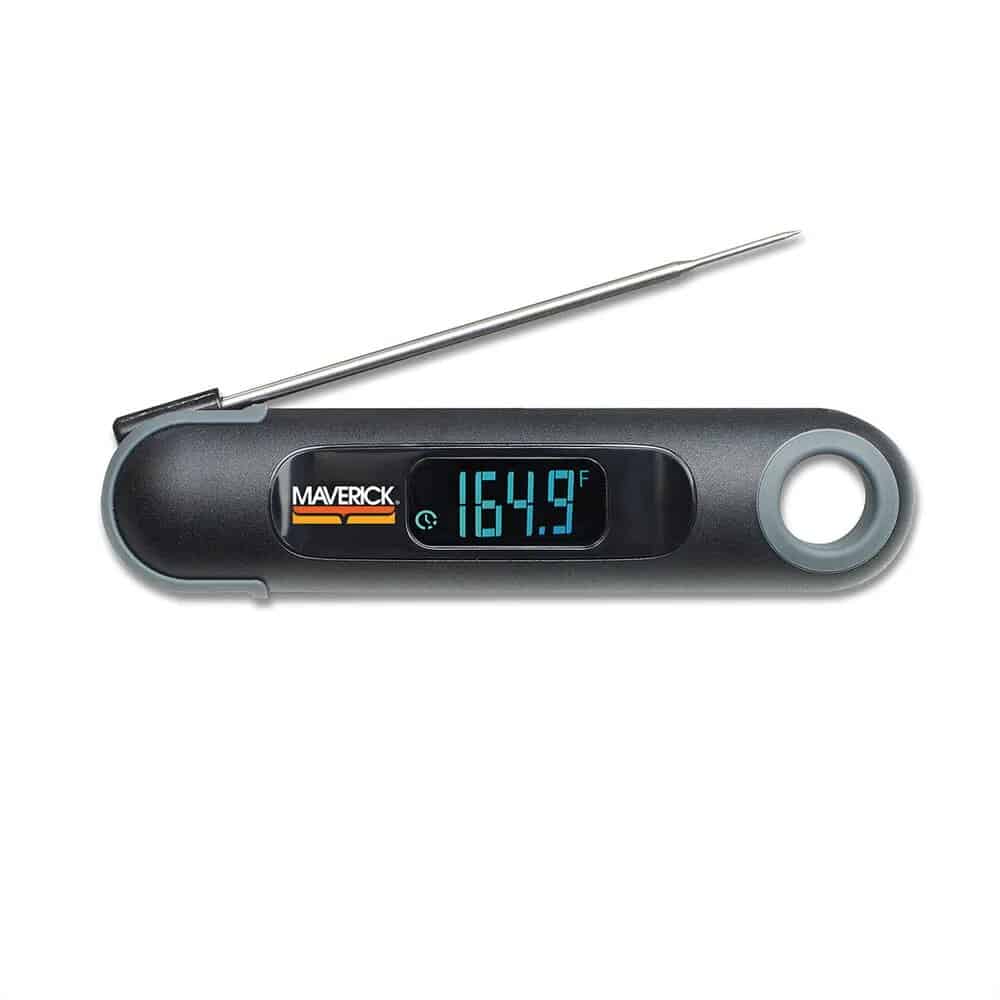 An instant-read digital probe thermometer with a 2-second read time, +/-2°F accuracy from 0 to 212°F, and a unique count-up timer that we haven't seen on any competing product.
With a rotating screen, C or F selection, a backlit white on black display, and a doneness chart on the battery compartment rounding out the features, this is a highly capable product at an affordable price.
Features and Benefits
As we've written many times throughout this website, you have to cook to temperature, not to time. Since knowing the temperature is the only safe and accurate way to tell if your meat is either cooked through or cooked the way you like it, owning a good digital thermometer is imperative. And the faster and more accurate, the better.
Well, what could be faster than "instant"?
Of course, no thermometer is truly instant, but the Maverick PT-75 certainly gives it a good try. You should have your reading within about 2 seconds, which means you aren't holding your hand over the hot grill long enough to burn yourself, and you can get the lid up, take a reading, and shut it again before you've lost too much heat.
The Maverick PT-75 is also highly accurate. We'll do our own tests below, but, for now, it's enough to know that it's generally at least as good as the specs suggest; you'll be within 2 degrees Fahrenheit of dead-on accuracy, if not better, in most cases. When a difference of 5 degrees can mean the difference between pink and juicy and "dammit, I just missed it," accuracy is crucial.
One of the noteworthy features of the Maverick PT-75 is the LCD screen. You'll notice right away that it's white on black, rather than the typical black on white-ish. The high contrast makes it easy to read under any light conditions during the day.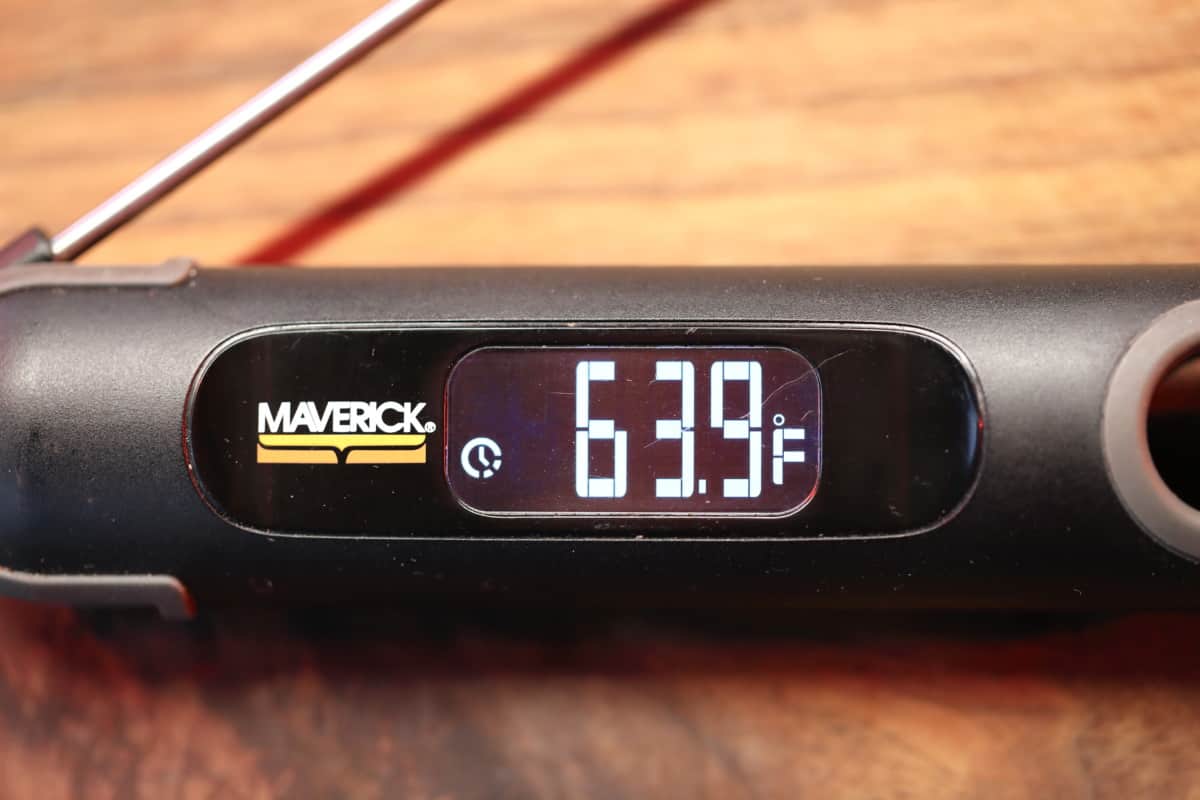 Even better, it's perfectly readable at night without needing a separate backlight – because it IS backlit! No more fumbling to turn on the light or eating up your battery power during a night cook.
However, to help preserve the battery, the backlight powers down under certain conditions, including after 10 minutes of a running count-up timer, and after 3 minutes of reading below 104°F.
Additionally, the LCD can be rotated 180 degrees to suit the orientation of the thermometer. In other words, the numbers will be right-side-up no matter which way you have the unit turned.
Just press and hold the rear button for 3 seconds to flip the display. Left-handers will love this, but it's also handy when your current set-up leaves you no choice but to insert the probe from the "wrong" side. Say goodbye to craning your neck sideways to read the temperature.
What really sets the PT-75 apart from the competition is the automatic count-up timer.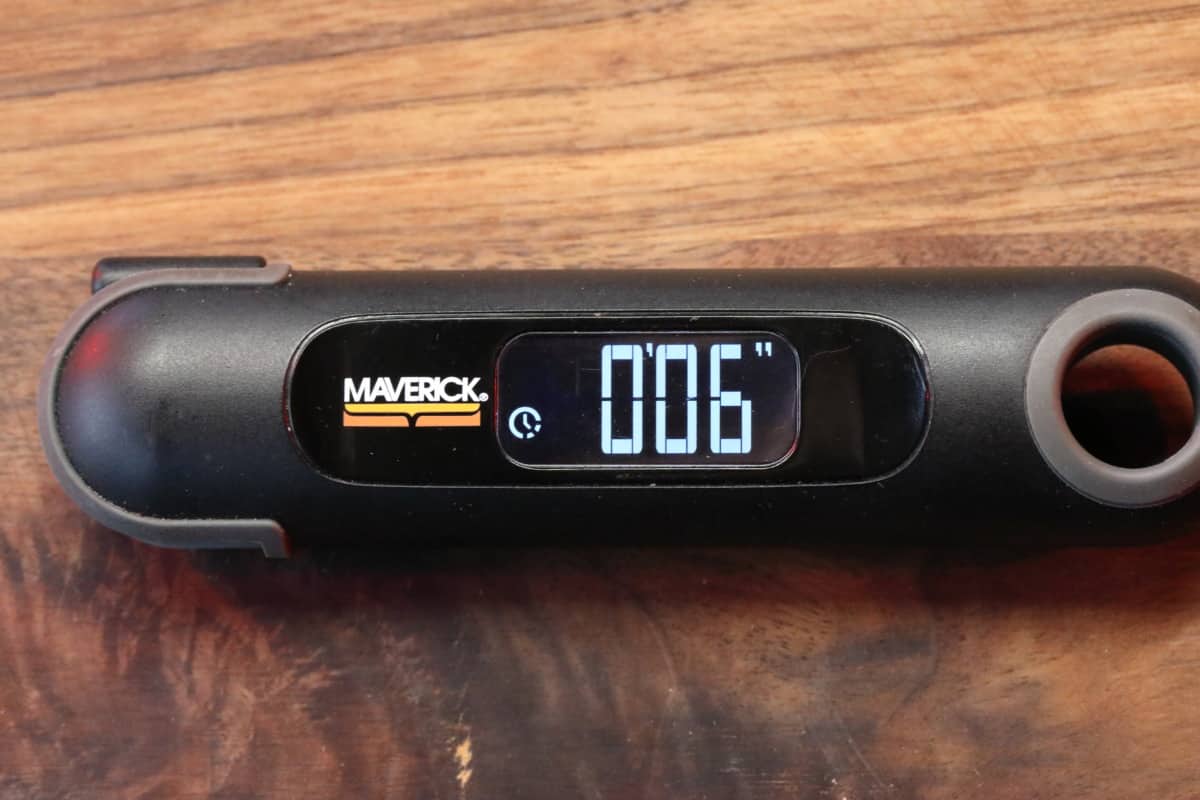 If you want to use it, press the multi-function button on the back of the thermometer once after unfolding the probe. A timer icon should be visible on the LCD. After taking your reading, folding the probe back into the handle starts the timer ticking.
What good is it? Simple: You'll always know how long it's been since the last time you checked the temperature.
Let's say you're doing a long cook, like roasting or smoking. You've taken a reading, but it's not quite ready yet. So, you say to yourself, "I'm going to go get a beer, and I'll check back on this in 15." Take the thermometer with you, and you'll know to the second when it's time to go back, reducing the risk of missing your target and overcooking your meat.
You Might Also be Interested in…
Manufacturers Specs
Maverick gives the reading range for the Type K thermocouple probe at -40°F to 450°F.
Claimed accuracy is +/-4°F below 0°F, increasing to +/-2°F from 0 to 212°F, and dipping back down to +/-4°F for temps over 212°F.
The probe itself is 4.7" long, with a tapered end of about 1" for easier insertion.
The main body of the thermometer is 6.2" long, 1.4" wide, 1.1 inches thick, and weighs 3.4 ounces.
The waterproof rating is IP44, which means it's splash-proof but not submersible; don't drop it in the sink or run it through the dishwasher.
What's in the Box?
Box? What box? The PT-75 comes in a blister pack and includes a pair of AAA batteries.
First Impressions
It's a sharp-looking thermometer with a professional appearance; the black housing and grey rubber accents indicate this is serious equipment, not a toy.
The Maverick PT-75 looks robust, too. It's large enough to get a solid grip on it, and it's relatively weighty.
With the probe fully extended, it's nearly 11 inches long. That's great for keeping your hand far away from the fire.
Design and Build Quality
Because you can flip the screen for left- or right-handed operation, Maverick has kept the shape of the body simple. Rather than try an ergonomic design that really only suits righties, they've gone for more of a cylindrical shape. As a result, it's perfectly easy to hold and operate in either orientation.
The plastic feels heavy-duty and should hold up to reasonably rugged wear and tear. The probe end has a bit of rubber trim to save the housing from cracking should it take a spill onto the patio.
You'll find a large hole at the opposite end that should accommodate most tool hooks. This thoughtful feature helps free up workspace, usually at a premium on most grills.
Ease of Use
Overall, it's not at all complicated to operate. There's no ON/OFF switch, no backlight to worry about, and the tapered probe makes it easy to insert into even the toughest cuts.
I have some issues with the multi-function button; an auto-rotating display makes more sense to me, and I think separate buttons for switching from F to C and activating the timer would be preferable. These are minor quibbles, though, and it doesn't take long before all these operations are almost second nature.
Speed and Accuracy
Not that I don't trust manufacturers, but I like to see for myself how well a thermometer performs.
I conducted a couple of simple tests (which you can do yourself) to determine how fast and how precise the Maverick PT-75 really is.
Maverick claim an accuracy of +/-2 °F from 0 to 212 °F and a reading speed of between 2 and 3 seconds. Let's put that to the test.
Ice Bath Test
Water freezes at 32 °F. The Maverick PT-75 measured our iced water at an average 33.1 °F, though the displayed temperature seemed to bounce about a little during the test, going between 32.9 °F and 33.3 °F.
That is good enough, especially when you consider we used tap water for the test (tap water has impurities, so will not be precisely 32 °F) and is better than the claimed +/-2 °F.
Boiling Water Test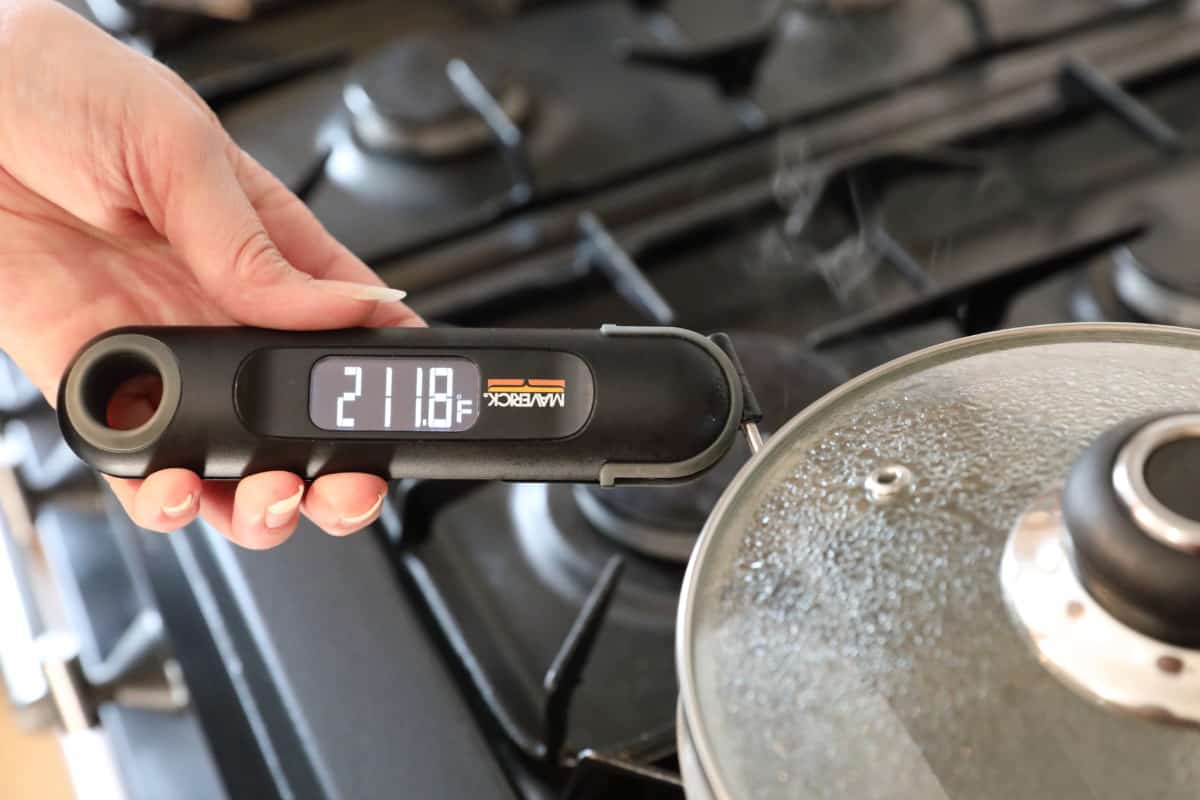 Water boils at 212 °F at sea level and slightly lower temperatures depending on your height above sea level. I live within 500 feet of sea level, so I would expect to see figures very close to or at 212 °F.
The Maverick PT-75 measured my pan of water at a rolling boil to be 211.8 °F. This is surprisingly close and good to see.
I typically like to see an instant-read thermometer within 1 degree Fahrenheit of reality if possible because when cooking steak to different doneness levels, 2 or 3 degrees can make all the difference!
A claimed 2-degree accuracy then doesn't blow me away, but it seemed to perform much better. I'd say this is an easy pass, and more than acceptable at this price point.
Speed of Reading
Maverick claims a read time of between 2 and 3 seconds.
In my testing, I can verify this is the case. Reading is sufficiently fast for everyday use. Faster reading thermometers exist — The Thermapen one, for example — but they come with much heftier price tags!
Although not the best I've seen, the Maverick PT-75 certainly passes the speed and accuracy tests and is easily good enough for grilling and smoking purposes.
Warranty and Support
Maverick provides a 1-year limited warranty on the PT-75 against manufacturer's defects.
If you have any issues, you can call them in New Jersey via the local or toll-free number. They're there Monday to Friday from 8:00a to 4:00p, Eastern Time. And you can email their customer support if you prefer. Either way, they can help you troubleshoot the issue or set up a return if need be.
Their website features a Help Center and FAQ section to help you figure things out on your own, and you can download the manual. There's also a Community section where people ask questions, and Maverick tries to answer them, but there's not a lot of activity here.
Final Verdict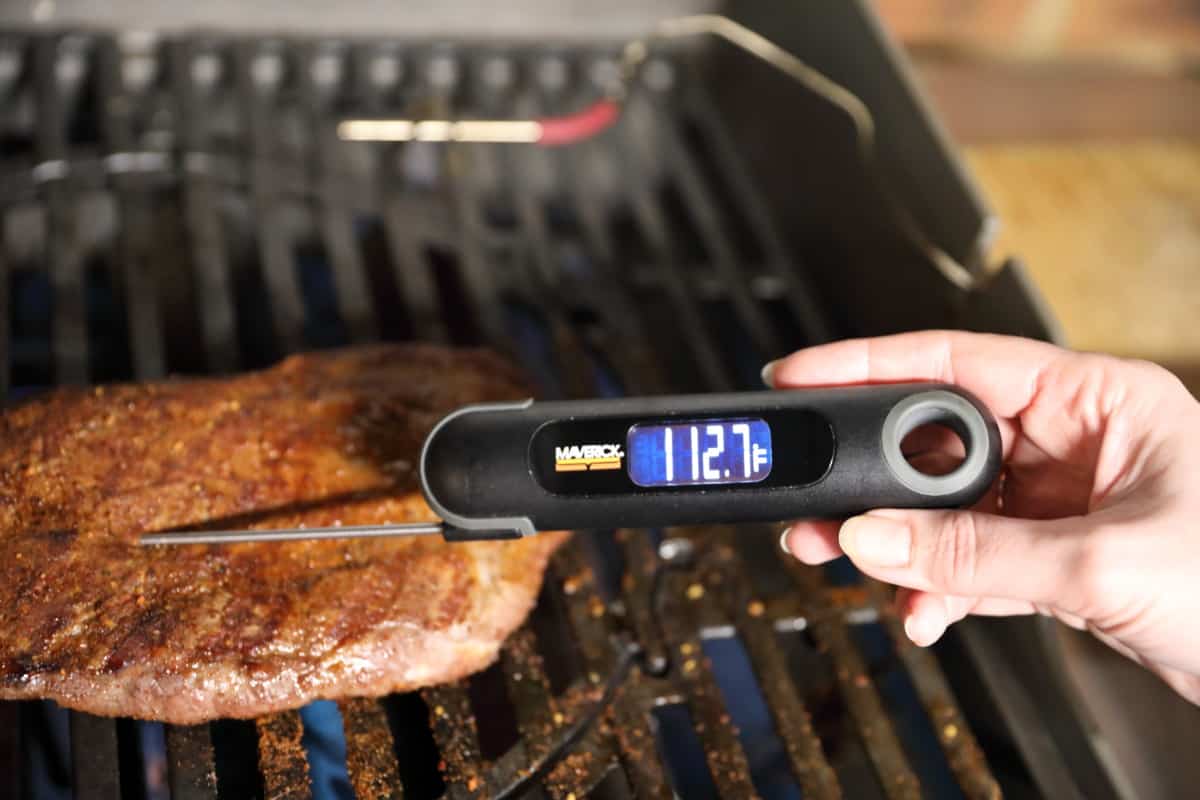 The Maverick PT-75 not only does the job faster than many other digital instant-read thermometers on the market, but it also does it more accurately.
On top of that, it combines several unique features that make it an upgrade from most of the competition, it being the only such thermometer we've ever seen that incorporates a count-up timer.
Summary of Pros and Cons
Pros
Cheap compared to many competing products
Fast and accurate for the price. There are better, but they cost more
Large, bright, easy to read screen
180 degree rotating screen
Unique count up timer that we've never seen on an instant read thermometer
Water-resistant, including a rubber seal on the battery compartment
A small doneness chart on the back, so you don't have to remember or search for target temperatures
Cons
Although the screen rotates, it's not automatic. You need to configure this.
Value for Money?
There are less expensive digital instant-read thermometers out there. But, few offer the same degree of accuracy, speed, and outstanding features as the Maverick PT-75 until you pay a bit more.
Considering all that it does and how well it does those things, you get what you pay for.
Do We Recommend the Maverick PT-75 Digital Instant Read Meat Thermometer?
Yes, we do!
Everyone who grills meat should own a digital thermometer. And anyone who truly cares about getting that meat cooked just right should own a good digital thermometer.
The Maverick PT-75 is a damn good thermometer that will satisfy grillers on a budget.
If you want and can afford the best of the best, we suggest checking out some more premium models of instant-read thermometer. But if you are looking for a cost-effective bargain, consider the Maverick PT-75.
Maverick 2-in-1 Temp and Time Digital Instant Read Meat Thermometer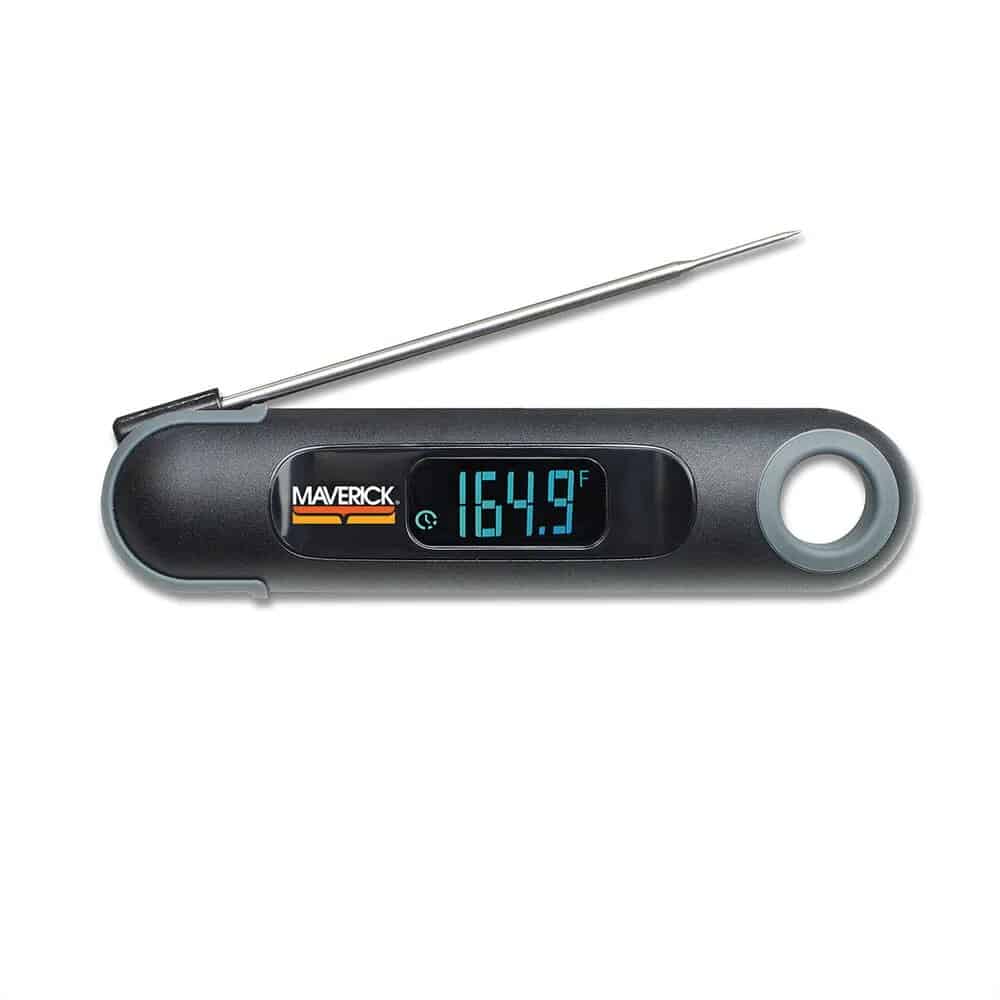 An instant-read digital probe thermometer with a 2-second read time, +/-2°F accuracy from 0 to 212°F, and a unique count-up timer that we haven't seen on any competing product.
With a rotating screen, C or F selection, a backlit white on black display, and a doneness chart on the battery compartment rounding out the features, this is a highly capable product at an affordable price.
In Conclusion
I get that there are stupid amounts of instant-read probe thermometers out there. It can be tough to make an informed decision with so many choices. But, trust me when I tell you, the Maverick PT-75 is head and shoulders above most of the entry-level crowd.
If you're a lefty, or even an experienced righty who knows that sometimes the "right" way isn't the best way to probe a cut of meat, the rotatable LCD is almost reason enough to buy one right now. Couple that with the count-up timer and the auto-undimming backlight (I don't know what else to call it!), and it's practically a no-brainer. Surely, we can all agree on that?