Meater is, by now, well known for their truly wireless thermometer probes, and we have covered them before in our reviews of the single probe original Meater and Meater+ products.
Today we cover their flagship product, the Meater block, a 4-probe truly wireless thermometer that can run standalone or connected to Wi-Fi for controlling and viewing on an app on your smartphone.
I have owned and used this product for six months, putting it through its paces via a handful of different cooks and scenarios.
So today, I cover what the Meater Block is, its unique selling points, how accurate the probes are, how easy it is to use overall, connectivity and range, and my overall thoughts on whether I like this product and its value for money.
So without further ado, here is my Meater Block review.
Disclosure: Meater sent me the 'Meater Block' free of charge so I could put it through its paces, test it, and write up an honest review. However, this does not affect any opinions expressed, which are entirely honest and solely my own.
General Overview
MEATER Block: 4-Probe Premium Wi-Fi Smart Meat Thermometer
A four-probe truly wireless thermometer system for use with BBQs, grills, kitchen ovens, and for tangle-free rotisserie.
Provides real-time temperature monitoring for up to 4 cuts of meat simultaneously, is Bluetooth and Wi-Fi enabled, able to show temperature information and alerts via a dedicated and beautifully designed app on your smartphone.
The app also has 'guided cook' functionality, which you simply follow along with for hassle free and successful cooks.
I am impressed with this device, and am happy to recommend it.
The Meater block is a smart wireless meat thermometer that allows you to monitor both the internal temperature of the meat you are cooking and the temperature of your BBQ (or oven) while cooking up to four pieces of meat using four wireless probes.
The wire-free temperature probes uniquely measure your pit and food temp by having two internal sensors. You insert the pointed metal end into the food you wish to measure, while the blunt black end measures the ambient temperature you are cooking at.
Each of the four probes connects to the bamboo Meater block, which then connects to your smartphone via Bluetooth or Wi-Fi, so you can monitor and track the progress of your cook and receive alerts about your BBQ temperature and when your meat has reached your desired doneness temperature. And the smartphone app provides cooking instructions and complete step-by-step recipes.
The bamboo Meater block is storage for the four probes, is a charging station for the probes, and can be used to set up cooks and display temperature information on its screen, so you can use it standalone without a smartphone if you desire.
First Impressions
Upon opening the packaging and seeing the Meater Block for the first time, I was struck by the sleek and modern design. Many BBQ thermometers are bright, plasticky, and industrial looking, but the Meater Block has clean lines, a minimalist aesthetic, and gives the impression of a premium, high-end product.
The bamboo block that houses the probes is beautiful and would look great in any outdoor or indoor kitchen. There's no need to hide this away when not in use, you can leave it on display with pride. It also feels solidly well-built in hand and made to last. I have clumsily dropped it a couple of times over the months, and it has survived unscathed, but admittedly this has only ever happened on soft grass…so far.
The probes instantly caught my eye with their shiny metallic and gloss-black look. They are sleek and modern looking but far thicker than the probes I am used to with other wired thermometer probes. This is, of course, because of the electronics inside each probe, but I did wonder about the ease of inserting something so thick into my meat and the width of the hole it would leave behind when finished cooking.
Each probe comes with a removable metal tag numbered one to four so you can more easily identify which is which when cooking numerous pieces of meat too. This is a nice touch because without this, some guesswork is needed, and mistakes could be made.
Overall, the Meater Block and the probes left me with the impression of being a well-designed, high-end, beautiful-looking product built to last.
Summary of Pros and Cons
Pros
Allows for precise temperature monitoring of up to four meats simultaneously, making it ideal for cooking larger meals or entertaining guests
Wireless connectivity and a smartphone app make it easy to monitor your cooks from a distance, with recipe suggestions also provided
Probes are well-made and durable, with individually numbered tags for easy identification if cooking multiple meats.
Dual sensors in a single probe allow for accurate temperature taking of both the food cooking and your BBQ temp with a single probe
The bamboo charging and storage block is eco-friendly, stylish, and modern and allows for charging the probes while in storage
Alerts for when your meat has reached your desired temperature, and programmable cooks with 'estimated' time to cook, 5-minute warning, and resting time alarms
Easy to use and setup, with the Meater app providing step-by-step instructions
The Meater Block can be used with or without the smartphone app, allowing for both remote monitoring or local use at the block without your phone handy
2-year warranty
Perfect for rotisserie cooking, without any wires seen or required!
Cons
The internal portion of the probe has a 212 °F maximum operating temperature that, if exceeded, can break things. Extra care must be taken to make sure the probe is fully inserted
The ambient pit probe end has a maximum operating temperature of 527 °F, which means you can cause damage if not removed before a screaming hot sear
Ambient temperature readings are unreliable when the meat is cold due to a cooler bubble of air around the meat
The block is not waterproof, so it needs to be kept out of the elements. Inconvenient as it needs to be near the probes during a cook.
Premium price point may be prohibitive for some
What's in the Box?
There's not a lot included, but there is exactly what you need:
Meater Block bamboo charging and probe storage block
Four wireless Meater probes (inside the storage block.)
Four AA batteries to power the block (and charge the probes.)
Four numeric metal tags for easy probe identification
Quick start guide with step-by-step instructions for use
The tiny manual has everything you need to get going, including how and where to get the smartphone app, setting up the block for the first time, and charging the probes.
It's sad to see that USB-C can power the block, and it's recommended you use this when the block is in use, but there is no power supply or USB cable supplied.
How the Meater Block and Thermometer Probes Work
Although a simple-looking device, it's a very clever design and does what it's supposed to do very well.
Let's first go over the basics.
How it works
The Meater probes are a 2 in 1 thermometer, with a temperature probe in each end that is separated by the thin demarcation line seen in the image below:
(Image of line on probe.)
The pointed metal end to the left of the line is the end you insert into your meat right up to this dividing line, so a sensor now inside the meat can report its internal temperature.
The shiny black end left protruding from the meat contains a second sensor that reports on your smoker's or grill's temperature, so you know what temperature you are cooking at.
The probe connects to the Meater Block via Bluetooth, sending both pieces of temperature information to be viewed on the block's screen. You can also connect to the block via an app on your smartphone.
Meater Cloud and Link
Meater Link is where you connect your smartphone and Meater Block to your home Wi-Fi, so you can monitor your cook on any Android or Apple device running the Meater app.
Also, with Meater Cloud enabled, you can monitor your cook from anywhere in the world where your smart device has an internet connection via a standard web browser.
Smart App with Recipes and Presets
The app is 'smart,' with step-by-step instructions for setting up a cook, recipes to follow, and interpreting temperature information and time to estimate time remaining for your cook, as well as when you should remove your meat from the cooker, to allow 'carryover cooking' to finish things and bring it up to your desired finished temperature.
When setting up a cook, you select the type of meat (beef, chicken, pork, etc.), your target temperature, and your target pit temperature, insert the probe and start your cook.
There is a short waiting period while information is collected, and then the app will tell you how long it estimates the cook will take.
There are also various count-up and count-down timers, and you can receive temperature alerts, so you never miss any important event or information.
Alexa Compatible
One final feature is that if you use the Meater Cloud, you can ask Alexa how your cook is doing.
You can ask how long it will be until your meat is ready or what the temperature of your meat or BBQ is.
Though I'm yet to use this feature and likely won't, it's useful for some, I'm sure.
A Detailed Look at the Meater Probes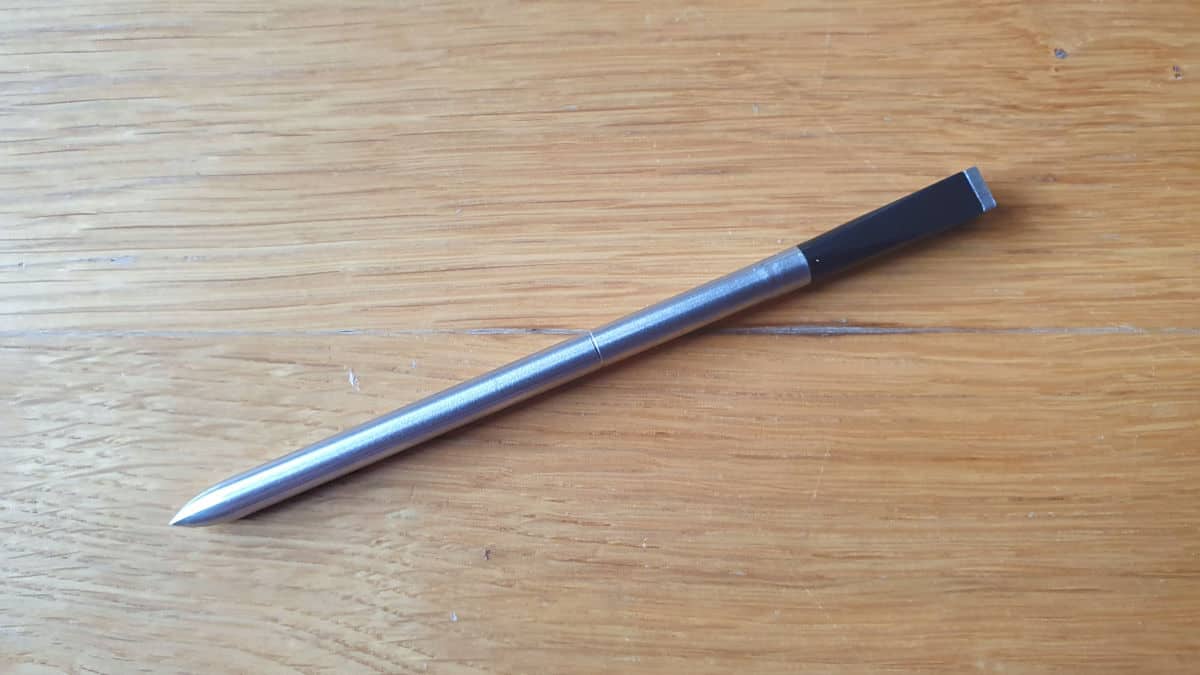 Meater probes look like a stainless steel dart without fins, with one end being black, shiny, and flat. They are approximately 5 inches long and a quarter inch thick.
One end of the probe tapers to a fine pointed end for ease of insertion into the food you wish to monitor the temperature of. And about a third of the way up from the pointy end is the internal sensor.
Moving up to just past halfway along the probe from the pointy end, you find a small etched but plainly visible band around the probe. This is called the 'safety notch.' You must insert the probe past this point for proper use and to prevent damage, as the pointy end must never exceed 212 °F.
Moving further up the probe to the wider, flat end, it is shiny and black. This is where the ambient temperature sensor is located, which monitors the temperature of your BBQ, grill, or oven. And it ends in a flat metal surface which is the charging contact, conducting electricity to charge the probe when inserted into the block.
On the very end (flat end) f the probe you also have a number between 1 and 4 for easy identification of which probe is which while in use.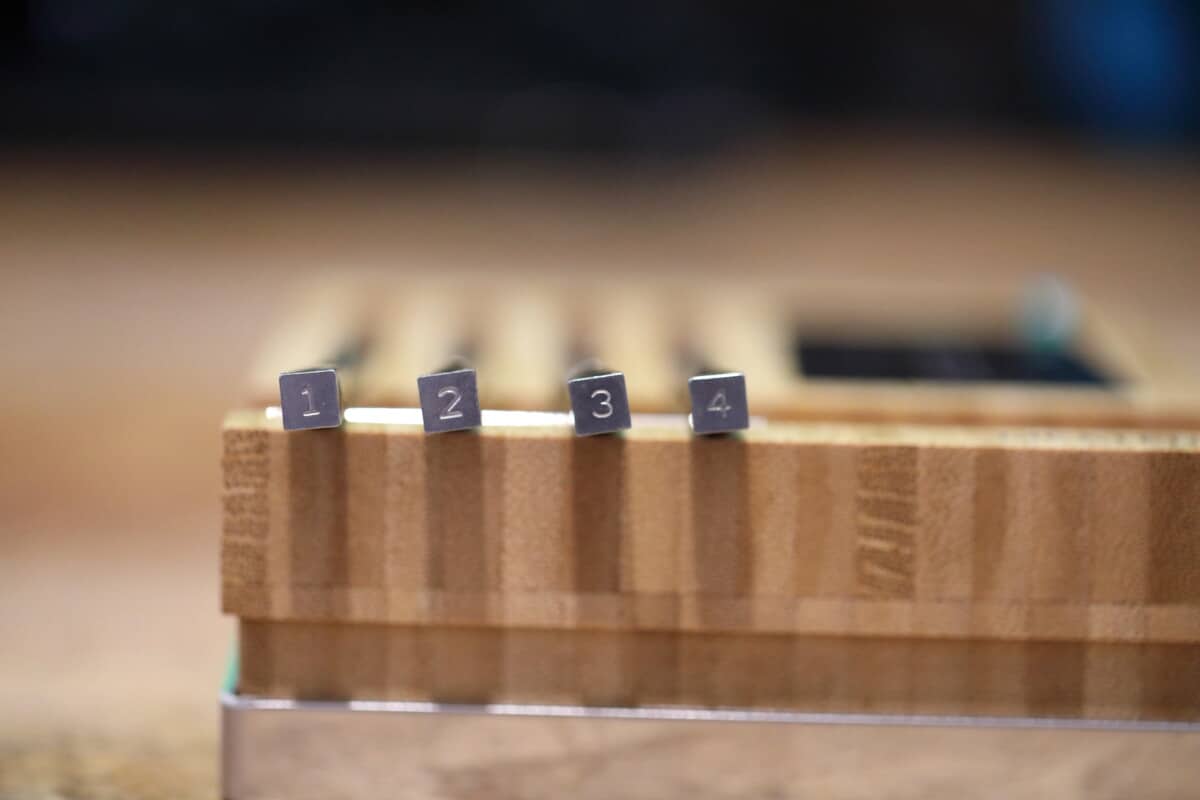 While the probe is water-resistant, it is not waterproof, so do not fully submerge it to prevent damage.
Meater have also provided some 'tags' you can place near the black end, for easier identification without having to see the end of the probes.
Overall, the Meater thermometer probe's design balances both form and function, offering a compact, visually pleasing, and easy-to-use device that is entirely wire-free, and looks very sleek and modern.
A Detailed Look at the Meater Block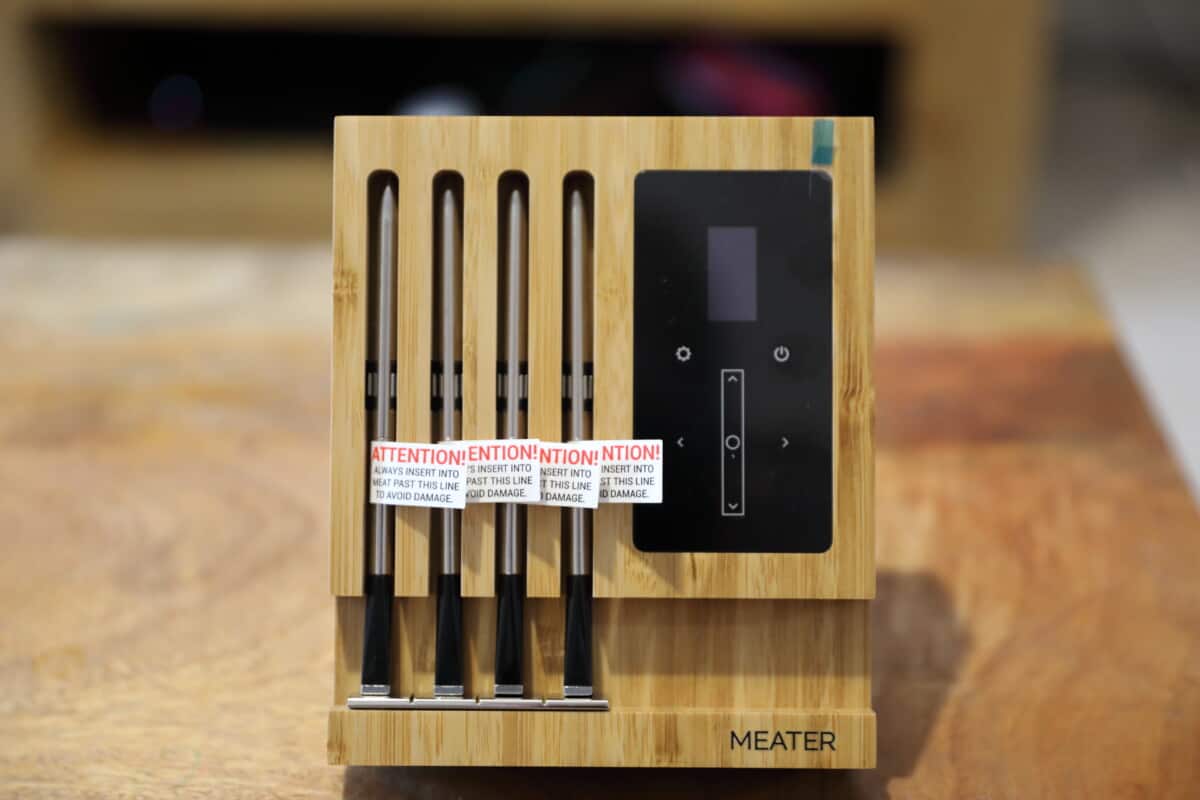 The Meater Block is an elegantly designed and highly functional charging station for the Meater Probes that doubles as a control center and a Bluetooth repeater for extending the range of the probes for viewing information on your smart device.
Although there are occasionally, rarely available promotional cherry wood or walnut versions, the Meater Block is almost always made from primarily bamboo.
It is rectangular, approximately 5 inches wide x 6 inches tall x 1.5 inches deep.
Being the recharging station, on the left side of the Block are four very obvious slots to house the probes when they are not in use, charging them up for future use. The slots have a notched-out area at the base, making it easy to remove the probes when needed.
On the right-hand side, you see a glass touchscreen and display, which you use to turn the device on, input initial settings, read temperature information, and set up the device for viewing over Wi-Fi, via Bluetooth, or locally on the Blocks display.
Moving to the rear of the Block, you find a bamboo cover that is held on magnetically, so it's easy to remove without any tools. Under this cover, you find the battery compartment and little else besides serial numbers and QR codes.
Also to the rear is a little metal stand that you can fold out to prop up the block at an easy-to-read angle when in use.
When you fold out the bracket, a USB port is revealed on the right side so you can plug in the Block during use to prevent it from draining the batteries, which you keep to charge the probes when in storage.
The USB connection is a micro-USB, a slightly older connection and technology than the USB-C we see on everything today, but the block is a number of years old at this point.
I find the stand to be sturdy enough for use, and keeps everything accessible and at an angle that is easy to see.
Using the Meater Block and Probes to Cook
Before we can use the Block, we need to get things set up. It's a simple one-time process.
And once you have the device set up correctly, I honestly find it extremely easy to use.
Getting Set Up
As always, with anything internet connected, there is a little work to do upfront.
First of all, you need to set up a Wi-Fi connection on the Meater Block itself using the touchscreen. It's what you'd expect, in that you have to enter your network ID and password.
Then, you need to download the Meater app (from Google Play or the Apple Store) and install it. The app then has simple-to-follow instructions for you to get set up and connected.
Finally, you need to sign up for a Meater Cloud account if you wish to get cook information on any web browser with an internet connection.
Once all of the above is done, I found using the Meater probes, Block, and smart device app is simple.
Using the Probes
During my use, I found the probes simple to use, but you must follow the manufacturer's instructions.
To insert the probes, simply insert them into the thickest, most central part of the meat you are cooking until up past the 'safety notch band,' and then you are good to go. It's that simple.
However, they do have some downsides if you are used to thinner probes from other thermometers.
Because the probes contain electronics, they are necessarily thicker than you may be used to. This makes them slightly harder to insert. However, I found the chunky end does help with its flat end, which I could press with my thumb or finger.
Also, because they are slightly thicker, they do leave a larger 'hole' than you may be used to if you've used thinner probes before. On large roasts and big cuts of meat, that's not an issue, but it does change the presentation on thinner cuts for sure. This doesn't affect the end product but is something to be aware of.
I found removing the probes easy because the protruding end is slightly flared, providing a good grip on which to pull.
The probes are water-resistant, too, so you can wipe them down with a soapy cloth and then rinse them for cleaning.
Finally, replacing them back into the block is easy. It's obvious which way they go, and once inserted, they turn off automatically and begin charging.
Speed and Accuracy
The speed with which the Meater connects to the app and displays temperatures is fast and impressive. I see information in the app within seconds of removing a probe from the block. And the temperature information updates frequently and sufficiently.
Where I do see some issues, though, is with the accuracy of the temperatures given.
I typically do an iced water and boiling water test for my thermometers to see how close they are to these two ends of the temperature scale seen during BBQ. But the Meater probe is not entirely waterproof, so I compared it to the readings on my Thermoworks Signals and Thermapen One, which have proven accuracy.
The internal sensor proved accurate, and can be depended upon. It was never more than 2 °F away from what my Thermapen reports, and often the same.
However, the ambient temperature probe was sometimes as much as 20 °F different from what my Thermoworks reported, and even two Meater Probes inserted into the same meat, in a similar area, during the same cook showed up to 20 °F apart!
This is not good, and I really don't like it. I would have expected far better accuracy. Will it affect a cook? Well…
We all use kitchen ovens that can vary in temp by as much as 25 °F. If you set an oven to 225 °F, it will swing between 200 °F and 250 °F, and we just never see it or even care.
Also, a difference of 20 °F in BBQ in ambient cooking temperature will not ruin your cook or your meat. However, it will impact your predicted cooking times, sometimes by hours if cooking a brisket or pork butt.
If you have notes on previous cooks that say a particular cook takes X hours at a certain cooking temperature, you may find it takes 90 minutes more or less. A pain, for sure.
Known Inaccurate Ambient Reading at the Start of a Cook
There is a known period of time at the start of a cook where the ambient air temperature reading is incorrectly low.
This is because when you start a cook, your meat will be mostly at a fridge temperature of 40 °F or less. This creates a small bubble of cool air around the meat, and this is exactly where the ambient sensor is sitting. Once the meat heats up a little during cooking, this phenomenon disappears.
To counteract this:
Insert the probe in such a way that it is as close to the cooking grate as possible.
Insert the probe so it's close to 90 degrees to the meat surface, parallel to the grate if possible, and as far from the meat as possible.
The 'sacrificial potato trick.' Initially, insert your Meater into a potato and place it on the grate at the start of a cook. There is no cold air bubble. After a short time, once the meat has started cooking, remove your probe from the potato and insert it into your meat for the rest of the cook.
This incorrect ambient reading at the start of the cook is to be expected, and you can work around it with this knowledge. It's unavoidable, it's physics, plain and simple. So work with it and all will be fine.
Probe Range
I have used my Meater Probes in everything from a Weber Kettle to a Kamado Joe Big Joe ceramic grill, a Z Grills pellet smoker, to a Masterbuilt Gravity Fed.
In my experience, I get somewhere between 10 and 30 feet of working distance before the probes fail to connect (or stay connected) to the Meater Block.
The lower end of 10 feet is for my metal grills and smokers, and the upper end of 30 feet is for my ceramic smokers.
So the distance between your probes and the Meater Block will vary depending on the cooker you use, but in my opinion 10 to 30 feet is ample.
The manufacturer states 165 feet range due to the connection being Bluetooth. And yes, I have connected my probes to the block through clean air at something like 80 feet through my house walls. BUT…once the probes are inside a thick ceramic Kamado Joe, or a metal grill or smoker, I get nowhere near this distance as the signal is blocked.
I Suffer from Occasional Connectivity Issues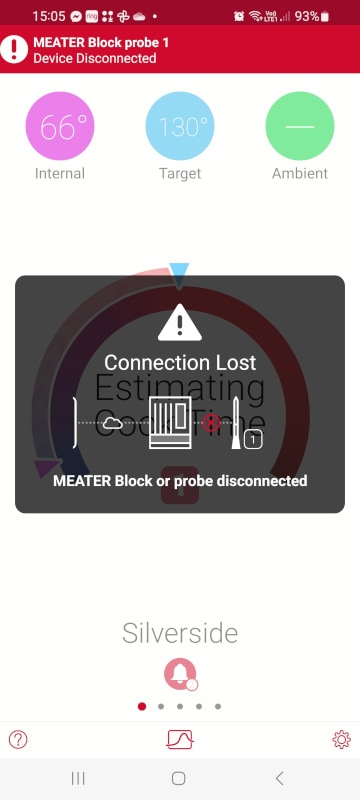 During my use of the Meater Block and probes, I have suffered a few connectivity issues.
I would be mid-cook, and a disconnect notification would come through on my phone, and all temperature information for a probe would be (temporarily) gone.
I'm fairly sure the issue is with the connection between the probes and the block, not between the block and my smartphone.
So to try and solve this, I moved the Block as near to my grill or smoker as possible, but the issue still occasionally popped up.
How often did this happen? Not every cook. But during some cooks, multiple times.
I've cooked on different grills and smokers, and there seems to be no pattern I could determine. It happened sometimes not at all, and other times multiple times, on the same grill or smoker, in similar conditions.
In all instances, it reconnected itself, and I carried on cooking regardless, and none of my cooks were spoiled. But the disconnections were frustrating at times.
I've no idea how to get around this, or why it happens. It's not often, but I would like to see it never happen at all!
Standalone Mode
I think it's great that Meater has added the capability to use the Block in standalone mode, whereby you can go through an entire cook using only the touchscreen and OLED display on the block.
You get all the features of the guided cook, selecting what type of meat and cut you are cooking, target temperatures and everything.
In standalone mode, they leave nothing out, and it's intuitive and easy to set up cooks.
It works well if you do not have your phone handy or wish to use the device in places without Wi-Fi access.
But let's be honest, we will pretty much always be using our phones. I always use the app and only went through standalone mode to see how it works. The app is just so much better and easier to use.
The Meater App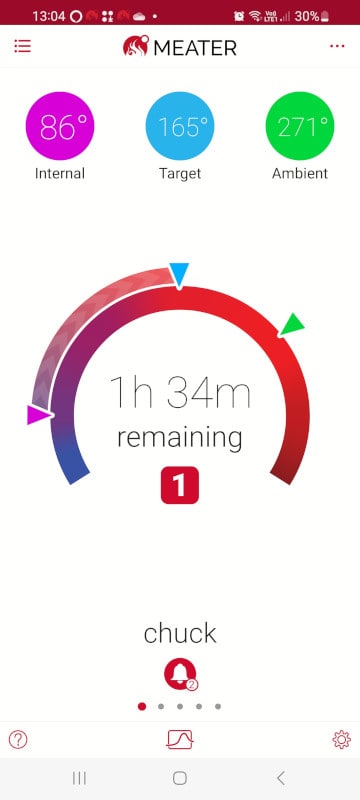 Compared to 'standalone mode', the Meater App provides far better ease of use and extra functionality.
I own an enormous amount of BBQ equipment, and much of it is 'internet connected' with an accompanying smartphone app. Many such apps seem to be an afterthought and are poorly designed. Not so with the Meater app!
The Meater App looks great and works great. It looks beautiful and is a joy to use. You can tell it has had a great deal of thought go into how it looks, and a lot of thought gone into the user experience.
When you first open the app, a brief tutorial is triggered that helps you to get set up.
Once set up, you get to choose between either a guided cook (more on that in a second) or to set up a custom cook. A custom cook, you simply set up your pit target temperature and your meats target doneness temperature, then get cooking.
With a guided cook, you select one of 5 categories for your meat: beef, pork, poultry, lamb, or fish. You then choose the specific cut of meat you're cooking from within that category. Finally, you select from different doneness options from USDA-recommended safe temperatures and guidelines.
As an example, you may select Beef — Sirloin — Medium-rare.
At this point, you do get to tweak the target doneness temperature if you disagree with the preset values.
You now also set the target temperature of your grill or smoker, and high and low values to receive alarms if your cooker gets too hot or cold.
Now you can start your cook. Temperature information displays on the app, and after some time and collection of information, a clever algorithm shows you the estimated time left to cook your meat.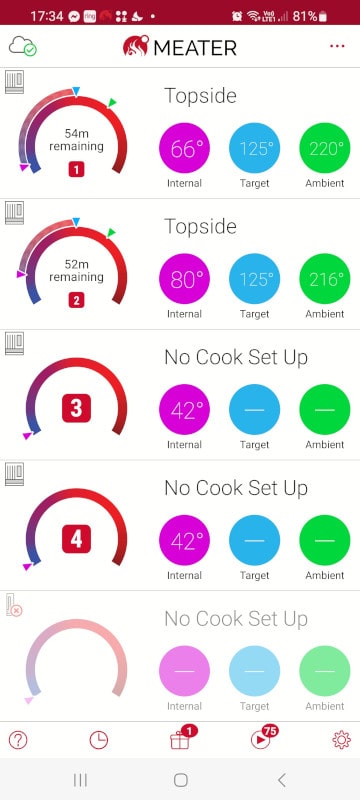 The app will notify you when it's time to remove your meat from the cooker, and does so when it is below the final target temperature, as it takes carryover cooking into account. Clever stuff, indeed!
I find the guided cooks pretty much spot on. I'm happy to rely on the recommendations from the app and follow the guides for my cooks, and I have been very happy with the results.
The Perfect Thermometer for Rotisserie Cooking
If you ever do rotisserie cooking, the Meater is worth its weight in gold.
Being truly wireless, there is no wire to get wrapped up around the spit as your meat spins. A huge problem for traditional thermometers with wires between the probes and controller, which inevitably ends up in disaster!
The Meater does away with this problem, so you can monitor the temperature of your rotisserie cooked foods worry-free, remotely from your smartphone.
So if you ever do rotisserie cooking, I strongly recommend giving a Meater thermometer, at least a single probe version, some serious thought.
Tips for Use Learned Over the 3 Years I've Used Meater Products
Insert your probe(s) into the thickest part of the meat, and at a 90-degree angle, parallel to your grates if possible. This will ensure the most accurate ambient temperature.
Ensure the probe does not touch any bone or excess fat, which can throw off the reading.
Initially, use a 'sacrificial potato' with the Meater probe in to set your ambient temperature. And accept it may be as much as 20 °F off. If you want to cook 'low and slow,' aim for 250 °F. It will be somewhere between 225 °F and 275 °F, which is perfectly fine. Trust me!
Do not have your Meater probe inserted for direct heat searing. They are intended for indirect heat cooking only, up to 527 °F / 275 °C temperatures. I have read many people complain of damage after direct heat cooking. Sorry, but that is user error!
The Meater App estimated time left to finish your cook provided by the app can only be accurate if you maintain a consistent pit temperature. The time estimate will be wrong if your grill or smokers temperature swings. Get your temperature control right and consistent, then the estimated time left is accurate.
The Meater App suggested time to remove your meat is under finished temperature and considers 'carryover cooking.' Some of you may be used to resting meat under loose foil or tightly wrapped in foil, but this will result in overcooking. The app assumes resting uncovered at room temperature.
Double-check your finished cooking temperatures with a good instant-read thermometer if you can. This is good practice anyway and allows you to check multiple places in your meat with the highest degree of accuracy possible.
Warranty and Support
You get a 1-year limited warranty against manufacturer defects. They have teams in California for North America, NSW for Australia and New Zealand, and in the United Kingdom serving the rest of the world. You can contact them via email or regular mail.
For help during use, there is a comprehensive list of FAQs that is easy to navigate and a library of short videos you can follow along with.
There is also a 30-day money-back guarantee during which you can request a full refund minus a 15% restocking fee.
There is also a blog you can follow and a good social presence on YouTube, Twitter, Facebook, and Instagram.
Manufacturer Specifications
Let's take a look at the manufacturer's specs before wrapping things up with a conclusion.
Probe Specs
Wireless Bluetooth connection
Maximum internal operating temperature: 212 °F / 100 °C, (meat)
Maximum ambient operating temperature: 527 °F / 275 °C, (BBQ)
Stainless steel and ceramic construction
Water-resistant, easy to clean and maintain
Dishwasher safe
Rechargeable (performed when probe is in the storage block.)
Battery provides over 24 hours of continuous cooking
Dimensions: 130mm length and 6mm diameter
Numbered for easy identification
Block Charger Specs
Built-in Wi-Fi repeater extends wireless range
Connects to Meater Cloud for remote monitoring
Stores and and charges your four Meater probes
Runs on 4x AA batteries or USB-C
Made from eco-friendly, natural bamboo wood
OLED display with touch capacitive control for local operation without a smartphone app
Max outdoor operation temperature: 60 °C
Dimensions: 132mm L x 39mm W x 157mm H
App Requirement
iPhone and iPad apps for iOS 12.2 and later
Android app for version 8.0 and later
Final Verdict
MEATER Block: 4-Probe Premium Wi-Fi Smart Meat Thermometer
A four-probe truly wireless thermometer system for use with BBQs, grills, kitchen ovens, and for tangle-free rotisserie.
Provides real-time temperature monitoring for up to 4 cuts of meat simultaneously, is Bluetooth and Wi-Fi enabled, able to show temperature information and alerts via a dedicated and beautifully designed app on your smartphone.
The app also has 'guided cook' functionality, which you simply follow along with for hassle free and successful cooks.
I am impressed with this device, and am happy to recommend it.
So, in my opinion, is the Meater value money? Am I happy to recommend it? Let me summarize:
What We Like
It's a great-looking device that is sleek and desirable. You'd be happy to have it kept out on display in any kitchen or outdoor BBQ shack.
The app is wonderful. It's beautiful looking and intuitive and easy to use.
The guided cooking functionality is excellent. You can simply select what you are cooking, insert a probe, and do what you're told when the app notifies you to. No need to google cooking instructions or estimate times, as the app does it all.
The 4 probes connecting to one block, with all temperature data on one single display is a nice touch to cook multiple foods simultaneously.
No wires are a nice touch. It just looks far neater, and there's nothing to snag or get caught on while moving around during your cook. Plus, it's perfect for rotisserie cooking.
What Could be Improved
The ambient temperature sensor just doesn't seem as accurate as it should be. I've seen 20-degree differences between two probes next to each other in the same cut of meat.
Connectivity issues exist between the probes and block. I get that radio signals find it hard to get through metal walls (i.e., a grill or smoker), but you would expect no issues with the block being right next to the grill.
A rechargeable battery would be nice, rather than having to use AA batteries. They have included the option for USB power to the block, so why not make use of this to recharge an internal battery?
Finally, it's not exactly a cheap product.
Do I Recommend The 4 Probe Meater Block?
I am happy to recommend the Meater Block, yes.
It is beautiful looking, with probably the best smartphone app I have seen for a BBQ related product, that combined really does make BBQ and grilling easier, more accurate, less hassle, and ultimately guides you to better results.
As I've discussed above, it's not without issues, but overall I think it presents great value for money, and I use mine all the time, not just outdoors but also in the kitchen.
Conclusion
Thank you for visiting my Meater Block review.
I hope I've covered all bases and answered all your questions, but if there's anything else you'd like to know, please do drop a comment below, and I will get back to you ASAP.
Best of luck on your truly wireless grilling adventures!