After recommending them for ages now, we feel it's time for a porter road review so that we can direct people here to learn all about this high quality meat delivery service.
Ordering meat online is not only a barbecuer's dream-come-true, it's also a sensible way to shop in the 21st century.
And to help you find the best service for your needs, we've written a series of online meat delivery reviews. Today, let's head down Porter Road and see what we find.
If you don't live near a good butcher or farm, you're probably restricted to buying meats from the local grocery store, and accessing quality meat may not be easy. And even if you do, you still have figure out your order, go to the shop, and cart it all home again.
How great would it be to just wait at home for all that succulent meat to arrive packed and ready to enjoy?
Online meat delivery services offer great products and total convenience. That's why they've really taken off recently. In fact, there are so many options now, it's hard to know which one to choose.
Well, let our in-depth reviews take a load off your shoulders — and put one in your freezer, instead.
Porter Road is one of the stand-outs from the crowd of online meat delivery services. We'll delve into their history, what they sell, and how you get it from your computer screen to your grill. Plus, we'll look at shipping, packing, pricing, quality, and how they stack up against the competition.
By the end of the article, you'll know if it's time to surf on or stock up. Bring on the meat!
Porter Road Overview and the Story Behind Them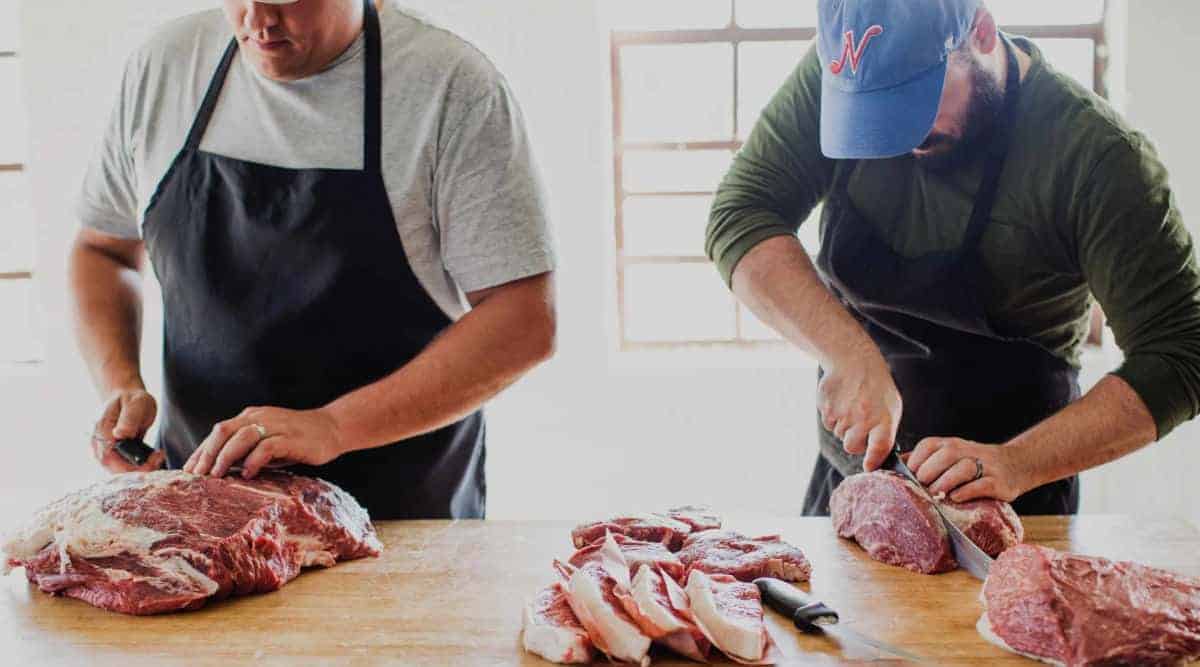 When you head to their website, you'll think Porter Road hired some good ol' boy with a good camera. There are no glamour shots or stock photos here; just regular-looking dudes ranching, butchering, cooking, and enjoying.
Personally, I like them already.
The two founders of Porter Road met while working in a Nashville, Tennessee, restaurant kitchen. From there, the duo started a catering business.
Like many of us, they soon found it wasn't easy to find high quality, local meat. Recognizing a need, in 2010, they shifted to sourcing and processing meat full-time, selling it in their own butcher shop. In 2017, they took their business online.
Porter Road continues to take a very active role in sourcing quality meat. All partner ranches and local farms are visited regularly to ensure their standards are met. No hormones, no antibiotics, and all their partner farms operate on sustainable models.
The animals they purchase are raised outdoors: beef, lamb, and poultry are pasture-raised, while the pork lives in the woods, just rooting about and doing what they do. They all eat a non-GMO, vegetarian diet, and are ethically cared for.
Once chosen, each animal is processed at the Porter Road facility in Kentucky. All their meat is hand-cut and trimmed for minimal waste. Beef is a minimum of 14 days dry-aged to enhance the flavor.
It's worth noting that "pasture-raised" is not the same as "grass-fed." While their animals predominantly eat a grass diet, they also eat whatever naturally appeals to them in their environment. Additionally, they supply a healthy grain supplement for finishing.
Selection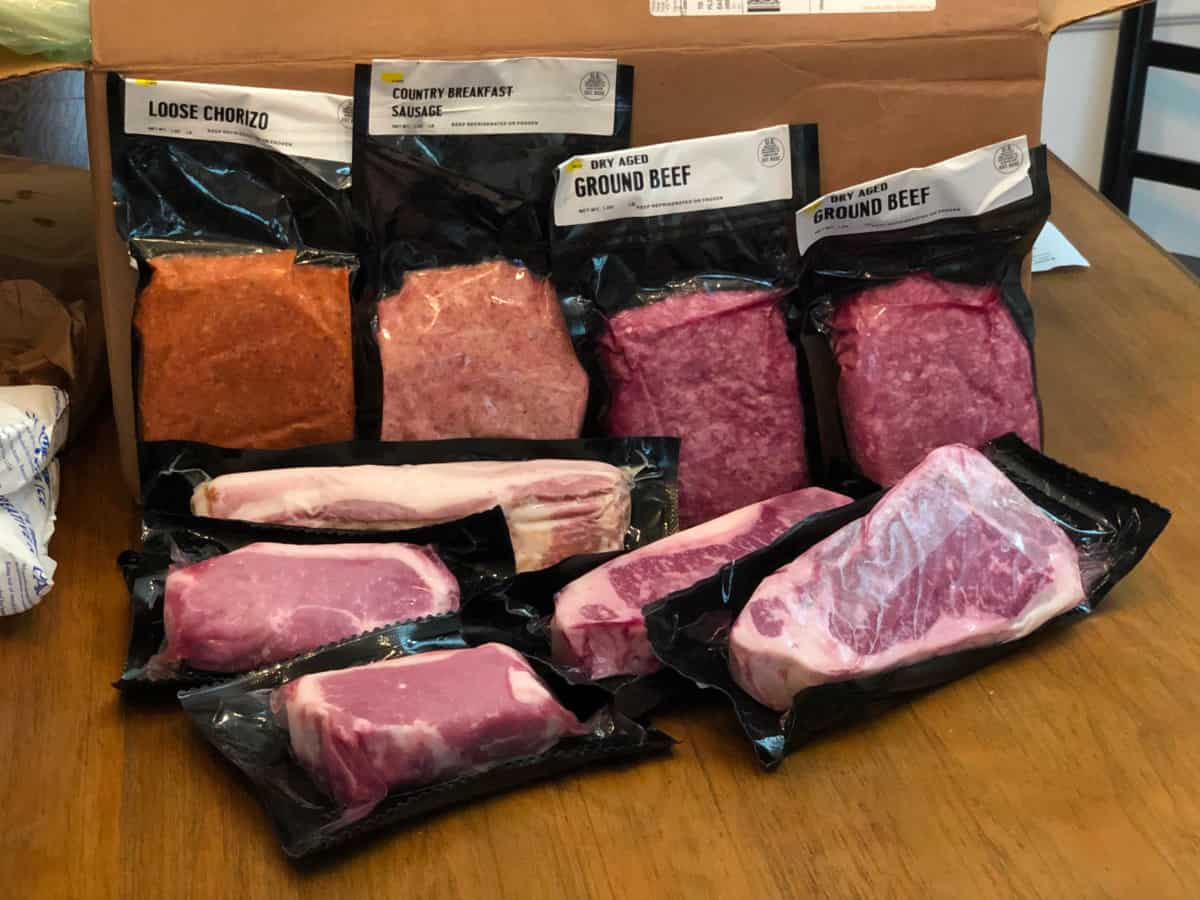 Porter Road meats include beef, pork, lamb, and chicken. Your options range from budget cuts to premium, so you're likely to find everything you need for everyday dining and special occasions.
Let's check it all out section by section.
Beef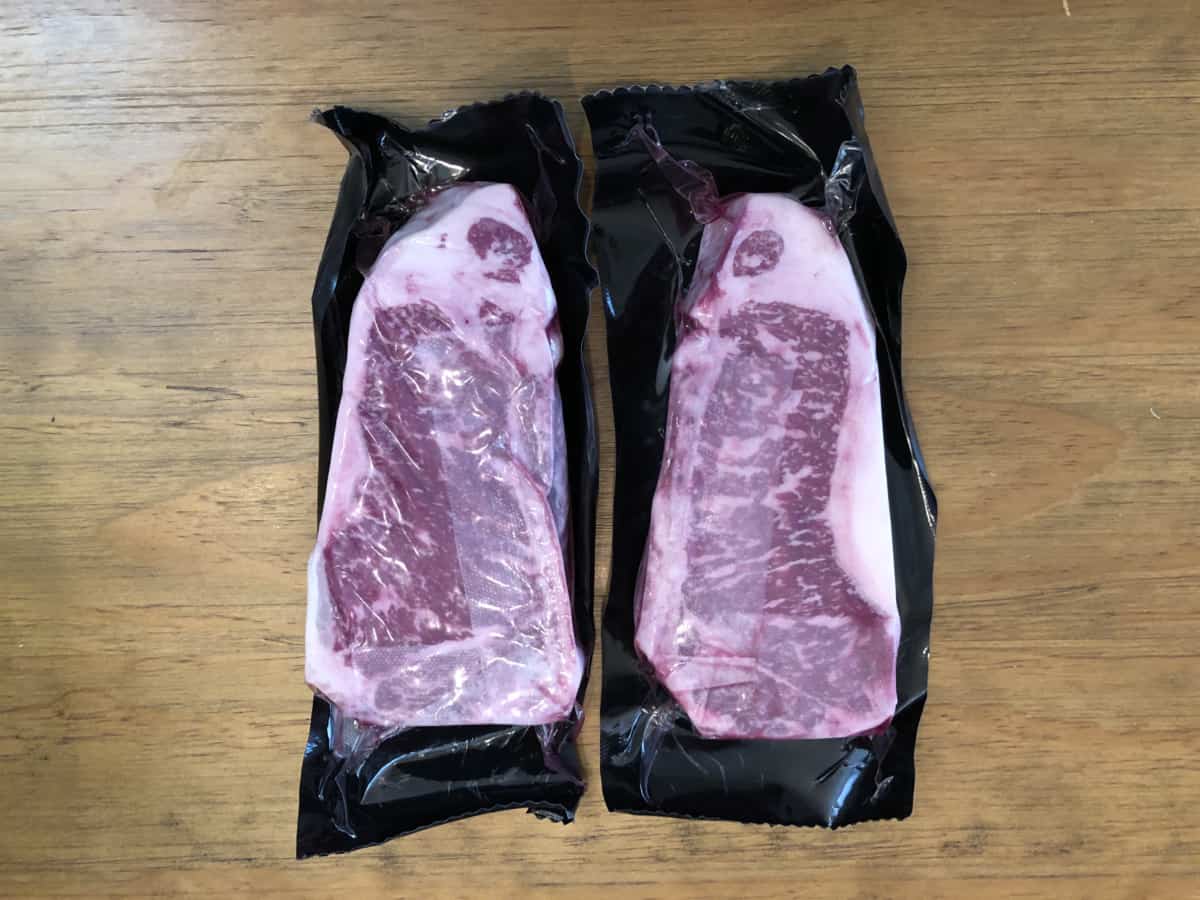 There are over 45 options on the beef page, ranging from all-time favorites to more obscure cuts. That level of variety is one of the advantages of buying from a whole-animal butcher.
Ground beef and pre-made burgers are here, as well as a 50/50 ground beef and bacon blend that sounds incredible.
You smokers will be happy to see brisket, tri-tip, chuck roast, and more on the list. Grillers will delight in beautifully marbled chuck eye steaks, filet mignon, and NY Strip. Or, get adventurous and try a Denver Steak, Heart Steak, Flat Iron Steak, or some beef bacon.
You won't get bored, ordering from Porter Road.
Pork
Ribs, sausages, bacon, pork chops, tenderloin — it's all here. You'll find rare cuts here, too, such as jowl bacon and pork cheeks.
Porter Road gives you plenty of reasons to put pork on your fork.
Lamb
The whole-animal approach continues with their succulent-looking lamb.
Start at the neck, move to the shoulder, then on to the leg, ribs, and shanks. There are even lovely little Lamb T-bones for some tasty, Instagrammable fun.
Chicken
Choose from whole chickens or pieces to suit your needs.
You can even pick up chicken bones for soup, or just buy their pre-made chicken stock and make it easy on yourself.
Bundles & Boxes
You can buy everything from Porter Road à la carte. But, you can also opt to go with convenient, pre-made porter road meat boxes.
Currently, at the time of writing, they offer 7 bundles or packages:
10-pound ground beef bundle
5-pound ground lamb bundle
10-pound ground chicken bundle
4-pound bacon box variety
11-pound Stay at Home bundle, including ground beef and pork, and 2 kinds of sausage
4-pound Basics Box, including a variety of proteins and cuts
6-pound Grill Master Box, including sausages, steaks, patties, and more
Shopping Options
You can scroll through each category and choose what you like, of course.
But, you can also shop based on how long you want to spend cooking (under 15 min., under 30 min., under 1 hr., under 2 hrs., or all day), or your cooking gear and cooking method of preference (Crockpot, grill, oven, skillet, or sous vide).
Porter road have really made the shopping experience easy here with these logical, helpful features.
Subscriptions
Prefer the added convenience of subscription boxes? Porter Road offers that service, too.
It's a simple, cancel-anytime service. Just pick your curated box, your frequency, and any add-ons you'd like. Opt for a new order every 2, 4, or 8 weeks — shipping is free, no matter what you get or how often.
Currently, they offer five subscription boxes in a variety of sizes, themes, and proteins.
Grading
None of the beef sold by Porter Road comes USDA graded, though it's all federally inspected, of course.
This is not uncommon when buying meat from small farms. Porter Road claims that when, occasionally, one of their partners does grade their meat, it comes back as Prime or Choice Plus.
When checking out their beef, it's clear that it has great marbling, quality and is packed with flavor.
Packaging
Porter Road ships most of their meat fresh, with a few frozen exceptions, like sausages, ground meat, and large roasts.
Each cut is individually vacuum-sealed for shipping. Your order comes packed in a cardboard box with cooling gel packs and insulated with Green Cell Foam.
This bio-degradable foam is made from corn, and you can compost it, dissolve it with water and let it go down the drain, or set it on fire to start your grill.
If you go to the Green Cell Foam website, you'll actually see a box from Porter Road prominently displayed.
So the packaging is effective at ensuring fresh meat is delivered while being environmentally friendly. Something that deserves praise.
Ordering Process
As you see items you want to buy, just click "Add to Cart." When you're ready to buy, click "Proceed to Checkout," and you're on your way.
Here, you've got the chance to review your orders, and to add or subtract items before you finalize.
For express checkout, choose ShopPay or PayPal as your payment option and follow the on-screen prompts.
You can also fill in your personal information, select your shipping option, and pay by credit card. Regular users can save their shipping and billing info for faster checkouts in the future.
Shipping
Because they ship mostly fresh meat, Porter Road is necessarily limited in where it can deliver. So, if you're outside the 48 contiguous states, you're also out of luck.
Your shipping costs will vary depending on where you're located. I did a sample order of a few items totaling about $75. My fee for Standard Shipping (the only option) to New York was $15. To ship to California was $40.
If your order comes to $100 or more, you'll enjoy free shipping with your delivery. So in my opinion, you should make $100 your minimum spend, to get maximum value from your spend.
Price
There's a terrific variety of price points with Porter Road meat, from high-end to budget-friendly. Here are some sample prices on popular cuts, correct at time of writing on 7th Oct. 2020:
Whole brisket — 8 to 10 pounds, $90
Burger patties — 4-pack of 1/4-pound patties, $10
New York Strip steak — 11–13 ounces, $21 each
Bone-in Pork Chop — 11–13 ounces, $9 each
Lamb Cops — 8-pack, $49 (1.5–2 pounds)
Chicken Drumsticks — 4-pack, $10 (1–1.5 pounds)
The prices are not outrageous, though they are a bit high compared to your grocer or even some local butchers.
But, the convenience factor is there. Plus, this is high-end pasture raised meat sourced from small local farms, not mass-produced meat.
Really, it's not a huge splurge, and the quality should be excellent. Put another way, you'll get good bang for your beef buck.
How Good is Porter Road's Product?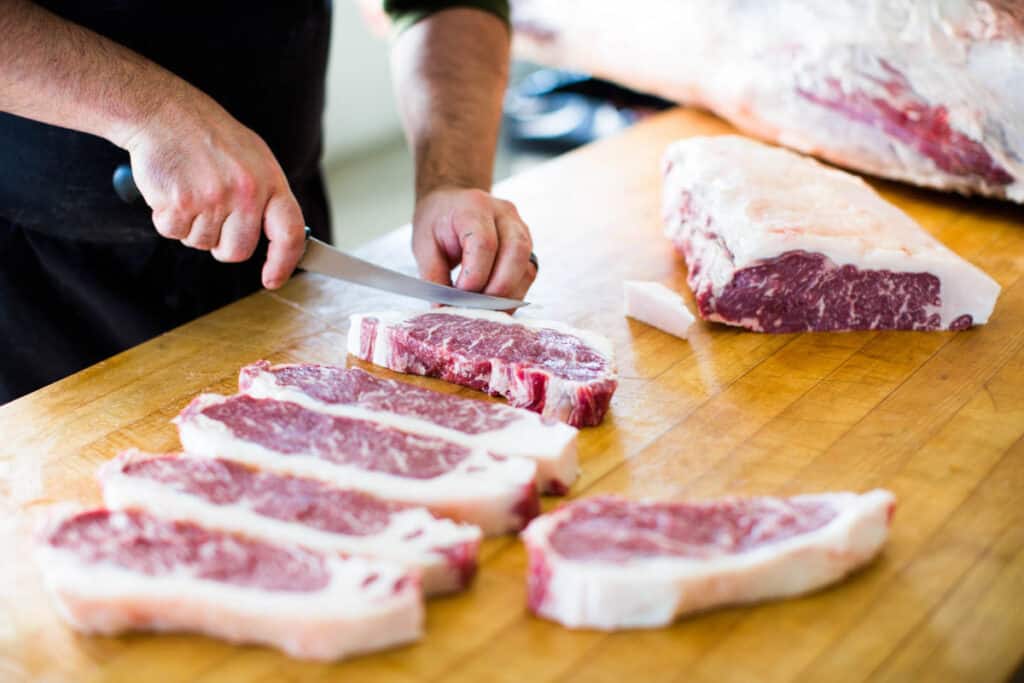 Porter Road sells wholesale to an impressive array of restaurants and other food service operators. If it's good enough for them, you've got nothing to worry about.
Other reviewers noted how pleased they were with the speed and quality of the delivery. Products arrived quickly and nice and cold inside.
Most importantly, reviewers heaped praise on the quality of the meat. Beef cuts, chicken, sausages, steak — everything got the thumbs up.
Comparing Porter Road With Competitors
These guys have done a good job balancing a predominantly à la carte service with subscription service options.
They don't have the variety of protein options you get at Crowd Cow or Omaha Steaks, nor the fully-realized custom subscription boxes service of Butcher Box. But, there's more than enough at Porter Road to keep you interested for a long time. Plus, you'll find unique cuts few others have.
There are no super high-end options like you get with Snake River Farms in terms of price and quality. That's ok, though — the value is excellent when you look at the care put into selecting conscientiously raised animals and butchering by hand on their premises.
When it comes to being hands-on, Porter Road butcher and meat deliver service appears to have no equal.
What We Like
Porter Road offers subscription boxes, bundles, and à la carte ordering, and I like having those options.
Where I live, peak grilling season is brief, so it would be ideal to have a regular order come in for a few months. Then, I'd go back to ordering piece by piece for the rest of the year, and buy a bundle to stock up on some staples.
If you enjoy a variety of meats, Porter Road delivers (yes, literally). Especially in their beef category, there are some unique options you just don't see often. How about buying something for my hanger steak recipe? Or perhaps some Oxtail? Hey, why not!
Shipping fresh meat is fantastic. That gives you the chance to cook something immediately, chill a few cuts in the fridge for the rest of the week, and stick some stuff in the freezer for later.
What Could Be Improved
There is no option for expedited shipping, so be sure and give yourself time for your order to arrive if you're planning something specific.
There are never options for the size of cuts, but they are generously portioned, so not a big worry.
My maternal grandmother's maiden name was Porter, and yet I was offered no discount, haha.
Final Thoughts
Porter Road has carved out a niche for itself in the online meat delivery marketplace.
They sell good-quality, but not premium meat. Their prices aren't for bargain hunters, but neither are they wallet-shredders.
They've hit that sweet spot of selling meat to people who appreciate quality food, but don't feel the need to buy the very best of the best and damn the dollar signs. I'd call this "affordable luxury."
If you're still on the fence, or just like to explore all your options, check out our other reviews of online meat delivery services.
Thanks for reading! We invite you to hang out with us both here on the site and on social and discover how to live your best barbecue life.