There isn't much you can't order online these days. In the past couple of days alone, my home has placed orders for loose-leaf tea, clothes, and softball training equipment. And for you, barbecue lovers (which ought to be everyone reading), a world of butchered meat is just a click away.
Snake River Farms is one of the top players in this space, and we're about to learn more about them in-depth.
After a brief overview of the company, I'll take you through what they offer, the ordering process, and shipping details. I'll also share thoughts on meat quality and how they stack up against the competition in terms of price and goods.
By the end, you'll know if Snake River Farms is the right online meat delivery service for you.
Snake River Farms Overview and the Story Behind Them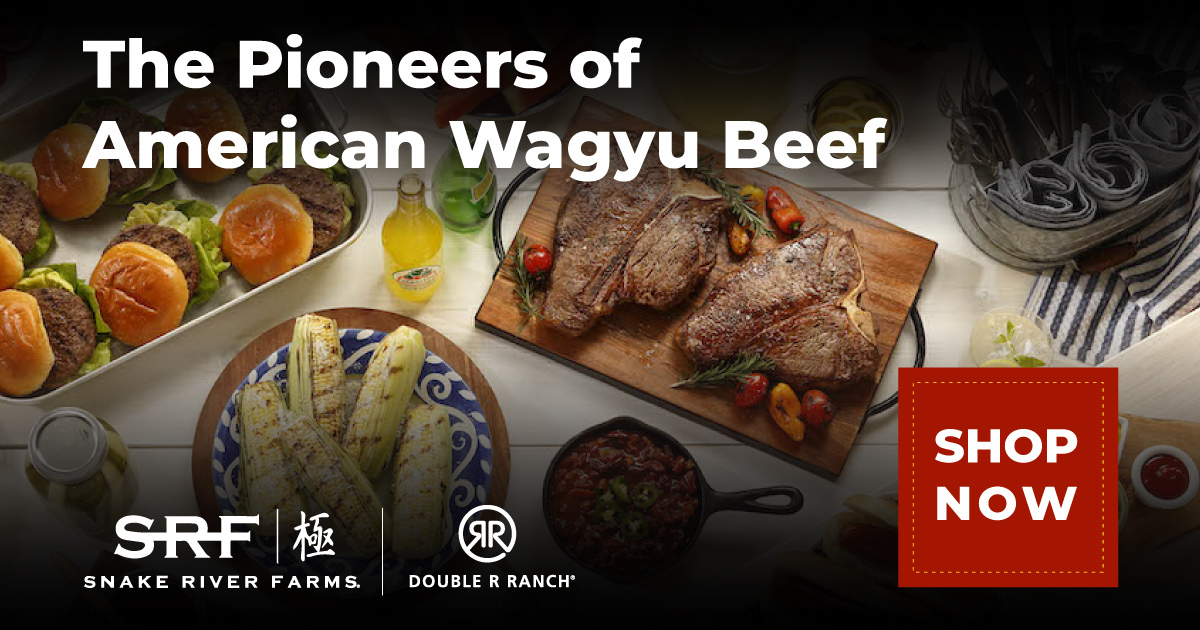 The parent company of Snake River Farms and its partner brand, Double R Ranch, is Boise, Idaho-based Agri Beef. I'm sure Agri Beef is a great company, but it's not an appetizing name, so it was a wise decision to put SRF up front.
Agri Beef dates back to 1968 and the purchase of Snake River Cattle Feeders. Grown from a small family business, today it's a massive family business.
The focus is and has always been on raising premium beef with an eco-friendly approach. They pride themselves on their concern for the welfare of their animals and the environment. Any of you readers with annoying enviro-activist friends can smugly place your order and then tell them what you really think between mouthfuls of tender, delicious beef.
In 1988, Snake River Farms launched one of the first wagyu programs in the United States, a premium breed of Japanese cattle. (You can learn more about wagyu in our comprehensive article.) All the wagyu beef on the site is sold under the Snake River Farms label, and the "regular" beef comes from Double R Ranch.
Agri Beef won an impressive-sounding award in 1998 — "Cattle Business of the Century" — and the founder was inducted into the National Cattle Feeders Hall of Fame in 2012. That's an outstanding resume.
For a deeper look at the company and their ranch-to-table operation (they control every aspect of the process, meaning their meat is never in anyone else's hands until it reaches yours), check out this video. It's full of interesting info, gorgeous scenery, and shockingly high production values.
Selection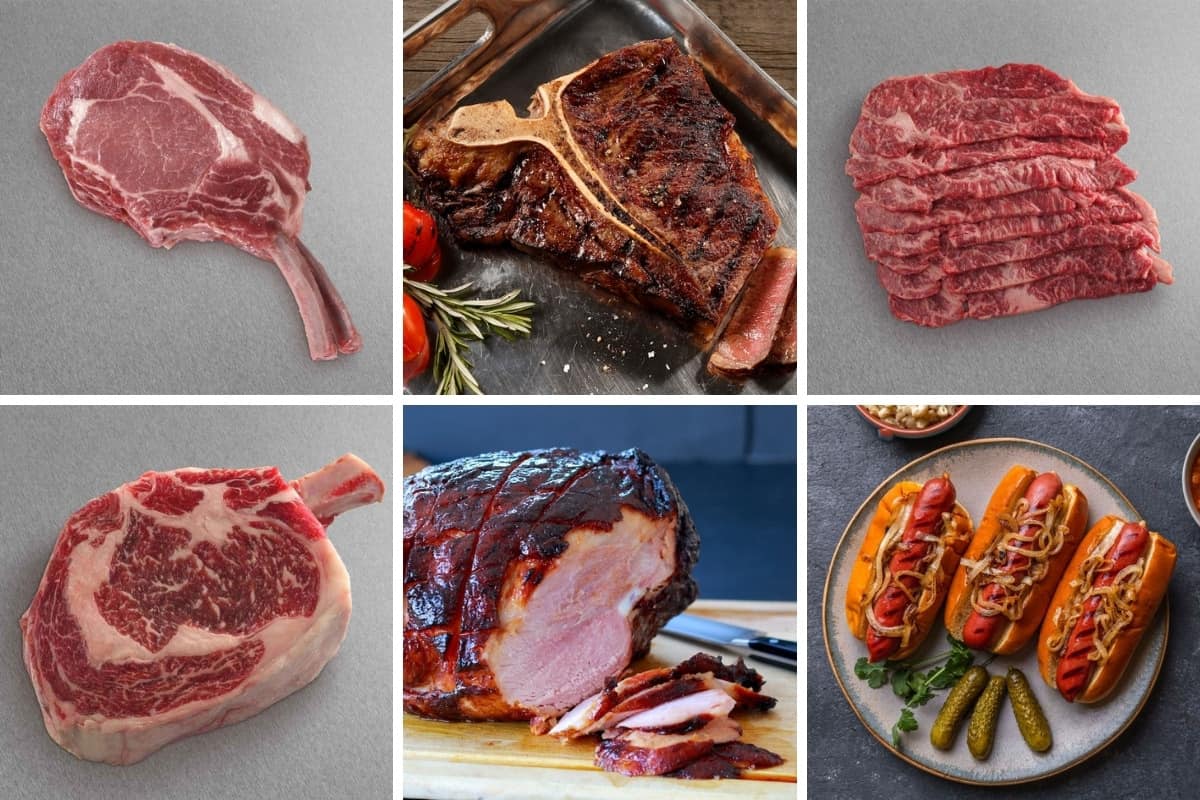 Shopping at the Snake River Farms site is a breeze, with easily navigated pages broken into logical categories.
While steaks are front and center, there are also hamburgers and hot dogs, pork, and an assortment of specialty cuts. Let's go through each category together.
Classic Lineup/Frozen
All items in this section are wet-aged for 21+ days and shipped frozen.
You do not get to choose grade or size in most cases, but approximations are given for each cut. A few cuts are priced at a discount when you order multiples.
Steaks
At the time of writing, the site offers 26 items in this department. Most of the cuts you'd expect are here, including flat iron, filet mignon, ribeye, T-bone, and more. The grade is given as "USDA Choice" or better on many steaks, and there are a few Prime cuts here, too.
There are wagyu options for many steak cuts for a sumptuous meal. Wagyu is often so well-marbled, it exceeds USDA grading, and you'll see it referred to as "better than Prime." Be prepared to pay big time for your indulgence.
Burgers and Dogs
If you love these backyard classics but also appreciate the finer things in life, this is the meat your buns deserve.
While they sell traditional beef hot dogs, you might want to splurge on the wagyu dogs and burgers. Ground wagyu is here, too.
Kurobuta Pork
This is the United Nations of pork — U.S.-raised pigs with an English pedigree and a Japanese name. Basically, it's the wagyu of pork, and it's super-premium stuff.
Snake River Farms sells chops and ribs, including an epic tomahawk.
Specialty Items
Click this tab to reveal wagyu tri-tip, wagyu short ribs, and more for the most special occasions.
The ultimate choice is the "American Wagyu Gold Grade Eye of Ribeye Roast." It's rated higher than USDA Prime, weighs about 6.5 pounds, and costs almost $400. Please be very, very careful when you cook this.
Bulk Provisions
Snake River Farms offers a selection of eight "Provision Packs" so you can fill your freezer with incredible meat to get you through the winter, the zombie apocalypse, or whatever.
Be aware, these are high-end packs meant to save you money on the most expensive cuts, including wagyu and filet mignon.
Quick Ship/Fresh
Prefer your meats fresh and ready to cook today? Snake River Farms sells a mix of dry-aged cuts, including steaks, burgers, and ground beef.
These items are packed in ice and shipped fresh by expedited courier. You'll add $49.99 for this service, but it's the closest you can come to buying from a butcher as you'll get online.
Ordering Process, Shipping and Packaging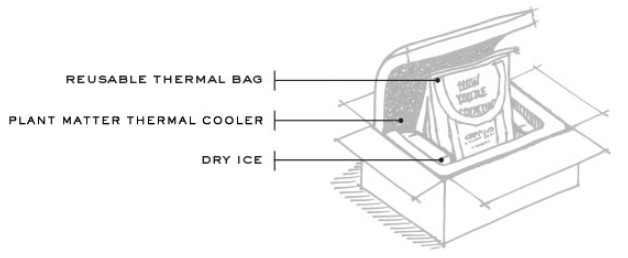 To order from Snake River Farms, you can either sign up for an account or order as a guest. Creating an account streamlines the process for future orders, saving your shipping and payment info.
You'll need to enter a shipping address and a billing address (if they're not the same) and then choose the date you want your order to arrive. You'll see the shipping charges that apply to each date on a calendar.
Add a gift message, if required, and move on to payment. Payment options are credit card, PayPal, or gift card.
Shipping
Snake River Farms only ships to the 50 U.S. states. That's a disappointment if you don't live there, but at least they ship to Alaska and Hawaii — though you can't choose standard shipping outside the 48.
FedEx is their courier of choice, and every order is trackable. At the time of writing, shipping costs are as follows:
$9.99 Standard Shipping — 1–3 days ground
$39.99 Express shipping — 2-day air
$79.99 Overnight Shipping — 1-day air
$15.00 Saturday Delivery Upgrade Fee
$49.99 Expedited Dry-Aged Shipping — dry-aged orders are shipped fresh
There's no free shipping no matter how much you order, but I've seen the Saturday up-charge waived on occasion.
Packing
All Snake River Farms orders ship in a reusable thermal bag inside a "natural green cell foam thermal liner" and packed with dry ice in a box. They guarantee your meat will be frozen or partially thawed upon arrival.
Refunds and Returns
Needless to say (or it ought to be), you can't return meat. However, Snake River Farms offers a satisfaction guarantee. If you're not happy, call within 30 days to talk to a representative about your situation for a possible replacement, refund, or store credit.
Price
If you're hunting for bargains, this is not the website for you. Snake River Farms only sells high-end meat. The prices are steep compared to what you'll find at the grocery store, but the quality is exceptional — you get what you pay for!
Here are some sample prices (prices are subject to change):
Filet mignon — 6 oz. USDA Prime, $30.00 each (discounts for four or more)
T-bone — approximately 25 oz. USDA Prime, $46.00 each
American wagyu ribeye — approximately 19 oz. SRF Gold (higher than Prime), $75.00 each
American wagyu hamburger patties — 2 half-pound patties, $14.00 (Burgers come 2 in a box with a minimum purchase of 2 boxes. $13 per box for four or more boxes.)
Kurobota baby back ribs — approximately 1 pound, $35.00 each (minimum purchase of 2 racks. Discounts for 4+ racks.)
If you want to save some money, sign up for their newsletter and take advantage of exclusive offers when they pop up.
How Good is Snake River Farm's Product?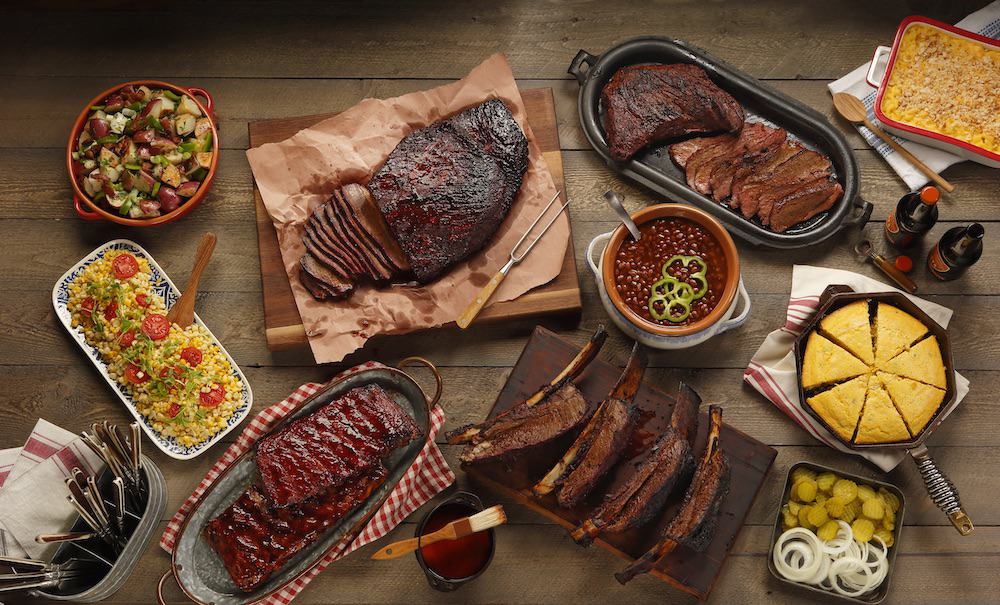 While there's no doubt that Snake River Farms sells expensive meat, the consensus is its excellent quality. Almost every review goes on at length about the fantastic flavor of their meat, and numerous Michelin-starred restaurants purchase wagyu from SRF.
Many competition pitmasters get their stuff from Snake River Farms, too. And if it's good enough for those guys and gals…
Comparing Snake River Farms With Competitors
Snake River Farms will not be your first choice for everyday meat unless you make good money. It's more expensive on average than anyone else I looked at. But, they also sell, on average, higher quality meat than anyone else.
Their selection, overall, is limited compared to even the smallest online meat delivery services I reviewed. But, for premium options, only Crowd Cow, with the entire world to source from, can touch them in terms of quantity.
What We like
The first and most obvious thing to like is the array of super-premium meat. It's not easy to find wagyu and Prime cuts elsewhere. Having the option to grab some incredible burgers, dogs, and pork is a bonus, too.
The ordering process is easy, and I loved the ability to choose my shipping date with the price clearly displayed.
It's nice to be able to order from a company that goes out of its way to care for its animals and the land where they're raised.
What Could Be Improved
Unfortunately, you can't order from Snake River Farms outside the United States. I mean, there are many places in North America much closer than Hawaii and Alaska, amiright?
I'd also prefer more choice in size. The portions are generous, for sure, but you don't get much if any say in the size of the cut.
The product guarantee is a little vague. I'd prefer to see firmer wording than "If you feel that the product you received does not meet our standards…" What about my standards? Still, they seem to have a good rep for solving issues when they arise.
Final Thoughts
Turn your next barbecue into a culinary experience you'll never forget. If you're celebrating something special, you feel like a treat, or you prefer to order the best you can get when it comes to meat, Snake River Farms should be bookmarked in your browser. You'll have to drop a few dollars, but the results will amaze you.
Don't forget to check out our other online meat delivery reviews to see more options. Plus, browse and search cooking tips, equipment reviews, and more to get the most out of your backyard cooker. And, connect with us online for meat on your feed and see what we've got cooking.
Thanks for reading — be sure to show us what you bought!