The Strip steak, unbeknownst to some, is actually one half of the beloved T-bone. So if you know and love a T-bone, chances are you've sampled the delights of a strip steak without realizing.
That impressive bone through the middle separates two different steaks, one side being a small piece of Tenderloin steak, and the larger side being a Strip steak.
It is the Strip steak that gives the T-bone it's flavor as it has more marbling than the much leaner Tenderloin, while still being tender, and that's why it is loved so much.
Often referred to as the New York Strip, it's one of the higher end steaks that will command a premium price in both restaurants and supermarkets alike. Luckily the area that it comes from produces many steaks, so you'll find it easily enough.
In this no-nonsense 'stripped' back guide we will tell you what the Strip steak is, what makes it fabulous, how to cook it to perfection and most importantly where to get your hands on some of the finest examples.
Eyes down, taste buds engaged, let's get into the Strip steak.
What is Strip Steak?
Strip steaks are very flavorful and tender, and it has visible marbling and a fat cap on one edge.
A firm favorite for many due to its rich flavor and ease of cooking, it has long been available in steakhouses as one of their premium options, especially in New York, where it's most used name is derived from: The New York Strip Steak.
Where Does Strip Steak Come from on the Cow?
It comes from the short loin sub-primal, which is part of the loin primal, the area of a steer that produces the prime steaks such as the Filet Mignon, the T-bone, the Porterhouse and the Strip.
The Strip is created once the Tenderloin and the backbone have been removed from the short loin.
Some butchers will leave the bone in with the Strip, but more often than not, the bone is removed. The sub primal it's cut from is 16 to 18 inches long, and it will produce around a dozen steaks, depending on how generous the butcher is with their thickness.
The main muscle to make up the Strip is the Longissimus Dorsi, also the main muscle in a Rib-eye.
Depending on the skill of the butcher when cut, you may get some nearby muscles attached, the Multifidus Dorsi and the Gluteus Medius.
While the Multifidus is a welcome tender addition, the Gluteus Medius is a tough chewy extra that you can do without.
If you want to learn more about cuts of beef, where they come from and more, check out our beef cuts chart and diagram.
Other Names for the Strip Steak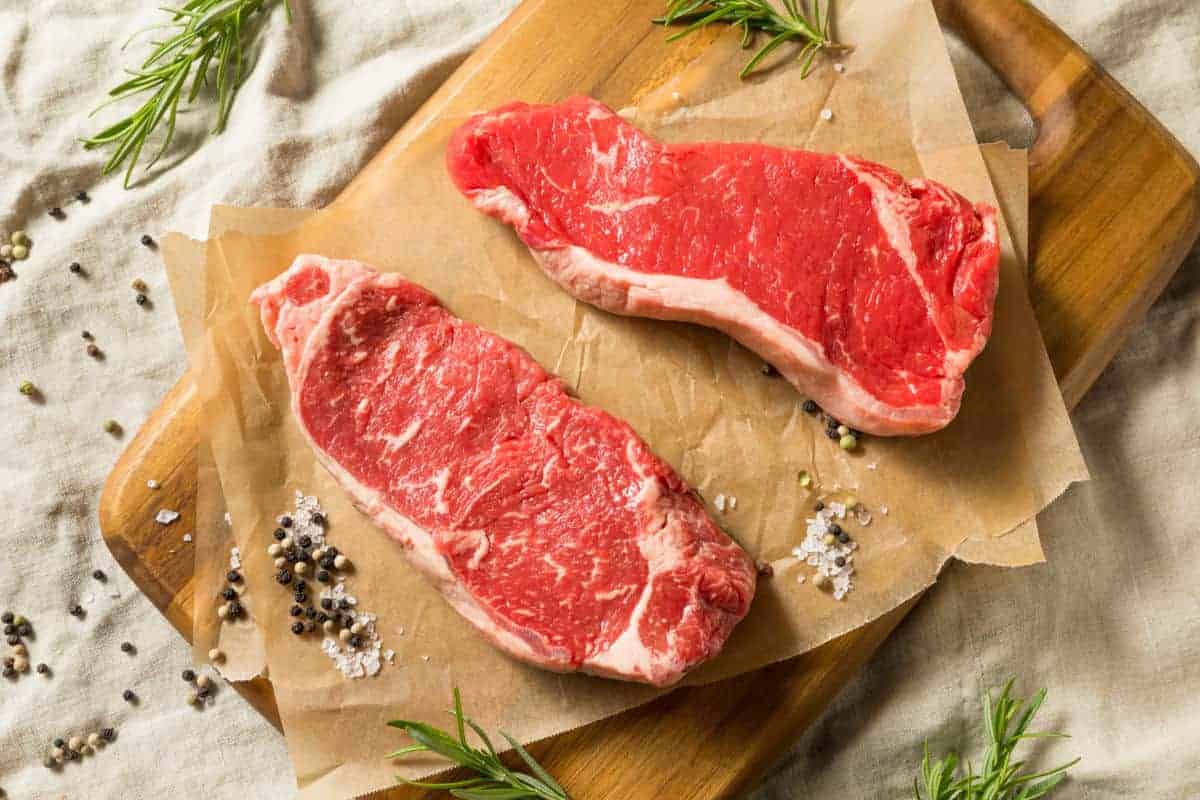 The Strip steak was given its name by the Delmonico Restaurant in New York City, in 1837.
Also known locally as the Delmonico steak, because of its association with New York, it was soon given its common name, the New York Strip steak.
Here are some of its other names:
Kansas City Strip steak — is the name given to the Strip with a small portion of the bone and a thin layer of fat still attached, as this is how the locals like it. This is one of the more popular names.
Strip Loin — is what Canadian meat purveyors call the Strip steak.
Ambassador steak — and as Jess Pryles honestly puts it, is a new name that is either used to show off or confuse customers.
To make it more confusing, across the pond in the United Kingdom, they call the Strip the Sirloin steak, as do the Australians.
But what Americans know as the Sirloin steak, the Great British public would call the Rump steak.
Being seriously popular, and over hundreds of years, it has gathered many more nicknames, so just in case you are somewhere that has a different nickname for it, the industry identification code is 1180 (IMPS/NAMP), or 1404 (UPC).
Flavor, Texture, Fat Content and Tenderness
The Strip having more intramuscular fat than a Sirloin or Filet, is known for its great flavor and firmer texture.
It's less tender than the leaner steaks and with less marbling and thus slightly less flavor than a Ribeye, but the Strip is a happy medium for both tenderness and great taste.
The fat cap means that the flavor is fuller and buttery for extra beefy depth.
Typical Uses
The Strip is typically one of a handful of premium stand-alone steaks and offered in both restaurants and supermarkets alike.
Strip Steak Nutrition
Nutrition
Total Amount (Based on 3 oz Serving)
% Daily Value (based
on 2000 calories/day)

Calories
160
8%
Saturated Fat
2.3 g
13%
Protein
25 g
50%
Iron
1.6 mg
10%
Zinc
4.5 mg
30%
Buying Strip Steak
The Strip steak is a regular on the butcher's counter and commonly appears in the supermarkets and online meat markets.
Different outlets will offer a choice of weights and styles, such as bone-in or bone out and extra lean or extra fatty so that you will have plenty of choices.
If you're looking for the extra wow factor when it comes to steaks many online outlets specialize in extra-long dry-aged beef or specific USDA beef grades and specialties such as Kobe or Wagyu beef.
These are definitely worth checking out. They offer the choice of good, better, or top-quality beef with price categories that will suit everyone's pocket.
So do your homework, and you'll get good quality at the price that's right for you.
Where to Buy Strip Steak Online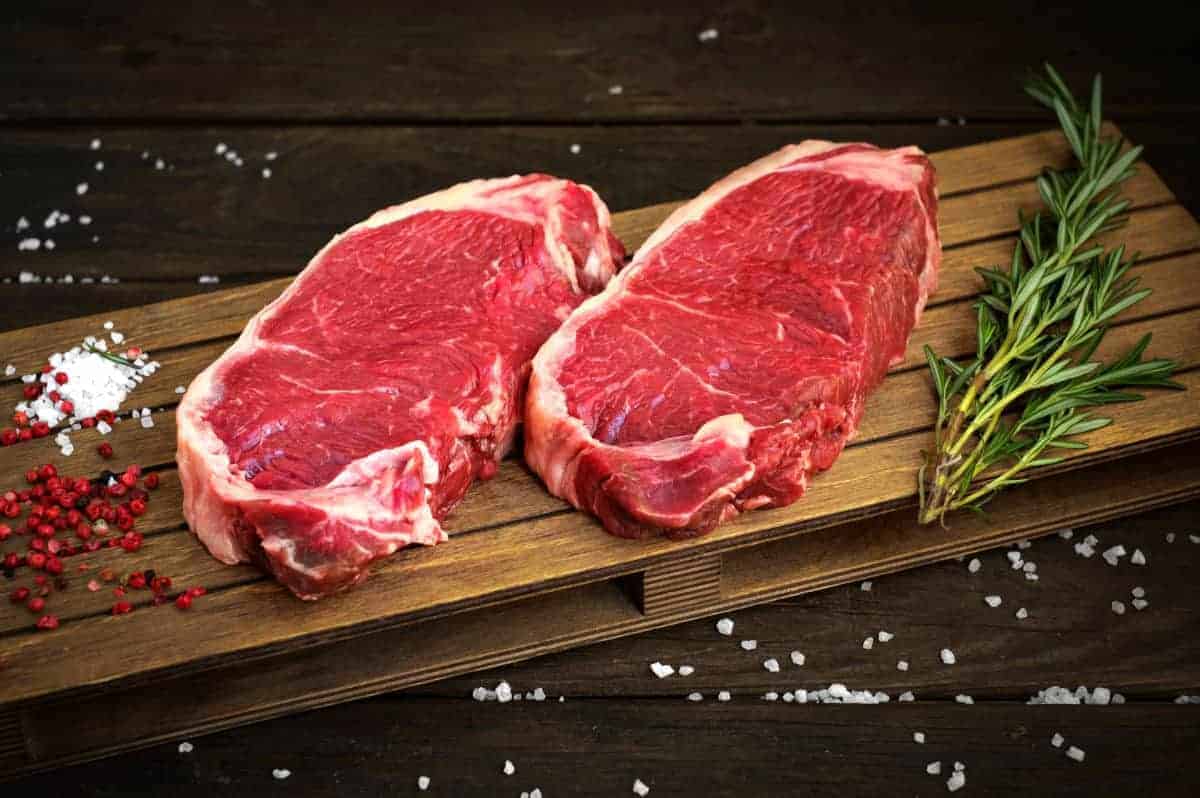 Online meat markets allow you to browse all the available Strip steaks on offer and to gain an understanding of the origins, the aging process, and the ethos of each meat provider.
All you have to do is choose what you want, place your order, and wait for that special delivery straight to your front door.
Here are three of many possibly online outlets:
Crowd Cow
Crowd cow has a wide selection of NY strip steaks available, from affordable pasture-raised or 100% grass-fed cuts weighing 12oz, up to more luxurious Japanese A5 wagyu from Kagoshima or Miyazaki Gyu at 11oz to 12oz.
And for an absolute treat, they also sell A5 Kobe beef with its world-renowned status as the best available, with extraordinary richness and marbling.
Porter Road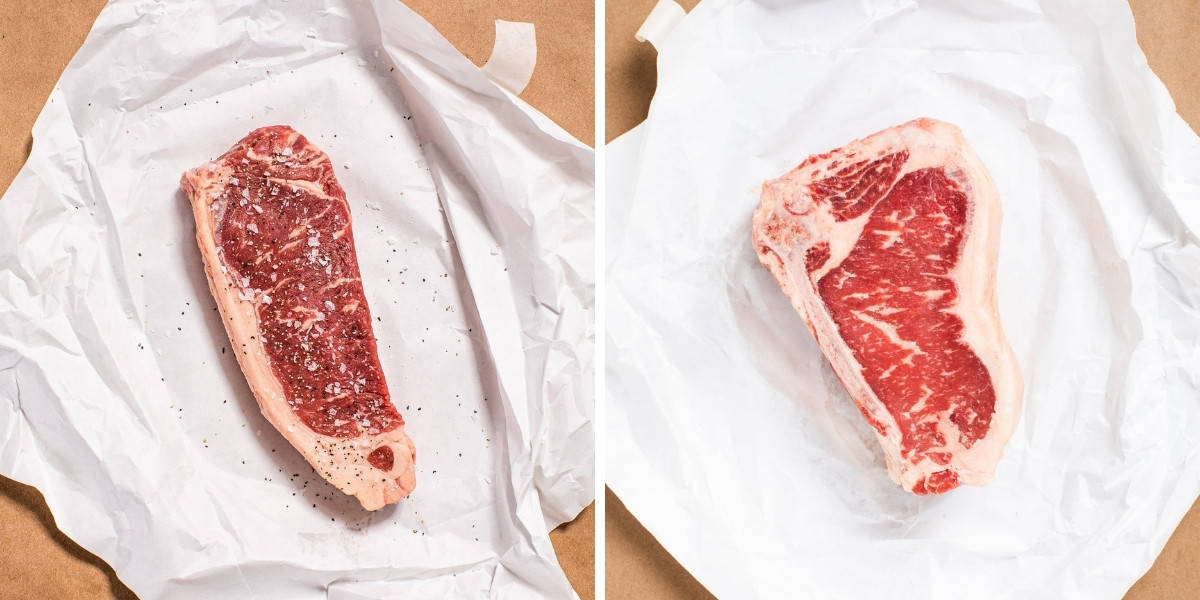 Porter Road sells two different NY strip steaks, one bone in (Kansas City Strip steak) and one boneless.
This beef is pasture-raised, antibiotic and hormone-free, and is dry-aged to bring richness and depth of flavor in these wonderful cuts.
Snake River Farms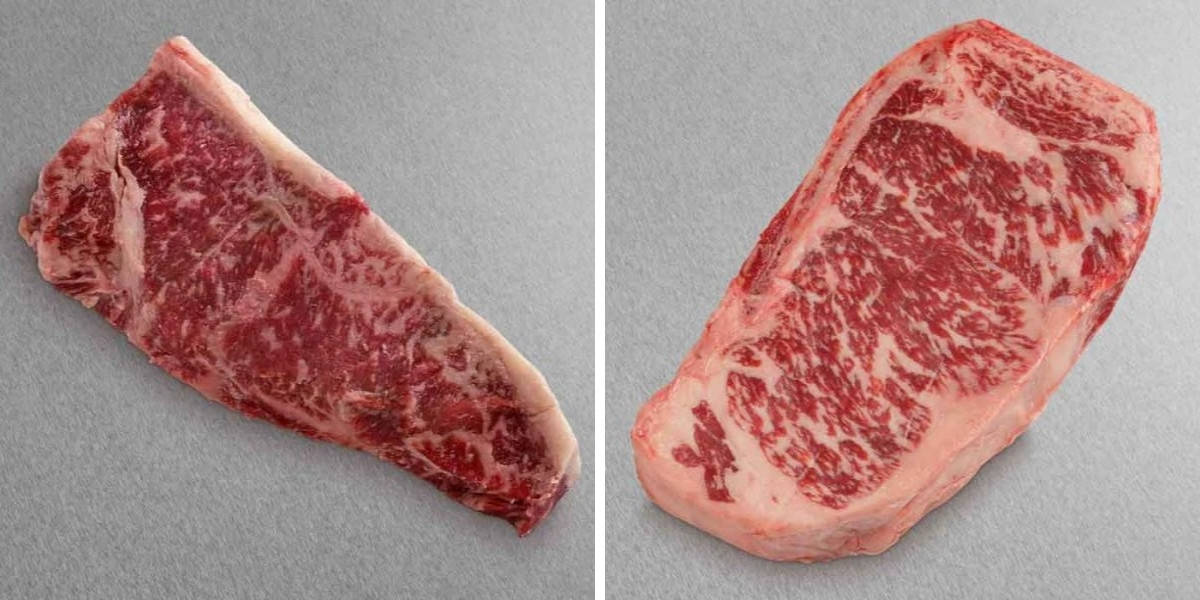 Snake River Farms sells three different NY strip steak cuts:
First, they sell an American Wagyu Black Grade end cut steak, which is a literal description of this steak, it being cut from the end of the strip loin. Average weight, 12oz.
Second, they sell an American Wagyu Black grade bone-in NY strip. Average weight, 1.2lbs.
Finally, they sell an American Wagyu Gold grade NY strip, which is their most marbled, rich, and flavorful NY strip, also sold on the bone and weighing 18oz on average.
Check Price on Snake River Farms
Strip Steak Price
The Strip steak being well-known and much-loved means it is readily available.
That being said, it still commands a premium price tag, and at the time of writing, it can cost, on average, anywhere between $20 and $40 per lb.
Portion Size: How Much Strip Steak Per Person?
The average Strip steak weighs in at around 12 to 14oz straight from the butcher, but it's also available in smaller steaks from some outlets at around 6 to 9oz.
So, one steak per person is more than enough to satiate an appetite for a good steak, with some tasty sides, of course!
How to Prepare Strip Steak for Grilling or Smoking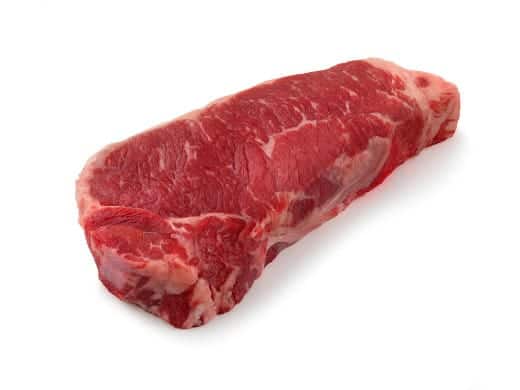 The Strip will more often than not come well-trimmed with no extra attention needed from yourself.
A mere pat with a paper towel and a good liberal seasoning with just salt is enough for the Strip.
Some add pepper as well, but the heat at which you will want to sear this steak means pepper can get burnt and add a bitter edge to the taste, so it's best left for seasoning after the steak is grilled.
A super-hot grill or cast-iron skillet is the best way to achieve a golden color and char on your steak, or you can also smoke it, which we'll go through in the next section.
How to Cook Strip Steak on a Grill or Smoker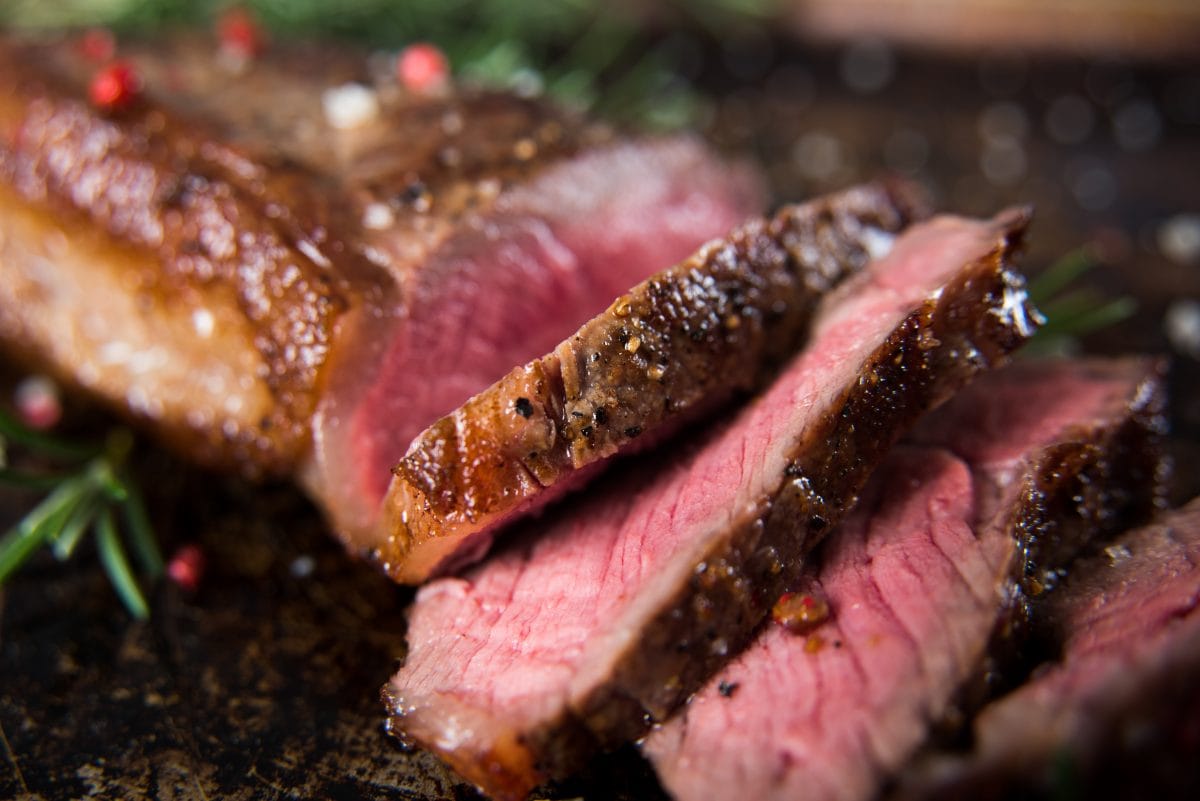 As with most good quality steaks, the easiest and quickest way to get your Strip steak fix is the high and dry method. A dried steak placed on a high heat grill for a few minutes each side until the desired doneness is achieved.
Alternatively, for a slight twist, you can smoke the Strip to perfection with the added smoky flavor of your choice.
Here's our preferred smoke technique:
Remove the steaks from the fridge and pat dry, leave for 30-45 minutes to reach room temperature.
Light a dozen or so pieces of charcoal on one side of the grill. Heat grill to 225-250f.
Season steaks with salt and pepper, and any other seasoning or rub that might take your fancy. Then oil lightly.
Add your preferred chips to the coals and get the smoke going.
Place the steaks on the grate as far away from the fire as possible, close the lid and smoke until the center of the steak reaches 120 to 125f, approximately 45-60 minutes.
Remove the steak and rest it while you add fresh coals and increase the temperature of the grill to high.
Give the steaks another brush with some olive oil and place on the direct heat side for 2 minutes each side until seared and crusted as desired.
Serve hot from the grill with your choice of side and enjoy.
Three Best Strip Steak Recipes from Around the Web
Now that you have the low-down on the Strip and its all-round crowd-pleasing tendencies, it's time for you to grab a couple yourself and get cooking.
Here are our favorite recipes for the Strip steak:
Stephanie Manley's Perfect New York Strip
Do you learn by doing? Then check out Stephanie Manley's tutorial for the most divine New York Strip Steak. It's mouthwateringly good.
Her secret to success is using kosher salt for the seasoning and finishing the steak in the oven. An excellent method for those that always end up with a rare steak.
Full recipe and instructions can be found here:
Grilled Strip Steak with Blistered Tomatoes and Green Beans
If you're looking for a different approach to steak than the plethora of steak and fries' recipes out there, then this one's for you.
While the steak is grilling, you use a skillet to blister some tomatoes, that create a sauce to mix with the steak and green beans. The end result is a great tasting healthy(ish) alternative to a steak with a mountain of fries.
Click here to see the recipe.
Hickory Smoked NY Strip Steaks from Food.com
A simple dish with few ingredients, that really packs a flavorful punch? Every BBQ foodie's dream, right?
This recipe results in a steak cooked to perfection with extra smokiness and a flavorful chili and garlic hit to finish it off. The smoke is the mainstay of this recipe, and the key to perfection is using an external instant-read thermometer to get your steak to the optimum temperature.
Head here to see the recipe.
Conclusion
The Strip is a superstar steak by all accounts. It is a top pick in many New York award-winning restaurants, and it is a champion of the extra beefy steak flavor.
So, whether you choose to order some in and fire up the grill or seek it on a date night out, both the lean steak lover and the flavor chaser are sure to be delighted with this one.
Whether you find a great steak restaurant or create your own recipe for this beefy bruiser, we'd love to know how you get on in the comments below!