What is Flat Iron steak? If you've been to a great steak restaurant recently, there's a good chance you've seen the Flat Iron steak on the menu. If you haven't, then you might be wondering it is, is it a good cut, and one you should explore?
In a nutshell, it delivers in both beefy flavor and succulent tenderness. Thick and uniform looking, it is perfect for grilling and is an outstanding looking steak with a distinctive character.
Steak connoisseurs have long chosen the likes of the porterhouse and fillet for a juicy, succulent meal and gasped at the price. But with flat iron, it's possible to have the flavor and tenderness of a top-rated steak for an agreeable price.
In this guide, we will fill you up with flat iron facts, so you can understand what it's all about, track it down and enjoy it in all its value for money goodness.
And at the end of this article, we've added our favorite way to prepare it and included a few of our favorite recipes for good measure. Enjoy!
What is Flat Iron Steak?
Here is a brief but information-packed video overview of the cut, including butchering and cooking:
In brief, this another one of those steaks whereby the name gives us no clue as to what it is or where it comes from on the steer.
The name comes from its similar appearance to an old-fashioned flat iron that was heated on an open fire and used for ironing clothes. Nothing to do with cooking steak.
It is a thick cut that is uniform and rectangular in shape, with an average 8oz cut and around 1 inch thick, making it one of the most popular steaks for grilling. With its uniform thickness, it cooks evenly and quickly, making it a joy to slap on the grill.
Where Does Flat Iron Steak Come from on the Cow?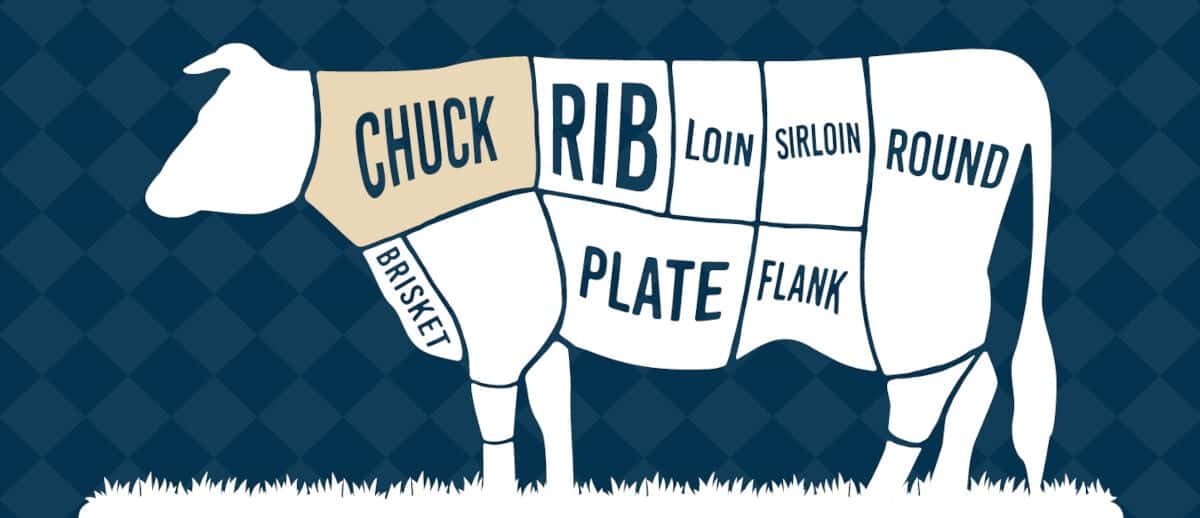 It comes from the chuck primal, which is right up front by the shoulder.
Originally attached to the Top Blade roast, this part of the animal was thought to be a tough cut that needed slow cooking.
That is until it was discovered that by removing the central fatty connective tissue, you're left with two distinctly different cuts of meat:
The Top Blade steak which is tough
The Flat Iron steak that is full of marbling for flavor and tenderness.
The appearance is similar to the Ribeye with its extensive marbling, a term that refers to the thin white strips of fat that run through the meat, and it is these intramuscular fat ribbons that give it an intense flavor.
Other Names for the Flat Iron Steak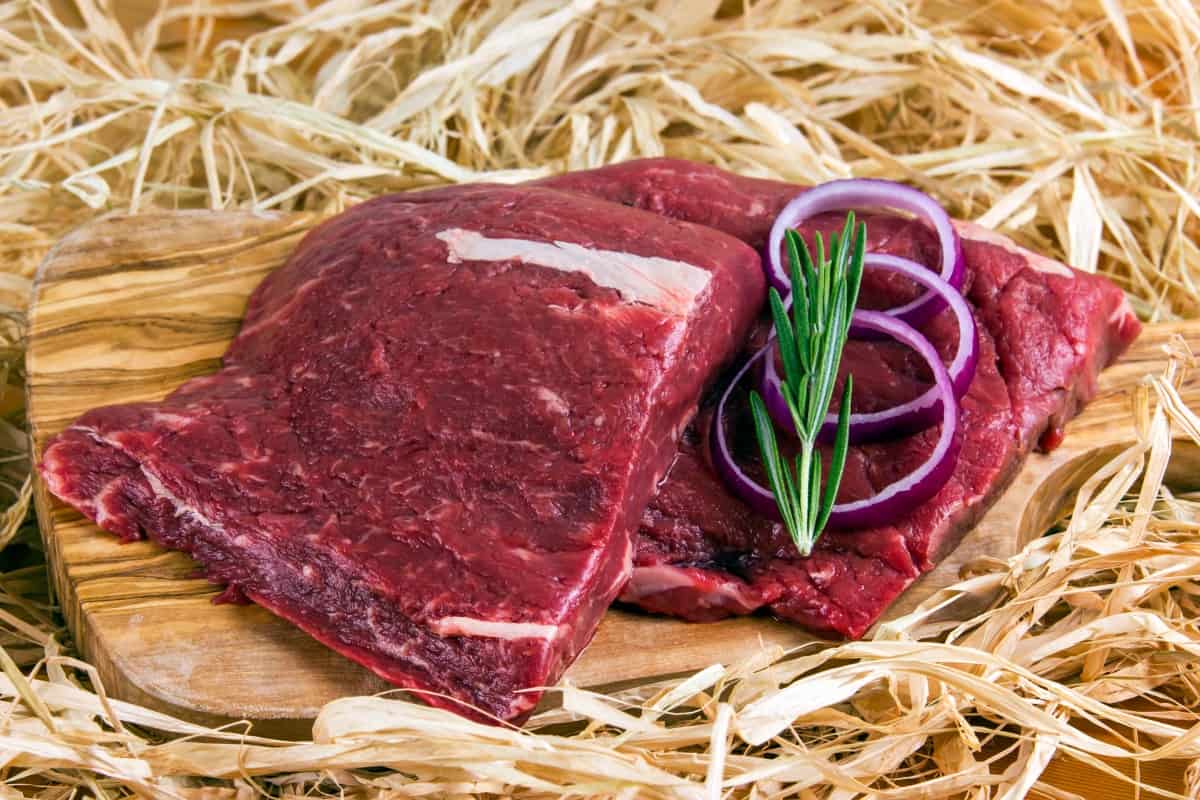 There are only a couple of other names it's known by in various places for differing reasons.
Here are a few alternatives name that you may recognize:
Butler's steak, so-called in the UK as it was the cheaper cut of meat that in-house waiting staff, also known as butlers, would get if they were lucky.
Oyster Blade steak, as commonly referred to as in Australia and New Zealand. A cross between the standard cut it comes from and a reference to the fact it is found hidden within the shoulder blade and removed.
If your butcher still isn't quite sure, just use the recognized butcher's ID number to get the correct cut: IMPS/NAMP — 1114D PSO 1, UPC–1166.
Whichever name you know it by, you can rest assured that this steak is sure to please your guests!
Flavor, Texture, Fat Content and Tenderness
The Flat Iron has become popular for two main reasons. Its extensive marbling gives it plenty of flavor, and it's tenderness.
The tenderness is a result of it being located towards the top of the shoulder, where it gets less exercise than the rest of the shoulder muscles.
There is no fat cap on it traditionally. Still, some butchers do now present it with some fat attached to give it extra flavor when cooking.
Typical Uses
As a popular cut being served more and more, the Flat Iron is typically used as a stand-alone cut, but coming from a slow-cooking heritage, it can be used in any recipe that calls for beef.
Nutrition
table id=139 /]
Buying Flat Iron Steak
Readily available from butchers to supermarkets and online meat markets, you will have no problem tracking this cut down. Most will sell it in its various weights, and with or without the extra fatty bit if you fancy it.
If you choose to buy steaks online, you will be given a choice of good, better, or top-quality beef with varying prices. So be sure to understand what is right for you and your stance on cattle rearing and production.
Paying for higher standard accredited meat is always a good choice to support sustainable farming, is better for the environment, and usually means better flavor and presentation of the meat.
Where to Buy Flat Iron Steak Online
Online food shopping is a revelation for the seasoned griller who wants to find the best cuts of meat. Not only does it allow you to sit back, relax and browse all available cuts from the comfort of your own home, but they're delivered straight to your door!
This takes out all the hassle out of enjoying your grill on the weekend.
Here are three online outlets that sell some of the best Flat Irons available:
Crowd Cow
Crowd cow sells flat iron steaks from two different sources, with one being pasture-raised and the second being 100% grass-fed. Both weigh an average of 8 oz.
Both are well-marbled, full of flavor, and perfect for pan-frying or grilling.
Crowd Cow occasionally sells Wagyu flat iron, and it's worth checking the site for this occasional treat.
Snake River Farms
The flat iron steak from Snake River Farms is their American Wagyu Black Grade, which has higher marbling than even USDA Prime.
These steaks are highly marbled and full of flavor. They come at an average weight of 1.5 lbs, plus or minus 0.25 lbs.
Check Price on Snake River Farms
Porter Road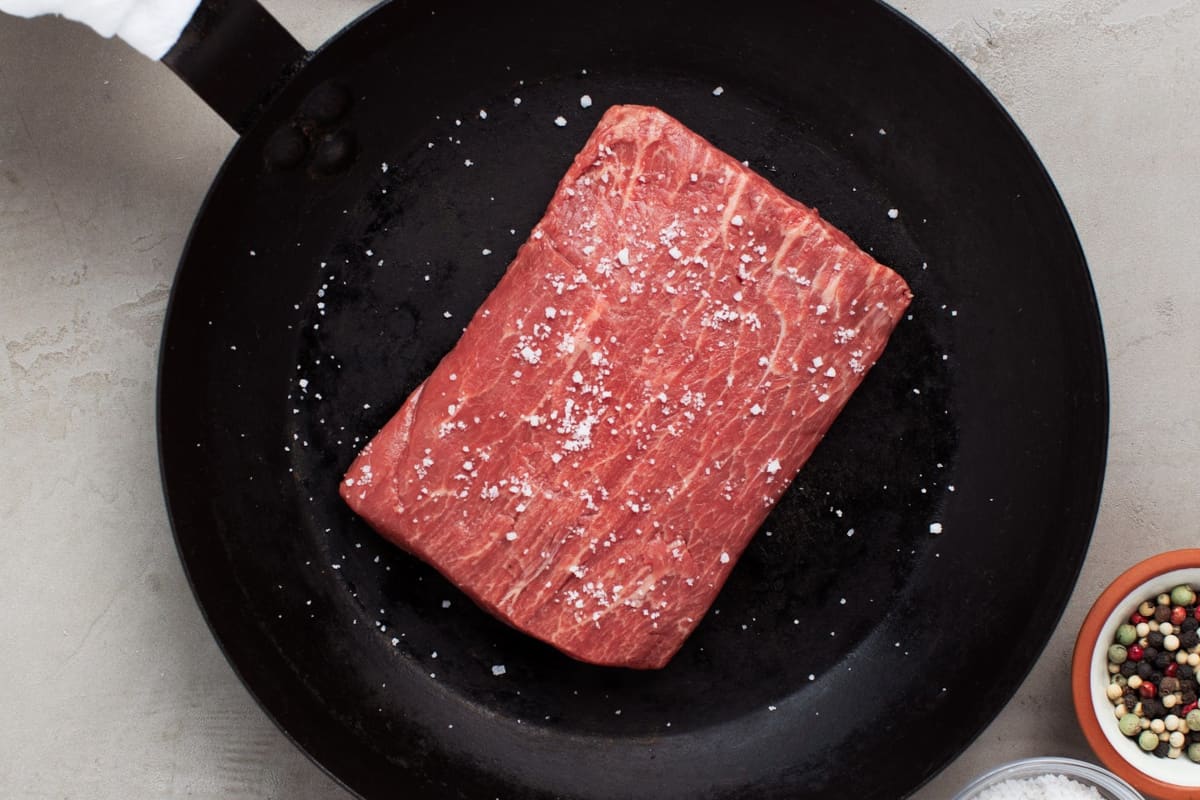 Like all porter road steaks, this flat iron steak is hormone-free, antibiotic-free, and pasture-raised.
Porter road recently revised the size of this steak to make each a single portion weighing between 0.44 and 0.56 lbs. They are also shipped fresh, not frozen.
These steaks are dry-aged to increase their depth of flavor and to improve their texture.
Average Price
Due to its popularity and relatively common availability, this cut is well known and sought after, but the price is yet to reflect its popularity, so what are you waiting for?!
At the time of writing, the price mostly falls between $22 to $30 per lb. Across different online outlets.
Portion Size: How Much Flat Iron Per Person?
How much meat you need per person is dictated by their appetite and whether they decide to eat additional sides, or just fill up on the good stuff.
But for ease of reference, it's available as a standard 8oz steak in most outlets, and this should be plenty for most people with just a small side of potatoes and vegetables.
How to Prepare Flat Iron Steak for Grilling or Smoking
From a good butcher, it will come ready to place straight on the grill or smoker, needing just a simple seasoning with oil and salt in preparation to cook it.
If you do intend to smoke it, you could try smoking the whole Top Blade roast and then removing the Flat Iron steaks after it has slowed cooked, and the result is a delicious cut that will always impress.
How to Cook Flat Iron Steak on a Grill or Smoker
It is best cooked on a hot grill or hob in a sizzling hot pan but take note reader, do not use a griddle.
We want the meat to cook in its own fat from the marbling so that it retains all the flavor. A griddle drains the fat away from the meat, which means flavor and juiciness is compromised, and this is a meat crime no one should commit!
Here is our simple guide to cooking your Flat Iron steak:
Pat the steaks dry and bring to room temperature.
Heat your grill to maximum heat, anywhere from 450-600f grill dependent.
Season with oil and salt and place them onto the grill.
Following our guide on how long to grill a steak, cook until internal temperature hits 130F for medium-rare, being careful not to overcook it as it will render it dry and flavorless.
Remove from the grill, it will continue to cook for a few minutes after until a final 135F. Add a knob of butter and tent in tin foil to retain heat while resting.
Allow to rest for at least 10 minutes.
Slice against the grain and enjoy.
3 Best Flat Iron Steak Recipes from Around the Web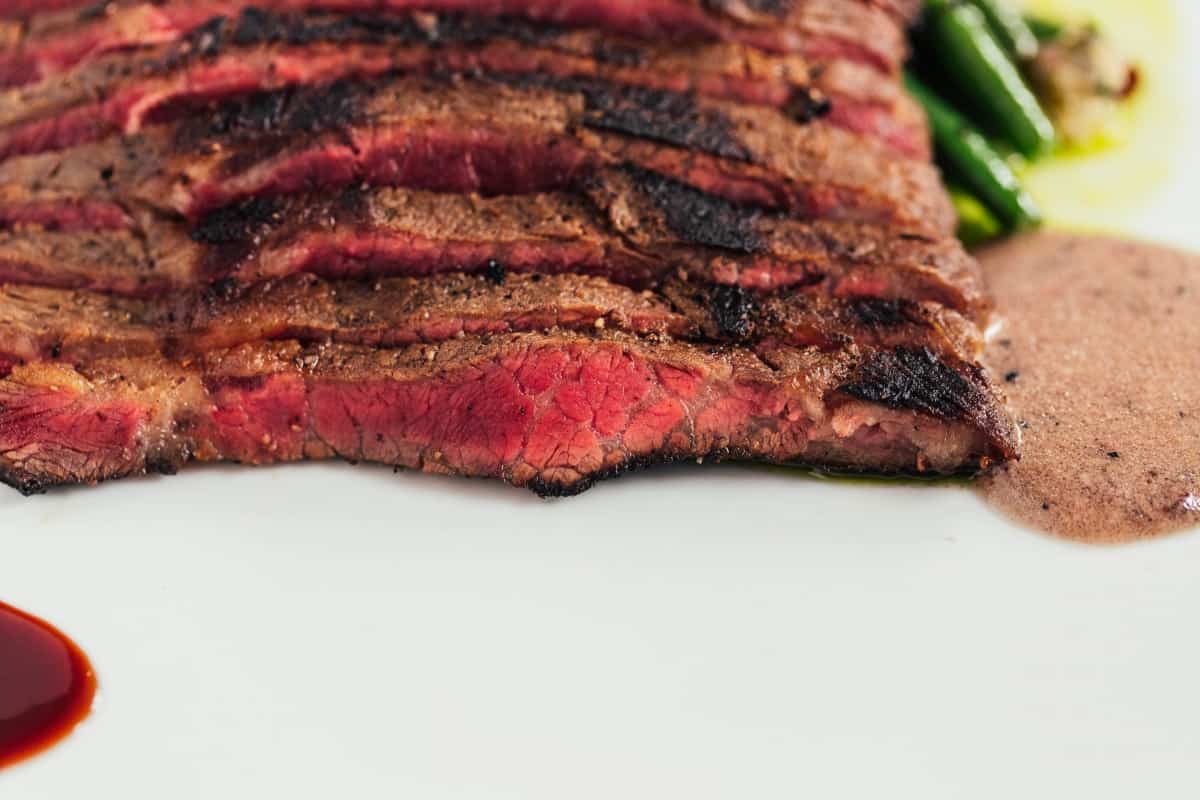 Now that you know how good this cut really is in all its unadulterated glory, let's take a look at a few recipes that show alternative ways to cook it for different dining experiences:
Savory Sweet Life's Asian Flat Iron
This simple recipe starts with typical Asian ingredients, such as garlic, ginger, and soy sauce, but the trick is the half cup of good quality sherry to make the sauce really pop and the meat taste divine.
Full recipe and instructions can be found here: Asian flat iron recipe
Kitchen Magpie Crockpot Flat Iron and Mushroom
Against the grain of grilling, this recipe cooks it low and slow.
This results in a melt in your mouth steak, coupled with big flavored mushrooms and onions for a genuinely delicious heartwarming recipe that will warm the coldest of people in the remaining winter months.
Click here to see Kitchen Magpie's recipe: Magpie flat iron and mushroom
Life's Ambrosia Rosemary Balsamic Flat Iron
This one will really tickle your taste buds with rich red wine and balsamic vinegar scented with rosemary, which makes for a delicious sauce that compliments the strong beef flavor.
Be sure to use a good quality wine to reduce the sugar content, as you don't want it too sweet.
Head here to see how fantastic it really is: Rosemary balsamic flat iron recipe
Conclusion
The Flat Iron is a real crowd pleaser and taste bud teaser! Big flavor, good value, tender and awesome.
If you haven't tried this great cut as yet, what are you waiting for? Head to one of the online shops above or nip out to the supermarket and grab yourself a piece of the action.
Whether you plan to break out the BBQ or cook it low and slow in the kitchen, be sure to follow our cooking instructions and recipes to get that steak tasting amazing.
However you decide to do it, let us know about your successes, or if it's fallen flat, in the comments below!