One of the tastiest, and potentially toughest cuts of meat you'll ever eat, is called the flank steak.
This thin, oblong cut needs loving care and proper cooking technique to bring out the flavor without ending up with a bullet-proof piece of meat.
But if you find yourself asking: What is flank steak? If you're unfamiliar with it and have never tried cooking it yourself, you're in for a real treat.
In this article, let me tell you flank steak's story, what to look for and what to do with it. And, if you can't find it, I'll let you in on a secret that butchers and chefs use to substitute for flank steak.
Once you know how to buy and prepare it, there's a chance it might become one of your most favorite cuts of beef.
What is Flank Steak? Where does it Come From?
The name gives it away. Flank steak comes from the flank of the steer below the loin and sirloin. (click here to learn more about these other cuts of beef.)
It sits in the abdominal area of the animal near the bottom. It helps the cow to twist and walk, so the muscle works A LOT. It is tough, lean and has long thick muscle fibers.
One end is about ¾ to one-inch thick tapering down to about 1/2 inch on the thinner end. Sometimes you'll see some fat on the thinner end. The muscle sits in an area surrounded by fat, but itself is very lean.
Buying Flank Steak
The meat tends to be a deeper red color than other steaks like a N.Y. Strip or Ribeye steak. It will have long strands of muscle fiber running the entire length of the meat.
The color should be deep red with no holes, dark spots or brown discoloration. Brown means the meat has been exposed to air for too long.
There should be very little fat if any. Too much fat is a sign that it was not trimmed properly.
You'll see some connective tissue or "silver skin" on the thicker end. Again, this should not be excessive.
Where to Buy Flank Steak Online
Crowd Cow

Crowd cow stocks three different varieties of flank steak for you to choose from: Pasture-raised and 100% grass-fed, which are both hormone and antibiotic-free, and a Wagyu cross from the Mishima reserve. These flank steaks come in at between 1 and 1.5lb in weight.
The grass-fed and pasture-raised steaks will have fantastic marbling, be flavorful, and full of meaty richness. On the other hand, the wagyu cross takes marbling to a new level, is a luxury product, and is significantly more expensive, so it's best kept for special occasions.
Snake River Farms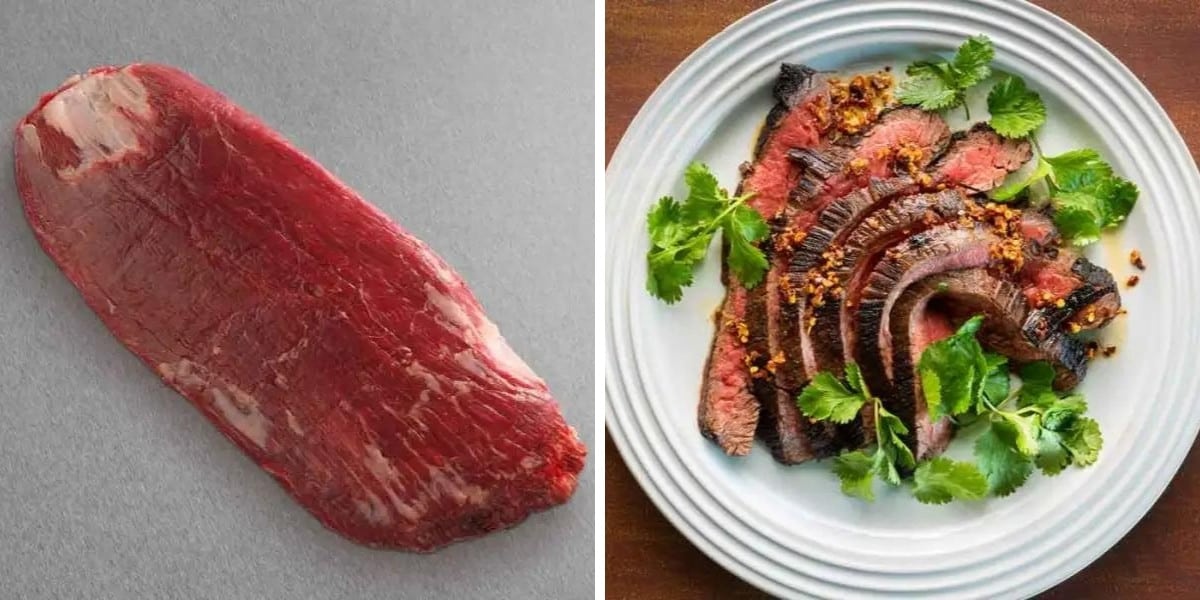 The flank steak from Snake River Farms is taken from their American Wagyu Black grade line of wagyu cross cattle, which has more intramuscular fat and marbling than USDA prime.
Each steak is cut to a consistent shape and averages 2 pounds in weight.
Check Price on Snake River Farms
What Else Do They Call Flank Steak?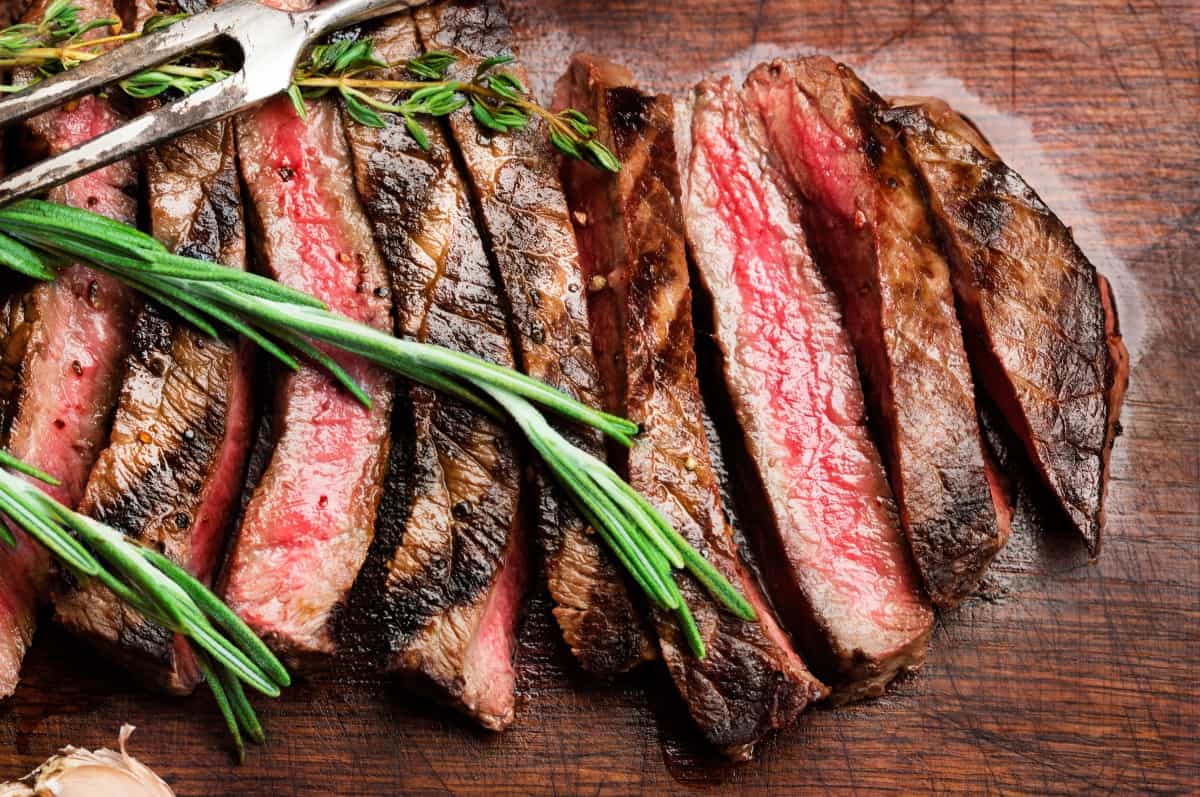 One of the most common names for flank steak is London Broil.
You'll sometimes see it written that way in the grocery store or on a menu. However, stores also use top round as "London Broil" so you need to know what it looks like to be sure you're buying the right cut.
When in doubt, ask the person at the meat counter.
Two lesser known terms are Flank Steak Fillet and Jiffy Steak. If you happen to be in an ethnic market or out of the country, look for Bavette steak in French and Arrachera in Spanish.
Flank is prized by cooks and chefs around the world for its flavor and texture, so it's available in most countries and hence due to language differences, under different names.
Its Versatility
There are two opposite cooking choices with flank. You either cook it hot and fast, or long and slow by braising.
The purpose is to break down the connective tissues by cutting thin slices or by heat and moisture.
Fast Grilling Keeps The Meat Tender
When I say hot and fast, if you can dangle it behind a jet's afterburner, that's what you want. Otherwise, use a scorching charcoal fire and sear for just a few minutes on each side before slicing, the afterburner steak method is perfect.
You don't want to cook it past medium-rare, or it will get chewy. Let the steak rest for about ten minutes before you slice it.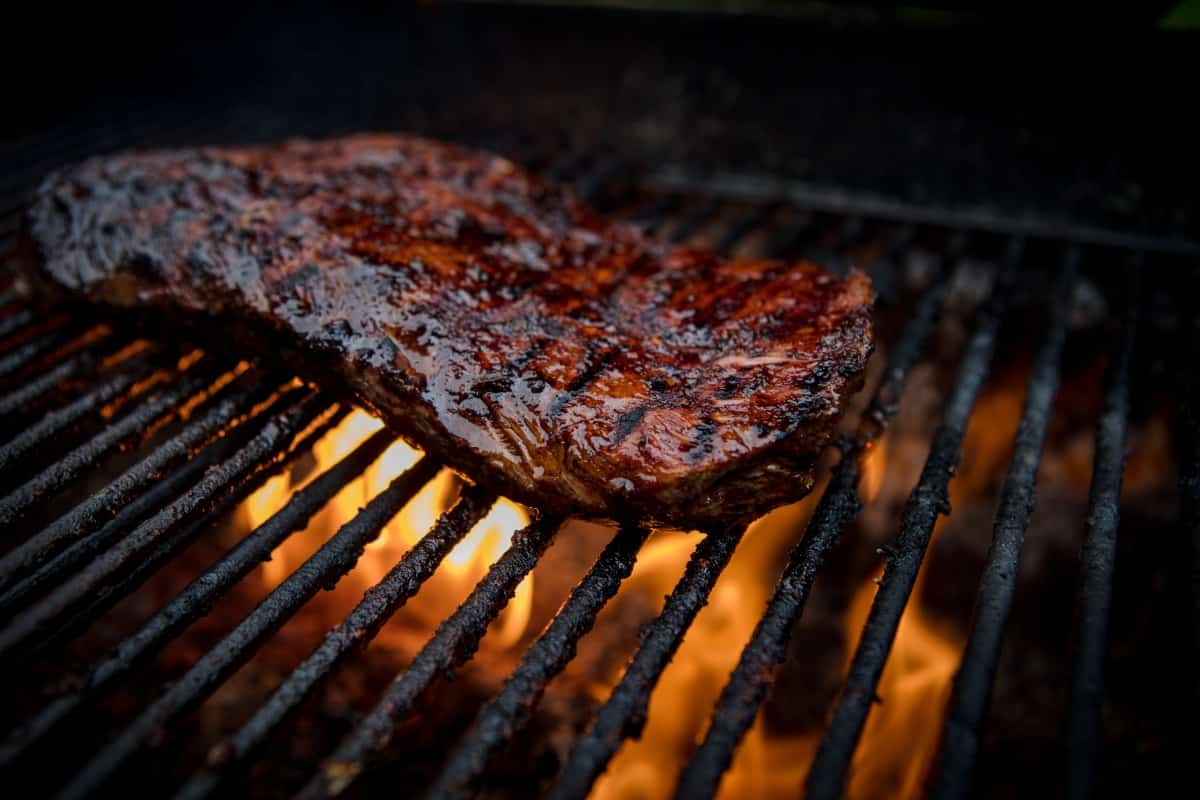 And when you cut it, make sure it's across the grain and cut on the bias. That means don't hold your knife straight up and down like slicing bread. Instead, hold the knife at a 45-degree angle to make wider slices.
Marinating for 12 to 24 hours can help add moisture and tenderize the meat, but can sacrifice a strong Maillard crust.
The beauty of flank steak is that it absorbs the flavors of any rub or marinade easily as it's thin and there's so much surface area between the string-like muscle fibers. This is what makes it one of the most popular steaks for grilling.
Braising Flank Makes A Great Gravy
To break down and tenderize the connective tissues in the muscle, braising is the best way to go. You can braise thick pieces by cutting the flank steak into four or five portions.
Another method is to cut slices and pound them to tenderize. Then add a filling, roll and stick with a toothpick to make roulades.
Once the meat is ready, you can brown it in a deep skillet, add your cooking liquid and simmer for 2 to 3 hours. Flank's beefy flavor enhances any sauce you're making with it.
Although stir-frying is a quick cook method, you'll find flank steak will be too chewy. Some of its substitutes will make better choices.
If You Can't Find Flank, Use These Cuts
There are two cuts of meat that have the long striations of muscle similar to flank. They are hanger and skirt steaks.
Comparing skirt steak to flank steak, skirt is longer and thinner. It comes from the diaphragm muscles, and it is the most popular cut for the Mexican favorites, Carne Asada and Fajitas. It tends to have more fat than flank, making it juicier and more tender. It's an uncommon cut, so you may have to ask the butcher for it or shop in a market that caters to shoppers from south of the border.
Hanger steak resembles skirt steak more than flank. It is long and thin with lots of fat between the muscles. They call this the "Butcher's Cut" because there is only one steak like this per animal and the butchers would take it for themselves.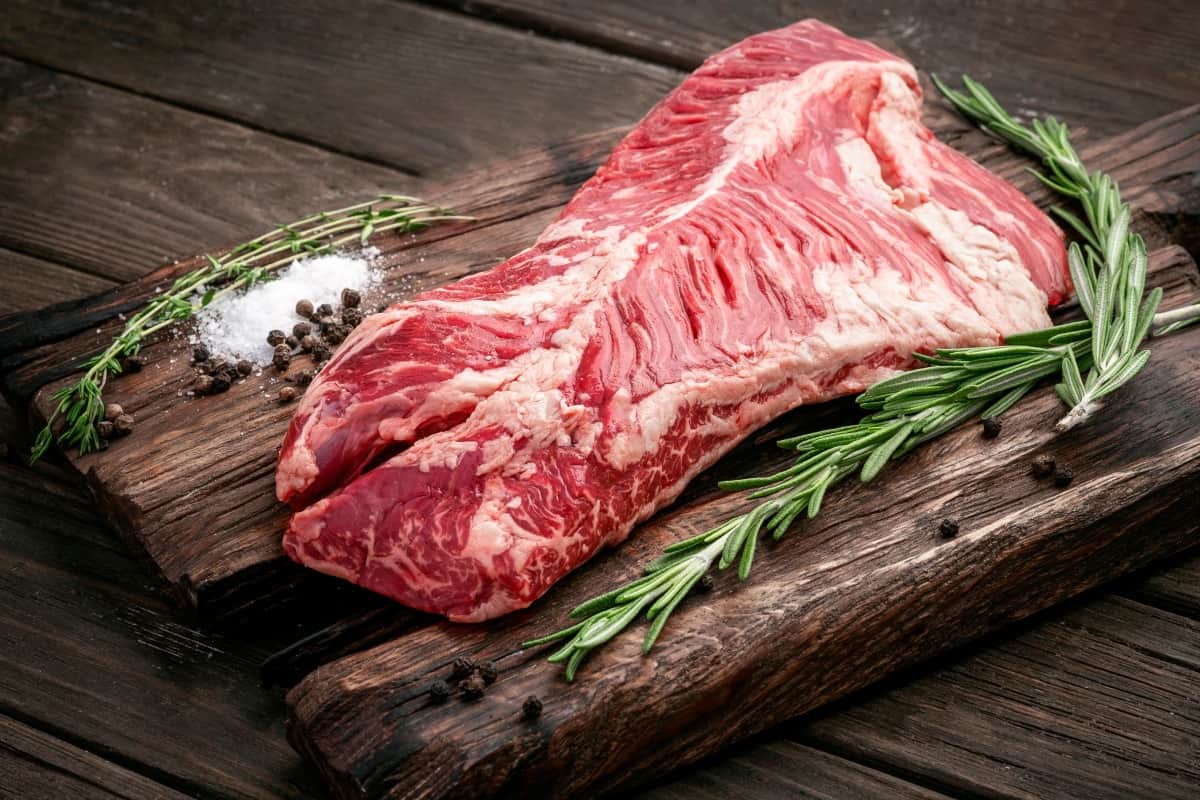 If you can't find flank steak for your recipe, ask for hangar and treat yourself to a delicious cut of beef.
There is one other cut of beef that cooks use to substitute for flank in a pinch. It's the flat iron steak. Although the lean muscle has the same long muscle fibers, they are much finer.
A flat muscle near the shoulder blade, the flat iron's taste and texture are probably closer to that of the N.Y. strip than flank. You may find it labeled as a petite tender or a top blade steak.
If your recipe calls for flank, and you can't find it, skirt steak and hanger steak are your best substitutes.
The Best Dishes for Flank Steak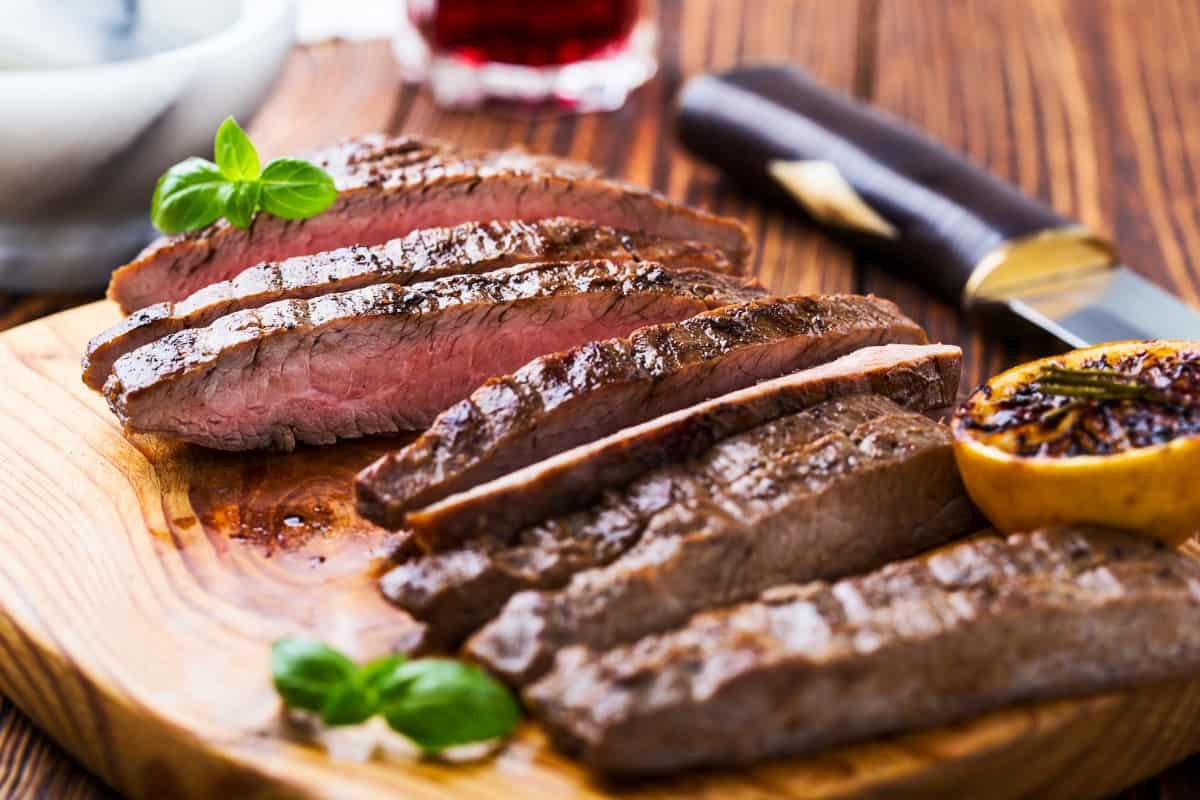 Marinated grilled flank is the main course like any steak except you'll want to serve it thinly sliced instead of one whole piece.
It's great in a sandwich too, hot or cold.
When it comes to braised dishes, use your imagination. From French or Central European braised roulades to Asian curries, and Mexican fajitas, flank will add another dimension of flavor and texture you won't find in other tough cuts like chuck.
Final Thoughts
If you've not tried flank steak before, please do give it a go. Variety is the spice of life as they say, so move away from your ribeyes and sirloins now and then and venture into these lesser used cuts, I promise you will like them!
If you found this article useful, please share it with your fellow chefs and grilling enthusiasts to help us get the word out about the site, we'd really appreciate it J
Happy grilling!