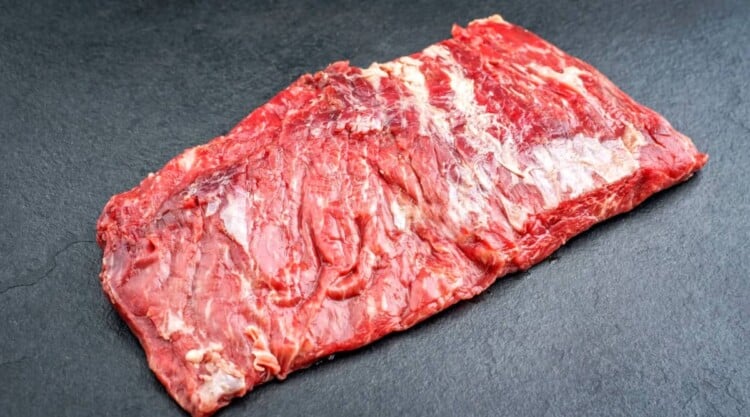 The Bavette steak is instantly recognizable to most, or at least many think it is. It's a beef steak that, due to its similarity with the Flank and Skirt steak, is often misidentified as such or spoken of as if it's one and the same.
It is a long thin cut of meat with a visible coarse grain, and in this article we will talk about the Bavette steak that originates from the intersection of the bottom sirloin.
It's this origin that is the key to why the bavette is more tender than similar cuts.
In this comprehensive guide to the bavette we will show you just what makes this cut of meat extra special.
From what it is, to where it's from, through to how to buy it, it's identifying industry ID and of course, the best ways to cook it.
So, brace yourself for the Bavette broadcast…
What is Bavette Steak?
The Bavette steak is a French name, meaning 'bib' in French. This name is given to long flat cuts of meat due to their similarity with the bib shape.
It's also commonly known as the Sirloin Flap, and it's this name that has prevented it from catching on like other steaks. After all, it sounds revolting. But it is anything but!
It is slowly coming into its own, and what was once known as the butchers' best kept secret, is now slowly becoming popular due to its taste, ease of cooking, size, and value for money. We're massive fans, and gave it a place in our list of the search for the best steak for grilling.
Where Does Bavette Steak Come from on the Cow?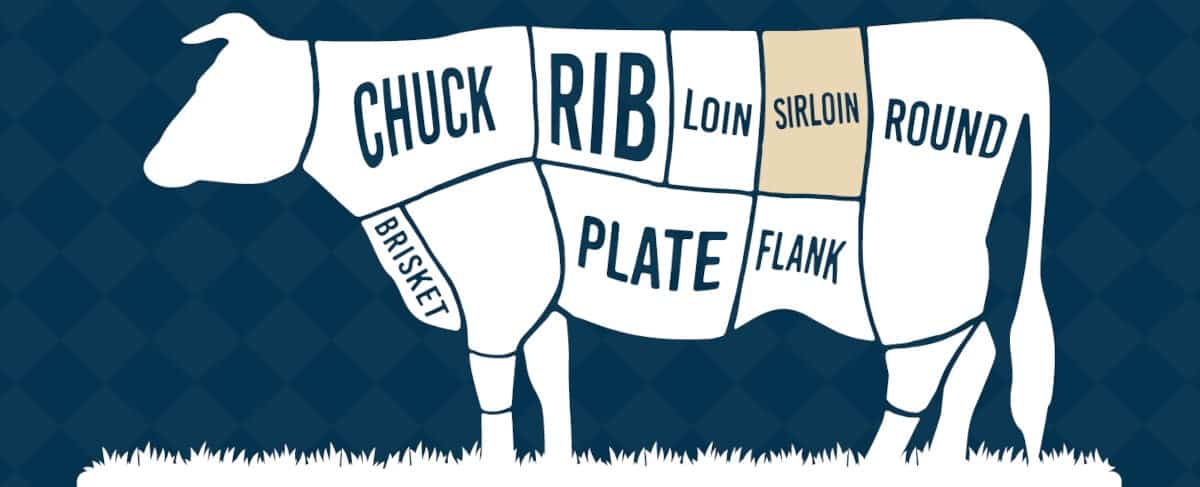 The sirloin primal is home to popular cuts such as the Sirloin steak, the Tri-tip, and also the Sirloin Bavette. This primal is divided into the top sirloin butt and bottom sirloin butt.
Bavette comes from the inside portion of the diaphragm from the bottom sirloin. It's located at the intersection of the bottom sirloin, short loin and flank parts of the steer, which is near to the flank and skirt cuts that are located at the plate and diaphragm.
To get even more specific, the name of the individual muscle is called the obliques abdominis.
Check out our guide to the best cuts of beef for a comprehensive look at many cuts and where they come from.
Other Names for the Bavette Steak
As touched on before, the bavette is often confused with the Flank and Skirt steaks that are very similar in appearance.
If we think of them as a trio of long thin cuts, we will remember that they are Skirt, Flank, and Flap (Bavette). That way, you will be able to differentiate them.
Bavette specifically has a few different names that are used to refer to it, two we have covered, Bavette and Flap, and here are some others:
Bottom Sirloin Butt — Refers to the location it is found in, and the position where it butts against other intersecting muscles.
Bottom Sirloin Flap — Uses location and commonly used name 'flap'.
Bottom Sirloin Flap Bavette — If in doubt, use this name as it encompasses all possible names for the Bavette steak.
If you're still stuck, then it's industry ID is UPC–1302.
Flavor, Texture, Fat Content and Tenderness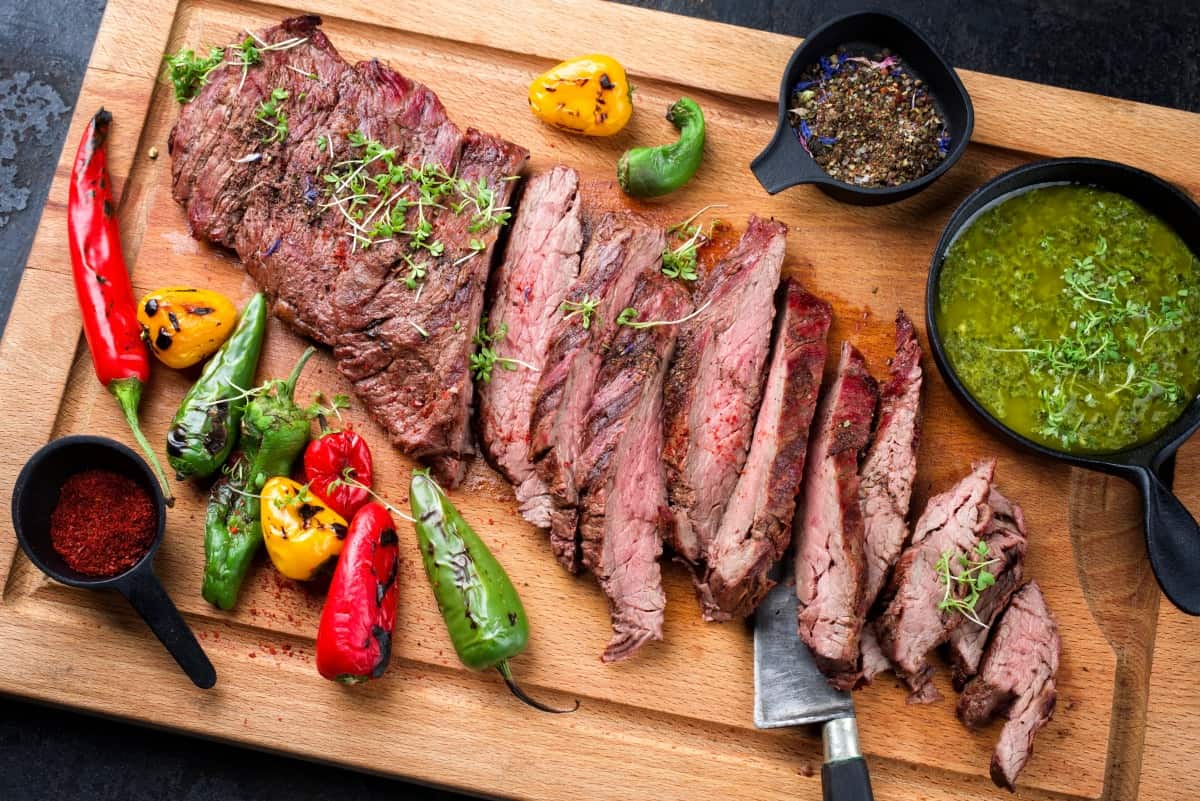 The Bavette steak is renowned for its good strong flavor. This allows it to stand up to strong sauces and accompaniments.
It's thicker than the Skirt or Flank steaks and more tender, so is often considered the better meat sibling in the trio.
With less stringy fat than the Skirt, it has an easier chew and a similarly wide grain and coarse texture, meaning the marbling is also better quality.
This visibly loose and open structure has two distinct benefits.
Firstly, it creates tenderness in the meat as the fibers are not tightly bound to one another, and secondly, it soaks up marinades allowing them to penetrate deep into the muscle fibers for a flavor intensity that tighter grains cannot match.
Typical Uses
The Bavette steak is typically used for fajitas, stir-fry's, and other recipes that use beef steak strips to give tenderness and meaty flavor to the dish.
It is, however, starting to create a reputation for itself as a sharing steak, whereby it's large enough to feed a big group of people and is easier than cooking individual steaks.
Bavette Steak Nutrition
Nutrition
Total Amount (Based on 3 oz Serving)
% Daily Value (based
on 2000 calories/day)

Calories
172
7.5%
Saturated Fat
4 g
20%
Sodium
60 mg
3%
Protein
19 g
40%
Iron
2.0 mg
8%
Zinc
5 mg
35%
In addition to the above nutritional benefits, the Bavette steak is full of other nutrients such as vitamin B6, vitamin B12, niacin, selenium, iron, zinc, phosphorus, choline, and riboflavin.
Buying Bavette Steak
The Bavette steak isn't always readily available compared to other cuts, but this is dependent on where you go for your meat.
Good butchers will always be able to offer it if you call ahead. In contrast, supermarkets won't necessarily have it in the same way that they will stock Skirt or Flank steak.
This is because it's simply not as popular, almost entirely because it's referred to as Flap steak, which isn't a particularly great marketing name!
It has recently risen in popularity and should become more readily available as time goes by. All this underrated steak needs is a good rebrand if you like.
The easy way to work around this is to use online meat markets. Most will sell Bavette steak, labeled as such, in weights varying from 12oz to 1.5lb. plus.
As with all online sellers, there are good quality and better quality products, just be sure to do your research, order from a credible source, and bear in mind that paying for quality accredited meat is always good practice.
Where to Buy Bavette Steak Online
Online food shopping is the food equivalent to hiring an interior designer — hear me out here!
You find a purveyor of the finest goods, you browse their caliber and book of 'work', then choose what you want, and they deliver it.
A totally hands-free experience and the only real difference is that the price is relatively the same compared to if you were to get them yourself. So, what's not to like?
Here are three online outlets that sell good quality Bavette steak that you can trust:
Snake River Farms
Snake River Farms bavette is from their American Wagyu black grade range, and is packed with more marbling, richness, and flavor than most competing products. The average weight of this cut is 1.5 lbs.
Check Price at Snake River Farms
Crowd Cow
Crowd Cow sell bavette steak sourced from two different suppliers:
Wagyu cross sourced from the Mishima reserve, and come sin at an average 12oz weight.
Or a 100% grass fed steak, sourced from Teys, which is Australian bred, internationally recognized. These come in at a weight of 1lb average.
Porter Road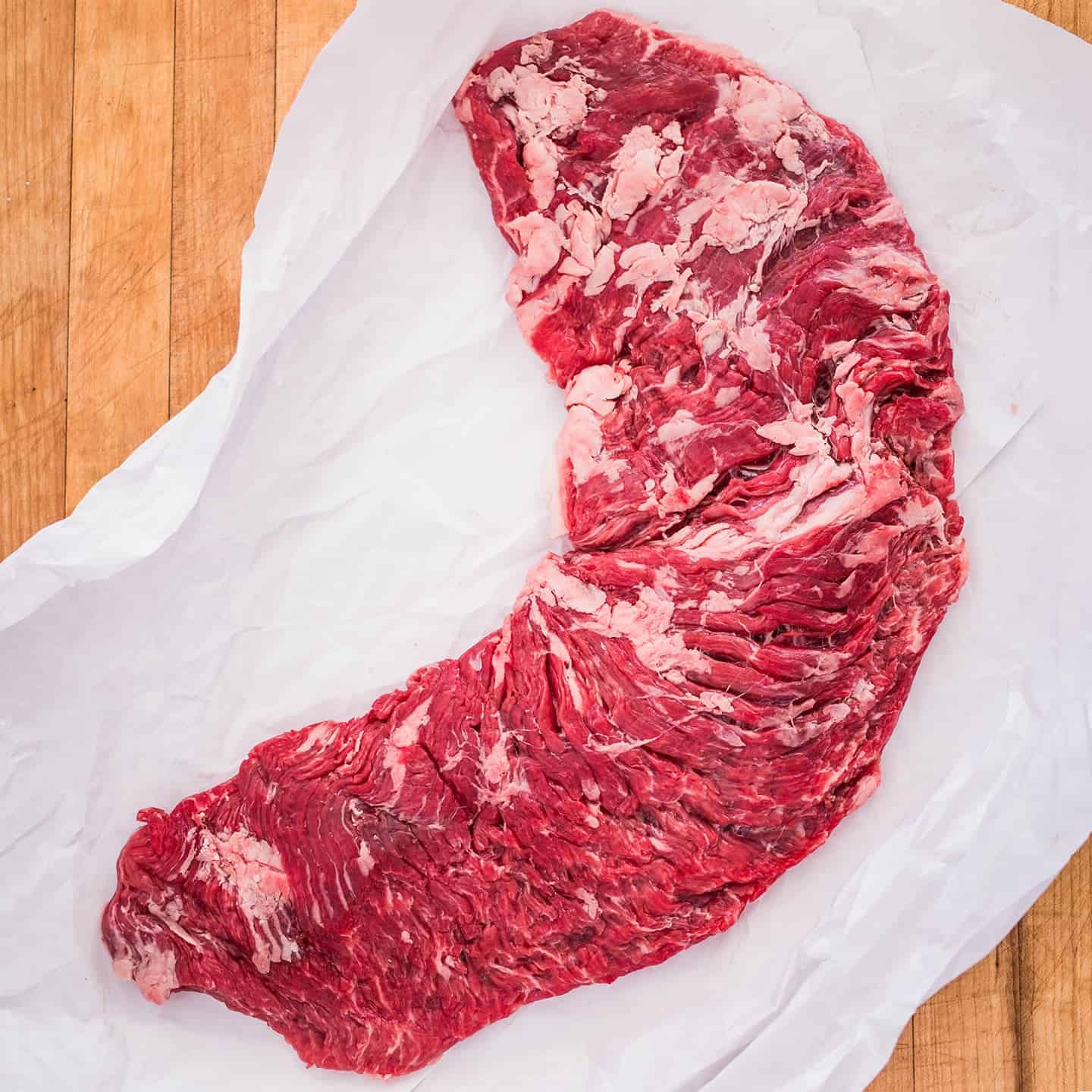 Porter road bavette comes in at between 2.5 and 3.0 lb, ships fresh, is hormone free, antibiotic free, and pasture-raised. This steak is dry aged for a minimum of 14 days to ensure it is tender, flavorful, and sure to impress.
Bavette Steak Price
Bavette steak is still good value for money compared with the premium steaks available. At the time of writing, Bavette steak was priced between $20 and $37 per lb.
Portion Size: How Much Bavette Steak Per Person?
The Bavette steak is perfect for a large gathering of people or a family meal.
If the whole family fancy steak and chips, the Bavette steak means you only have to cook one hunk of meat. And due to the tapered edges if some people want, say, medium and not medium rare, they can have the outer end piece while the real carnivores can devour the central pink goodness.
With some Bavette steaks weighing in at 1.5lb. plus, it will be less a question of how much to serve and more a matter of how much you can eat.
How to Prepare Bavette Steak for Grilling or Smoking
This beautiful piece of meat will come ready to cook without the need to trim it. While you can grill it like a regular steak on open coals, the best way to cook it is low and slow in the smoker or on a temperature-controlled grill.
If you are cooking on open coals on high heat, you might want to tie it off so that the thickness is more uniform across the length, and that way, your cooking will be more accurate. Just take care not to burn the outer before the center reaches the correct temperature.
Medium-rare is the ideal way to cook it, and any more than that, you risk ruining the mouthfeel, with it becoming stringy and hard to chew.
How to Cook Bavette Steak on a Grill or Smoker
Smoking your Bavette steak is best done as a reverse sear setup. Prepare your smoker to your preferred setup, with coal, pellets or wood chips that suit your desired recipe.
The Bavette steak takes very well to a good marinade, which as discussed in our article on how to tenderize steak, can also make it much more tender. So be sure to let it do its thing overnight with a good strong-flavored sauce. Or even a stout spicy dry rub if you are short on time.
Here's our guide to smoking the perfect Bavette steak:
Remove your marinated bavette from the fridge and allow it to reach room temperature. This may take a few hours considering its size.
Prepare your smoker with your chips of choice and heat to around 225f.
Place the whole bavette into the smoker, preferably with a remote thermometer placed in the center so that accurate temperature can be checked periodically (for approximate grilling time, it depends on the thickness, grill temp and more, but for approximate times check out or article on steak grilling times.)

Rare — 115 °F (Finished temp 125 °F) approximately 80 minutes.
Medium-Rare — 125 °F (Finished temp 135 °F) approximately 90 minutes.
Medium — 135 °F (Finished temp 145 °F) approximately 100 minutes.

Once at the desired temperature, add additional coals to the grill and raise temperature to maximum, usually somewhere around 600 °F.
Remove steaks at the desired (nearly done) temp and place on to the grill and sear both sides until the correct temperature is reached for your wanted finish.
Allow to rest for a few minutes.
Cut against the grain and enjoy!
Three Best Bavette Steak Recipes from Around the Web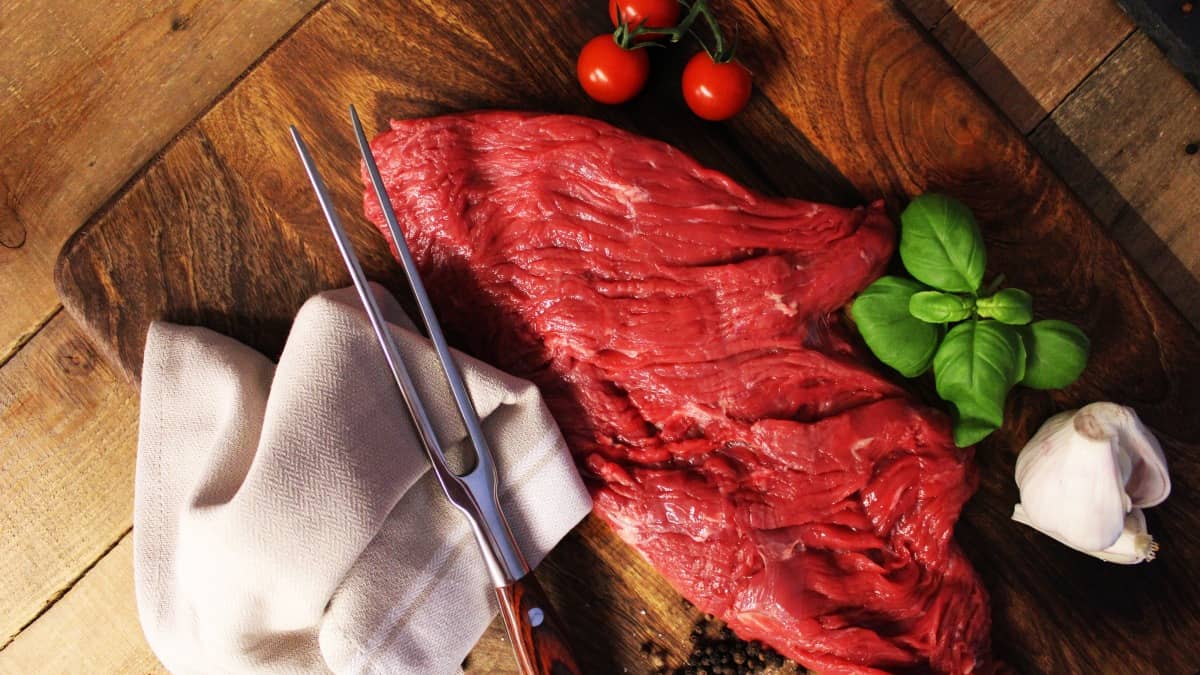 Now that you have seen and heard how good the Bavette steak can be when understood and cooked well, it's time to take a look at a few recipes that will make you want to fire up the grill immediately:
Vindulge Whiskey Peppercorn Bavette
This traditional steak with peppercorn sauce recipe shows you how to prepare and cook your bavette to perfection.
The beauty of it is in the whiskey twist to the sauce, as it gives it an added edge of pure indulgence.
The full recipe and instructions can be found here: Whiskey peppercorn bavette recipe
Chatelaine Bavette with Romesco Sauce
If you're looking for a great way to enjoy a steak in its simplest form, then this finger food recipe is for you.
Bavette cooked to perfection 'high and dry' style and then paired with a rich hummus-like spicy sauce.
Click here to see Chatelaine's recipe: Bavette with Romesco recipe.
Hello Fresh Bavette Burst Tomatoes
This recipe takes a basic risotto rice recipe and adds a fabulous topping in the form of the mighty bavette and a rich tomato sauce made from burst vine ripe tomatoes.
Simple but effective, it will make you rethink the way you serve your favorite steaks.
Head here to see how beautifully simple it is: Bavette burst tomatoes recipe.
Conclusion
The bavette is, quite simply, a beast of a steak.
Not only is it bursting with beefy boldness, it also soaks up marinades like a sponge to give you the best flavor experience, as well as being able to handle subtle accents.
If you are used to delicate melt in your mouth steaks, this one will be on a different planet to the one you normally visit. The texture alone is world's apart, not to mention the look, the flavor, and of course the versatility of cooking methods it is happy to go through.
Whatever you choose to do with it, the Bavette steak will broaden your cooking horizons no end.
So, get one ordered, get it on the grill, and then get online to let us know how you got on with it in the comments below.