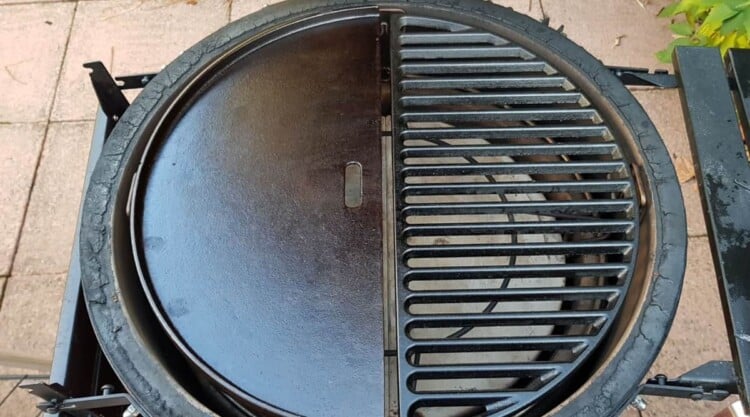 Did you cook last night's steak and this morning's pancakes on the same cookware? Of course not.
Most of us know when to use the appropriate cooking surface, pan or utensils after watching TV or learning from others. But, do you know the difference between a grill and a griddle? And why one cooking surface is more suitable than another?
I'm going to show you some interesting facts about griddles and grills, their differences and why they're suitable for cooking different foods on each.
Griddles and grills are interchangeable for some foods, but not others, because of their different surfaces and how the heat is applied to the food cooking upon them, so this is important stuff to know.
Before we dive further into the discussion of griddle vs grill, let's first go over the basic features of each.
What is a Griddle?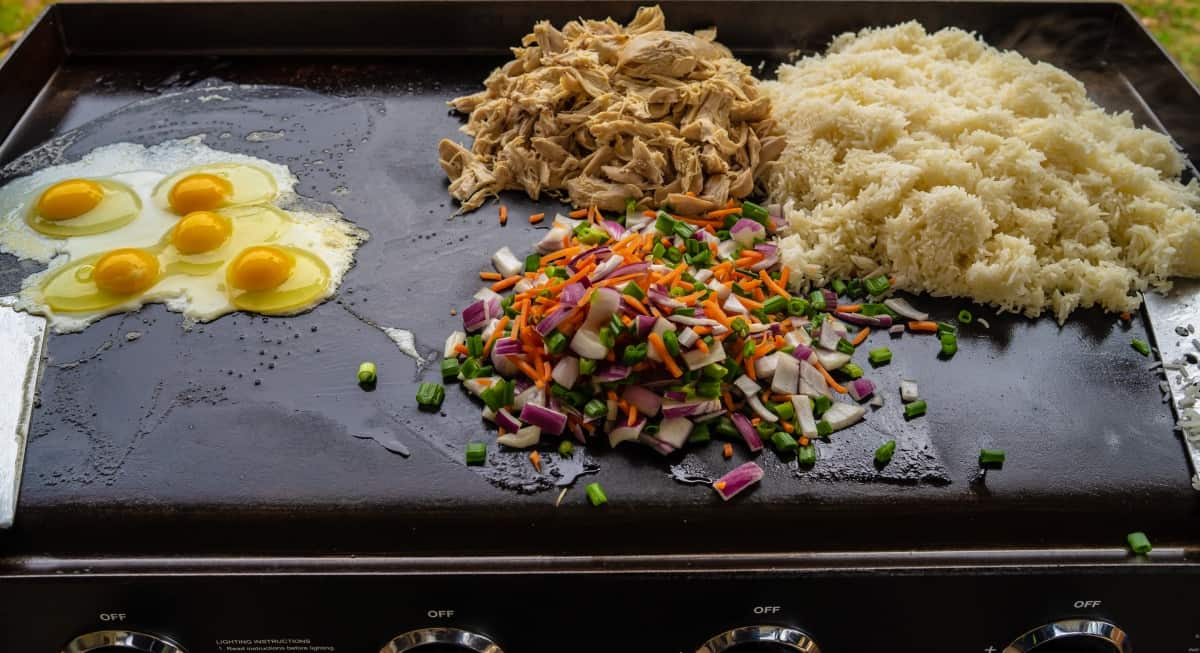 The griddle is quite like a hotplate, a flat, smooth metal surface with the heat source directly underneath. The food cooks directly on it. In other words, it's pretty much nothing but a big frying pan without a handle or sides.
While most hot plates are round, griddles are mostly rectangular. The size varies depending upon use, indoor or outdoor, home or commercial cooking.
They can be large for restaurant use or small enough to fit into the center of a range top, between the burners. There are even tabletop models for making breakfast at the table anywhere there is an electrical outlet.
They can also be a simple flat piece of iron or steel that fits over a campfire or gas burner. The important characteristic of a griddle is that it remains level. Otherwise, liquids will run off to one side.
The thicker the metal, the better the heat retention and cooking quality. Also, thinner metals may warp creating an uneven cooking surface.
If interested, you can check our guide and winner of our search for the best outdoor griddle and tabletop grills, where we go into far more detail!
What is a Grill?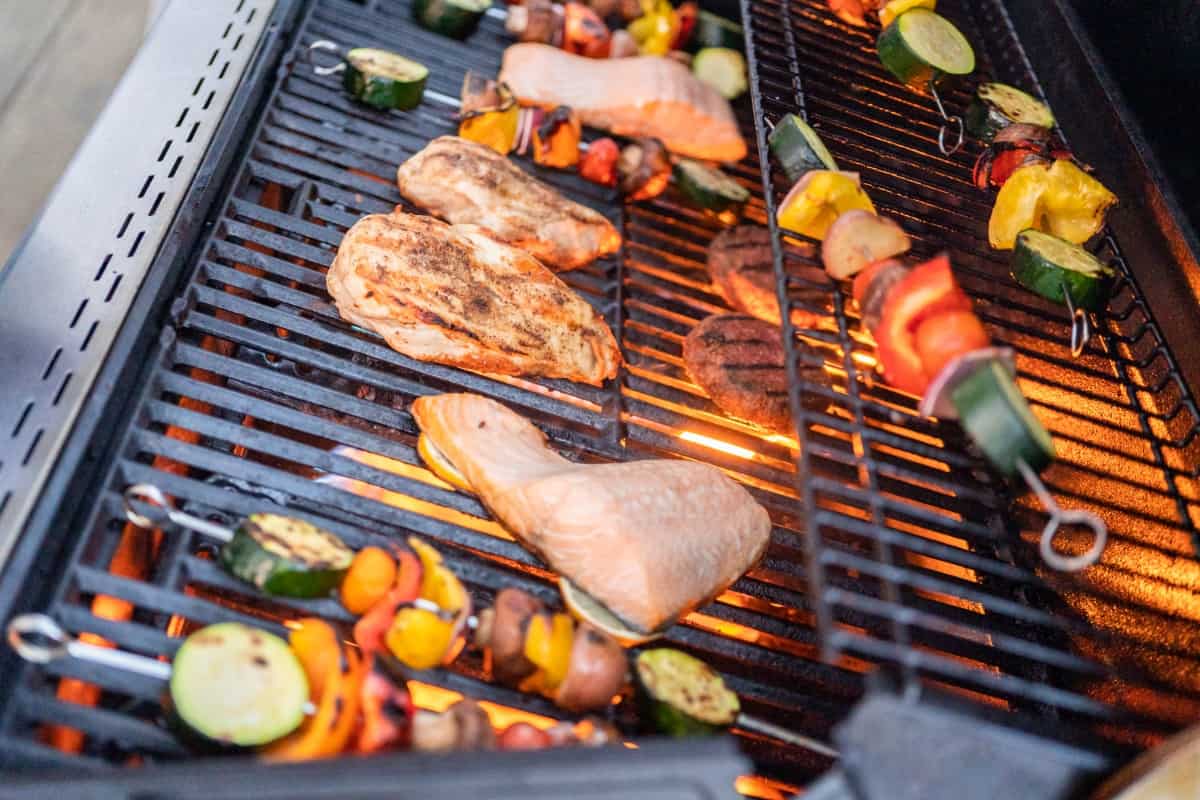 You'll find two types of grills. One is a solid iron or steel plate with ridges, and the other is bars that hold the food directly over the open flame. The open type is what you see on most barbecue grills.
Solid grills have continuous rows of ridges that transfer the heat into the food while allowing the oil and grease to run down in-between them.
Grill cooked food has those delicious, little grill marks from the ridges or bars. The intense heat browns or blackens the food where it contacts the metal. The browning is called the Maillard reaction, caused by the sugars becoming caramelized from the heat.
Grills give off a lot of heat and smoke, and only used outdoors or underneath a commercial ventilation system that pulls the smoke outside.
Smokers cook at temperatures lower than barbecue grills or griddles, but the grates are open allowing the smoke to circulate and the juices to drip away from the meat.
What is the Difference Between a Griddle and Grill?
The difference is obvious. Griddles have smooth, flat surfaces. Grills have distinctively raised ridges if it is a solid plate, or bars with openings in between allowing food to cook directly over the heat source.
The heat source for either griddles or grills can be gas, charcoal or electricity.
Griddles transfer heat from the entire metal surface to the food, cooking and browning evenly. The heat source or flames never touch the food.
Grilling uses higher temperatures than griddle cooking. The heat transfers from the fire directly, and through the metal of the grill grate. The metal absorbs and intensifies the heat, browning or burning at the point of contact. These are the grill marks we love on our hot dogs and steaks.
Just think of how you make pancakes. If you can pour it onto the surface and make round flat pancakes, it's a griddle. If there are bars with openings in between or a metal plate with raised ridges, it's a grill.
The Type of Metal Makes a Difference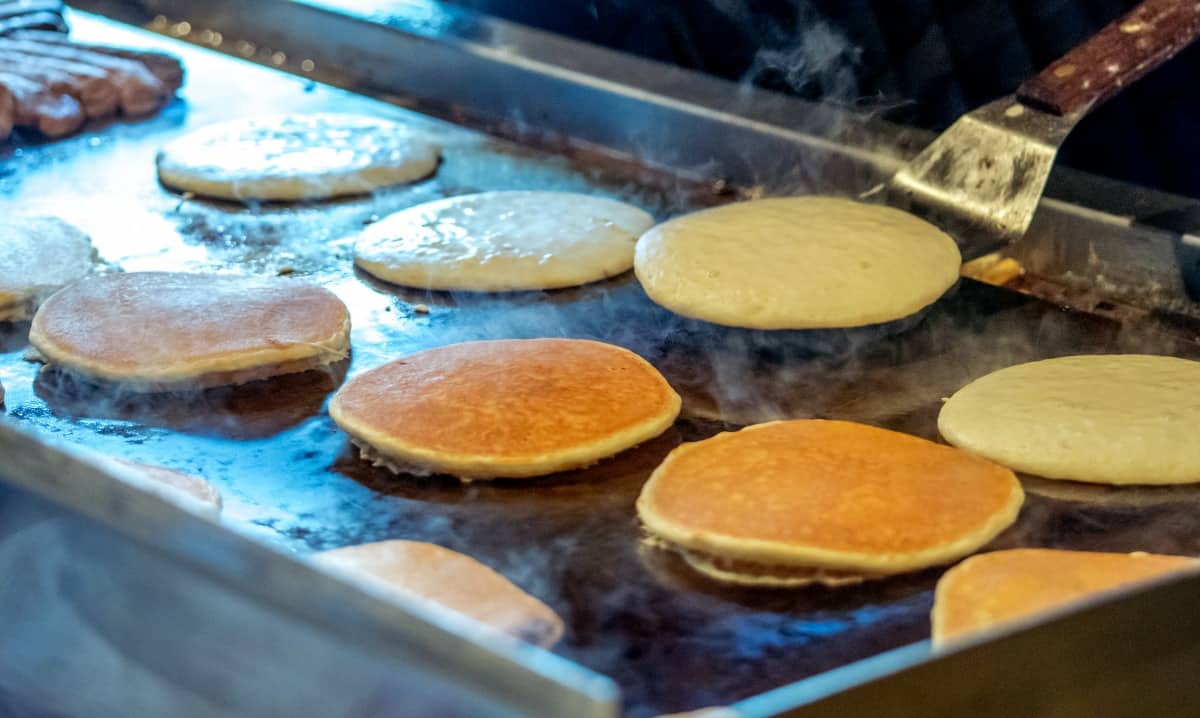 Most griddles will be either steel or cast iron. For bigger budgets and commercial use, you can get stainless steel and even chrome.
You'll find steel or stainless-steel griddles in most restaurants and hotels. They mill the steel smooth to about 3/4-inch, and it weighs about 30 pounds per square foot. It won't warp and has excellent heat retention and recovery.
You can also get 1/4-inch steel for plate material that weighs about 10 pounds per square foot. If you plan on cooking a lot of dense foods like burgers and potatoes, go with the thicker steel. If you are considering stainless, it's more expensive, and a 1/4-inch piece weighs about 11 pounds per square foot.
You'll find grill grates in a variety of different materials like nickel plated steel, stainless steel, cast iron, porcelain-enameled cast-iron and porcelain enameled steel.
The porcelain coating aids in clean up but does not add to the cooking process. As with griddles, the thicker the metal, the longer they retain heat and resist warping.
Although plain steel and iron can rust, once you break them in and 'season' them, they are almost non-stick. After cleaning, you just wipe on a little vegetable oil to prevent rust.
The bottom line here is the bigger and heavier, the better.
You Might Also be Interested in
What Kind of Food is Appropriate for Cooking on Each?
You'll mostly see flat griddles used for cooking breakfast items such as pancakes, French toast, hash browns and scrambled eggs. They also work great for cooking hot sandwiches and burgers too because you can toast the buns at the same time. You'll find one in almost any kitchen in the world. For example:
France — Crêpes and galettes(sweet and savory thin pancakes)
India — Chapatti (whole grain flat bread)
Spain — They cook almost everything à la plancha (grilled on a metal plate) using a griddle
Malaysia — To cook stuffed roti breads like roti canai and roti "boom"
Japan — Teppanyaki dishes
Grills are vital to every culture of cooking around the world. They work best for larger, robust cuts of meat, fish, poultry, sausages or whole vegetables like corn on the cob. Veggies just taste better grilled. Be sure to add a little oil first, or they tend to dry out.
Smaller pieces need to be skewered to keep them from falling through the grill like shish kabob and satay. The higher temperatures of grilling add an element of flavor beyond the basic ingredients.
What Are the Cooking Temperatures?
One of the biggest differences between a griddle and grill is the cooking temperatures. Grills cook at higher temperatures of at least 400 °F (204 °C) or above. Griddles work their magic around 350 °F (177 °C).
Because grills give off more smoke and heat, they belong outside or under a commercial hood ventilating system.
Griddles tend to be a little safer since the food is not in direct contact with open flames, there is no chance of a flare-up.
Which One is Easier to Clean?
The flat griddle is much easier to clean than a grill.
The grill has more surface area with nooks and crannies that hold onto burnt grease. You'll need a stiff brush and soapy water to clean most grills. For griddles, warm water and a flat scraper usually do the trick.
Cleaning a Griddle
You can see a video of how to clean a commercial griddle here. The same principles and tips apply to cleaning one at home.
Cleaning a Grill
Cleaning a grill can be a bit messier compared to cleaning a griddle, especially if you cook over an open flame.
Because a grill has lots of little nooks and crannies, gaps and spaces for food to get into and carbonizes and solidify over time, it really can take some effort to clean them.
Here is a short video showing how to clean a solid cast iron grill plate.
Which Is Better, a Grill or a Griddle?
There is no right answer to this question. It's like asking which is better, a spoon or a fork? The answer lies in what you're eating and cooking. As I've mentioned, griddles work best for diced, small, runny food or batters.
You'll want to cook fatty meats and skin on poultry with a grill. The fat can drip off and create extra smoke and flavor. Your food is a little healthier because it's not sitting in grease and oils like on a griddle.
Those blackened grill marks add a unique flavor to everything you cook, and you can't get them using a griddle.
You'll need both types of cooking surfaces if you plan on cooking regularly. If you are just beginning to collect kitchen tools and appliances, look for a double-sided cast iron grill/griddle combination. It is an inexpensive way to be prepared for any recipe challenge.
Let us know if you've tried different cooking surfaces like enamel-coated iron or chrome. We would like to hear your results.
Happy grilling!