This article reveals how lava rocks were once standard gear for gas grills, and why we don't use them anymore. We look at their pros and cons, and what ultimately replaced them.
When I was a kid, I can remember sitting on pillows in the backseat of my parents' car. (1974 Mercury Comet, if you want to paint yourself a mental picture. A vehicle so spectacularly ugly, it was actually wonderful to look at.) I guess the pillows served two functions: they allowed me to see out the window, and they positioned me better for the seatbelt.
By the time I had kids of my own sitting in the backseat, we'd figured out as a society that pillows were not the best solution. The kids sat in booster seats after graduating from the baby seats, and that was, obviously, much, much safer.
It just goes to show how our solutions to problems evolve over time. It's the same with barbecuing. When was the last time you saw lava rocks in a gas grill?
As a bit of a history lesson, and to answer a question that's still cropping up, we're going to look at lava rocks in gas grills.
I'll explain where they come from and why anyone thought it was a good idea to toss them in a barbecue. Next, we'll see why they went the way of the dodo and finish with a quick discussion of whether it's ok to go retro and add lava rocks to your grill.
Buckle up, cos this journey of learning is about to get rocky.
What are Lava Rocks?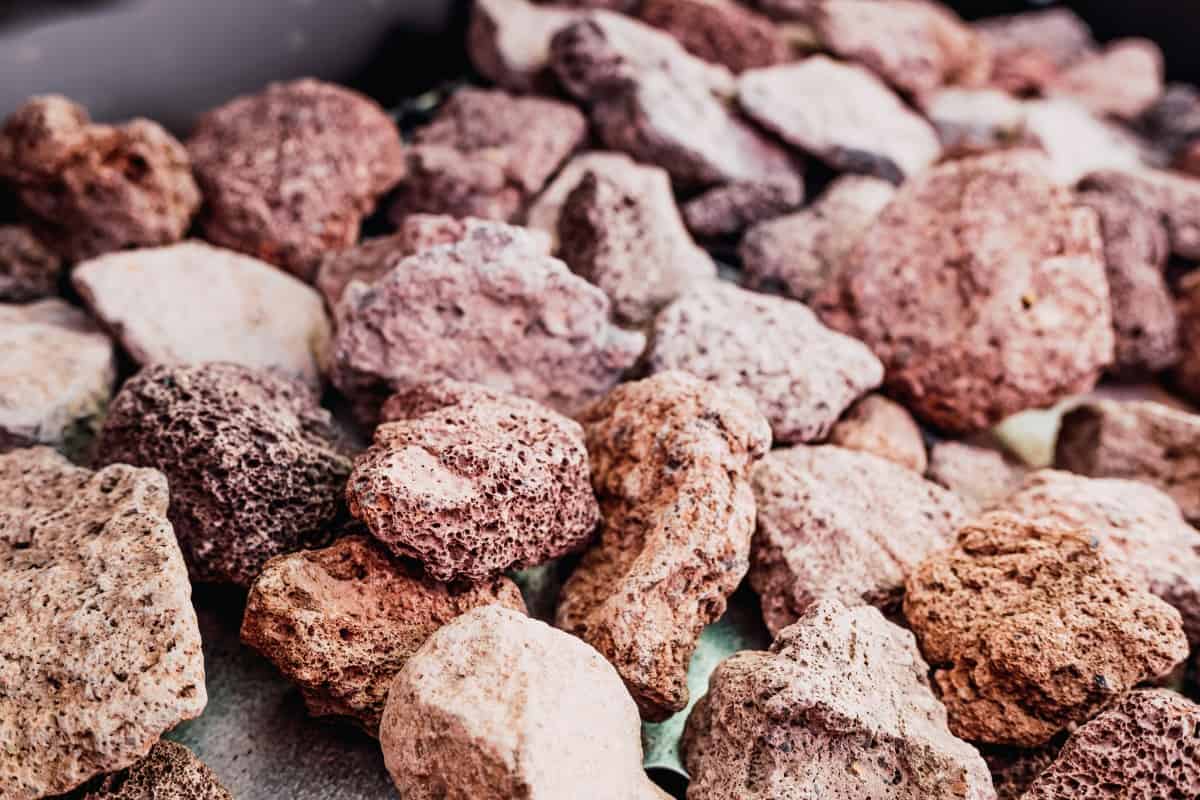 It's not just a clever marketing ploy, believe it or not. Lava rocks really come from magma flows created by volcanic eruptions. When the lava cools, it forms what's called igneous rock. (If you like random trivia, there are three kinds of rock: igneous, sedimentary, and metamorphic.)
You might not realize it, but North America is home to a vast collection of volcanoes, both active and extinct. Most lava rocks you can buy are mined in the western United States, in places like Utah and Colorado, where active volcanos were plentiful in prehistoric times.
Why Were Lava Rocks Used?
When gas barbecues hit the scene, they were immediately popular because they were so simple to operate. No arranging charcoal, lighting it, controlling airflow — just sparking the gas into a flame and slapping the food on the grate.
The problem was, they couldn't compete with charcoal grills for flavor. Not only does charcoal create smoke, but it also creates vapors.
You see, cooking meat releases juices that drip down through the grate. In a charcoal grill, they land on the charcoal, vaporize, and rise back up to coat the meat with invisible deliciousness.
In a gas grill, juices just flowed down onto the burners or went straight to the bottom of the firebox. So, not only won't they add flavor, but they'll also shorten the life of the burners by hastening rusting. No surprise, too, that grease applied directly to a lit burner can cause a flare-up!
On top of all that, gas grills gave off uneven heat, creating hotspots that made grilling challenging. Put it together, and it's a lose-lose-lose-lose situation.
What was needed was something to go between the grate and the burners to distribute heat, collect drippings, and convert them to yummy gasses, not flame-thrower fuel.
Lava rocks, as you might guess, are good at withstanding heat. They're also lightweight and porous, with massive surface area thanks to all the nooks and crannies. Perfect!
So, the time was every new gas grill came with lava rocks for over the burners. They offered protection for the burners and took over for charcoal in the vaporization process.
You Might be Interested in
Flavorizer Bars — the Main Reason We Don't Use Lava Rocks Anymore
If you've read through any of our gas grill reviews, you know they all feature something called Flavorizer bars. (Or a similar name — Flavorizer is a registered trademark of Weber though we often use it generically.)
Flavorizer bars (or whatever the manufacturer calls them) sit below the grate and above the grill and are usually tent-like in shape, and they all do the same job. They absorb rising heat and radiate it upwards in all directions, and catch falling drops of juices from above. The liquids are diverted away from the burners — some will vaporize and rise up to flavor the meat, and some will trickle harmlessly to the bottom of the grill to be collected in a grease trap.
Ta-da! You've saved your burners from an early, rusty death and improved the taste of your food in one stroke.
Benefits of Flavorizer Bars Over Lava Rocks
Obviously, if lava rocks were the best solution, we'd still use them. But they weren't, so we don't.
One of the supposed pros of lava rocks turned out to be a con — their porousness. Not all the grease they collected would burn off into tasty wisps of gas. A lot of it just gathered in the pores and stayed there, turning stale over time. They looked awful and started to release less-than-yummy vapors. There was no good way to clean lava rocks, so the only solution was to replace them.
As well, lava rocks didn't fully protect the burners from moisture, so they ended up rotting out anyway.
Flavorizer bars, on the other hand, completely shield burners from a steady stream of dripping juices. They're uniformly shaped, so they distribute heat much more evenly than lava rocks. And, they're easy to remove and clean, so they last a long time.
Ceramic Briquettes
Before Flavorizer bars came along, the BBQ world briefly experimented with ceramic briquettes. Does anyone remember those? (Or is anyone still using them?)
Like charcoal briquettes, ceramic briquettes are made from dust and formed into semi-regular shapes. Used in a gas grill, they do many of the same jobs as lava rocks, including absorbing and radiating heat, keeping grease away from the burners, and giving those juices somewhere to vaporize into clouds of flavor.
The advantage of ceramic briquettes over lava rocks is that they're nonporous. That means they won't absorb grease and hold it forever, further meaning you can use them for a much longer time.
You can still buy ceramic briquettes, though I can't think of the last time I saw anyone use them. Very few grills accommodate them anymore.
Can You Still Use Lava Rocks if You Wish?
Hey, it's your grill — you go ahead and do whatever you want with it. But, I'd think very carefully before adding lava rocks to a grill.
For one thing, you'll have to do some customization work to put the lava rocks where they're most effective, between the grate and the burner. You can't just pile rocks on top of the burner tubes—you'll block the holes and potentially damage the burners. That's a quick way to ruin your grill. (Oh, and it might void your warranty, too.)
You could possibly put lava rocks around or below the burners (if there's space). Still, you're not actually protecting your burners or allowing the lava rocks to absorb and distribute heat.
The best uses for lava rocks in 2023 are hardscaping in your garden and for a decorative touch in your propane fire table. Leave them out of your grill
Final Thoughts
Although the basics of cooking meat over fire have changed little since the dawn of humankind, thankfully, barbecue technology continues to evolve and improve. Lava rocks had their day and, at the time, they were a big help for gas grillers. Those days are gone, though, and I say good riddance! I'm happy to be a gas griller in the age of Flavorizer bars.
Have your own thoughts on lava rocks and grilling? Please share them! (That's not a challenge — I'd be genuinely interested to hear a dissenting opinion.) Send us an email on this or any topic that interests you, or join the conversation on social.
Cheers, everyone, and "lava" nice day!