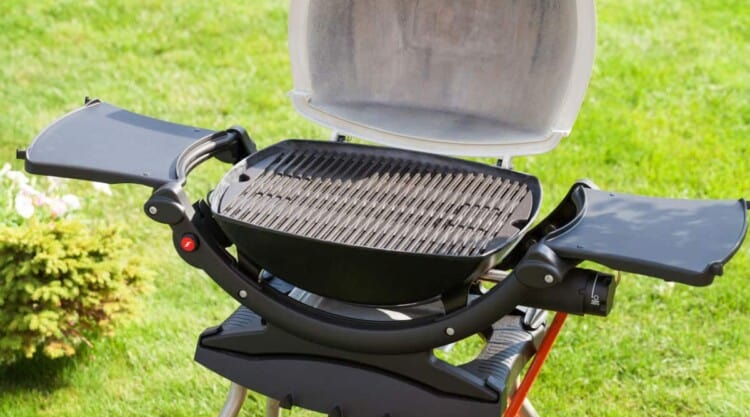 Today we're going to help you find the best portable gas grill that's within your budget, and suits your exact needs and desires.
Although many purists would rather cook over charcoal, you can still have a great barbecue experience with a gas grill. They fire up in seconds, there's no dirty charcoal to deal with, and you get actual grilling instead of just cooking on a stove outside.
There are scores of portable gas grills on the market, but we've used our expertise and research skills to pare it down to just the best seven for this review.
We go over the general advantages and disadvantages of such grills, let you know in our professional opinion what features you should be looking for when buying, and pair up top models with different needs.
But first, for the bottom line up front, we review a few models in detail and see if we can find an overall best pick winner from the group.
At a Glance: Our Top Picks for Best Portable Gas Grills
Portable Gas Grill Reviews
Since most people who land here tend to already have a good idea of the specifications and features they are looking for, we'll kick off this guide by listing and discussing our top seven choices, before heading into a buying guide and what you should be looking out for when deciding which one to choose.
After consuming this information, you should have a good idea of what to look for in the right model for you.
Napoleon TravelQ Pro285
1
Napoleon is a relatively new manufacturer of portable gas grills, but have fast become known for their high-end, high-quality grills in all shapes and sizes. This TravelQ Pro 285 is no exception. It's a great product, with good features and high build quality…though this does make it come in at a higher price than most on this list!
This portable grill has 285 square inches of cooking space, which is fairly large for a portable but still easily in the right range. It is ample space to cook for 4 to 6 people, depending on what you're grilling.
When it comes to output power and controllability, this Napoleon is highly capable. Two 6,000 BTU burners combine to offer 12,000 BTUs output. The burners are independently controllable offering infinite heat control from low to searing high, and from even across the whole grilling surface area, or you can set two separate heat zones one above each burner, allowing you to cook foods at different temperatures simultaneously.
There's also a thermometer incorporated into the grill lid for approximate monitoring. As discussed numerous times on this site, you cannot rely on built-in thermometers for precise accuracy, but they are good enough for a ballpark figure. And that's acceptable.
The grill grates themselves are porcelain coated cast iron, with a proprietary Z-Wave pattern. These soak up and then emit heat evenly, helping for a more consistent cook. The grate is in two halves, making them easier to remove for cleaning, and to gain access to the stainless steel burners if required.
Napoleon also make a cast iron griddle specifically for the Pro285 (purchases separately) that offers the chance to grill eggs, pancakes, smash burgers, or anything that requires a solid surface to cook on.
This portable grill has heavy-duty cast aluminum 'weather guard' lid. When open, if the grill is positioned appropriately it acts as a wind break. And when closed it offers the ability to roast with convection heat like your kitchen oven, and not just high heat direct grill like you do on a hob.
Overall, this grill measures 14.75 × 18.5 × 29 inches, weighs 28.5 lbs, and has two carry handles for transportation.
This model is a tabletop version, but there is a version of this same grill available on a folding scissor stand with two wheels. You must buy one configuration or the other, you can purchase the stand separately. This is a shame as it would have meant scoring more points.
Pros
Large cooking surface for a portable grill
Excellent temperature control, with two burners for different heat zones.
Great build quality, from high-end materials.
Less than 30 lbs and two handles for transport, so two can carry it walking side by side.
Small enough to easily pack into a car trunk, leaving room for other necessities.
Easy to use and highly capable.
The availability of cast iron griddle is a nice touch, for an optional flat cooking surface like a griddle.
Cons
Pricey for a portable
A bit on the heavy side
Overall, this is an excellent grill, made of high quality materials, and is highly capable while remaining portable.
It is one of the most expensive portable gas grills on this list, and you must decide to either buy with or without cart and cannot swap between the two configurations. If not for these facts, it would have been our number one pick.
You can learn more about this grill in our far more detailed review of the Napoleon TravelQ Pro 285.
Weber Q1200 Liquid Propane Grill
2
If you dig deep and research grills, you will come across the Weber brand again and again. It's one of the best-known brands on the market, and they've earned a reputation for quality since inventing the charcoal kettle grill back in 1952.
The Q1200 is one of four portable gas grills they offer, and is the second from four in terms of price from Weber. As with all the Weber portables, it has a single burner looped around the bottom of the cooking area.
It's fueled by either a 14.1 or 16.4 oz. disposable liquid propane cylinder — though a hook up for 20 lb tanks is available separately — and it generates 8,500 BTU per hour.
An electronic ignition should light you up with a single push of a button, and you can adjust the heat with an infinitely variable control knob.
The porcelain-coated cast iron grate (actually 'grates' — it divides into two sections) provides 189 sq. In. of cooking surface, which is about average for a portable barbecue. You should be able to comfortably cook 6 strip steaks simultaneously.
The lid has a handy thermometer built-in to measure temps, a feature not found on all portable grills.
Stability is very important with a portable barbecue, and the design of the nylon (think solid plastic, not windbreaker jacket) legs should keep the center of gravity low and the whole thing stable. For additional stability, and height, you can purchase an optional cart.
Speaking of options, you can add a griddle section for cooking non-grill friendly foods like pancakes, or you can use it for searing.
The lid and the body are made from cast-aluminum, proven to aid heat-retention, and keep corrosion minimal for longevity.
It measures 15.5″H x 40.9″W x 16.5″D inches with the lid closed and tables out, and is a manageable weight of 28.8 pounds. I'd say that's an easily manageable weight for a "portable," and the convenient side tables do fold up and under the lid for easy storage and transport.
Pros
Built-in thermometer
Lots of prep space
Large grill
Solid construction
Stable base
Easy to use
Cons
Pricey for a portable
A bit on the heavy side
One burner = one heat zone and no indirect heat cooking
It's hard to argue with the quality of this grill, with middling cooking space and two side tables for working with.
If you're only cooking for yourself or as a couple, this may be more than you need. On the other hand, you'll love the space and power this model gives you to cook for more than just 2. We happily award this runner-up spot in our search for the best portable gas grills.
The Weber Traveler looks much like most other grills on a cart, but this one is different! The cart here is a big part of what makes this grill so good and portable.
In its folded state, although it weighs over 60 lbs., it's incredibly easy to two this grill behind you on the large, rugged wheels. So easy, in fact, you can do it with one hand.
And when you're ready to grill, you simply lay the handle on the floor, put your foot on it and lift.
The scissor-style folded stand then opens up, unfolding and locking into place, ready for you to grill.
To fold the grill down, simply put your foot back on the handle, release the catch under the grill, and watch it slowly fall back into its folded position, where it locks itself into a flat state, and locks the lid and grates inside ready for you to wheel it about.
I think it's best you watch the folding and unfolding in action:
The stand aside, this is a competent grill that is worthy of the Weber name.
The lid and body are made from porcelain-enameled steel and the burner is from stainless steel. These materials will last for many years.
And the cooking grate is made from porcelain-enameled cast iron, the same materials used in Webers more high-end grills. Cast-iron is great for heat retention and a more even heat distribution, making cooking on it a pleasure.
Measuring 37.2" H x 43.6" W x 23" D, it has a 320 square inch cooking grate, which can fit up to 15 burgers. The lid is somewhat shallow, so you cannot hope to fit in large, tall cuts of meat, but this grill is excellent for pumping out burgers, hot dogs, steaks, chops, shrimp, vegetables, and most quick-grilling items.
Unfortunately, it does only have a single burner, so you aren't able to set up different heat zones or indirect roast items. But at 13,000 BTUs, the one burner it has can reach high searing temperatures, making this a great out-and-out grill. But yes, it cannot be used for roasting or smoking.
Pros
Big 320 sq. in. grate
Amazing folding stand; one-handed set up is possible
Side shelf and tool hooks
Convenient grease management system
Cons
Not enough clearance under the lid for anything taller than a thick steak
Only a single burner
For a portable gas grill on a cart, this is right up there with the best. It looks great, is easy to wheel around, performs great, and should be one to consider.
For more details, you can check out our more detailed testing and review of the Weber Traveler.
Coleman Propane Grill RoadTrip LXE Portable Gas Grill
4
If you're an avid camper then Coleman is a name you know and trust. So the traditionalists in the crowd may want a closer look at this offering from the outdoor-living industry stalwart.
Your first thought when you look at this portable grill will be that it looks built to travel. Instead of being a tabletop, this clever number is one of few portables that come standard with its own full-height stand. Even better, it's integrated into the BBQ. Even better, it's got wheels and a handle for towing.
The whole design of the unit is remarkable, and it speaks to Coleman's decades of experience making gear for outdoor enthusiasts.
It's a pretty large unit at 32 × 35 × 19 inches, weighing 44 pounds, and with 285 square inch cooking surface. You can take full advantage of all that space with a variety of optional, interchangeable cooking surfaces, and handy built-in hooks are there for you to hang your tools on while you work. There are small side tables that fold in, as well.
Ok, so it's a smart design. But, can you actually grill on it? You bet! Fire it up with the push button ignition and then turn on the burners. Yes, burners. Plural. Each burner delivers 10,000 BTU for a total of 20,000 BTU. Not only can you cook thoroughly and quickly, you can also set up separate temperature zones with just a single LP tank.
The grates are porcelain-coated cast iron, and will provide even heat and long-life. Know up front, however, that the low-profile lid won't allow for cooking anything much taller than a hamburger or some chicken legs.
This is a ruggedly built grill that's meant to travel. Having said that, it's pretty hefty, tipping the scales at over 50 pounds. So while you won't be taking it backpacking, the built-in wheels and handle will allow you to roll it out to the picnic spot, parking lot, cottage dock, or wherever you're planning to cook.
Pros
Built-in cart and wheels
Folds down small for transit and storage
Interchangeable cooking surfaces
Dual burners
Cons
Slim design won't allow for roasts or whole chickens
Heavy
No thermometer
If you plan on cooking anything larger than the usual tailgate fare, or you want more of a combo home and away grill, this one isn't a winner.
However, if you're likely to do a lot of game day grilling, camp cooking, or beach barbequing, and you want a dedicated portable barbecue, this ingenious Coleman Roadtrip grill might be the right choice for you.
Char-Broil Grill2Go X200 Portable Tru-Infrared Liquid Propane Gas Grill
5
When you're grilling on the go, whether pregame, pre-swim, or pre-campfire sing-along (if that's your thing), time is of the essence. All you want is to grill some good food and get back to the fun! So how about a high-speed portable grill, so you don't miss your turn on "Row, Row, Row Your Boat"?
Char-Broil claims to have you covered with this cool (and hot) little number that reaches cooking temperatures in super quick time!
So why did we choose to look at this one? Two words: infrared cooking. And we like this grill so much that it also appears in our roundup of the best infrared grills
With infrared, the food is almost entirely separated from the open flame by a special shield built-into the grill. Air and heat pass through, but the flame doesn't. The result is high heat that's evenly distributed, with claims of flare-ups being a thing of the past.
The Grill2Go is built rugged for travel, no doubt about it. Twin latches hold the lid closed, and the cast aluminum box and lid are rough and tough. The stubby legs look sturdy, as do the twin handles for carrying.
It measures 23.7 × 15 × 13.6 in, weighs a tote-friendly 20 pounds, and offers 200 square inches of cooking space.
A push-button electric igniter brings the burner to life, which provides 9,500 BTUs. That doesn't seem like a lot, but the infrared technology more than makes up for it by generating a ton of heat.
According to some folks, it might even make too much heat. Some reviewers report burning their food on more than one occasion because they left it just a bit too long. Evidently, it's not always easy to control the temperature, and some customers reported hitting temps of 600 °F and higher.
Still, if speed is what you want, you shouldn't be shutting the lid and walking away. The whole point is to grill it and go ASAP.
All in all, the number of satisfied customers outweighs those with issues by a sizable margin.
Pros
Solid construction
Lid latches
Built-in thermometer
Rapid heating and cooking
Hot enough to sear
Cons
Temperature difficult to control
Reports of faulty regulators
One of the most rugged products in this list, the Grill2Go Char Broil portable gas grill should stand up to anything you care to throw at it.
Not the right pick if you want to cook delicate dishes like fish or veg. But this is one of the best portable gas grills if you just want to cook your meals fast and then rejoin your friends.
Cuisinart CGG-180T Petit Gourmet Portable Tabletop Propane Gas Grill
6
Not every trip out involves a big trailer, and not every tailgater actually has a vehicle with a tailgate. There are times when a guy or gal really wants to do some grilling, but it's not practical to carry a heavy grill.
So does anyone make a truly light-weight propane gas grill?
The masters of kitchen gadgetry, Cuisinart, have heard our pleas and responded with this diminutive, almost tiny portable and lightweight grill.
The CGG-180T is built for portability first. It is equipped with folding legs that tuck neatly underneath the body, and the oversized lid handle allows you to carry it like a briefcase.
Amazingly, this little cooker weighs just 13.5 pounds. Toting this one should be no problem. Actually, a fair percentage of the weight is the porcelain-coated cast iron grill. It's nice to know they didn't skimp on this important piece of the barbecue.
Naturally, there's limited cooking space on a unit this small. It measures 16 × 16.5 × 13 in and gives you 145 square inches to work with. It's not a lot, but it's plenty to do up a few burgers, dogs, chops, steaks, or some vegetables. Cuisinart claims you can do up to 8 burgers at a time, but I think they're talking about sliders, not big juicy patties.
It's made out of stamped steel, so don't expect great heat retention, but honestly, that's not why you want to buy this grill, anyway.
Heat generation may be a challenge, too, with only 5,500 BTUs to cook with. Still, given the size of the grill, it should be enough for basic fare, and it's great features also make it a contender in our search for the best tabletop grills.
Pros
Very light
Heavy-duty grill
Electric ignition
Built for maximum portability
Cons
Not very powerful
Thin metal body and lid
No thermometer
Small cooking surface
Obviously there's no way this little fellow can compete with the "big boys" of the portable grill market in terms of power or cooking space.
Still, it's a quality product and the best travel grill for campers who travel VERY light, or picnickers who don't want to lug a larger grill around.
Masterbuilt MB20030819 Portable Propane Grill
7
For you stainless lovers out there, this may well be the portable grill for you!
Built from long-lasting stainless steel that is easy to clean, this grill not only looks the part but is long-lasting and easy to clean too.
With dimensions in inches of 32W × 19D × 33.5H, offering 288 sq. In. Of total cooking surface area (including the warming rack) and weighing 20.9 pounds, it's one of the larger grills on this list, yes. But it has all the features you'd expect of a portable grill.
It has a locking lid, a large carry handle, folding legs, and is compact and a good shape for packing, yet sturdy and well constructed.
It's quite powerful with a 10,000 BTU burner with a simple to use push-button ignition.
One standout feature not seen in many portable grills is a stainless steel removable drip tray, which makes cleaning all the easier.
My only gripes with this product are the materials used seem a bit on the thin side, so heat retention isn't going to be the greatest when it's cold and windy. But then, that's a compromise made to keep weight and cost down.
Pros
All the features needed for regular transport.
Electric ignition
Long-lasting stainless steel construction (and looks good!)
Cons
Single burner, so no two-zone cooking
Materials are a bit thin, which may affect heat retention in cold and wind.
Runs on small 1-pound canisters, with no hook up for larger tanks.
One of the better looking grills in this list (in my opinion, though yours may differ!), this professional looking product is certainly desirable.
It has all the features needed for maximum portability, locking up tight and folding up small and square. It's just a shame the build materials aren't thicker, so it could hold heat more easily. But then it would have to cost much more!
What to Look for in the Best Portable Gas Grill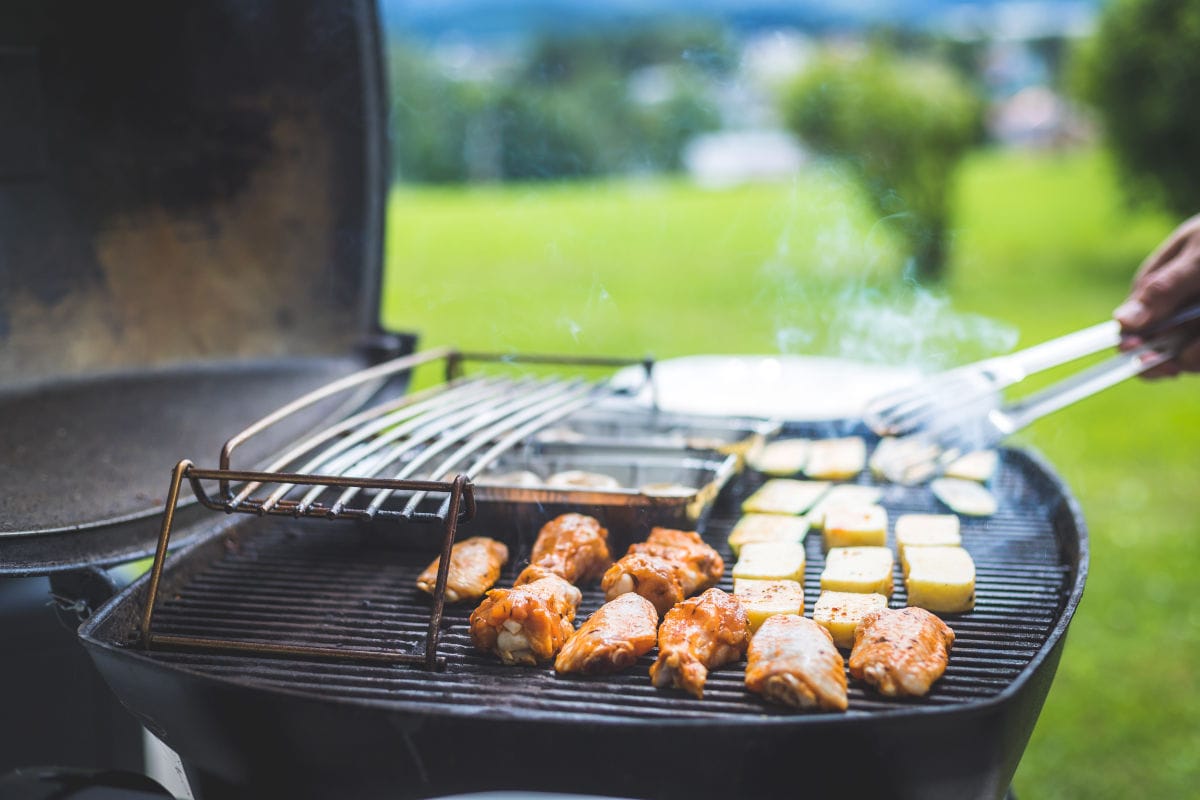 As a buyer, you need to be confident in your selection. The last thing you want is to flip down your tailgate, set up your grill and then end up buying sausage in a bun from a street vendor because your BBQ wasn't up to snuff.
So, let's go over the features to look for in a good portable propane BBQ.
Build Quality
If something goes wrong with your home grill, you might be able to run out to a nearby store to get the part you need, or maybe have the tools in the garage to help you rig up a temporary solution. When you're grilling away from home, you will not have access to parts and tools, so it's got to work the first time, every time.
Check to see parts fit tight, that there are no flimsy plastic bits, that hinges are solid, and the lid lines up with the firebox.
As you will be carrying it often, make sure any handles are strongly attached, sturdy and fit for the purpose of carrying the grills weight. Also check for any sharp edges that can snag clothing or cut skin.
Construction Material
There's little point making a well-built grill, but using low-grade material. But because we're looking for portable grills, we also have to consider weight.
The lid and firebox should be thick enough to hold the heat, but thin enough to keep the barbecue from being too heavy. Cast aluminum is a good choice.
Grates get the biggest workout of all the parts on any barbecue of any size, so look for quality grill grate material under the lid:
Chrome plated grates are often seen on cheaper grills. They aren't the best. Because they are often thin and light, they do not hold heat well and once the coating has worn away they have the tendency to rust easily.
A cast iron cooking grate coated with porcelain is the best choice for heat distribution, rust resistance, and easy clean up. However, they are heavy and can potentially chip if knocked around, which they may be if transported regularly.
Stainless steel grates are a popular material for grill grates, and for good reason as they are last lasting, relatively light compared to cast iron though still hold heat well, are highly durable and easy to keep clean.
And remember, this is an outdoor product, and though you may store it indoors between uses, it will still get exposure to moisture. You don't want to see exterior parts, such as hinges and latches, made from materials that are likely to rust.
Finally, look at the burner materials. It's standard to have brass or stainless steel burners on portable gas grills these days, which have high durability, corrosion resistance, and will not burn out and need replacing! Don't accept aluminum or other cheap materials as they just will not last.
Automatic Ignition
Every gas grill should come with an electric/automatic, push-start or push and twist ignition. There is no reason to expect to have to carry matches or a lighter to ignite the gas in this day and age.
So if you are checking out a model that requires manual lighting from a naked flame, I would probably disregard that model out of hand.
You Might Also be Interested in
Grilling Power — BTUs
Some portable gas grills are woefully under powered — though you can rest assured the picks in this guide aren't! However, it pays for you to know how heat output is measured.
BTUs are the industry standard measure for determining how powerful a gas grill is. It's a bit of a misnomer, because BTUs is actually how much fuel is burned, and not directly proportional to how much heat is generated as some burners and grills are more efficient than others, as well as the size and volume of the grill affecting how hot it can get for a given BTU value.
However, BTU rating and how hot a grill can go is highly related, so it's a reasonable and the accepted way to measure a gas burners strength nonetheless. Generally speaking, the higher the BTUs, the hotter it can go.
Also, the higher the BTU value, generally speaking the quicker the grill is to heat up and get to cooking temperature. Something that is important in our busy, time starved world!

Editor's Note
In my opinion, BTUs aren't as important in portable grills as they are in larger grills. All portables are small, and don't need too much heating for the smaller space. More important is build quality, thickness of materials, and the ability to hold heat in cold and windy weather.
— Mark Jenner
Temperature Control
Naturally leading on from BTU value is overall temperature control of the grill.
You should expect to see controllers for the gas burners that have at least a few settings, but preferably are infinitely controllable giving you accurate control of how hot it gets inside your grill.
For those of you used to two-zone grilling, I'm afraid you may have to sacrifice this with a portable gas grill as they usually only come with single burner, though some of our picks do have two!
Cooking Surface Area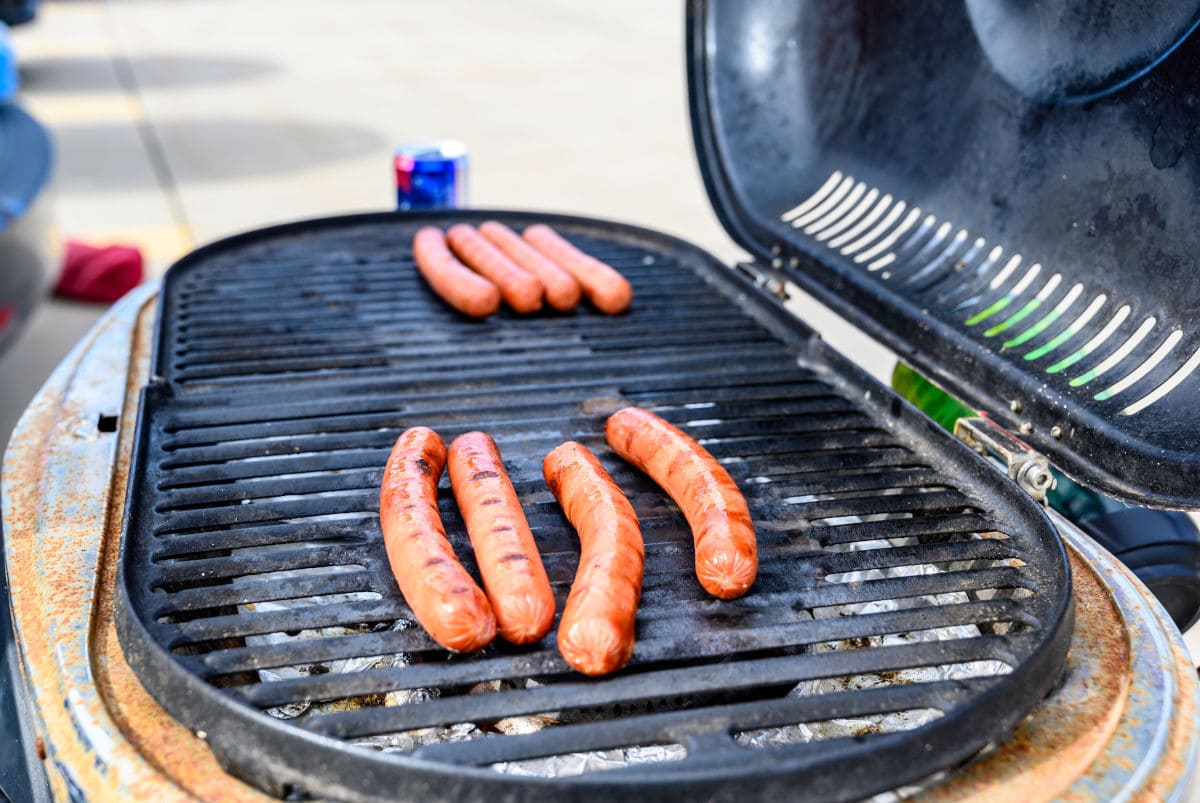 We're shopping for portable gas grills, so small is the name of the game. But you can get 'too small'!
Before you shop, decide how many people you will be regularly cooking for, and from this, the grilling space you will require. Will it be just the two of you? A family of 4, perhaps? Or a small group of 6 or more?
I think it's fair to say you should expect to cook for groups in shifts, making food for 2 or 3 people at a time if you want steak and sides, though you can certainly expect to make ten burgers at once.
A grill space of 100 square inches can cook 5 or 6 burgers, or 2 to 3 ten ounce steaks to give you a rough idea. Multiply up from there to arrive at what size you need.
Work Space
Granted, these are small portable gas grills, and you probably can't be too picky in this department, but you will still want a place for your stuff, as George Carlin once put it.
While you might have space on a table, or the back of a truck, to put utensils and seasonings and whatnot, it's still super handy to have side tables.
Look for a model with work surfaces that fold up or detach easily for storage and transport when they aren't in use.
Overall Size and Suitability for Travel
How big, or small you go will largely depend on how many people you intend to cook for at a time, what kind of dishes you're planning, and how far you mean to tote your potable grill.
Think about the weight of the unit and how far you'll have to carry it. If a grill is too cumbersome to transport conveniently, you'll soon give up taking it anywhere, and your money will be wasted.
Lid depth is as important as square inches of surface area if you want to cook a chicken or roast. But, if you just want to slap some burgers and dogs down for a quick bite, you could opt for a lower profile model.
You want to look for features you'd expect on a portable grill, such as a way to secure the lid and grates for travel. Any side tables and legs should be foldable, telescopic, or detachable, as well as being able to stow them away in the grill, or at least in an accompanying carry case or bag.
Highly important is also the overall size. Will it fit inside your trunk or roof box for travel? A portable grill needs to be just that: Portable! If you cannot pack it for travel, then it's not fit for purpose.
If you're the type who tends just to toss your stuff in the trunk, slam the lid and go, you'll also need a grill that will stand up to some abuse. Look for bits and pieces that stick out and might easily be broken off, like starter buttons, handles, and gas intakes.
Wind-Proofing and Lid Space
Portable grills will be used outside, so you want it to be somewhat windproof. And that basically comes down to having a decent lid. I strongly recommend any grill you buy has a lid, so you can close it down to keep the heat in, and have more consistent temperatures to cook with, without the flames blowing out.
But it's not as simple as having a lid or not!
You also want a good-sized lid if you can handle the extra size. One with ample room will allow the roasting of whole chickens, or small roasting joints, particularly if you buy a 2-burner portable grill that can can set up different heat zones.
Accessories
If you fall firmly into the hamburgers, hot dogs, steaks and chops crowd, you might not be as worried about cool accessories for your portable as you would be for a home grill. But if you might mix it up a little, take a look at what options the manufacturer offers.
For example, some grills have interchangeable grates for different kinds of cooking. Maybe you'd like to add a skillet? Or a wok stand? If you want to expand your repertoire of dishes, check to see if your portable grill of choice will meet your needs before you buy.
Warranty, Customer Service and Previous Buyer's Opinions
A good warranty is far more important for knocked about portable devices than for items that just sit there safely in your home.
Read the warranty information carefully to know how long it is, what's excluded, and what your responsibilities are as the end user. A year+ is an absolute must, though many can be 3 years or more.
And to get a feel for a company's customer service department, check reviews on the corporate site, on Amazon, or even the Better Business Bureau website.
Also, the Internet is an infinitely large repository of opinions for consumer goods where you can find out what people think of products without conducting your own survey. For example, Amazon is a great place to find brutally honest reviews, usually from hundreds of consumers. Go check out those reviews!
Set a Budget and Stick to it
For a portable gas grill, budget is probably less of a concern than it is with a big-ticket item like a Kamado, or an outdoor kitchen. Still, it's good to have a number in mind that you're comfortable with.
Think about how often you plan on using it, and what you want out of it. How much is that worth to you? As with almost anything you buy, the cheapest product on the market is rarely a good idea, and a hefty price tag does not automatically mean high quality.
Yes, it's a small grill, and yes, it may only see seasonal use. That doesn't mean you want something cheap and nasty that you replace every couple of years, nor should you break the bank. A quick search turns up prices from $25 to over $2000. I don't recommend either!
Have You Considered the Alternatives?
There's more to portable grilling than just gas. Although gas is incredibly clean and convenient, it's not always the best option for everyone.
For example, there are portable charcoal grills that offer the best possible maximum flavor when it comes to any form of grilling.
Many brands now make portable pellet grills too. These are a great mix of push button ease of use with almost no learning curve, while being able to impart good smoky flavor to your foods.
And we also have articles dedicated to helping you through the buying process for camping grills and grills for tailgating. Make sure to check these out, so you know and have checked all your available options.
Conclusion
There you have it: Seven of the best portable gas grills, any of which could be the right one for you.
Each one meets a different set of needs, and there is no one-size-fits-all solution. Having said that, I have settled on one that I feel offers the most versatility and makes the most sense for the largest segment of the portable gas grill demographic.
My model of choice for the best portable gas grill from this grouping is the Weber Q2200 .
For build quality, cooking surface area, 2 folding side tables for workspace, a few available accessories (that must be purchased separately) including a stand, plus the famous Weber quality and industry best warranty period, you cannot go wrong with this product.
Whichever portable gas grill you choose (and if it's not one of these, I won't be offended), have fun out there! There's nothing quite like a delicious meal fresh off the grill on a beautiful day out with friends or family.
Any questions or feedback on the products that appear in this post? Please drop a comment below, we can all learn from each other.
As always, thanks for stopping in!