The top blade steak is one of the more unknown cuts out there compared to the famous Filet Mignon or prosperous Porterhouse.
You may have already had it before, or you may have eaten the same piece of meat cut differently, which is then labeled the Flat Iron steak (don't worry, I'll explain later!)
Here we're on a mission to educate our readers on ALL the meat cuts out there, because as the saying goes, it's the quiet ones that you need to watch out for, and the Top Blade is definitely one of those steaks!
It is tender when cooked right, full of buttery, beefy flavor, relatively cheap, and great value for money.
So, whether you're a Top Blade fan or a Top Blade novice, after reading this guide you'll know everything you need to know about it.
We're going to look at where it comes from on the cow, all the names it goes by, where to buy it, and best of all exactly how to cook it to perfection.
What is Top Blade Steak?
It is the exact same muscle as the Flat Iron steak, but instead of being cut against the line of the gristle to create two long flat cuts, it's cut into cross-sections with the line of gristle running through the middle of each steak.
This cut is very much a Marmite steak; you'll love it or hate it.
Love, because it's full of flavor when cooked right and great value for money. Hate, because the line of gristle is too much hassle for some, and they would say you might as well just get a Flat Iron.
But here in this guide we'll tell you exactly how the Top Blade is different, and all of its benefits compared to the Flat Iron.
If you wish to learn about other cuts, make sure to visit our guide to all beef cuts with chart and diagram!
Where Does Top Blade Steak Come from on the Cow?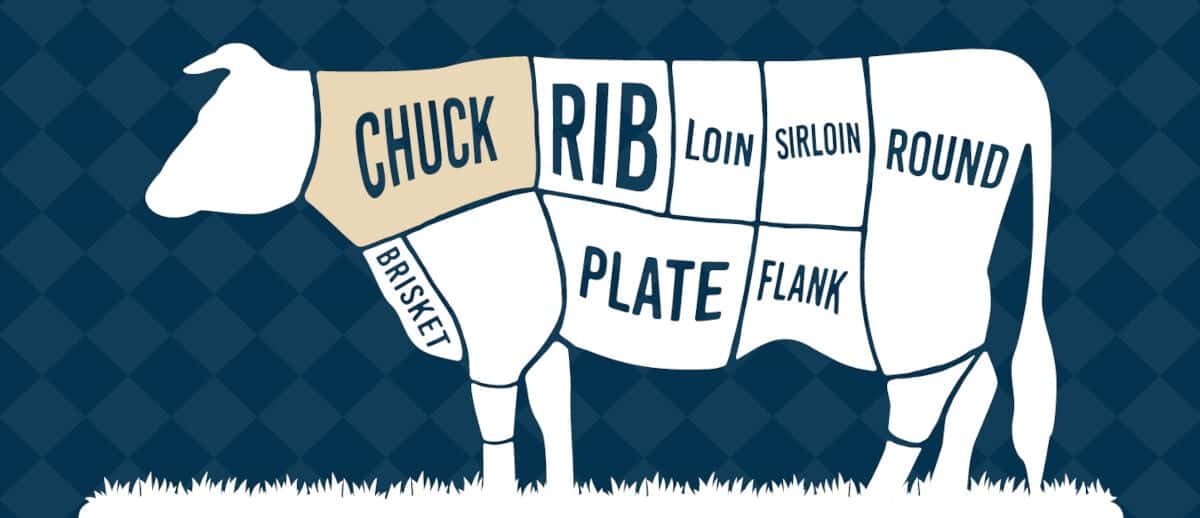 The Top Blade steak comes from the Chuck primal, also known as the shoulder of the cow, which is known for its rich and flavorful cuts.
To be more specific, it comes from the Top Blade subprimal, also known as the Infraspinatus muscle, which is known to be the second most tender muscle in the entire steer.
Other Names for the Top Blade Steak
Just like most other steaks, this one also goes by a few other names:
Chicken steak — the North East coast of America tends to favor this name. However, it's not known why it's called this exactly, and a somewhat confusing name to those who do not know whether you are talking bovine or poultry.
Boneless Top Chuck steak — this name is a more obvious one, simply because it has no bone, and it's a cut that comes from the top of the Chuck primal.
Book steak — because the line of gristle running down the center looks like a book seam.
If you ever need it, or you've confused your butcher with your description of it, the Top Blade's Industry ID is 1114D (IMPS/NAMPS) and 1136, 1114 (UPC).
Flavor, Texture, Fat Content and Tenderness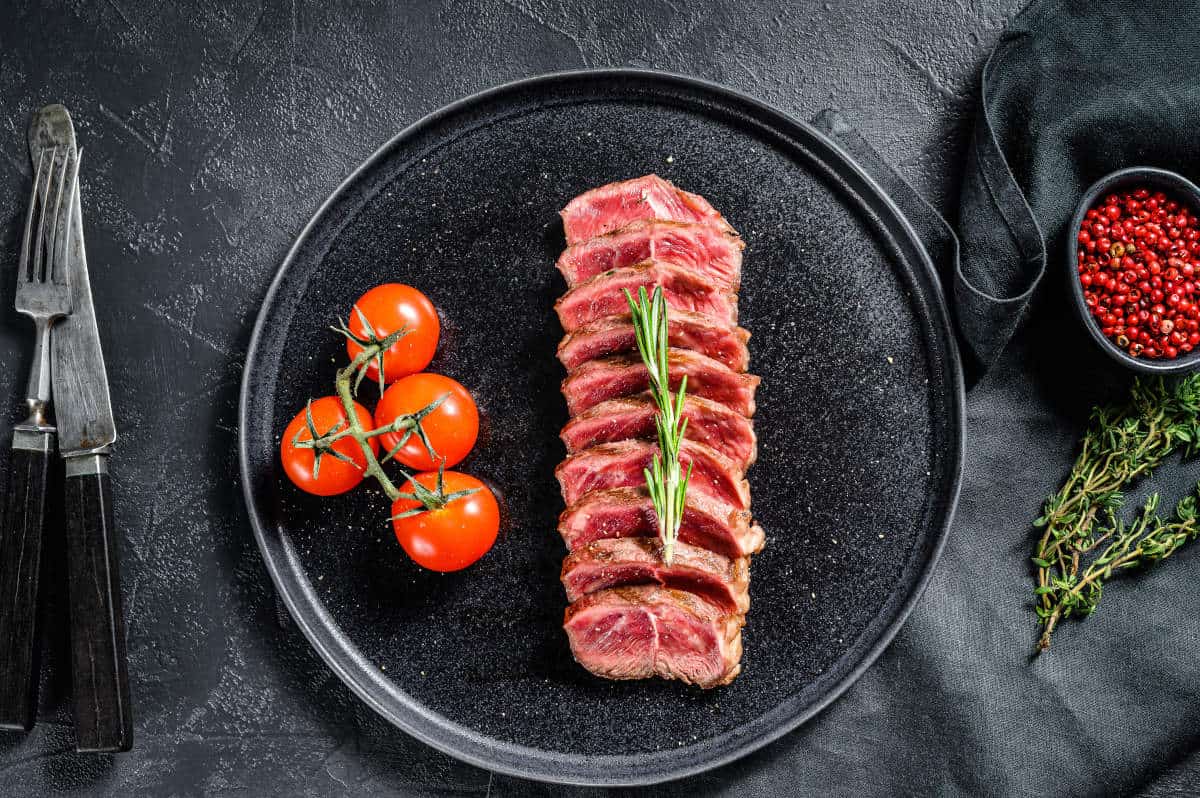 You'll find it will taste much like the flat iron or blade chuck steaks.
It's very buttery in flavor, and the meat surrounding the gristle line is very tender. It has no fat cap and has marvelous marbling throughout, which is what gives it its creamy flavor.
Because of the strip of gristle running through the middle, it can be quite chewy if you try to eat this strip, or if you overcook it.
This cut can easily be ruined, so be sure to cook it skillfully, using an instant-read thermometer to hit your target temp accurately.
Never cook it beyond medium, otherwise the gristle strip and surrounding meat will turn into rubber, and you'll have some very disappointed guests on your hands!
What this steak offers over the Flat Iron is that it's much thicker, meatier, and consistent in shape, and therefore you have much more control over the Top Blade steak when cooking it compared to the flatter Flat-Iron, which many beef buffs prefer.
Typical Uses
It can be used as a stand-alone steak, with the eater working his or her way around the line of gristle.
It can also be used in any slow-cooked dish, such as stews and casseroles, or slow smoked to perfection.
Nutrition
Nutrition
Total Amount (Based on 3 oz Serving)
% Daily Value (based
on 2000 calories/day)

Calories
160
8%
Saturated Fat
3.2 g
18%
Protein
24 g
48%
Iron
2.6 mg
15%
Zinc
8.2 mg
60%
Buying Top Blade Steak
Now that this steak is becoming more common thanks to its cheaper-than-most price, it can be bought in some supermarkets, but it isn't readily available in all.
It tends to be more prevalent in North-East America, where it's known as the Chicken steak, so if you live there, then you might be in luck!
While searching for it, do bear in mind that it might be labeled under a different name depending on where you live, so remember its other names.
One easy way to save your legs and take the effort out of locating it is to use online meat markets. You can then check stock without leaving the comfort of your favorite armchair, or if you are in Coronavirus Lockdown like we are right now!
Where to Buy Top Blade Steak Online
On the first research attempt, it would appear that there aren't any places online that sell it. There are, however, few online meat markets that list it under its alternate names.
Here are some online meat outlets that have it listed at the time of writing:
If, however, you fail to locate it online, or the above markets aren't in stock when you need it, be sure to make friends with your local butcher as they will happily find and procure it for you!
Average Price
It is cheaper than the Flat Iron, simply because many people do not like the hassle of the gristle strip.
But if you can handle this, or you fancy a bit of butchery, then the Top Blade steak comes at a great price.
At the time of writing, it's priced between $4.99 and $9.99 per lb, and that's a lot of flavor and tenderness for your dollar.
Portion Size: How Much Top Blade Steak Per Person?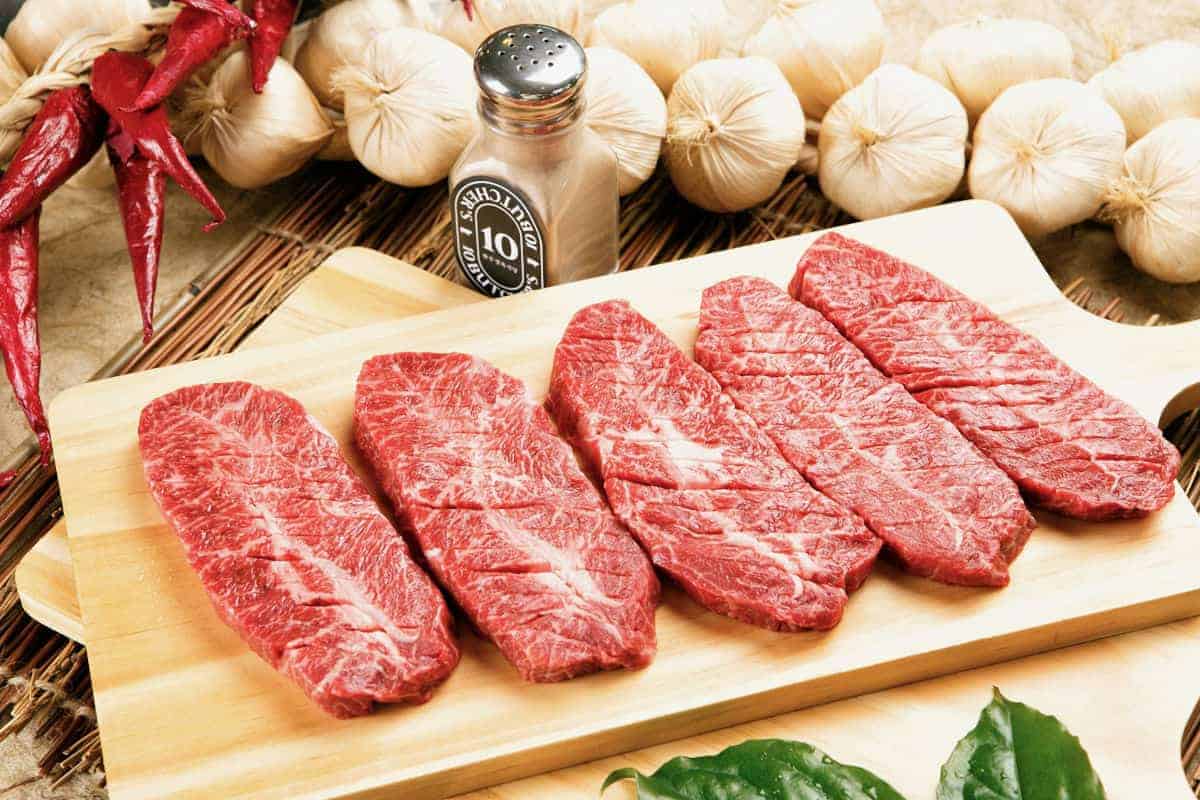 As with all steaks, you need to ask yourself before you start ordering the meat, whether you are feeding the five thousand, or just satiating your family?
The Top Blade steak usually presents as 8 to 10 oz. Each, so one per person will be plenty or even half of one per child depending on their appetite.
How to Prepare Top Blade Steak for Grilling or Smoking
Many a grill enthusiast would say that while they like to cut the silver skin and sinew off of most steaks before cooking, leaving a little sinew on this steak helps to ensure a good sear on the outside whilst achieving a succulent tenderness on the inside. So leave a little on with this guy.
No matter what the packaging says, this cut is best and easier to cook if you don't slap it on the grill.
With that strip of gristle running through the middle, you run the risk of overcooking it and turning it into a thick rubber band that even the dog will turn his nose up at!
The only way to ensure it stays tender is to cook it slowly with moist heat such as braising, or low n slow smoking, with plentiful basting or mop sauce taking place.
How to Cook Top Blade Steak on a Grill or Smoker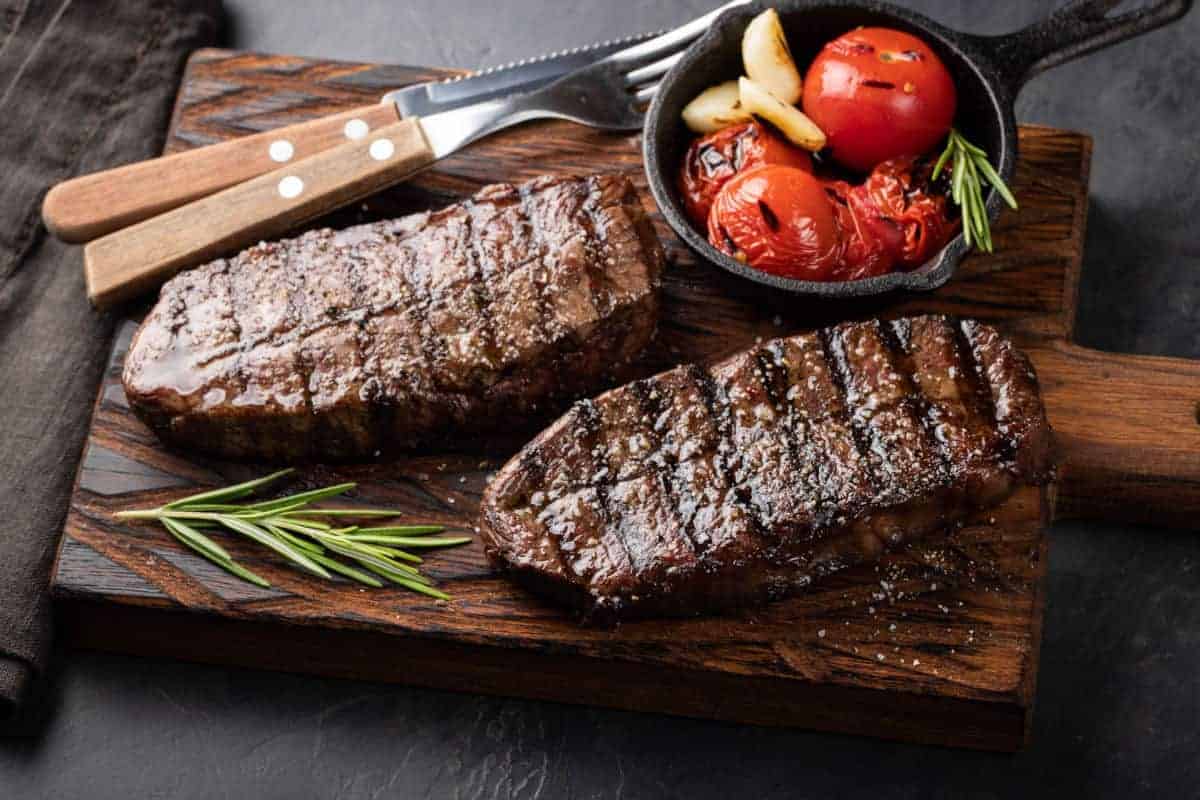 Due to its lack of fat cap and fat ribbons, it needs plenty of moisture when cooking to keep it juicy and tender.
Here is our guide to a great braise, which can be done via the oven and kitchen, or directly on the grill with a cast iron pot or Dutch oven.
Set up the grill as per your preference and preheat to around 300f.
Season the steaks liberally with salt and lots of ground black pepper.
Heat a splash of oil in a large heavy-based pan and brown off the meat for a couple of minutes each side.
Remove the steaks from the heat and put to the side.
Add a fresh splash of oil to the pan and fry off some onion until golden-brown and softened. If you want, you can add some garlic at this stage for a deeper flavor.
Deglaze the pan with a cup of stock, we use beef, but vegetable works just as well, or even a glass of red wine. Once the bottom of the pan is clean of meat and onion residue, add the steaks back to the pan.
Stir in enough stock just to cover the steaks. Bring to the boil and remove the dish from the heat.
Place a tight-fitting lid on the pot and place it into the grill that was preheated to 300f.
Cook for 90 minutes per lb. Of beef.
Periodically check and skim any fat away from the surface of the stock.
When the meat is tender, but not falling apart, transfer to a plate and allow to rest for 5 minutes before serving with your choice of sauce or gravy, and a hearty side.
Enjoy the steak, which will slice effortlessly and melt in your mouth.
Three Best Top Blade Steak Recipes from Around the Web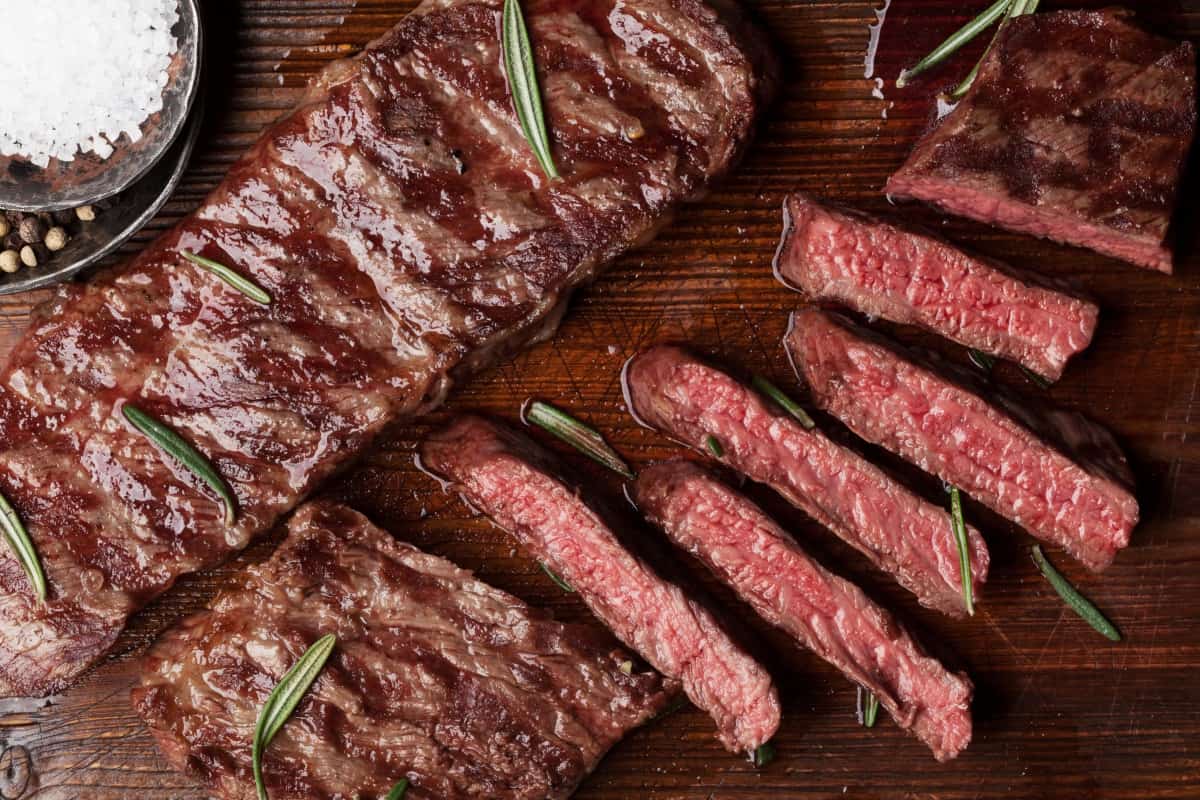 Braised Blade Beef, by the BBC
This recipe creates a melt in the mouth, super-saucy rich steak smothered in tender vegetables served with crushed potatoes. Simple yet delicious!
Check it out here: Braised beef blade recipe.
Portuguese Blade Steaks, by Momfoodie
A typical Mediterranean approach gives this dish plenty of flavor.
Smoky paprika and tomatoes are used to slow cook the steaks and keep them moist. The result is a deep, rich, and smoky beef and sauce combo that will rock your senses.
Get it the meaty lowdown here: Portuguese blade steaks recipe.
Blade Steaks with Mushrooms, by Epicurious
This is one of a few recipes we found that quickly cooks the Blade like any other steak on the grill and still produces a tender moist meal.
The trick is to score the cartilage and double heat the steak.
Once grilled and then rested, it is warmed in the stock-based sauce to moisten it and reheat. Very tasty and an exception to the no-grill rule!
Drool over it here: Blade steaks with mushrooms recipe.
Conclusion
Well there you have it, the elusive Top Blade steak in all its glory.
The key to enjoying this top steak is taking the time to understand how best to cook it. Get that right, and you will be rewarded with a new star for your cooking repertoire.
If you know of any online meat markets that sell the Top Blade steak, or you have any top tips and tricks for cooking it, hit us up in the comments below to share with our avid readers and us!
Happy grilling!