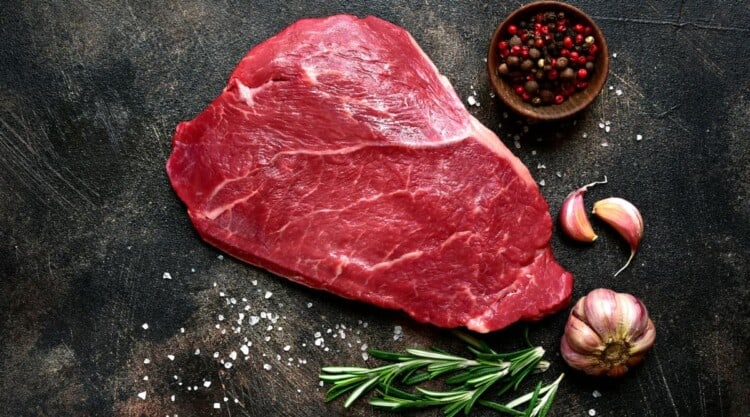 In this article, we will talk you through what a shoulder steak is, where it comes from, why it's a great choice, how to cook it, and most importantly, where you can go to get it and try it for yourself.
If you're looking for a new cut of meat that is versatile and tasty but doesn't break the bank, you could do worse than learning about the beefy shoulder steak.
This is an often overlooked cut that can be used in multiple ways, grilled, broiled, smoked, sliced, diced, and everything in between.
Many butchers and meat enthusiasts have gone in search of flavorful alternate cuts that won't break the bank, compared to the Filet Mignon or the Porterhouse. The chuck primal is the secret weapon in this fight for affordable meat.
It serves up many flavorful cuts that balance tenderness and value for money in equal measures, and the Shoulder steak is no exception.
So, sit back while we 'shoulder' the responsibility of educating you on this great piece of meat.
What is Shoulder Steak?
It is exactly what it says it is — A portion of the shoulder clod, and it is relatively underused by the animal in comparison to other parts of the shoulder.
The shoulder has a cross-section of moving muscles that support and give mobility to the steer.
Some muscles are worked heavily and are well known for being tough and hard to cook for a good result. There are however, some parts of the muscle group that are worked less and remain tender, and the shoulder steak is one of them.
On average, it comes in at around 1 inch thick, five to six inches long, and weighs in at around 10oz.
Where Does Shoulder Steak Come from on the Cow?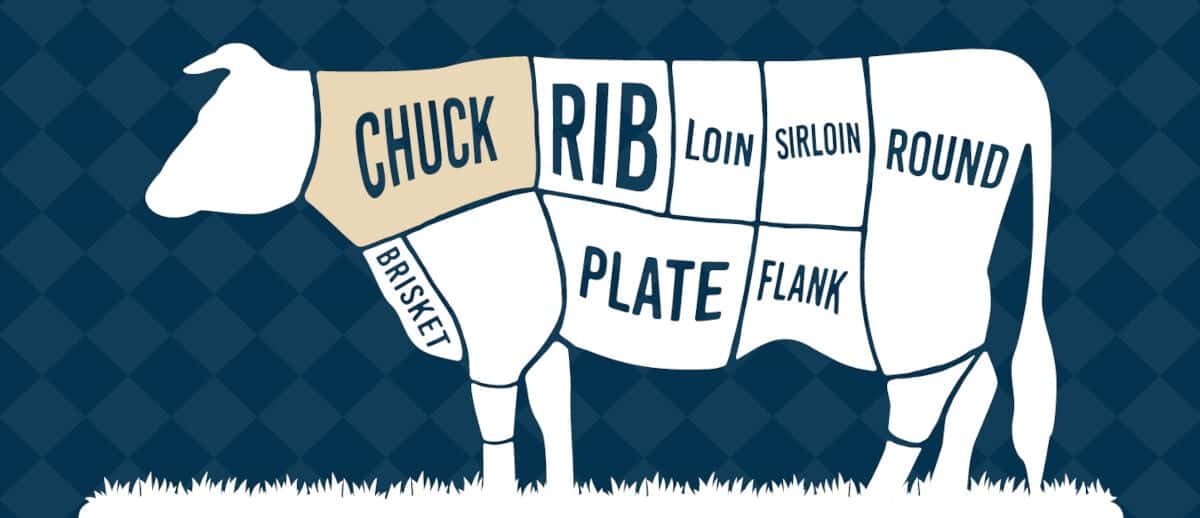 This steak comes from the chuck primal, which is the part of the steer up front around the shoulder girdle.
It encompasses the area from the pectoral muscle across the ribs, through the shoulder itself and up to the backbone.
The main bulk of meat and muscle sits around the shoulder clod.
The Shoulder steak is a boneless cut from the area where the clod meets the edge of the pectoral muscle. This means it has a mix of tender and well-worked muscle that will give the steak a good consistent marbling with a visible coarse texture.
If you're interested in other cuts of beef from the shoulder — or any further beef cuts at all — then make sure to check out our beef cuts chart.
Other Names for the Shoulder Steak
With such a generic name, you would be forgiven for thinking it was the only steak from the shoulder, but it isn't. There are several cuts from the shoulder area, some tender and some tough, and the shoulder steak is a little mix of both.
As such some have taken to giving it an alternative and more specific name, such as:
Shoulder steak Half-Cut — Referring to it being a cross-section of a muscle junction and the fact it is boneless with gristle through the center.
London broil and English steak — but these are actually terms for a style of cooking as opposed to the cut itself.
Flavor, Texture, Fat Content and Tenderness
The shoulder steak is much loved for its strong flavor and meaty texture.
It is described as coarse and tender with a firmer chew than say a Fillet, and it is still enjoyed as a good steak in its own right.
It might not be to the liking of those that prefer a melt in your mouth texture that require no effort. It also has a gristle ridge present in the center that some might not like, but this does add to the flavor, which many people love.
Typical Uses
As a relatively unknown steak for standalone enjoyment, it's often used for slow cook recipes with diced beef and stir-fries.
It is a great cut to cook whole in a stew or casserole as it holds together well with its interconnective tissues and gristle. This makes it a good choice for a stew or a saucy dish such as Stroganoff.
Nutritional Information
Nutrition
Total Amount (Based on 3 oz Serving)
% Daily Value (based
on 2000 calories/day)

Calories
150
8%
Saturated Fat
2 g
10%
Sodium
55 mg
2.75%
Protein
24 g
48%
Iron
2.5 mg
15%
Zinc
6.9 mg
45%
In addition to the above, the shoulder steak includes a good source of niacin, vitamin B6, vitamin B12, zinc, selenium, iron, riboflavin, phosphorus, and choline.
Buying Shoulder Steak
It is readily available from butchers to supermarkets and online meat markets. Most will sell it in a 10oz weight or thereabouts.
If a butcher doesn't know what the shoulder steak is, use the industry ID UPC 1133 to help him out.
When buying meat from any source, you will have a choice of good quality meat or value quality meat. The details of the quality will be clearly stated on the packaging in accordance with meat grade standards.
Be sure to do your homework and be conscious of what goes into your meat.
Where to Buy Shoulder Steak Online
Online food shopping is now mainstream shopping. Anyone that has placed an order for a grocery home delivery knows that you can take your time and explore the products available along with their labels and a good description.
The same goes for online meat shopping, and there are many sites out there that do all the hard work for you.
They show the standard, the ethical stance of the farmer, the cost, and most importantly, what value you are getting by letting you do side by side comparisons with their other products.
So, take advantage and get some good quality meat ordered. Believe us when we say you will taste the difference!
Here are three online outlets that sell some of the best steaks available:
Average Price
Due to new cuts being taken from the shoulder clod and the surrounding area, it isn't always straightforward to get a simple Shoulder steak (which is why that industry ID comes in handy!)
But when you do find it, the price should be around $9 per lb., correct at the time of writing.
Portion Size: How Much Shoulder Steak Per Person?
How much you need per person is dictated by the appetite of those you feed, how you cook it, and what you serve it with.
But for ease of reference, a single steak on average weighs 10oz.
Once cooked, a beef steak will reduce by 25% in weight. So, a single steak per person with a side and vegetables will be a good size meal in anyone's books.
How to Prepare Shoulder Steak for Grilling or Smoking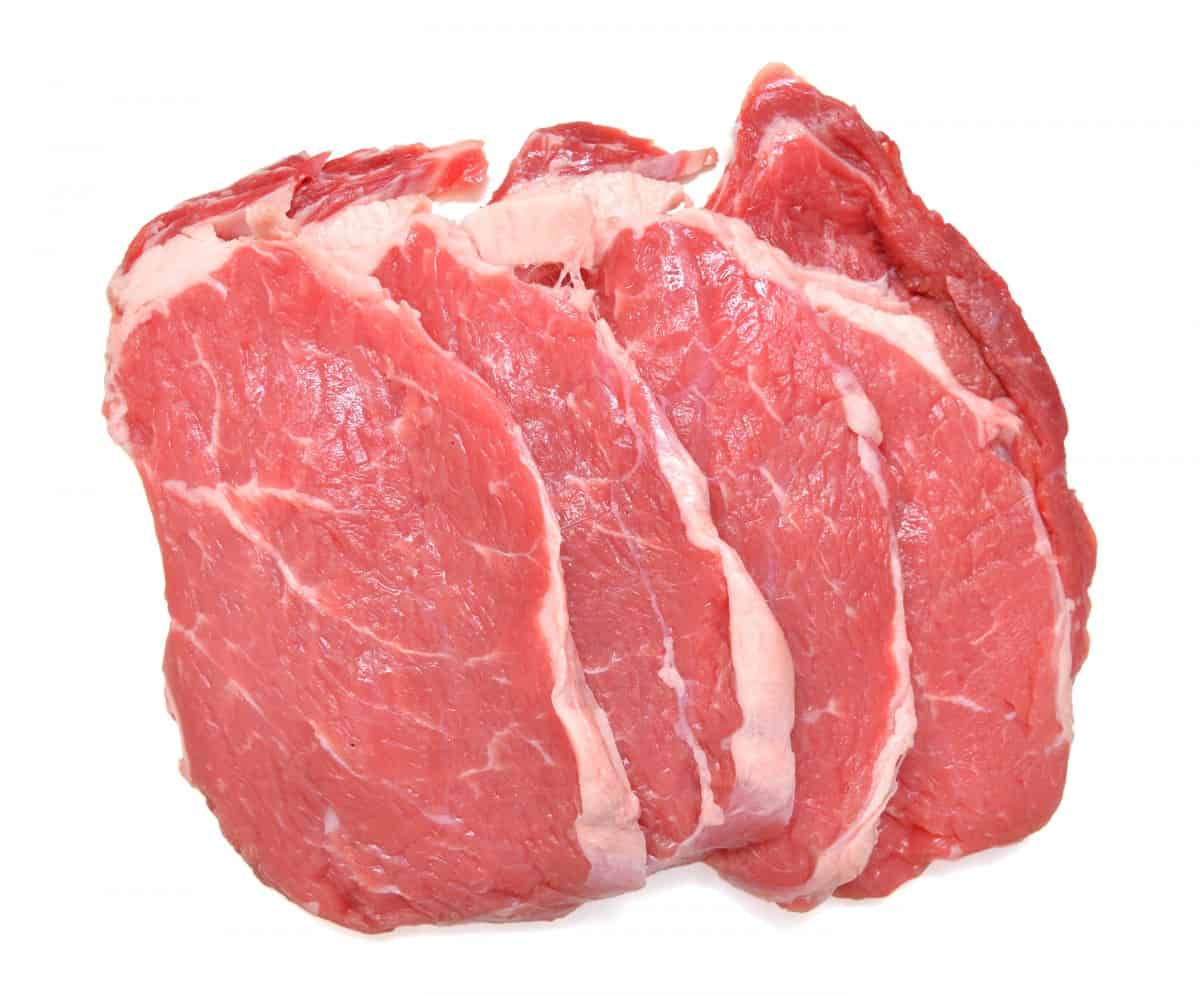 From a good butcher, it will already be presented ready for grilling or slow cooking.
Due to its coarse and slightly tougher texture, it will need a good marinade if it is to be enjoyed as a standalone steak. You can also remove the gristle if this is something that you don't like.
If you are preparing to smoke or slow cook it, then a simple dry rub seasoning or just salt and pepper will do well.
How to Cook it on a Grill or Smoker
Once marinated, the Shoulder steak is best cooked high and dry on the grill, and not in a griddle if you want its full flavor to come through.
Here's our simple guide to cooking it on a grill:
Remove your marinated steaks from the fridge and bring to room temperature.
Meanwhile, light and heat your grill to high.
Place on to the grill close to the heat to enable instant searing.
Cook for at least 4 to 5 minutes each side until close to medium, as the fat in the steak needs time to render and breakdown to make it tender.
Remove from the grill and tent in tin foil to retain heat.
Allow resting for at least 10 minutes, so it relaxes and absorbs any juices.
Be sure to slice against the grain, and lastly, enjoy.
You should also check out our guide on how to grill steak from frozen.
You Might Also be Interested in
Three Best Shoulder Steak Recipes from Around the Web
Here are our favorite recipes to follow when it comes to cooking this cut.
From an exotic dish with a Mexican twist to a simple no-frills recipe, with a slow-cooked rich and decadent recipe to finish, they will all be a surefire hit with the entire family.
Chimichurri Shoulder Steak
This simple recipe uses a flavorful marinade to both tenderize the beef and double up as the topping sauce.
This cut has a beefy flavor that is strong enough to stand up to the aromatic ingredients.
The full recipe and instructions can be found here: Chimichurri shoulder steak recipe.
The Spruce Eats Easy Foil Wrapped Steak Dinner
If you want a simple way to cook a great steak dinner, then look no further than the following recipe.
It places the meat in foil with veggies and potatoes and slow cooks for 90 minutes until everything is deliciously tender.
The secret ingredient is powdered onion soup, which is used as a dry rub.
Check this simple recipe out here: Easy foil wrapped steak recipe.
Spend with Pennies Beef Stew
This one will really make your mouth water! A slow-cooked beef stew made from diced beef Shoulder steaks.
A rich gravy, plenty of vegetables, and a good helping of rosemary, thyme, and Worcestershire sauce will mean you keep coming back to this recipe again and again.
Head here to see how rich it really is: Beef stew recipe.
Conclusion
The Shoulder steak is an underrated cut that can deliver a great hit of beefiness in many guises, and still deliver great value for money.
While it is showing up less and less as it makes way for newer and more exciting cuts, it is still out there and available.
Regardless of what shoulder cut you choose, you are sure to enjoy them all as they really do deliver on the flavor front.
The Shoulder steak is particularly great value and should entice you to try other lesser-known beef cuts in your kitchen or outdoor cooking station.
However you decide to try it, do let us know how you get on in the comments below, as we love to share your triumphs and tribulations with our readers.
Happy grilling!