Chimichurri sauce is super tasty, delivers a real punch in the flavor stakes, uses simple, readily available ingredients, and can be made in just a few short minutes.
Traditionally used in Argentinian grilling, Chimichurri is a sauce or marinade with a pleasantly sharp, tangy, herby and earthy flavor, most often paired with grilled steak or beef.
But it's also used as a condiment – or marinade – for chicken and fish dishes, sometimes basted over grilled vegetables and can even be diluted with extra oil to use as a salad dressing.
Following is my take on Chimichurri sauce, a recipe I've landed on through trying and tweaking many variations over the years, and a recipe that friends and family praise and compliment for it's taste.
Traditional Chimichurri Ingredients
An authentic Chimichurri recipe contains only:
Parsley
Oregano
Garlic
Chilli
Olive oil
Vinegar
Salt and pepper to taste
However, there are a huge number of variations to be found, with some recipes containing cilantro, lemon juice, and some even adding fresh mint.
Though you might never see these variations at a traditional South American Asado or Churasco, these alternative ingredients can be readily found in recipes I've followed over the years from on the web. And many of these I've enjoyed!
My Chimichurri recipe somewhat combines the best of many versions I've tried, with a couple of optional ingredients I like to add that up the umami hit and really take it to a new level (in my humble opinion.)
My Chimichurri Ingredients
As you can see in my ingredients shot above, I like to add cilantro as well as lemon juice. I think it adds a nice freshness to it, that contrasts and balances the earthy oregano and powerful beefiness of a grilled steak.
You might be surprised to see that I also add in some mixed woodland mushrooms and a few anchovy fillets.
These last two ingredients aren't seen in many other recipes and are entirely optional. I do not add them all the time, but love to do so if serving with beef.
It might seem the mushroom and anchovy's barely change the taste on first impressions, and you certainly cannot pick out any mushroom or anchovy highlights, but they certainly complement and lift the savory notes and increase the bang factor of any meat it's served with, especially those cooked to a wonderfully deep Maillard crust.
If you do add mushrooms and anchovies, I recommend:
Blitz the mushrooms in a blender until as fine a dust as possible so they completely disappear into the sauce.
Squeeze your anchovy's through a garlic press so they too disappear into the sauce. You don't want someone to get a lump of anchovy, and honestly if minced properly, they just layer on umami flavor, there's not a hint of fishiness in the sauce as long as there are no lumps!
You want the mushrooms and anchovies to disappear into the sauce completely.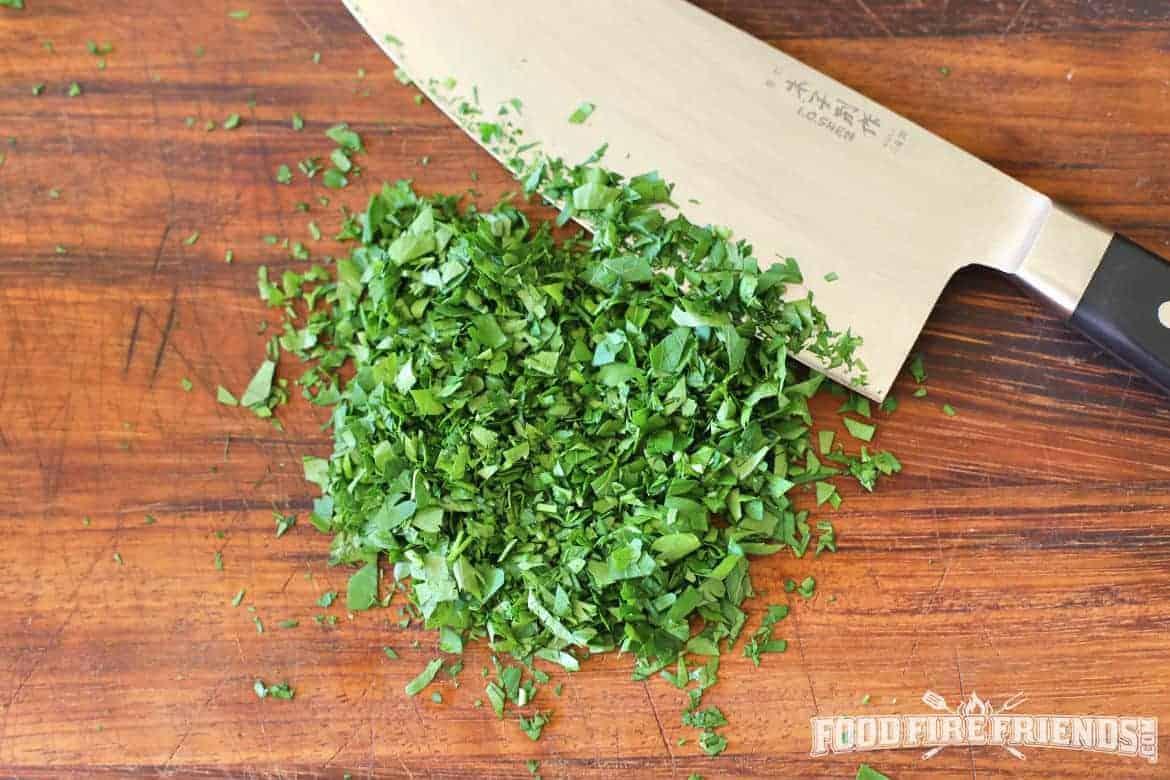 What Texture Should You Aim for?
When it comes to preparing the sauce, the final texture is entirely up to you.
Some people like to chop the ingredients roughly, a bit like a chunky salsa. Others to blend all ingredients into a very smooth paste until it looks like a pesto.
I like to chop the ingredients by hand, leaving quite large pieces, so there's some texture to the sauce. If I'm short on time, I have been known to 'pulse' the ingredients in a food processor until I get the consistency I like, but in my opinion it's too easy to overdo it so I prefer to chop by hand.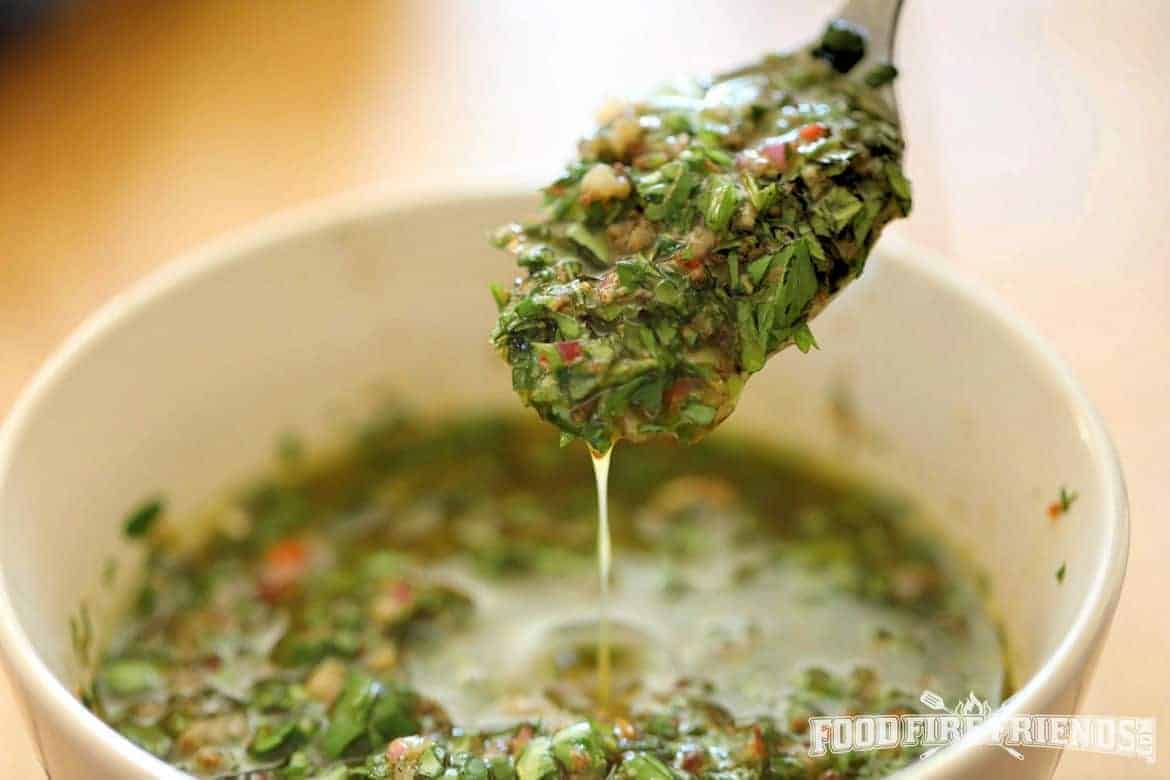 Play Around With the Recipe
If you'd like it a bit fresher, add more cilantro and lemon juice than I state. If you'd like more heat, add more chilli. If you'd like it more 'earthy' and less 'fresh', then remove the cilantro and double down on the oregano, or increase the amount of parsley.
I encourage you to play around with the recipe, and believe me, it's hard to go wrong. I have tried many different peoples recipes over the years, and they've pretty much all been shades of great to wonderful. And if you do have a play and not like the result, it's easy to recover and correct by adding more ingredients as you go along.
As you can see in my image below, this particular batch of Chimichurri I served with a sliced, rotisserie cooked Sirloin steak roast that I cooked on my Weber Kettle grill, and a basic salad (recipe for the sirloin steak to follow soon!)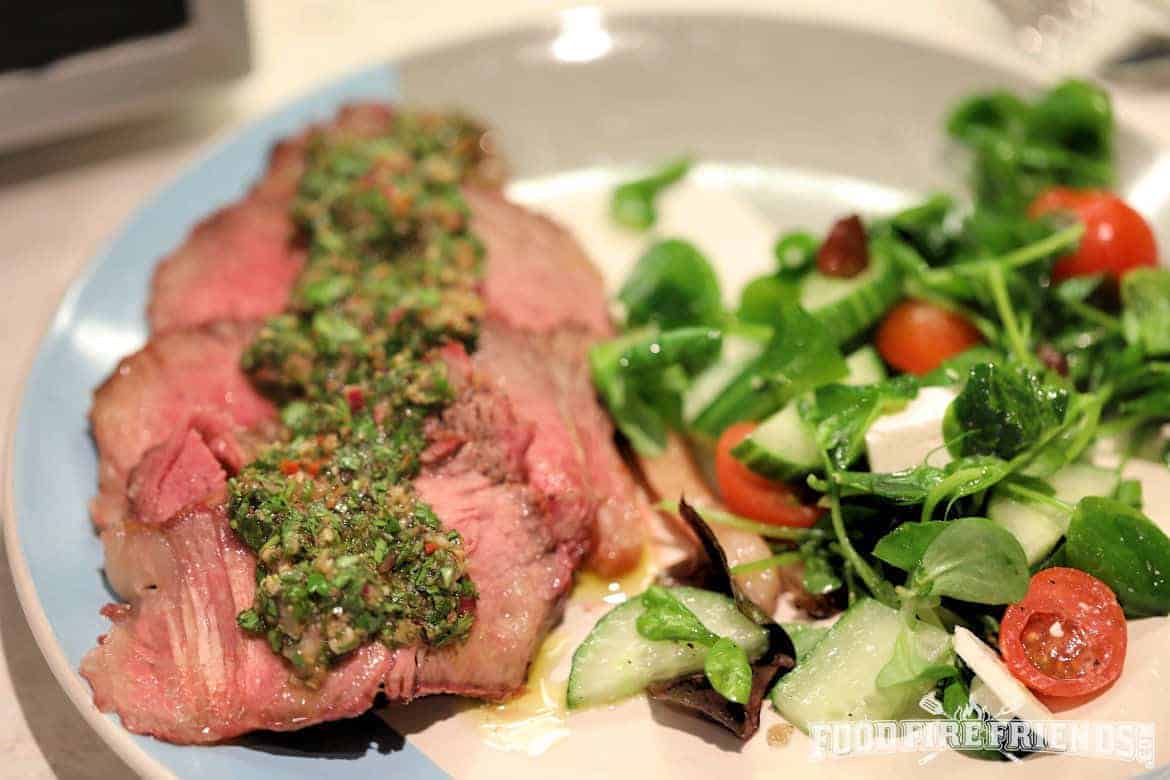 So without further ado, here is my ingredients and instructions for making perhaps my favorite version of a Chimichurri sauce recipe.
Enjoy!
Printable Recipe Card
Print
Chimichurri Sauce Recipe – Deeply Flavorful Yet Fresh
---
Author:

Mark Jenner

Prep Time:

15 minutes

Cook Time:

0 minutes

Total Time:

15 minutes

Yield:

12

servings

1

x
Description
A fresh, tangy, flavor packed Chimichurri recipe with an optional umami punch, that's perfect for any grilled, smoked or roasted beef…though you wouldn't be blamed for using this with almost any meat!
---
Scale
Ingredients
1/2 cup

fresh parsley

1/4 cup

cilantro

1/4 cup

oregano

1/4 cup

finely diced red onion

4

cloves garlic – Minced (I use a garlic crusher)

1

medium heat red chilli pepper (jalapeno also good) chopped finely as possible

4 tbsp

lemon juice

1/4 cup

red wine vinegar

3/4 cup

EVOO

1/2 tbsp

black pepper

1 teaspoon

salt (I use my smoked salt)
Optional:
2tbsp

mixed dried woodland mushrooms, blitzed to a fine powder (Optional)

8

x anchovy fillets, squeezed through garlic crusher (optional)
---
Instructions
If wanting a rough, textured sauce with larger pieces (recommended):
Combine the onion, garlic, chilli, salt, pepper and – if using – dried mushrooms and anchovy's, then add to the red wine vinegar and lemon juice in a large bowl.
Leave to stand at least 5 minutes. This allows them to soak up some of the liquid before being coated in oil.
Roughly chop the parsley, cilantro and oregano to desired size and add to the mixture above.
Pour in the extra virgin olive oil and mix well with a fork.
If wanting a smooth sauce:
Combine all ingredients except for the herbs and blend until smooth.
Add all herbs into the food processor and blend to the desired consistency.
---
Notes
If you cannot find fresh Oregano, substitute in dried and use 1 tbsp dried (roughly equivalent to 1/4 cup of fresh.)
If using as a marinade, cover any meat with the sauce and allow to marinade for at least 3 hours, overnight being best.
(bullet point here)If using as a sauce, you can use right away, but the flavor deepens and develops if covered and allowed to mature for 24 hours. (Though you will lose some of the bright green color.
Category:

Sauce

Method:

Chop / Blend

Cuisine:

South American
Keywords: chimichurri sauce, chimichurri sauce recipe, South American chimichurri sauce, sauce for steak
Pin it for Later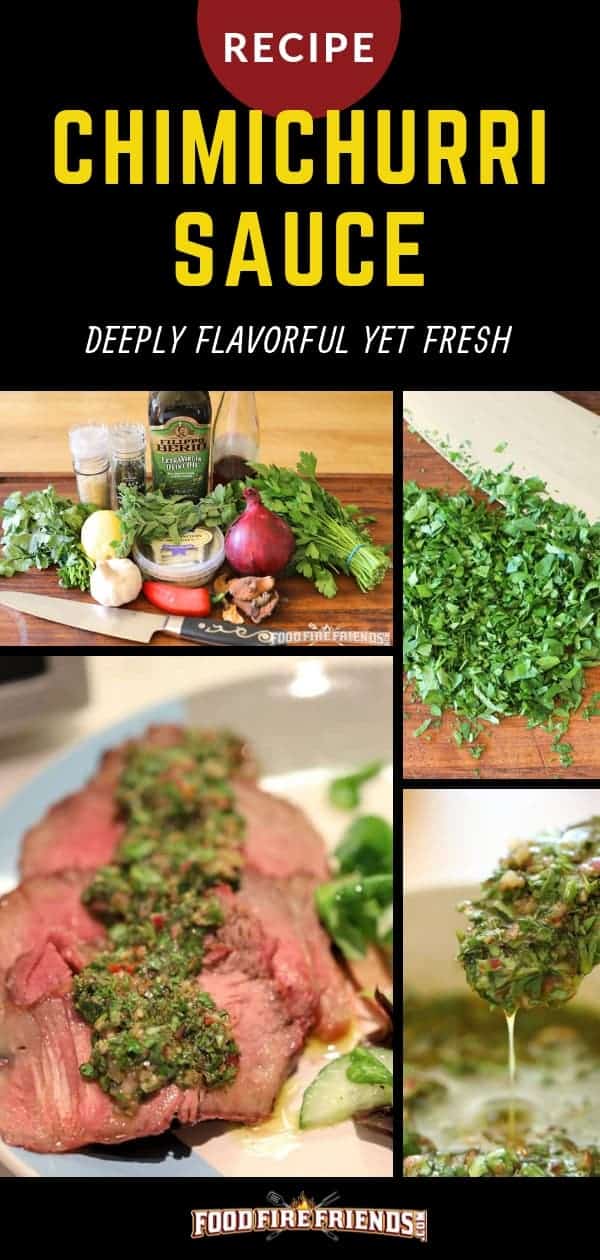 Happy grilling!