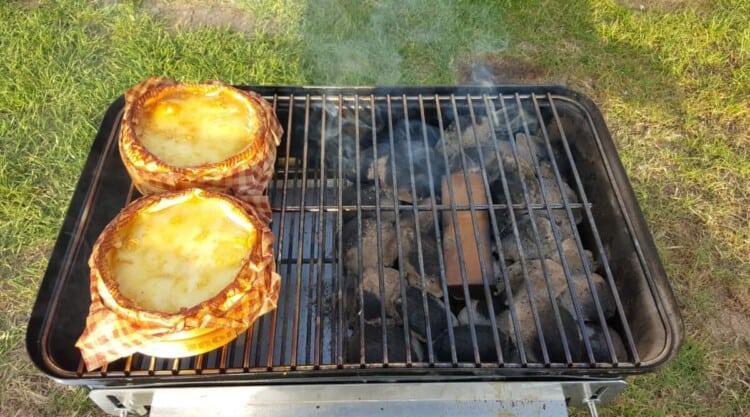 You've probably seen those people at campgrounds, sporting events, etc., who are so into grilling that they brought along a full-size barbecue?
Well, that's great if you own a large van, truck, or RV and you're not bringing much else. What about those of us with cars, suitcases, and other gear?
So-called portable barbecues are often portable in name only — they're still too big and bulky to be practical. Or, they're flimsy and useless (yes, we're talking about you, disposable foil barbecue) and give you more frustration than food.
We are going to take a deep dive look into what I believe is the solution, right here, in my Weber Go-Anywhere, charcoal grill review.
Yes, Weber may well have the solution to the portable grilling problem for charcoal-lovers.
Keep reading to find out if they've truly nailed it, and what I think of this grill as a long-time owner and frequent user of it (which should already give you a clue?).
Is this really the "go anywhere" grill you've been looking for? Let's find out.
Overview of the Weber Go-Anywhere Charcoal Grill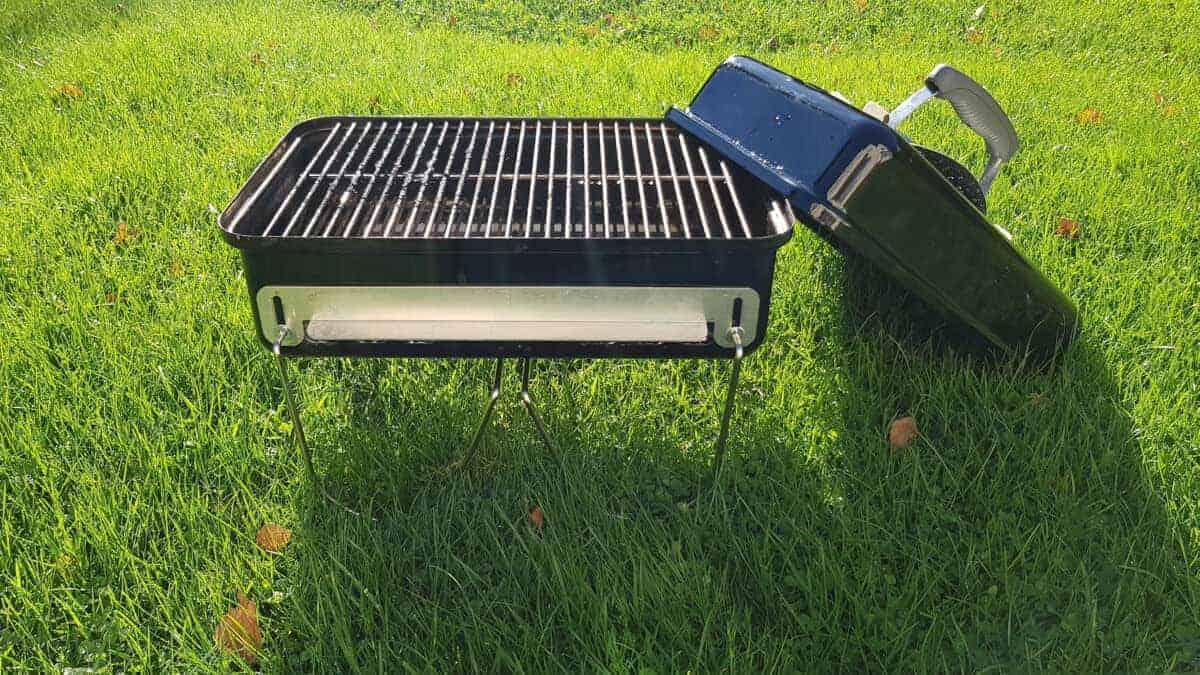 Weber, who are nothing if not experts on barbecuing, have taken on the problem of grilling away from home and come up with this tiny, fold-up grill — The Weber Go Anywhere.
It aims to offer an authentic charcoal grilling experience in a barbecue small enough to fit in the trunk of any car, or even a motorcycle trailer.
Functionally, it operates exactly the same as any charcoal grill, just on a smaller scale.
It's not meant to feed an army, but you could easily cook the meat course and vegetables for 2 people at a time, or enough hot dogs to feed a small group.
Summary of Pros and Cons
Pros
Lightweight, compact and portable, and a good shape for packing into a trunk or roof box
Good build quality from porcelain coated steel will last a lifetime
Good size cooking area
The rectangular shape and size allow you to create different heat zones for versatility while cooking
Easy to control temperature with multiple upper and lower vents
Easy to clean and maintain
Lid can be hung on the grill body to act as a windshield
Great warranty period
Cons
No built in thermometer
Not much room between grate and lid for larger or taller cuts
Base can get hot despite being raised by legs, so can potentially damage surfaces
What's in the Box?
Being a charcoal grill, there's not much required! No electronics, no gas regulators. All you get is:
Barbecue lid
Firebox
Cooking grate
Charcoal grate
2 legs
2 lower vent covers
A handle
Assembly instructions and owner's manual
Hardware
Features and Manufacturer's Specifications
As far as features go, there's not much to tell. This isn't a fancy grill with a lot of extras. However, it is a well-thought-out portable charcoal grill that manages to do a little more than you'd expect.
For example, there is not one, but two vents with dampers on the lid. You might think that's overkill on a tiny grill, but it allows excellent control over the temperature, helps direct heat and smoke flow where you want it, and even allows the setting up of indirect / two-zone grilling! Amazing for such a compact unit.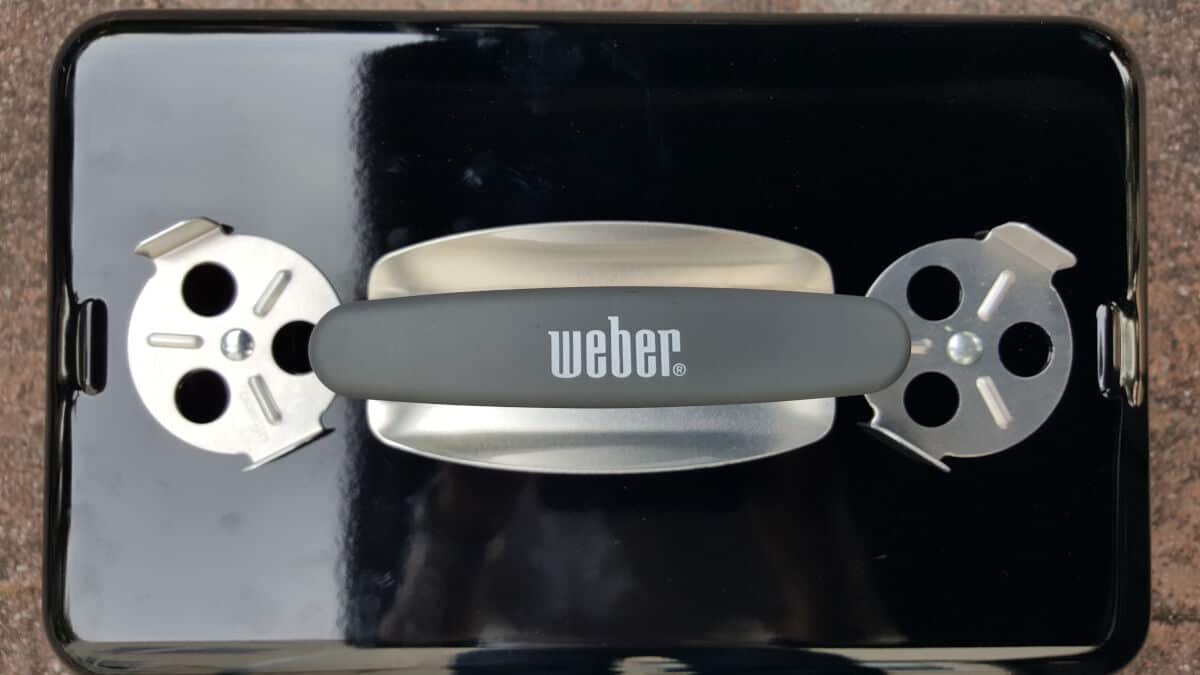 Under the lid, you'll find the single, plated steel cooking grate. It's a good, medium-weight cooking surface that's quite acceptable for light-duty grilling.
The charcoal grate is made from heavy-gauge steel and adds a bit of heft to the grill. There's also a 'base-plate' that sits under the charcoal grate, which keeps the coals and ash away from the bottom of the grill.
This will ensure the porcelain coating has a far longer life.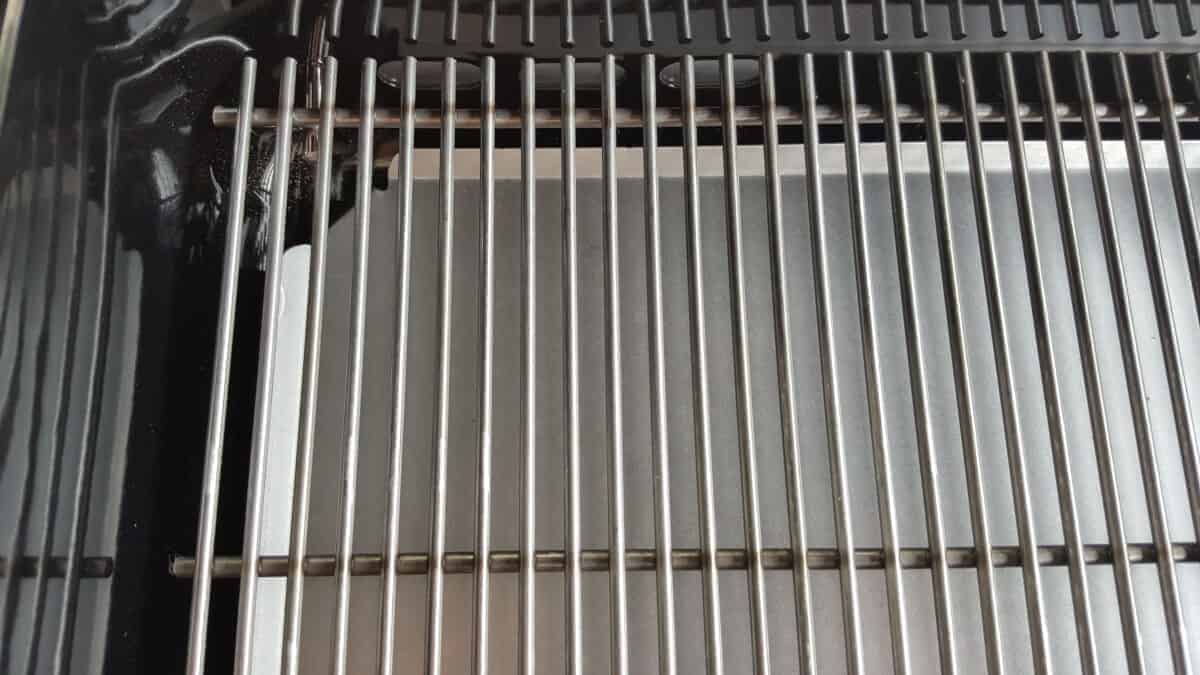 As to the lid itself, there's a handy hook built-in, so you can hang it off the side of the firebox when you don't need it.
Down in the firebox, you'll find a series of vents running along each of the two long sides. A long vent cover on each side allows you to control the air intake with a surprising amount of accuracy for a small grill.
You can have both vents fully open for a roaring fire, only one for a medium fire, or choke one or both down to fractions of being open to keep the heat really low, allowing you to smoke roast with relative ease. If you're used to controlling temps on a charcoal grill with vents, it will come naturally.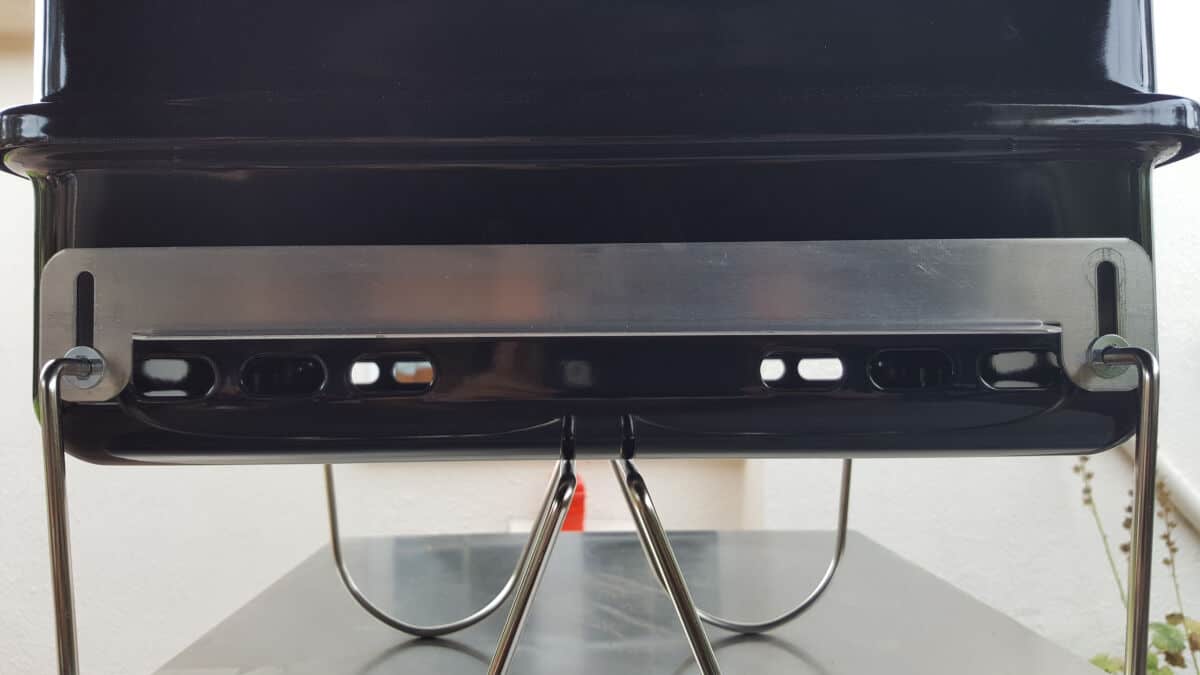 With these vents positioned below the charcoal grate, you'll be able to adjust your temperature just like you do on a full-size grill.
Of course, the name of the game here is portability.
With that in mind, Weber has designed the plated steel legs to fold up and over the lid, locking the whole thing together for easy transportation. It's a pretty slick feature.
When it's time to pick it up and go, fold the legs to lock it all up and carry it away with the lid handle.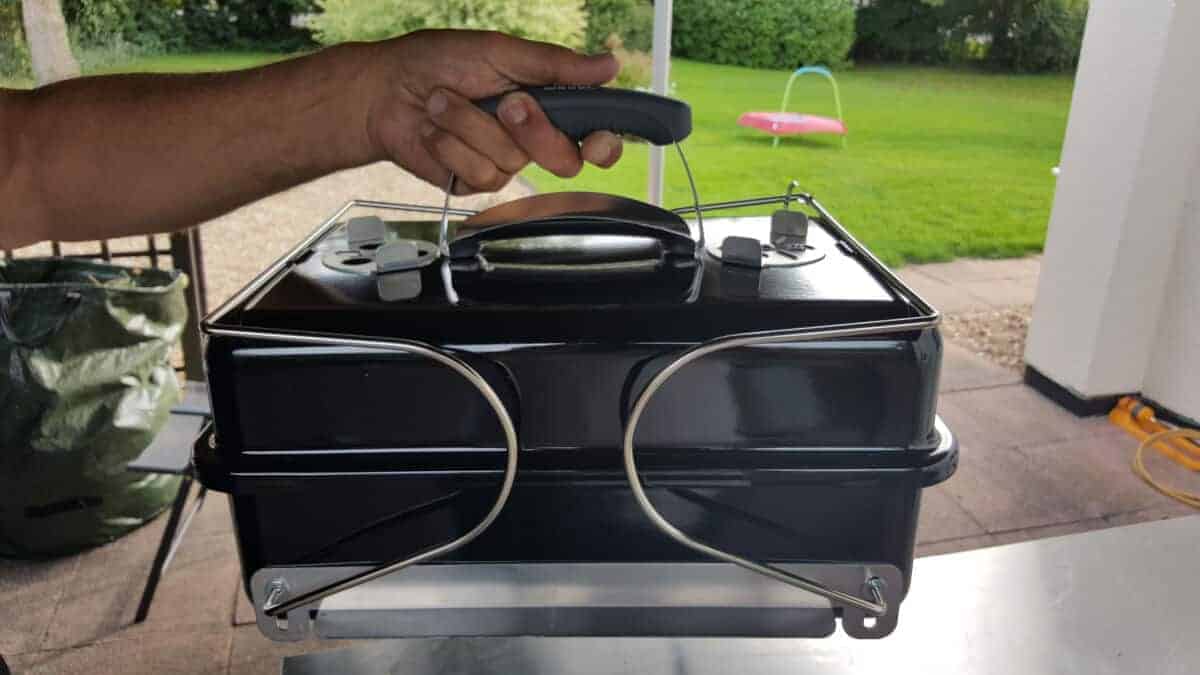 Those legs also manage to hold the GA high enough off the surface it sits on to prevent any chance of burning. You can certainly use it on wooden or metal surfaces … I have and do … though I wouldn't risk it on plastic. This is part of the reason it features highly in my roundup of the best tabletop grills.
The primary purpose of the Go-Anywhere is basic grilling. Caught a fish up at the lake? Slap it on. Brought some burgers to the tailgate party? There's room for up to six. It's also ideal for on-the-go grilling of steaks, chops, hot dogs, sausages, and vegetables. There's enough room under the lid for chicken pieces, but never a whole chicken. Maybe a Cornish hen would fit.
Thanks to all 4 vents, 2 bottom and two on the lid (yes, we're happy about those!), you can do a bit of smoke roasting, too, for anything you don't want to just sear and eat.
What you can't do, however, at least not without a LOT of effort is any long, low n slow smoking. It's just too small to load with enough charcoal to cook anything that long, and there isn't room for briskets and the usual smoking suspects.
You can find videos of people smoking on this grill, but keeping your temperature stable through many reloadings of charcoal is just too much hassle for me. In my opinion, it's not really worth the effort for the tiny bit of food you can smoke.
Specs
Dimensions (H, W, D): 14.5" x 21" x 12.2"
Primary cooking area: 160 sq. In.
Nylon handles
Aluminum dampers
Plated steel cooking grate
Heavy-gauge steel charcoal grate
Porcelain-enameled lid and base
Plated steel legs
Ease of Use
If you're familiar with charcoal grilling, there will be zero learning curve since the Go-Anywhere offers nothing new, and all the familiar temperature control by the top and bottom vents. You won't need much charcoal, so it won't take long to light, and set up is very easy.
Even for a total newbie to charcoal, this grill is very easy to manage. Perhaps even easier than a full-size grill, since there's not much to contend with. It really is a perfect introductory grill, since it has all the full-size features. But if you do need some guidance, I have a detailed guide on how to use a charcoal grill.
I've yet to mention — although it's probably obvious — with the legs folded, it's a nice square item that packs neatly into a roof box or trunk of an average car. Rounded grills are somewhat harder to pack.
Oh, and there's a handy carry bag available, but it is an optional extra (of course, I bought one, I felt it necessary.)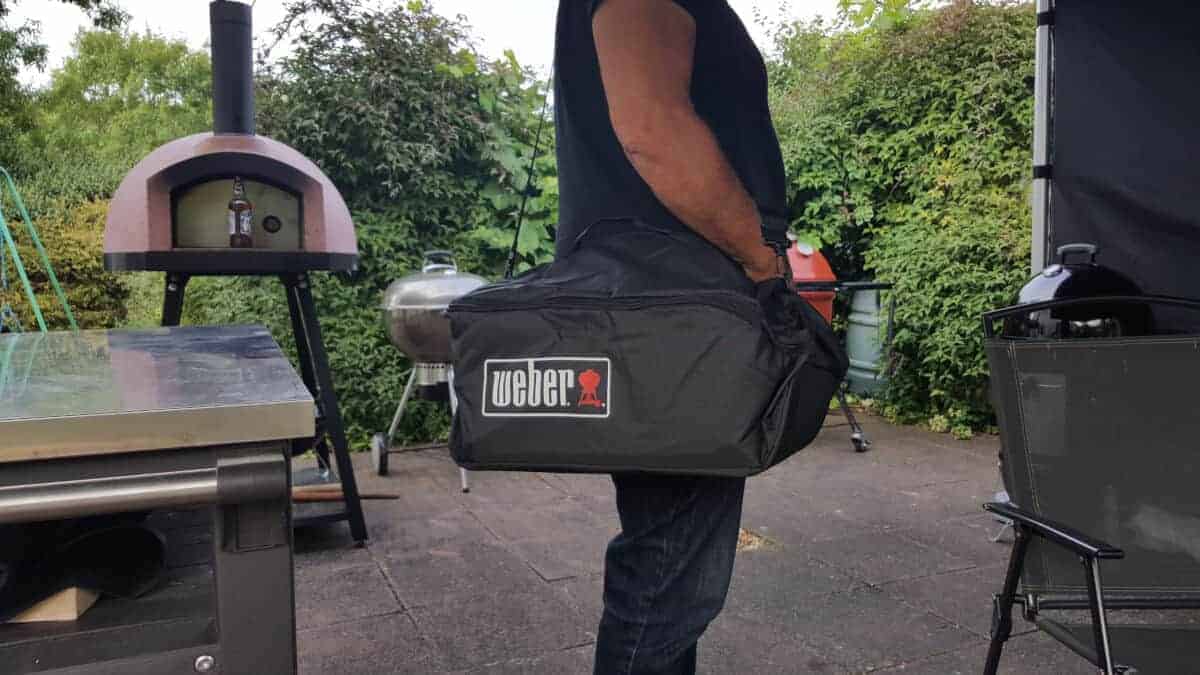 Maintenance and Cleaning
Taking care of the Weber Go-Anywhere is not much different from with any charcoal grill.
Scrape off food debris from the cooking grate with a good grill brush (we always recommend avoiding metal bristles for safety and the protection of the grates — click here to find the best grill brushes.) Plus, you can take it out and wash it with warm water and gentle dish soap, if necessary. The exterior can also be wiped clean with warm, soapy water and a brush or cloth, or of course a special purpose grill cleaner.
As with any charcoal grill, you have to remove the unused and partially used charcoal after each use, and any ash accumulation. Failing to do so could clog the lower air vents eventually and make it very difficult to get a fire going. Make sure everything is cooled off completely before you go to empty the firebox. There's no ash removal system; just tip it over and dump it out, preferably into a metal ashcan.
Over time, you'll notice a build-up of carbon inside the grill, mostly under the lid. This is caused by oxidized grease and smoke vapors, and it's totally expected on all charcoal grills. Don't scrape at it too hard, because you want to leave a bit of seasoning, but you can gently brush off the flakes and scoop them out, so they don't end up in your food.
Design and Build Quality
After years of producing great grills of every kind, Weber has earned a reputation for quality. The Go-Anywhere supports that reputation.
Weighing about 14 pounds, it's light enough to tote just about anyplace you'd care to go, but it's still solidly built; no flimsy metal or cheap parts here! Expect to get years of use out of this grill.
This isn't a flashy grill, but it is expertly designed to be a true portable that grills efficiently. From the time you find it flipped over in the trunk but still locked closed, to the time you cook a pair of perfect steaks with beautiful char lines, you'll marvel at the ingenuity of the Weber designers.
Warranty and Support
Weber is pretty confident in the quality of this little grill. So much so, that the firebox and lit come with a 10-year warranty against rust-through and burn through.
The handle is covered for 5 years, not counting cosmetic issues like fading and discoloring. Everything else (dampers, grate, legs, etc.) is warrantied for 2-years.
On the Weber website (say that 5 times fast!) you'll find access to plenty of on-demand support. You can browse searchable FAQs to help troubleshoot the most common issues or download a manual and schematics. Broke off a handle or misplaced the grate? Order new ones online directly from Weber.
Additionally, you can submit a query via an online form, send an email, or call them toll-free any day of the week.
For an alternative approach to finding help with your grill, try getting social; Weber is active on Facebook, Instagram, Twitter, YouTube, and Pinterest. There are some helpful videos available, and a very enthusiastic community of Weber owners whose brains you can pick.
Final Verdict
Here's where the gloves come off, and things get personal. Find out what I really think about the Weber Go-Anywhere Charcoal Grill!
What We Like
This little grill boasts many of the same features as the full-size barbecues that have made Weber famous. Good quality materials and solid construction make it a pleasure to use repeatedly.
It's tough to imagine how you could design a better portable grill. The combination legs/lid locks are a brilliant bit of engineering. Combine that with the three handles, and transporting the Go-Anywhere couldn't be easier.
Despite the temptation to write this off as a grill for burgers and dogs, the twin dampers in the lid make it possible to cook at lower temperatures and allow smoke to flow over whatever's on the grate. That means you can get full flavor out of the Weber Go-Anywhere, and not just fast food.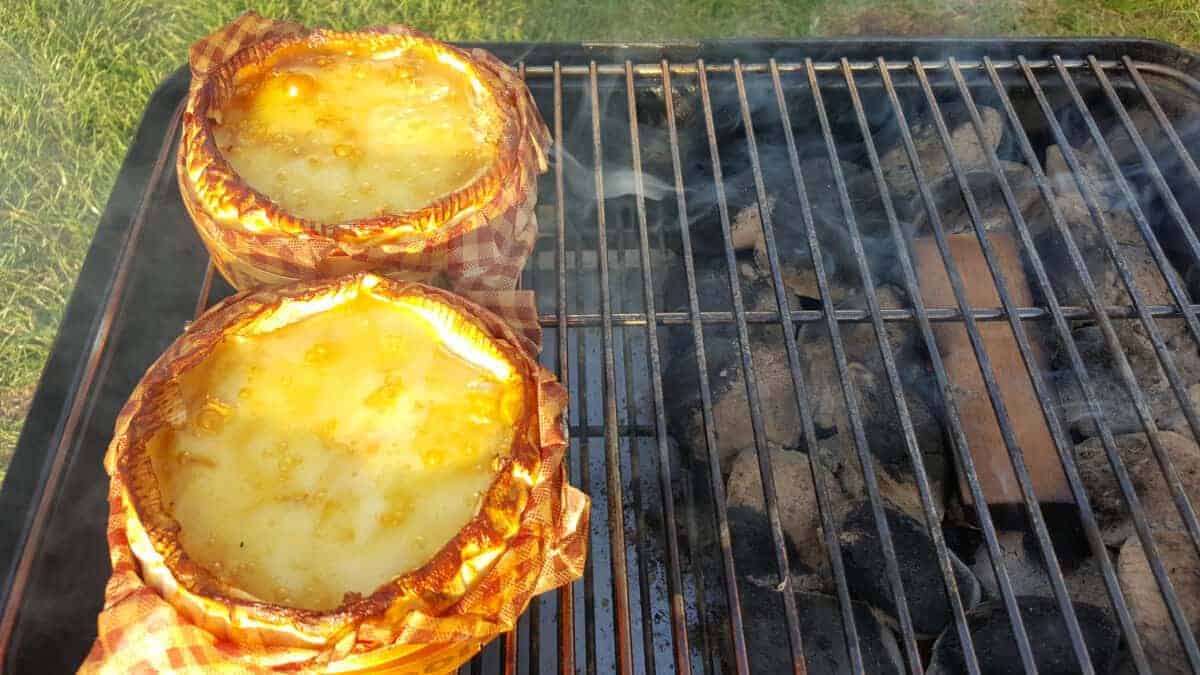 As you can see in the image above and at the top of this page, I manage to smoke roast foods on it, maintaining a steady temperature.
What you see there are two smoke roasted, garlic and rosemary oil coated Camembert cheeses that we had on a camping trip. I managed to set up a two-zone cook, so the cheese was roasted indirectly, and added some applewood to add a touch of smoke. Lid on, I used the vents to perfectly control the temperature.
It was damn good 😉
What Could Be Improved
There isn't much room under the lid, so don't even think about roasts or whole chickens. But, that's ok — the reason you want one is for camping and tailgating food, not huge family meals.
The plated-steel grate won't cook as nicely as a cast iron grid, but we understand sacrifices have to be made to keep the weight down, or suddenly it's not so portable.
Will I Get Value for My Money?
Barbecuing away from home is all about compromise; you have to give up some of the features you get on a full-size grill for the convenience of portability.
The Weber Go-Anywhere Charcoal Grill keeps that compromise to a minimum. You give up some size, yes — that's a given. But you don't give up the ability to have a real charcoal grilling experience.
It's solidly built, will last for years and mine that I've had for nearly 3 years now looks as good as new still. Admittedly, this is with perhaps 25 to 30 uses per year only, but it's traveled thousands of miles in that time, and has been a joy to use campsites and fishing trips.
If you love to grill away from home, you'll get your money's worth many times over in the time you'll own this little beauty.
I love it so much I feature it heavily on this site, in a list of my favorite charcoal grills, and of course as a recommendation in my roundup of the best grills for camping.
Is This a Recommended Product?
Absolutely! This isn't just a good portable grill; it's a good grill, period.
Sometimes I'll pull it out at home if I'm just grilling for myself or my family of 4, particularly as a small grill to do sides with larger meats on one of my full-sized grills.
Sometimes for small foods, you don't want to mess around with a lot of charcoal on a big grill, so for smaller grilling needs the go-anywhere is perfect, it's small but mighty.
This is a fun and fabulous little cooker that truly does go anywhere, and I highly recommend it. Two thumbs up!
Thank you for making it to the end of my Weber Go Anywhere Charcoal Grill review. Do you have any questions or tips for users to add to what's above? If so, please do leave a comment below, I will make sure to answer every comment.
Happy grilling!