Let's get back to nature with charcoal and my Weber Smokey Joe review.
Few things in life are as satisfying as cooking good food over a simple charcoal grill. It's hands-on cooking that connects you with your food and your grill.
It's especially enjoyable when you're camping or enjoying a beach day. Something about the simplicity just fits with the away-from-the-backyard vibe.
So appealing is this kind of grilling that people have made impromptu barbecues out of everything from shopping carts to wheel rims.
Personally, though I'm very far from an elitist, I like my grills with a bit more refinement than either of those styles.
I've owned (and still own) many different styles and brands of portable charcoal grills. From 2 full-sized Weber kettles to 2 Kamado Joes.
Today, I'm going to tell you about a traveling legend of the genre: The Weber Smokey Joe 14" portable charcoal grill.
Overview of the Weber Smokey Joe 14-Inch Portable Grill
Weber is one of the best-known names in the grilling world. They manufacture barbecues of all shapes, sizes, and fuel types. Me, I especially love their charcoal grills.
The Smokey Joe is a classic kettle-style portable charcoal grill. It's a small grill, compact and lightweight, making it ideal for on-the-go grilling.
Singles and couples who typically cook for just 1-3 people will also find it sufficient to satisfy the urge for some basic barbecue at home.
Despite its size, you'll have no trouble generating enough heat to sear like the big boys. Plus, it's just about large enough to set up two-zone cooking for indirect heat.
I like this little grill, and it earned a place in my list of the best portable charcoal grills. Let's find out more why.
Summary of Pros and Cons
Pros
Tradtional Weber build quality from porcelain enameled steel
Insulated, stay cool handle on the lid
Lightweight and portable
Easy to clean
Budget-friendly
Cons
Lid is not lockable for transport
Carry handles would be appreciated
No built in thermometer
What's in the Box?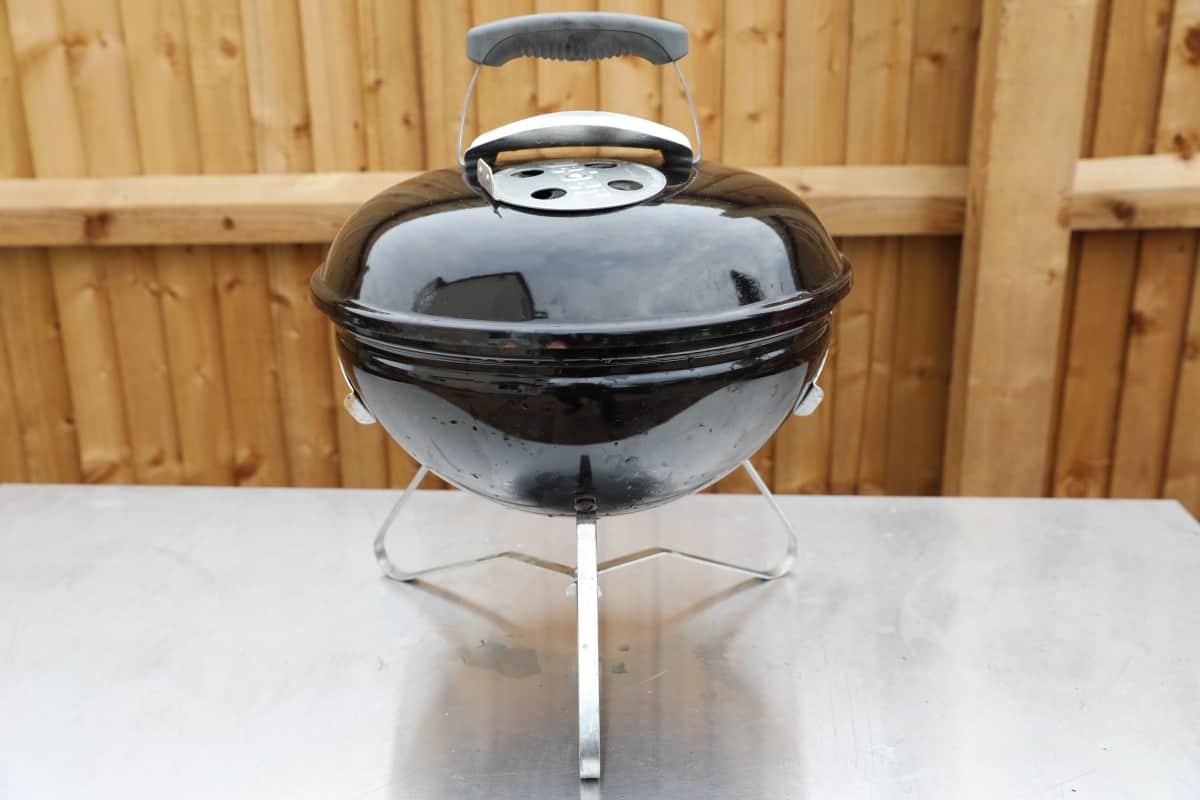 Well, this depends on which model you buy! More in this in a moment. Let's concentrate on the better version:
Owner's manual/assembly guide
Hardware
Plated steel cooking grate
Heavy-gauge steel charcoal grate
Porcelain-enameled lid and bowl
Aluminum ash catcher
Nylon handle
Aluminum stand
Buyer Beware!
I have a Weber Smokey Joe that I bought many, many years ago.
At the time I wasn't too knowledgeable about grilling and smoking, I just wanted a charcoal grill I could take camping, and because I owned and loved a full-sized Weber Kettle original, I thought the Smokey would be a great choice.
It was…and it wasn't.
2 models — Avoid the One I Have
It turns out there are two models of the Weber Smokey Joe (well, four if you include the premium and Jumbo Joe, but we're concentrating solely on the standard Smokey Joe here.).
One model has two lower vents in the side of the charcoal bowl, at a level between the charcoal grate and cooking grate.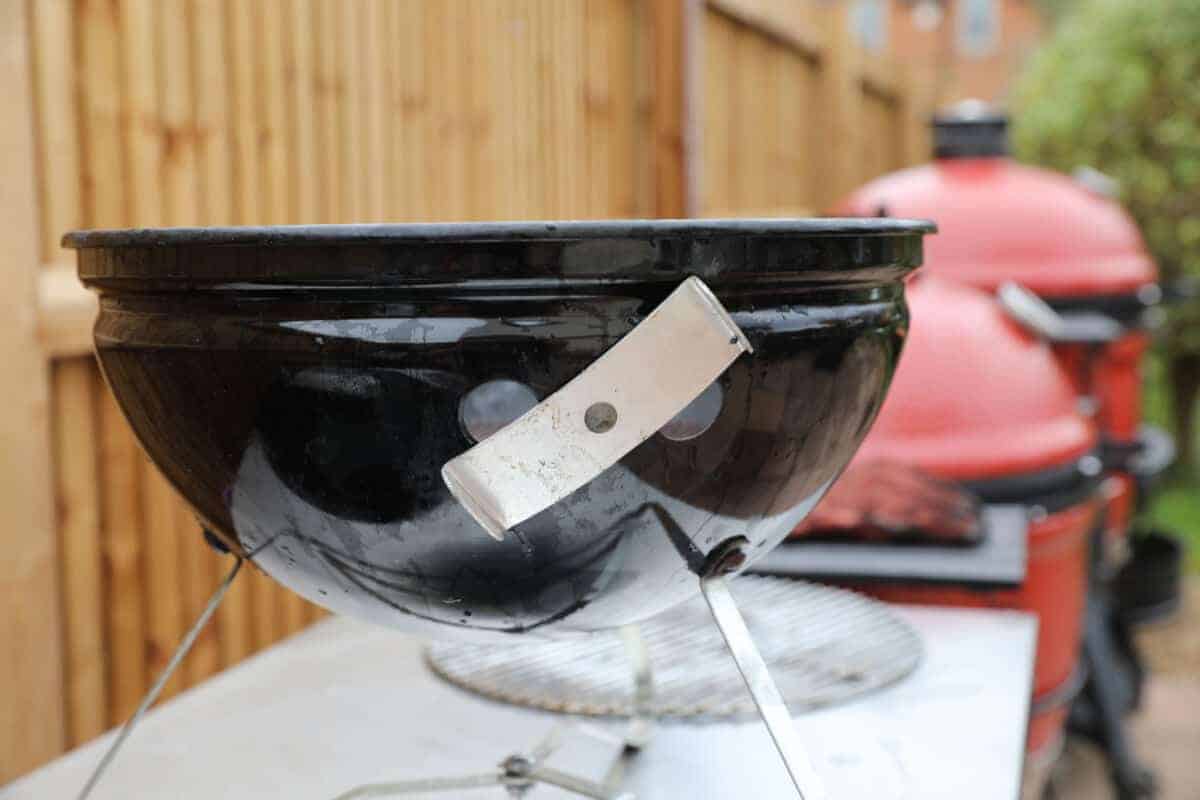 This means the airflow comes in from the sides, and not below the burning coals, which can sometimes lead to reduced airflow, lower combustion and a struggle to hit the highest of temps when searing.
Another model — and the one I link to throughout this guide — has the lower vents right in the middle of the base under the charcoal grate, as you would find in all other Weber kettle models.
This results in the normal operation you would expect from a Weber kettle, a sort of 'chimney effect' of air sucked in the bottom, rising out the top, and providing excellent control of the temperature, and the ability to provide maximum oxygen, and maximum heat when you want it for searing.
Both models are the same in other respects, regarding handle, heat deflector on the handle, top vent, size, grate materials, and build quality.
But go on, guess which model I have? That's right, the one with the vents in the side 🙁
If you do shop for a Weber Smokey Joe, DO NOT buy the one with the lower vents in the side as I did. It's OK, I still use it on occasion, but it does struggle to hit high temps sometimes.
My friend has the model with the lower vent, I've used it many times, and it is soooo much better! You can hit higher temps and have better temperature control during any lower temp cooks.
So take my advice, only buy the model with the lower vent. (Now, how do I go back years and tell myself this?)
Anyway, enough about my mistakes, let's get back on track…
Features and Manufacturers Specifications
As you'd hope and expect with a Weber, this is a quality grill. It's best when it's used for basic searing and grilling; if you love steaks, chops, burgers, chicken pieces, and so on, you'll get a lot out of this grill.
It's also well suited to veggies and fish.
Since it's designed for portability, the cooking surface area is pretty small. Don't expect to cook a large roast or a pork shoulder, or even a big chicken on the Smokey Joe 14-inch.
You could do a single medium-size chicken, or a pair of smaller ones or game hens, but watch you don't overcrowd the grill. On the Weber website, they suggest it's suitable for cooking for up to six people, but I'd suggest that not all of those people are adults, or people will not be eating all at the same time.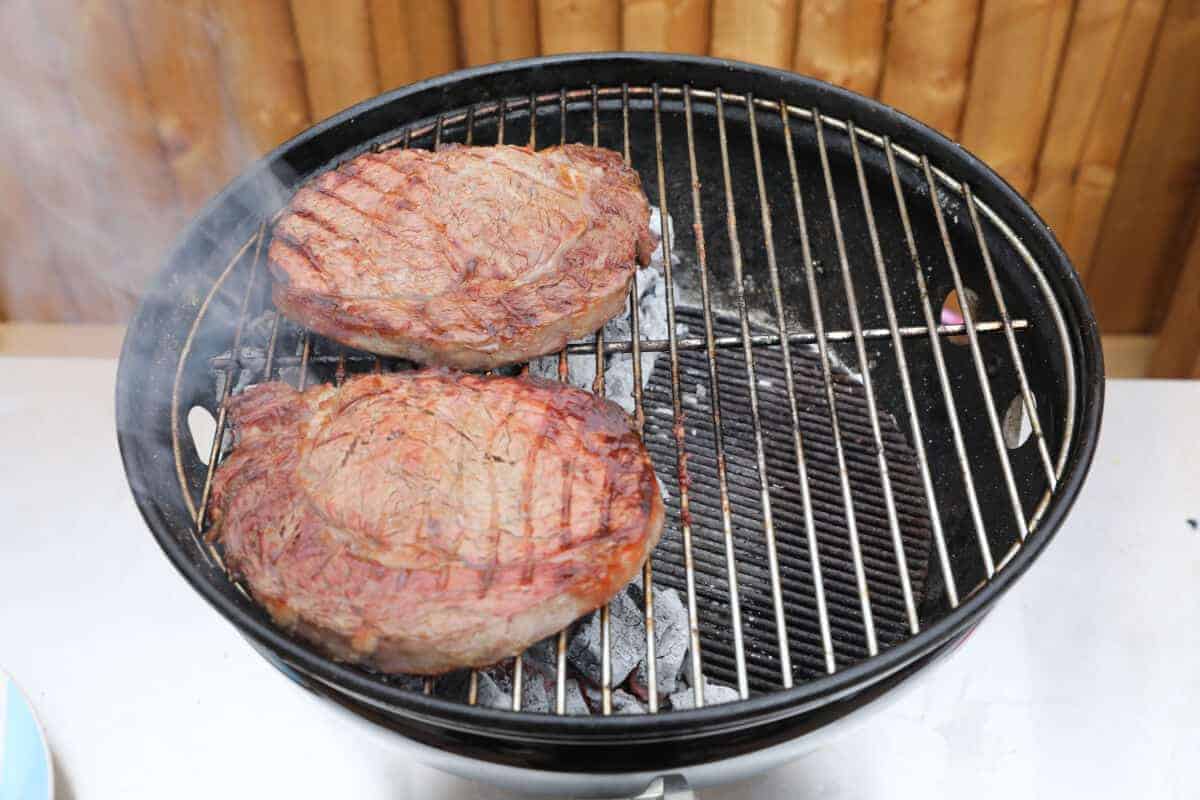 If you want to, you could use some wood chips added to your coals to add a bit of smoke flavor to your meat, or do what I do and if cooking indirect place some wood on the grates over the coals. But overall, this is not an ideal unit for true low 'n' slow smoking.
This grill isn't long on features, but it doesn't need to be.
Up top on the lid, you'll find a two-piece nylon grip on the handle. It's tough enough to handle the heat (pardon the pun) and has a metal heat deflector underneath it to prevent it from getting too hot, so it'll stay cool during your cook. You'll have no worries lifting it off to check on your food.
Sticking with the lid, there's also a four-hole vent with a rotating cover. You'll use this in conjunction with the bottom vent to help control airflow through the grill, which allows you to nudge the temperature up and down.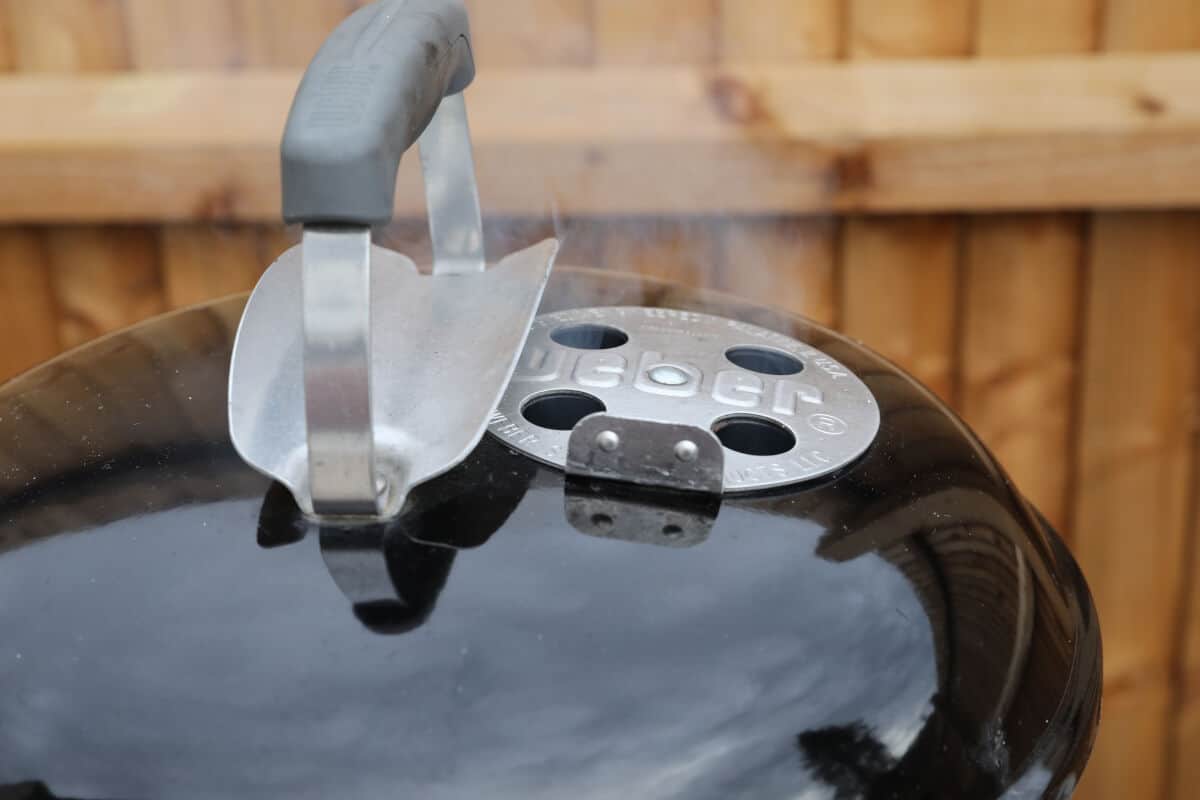 Specs
Dimensions: 17" x 14.2" x 14.5" (H, W, D)
Cooking surface: 147 sq. In.
Weight: 9.5 pounds
2 dampers
Warranty and Support
The warranty breaks down by component like this:
10 years, no rust through or burn through for the bowl and lid
5 years, no rust through or burn through for the ash cleanout system
5 years on all plastic parts; doesn't cover discoloration or feeding
2-years on all other parts
Clicking the "Support" button on the Weber site brings up a search bar and three entirely useless suggestions for help articles. Maybe it varies, but I got Smoking Basics, Can I connect my grill to a bulk LP tank, and What disposable cylinders can I use on my Q?
Far more useful might be the "Leave us a message" button that also pops up.
Manuals and schematics are available on the site, and you can order lost or broken parts. You can browse FAQs, send an email, or even call the toll-free number — support is available 7 days a week from 7 am to 8 pm Central Time.
Now, for the uninitiated, buying a Weber can be like joining a club. You can sign up for a newsletter, register your grill, and download the Weber app. Plus, you can connect with and follow the company on Facebook, Instagram, Twitter, YouTube, and Pinterest.
Ease of Use
As grills go, they don't come much easier to use than a Smokey Joe. It's pretty obvious that the charcoal goes down in the bottom on top of the smaller grate.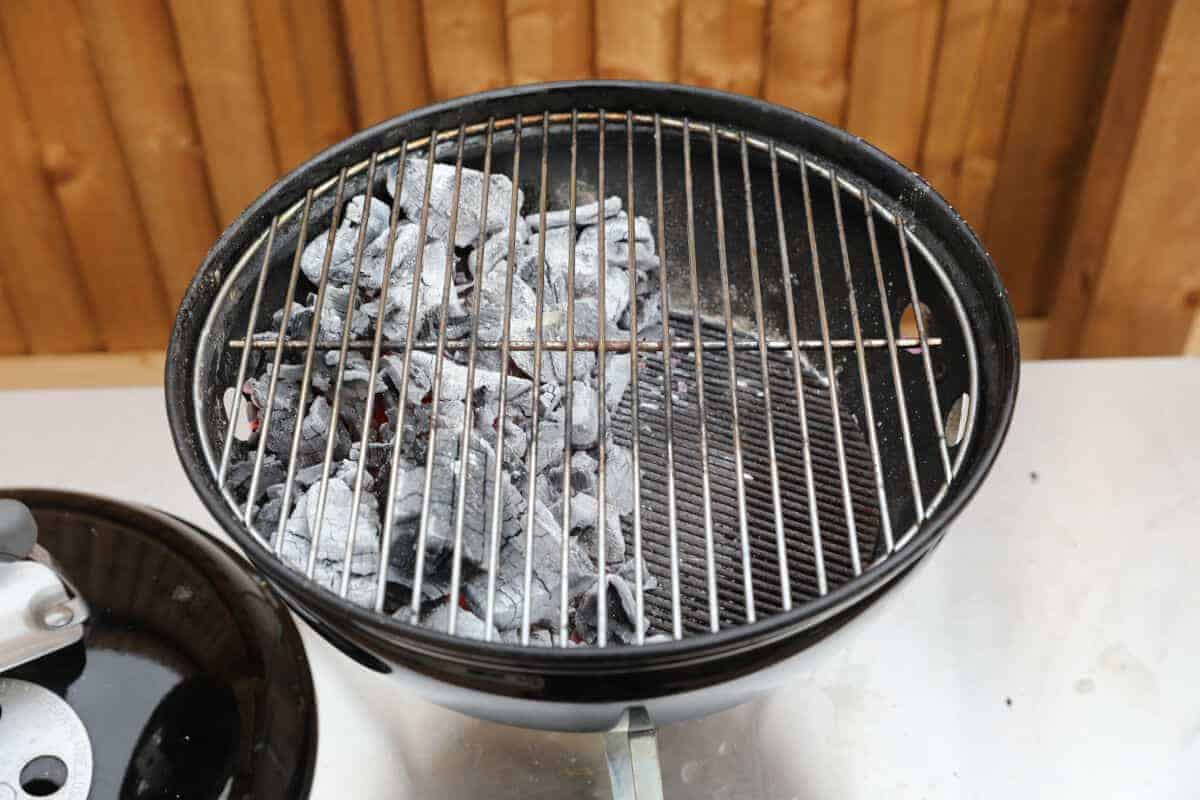 This allows ash to fall through the grate and out of the way. Some will fall through the bottom vent and onto the ash catcher.
The top and bottom vents are simple but effective. It's no bother to turn them by hand, opening or closing them off as required to get the temperature you're after.
This has nothing to do with use, but it is easy to assemble this grill. Yes, it comes in pieces inside the box, and you've got to put it together. It's a breeze, though, with just a Philips screwdriver; you won't even need a wrench thanks to the handy wingnuts.
Please do check out our guide for details on how to use a charcoal grill. It is detailed, complete, and should have you up and running in no time with all your questions answered.
Maintenance and Cleaning
One of the least appealing aspects of charcoal grilling is the mess of ash and partially spent lump charcoal or briquettes. Weber has done its best to help you out by including an ash catcher underneath the kettle.
It's situated ideally in the middle of the support legs and will catch ash as it falls through. When you're all done cooking, you can coax down any ash that doesn't emerge through the holes on its own with a brush or shovel for easy retrieval.
Maintenance is minimal with such a simple grill; there's not much to clog up or fall apart on a kettle BBQ. Cleaning out the ash is the major job.
Of course, you'll also want to keep your grates clean, but that's a simple matter of scraping them off with a good grill brush or other grill cleaning tools. They are easily removed, so you could wash them with soap and water, but you're better off without soap. Try a vinegar and baking soda solution for anything that won't scrape or soak off.
If you do use wood chips on your coals, wipe down the underside of the lid to remove any creosote that builds up.
After a time, it can look like flaking paint and fall off onto your food. This happens with all and any charcoal grills. Honestly, though, that should be minimal.
Design and Build Quality
Weber didn't exactly reinvent the wheel with the Smokey Joe 14-inch portable grill, but they didn't have to, either. This is a textbook example of a kettle grill — not eye-catching but functional.
Good quality materials went into its construction, and Weber has struck a balance between durability and portability. So, while you've got steel grates to last you through cook after cook for years, you've also got aluminum parts to minimize the weight and resist rust.
Final Verdict
Now that you know the facts, here are a few opinions to go with them. Is the Weber Smokey Joe 14-inch portable grill a keeper or a pass-it-by?
What We Like
It's a subtle touch, but offsetting the lid vent away from the center accomplishes two things: it keeps the handle cooler, and it draws smoke and heat across your food instead of just straight up from the bottom. Nicely done, Weber!
I appreciate the fact Weber has used quality materials in a moderately priced grill; that isn't always the case, but they have used their standard porcelain-enameled steel here. It may be budget-friendly, but it isn't "cheap."
Also, it's lightweight and easy to transport around your yard or in your vehicle. Expect to be grilling away from home every chance you get!
What Could Be Improved
The one thing I would love to have on this grill is a way to lock the lid in place while I'm moving it around. There is a deluxe version that has that covered (so to speak), but it's missing from this one, which is sad on a portable charcoal grill.
Not a huge deal; you can always strap it down with a bungee cord or two, but it's something I love about their Weber Go-Anywhere charcoal grill and would have been helpful here too.
In the same vein, carrying handles would have been appreciated. As it is, you have to pick up the Smokey Joe by either the bowl (not practical if it's still warm, and you've forgotten your gloves) or the legs. It's not that it's heavy; it's just a bit awkward.
Back to the lid again, a hook for hanging it off the side while not in use is a nice touch.
Will I Get Value for My Money?
I'm not kidding when I say you will rarely get as much value for your money as you do with the Smokey Joe 14-inch portable grill.
The cost is really low for the excellent cooking experience you receive. There are many portable grills out there, but this feels like one of the least compromising. It's a big grill experience on a small scale.
Is this a Recommended Product?
If you've read the whole article, there should be no doubt — but, if you've skipped to the end, here's your answer: absolutely!
The Weber Smokey Joe 14-inch portable charcoal grill is owned, loved and used by many…just stay away from the model with vents in the sides, and make sure to buy the model with the vent in the center bottom.
Whether you're looking for a camping, picnicking or tailgating grill, a secondary barbecue for sides, or a primary grill for a single person or couple, you can't go wrong with this little gem.
Thanks for Dropping By
Thank you for choosing us as your information source for a Weber Smokey Joe review. I hope you've found it useful?
If you have any questions or anything you'd like to add to the conversation, please do drop a comment below, I will make sure to every one.
Happy grilling!